Interview: Akio Naito, President of Seiko Watch Corporation
The future of Seiko and Grand Seiko.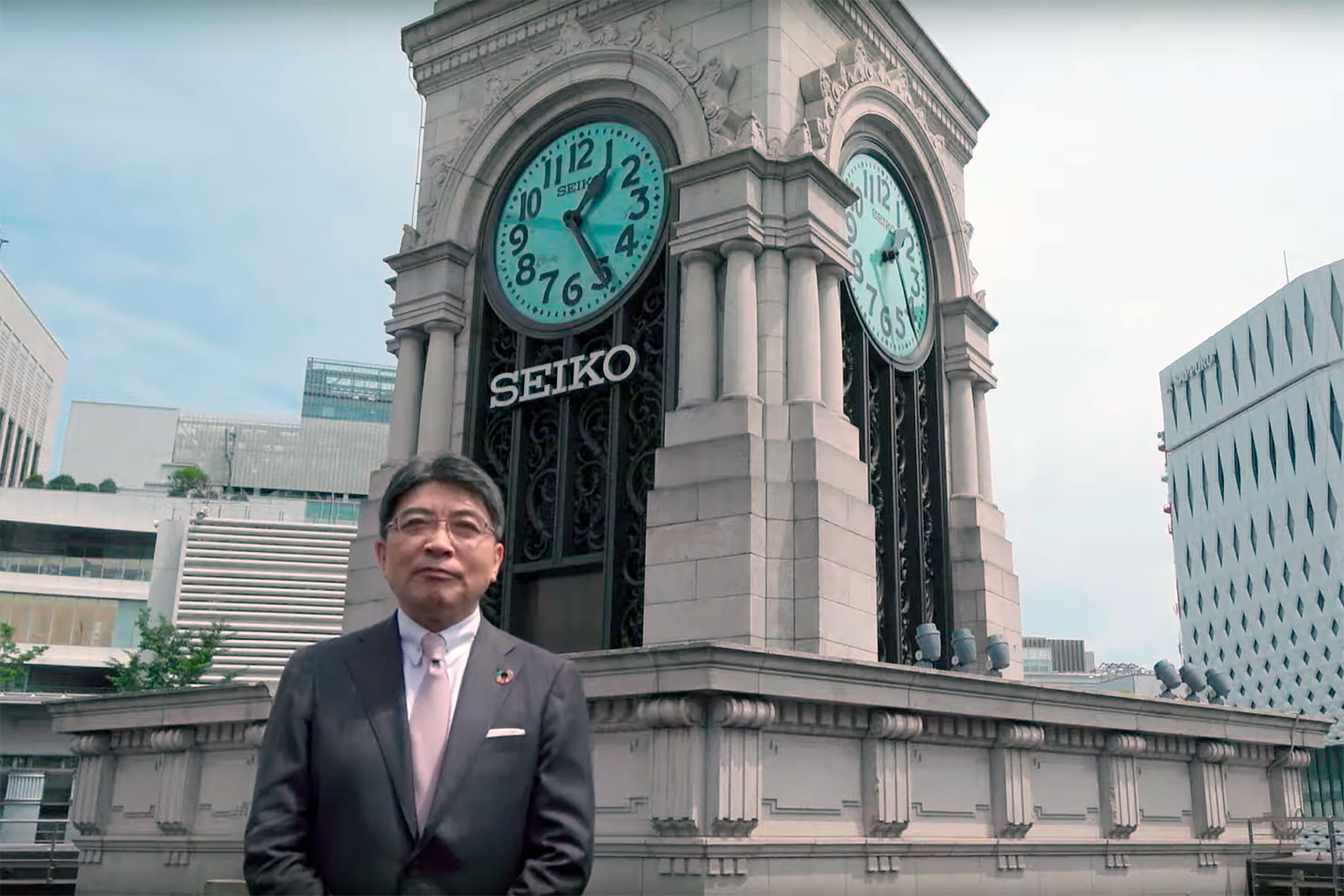 An all-encompassing brand that has something for everyone, Seiko is a 140-year-old brand with a dozen or so lines spanning the price spectrum. Its flagship brand is, of course, Grand Seiko, which has enjoyed notably strong growth outside of Japan after being spun off in 2017. Now we speak with the man who was a key part of this international expansion: Akio Naito.
Appointed President of the Seiko Watch Corporation (SWC) earlier this year, Mr Naito now runs the primary watch business of the Seiko group, having climbed the ranks over a four-decade career. He has held roles across various Seiko companies around the world – one of his earliest managerial roles was head of Seiko Australia starting 2002 – and was most recently deputy chief operating officer of SWC.
In that role, he was responsible for international sales and marketing. It was during his tenure that Seiko brands enjoyed notably strong growth outside of Japan, most notably with Grand Seiko in America and Europe – two key markets he personally oversaw.
Our founder SJX sat down with Mr Naito recently to discuss his plans for Seiko and Grand Seiko, while also touching on topics like complicated watches and the future of watch fairs.
The interview has been edited for clarity and length.
---
SJX: I first visited Seiko's factories in Shiojiri and Shizukuishi 10 or 12 years ago. I like to congratulate you on how the brand has developed in that time, especially Grand Seiko – it's very much a global luxury-watch brand now.
Grand Seiko really picked up after it was spun off as an independent brand in 2017. Do you plan to do the same the other Seiko brands, like Prospex and Presage?
Akio Naito: Seiko is a well-known brand today. We are celebrating the 140th anniversary this year and we are very much proud of its history.
On the other hand, Seiko as a brand may not be clearly understood by everybody, because the brand spans a wide range of products and prices, from affordably priced watches, to the high end with Grand Seiko.
But we have experience in juggling the different brands. Grand Seiko was launched in 1960 as an independent brand, but soon after it was merged into Seiko, and then it became independent again in 2017. And Credor has a similar historical background – at one point it was an independent brand.
At this moment, I do not have any plans – I don't foresee any of our current Seiko collections becoming independent. But who knows? You know, in the future, as we are successful in developing the identity of each of our brands, then we may find it easier to develop the brands independently of Seiko.
SJX: A key element of Grand Seiko's recent success has been the very strong international rollout, especially in Europe and the US. I see from your resume that you have a diverse international background in markets outside of Japan. How has your own experience influenced the development of Grand Seiko and Seiko globally?
AN: I do have some advantage in my background, having experienced the business across the world. I have managed our subsidiaries in the US, Australia and New Zealand. And I have also been involved in the management of some other overseas subsidiaries like the UK, Netherlands, Germany France, Italy, Russia, and so on.
That's where I became well-acquainted with people from different cultural backgrounds. And I also gained direct access to the consumers all over the world, which I think give me an advantage in managing Grand Seiko and Seiko as global brands.
SJX: Another aspect of Grand Seiko's international development is that some regional or country managers come from prominent Swiss brands, for instance Grand Seiko's heads in Europe and the USA were from the Swatch Group. Can I infer that Seiko is seeking to compete against established Swiss brands in the luxury space?
AN: Well, that also relates to my background. Five years ago in 2016, I was transferred from Seiko Holdings to Seiko Watch Corporation to manage GS in the United States and I moved from Tokyo to New York. There I came to be acquainted with a number of executives in the watch business and I was able to identify a group of individuals who I thought would fit our pool of management talent. So I started recruiting the talent with whom I could develop Grand Seiko's business in the United States.
One of them happened to be with the Swatch Group before and is our current Grand Seiko Americas president. And similarly, when I took charge of the European market in 2017, I felt strongly that we needed somebody with a background in the luxury-watch business. Once again I looked into some candidates, and the best person happened to be someone who was previously with the Swatch Group.
But recruitment has been a big part of what I have been doing in the last five years, and I have recruited others who have a different backgrounds, they are from different luxury groups, but whom I thought were very much suited in our organisation.
SJX: You have done a really good job in growing Grand Seiko internationally, while keeping its distinct character as a Japanese luxury brand. What's the secret behind that?
AN: For a brand to be appreciated in the luxury segment, it has to have a clear identity or DNA – it cannot be a purely-commercial or artificially-made brand. Fortunately, Grand Seiko has its own heritage, with that we can communicate with our customers.
And when I recruited from outside the company, I was careful about how [the new hires] understand our brand and heritage so that they develop the brand together, and do not bring their expertise to guide the brand in another direction. They have to accommodate their way of doing business by understanding the brand and its history.
SJX: Grand Seiko recently got more exciting, because you unveiled the concept tourbillon movement. Is this an indication of where Grand Seiko's ambitions lie?
AN: The T0 concept movement was the very first complication movement from Grand Seiko. It took some years of dedication and hard work by a young engineer until we were fortunately able to come up with this concept movement.
But we have always had the expertise of creating something innovative – we do have the technological capability. Like our founder Kintaro Hattori put it, we are staying "one step ahead of the rest".
It's not that we are aggressively going into the complication area, as we have to understand the DNA and heritage of GS. Now this is a very critical time for us – how we can commercialise this concept movement as a Grand Seiko watch? This will eventually guide Grand Seiko into the next level of brand evolution.
SJX: So that means that there are plans to commercialise the movement? When will we see it?
AN: [Laughs] Well, I'm trying, we are trying, our best not to keep people waiting for too long.
SJX: One of Seiko's new launches this year was the Studio Ghibli limited edition. Japan has very strong pop culture icons, in anime, comics, Godzilla, Gundam, even the Nissan GTR – many have been used for Seiko special editions. Grand Seiko also uses the Japanese-seasons motifs on its dials.
How do you decide what aspects of Japanese culture should be incorporated into a watch?
CEO: For Grand Seiko, its brand philosophy is "the nature of time". We are always inspired by the beautiful landscape of Japan, so we adapt elements of the natural environment into our products – that has always been what our product development engineers try to achieve.
As for collaborations that you have mentioned, they are found in different collections from Grand Seiko to Seiko. There are two routes for those.
First, we are constantly looking into the possibility of interesting collaborations with other Japanese brands that will create buzz.
At the same time, we are being approached by a number of start-up or traditional brands who would like to collaborate with us. We study and evaluate such proposals from outside.
SJX: I noticed also that Seiko often collaborate with independent artisans, especially those who do enamel and lacquer. Is this a conscious effort to support traditional craftspeople?
AN: Indeed, Japan has a rich history of craftsmanship. Because we are proud of our brands' own craftsmanship, we try to collaborate with those individuals, who have passed on through generations their skills, and whenever possible we adapt those skills into our watches.
SJX: On the subject of you know new launches – Seiko was one of the major exhibitors at Baselworld for many years before it withdrew. Two years ago, Seiko announced its own event, the Grand Seiko Summit in Tokyo, which unfortunately didn't happen.
Now it appears that watch fairs are happening once again starting in 2022. Can you share your plans on how Seiko will be rolling out new products in the future?
AN: Instead of having the Grand Seiko Summit in a real life, we did it online [in 2020 and 2021]. We were pleased with the reaction, and we were able to reach the media.
We are in a very interesting time in terms of how the business world will evolve after the corona pandemic. Whether people will go back to the old days of having a Baselworld and Watches & Wonders, or is it going to be totally digital?
What I think will happen is firstly, digitalisation continues to play an important role, and we cannot neglect the importance of continuing to invest into our online platform. We are going to do a lot of online events for product launches.
But at the same time, I think people are eager to get together and share the experience in the real world, to see products and exchange views. And in some fashion, this will come back and take place next year, hopefully.
We are now studying what kind of physical trade fair platform will be best for our brands in the coming years. We haven't made any decisions, but I can say we are considering all the options.
SJX: Globally the high-end watch market luxury watch market has done very well coming out with the pandemic. I understand that GS has grown strongly in markets outside of Japan. What is your prognosis for the development of the luxury watch market, and for Grand Seiko specifically?
AN: I believe the luxury segment of the watch market continues to be strong. Even during the pandemic, we have been able to grow GS sales quite significantly, especially outside of Japan. There is a huge potential for grand Seiko to be developed even further.
SJX: With the pandemic, many brands rolled out e-commerce platforms, even luxury brands started selling direct online. How will this be part of the Seiko or Grand Seiko strategy?
AN: Well, we actually started during the pandemic last year with our Grand Seiko boutique online that we launched in Japan, in Tokyo and Osaka, and also outside of Japan, in the US, France and some other key markets where we have our own subsidiaries.
This are not just another e-commerce platform to sell online. What we care about is how we serve customers and provide a shopping experience that feels like a real-world, physical store, through various means such as an online concierge.
We plan to roll this out more widely in the future. But at the same time, I still believe it is very important to build the brand on the basis of healthy partnerships with our retailers, especially as a young, growing brand outside of Japan, where we collaborate with high-end, top retailers.
It is a difficult but necessary balance to achieve: between selling direct online versus wholesale, and building a stronger relationship with our retailers.
SJX: Thank you for your time. I look forward to seeing the tourbillon concept commercialized.
CEO: [Laughs]
---
Correction August 30, 2021: Mr Naito has been with Seiko since 1984, and not for two decades as stated in an earlier version of the article.
Back to top.
---
You may also enjoy these.