News: Presenting the IWC Portuguese Sidérale Scafusia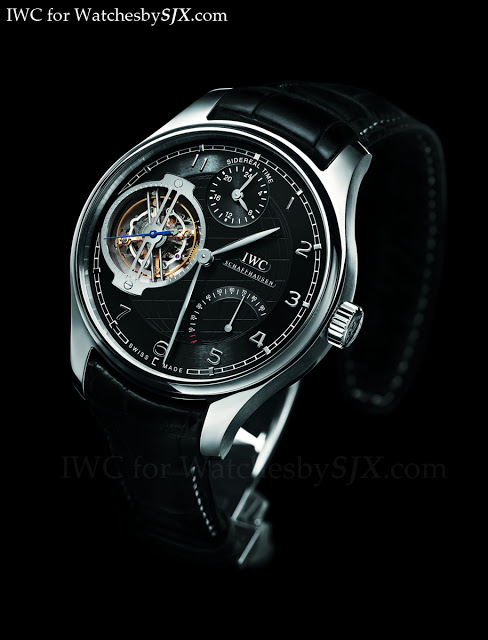 IWC has just unveiled what it says is its most complex watch, the Portuguese Sidérale Scafusia; the other contender for that title is the Il Destriero Scafusia grande complication of 1993. (As an interesting aside IWC says this is its most complicated watch yet; the Il Destriero Scafusia had more complications but was built on the Valjoux 7750-based Grande Complication movement – so which one wins?)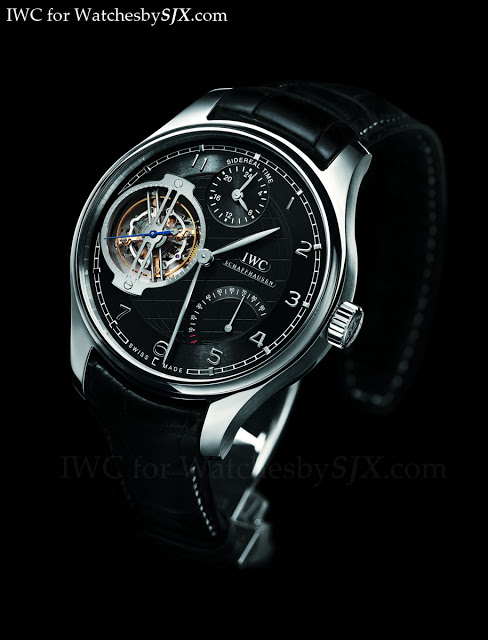 IWC Portuguese Sidérale Scafusia
As the name implies the IWC Portuguese Sidérale Scafusia is an astronomical complication – it displays sidereal time, star chart, sunrise and sunset display, as well as a perpetual calendar. And for good measure IWC has thrown in a constant force tourbillon. This is a fascinating timepiece that is a departure from the mean for IWC. It is impressive and accomplished but I am unsure if this type of complication is IWC since the company has always been, in my opinion, a maker of innovative, robust and practical complications. Nevertheless IWC deserves kudos for creating this masterpiece. And for those who are wondering the retail price is CHF750,000. Anyway now on to the explanation of the watch, which deserves quite a bit of explanation. Sidereal time
The subdial at 12 o'clock displays sidereal time which is the time taken by the earth to rotate on its own axis, in relation to a star. According to the press release, "the "reference for a sidereal day is an infinitely distant star, which is exactly perpendicular to the observation point at the beginning and the end of the period during which it is observed." This is on average shorter than the solar day (our 24 hour day), about 23 hours and 56 minutes. IWC's sidereal time display has an error of just 11.5 seconds each year.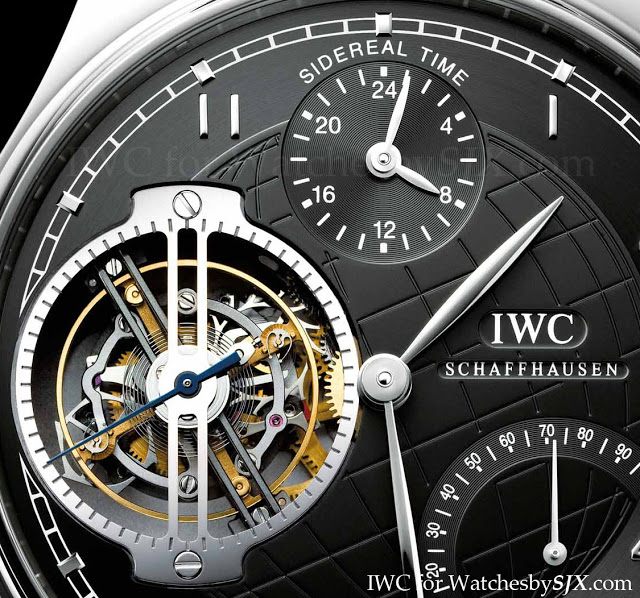 Sidereal time at noon and constant force tourbillon at nine
Constant force tourbillon
Taking up almost one-fourth of the base plate is the tourbillon with constant force mechanism. From what I understand the torque delivered by the twin barrels for the first two days is constant and during that period the seconds hands advances smoothly. After the first two days the constant force mechanism kicks in to delivery constant torque as the barrel winds down, during which the seconds hand ticks in one second intervals, in other words a dead seconds.. This is particularly notable since up till now IWC has more or less used the same flying tourbillon developed for the Il Destriero Scafusia in all its tourbillon watches.
Star chart
The back reveals a star chart customised to show the night sky from a location specified by the owner. The stars above the horizon line are those that should be visible to the wearer at that particular location. Uniquely the crystal on the back is also polarised, so it appears grey during the day and blue after dark.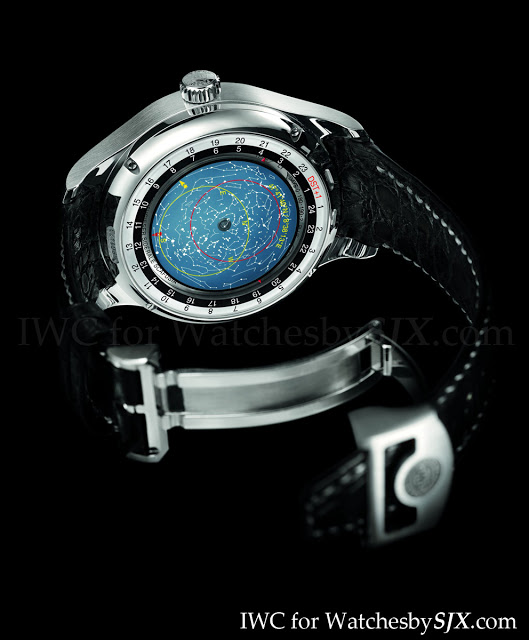 Perpetual calendar
Also incorporated into the watch is an unconventional perpetual calendar. It is displayed on the perimeter of the star chart, indicating if it is a leap year (LY) as well as the day of the year in consecutive digits (running from day 1 to day 365). Adding the single digit on the right to the hundreds digits in the middle gives you the day of the year.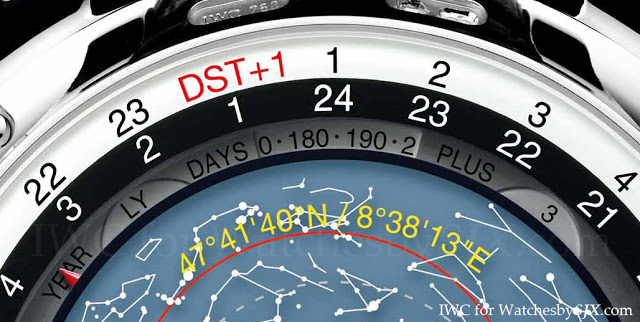 The two rings beyond the perpetual calendar show sunrise and sunset for winter and summer time, in addition to solar and sidereal times, on 24 hour scales.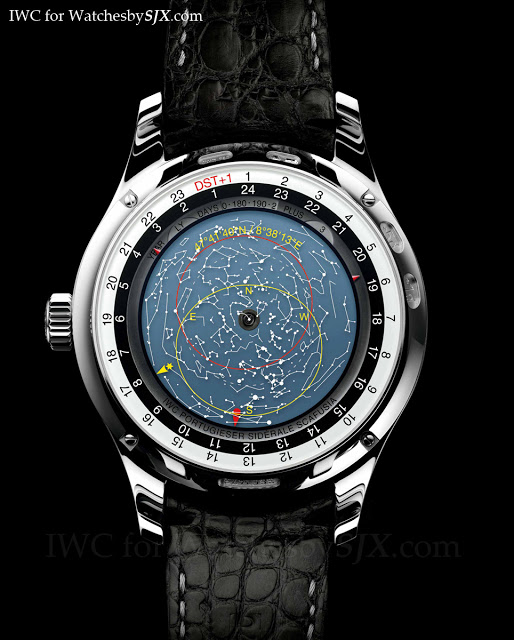 Dimensions
The watch is 46 mm wide and 17.5 mm high. Case is red gold or platinum, and the dial can be specified from a variety of designs. Delivery is about a year and the watch will be presented with a winder. – SJX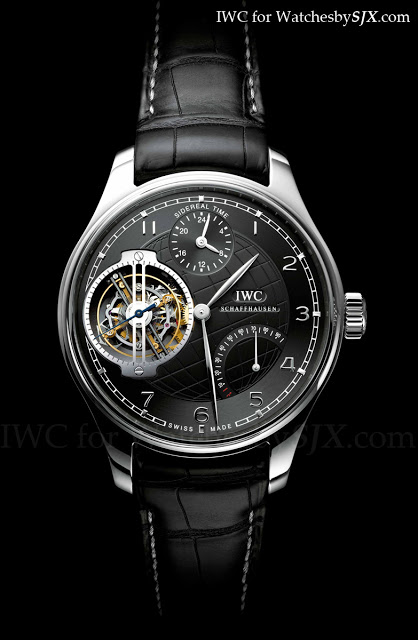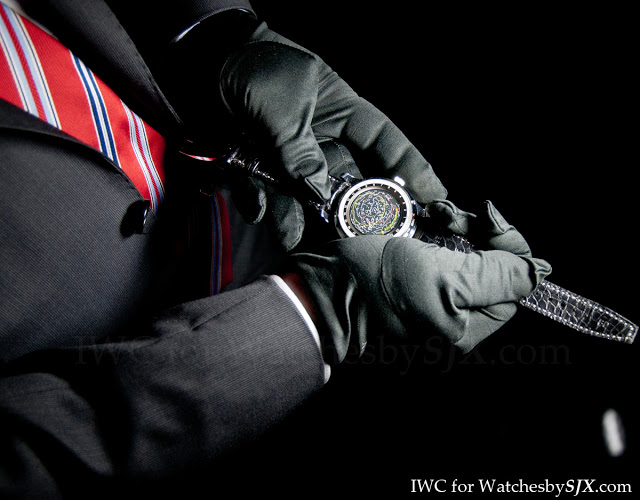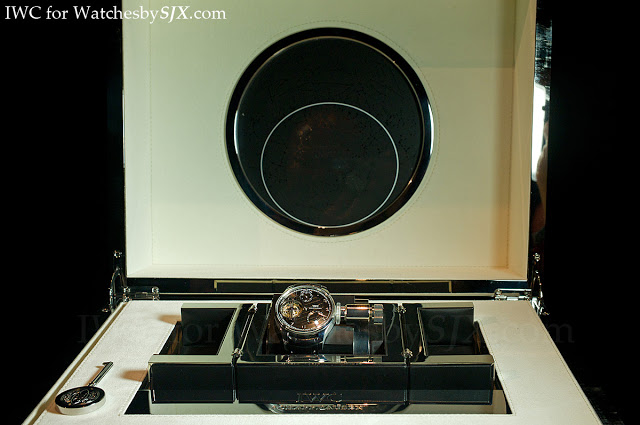 ---
You may also enjoy these.