Grand Seiko Debuts the GMT "Seasons" Collection
The landscapes of four sekki.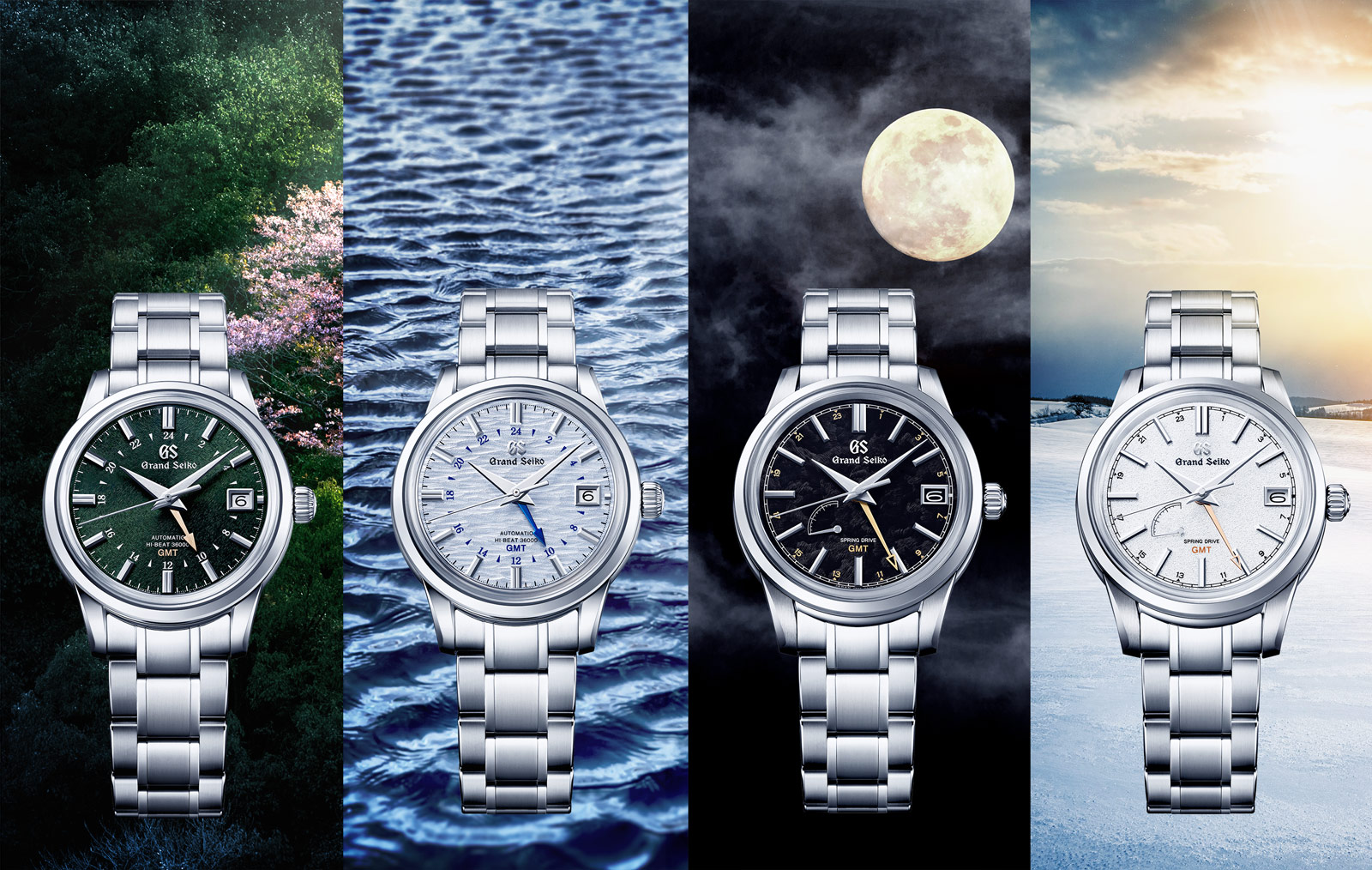 A simple but bestselling complication for Grand Seiko, the dual-time zone GMT received a makeover for Seiko's 140th anniversary. The result is a quartet of GMT watches that evoke the changing landscapes in Japan as the seasons change. Made up of both Hi-Beat and Spring Drive models, the Grand Seiko Elegance GMT "Seasons" all share the same classically-styled case that has been associated with the GMT since the very first model.
Each of the four watches is inspired by specific phases of each season. In East Asian cultures, each of the four seasons is further divided into six phases – known as 節気, or sekki, in Japan – to capture the subtle changes within a season. Each of the new GMT models is inspired by a sekki from each season. Consequently, the watches are each distinct in colours and finish, having inspiration as varied as green-cherry trees to the dark, moonlit sky.
Initial thoughts
The quartet exemplifies the style of modern-day Grand Seiko, especially in the splendid dials that translate the local landscape into intricate stamped patterns. And the cases are elegantly shaped but solid, and finished with Zaratsu flat polishing that is synonymous with Grand Seiko.
Because all four watches are powered by longstanding movements – instead of the latest-generation 9SA5 that costs a lot more – the prices are all in line with existing models, US$6,300 for the Spring Drive GMT and US$7,100 for Hi-Beat automatics. Though the movements are less exciting, they are familiar workhorses – and arguably offer better value – and are especially helpful for anyone who is drawn in by the patterned dials.
That said, the only drawback of the new watches is the fact that all of them reuse dial patterns found on earlier models. While the watches are new, each of the dial patterns have been seen before, albeit with minor tweaks. As a result, while the intrinsic appeal of the patterns and colours is undeniable, the contradictory backstories behind the same patterns isn't convincing. The Spring Drive GMT Kanro SBGE271, for instance, is supposedly inspired by the night sky, but it is exactly the same pattern found on the dials of the Spring Drive 20th Anniversary SBGC231 and SBGA403, which were supposedly modelled on a lion's mane.
A personal gripe is the bracelet; the five-piece links are too fussy to complement the patterned dials. The three-link, all-brushed bracelet found on models like the SBGM007 is a more natural fit. That said, most Grand Seiko watches look best on a strap, and swapping the bracelet out is easy since the cases have drilled lugs.
Interestingly, the Seasons collection is not a limited edition, nor it is catered for a specific market like the recent Asia-only GMT. Instead all four watches are part of the regular catalogue. That's a good thing, because region-specific watches will disappoint clients located elsewhere, while frequent limited editions tend to dilute the concept. And it helps build sustainable interest in the brand. Clearly a flagship line of sorts, the Sekki watches could possibly become as much of a signature as the "Snowflake".
The Hi-Beat
Two of the quartet – Shunbun and Shōsho – are Hi-Beat watches powered by an automatic movement running at 36,000 beats per hour. Shunbun is a sekki that coincides with the spring equinox, so a lush, forest green is apt. And it's also a nod to the first-ever Hi-Beat GMT limited edition, the SBGJ005 that was launched in 2014. The SBGJ005 shares a similar dial colour, but with a radially-striated "Iwate" finish.
And the Shōsho, which translates as "little heat", is the beginning of midsummer. It's depicted as waves on a lake surface as the summer wind goes by. The dial is similar to last's month Grand Seiko "White Birch", but with more angular strokes. It's stunning and refined, having three-dimensional patterning with nuance in its graining.
Spring Drive
Like the Hi-Beat pair, the Spring Drive duo comprises both dark and light dial, inspired by autumn and winter sekki respectively. Kanro evokes a cloudy, moonlit night in autumn with a black dial covered in brushstrokes a gilded GMT hand that's meant to bring to mind a luminous moon. Black, patterned dials are uncommon for Grand Seiko – few have been made, despite the numerous limited editions, and the most recent example is ultra expensive.
Last is Tōji, or winter solstice. The fine, dimpled pattern on the dial is softly textured like freshly fallen snow, with a rose gold-plated GMT hand meant to be a ray of sunlight on the ground.
---
Key facts and price
Grand Seiko Elegance Collection GMT
Ref. SBGJ251 (Green, Hi-Beat)
Ref. SBGJ249 (Blue, Hi-Beat)
Ref. SBGE271 (Black, Spring Drive)
Ref. SBGE269 (White, Spring Drive)
Diameter: 39.5 mm (Hi-Beat); 40.2 mm (Spring Drive)
Height: 14.1 mm (Hi-Beat); 14 mm (Spring Drive)
Material: Steel
Crystal: Sapphire
Water resistance: 30 m (Hi-Beat); 100 m (Spring Drive)
Movement: 9S86 (Hi-Beat); 9R66 (Spring Drive)
Features: Hours, minutes, seconds, and date
Frequency: 36,000 beats per hour (Hi-Beat)
Winding: Automatic
Power reserve: 55 hours (Hi-Beat); 72 hours (Spring Drive)
Strap: Steel bracelet with folding clasp
Limited edition: No
Availability: At Grand Seiko boutiques and retailers
Price: US$7,100 (Hi-Beat), US$6,300 (Spring Drive)
For more, visit Grand-seiko.com.
---
Back to top.
---
You may also enjoy these.

A limited edition Grand Seiko with a green guilloche dial.

In blue and yellow gold.