Minase Introduces the Divido Deep Blue Urushi Silver Maki-e
Artisanal and distinctly Japanese.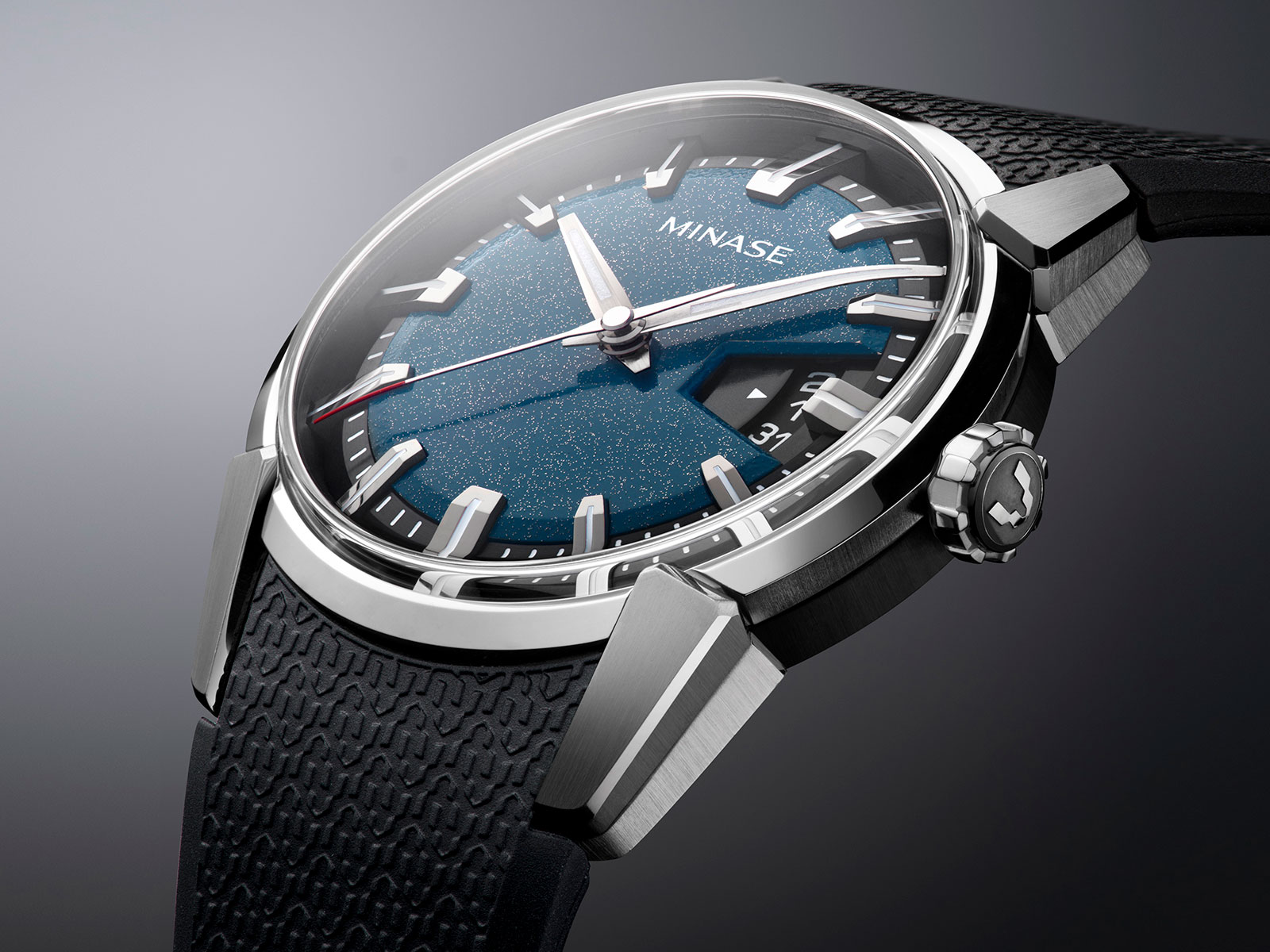 Set up only in 2005, Minase is a Japanese brand that excels in high-end cases, befitting a company that's an offshoot of precision toolmaker Kyowa Co., which also manufactures watch cases and bracelets. The latest from Minase combines its top-of-the-line case making with artisanal craft – the Divido Deep Blue Urushi Silver Maki-e has a traditional lacquer dial created collaboration by lacquer artist Megumi Shimamoto.
Initial thoughts
Exuding a Japanese character in how it combines cutting-edge technology with an ancient craft, the new Divide has a sharply-finished, angular case with an artisanal dial.
As with all Minase watches, the case finishing is the most obvious highlight – not only is the case itself elaborate and multifaceted, but each of the surfaces has been finished to a high level with a flat polishing technique, resulting in well-defined breaks between brushed and polished planes.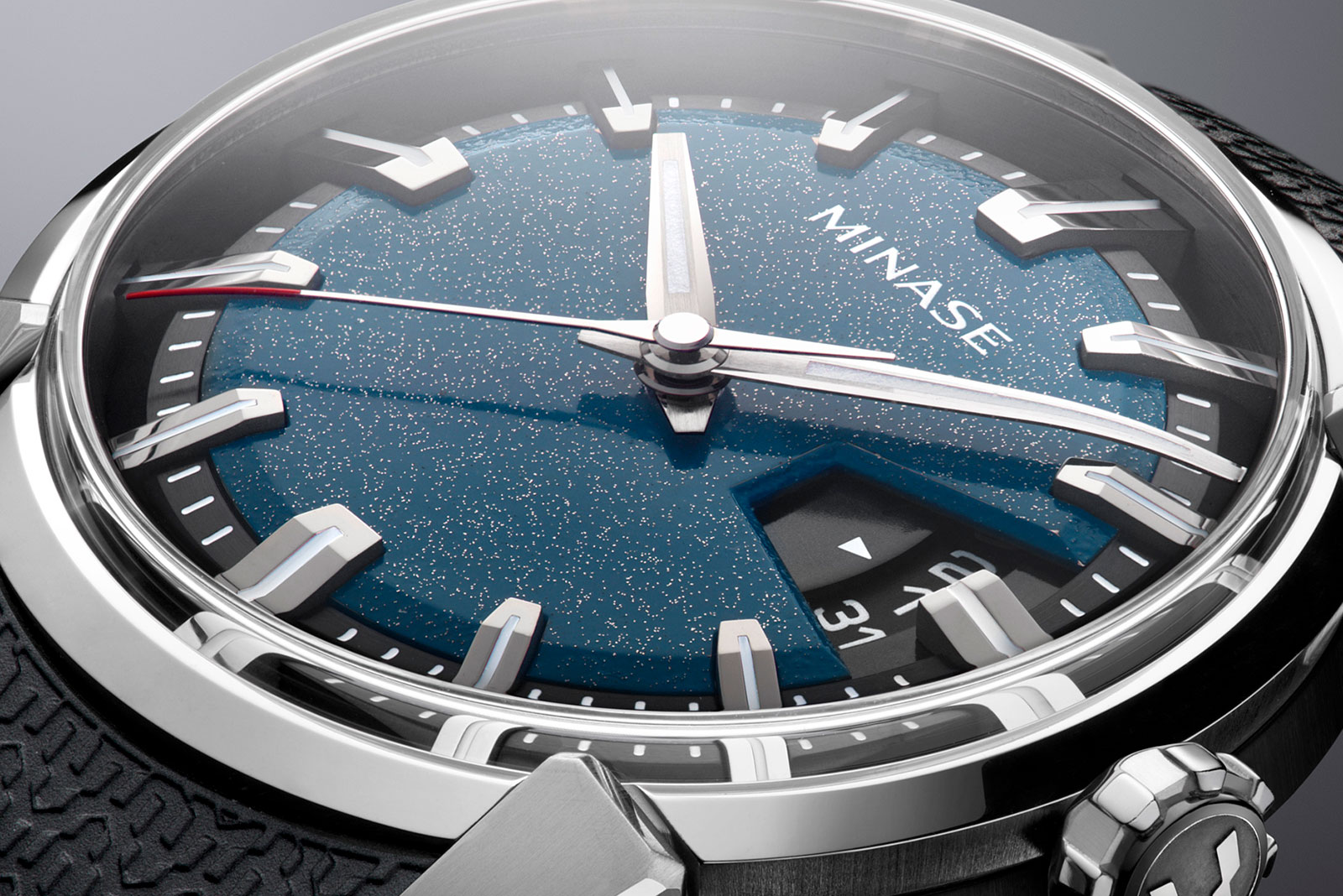 Resembling the robots of Japanese anime, the sleek is design interrupted by only one element, the oversized date window, which mars the purity of the lacquer dial. That said, the date wheel itself is done in good taste, being black with white print.
In a world of uninspired, recycled watch designs, the Divido is a breath of fresh air – at a hefty price. With its well-executed case and Japanese lacquer dial, the new Divido costs a bit over 5,300 Swiss francs, a 63% premium over the version launched last year with dial that was hand-painted (but not in natural lacquer).
While last year's model was a value proposition, the new model is steeply priced, notwithstanding the artisanal decoration and small production.
Maki-e dial
The reason for the steep jump in price lies in the handmade dial, which is decorated in urushi as well as maki-e. Urushi is the natural lacquer derived from the sap of the lacquer tree, while maki-e is a decorative technique that relies on powders and inlays to create motifs on the lacquer.
Produced by Kyoto-based lacquer artist Megumi Shimamoto, the dial starts out as a copper dial blank that is painted with a layer of urushi, after which it is sprinkled with silver powder – maki-e literally translates as "sprinkled picture". After the layer is dry, a mixture of blue pigment and lacquer is applied over the maki-e.
The entire process is repeated twice, after which the dial is polished to reveal the silver powder, before being put in the sun to dry in order to achieve the desired shade of blue.
Though the dial is eminently traditional in its technique, the style of the watch is modern. Angular and facetted, the 40.5 mm case is steel and finished with alternately brushed and polished surfaces.
The entire case is first flat polished with a method sometimes known as Zaratsu, a nickname derived from the Swiss-German polishing equipment maker Sallaz that once supplied lapping machines to the Japanese case maker Hayashi Seiki Seizo. Now almost characteristic of high-end Japanese watches, most famously Grand Seiko, the technique results in a surface that is almost perfectly flat and distortion free.
Like prior iterations of the Divido, the new release is powered by the basic but universally serviceable and robust ETA 2824. The movement shows its age in its rather short 38-hour power reserve but it remains a solid workhorse acceptable at this price point (although the price of the new Divido is pushing it).
The movement is finished with perlage on its bridges and fitted with a black-coated rotor decorated with Minase's drill-head logo, which recalls the brand's heritage as a toolmaker.
The Divido Deep Blue Urushi Silver Maki-e is available on either an integrated synthetic-rubber strap or a steel bracelet made in-house by Minase.
---
Key facts and price
Minase Divido Deep Blue Urushi Silver Maki-e
Diameter: 40.5 mm
Height: 12 mm
Material: Steel
Crystal: Sapphire
Water resistance: 50 m
Movement: KT7001/1 (ETA 2824)
Functions: Hours, minutes, and seconds; date
Frequency: 28,800 beats per hour (4 Hz)
Winding: Automatic
Power reserve: 38 hours
Strap: Rubber strap with steel folding clasp or stainless steel bracelet
Availability: Available now
Price: 5,350 Swiss francs on rubber strap; 6,470 francs on steel bracelet (prices exclude taxes)
For more information, visit Minasewatches.ch.
---
Back to top.
---
You may also enjoy these.