Highlights: Sotheby's Hong Kong Watch Auction
A lapis Daytona, independents, and more.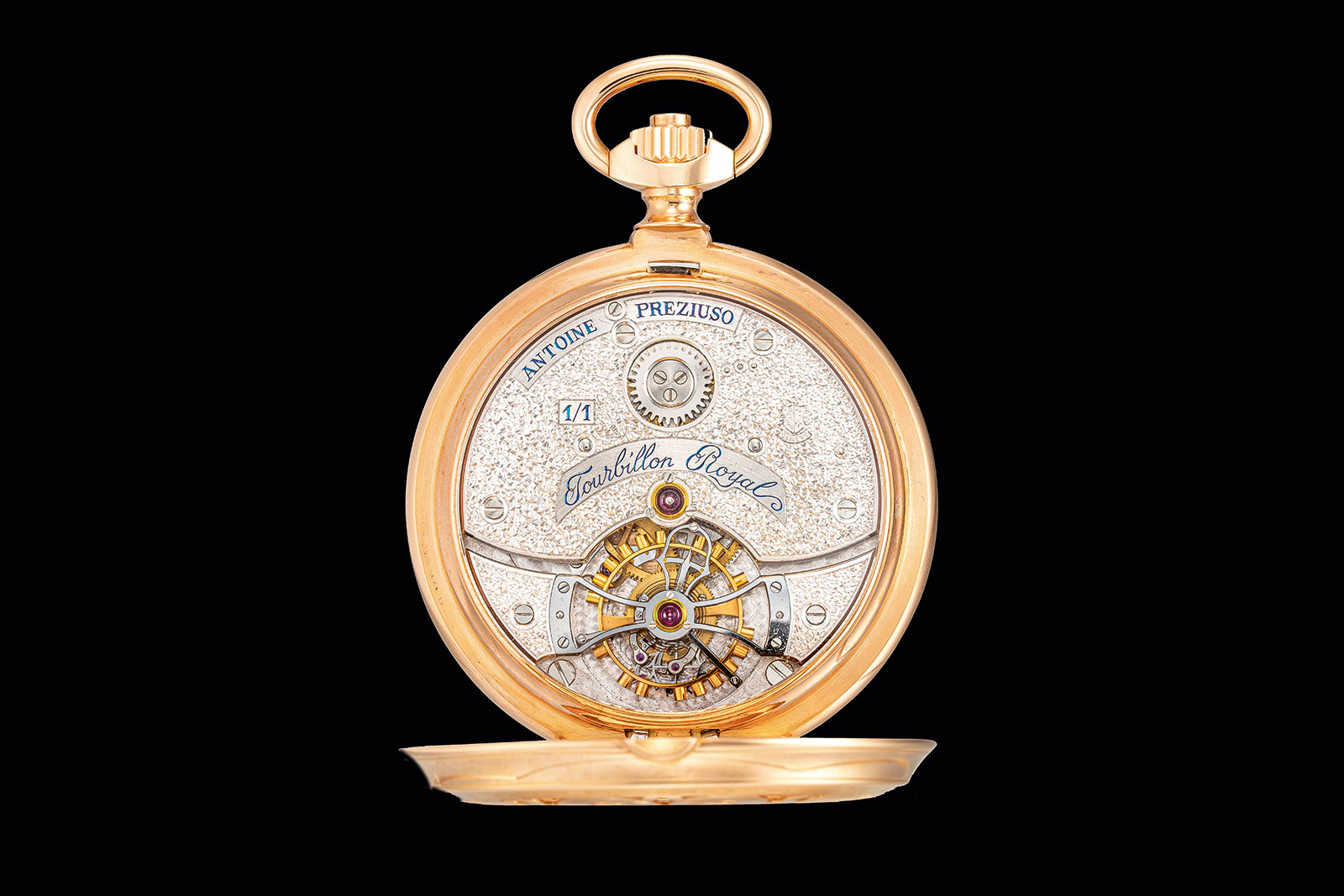 With its auctions earlier in the year having been delayed due to the pandemic – and supplemented by weekly online sales – Sotheby's has resumed its traditional schedule and the fall auction season in Hong Kong is now in full swing. Preceded by sales of wine, art, and jewellery, Important Watches takes place in Hong Kong in two days – at 4:00 pm on October 9.
Made up of just over 180 lots, the catalogue encompasses independent watchmakers like Philippe Dufour – there are two Dufour Simplicities in the sale – who are notable and known, and also some who are less prominent today, like Antoine Preziuso and Svend Andersen.
And the sale naturally the usual suspects, with the headline watch being a possibly-unique Rolex Daytona "Zenith" with a lapis lazuli dial, and perhaps the most intriguing being a quartz Rolex Beta 21 in white gold that might be one of a kind. Here's a look at a couple of interesting lots, and the complete catalogue is available here.
---
Lot 2062 – Andersen Geneve Secular Perpetual Calendar
Known for his inventive complications and unique bespoke watches, Svend Andersen was a pioneer in independent watchmaking. He established his own brand in 1979 and cofounded the AHCI in 1986. Four decades on, he continues to produce watches using artisanal and traditional methods.
A good example of his mechanical creativity is the secular perpetual calendar that made its debut in 1996 – the first of its kind in a wristwatch. Nearly all perpetual calendar watches can automatically adjust for leap years, which happen once in four years, but they cannot do the same for a secular leap year – which accumulates from the slight errors of adding a day every four years. The next secular leap year is 2100, which is why most perpetual calendars will require a factory reset then.
Mr Andersen's invention, however, takes the secular leap year into account, resulting in a watch that does not require any correction for 800 years – making it a bona fide perpetual calendar.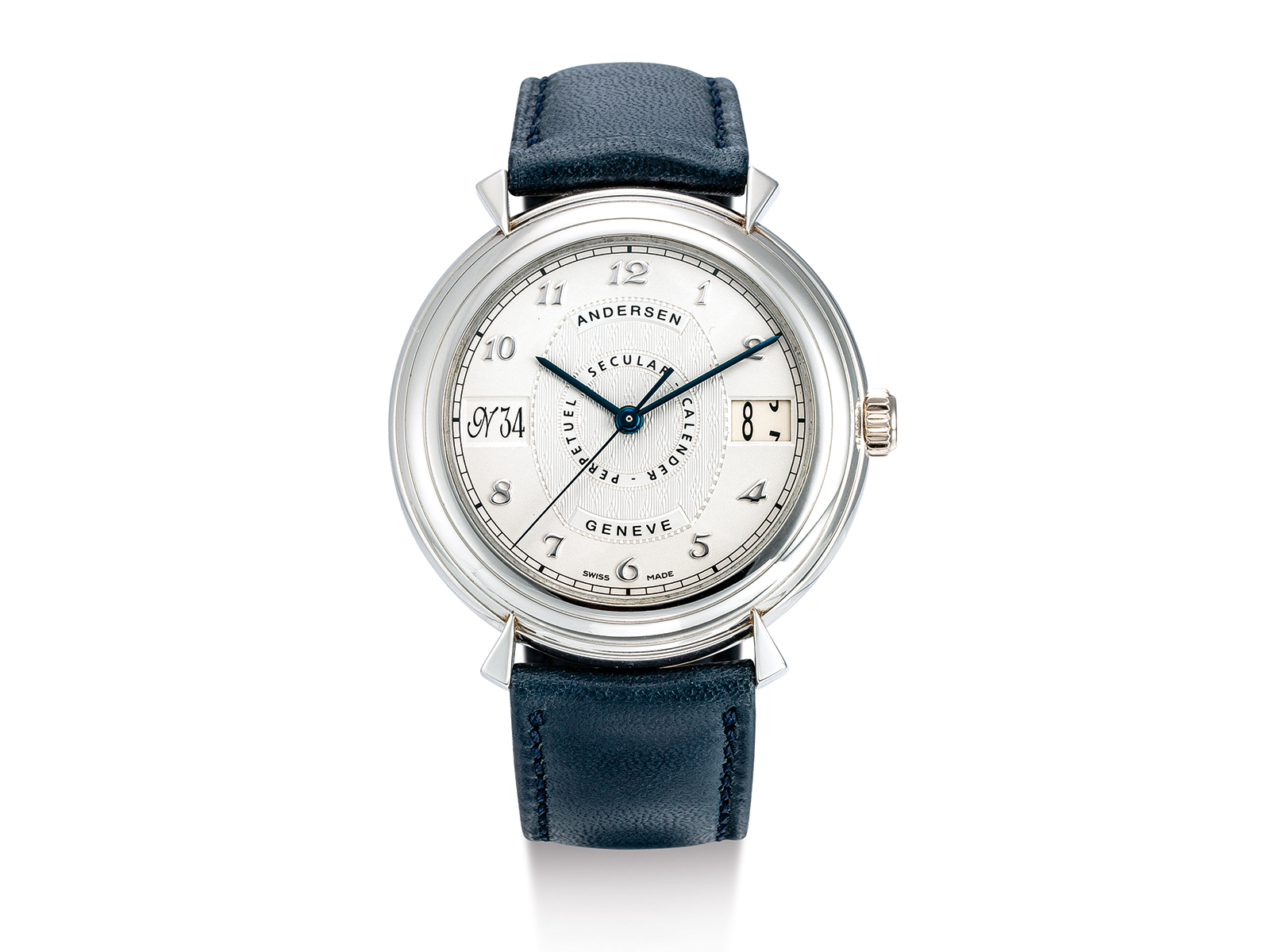 The secular perpetual calendar was made in a range of styles of varying appeal, but particular example has a classical, attractive design, with a platinum case featuring teardrop lugs as well as Breguet numerals on the dial.
The dial is surprisingly clean for a perpetual calendar, because Mr Andersen cleverly installed most of the calendar indications on the back. The front indicates only the time as well as an extra-large date, while the back incorporates everything else, including the years until 2400.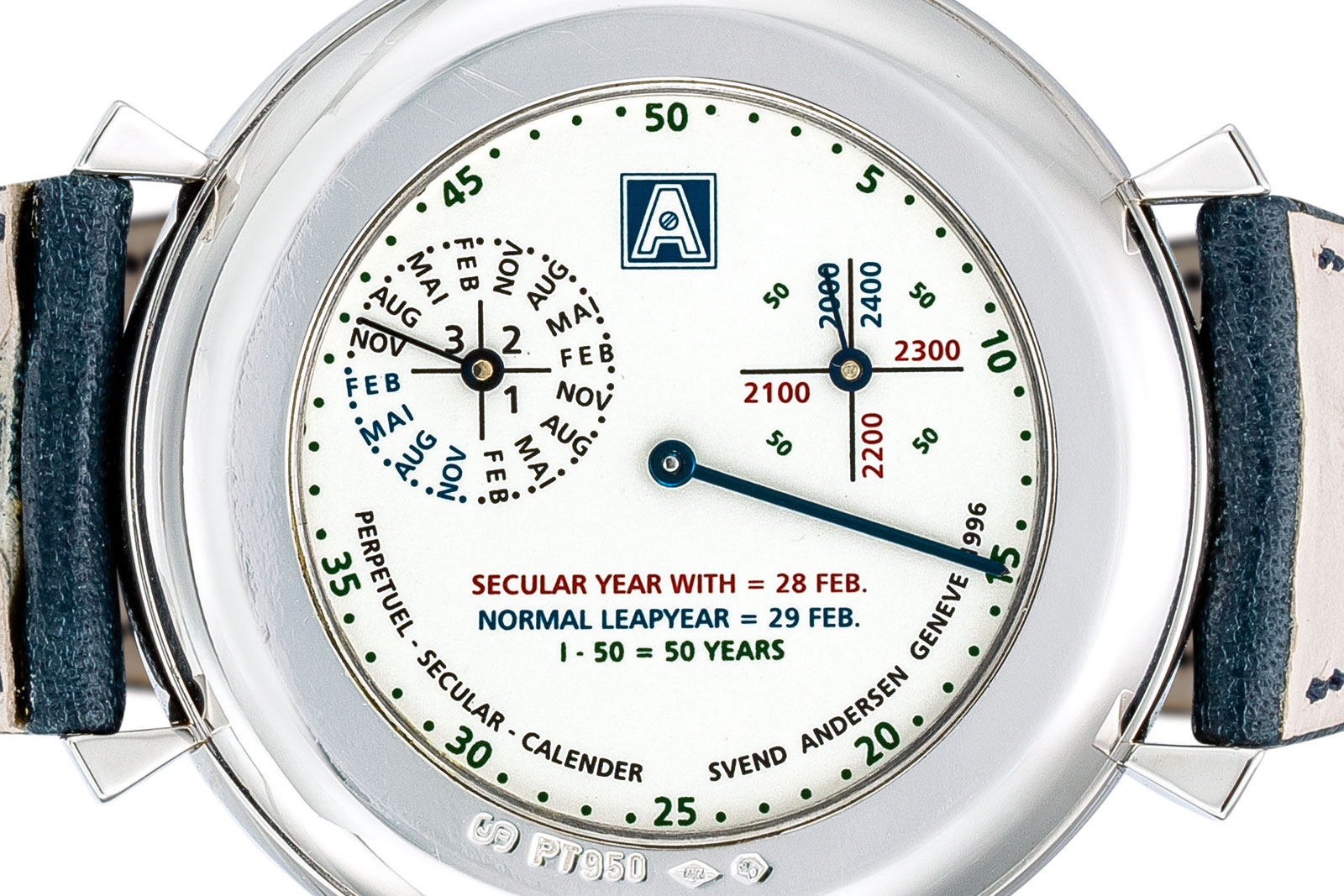 The estimate is HK$80,000-200,000, or around US$10,300-25,800, which is a bargain.
---
Lot 2064 – Antoine Preziuso Tourbillon Royal, Piece Unique
Like Svend Andersen, Antoine Preziuso is another of the originals in independent watchmaking, having set up his brand in 1991. Largely focused on tourbillon watches of all stripes since the beginning, Mr Preziuso is perhaps most widely known for being behind the Harry Winston Opus 2, which was a tourbillon naturally.
While most of Mr Preziuso's output has been wristwatches, the Tourbillon Royal is a pocket watch with a special movement. Lavishly decorated with hand-engraving and diamonds on the front, the watch is a large, 62.5 mm in diameter.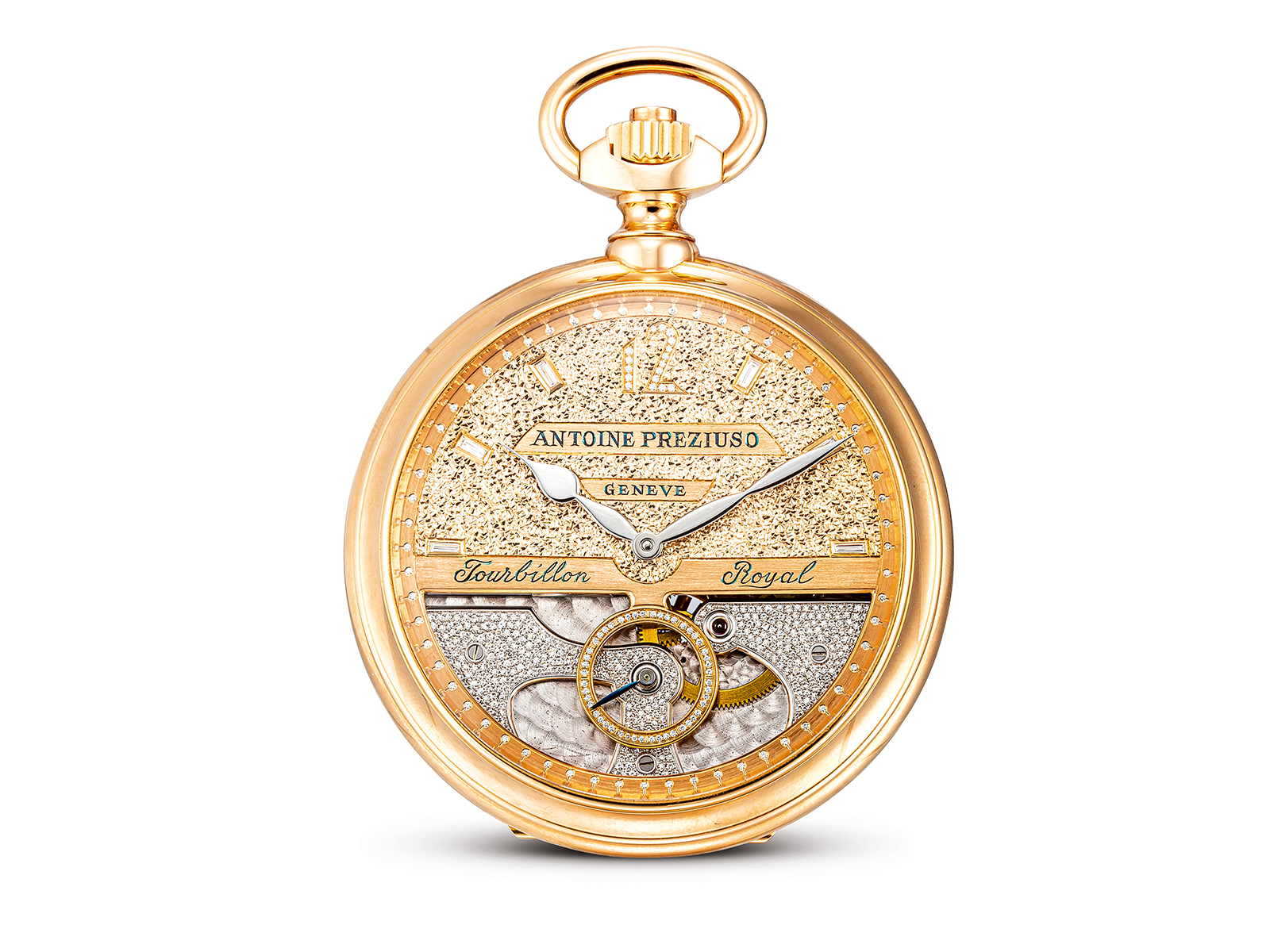 The back has hinged lid that's been skeletonised in a floral pattern, with an aperture to reveal the tourbillon regulator. But lift the hunter back and the most interesting aspect of the watch reveals itself.
The calibre inside is evidently based on the movement developed by the late Derek Pratt for Urban Jurgensen & Sønner (UJS). A contemporary of George Daniels who, by most accounts, was as talented as he was modest, Pratt constructed several such movements for UJS, some incorporating a constant-force mechanism within the tourbillon.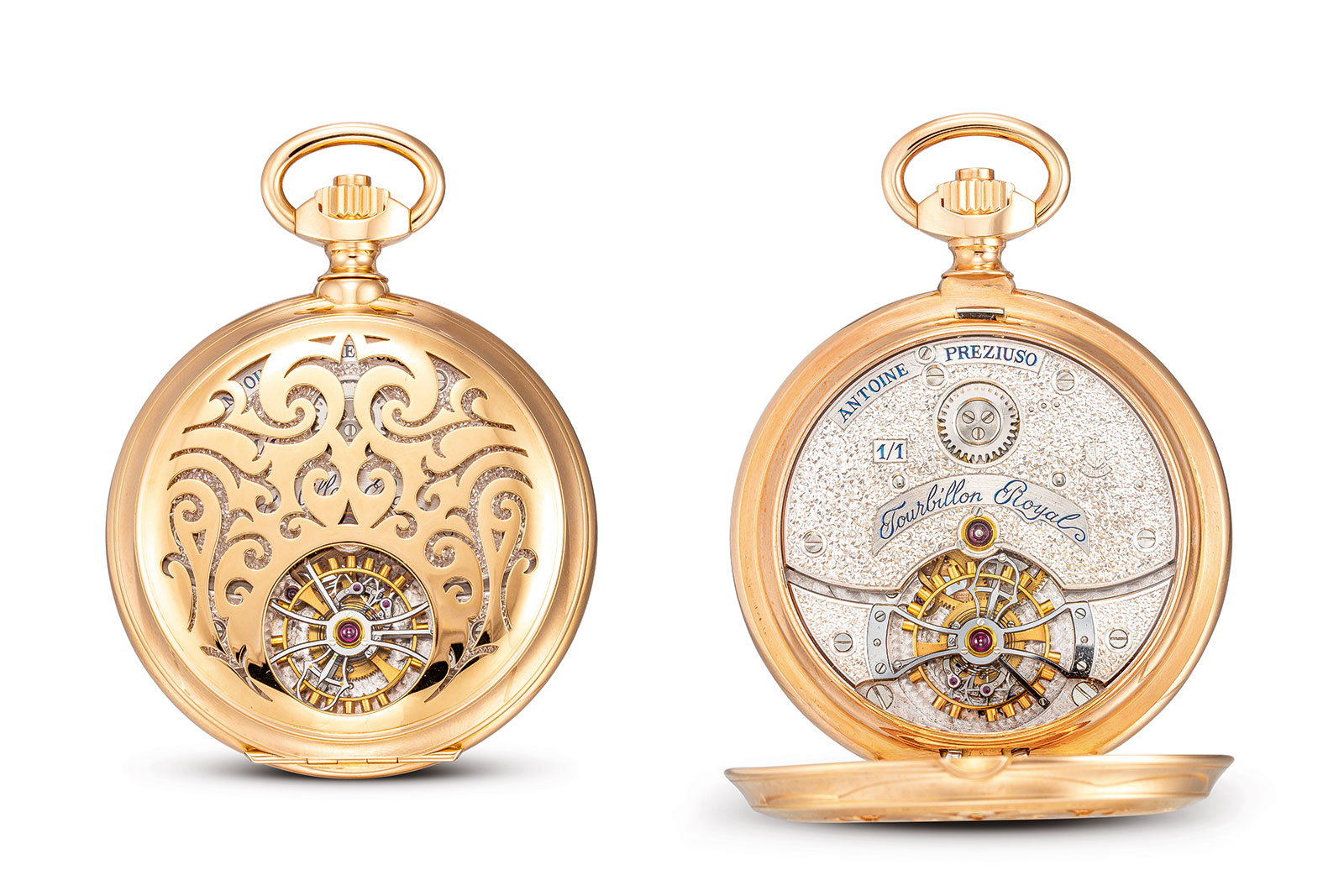 The movement in the Preziuso pocket watch does not have a constant-force mechanism, and have several notable differences from the UJS movements, including the shape of the tourbillon bridge. It was most probably acquired by Mr Preziuso as an ebauche and then intricately decorated with a hand-engraved granular finish on the bridges.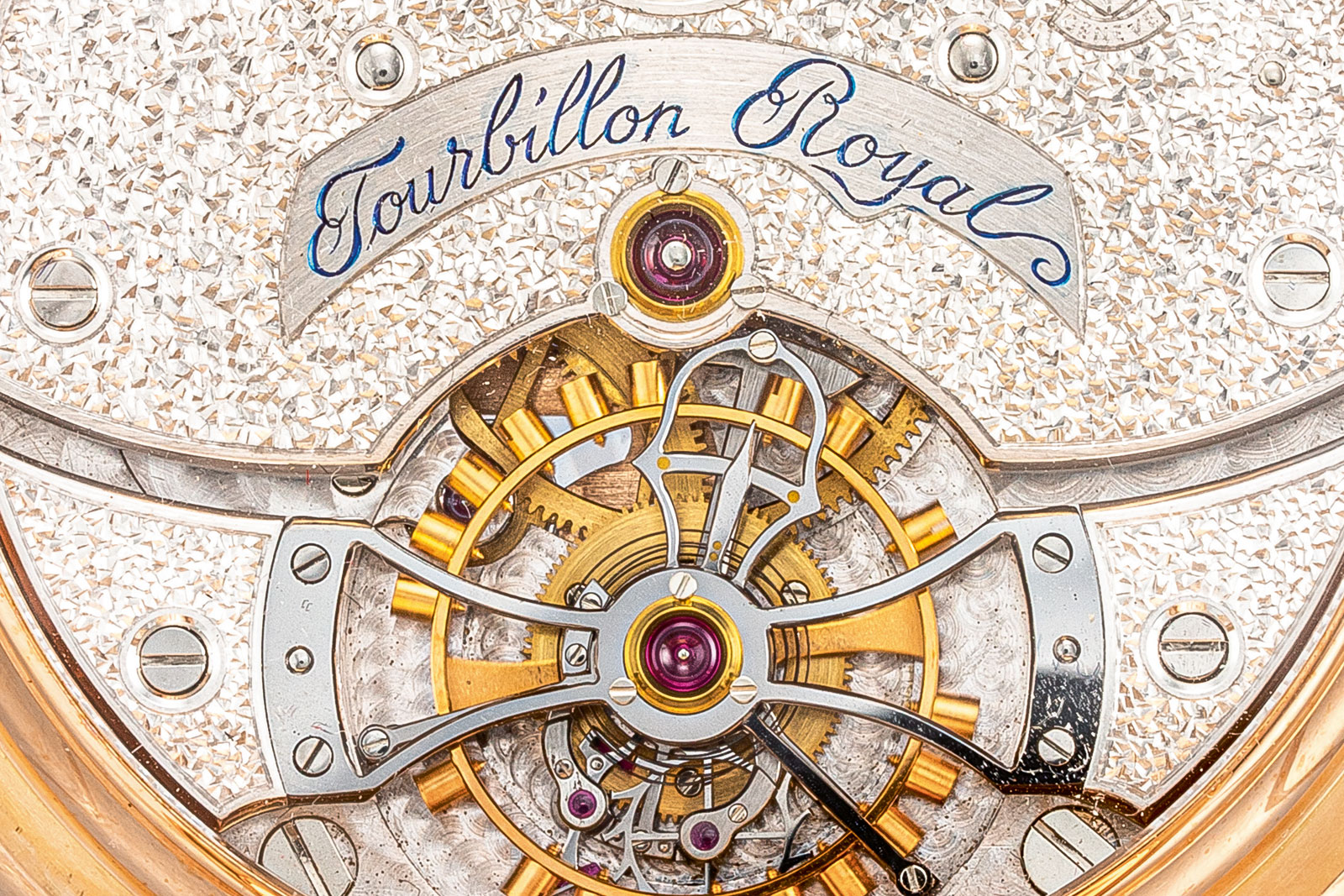 The Tourbillon Royal has an estimate of HK$200,000-320,000, or around US$25,800-41,300, a rock-solid value proposition given the level of craft and cost of materials.
---
Lot 2075 – A. Lange & Söhne Triple Split
Introduced only in 2018, the Triple Split was the first, and is still the only, wristwatch able to record twin elapsed times in seconds, minutes, and hours. Essentially a far more complicated version of the Double Split of 2004, the Triple Split is restrained in style and refined in mechanics, resulting in a watch that is just 0.3 mm thicker than the Double Split.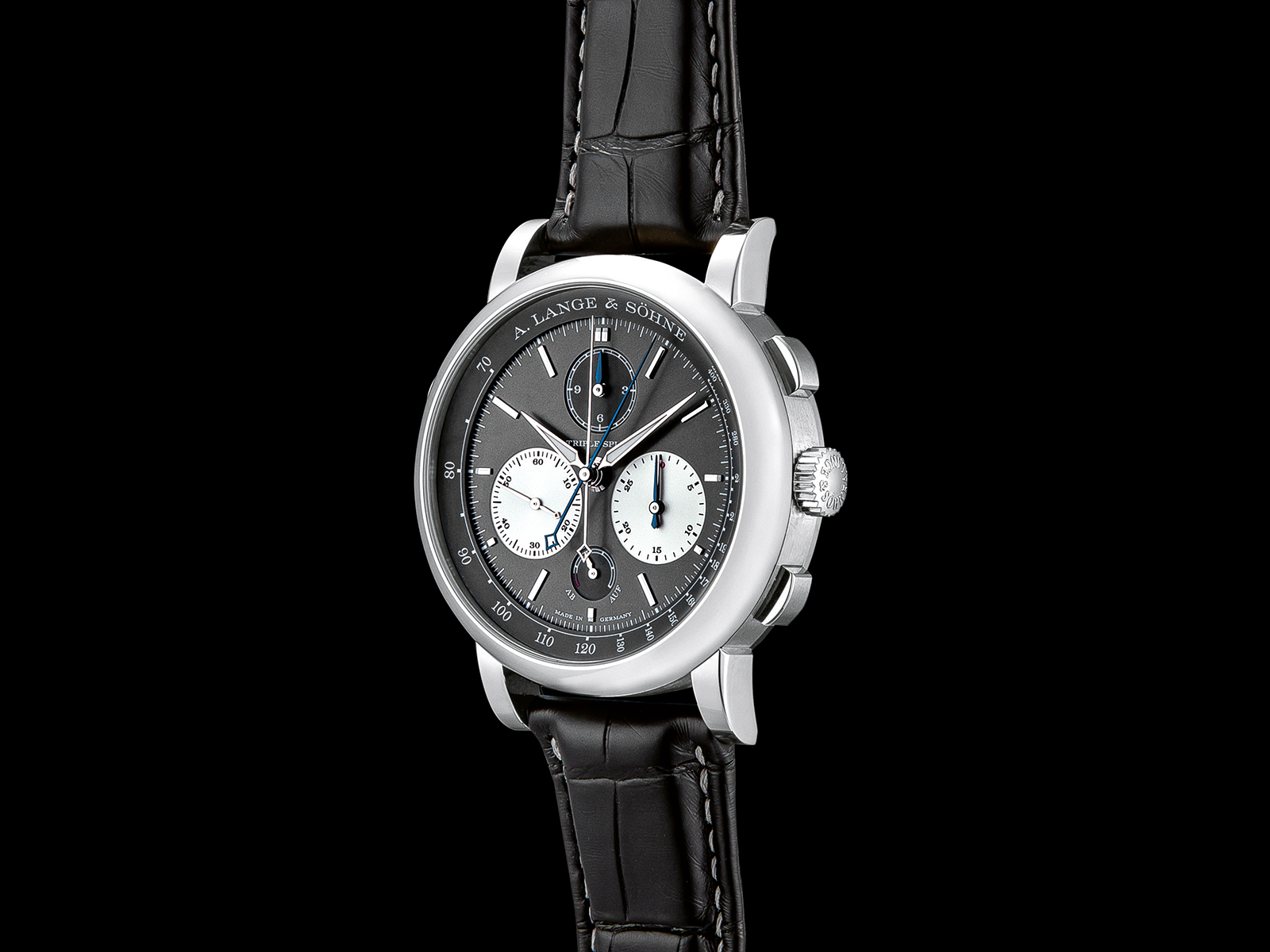 The cal. L132.1 inside is a major achievement in chronograph movements, but also traditionally finished, as exemplified with the many intricately finished steel levers. Limited to 100 pieces, the Triple Split sold out swiftly after its launch, and is relatively uncommon now.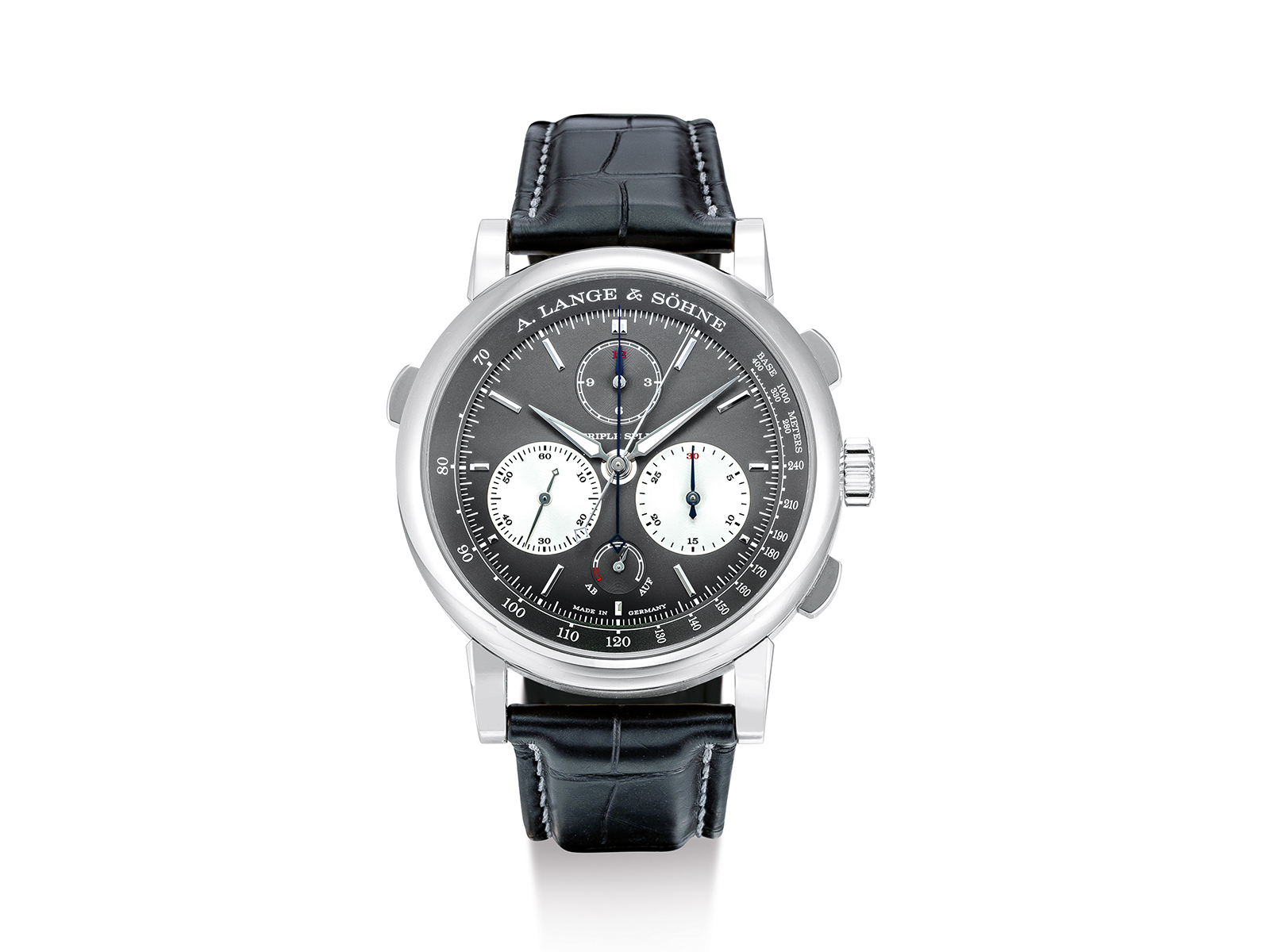 This is estimated at HK$700,000-1.0m or around US$90,300-129,000. The Triple Split's retail price was just over US$156,000 when it was available, which means it can still be had for below retail if the hammer price stays within the estimate.
---
Lot 2083 – Parmigiani Fleurier Table Clock Regence with perpetual calendar
One of the more unusual offerings in the sale is a table clock by Parmigiani Fleurier. Founded by Michel Parmigiani in 1996, the brand makes timepieces of notably impressive quality, even though its recent designs are a hit or miss.
In its earlier years, Parmigiani also produced a number of clocks and objets d'art, and this is an excellent example of that work. Simple with a slight Art Deco feel, the clock is made of pink gold and black Onyx. Within is a key-wound, eight-day movement with a perpetual calendar mechanism, a rare complication in table clocks.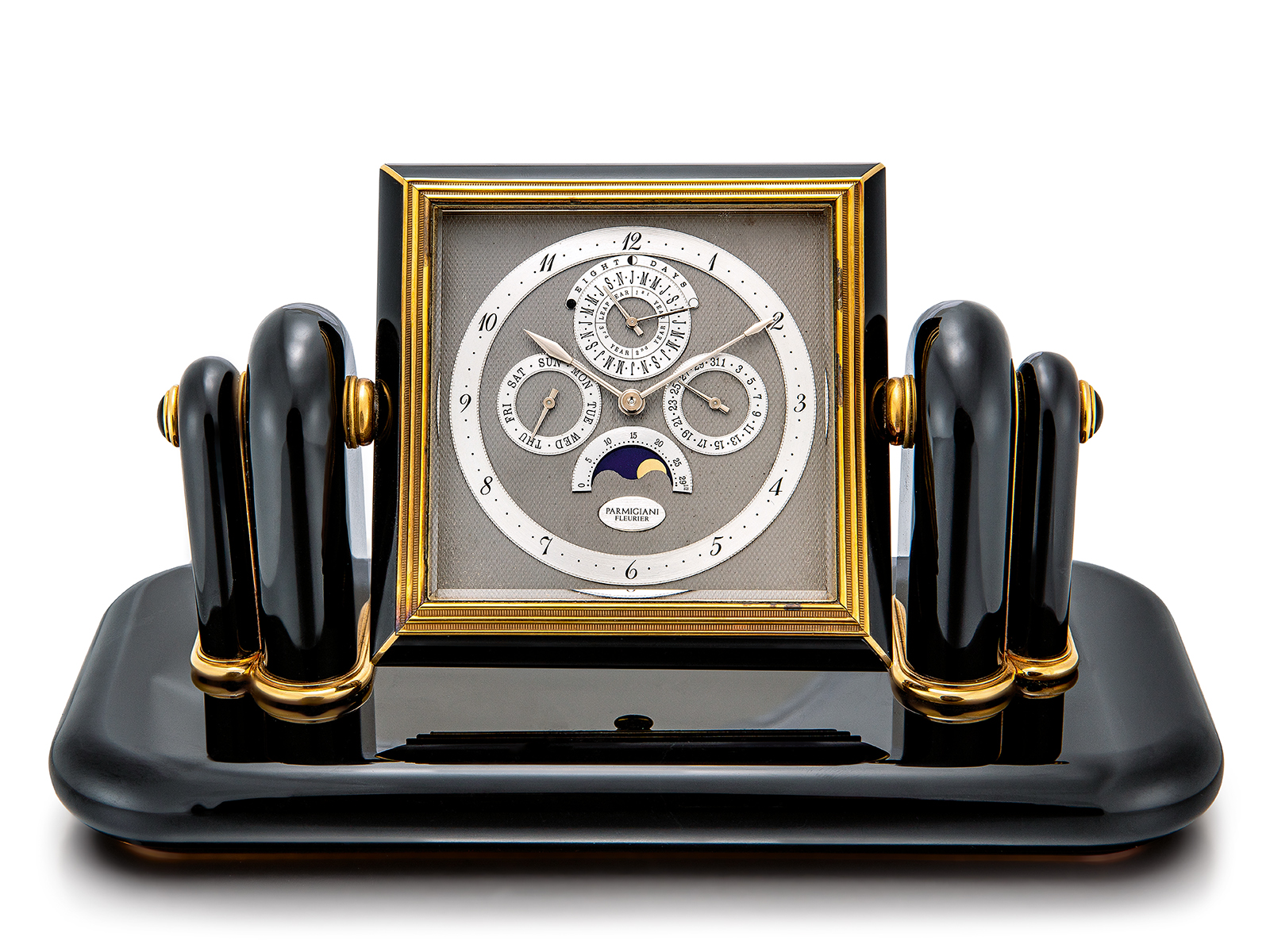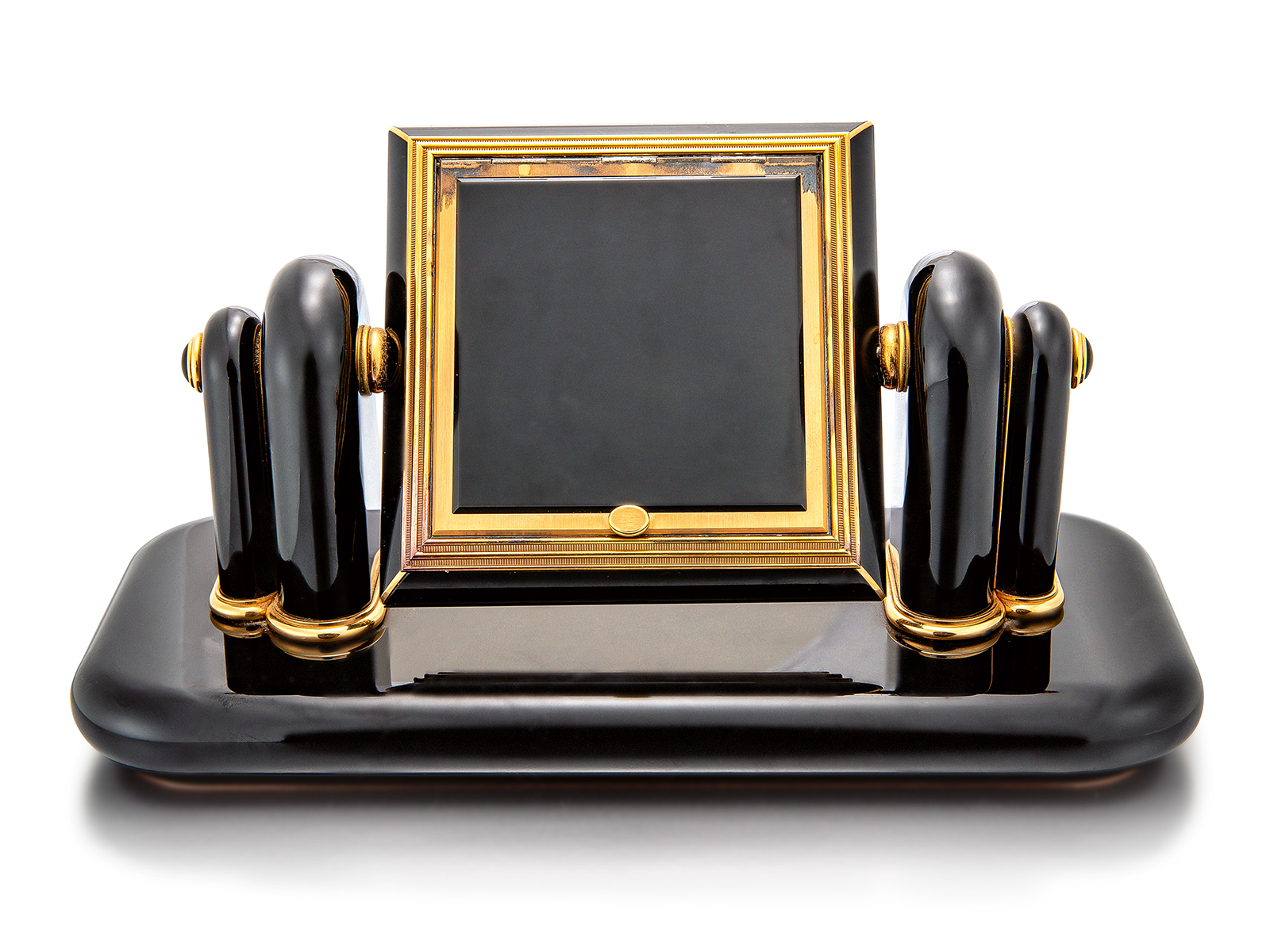 The clock also incorporates many of the defining elements of Parmigiani wristwatches. The bezel of the square face is double stepped and knurled by hand to create an extremely fine fluting. And the dial, which is probably solid gold, is decorated with guilloche and applied chapter rings, while the hands are Parmigiani's signature lance shape.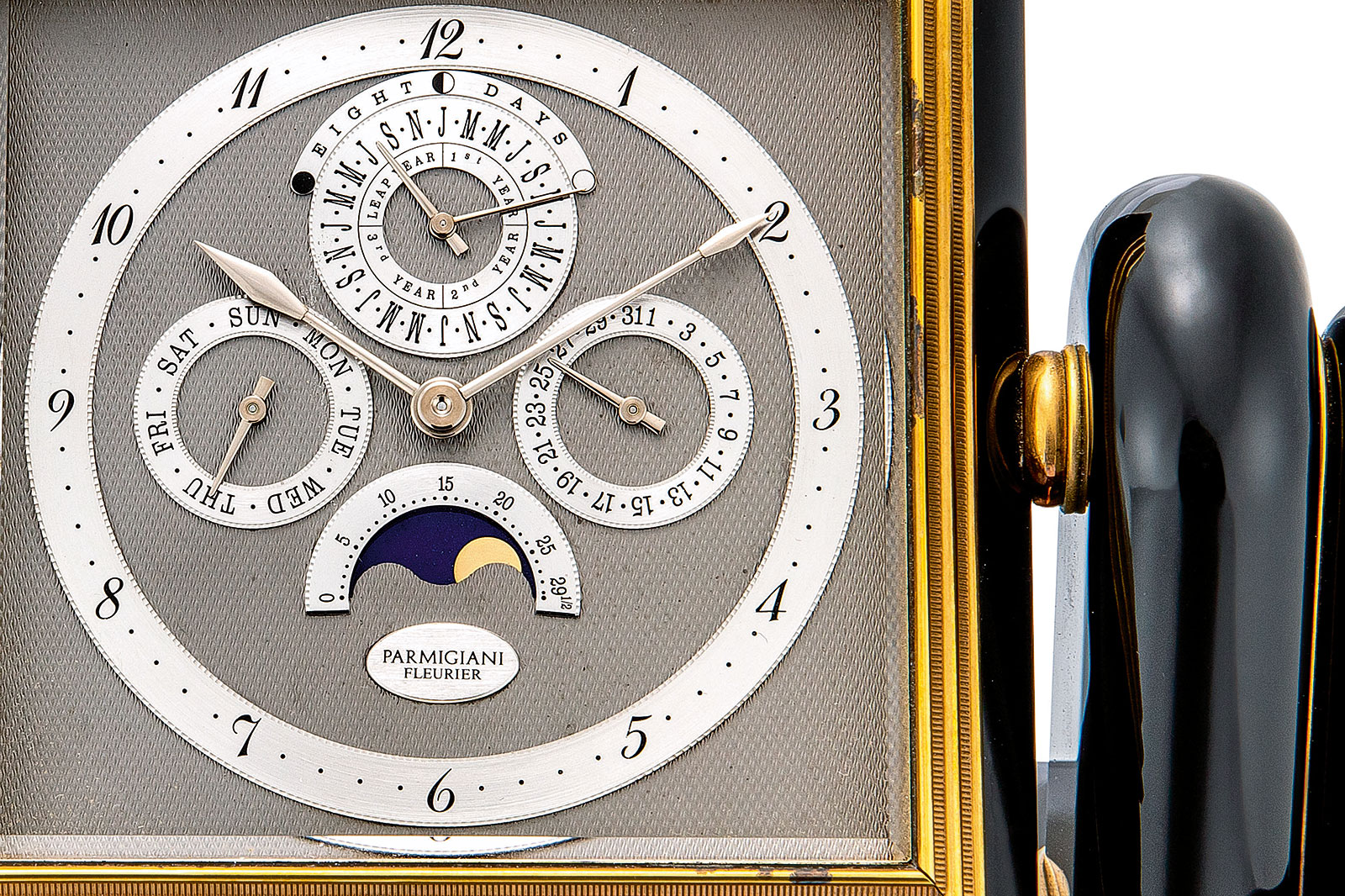 This table clock is as functional as it is elegant, and likely cost well into six figures – in Swiss francs – when it was new. And now it carries an estimate of HK$240,000-320,000, or about US$31,000-41,300.
---
Lot 2120 – Rolex Beta-21 Ref. 5100
Introduced in 1966, the Beta 21 was Switzerland's answer to the quartz movement developed by Seiko. It was the result of a wide-ranging collaboration across the watch industry, backed by 20 brands, including Rolex, Patek Philippe and Omega. Rolex installed the Beta-21 in the ref. 5100, a chunky wristwatch with a distinctive 1970s style.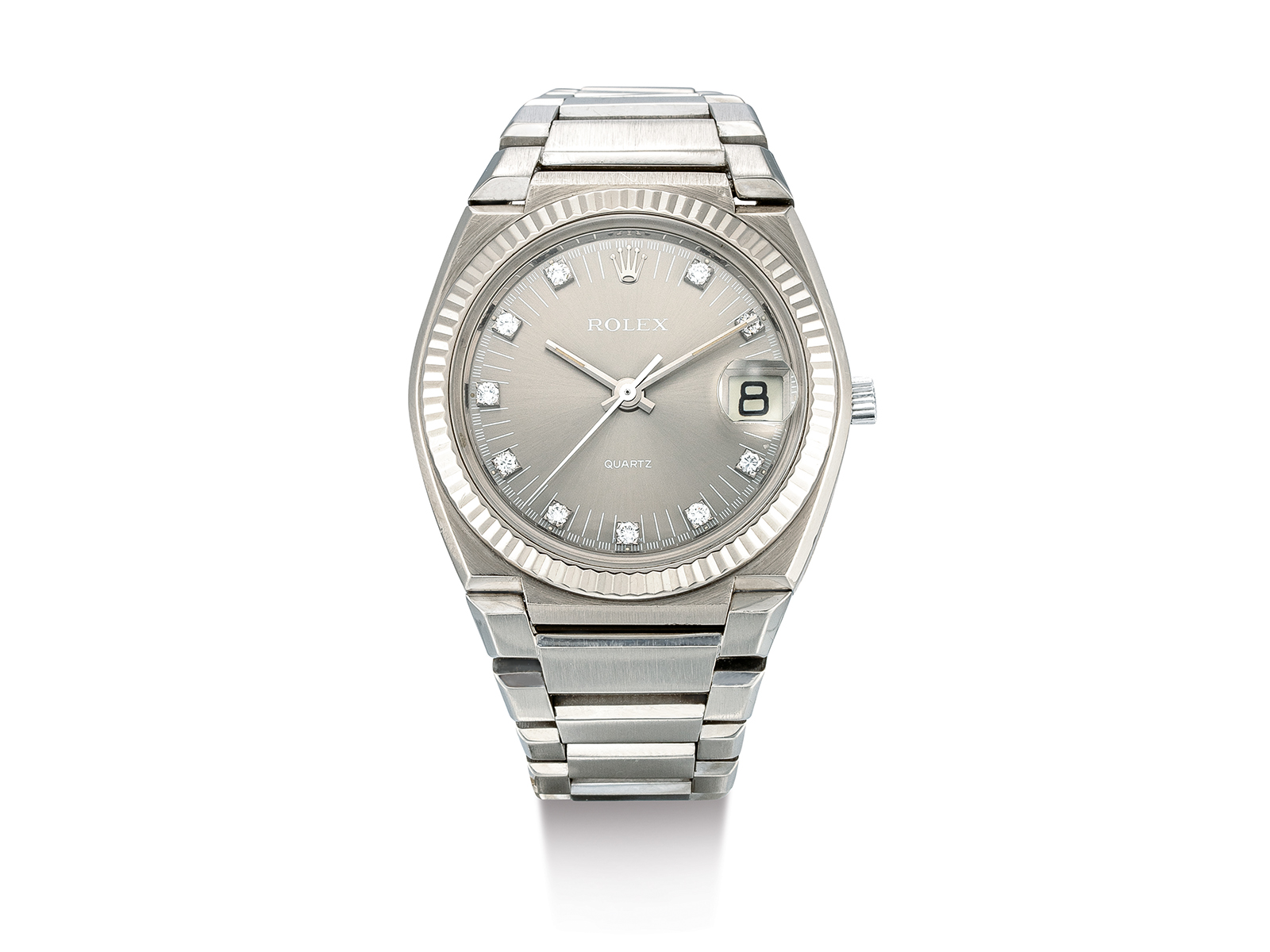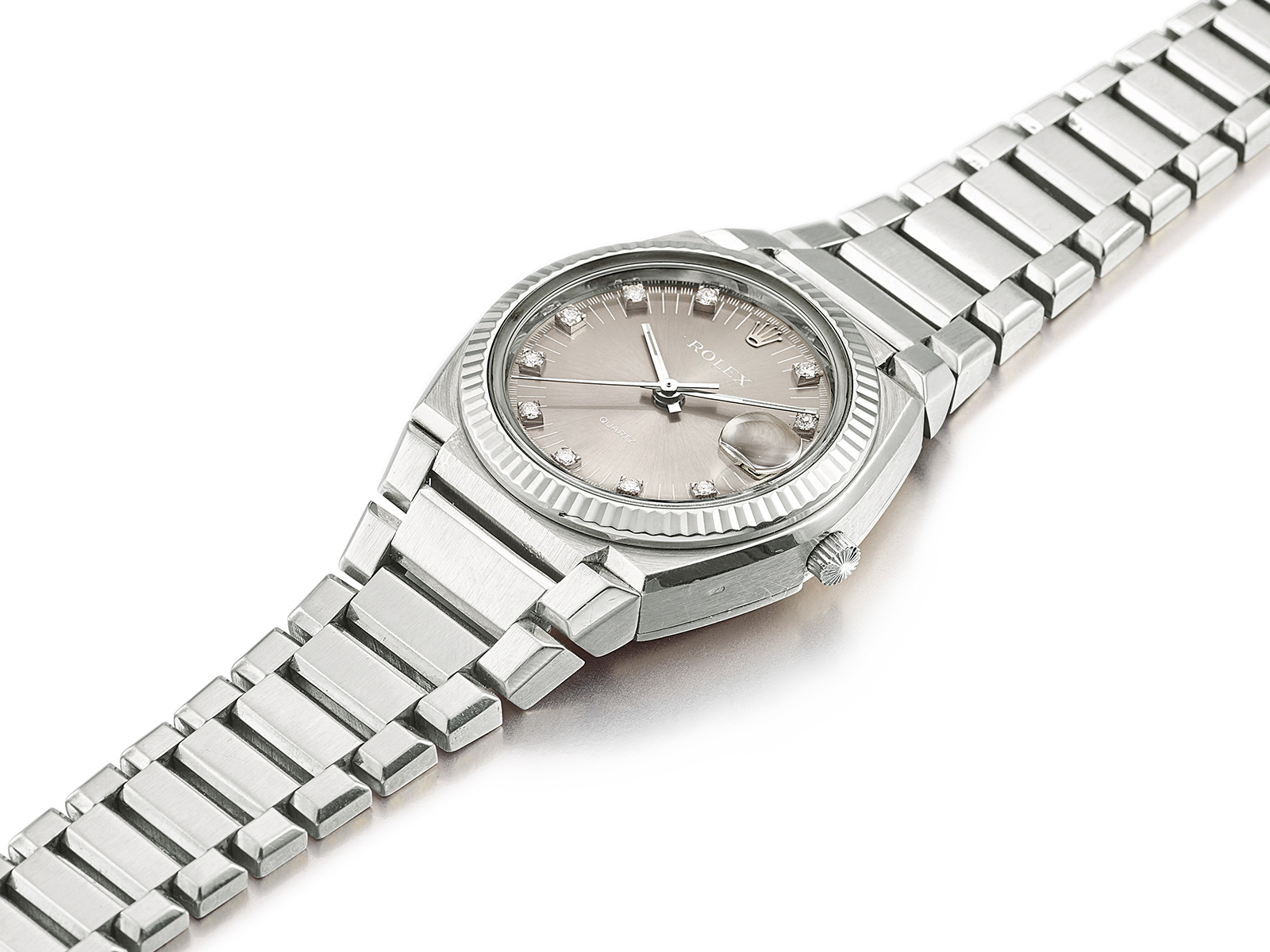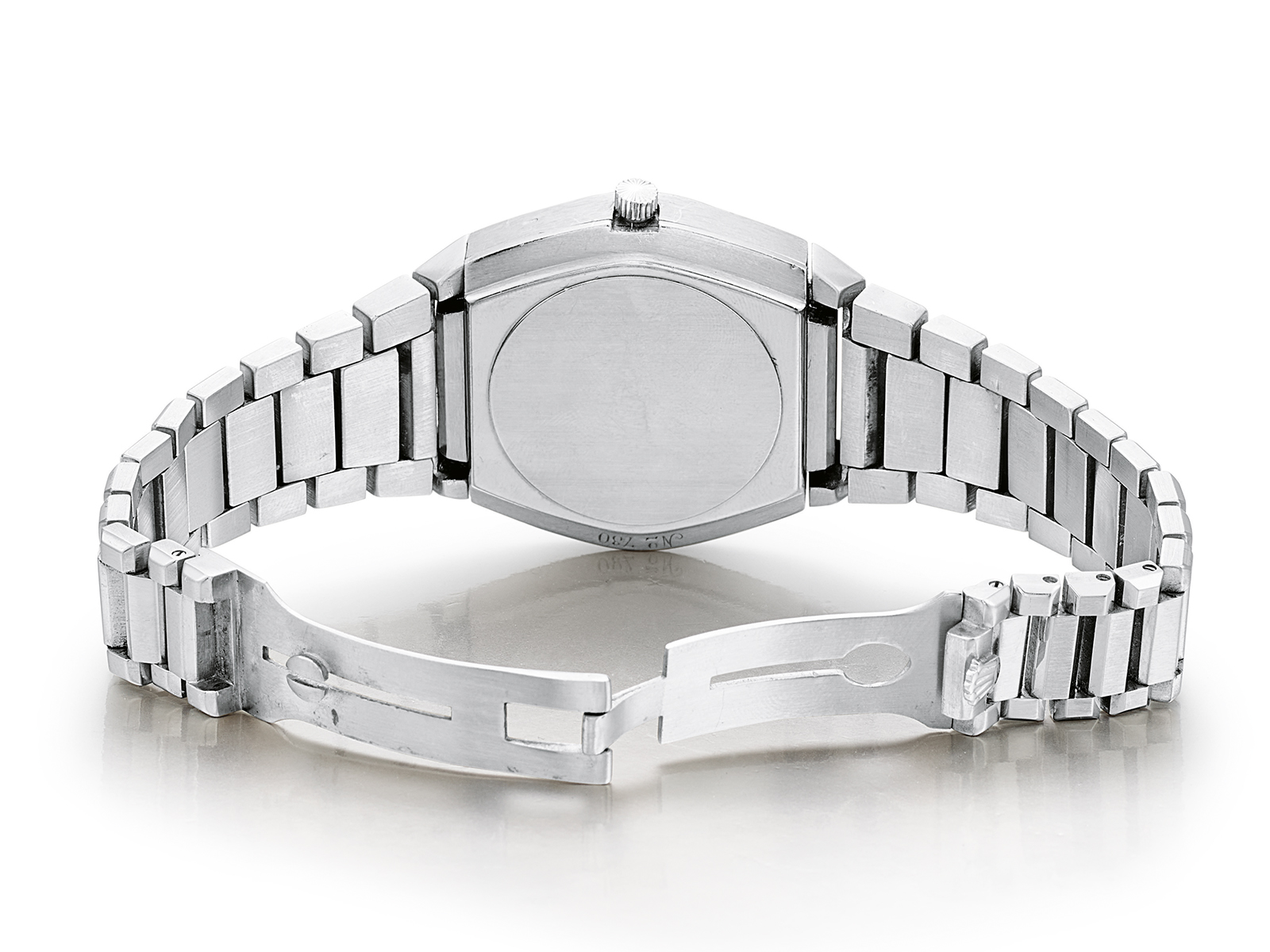 The ref. 5100 was the first quartz Rolex, and just 1,000 were made – each hand engraved with a serial number on the back – before Rolex moved on to its in-house Oysterquartz movement in 1972.
While a Rolex Beta-21 is rare in itself, this example is even less common. For starters, it is in white gold (most are in yellow gold), and features a grey dial with diamond indices, a combination that has not been offered publicly before, making it possibly unique.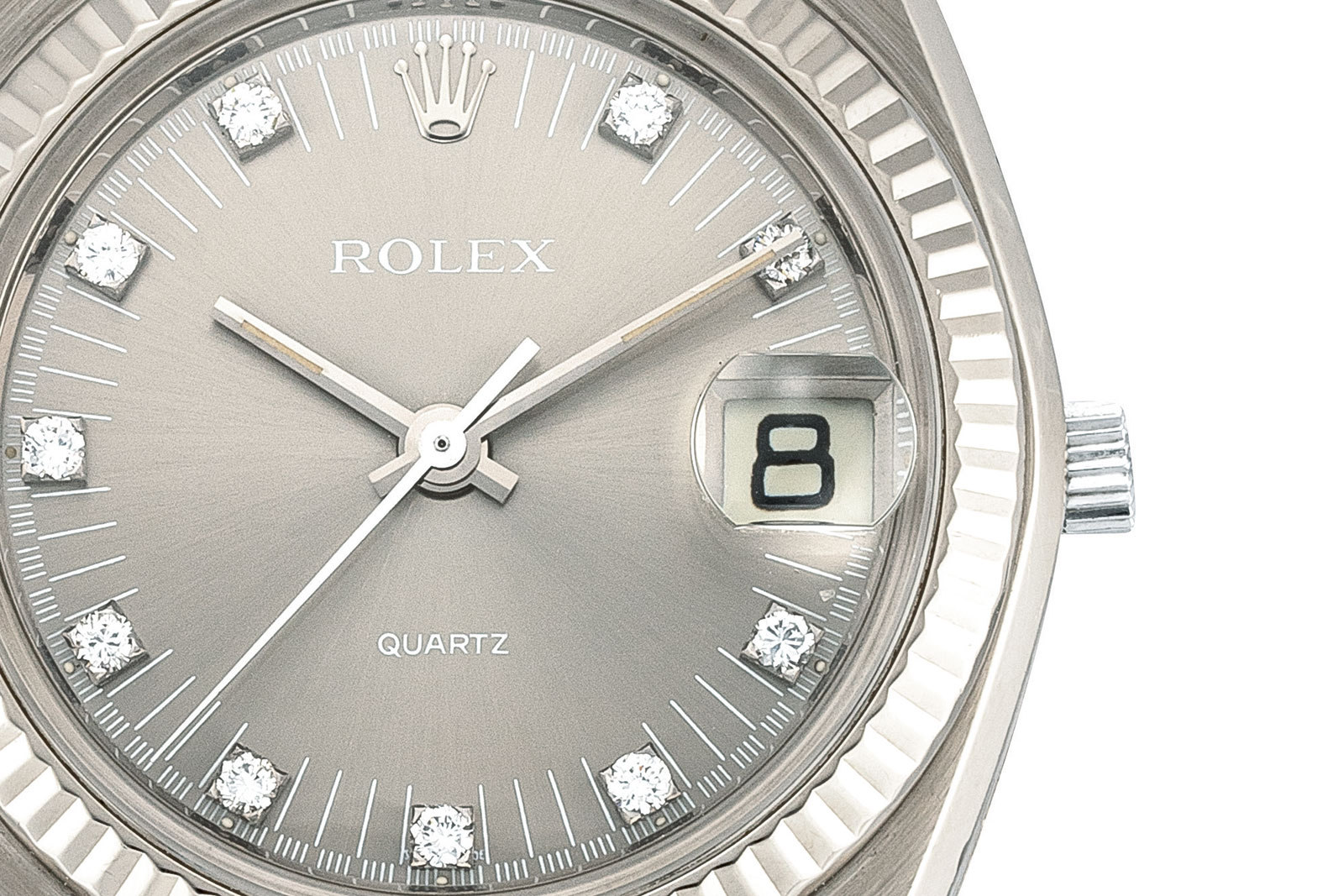 This has an estimate of HK$400,000-600,000, or about US$51,600-77,400.
---
Lot 2141 – Rolex Daytona ref. 16528 with lapis lazuli dial
Having just sold a platinum Rolex Daytona "Zenith" with a lapis lazuli dial for over US$3.2 million (and another one with a mother-of-pearl dial before that), Sotheby's continues its streak of rare and possibly unique Rolex Daytonas.
The top lot of the auction is Cosmograph Daytona ref. 16528 in yellow gold powered by the cal. 4030, which is based on the Zenith El Primero movement.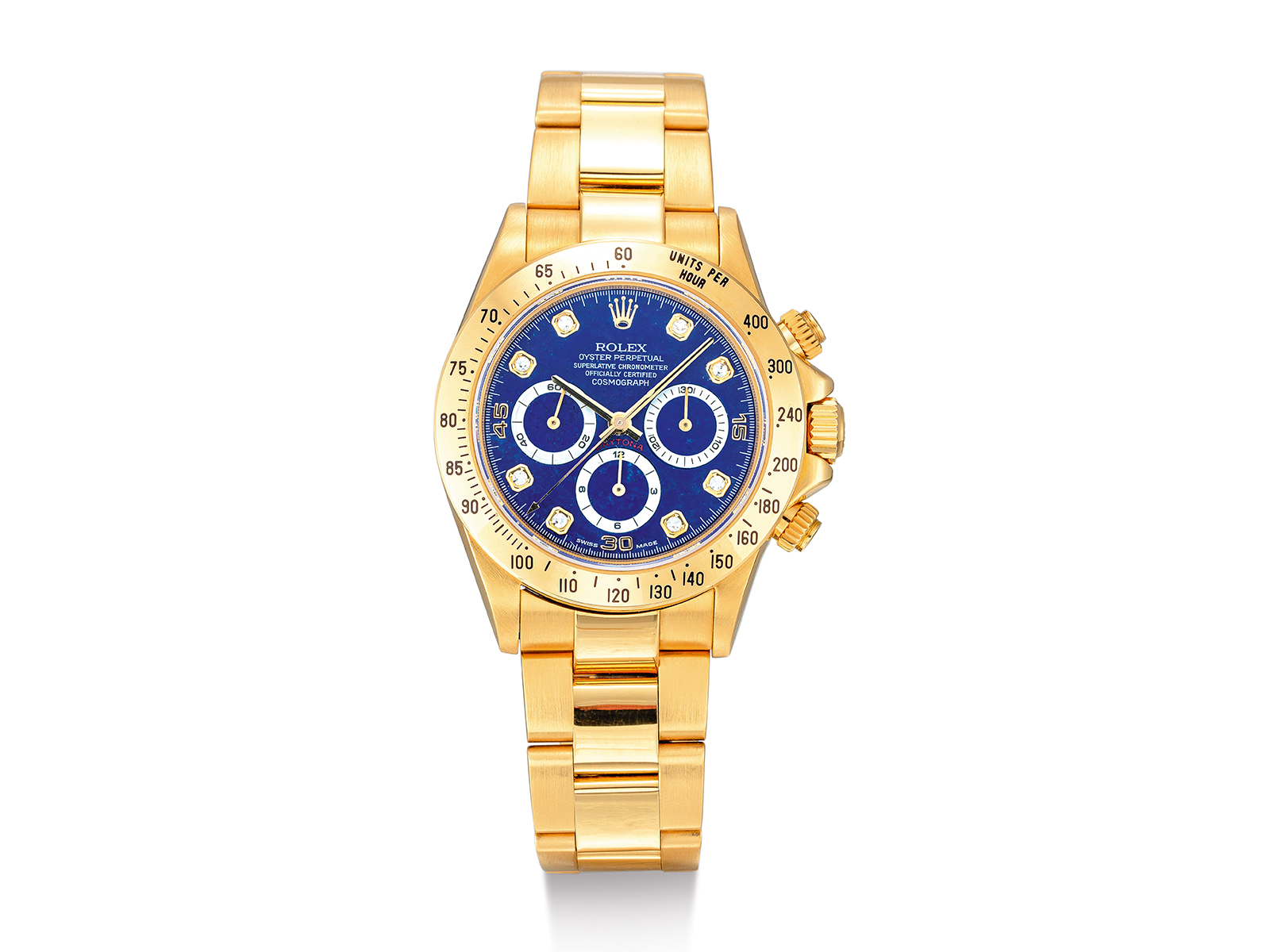 But the highlight is the dial. It's made of lapis lazuli and matched with diamond indices, and a perfect match for the yellow gold case and bracelet.
A combination that is inherently compelling in design, this is made even more desirable since it might just be unique. According to Sotheby's, it is the only know Daytona with a lapis dial, and also the only known Daytona with a stone dial and a yellow gold case (white gold being the norm).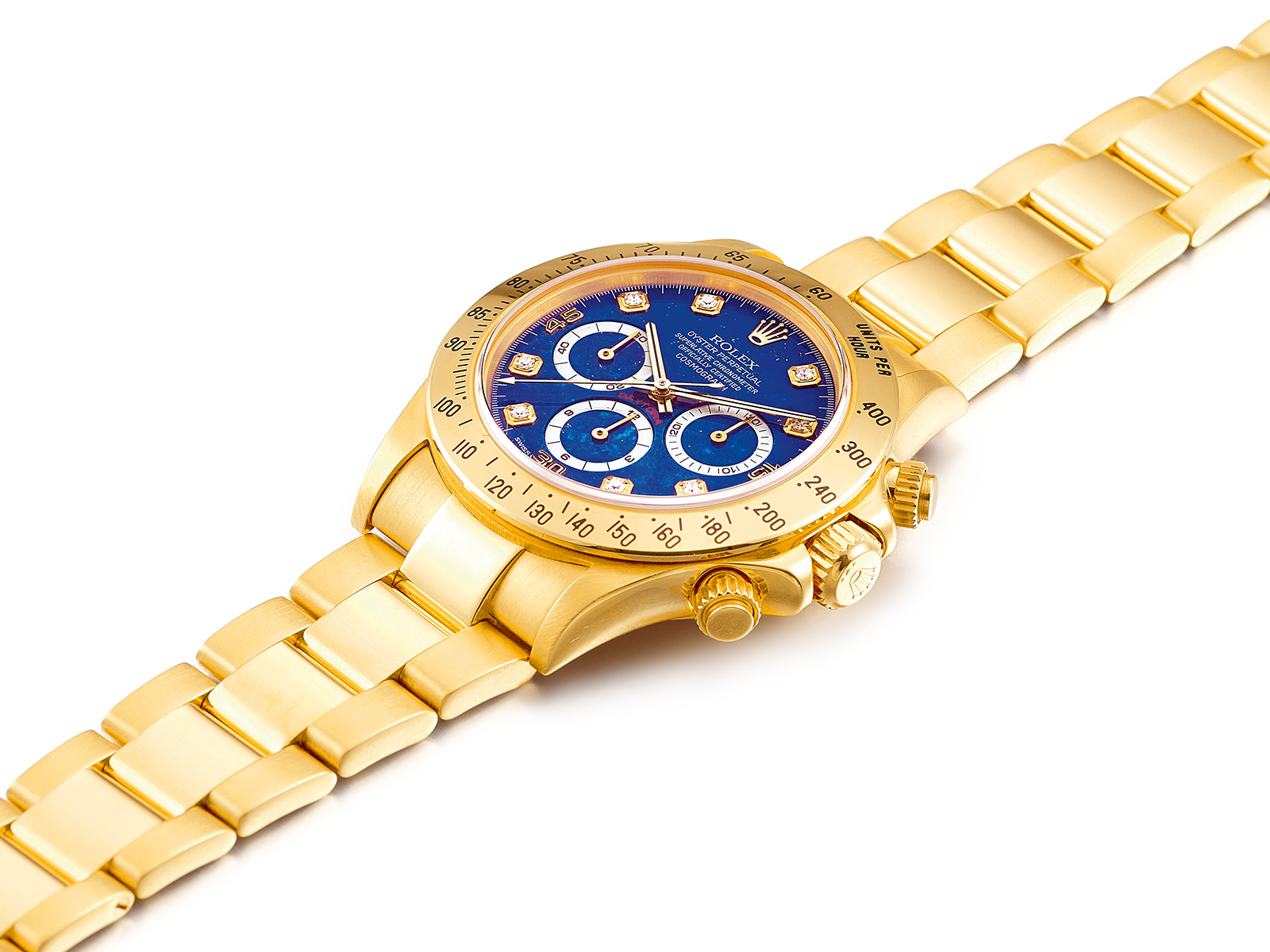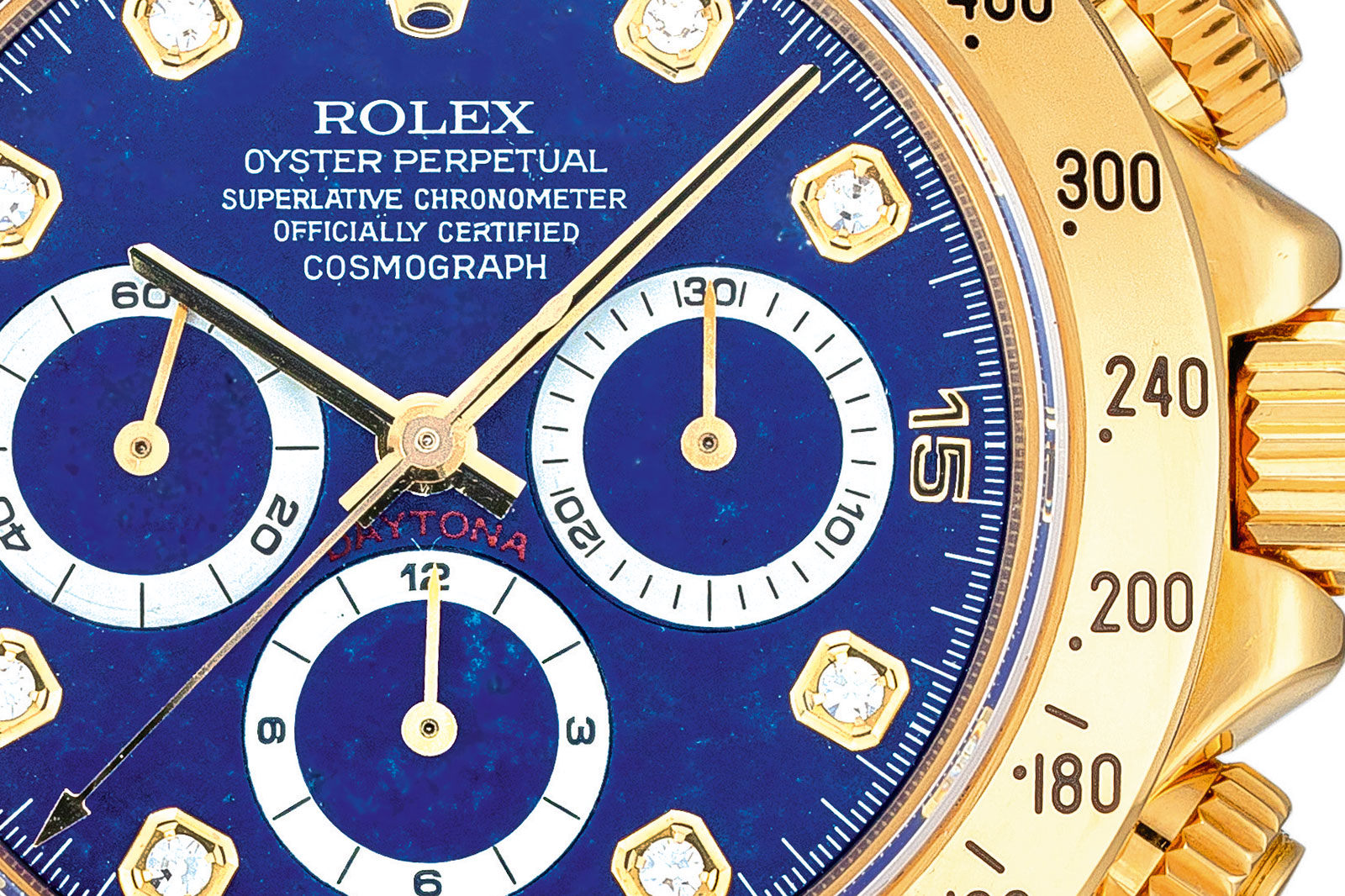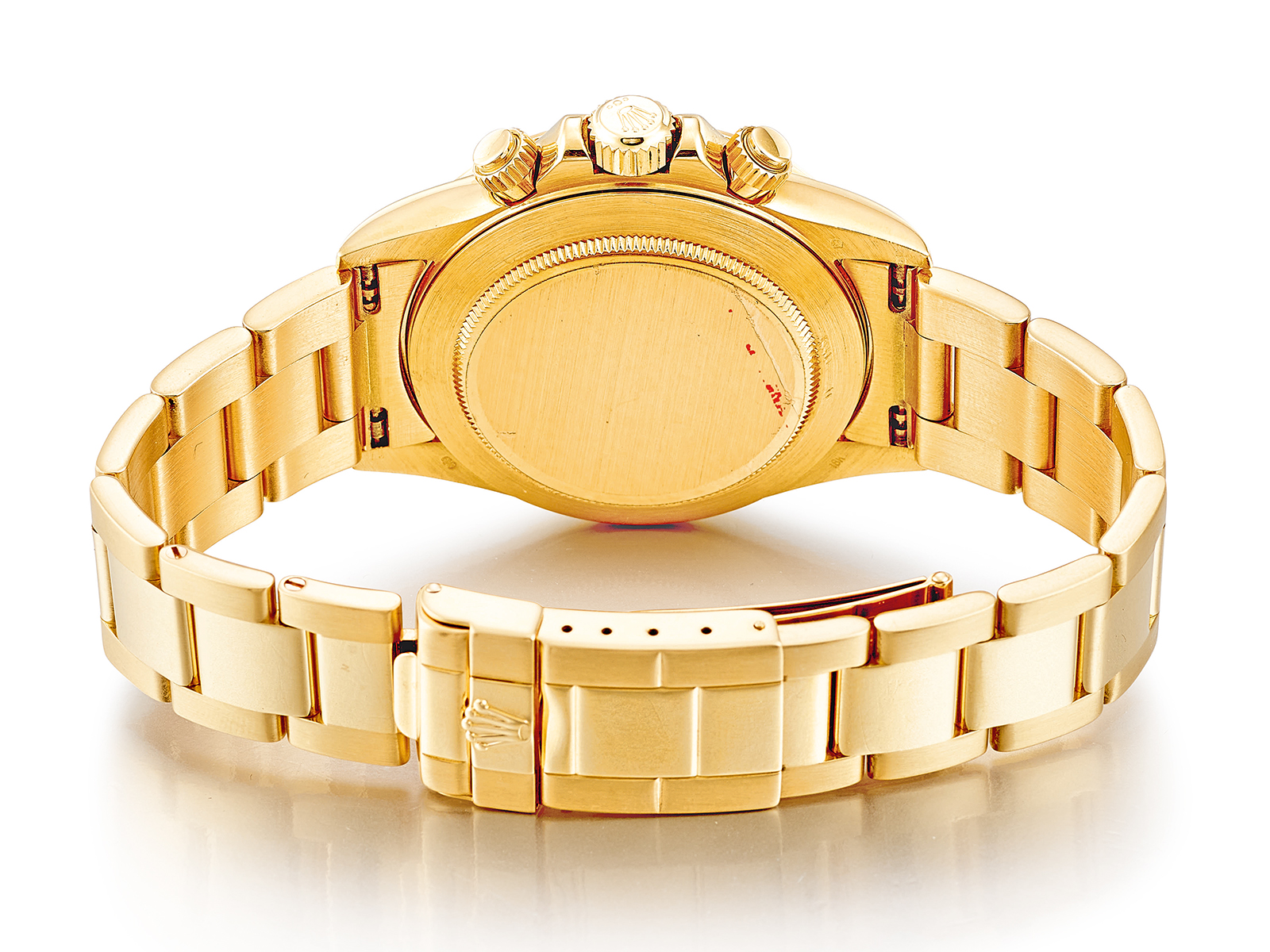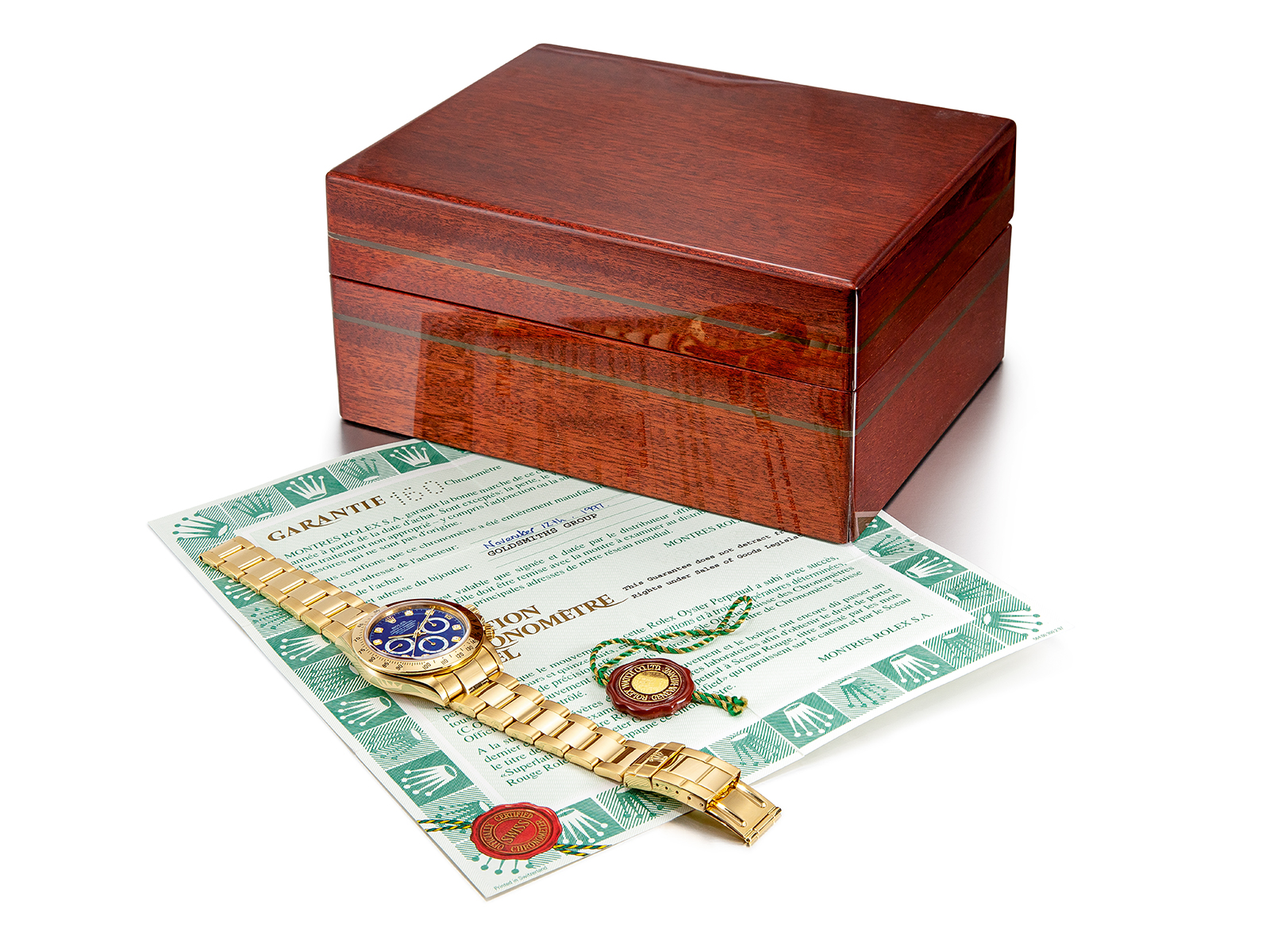 This watch includes the original presentation box and guarantee. The dial has no flaws, and the case shows light signs of polishing. It's estimated at HK$4.0-8.0m, or about US$516,000-1.03m.
---
Lot 2151 – Philippe Dufour Simplicity 37 mm
The features that make Philippe Dufour's watches so sought after are well-documented, namely the classic movement architecture and peerless, artisanal finishing. And with its value have risen almost 10-fold from the original retail price and reached a stable level, the Simplicity has become a regular feature at auctions.
The auction includes not one, but two, examples of Philippe Dufour's iconic, time-only wristwatch. Both have a white metal case and the same dial design – silver guilloche – but they are in different sizes and alloys.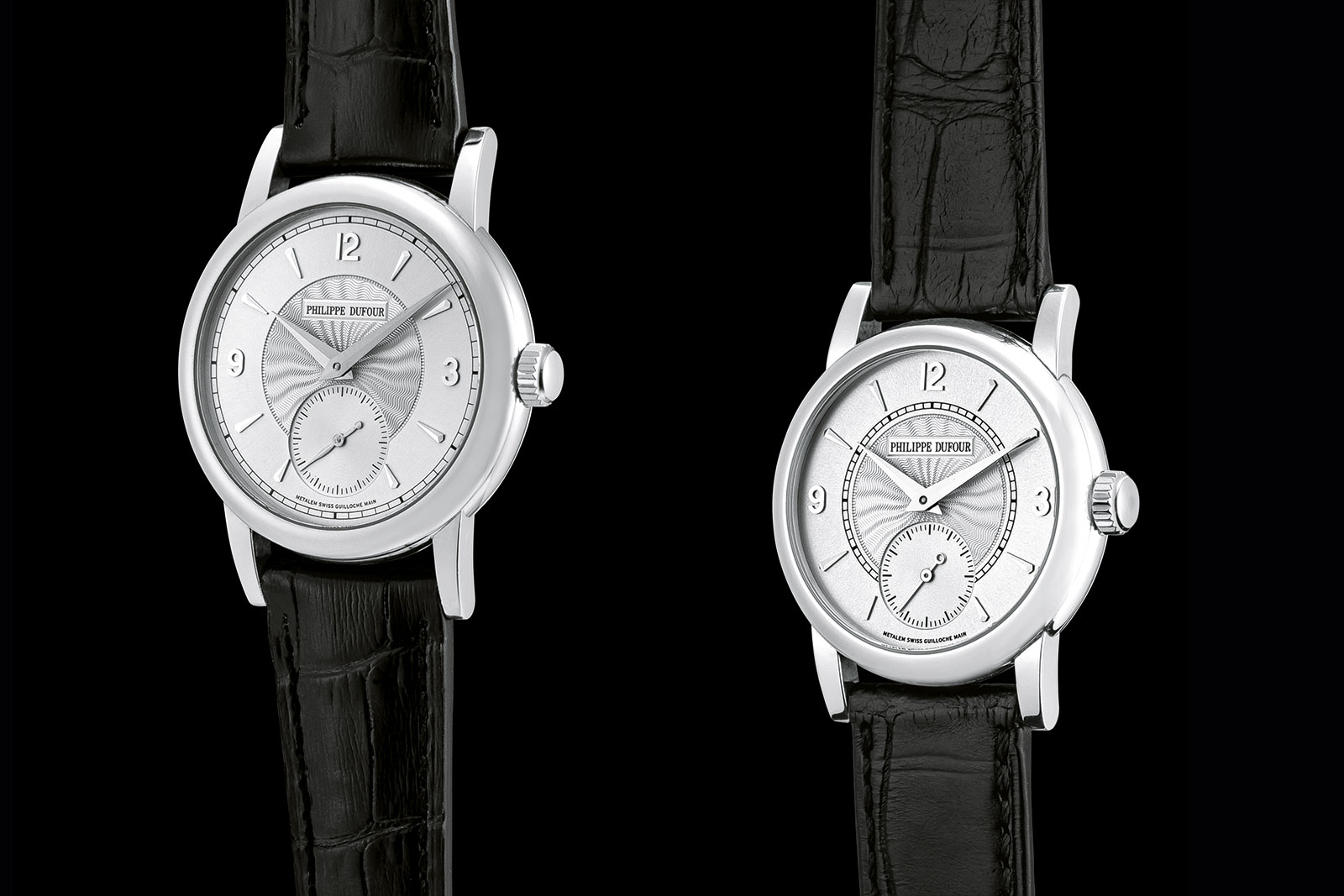 The first is the larger, 37 mm size in white gold, with a movement number of "68". It has the original box and certificate.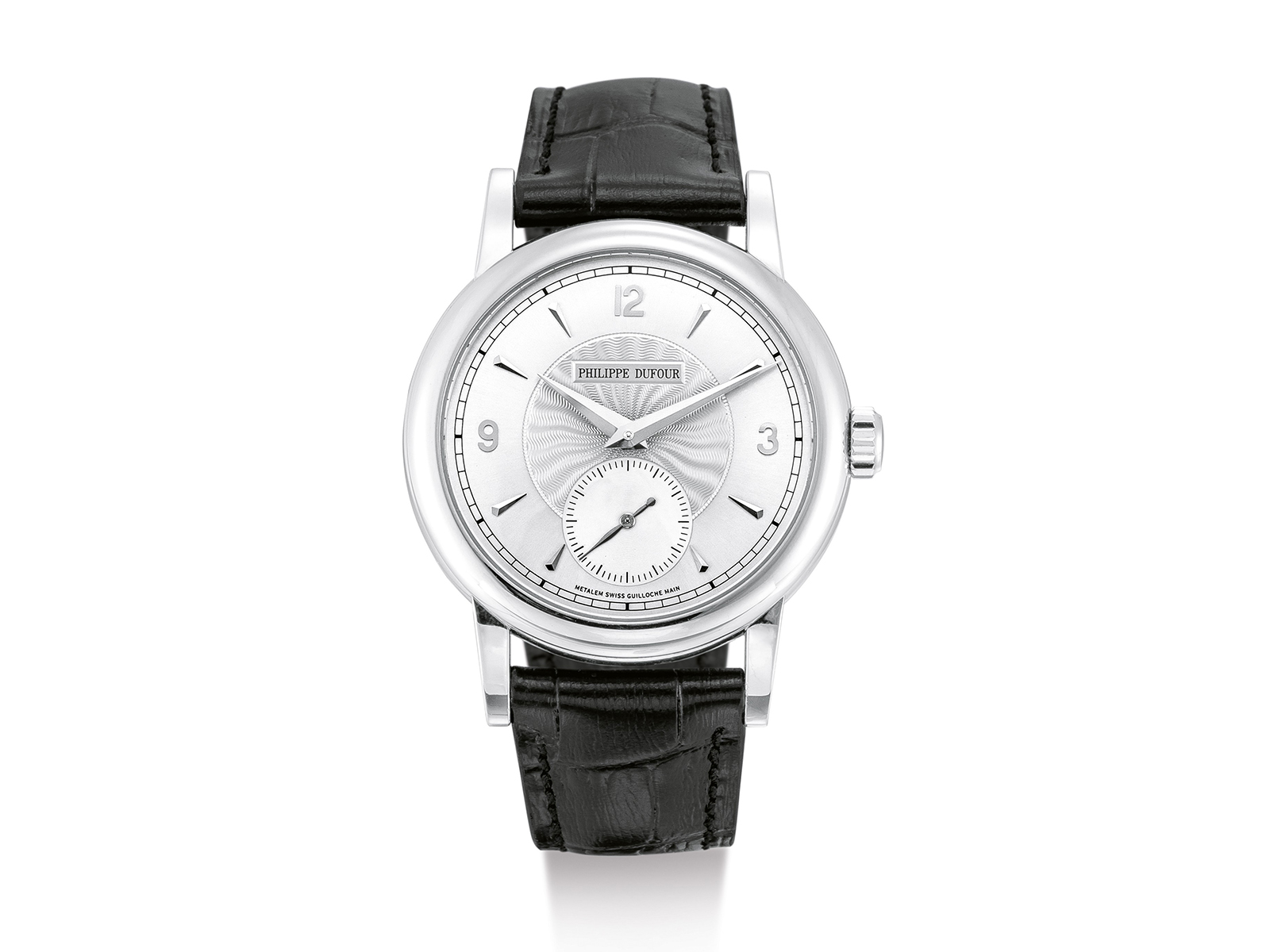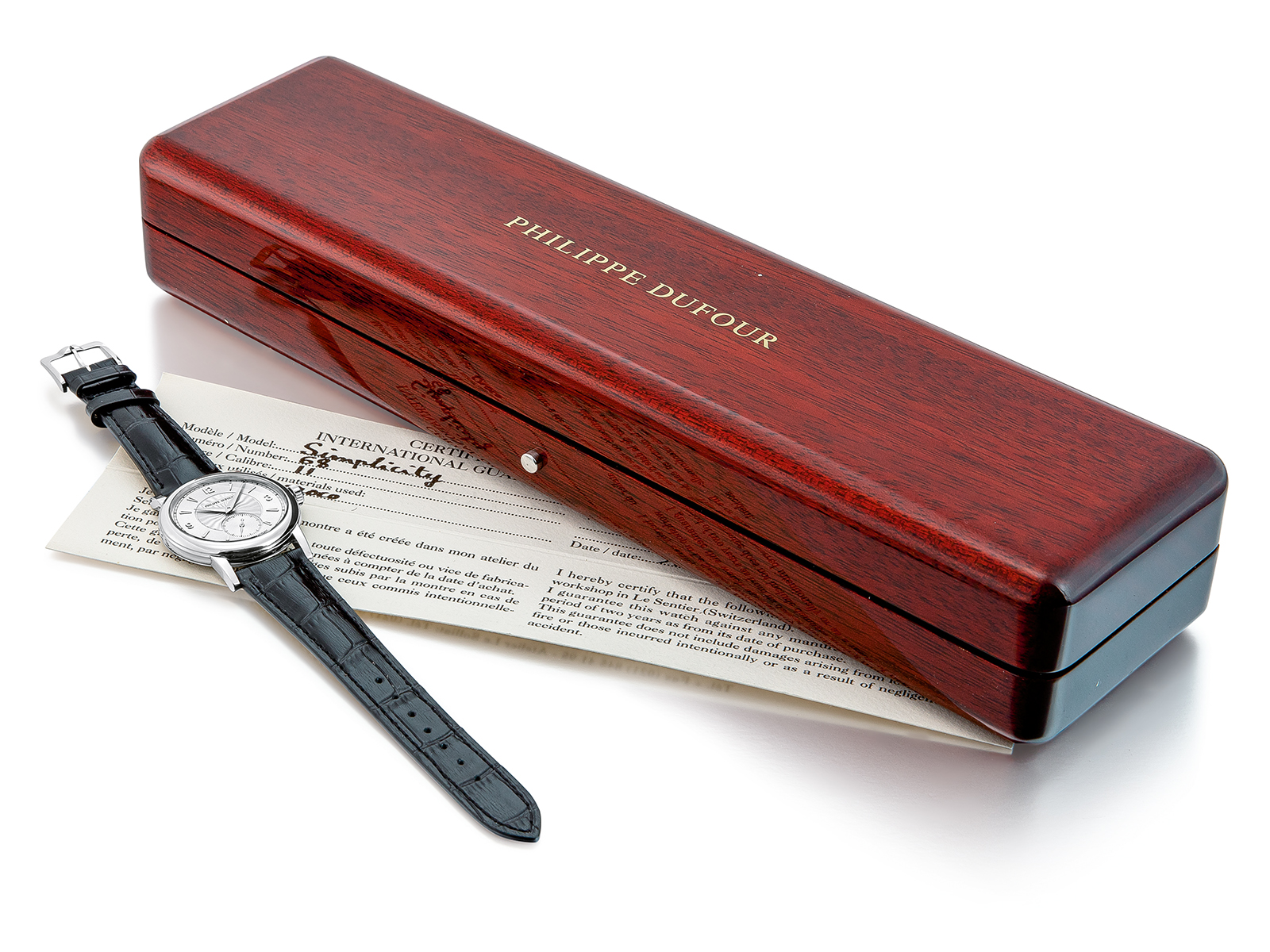 The estimate is HK$2.0-3.2m, or about US$258,000-413,000.
---
Lot 2152 – Philippe Dufour Simplicity 34 mm
And the second is the original size of 34 mm, and in platinum. It's numbered "100" and also includes the original box and certificate.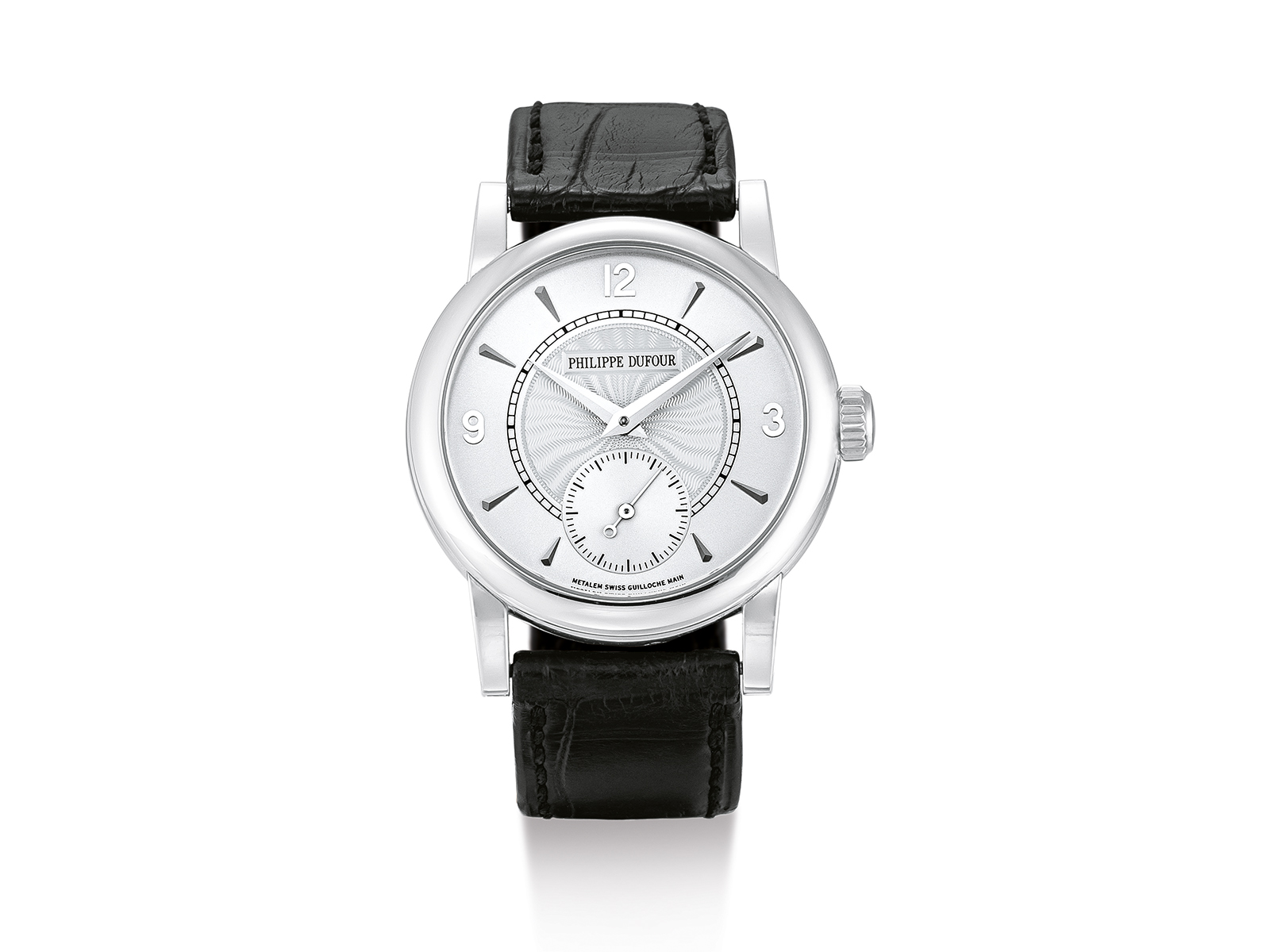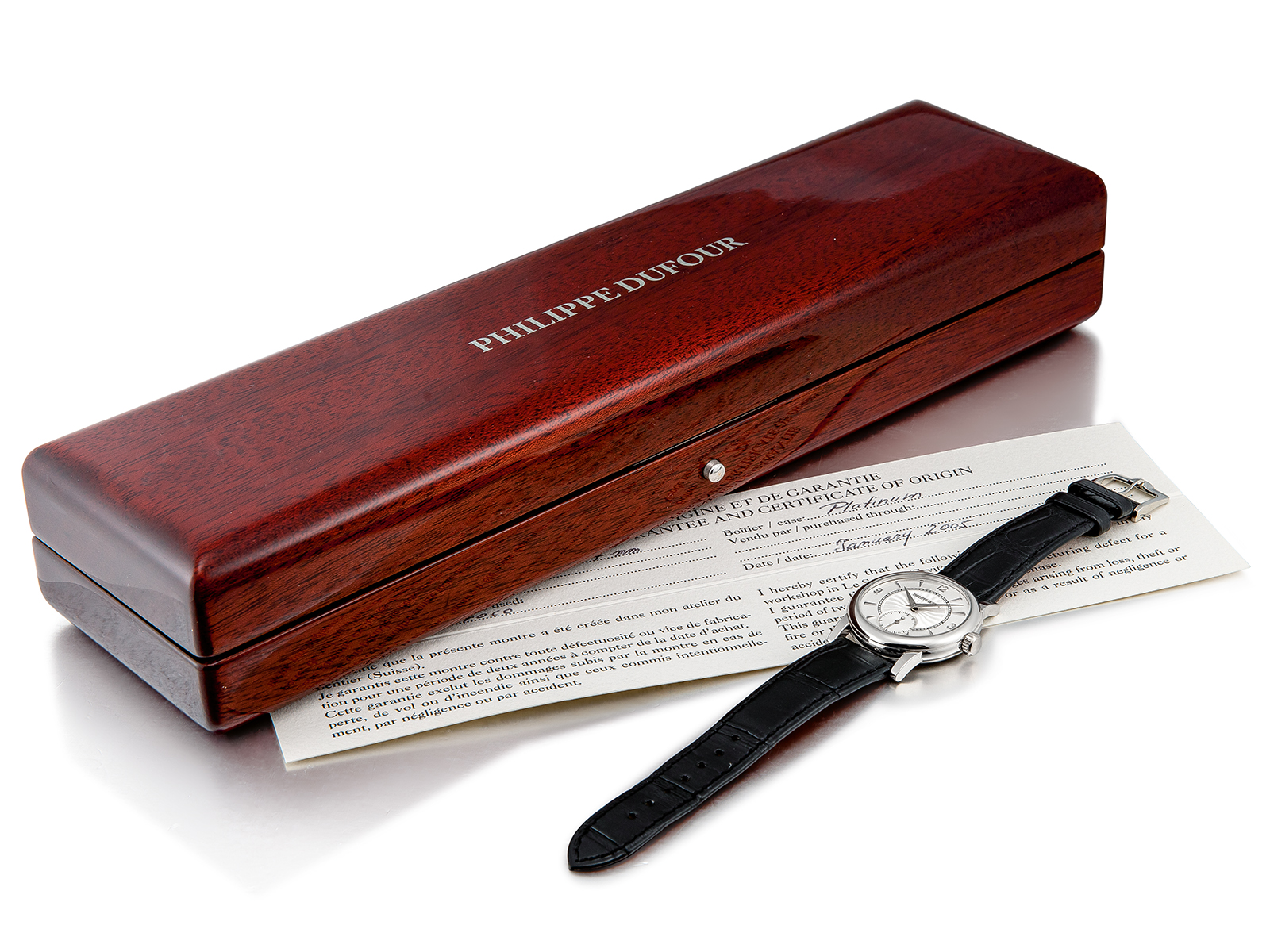 This has an estimate of HK$1.6-2.4m, or about US$206,000-310,000.
---
Preview and Auction
The preview exhibition is open daily from October 3-8 at the New Wing of the Hong Kong Convention & Exhibition Centre (HKCEC).
Hall 1, New Wing, Hong Kong Convention & Exhibition Centre
1 Expo Dr
Wanchai, Hong Kong
China
The auction starts at 4:00 pm (GMT+8) on Friday, October 9, 2020, taking place at Sotheby's offices in Pacific Place.
5/F, One Pacific Place, 88 Queensway
Admiralty, Hong Kong
China
For the full catalogue, as well as registration and online bidding, visit Sothebys.com.
---
Back to top.
---
You may also enjoy these.