Swatch Introduces the James Bond 007 Collection
Budget-friendly movie tributes.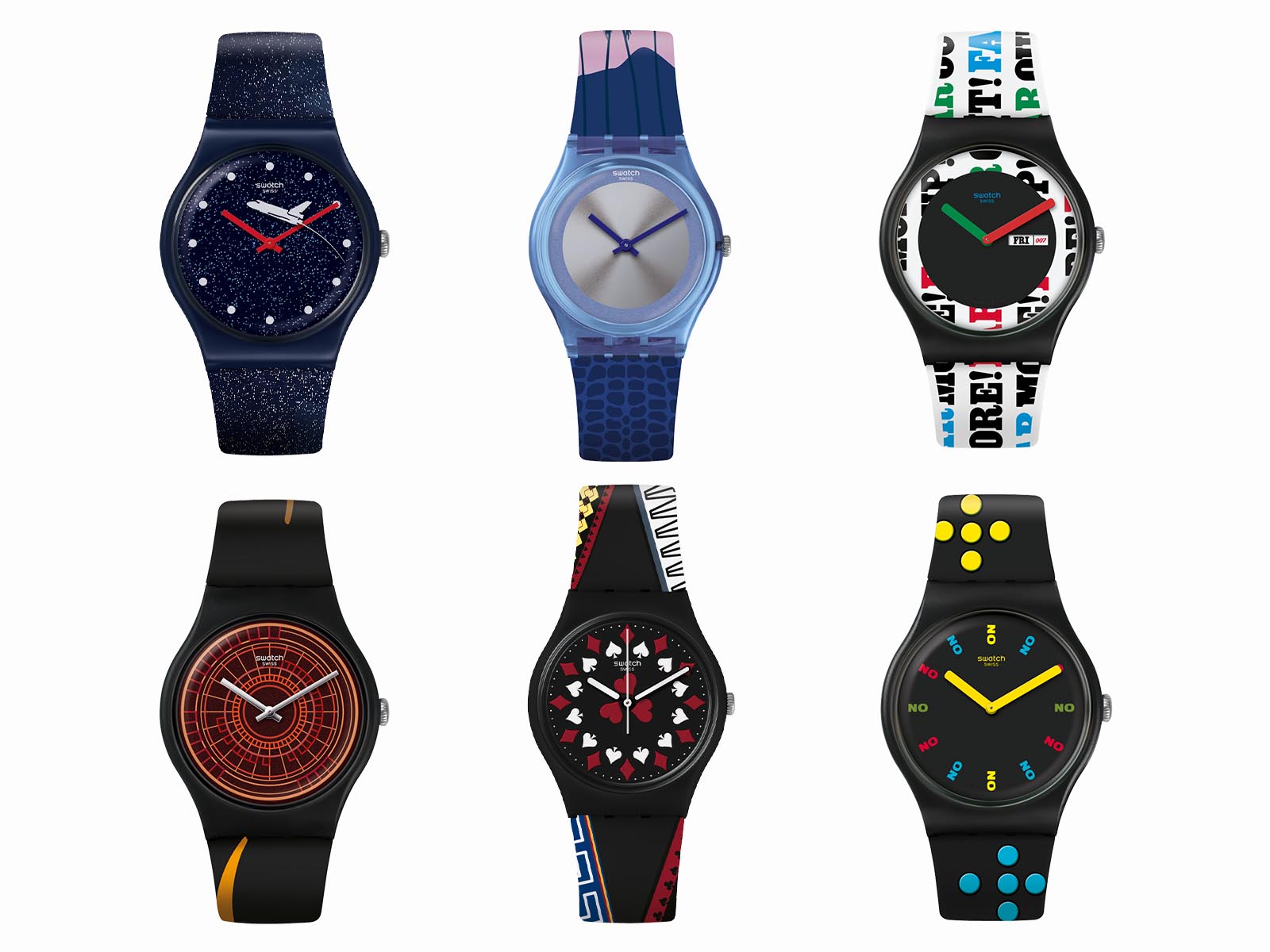 Ahead of the upcoming James Bond film No Time to Die, Swatch has unveiled the Swatch X 007 capsule collection. Each of the watches in the line-up are inspired by the elaborate title credits and artwork that have become a signature of the James Bond film franchise. The collection takes inspiration from films across the decades, ranging from classics like Dr No, On Her Majesty's Secret Service, Moonraker, and Licence to Kill, to recent instalments like The World is Not Enough and Casino Royale.
Swatch is no stranger to the British super spy, having launched several 007 collections over the years, some of which have gone on to collectors' items. Amongst the most successful editions is the James Bond 40th anniversary set of watches presented in a briefcase of 2002, the 22-piece collection of watches modelled on notable Bond villains of 2008.
From Connery to Craig
Each packaged in a box resembling a VHS cassette tape – something consumers below a certain age will probably not recognise – the watches in the Swatch X 007 collection are offered in two sizes, depending on the model.
The watches inspired by Licence to Kill and Casino Royale are in the original, 34 mm "Gent" case, while the Moonraker, Dr No, The World is Not Enough, and On Her Majesty's Secret Service editions are a more modern 41 mm and presented in the "New Gent" case style.
The six watches, however, take their cues from past films, and will be available by end-February 2020. But the final watch of the series is literally a watch from No Time to Die.
It was designed by the film's costume designer, Suttirat Anne Larlarb, and will be worn by Q, the boffin played by Ben Whishaw who equips Daniel Craig's James Bond with his arsenal of gadgets. As a result, the last watch in the collection will make its debut in April, alongside the film premiere.
---
Key facts and price
Swatch X 007
Diameter: 34 mm or 41 mm
Height: 8 mm
Material: Plastic
Water resistance: 30 m
Movement: Quartz
Functions: Hours and minutes (On Her Majesty's Secret Service includes a day-date)
Winding: Quartz
Strap: Silicone
Limited edition: 9,025 (Licence to Kill); 5,025 (Casino Royale, Dr. No and Moonraker); 3,025 (On Her Majesty's Secret Service and The World is Not Enough)
Availability: Arriving in stores at the end of February
Price: 95 Swiss francs, or 135 Singapore dollars (34mm); 105 Swiss francs, or 145 Singapore dollars (41mm)
For more information, visit Swatch.com
---
Back to top.
---
You may also enjoy these.