In-Depth: The Tourbillon Pocket Watches of Urban Jürgensen and Derek Pratt
Masterpieces.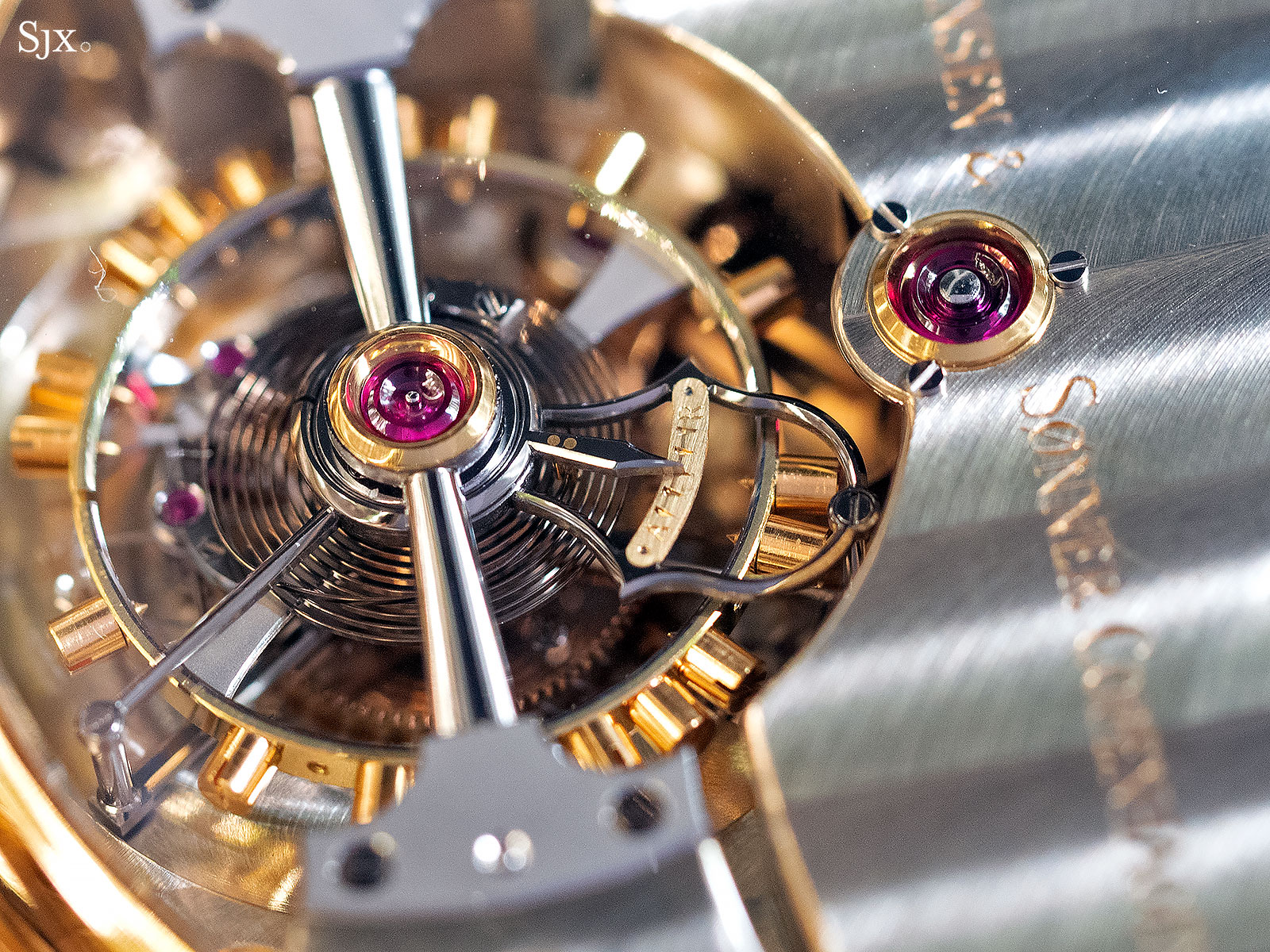 Originally an 18th century Danish brand, Urban Jürgensen & Sønner (UJS) was resurrected in 1981 by Peter Baumberger (1939-2010), an antique watch dealer turned watchmaker. While the brand's best-known timepieces were elegantly-styled wristwatches with teardrop lugs, its greatest technical achievements were pocket watches, all of which were built by Derek Pratt (1938-2009), a deeply talented English watchmaker who was a contemporary of George Daniels.
As was typical of the era when pocket watches were the preeminent genre of watch collecting – and the tourbillon was the ultimate complication – Pratt's best work for UJS were his tourbillon pocket watches. Pratt not only built the movements, but also fabricated some of the dials that were decorated in exceptional guilloche.
The oval pocket watch
The pièce de résistance in Pratt's series of tourbillon pocket watches is no doubt the Ref. 1 "Hommage", an oval pocket watch featuring a tourbillon with an integrated remontoir d'egalite. Writing in Derek Pratt – Watchmaker, a book dedicated to the watchmaker's life and works, watch expert and auctioneer Dr Helmut Crott explained the Ref. 1 was originally conceived as a series of five watches for an Asian collector in the late 1980s. But after the first watch was complete, the client cancelled the rest of the order, making it a "financial disaster for Peter [Baumberger]" according to Dr Crott, , a longtime friend of both Baumberger and Pratt.
Nonetheless, two more were made, for a total of three, in platinum, yellow gold, and rose gold respectively, with the platinum example now owned by Dr Crott. Pratt made almost the all the components of the watches, including the case and crystal, with each watch taking more than 4,000 hours to finish, or about three years.
Also writing in Derek Pratt – Watchmaker, fellow English watchmaker Anthony Randall wrote that the oval case was inspired by an 1822 Breguet pocket watch that was eventually owned by the pianist Arthur Rubinstein.
In the same book, longtime editor of Horological Journal Timothy Treffry further explained that Pratt was "keenly attracted to the design possibilities offered by an oval watch" because it allowed for a symmetrical, linear layout of the movement with the barrel at one end and the tourbillon at the other.
Though it was not a UJS timepiece, the Double-Wheel Remontoir Tourbillon pocket watch of 1997 is perhaps his most important work from a technical perspective, because it perfected two inventions of Abraham-Louis Breguet, the double-wheel escapement and the tourbillon. A more famous modern-day execution of the double-wheel escapement is the George Daniels Space Traveller, which relies on twin going trains to drive the two escape wheels.
Completed in 1997 as an entry into the Prix Abraham-Louis Breguet, a watchmaking competition sponsored by the Breguet foundation to mark the 250th anniversary of A.-L. Breguet's birth, the pocket watch was equipped with double barrels and a double remontoir, one within each escape wheel, winding and discharging alternately as the escape wheels turn in opposite directions.
Pratt's watch did not win the Breguet prize, which instead went to Carole Forestier and her concept that would become the Ulysse Nardin Freak, but his creation is unquestionably a historically-important watch.
The single-barrel tourbillon pocket watch
But Pratt also produced tourbillon pocket watches with more traditional round cases for UJS. Though hand made, they were made in larger numbers and are arguably the quintessential UJS-Pratt timepiece.
I've managed to examine a few of the round-case tourbillon pocket watches, including the two pictured here, which are owned by collectors in Australia and Europe respectively. In person, these watches have an old-fashioned quality, clearly having been produced and finished in an artisanal manner that is almost nonexistent today. The watches are very much reminiscent of the finest Swiss tourbillon pocket watches of the early 20th century, with symmetrical movements and dials done in a classical yet functional manner.
A varied few
To find out more about the tourbillon pocket watches, I got in touch with Dr Crott, who took over UJS after Baumberger's death before selling it to its current owner, former Nokia executive Søren Jenry Petersen.
According to Dr Crott, UJS did not have "an official inventory" for the tourbillon pocket watches, but the production run can be inferred from a fax Baumberger sent to a client in 1994. The fax referred to the oval pocket watch as the first one made, followed by 12 twin-barrel tourbillons, and more surprisingly, five single-barrel tourbillons. Neither Dr Crott nor myself have ever seen a one-barrel tourbillon; whether the single-barrel tourbillon was ever produced is a mystery.
All of the known examples of the UJS tourbillon pocket watch have double barrels and an eminently traditional movement construction, along with a power reserve indicator at 12 o'clock on the dial. The watches are generally identical, but subtly different in the movement decoration, as well as the inclusion of a remontoir.
The finishing of the movements differ not in quality, but in style, illustrating the fact that when movements are truly hand finished by a single individual, there is a wide berth for artistic expression. For instance, the ends of the tourbillon bridge in the two examples below are finished differently, and the engraving on the regulator index varies from one to the other. Less obvious is the angle of the grain of the Cotes de Geneve; it's steeper on one than the other.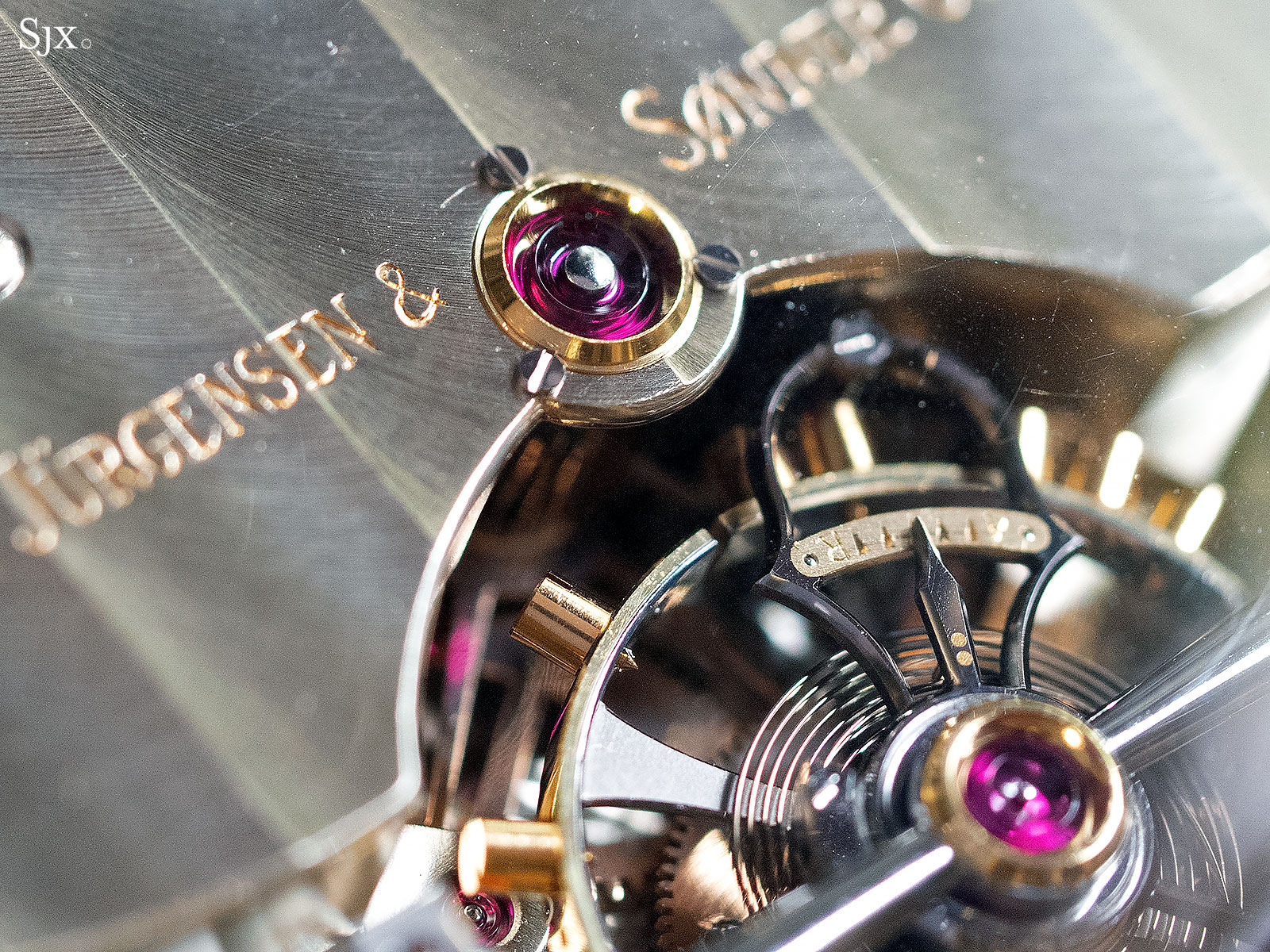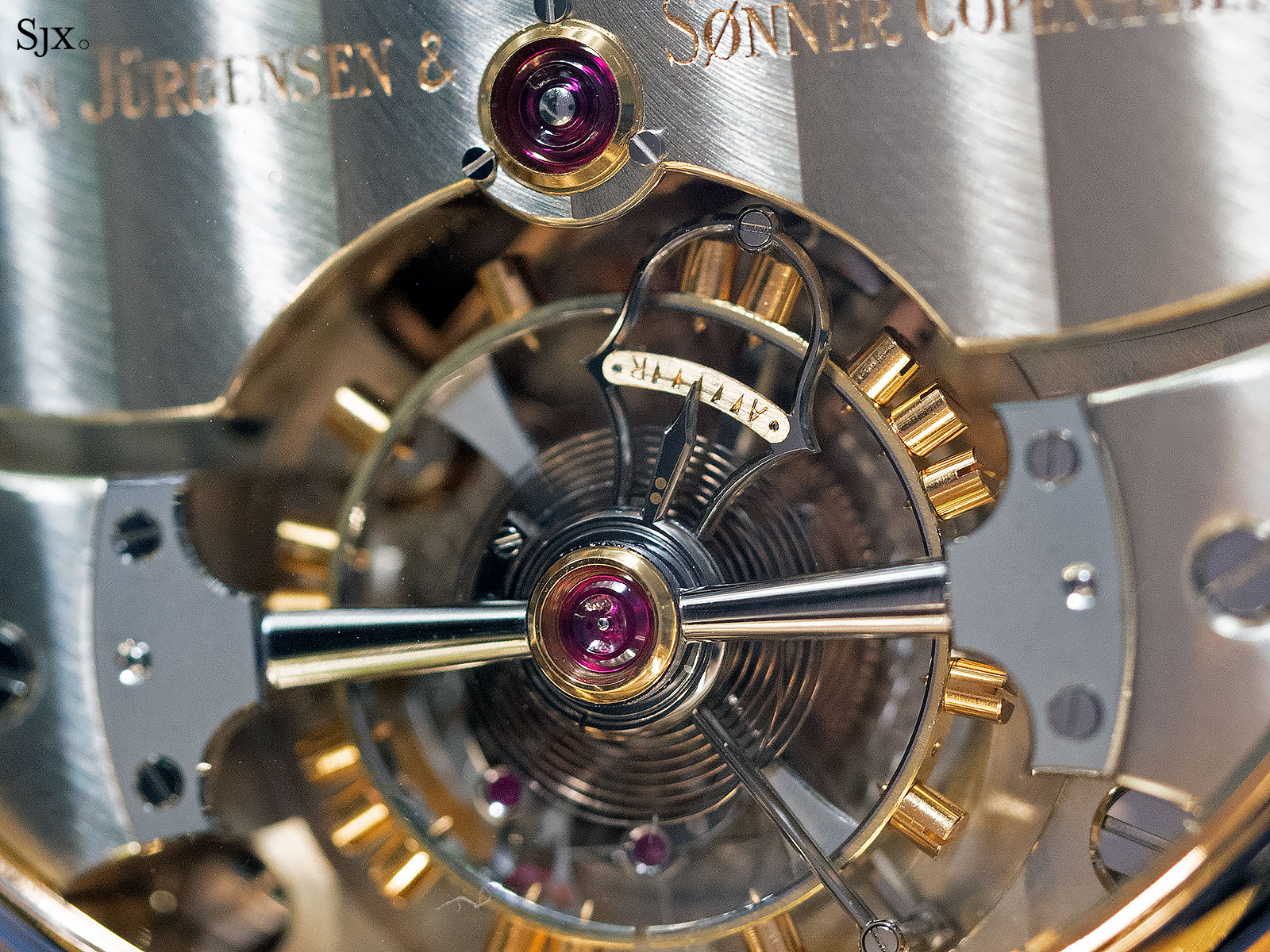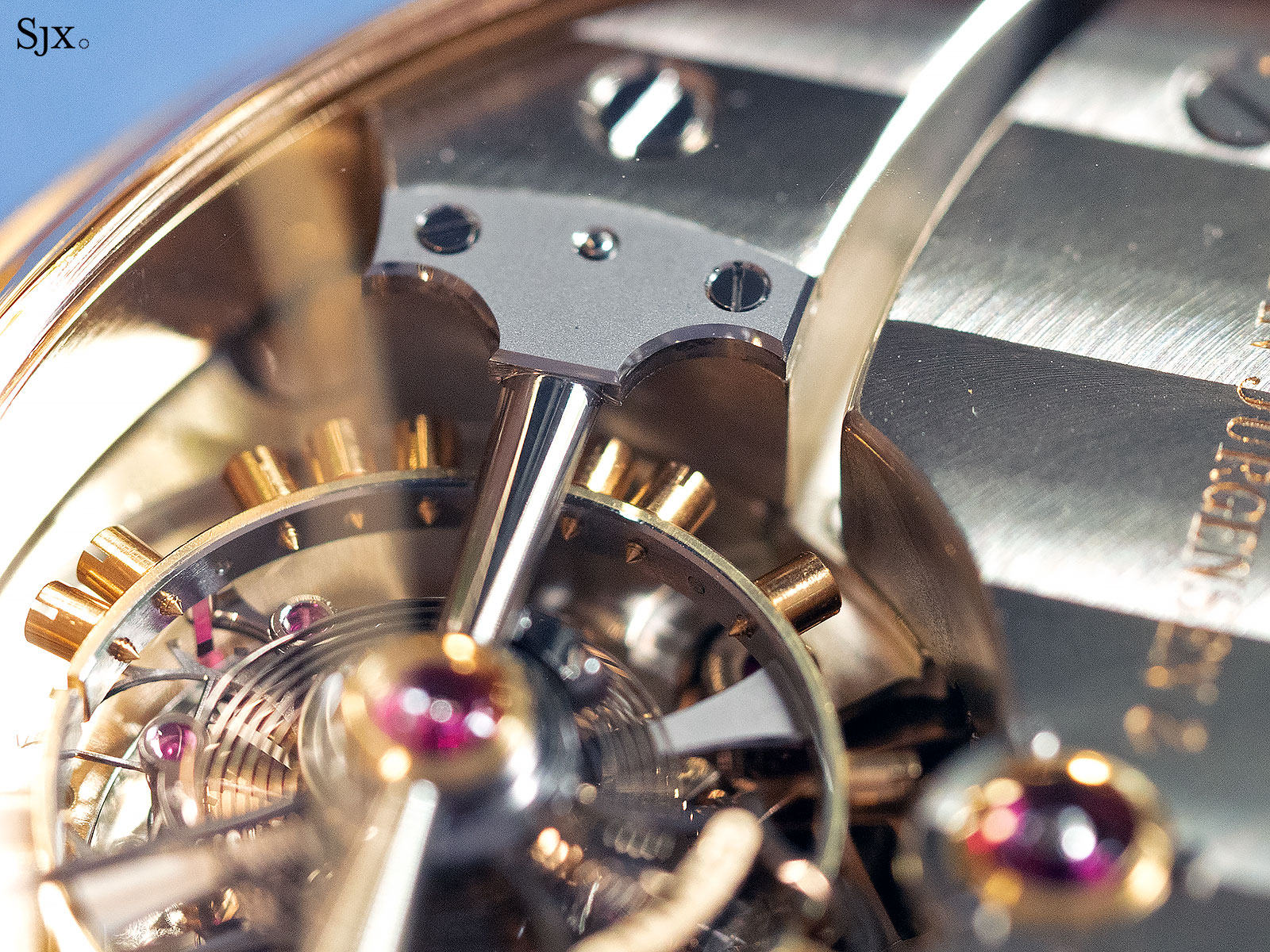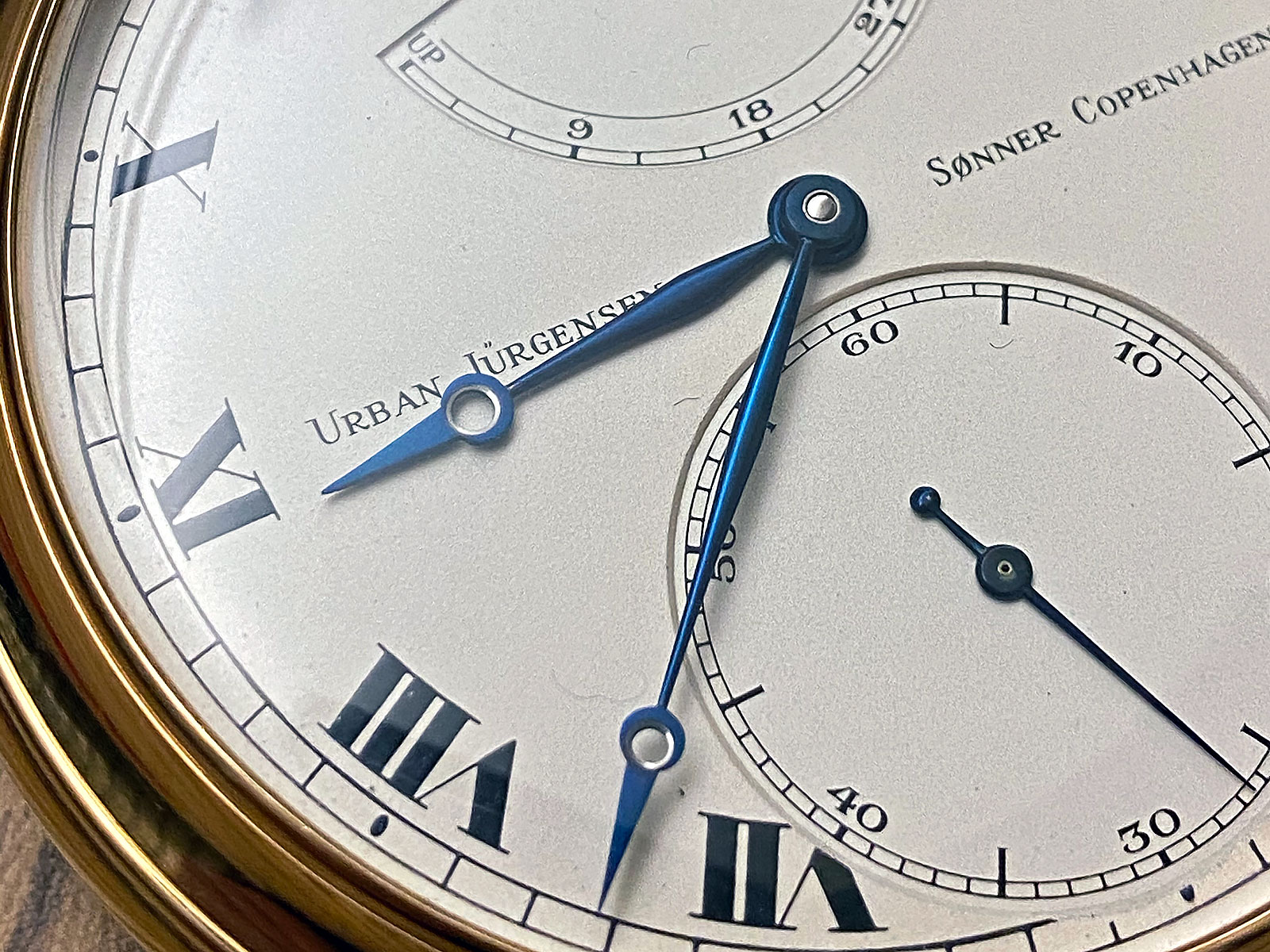 But the most substantive difference is an additional complication: an unknown number of the tourbillon pocket watches were equipped with Pratt's signature constant-force mechanism, a remontoir featuring a Reuleaux-triangle ruby roller. Integrated into the tourbillon carriage, the remontoir is relatively discreet and there are no clues on the dial if the watch has a remontoir or not.
While the remontoir-equipped version is no doubt more complex and interesting, the simpler version of the tourbillon might be the rarest. "It is not clear how many have remontoir and how many do not," added Dr Crott, "Though I believe there are more with remontoir escapement than lever".
And finally, it appears that Pratt made two distinct series of tourbillon pocket watches in terms of case numbers. Detailed in the fax Dr Crott alludes to above were the cases made for the tourbillon pocket watches: two in 18k 4N pink gold, 12 in 18k 5N red gold, and two in platinum.
Based my own research, it can be discerned that the cases were produced in two batches, with each batch having its own serial number, either "3'0XX" or "19'00X". Both batches include watches with and without remontoir.
Antiquorum sold all three examples of the latter series in 2016 – case numbers 19'001, 19'002, and 19'003 – though only watch 19'001 featured the one-second remontoir. The watch owned by the Australian collector is part of this series and does not have a remontoir.
A year later, watch 3'060 – incorporating a remontoir – sold at Sotheby's. And the watch owned by the European collector, with tourbillon but sans remontoir, is part of the 3'oXX batch.
And the skeletons
And within the series numbered "3'0XX" is yet another layer of variation. Several examples were enhanced with a beautiful skeletonised steel barrel bridge with frosted finish, a striking detail that would later be found on the Double-Wheel Remontoir Tourbillon pocket watch that Pratt entered into the Breguet contest in 1997.
The watches with open-worked movements are the most elaborate versions of the standard UJS tourbillon pocket watch. In addition to the more intricate movement, they were also fitted with engine-turned dials, a specialty of both Pratt and Baumberger.
One of these sold at Christie's in 2008 for 315,000 Swiss francs, which is probably the all-time record price for an Urban Jurgensen or Derek Pratt watch. Numbered "01" and made in 1992, it incorporated a remontoir in the tourbillon. A similar but earlier example sold at Christie's in 2011 for just 123,000 Swiss francs. Dating to 1987, it was numbered "3'055" and was also equipped with a remontoir.
And some grand comps
While the tourbillons are the best known, Pratt also completed a sizeable number of complicated pocket watches for UJS. After buying UJS, Baumberger came to own 90 vintage pocket watch ebauches, or movement blanks, according to Dr Crott. Most were already complicated, but Pratt added even more complications, then finished and cased them.
One such watch was sold at Phillips in 2017. A minute-repeating pocket watch made in 1894 that lost its case along the way, the original movement was based on an ebauche by famed specialist Louis-Elysée Piguet. In 1982, Pratt added a split-seconds chronograph and perpetual calendar with moon phase – and produced the hand-made guilloche dial – creating a traditional "grand complication" pocket watch in a 62 mm, yellow gold case.
Though I never had the chance to meet Derek Pratt, and only shook hands with Peter Baumberger once at a watch fair, both were by all accounts talented artisans who are still fondly remembered and respected by their peers.
Today both are only known by the most ardent fans of independent watchmaking, but their work lives on in wristwatches and most significantly, in the tourbillon pocket watches, which are elegant, impressive, and very much masterpieces of late-20th century Swiss watchmaking.
---
Back to top.
---
You may also enjoy these.