A Tribute to Peter Baumberger of Urban Jürgensen & Sønner
A friend and watchmaker.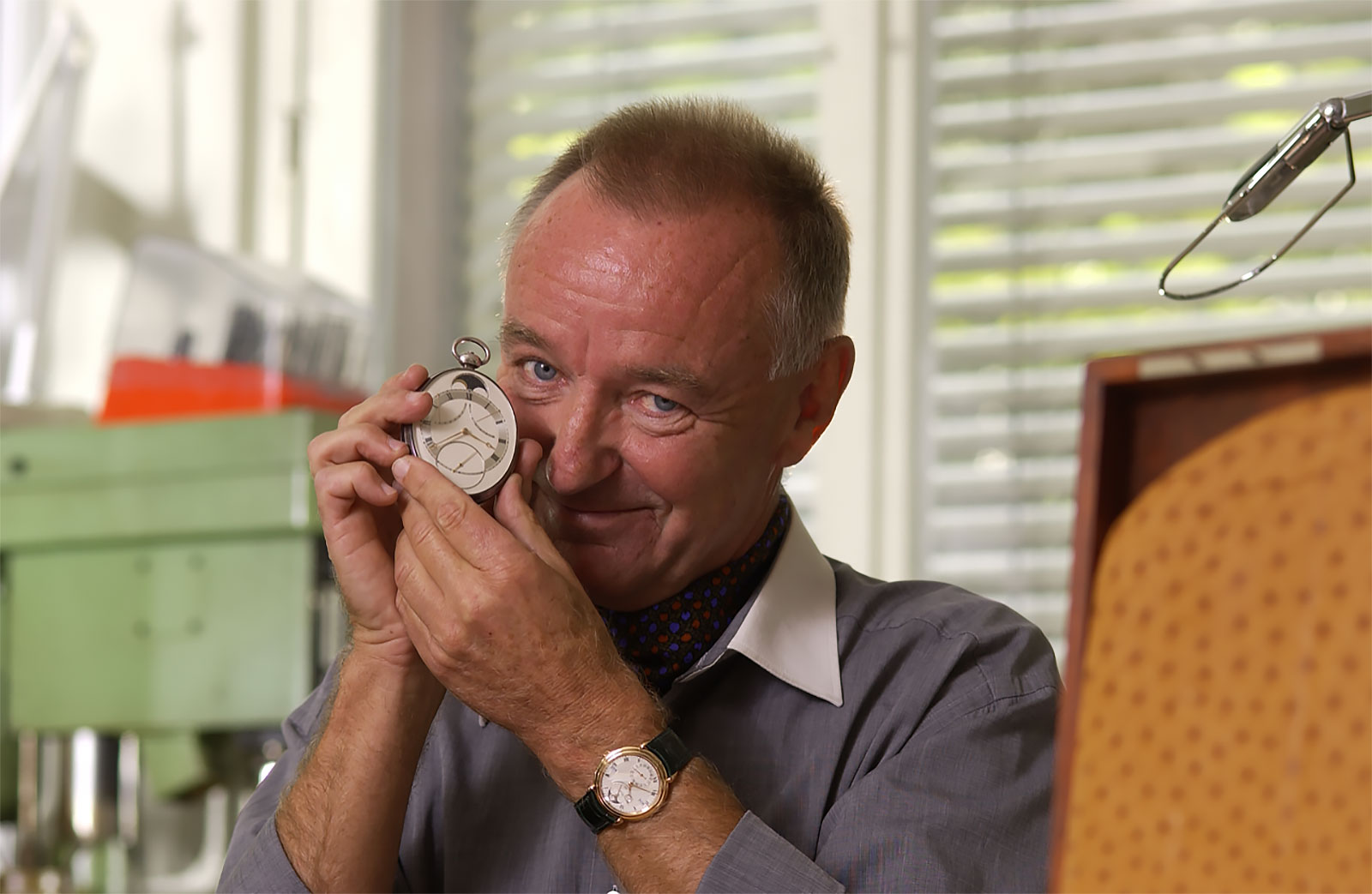 Peter Baumberger (Koppingen, 1939 – Biel, 2010)
Ten years ago, Peter Baumberger died in Biel. On the occasion of this anniversary, I would like to pay a brief tribute to the one who was a dear friend and an extraordinary character – pictured above with his favourite oval tourbillon pocket watch and wearing a Ref. 3 wristwatch – whose ideas and personality marked the Swiss watch industry after the Quartz Crisis.
I first met Peter in November 1975, during a sale organised by Peter Ineichen auctioneers in Zürich. He was with the famous Derek Pratt. At that time, Peter was one of the world's leading dealers in antique watches. His charming and authentic nature immediately fascinated me – this is how our friendship started, a friendship that lasted until the end of his life.
The name of Peter Baumberger will remain forever in Swiss watchmaking history thanks to his rescue and his revival of the historic brand Urban Jürgensen at Le Locle, which he acquired in the late 1970s. Undeniably, Peter played a pioneering role in the renaissance of the high-quality Swiss mechanical watch, long before others. As a trained watchmaker, he combined cutting-edge technical skills with a very distinct aesthetic sensitivity, as well as with an intimate knowledge of the works of the old masters; the remarkable confluence of these aspects is therefore the basis of his creative work.
Peter put all his strength and his spirit at the disposal of Urban Jürgensen to give a new spark to the brand. From then on, the masterpieces produced under his direction bear witness to the quest for uncompromising perfection and the love for detail that characterised it. The automatic wristwatches with perpetual calendar, Reference 2 and Reference 3, represent the admirable result of this philosophy, while the oval pocket watch, "Hommage" reference no. 1, is today considered an icon of traditional mechanical watchmaking from the end of the 20th century, both aesthetically and technically.
As a final point, his research into the development of a proprietary Urban Jürgensen calibre with a traditional detent escapement – a real first for a wristwatch – was the apotheosis of Peter's visionary spirit. This work was notably carried out with Derek Pratt.
The achievement of Peter's projects and the respect of his very high standards of quality would not have been possible without the genius and the know-how of the English watchmaker, with whom Peter maintained professional and friendly ties since the early 1970s. Originally, the master clockmaker had restored a few rare historic watches for Peter, such as the Vacheron Constantin pocket watch offered to King Fouad I of Egypt in 1929.
Peter also worked as a forerunner by discovering other personalities whose names are currently unavoidable in the watchmaking world: think of Kari Voutilainen or Jean-François Mojon. Irrefutably, he had a particular gift for recognising and promoting exceptional talents, which he then put at the service of his brand.
Peter looked in vain for a worthy successor to replace him at the head of his beloved brand. His family found him dead on May 18, 2010, at the age of 71 in his workshop in Biel. His face had a peaceful expression and Peter held a watch magazine in his hands, leaving us a legacy of his eternal passion for watchmaking.
---
A medical doctor by training whose love for timepieces compelled him to switch careers, Dr Helmut Crott is a storied name in the world of vintage watches and international auctions. He established Dr. Crott Auctioneers in 1975 and sold the business in 1993 to become a specialist in vintage Patek Philippe watches. Dr Crott acquired Urban Jürgensen & Sønner (UJS) in 2011 upon the passing of Peter Baumberger.
---
Back to top.
---
You may also enjoy these.