Highlights: Complications at Phillips' Hong Kong Watch Auction
Complications and even some value buys.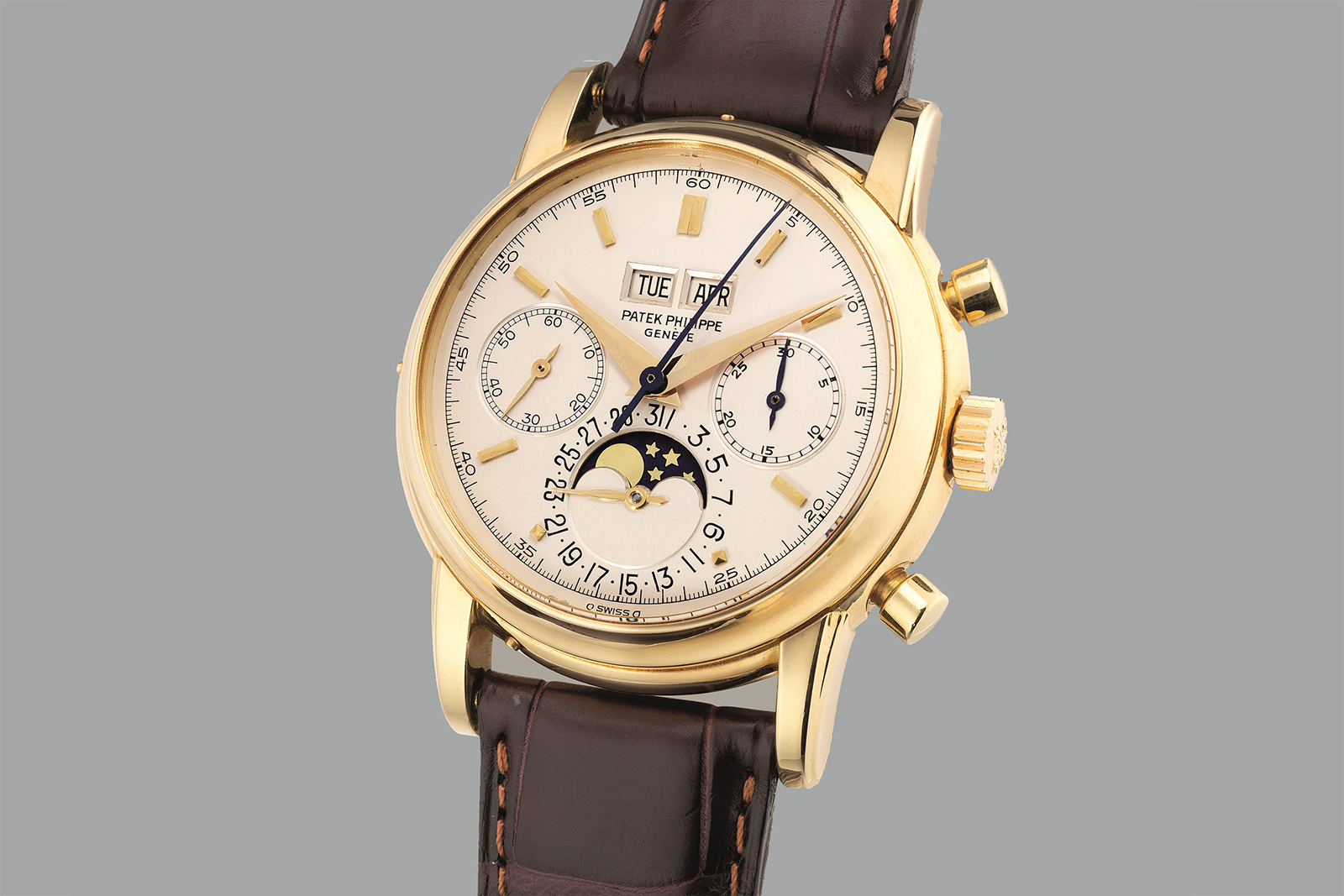 Watch auction season is in full swing, two months later than its usual May timing. Phillips will be staging The Hong Kong Watch Auction: X on July 10, with 269 lots slated to go under the hammer. The catalogue includes a wide-ranging line-up of big-ticket complications, as well as some interesting examples of independent watchmaking.
Below we take a look at a couple of highlights from the complications category, and we'll look at some of the independents next week. You'll find the full auction catalogue here.
For a more personal take on the highlights: myself and Phillips' head of watches, Thomas Perazzi, will be hosting a webinar to discuss the highlights from the sale on July 6 at 4:00 pm GMT+8. Registration is required to attend, and you can do it here.
---
Lot 816 – A. Lange & Söhne Tourbograph "Pour le Mérite" in honey gold
This A. Lange & Söhne Tourbograph "Pour le Mérite" was part of the 165th Anniversary Homage to F.A. Lange three-piece set made in 2010 to commemorate the 165 years since the birth of the company's namesake founder. Made up of the Tourbograph, Lange 1 Tourbillon, and 1815 Moon Phase, the set was characterised by honey gold cases and guilloche dials.
The most complicated Lange wristwatch aside from the monumentally unwearable Grand Complication, the Tourbograph incorporates a tourbillon, rattrapante chronograph, and fusée-and-chain transmission. It was first launched in 2005 as a limited edition of 50 with a platinum case, with this honey gold variant making up the second run of 51 pieces, to complete the planned run of 101 watches.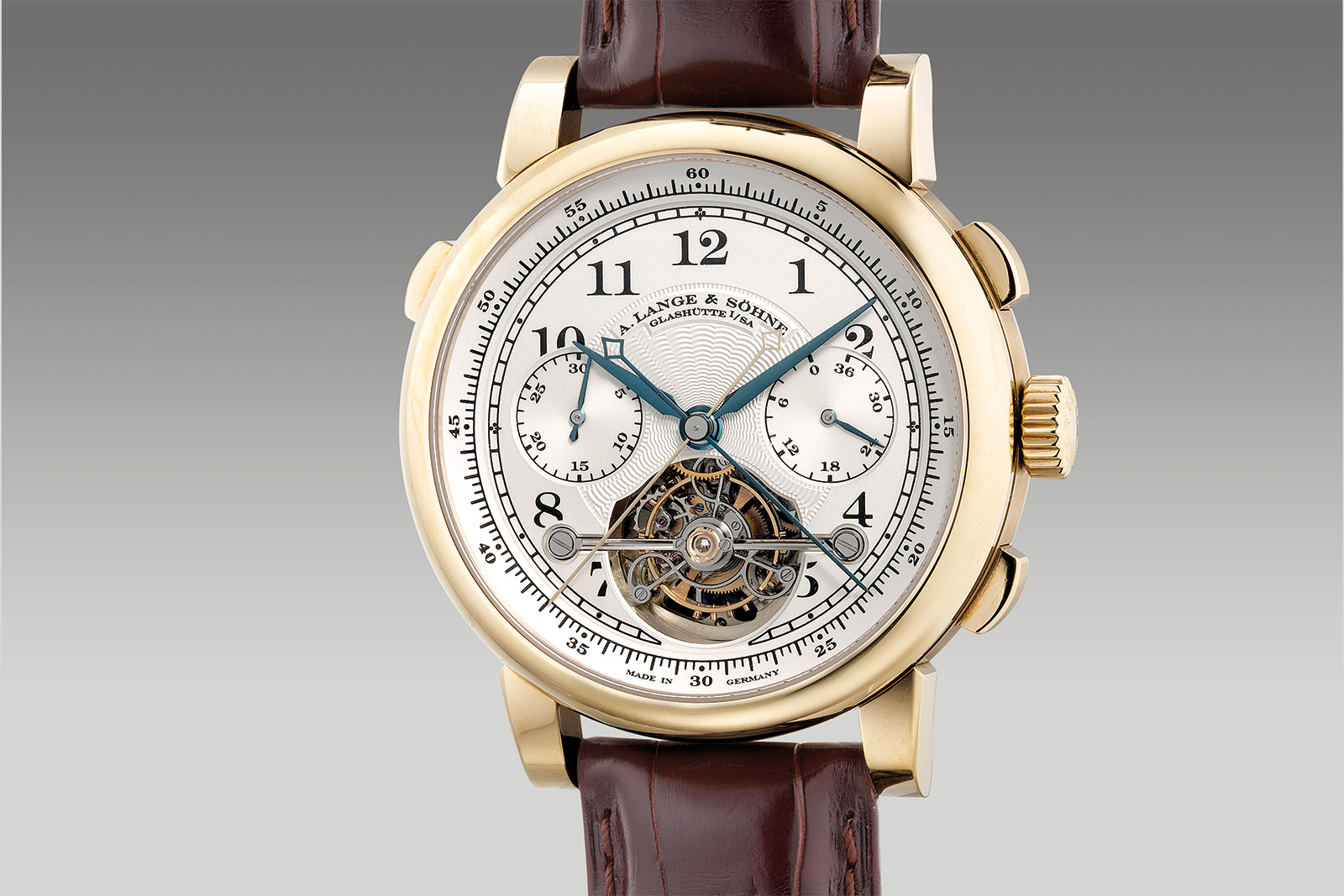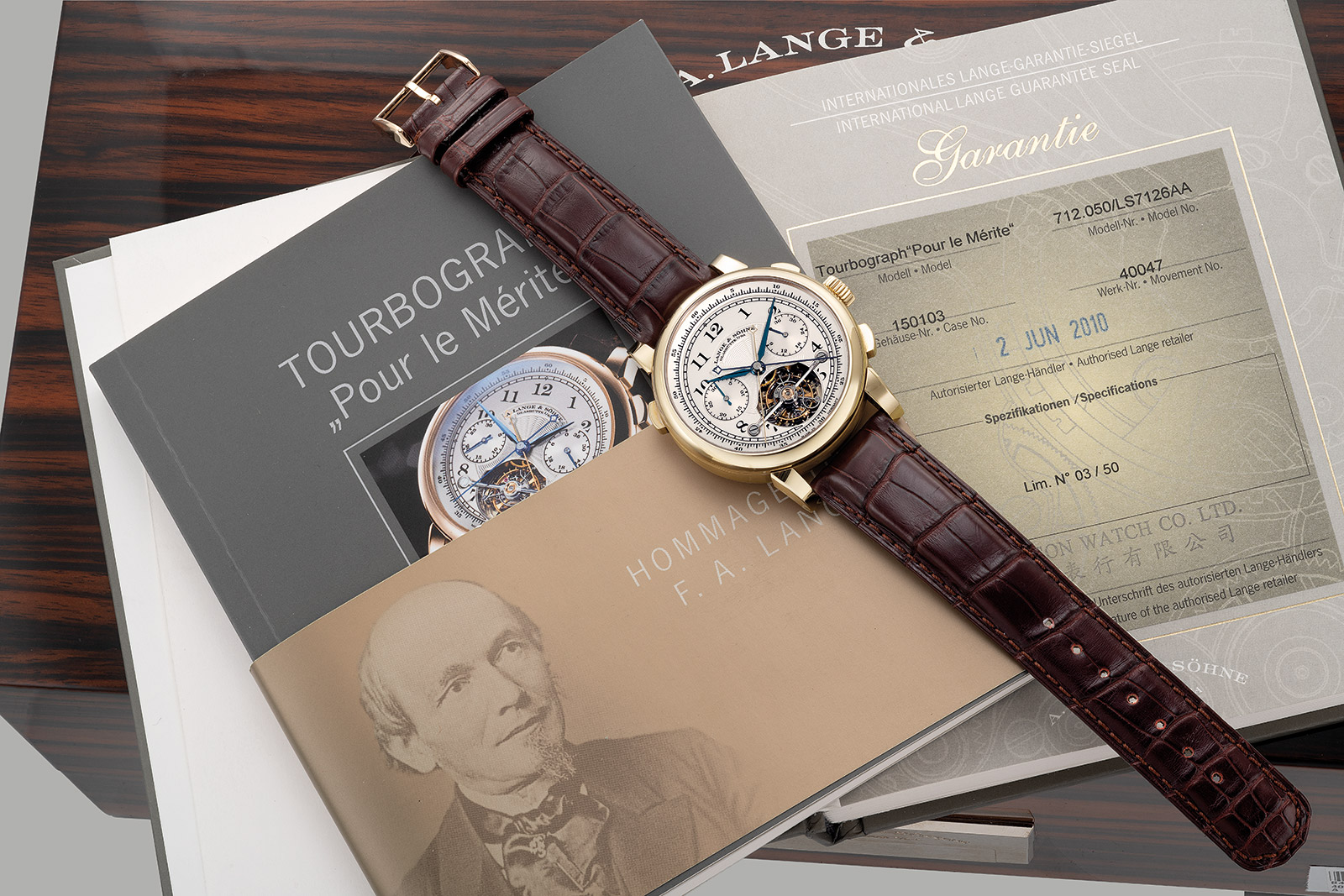 The Tourbograph is a large, magnificently complicated watch that isn't as widely appreciated as it should be, resulting in it selling for relatively little compared to its original retail price. In fact, the low estimate here is a third of the original retail price, which was over US$500,000. In the world of ultra high-end watches, it is a strong value proposition.
Numbered "3/50" and purchased in 2010, the watch has the original (and massive) box as well as all papers. It has an estimate of HK$1.4-2.0 million, or about US$179,000-256,000.
---
Lot 840 – Universal Geneve "A. Cairelli" rattrapante
One of the most distinctive military-issue watches ever made, the Universal Geneve "A. Cairelli" split-seconds chronograph is 44.5 mm wristwatch issued to navigators of the Aeronautica Militare Italiana (AMI), the Italian air force, in the 1950s.
Extremely oversized for a watch of the era, the Cairelli split-seconds was eminently functional, while also having a beauty rarely found in military-issue timepieces as a result of its striking Arabic numerals and blued steel Breguet hands. The watches were supplied to the Italian military by Rome watch retailer A. Cairelli, explaining the signature on the dial.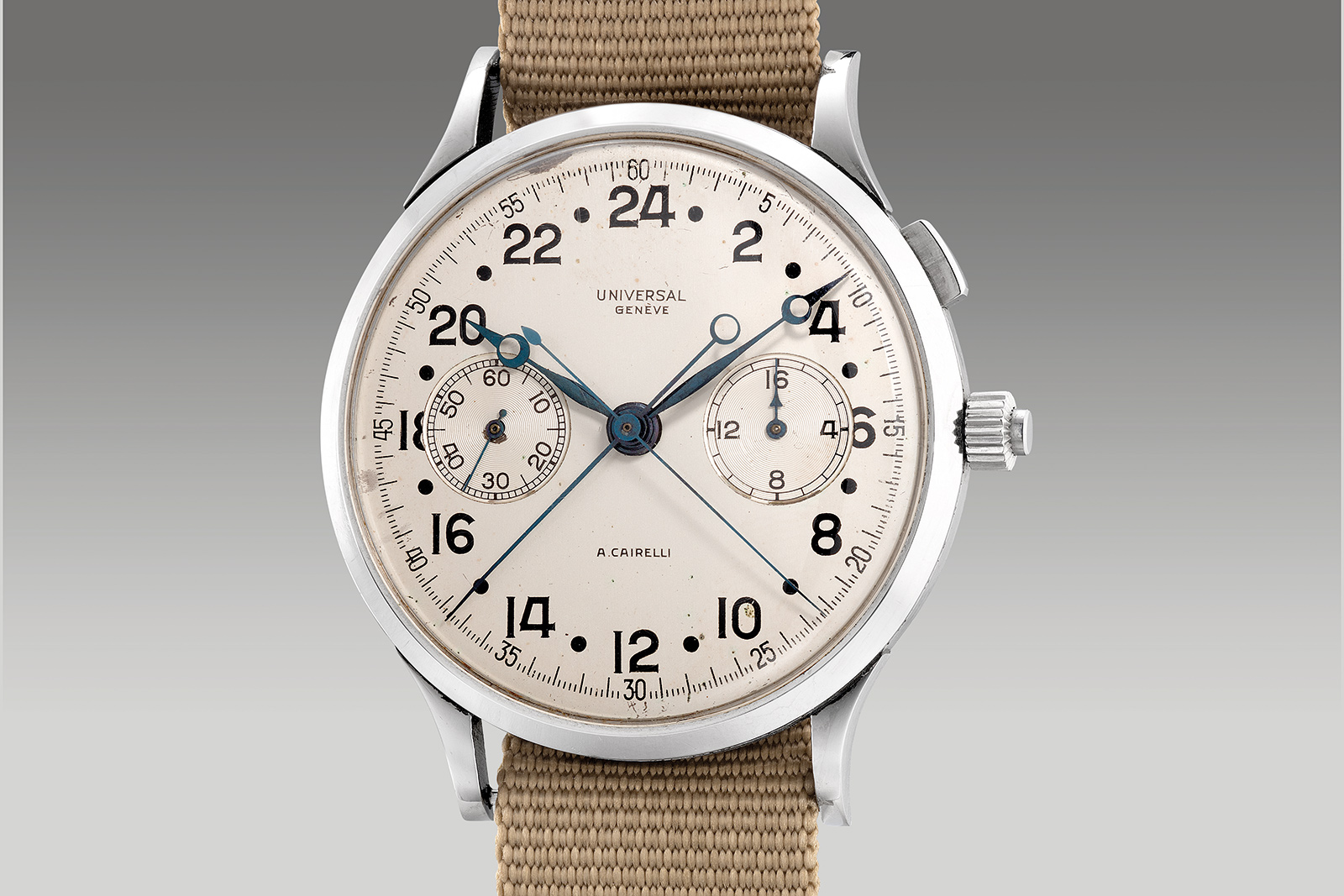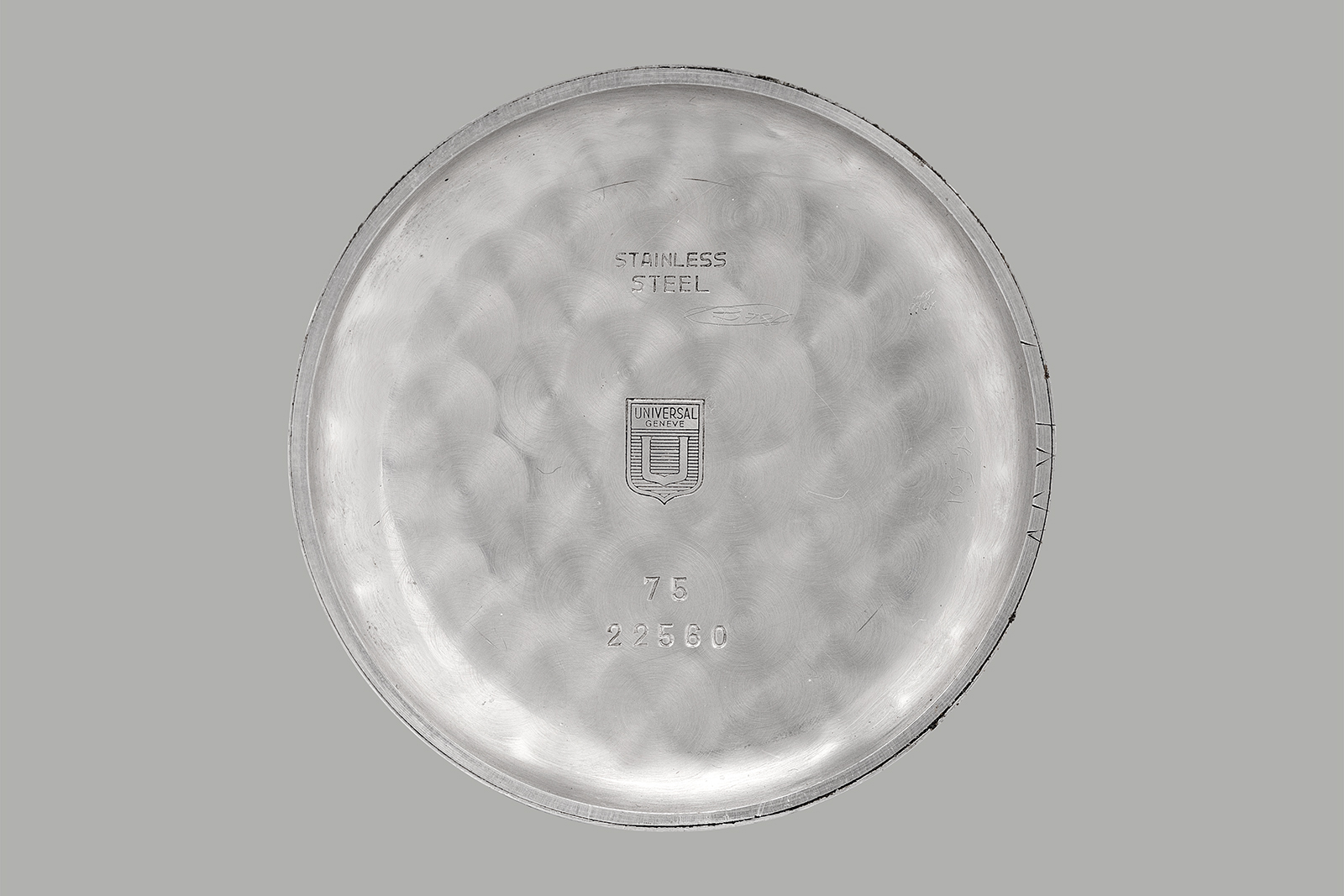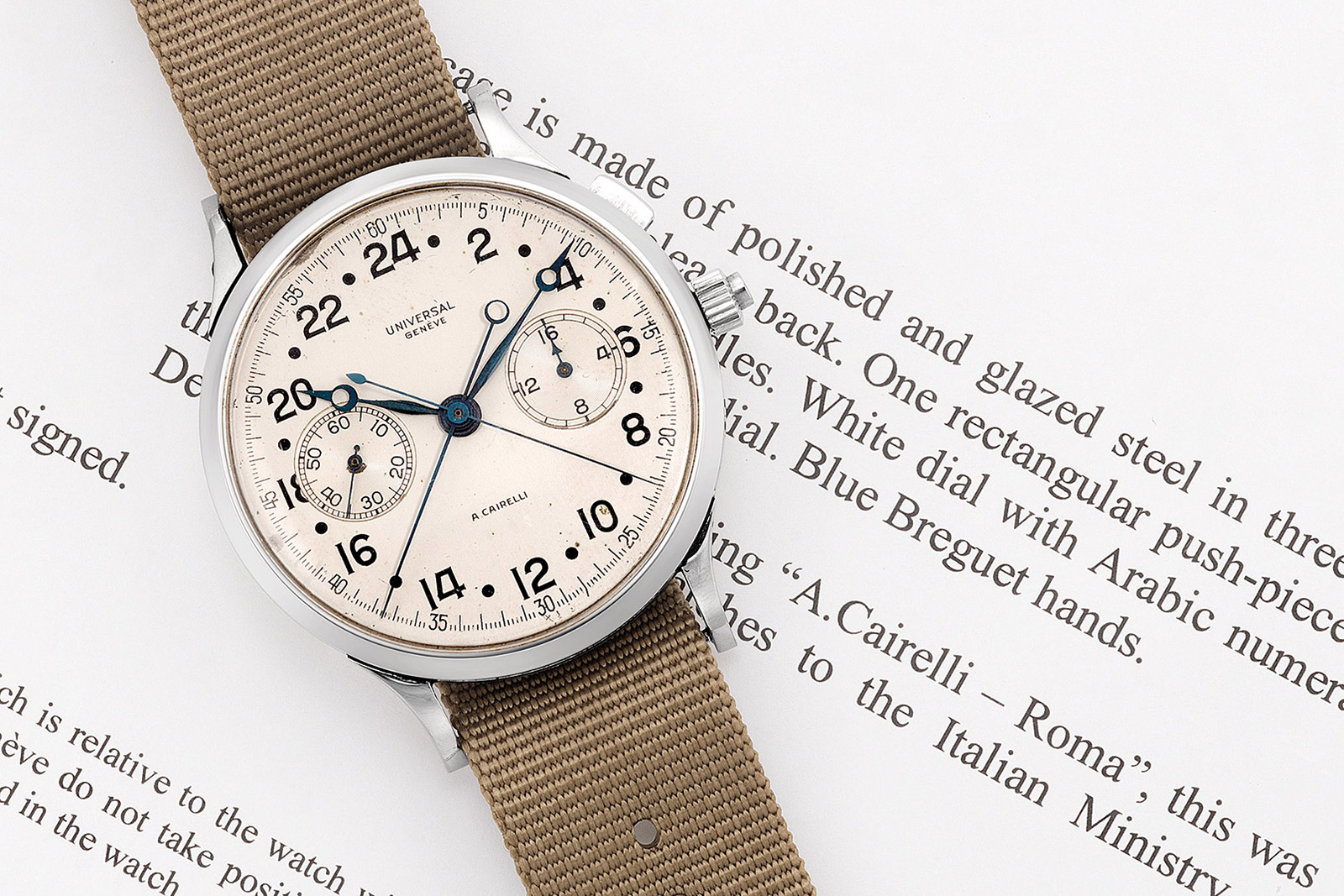 This example shows ageing on the edges of the dial and registers, but is cleanly preserved and is accompanied by an archive extract from Universal. It's estimated at HK$465,000-930,000, or US$59,600-119,000.
---
Lot 862 – Patek Philippe "Les Phénix" Dome Clock ref. 1439M
The best value in enamelled Patek Philippe timepieces in terms of enamel per dollar, Dome Clocks were launched in the 1950s and have been in production since, but at an excruciatingly slow rate, with only a dozen or so are made a year. Though not as mainstream as its wristwatches, Patek Philippe's dome clocks are perhaps more significant in representing the brand's artistic sensibilities, particularly those depicting themes close to the hearts of the Philippe and Thierry Stern, like sailboats on Lake Geneva.
This particular example has an Asian theme, with a phoenix elaborately represented in hues of orange, red, brown, maroon and yellow. The style is bright and floral, with prominent pink flowers on a dark blue background. Done entirely in cloisonné enamel, the clock is signed "DBD", the initials of the anonymous artist.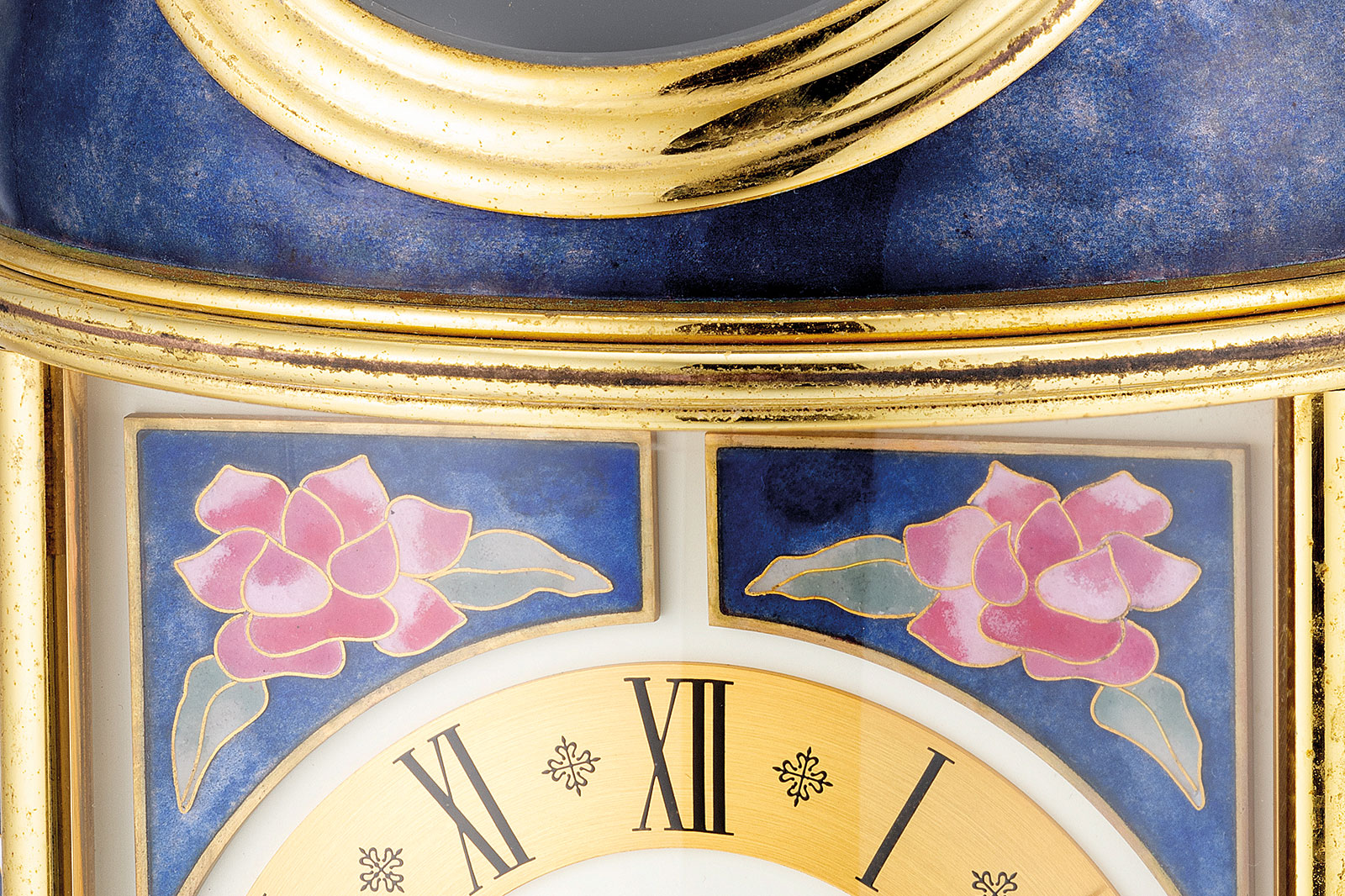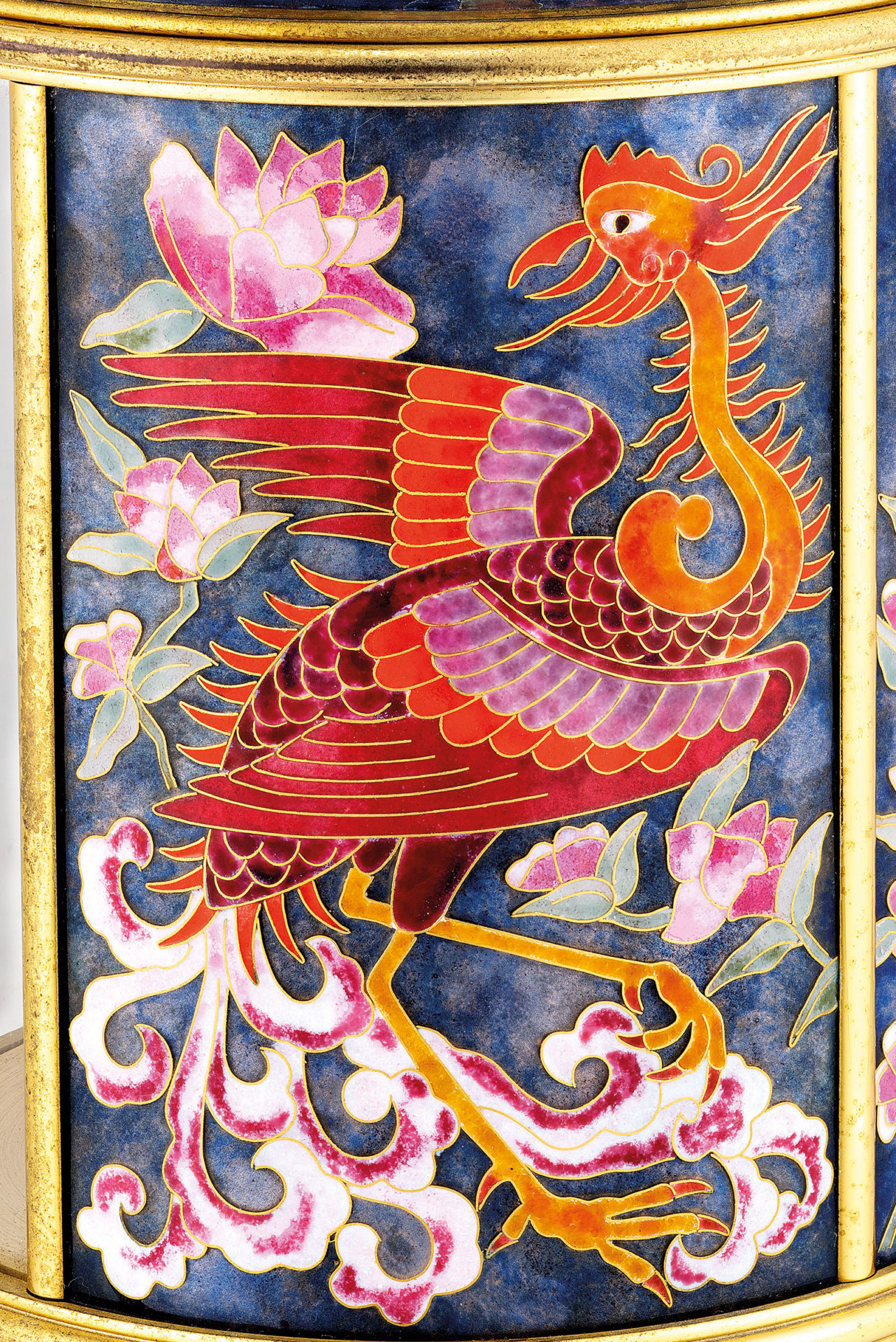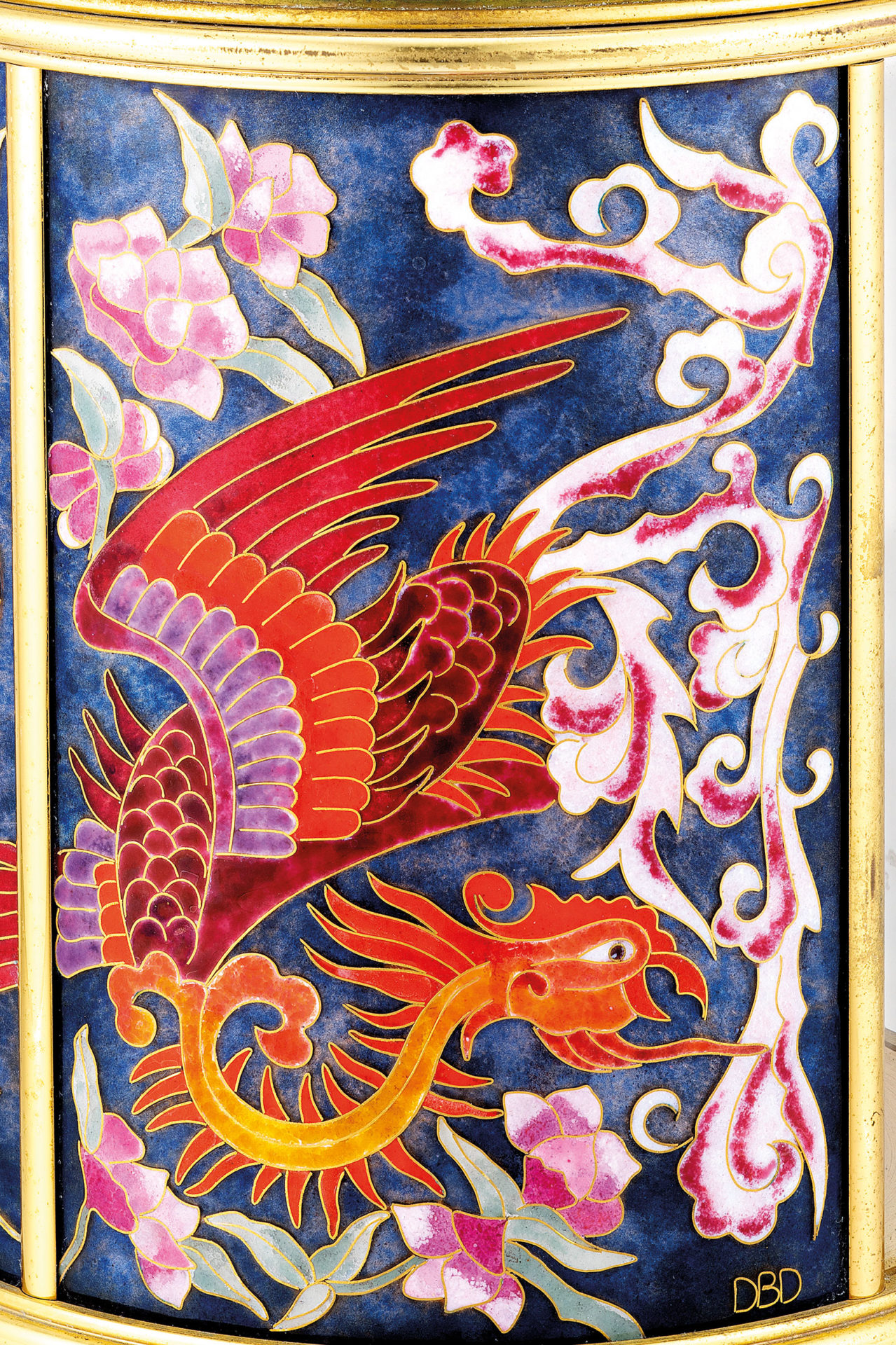 Overall, the clock is in excellent condition, with the enamel still vibrant, though the gilt parts show oxidisation. It is accompanied with an aluminium travel case and archive extract noting its production in 1996 and subsequent sale a year later.
It has an estimate of HK$630,000-1.2 million, or US$$80,800-154,000.
---
Lot 916 – Patek Philippe Ref. 5275P-001 Chiming Jump Hour
The ref. 5275P was perhaps the most intriguing of the commemorative editions Patek Philippe made in 2014 to celebrate its 175th anniversary. The tonneau case was inspired by the 150th anniversary Jump Hour ref. 3969 of 1989, but the movement is all new and impressive.
Powered by a movement unique to this reference, the watch has a triple jumping display: jumping hours in a window, a minute hand that moves in one-minute steps, and a deadbeat seconds. And it also an hour striker, chiming a single note at the top of every hour as the hour digit changes.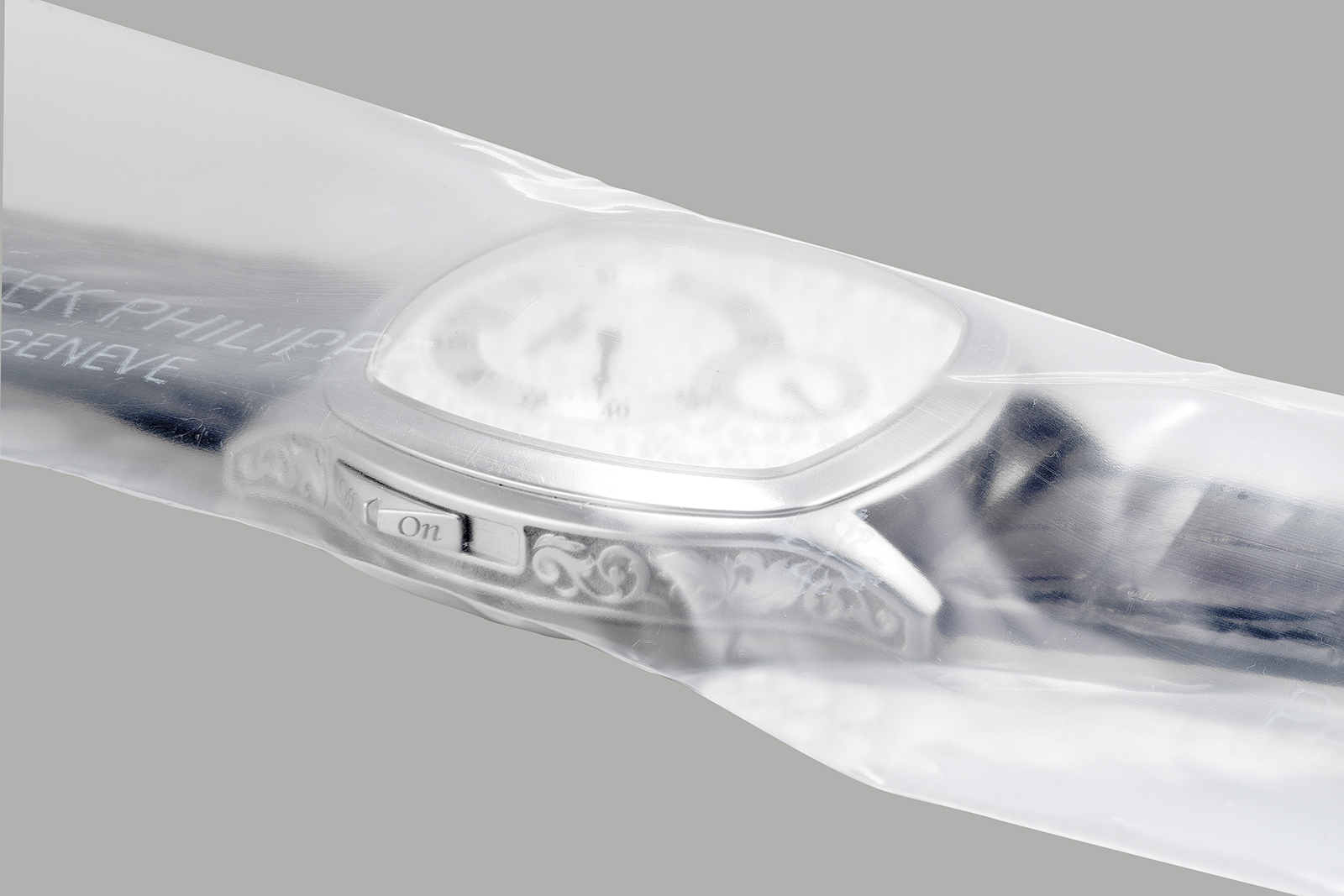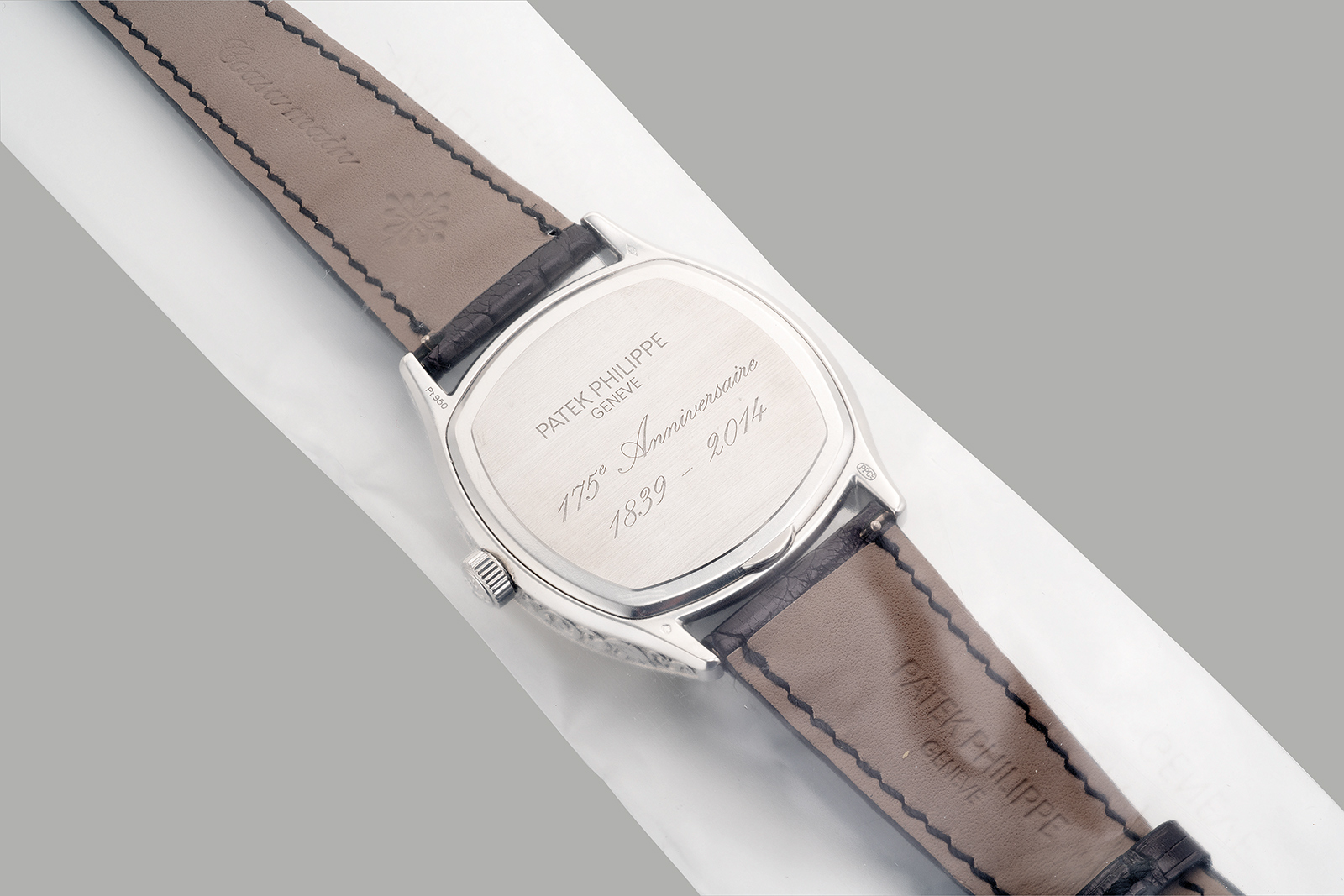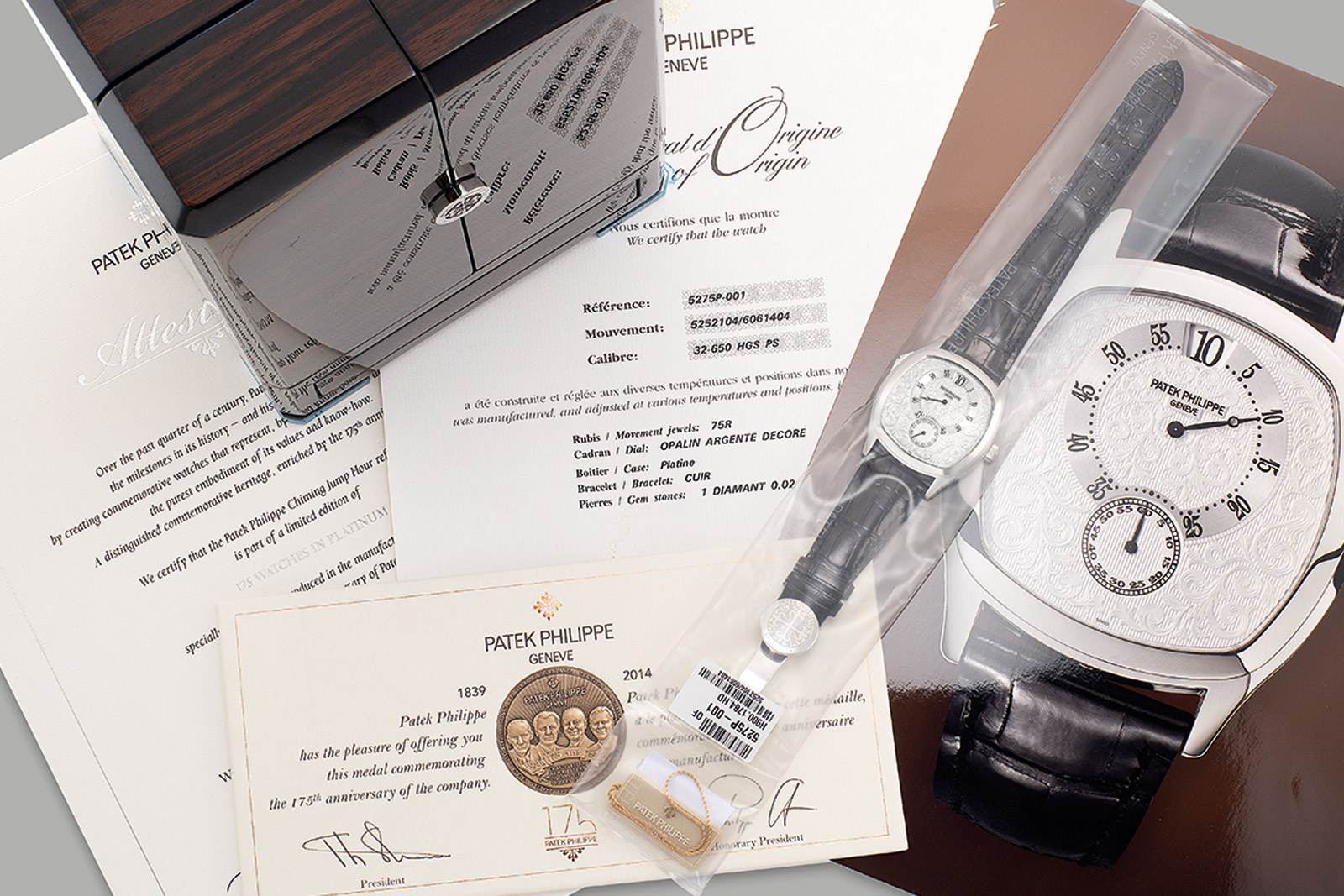 As a modern-day collectible Patek Philippe, the ref. 5275P is far from a bargain, but it is exceptionally interesting from a technical and design perspective, something that is usually overlooked because of its limited-edition status.
The ref. 5275P is factory sealed and unworn, and is complete with its original packaging, including the anniversary medallion. The estimate is HK$2.0-3.0 million, or US$256,000-385,000.
---
Lot 968 – Patek Philippe ref. 3979P minute repeater
Launched when Patek Philippe marked its 150th anniversary in 1989, the ref. 3979 is a gorgeously classical minute repeating wristwatch. The dial is white enamel with large Roman numerals, matched with a case featuring slender lugs, which make for a strikingly classical look. It is only 33 mm in diameter, diminutive by today's standards, but no less beautiful because of the size.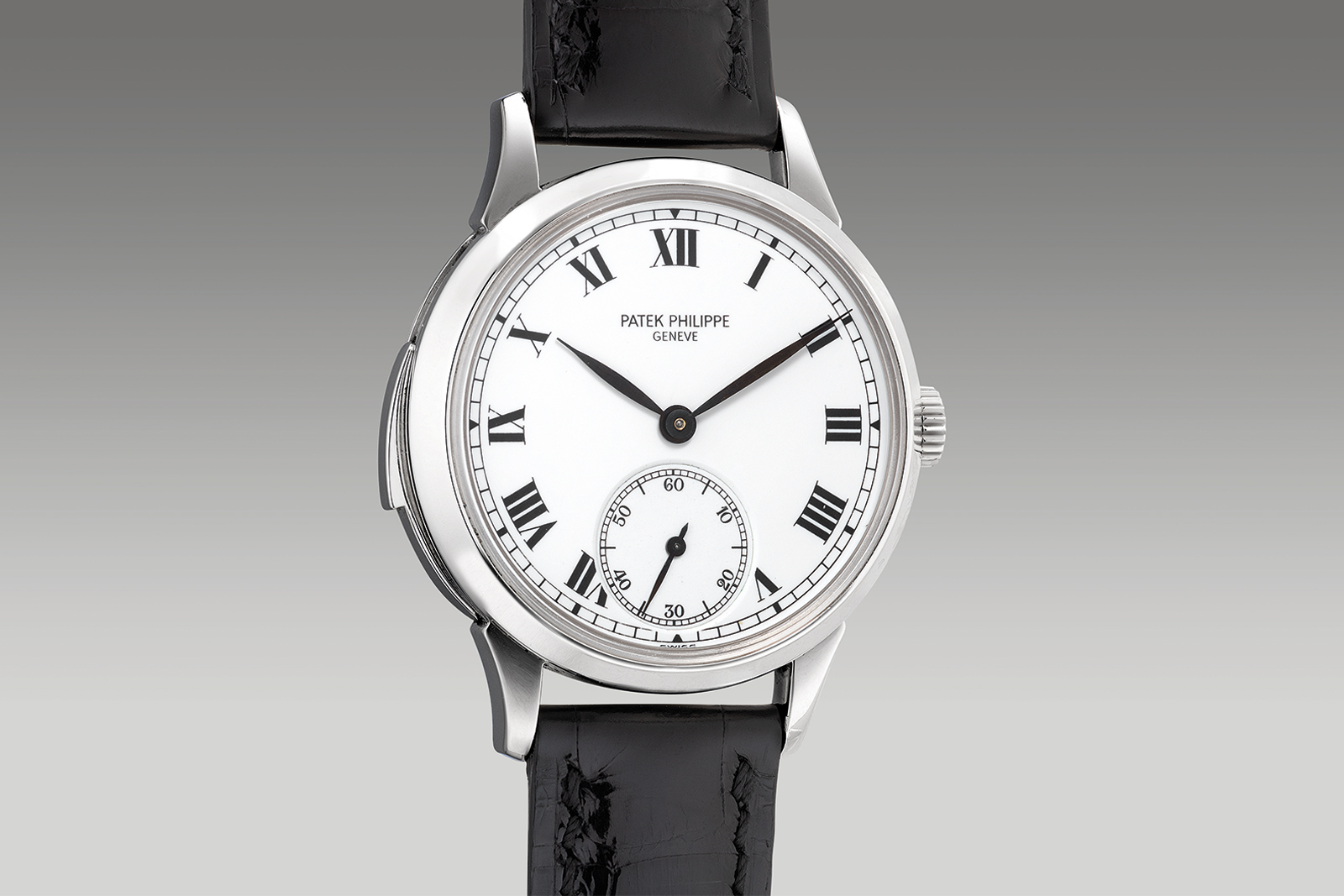 In production from 1989 to 2002, the ref. 3979 is frequently encountered in yellow gold, but rarely in platinum (explaining why the platinum version is worth substantially more). Only about a dozen in platinum were made, and this example is one of the five that have been sold publicly in the past.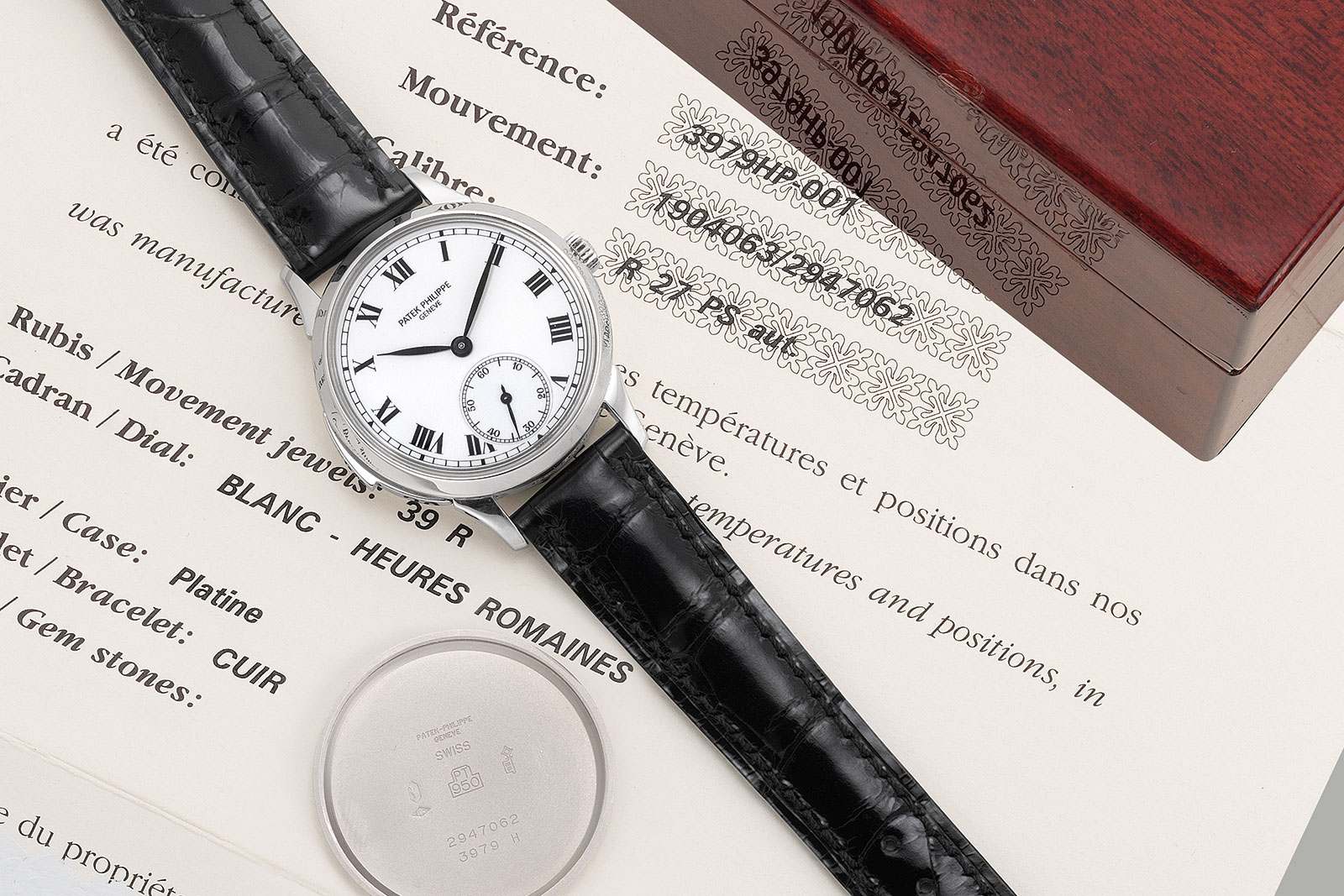 The watch includes the additional solid case back, as well as the original certificate. It has an estimate of HK$2.9-4.0m, or US$372,000-513,000.
---
Lot 974 – Vacheron Constantin Malte Tourbillon Openworked ref. 30067/000P-8953
One of top value buys in the skeleton-tourbillon space, the Malte Tourbillon has a gorgeously open-worked form movement inside a platinum, tonneau-shaped case.
Amongst the very best in modern watchmaking, the skeletonisation is delicate, artful, and also enhanced by hand engraving – a look that is increasingly unusual. This ornate style of movement decoration is no longer in vogue, and today's skeleton movement tend to go for clean lines and matte surfaces.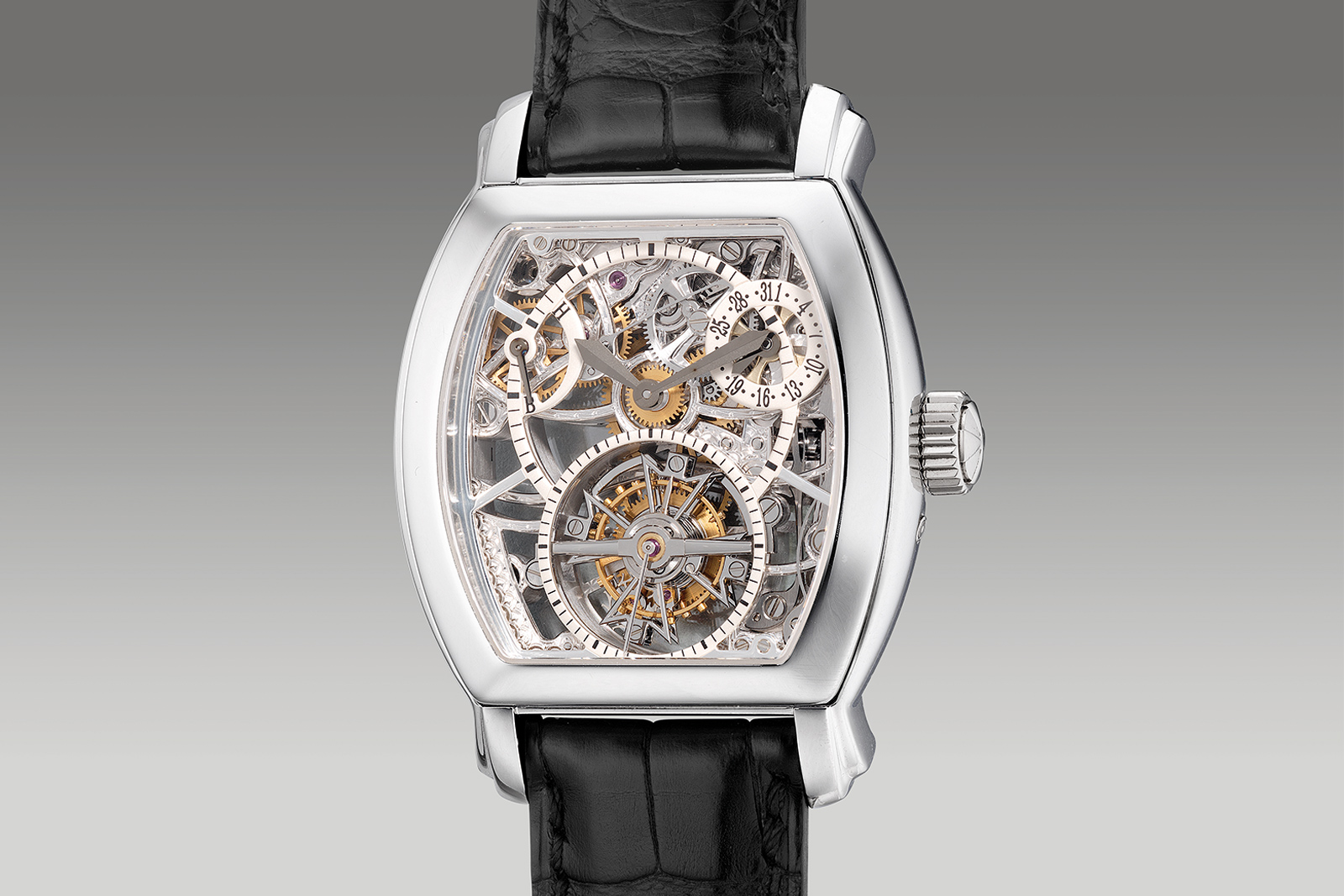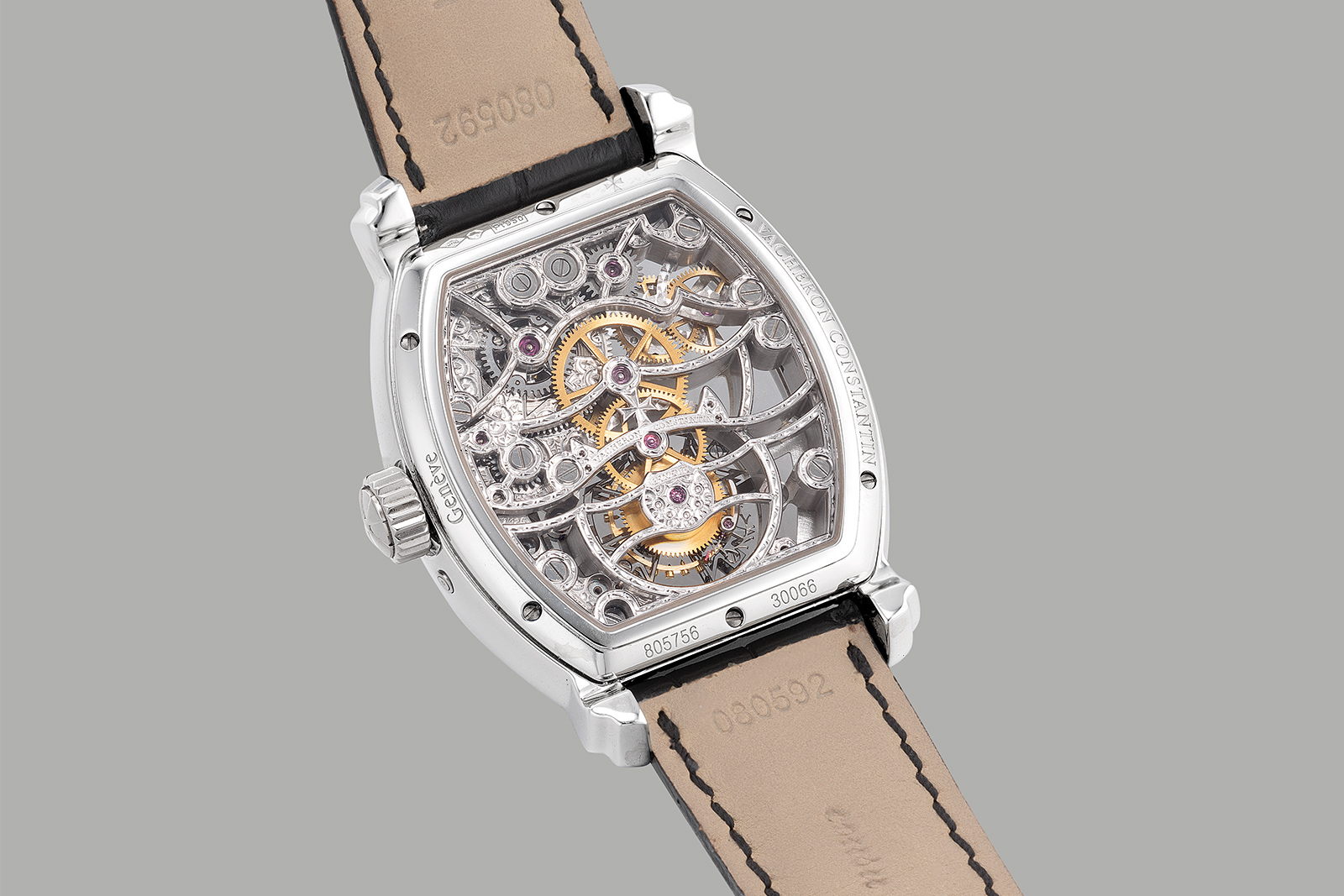 Though compact in size with a 36 mm diameter, the flared, stepped lugs give the watch visual presence, and the platinum case gives it weight. The tactile feel of the watch is reassuringly solid.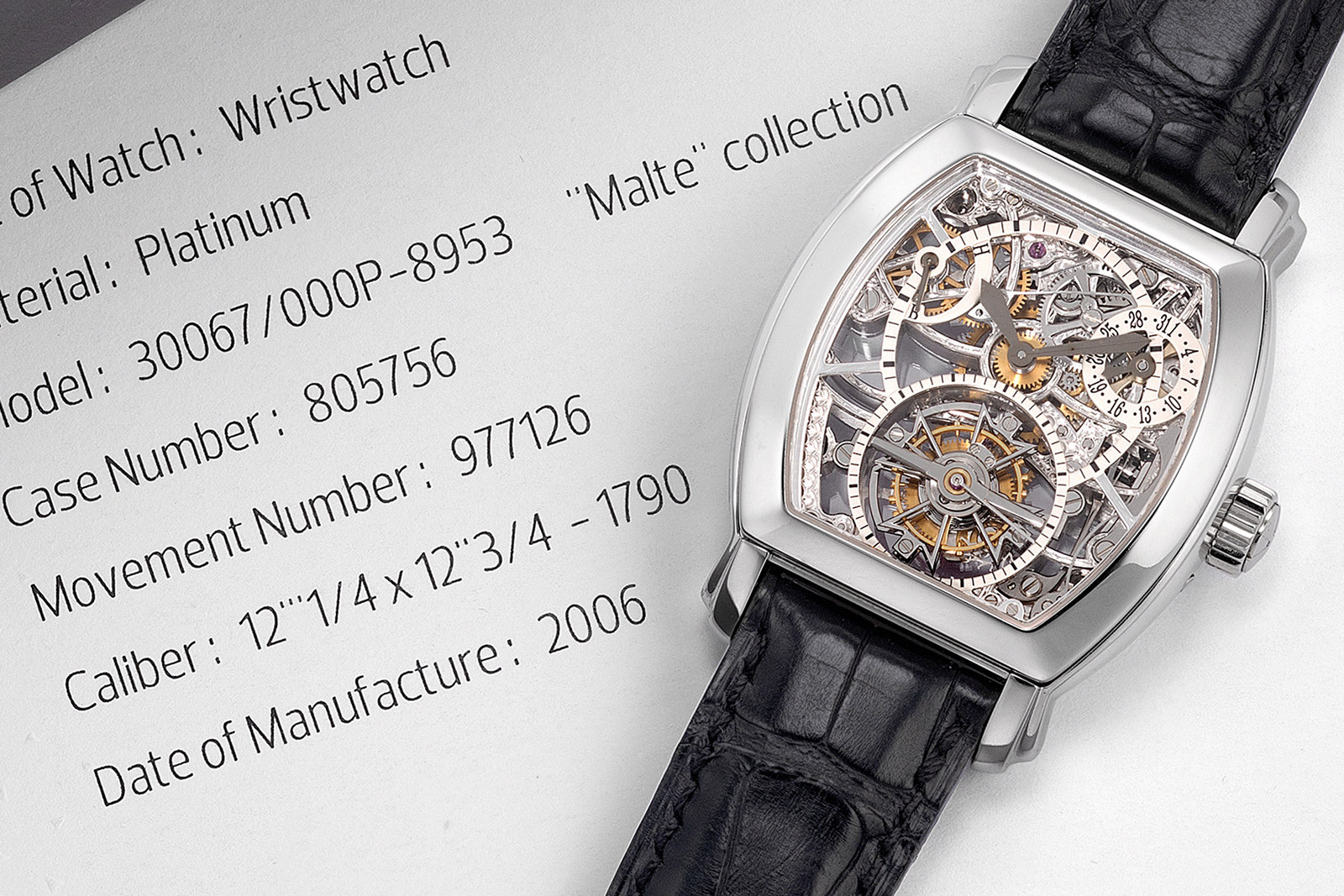 This watch includes its box, but not the original papers, and instead it has an archive extract noting a 2006 production date. The Malte Tourbillon is estimated at an eminently reasonable HK$350,000-500,000, or US$44,900-64,100.
---
Lot 998 – Patek Philippe ref. 2499/100
The top lot of the auction is a Patek Philippe ref. 2499/100 from 1982, an example of the fourth and last series of the brand's venerable perpetual calendar chronograph wristwatch.
The most affordable variant of the ref. 2499, the fourth series features a sapphire crystal, making it the closest approximation to a modern watch, while still being a 2499. That, combined with its affordability relative to earlier 2499s, makes the fourth series a candidate to be the "daily beater" 2499.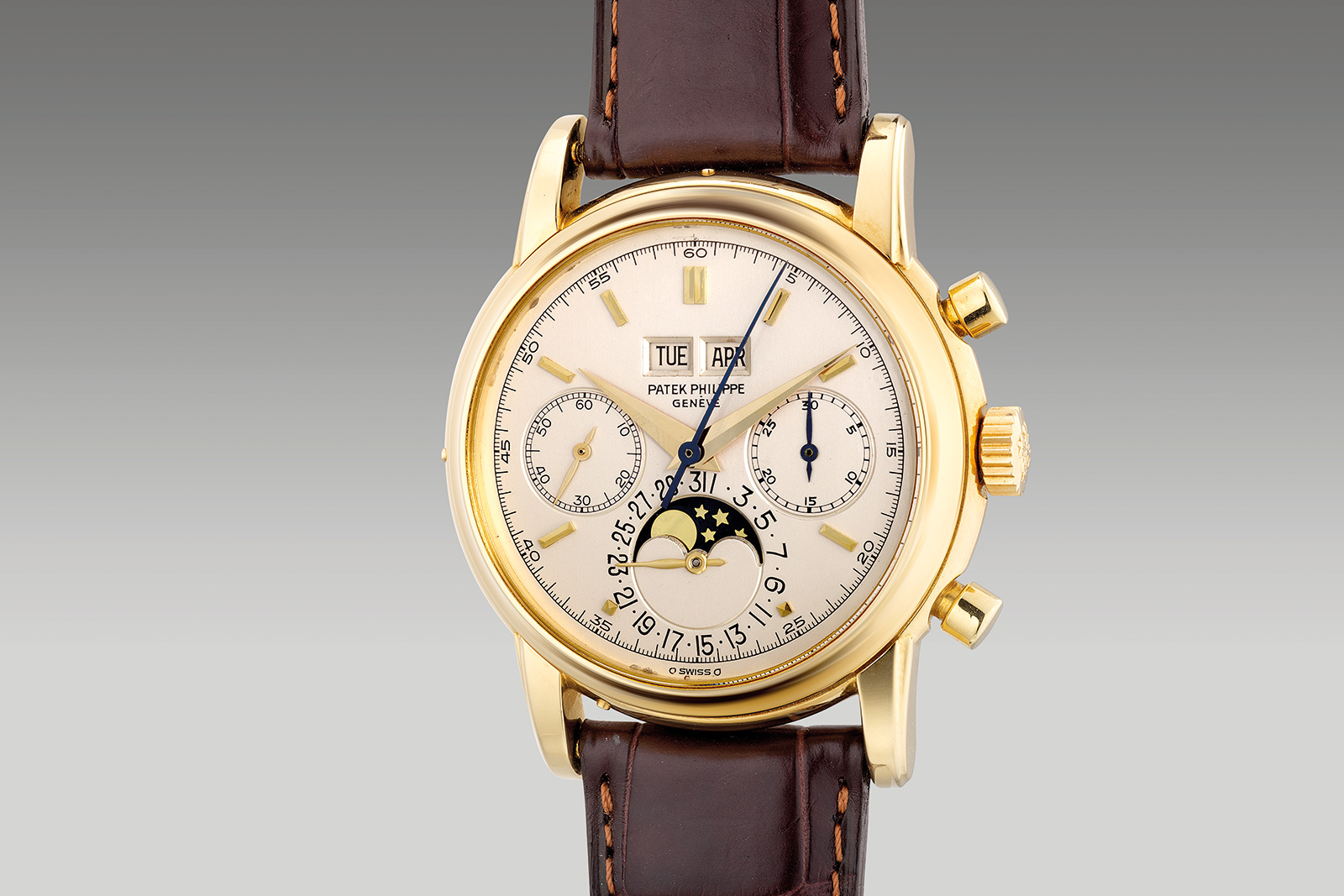 This example is in excellent condition, with well-defined lines on the case – particularly the fluting on the lugs – deep hallmarks, and an original dial. And the watch also includes its original calfskin strap, original certificate, and an archive extract dating it to 1983.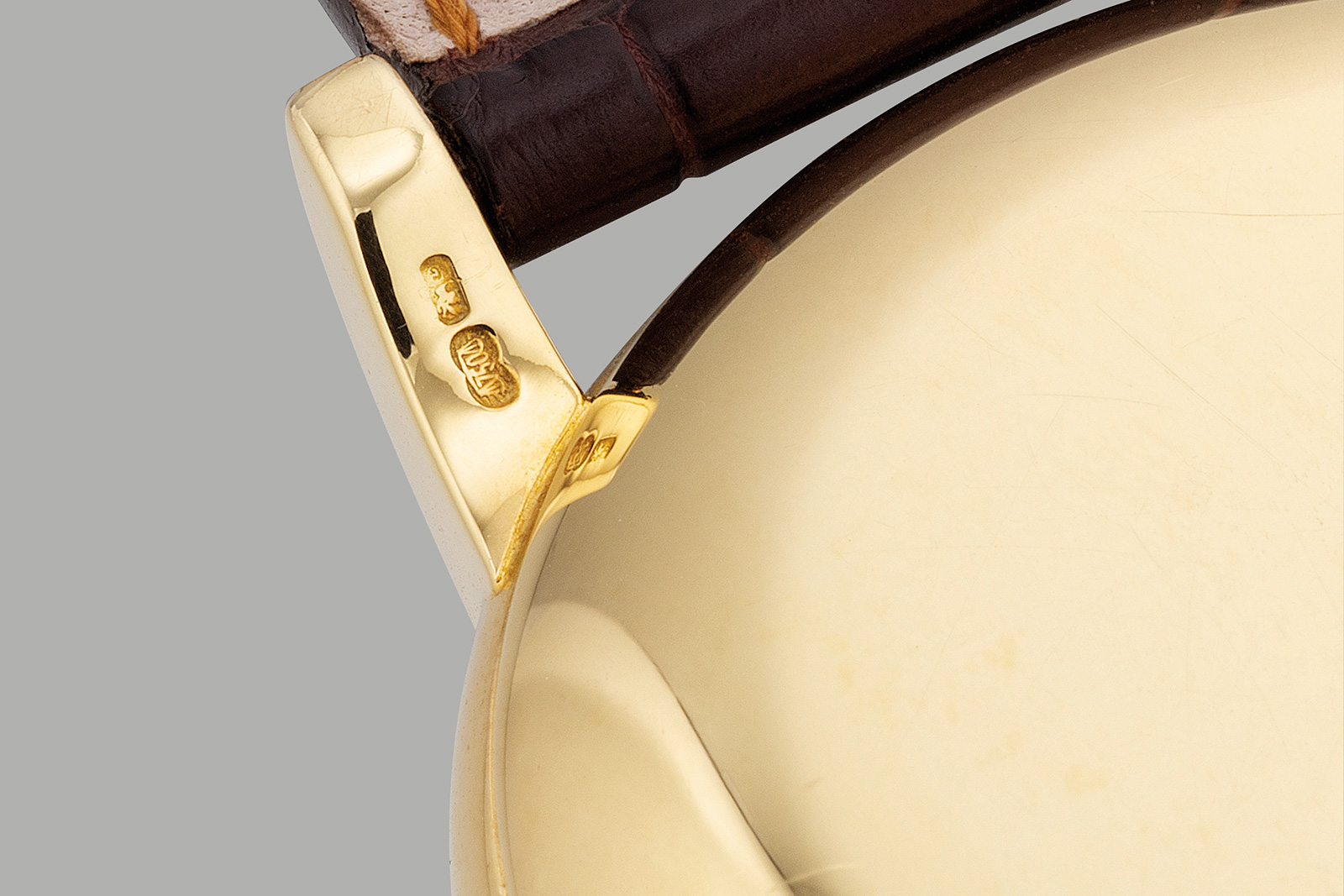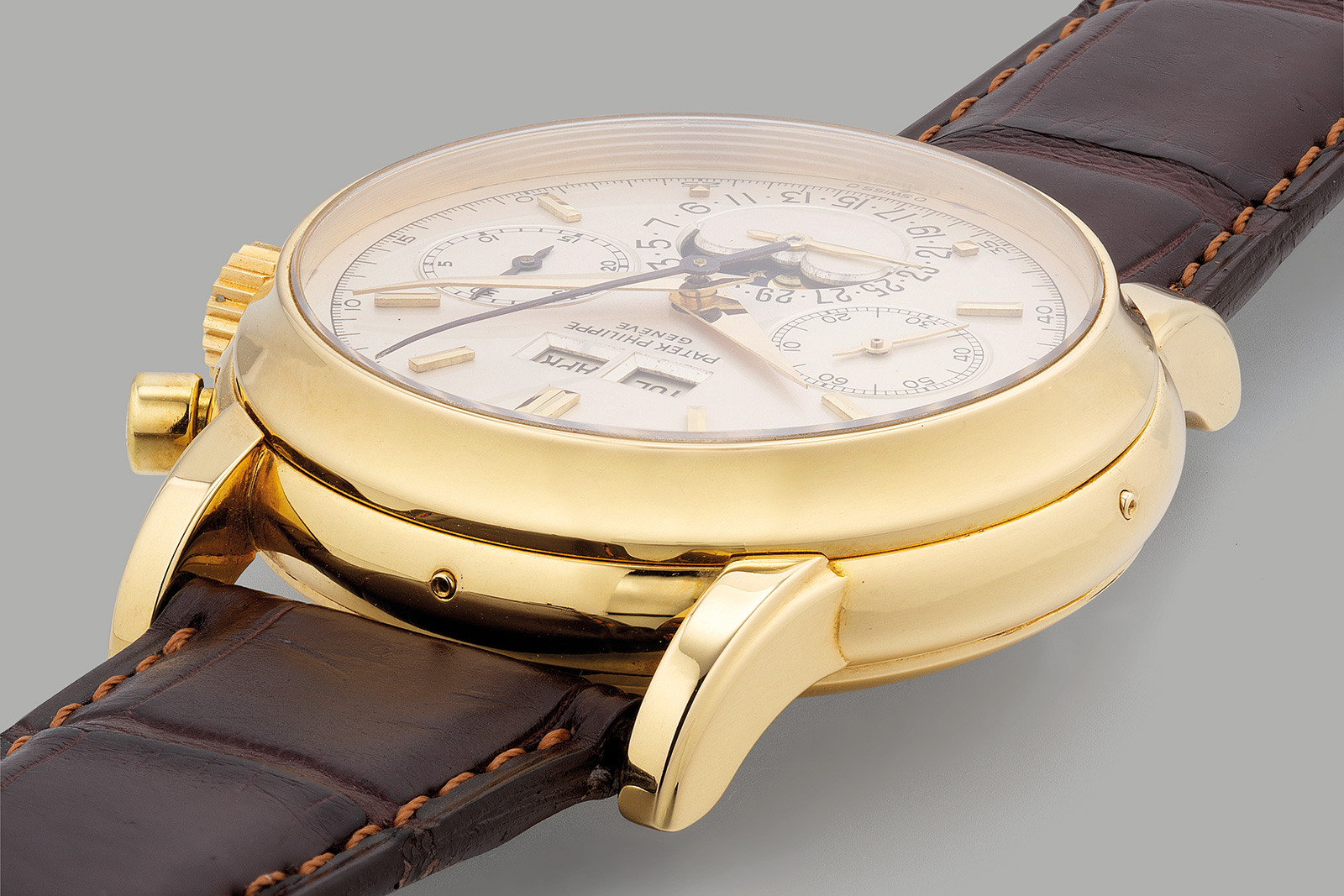 The ref. 2499/100 has an estimate of HK$3.5-5.0m, or US$$449,000-641,000.
---
Lot 1017 – Patek Philippe ref. 3448/14 "Gübelin"
This ref. 3448 is unusual, and perhaps unique, in several ways. Consigned by the family of the original owner – whose initials are "ZS" –  the ref. 3448 has a white gold case with an integrated bracelet, features a retailer signature on the dial, and a blue enamel monogram on the back.
Introduced in 1962, the ref. 3448 was Patek Philippe's first self-winding perpetual calendar wristwatch and is most commonly seen in yellow gold. Despite being in production for over 20 years, only 586 examples were made, with 130 of those being white gold – and just 14 in white gold with an integrated bracelet.
What sets this apart is the style of the integrated bracelet – noted by the "/14" suffix in the model reference – a "woven" construction taken from the Ellipse ref. 3605/1 "Jumbo", presumably done at the original owner's request all those years ago.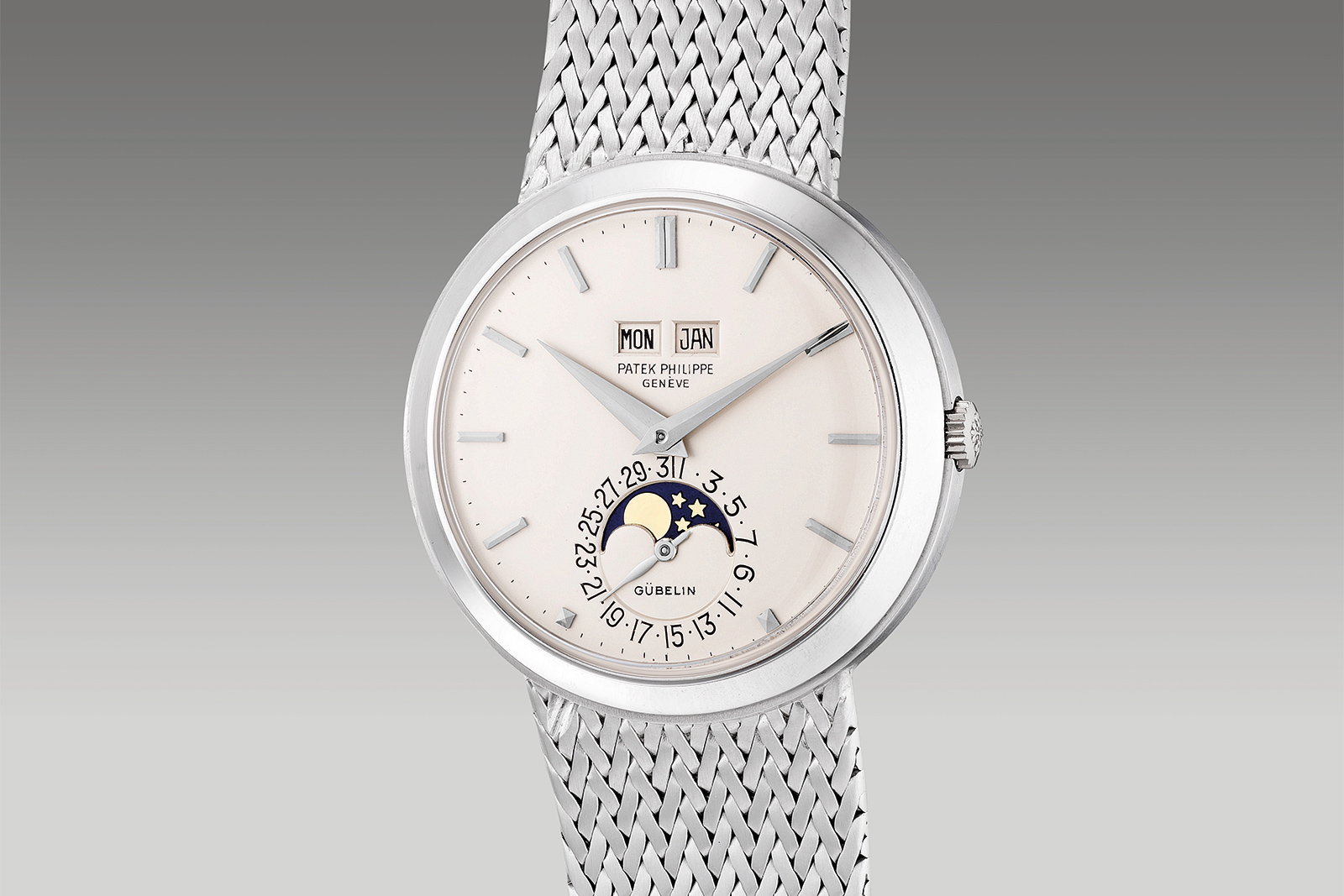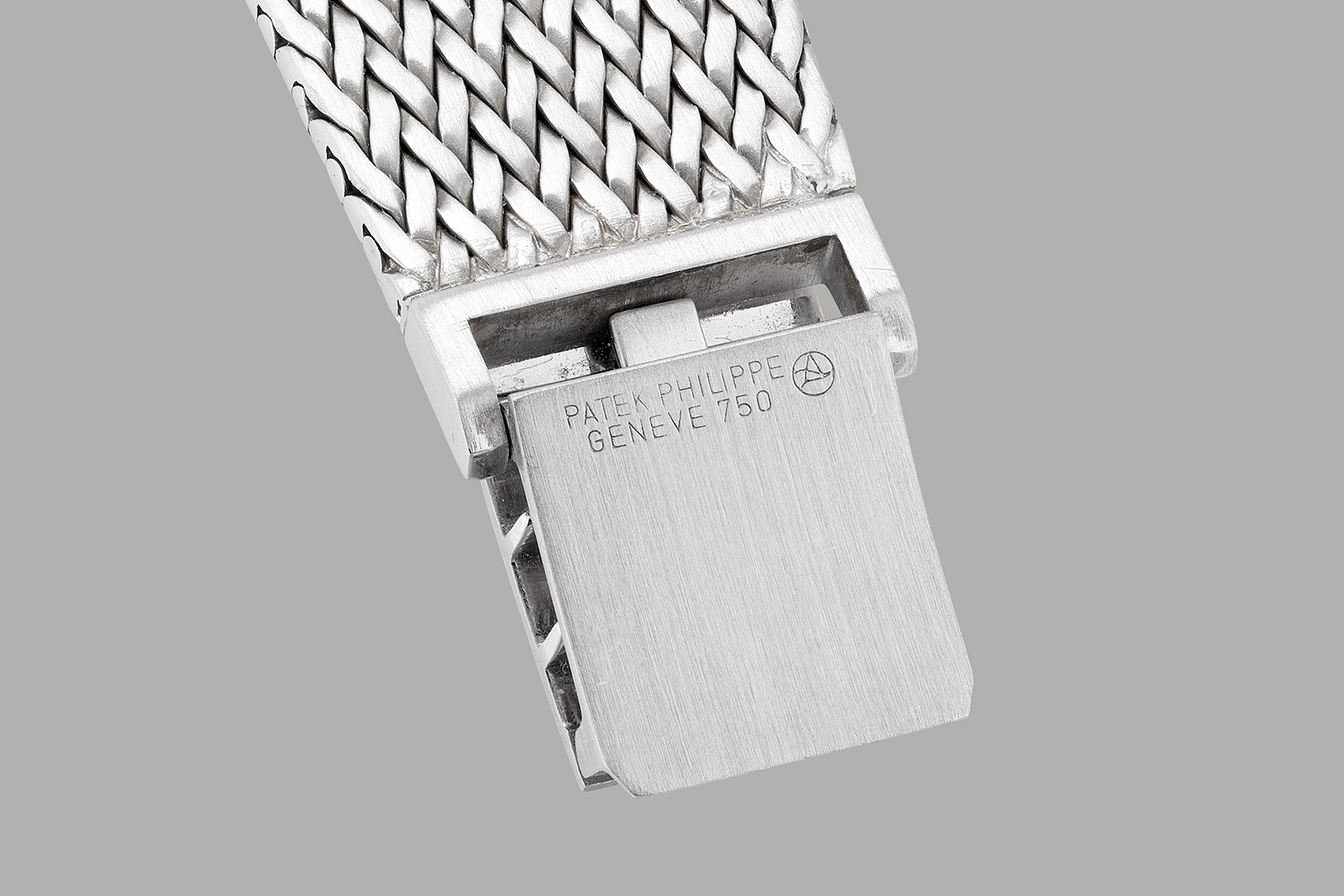 Its rarity is compounded by "Gübelin" on the dial, the first instance the storied Swiss retailer's signature is found on a white gold ref. 3448. And when the original owner acquired the watch at Gübelin, he also asked for his initials on the case back, which the retailer dutifully executed in dark blue enamel, a delightful detail that is confirmed by the Gübelin archive extract.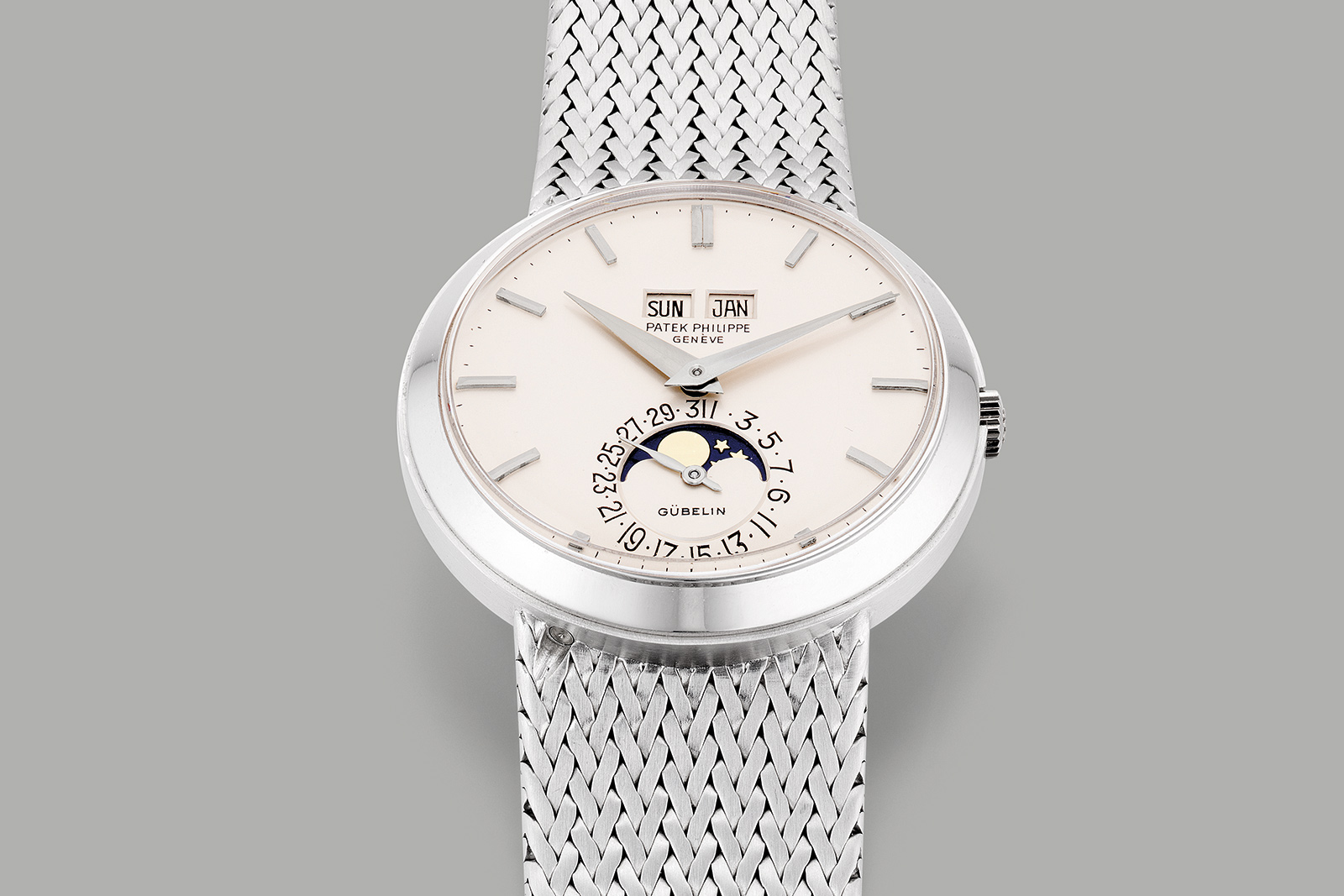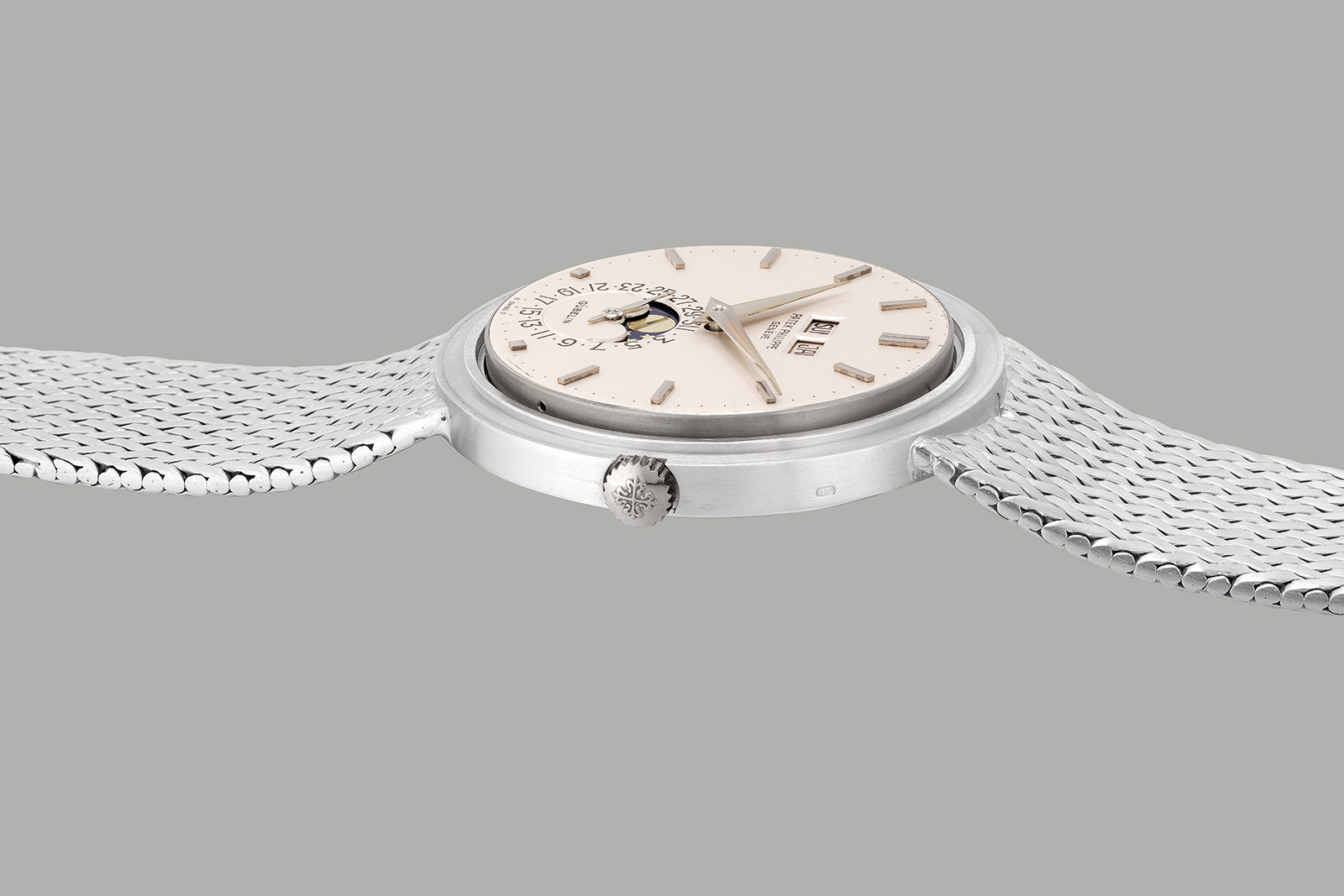 This ref. 3448 remains in excellent condition, with the case retaining its crisp edges and shape. It's accompanied by a Patek Philippe archive extract confirming the bracelet and production date in 1975, as well as a Gübelin archive extract noting the monogram on the back (as well as a monogrammed leather pouch that has unfortunately been lost).
The watch has an estimate of HK$2.34-3.90 million, or US$300,000-500,000.
---
Preview and Auction
The preview exhibition is open daily from July 4-9 at the JW Marriott Hotel.
The auction takes place on July 10, with the first session (lots 801-916) starting at 12:00 pm, followed by the second session (lots 917-1069) at 3:30 pm.
For the complete catalogue, as well as to place bids online, visit Phillips.com.
JW Marriott Hotel Hong Kong
88 Queensway
Admiralty, Hong Kong
This was brought to you in collaboration with Phillips.
---
Back to top.
---
You may also enjoy these.

Starting in Singapore, then Geneva and Taipei.