Watchmaker Bradley Taylor Debuts with the Paragon
A high-quality, time-only wristwatch made in Canada.
Young Canadian watchmaker Bradley Taylor has just made his debut with the Paragon. Having trained as a watchmaker in Switzerland, as well as gaining Patek Philippe and Hublot watchmaking certification, Mr Taylor's eponymous brand grew out of his earlier venture, a two-man partnership similarly focused on a concise, well-executed watch.
Very much a made-in-Canada wristwatch, the Paragon is a classical time-only that's assembled and partially finished by Mr Taylor in his home workshop. Mr Taylor produces the hands himself, while most of the other components are produced by specialists in Switzerland, including Comblémine, the dial maker owned by Kari Voutilainen.
But Mr Taylor has been careful to incorporate local details into the watch. Canadian graphic designer Ian Brignell was responsible for the Paragon's Arabic numerals, and even the square-slot case back screws are Canadian in origin.
Initial thoughts
There are times when it feels like the luxury-watch has become too successful for its own good – endless waitlists and steep price premiums for the hottest watches, as well as astronomical results at auction. At the same time, consumers often seem more concerned with resale value rather than the intrinsic value of craft.
So it's heartening to see the rise of niche independent watchmakers in the US$20,000-ish price range, such as Kikuchi Nakagawa, and now Bradley Taylor. Their work reminds me what watchmaking can be – the realisation of an individual's vision in a reasonably accessible manner.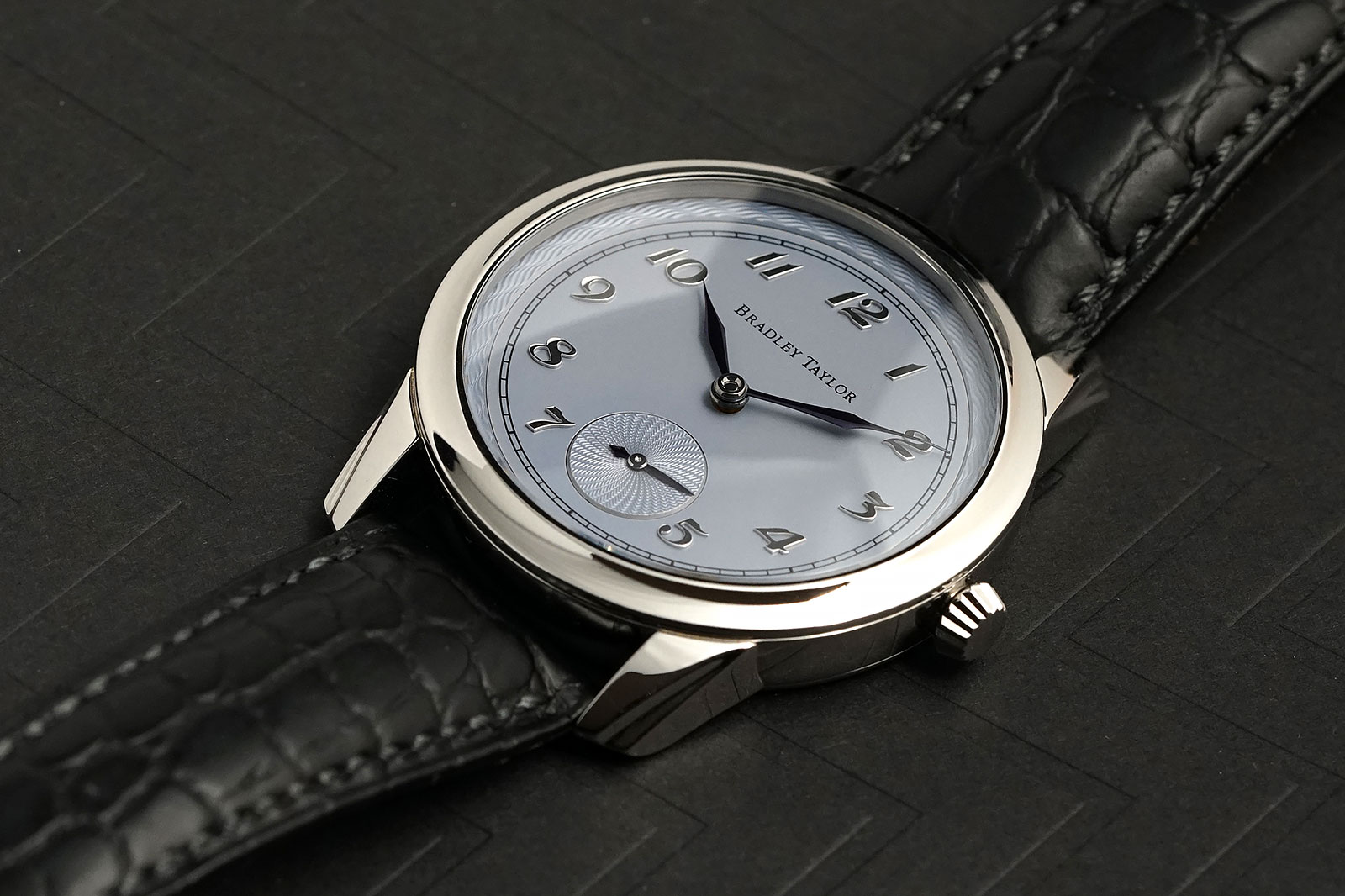 Mr Taylor demonstrates a great deal of potential with the Paragon. Though his first watch, the Paragon is refined and well put together. Not only is the watch executed to a high standard, but the dial manages to be classical yet different enough to set it the Paragon apart from other comparable watches, like the Kikuchi Nakagawa Ichimonji for instance.
For one, there's the custom-designed, and very local, typography for the numerals. And then there's the multi-part guilloché dial made by Comblémine, a highly-regarded dial manufacturer that supplies notable independents like MB&F, and of course Voutilainen. The dial reflects the broader watch, where the quality of components is undoubtedly excellent.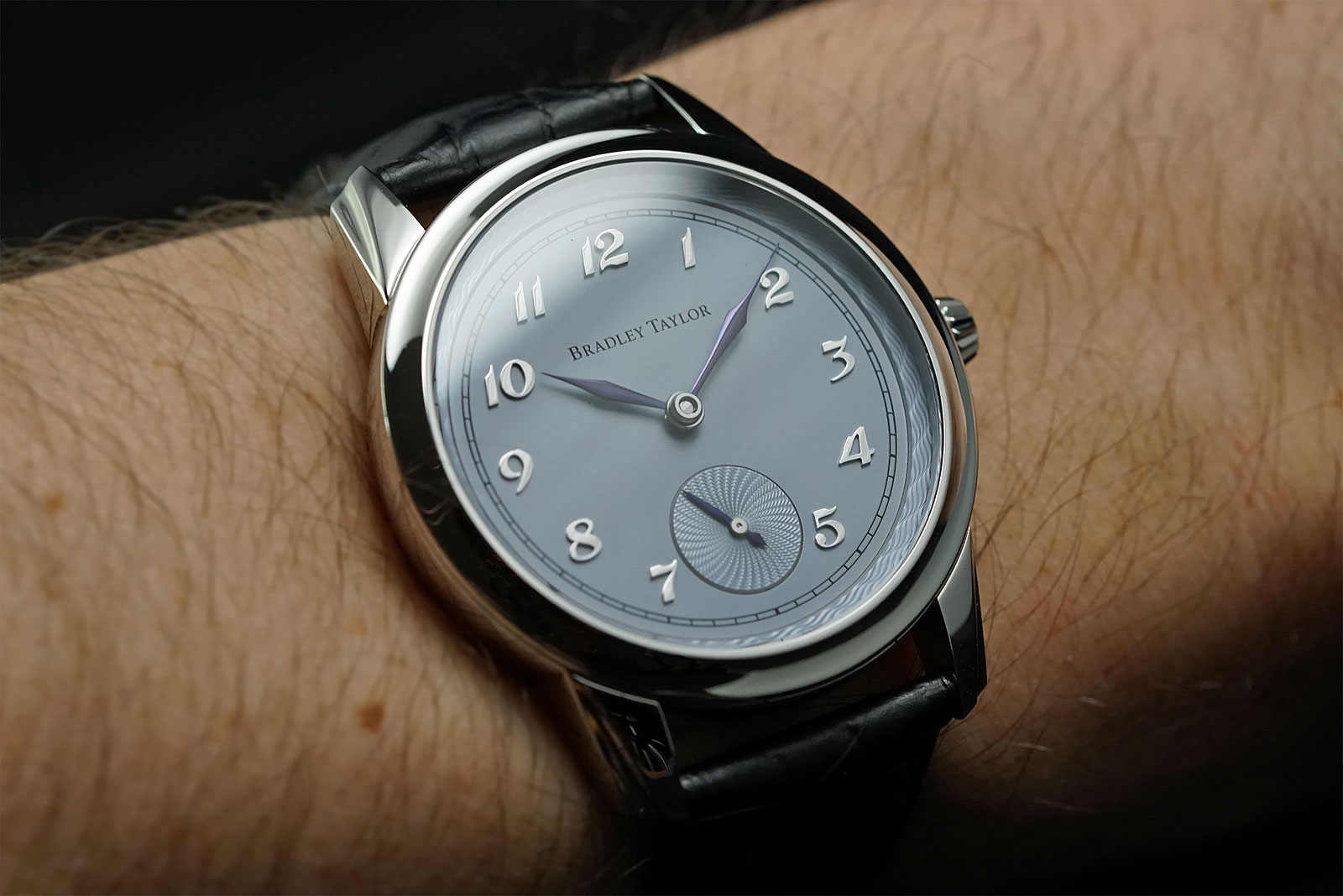 The sticking point for most is probably the Paragon's US$22,000 price tag. It's a substantial ask for a startup brand, but mitigated by the quality components, as well as the simple fact that a nascent brand needs a sustainable business model in order to develop new watches. If you like what you see, sometimes it's a leap of faith.
Quality in execution
The quality of the Paragon's dial is outstanding, both in detail and finish. Available in purple, light blue, or black – as well as custom colours on request – the dial is classical but striking its use of the spiral "La Tornade" guilloché to frame the centre. The same pattern, except on a smaller scale, is also applied on the seconds register.
Designed specifically for the brand, the Arabic numerals are each machined individually, before being polished by hand and installed by Mr Taylor himself.
Even more laborious are the hands, which are delivered to Mr Taylor as raw, oblong blanks.  He files, shapes, and polishes each hand in a painstaking that takes about 20 hours – per hand..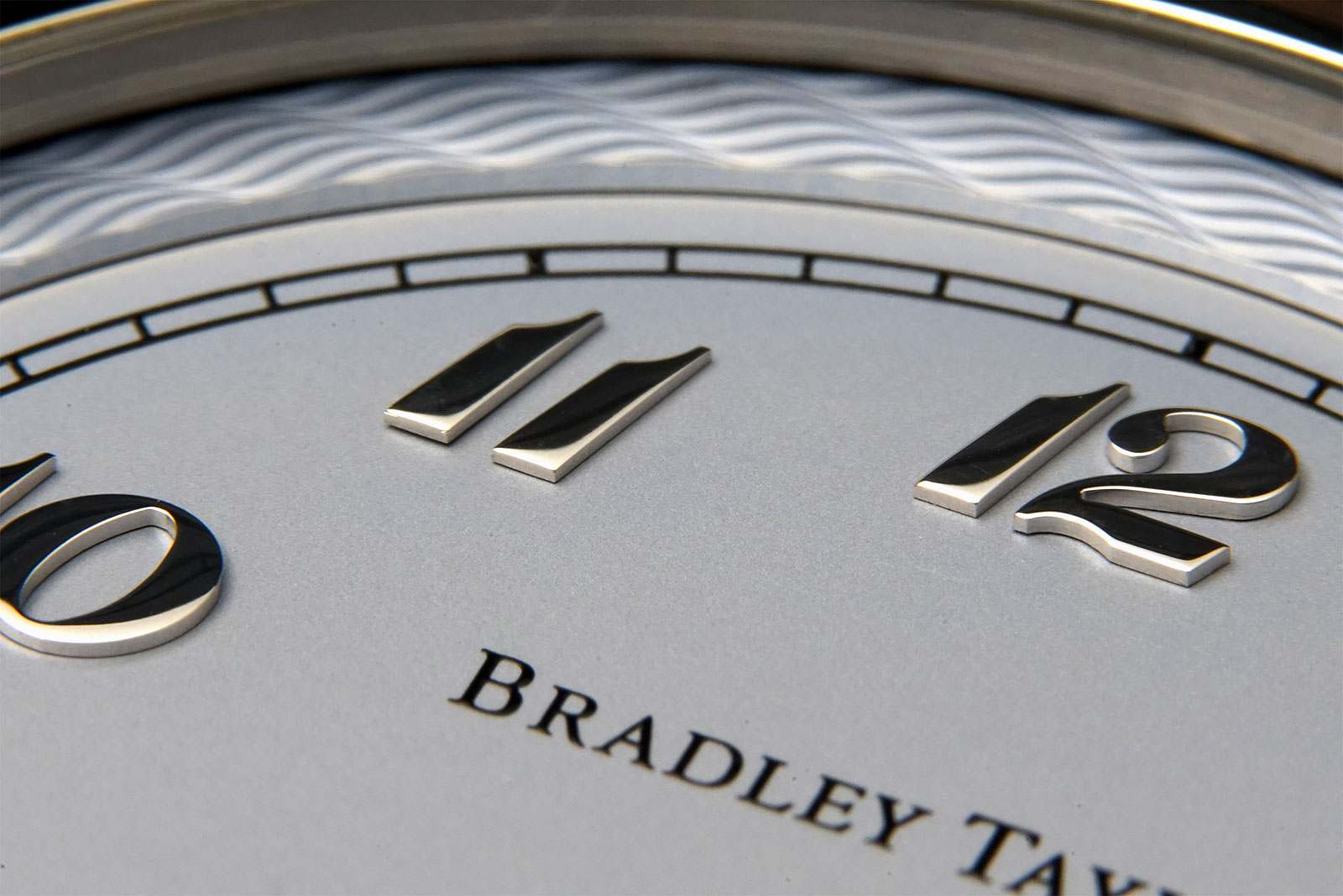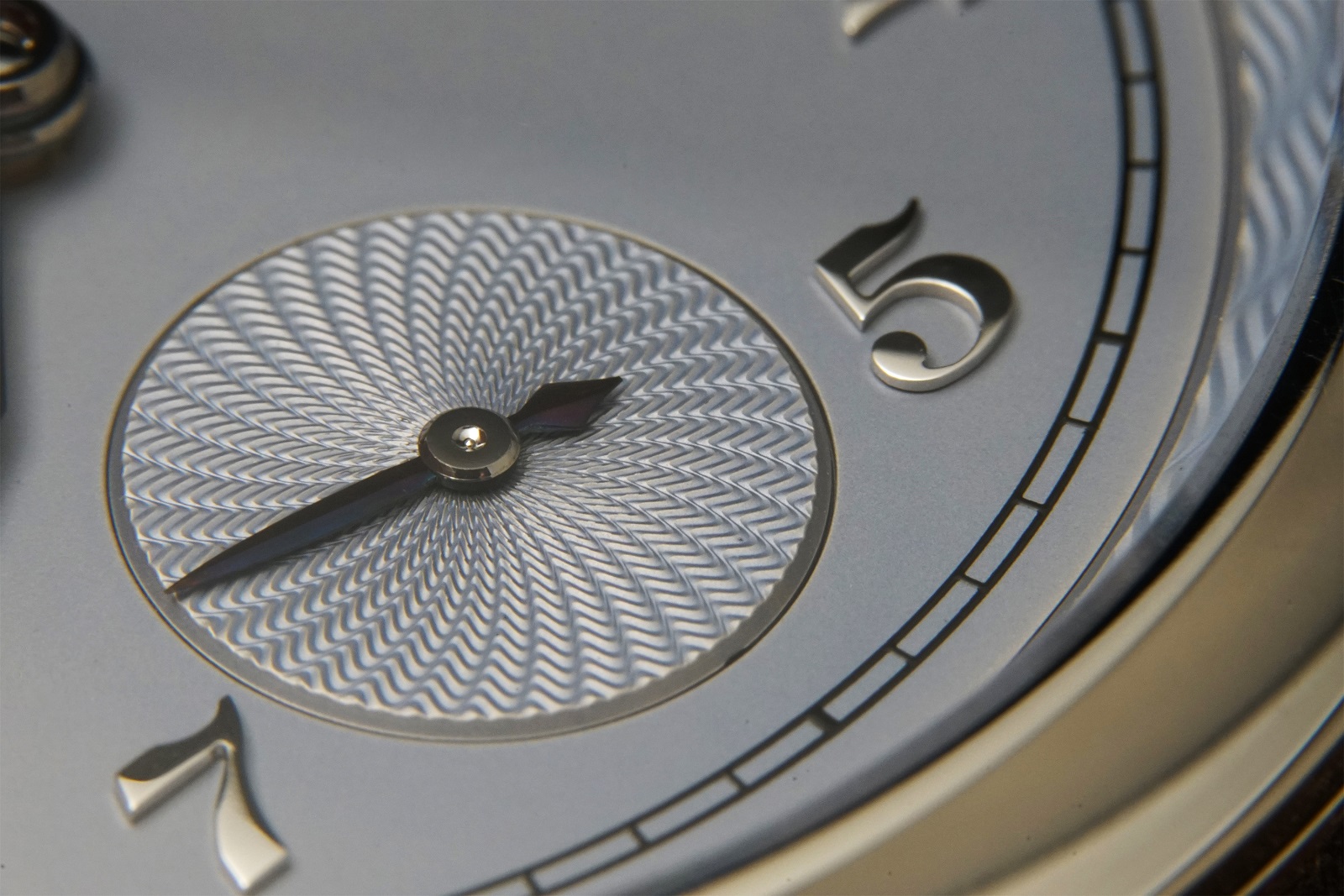 With a diameter of 39 mm and height of 9.8 mm, the Paragon is very much a gentleman's dress watch. Though its form is simple, details like the flat, concave bevel and generously fluted lugs given it a bit of flair.
A detail that is especially intriguing and illustrative of the attention to detail in its design are the screws for the case back.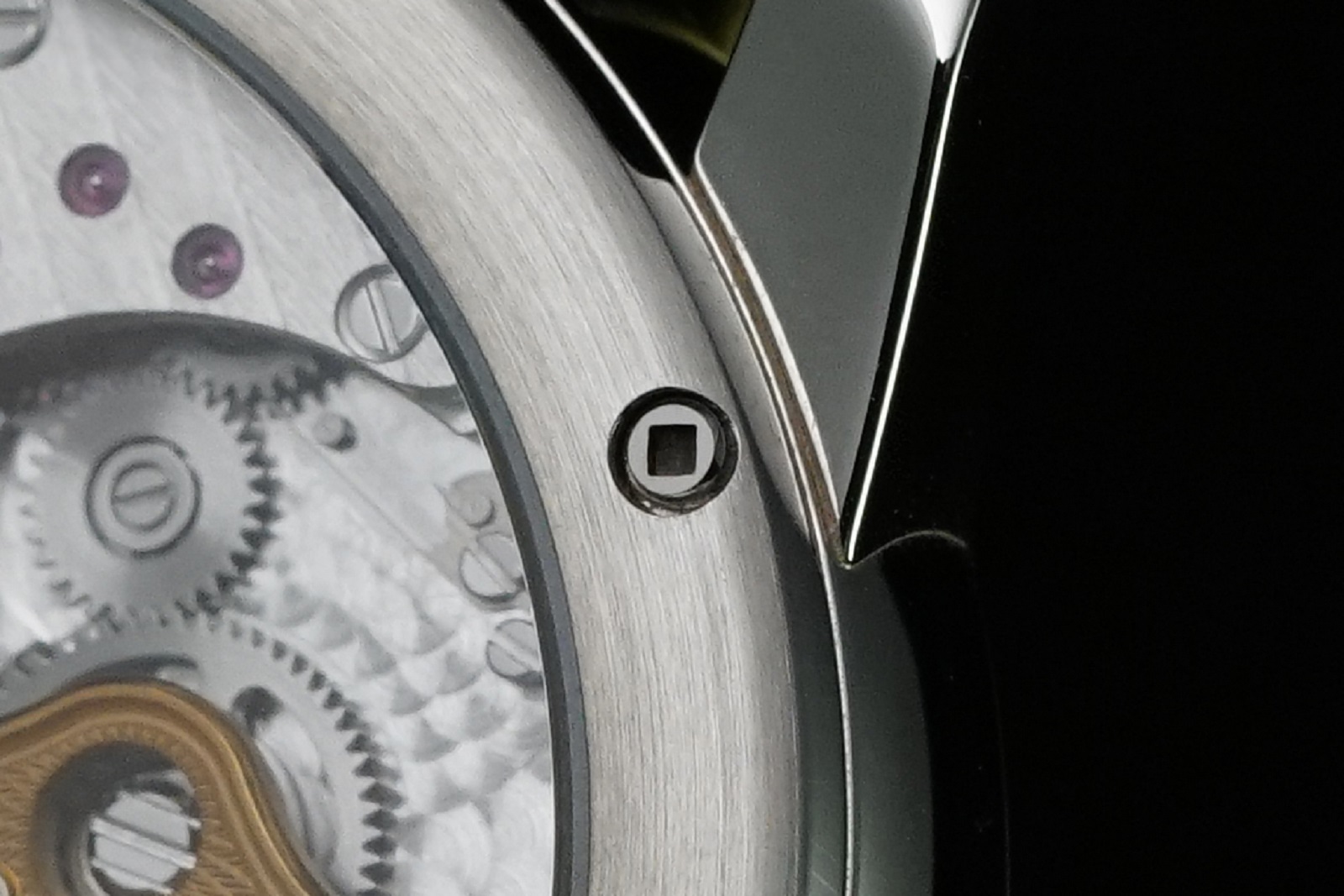 Unable to obtain screws that met his aesthetic sensibilities, Mr Taylor developed his own, which he believes are the smallest square-slot screws ever made. Like the components of the dial, each screw is hand-finished.
The unusual screw head is modelled on the square-drive Robertson screw invented by fellow Canadian P.L. Robertson in 1908, which was once used in Ford Model Ts assembled in Canada.
Notably, despite its genteel styling, the Paragon has been constructed to be surprisingly robust – allowing it to be an elegant, everyday watch – boasting an unusual water-resistance rating of 120 m.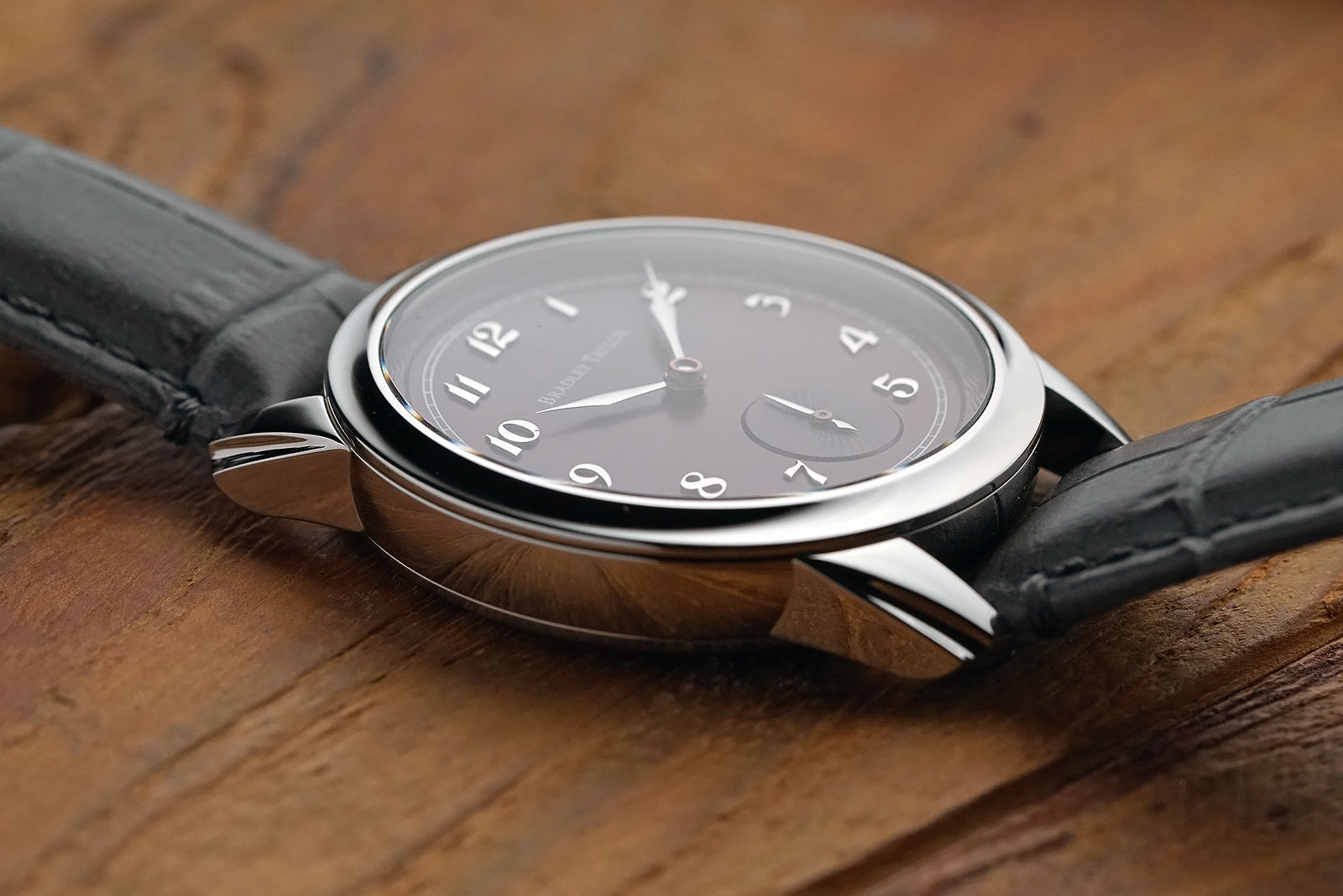 The Paragon is powered by the Vaucher VMF 5401/32, a large but slim automatic movement. Mr Taylor specified the very highest grade of the 5401/32, resulting in elaborate, hand-applied finishing. In fact, the finishing is comparable to that of the same calibre found in Parmigiani watches, reversing the norm where Vaucher often supplies simply-finished movement to third-party brands.
The going train bridges features a scalloped outline with three sharp inward angles on its bevelled edges – indicating hand finishing – with the rest of the bridges offering similarly refined finishing. The movement is also fitted with a 22k-gold micro-rotor adorned with the same "La Tornade" guilloché found on the dial.
---
Key Facts and Price
Bradley Taylor Paragon
Diameter: 39 mm
Height: 9.8 mm
Material: Steel
Crystal: Sapphire
Water resistance: 120 m
Movement: Vaucher VMF 5401/32
Functions: Hours, minutes, and seconds
Winding: Automatic
Frequency: 21,600 beats per hour (3 Hz)
Power reserve: 48 hours
Limited edition: 12 pieces
Availability: Direct from Bradley Taylor
Price: US$22,000
For more, visit Bradleytaylor.ca.
---
Back to top.
---
You may also enjoy these.