Parmigiani Introduces the Tondagraph GT "Panda"
In two flavours – and two movements.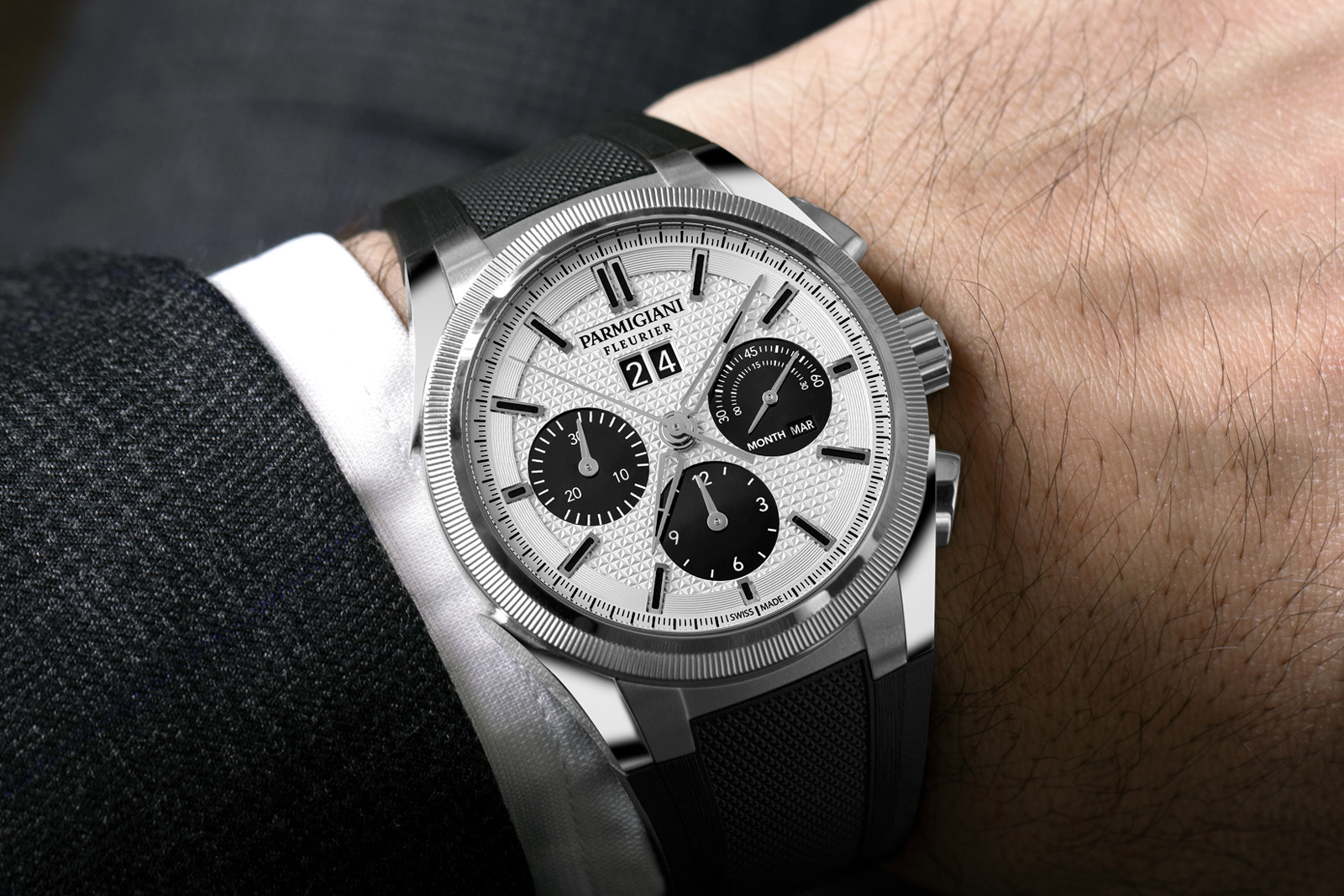 Parmigiani got on integrated-bracelet sports watch bandwagon last year with the launch of the Tonda GT, in both chronograph and three-hand formats. Like many of its luxury-sports watch peers, the Tonda GT was penned with the help of a (somewhat) famous designer, Dino Modolo, an industry veteran whose best known work comes from his time at Vacheron Constantin, where he designed the original Overseas.
While the Tonda GT is arguably Parmigiani's first bona fide sports watch, it is surprisingly good – stay tuned for a review soon – and now Parmigiani has unveiled a pair of Tondagraph GT chronographs with "panda" dials. Decorated with clou triangulaire guilloche, the silvered dials are matched with glossy black ceramic registers, elevating the retro "panda" to a new level.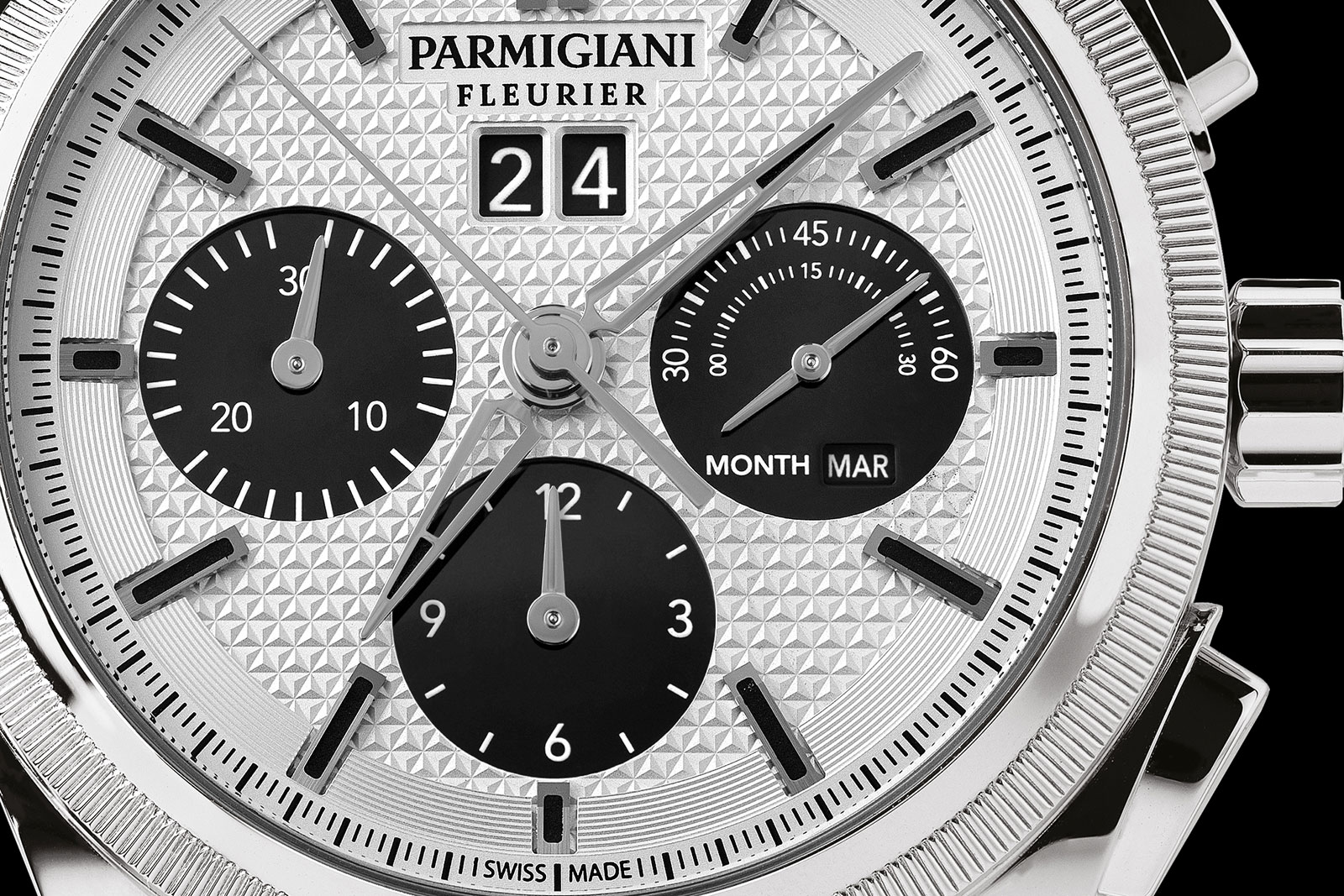 Somewhat confusingly, the Tondagraph GT will be available in steel with a modular movement featuring an annual calendar, or in 18k gold equipped with a pure-play, integrated chronograph movement that's both high-frequency and finely constructed.
Initial thoughts
The Tonda GT has an appealing, original look that most crucially avoids looking derivative, an easy pitfall in the integrated-bracelet sports watch segment. And despite being one of the many such sports watches, the Tonda GT stands out with its own style that is inspired by Parmigiani's dress watches, resulting in a look that's best described as curious but attractive.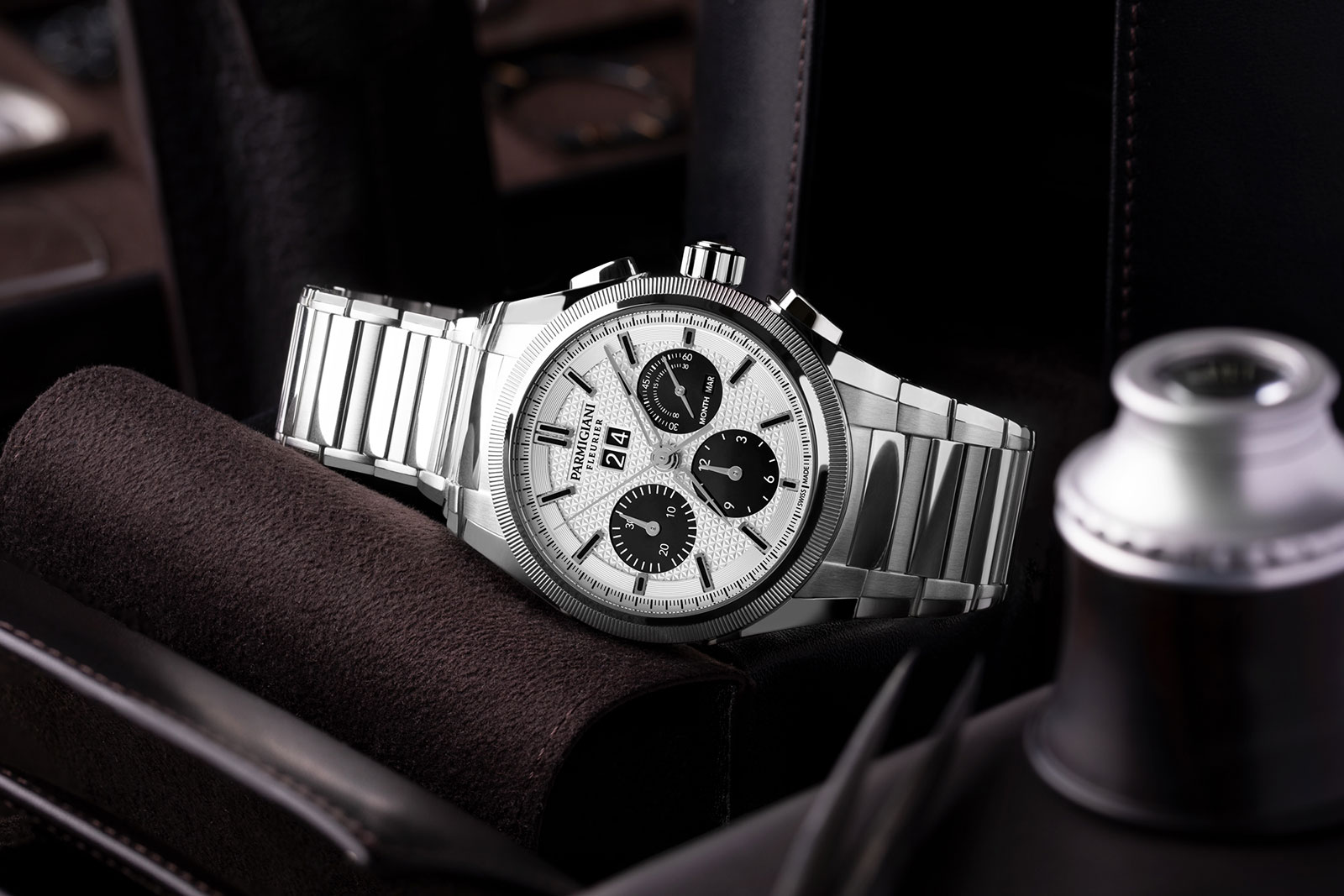 The Tondagraph's case and bracelet are neither angular nor complicated as some of its rivals are, but are still executed with flair, exemplified by the tear-drop style lugs and fluted bezel. Notably, the end links of the bracelet echo the shape of the lugs, giving the watch a distinctive look, but admittedly leave the bracelet looking less integrated.
And the detailed dial finish also helps set it apart from competitors. All in all, the case and dial are high quality, as is typical of Parmigiani, which has sister companies that specialise in those components.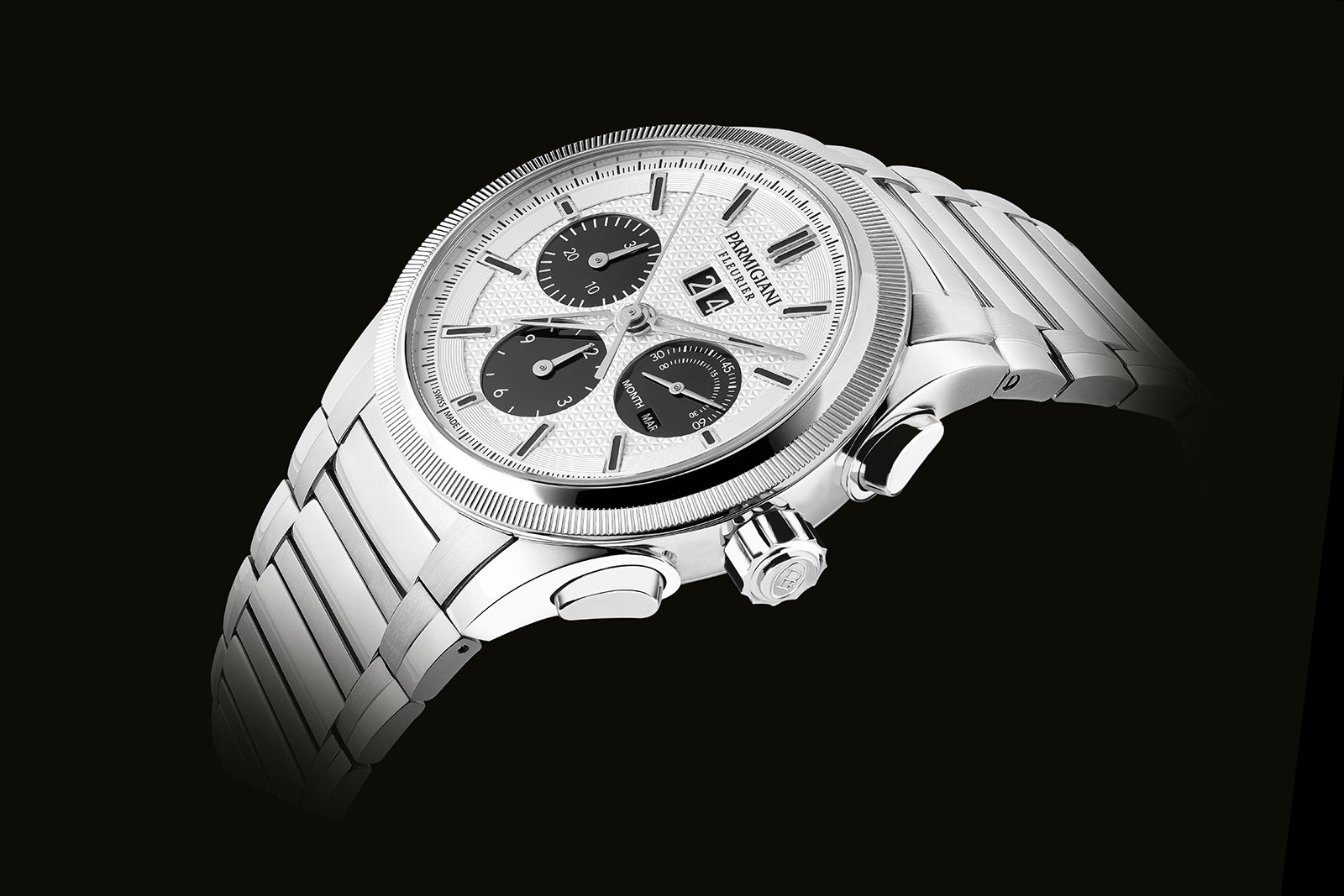 At 42 mm wide, the Tondagraph is well sized for a modern sports chronograph, but also fairly thin. Though it's around 14 mm high, depending on the version, the case diameter and design gives it a sleek profile on the wrist such that it sits well.
The size also means the sub-dials are properly spaced out and legible. And telling the date has been made even easier with a double-digit display at 12.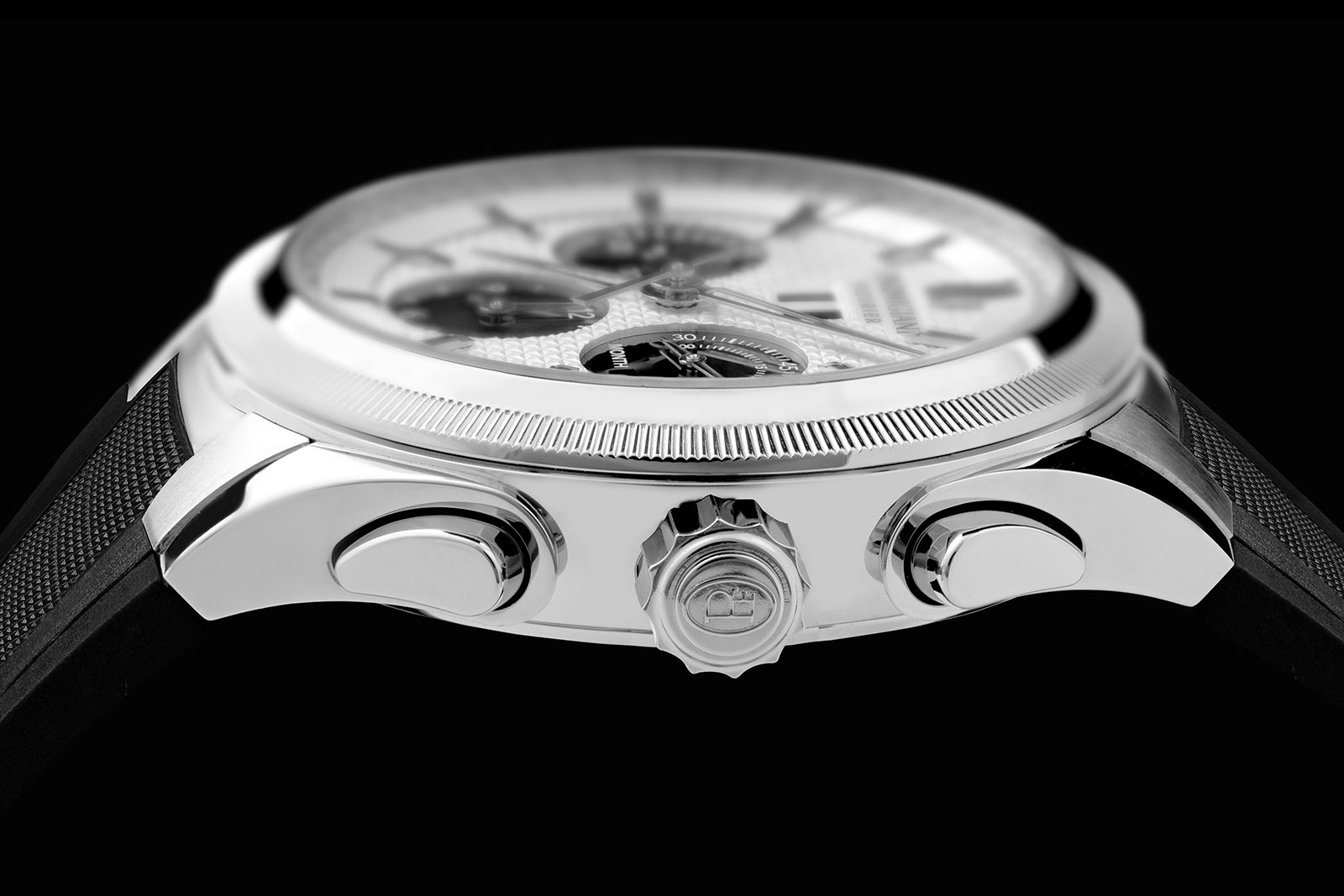 Among high-end sports watches, the Tondagraph GT is modestly priced, especially the steel variant with an annual calendar. In fact, it's arguably a value proposition considering Parmigani well-deserved reputation for quality. While the Tonda GT does not have a strong historical lineage like it rivals, the refined execution makes it a compelling offering.
Steel "Panda"
The Tondagraph GT with an annual calendar was originally launched as a 200-piece limited edition last year. It had a black dial with orange accents, giving it a fairly subtle look.
The new version, however, dials up the contrast with a "panda" dial – black registers against white – an instantly attractive formula for a sports chronograph that brightens up the watch.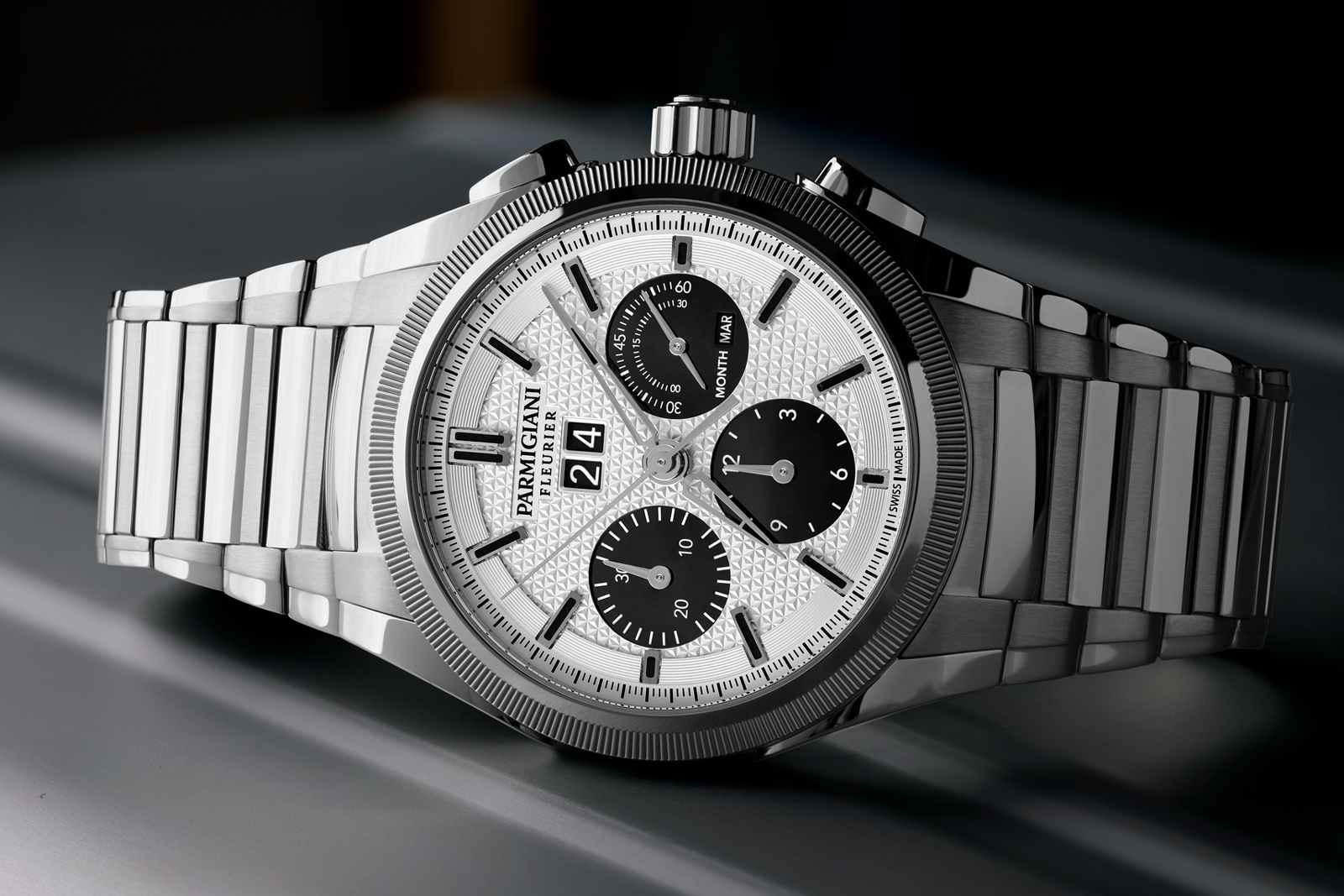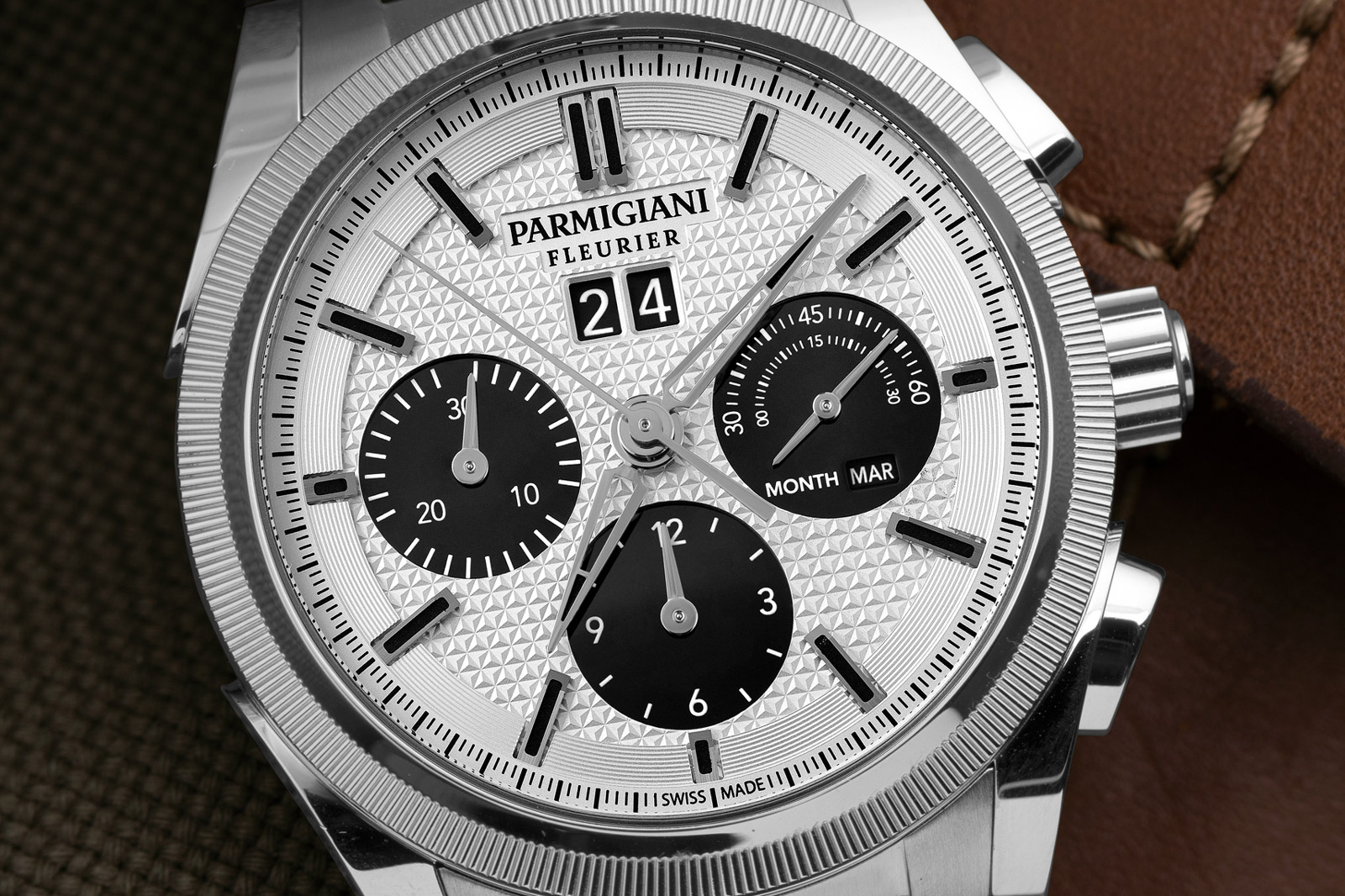 Despite having an annual calendar, the dial is relatively clean. The big date sits under 12 o'clock, while the month indicator is smartly tucked in the the sub-dial at three o'clock.
Inside is the cal. PF043, an extremely complicated movement with over 400 parts – it is, after all, an annual calendar chronograph with big date – but not integrated. Instead, the movement is modular, with the base calibre having the chronograph mechanism and calendar plate on top, sitting just behind the dial.
While functionally identical to an integrated movement, the modular construction is more cost effective, partly explaining the steel Tondagraph's affordable pricing.
Gold "Panda"
At first glance, the gold version looks identical to the steel model, but it is intrinsically different. Beyond the material, the gold "Panda" is powered by the cal. PF071, a sophisticated calibre that lacks the annual calendar but is an integrated construction with high-end features like a free-sprung balance secured by a full bridge.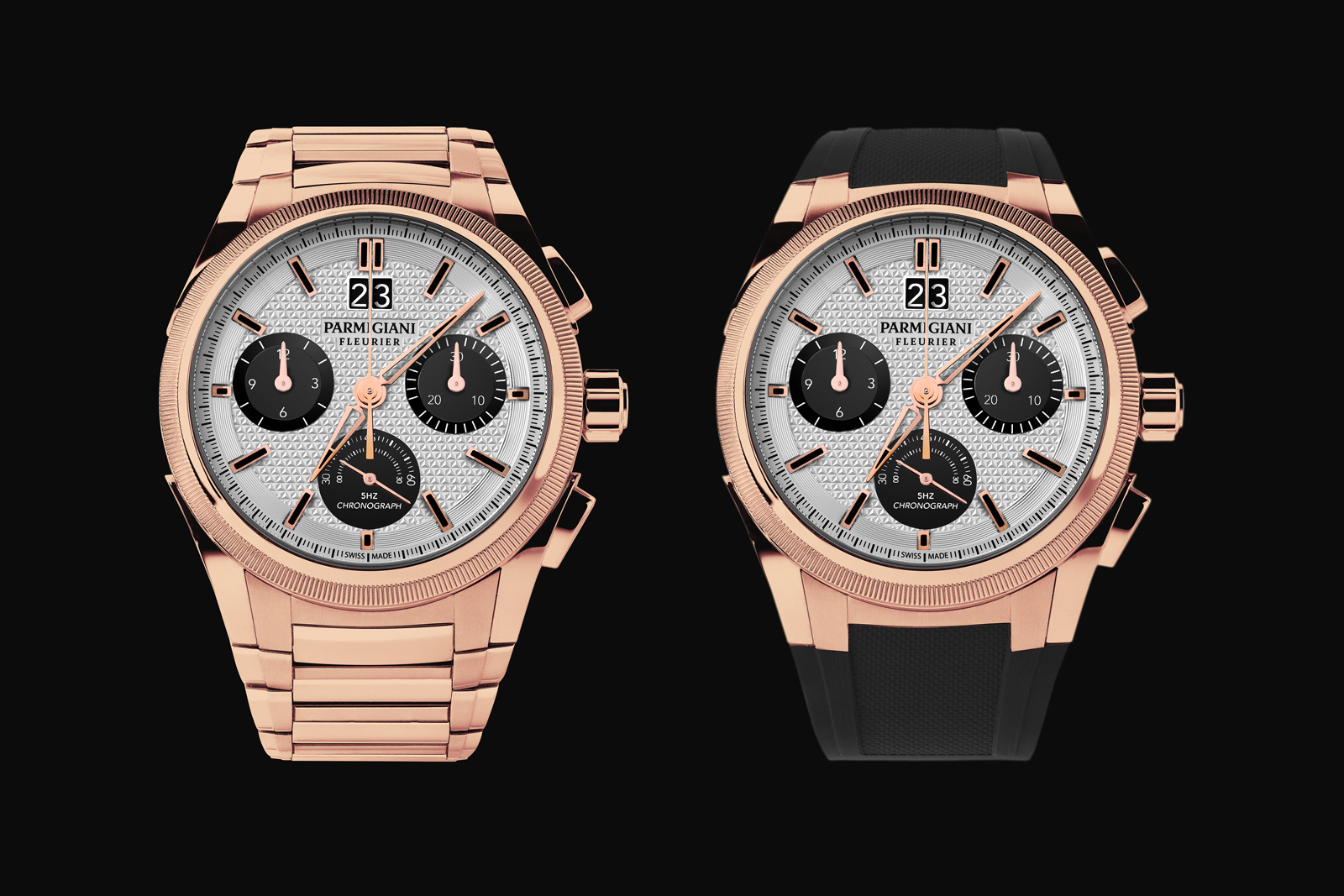 Derived from brand's in-house split-seconds chronograph movement, the cal. PF361, the cal. PF071 is simpler but no less fine. It beats at 36,000 vibrations per hour, or 5 Hz, making it a high-frequency movement.
Despite consuming more energy due to the more rapid oscillation of the balance wheel, the cal. PF071 still has a generous running time of 65 hours.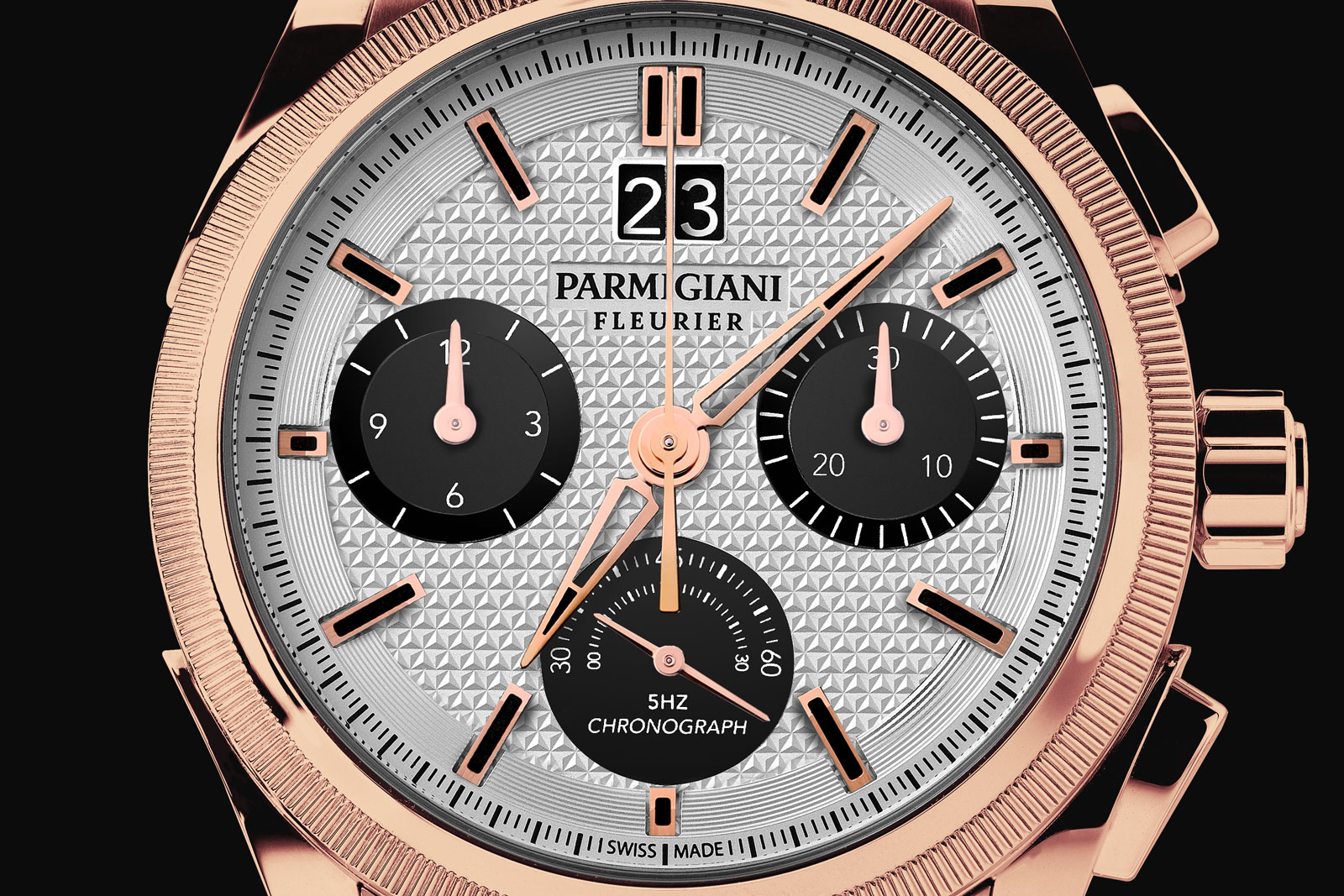 And the cal. PF071 is better finished than the cal. PF043 found in the steel version, featuring more pronounced bevelling on the bridges, as well as Cotes de Geneva on the base plate under the dial. And the rotor is solid 22k gold.
---
Key facts and price
Parmigiani Fleurier Tondagraph GT Steel (Annual Calendar)
Ref: PFC906-0000140-B00182 (bracelet)
Ref. PFC906-0000140-X01482 (strap)
Case diameter: 42 mm
Height: 13.7 mm
Material: Steel
Crystal: Sapphire
Water resistance: 100 m
Movement: PF043
Features: Hours, minutes, seconds, chronograph, and annual calendar
Frequency: 28,800 vph (4 Hz)
Winding: Automatic
Power reserve: 45 hours
Strap: Steel bracelet or rubber strap
Limited edition: No
Availability: Now at Parmigiani boutiques and authorised retailers
Price:
US$20,400 – rubber strap
US$21,500 – steel bracelet
---
Parmigiani Fleurier Tondagraph GT Rose Gold
Ref. PFC903-1500140-X01482 (rubber strap)
Ref. PFC903-1500140-B10082 (gold bracelet)
Case diameter: 42 mm
Height: 14.3 mm
Material: 18k pink gold
Crystal: Sapphire
Water resistance: 100 m
Movement: PF071
Features: Hours, minutes, seconds, chronograph, and big date
Frequency: 36,000 vph (5 Hz)
Winding: Automatic
Power reserve: 65 hours
Strap: 18k rose gold bracelet or rubber strap
Limited edition: No
Availability: Now at Parmigiani boutiques and authorised retailers
Price:
US$45,300 – rubber strap
US$72,500 – 18k rose gold bracelet
For more, visit parmigiani.com
---
Back to top.
---
You may also enjoy these.