Greubel Forsey Introduces the Ultimate Travel-Time Tourbillon
The GMT Quadruple Tourbillon in titanium.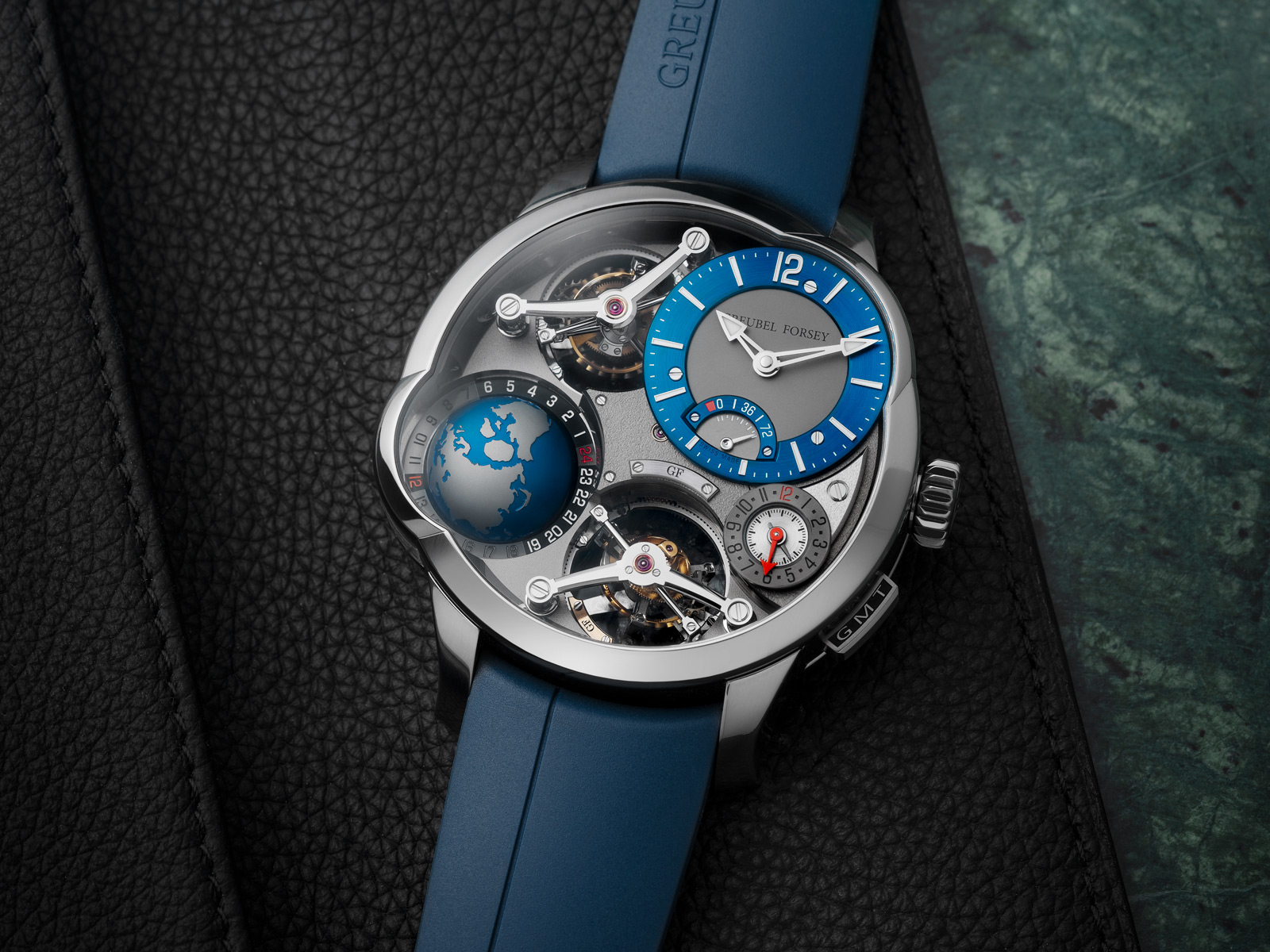 An independent watchmaker exemplified by chronometric complications and movement decoration, Greubel Forsey has created its own distinctive style that mixes classical finishing and ideas with contemporary design, giving it a unique position in the landscape.
The brand is best known for its elaborate tourbillons, but it also offers practical, everyday complications, albeit combined with tourbillons. Now, for the 10th anniversary of its first GMT model, Greubel Forsey has unleashed the GMT Quadruple Tourbillon in titanium.
Likely the most complex GMT watch on the market, it's regulated by twin double-axis tourbillons, while conveniently telling the time in two time zones and also around the world with a rotating globe. Originally launched in white gold, it's now in titanium, match with a restrained blue-and-grey palette.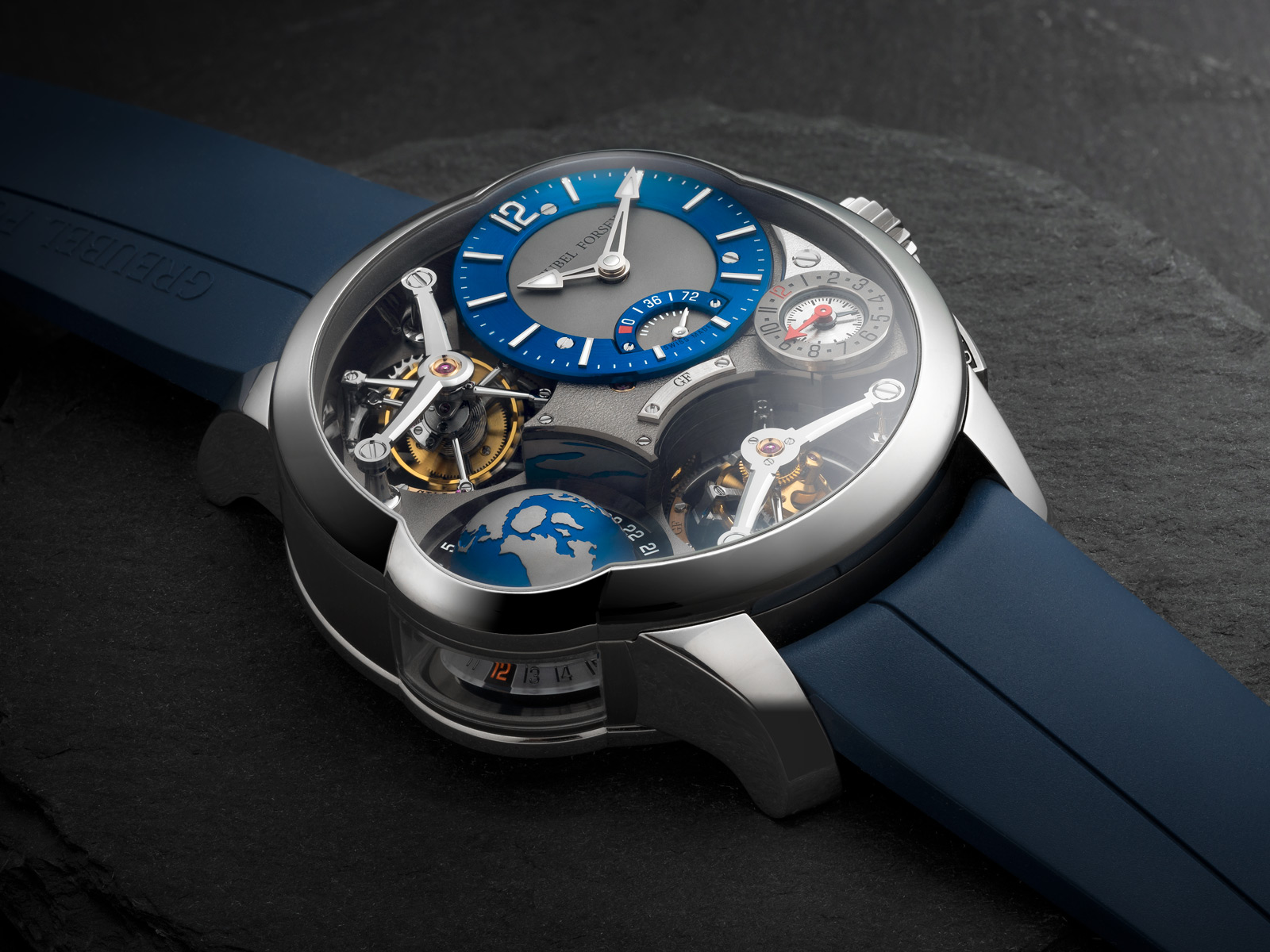 Initial thoughts
Greubel Forsey's GMT complication can be found in a surprisingly broad range of watches, from old-school complications with traditional aesthetics to a modern sports watch, but it is always paired with a tourbillon.
A second time zone function is elementary next to a tourbillon, but by combining the two, Greubel Forsey raises the bar for a dual-time watch – in both technical accomplishment and price. The GMT Quadruple Tourbillon is perhaps the most technically impressive and meticulously finished travel-time watch – and the new titanium-and-blue version looks magnificent.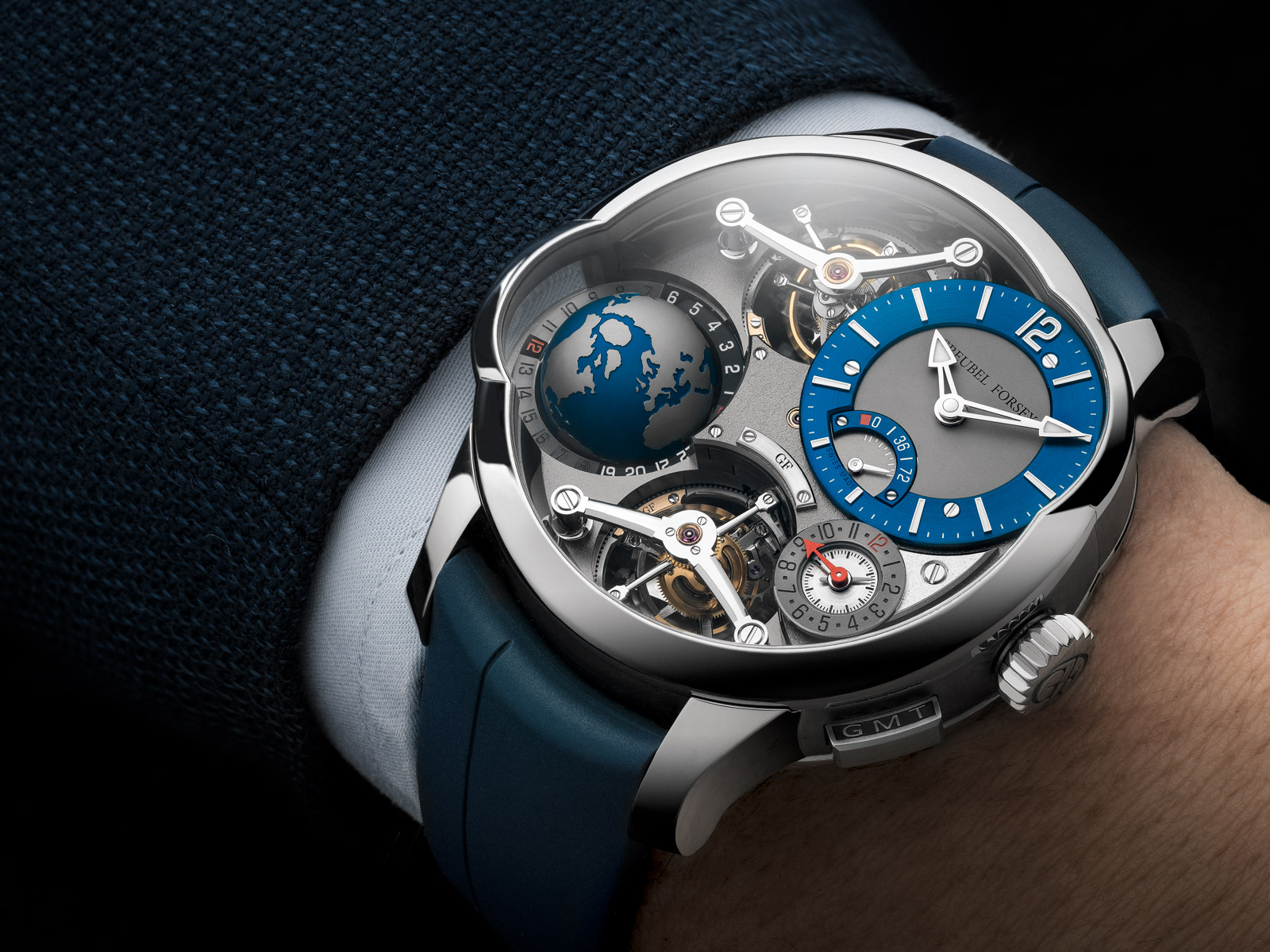 In fact, I am convinced that the latest version of the GMT is the brand's finest yet. It's been streamlined and sharpened, giving it a subtle, contemporary feel that's enhanced by the cool colours. And because of the tweaks to the palette and layout, the dial becomes less crowded and more readable.
But like most of the brand's watches, the GMT is extra large, measuring 46.5 mm wide and a bit under 18 mm high, which is slightly impractical for a true travel watch, though it's now made more wearable in titanium. The watch is accompanied by a price tag of CHF 760,000, an astronomical sum justified by its impeccable finish, mechanical ingenuity, and the fact that no one else makes a travel watch quite like this.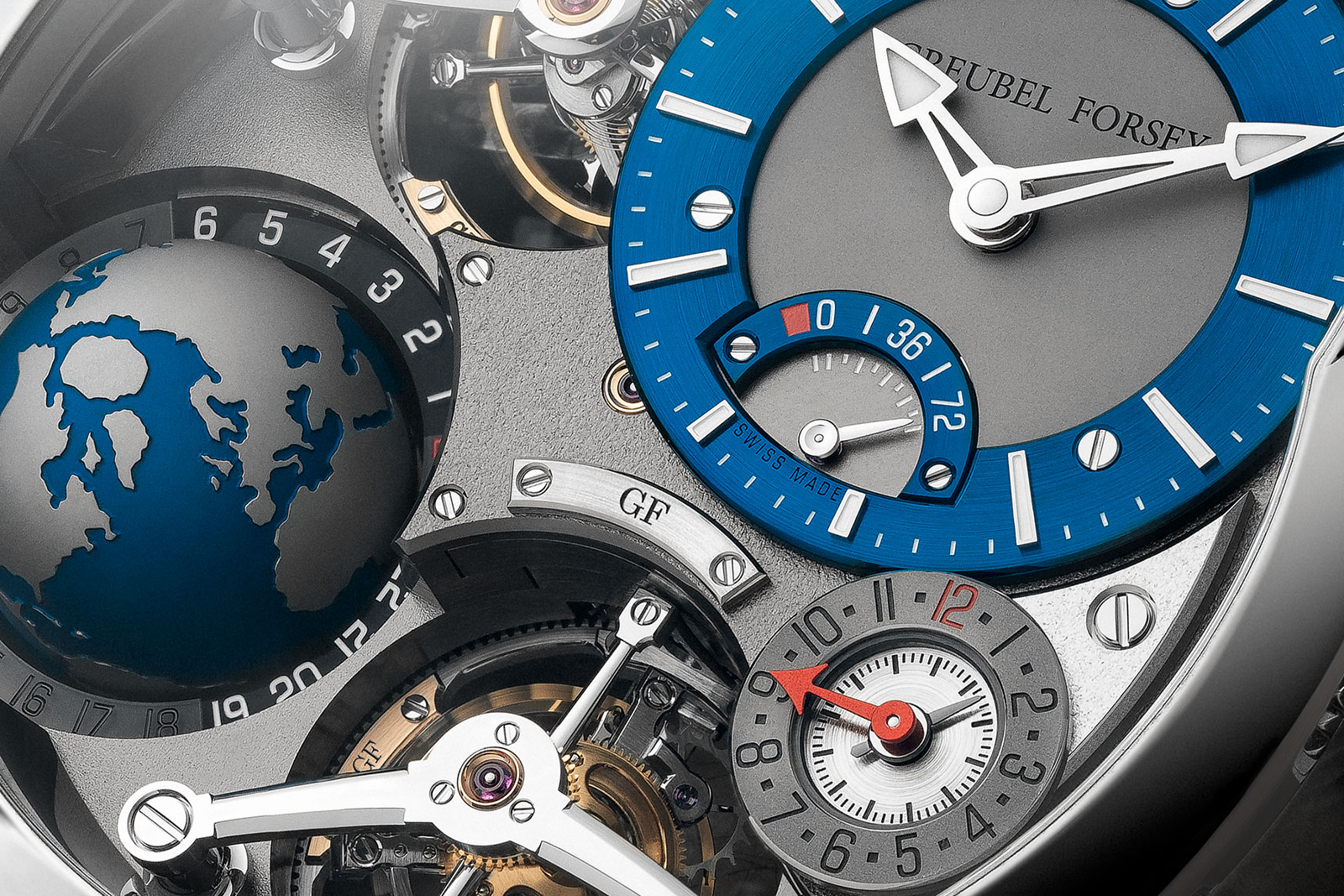 Time zones and tourbillons
The GMT does not simply tell the time in two locations. The small sub-dial at four o'clock does indicate a second time zone, but the watch does a bit more.
First with a massive blue sphere that rotates once a day, and also with the cities disc on the back. The sphere and cities disc function as a world time display that shows the time in all 24 time zones, along with whether they are in darkness or day.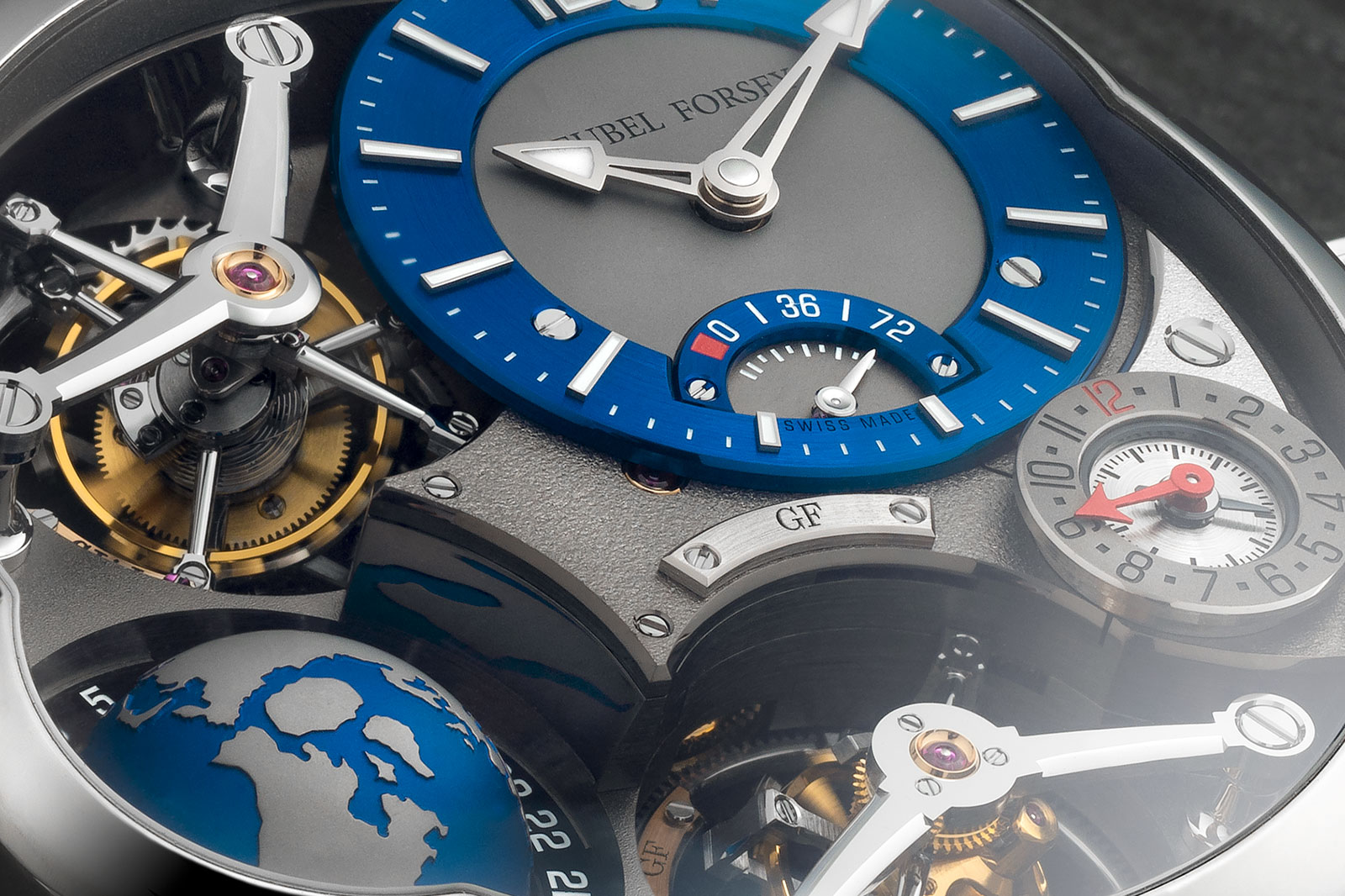 Similarly, the movement does not simply average out positional errors with a tourbillon, or even two – it is a Quadruple Tourbillon. But what do four tourbillon regulators do better?
To start with, though only two tourbillon bridges are visible, the movement does have four tourbillons, strictly speaking. That's because instead of using four separate tourbillons, the movement relies two pairs of nested cages – each cage rotating on its own axes – so each pair is comprised of two tourbillons.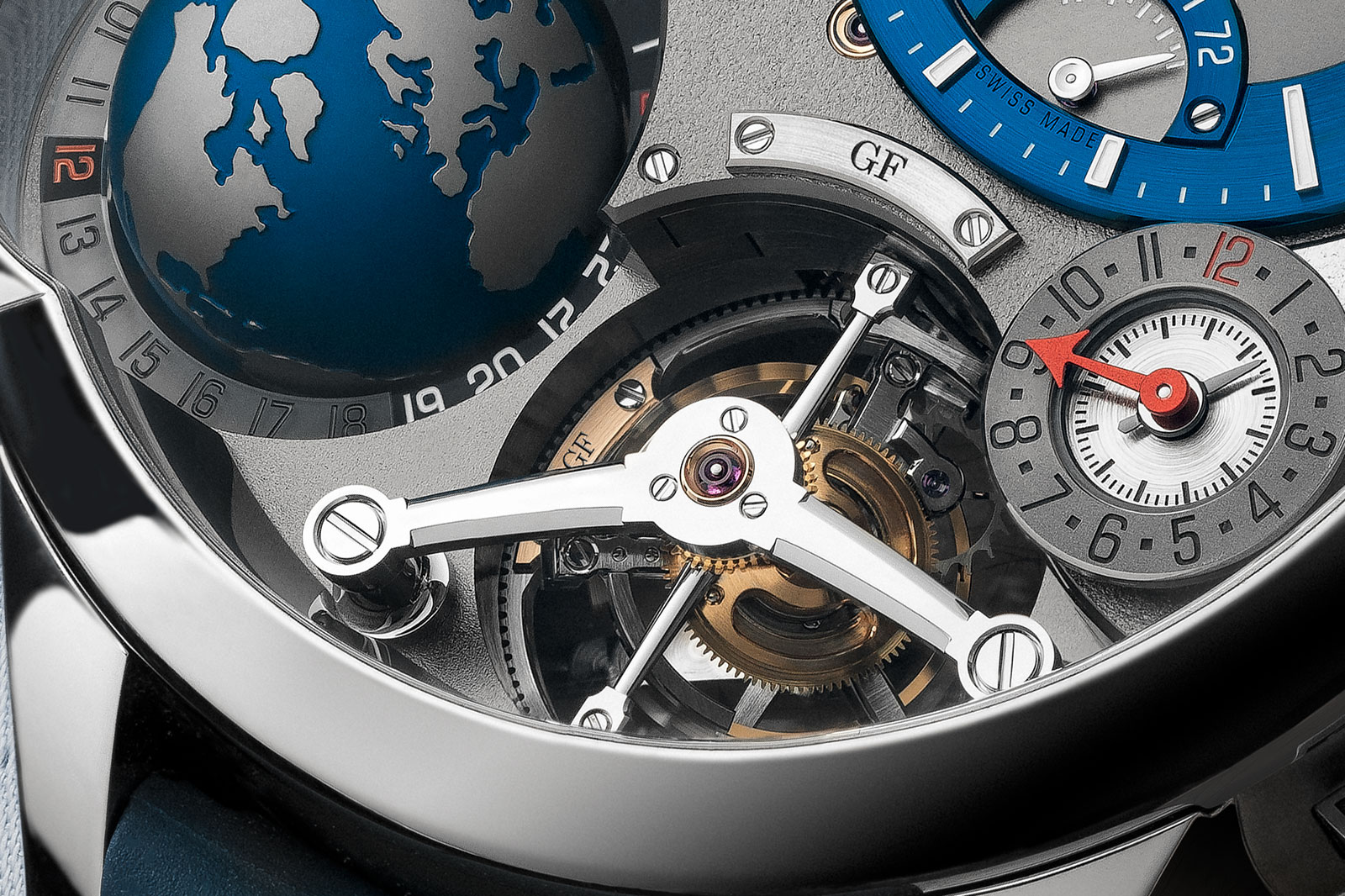 The "quad" set up reduces positional errors in several stages (we explored why the position of a watch influences timekeeping here). The first is similar to the role of a conventional tourbillon, rotating once a minute to average out errors but inclined at 30 degree angle in order to do so in positions other than the vertical. The second relies on an outer cage that revolves at a different rate – four rotations per minute to be precise – to further average out positional errors.
But that's not all: the final stage is the doubling the twin-axis tourbillon – resulting in four of them – and connecting them with a spherical differential, an intermediary that averages the rate difference between the two, which would have been significantly reduced by this point.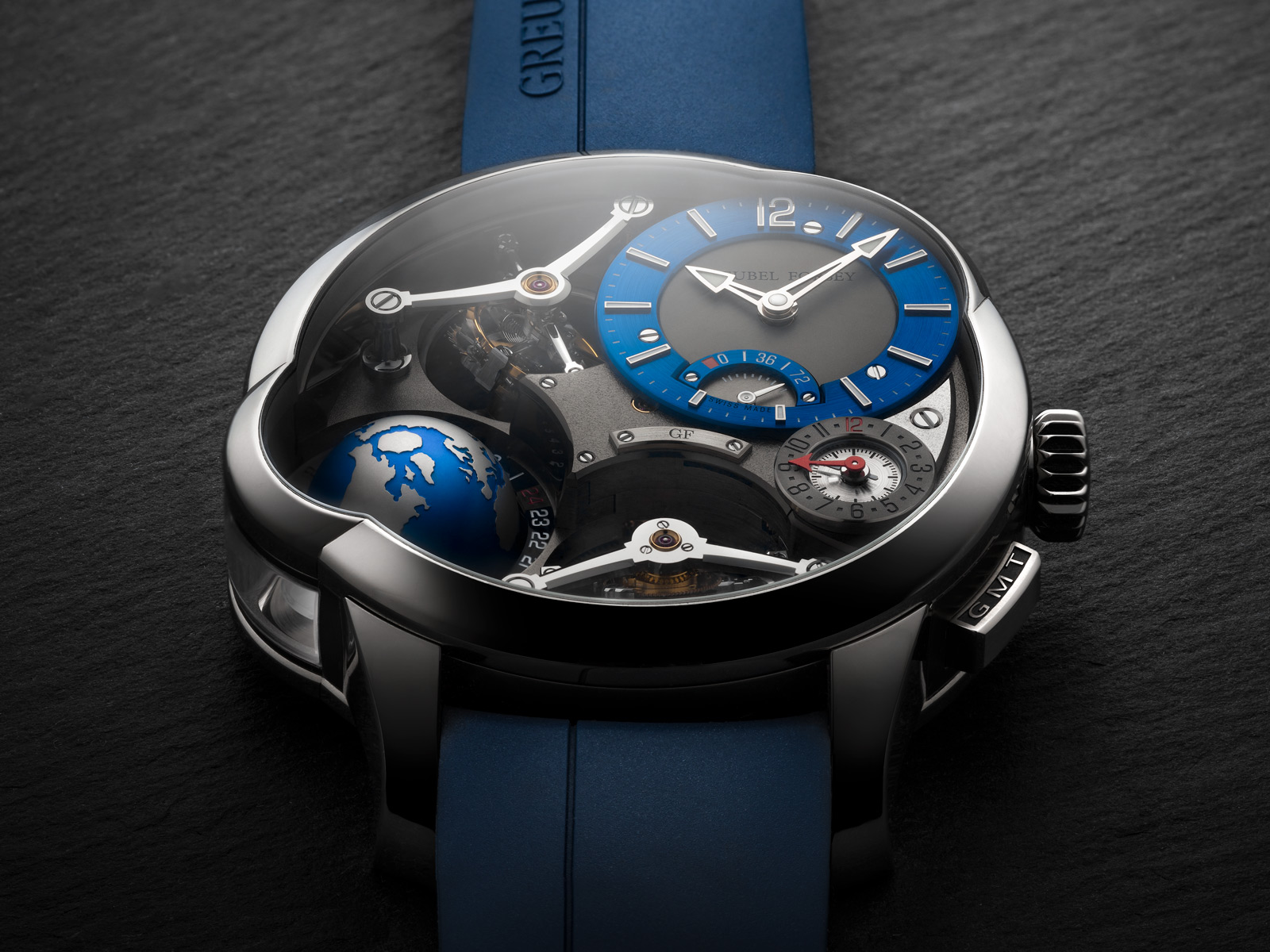 ---
Key facts and price
Greubel Forsey GMT Quadruple Tourbillon
Diameter: 46.5 mm
Height: 17.45 mm
Material: Titanium
Crystal: Sapphire
Water resistance: 30 m
Movement: GMT Quadruple Tourbillon
Functions: Hours, minutes, seconds, GMT, world time, day and night indicator, and quadruple tourbillons
Frequency: 21,600 beats per hour (3 Hz)
Winding: Hand wind
Power reserve: 72 hours
Strap: Rubber
Limited edition: 11 pieces
Availability: Now at Greubel Forsey online shop and authorised retailers
Price: CHF760,000 (excluding tax)
For more, visit greubelforsey.com.
---
Back to top.
---
You may also enjoy these.