Louis Erard Introduces the Excellence Marqueterie
A dial of artisanal wood mosaic.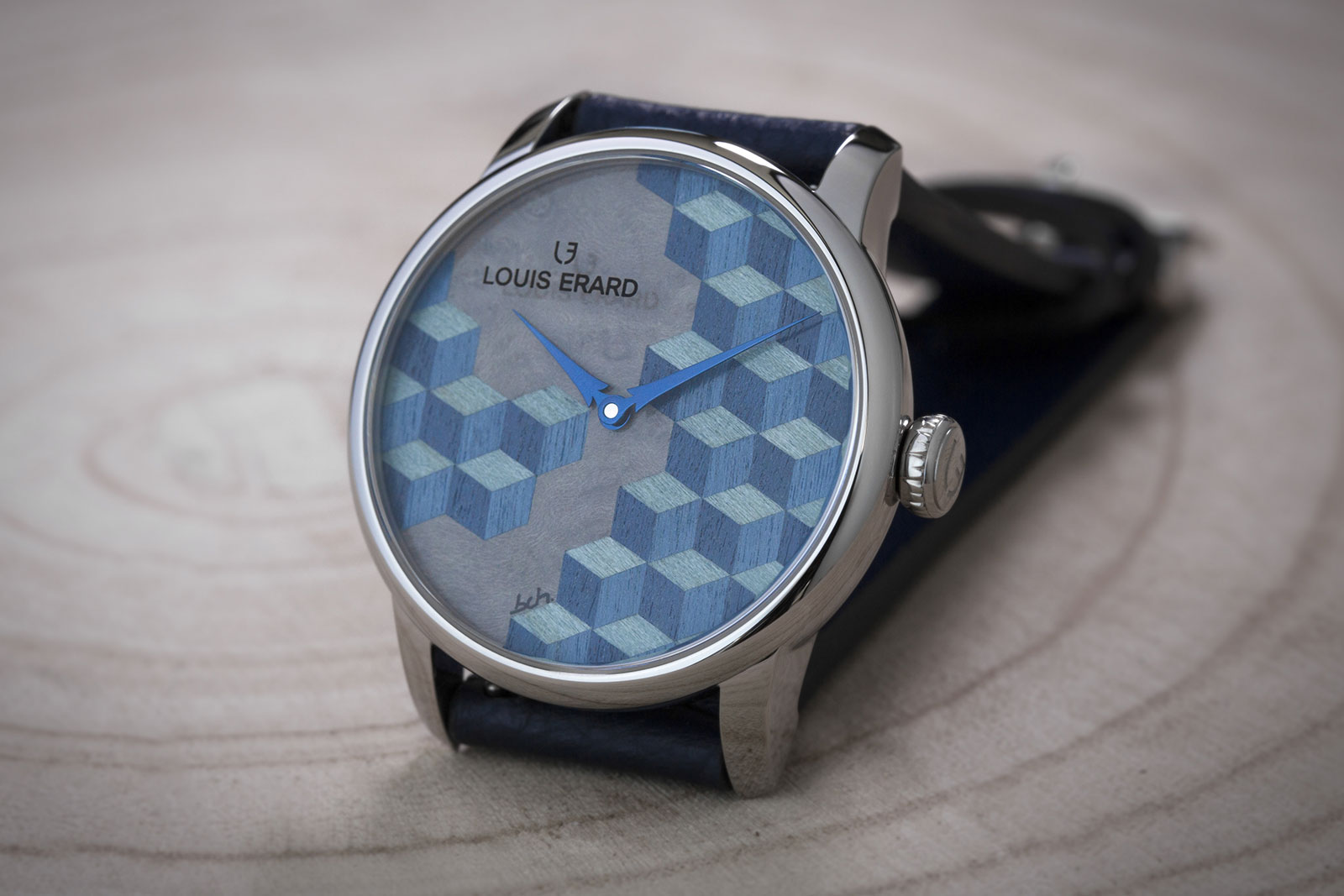 After several consecutive hit collaborations, Louis Erard debuts its first with a wood marquetry dial. Arguably its most ambitious release yet in terms of craftsmanship, the Excellence Marqueterie features a dial inlaid with tiny pieces of wood to form an M.C. Escher-like motif.
For the dial, the brand tapped Bastien Chevalier, a Swiss artisan who specialises the art of creating designs and patterns out of intricately cut pieces of wood, although other materials like stone, silicon, straw, and even leather can be used for the technique.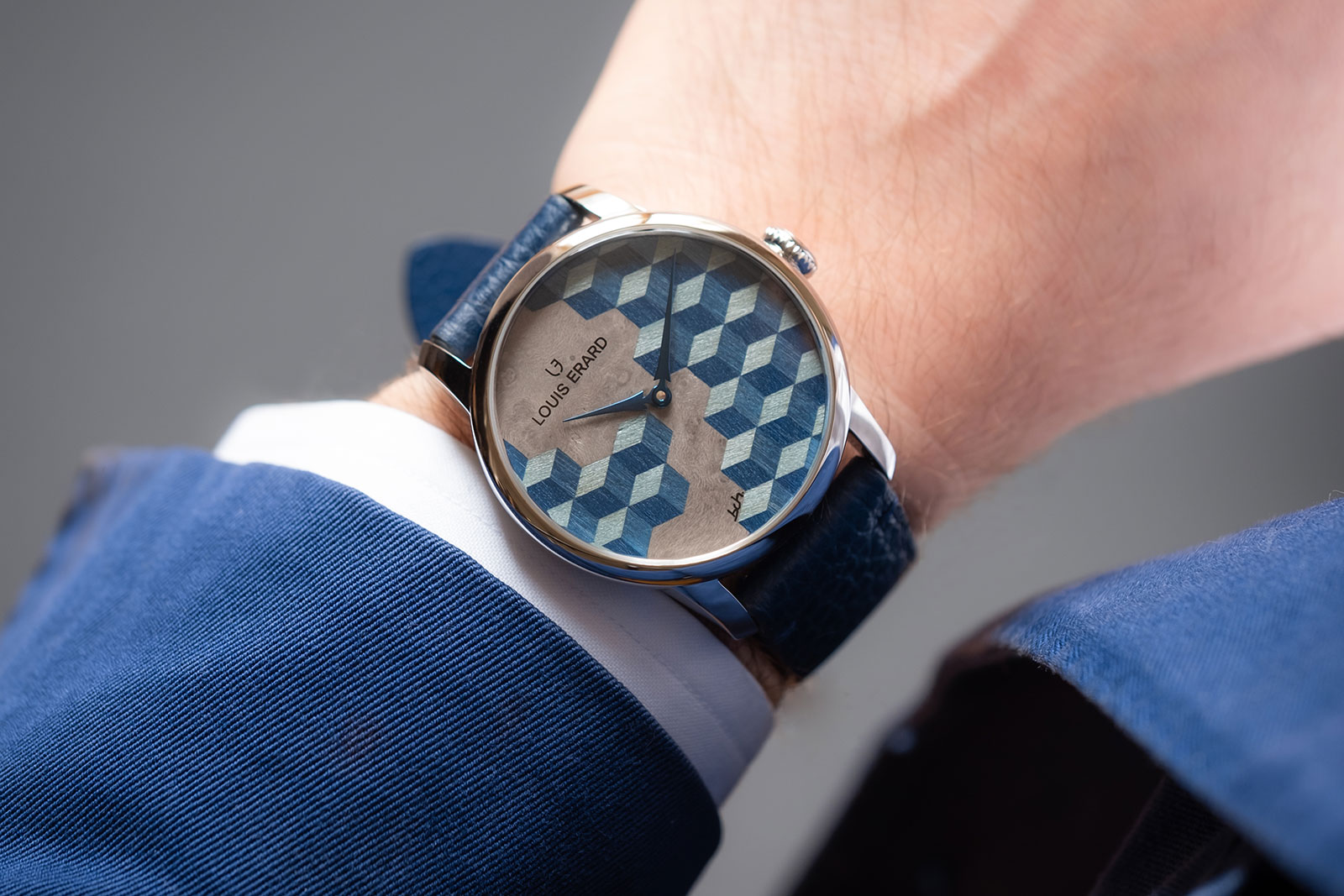 Initial thoughts
In my view, most watchmakers tend to collaborate only as a last resort, when they've run out of ideas. What sets Louis Erard apart is its coherent strategy for collaborations. Whether created by industrial designer atelier oï, or a watchmaker like Vianney Halter, its collaboration editions are still recognisable as Louis Erard thanks to the use of the same steel case. And they are uniformly produced in small runs and priced below CHF4,000.
The new Excellence Marqueterie continues this successful formula, bringing wood marquetry to the sub-US$10,000 category for the first time. While brands like anOrdain are doing something similar with affordably priced enamel dials that are designed for modern tastes, there's never been a marquetry dial at this price point.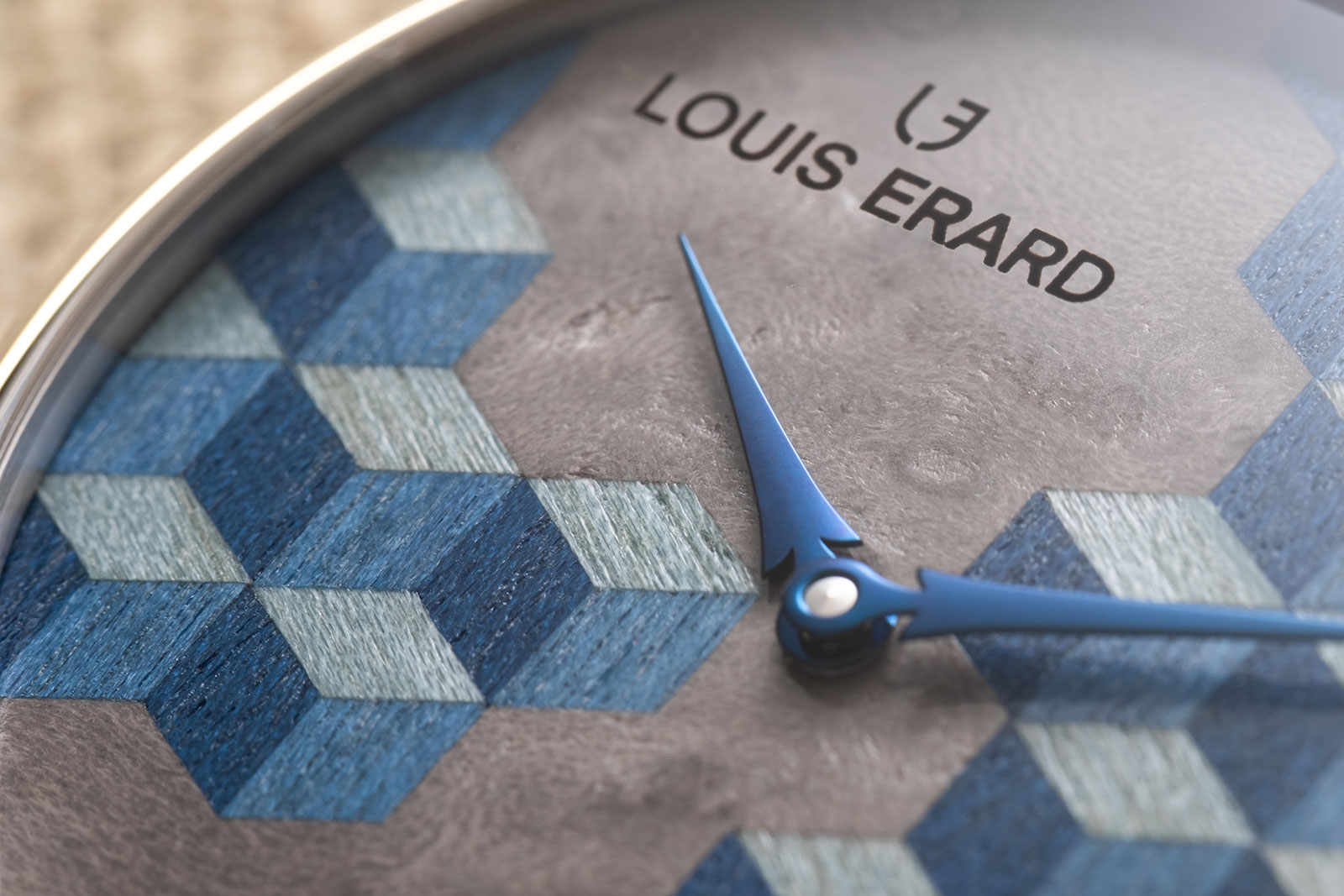 Not only does the dial look good, it is impressively constructed from dozens of hand-made elements that require careful finishing. Despite the more complex dial, the Excellence Marqueterie is priced at CHF3,900, the same as the brand's other collaborative models.
This pricing discipline contributes to the sense of continuity across the Excellence collection. More importantly, Excellence Marqueterie is a unique value proposition. It is impressive achievement for Louis Erard that offers 99 collectors a compelling alternative to the mass-produced watches that typify this segment.
A geometric challenge
Louis Erard has made a name for itself in recent years for bringing traditional métiers d'art techniques like grand feu enamel and hand guilloché to a more accessible style and price point. This is its first attempt at bringing marquetry to the masses.
Due to its inherent complexity, marquetry has long been confined to higher price brackets. For example, the Hermès Pégase Paysage, which also features a wood marquetry dial, costs more than US$50,000.
The dial of the Excellence Marqueterie is of course the star of the show. As one of Switzerland's foremost marquetry artists, Bastien Chevalier adapted time-honoured techniques to suit modern sensibilities. His graffiti-style signature at six o'clock reflects his irreverent flair.
The intricately cut wood blocks are arranged in a geometric trompe-l'oeil checkerboard motif that creates an optical illusion of three-dimensional space reminiscent of the works of M.C Escher.
This eye-catching pattern has been used by Louis Erard in the past in the Excellence Guilloché Main. The repeating theme illustrates the brand's thoughtful and sophisticated approach to collaborations, which was the brainchild of Manuel Emch, a consultant to Louis Erard and the one responsible for its current success.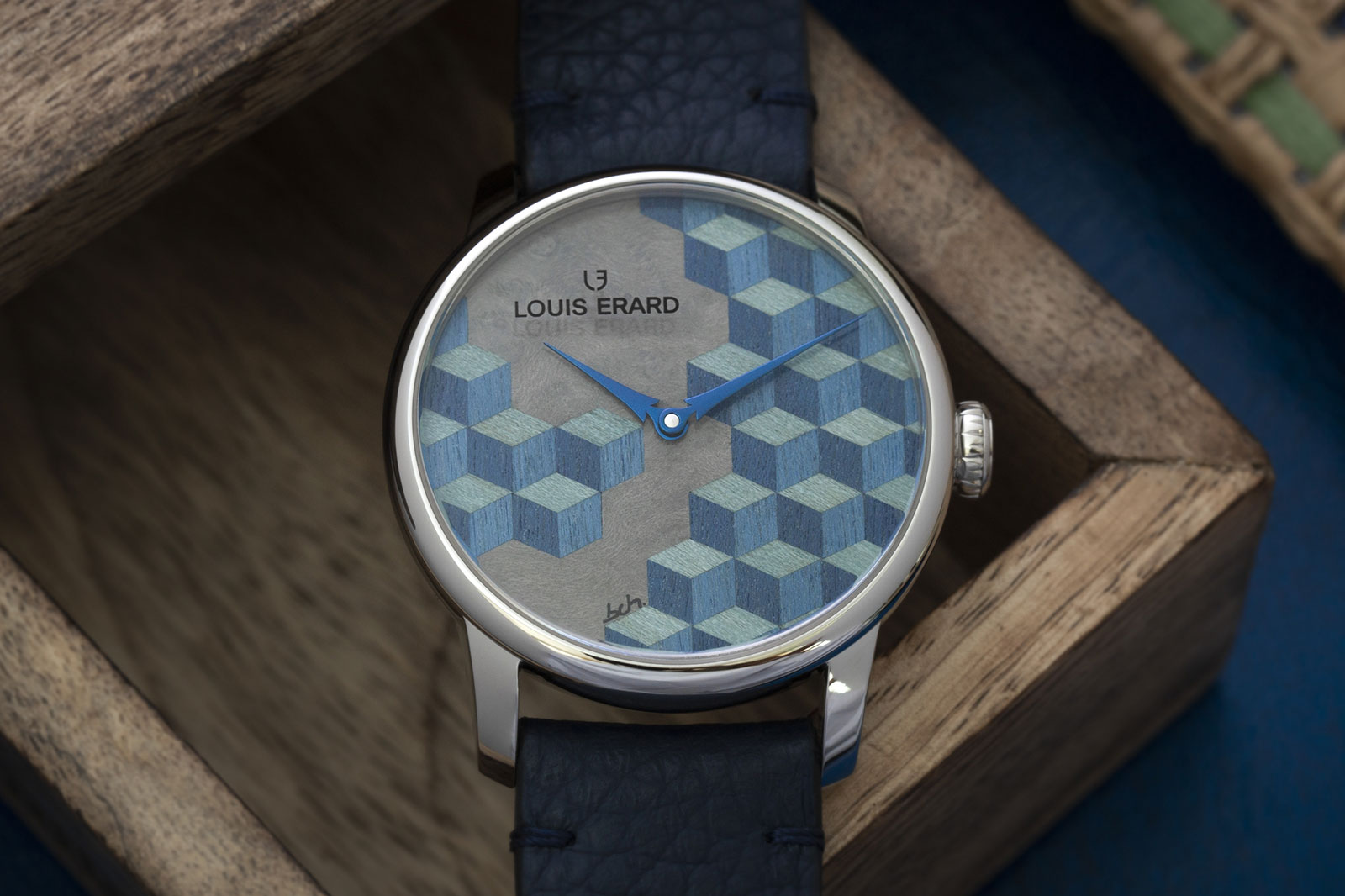 But while the aesthetic is contemporary, the construction is classical. The tiny pieces of wood was individually sliced by hand and then applied one by one, again by hand.
Mr Chevalier notes that the geometric pattern was especially challenging to execute in marquetry, since the slightest error would break the pattern and be obvious to the naked eye.
To overcome this challenge and produce 99 perfect dials, he had to incorporate conscious breathing into his technique to ensure that no unintended vibrations disrupted his pattern. In terms of sensitivity to error, marquetry has a lot in common with traditional guilloché.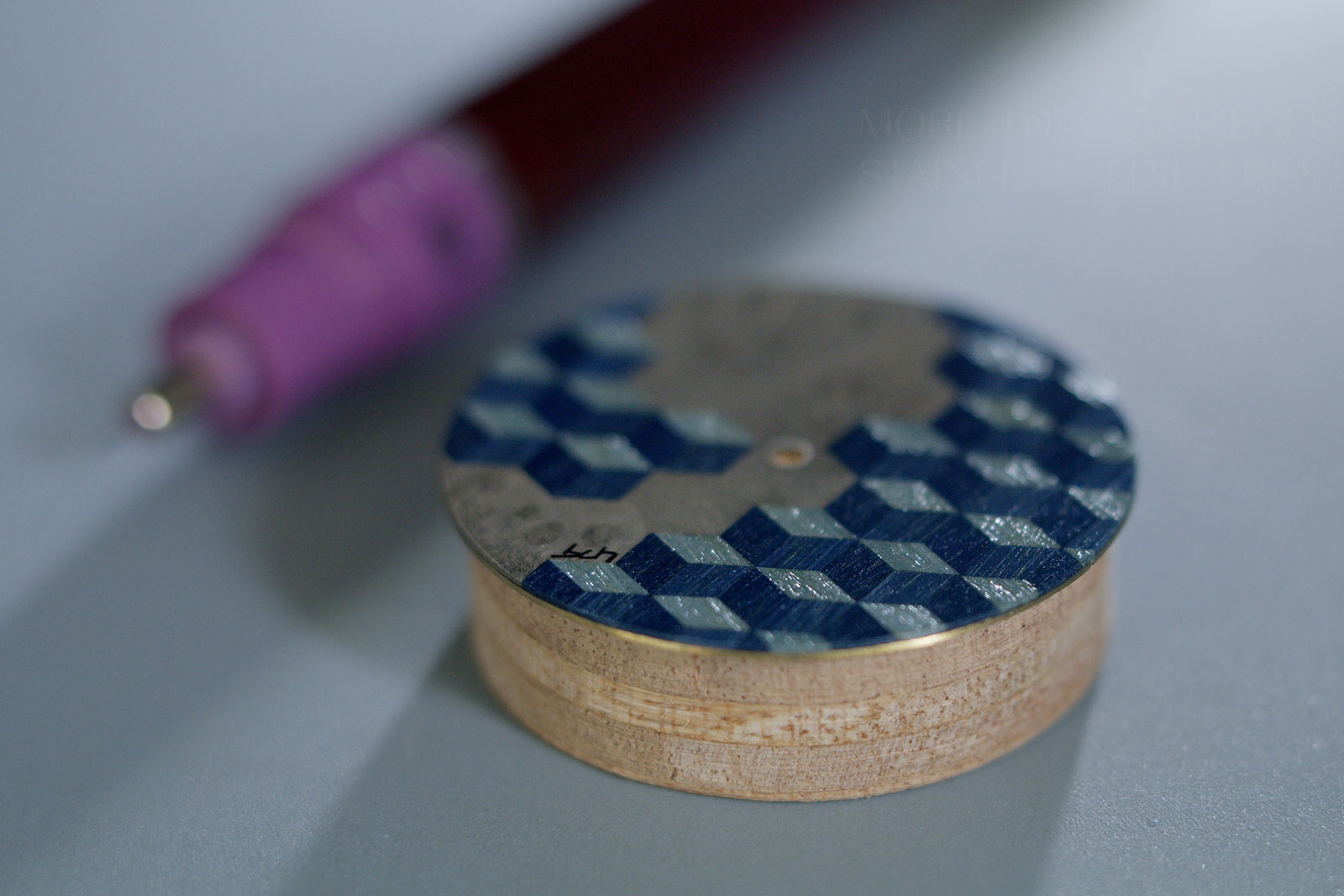 The dials themselves are comprised of more than 70 pieces of wood stained in four different colors. The grey tones are made from willow, while the three distinct shades of blue sare made from the Liriodendron or tulip tree, the official tree of my home state of Kentucky.
Overall, the Excellence Marqueterie is an impressive achievement for Louis Erard that offers 99 collectors a compelling alternative to the mass-produced watches that typify this segment.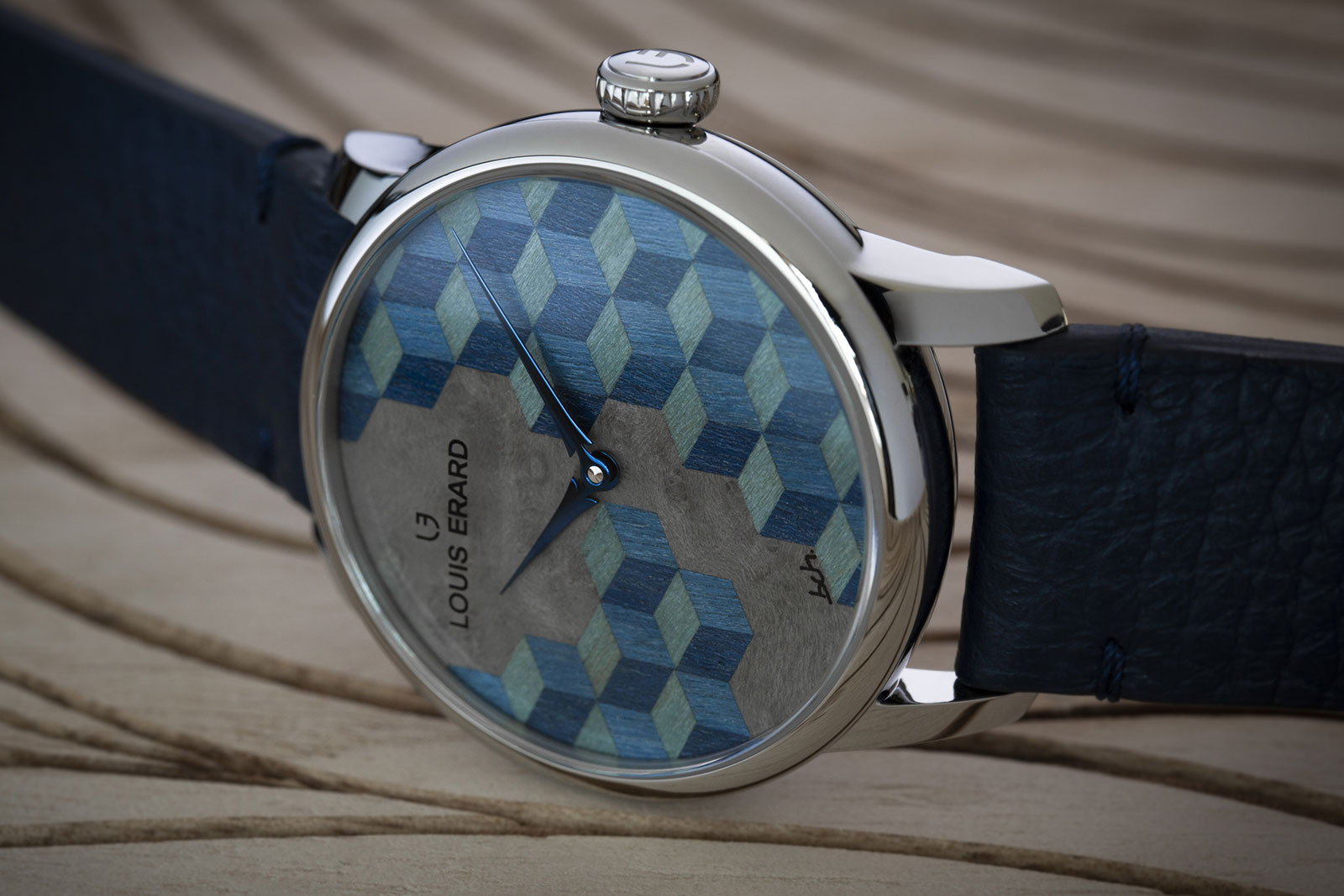 ---
Key Facts and Price
Louis Erard Excellence Marqueterie
Ref. 34237AA58
Diameter: 42 mm
Height: 12.25 mm
Material: Stainless steel
Crystal: Sapphire
Water resistance: 50 m
Movement: SW261-1
Functions: Hours and minutes
Winding: Automatic
Frequency: 28,800 beats per hour (4 Hz)
Power reserve: 38 hours
Strap: Calf leather
Limited edition: 99 pieces
Availability: Direct from Louis Erard online
Price: CHF3,900 excluding taxes
For more, visit Louiserard.com
---
Back to top.
---
You may also enjoy these.