Cartier Introduces the Métiers d'Art Straw and Gold Marquetry Panther
Traditional techniques reimagined.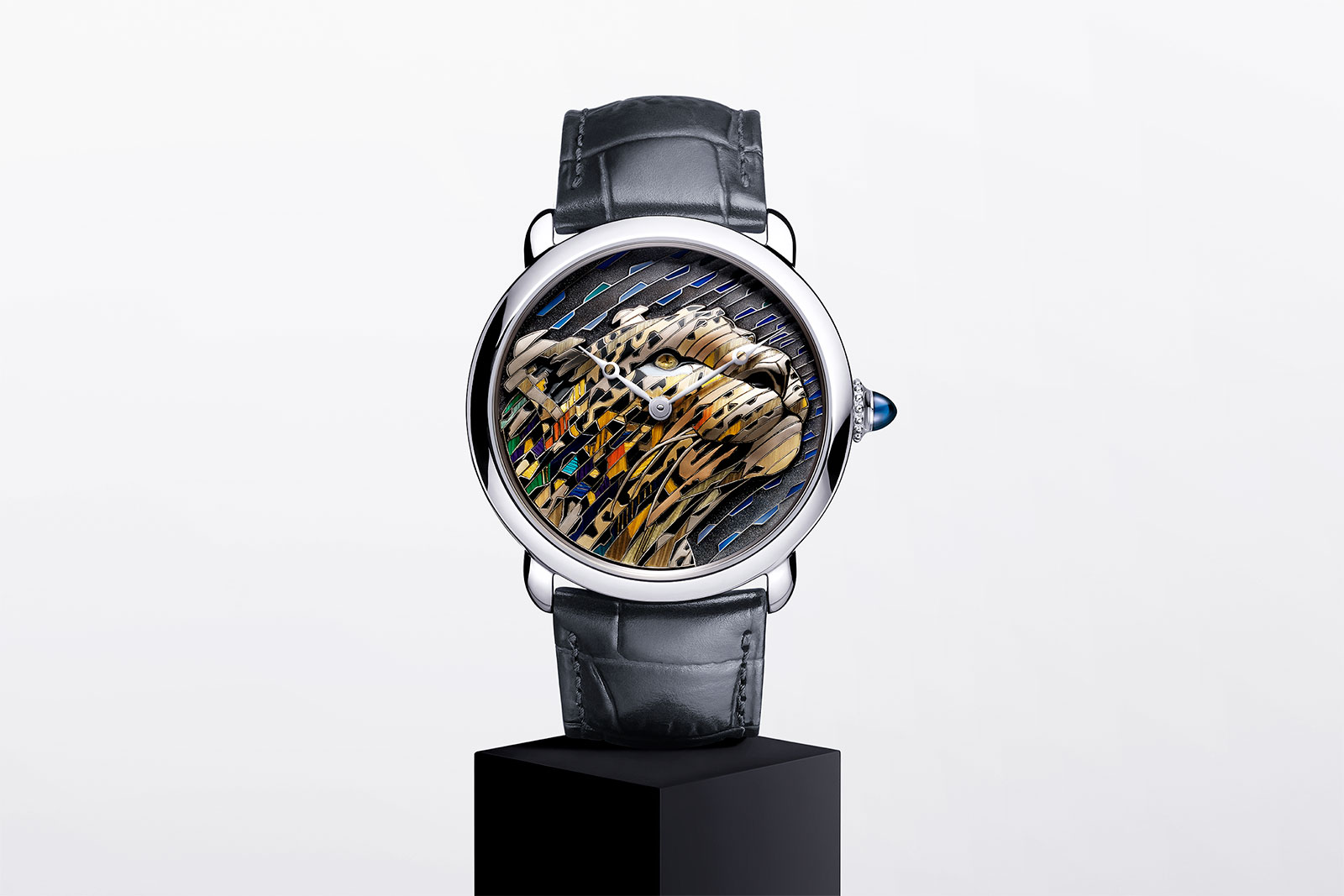 A recurring theme in Cartier's watchmaking is Métiers d'Art – or "artisanal crafts" – where traditional decorative techniques are employed to create elaborate, intricate decoration on the watch dial, and occasionally the case.
This year's Métiers d'Art offerings are a pair of Ronde Louis Cartier wristwatches that return to the brand's signature big cat motif. Decorated with an unusual marquetry technique involving straw and gold Métiers d'Art Straw and Gold Marquetry Panther is the larger, 42 mm model for men, while the smaller, 36 mm model features enamel filigree, where the enamel has been stretched to form bamboo shoots secured to the dial with gold wire.
Initial thoughts
Artisanal decorative techniques often result in prohibitively expensive watches, which narrows their appeal. That said, many watchmakers offer such watches, but produced in small numbers. More recently, they have used old-school techniques to create modern motifs or even light-hearted, whimsicial themes.
Cartier's approach is creativity in technique rather than style. The motif is traditional and reassuringly familiar – the famous panther is executed with exemplary skill but still the panther. That said, the marquetry dial is slightly abstract, giving the panther a slightly more contemporary look. But it will still appeal best to those who appreciate the jeweller's well-established style.
Beyond the tangibly impressive craft, the watches are good looking. The large model in particular has rich colours, intricacy as well as depth, resulting from the varying textures and finishes of the materials.
Panther in straw and gold
The abstract style of panther's head is the most interesting quality of the watch. Composed of seemingly random geometric shapes and confused colours, the panther's head still comes together perfectly.
A technique some two thousand years old, marquetry is most often done with pieces of woods and stone. Here the elements of the pattern are instead straw and gold.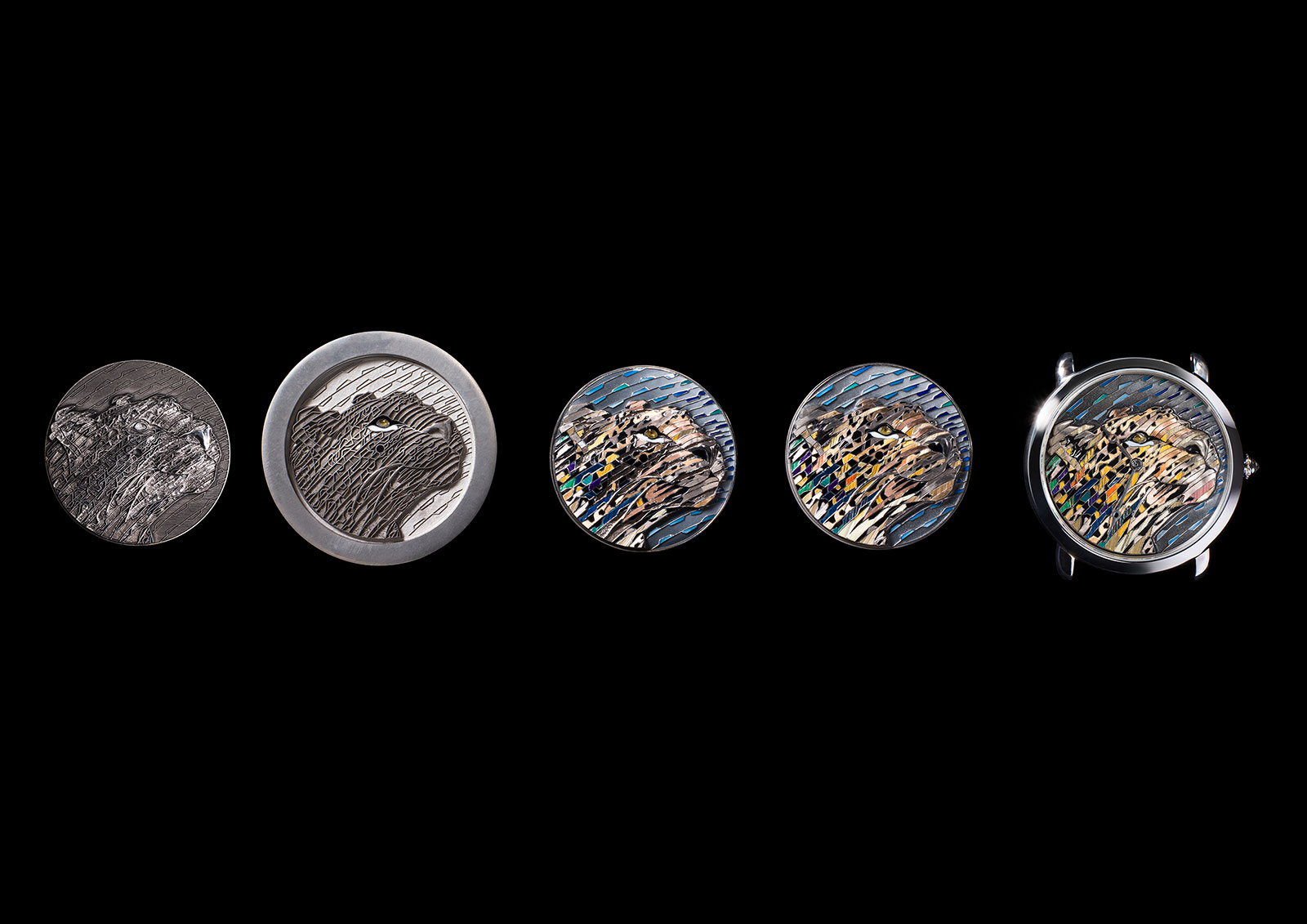 The outline of the pattern is created with fine wires made of different colours of gold soldered to the solid gold dial base. Then it's on to a selection of straw in different colours, which are either natural or dyed. Each stalk is then are cut open lengthwise, flattened, and carefully sliced into small pieces, before being cleaned and carefully installed in between the gold wire outlines.
The motif of the dial is alternately filled with straw and fire enamel. According to the marquetry artisan responsible for the dials, one of the most challenging aspects of piecing together the dial is avoiding marring the soft gold wires.
---
Key facts and price
Cartier Métiers d'Art Panther
Ref. CRHPI01387 (straw and gold marquetry)
Ref. CRHPI01302 (enamel)
Diameter: 42 mm (straw and gold marquetry); 36 mm (enamel and gem-set)
Height: 8.03 mm (straw and gold marquetry); 9.13 mm (enamel and gem-set)
Material: 18k white gold
Crystal: Sapphire
Water resistance: Unavailable
Movement: 430 MC
Functions: Hours and minutes
Winding: Hand-wound
Frequency: 21,600 beats per hour (3 Hz)
Power reserve: 38 hours
Strap: Alligator Leather strap
Limited edition: 3o pieces each
Availability: At Cartier boutiques and authorised retailers
Price: Straw and gold marquetry approximately US$75,000, and the enamel about US$110,000
For more, visit Cartier.com.
---
Back to top.
---
You may also enjoy these.