Vianney Halter Returns with the Deep Space Resonance
A triple-axis tourbillon with twin balance wheels.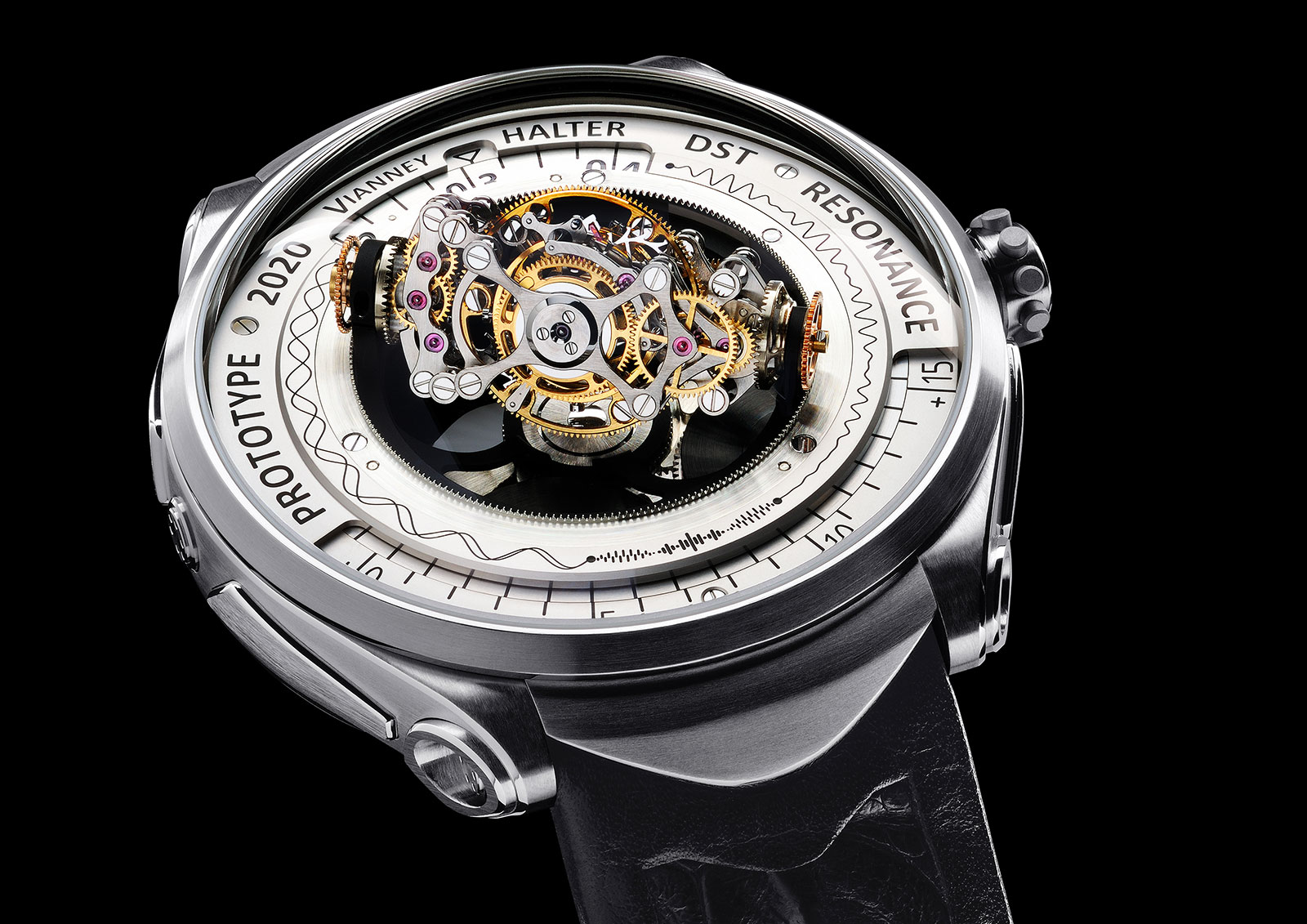 After a seven-year hiatus since the launch of his last watch, Vianney Halter is back with the Deep Space Resonance.
Unveiled in prototype form but slated for delivery in summer 2021, the Deep Space Resonance is an impressively complex watch – the tourbillon assembly alone is 371 parts – that builds on the Deep Space Tourbillon of 2013. Like its predecessor, the new watch is also a triple-axis tourbillon, but now equipped with a pair of hairsprings and balance wheels within the tourbillon – both of which beat in acoustic resonance according to Mr Halter.
Initial thoughts
The Deep Space Resonance is a unique complication, to a degree. It's a first in combining a triple-axis tourbillon with double balance wheels beating in acoustic, rather than mechanical, resonance. And the incorporation of the acoustic resonance phenomenon is also a first in watchmaking as far as I know, though it is somewhat fuzzy in terms of how it enhances the functioning of the watch.
The closest anyone else has come to this is Beat Haldimann with his H2 that has a flying tourbillon rotating on a single plane but with twin, mechanically-resonating balance wheels.
Still, arriving as it is in 2021, the Deep Space Resonance feels overdue. The best known mechanical-resonance wristwatches came long before: the Haldimann H2 made its debut in 2005, while the better-known F.P Journe Resonance in 2000. And the Philippe Dufour Duality, which relies on twin balance wheels linked by a differential, was premiered in 1996.
Nonetheless, the Deep Space Resonance is perhaps the ultimate evolution of the resonating-oscillator concept, which is several centuries old. The F.P. Journe Resonance and other like it drew on double-pendulum clocks made in the 18th century by the likes of Janvier and Breguet. Even the Philippe Dufour Duality was inspired by several pocket watches made in the 1930s.
But for all its technical and historical accomplishment, the Deep Space Resonance is an expensive watch. Priced at 860,000 Swiss francs before taxes – that's about US$970,000 – the Deep Space Resonance costs as much as the F.P. Journe Astronomic Souveraine Grand Complication, a lot more than the Audemars Piguet Code 11.59 Grande Sonnerie Carillon, and not much less than the Patek Philippe ref. 6301P Grande Sonnerie.
Resonating acoustics
According to Mr Halter, the Deep Space Resonance originates in 1996, when he first started to play the piano and noticed the acoustic-resonance phenomenon. That led him to historical research on resonating oscillators in watches, including the work of Abraham-Louis Breguet.
Over some two decades, that led to the Deep Space Resonance. According to Mr Halter, because the two balance wheels have the same natural acoustic frequency, they amplify the sound of each other's beat, creating acoustic resonance. Because the resonance is acoustic, rather than mechanical, the twin balances might not oscillate in the same direction simultaneously.
This contrasts with earlier watches that rely on mechanical resonance, where the natural frequency of each balance wheel reinforces the other via vibrations transmitted through the air and structure that connects the two.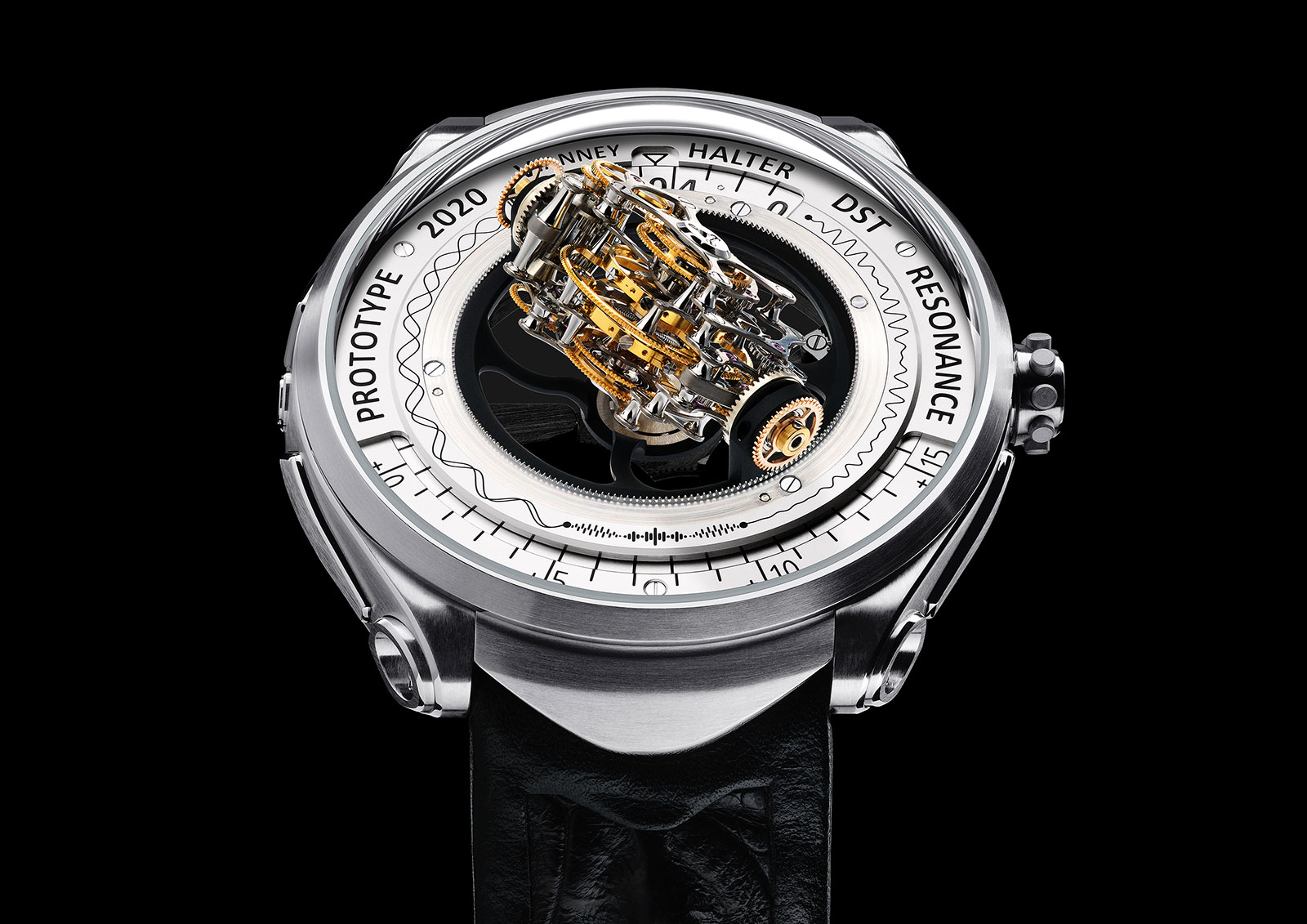 The twin balance wheels of the Deep Space Resonance are contained within a three tourbillon cages, all held together by cone-shaped steel pillars, a detail modelled on a 19th-century marine chronometer by French watchmaker Achille Benôit that has the same pillar-type construction.
Making one revolution a minute, the innermost cage sits within a "traverse" cage that rotates once every six minutes on the horizontal axis – like a barbecue spit – which, in turn, is mounted on a cradle that makes one revolution of the dial every 30 minutes.
Time is indicated via two discs visible through apertures on the dial. Though the display is simple, it is relatively difficult to read on the prototype, although Mr Halter promises a redesigned and more legible dial on the production watch due in summer of this year.
Hours and quarters are indicated with an arrow in a window at 12 o'clock, while the minutes past the current quarter are shown in the wider aperture on the lower edge of the dial.
The hours and quarters are easy enough to read, with each hashmark representing 15 minutes. But the minutes are more complicated. They are indicated on a Vernier scale, which requires a determination of which pair of hashmarks line up best with each other, as done on a pair of Vernier callipers. The time shown below is slightly past three o'clock, specifically 3:01, since the minute hashmark that lines up is the first one past "0".
All photos copyright Guy Lucas de Peslouan
---
Key Facts and Price
Vianney Halter Deep Space Resonance
Diameter: 46 mm
Height: 20 mm (including crystal)
Material: Titanium
Crystal: Sapphire
Water resistance: 30 m
Movement: VH 113
Functions: Hours, and minutes
Additional features: Triple-axis tourbillon containing twin balance wheels
Winding: Hand wind
Frequency: 21,600 beats per hour (3 Hz)
Power reserve: 65 hours
Strap: Crocodile with titanium folding clasp
Limited edition: Two pieces per year
Availability: Direct from Vianney Halter, with first example scheduled to be delivered in summer 2021
Price: 860,000 Swiss francs before taxes
For more, visit Vianney-halter.com.
---
Addition January 8, 2020: The Philippe Dufour Duality relies on twin balance wheels linked by a differential, instead of Resonance as implied in an earlier version of the article.
Back to top.
---
You may also enjoy these.