Auction Report: Albert Piguet Double-Balance Resonance Watch Sells for CHF250,000
The ultimate nerd watch.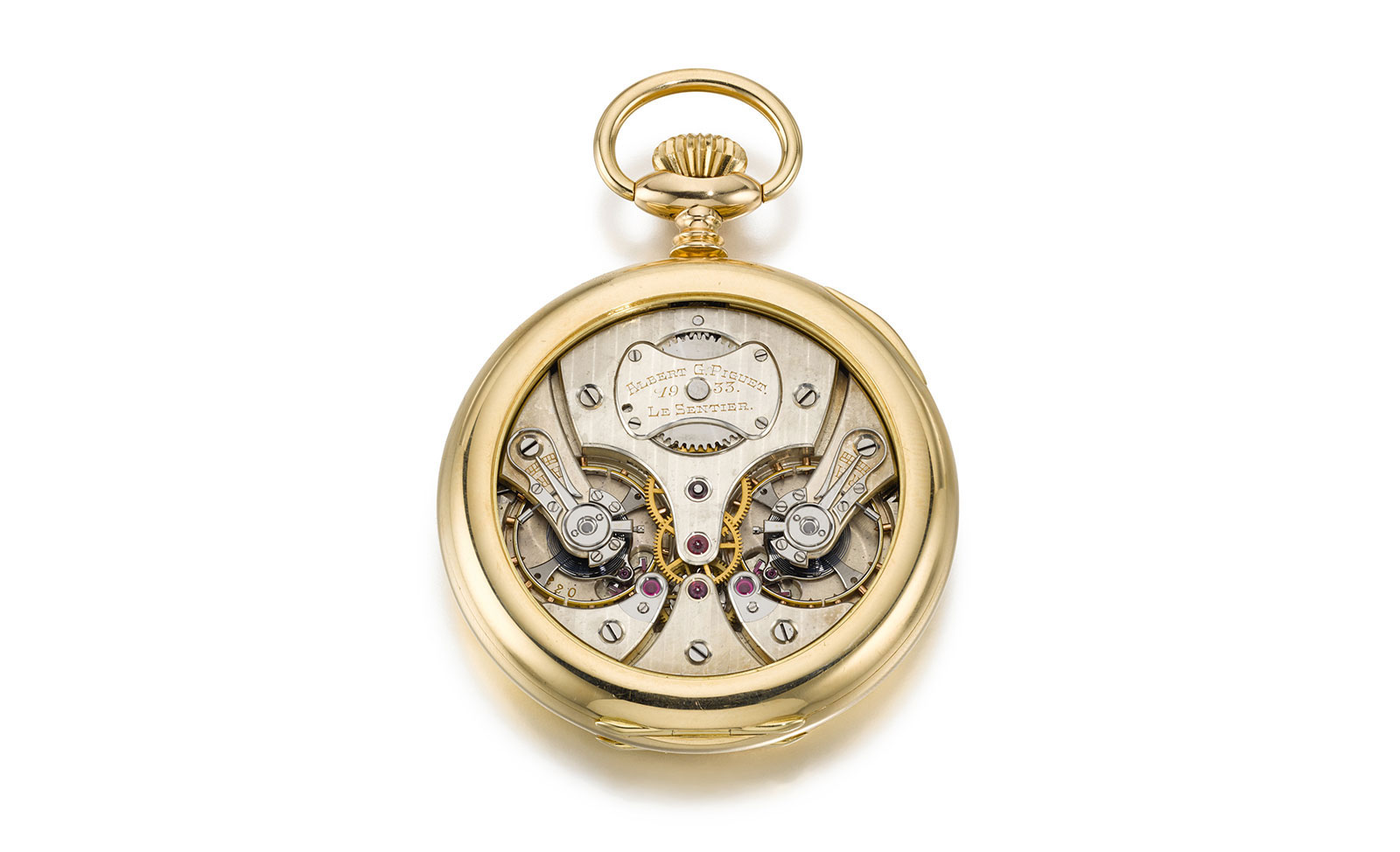 One of the most interesting lots in the second instalment of Masterworks of Time at Sotheby's that just concluded was a seemingly unassuming pocket watch with an estimate of just 7,000-10,000 Swiss francs.
But the pocket watch contains a movement with a single gear train driving double balance wheels linked by a differential, constructed to keep time according to the principles of resonance. This is one of the very movements that inspired Philippe Dufour to create the Duality. And its appearance at auction comes at an opportune time, with F.P. Journe going to launch an entirely new Resonance movement in 2020.
Mr Piguet of Lemania
The movement was made by Albert G. Piguet (1914-2000), a noted watchmaker who finished the movement in 1933, just before graduating from the École d'Horlogerie in Le Sentier, then the premiere watchmaking school in the Vallee de Joux.
He joined movement maker Lemania after graduation, and eventually rose to technical director. Piguet stayed in that role from 1948 to 1980, during which he helped develop numerous calibres, including the important CH27 chronograph movement that later became the cal. 321 found in the early Omega Speedmaster Moonwatch, and also the cal. 2310 used by the likes of Patek Philippe and Vacheron Constantin.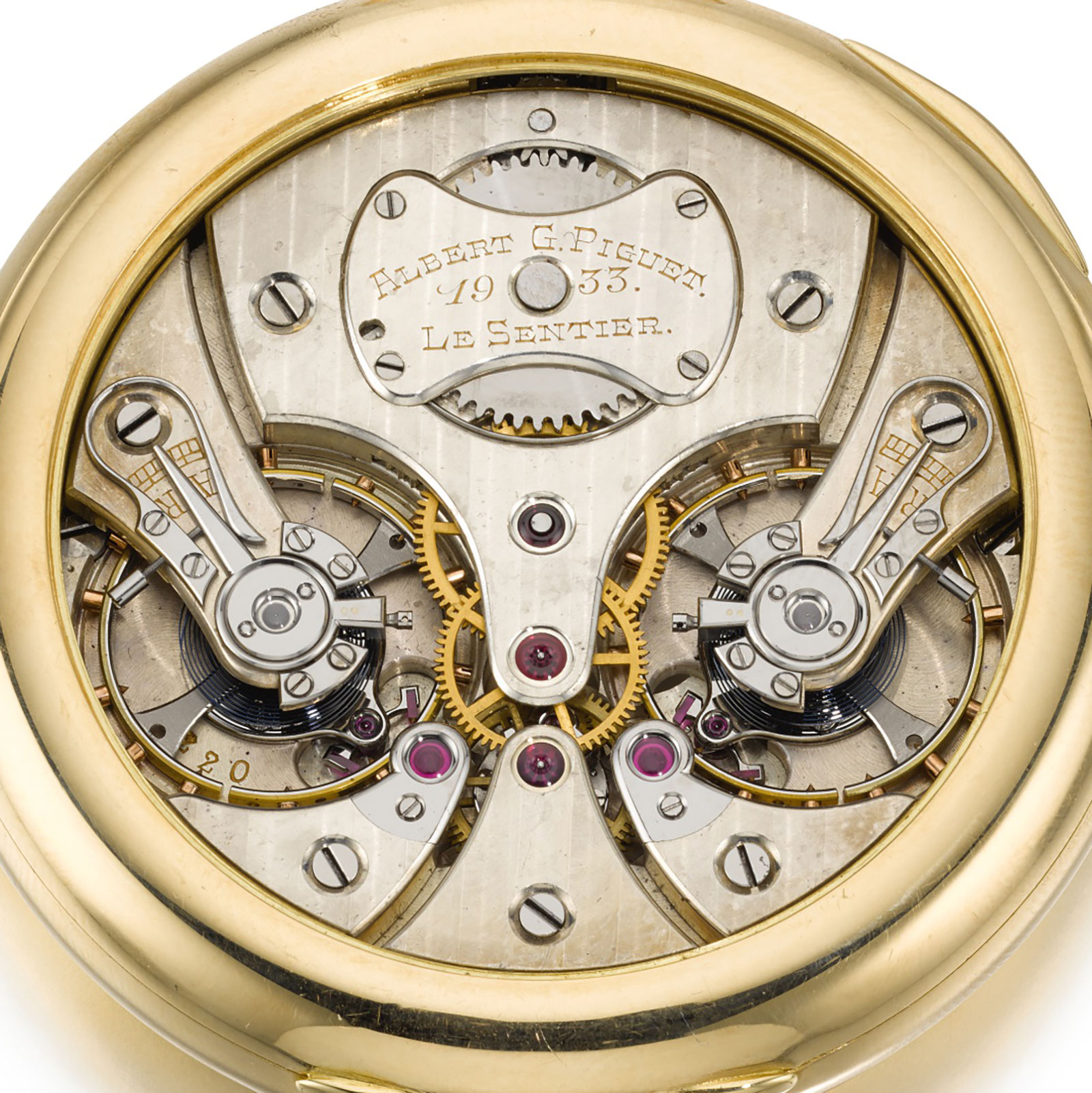 Piguet's 1933 pocket watch movement is just one of six produced between 1932 and 1934 by students at the watchmaking school, working under the tutelage of headmaster Marcel Builleumier. Two watches of each movement size – 38mm, 43mm and 48mm – were produced, and the Piguet is one of the smallest, 38mm calibres.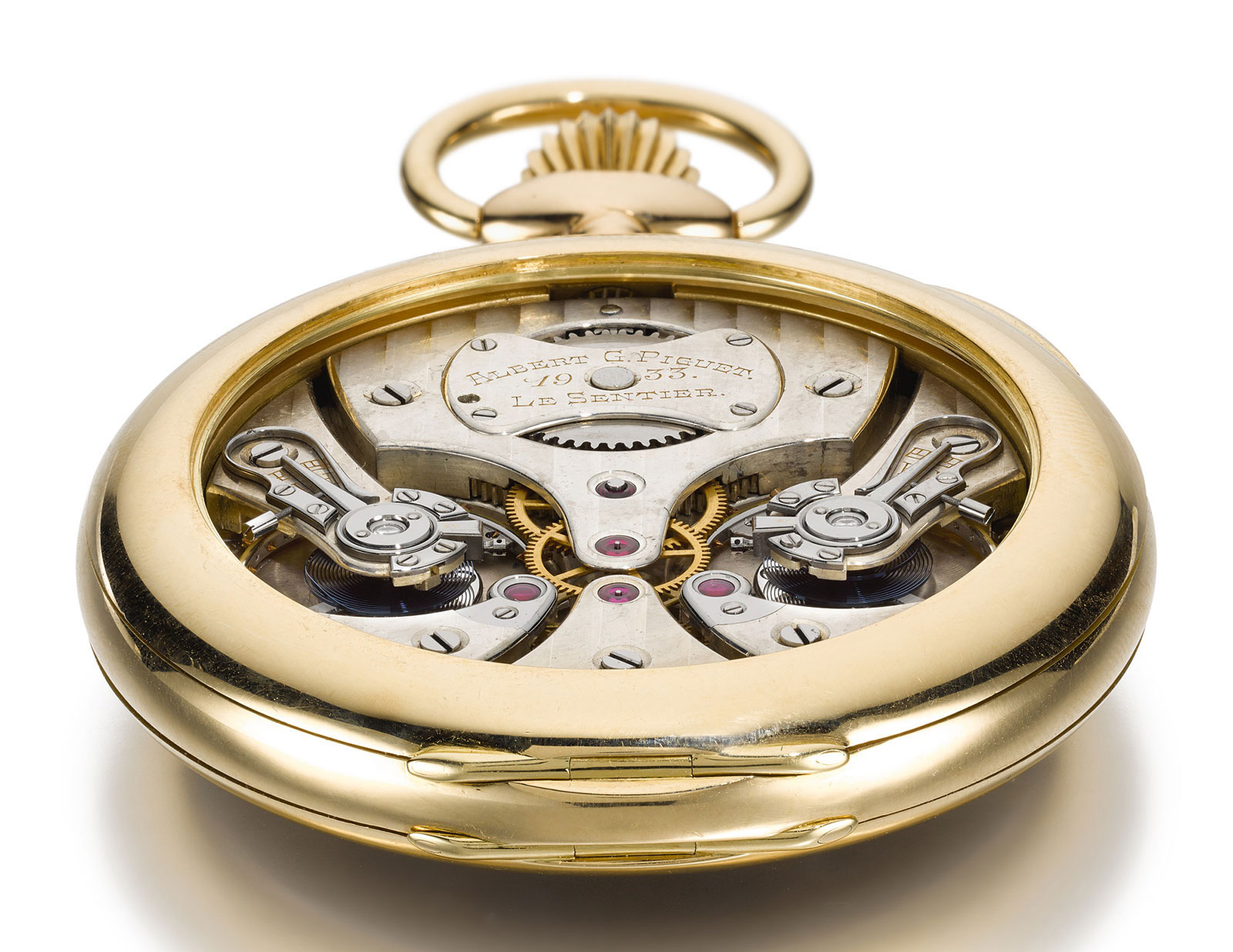 Another slightly larger example from the series that was formerly in the Time Museum, founded by American industrialist Seth Atwood, was sold in 2004 when the museum dispersed its collection.
Now presented in a plain 18k yellow gold case with an unsigned white enamel dial, the Piguet movement was original cased in a no-nonsense nickel case, but recased when Mr Piguet sold it in 1978 at Galerie d'Horlogerie Ancienne, the predecessor of Antiquorum. The next time it was sold publicly was at Antiquorum Geneva in 1998, when it was acquired by a legendary German pocket watch collector whose estate consigned it to Sotheby's.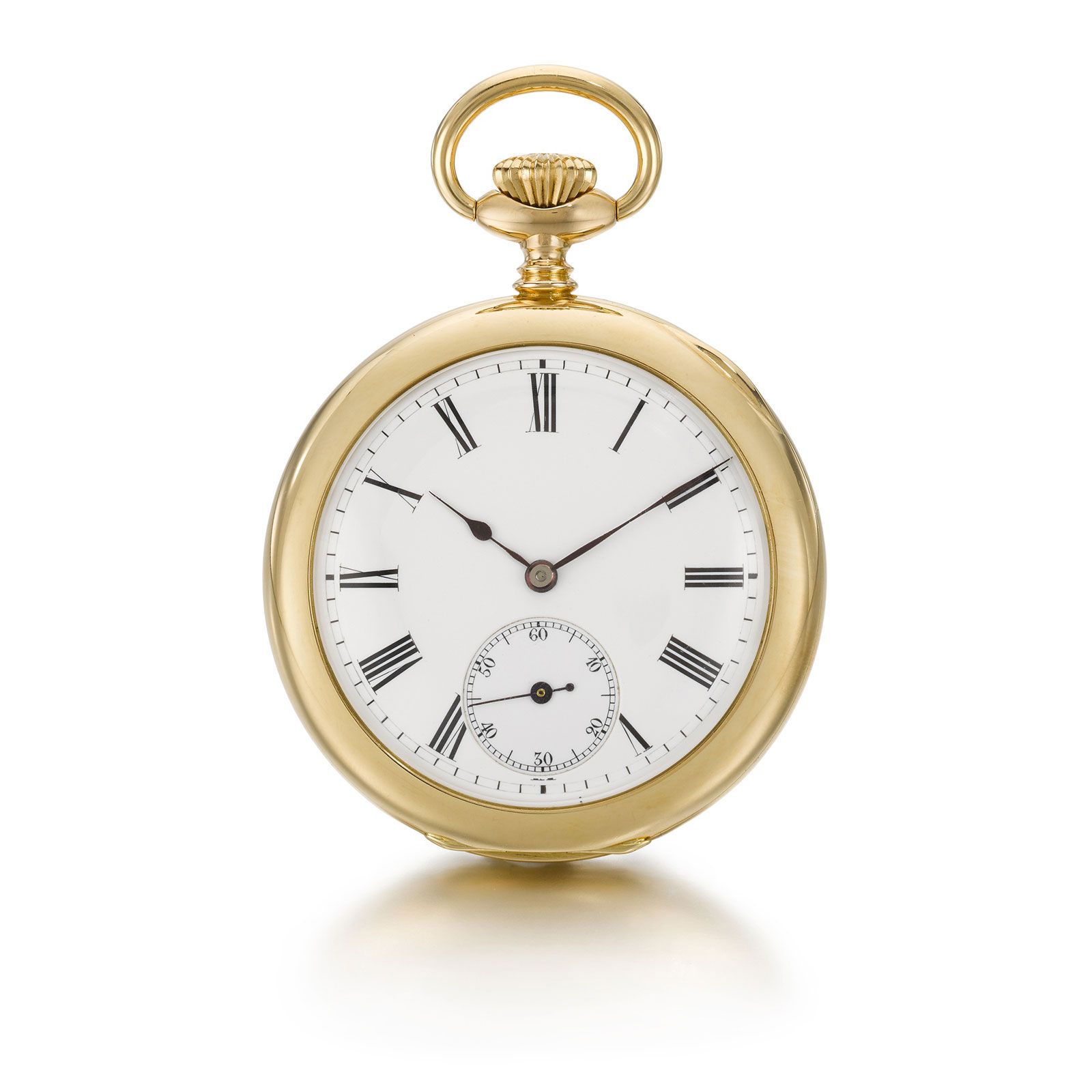 Nerds assemble for a fight
It is a certainty that watch nerds the world over spotted this gem before the sale, and each thought no one else would be nerdy enough to spot it. But as it turns out, everyone who was relevant did see it, and turned up to bid.
The bidding started at 20,000 francs but moved swiftly upwards. Early on there were bids from a Chinese gentleman who's an associate of Philippe Dufour, and also Patrick Cremers, the manager of the Patek Philippe Salon in Geneva, presumably bidding on behalf of a client. Notably, Francois-Paul Journe was in the saleroom but left just before the sale of the Piguet watch started.
But then a phone bidder, represented by Sam Hines of Sotheby's, placed a 100,000 franc bid, which wiped out all the other bidders, except for another Chinese gentleman seated in the room who is an auction regular and noted collector of pocket watches.
From there the Chinese gentleman and the phone bidder swiftly raised the stakes by 10,000 francs each time, with no hesitation on either side. But when the phone bidder offered 200,000 francs, the Chinese gentleman just stopped.
With fees, the Piguet watch sold for 250,000 francs, almost double what it last sold for in 1998 at Antiquorum in Geneva, where it fetched 130,000 francs. And the example from the Time Museum that went under the hammer at Sotheby's New York in 2004 sold for US$125,600.
Though far more expensive watches were sold this week in Geneva, the Piguet resonance pocket watch is probably the ultimate watch nerd timepiece of the season, and for that reason, a good buy despite the record price.
---
Back to top.
---
You may also enjoy these.