Auction Watch: Highlights from Phillips' Start-Stop-Reset Chronograph Sale & Geneva Watch Auction 3
Phillips' starts its watch auction season with Start-Stop-Reset dedicated to vintage steel chronographs, followed by The Geneva Watch Auction: Three.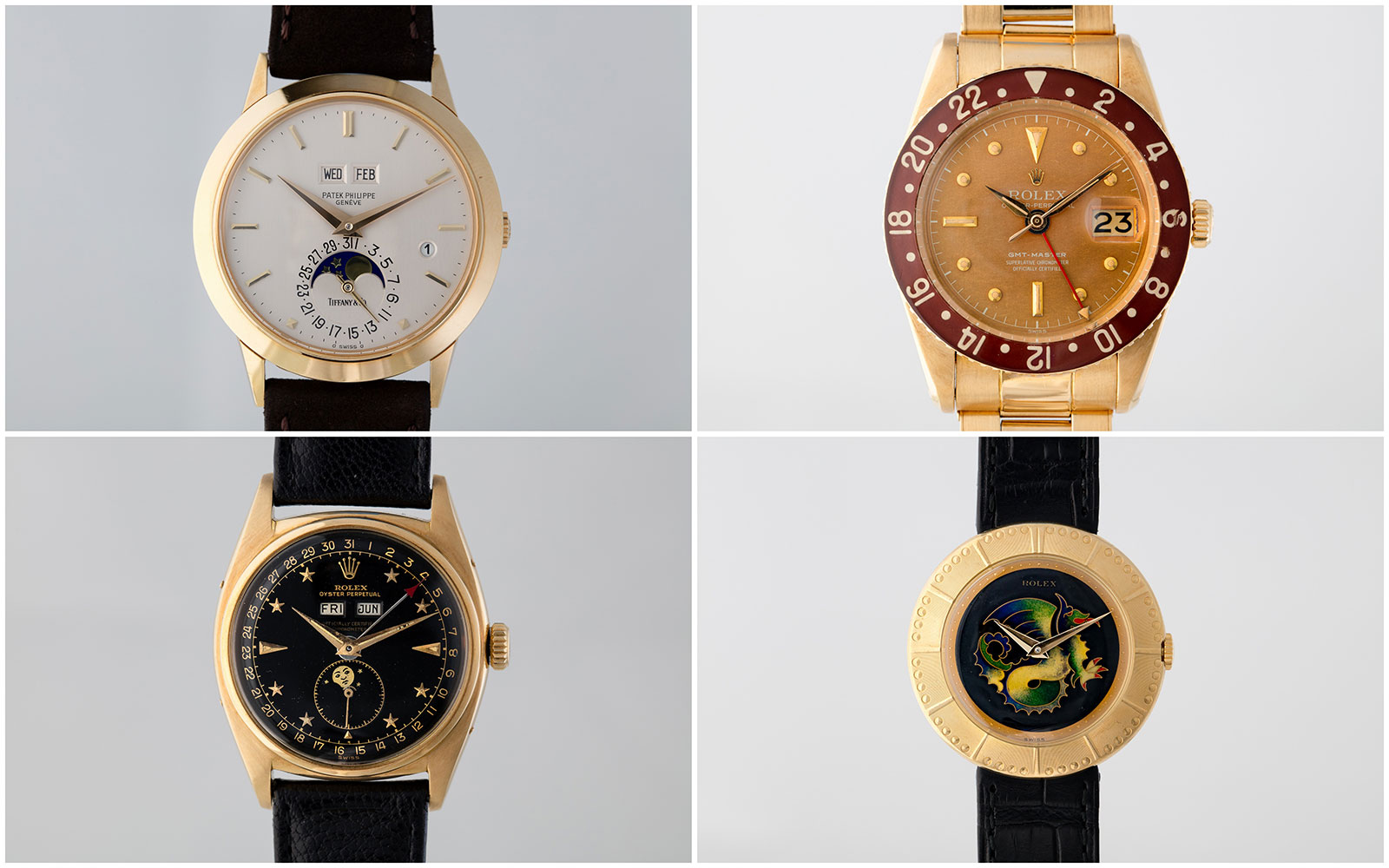 Phillips will hold its inaugural Geneva auctions for 2016 over two days starting with Start-Stop-Reset on May 14, a sale dedicated entirely to vintage chronograph wristwatches in the desirable but inexpensive material, stainless steel. The Geneva Watch Auction: Three (GWA3) takes place the following day, with a diverse offering of vintage and modern timepieces typical of Phillips' Geneva auction. The two days will be keenly watched to see if Phillips still retains the momentum it gained last year at its Geneva sale (including the record-setting, US$7 million Patek Philippe at Only Watch), though that was tempered somewhat by the more subdued year-end sale in Hong Kong.
Here are ten highlights from the upcoming auctions, starting with five picks from Start-Stop-Reset.
Rolex Cosmograph Daytona ref. 6239 with an extremely rare pulsometer dial. The estimate is SFr350,000 to SFr700,000. A similar watch sold at Christie's three years ago for over US$800,000.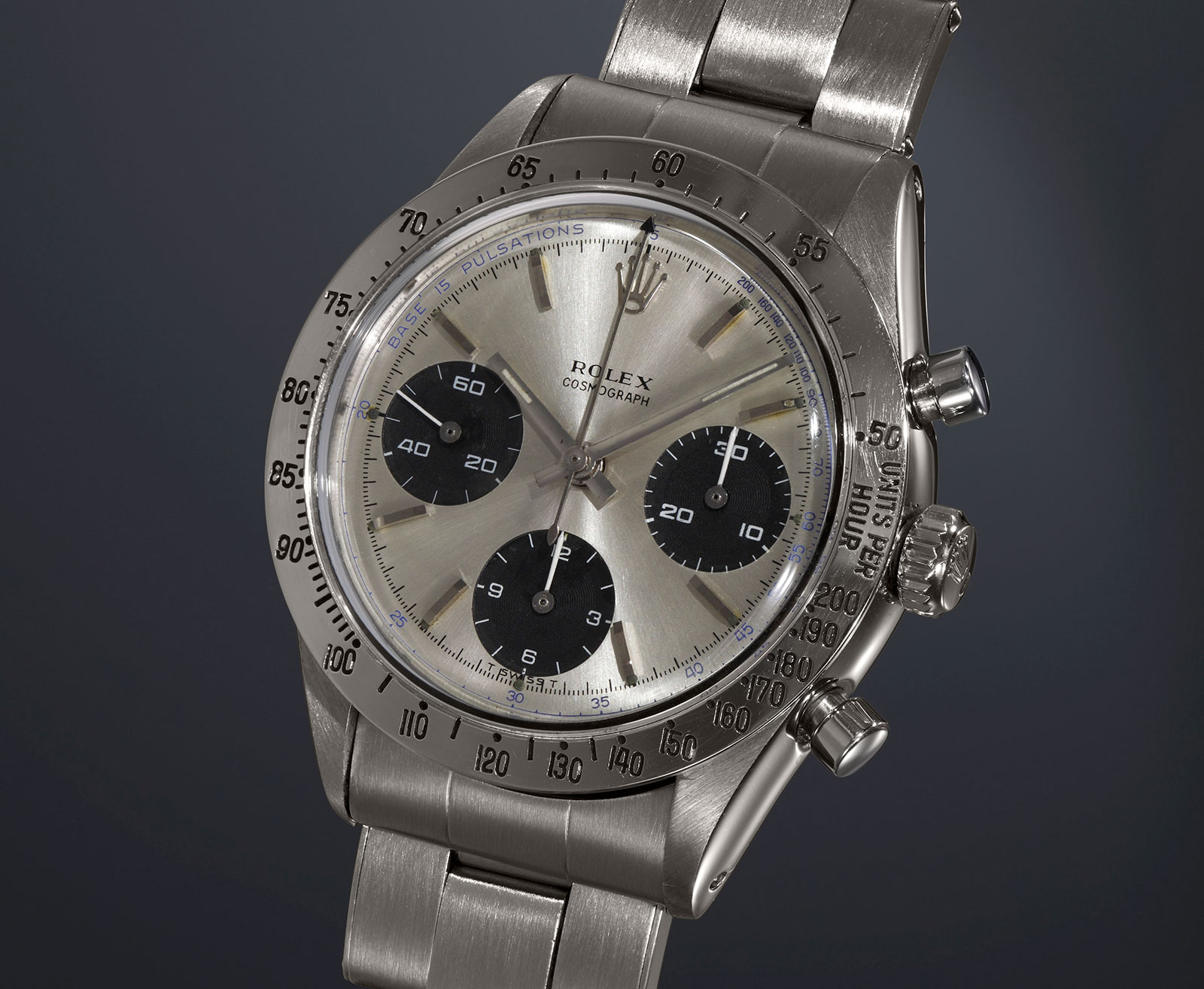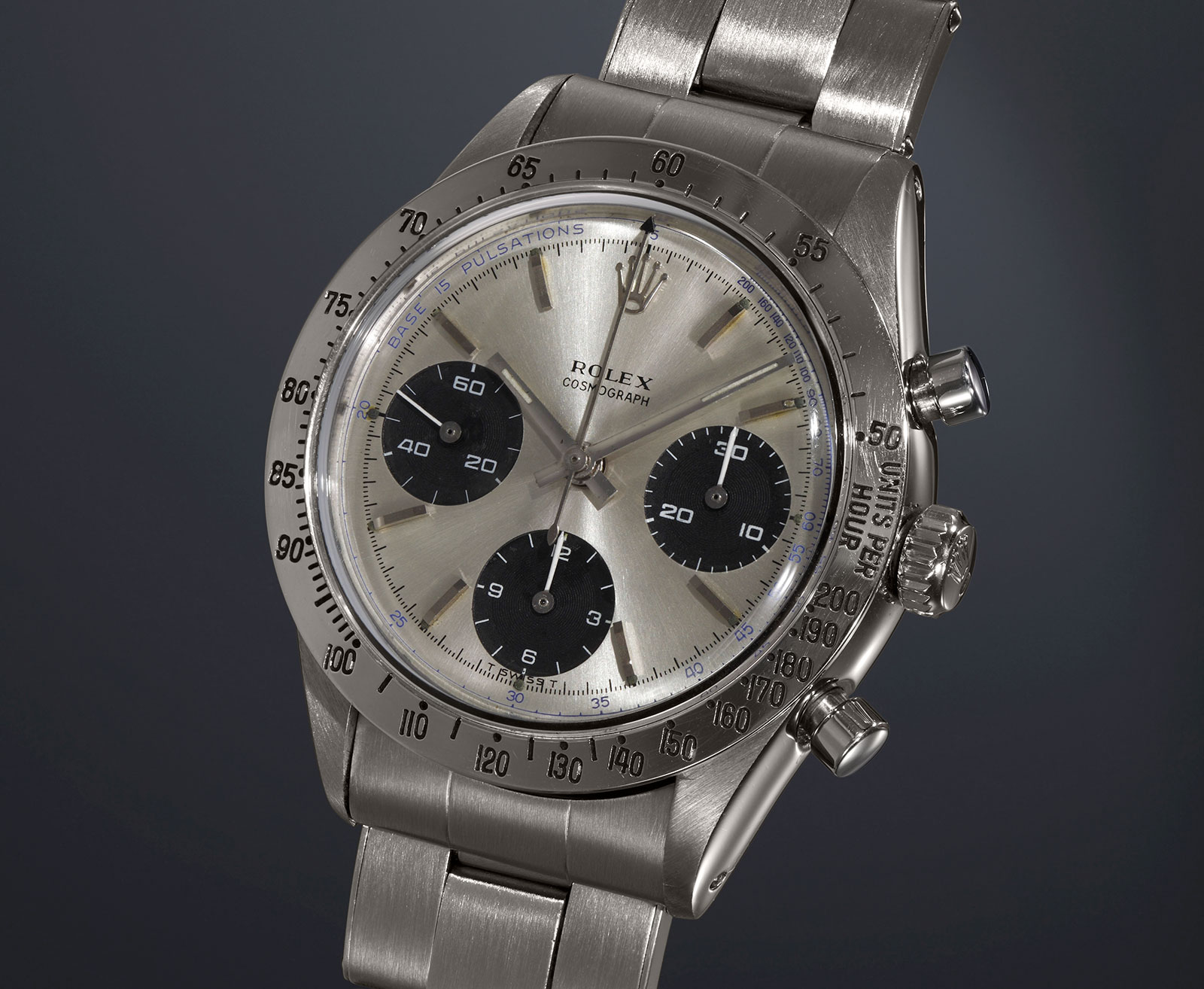 Longines A7, an extra-large, single-button chronograph originally made for the U.S. Army air corps in 1935. Made of chrome-plated brass and 51 mm in diameter, these were designed for aviators with the dial set at an angle so the watch could be read without letting go of the aircraft's controls. Longines remade this as the Avigation Watch Type A-7 in 2013. The estimate is SFr50,000 to SFr100,000.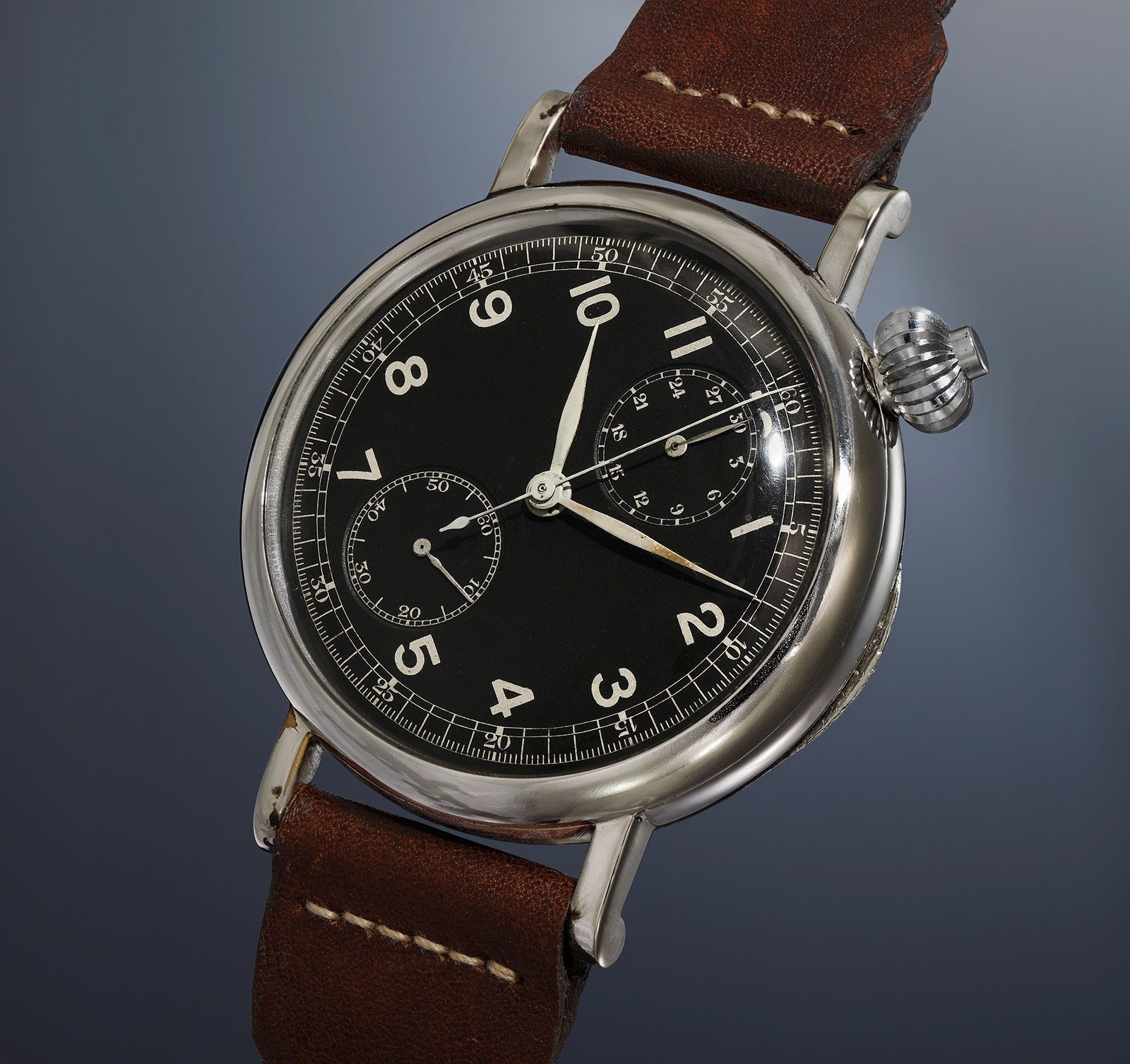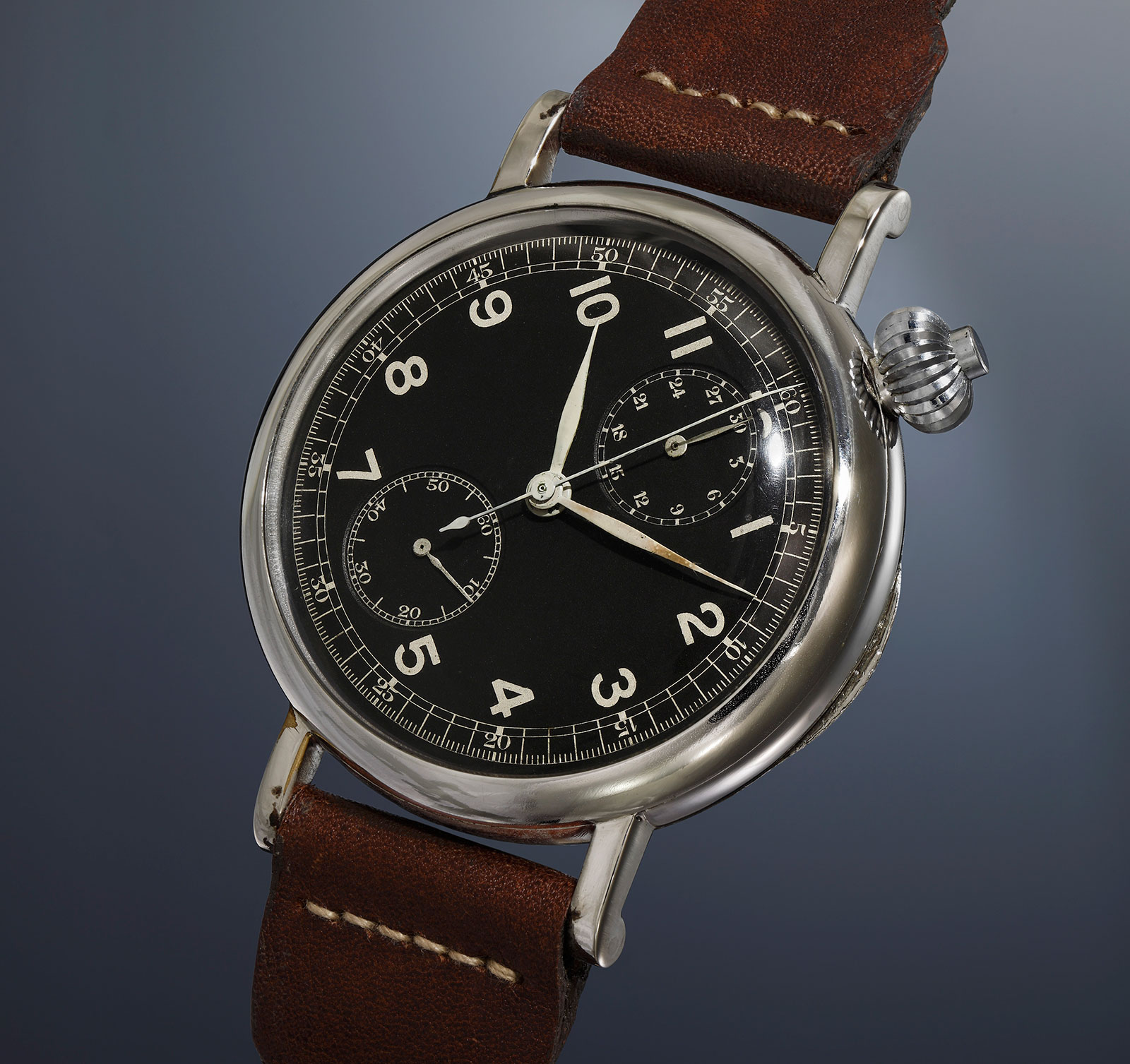 Tudor ref. 7031/0 "Monte Carlo", the very same watch that inspired the modern day Heritage Chrono and this specimen is accompanied by the original box and guarantee no less. It's estimated at SFr15,000 to SFr25,000.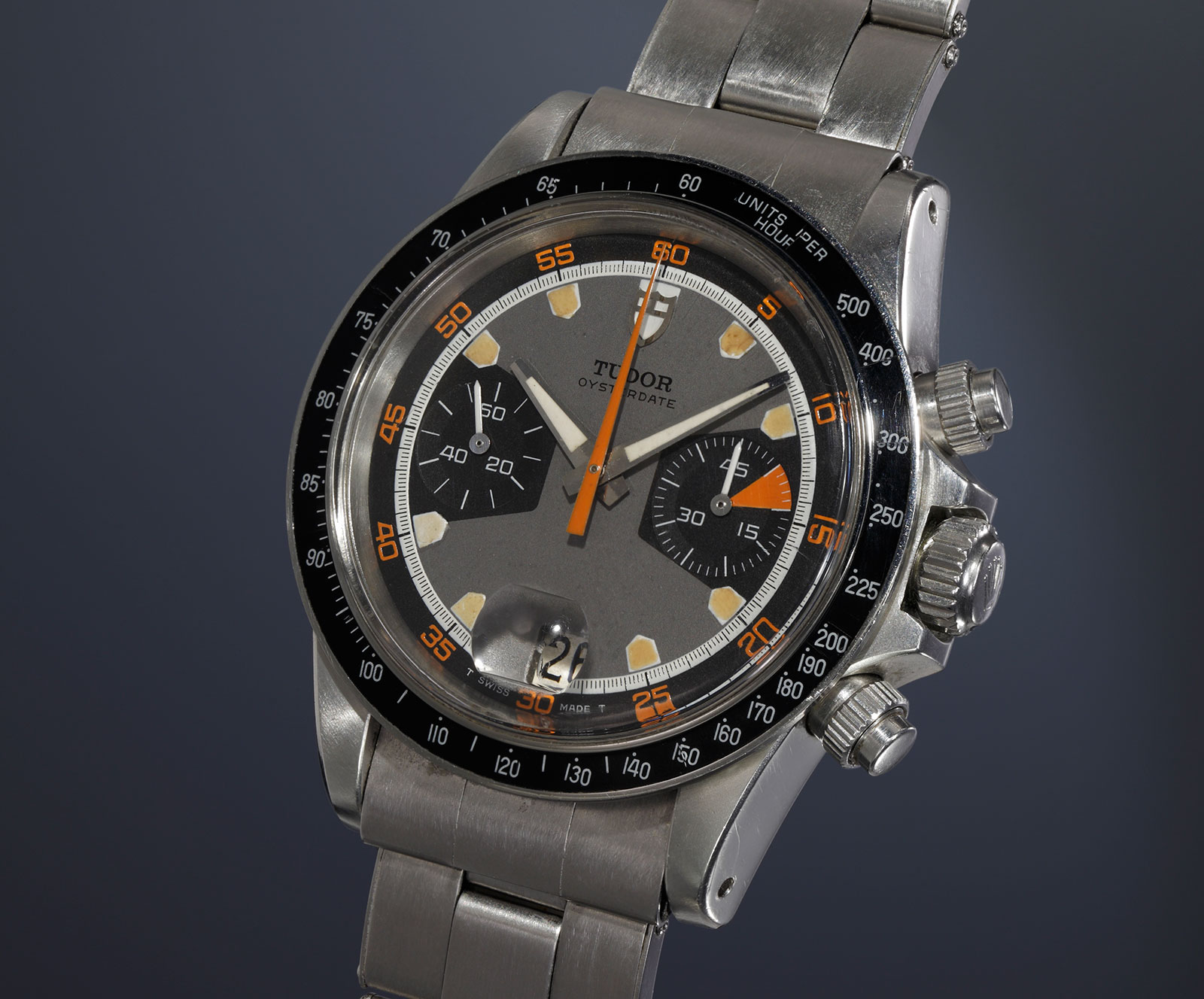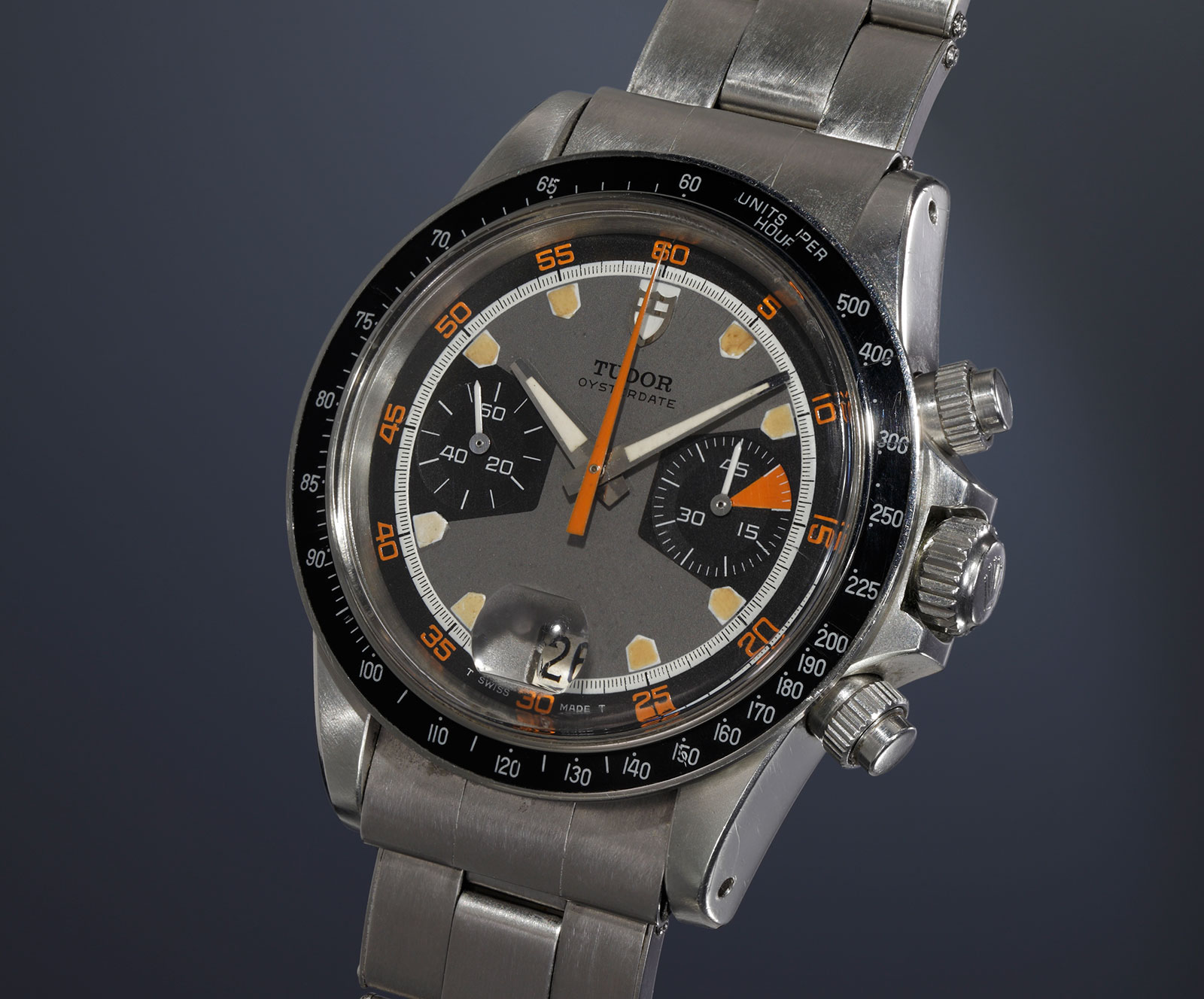 Omega ref. 2393/3 in stainless steel with an Art-Deco style three-tone dial featuring a triple scales, telemetric, tachymetric and pulsometric, carrying an estimate of SFr20,000 to SFr40,000.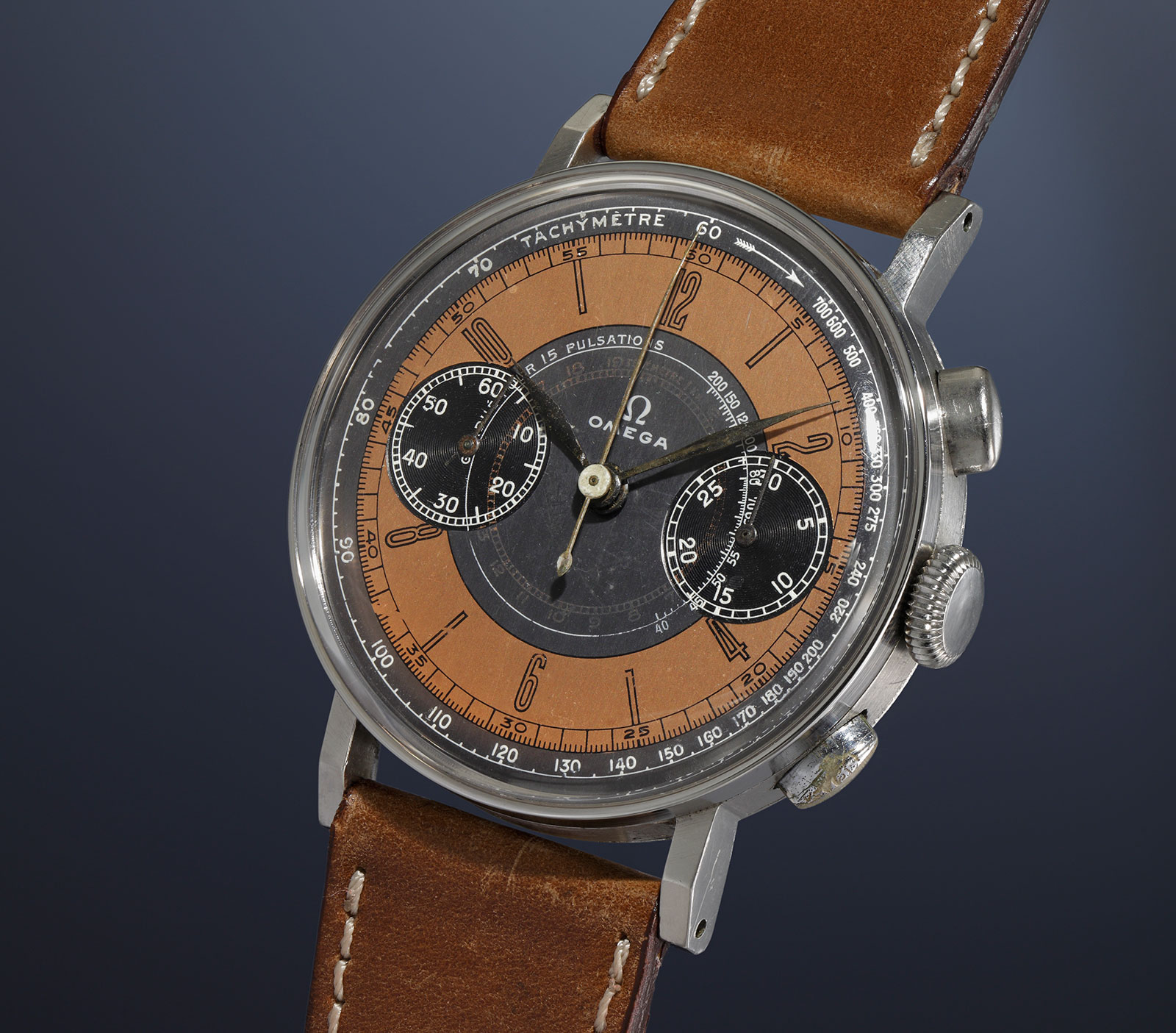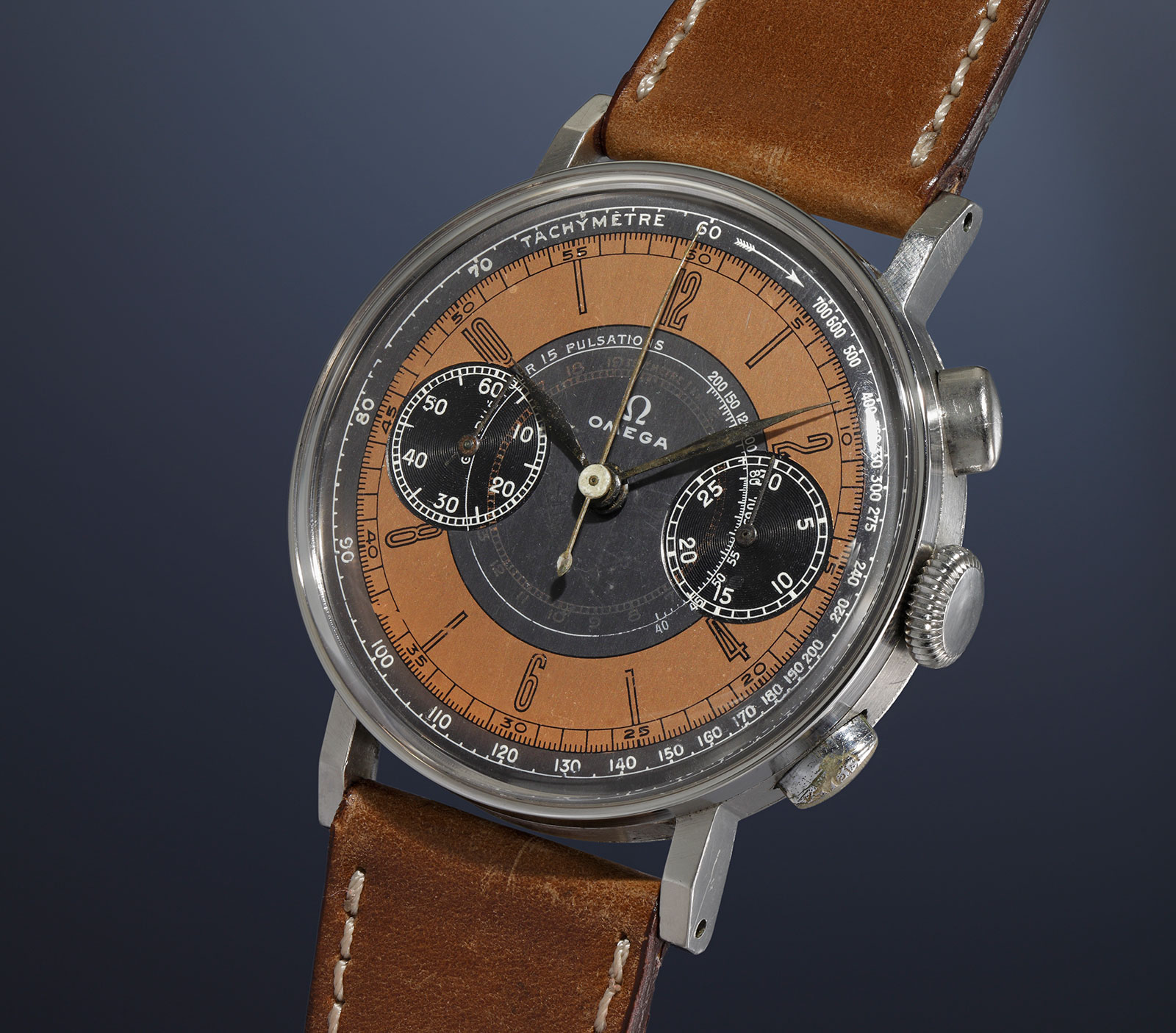 Rolex ref. 3330 antimagnetic chronograph in steel with a salmon-tone dial featuring tachymetric and telemetric scales. It's estimated at SFr200,000 to SFr400,000.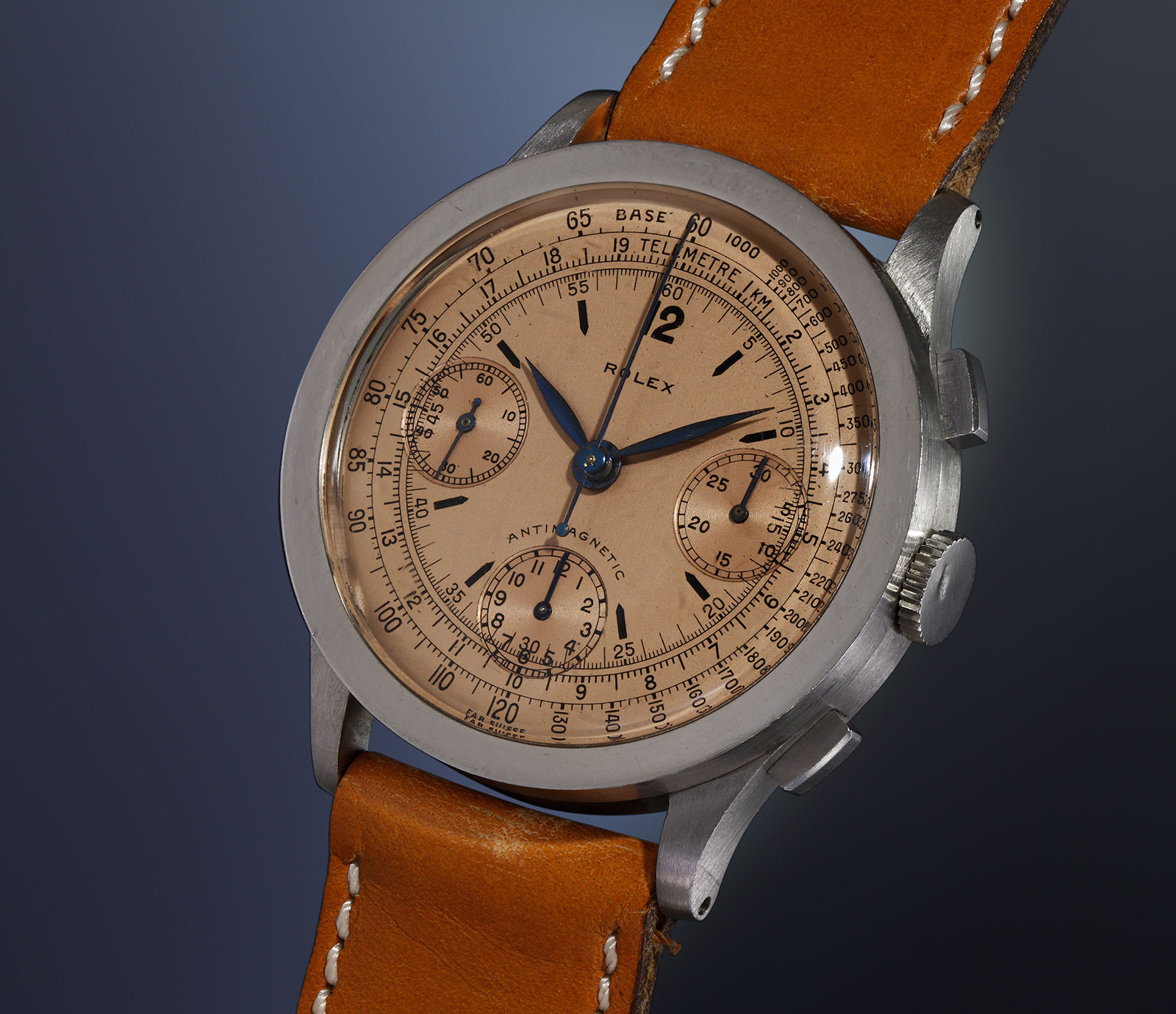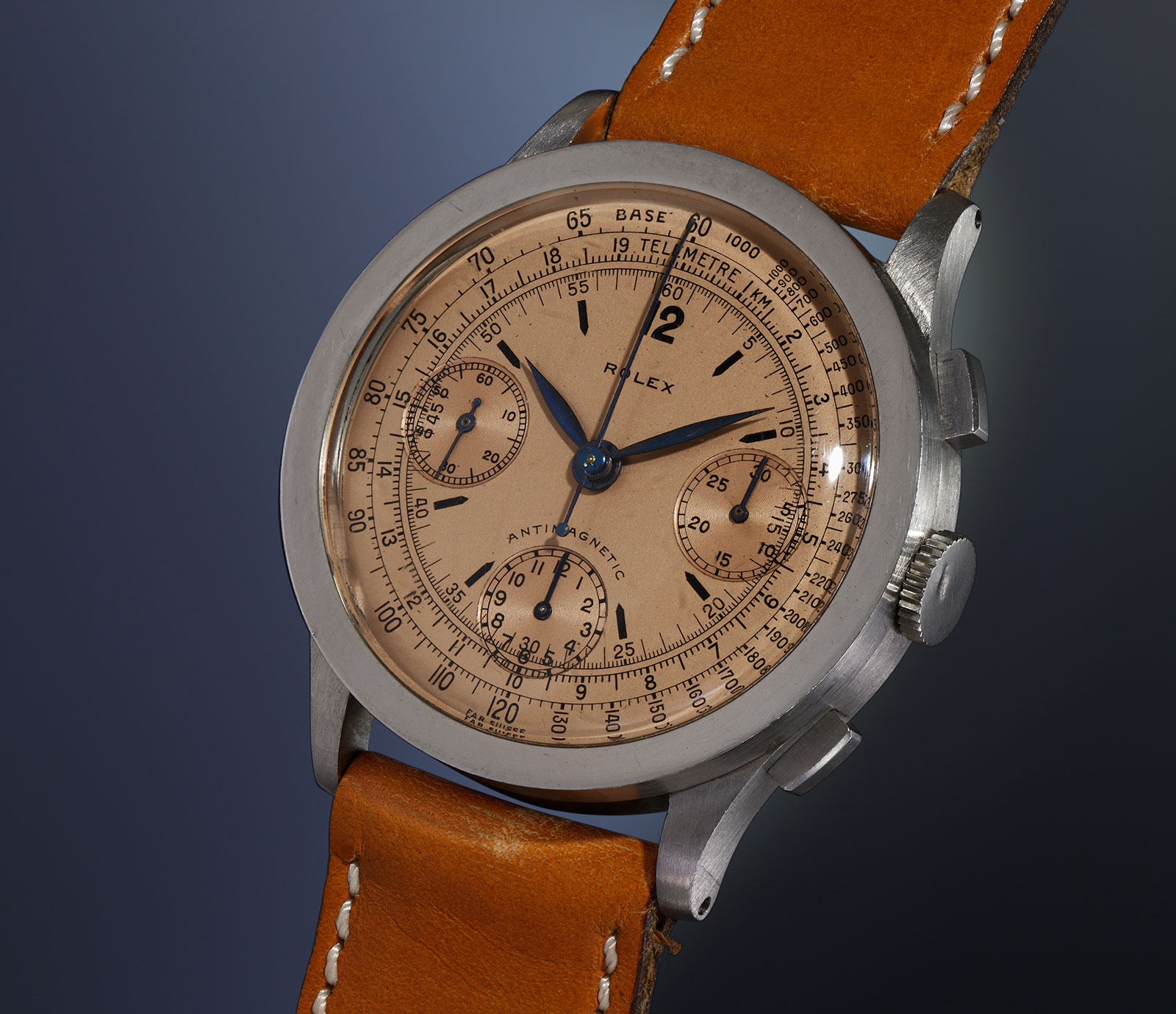 The Geneva Watch Auction: Three
Rolex ref. 6062 triple calendar with an exceptionally rare black dial that is made even more desirable by the star-shaped hour markers – like finding hen's teeth while pigs fly across a blue moon. Circa 1950, this is estimated at SFr500,000 to SFr1 million.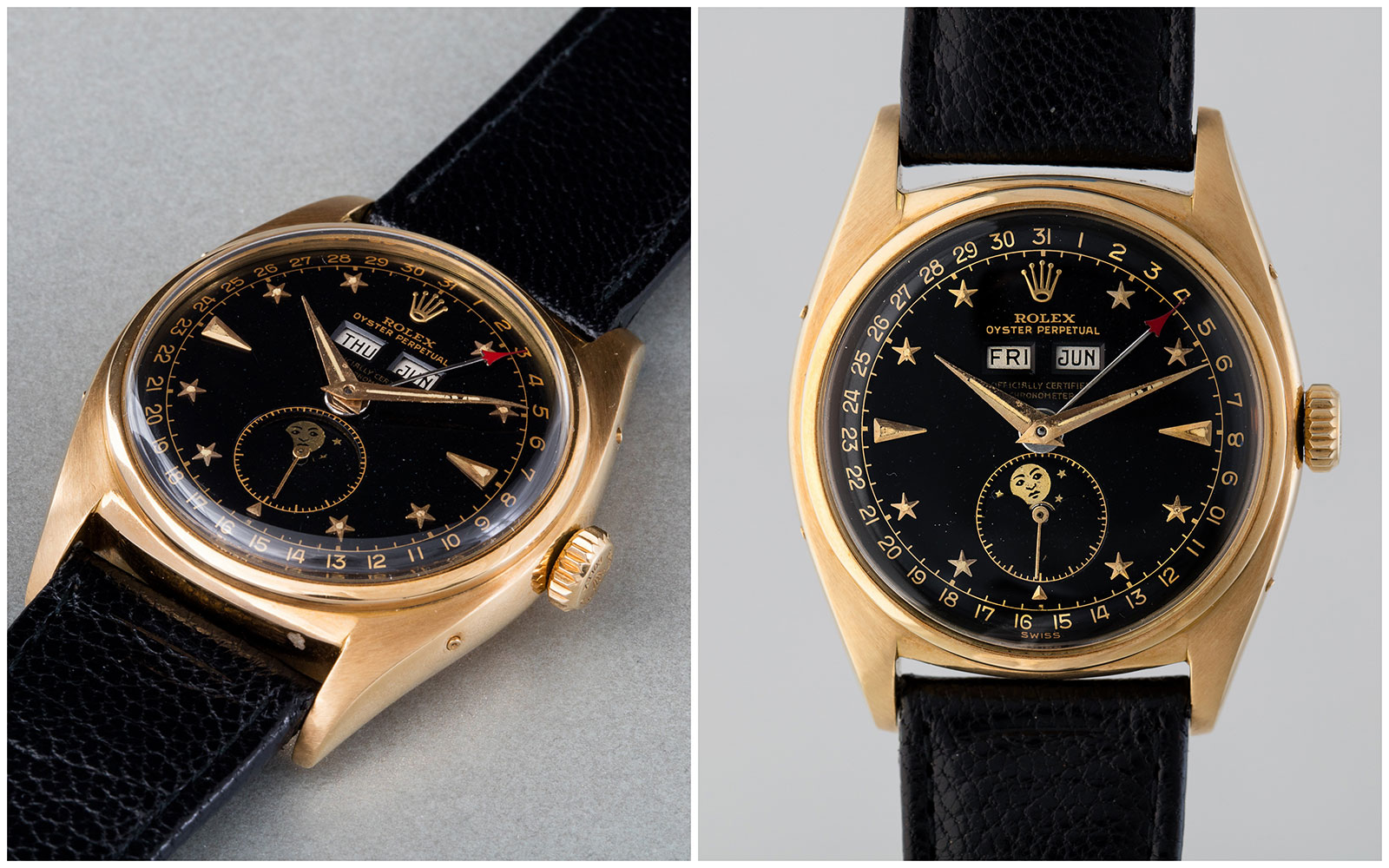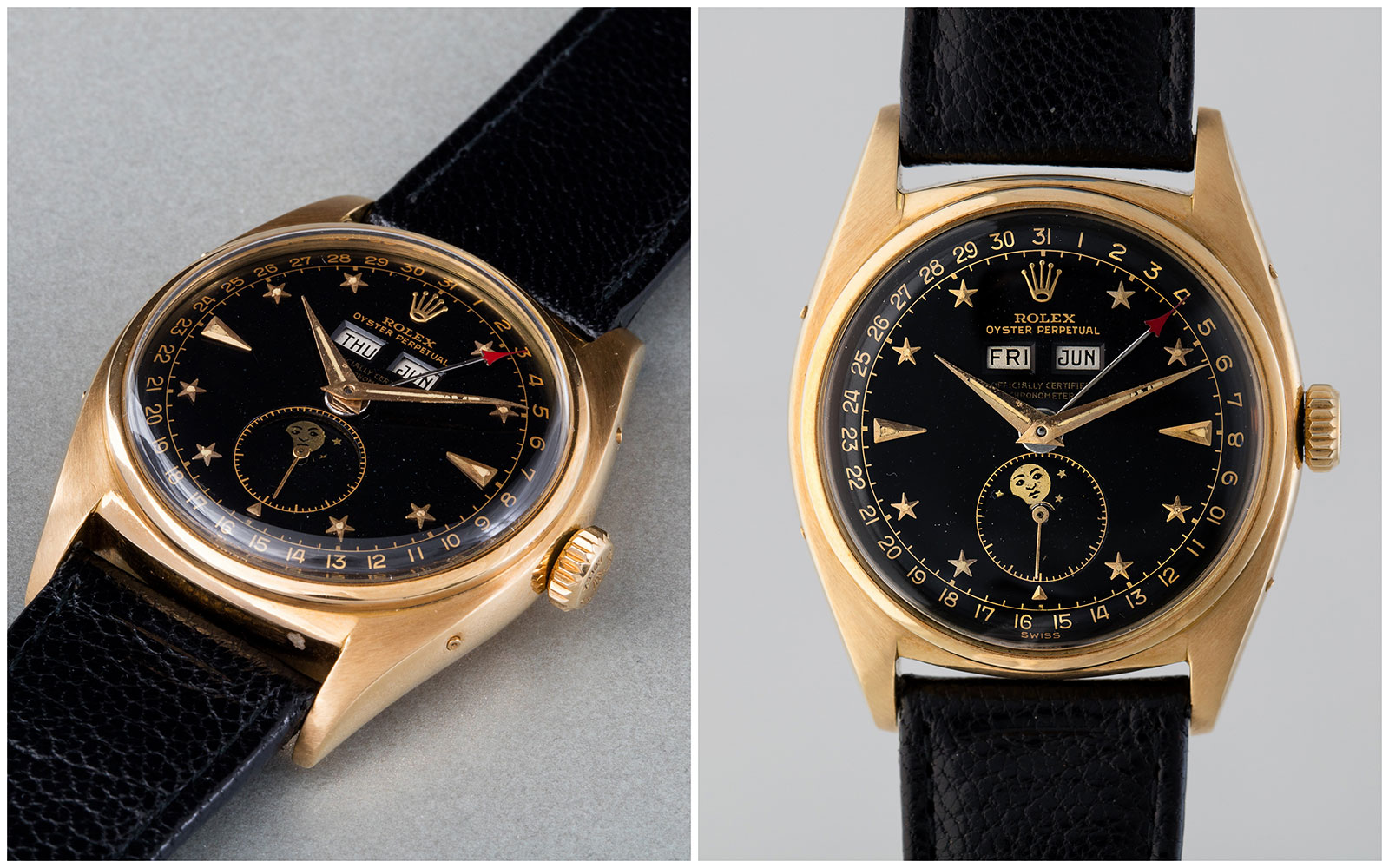 Rolex ref. 8651 with cloisonné dial depicting a chimaera by Marguerite Koch, a Geneva-based enamellist who was one of the stars of her era and also responsible for dials supplied to Patek Philippe and Vacheron Constantin. The estimate is SFr150,000 to SFR300,000.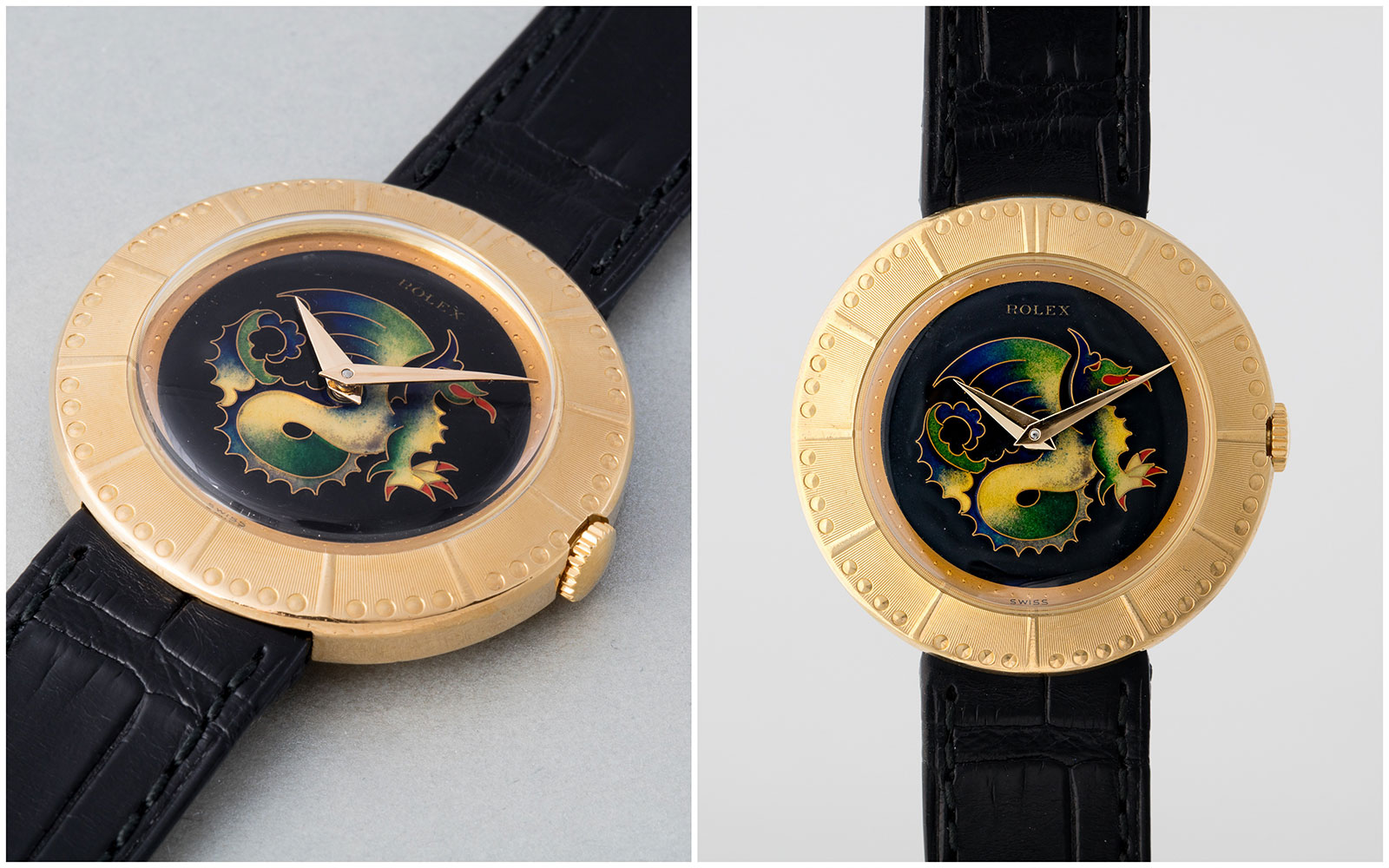 Rolex ref. 6542 GMT-Master in yellow gold with box and papers stamped Hübner in Vienna, a watch store that still remains on the Graben, the city's famous shopping street. Estimated at SFr150,000 to SFr250,000.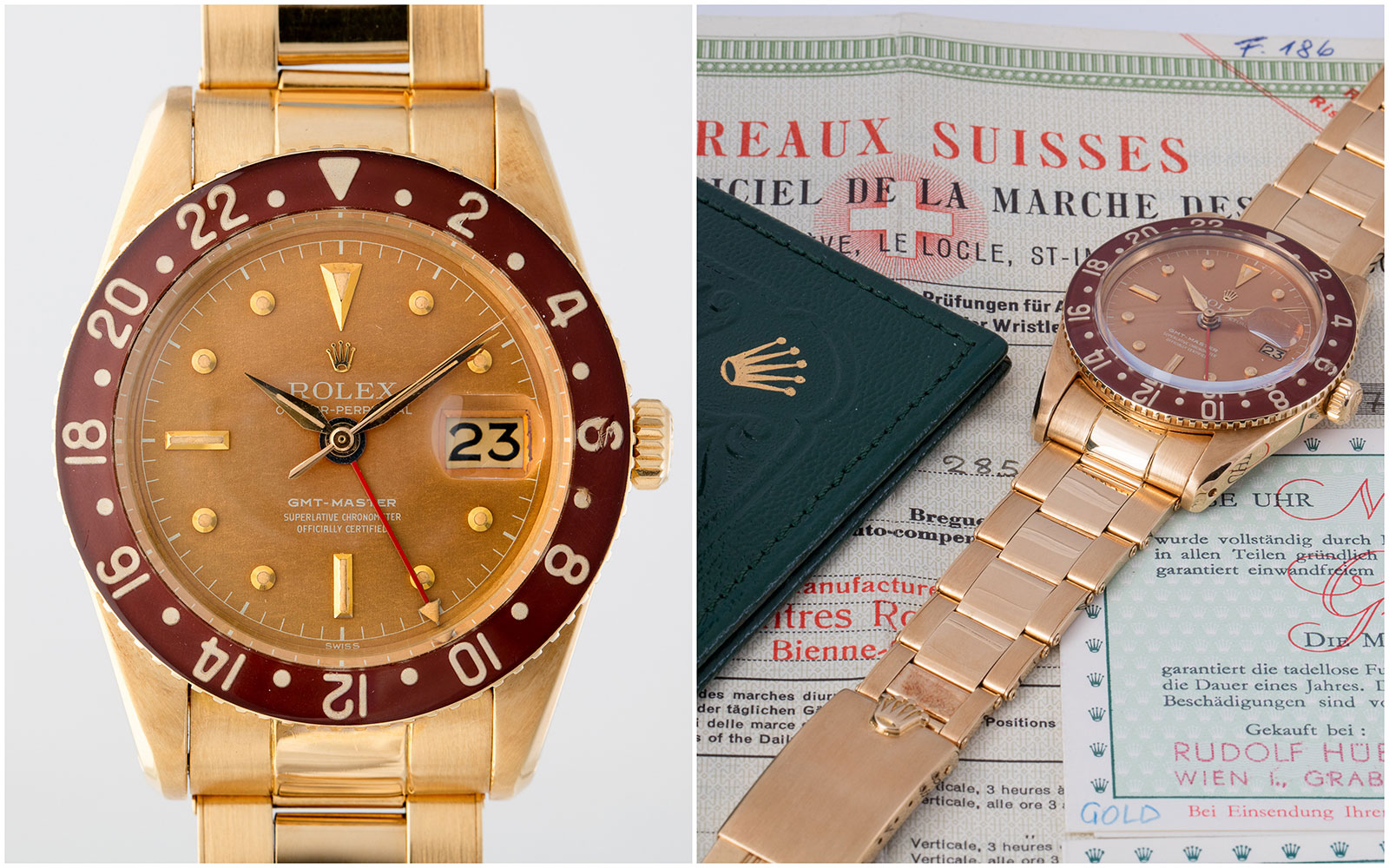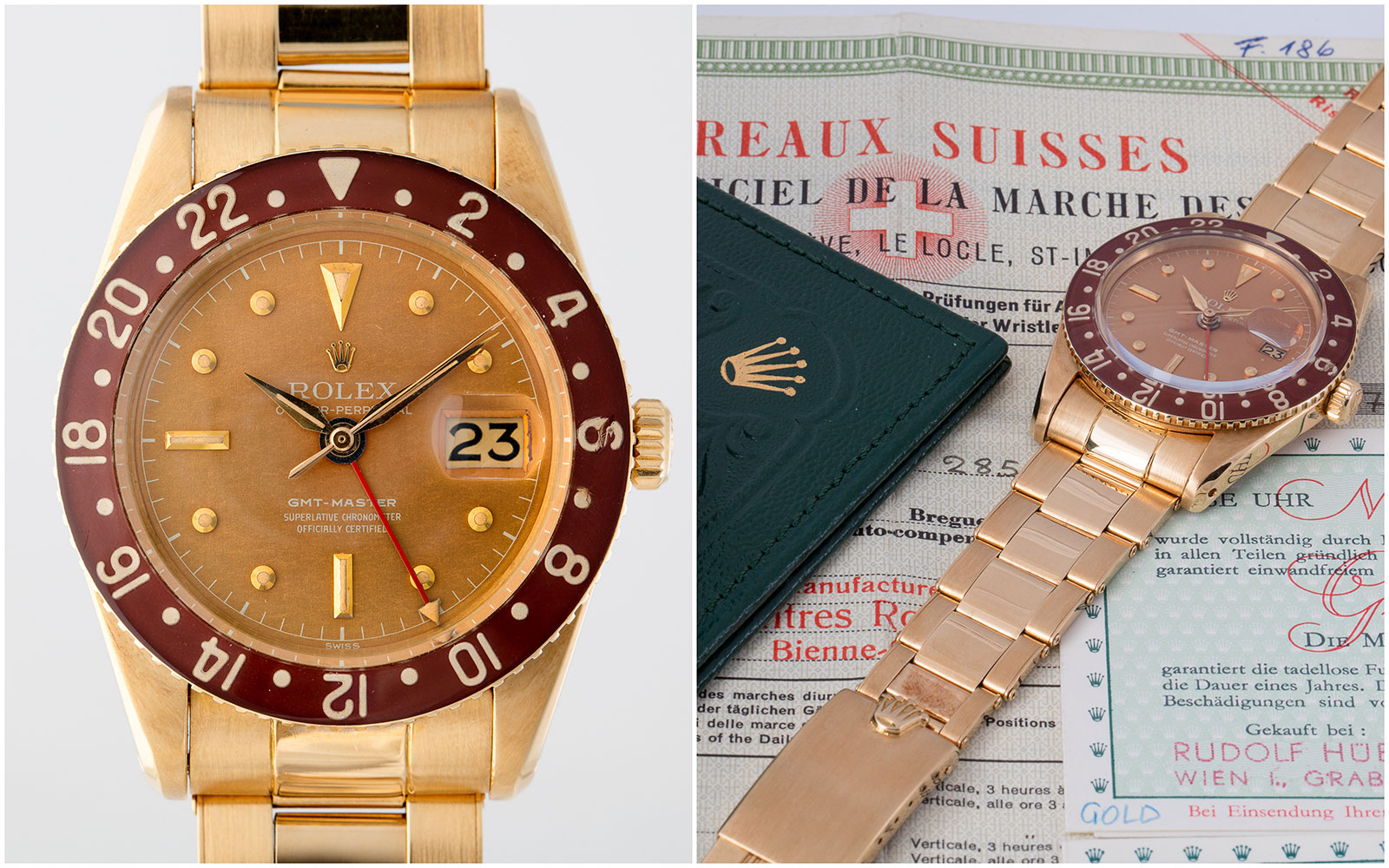 Patek Philippe Nautilus "Jumbo" ref. 3700 in extremely rare white gold (the least commonly found metal aside from platinum) with a highly desirable Omani national emblem on the dial, comprised of a khanjar over two crossed swords, indicating this was made for the Sultan of Oman and gifted to someone significant. The accompanying Patek Philippe box also bears the Omani emblem. The combination of elements explains its estimate of SFr300,000 to SFr500,000.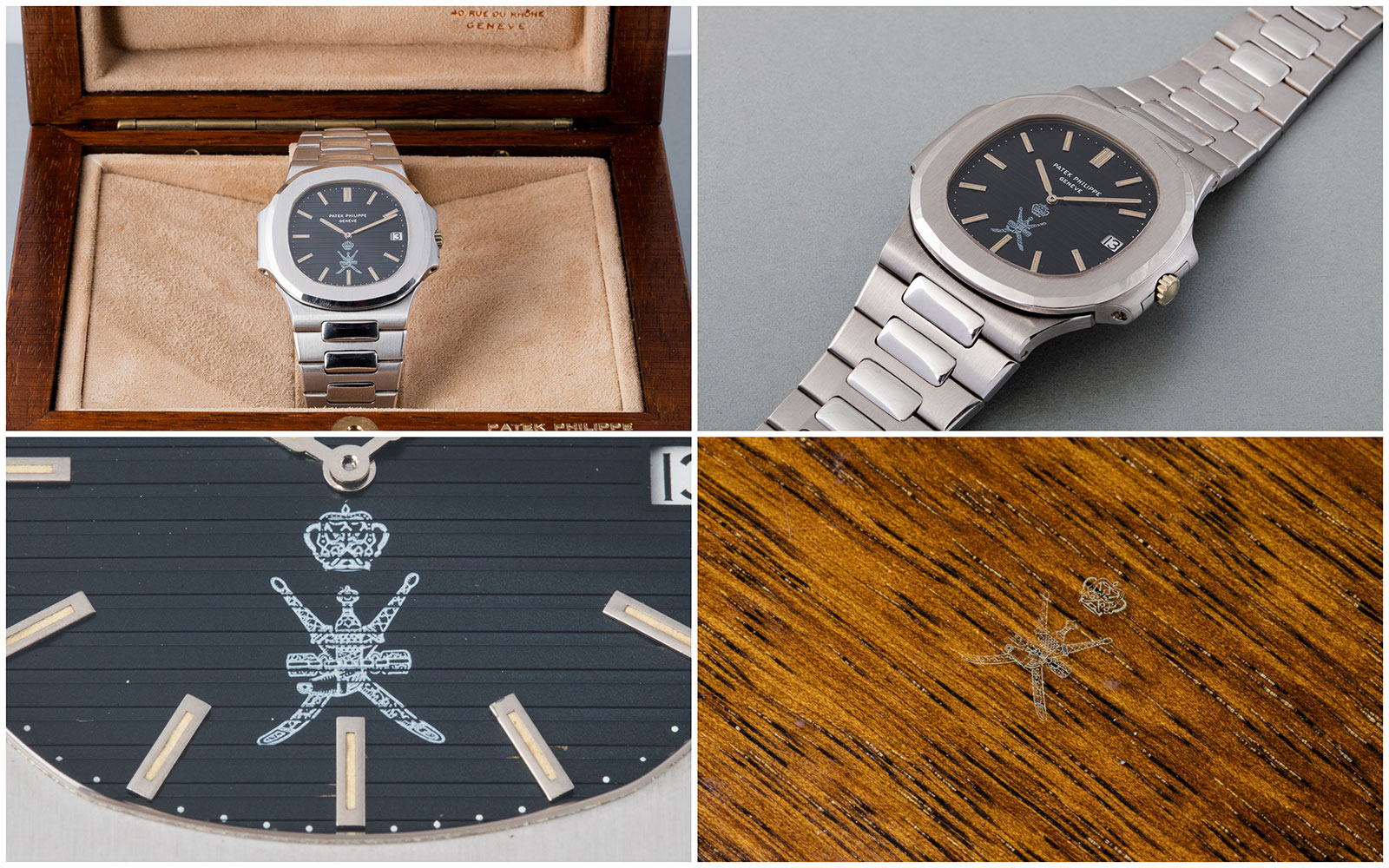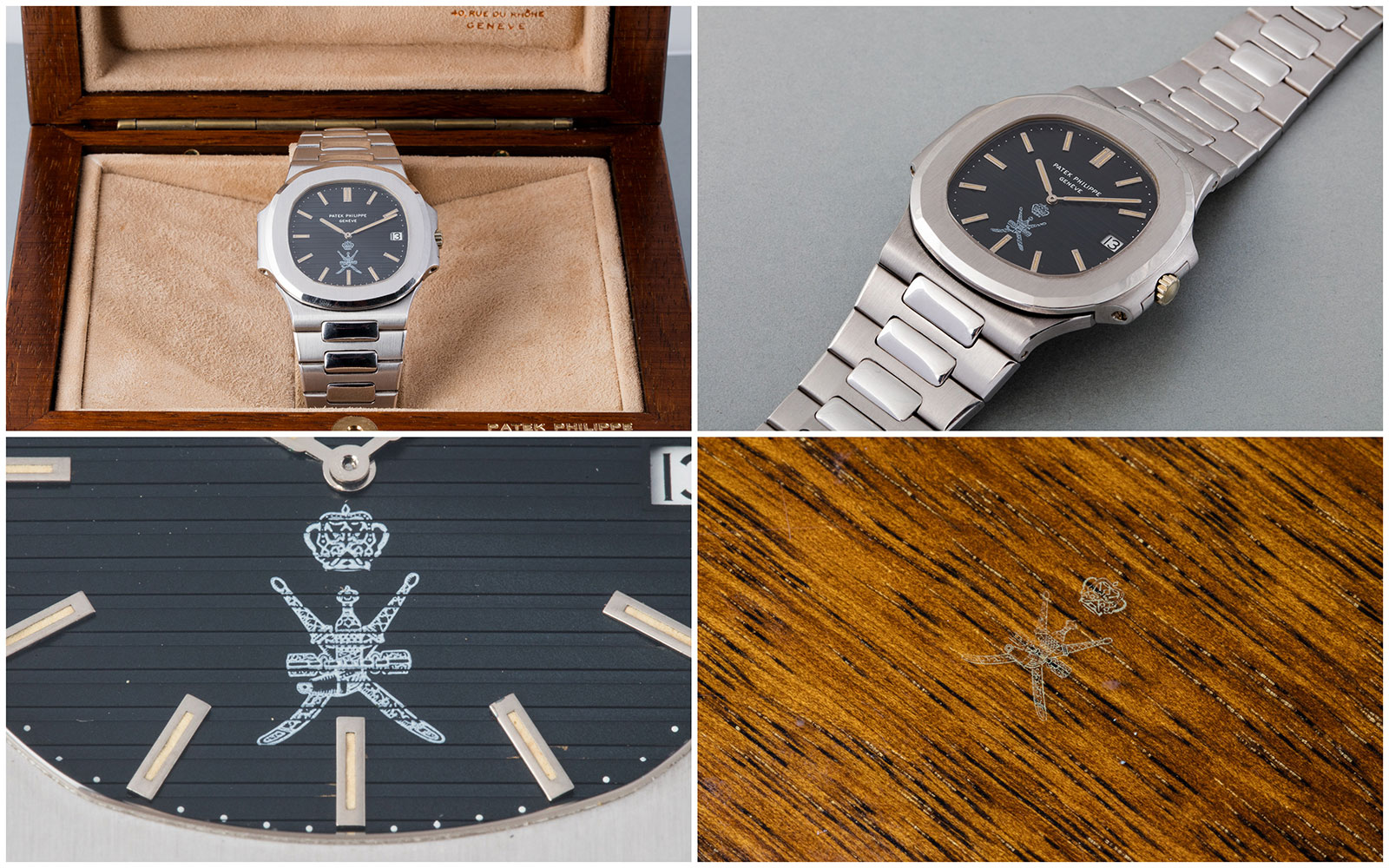 Patek Philippe ref. 3450, circa 1985, arguably Patek Philippe's most concise perpetual calendar and rare in itself, but this one with an uncommon "Tiffany & Co." signature, meaning it was sold by the oldest Patek Philippe retailer in the United States. Estimate is SFr180,000 to SFr200,000.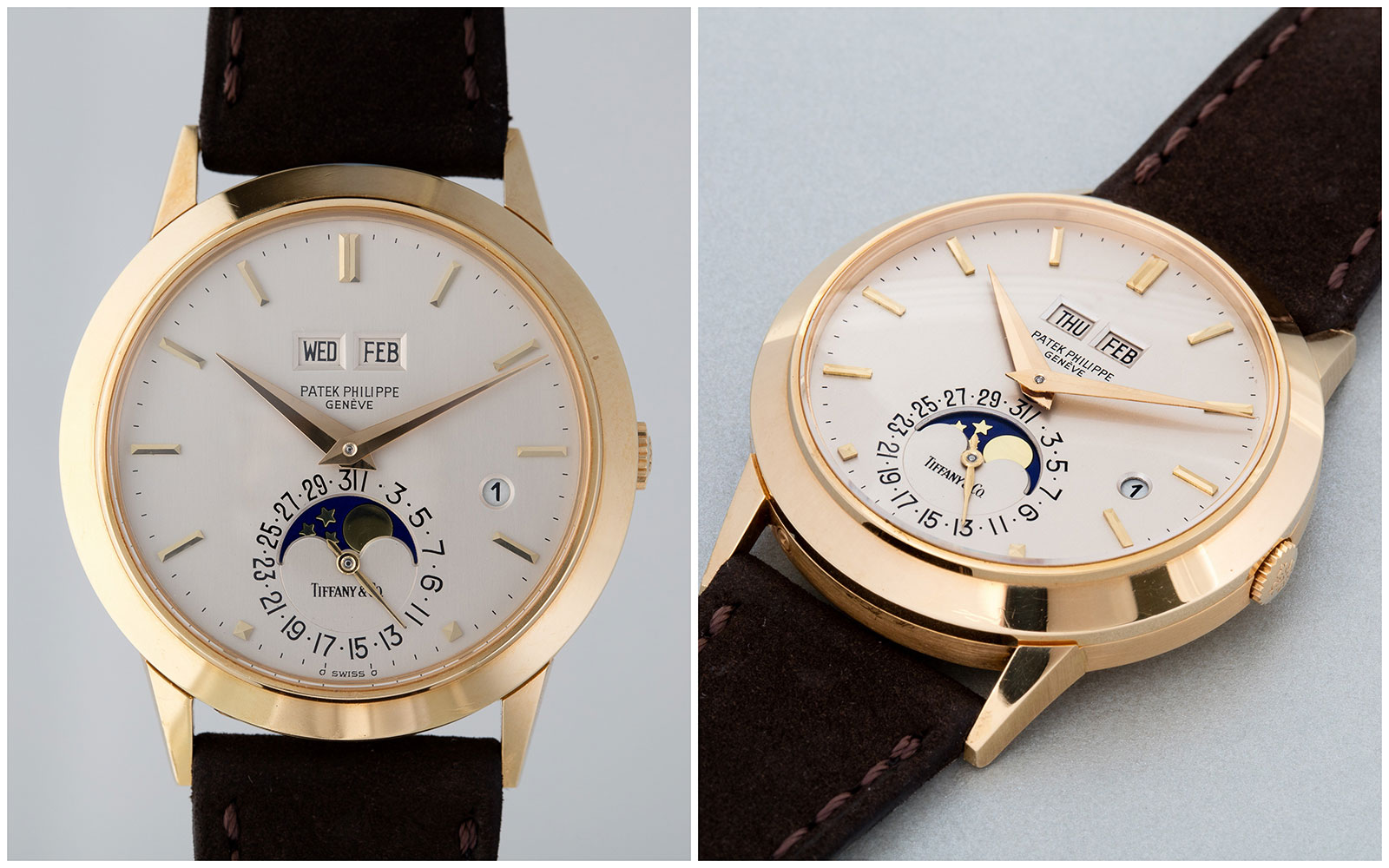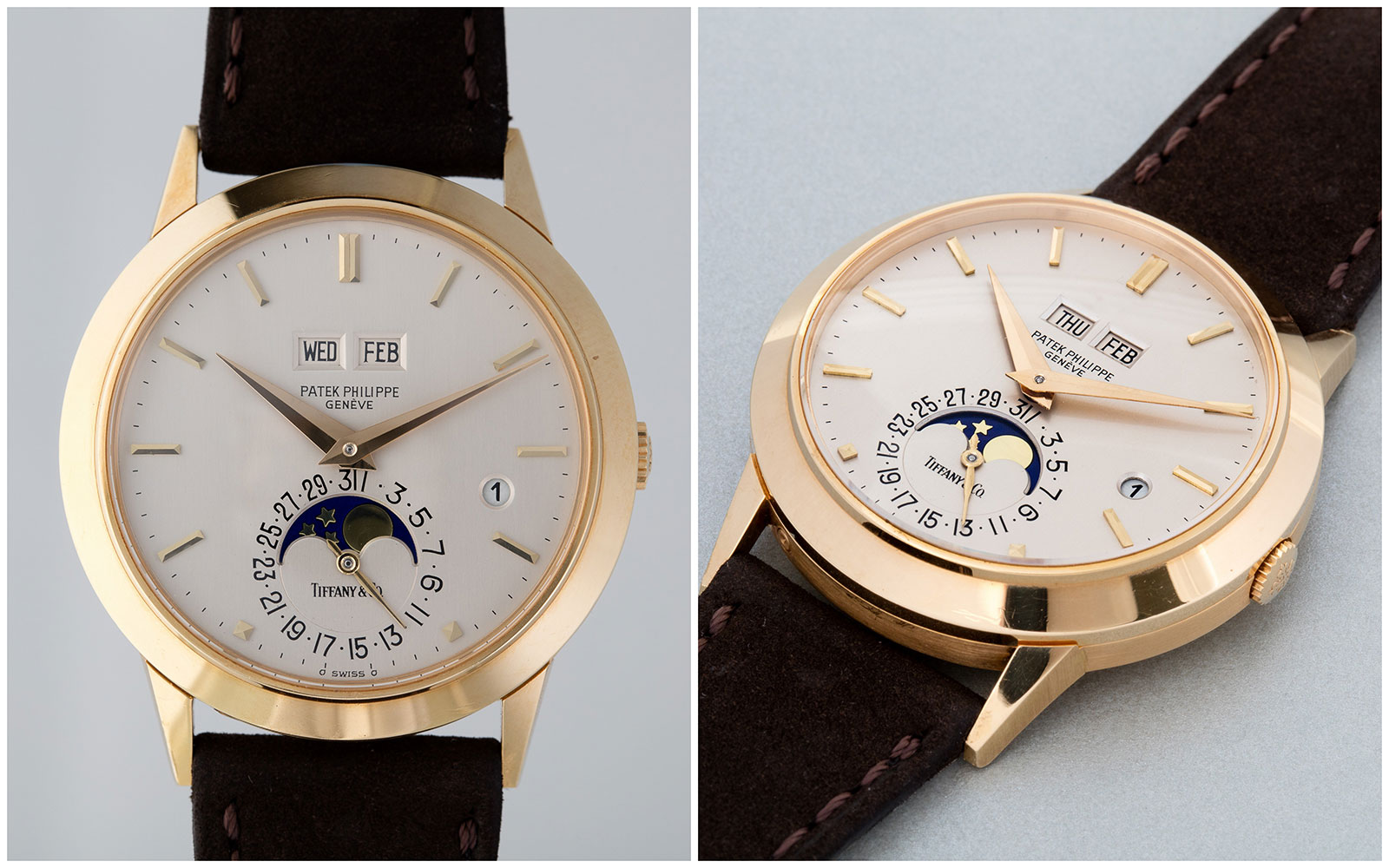 Auction details
Start-Stop-Reset: 14 May 2016, 6:00pm
GWA3: 15 May 2016, 6.00pm
Auction and viewing location: Hôtel La Réserve, Genève
Geneva viewing: 12-14 May 2016
Additional viewings before the sale will take place in Hong Kong (2 to 4 April), New York (15 to 18 April) and London (23 to 26 April).
Correction March 15, 2016: Added Longines A7 chronograph and removed Vacheron Constantin that will not be in the sale.
Correction March 17, 2016: Auction start time amended.
Back to top.
---
You may also enjoy these.