The Supermarket Billionaire and His 800 Pocket Watch Collection
The tale of the late Erivan Haub.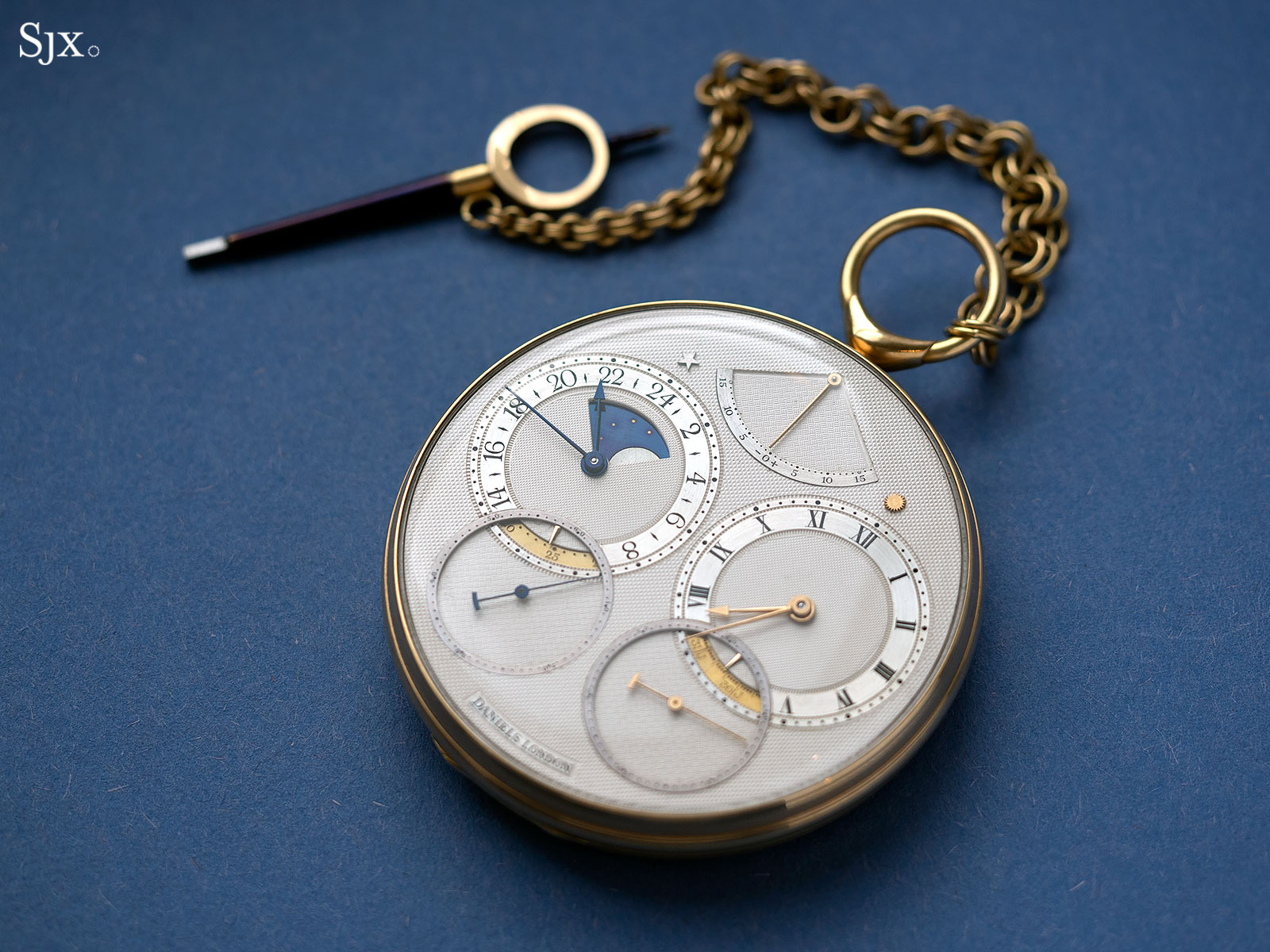 Erivan Haub was a billionaire long before billionaires were common. Having built the family business into the largest supermarket chain in West Germany, he was a fixture on Forbes' list of the world's richest people since the 1980s. In 1992, Forbes ranked him the fifth richest person in the world with a US$6.9 billion fortune – two spots ahead of Bill Gates.
Haub, who passed away last year at the age of 85, spent a good portion of his fortune on the things he loved, including knives, stamps, and watches. His stamp collection was so large it will be sold over four years at 30 auctions spanning two continents.
In fact, he amassed one of the biggest pocket watch collections in the world, made up of over 800 timepieces worth as much as US$27m, which Sotheby's will soon sell over five major auctions and a few minor ones.
[Due to client confidentiality, no one at Sotheby's was able to comment for this article, but it is widely known that the auctioneer's longtime watch department chairman, Daryn Schnipper, had long been Haub's trusted advisor and was singularly responsible for bringing the collection to market.]
Mostly accumulated in the 1980s and 1990s, the collection was assembled with the frequent help of Klaus Niedheidt, a Dusseldorf watch dealer who later founded his own eponymous auction house. It was mostly focused on English, French and German pocket watches of the 17th-19thcenturies, although it was diverse enough to include a lavish Vacheron Constantin portico clock and a Jaeger grand complication with a skeletonised dial and enamelled case.
The collection included many watches that set world records when Haub bought them. The most famous is unquestionably the first George Daniels Space Traveller that sold for 220,000 Swiss francs at Sotheby's Geneva in 1988, and another is the ultimate A. Lange & Söhne, the enamelled tourbillon pocket watch no. 41000. It remains the most expensive Lange ever sold, having achieved 1.5m Deutsche marks in 1992 at Dr Crott Auctioneers.
Despite the scale of his collecting, Haub was a notably discreet individual who was widely described in contemporary press reports as a quiet, modest man. He was well known as a buyer during the period, but hardly attended auctions in person.
Haub even dabbled in the business as the backer of aristocratic auctioneer Geza von Habsburg and stamp dealer David Feldman when the duo teamed up in 1987 to establish Habsburg Feldman, a Geneva-based arts and antiques auction house.
The upstart struggled to compete against Christie's and Sotheby's, but thanks to its substantial stake in Antiquorum, then led by Osvaldo Patrizzi, Habsburg Feldman in effect transformed itself into the leading specialist watch auction house.
The Tengelmann tale
All that was funded by Haub's fortune, which like his taste in watches, was very much an old fashioned one. He inherited ownership of supermarket group Tengelmann, which has its roots as a food and coffee importer founded by his great-grandfather in 1867.
Haub's grandfather, Karl Schmitz-Scholl, set up the first "Tengelmann's Coffee Shop" in 1893, naming it after the company's chief clerk, Emil Tengelmann, so as to keep the Schmitz-Scholl name out of the public eye.
Tengelmann was already one of Germany's biggest food retailers when Haub assumed control in 1969 when his childless uncle passed away, but his ambitions ensured it kept growing. He made numerous acquisitions during his tenure, including in fashion and discount retailing, turning the group in the country's biggest supermarket group. By 1993, he had grown its revenue over 50 times.
Though he was born in Germany, he lived in the United States for several years after the Second World War, first as a student and then as a management trainee at a supermarket. Haub later spent substantial time in Tacoma, Washington, where his three children were born.
So when Tengelmann established itself across the Atlantic by buying a controlling stake in the Great Atlantic & Pacific Tea Company (A&P) in 1979, it fulfilled one of his life's ambitions. But the once storied grocery chain business was well past its heyday, and despite a profitable run in the 1980s, Tengelmann's stake in A&P was eventually wiped out when the American company declared bankruptcy in 2010.
By 2000, Haub had handed control of Tengelmann over to his three sons, and the supermarket empire was slowly whittled down as various components were sold. At the same time, the overall decline of traditional retail meant the Haub fortune, as it entered the new millennium, wasn't as grand as it once was. Forbes calculated Haub's net worth as US$6.4 billion in the year of his death, placing him 265 on its rich list.
A family feud
Unfortunately, his passing was only the start of a streak of bad luck for the family. Haub's heir was his eldest son, Karl-Erivan, chief executive of Tengelmann since 2000. But barely a month – a month and a day in fact – after his father's passing, the younger Haub disappeared while training for ski contest on the Matterhorn; his body was never found.
Karl-Erivan's disappearance triggered a feud between his widow and two brothers. The dispute centres on whether Karl-Erivan's two children retain their father's shares in Tengelmann, or sell them to his siblings in order to cover the estate's enormous inheritance tax.
The vision dispersed
In the meantime, Haub's various collections are being sold. Each is the largest within its category to come to market in recent years.
His stamp collection is being sold by several auction houses located across in United States, Germany, Sweden and Switzerland, with sales taking place from now until 2023. The collection even has its own website. It includes the philatelic equivalent of the Space Traveller, the "Alexandria Blue Boy", a postage stamp from 1847 that has a low estimate of US$1.0m.
The watch collection, which Sotheby's has named Masterworks of Time, carries an estimate of US$15-27m, making it one of the most valuable collections of watches ever sold.
It exceeds the US$13m achieved in 2001 by the assemblage of Chinese market timepieces owned by former HSBC chairman Michael Sandberg. But the high estimate is still some way from the US$58.6m tally from the sale of Illinois industrialist Seth Atwood's Time Museum collection that was sold over several years beginning in 1999.
Much of the value of the Haub collection is concentrated in several dozen timepieces, which together form the vast majority of its value. The Daniels Space Traveller I will undoubtedly be the most expensive watch in the collection, and is widely expected to exceed its high estimate of £1.0m, or about US$1.27m, when it goes under the hammer at Sotheby's London in July 2019.
Despite the big headline numbers, pocket watches aren't as prized as they once were. In the 1970s to 1990s, pocket watches were the most important and respected collecting category in timepieces.
Wristwatches, in contrast, were often seen as inexpensive trinkets for the less serious minded. Tastes have changed, and pocket watch collectors are a rapidly aging demographic, meaning pocket watches are no longer the hot commodity they once were.
Conversely, the decline in their popularity makes pocket watches strong value propositions in terms of pure watchmaking per dollar. A large number of watches in the collection have values in the hundreds or low thousands of pounds, and will be sold via online auctions, so even a collector on a modest budget will be able to obtain a little bit of Haub's vision.
---
Back to top.
---
You may also enjoy these.