Sotheby's to Sell 800-Watch Collection with George Daniels Space Traveller I
Epic.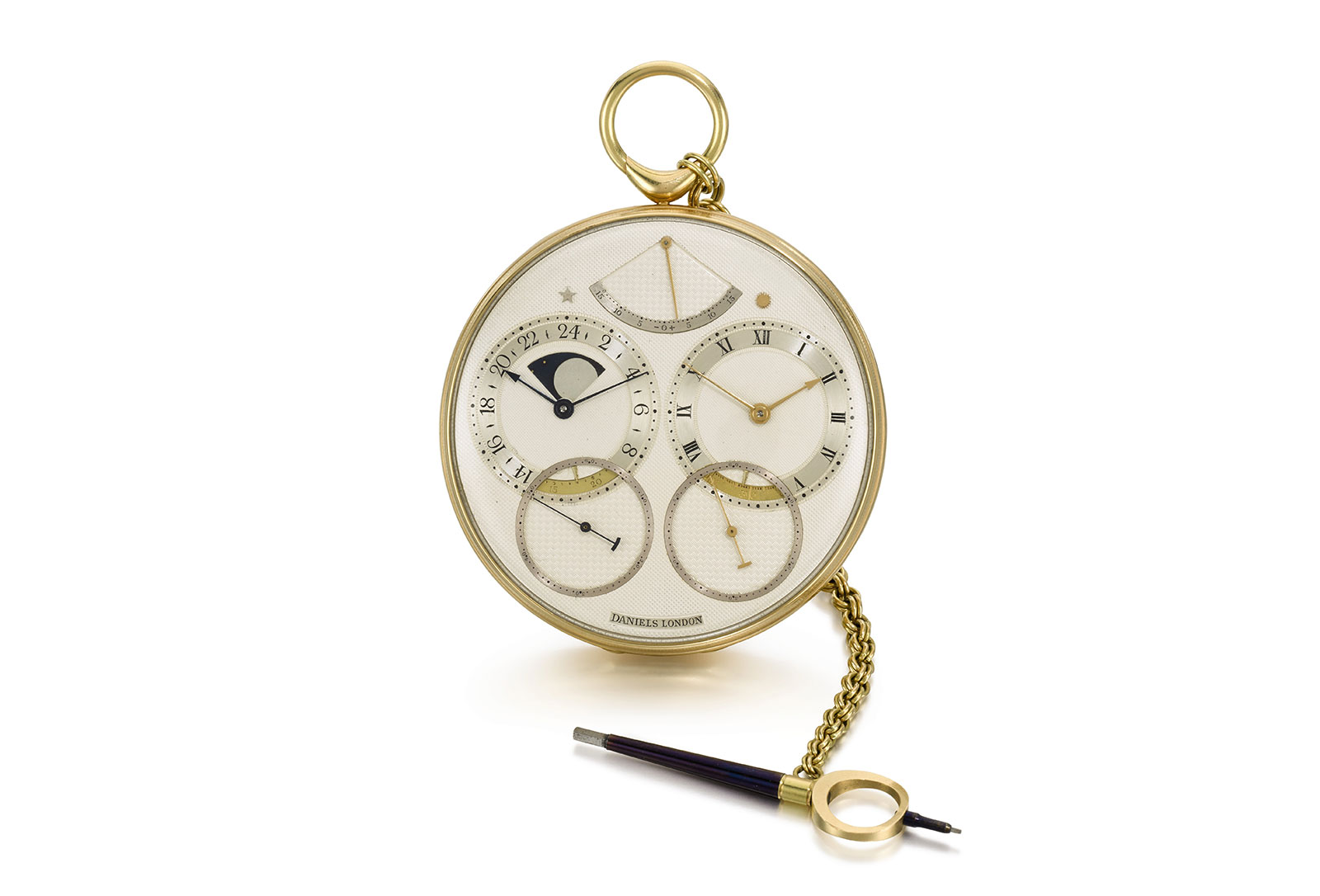 Sotheby's has just announced the sale of one of the most important watch and clock collections in the world, made up of over 800 timepieces – mostly pocket watches and clocks – with an estimated value of US$15-27m. Although the collection includes many, many spectacular timepieces, the best known is arguably the George Daniels Space Traveller I.
Accumulated over a lifetime by a collector – a European gentleman according to industry sources – the collection has been titled Masterworks of Time and will be sold at five thematic auctions in London, Geneva, New York, and Hong Kong between July 2019 and October 2020.
The size and breadth of the collection also demonstrates the formidable influence of Daryn Schnipper, the New York-based chairman of Sotheby's watch department.
Though not as high profile as auctioneers like Aurel Bacs of Phillips, Ms Schnipper has spent 39 years at Sotheby's, where she has helped sell some of the rarest and most valuable timepieces in history, many of which are now returning for Masterworks of Time.
---
Highlights
The Space Traveller I will headline the first sale in London on July 2, 2019, with an estimate of £700,000-1m.
Named after the fact that it displays both mean solar time and sidereal time, this was the original Space Traveller that was finished in 1982, and shortly after sold by London antique watch dealer Bobinet.
The buyer of the watch then sold it at auction in 1988 for a record 220,000 Swiss francs, the last time it was publicly offered.
The year he sold the first version, Daniels started on the Space Traveller II, which sold in 2017 for US$4.32m, fees included.
Also in the same auction is an 18th century predecessor of the Space Traveller. Made in 1778 by George Margetts and numbered "1", this pocket watch has an astrolabe dial showing the constellations, mean solar time, moon phases, and tide levels. This has an estimate of £180,000-220,000.
A day later on July 3, the second instalment of the auction will see this magnificent Vacheron Constantin chinoiserie portico clock go under the hammer.
Typical of ultra-luxe clocks of the 1920s – examples by Cartier are probably the best known of the genre – this lavish clock from 1926 is made of rock crystal and onyx, and inlaid with coral and mother of pearl, and most probably made by Parisian jeweller Verger Freres. Its estimate is £250,000-400,000.
And in November 2019, an uber-watch by A. Lange & Söhne will go under the hammer. Sold almost three decades ago for a record price that still stands for the brand, Lange pocket watch no. 41000 was made for the 1900 Paris Exposition.
It features a movement boasting a one-minute tourbillon with pivoted detent escapement inside a platinum case decorated with a miniature enamel symbolising the dawn of the new century. This is estimated at £700,000-1m.
The watches in the collection be sold in five auctions:
George Daniels, Visionary, London on July 2, 2019
Treasures, London on July 3, 2019
Adolf Lange, The Golden Era of Glashütte, Geneva in November 2019
Abraham Louis Breguet: Horologist Extraordinaire, New York in June 2020
Exports for the Eastern Market, Hong Kong in October 2020
Stay tuned for more details.
---
Correct June 6, 2019: The Space Traveller I was sold by watch dealer Bobinet and subsequently at Sotheby's. It not purchased by Theodore Beyer as stated in an earlier version of this article; Beyer had bought the preceding watch Daniels produced.
Back to top.
---
You may also enjoy these.