Year in Review: The Best Watches of 2021
The great, the good, and the shrewdly strategic.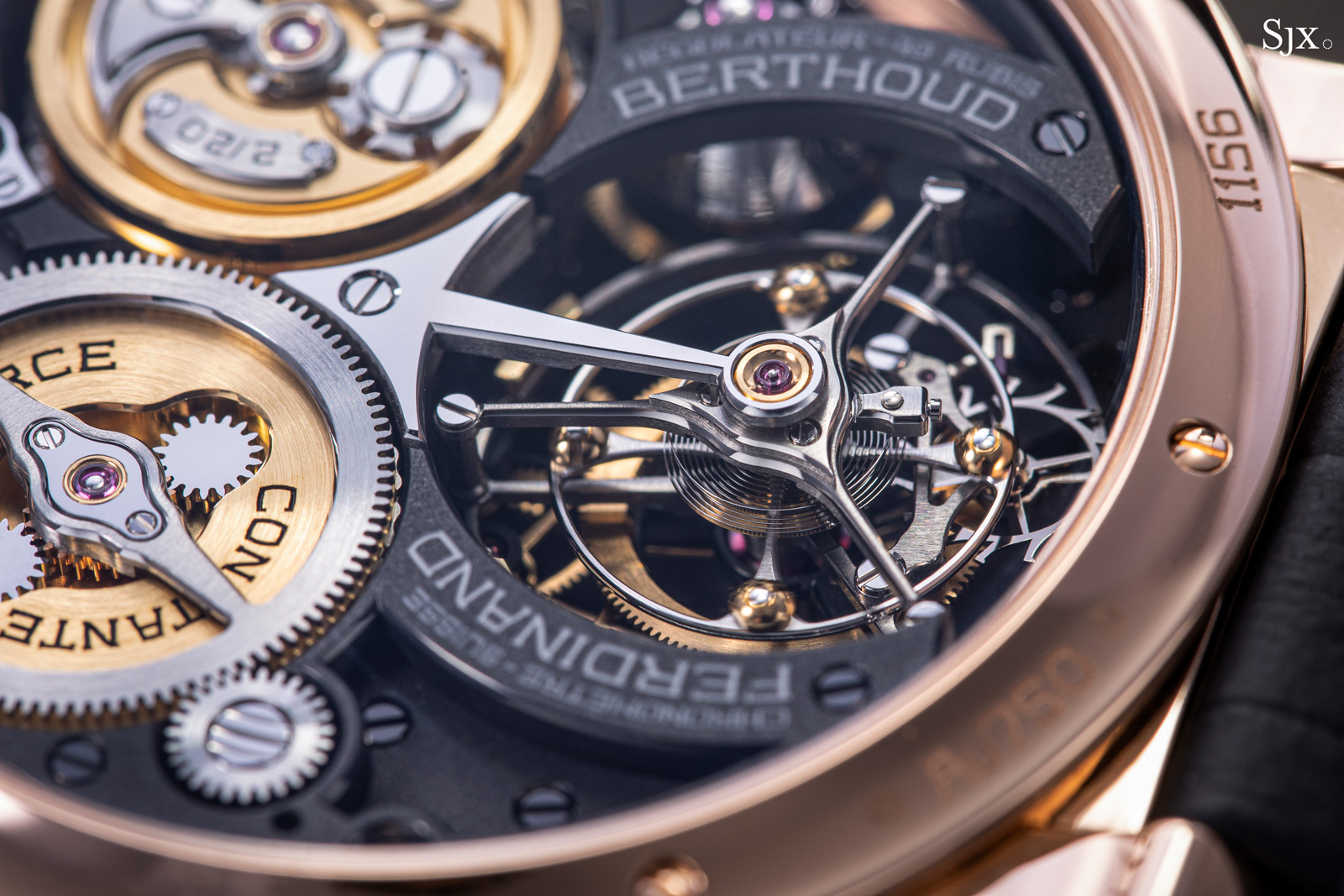 A trend that has been repeating across industries during 2021 also transformed the luxury-watch business during the year – an insatiable demand for watches and supply perennially falling short. Although there were new launches throughout the year – which kept enthusiasts continually entertained – the "novelties" for 2021 were mostly not the sort typical of the go-go years.
New products was arguably less exciting than business would imply, largely because new watches take several years to develop and the uptick in business became seemingly overnight. Many high-profile new launches were predictable variations of familiar models.
Nevertheless, there were standouts. Here are a dozen of the year's best watches picked by our editors (or even owned by some of them, but alas not the Vermeer). Led by a magnificent art-complication, the list includes several technical highlights – from an impressive time-only movement from Patek Philippe to Richard Mille's ingenious winding mechanism – and of course a few affordable watches on the list.
---
All-in-one
Vacheron Constantin Les Cabinotiers Westminster Sonnerie – Tribute to Johannes Vermeer: "This pocket watch is the epitome of high-end horology, blending both art and engineering. While the base movement within is derived from the mega-complicated Ref. 57260 pocket watch, the Vermeer's movement has arguably been clarified to its essence.
It is mechanically magnificent, packing in both a tourbillon regulator and grande et petite sonnerie with Westminster carillon – a combination that's rare even with the proliferation of complications in modern watchmaking. And it is also a modern calibre, instead of being a vintage movement as is sometimes use for grand complication pocket watches.
But it's the decoration on the case that truly sets this watch apart. Both the front and back are enamelled, the front with an elegant, white enamel dial and the back with a masterpiece: a miniature enamel of Vermeer's Girl with a Pearl Earring done by Anita Porchet, perhaps the best enameller in watchmaking.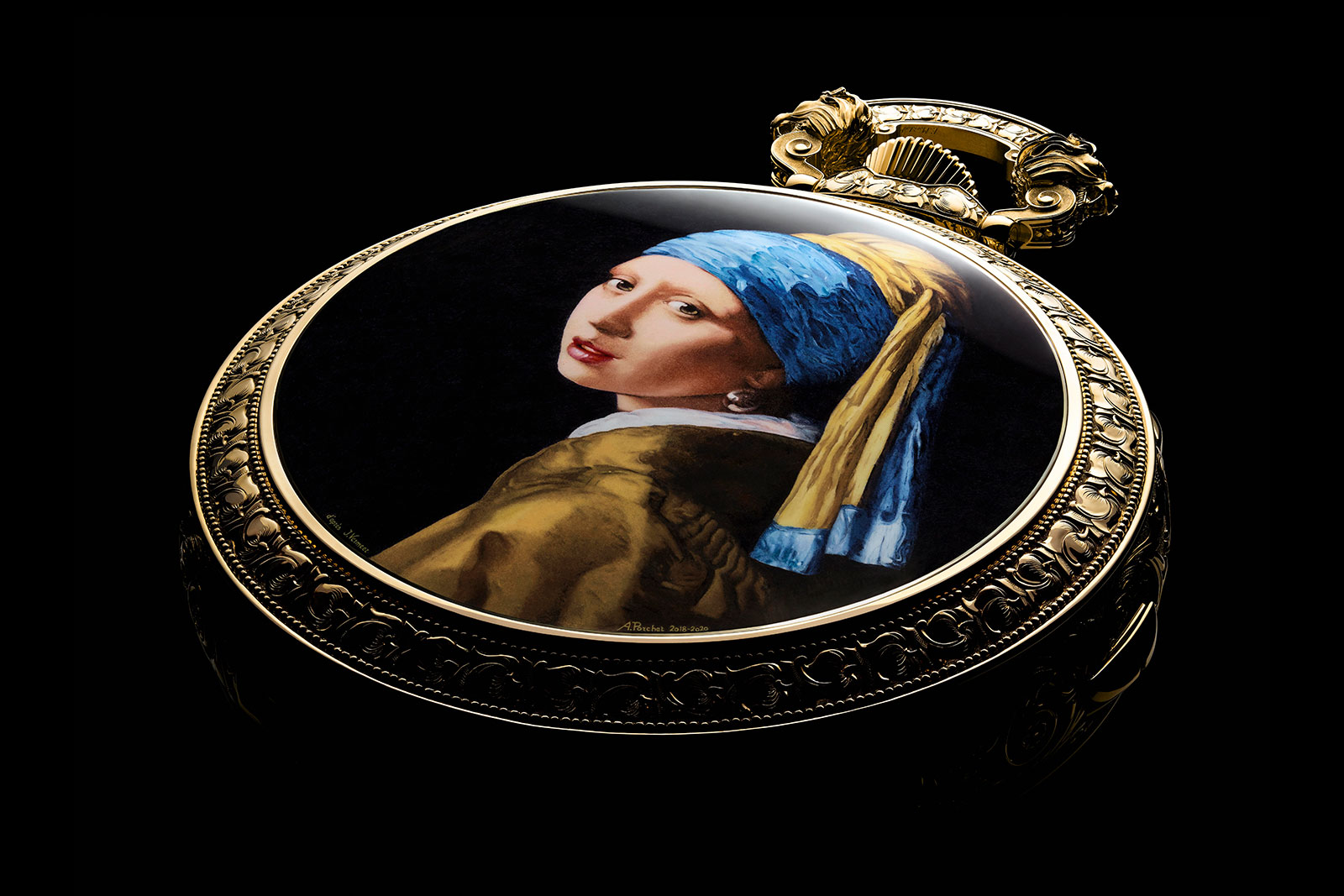 The impressive decoration continues on the immense case that's almost 100 mm wide – a size that brings to mind 17th century coach watches – that is entirely engraved in relief. The case is covered with acanthus leaves and tulips, flanked by a beaded border inspired by a string of pearls, while the bow is made up of a pair if roaring lions." – Sheng Lee
---
Ingenious and inventive
F.P. Journe FFC Blue: "Exceptionally inventive even by Francois-Paul Journe's standards, the FFC Blue is a brilliantly simple yet entirely novel way of telling the time.
Granted Mr Journe had help from Francis Ford-Coppola in conceiving the watch, but the extremely complex mechanics behind the time display are entirely his own. Eight cams are required to drive the extension and retraction of the fingers, while the thumb pivots in and out.
Despite all of that, the watch is thin in the typical F.P. Journe manner, standing under 11 mm high. The only downside of this watch, or more accurately the serially-produced version of the FFC, is that availability will be essentially naught – perhaps ten will be made a year with a retail price in excess of CHF500,000." – SJX
Breguet Reine de Naples Cœur 9825: "A Breguet ladies' wristwatch is surely a surprise pick for the years best. But the Reine de Naples Coeur is not just a piece of jewellery but also a serious example of horology. With a movement designed from the ground up for a woman's watch – a rarity in watchmaking – the Cœur has an appeal that is subtle but impressive once you understand it.
The intriguing time display isn't apparent in pictures. The unique display is centred on an open, heart-shaped minute hand formed from two separate wires, which expands and contracts to trace the oval dial. It's a modern, minimalist take on the famous "expanding hands" pocket watches made by William Anthony in the 18th century, but still clever and fascinating three centuries later.
Less obvious is Breguet's ability to form fine, elegant designs. The asymmetric, ovoid case – certainly more complicated to manufacture than a round case – is delicate and graceful, while the ornamentation on the dial gives it a romantic feel, which is appropriate for a watch launched for Valentine's Day." – Sheng Lee
---
Technical standouts
Richard Mille RM 35-03 Automatic Rafael Nadal: "Perhaps a surprising entry is the RM35-03, which secures its place with the intriguing mechanism that varies the winding of the rotor. It is tempting to dismiss the "butterfly" rotor as simple, but closer inspection reveals a fascinating mechanism that changes the position of the rotor halves to vary the winding.
It uses a unique, pivoting lever system, which effectively works as a differential gear system and has a slight resemblance to similar mechanisms found in the gravity remontoirs of clocks. This is a more intricate solution than a simple brake for the rotor, which makes it horologically fascinating." – Richard Lee
A. Lange & Söhne Lange 1 Perpetual Calendar: "The Lange 1 Perpetual Calendar (L1 QP) is superficially familiar, because it is almost identical to the Lange 1 Perpetual Calendar Tourbillon, which has its tourbillon hidden regulator. The familial resemblance is a good thing, because the Lange 1 dial is instantly appealing, and boasts good readability as a calendar.
But the L1 QP required serious reworking of existing movements , resulting in a watch technically impressive enough to mark it out one of the smartest perpetual calendars on the market. For one, it has an instantaneous display – all indicators jump at midnight – that is mechanically programmed with a smart and efficient calendar ring system that was developed in house, a notable innovation over the traditional calendar mechanism.
Importantly, the L1 QP remains an impressive watch even with the calendar works are hidden. The 42 mm case is huge for a Lange 1, but arguably just right since it optimises legibility of the calendar. And because the case is impressively solid as all Lange cases are, the watch has a majestic feel that brings to mind an extra-long luxury sedan like the Mercedes Maybach." – Sheng Lee
Ferdinand Berthoud FB RS Régulateur Squelette: "While based on an existing model, the FB RS is a beautifully executed example of open-worked design that manages to evoke traditional chronometer movements. Just the right amount of the dial has been cut away to reveal the impeccably finished movement, while still preserving legibility and overall visual coherence.
The movement reveal is important, as the calibre is the highlight. The base movement is packed with technical features that will appease even the most jaded enthusiast – including an interesting gear train layout, a fusee and chain, as well as a large tourbillon.
The tourbillon deserves special mention, as it is arguably one of the most elaborately finished tourbillon cages in modern watchmaking. And now it finally gets the exposure it deserves – from both the front and back thanks to the open-worked dial – as the dial on the original model concealed most of the tourbillon." – Richard Lee
Patek Philippe Calatrava Ref. 6119 "Clous de Paris": "While simple, the new cal. 30-255 PS inside the Patek Calatrava ref. 6119 should be lauded for its technical accomplishments.
A watch dedicated to good timekeeping will ideally boast three qualities – a high frequency of 28,800 beats per hour or more, a large balance wheel with high inertia, and a long power reserve. Most watches have to compromise one or two of these characteristics to achieve the other(s).
However, the cal. 30-255 achieves all three – its high inertia balance wheel beats at 4Hz, which puts it among the top ranks of HDF scorers. And it is equipped with two massive mainspring barrels that unwind in parallel to power the torque-hungry escapement. This on paper, should make it a very stable timekeeper – which is ironically an often overlooked trait of a fine timepiece." – Richard Lee
(Honourable mention) Patek Philippe Ref. 5236P In-line Perpetual Calendar: "It is always exciting when Patek Philippe comes up with something entirely new, and the ref. 5236P is exactly that.
The display is inspired by pocket watches with a linear calendar, but Patek Philippe managed the impressive feat of cramming all the calendar discs into a relatively compact watch of 41.3 mm in diameter, while still having them highly legible.
This is achieved with a unique configuration of coaxially-mounted calendar discs within the upper half of the dial, driven by a traditional perpetual calendar mechanism in the lower half. And in typical Patek Philippe style, numerous, patented innovations were incorporated into the mechanism to ensure its reliability – but implemented discreetly without much fanfare.
But putting it next to the time-only ref. 6119 above is where the ref. 5236P falls slightly short. Its base movement, the cal. 31-260 PS QL, which was derived from the cal. 31-260 found in the ref. 5235, is a fine calibre but pales in comparison to the outstanding cal. 30-255 of the ref. 6119, which would've been ideal to power the perpetual calendar mechanism thanks to its high torque, albeit with the inconvenience of being a manual-wind. And perhaps it is too much to ask for, but the ref. 5236P would've been absolutely stellar if the perpetual calendar was instantaneous." – Richard Lee
---
Broadly significant
Tudor Black Bay Ceramic: "The Black Bay Ceramic seems like yet another all-black dive watch, but it is one of the most significant watches of the year. Not so much for its intrinsic qualities, though it is a strong value proposition, but because of what it reveals about Tudor's long-term strategy, and by extension, that of Rolex.
I wrote at length about it, but put briefly, the Black Bay Ceramic cleverly adopted a certification heavily marketed by Omega, but at a far more affordable price. It's the first Tudor wristwatch that's a METAS-certified chronometer, making it a Master Chronometer. Read my editorial for the full story." – SJX
---
Craftsmanship and quality
Kudoke 2 "Zodiac": "Admittedly this is a choice laden with bias but its merits stand on its own.
The Zodiac encapsulates a lot of what I appreciate about independent watchmaking and also my goals with collaboration editions. It is unique, distinctive, artisanal, and also a value proposition considering the level of craft relative to the price.
The Zodiac did feel a bit risky during development since Kudoke hadn't done anything remotely similar before, but I am thoroughly pleased with how it turned out. It is a notable watch of 2021, regardless of whether I had a hand in developing it." – SJX
Citizen Caliber 0200: "Steel sports watches are a dime a dozen in modern watchmaking due to their explosion in popularity, with varying degrees of success in execution. Nevertheless, the Citizen Caliber 0200 remains a standout – offering exceptional quality within its segment.
It is one of the timepieces reviewed earlier this year with much glowing praise – and deservedly so – for the quality of both the case and movement are top notch. The new movement takes the spotlight – a no-nonsense, in-house automatic movement developed by Citizen with aid from La Joux Perret for the well-executed finishing. This is greatly complimented by being packaged in a best-in-class steel case and bracelet.
Despite some minor shortcomings, it is extraordinary enough as a whole that I personally ordered one for myself, and eagerly await receiving it." – Richard Lee
---
The affordable
Tudor Pelagos FXD: "Tudor had a good start to 2021 with its launches at Watches & Wonders that were either surprising or appealing. In fact, the line-up was good enough Tudor could have called it a year and done well.
But the brand continued to launch new watches, and ended the year with the best one: the Pelagos FXD "Marine Nationale". It's the most serious, but also affordable, "tool watch" of the year – and I knew I had to get one as soon as it dropped.
The appeal of the FXD lies in the purity of its concept and execution. Unlike the prior Black Bay divers that are have been designed to cater to the civilian market, resulting in frills like "gilt" dials and so on, the FXD has a rugged, even bland styling that screams practicality, making it a sterling example of a no-nonsense instrument.
Admittedly it isn't a pretty watch, but the FXD is reassuringly handsome in the metal. And its functional features are cool; that includes the fixed strap bars and case back engraving, so it has quickly become a watch I strap on often." – Sheng Lee
---
Back to top.
---
You may also enjoy these.