Richard Mille Introduces the RM 65-01 Automatic Split-Seconds Chronograph
The first self-winding rattrapante.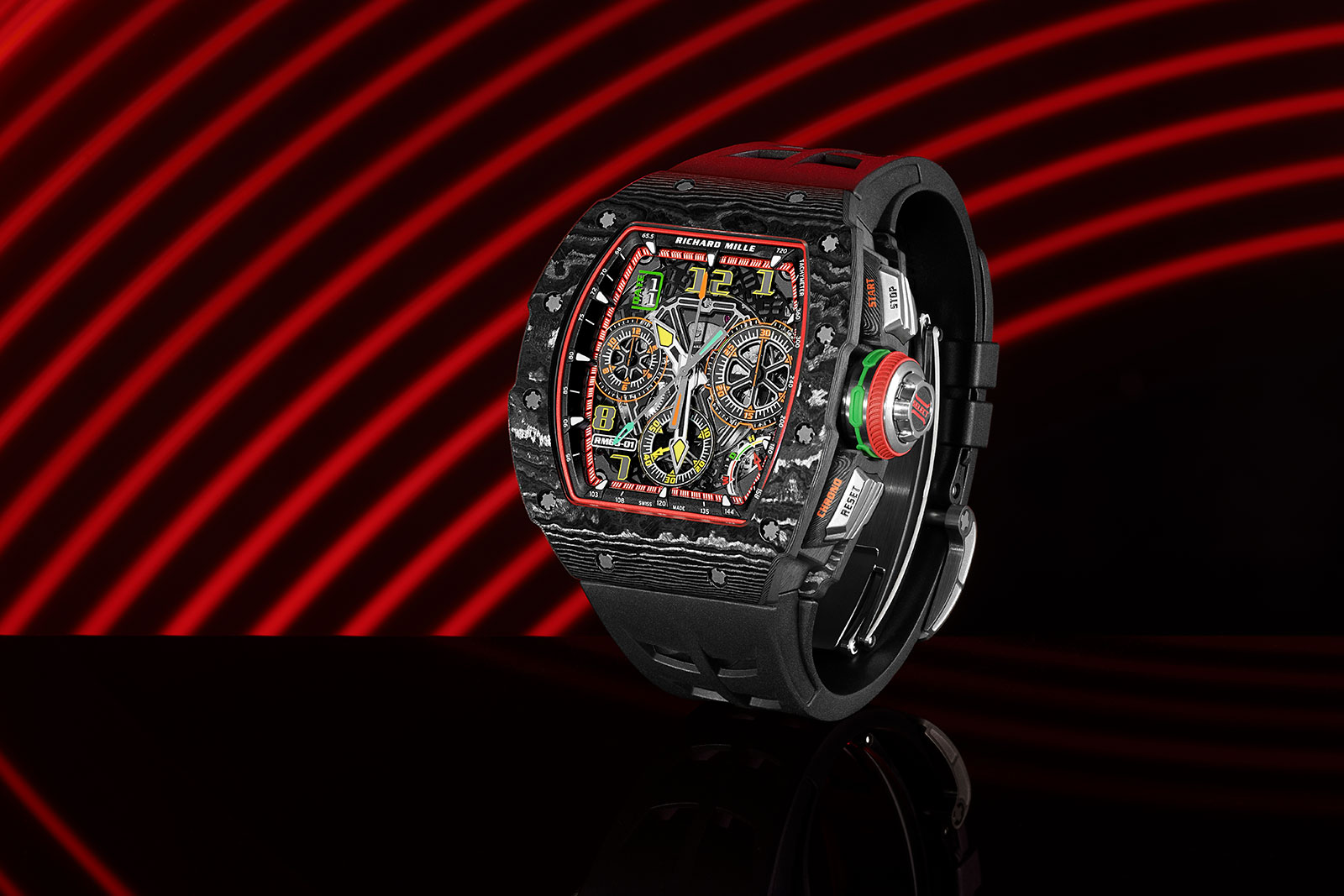 Hot on the heels of the RM 72-01 powered by the brand's first in-house chronograph movement, Richard Mille has just introduced the RM 65-01 Automatic Split-Seconds Chronograph, continuing its historical focus on ultra high-end chronographs, which began with RM 004 of 2003.
Not only is the RM 65-01 the first self-winding split-seconds chronograph from Richard Mille, it'll also be the brand's first serially produced watch with the complication, joining watches like the RM 11 as a mainstay of the line up.
Initial thoughts
Highly-complex chronographs are embedded in Richard Mille's DNA – the company's first chronograph was RM 004, which was a hand-wind, split-seconds powered by a Renaud & Papi movement. And in the space of a year, Richard Mille has unveiled two all-new chronographs, starting with the RM 72-01, and now the RM 65-01.
The RM 65-01 is typically Richard Mille in style and materials, exuding sportiness with its techno-industrial movement finish, skeletonised dial, and multicoloured indicators. On any other watch, the colours would look like the designers are trying too hard, but in the RM 65-01, they just work.
The movement, however, is notable for being a technically accomplished calibre produced by Vaucher, the respect movement specialist that's a sister company of Parmigiani. Historically Vaucher has only supplied movements for the brand's entry-level timepieces, while the more complicated calibres were made by Renaud & Papi or done in house.
Based on the Vaucher VMF 6710, the RMAC4 inside the RM 65-01 is a high-frequency movement running at 36,000 beats per hour that has an integrated split-seconds chronograph, making it one of the most sophisticated movements in Richard Mille's collection, and certainly the most impressive calibre that isn't a tourbillon or grande complication.
And it also has a novel, a slightly gimmicky feature: a button on the case flank that can be used to wind the watch, much like the Roman Gauthier Logical One. Unlike the Logical One, however, the RM 65-01 can also be wound with the crown, making the addition of the "rapid-winding" pusher seem like a bit of an affectation. And requiring 125 presses to fully wind the mainspring, the rapid-winding mechanism isn't so rapid after all.
The RM 65-01 is not limited in production, but will no less be produced in very small numbers. It combines exotic materials and a high-end chronograph, and the price, though astronomical, is par for the course for Richard Mille.
RM style
Like previous Richard Mille chronographs, the RM 65-01 doesn't feature a dial as much as it does a skeletonised frame that is set over the movement – there is no traditional dial to speak of. Though there is a dizzying array of information on display, the indications have been cleverly colour-coded: the time indication is highlighted in yellow; the chronograph minute and hour totalisers, at three and nine o'clock respectively, are highlighted in orange; while the date is in green.
The rubberised outer face of the crown is a function selector working in tandem with the indicator at five o'clock that's colour-coded according to the function: "W" for winding,  "D" for setting the date, or "H" for time setting.
And the tachymeter scale has been printed on the steeply-sloping flange, which adds a measure of depth to the dial and serves as an anchor point for the triangular hour indices.
Like all contemporary Richard Mille watches, the RM 65-01 is big – 44.5 mm wide, 50 mm long, and just over 16 mm high – but its ergonomics are good. Thanks to the tonneau-shaped case with a curved case back, as well as the lightweight carbon composite case, the watch will wear far more comfortably than its dimensions suggest.
The RM 65-01 is available in two case materials – carbon TPT, or a combination of red gold and carbon TPT. The carbon composite case components are made by Swiss composite specialist North Thin Ply Technology (NTPT), which has supplying thin-ply carbon composites exclusively to Richard Mille since 2018.
Made up of layers of carbon fibre within a polymer, the composite has distinctive, striped appearance that is a defining feature of most current Richard Mille watches. Another composite used in the RM 65-01 is red quartz TPT, which forms the rapid-winding pusher.
Not just a pretty face
The RMAC4 within is derived from the Vaucher VMF 6710 that made its debut as the PF361 in the Parmigiani Fleurier Tonda Chronor Anniversaire. While both the Richard Mille and Parmigiani versions of the movements are the same underpinnings, they are executed in drastically different ways. Whereas the Parmigiani movement had its bridges and base plate crafted out of solid 18k red gold, the RMAC4 favours titanium and a techno-industrial aesthetic.
Though the look is modern, the RMAC4 is fairly traditional in construction, unlike the CRMC1 movement in the recent RM 72-01, which has pair of unconventional oscillating pinions connecting the chronograph to the gear train. The RMAC4, on the other hand, relies on the traditional vertical clutch and dual column wheels for the split-seconds.
But the high-frequency balance of the RMAC4 is unusual. Historically, such movements had been eschewed in favour of those running at a conventional 28,800 beats per hour, or 4 Hz, since a lower beat rate implies less wear and tear. Rolex famously lowered the beat rate of the Zenith El Primero used in the Cosmograph Daytona, and high-beat chronographs remain rare even today.
A higher beat rate offers increased functionality, particularly in chronographs, since it allows for recording elapsed time in greater resolution. While a 4 Hz chronograph can only time events with a precision of up to 1/8th of a second, a 5 Hz movement offers precision of 1/10th a second. This is all academic of course – there are far more accurate electronic instruments available today – but true to its nature as a purpose-built chronograph, the RMAC4 has a 5 Hz beat rate.
Like most Richard Mille movements, the RM 65-01 was conceived to be highly shock resistant, and ideal for a watch meant to be worn hard. The balance wheel is anchored by a full bridge for more stability, and the entire movement is mounted on rubber spacers instead of a conventional metal movement ring.
The movement is finished in great detail, albeit in the style characteristic of Richard Mille. The titanium bridges and plates are skeletonised, black coated, and feature recessed centres with a frosted surface that are surrounded by raised borders finished with a neat linear brushing.
---
Key Facts and Price
Richard Mille RM 65-01 Automatic Split-Seconds Chronograph
Diameter: 44.5 mm by 50 mm
Thickness: 16.10 mm
Material: Carbon composite, or carbon composite and red gold
Crystal: Sapphire
Water resistance:  50 m
Movement: RMAC4
Functions: Hours, minutes, seconds; semi-instantaneous date; split-seconds chronograph; push-button for rapid winding; function selector crown
Winding: Automatic
Frequency: 36,000 beats per hour (5 Hz)
Power reserve: 60 hours
Strap: Rubber with folding clasp
Limited edition: No
Availability: Only at Richard Mille boutiques
Price: Carbon TPT – US$310,000 or 270,000 Swiss francs
For more, visit Richardmille.com.
---
Correction December 20, 2020: A 5 Hz movement can theoretically measure 1/10th of a second, instead of a 10 Hz movement as stated in an earlier version of the article.
Back to top.
---
You may also enjoy these.

Now sportier and in carbon composite.

With a brand-new, in-house movement.

Richard Mille continues to forge ahead in carbon composites with its new gold leaf and carbon cases on a pair of new ladies' watches, the RM 07-01 Gold Quartz0TPT and the RM 037 Gold NTPT Carbon.