MB&F Unveils The MusicMachine 3, The Star Wars-Inspired Music Box (With Pricing)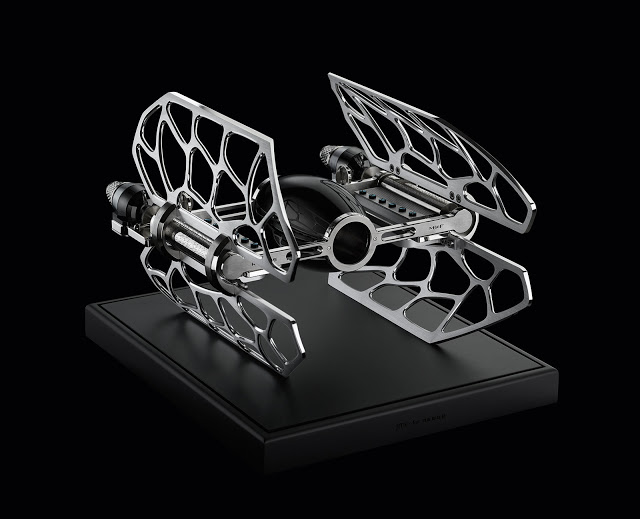 The MusicMachine 3 is the third music box from MB&F, but like the brand's watches and clocks, the MusicMachine departs from convention. Shaped like a TIE fighter, it plays tunes from James Bond and The Godfather.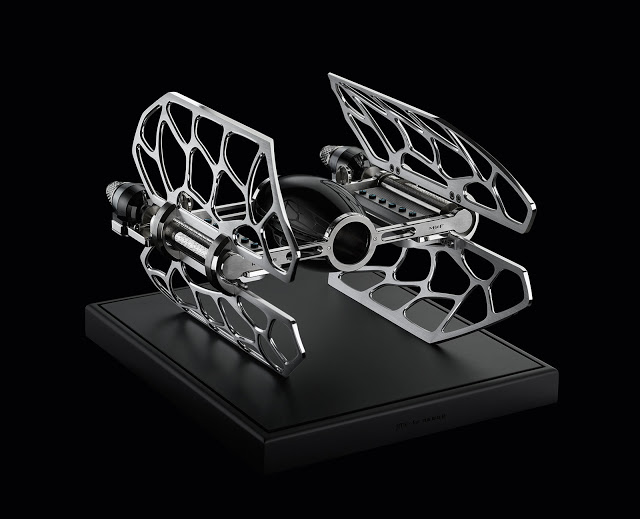 Established as a maker of timepieces in avant-garde shapes, MB&F founder Maximilian Büsser has expanded the brand into clocks and music boxes in the same vein – having them made with traditional methods but in radically novel forms (the previous MusicMachine was Star-Trek inspired). Shaped like a TIE fighter, the MusicMachine 3 (MM3) is a collaboration with Swiss music box maker Reuge and JMC Lutherie, a guitar maker. The MM3 features twin movements on each side of the central pod, with the web-like wings on each side transmitting the sound down to the wood base that amplifies the music. Each movement is wound independently via keys shaped like thrusters, with each cylinder playing three tunes.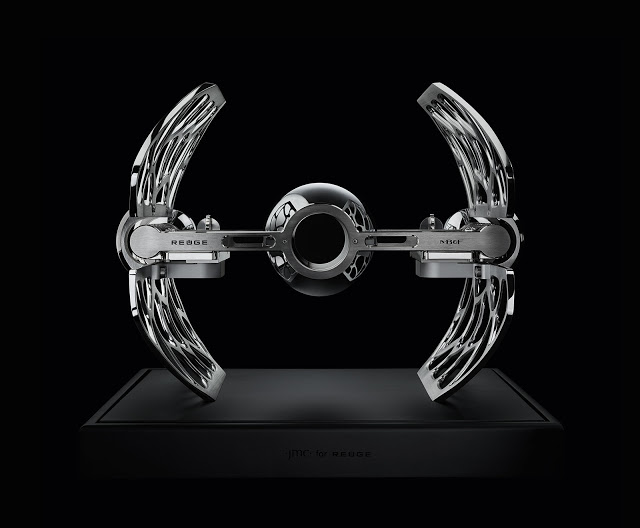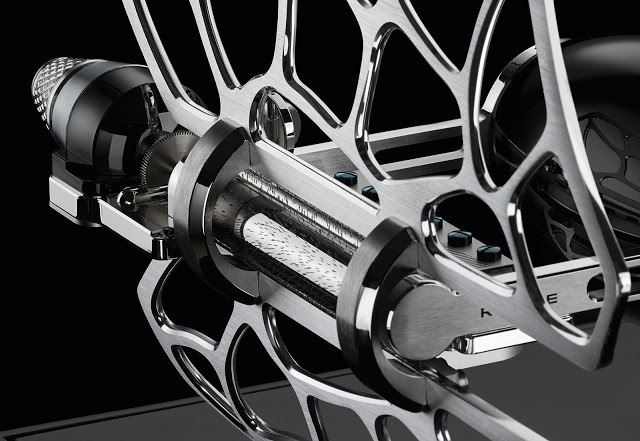 A closeup of the music cylinder
The themes from Star Wars, Mission Impossible, and James Bond are found on the right cylinder, while the left plays the theme music of The Godfather, Merry Christmas, Mr. Lawrence, and The Persuaders. This video shows it in action: A relatively large object weighing some 6kg, the MM3 measures 40mc long and 34cm wide, while standing 28cm high. It will make an impression on any desk.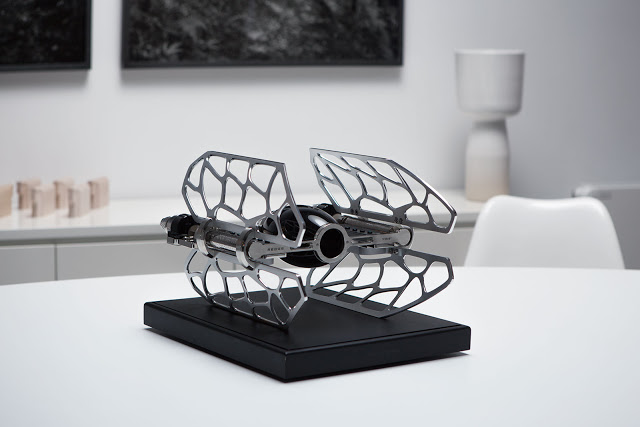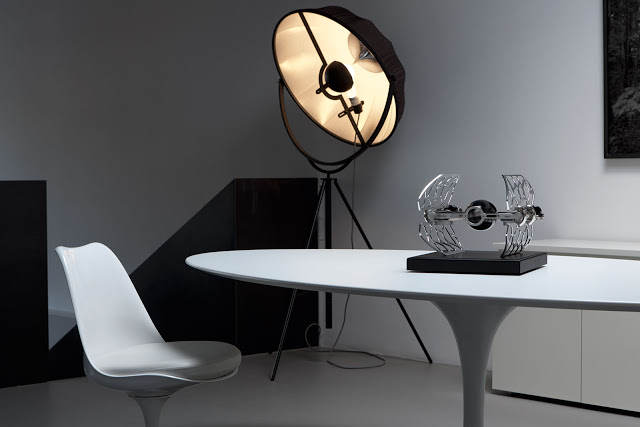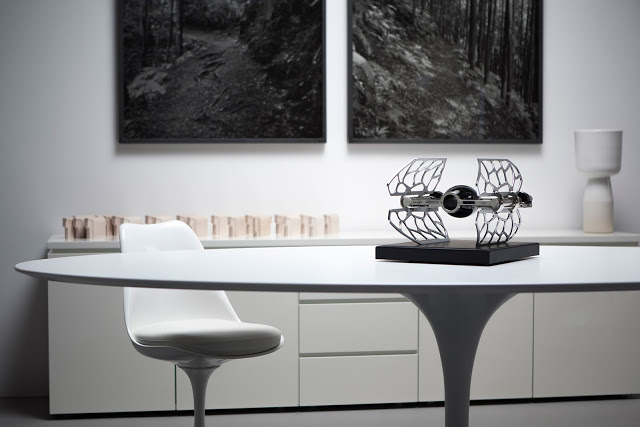 The MM3 is a limited edition of 99 pieces, with 33 each in white, black and chrome. It retails for SFr17,500 plus taxes.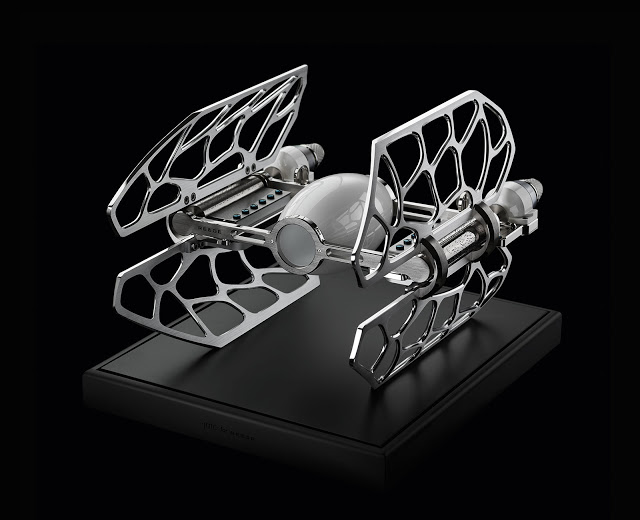 The MM3 in white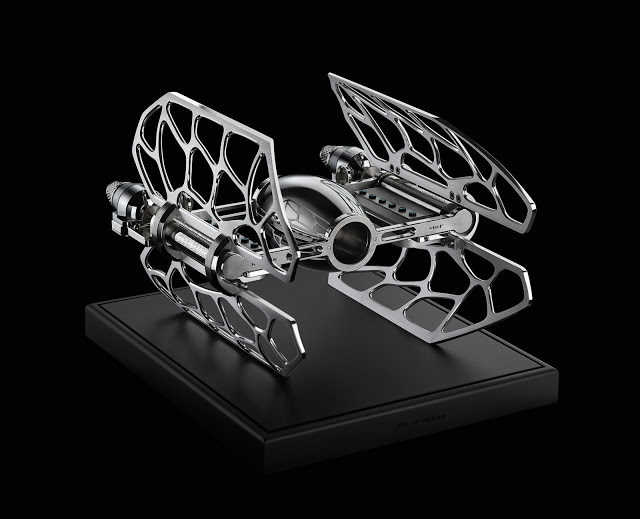 The MM3 in chrome
Back to top.
---
You may also enjoy these.