Japanese Deities in Miniature Enamel on Vacheron Constantin's Les Cabinotiers Repeater
Fujin and Raijin - Wind God and Thunder God.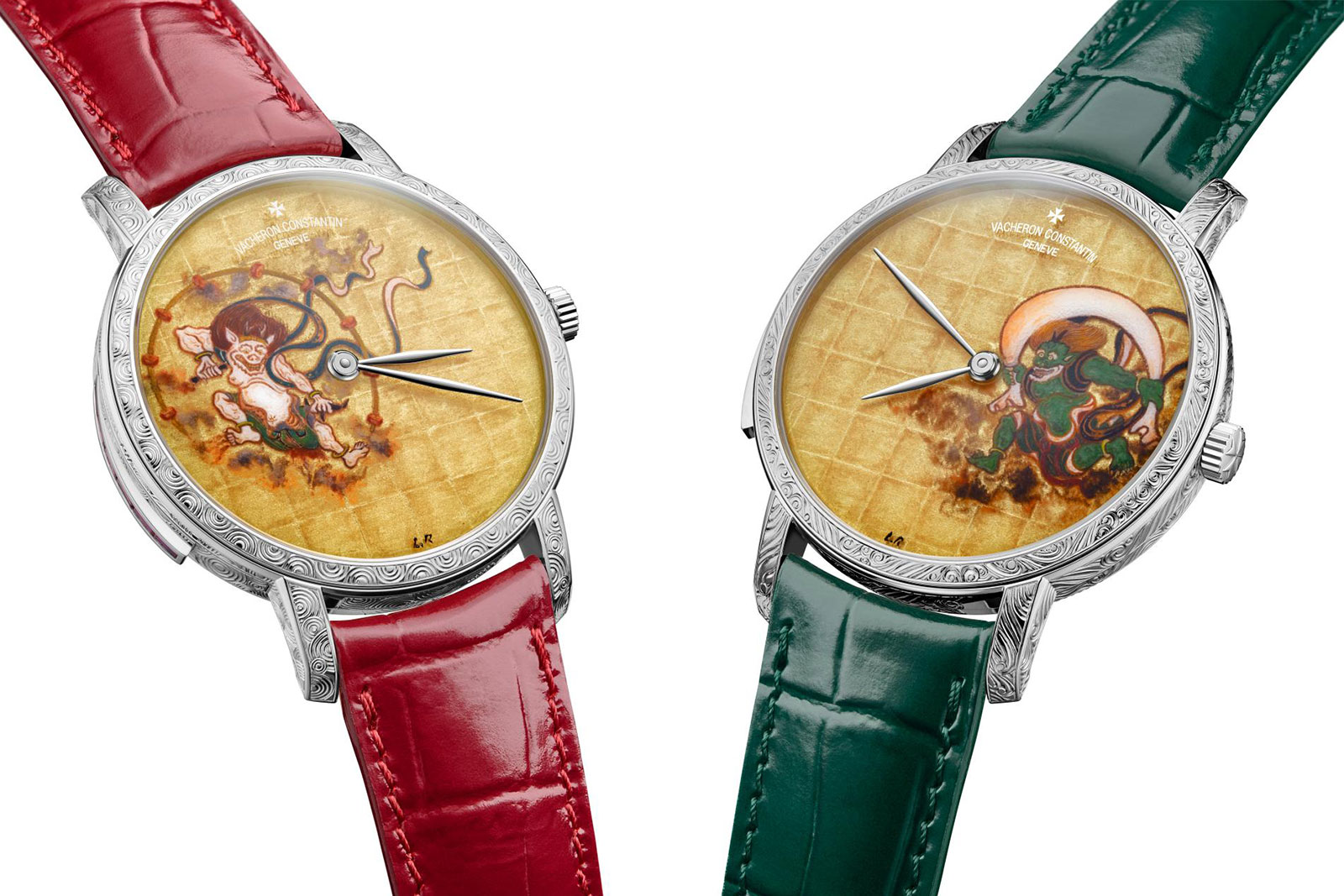 Taking place every two years in Venice, Homo Faber is an exhibition dedicated to craftsmanship of all forms, ranging from glass to porcelain to fabric. Because its organiser is the Michelangelo Foundation established by Johann Rupert, the plain-speaking chairman of Richemont, several of the Swiss group's watchmakers are taking part.
One of them is Vacheron Constantin, which is presenting a pair of one-off striking watches at Homo Faber – the Les Cabinotiers Minute Repeaters Ultra-Thin "Thunder God" and "Wind God". The watches each recreate one half of Wind God and Thunder God, a pair of folding screens made by 16th century Japanese painter Tawaraya Sōtatsu that depicts the titular gods of Japanese mythology.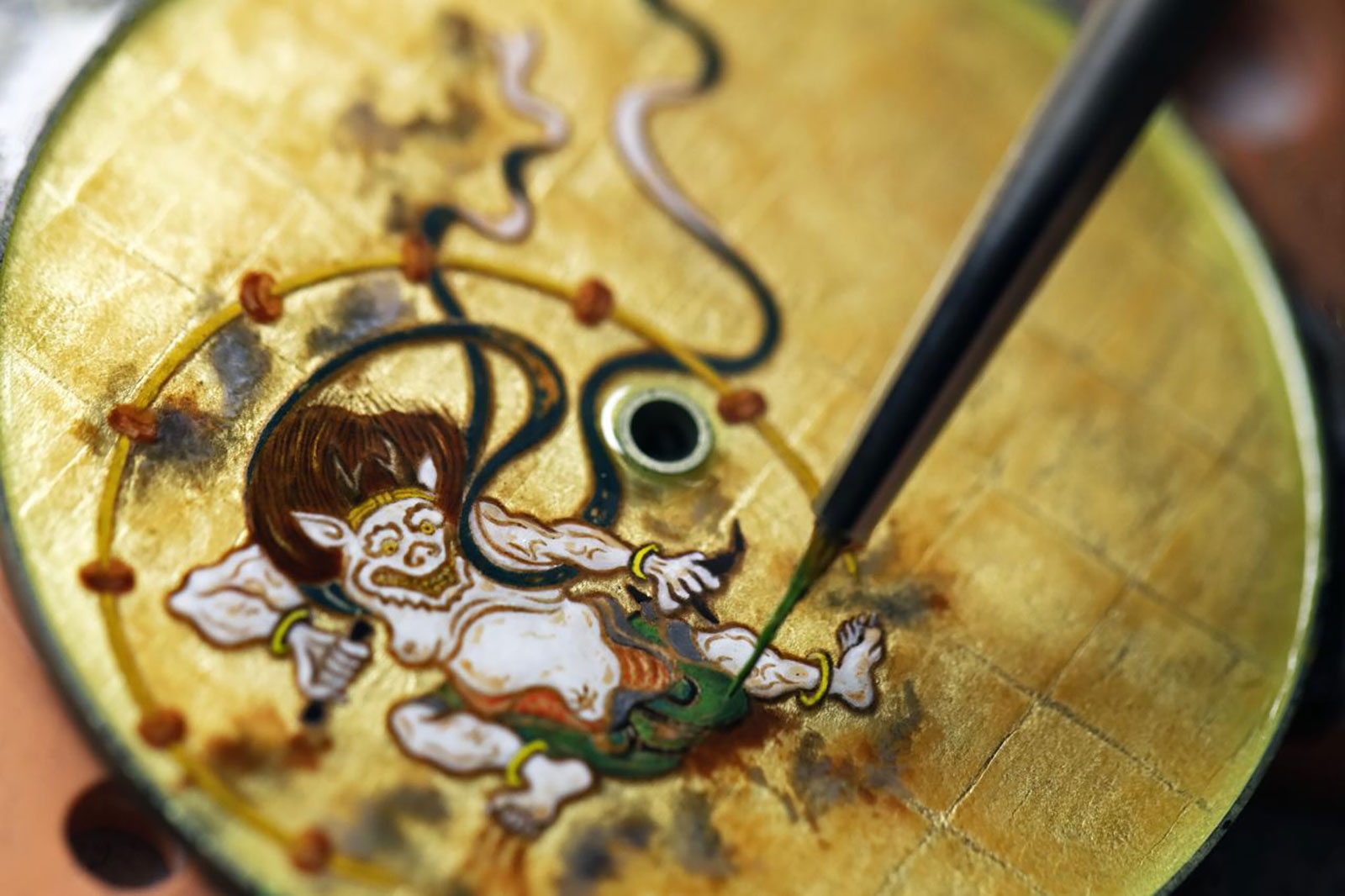 Initial thoughts
Owned by a temple in Kyoto, the folding screen is a National Treasure of Japan, a cultural object deemed so important by the Japanese government that it cannot be exported. The screen is certainly a worthy subject for a high-quality miniature, and Vacheron Constantin appears to have done justice to it.
The dial decoration is perfect for a repeater, since the brand's cal. 1731 minute repeater movement is relatively large, resulting in an expansive dial that is usually blank. It's an ideal canvas for artisanal decoration.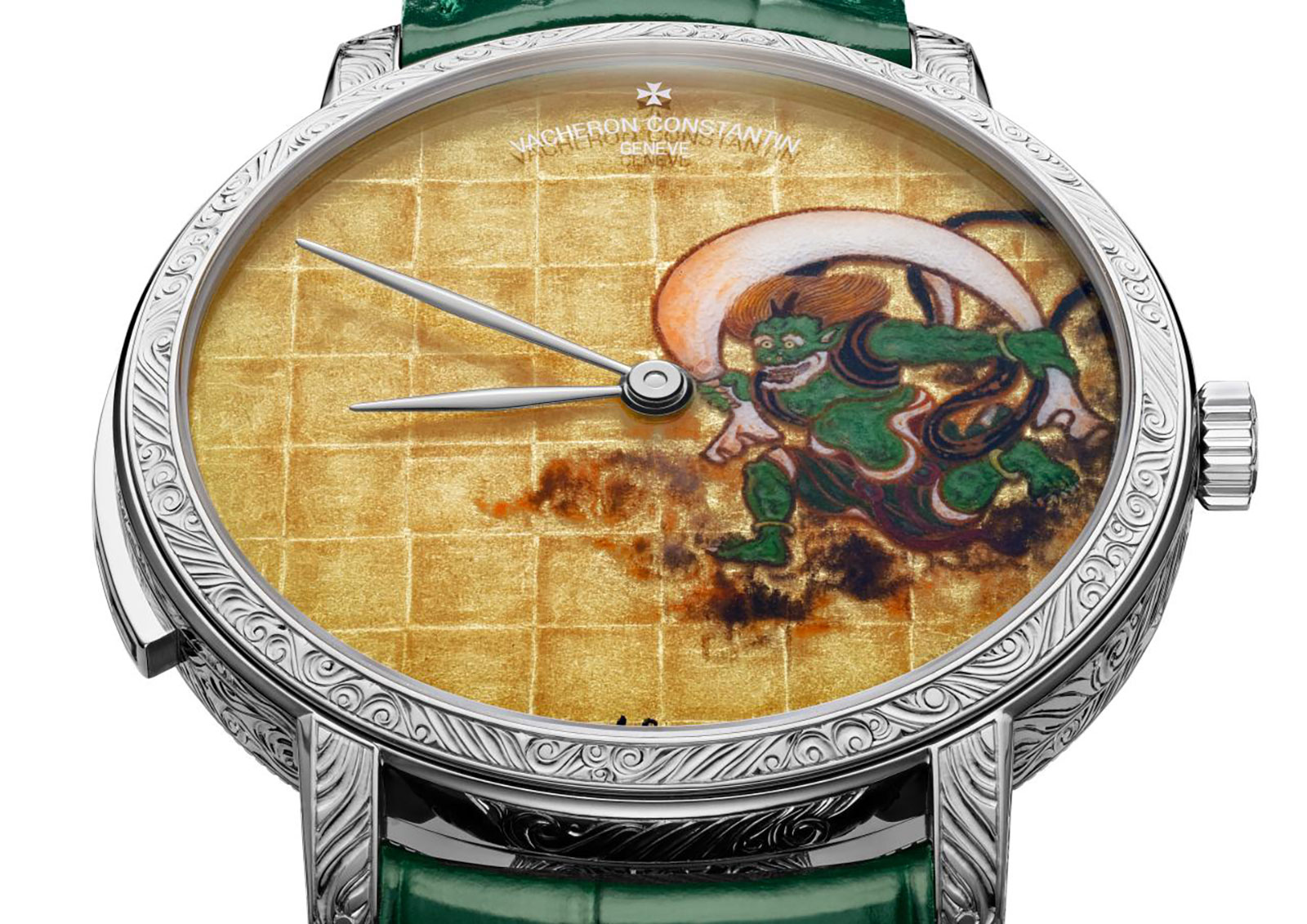 Vacheron Constantin's enamel work, whether in house or done by independent artisans like Anita Porchet, is usually impeccable. The repeater dials definitely look the part. In fact, the miniatures of the gods are impressive, but so is the background that captures the gold-leaf surface of the folding screen.
And like many of Vacheron Constantin's one-off complications, the cases of both repeaters are fully engraved. While such engraving can feel over the top on larger, thicker watches, it is a graceful complement to the dial in this case. With the narrow bezel and lugs, most of the front is occupied by the dial, so the engraving is intricate yet minimal.
And both watches have a tasteful, discreet accent – six narrow gemstones set on the repeater slide. They are amongst the most beautiful of Les Cabinotiers watches in recent memory.
Miniature enamel and engraving
Always depicted as a pair in Japanese art, Fujin and Raijin are the gods of wind and thunder respectively. Both are depicted as fearsome demons, with Fujin carrying a long bag of wind, while Raijin wields a set of Taiko drums arranged in a ring.
The duo are captured on the dials of the minute repeating duo, reproducing the matched pair of folding screens painted by Sōtatsu. Both watches have enamel dials executed in a similar manner.
The dials start out as a solid, 18k gold disc that is first engraved to form a fine chequerboard pattern meant to evoke the gold-leaf surface of the folding screen by Sōtatsu. This is then coated with a clear enamel that's fired in an oven, creating a glossy surface that will be the canvas for the miniature painting.
The respective gods are then painted in steps, with one or a handful of colours being applied before firing. Between six and seven firings are required to complete each dial.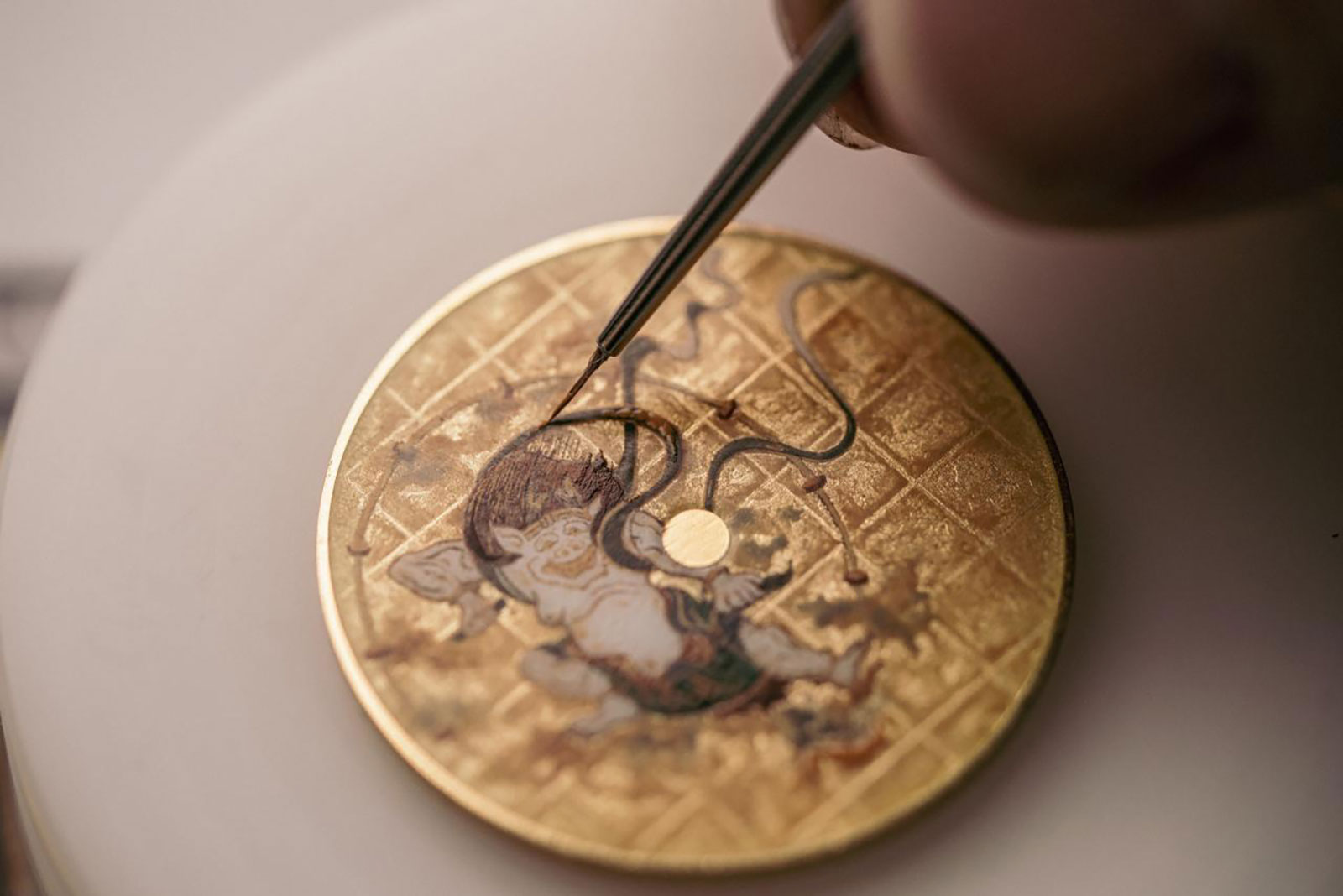 While both watches have the same 41 mm white gold case, each is hand engraved with a different motif that echoes the painting on the dial. The Wind God watch is engraved with a scroll-and-line pattern representing wind, while the case of Thunder God is decorated with spirals symbolising a storm.
Aside from the enamel dial and case engraving, both repeaters have an inconspicuous bit of bling on the repeater slide. Each has its slide set with six baguette-cut gemstones totalling 0.16 carats, tsarvorites for Wind God and rubies for Thunder God.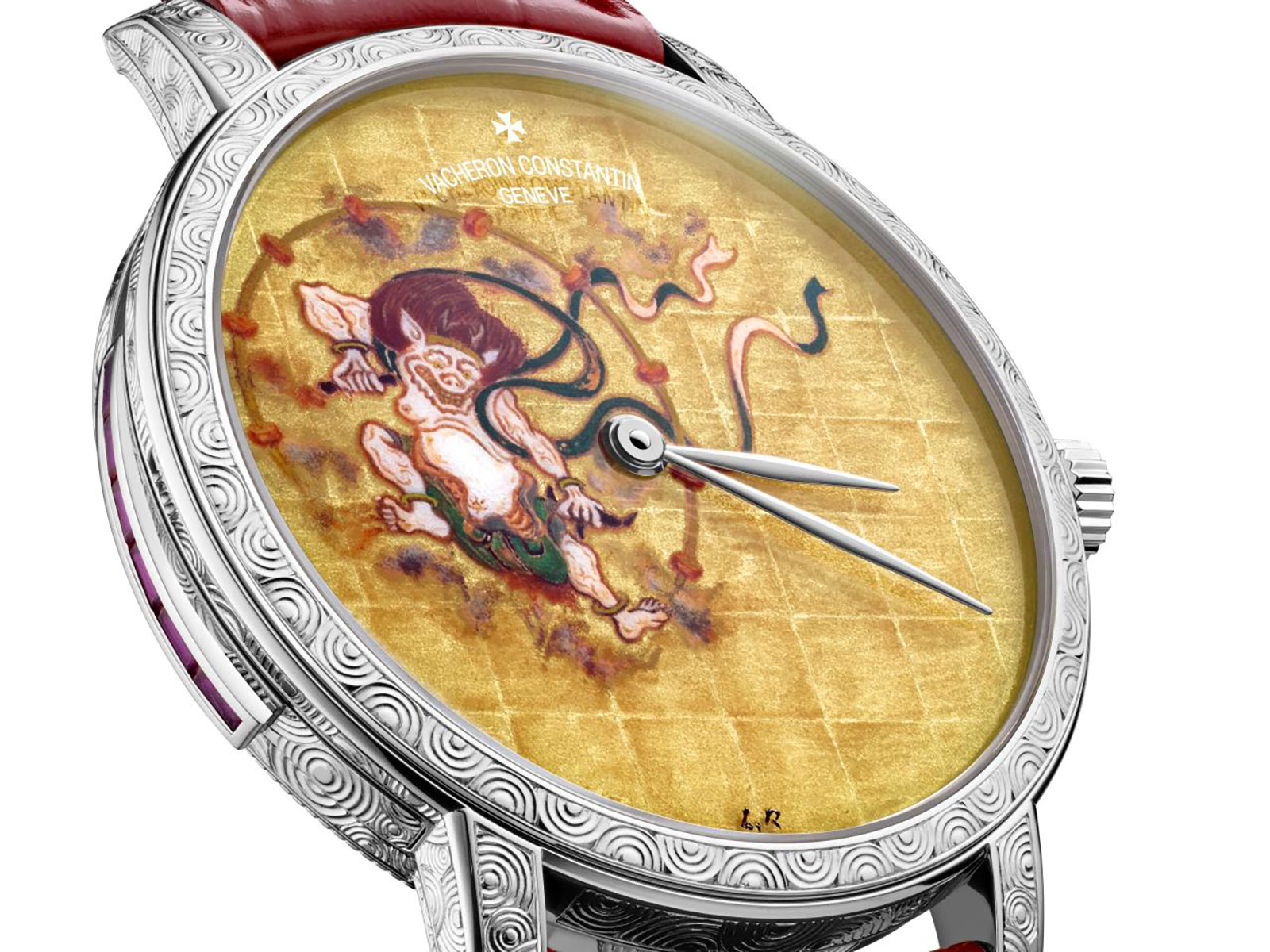 Like the other unique Les Cabinotiers minute repeaters, the Wind God and Thunder God pair utilise the Traditionelle case that is characterised by its straight lines and subtle Maltese cross incorporated into the flanks of the lugs. Notably, the Traditionelle repeater is not available as a regular-production model. Instead, the standard minute repeater in the catalogue is the Patrimony that has more rounded lines.
The pair, however, have the same movement as the Patrimony repeater, the cal. 1731. The slimmest minute repeating movement on the market at the time of its launch in 2013, the cal. 1731 is just 3.9 mm high, but still manages a 65-hour power reserve.
---
Key facts and price
Vacheron Constantin Les Cabinotiers Minute Repeater Ultra-Thin – Thunder God and Wind God
Ref. 6600C/000G-B731 (Thunder God)
Ref. 6600C/000G-B732 (Wind God)
Diameter: 41 mm
Height: 8.44 mm
Case material: 18k white gold, hand engraved and repeater slide set with gemstones
Crystal: Sapphire
Water-resistance: Not water-resistant
Dial: 18k gold disc decorated with hand engraving and Grand feu miniature enamel
Movement: Cal. 1731
Functions: Hour, minutes, and minute repeater
Winding: Hand-wind
Frequency: 21,600 beats per hour (3Hz)
Power reserve: 65 hours
Strap: Alligator with pin buckle
Limited edition: Each is unique
Availability: Only at Vacheron Constantin boutiques
Price: Upon request (as a reference, the standard Patrimony repeater is priced at about US$350,000)
For more information, visit Vacheron-constantin.com.
---
Back to top.
---
You may also enjoy these.