Highlights: The Interesting and Perhaps Overlooked at Phillips' Hong Kong Auction
Off the beaten path.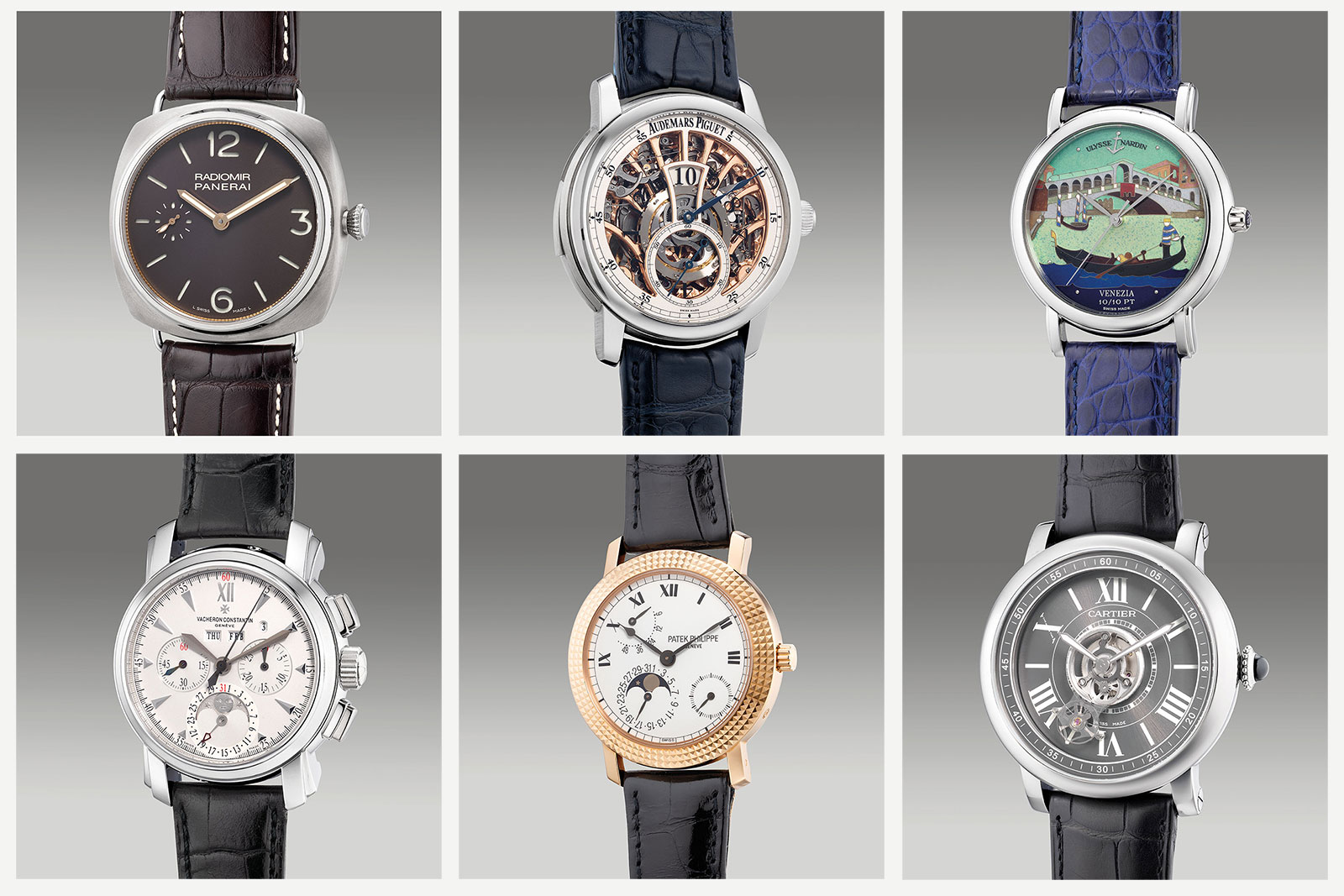 With the Geneva watch auctions recently concluded, the action moves to Hong Kong where Phillips is presenting a large, 312-lot catalogue over two days and three sessions.
Headlined by a pair of Patek Philippe ref. 2499s with certificates – first and third series specifically – the Phillips sale encompasses several lots that will delight collectors looking for intriguing timepieces that usually go under the radar – most of which are also value buys. They include a seemingly ordinary Panerai with a brilliant Minerva movement, a round Audemars Piguet minute repeater that's not a Code 11.59, and the electric Cartier Tank Folle that is as left-field as they come.
The Hong Kong Watch Auction: XII takes place on June 5 (lots 801-852) and June 6 over two sessions (lots 853-1112). The full catalogue, along with registration for the auction, is available online.
---
With little to distinguish it, the PAM 322 looks like any other Radiomir at a glance. Released in 2008 in a limited edition of 150 pieces, the PAM 322 is quintessential Panerai in style: a 47 mm titanium case, tobacco dial, and gilt hands.
But turn it over and it is instantly recognisable as special.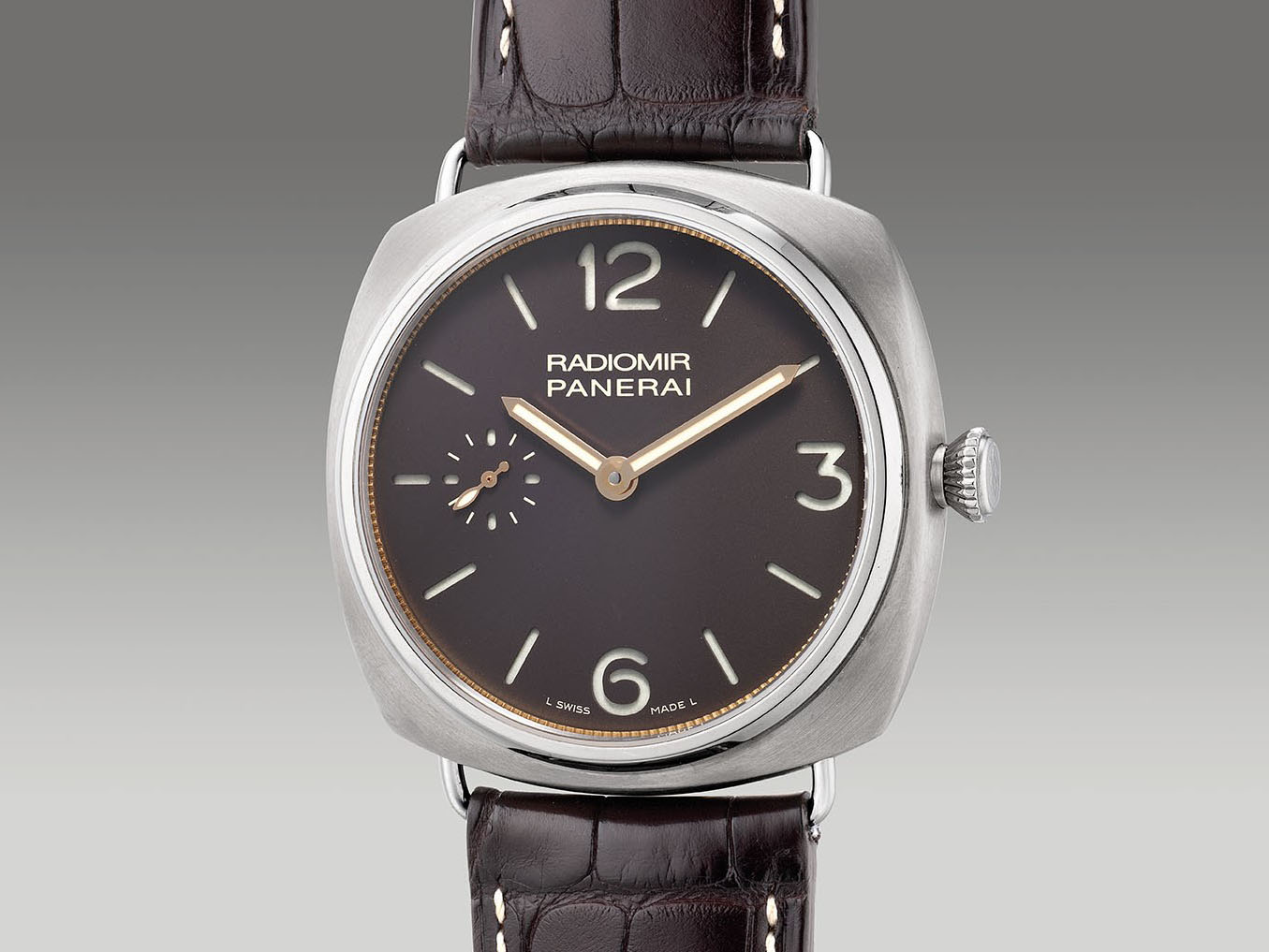 The PAM 322 is powered by the cal. OPXXVII, which is actually based on the Minerva cal. 16-15/16-17, one of the calibres destined for Montblanc's top-of-the-line watches, then known as the Villeret 1858 collection (and now found in various 1858 and Heritage models).
The movement is finely finished – the Minerva calibres are best-finished movements ever found in a Panerai in fact – with traditional decoration like striping, anglage, and black polishing that was all done by hand at Montblanc's Villeret workshop. The movement was been customised for Panerai, so it lacks some of the more elaborate flourishes found in the Montblanc version like sharp, inward angles on the bevelled edges, but it remains exceptionally well done.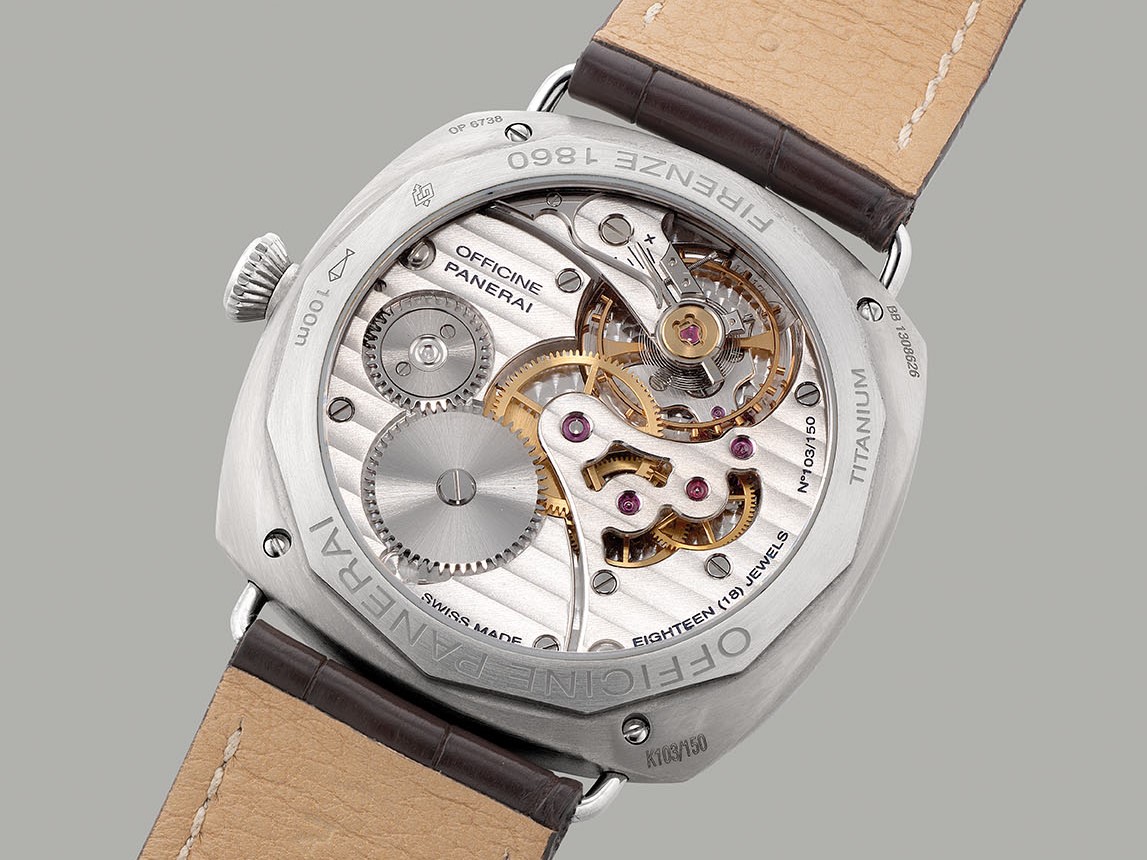 In other words, the PAM 322 combines Panerai's distinctive, historical style – the design is based on the 1930s original – with old-school Swiss haute horlogerie. And here for not very much money all things considered.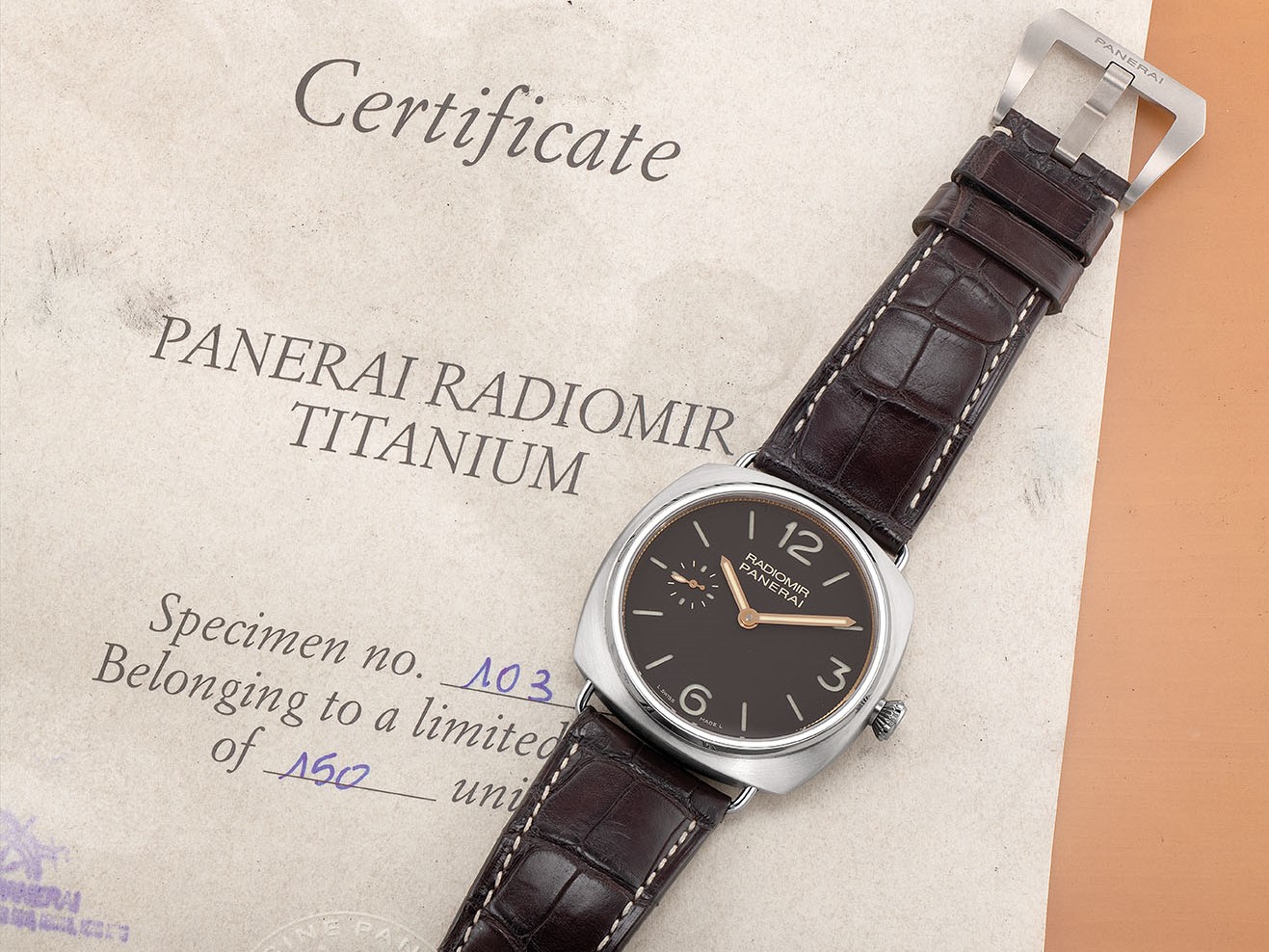 The PAM 322 has an estimate of HK$40,000-80,000, or about US$5,100-10,300, and is offered with no reserve. Even the high estimate is just one-third of the original retail price – an extremely reasonable ask for a watch with this movement, especially given the fact that the watch includes its box and papers. Full lot details here.
---
Though Ulysse Nardin is now more better known for its avant-garde watches like the Freak X and the Blast, the Le Locle watchmaker was once one of the leading makers of cloisonné enamel watches thanks to the refined eye of its former owner, the late Rolf Schnyder.
From the 1980s to the early 2000s, enamel dials were central to Ulysse Nardin's line up – they were all made by Donze Cadrans – with cloisonné dials being found on its top-end models. In keeping with its maritime heritage, many of the dials depicted ships or rivers.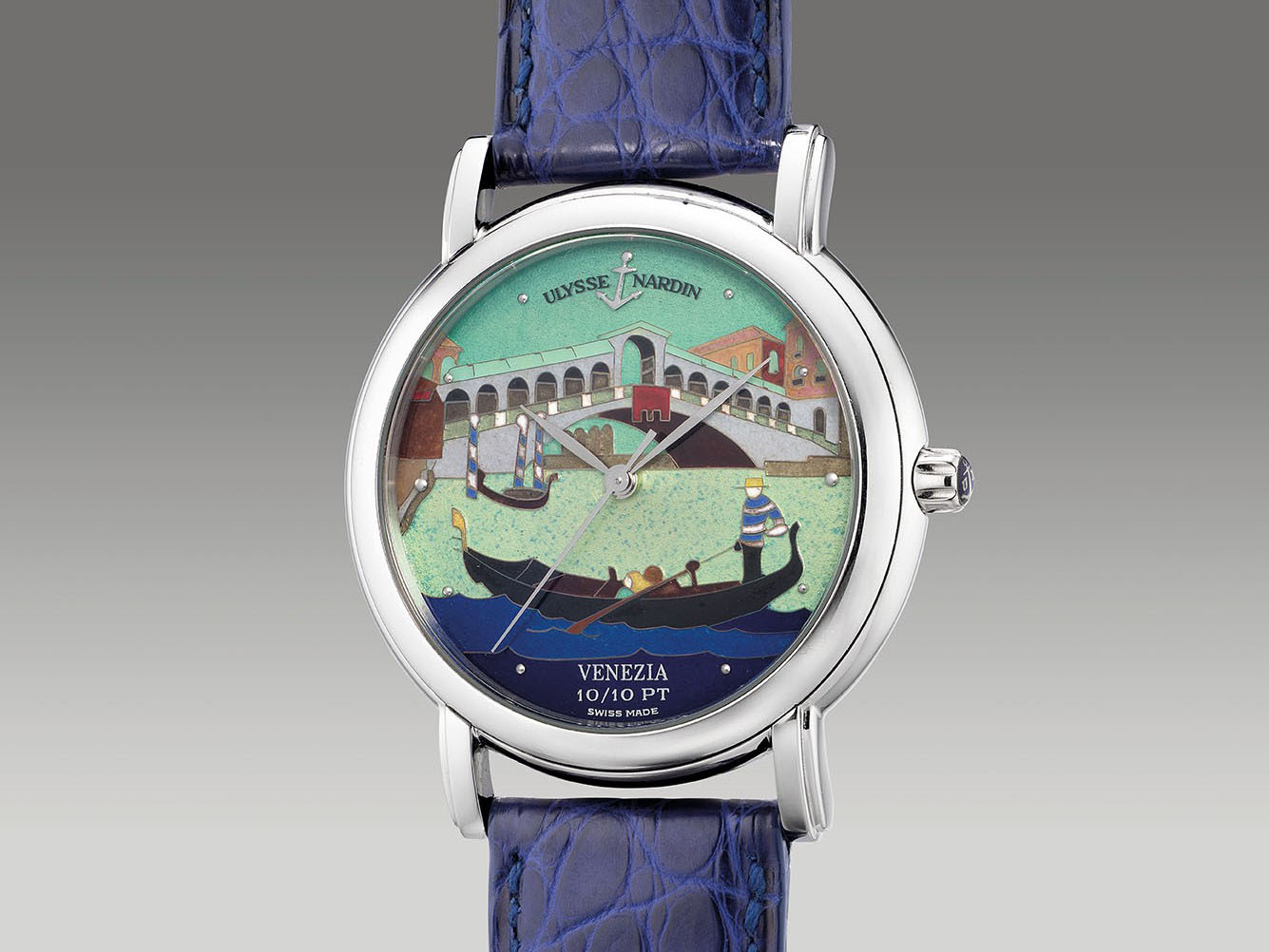 Lot 924 is a fine example of Ulysse Nardin's enamelling. It's a San Marco model with a cloisonné enamel dial that features the famous Rialto Bridge in Venice, the result of 26 steps in painting and firing that took over 50 hours to complete. The watch is relatively small by today's standards, but the quality of the dial is timeless.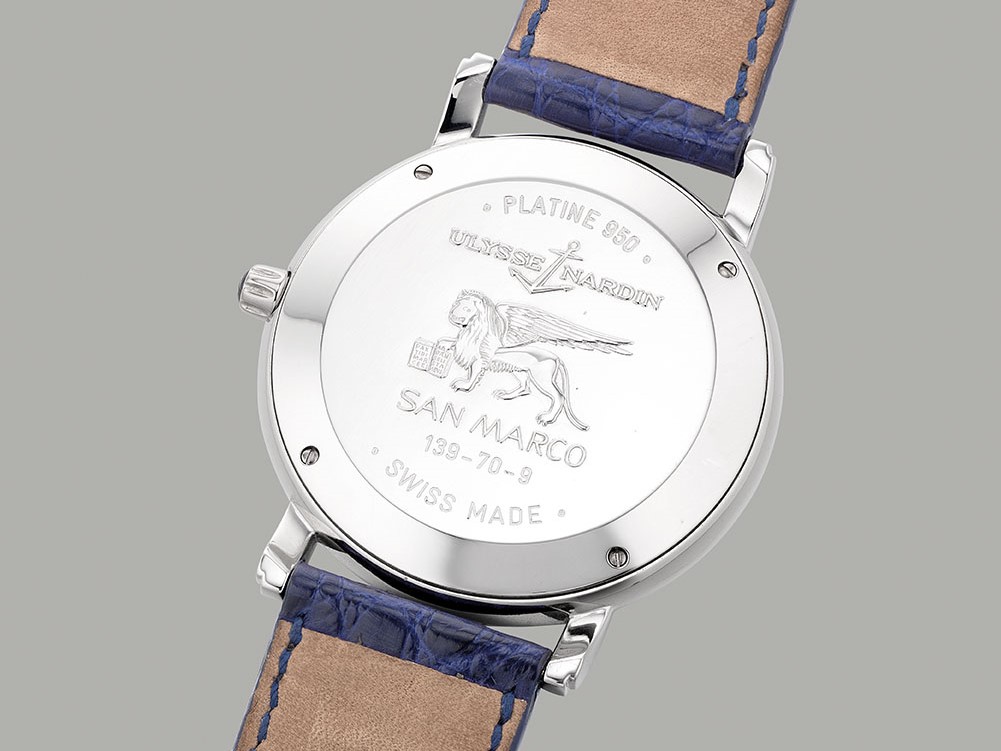 Like most of Ulysse Nardin's cloisonné watches of the period, this is was made in small numbers, with only ten were made in platinum (and another 35 in yellow gold). Notably, this example is the last of the ten and numbered "10/10".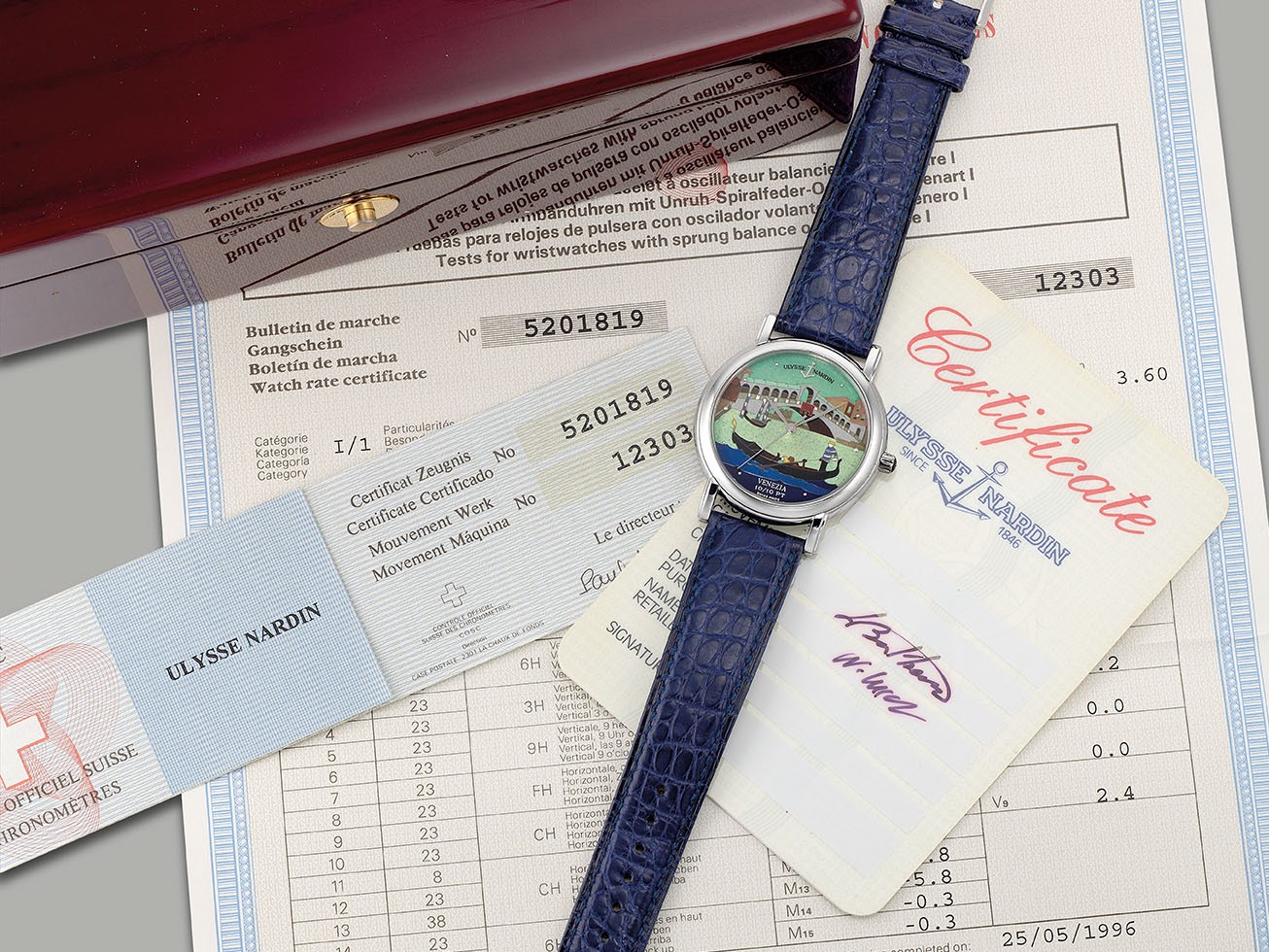 The lot has an estimate of HK$60,000-120,000, or about US$7,700-15,400, and includes the box, papers, and COSC certificates. It's certainly a good value for a timepiece with an artisanal enamel dial. Full lot details here.
---
Overshadowed by the Royal Oak when it was in production, and now replaced by the Code 11.59, the Jules Audemars is something of a hidden gem for Audemars Piguet. Classically styled and often home to extremely complex movements, the Jules Audemars line was named after the brand's co-founder (with the line of rectangular watches produced in the same period named after Edward Piguet, the other founder).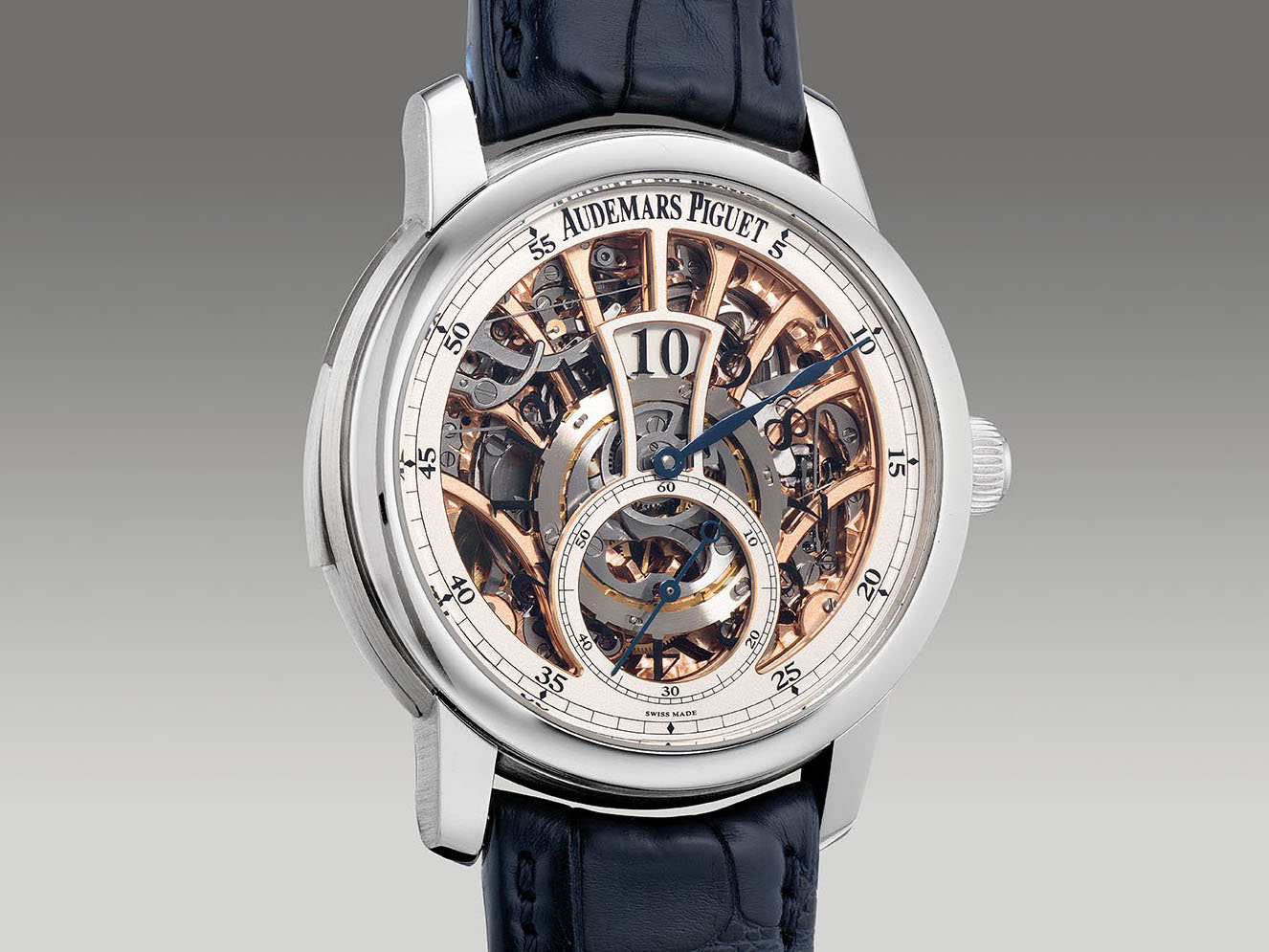 Lot 964 is one of the most elaborate recent timepieces from Audemars Piguet – the Jules Audemars Minute Repeating Jump Hour. Inside the platinum case is the open-worked cal. 2907, which features combines a jumping hours and minute repeater.
It's a large and heavy watch, which dulls the sound somewhat, but that doesn't take away from the impressive mechanics showcased front and back.
The movement finishing is evidently top class. The bridges, for instance, have mirror polished bevels on their edges that include numerous inward angles – evidence of hand finishing. And the bridges and base plate are plated in rose gold, which contrasts against the black-polished steel parts like the hammers and escape wheel cap.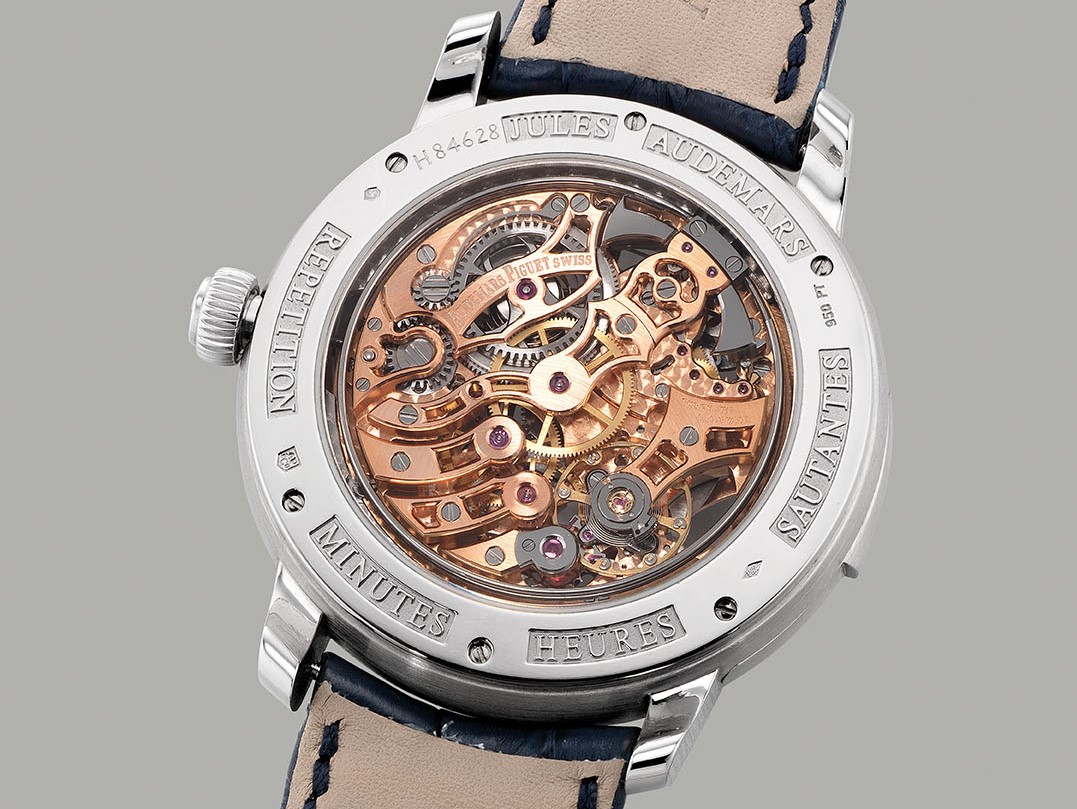 Offered in mint condition with its full set of accessories, Lot 964 is perfect for collectors interested in a seriously complicated Audemars Piguet watch that isn't a Royal Oak – and one that's something of a value buy at its estimate.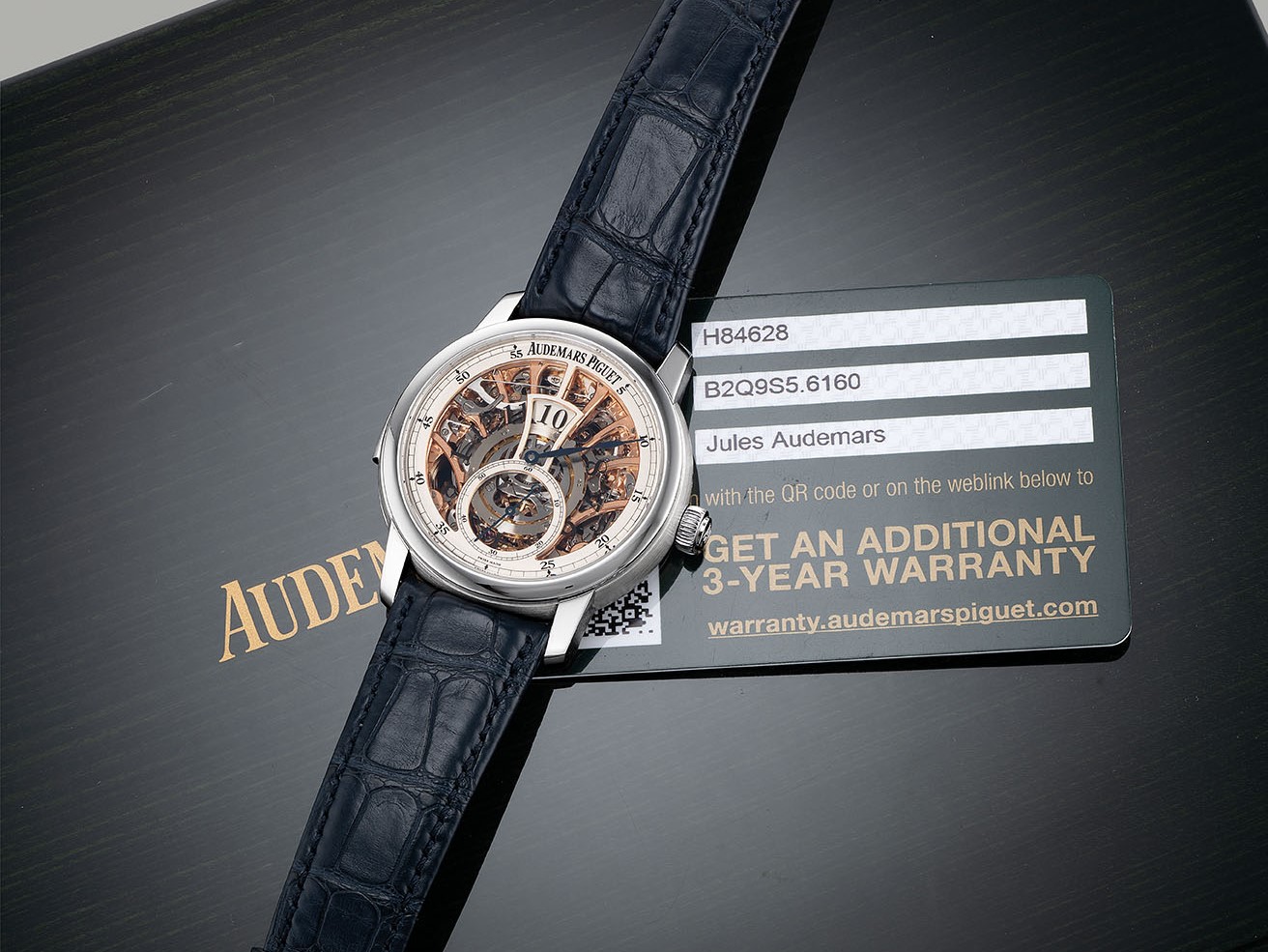 While the original retail price was north of US$400,000, the lot has an estimate of HK$800,000-1.2m, or about US$103,000-154,000. Full lot details here.
---
The ref. 5057R is a sophisticated dress watch with a handful of simple complications arranged in an unusual manner. It was a retailer-specific limited edition based on the ref. 5015, then one of Patek Philippe's bestselling models.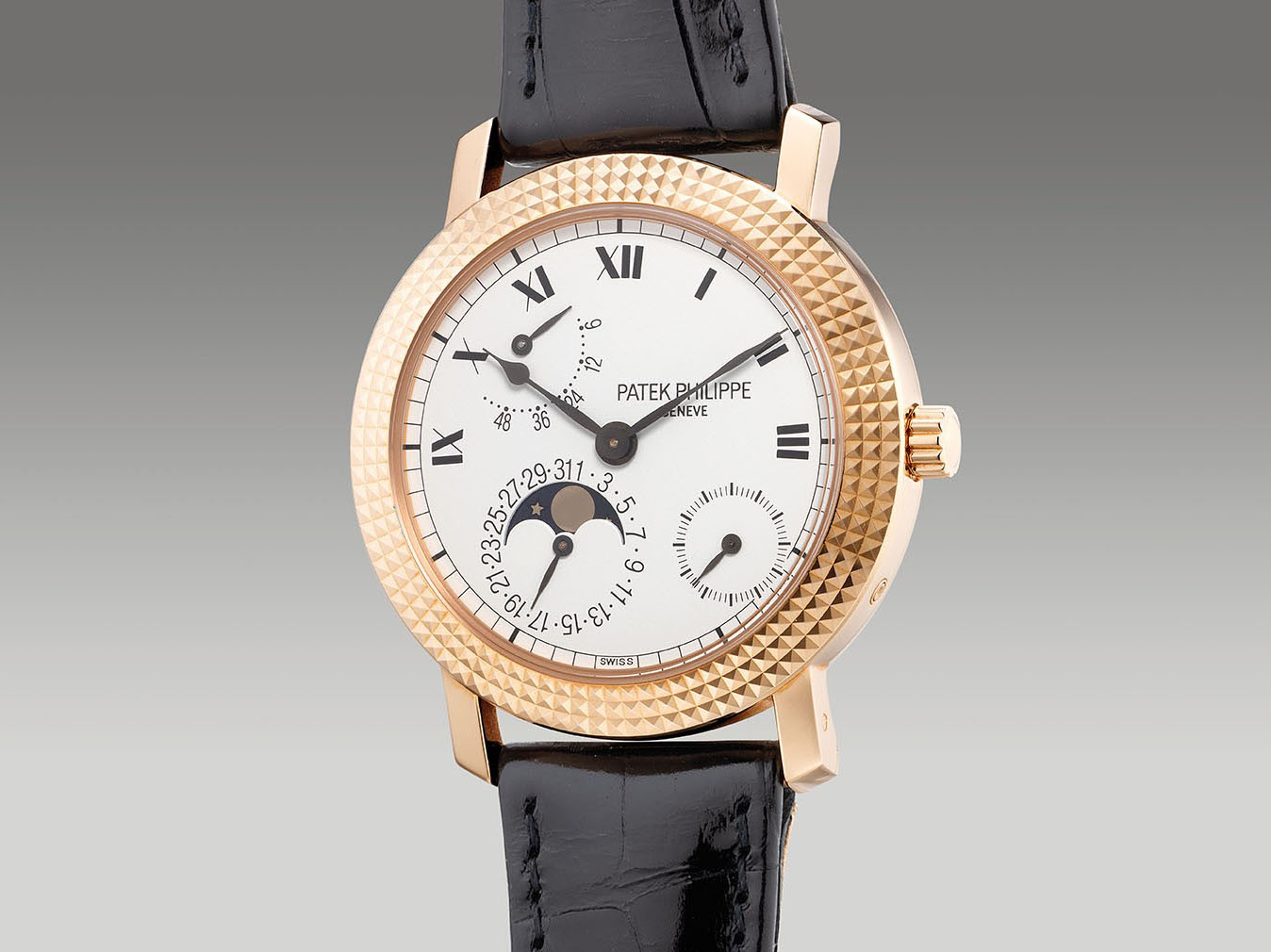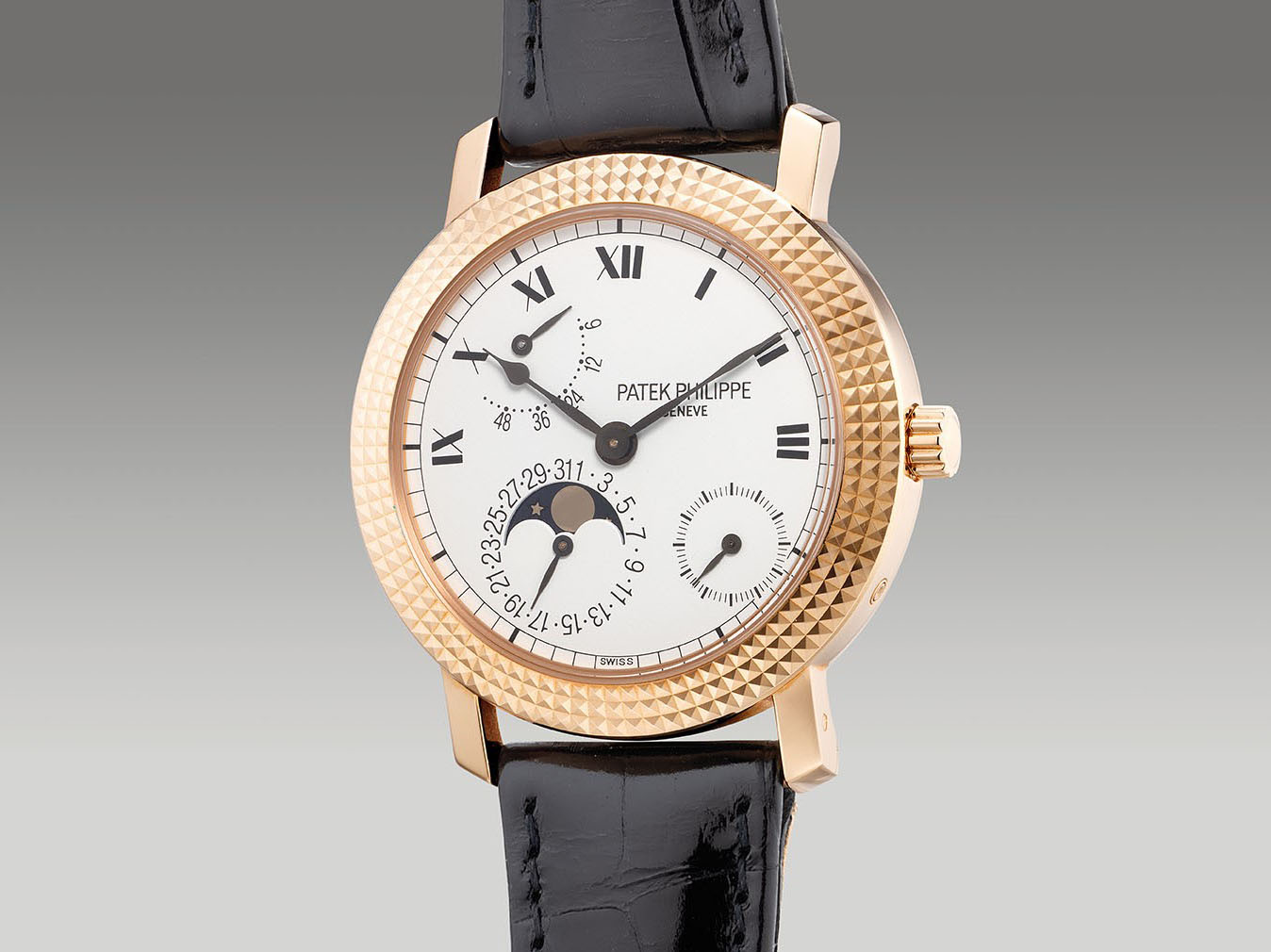 Featuring a Clous de Paris bezel – detail recently revived with the ref. 6119 – elegant Roman numerals and spade hands, the watch possesses a refined style that's typical of Patek Philippe's 1990s watches.
What makes the ref. 5057R interesting is the asymmetrical dial that shows the date, moon phase, power reserve and seconds. Though the layout is quirky, the white-lacquerd dial remains legible and feels uncluttered.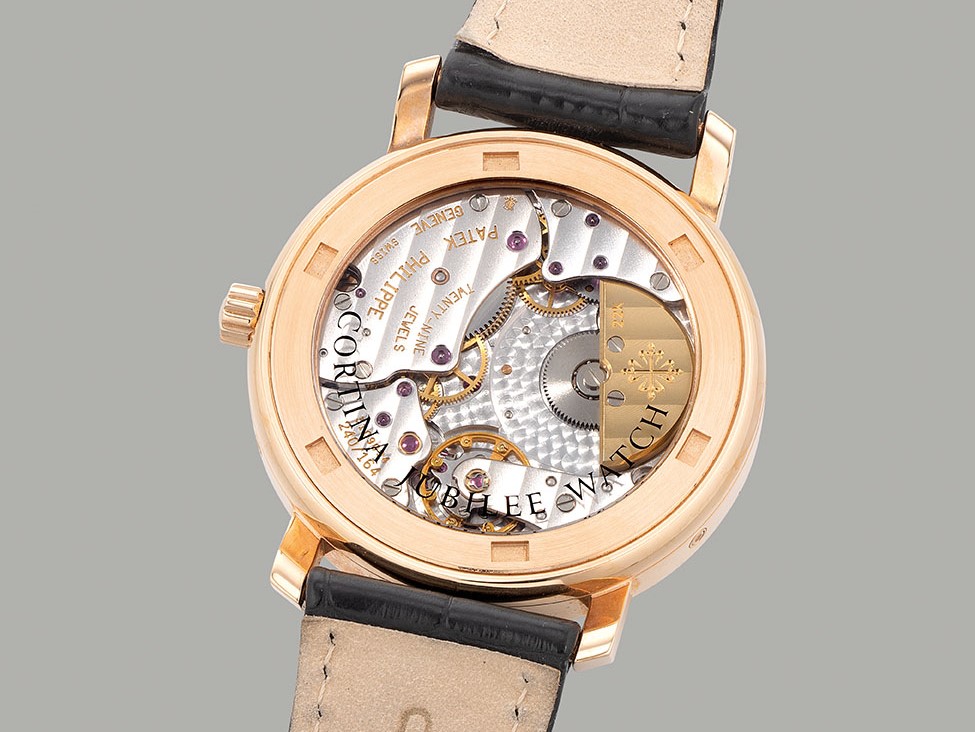 The case back reveals the provenance of the model: it was unveiled in 1997 to celebrate the 25th anniversary of Singaporean retailer Cortina Watch, one of Patek Philippe's most crucial retail partners in Asia. Only 100 pieces were made, making it a genuinely rare timepiece.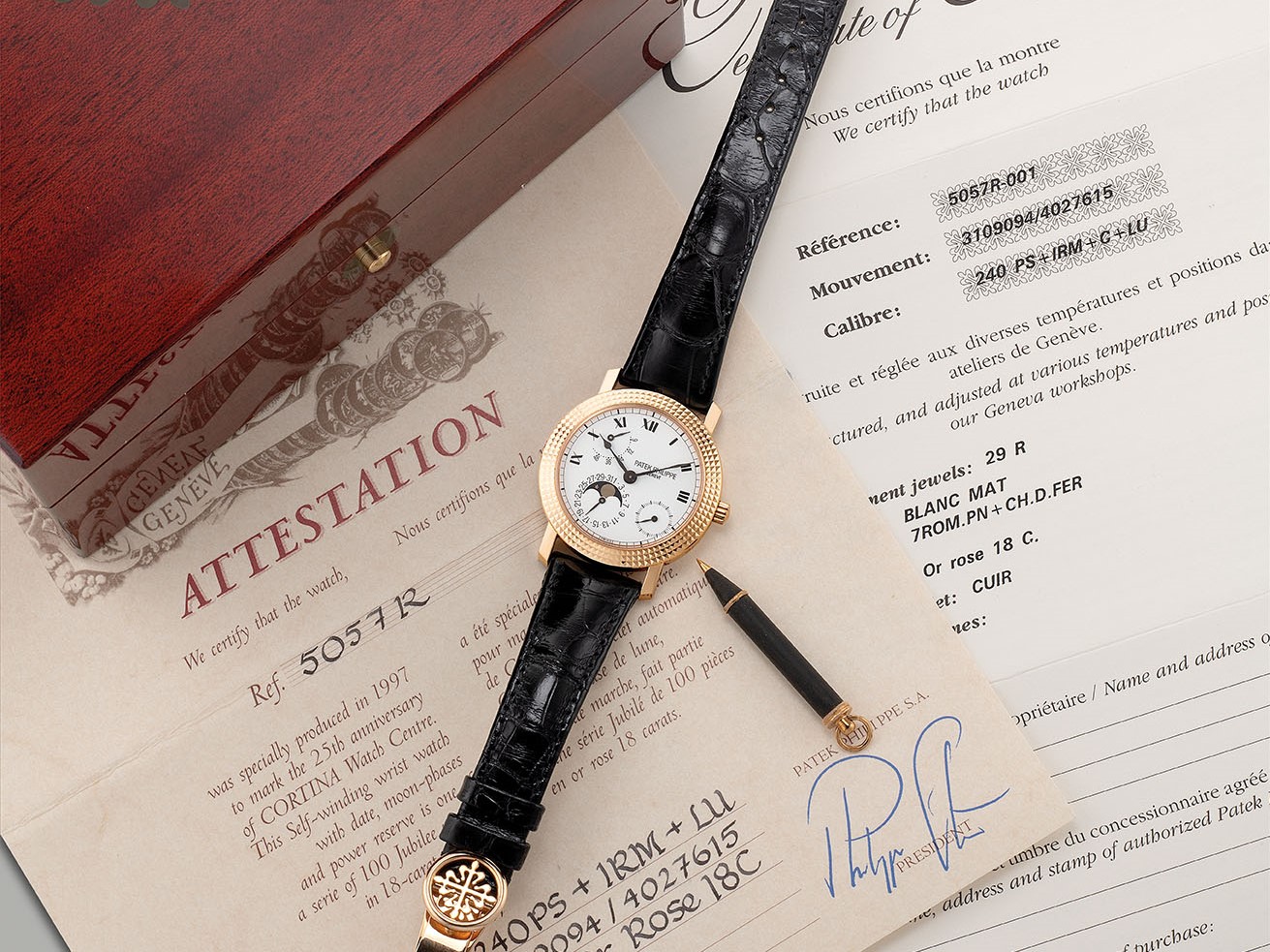 Accompanied by a full set of accessories – including the limited edition certificate signed by Philippe Stern – the lot has a surprisingly modest estimate of HK$78,000-140,000, or about US$10,000-17,900. Full lot details here.
---
Cartier watches have been enjoying a good amount of hype recently, particularly its best known form-case models like the Tank Cintree and Crash. Best described as a refracted Tank, the asymmetric Tank Folle is a great example of Cartier's original design, though being a women's watch it has never gained the desirability of Cartier's men's models.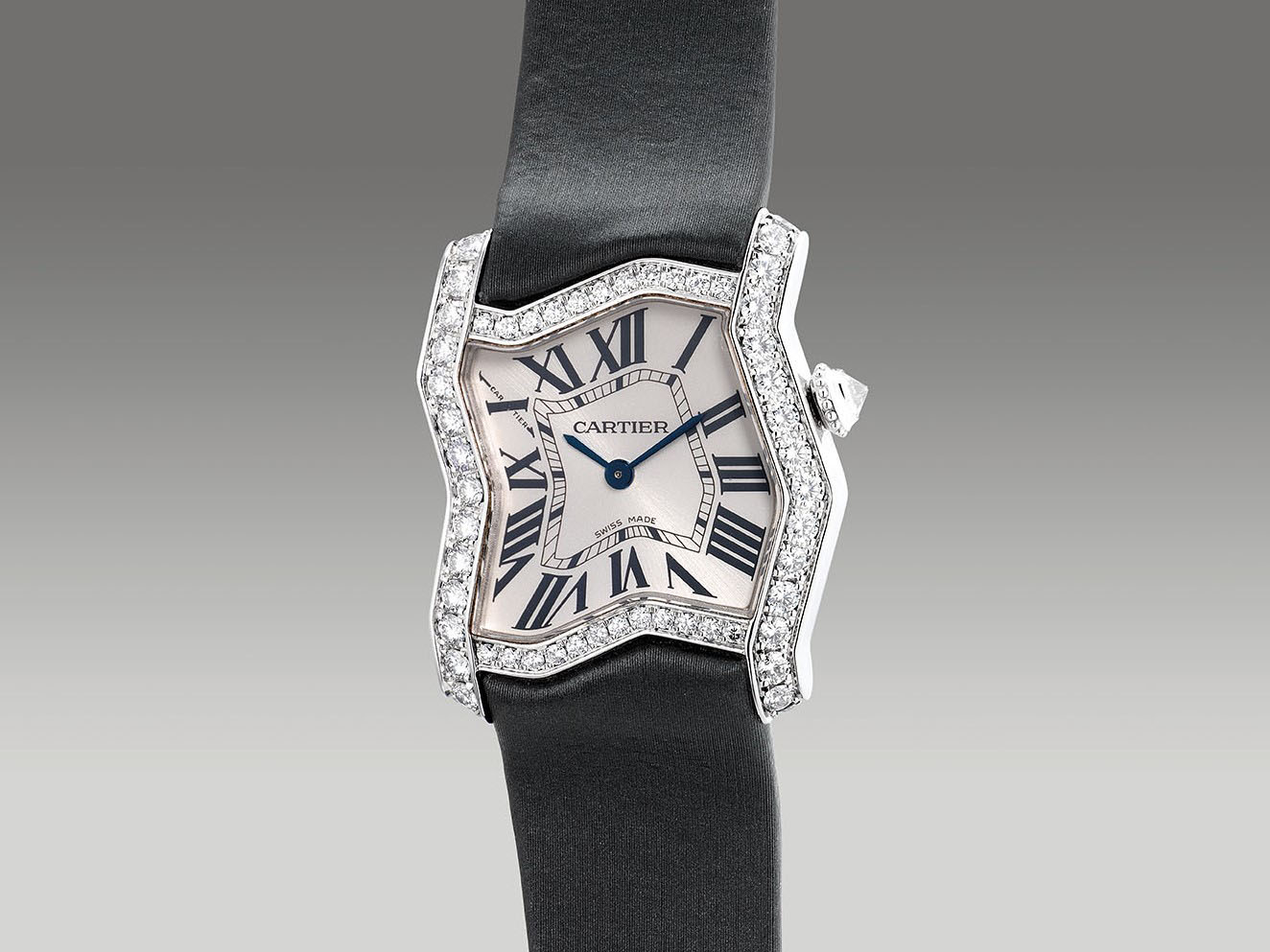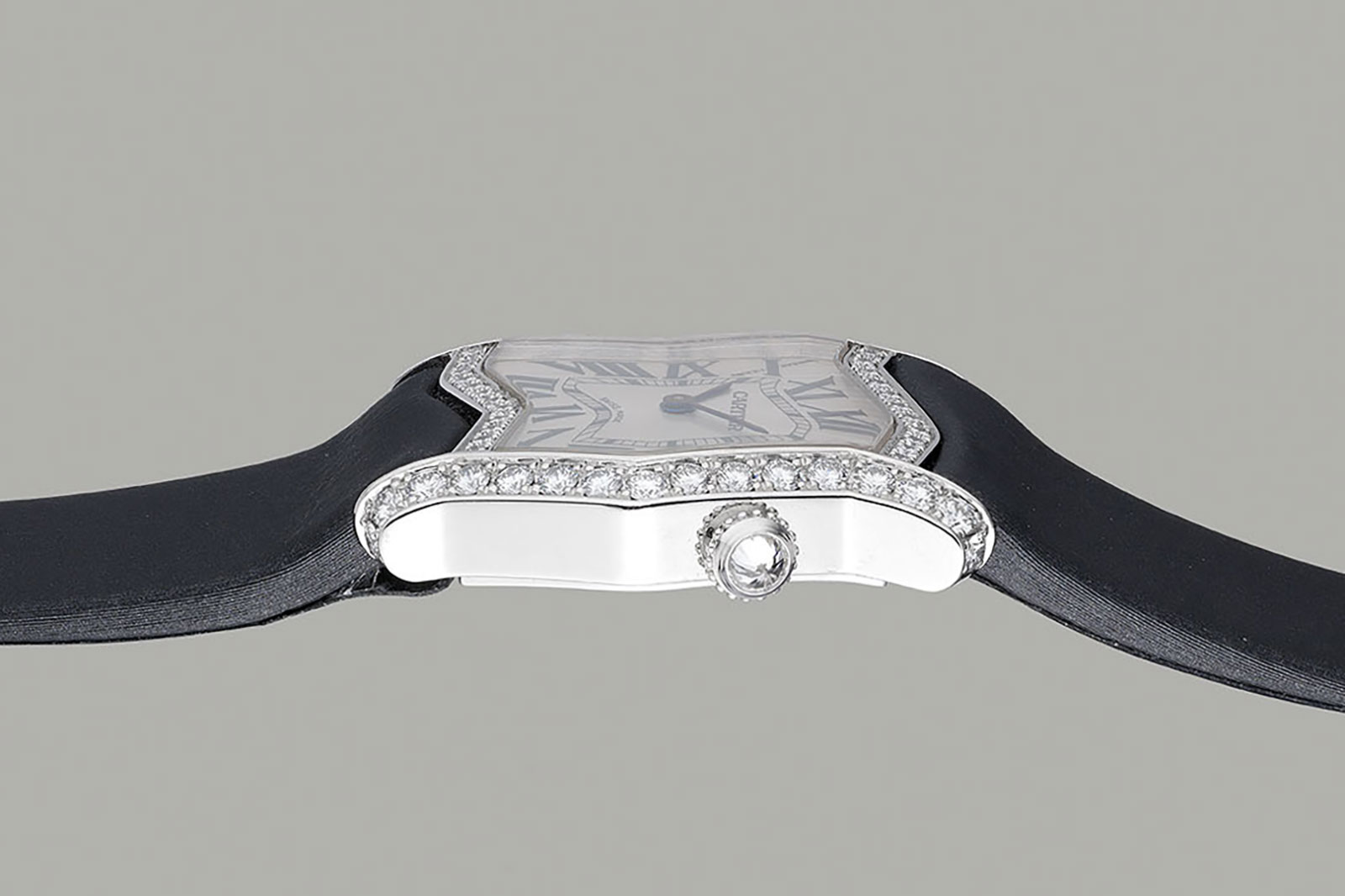 Released in 2012 as a reinterpretation of the Tank in a 200-piece limited edition, the Tank Folle has a distorted rectangular case and Dali-esque dial that evokes the more famous Cartier Crash. Cased in 18k white gold and set with brilliant-cut diamonds, the Tank Folle is underrated relative to Cartier's more famous watches. Importantly, it has a mechanical movement inside – the manual-winding cal. 8970 MC – unlike most of Cartier's watches for women that are quartz.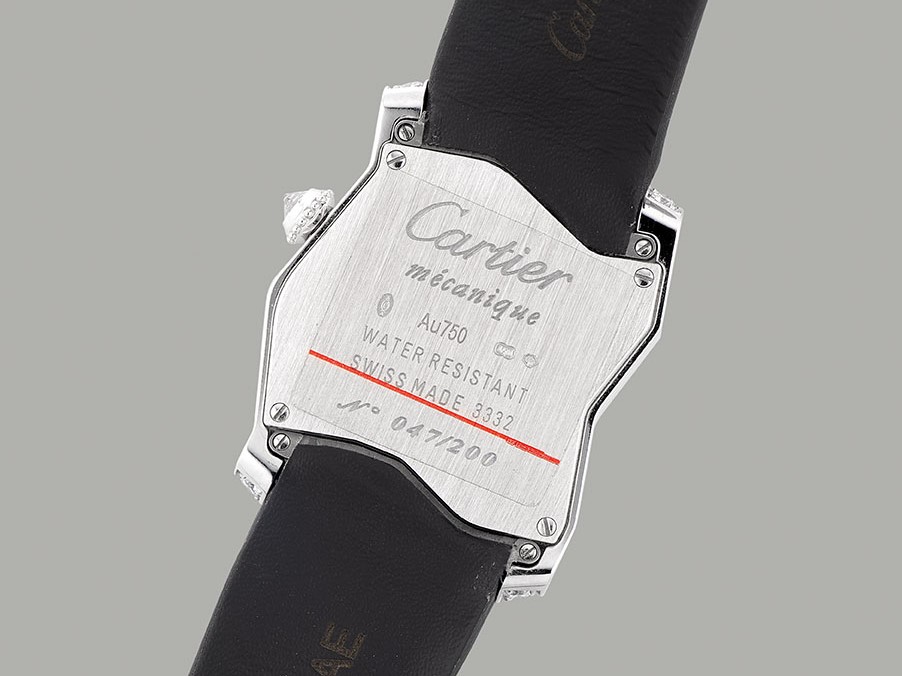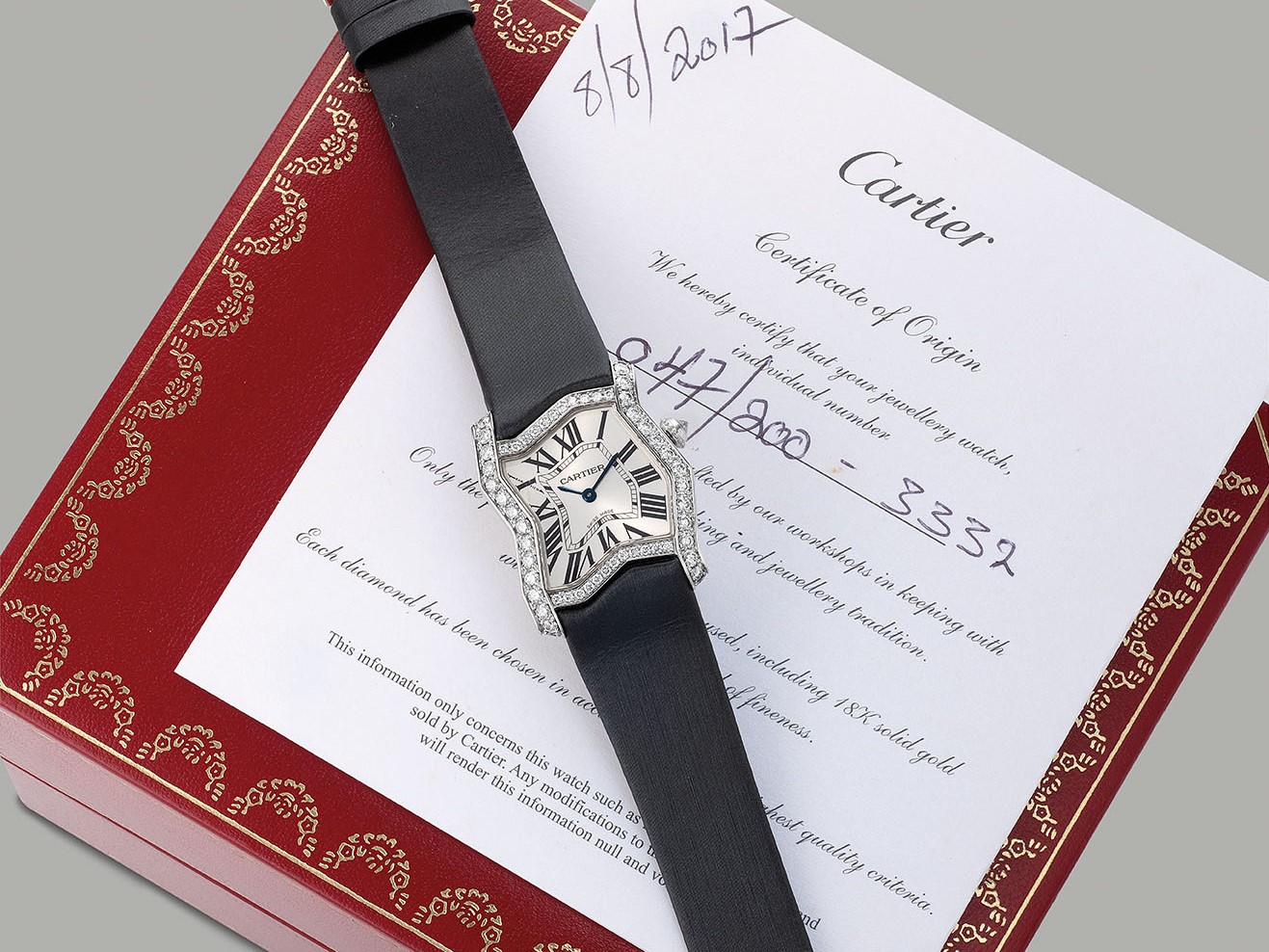 Complete with its original box and certificate, the Tank Folle has an estimate of HK$70,000-100,000, or about US$9,000-12,800, which by today's standards is little money for a limited-edition, form-case Cartier. Full lot details here.
---
Vacheron Constantin does traditionally styled, complicated timepieces very well – and this is a perfect but underappreciated example of its works. The Malte Perpetual Calendar Chronograph combines two complications with everything powered by the cal. 1141, which is based on the Lemania cal. 2310.
The dial layout is traditional for a perpetual calendar-chronograph, but with one detail that sets it apart: an engraved, solid-gold moon phase disc with a smiling moon.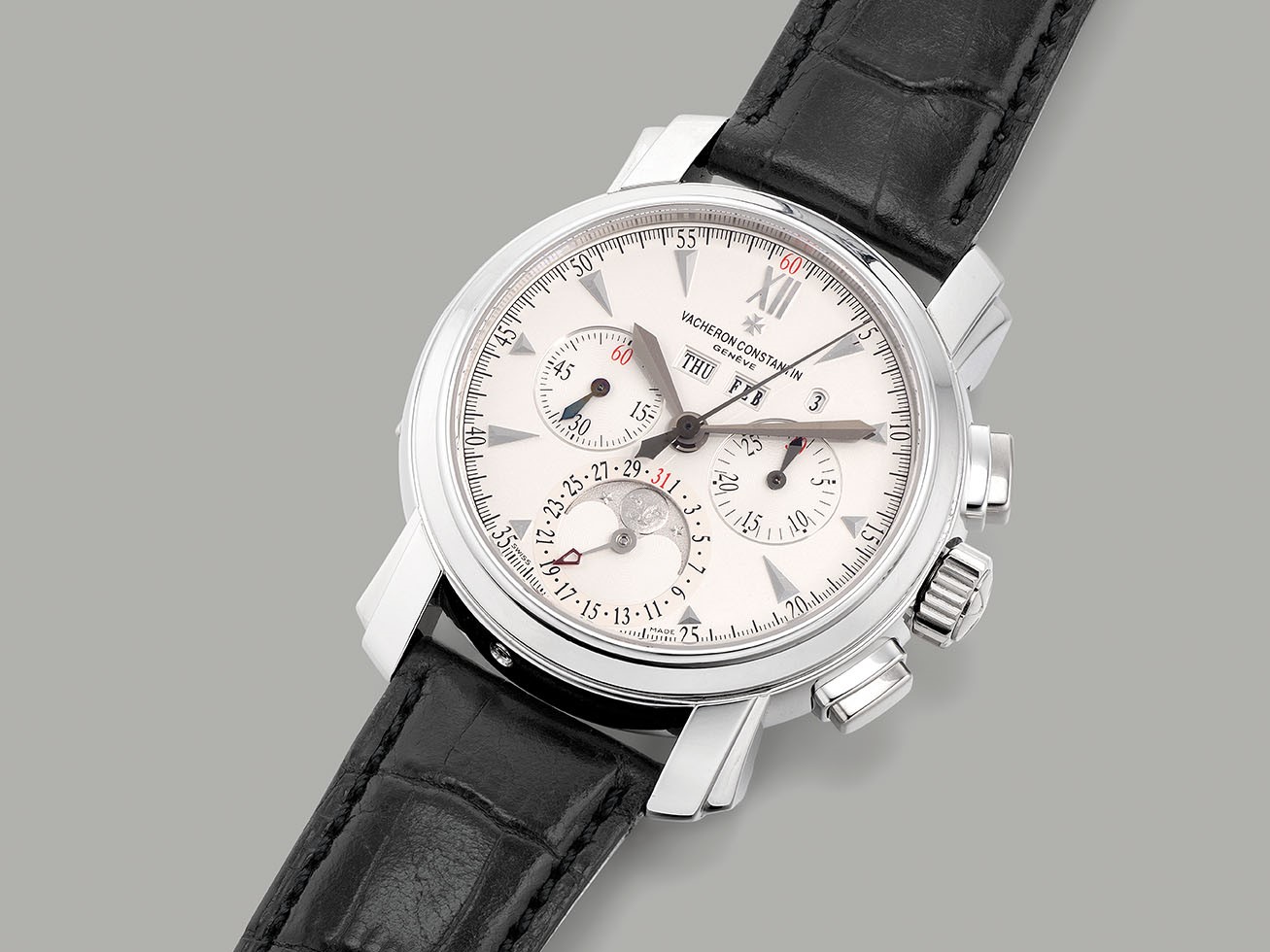 The watch has a hefty platinum case with wide, Maltese cross lugs, the trademark feature of the now-discontinued Malte line. While weighty, the case is only 39 mm, a sensible size for everyday wear.
And one of its most unusual features is hinged, officer's case back that lifts to reveal the movement.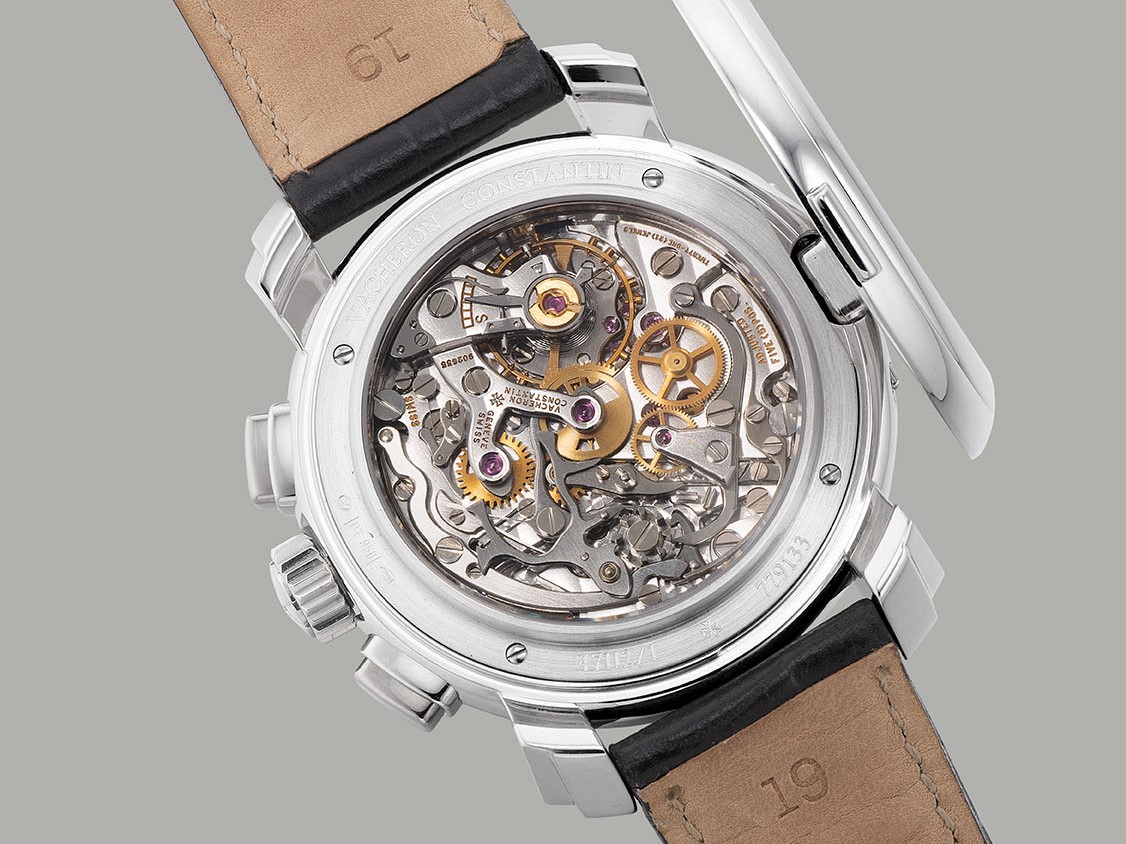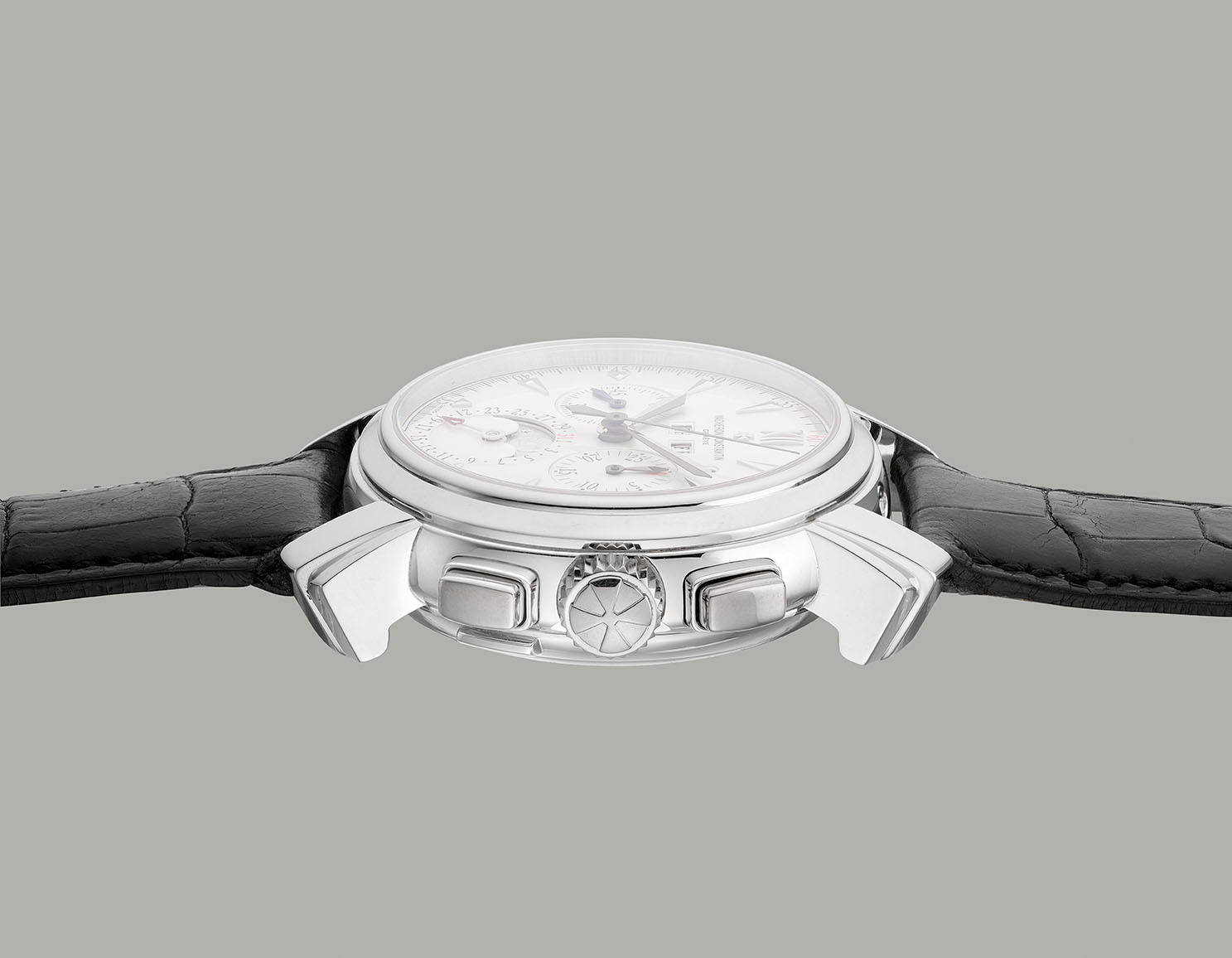 Unlike most of the lots featured here, this watch is not accompanied by any of its original accessories or documents, resulting in a lower-than-usual estimate for a timepiece of such pedigree.
The estimate is just HK$250,000 – 500,000, or about US$32,100-64,100, making it a good buy for anyone who isn't too fussed about collecting but instead seeks a highly complicated watch to wear. Full lot details here.
---
Though best known for its iconic form watches like the Tank and Crash, Cartier was once a watchmaker at the cutting edge of horology in the decade from 2008 when it invested heavily in building its high horology prowess.
One of its flagship projects concerned research into exotic and advanced materials for mechanical movements, which resulted in two concept watches, the ID One and ID Two. A bit of the innovation in the ID One made it into commercial production by incorporating it into one of Cartier's signature complications, the Astrotourbillon.
A central-carrousel tourbillon, the Astrotourbillon features a huge tourbillon carriage that orbits the central axis once every minute, allowing it to double as the seconds hand.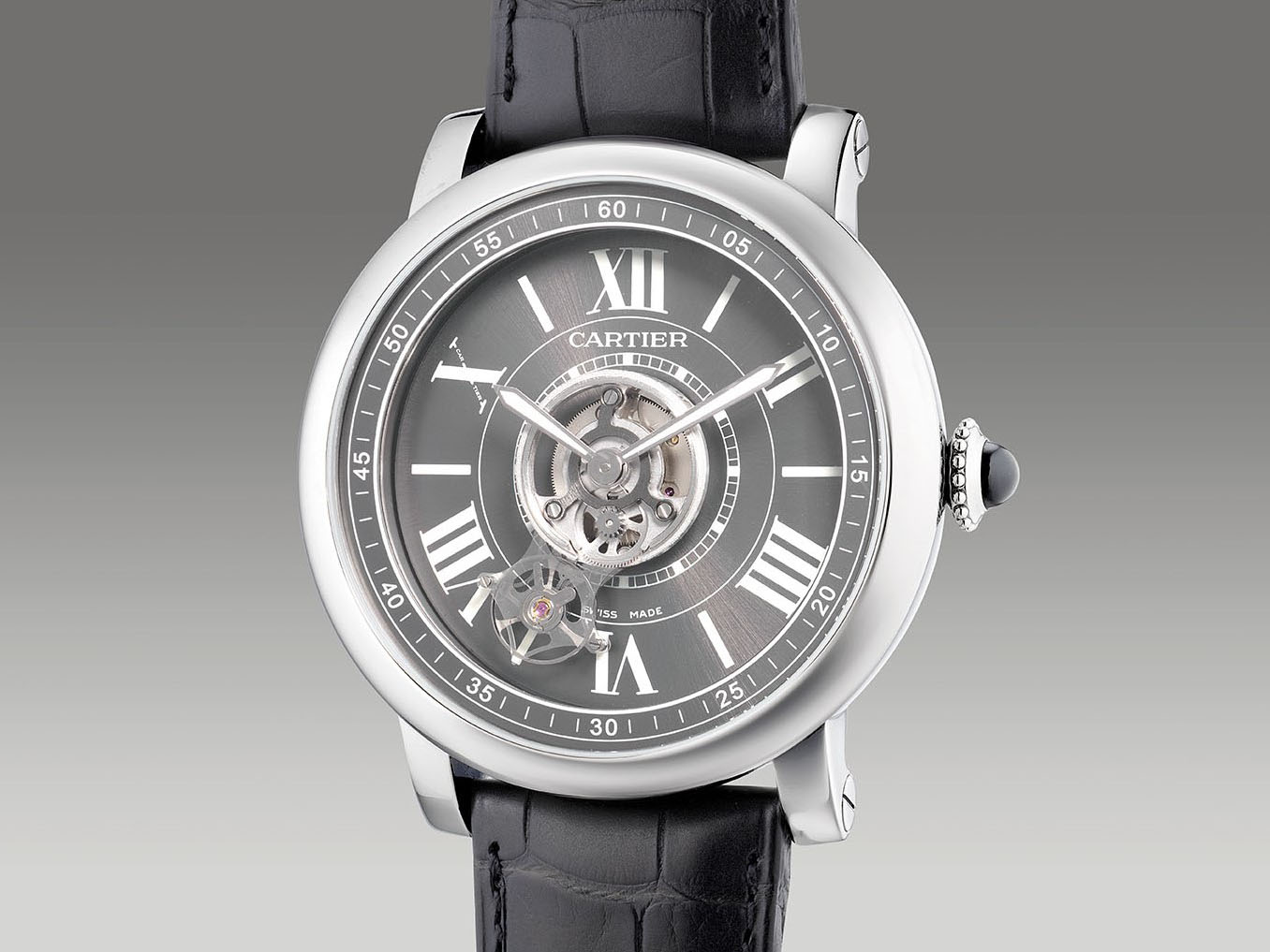 Introduced in 2013 as a limited edition of 50 pieces, the Astrotourbillon Carbon Crystal with the tourbillon bridge, escape wheel, and pallet fork in synthetic diamond, which Cartier labelled Carbon Crystal.
The material's hardness means that both the escape wheel and pallet fork need no oil, making it an intrinsically lubrication-free escapement. In fact, the Astrotourbillon Carbon Crystal was notable for being the first serially-produced Cartier watch with a lubrication-free escapement (and the only one). We explained the technology within in our article when it was first released.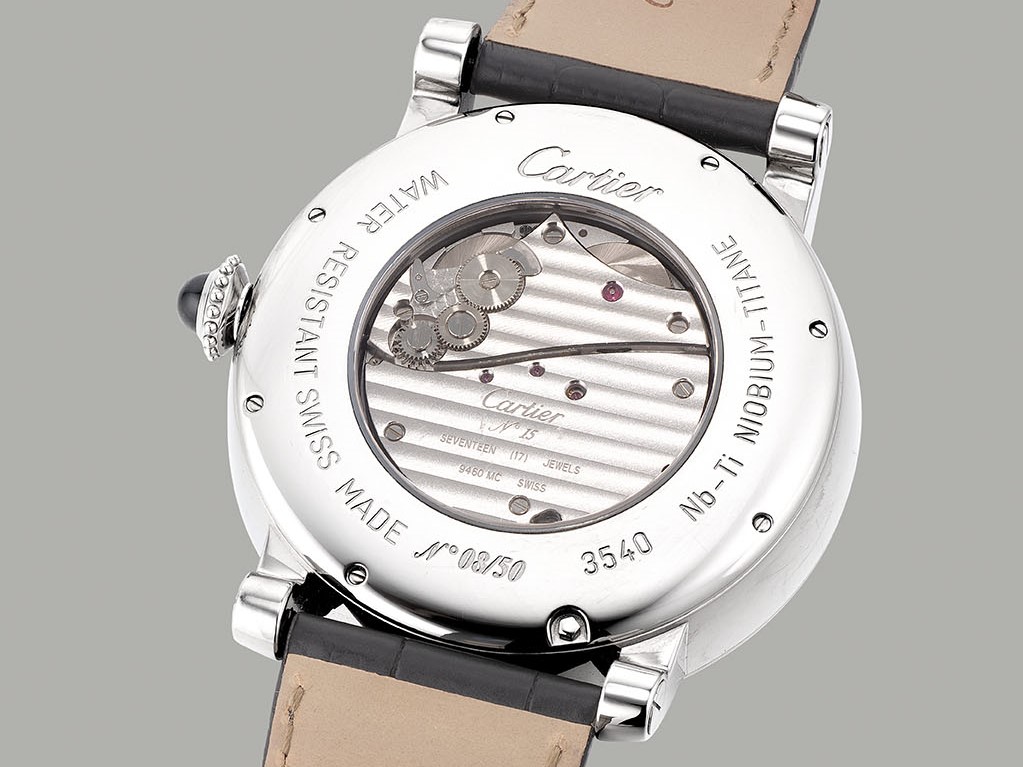 To go with the high-tech movement, the conventional platinum case was replaced with one made of a niobium-titanium alloy. The lightness of the material was useful in making the watch more wearable, because the case is a huge 47 mm.
This particular example is numbered an auspicious "08/50", which definitely has extra appeal in Asia.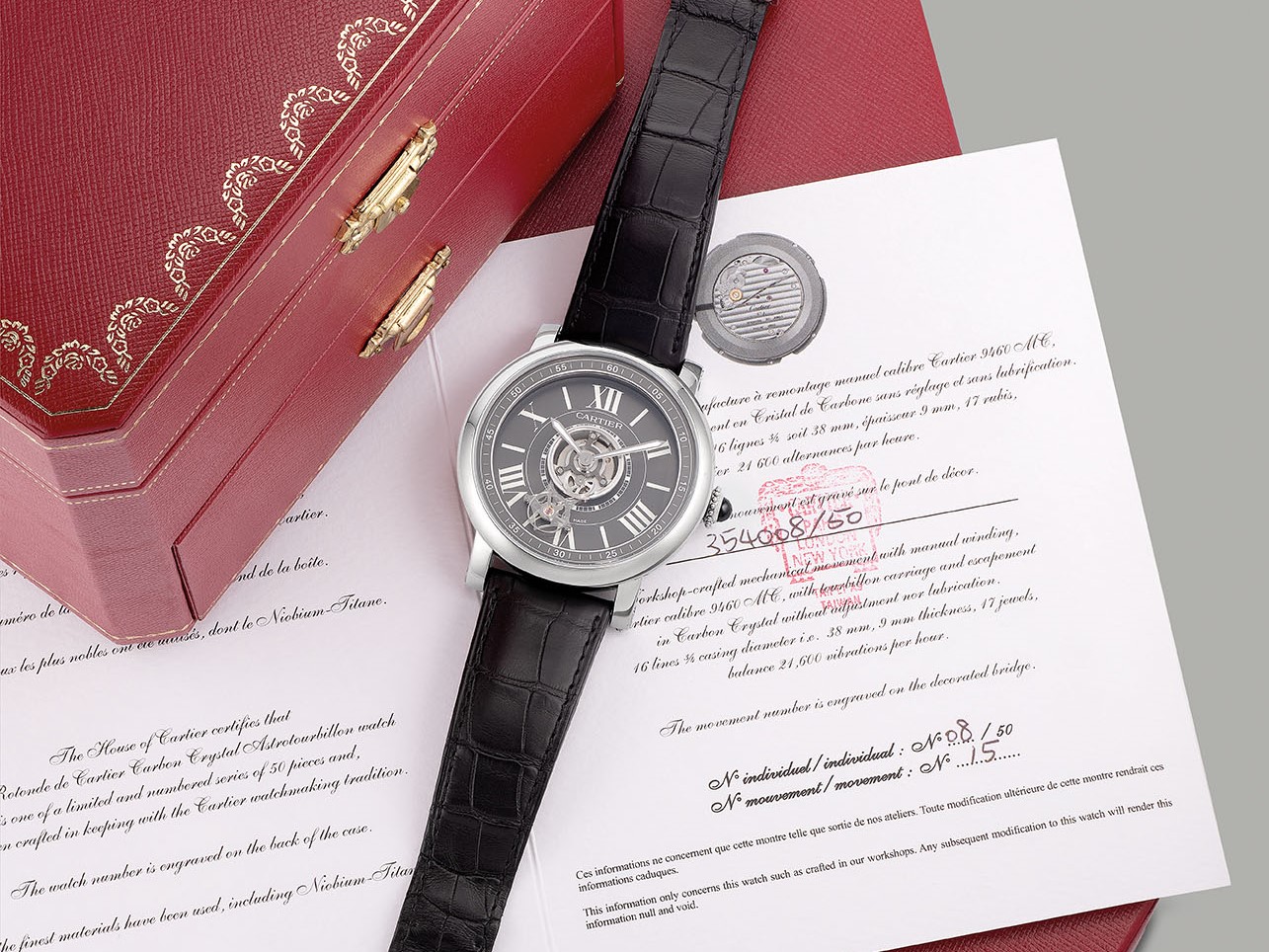 Including its original box and papers, the Astrotourbillon has an estimate of HK$233,000-465,000, or about US$29,900-59,600 – a fraction of its initial retail price of about US$217,000. It's something of a steal given the innovative movement and exotic case material. Full lot details here.
---
Preview and auction details
Selected lots will be on show in various cities across Asia in the run up to the sale.
Shenzhen
May 22-23, 10:00 am-6:00 pm daily
Raffles Shenzhen, T7, One Shenzhen Bay, 3008 Zhongxin Road, Nanshan District
Taipei
May 22-23, 11:00 am-6:00 pm
B1 Art Gallery, Bellavita, No. 28, Songren Road, Xinyi District, Taipei, Taiwan
Taichung
May 26, 11:00 am-6:00 pm
Fong-Yi Gallery, B1, No. 110, Section 1, Wuquan West Road, West District, Taichung, Taiwan
Hong Kong
June 2-5, 10:00 am-7:00 pm daily
JW Marriott Hotel, 88 Queensway, Admiralty, Hong Kong
The auction takes place over two days: 7:00 pm on June 5 (lots 801-852), and then at 12:00 pm (lots 853-988) and 4.30 pm (lots 989-1112) on June 6. The venue is the JW Marriott Hotel Hong Kong.
For the full catalogue, as well as appointments and online bidding, visit Phillips.com.
This was brought to you in partnership with Phillips.
---
Back to top.
---
You may also enjoy these.