Auction Watch: Patek Philippe Ref. 2499 'First Series' and Independents at Phillips Hong Kong
Two 2499s with certificates.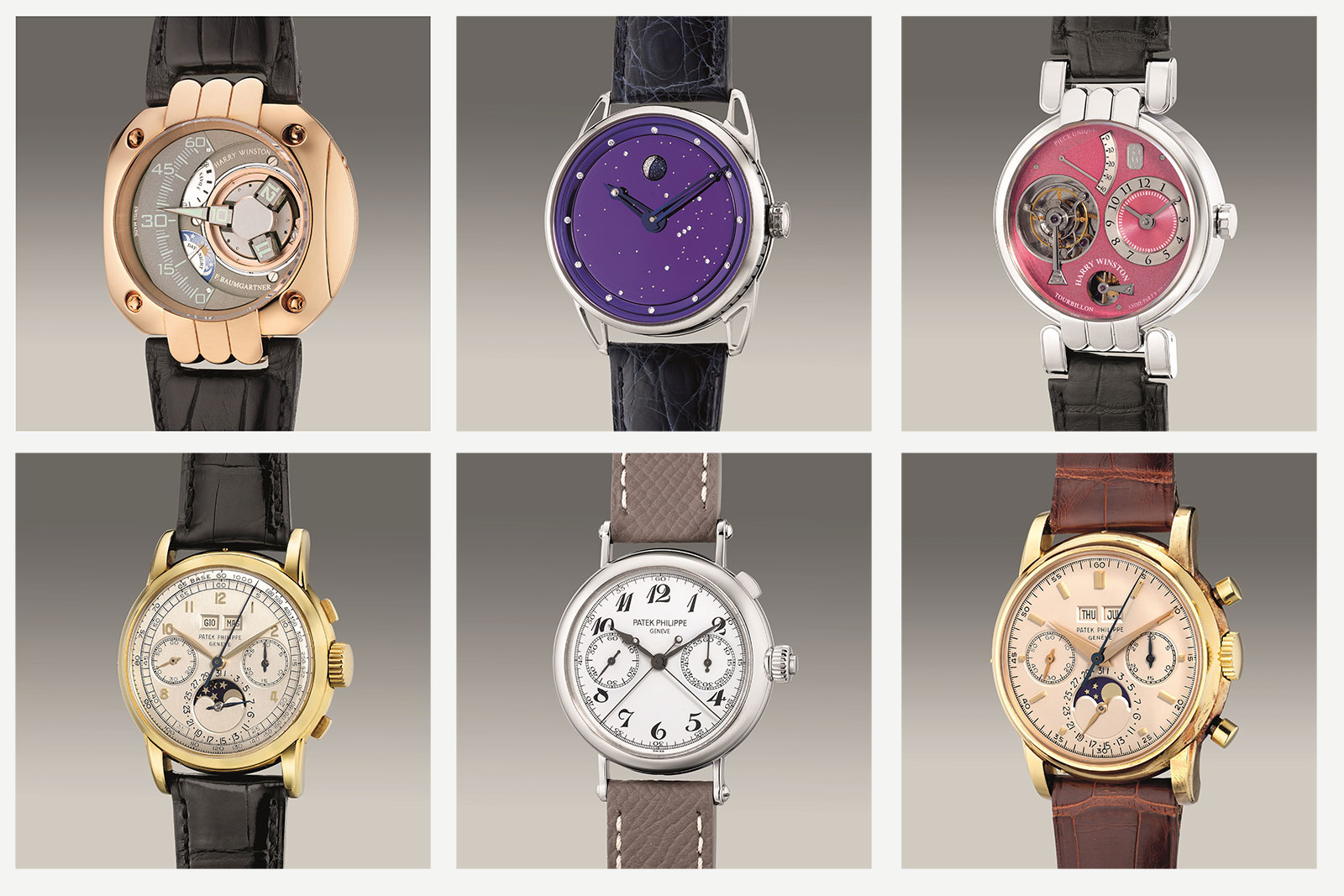 As the Geneva auctions are almost concluded – with the Patek Philippe ref. 2523 cloisonné world time having sold for US$7.83 million – it's on to the Hong Kong sales that'll take place in a few weeks.
At Phillips' Hong Kong auction, the top lot is, unsurprisingly, a complicated Patek Philippe. Specifically, a first-series ref. 2499 in yellow gold, which is not exceptionally uncommon in itself, but this example has a rare Wenger case and a valuable piece of paper – the original certificate from 1956.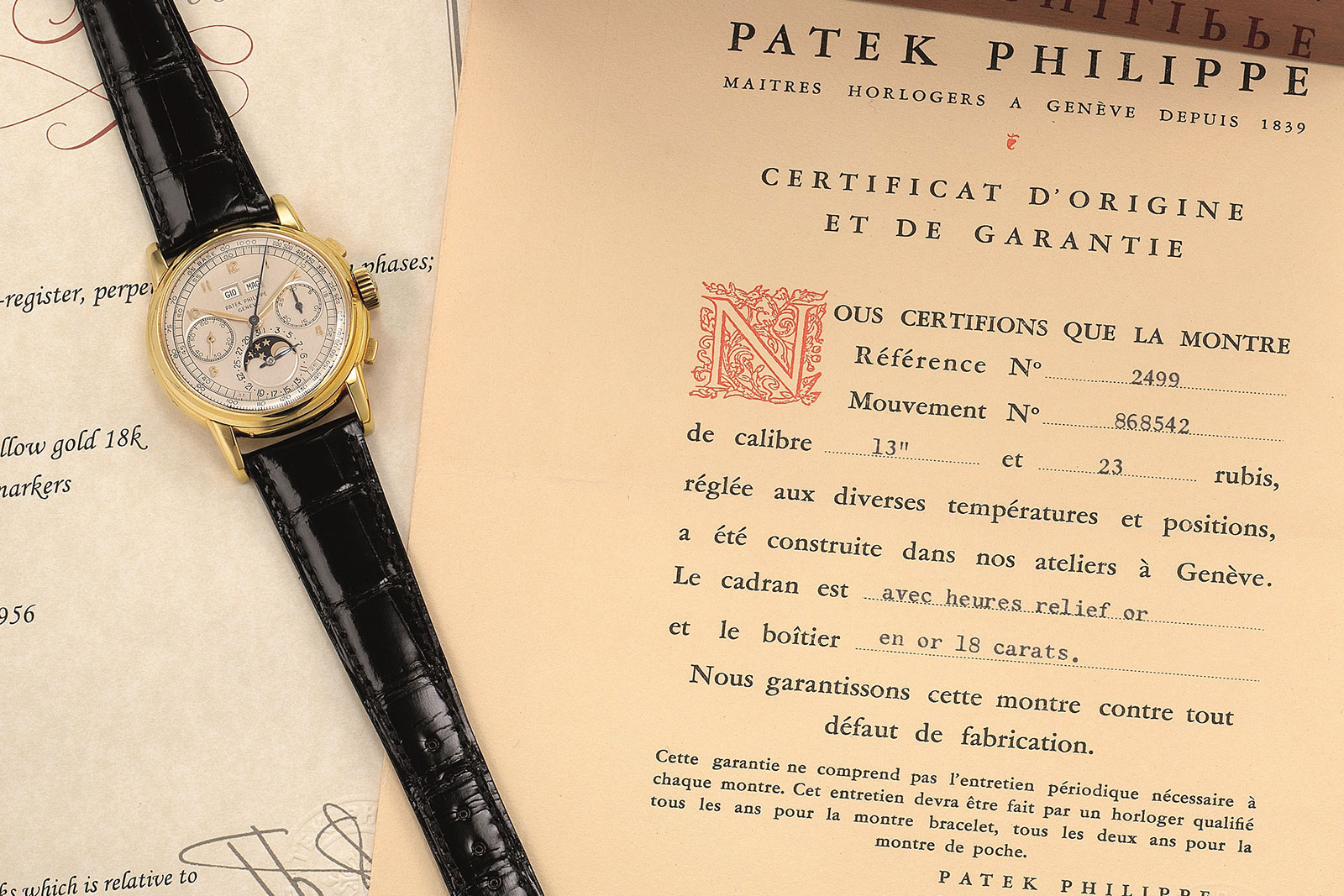 The sale also encompasses another ref. 2499 with its original certificate, a third series in yellow gold that's more accessibly priced, along with an interesting selection of independent watchmaking. Notably, the line up includes a Harry Winston Opus 1 Tourbillon by F.P. Journe, along with an Opus V by Urwerk.
The Phillips Hong Kong watch auction will happen on June 5 and 6, and the full catalogue is available online at Phillips.com.
---
2499 duo
Most of the first-series ref. 2499s had cases made by Emile Vichet, a Geneva case maker that supplied the cases for the first two years of the model's production, making about 10 cases in yellow gold and about four in pink.
Patek Philippe then turned to Ed. Wenger, another Geneva case maker run by brothers Edouard and Andre, for the rest of the first-series, as well as all subsequent series until 1982 when Patek Philippe starting making its own cases. Only about 30 yellow gold cases were made by Wenger for the first-series ref. 2499.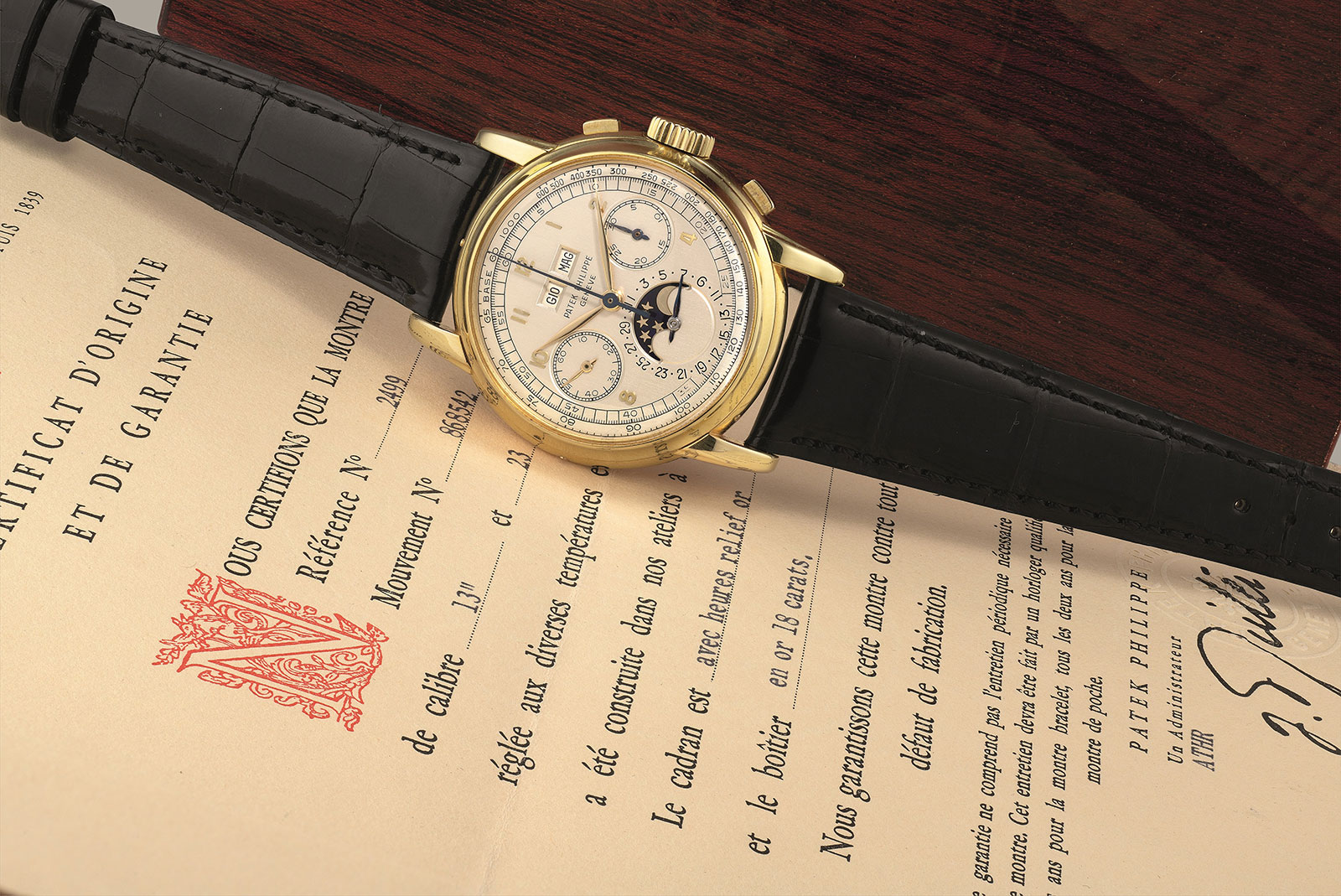 Similar but clearly different, the Wenger case is larger than the Vichet equivalent, measuring 37.5 mm against 36 mm. And the lugs of the Wenger case are shorter, while having a gentler curve downwards.
Accompanied by its certificate, as well as two archive extracts and a later Patek Philippe box, the first-series ref. 2499 has an estimate of HK$12m-23m, or about US$1.5m-3.0m – full lot details here.
Also a ref. 2499 with its original certificate but far more affordable is the third-series ref. 2499 with an estimate of HK$3.1m-4.6m, or US$400,000-600,000 – full lot details here.
This watch dates to 1977 and was sold by the family of the original owner in 2017, where it changed hands for CHF456,500 including fees.
And worth a mention is the Patek Philippe ref. 5959P, here in its original configuration with a white enamel dial. Small but mighty, the ref. 5959P is just 33 mm in diameter but powered by the gorgeous CHR 27-525 PS.
With an estimate of HK$1.25m-2.03m, or about US$150,000-250,000, the ref. 5959P is tremendous fine watchmaking for not much more than the going rate for a Nautilus – full lot details here.
Independents
An annual edition created in collaboration between Harry Winston and an independent watchmaker that's since been put on ice, the Opus 1 was created by F.P. Journe. All the Opus 1 watches were equipped with F.P. Journe movements – all calibres with brass plates and bridges – but inside a Harry Winston platinum case.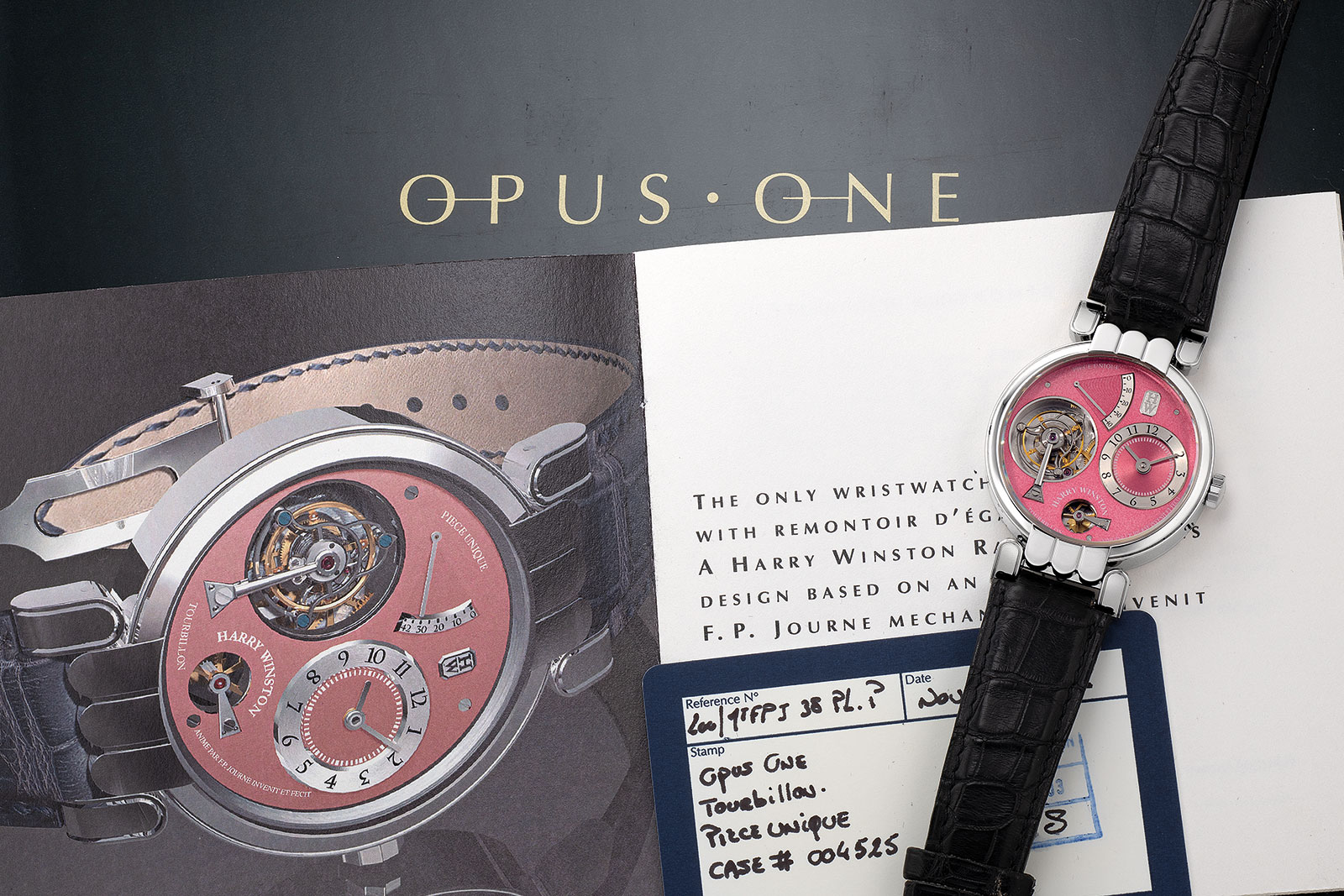 Only six of the Opus 1 tourbillon watches were made, all with lacquered dials in different bright colours, making each unique. This is the second to be offered in as many months; the example with a turquoise dial just sold in Geneva over the weekend for CHF453,600, or about US$503,000.
This is has a pink-lacquer dial that's as striking as it gets. The Opus 1 estimated at HK$800,000-1.6m, or about US$100,000-200,000 – full lot details here.
Another F.P. Journe that doesn't resemble a typical F.P. Journe is the Vagabondage II. A series of three watches, all in a tortue, or tortoise, case, the Vagabondage is all about unconventional time displays. The Vagabondage II has both jumping hours and minutes, each indicated with discs visible through the tinted sapphire dial.
Estimated at HK$312,000-624,000, or US$40,000-80,000, the Vagabondage II (and the other watches in the series) remains relatively good value compared to F.P. Journe conventional watches- full lot details here.
Also in the sale is another important watch from the Opus series. Made by Urwerk for Harry Winston, the Opus V was the very first watch to feature Urwerk's trademark satellite-cube display. It was only later that Urwerk itself debuted the complication on its own UR-201.
Once again the Opus V features Harry Winston's distinctive lugs, but matched with a massive, UFO-shaped case to accommodate the tri-dimensional time display. The case shape is asymmetrical as a result of the swivelling cap on the right that hides the crown. This has an estimate of HK$468,000-780,000, or US$60,000-100,000 – full lot details here.
The final example of independent watchmaking is the DB25 Moon Phase Starry Sky. Very much in De Bethune recognisable style the watch has a heat-blued titanium dial with a spherical moon phase.
But this is also an elegantly discreet jewellery watch – the dial features brilliant-cut diamonds for the hour markers and stars on the dial, along with a diamond-set moon sphere. More importantly, the case band is set with baguette-cut blue sapphires. The estimate is a modest HK$235,000-490,000, or US$30,000-60,000 – full lot details here.
---
Preview and auction details
Selected lots will be on show in various cities across Asia in the run up to the sale.
Singapore (registration required)
May 14-15, 11:00 am-7:00 pm daily
Embassy & Consulate Room, The St. Regis, 29 Tanglin Road
Shenzhen
May 22-23, 10:00 am-6:00 pm daily
Raffles Shenzhen, T7, One Shenzhen Bay, 3008 Zhongxin Road, Nanshan District
Taipei
May 22-23, 11:00 am-6:00 pm
B1 Art Gallery, Bellavita, No. 28, Songren Road, Xinyi District, Taipei, Taiwan
Taichung
May 26, 11:00 am-6:00 pm
Fong-Yi Gallery, B1, No. 110, Section 1, Wuquan West Road, West District, Taichung, Taiwan
Hong Kong
June 2-5, 10:00 am-7:00 pm daily
JW Marriott Hotel, 88 Queensway, Admiralty, Hong Kong
The Hong Kong Watch Auction: XII will take place across two sessions: the first on June 5 at 7 pm, followed by the day sale on June 6 at 12 pm. The venue is the J.W. Marriott Hong Kong.
This was brought to you in partnership with Phillips.
---
Back to top.
---
You may also enjoy these.