Hands-On with Patek Philippe Highlights from Christie's Hong Kong Watch Auction
A diverse line-up with a Patek Philippe wristwatch for every budget.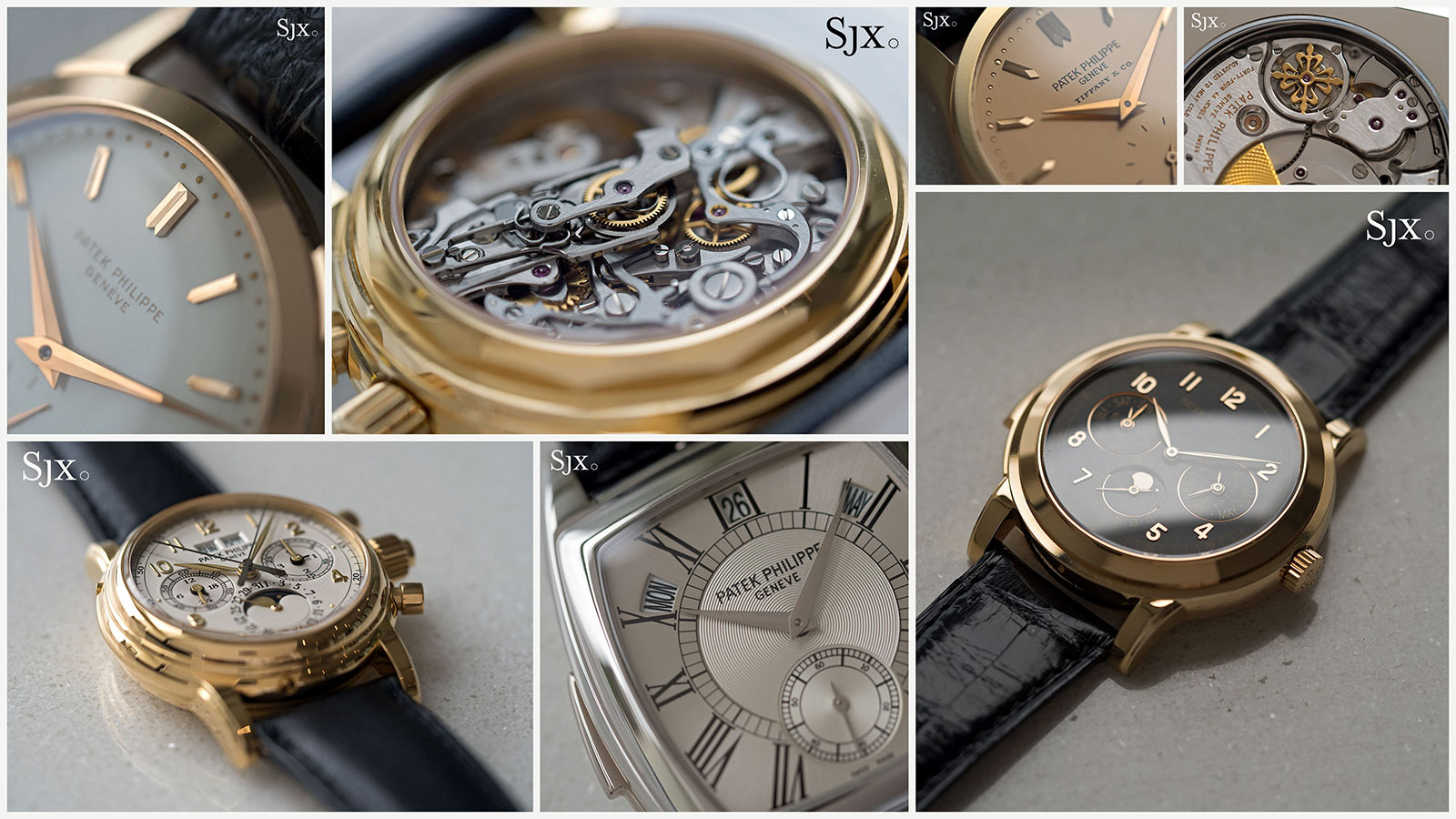 Christie's 257-lot Important Watches auction that takes place end May in Hong Kong does include some appropriately heavyweight timepieces, most of which are Patek Philippe. The million-dollar Sky Moon Tourbillon ref. 5002P for instance, and the scarce, tonneau-shaped ref. 5033P originally conceived at the request of Middle Eastern royalty.
But fortuitously amongst all these big ticket masterpieces from Geneva there are several value buys, including a small but delightful Calatrava "pink on pink" that's also signed "Tiffany". And the sale also includes the impossibly rare and slightly obscure ref. 2577 with a cream enamel dial. Here's a selection of choice picks from the sale, with something for every budget.
---
Lot 2275 – Patek Philippe ref. 5004J perpetual calendar split seconds chronograph
One of the most complicated modern day Patek Philippe chronographs, the ref. 5004 combines a perpetual calendar with a rattrapante stopwatch, built on a reworked Lemania 2310 base movement.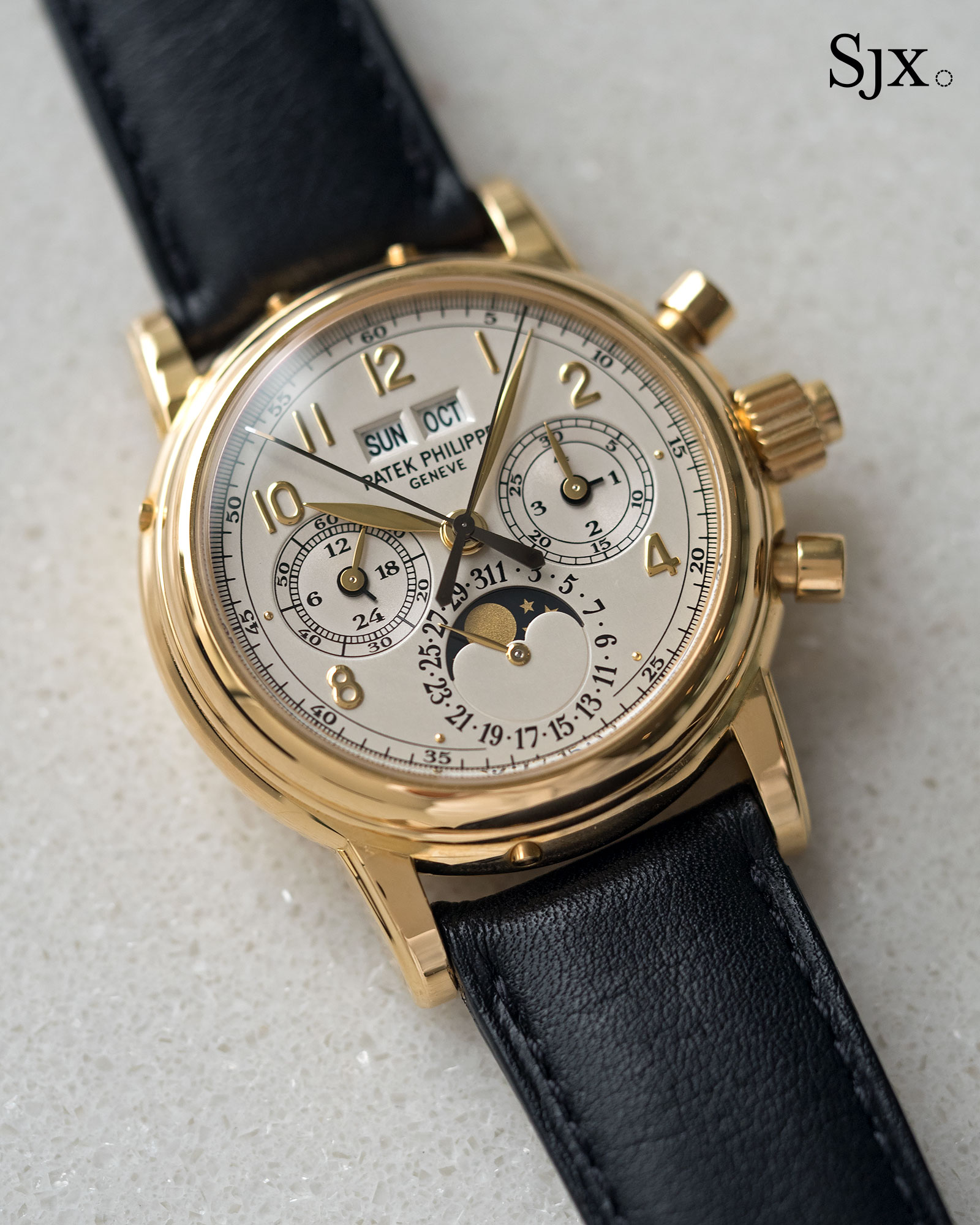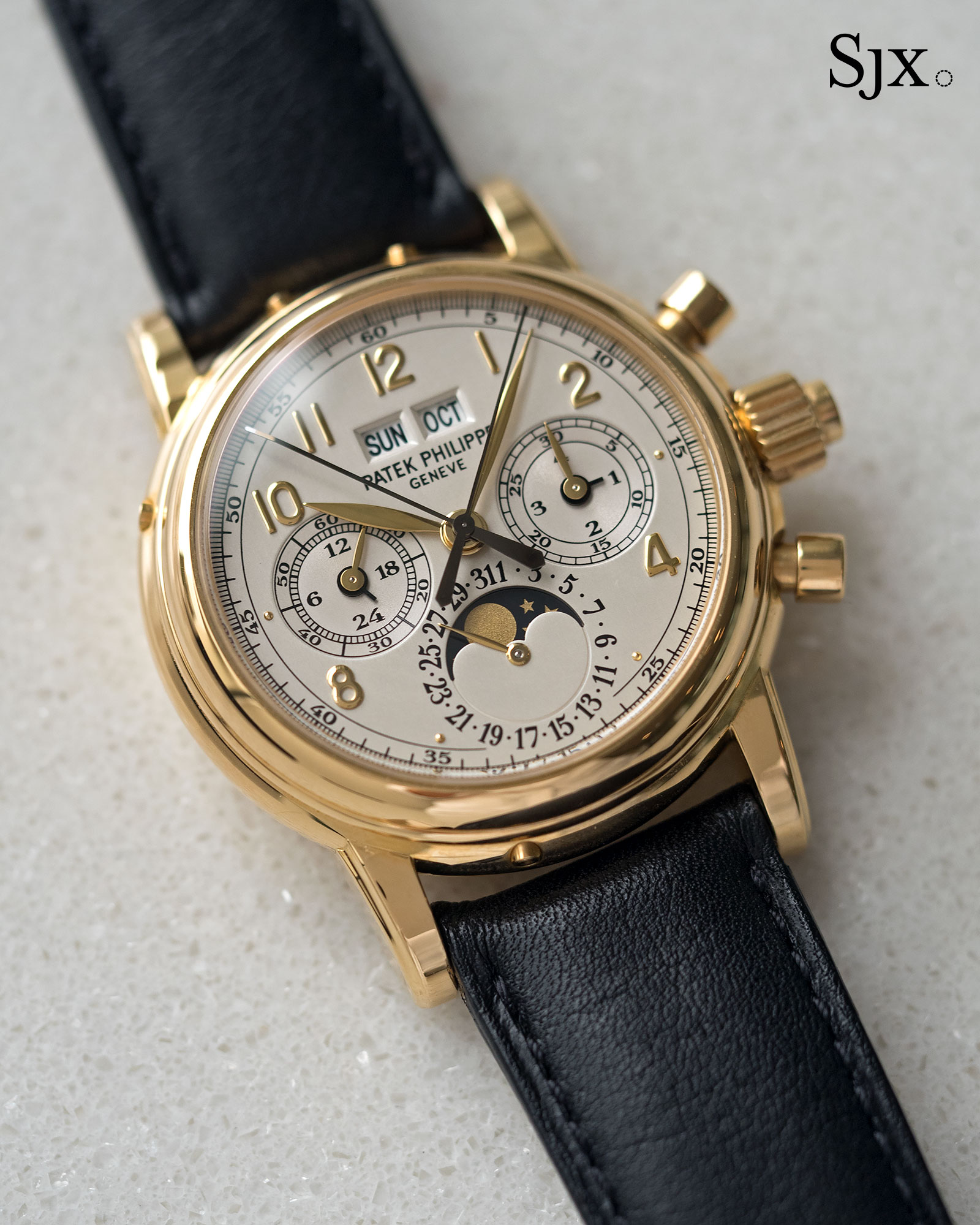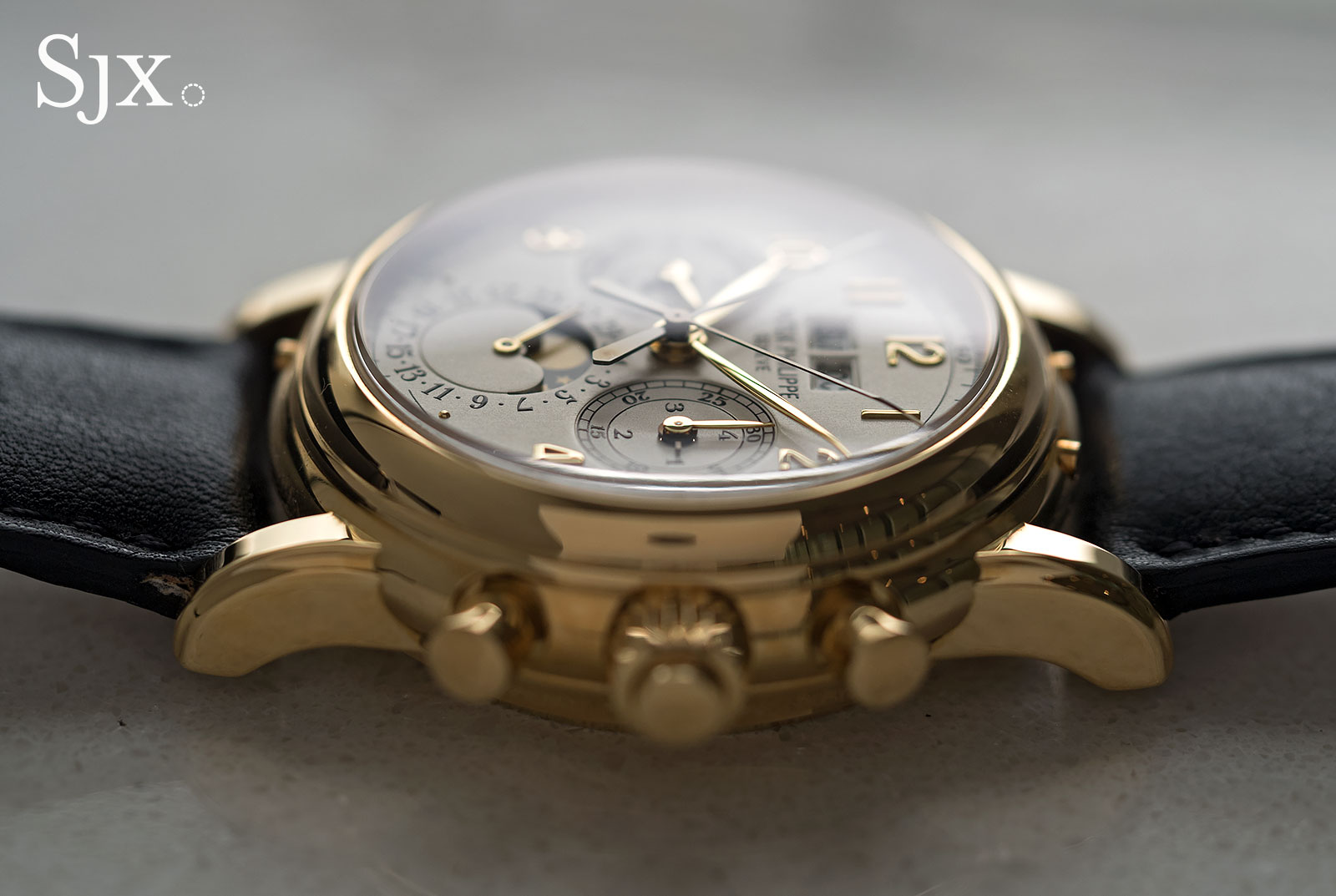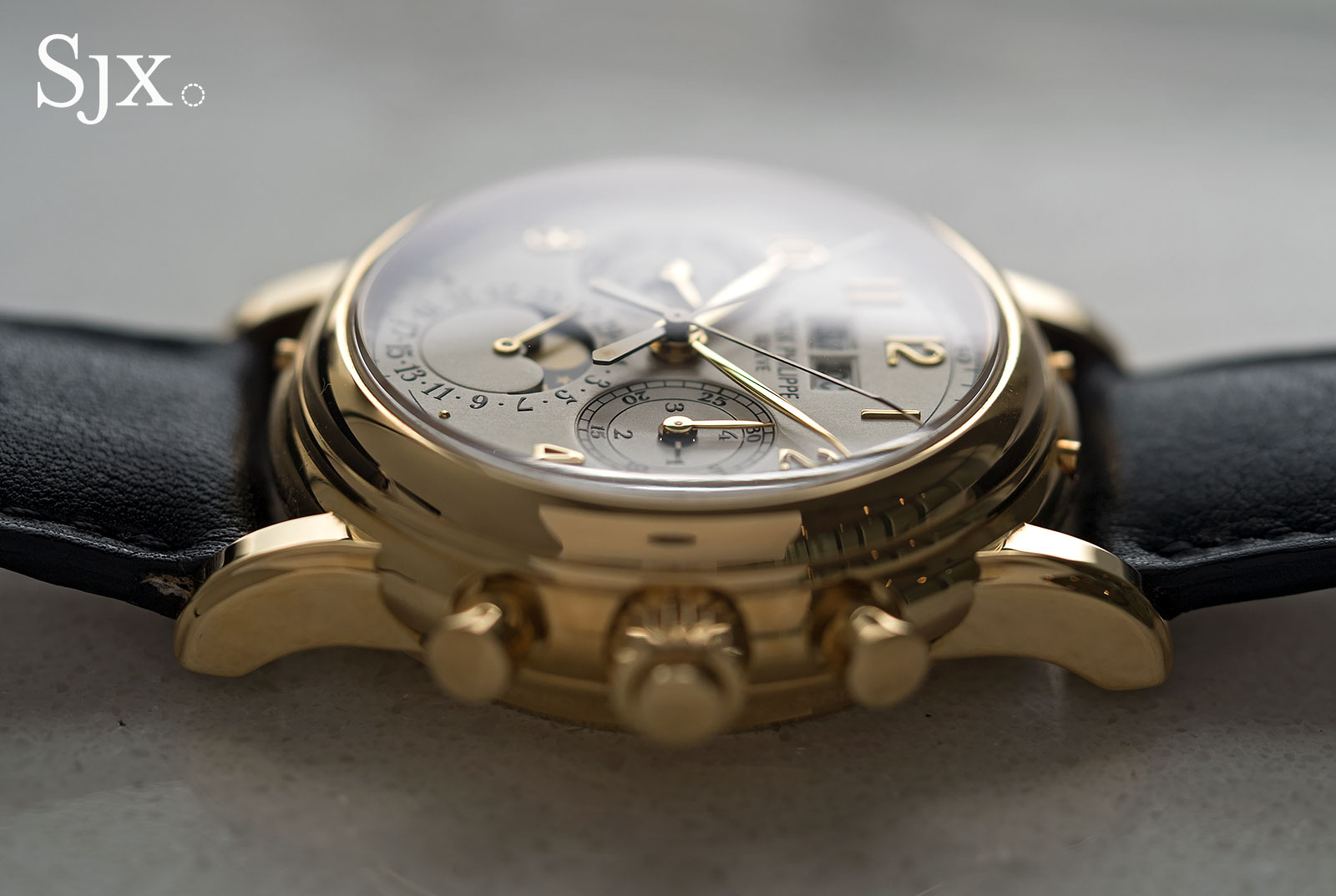 Now discontinued in favour of an in-house movement, the ref. 5004 is less in vogue than other comparable Patek Philippe chronographs, yet it has all the qualities of a classic.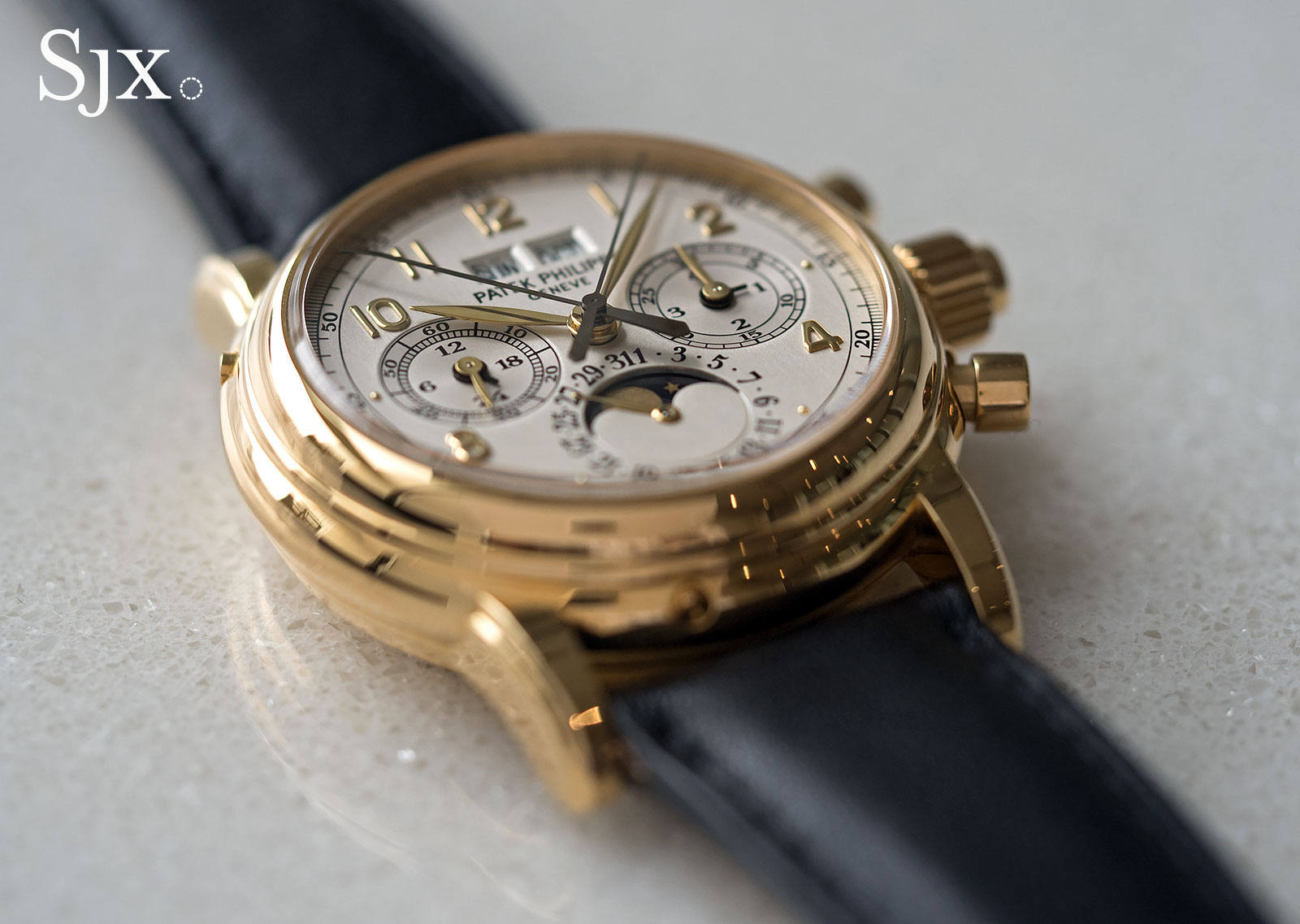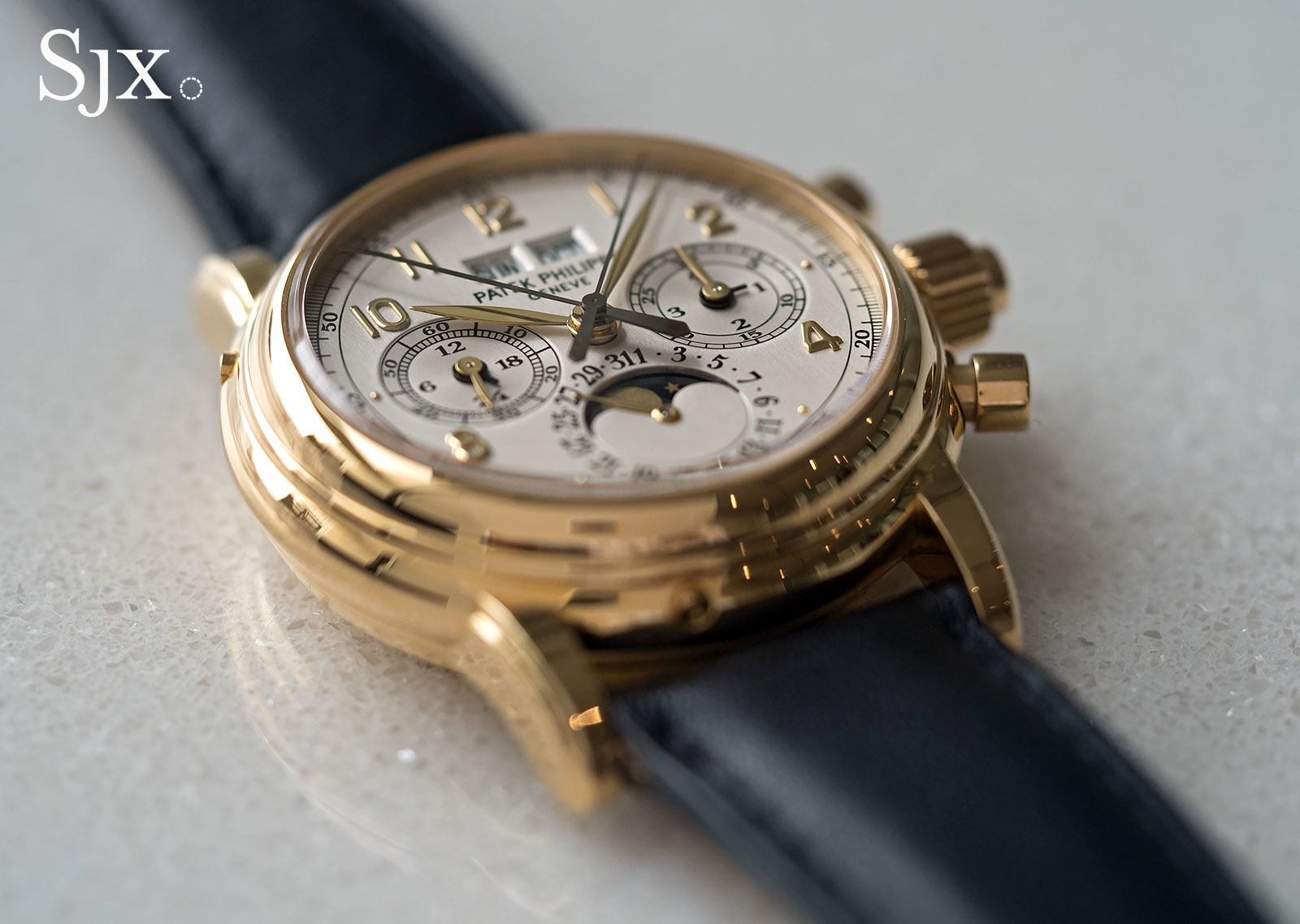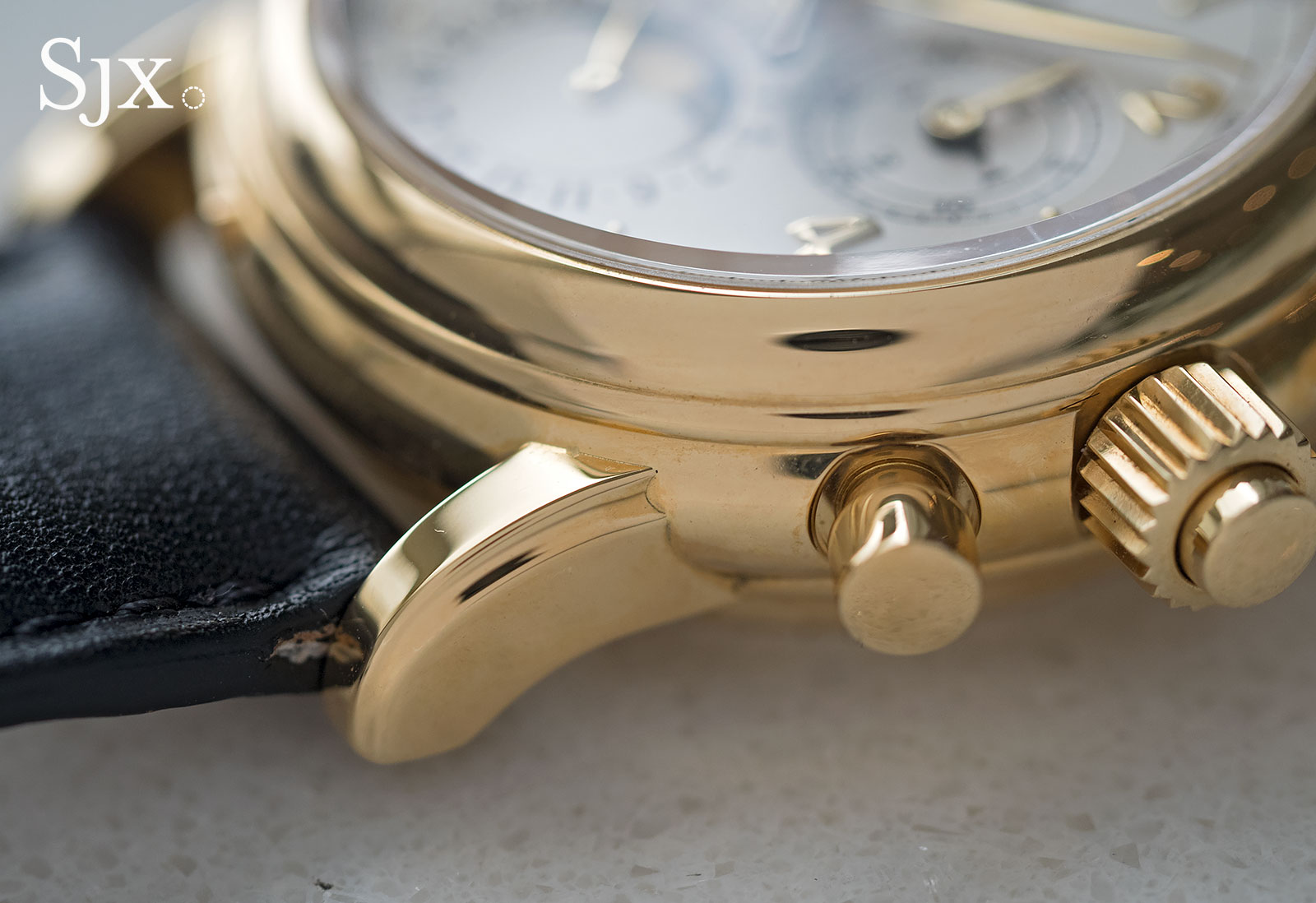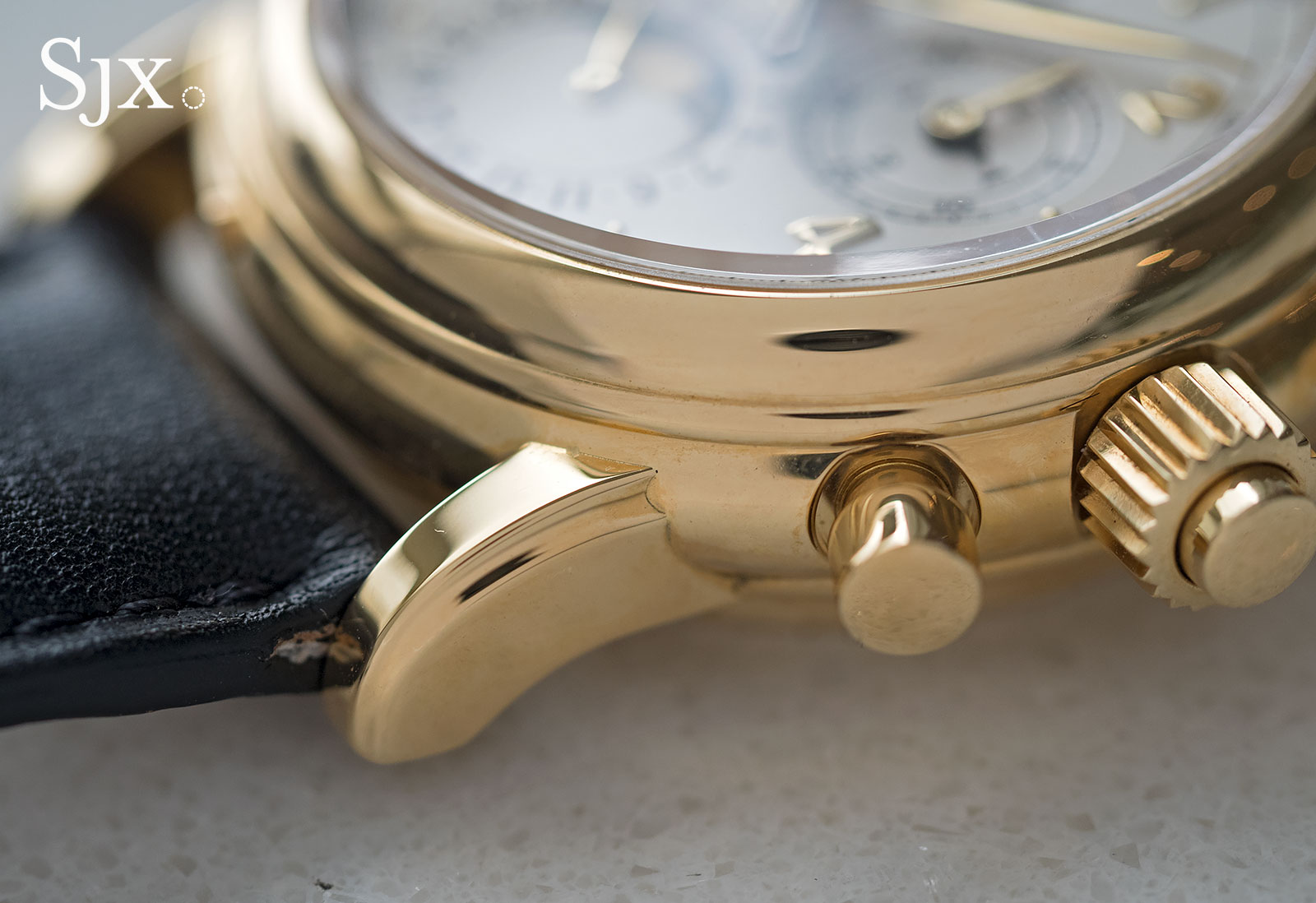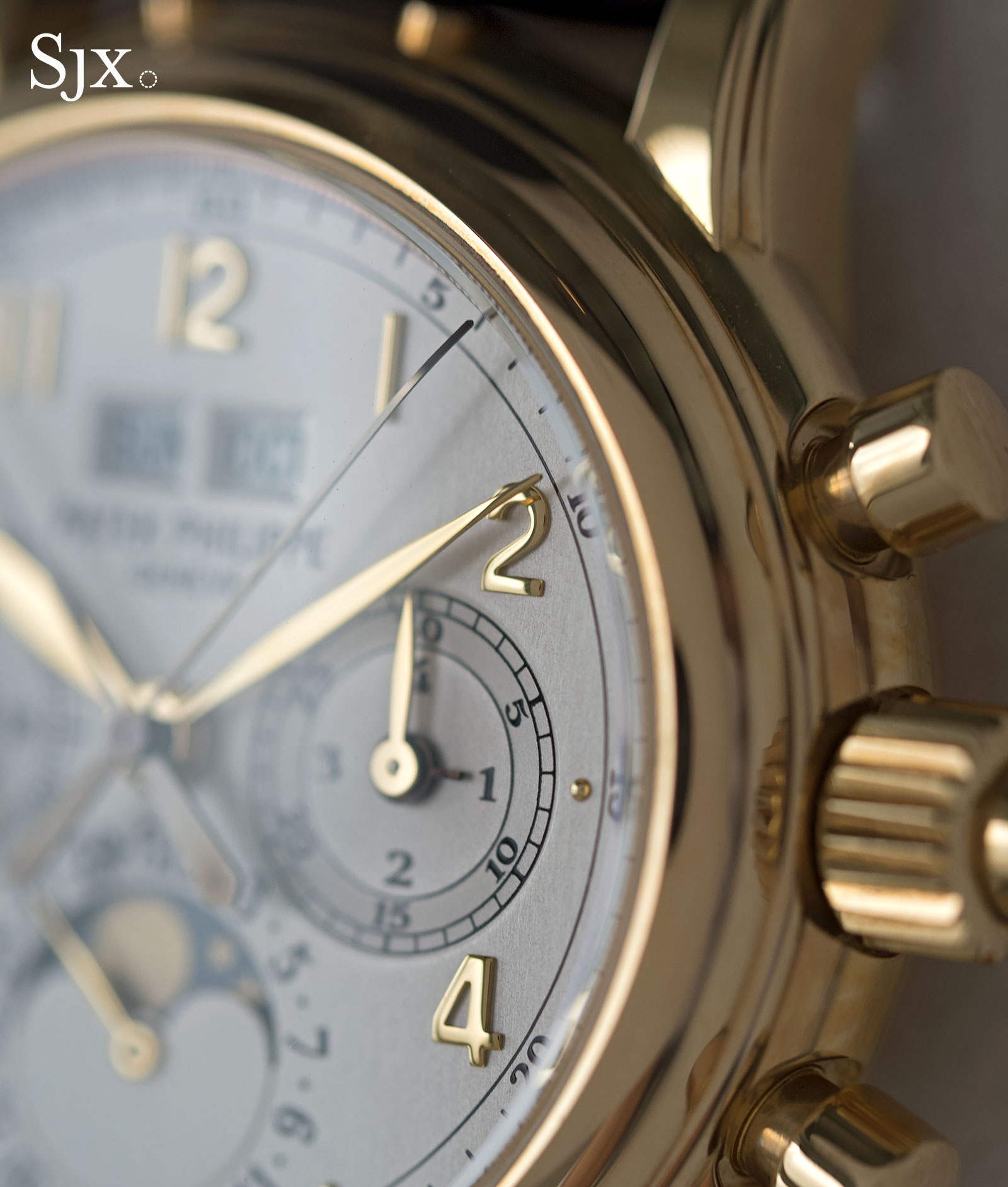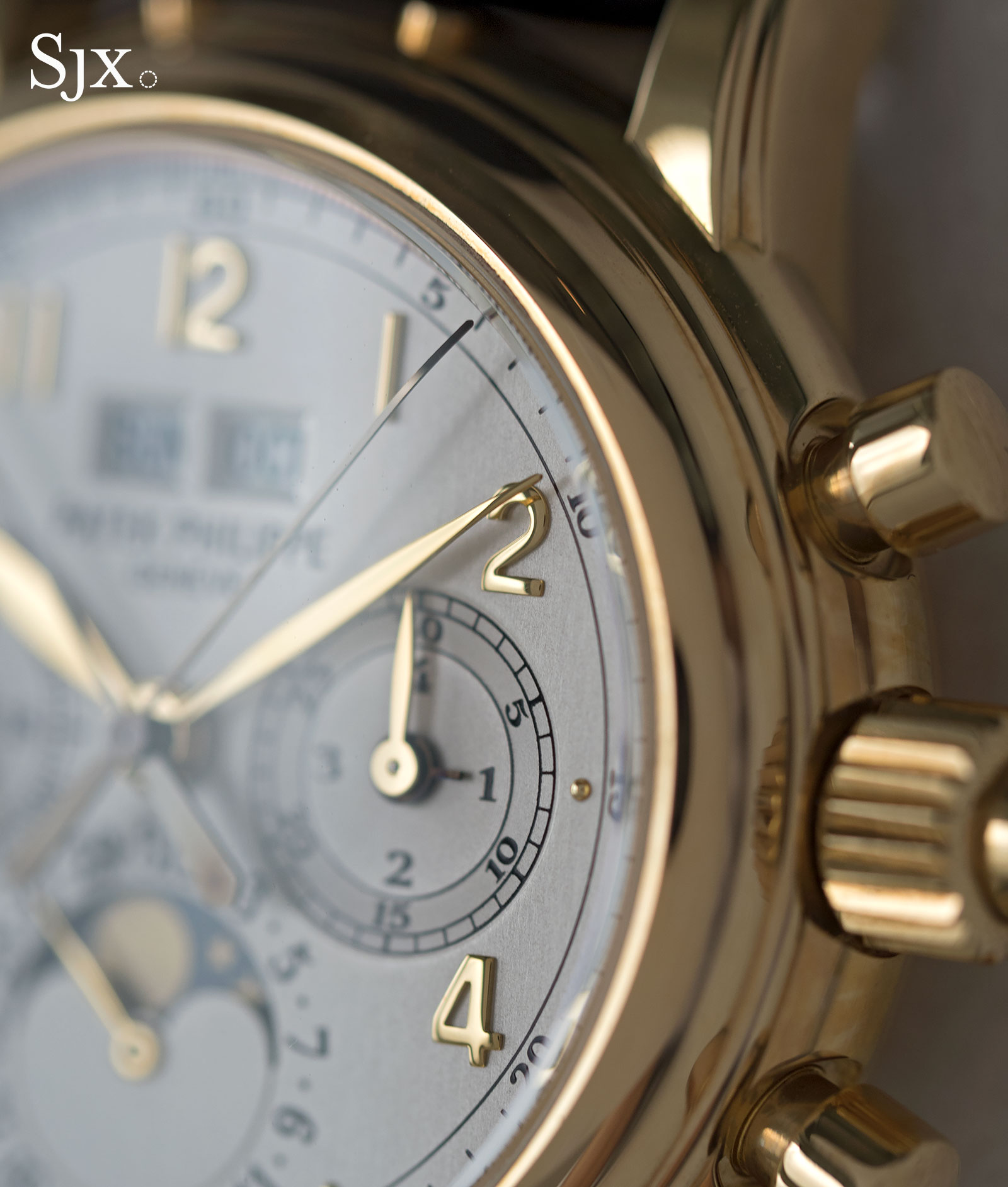 The ref. 5004 has the quintessential, old school Patek Philippe perpetual chronograph style. It's a compact 36.5mm in diameter, albeit slightly thick, giving it retro proportions. And the ref. 5004 is also significantly more traditional looking than the watch that replaced it, the ref. 5204.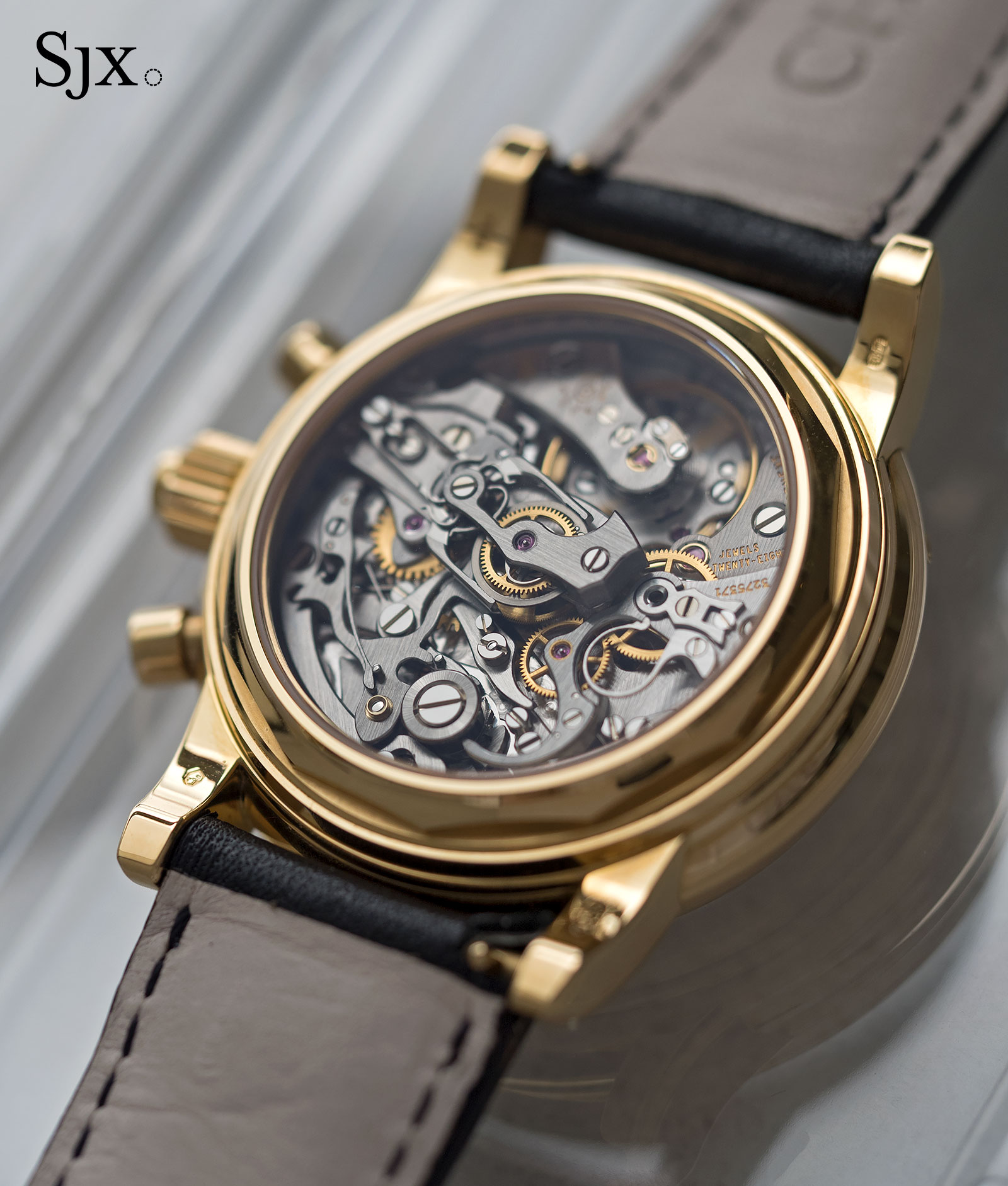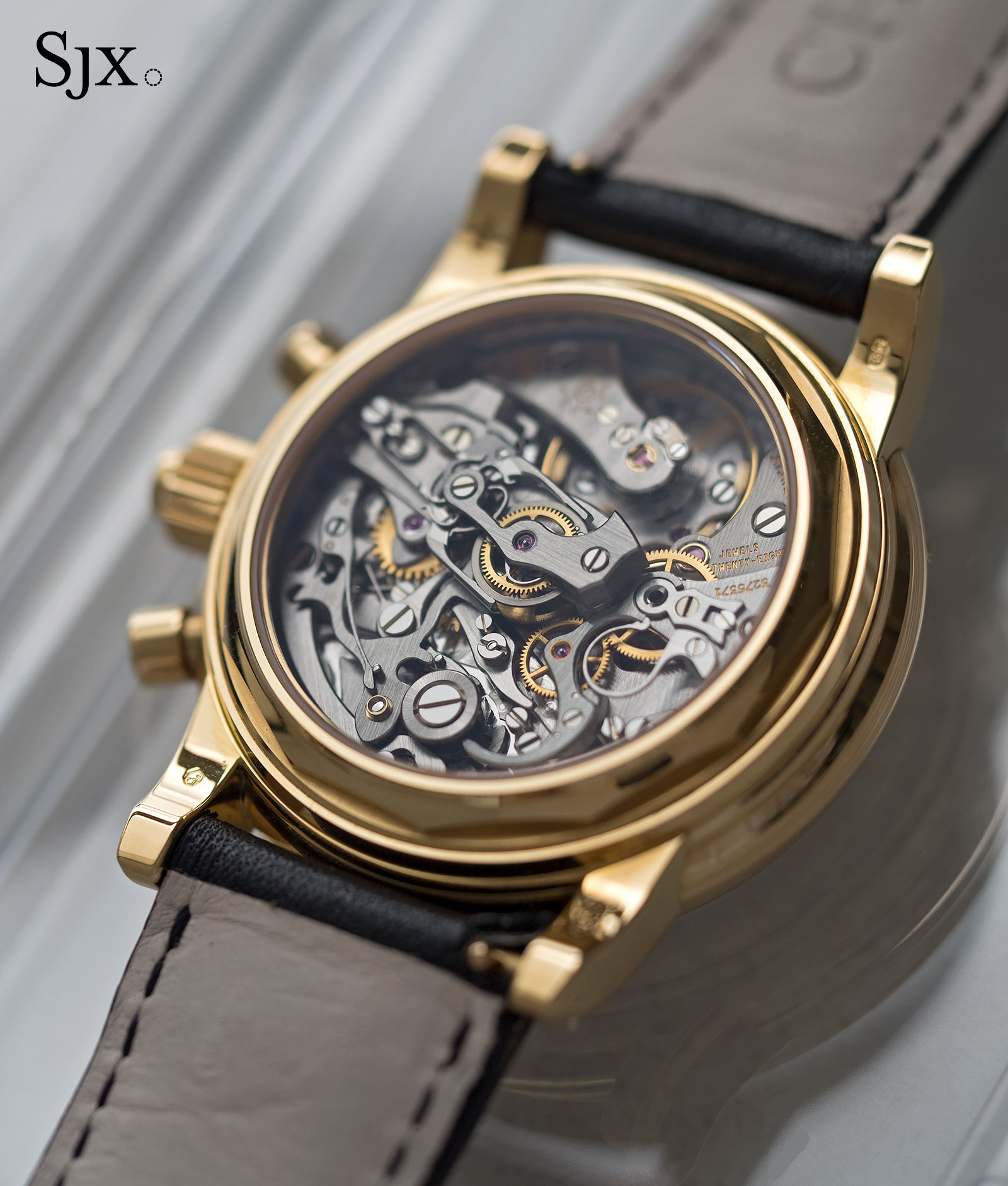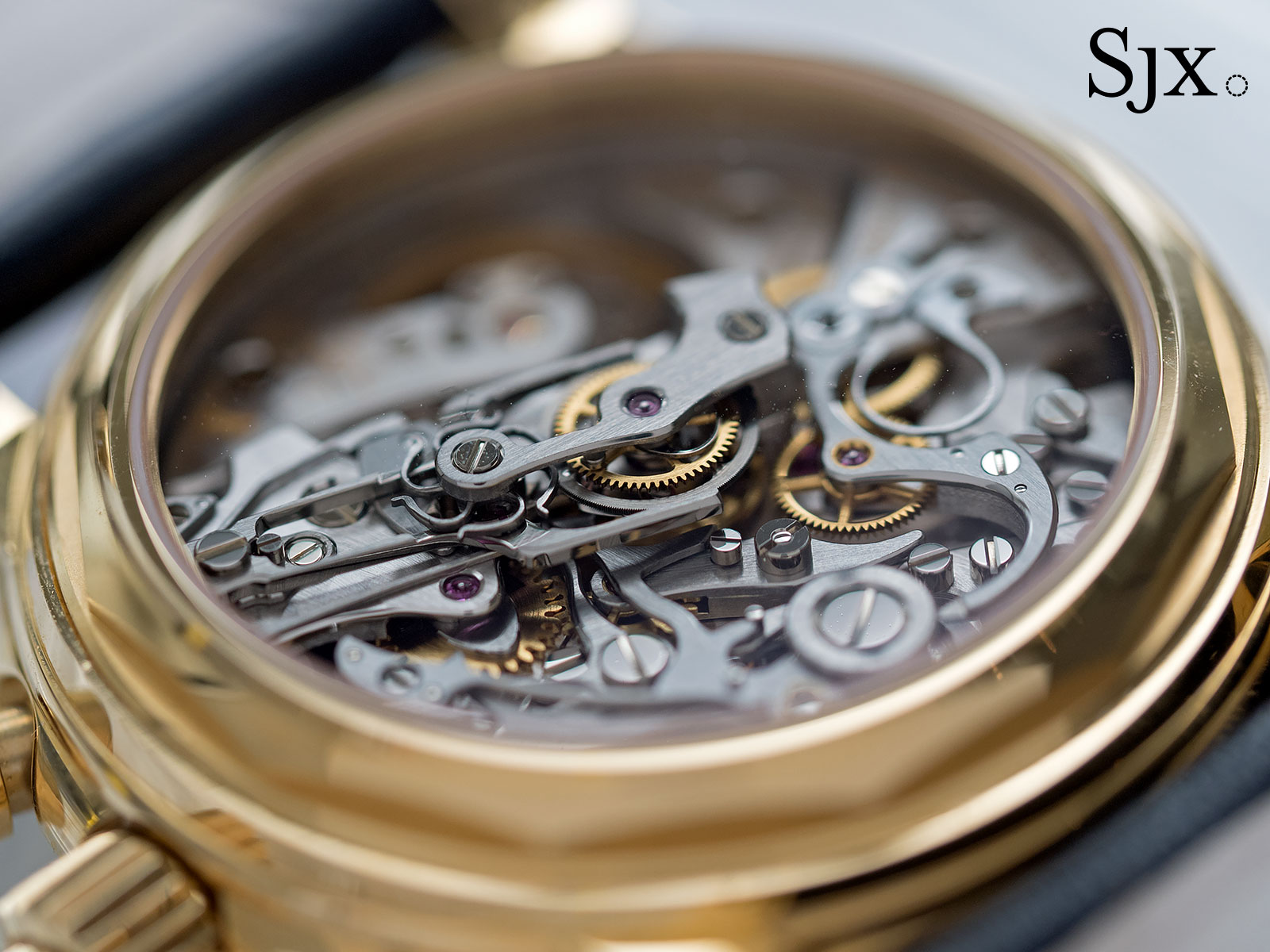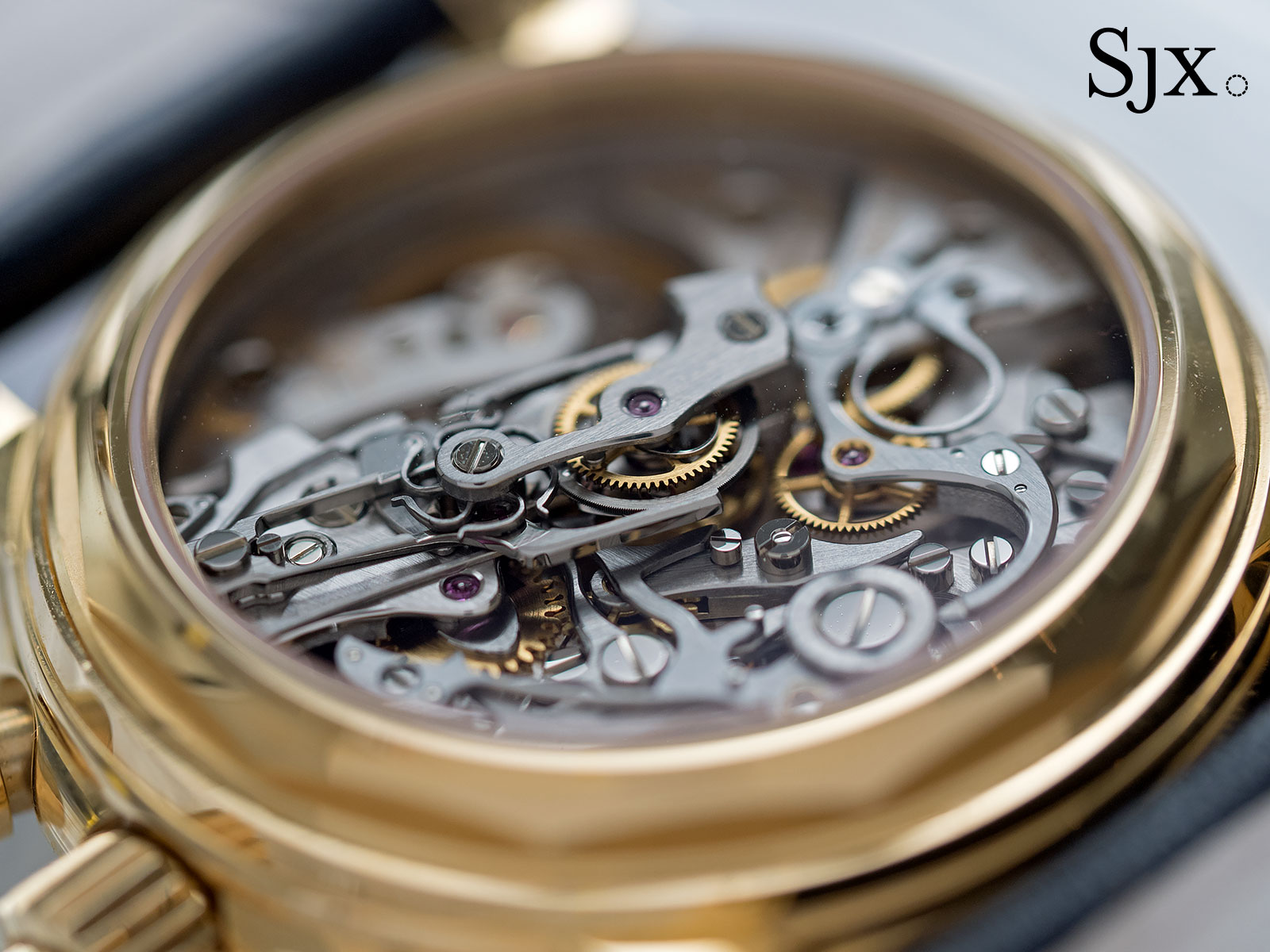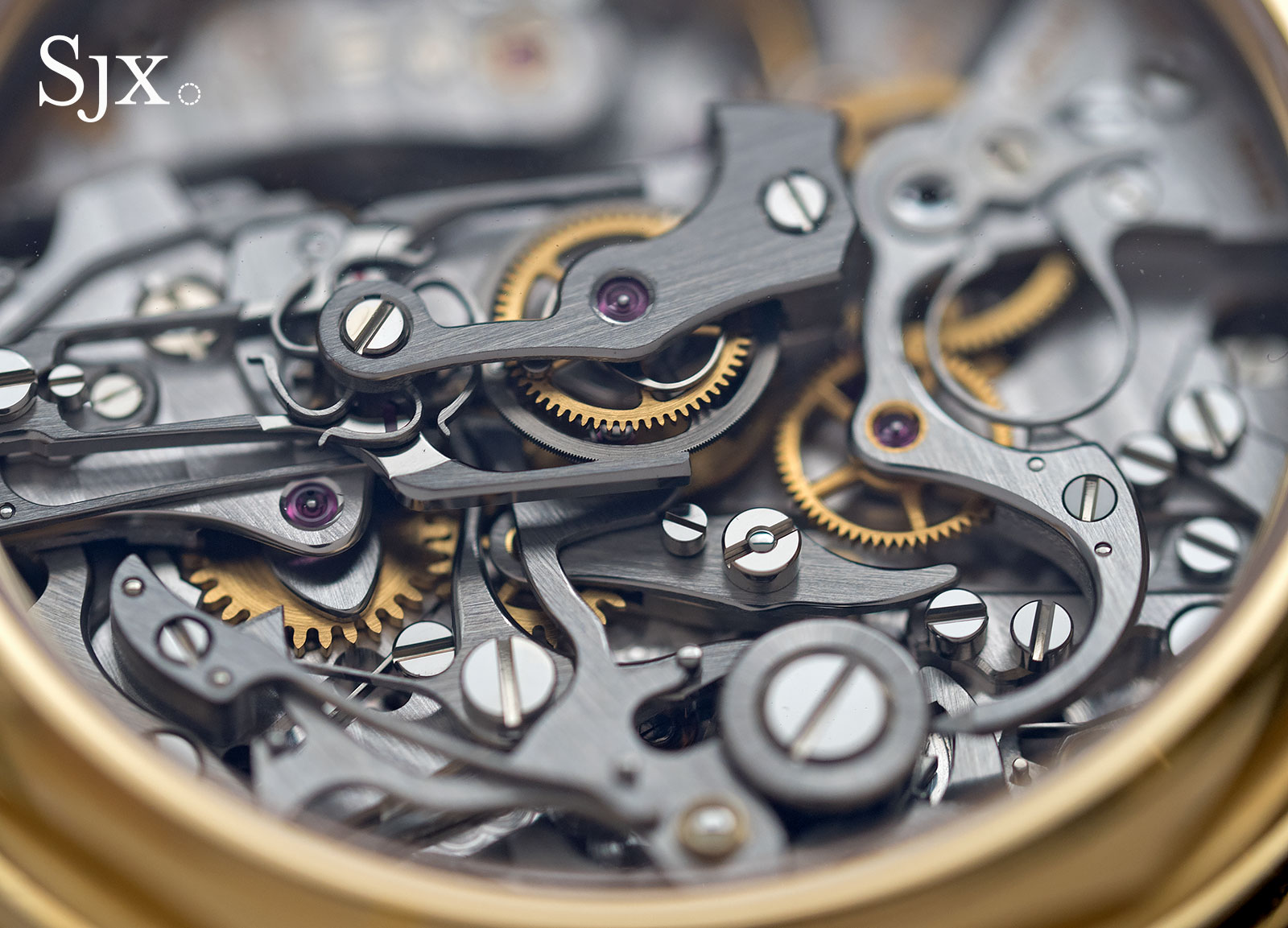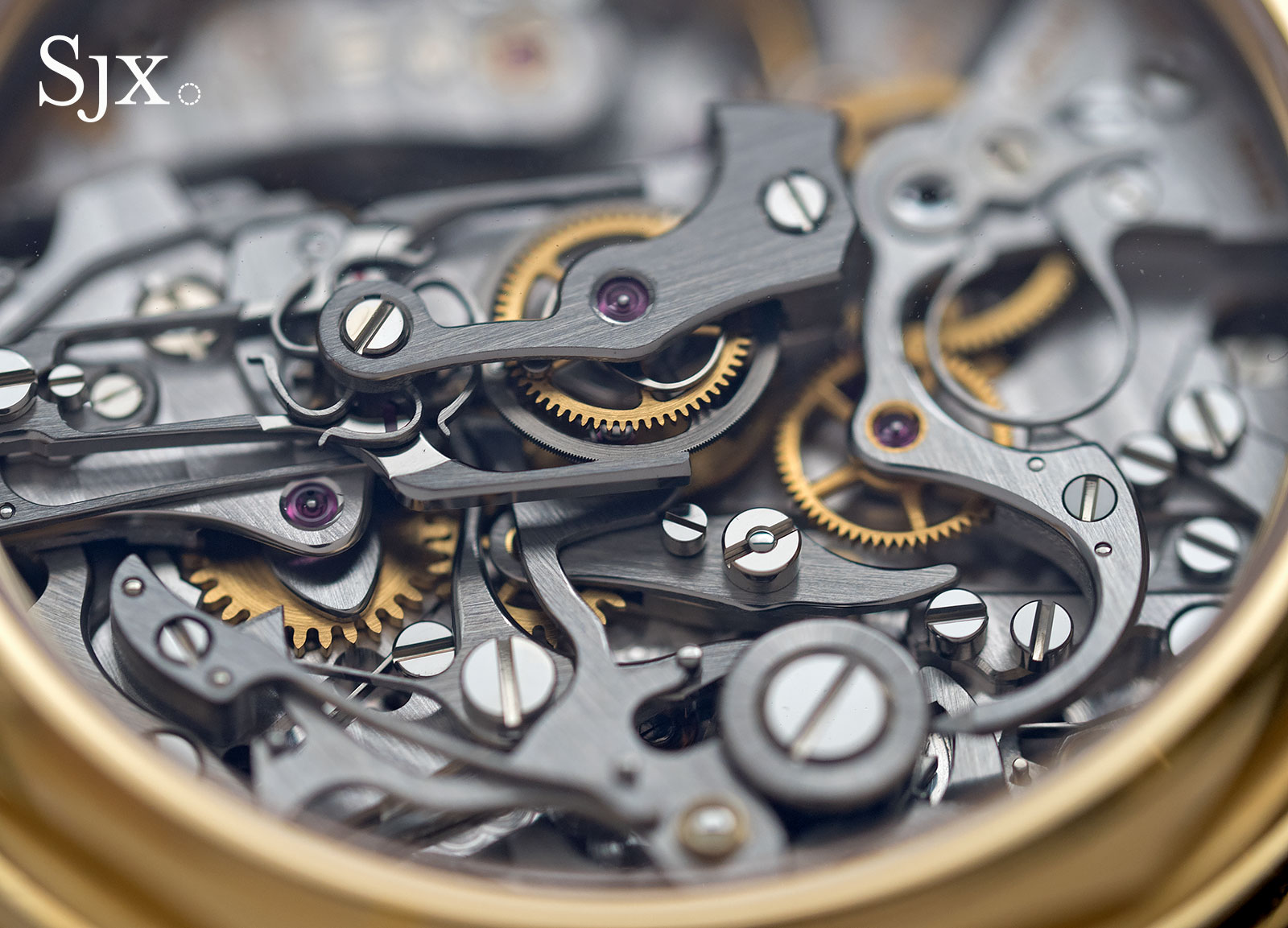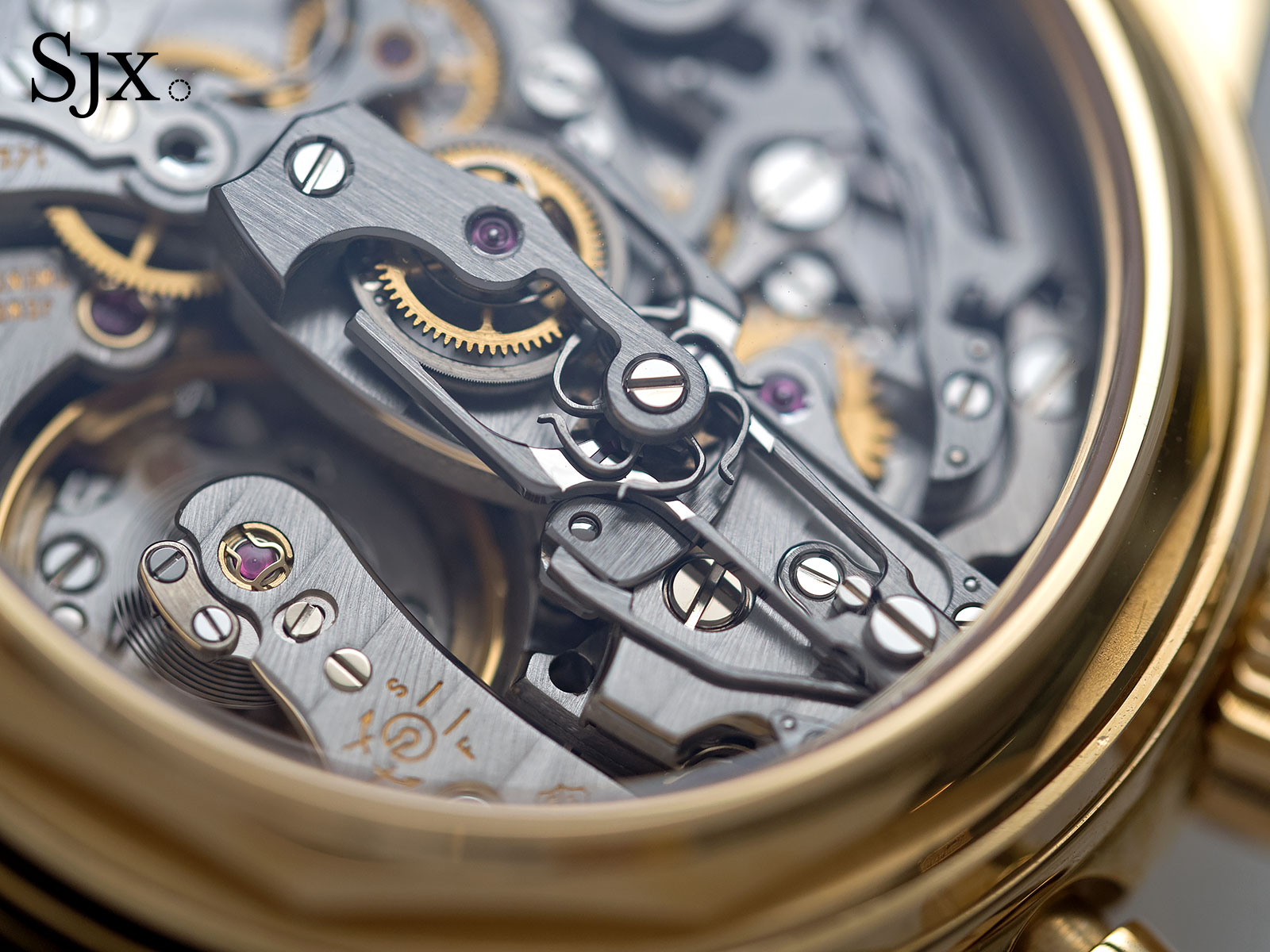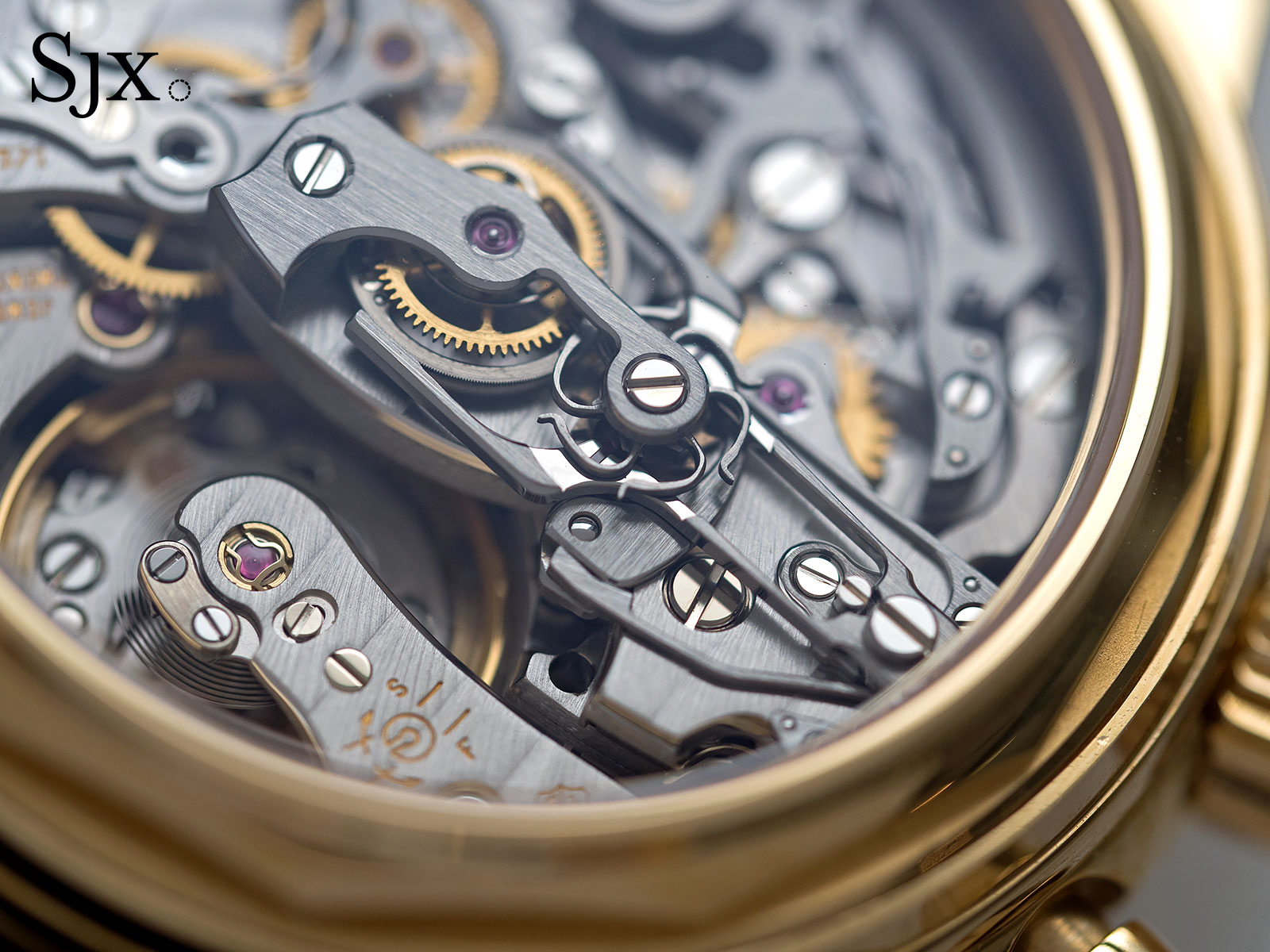 This example is in fine, original condition, with all the accompanying paraphernalia, including the spare, solid case back. Estimated at HK$1.1m to HK$1.8m (US$150,000 to US$230,000), the ref. 5004J is a lot of money but comparatively good value as such things go.
---
Lot 2276 – Patek Philippe ref. 5074R minute repeater with perpetual calendar
The ref. 5074 is notable within the Patek Philippe grand complication line-up for being largish – the case is 42mm in diameter – while recognisably traditional in design. Most of the larger Patek Philippe complicated watches, on the other hand, have a more contemporary look.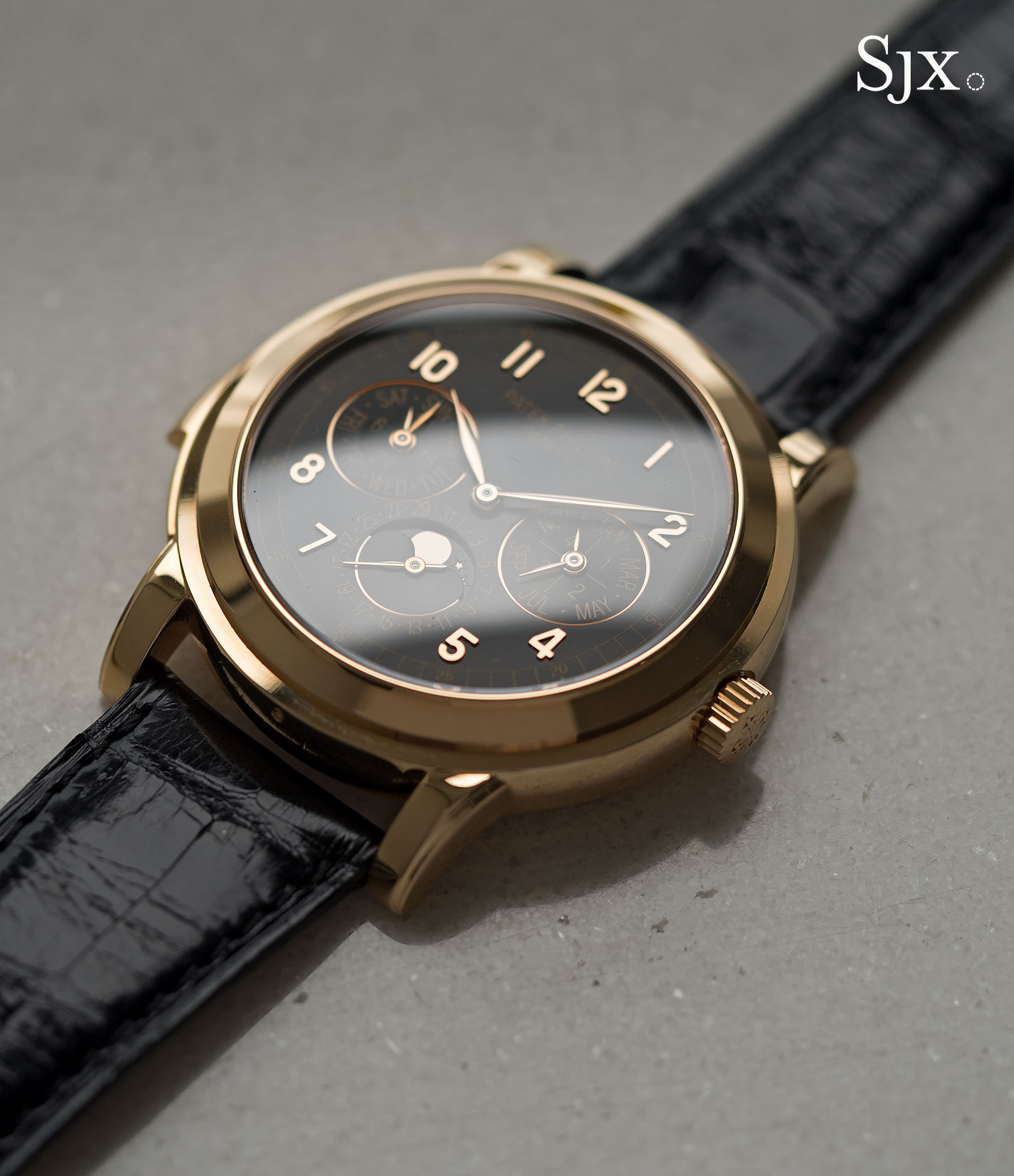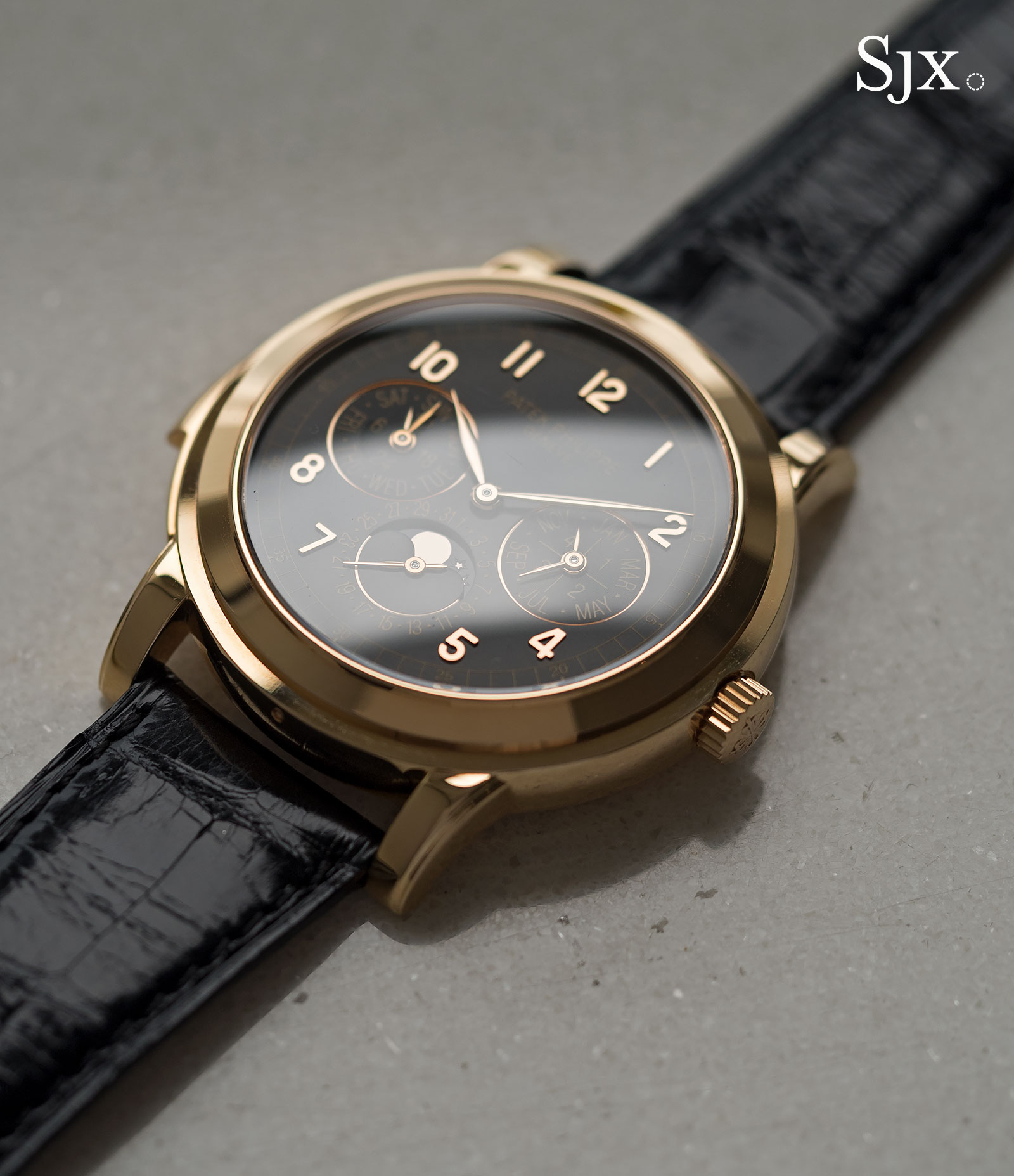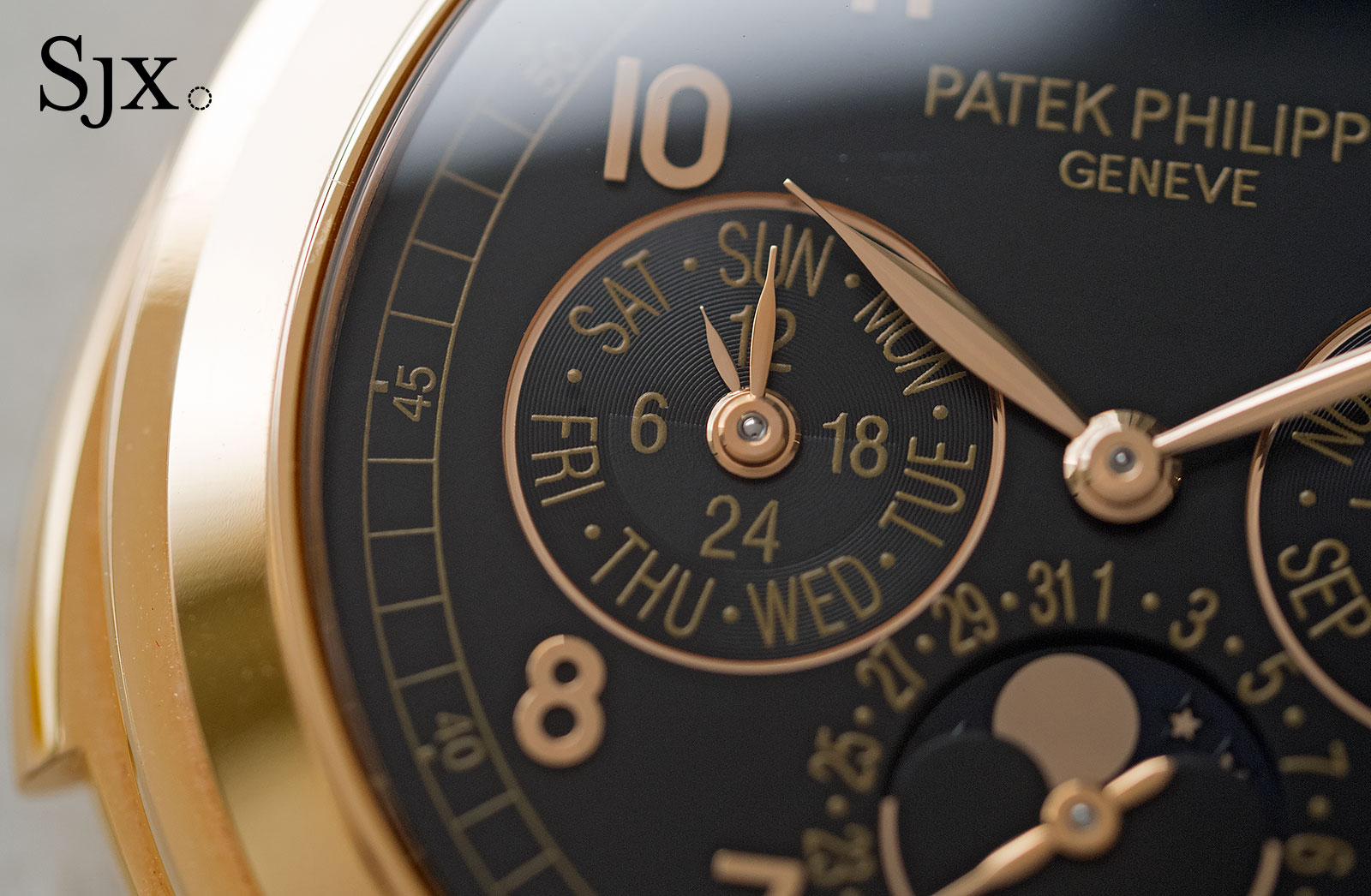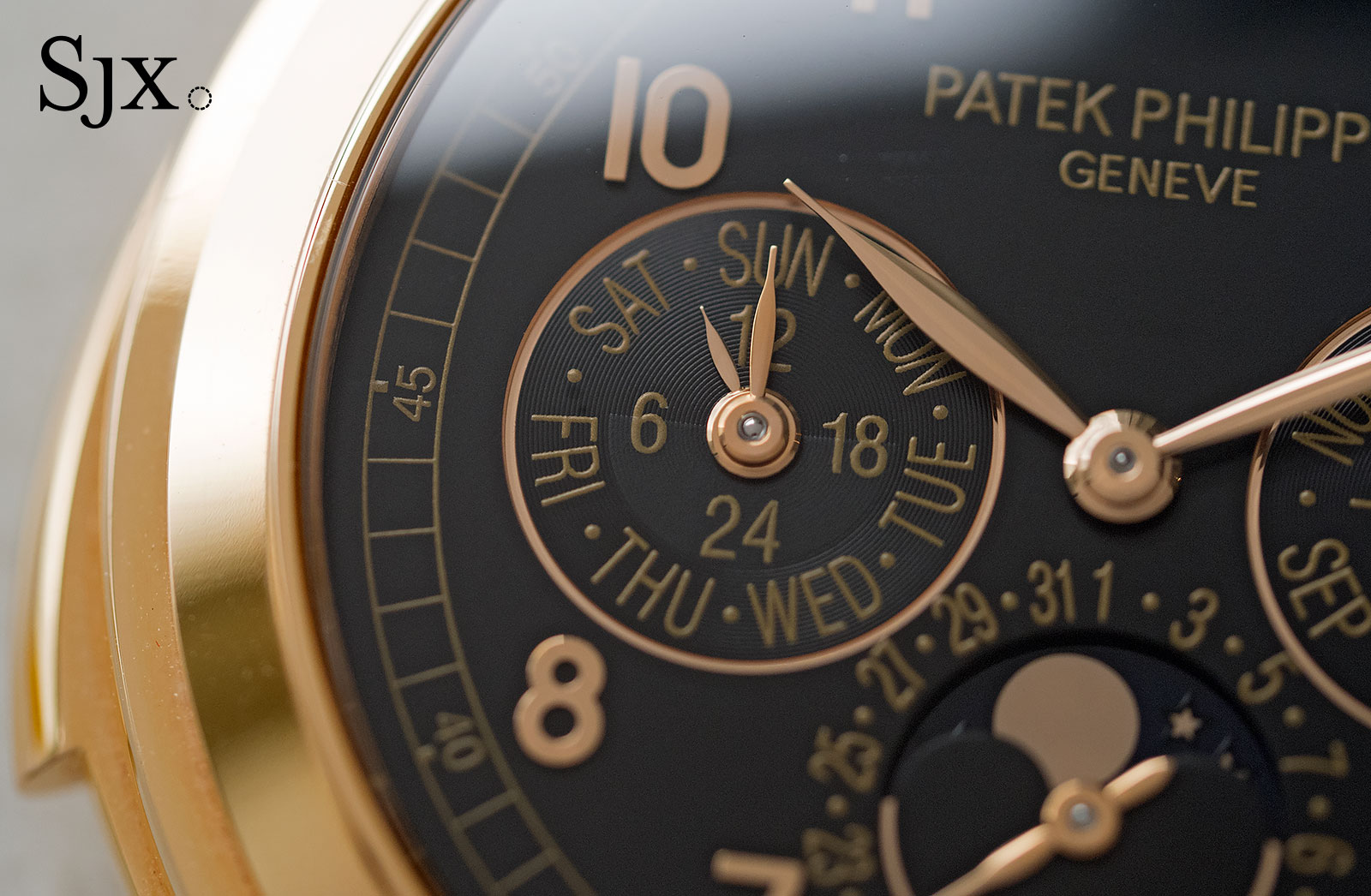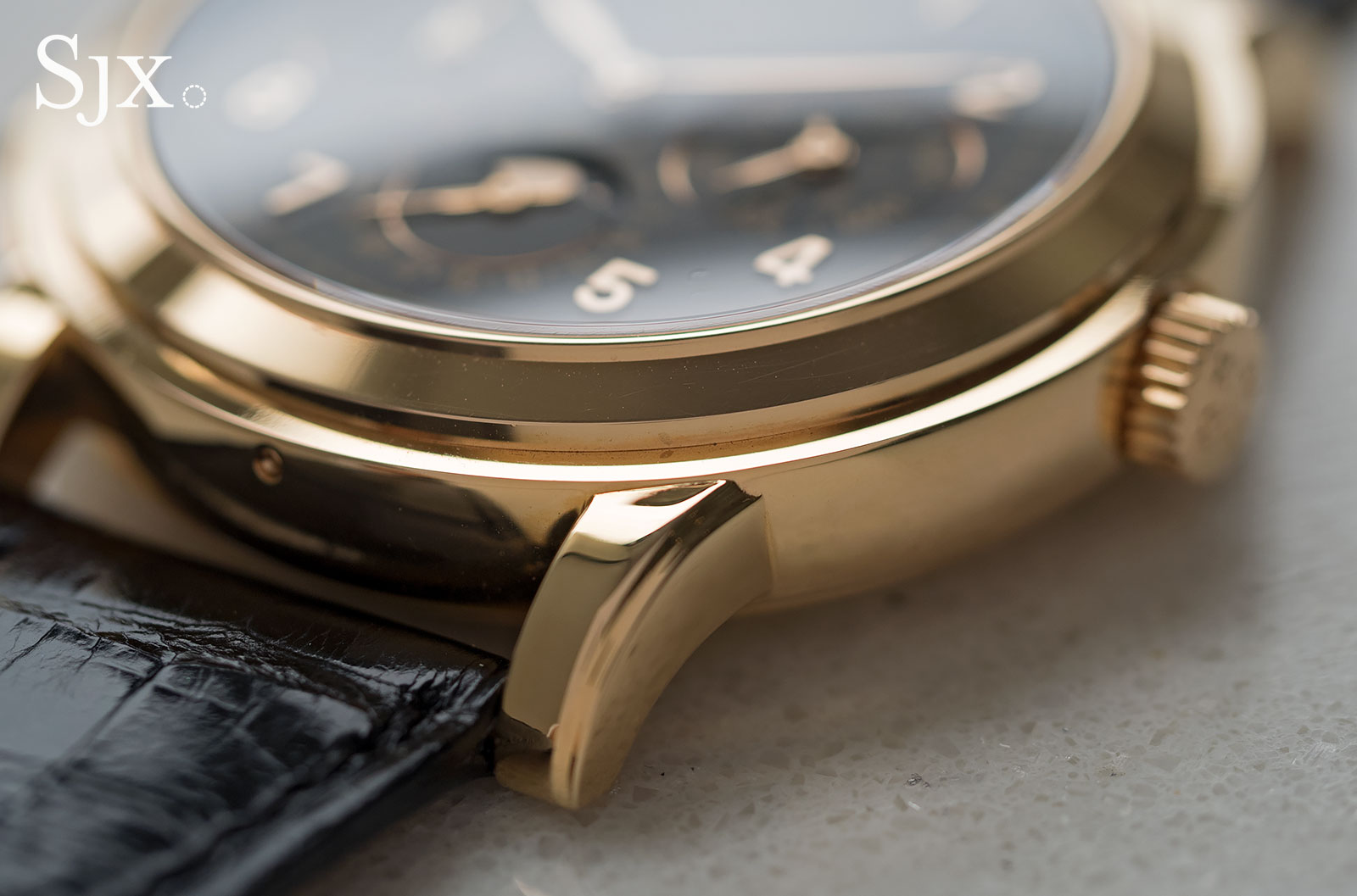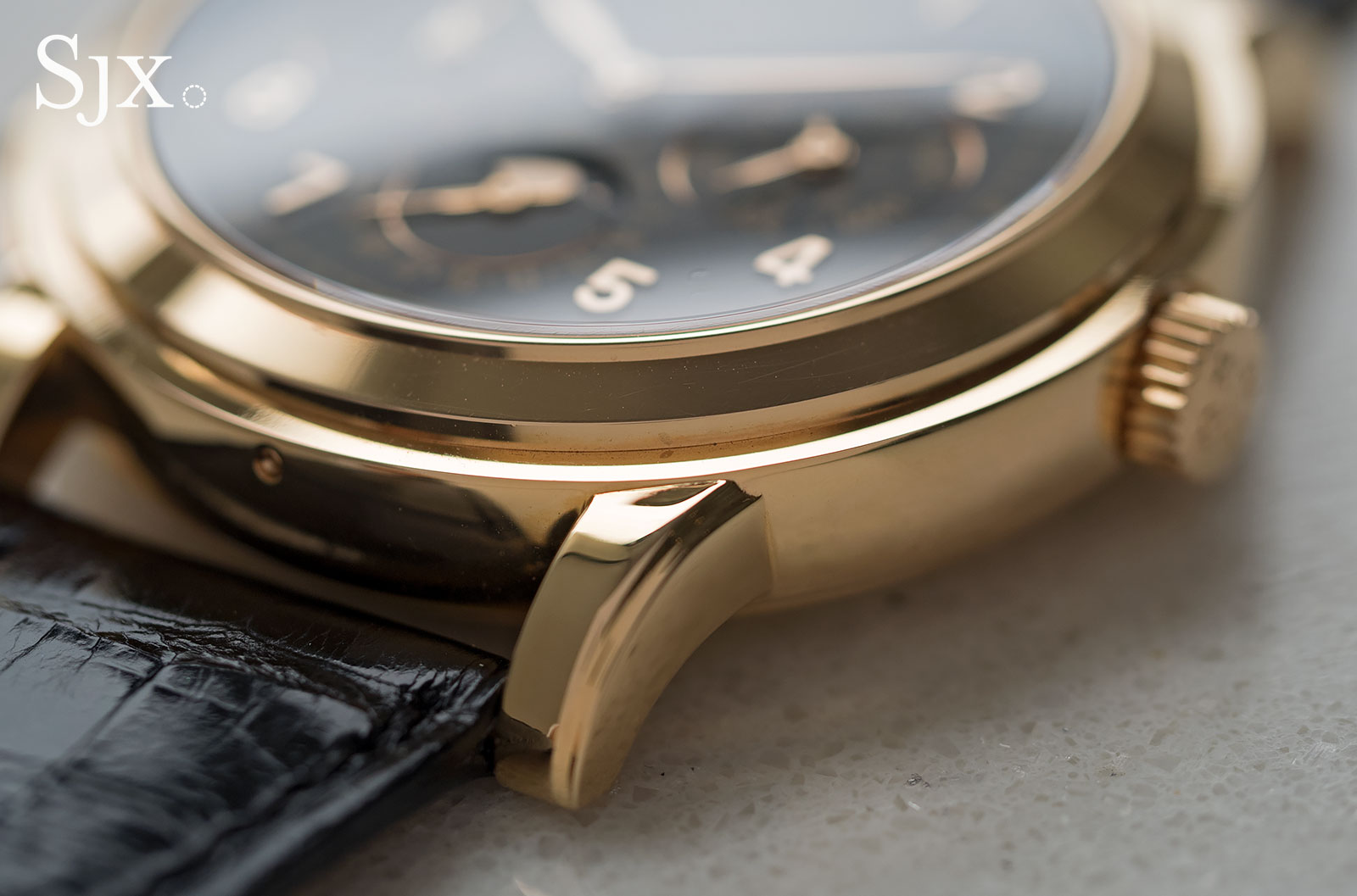 The ref. 5074 has a wide, sloped bezel, just like that on the ref. 5070 chronograph, applied Arabic numerals on a symmetrical dial, as well as leaf hands. It's a pleasing look, especially with a black dial.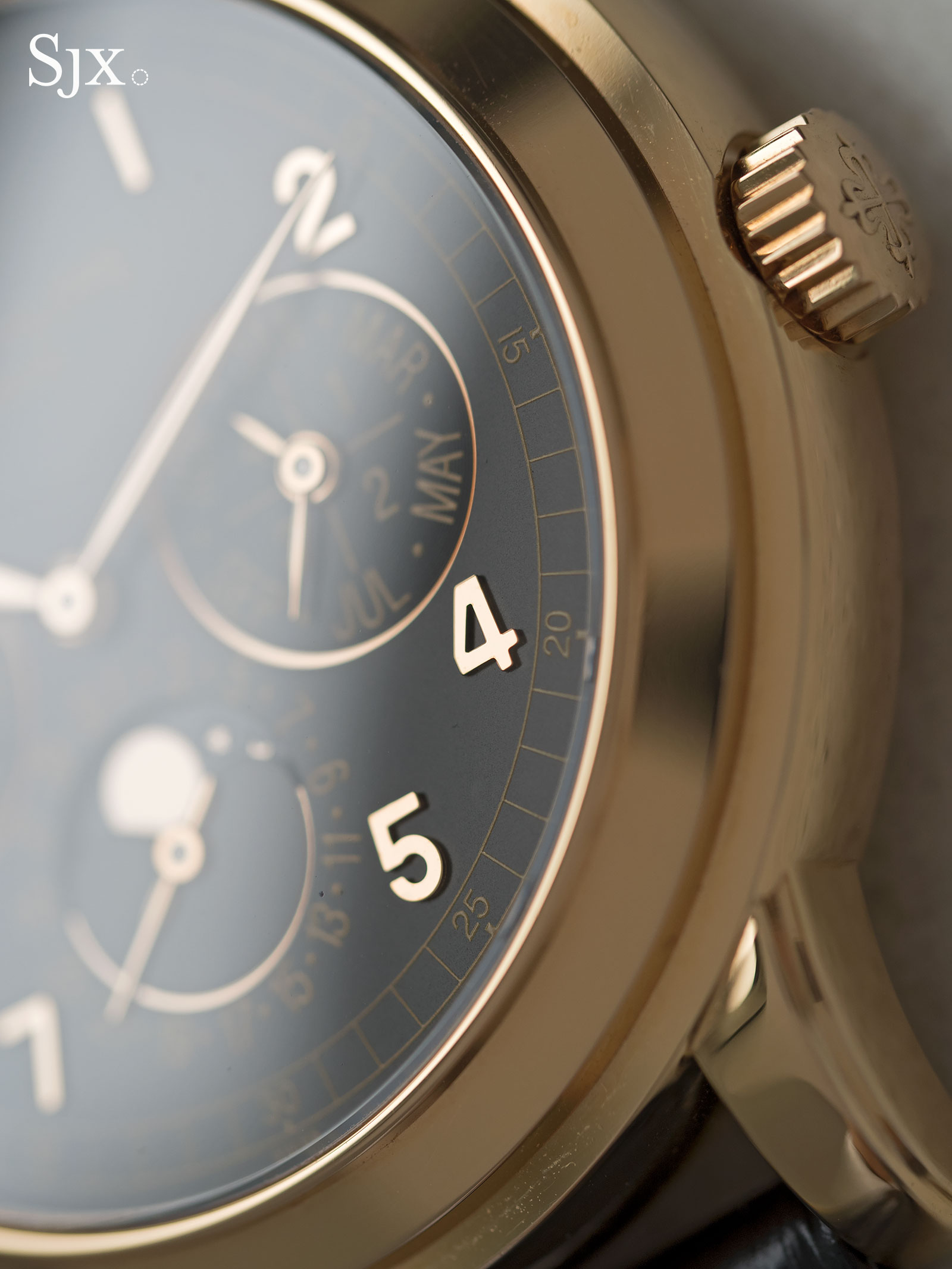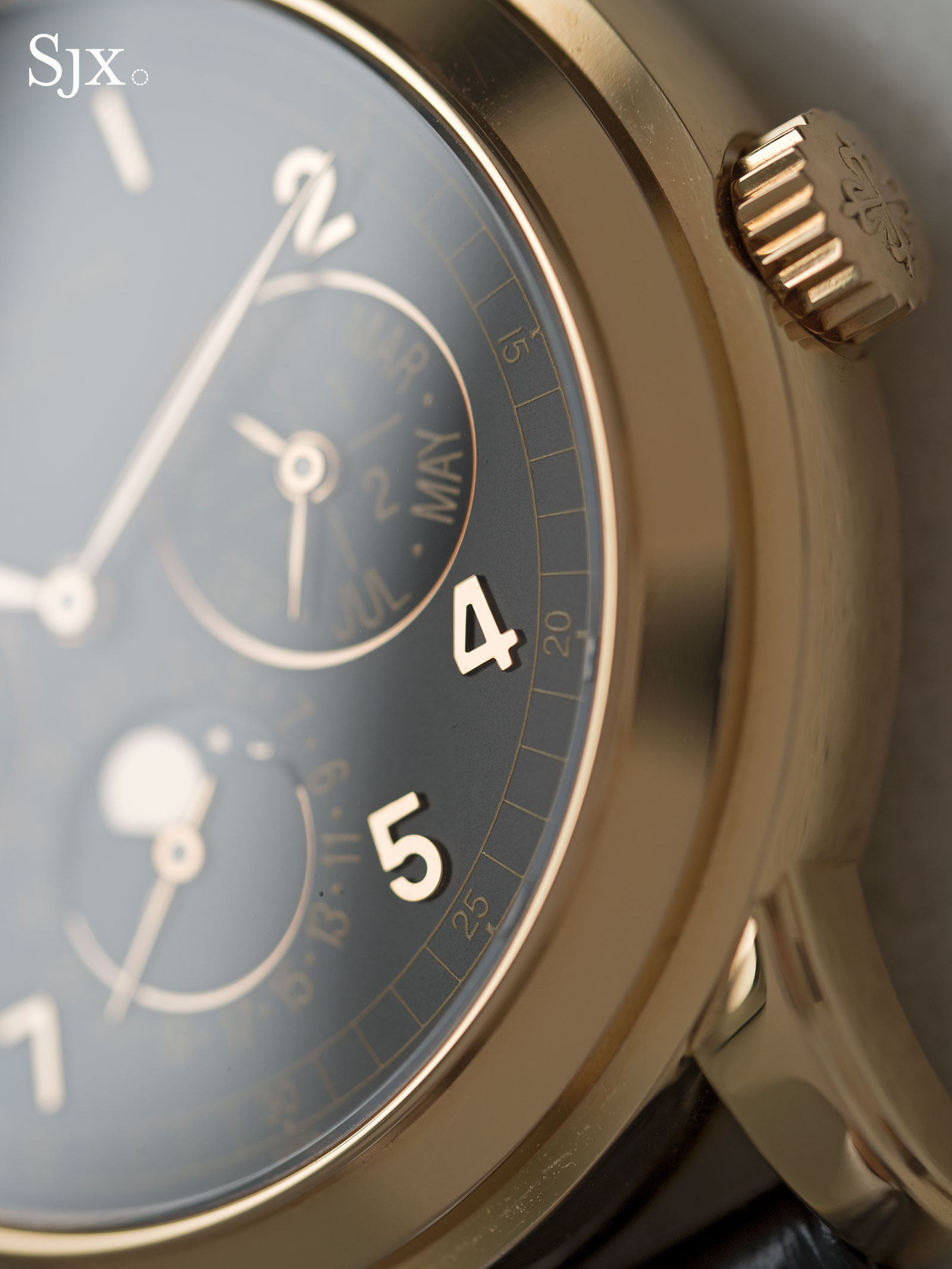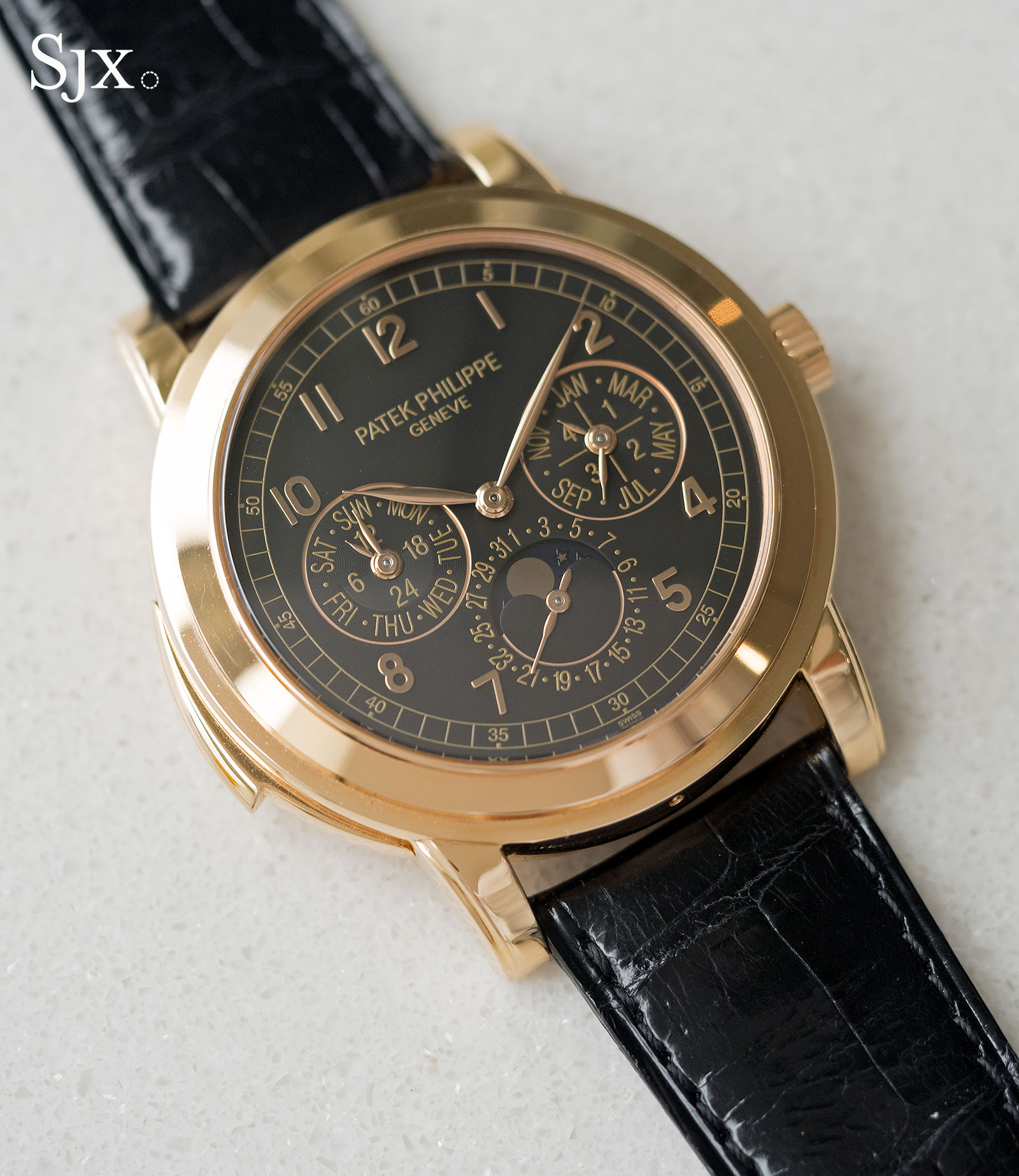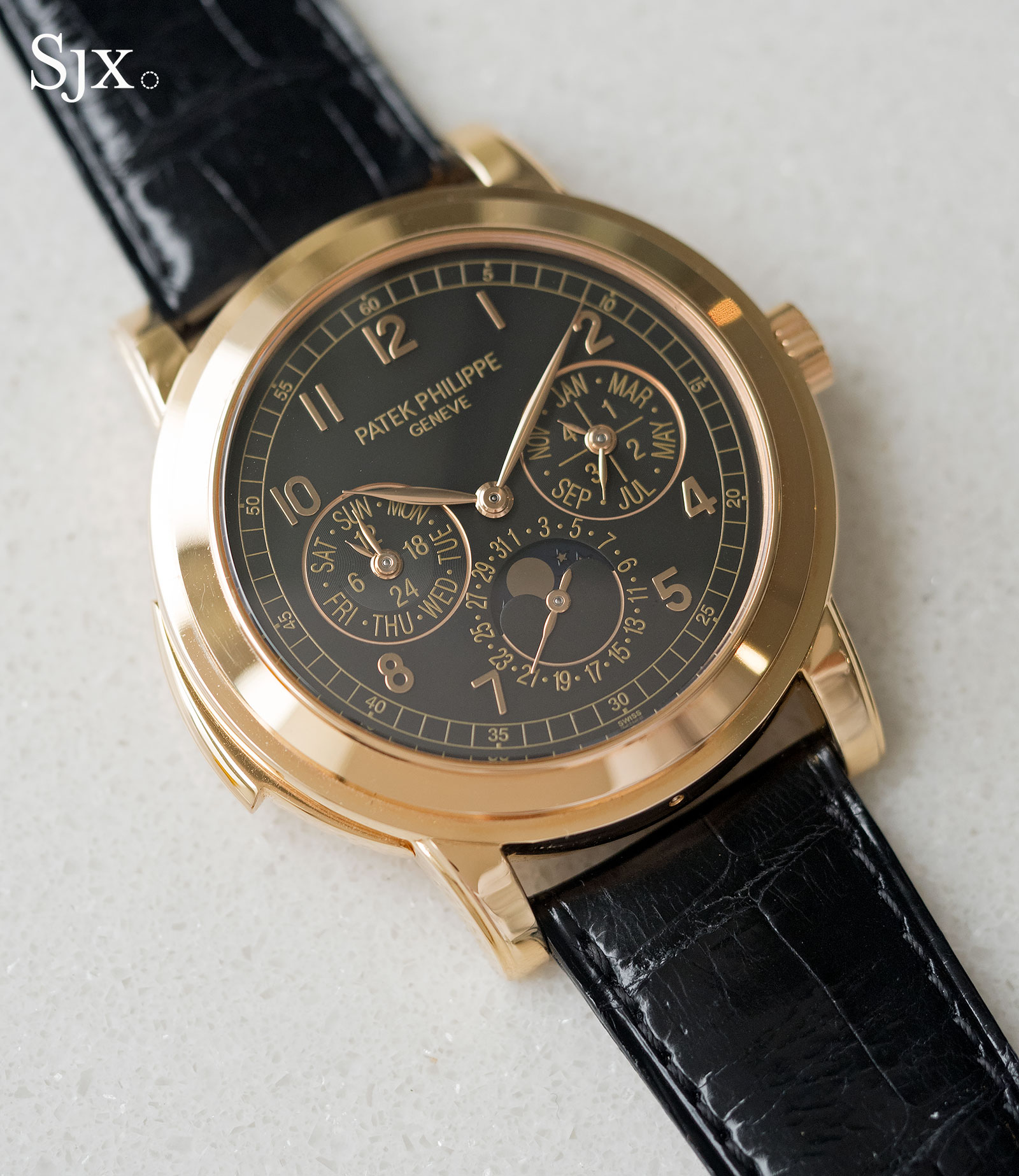 Inside is the calibre R 27 Q, a self-winding movement with a micro-rotor that keeps it thin. Unusually the rotor is mounted over the balance wheel, with a stepped balance cock to accommodate the 22k gold rotor.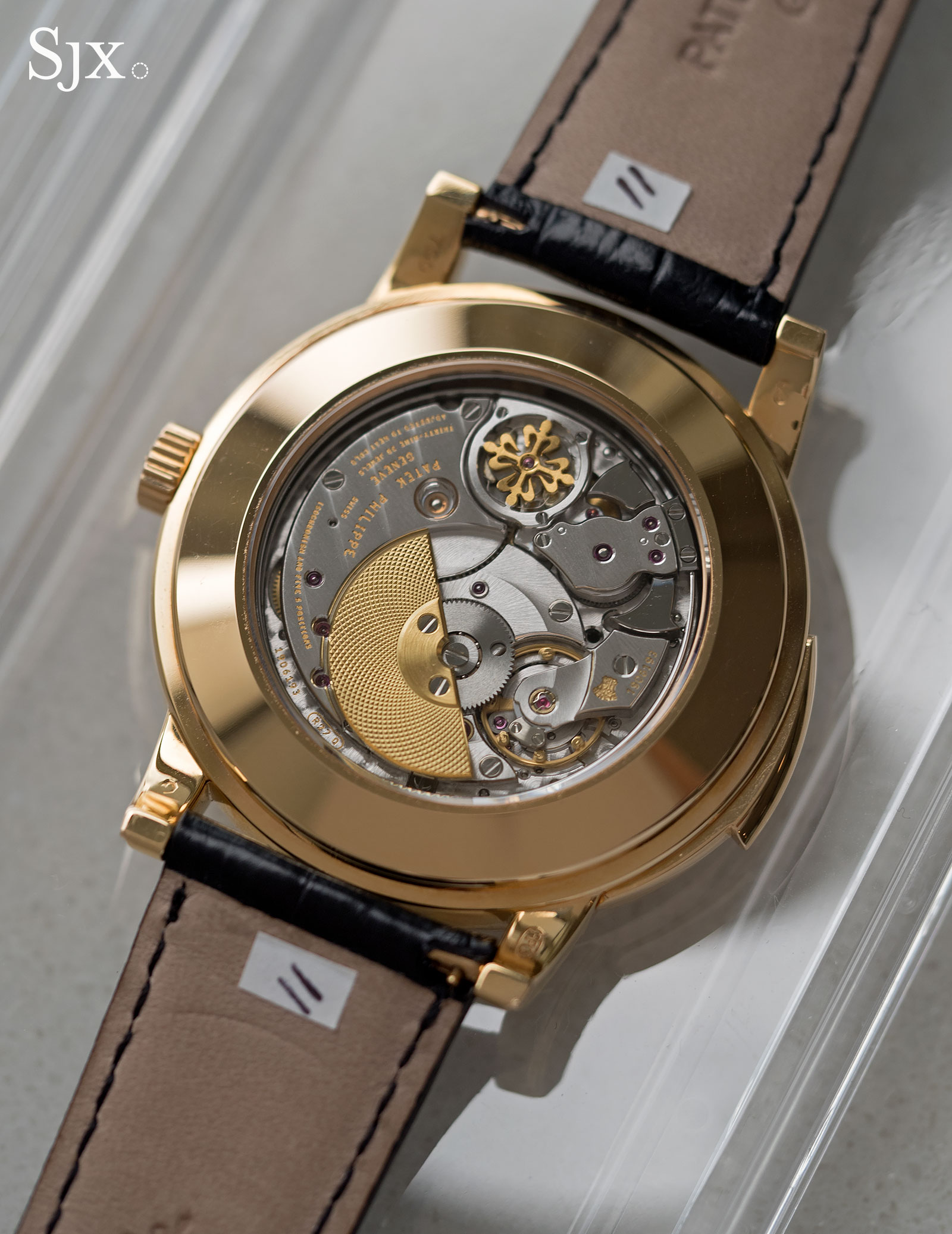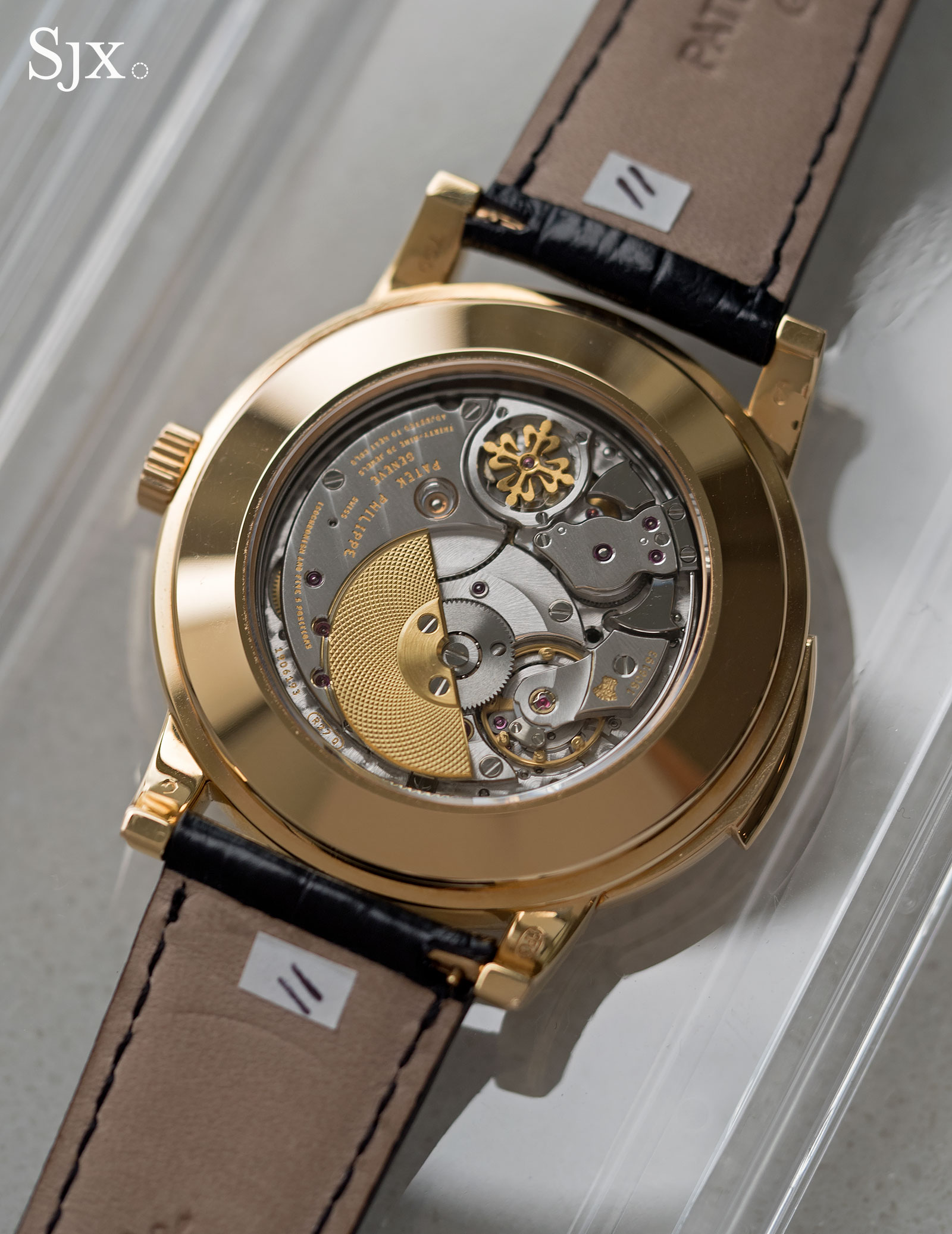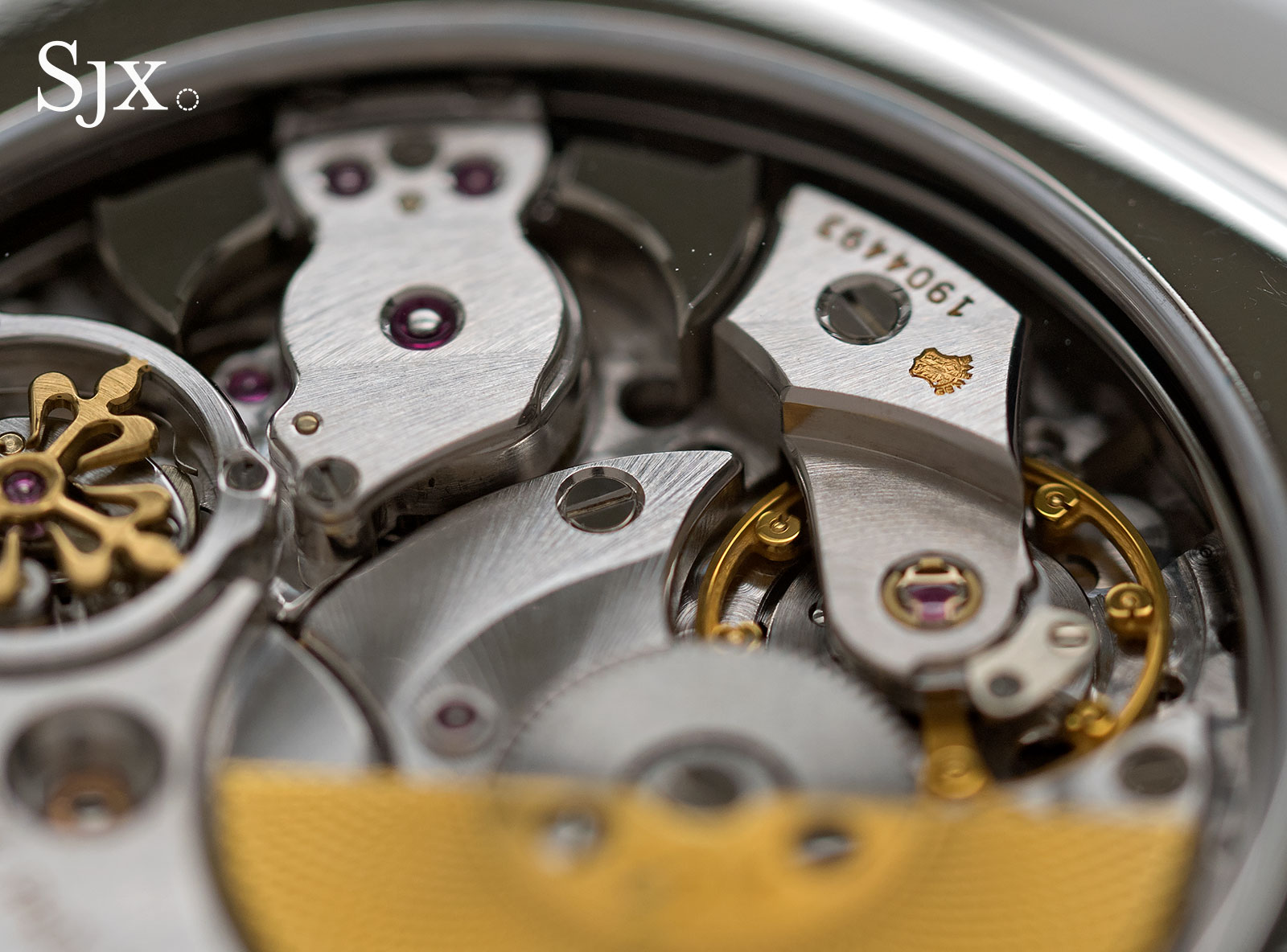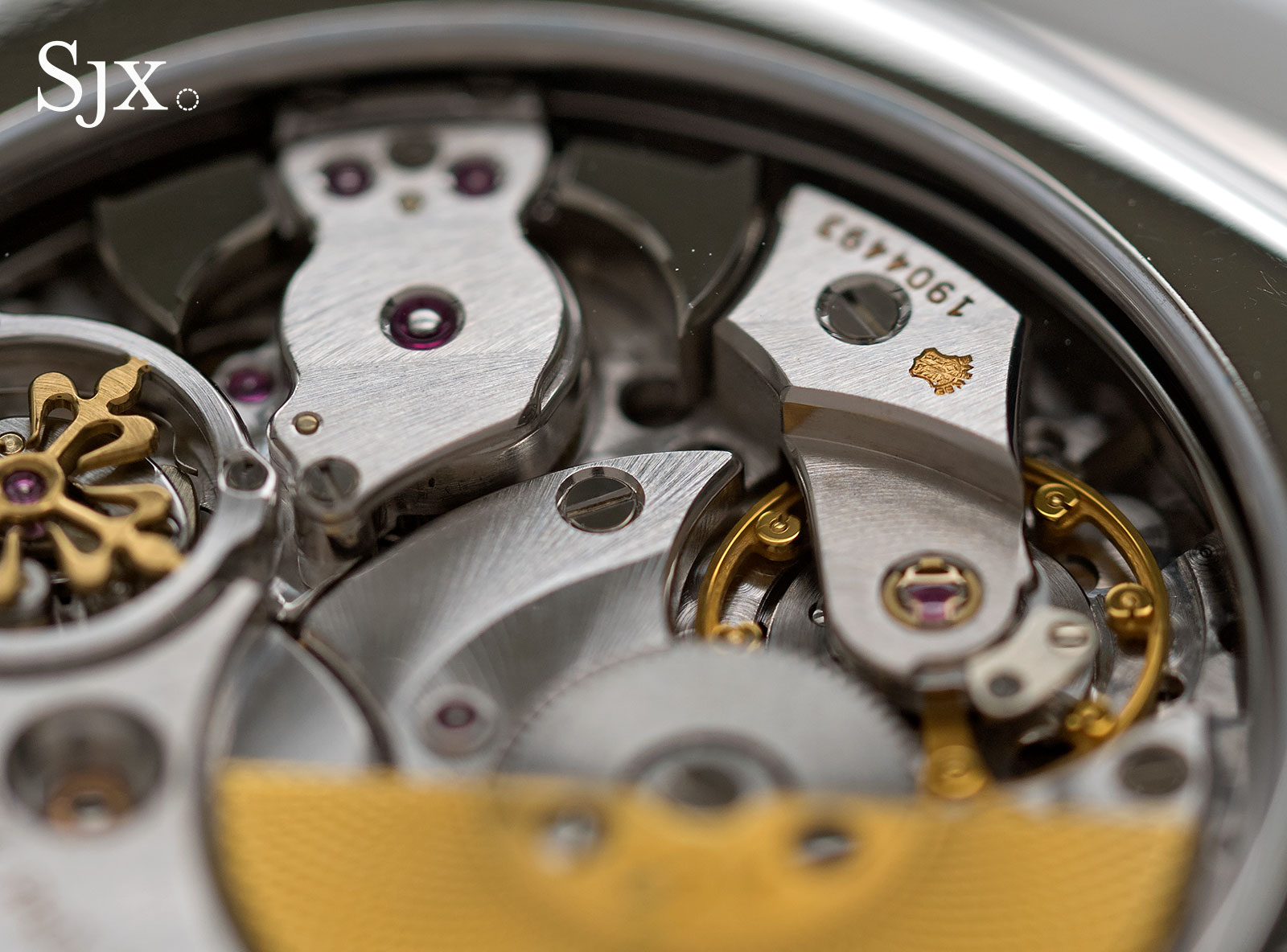 Complete with all accessories, this carries an estimate of HK$3.1m to HK$4.6m (US$410,000 to US$590,000).
---
Lot 2282 – Patek Philippe Nautilus ref. 3800/1 in steel with diamond markers
There are five Nautilus ref. 3800 wristwatches in the auction, but lot 2282 is the least common. Dating to 1984, this is a mid-sized men's Nautilus with round diamond hour markers. Typically gemstone markers are found on gold or platinum Nautilus watches, with this watch being only the 15th example to have appeared at auction to date.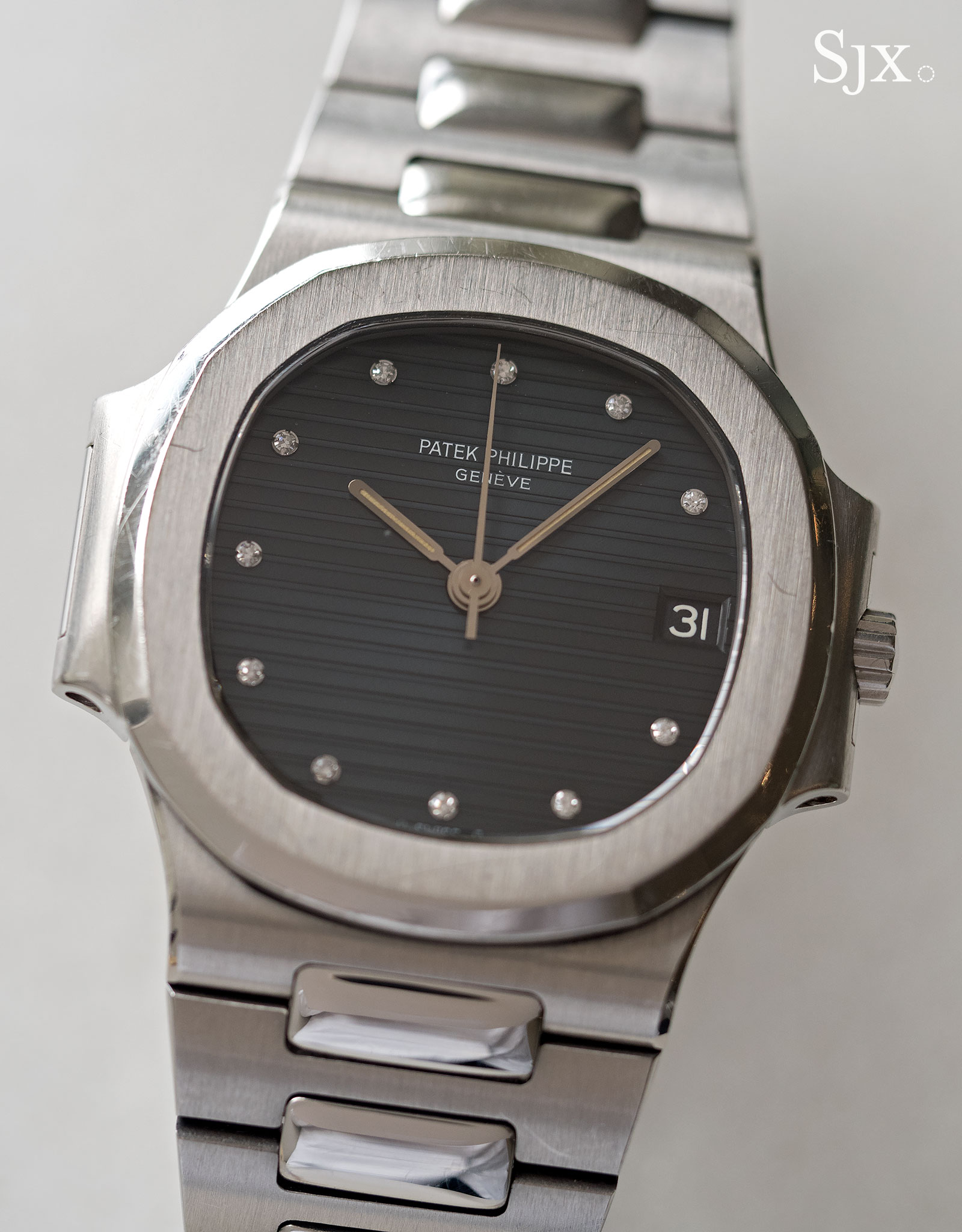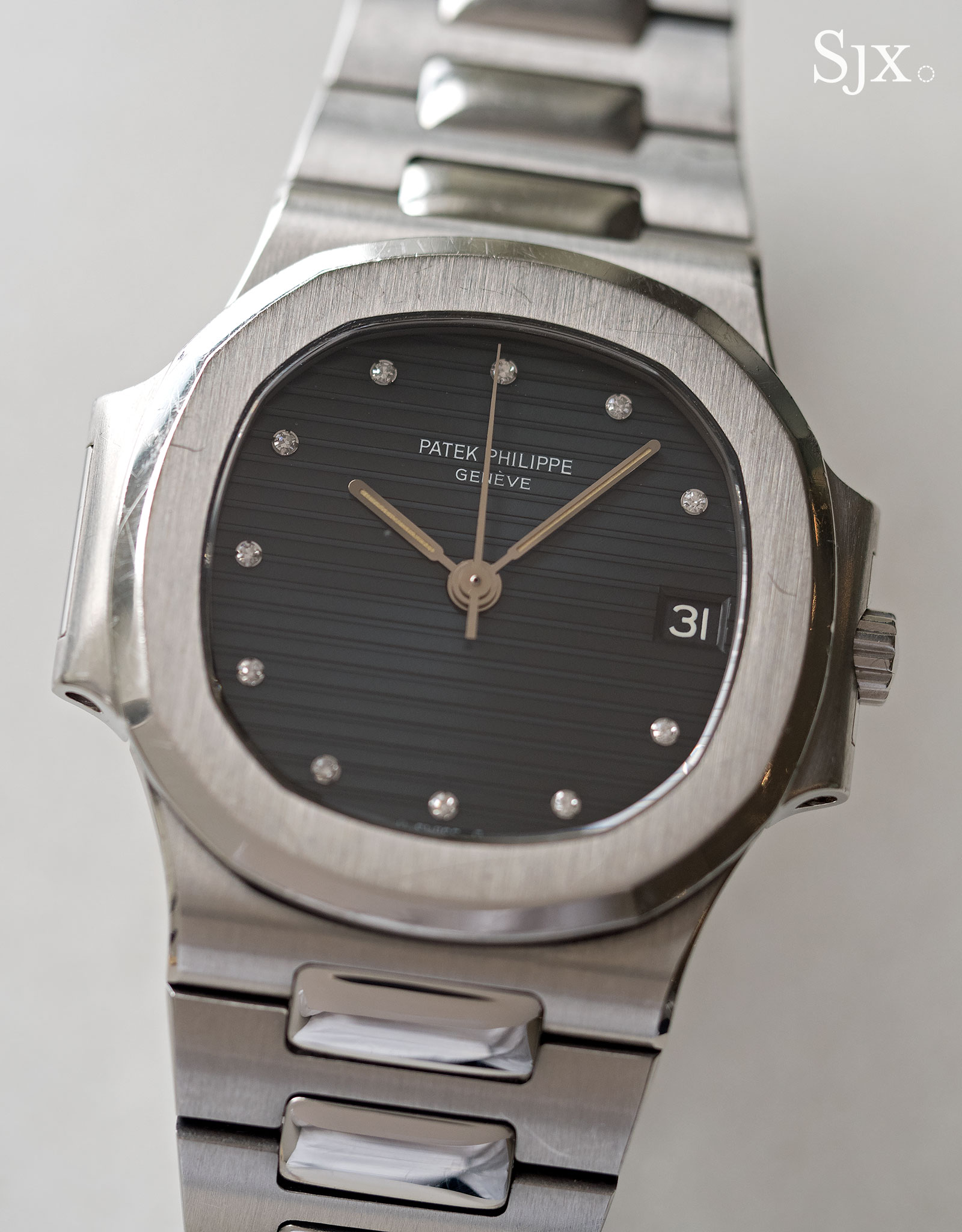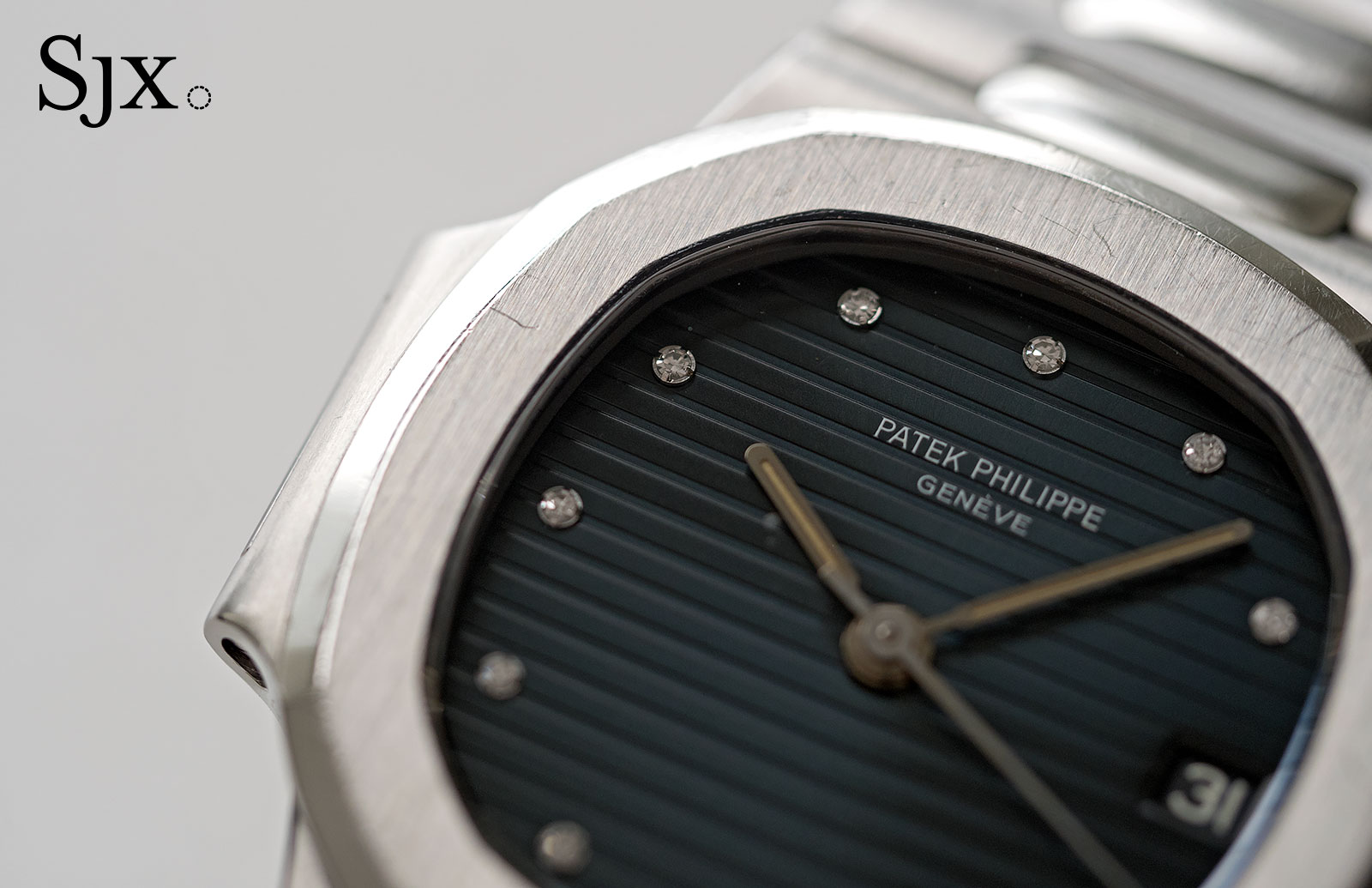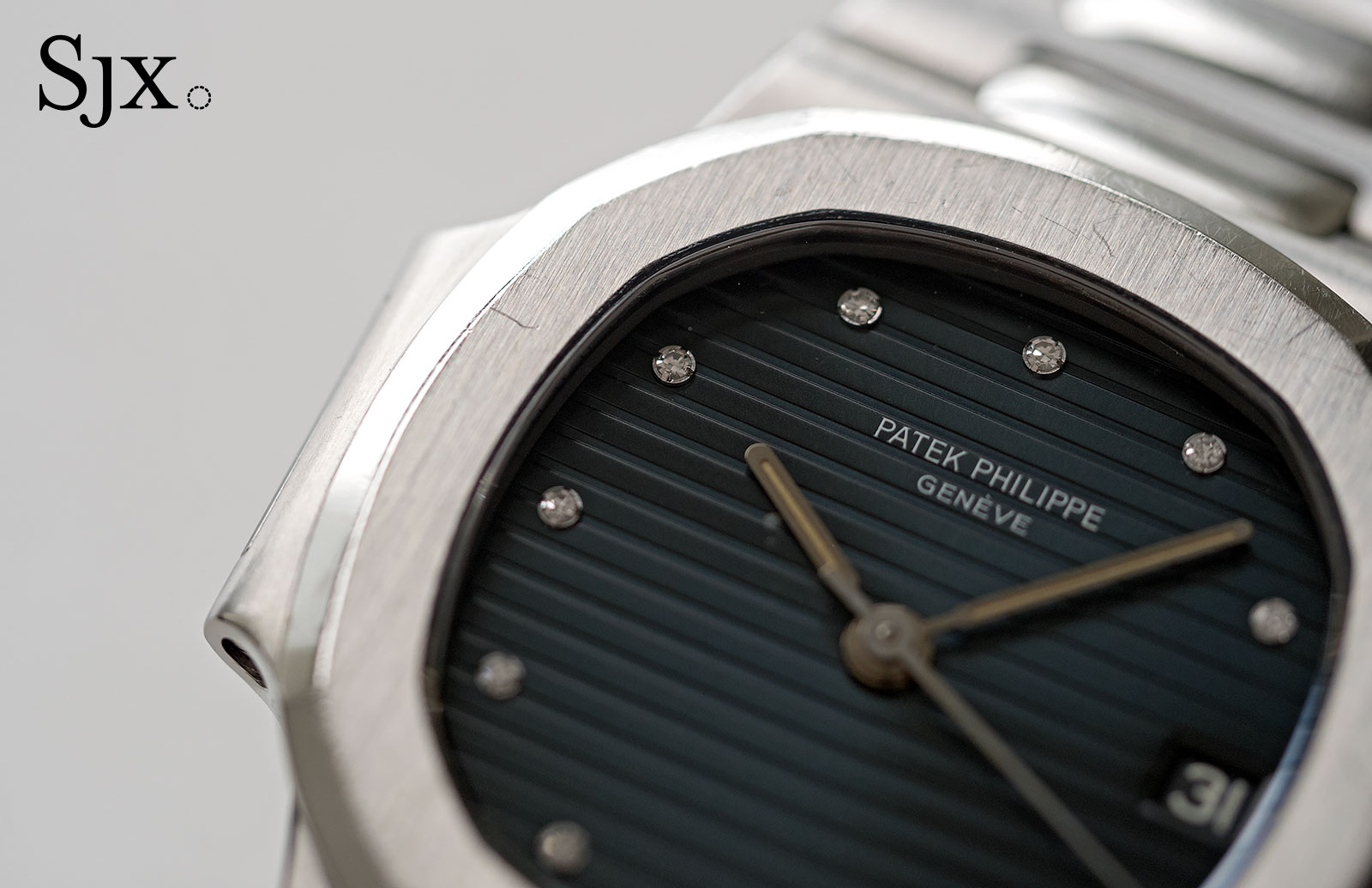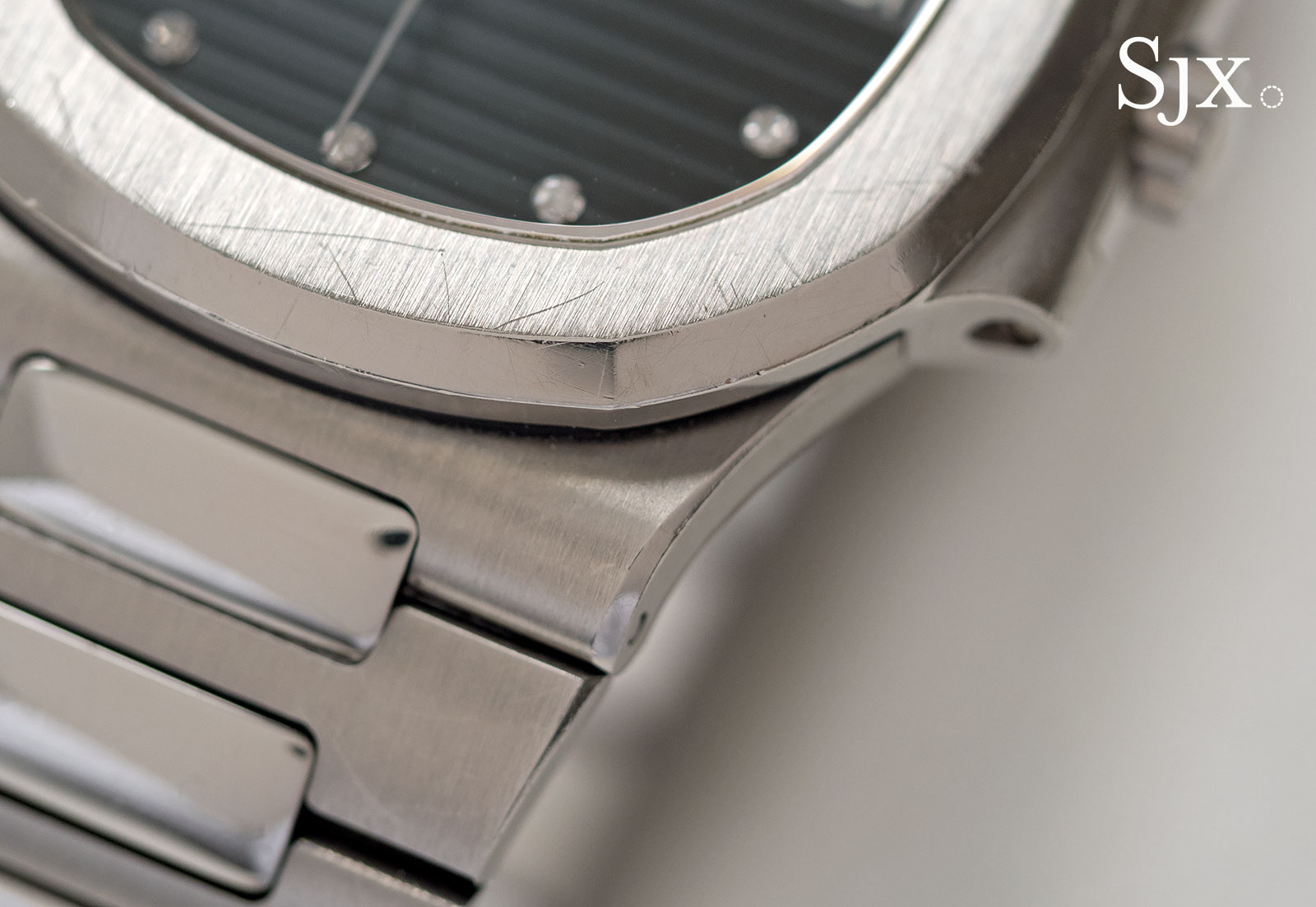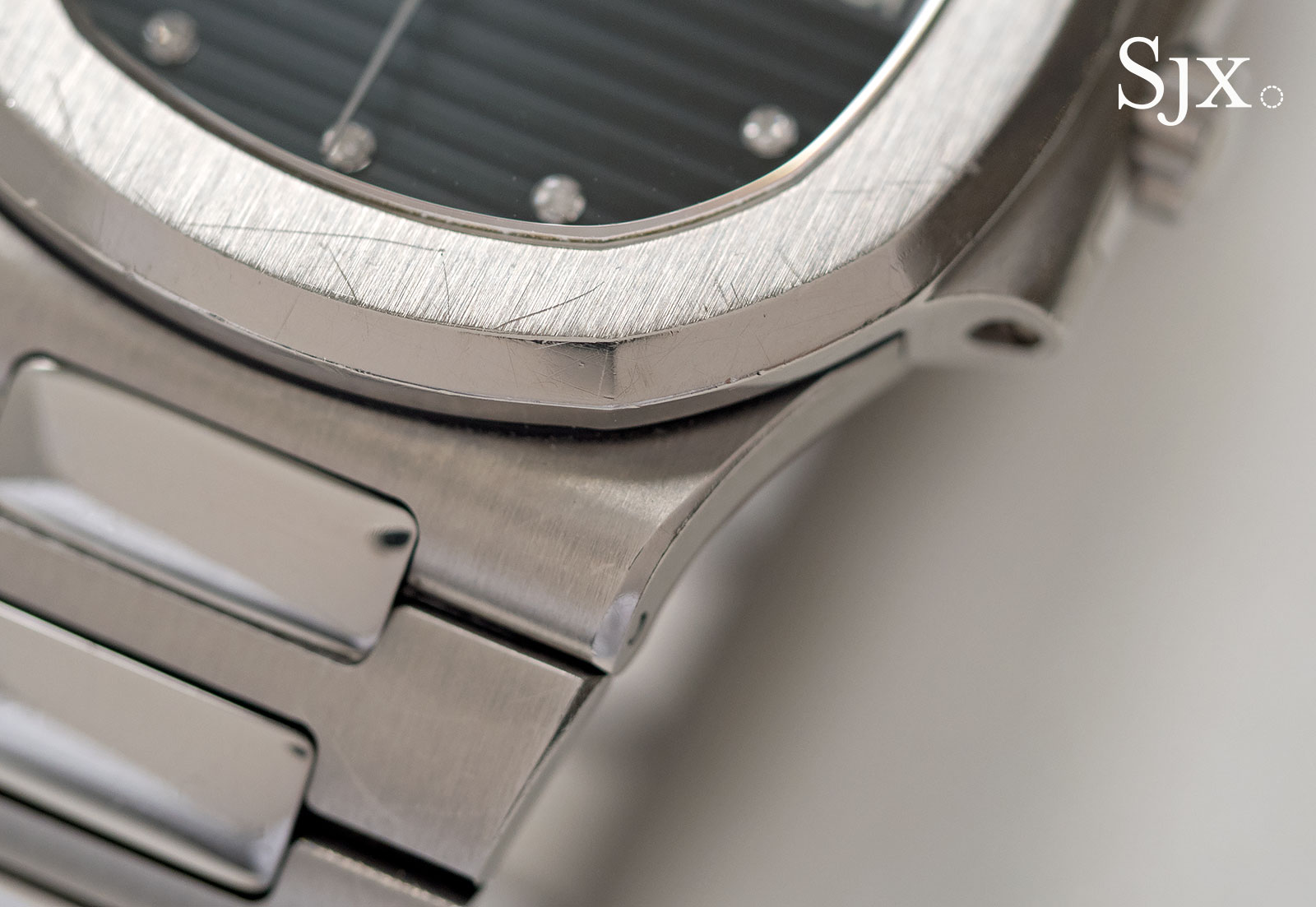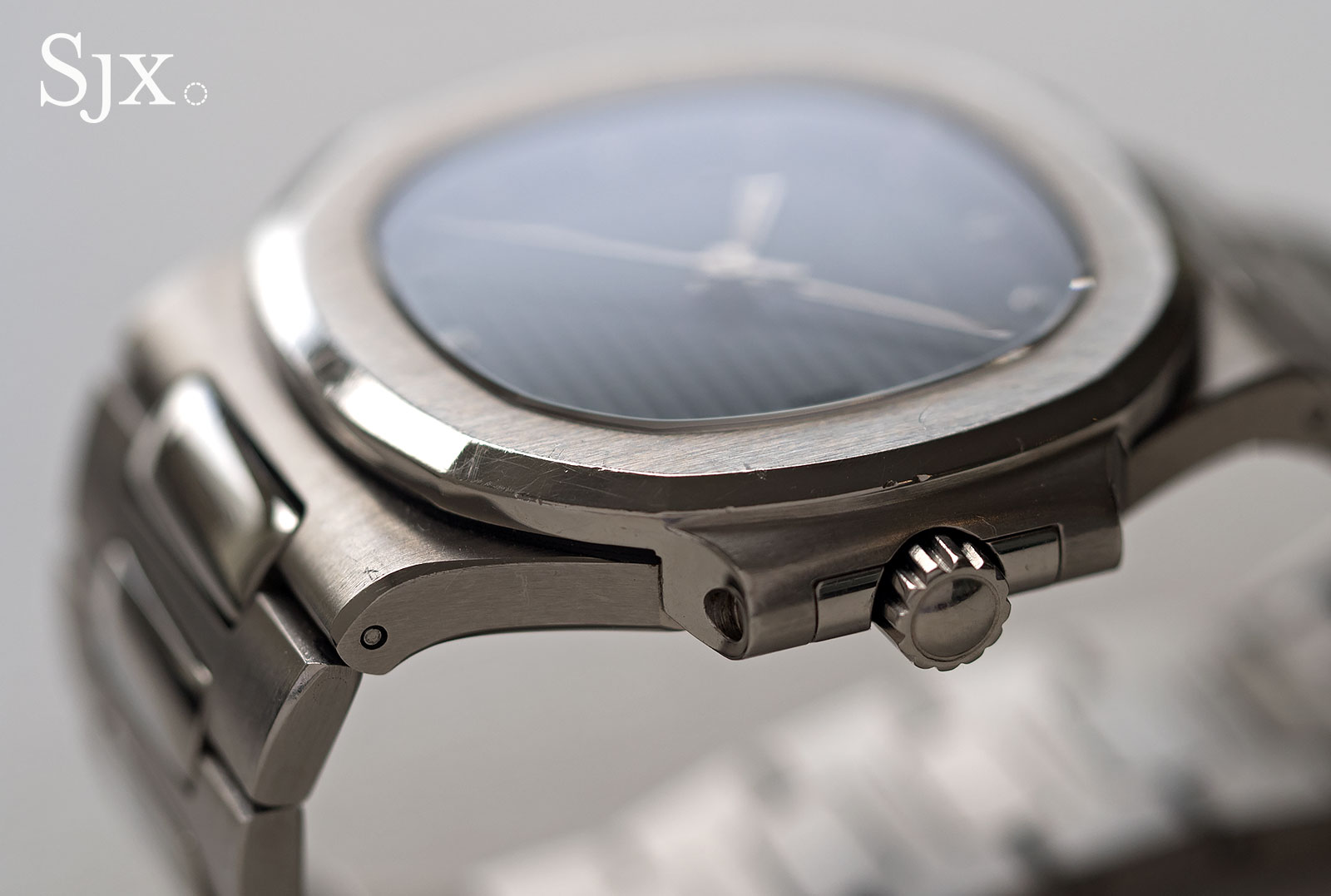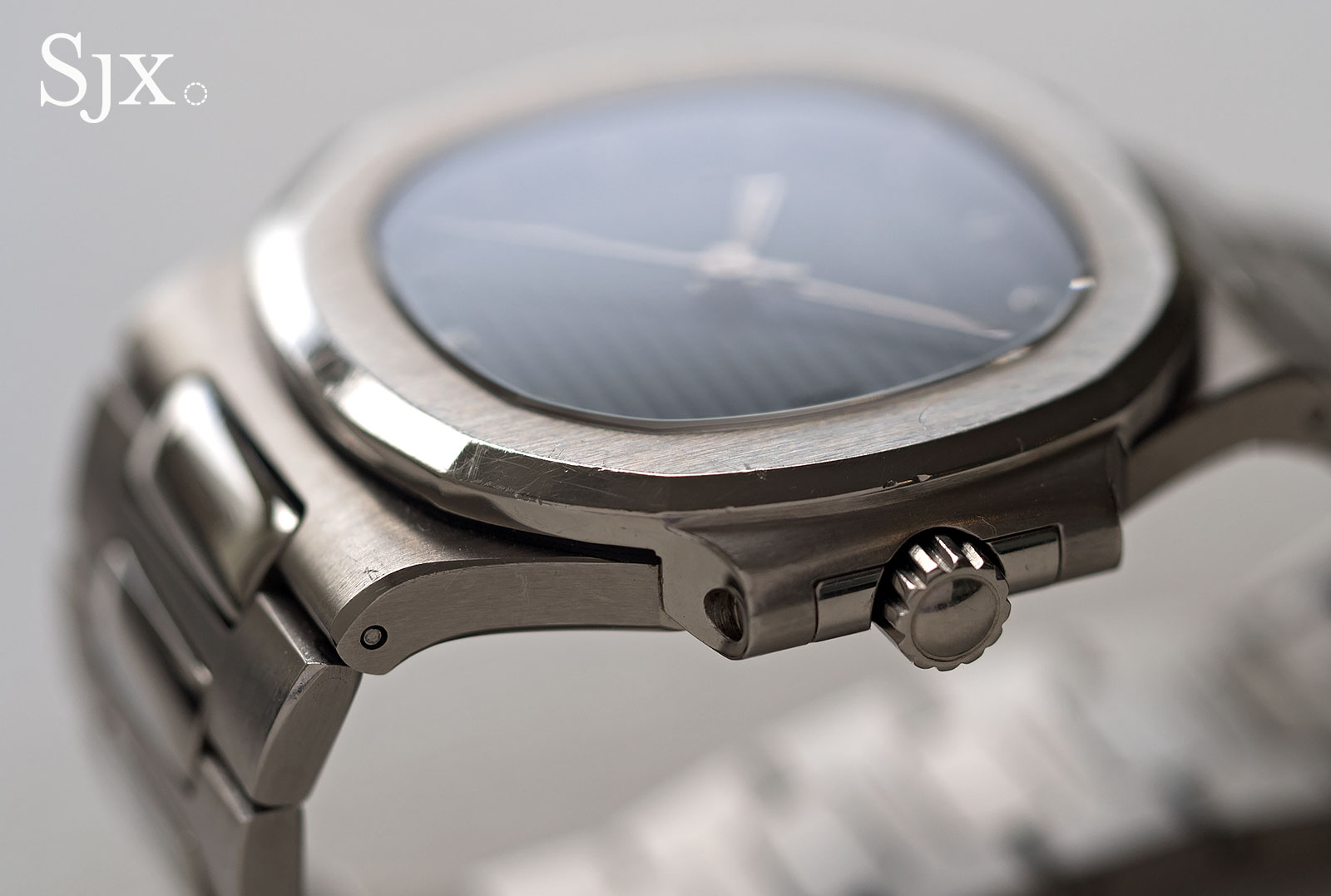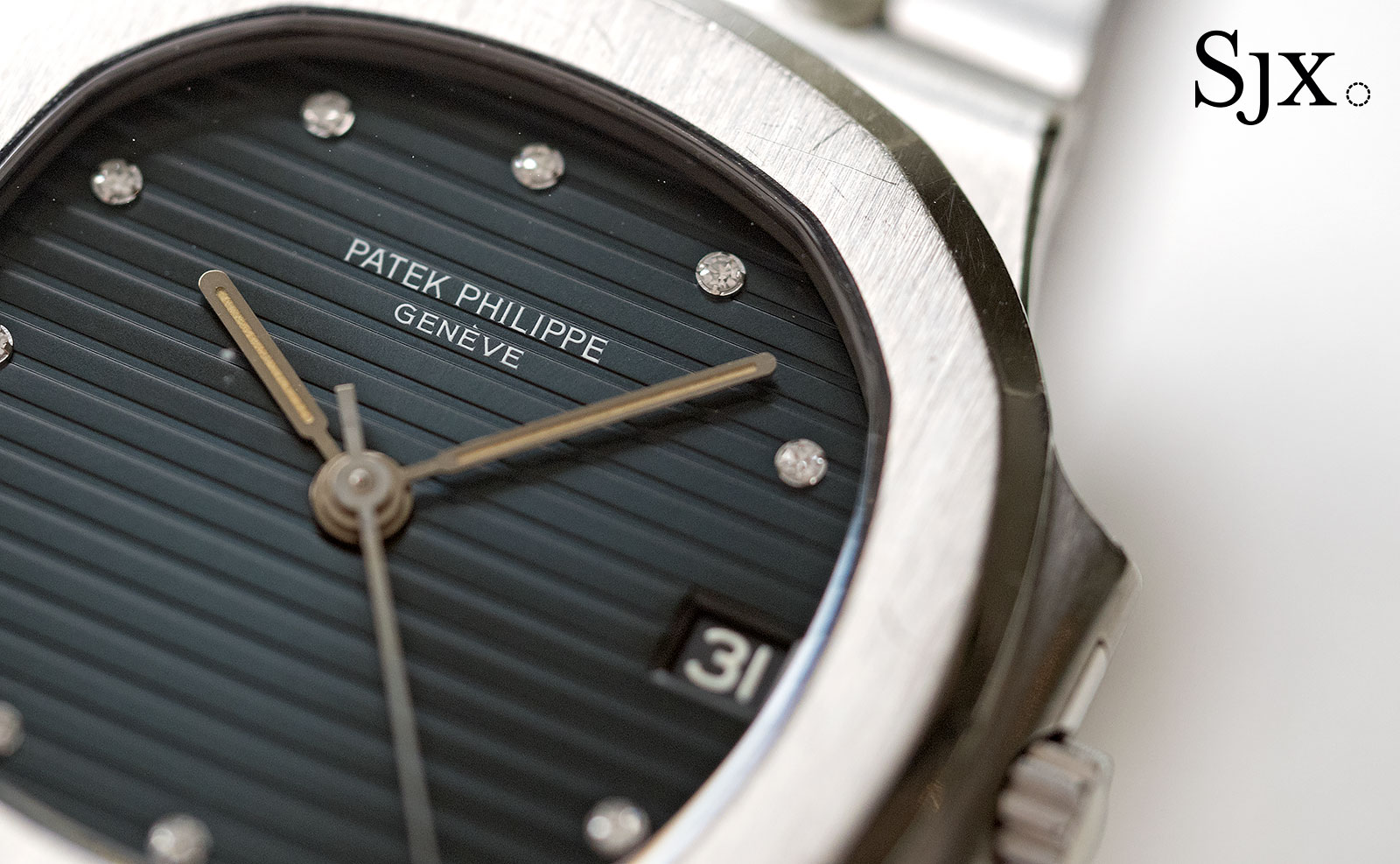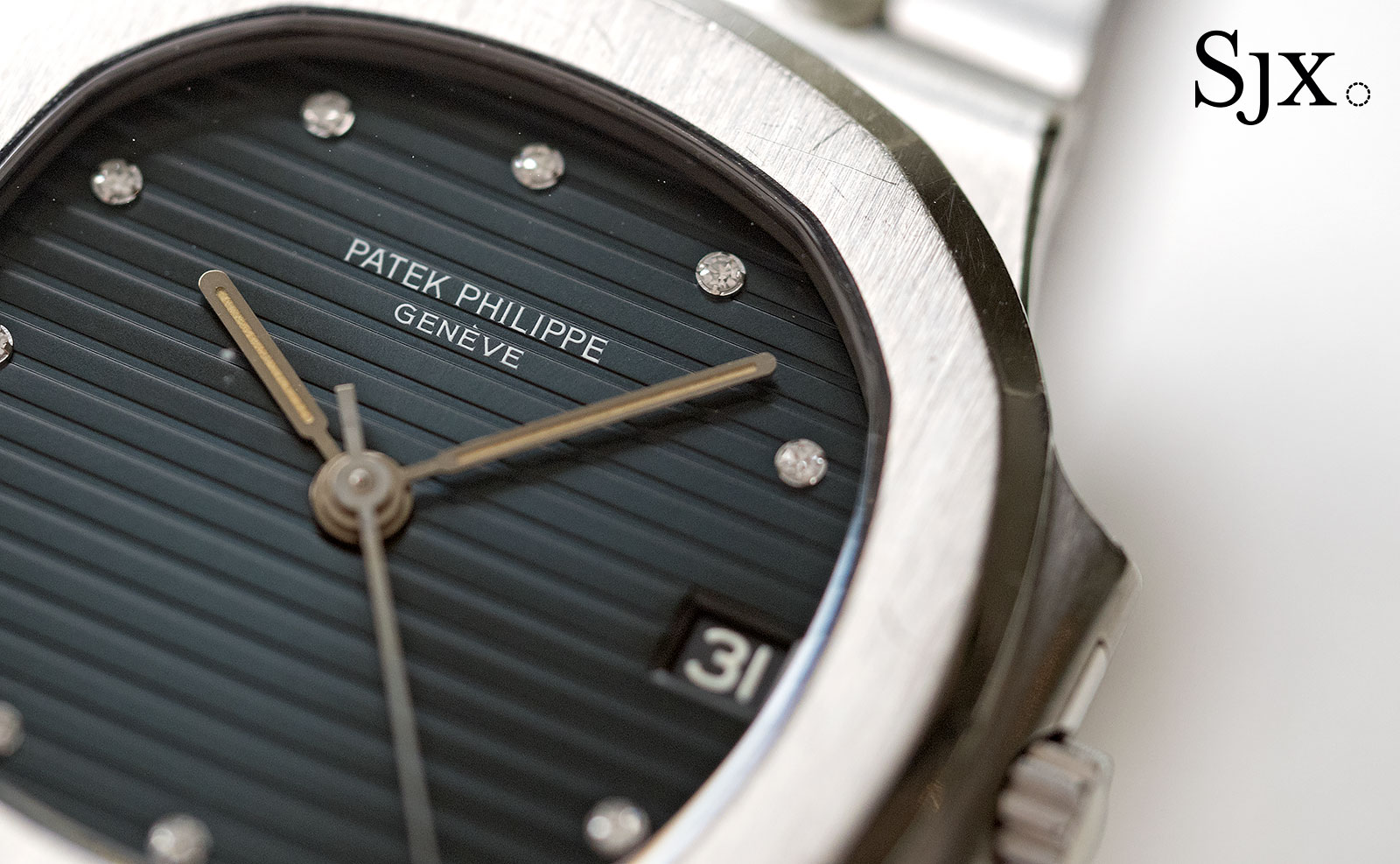 While introduced as a man's watch in 1981, the ref. 3800 is somewhat small by modern standards, with a case that measures 37mm in diameter. But it is perfect for female wrists, especially with diamond markers. This is estimated at HK$120,000 to HK$200,000 (US$16,000 to US$26,000), about 20% over the same watch without the diamond dial.
---
Lot 2357- Patek Philippe ref. 2577 in pink gold with enamel dial
The best-known Patek Philippe Calatrava with a cream enamel dial is the self-winding ref. 2526, which was succeeded by the almost identical ref. 3428. Less known but no less beautiful is the manual-wind ref. 2577, perhaps the most interesting Patek Philippe in the sale.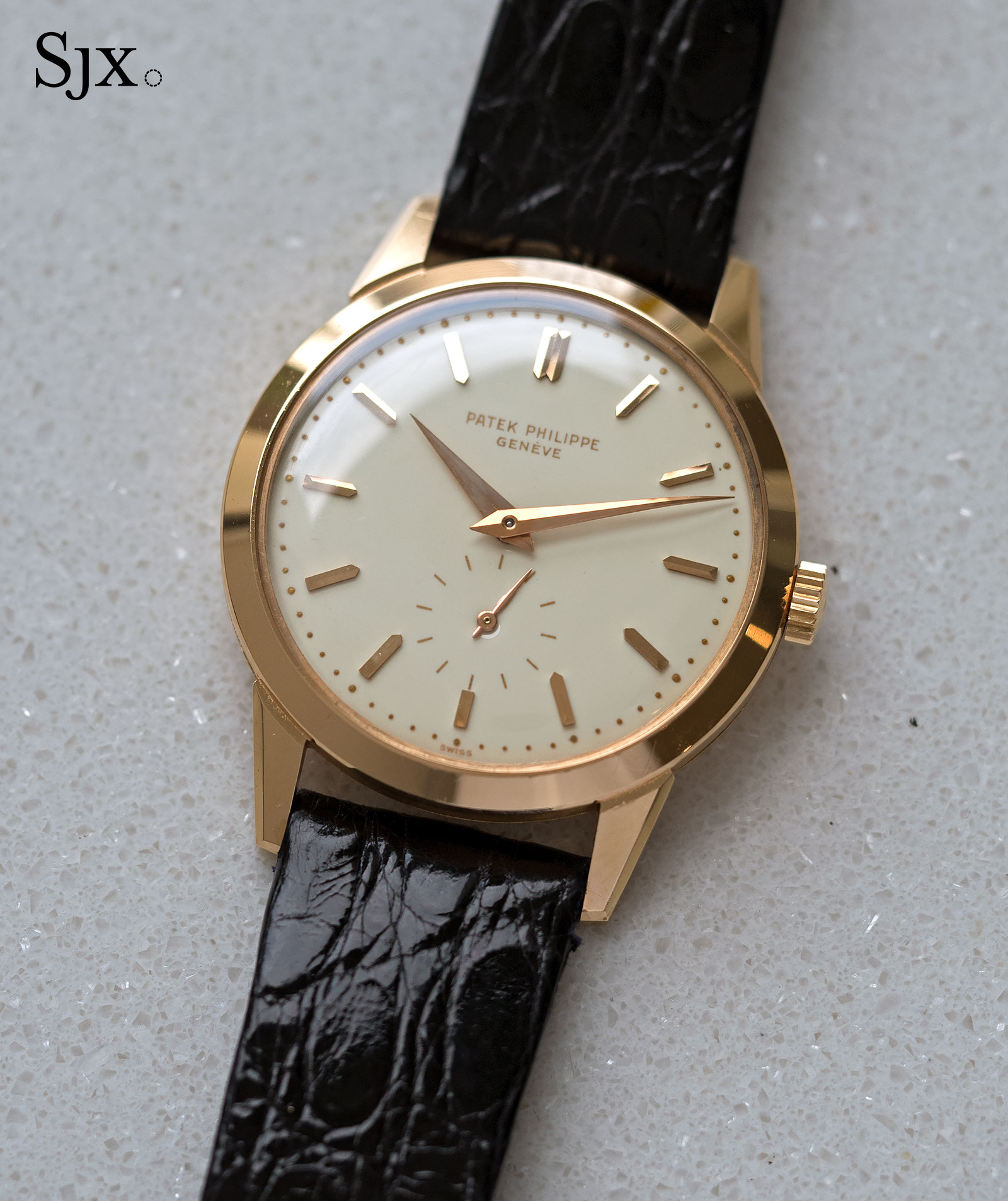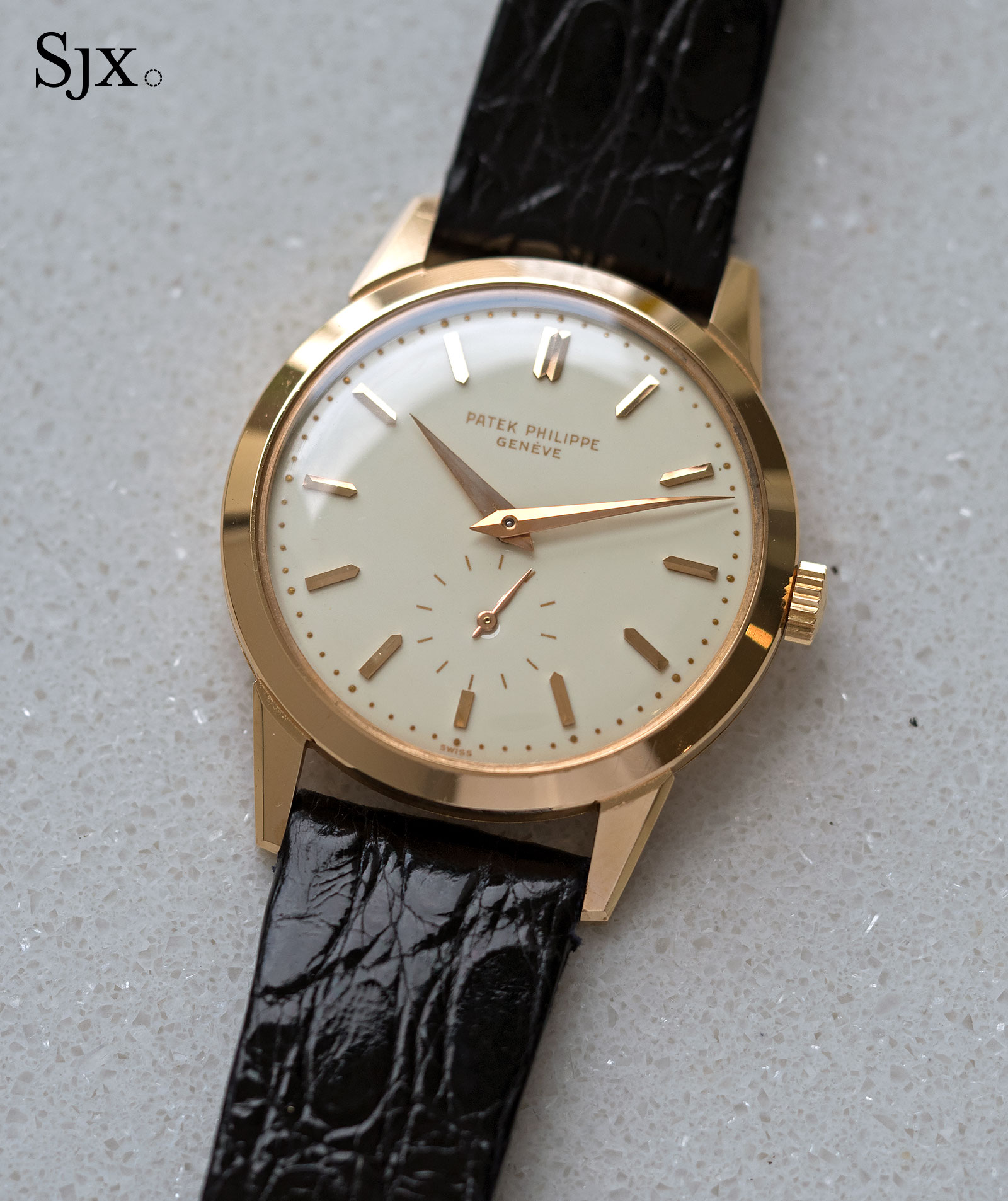 With a production run starting in 1956 to sometime in the 1960s, the ref. 2577 is genuinely rare, with only about 60 having left the factory, mostly in yellow gold. Only perhaps two were in pink gold.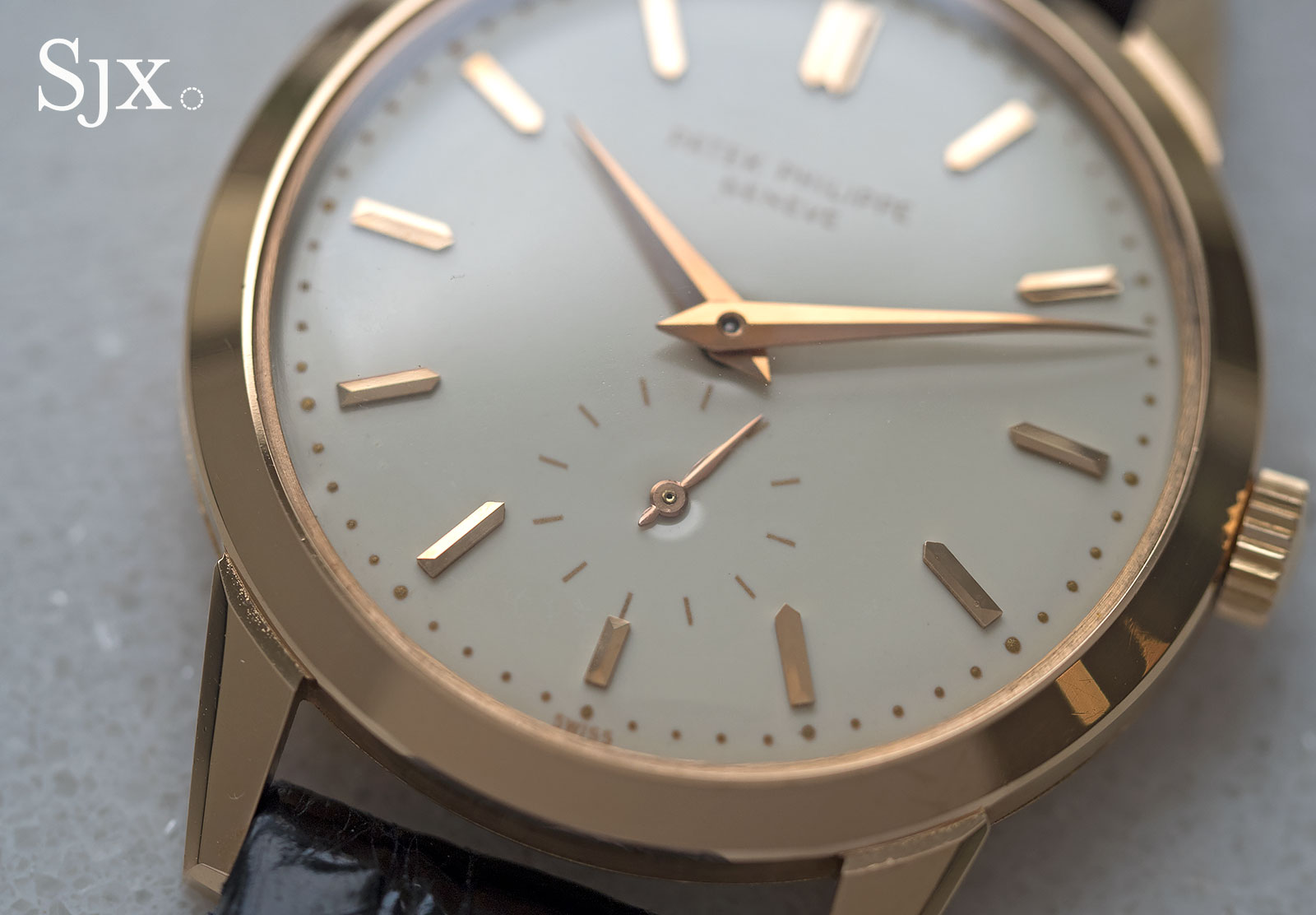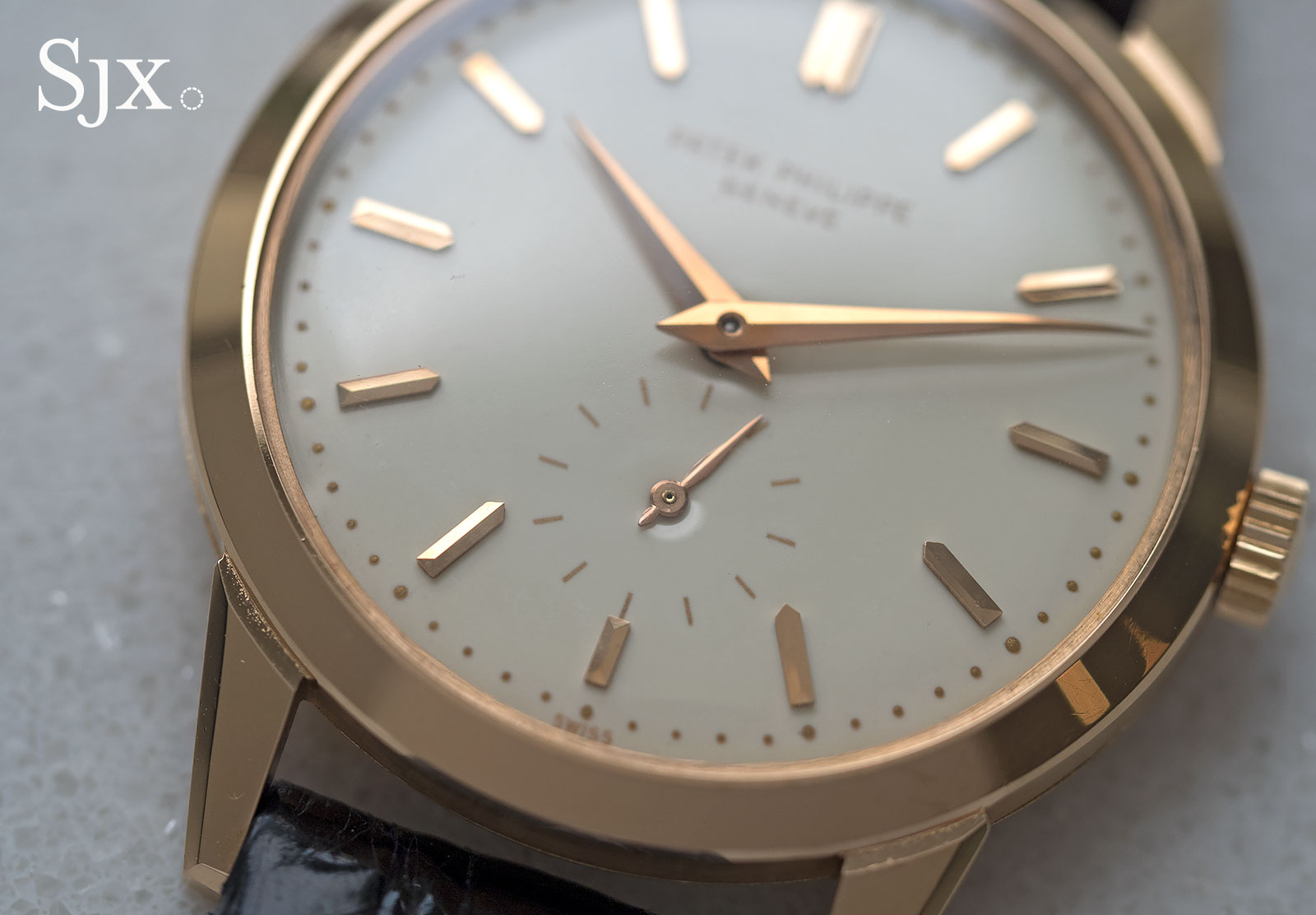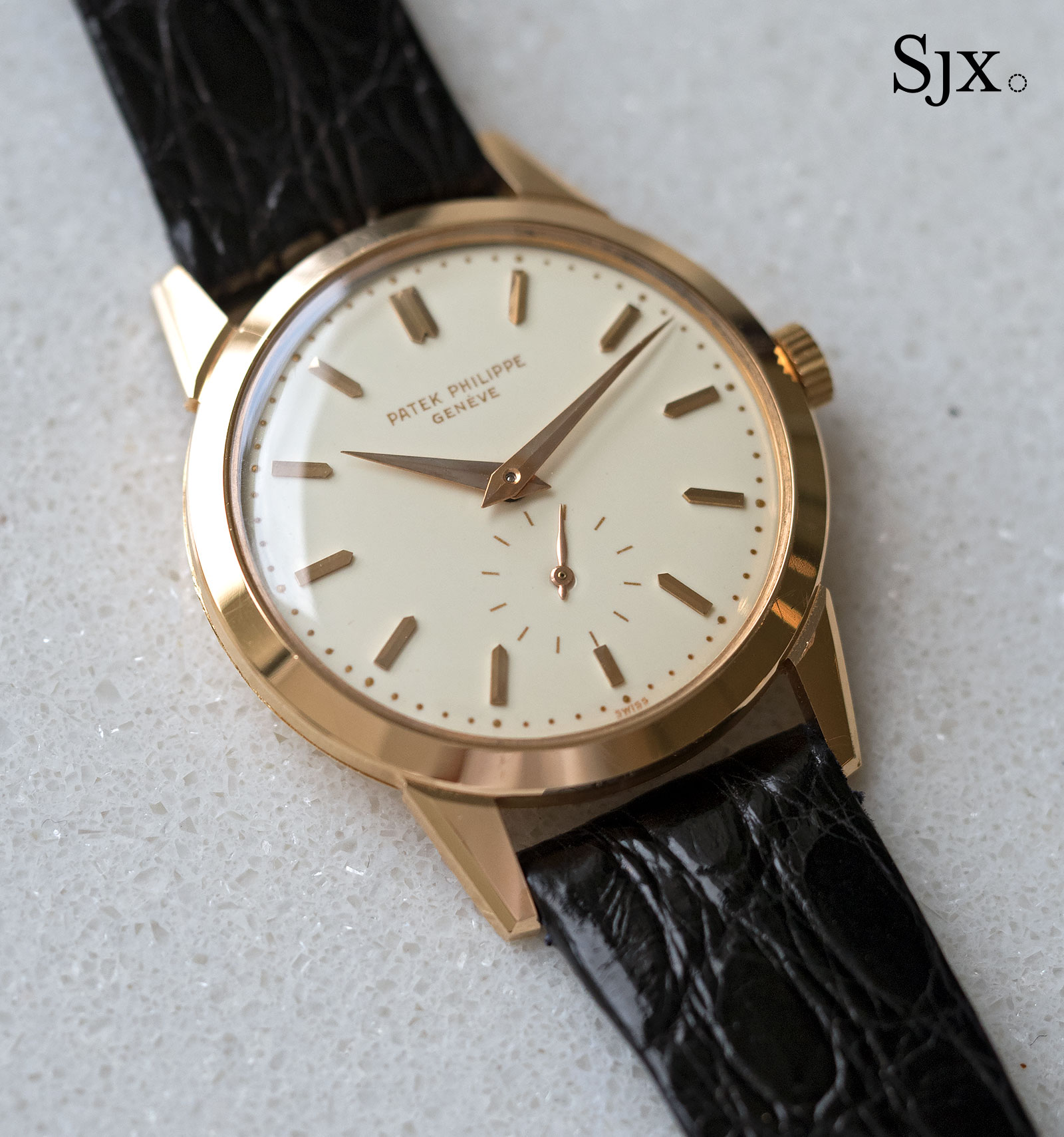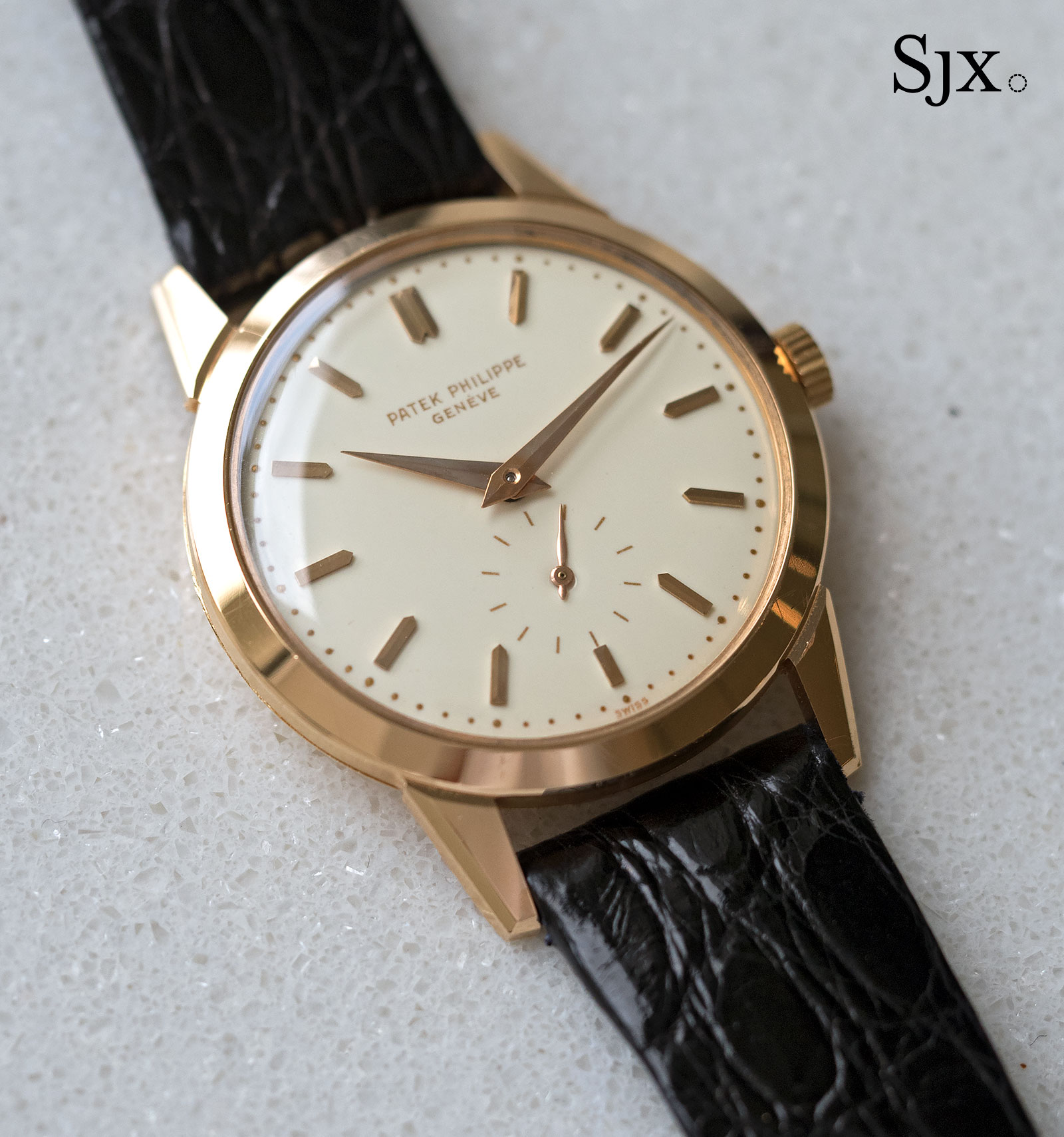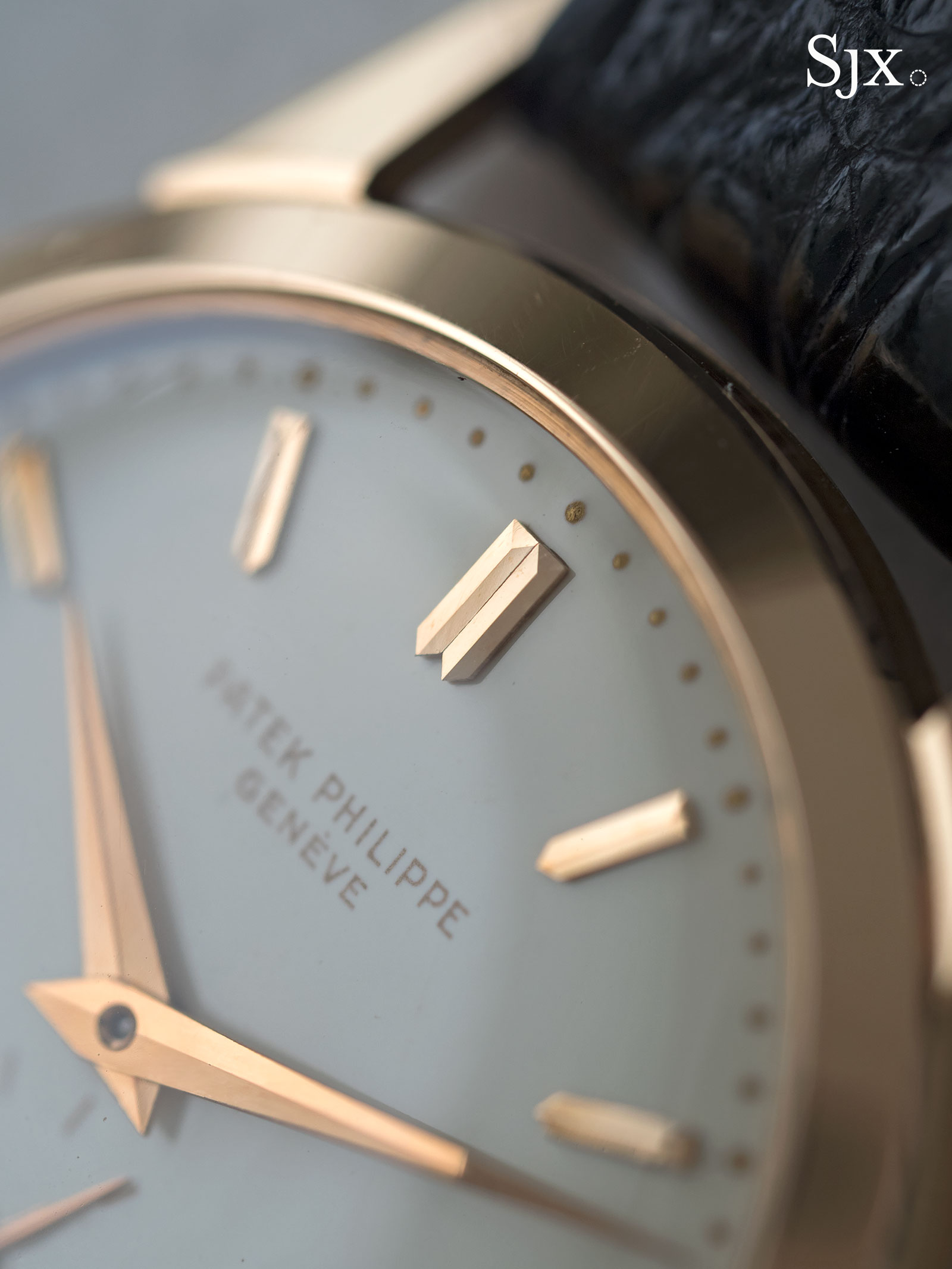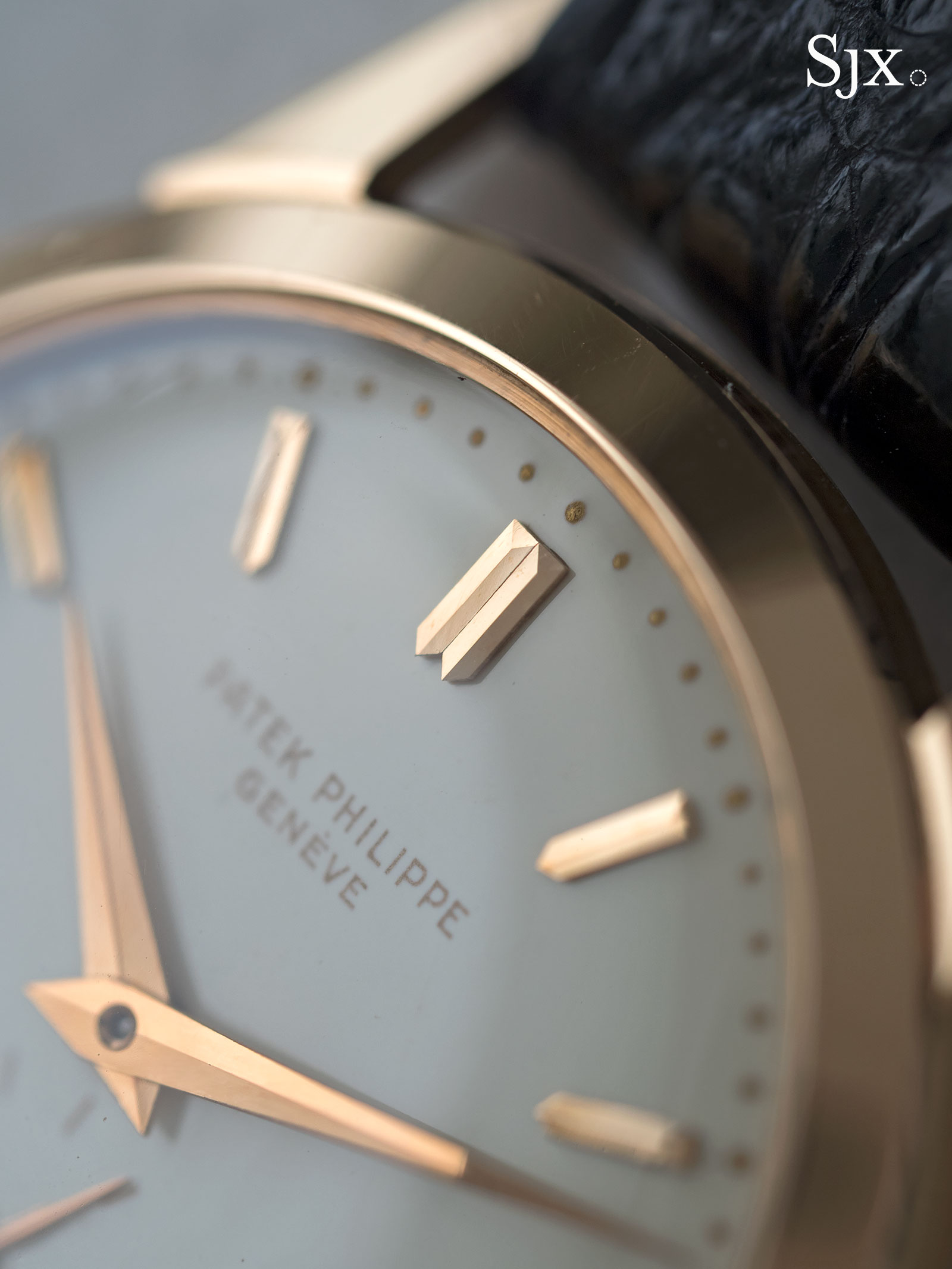 Distinguished by its flat, angular lugs and sloping bezel, the ref. 2577 is 35mm in diameter and equipped with the hand-wound calibre 10-200. This specimen has been wonderfully preserved, with all the surfaces and edges of the case looking sharp. The enamel dial is in similar condition, with a smooth, creamy surface.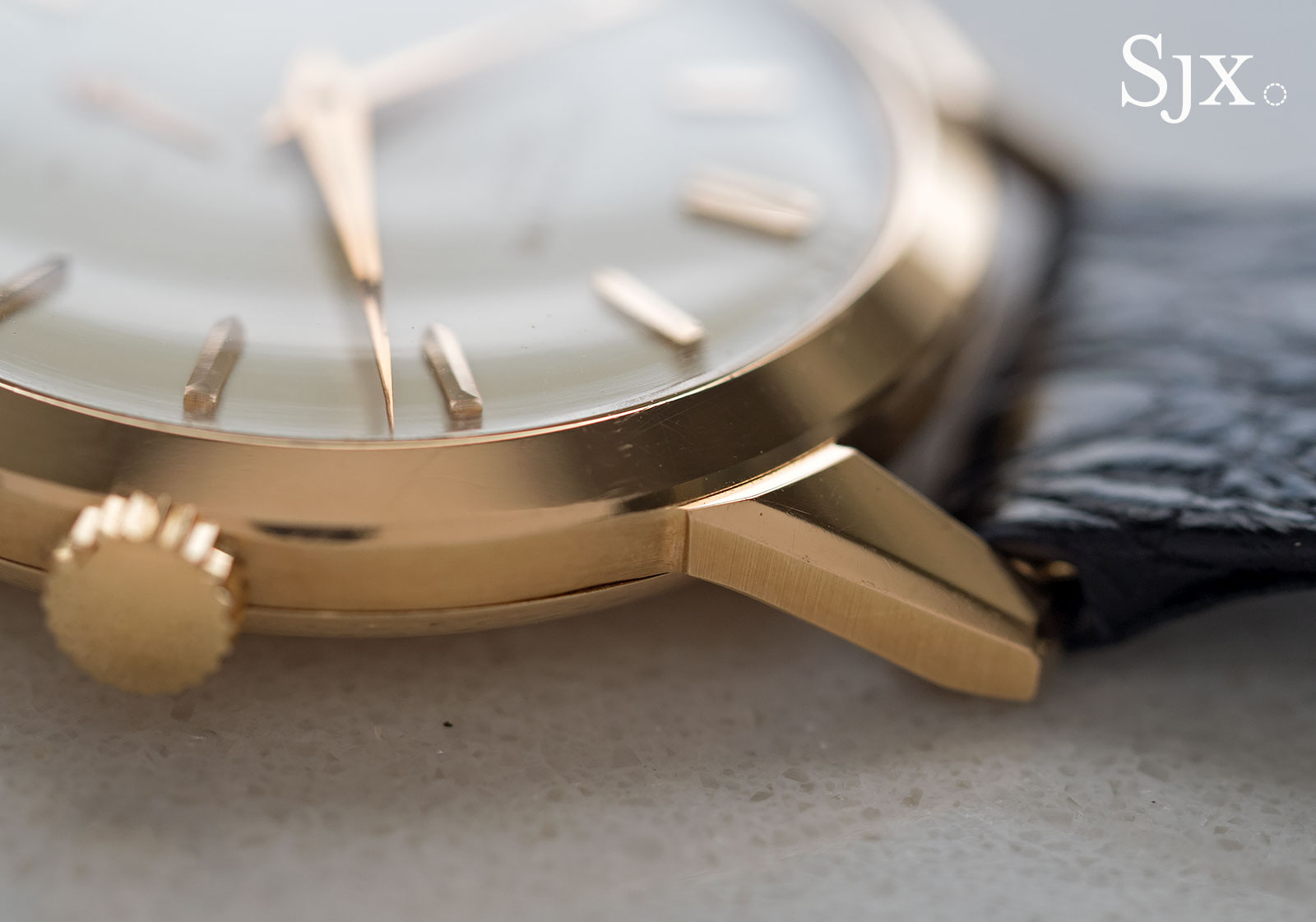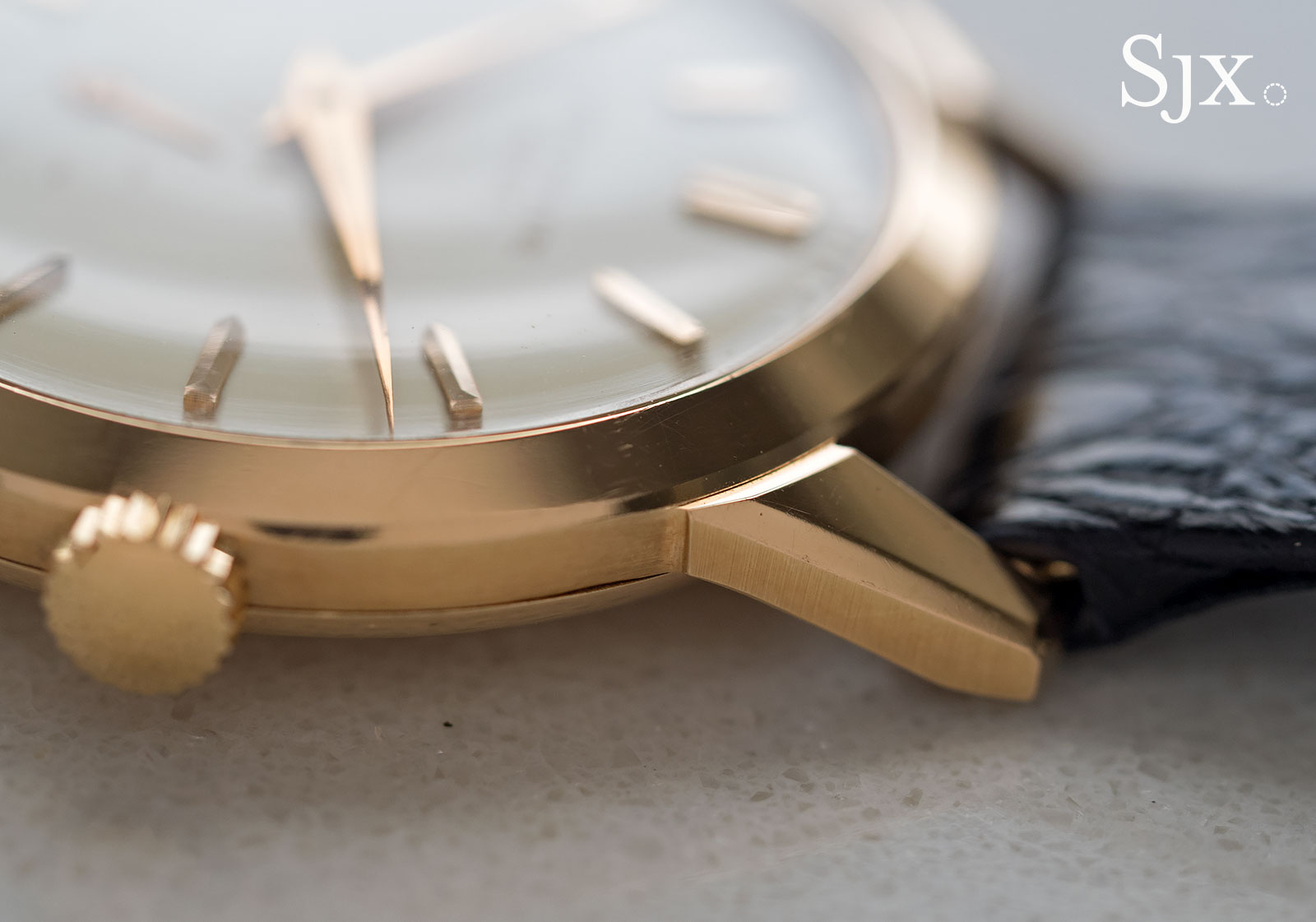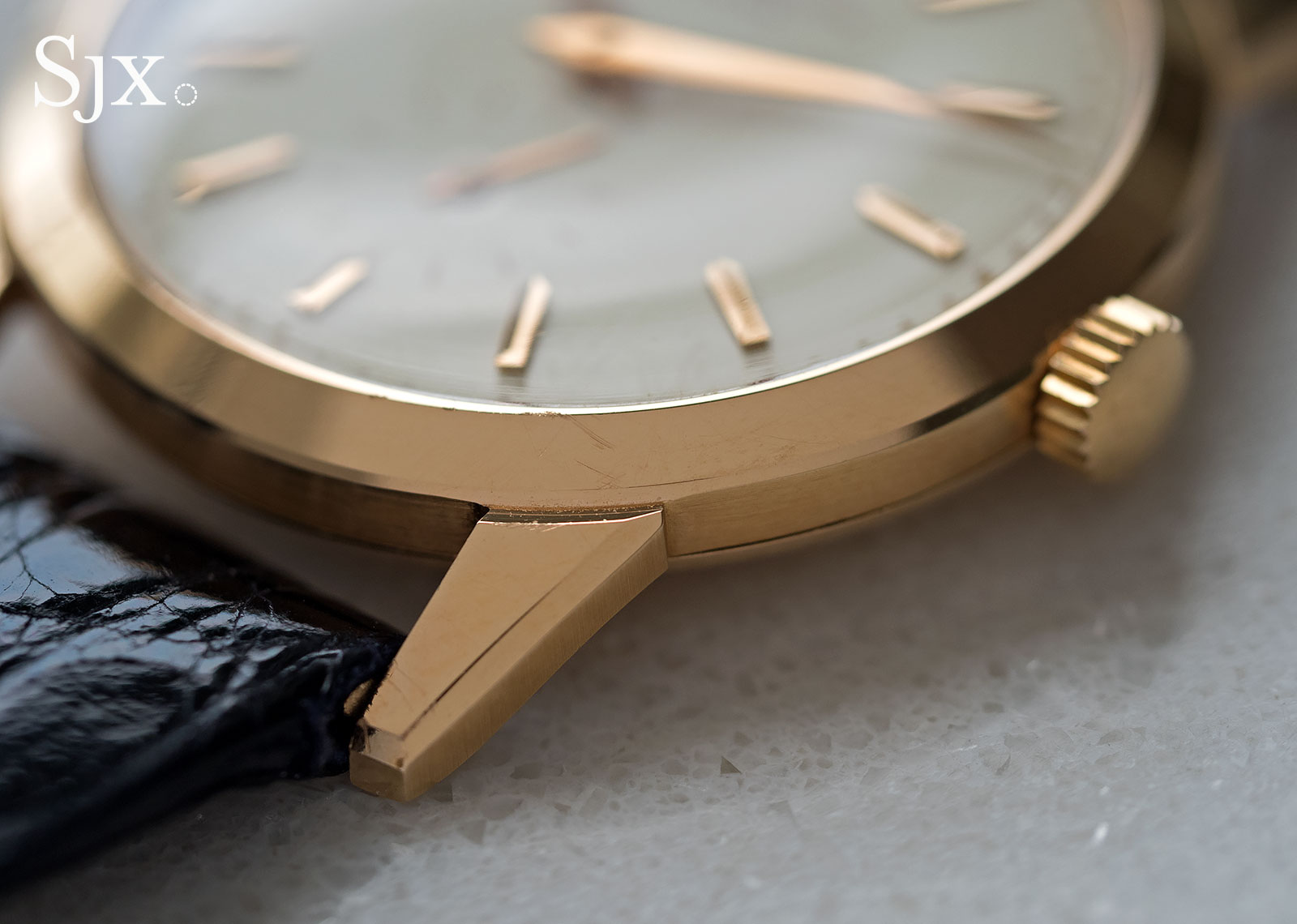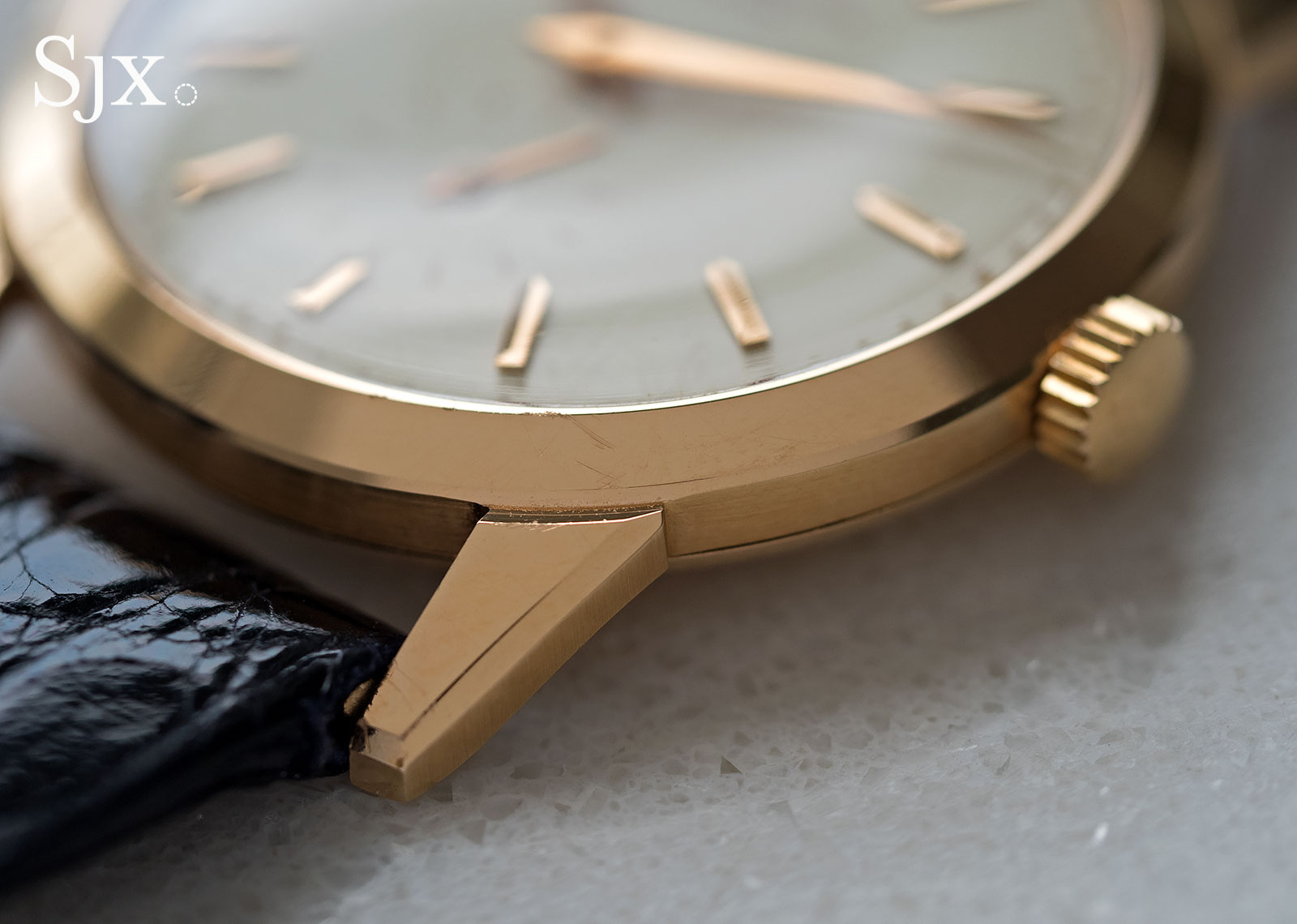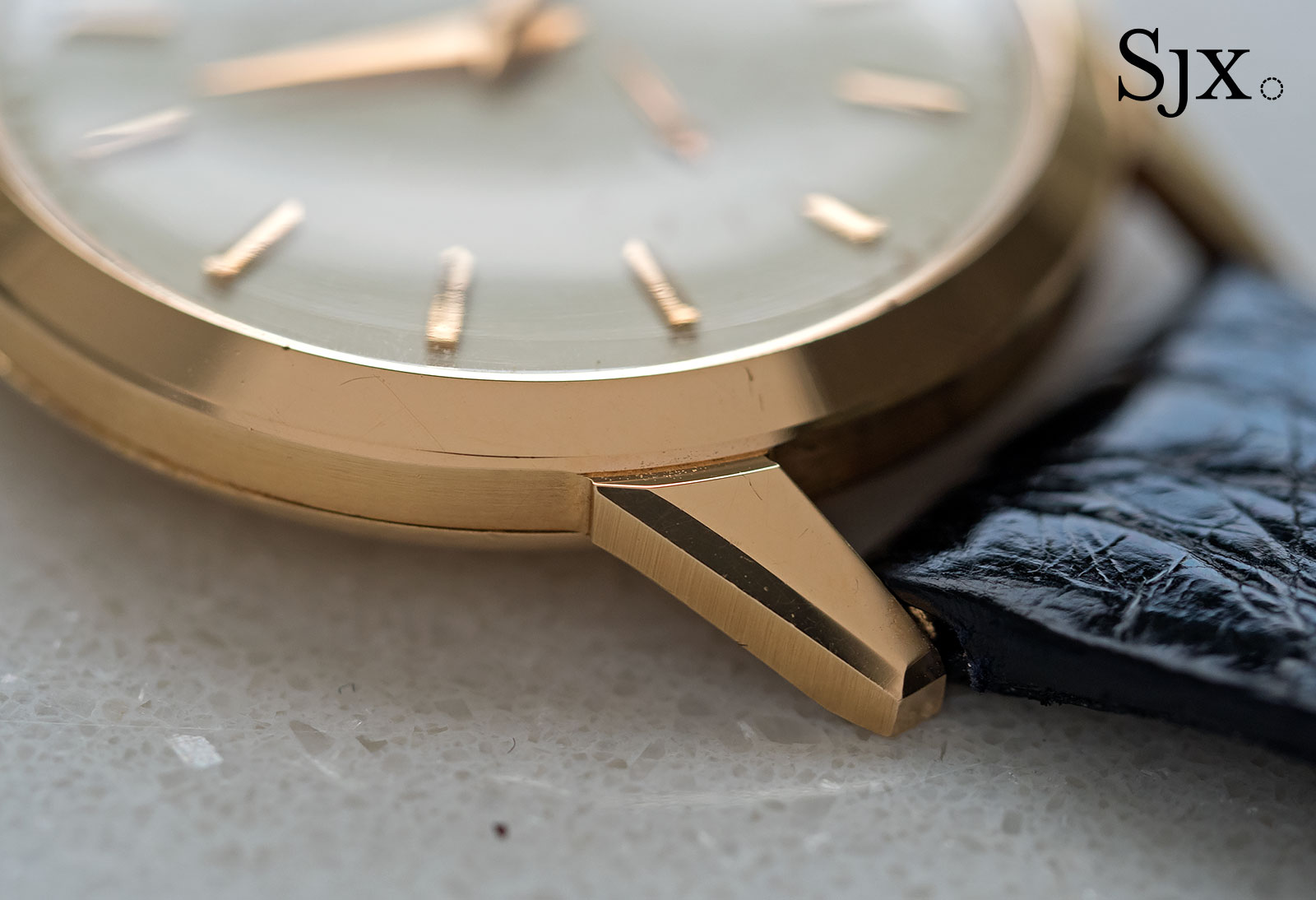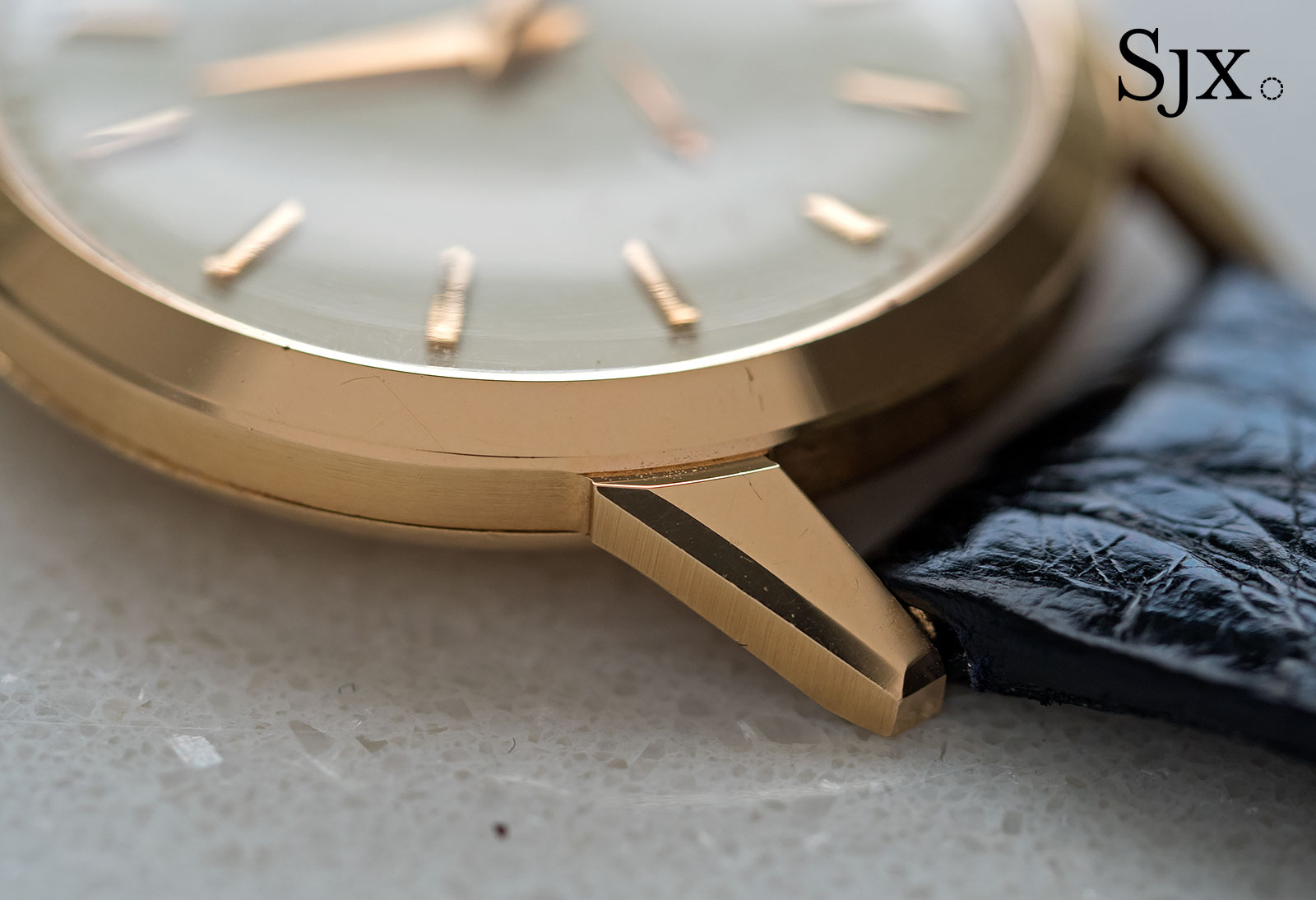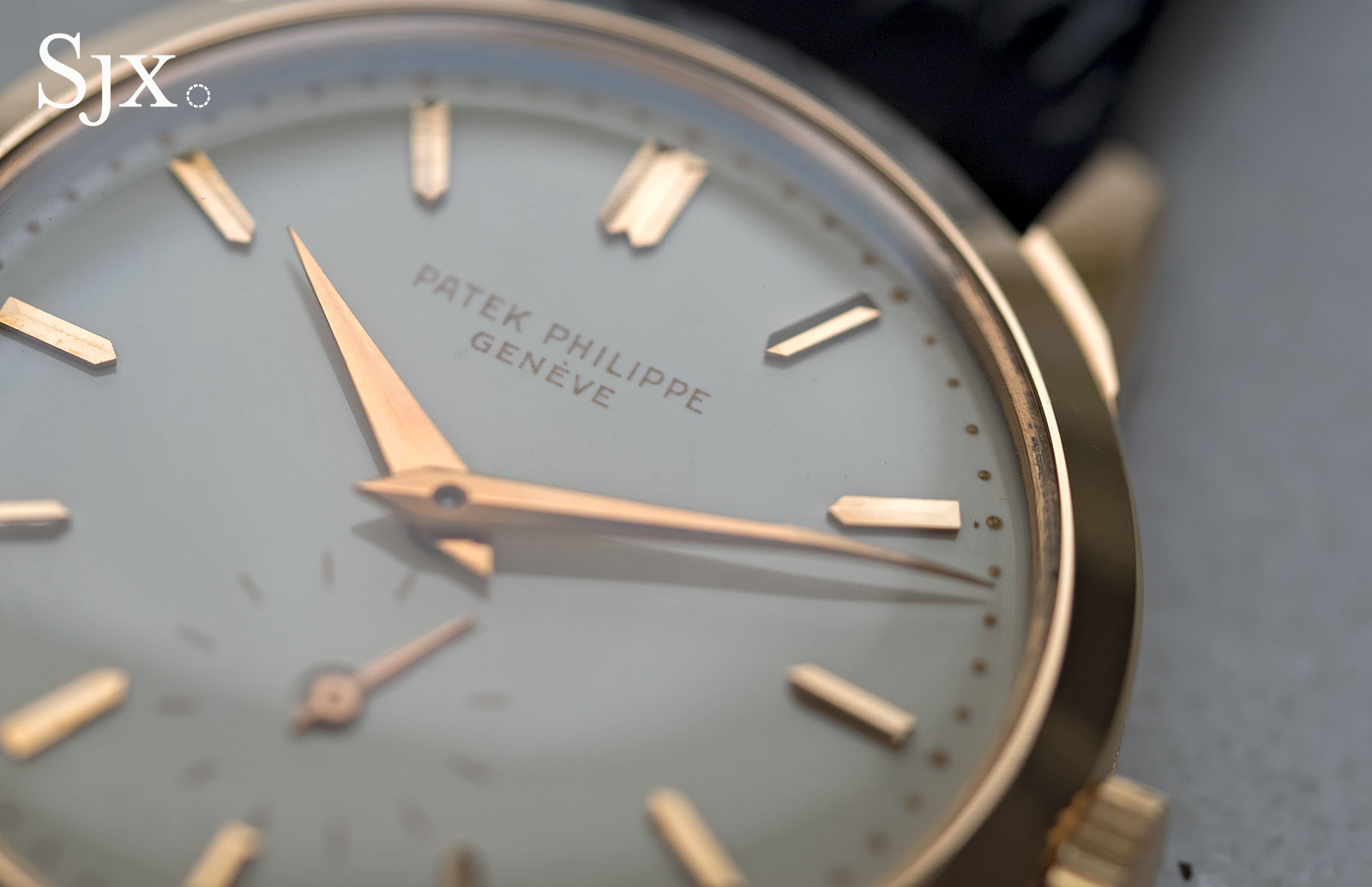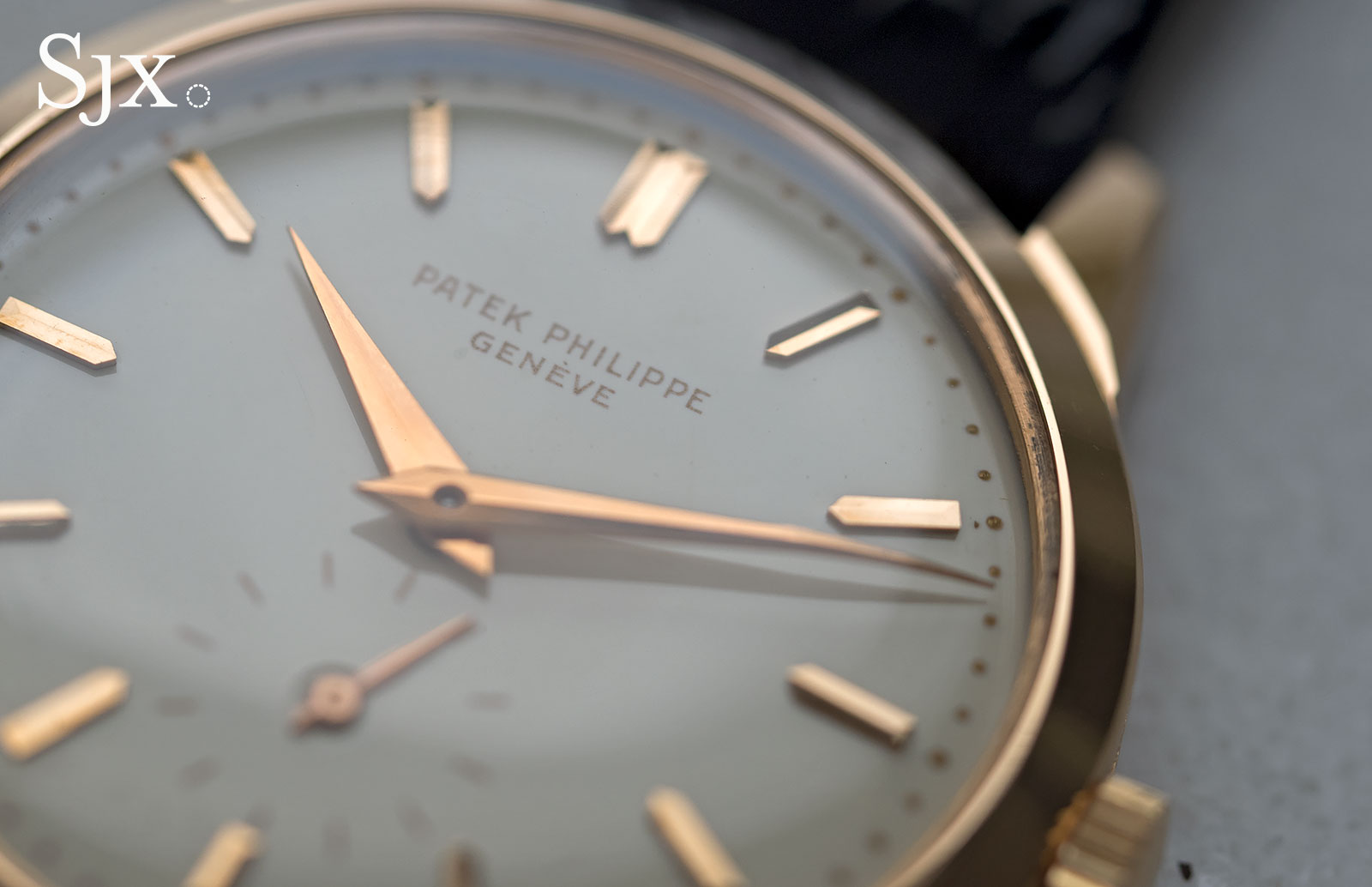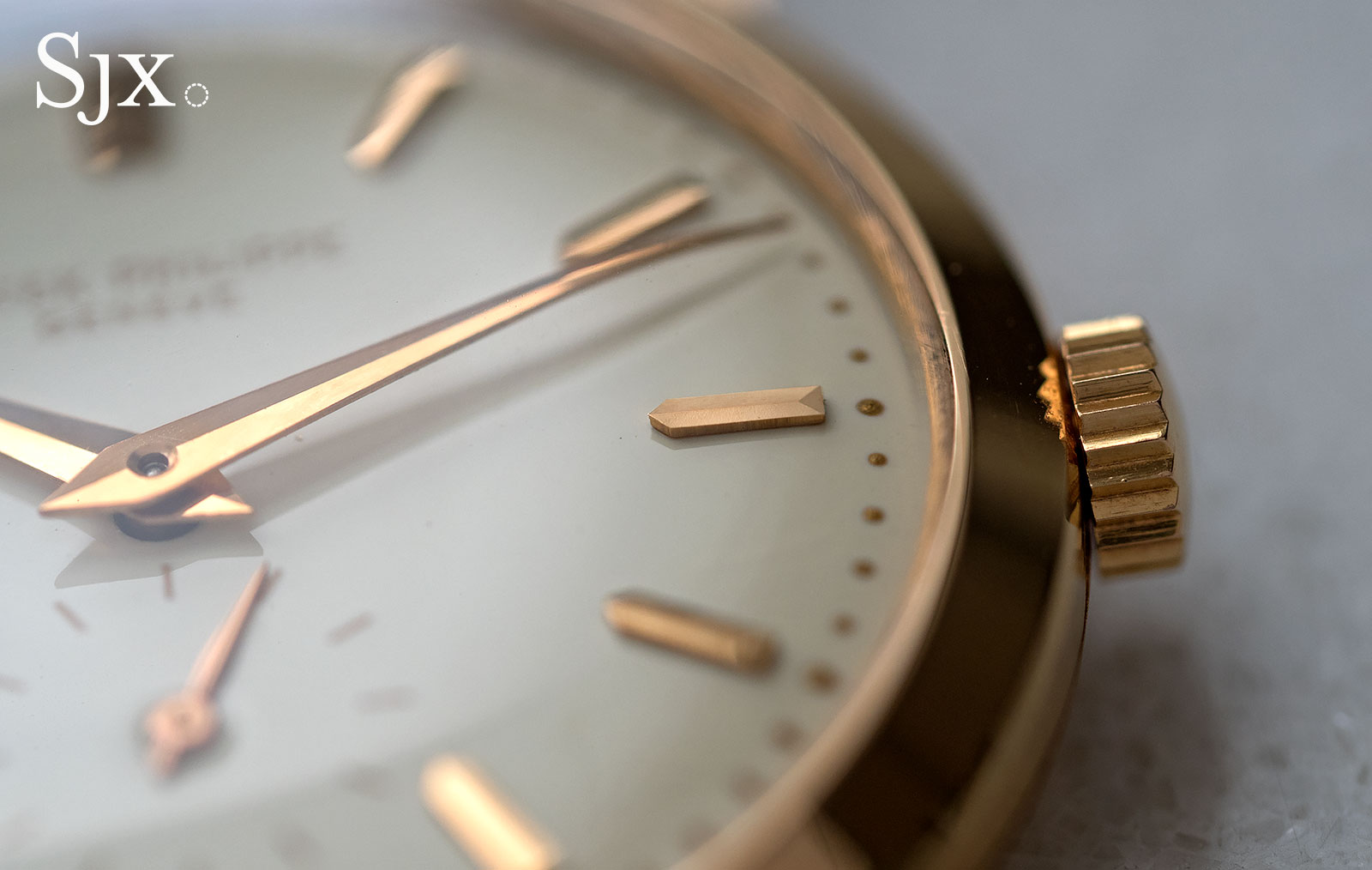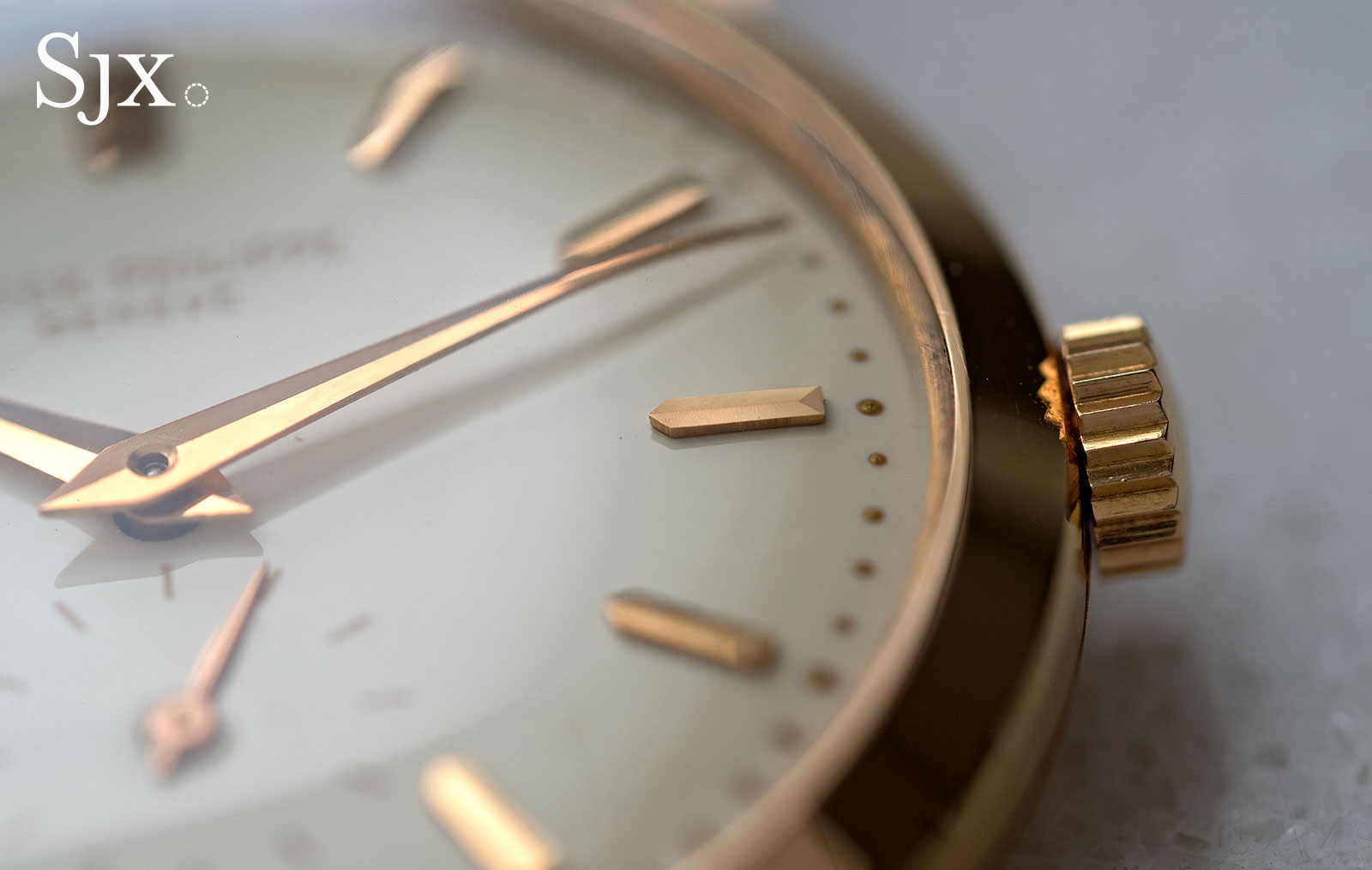 It's estimated at a modest HK$240,000 to HK$400,000 (US$32,000 to US$52,000).
---
Lot 2370 – Patek Philippe Calatrava ref. 3796R "Tiffany & Co."
In production from 1982 till the late 1990s, the Calatrava ref. 3796 was a throwback to the original Calatrava ref. 96 of the 1930s, with the same 31mm case.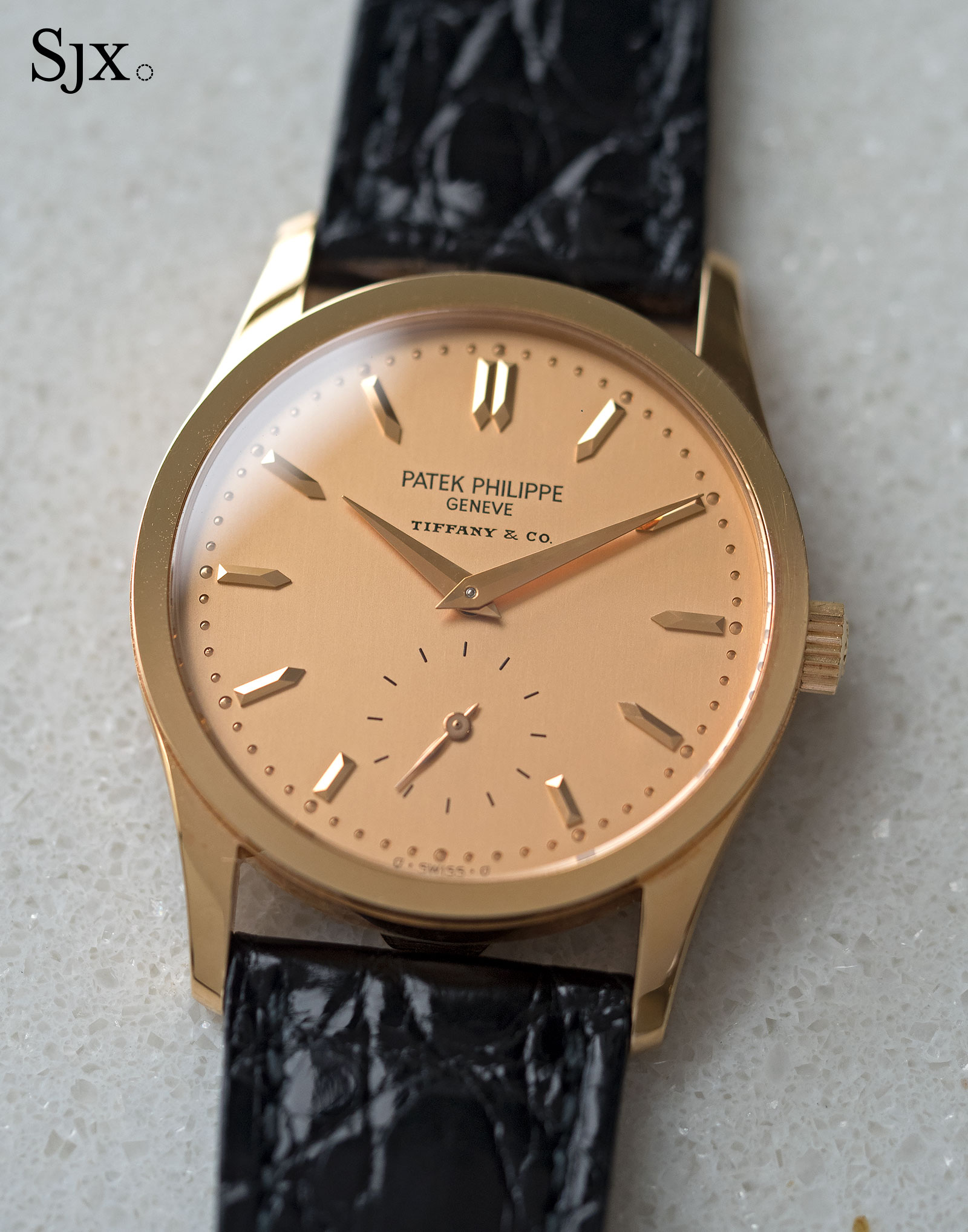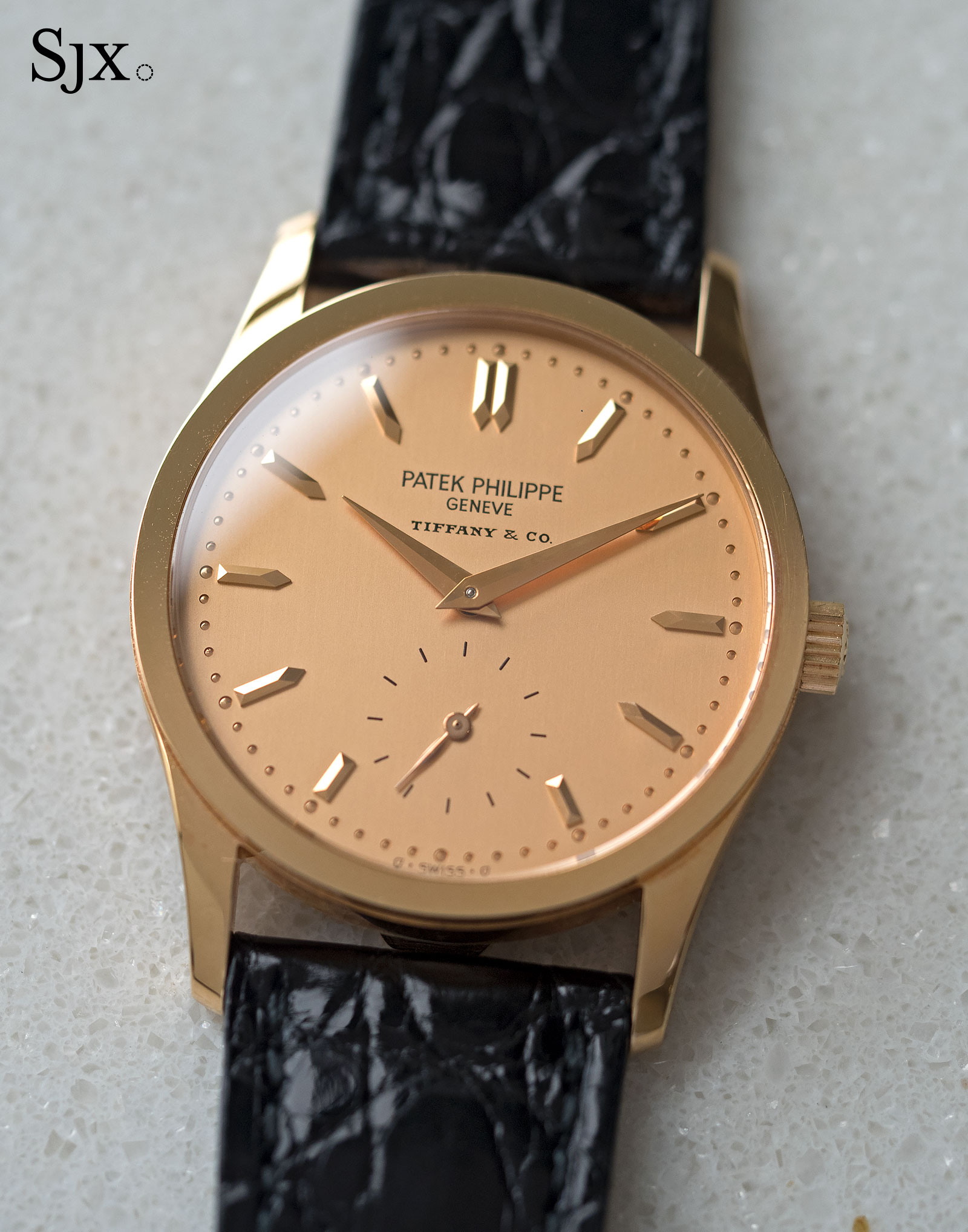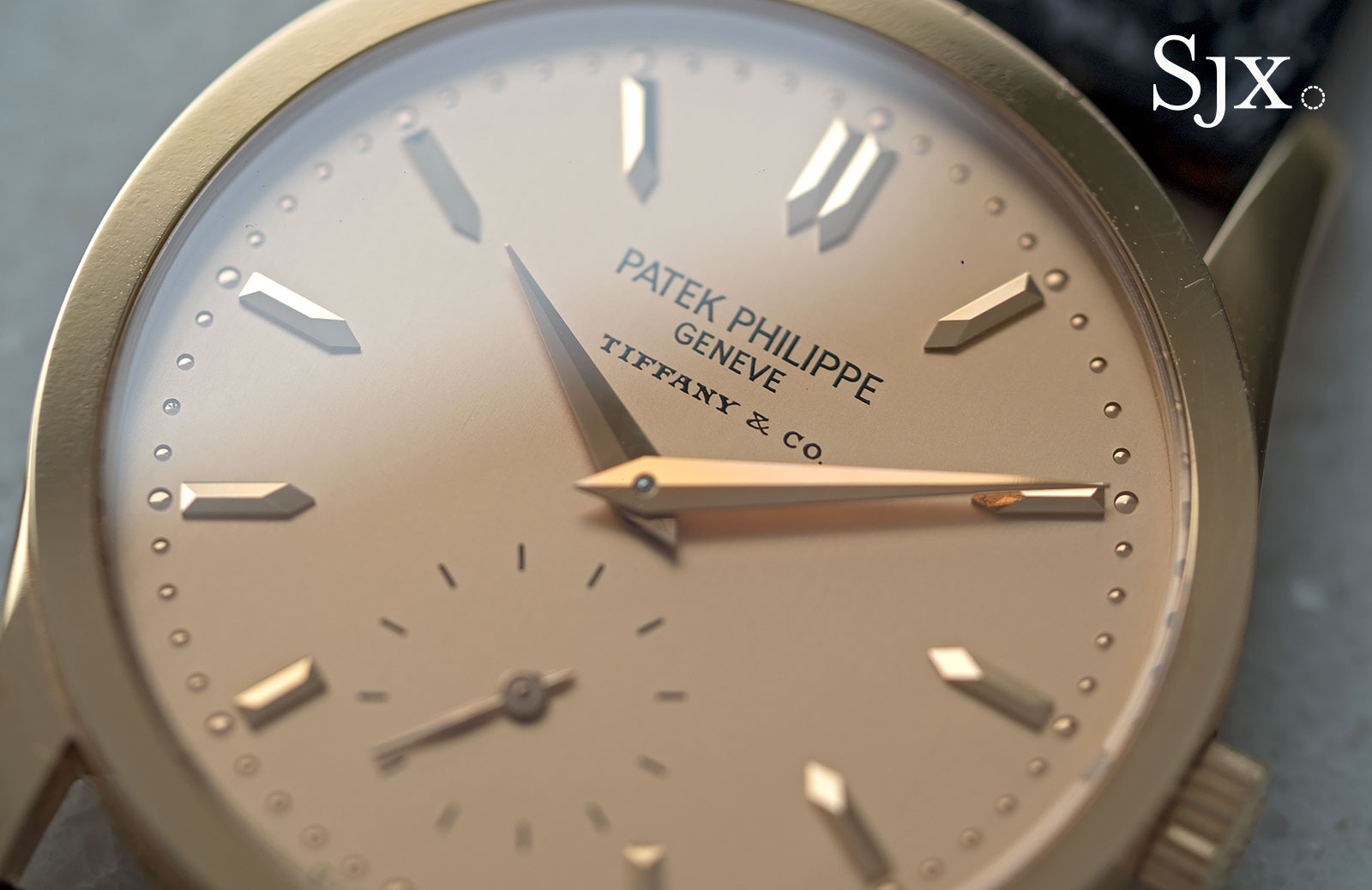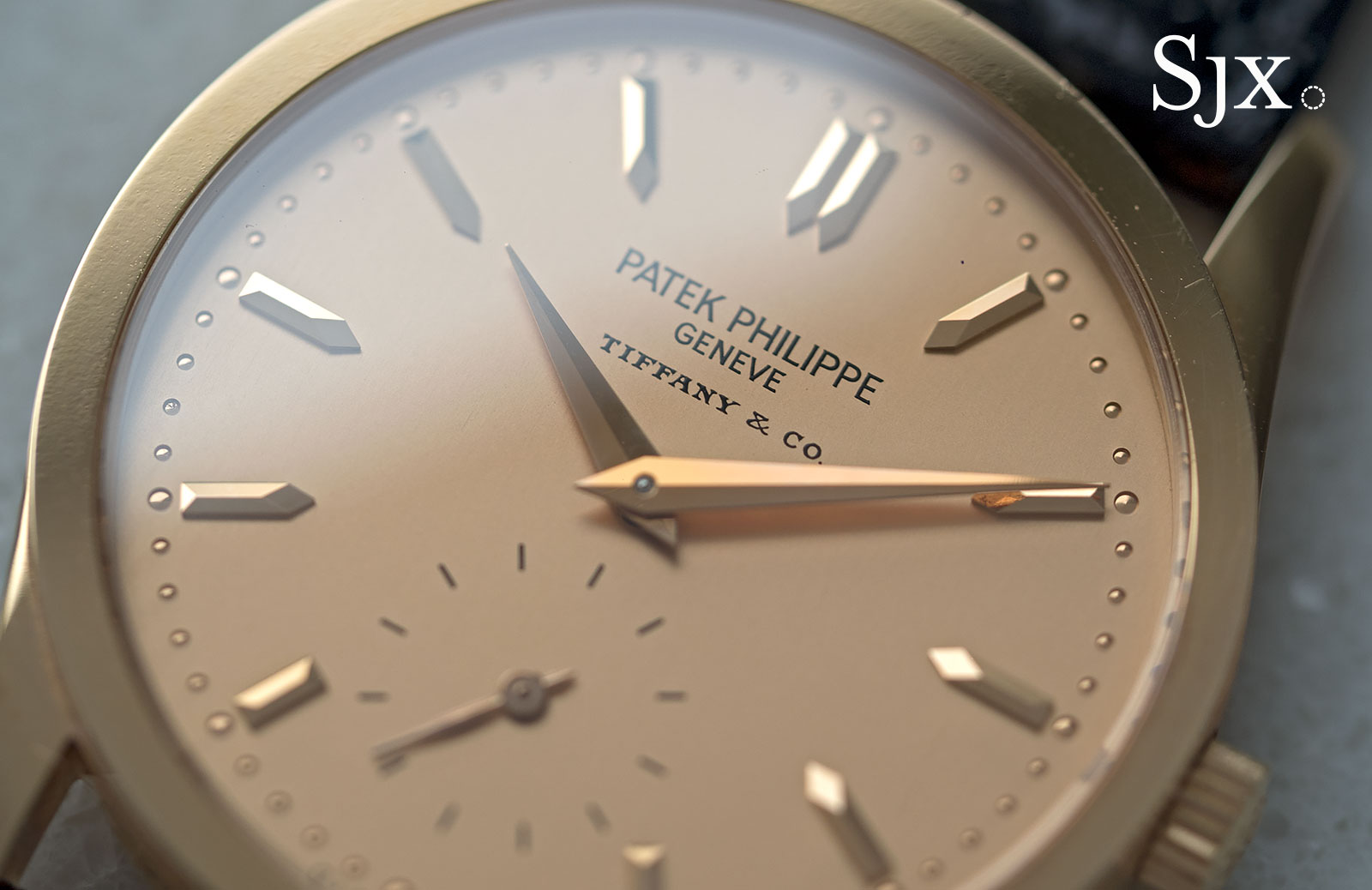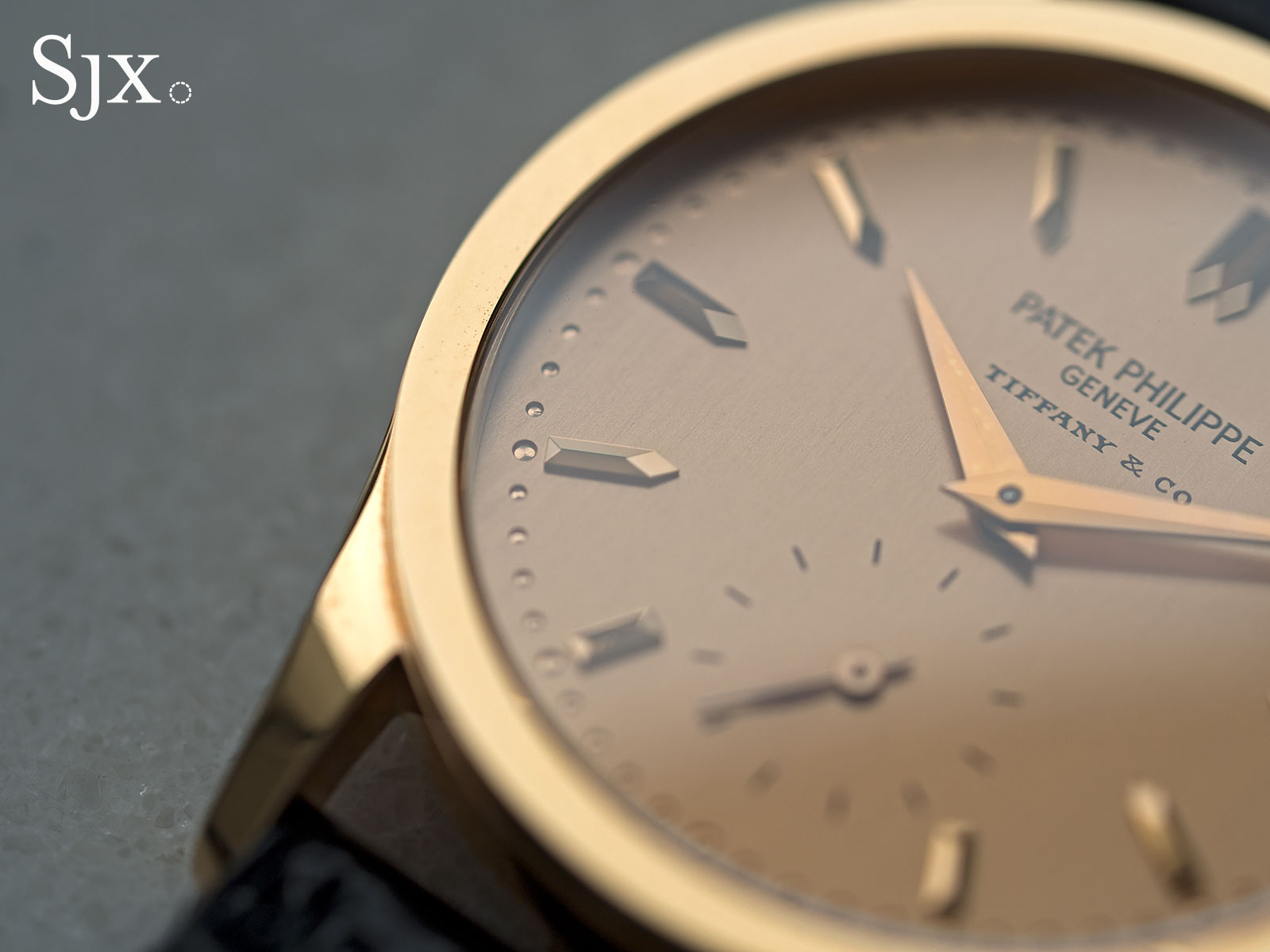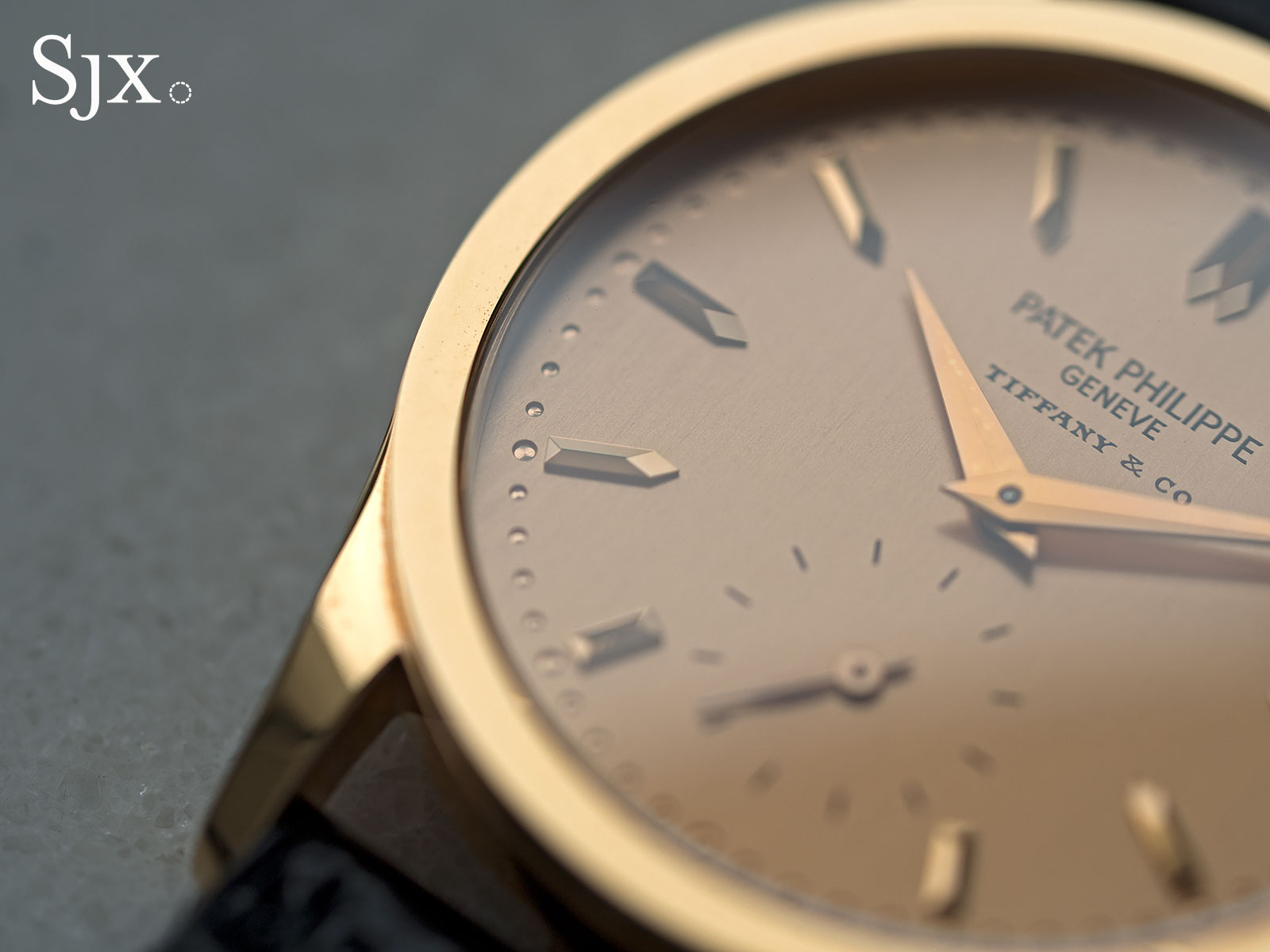 A tad small for the modern man but still strikingly ageless, the Calatrava ref. 3796 is a strong value proposition for those very reasons. This particular example is also signed "Tiffany & Co." on the dial, and is also accompanied by the original certificate stamped by the New York jeweller.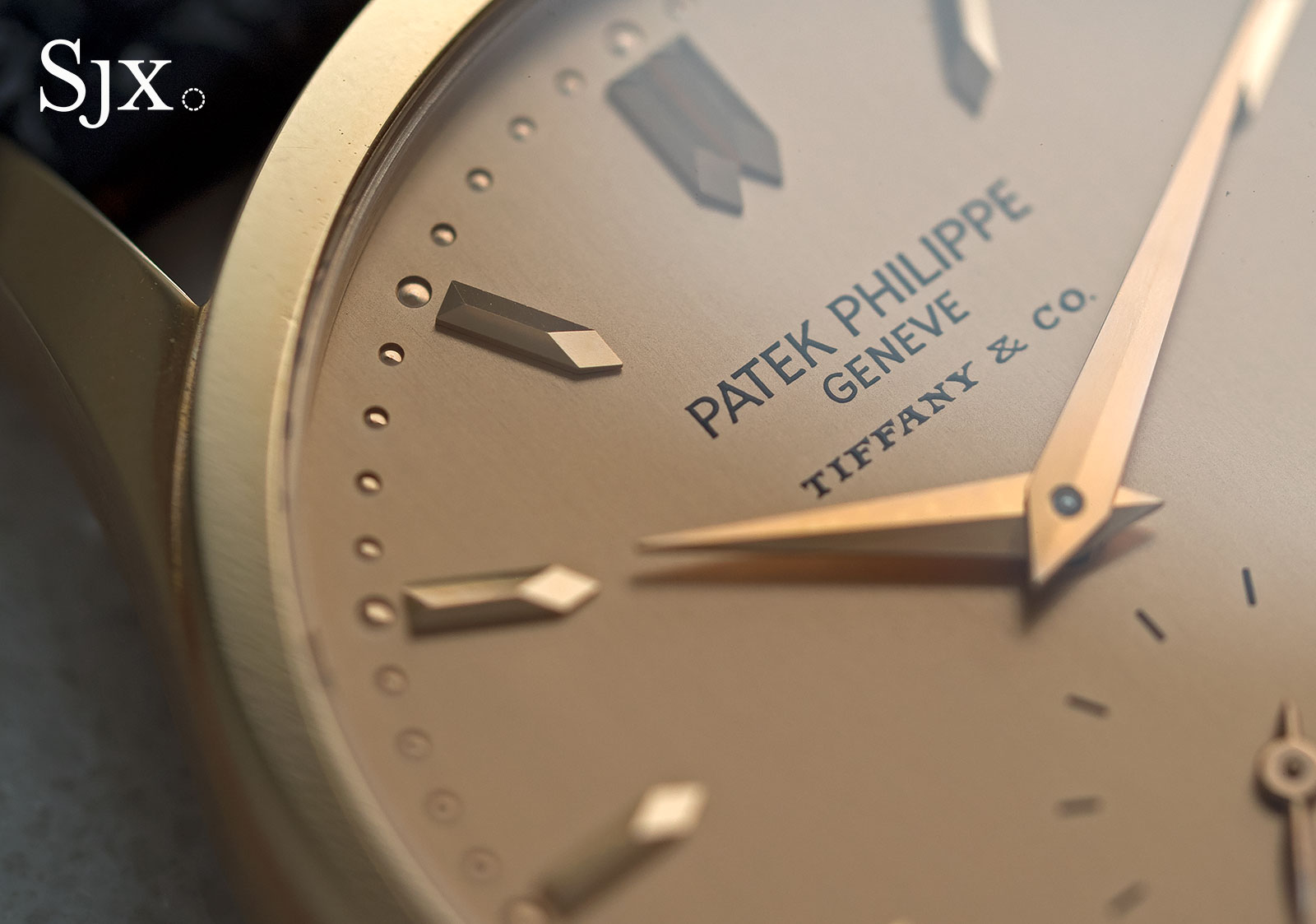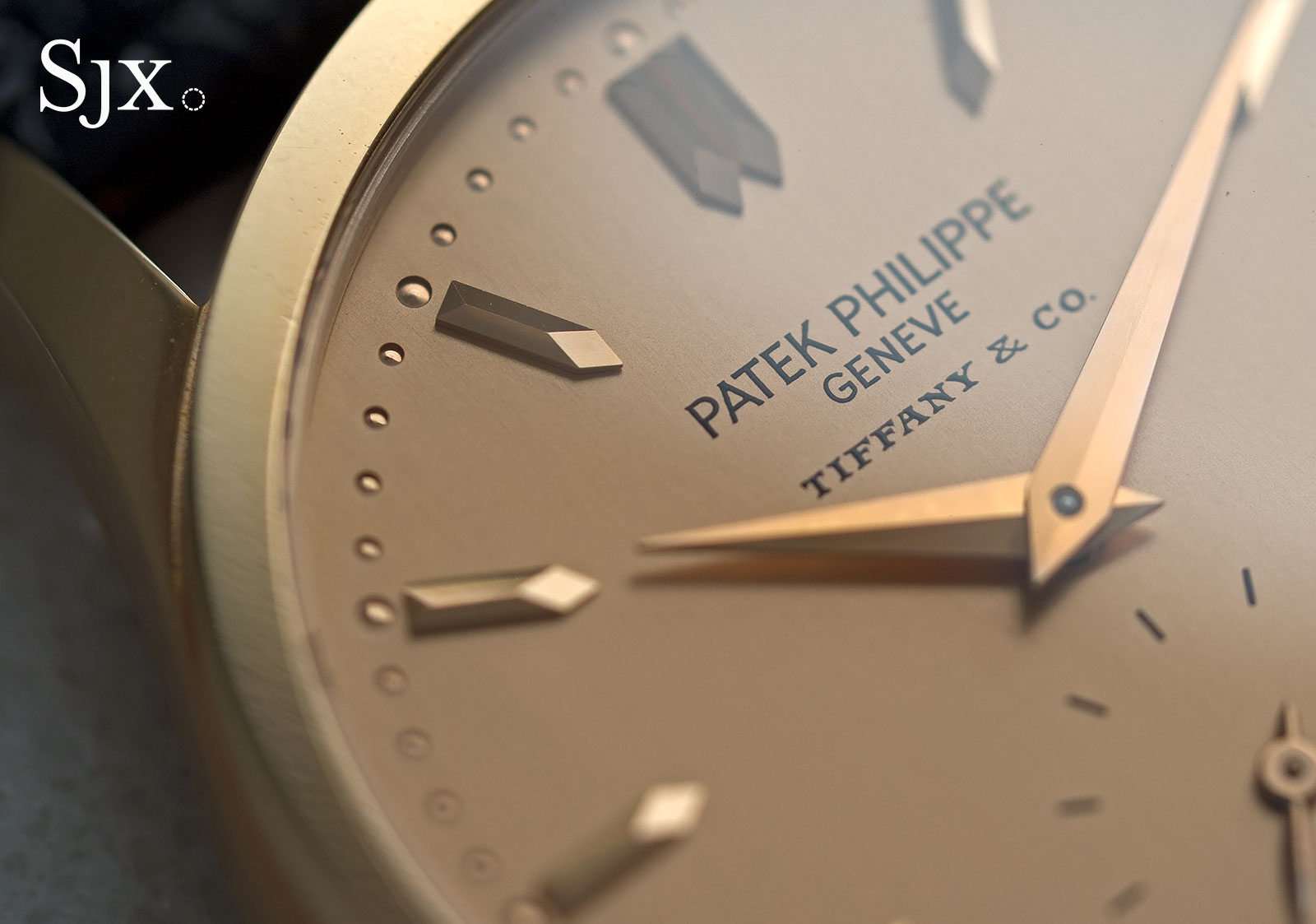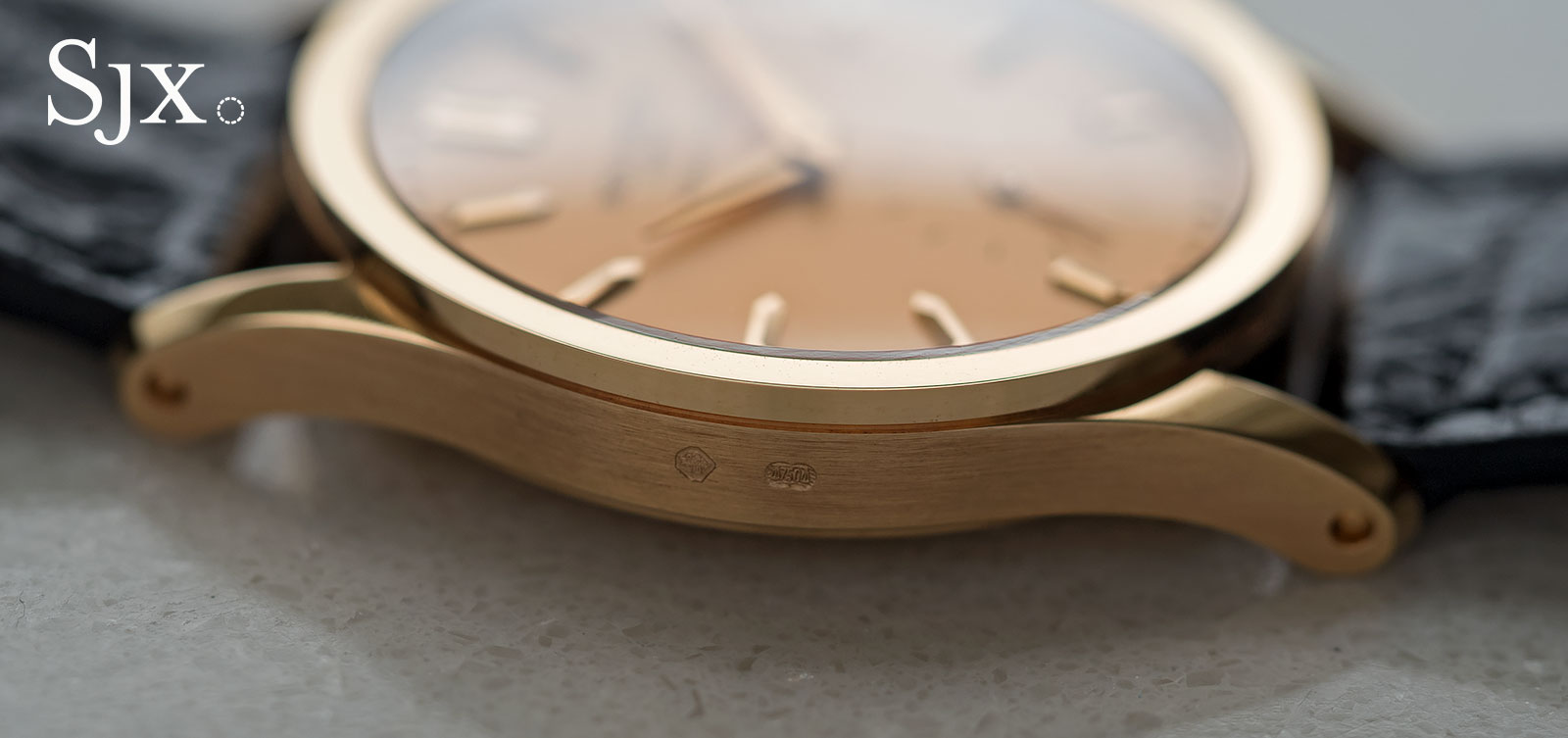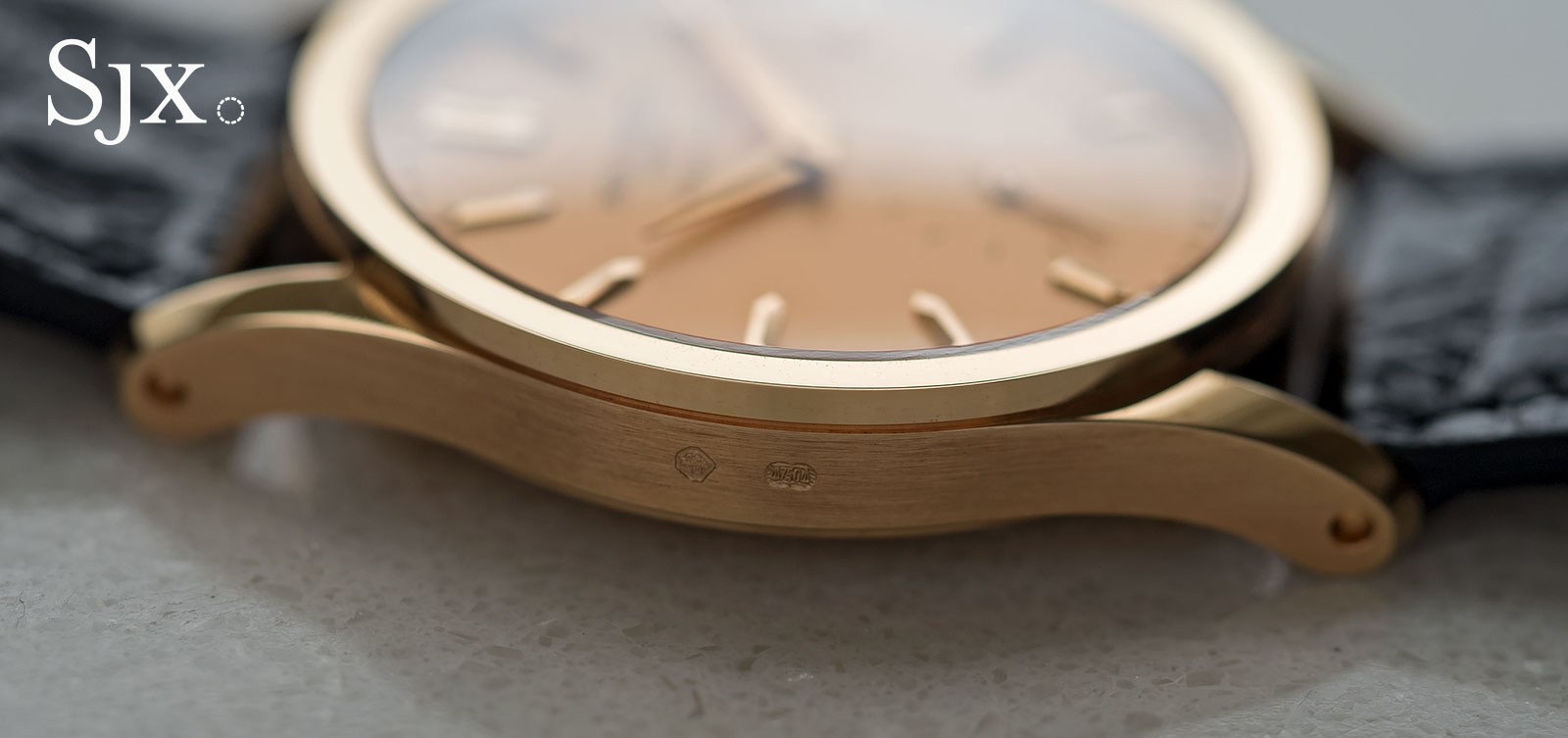 If this were a larger watch, the Tiffany signature would make it considerably more expensive. But fortunately it is not, carrying an estimate of HK$100,000 to HK$150,000 (US$13,000 to US$19,000).
---
Lot 2385 – Patek Philippe ref. 5033P annual calendar with minute repeater
Originally conceived as a 10-piece special order in 2002 – nine were made in platinum and one in titanium – reputedly for Gulf Arab royalty, the ref. 5033P eventually joined the catalogue in other guises. This particular ref. 5033P, however, is one of the original ten.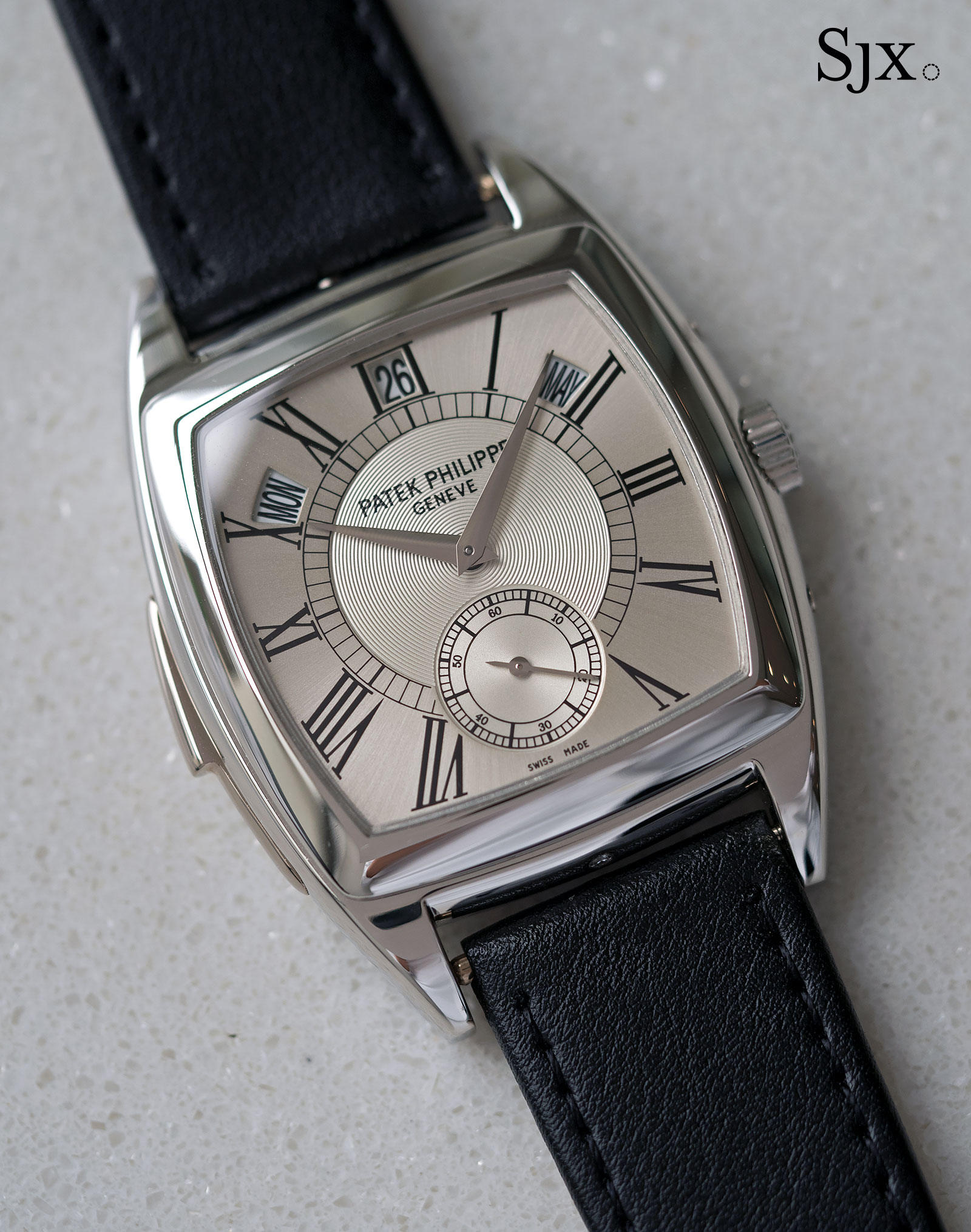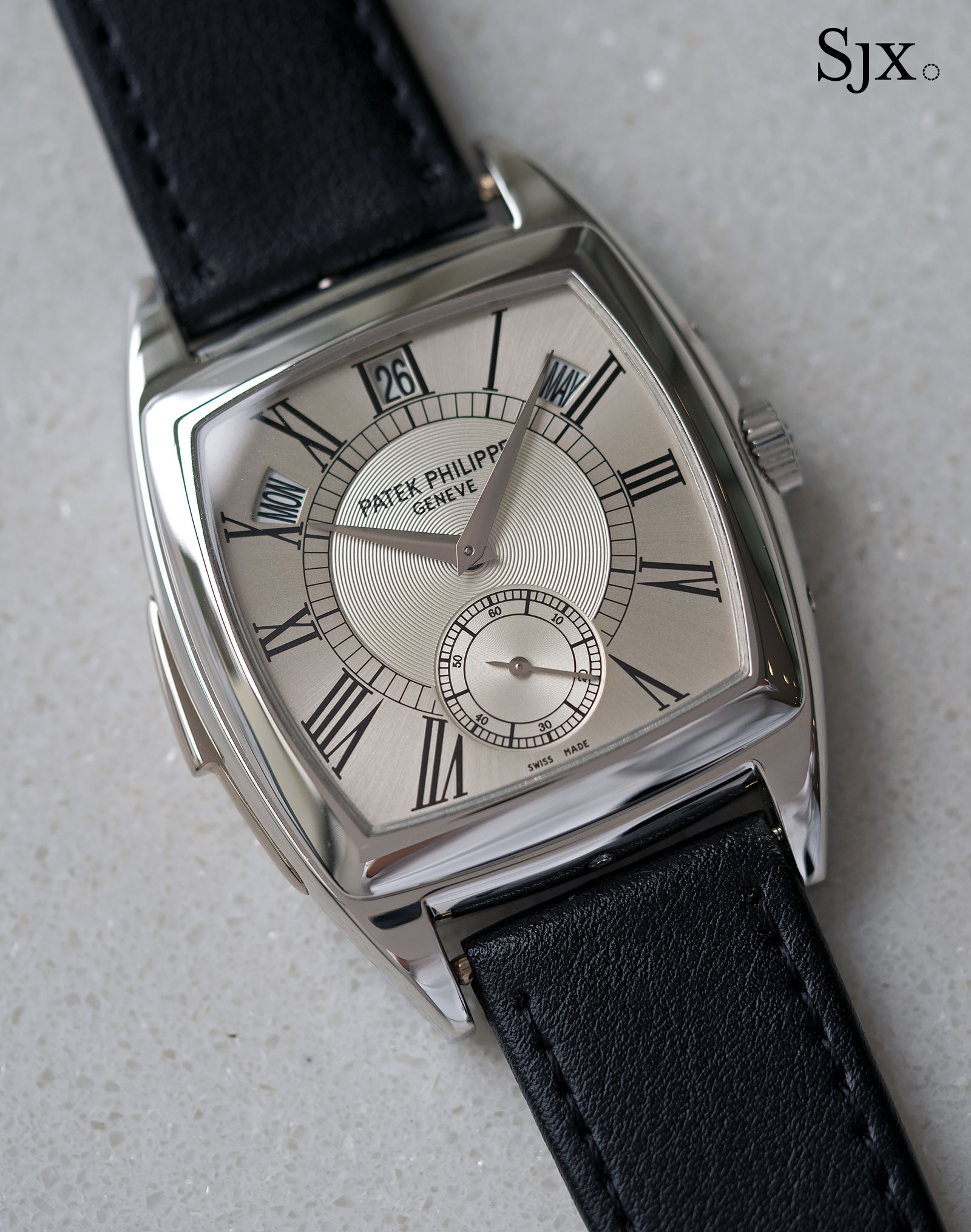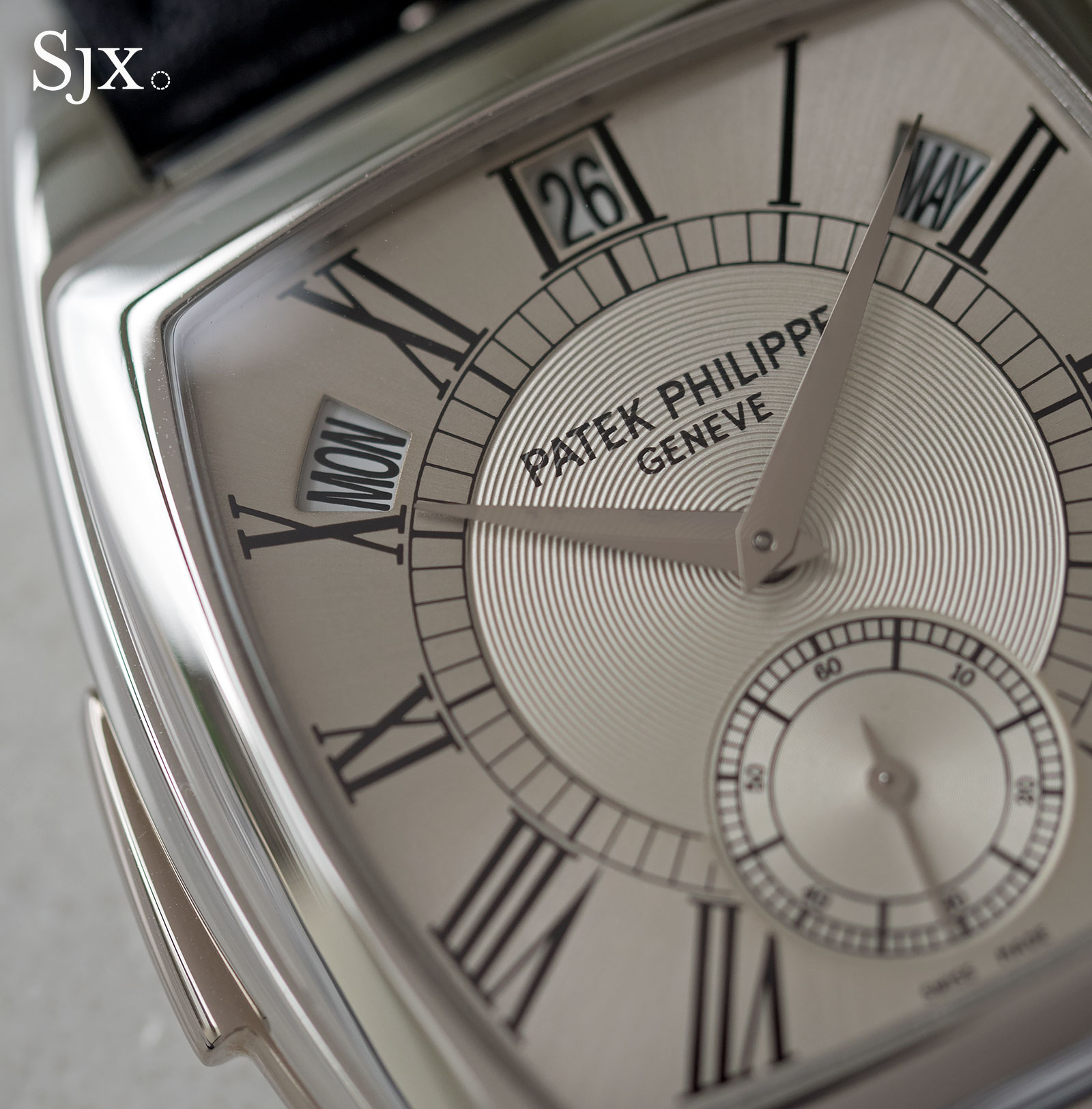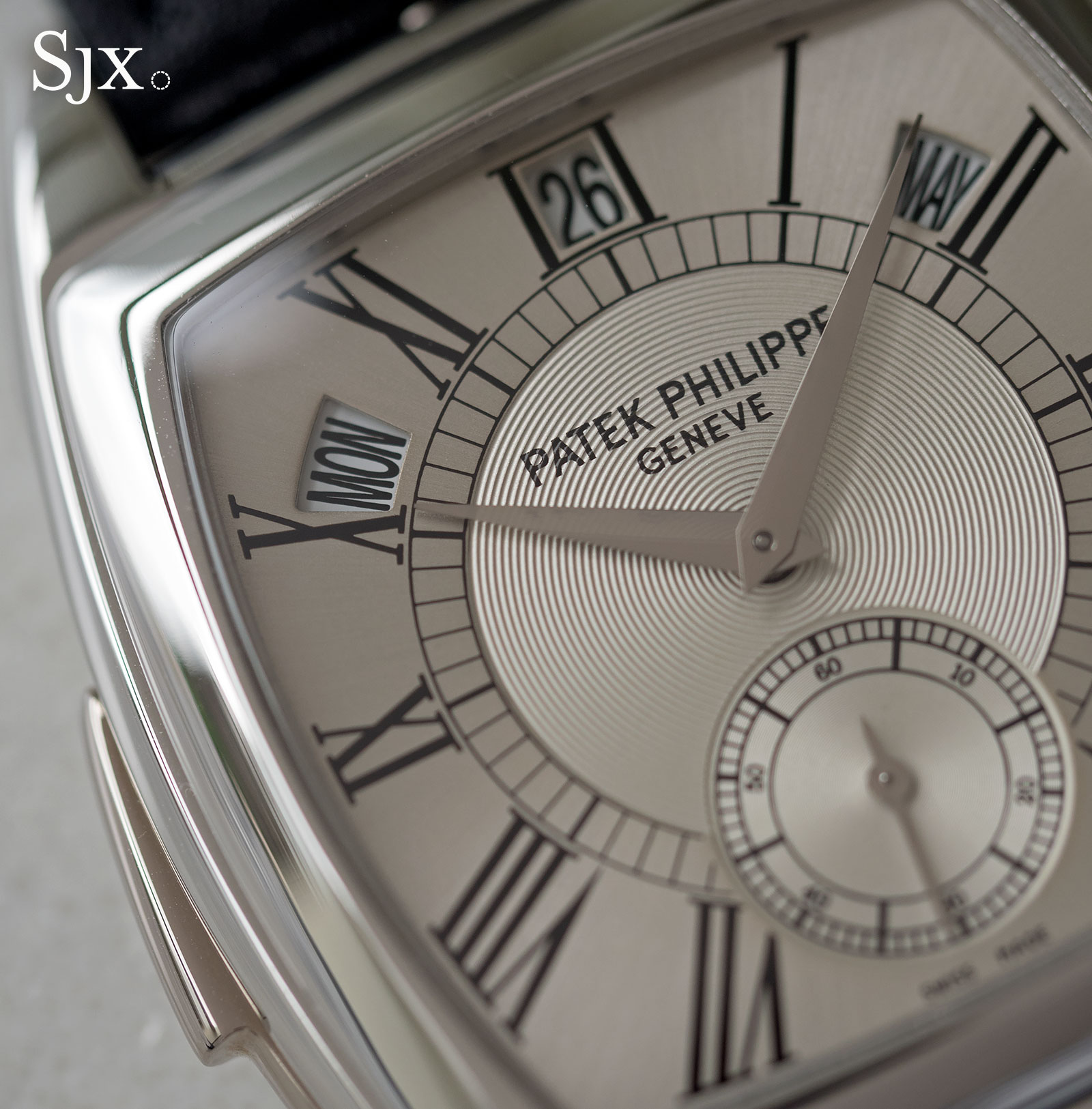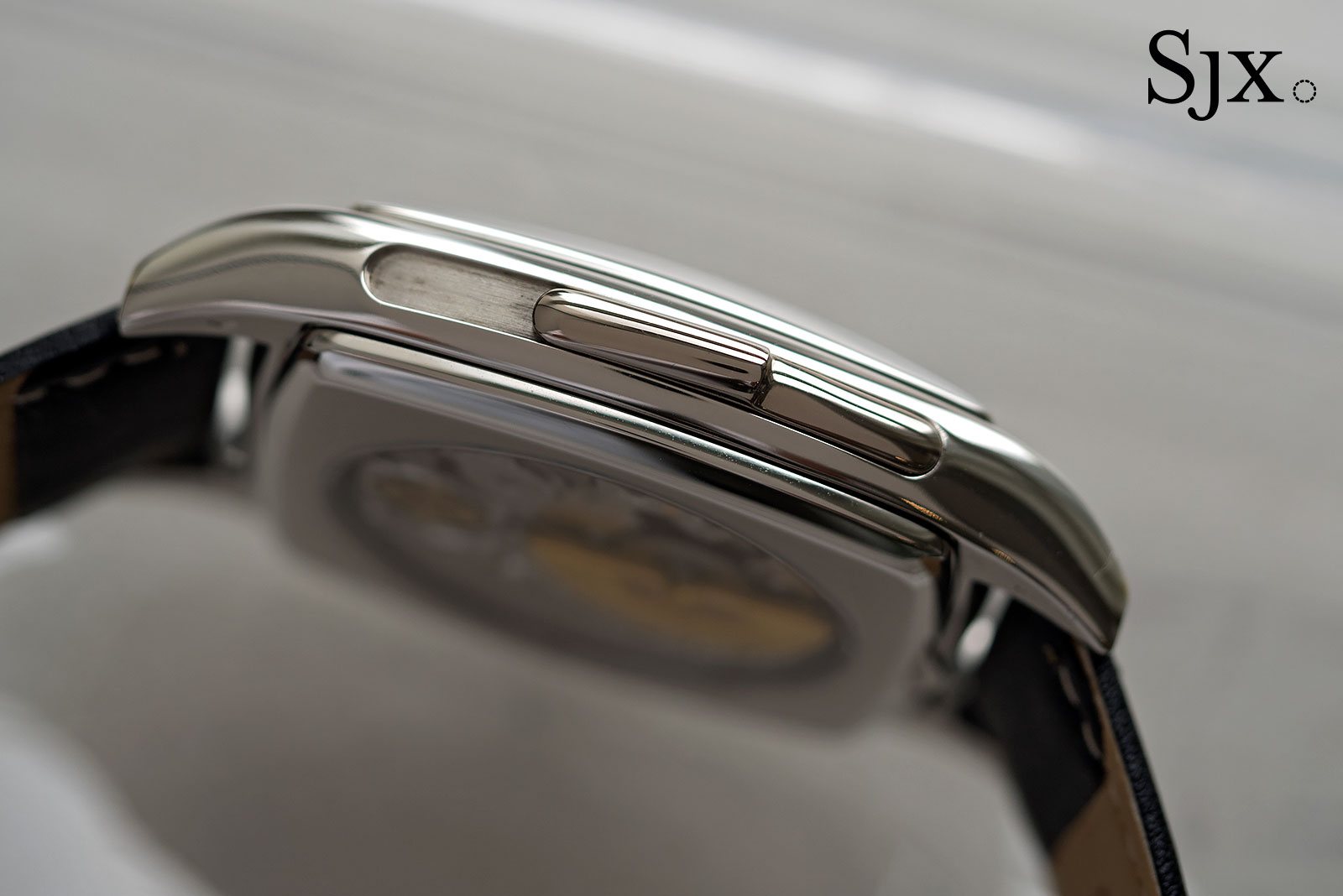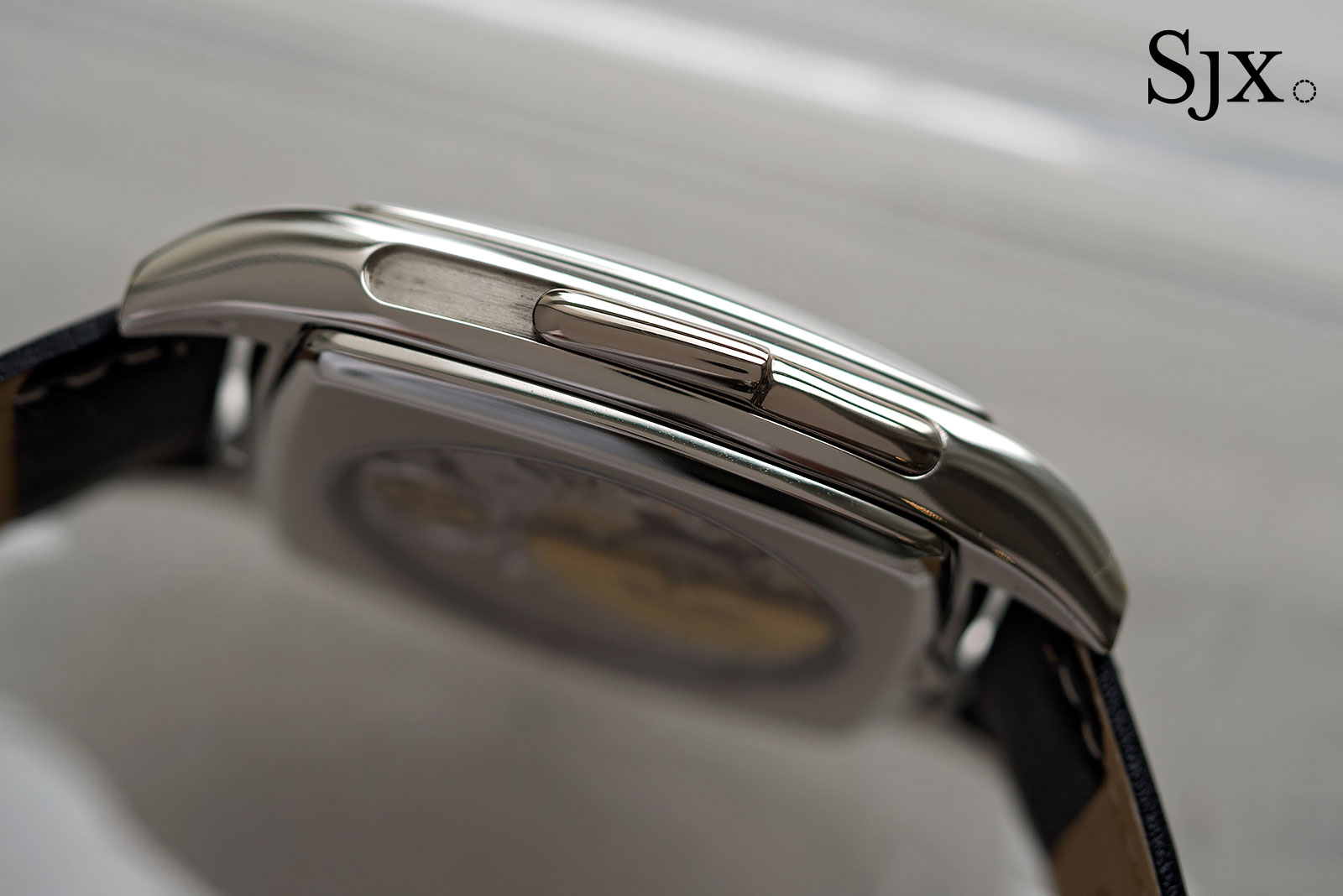 The ref. 5033P is an unusual complication for Patek Philippe, combining the minute repeater with an annual calendar, instead of the conventional perpetual calendar. And it's made even more unusual by the large tonneau-shaped case. The form and material of the case give the ref. 5033P significant heft in the hand.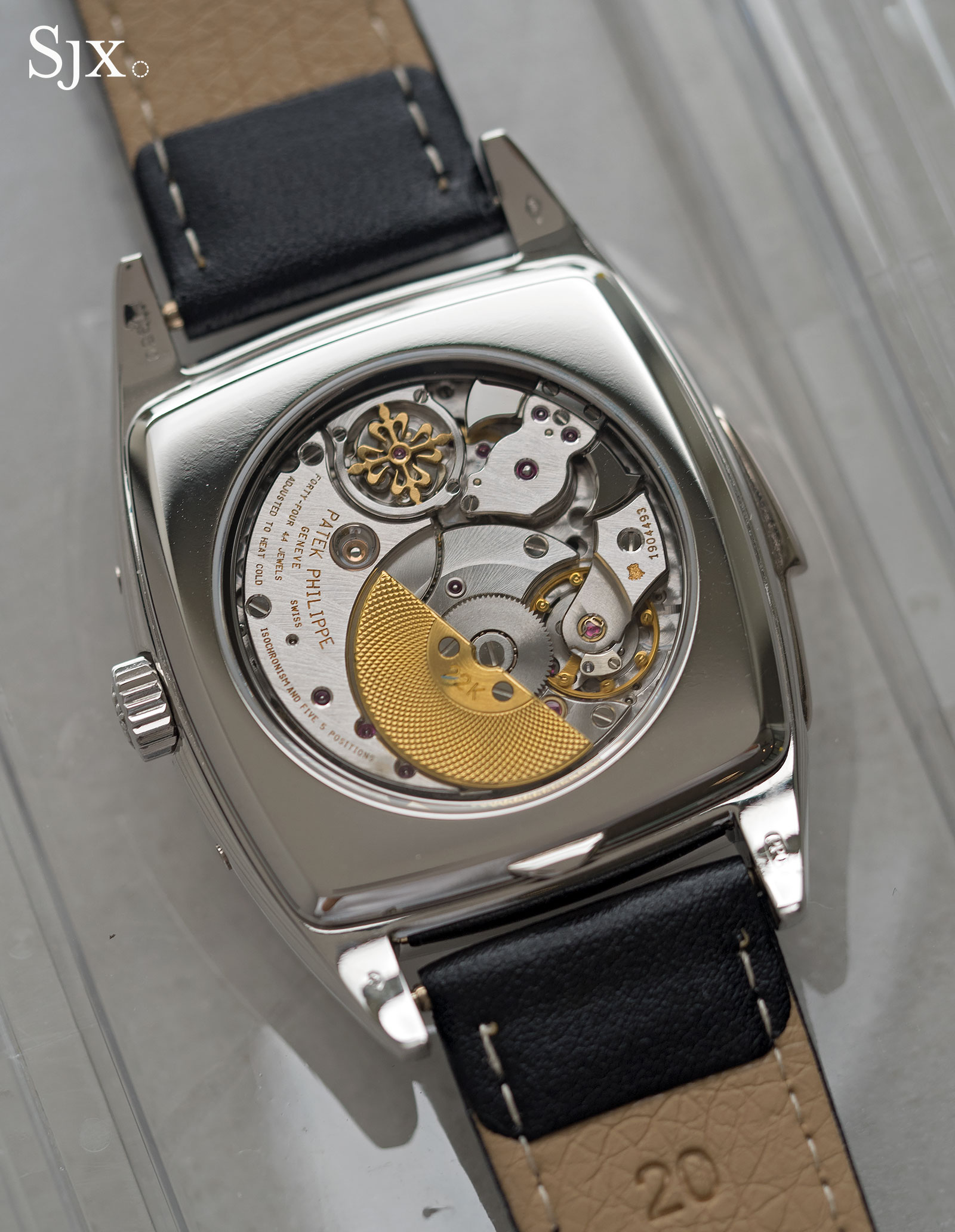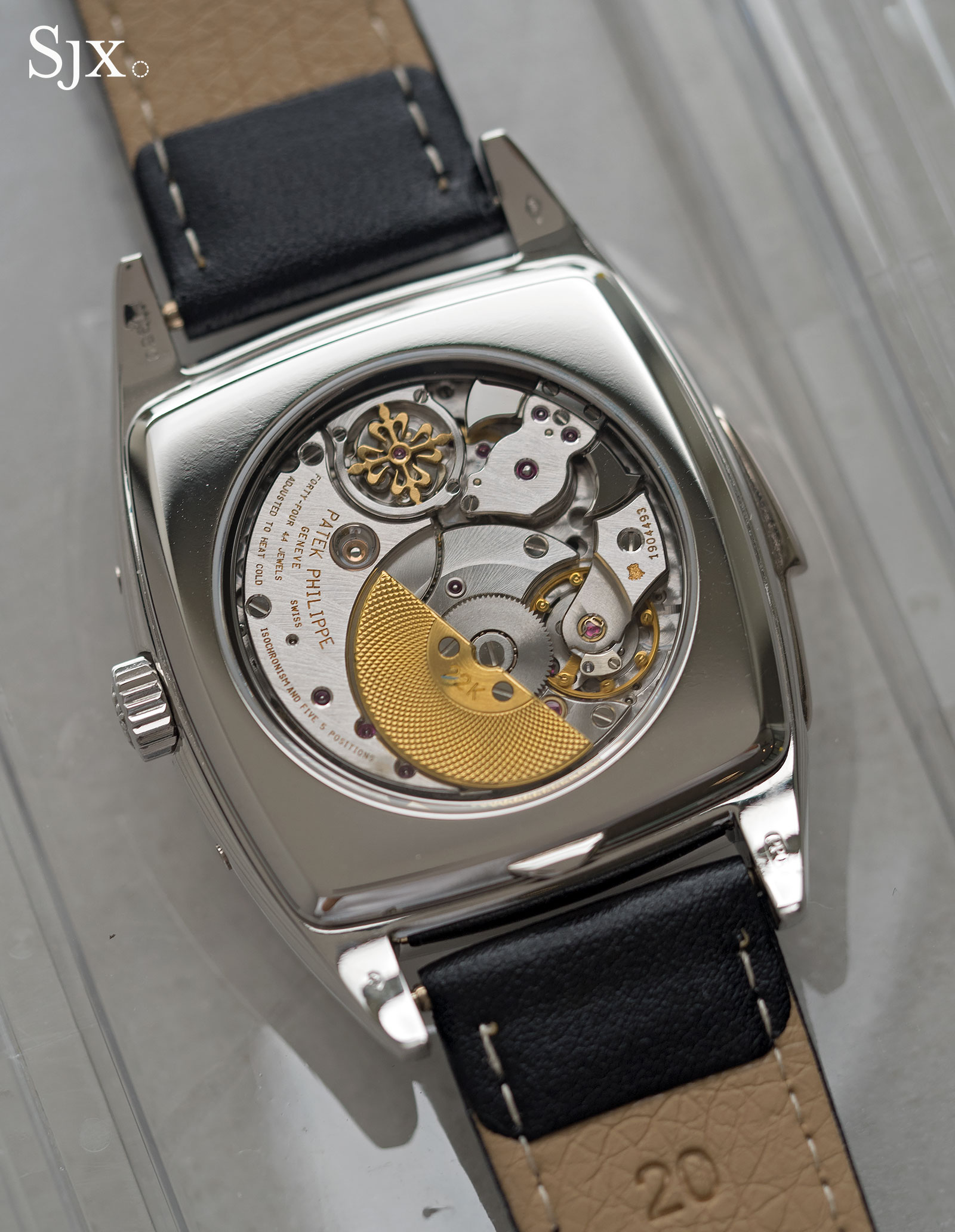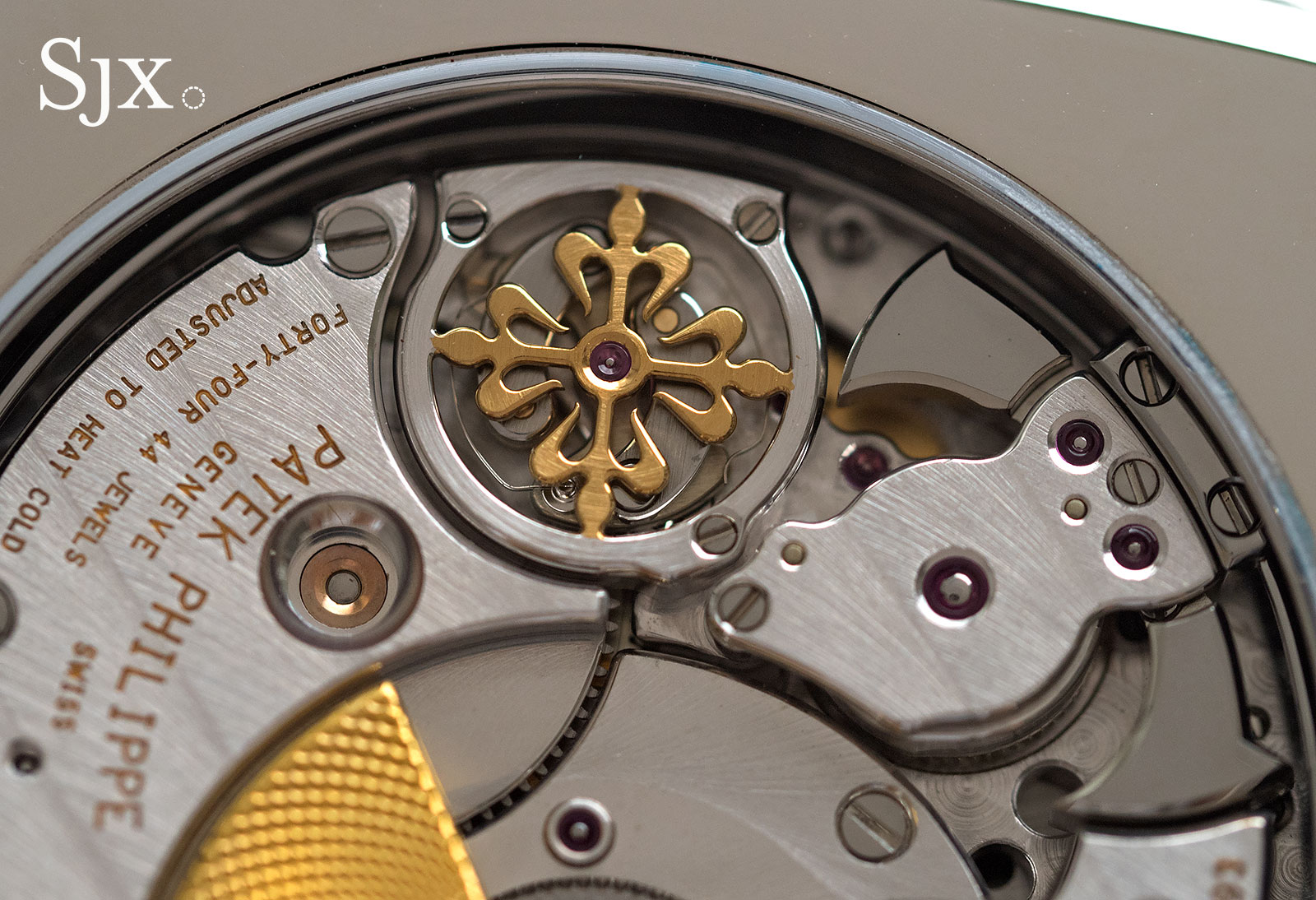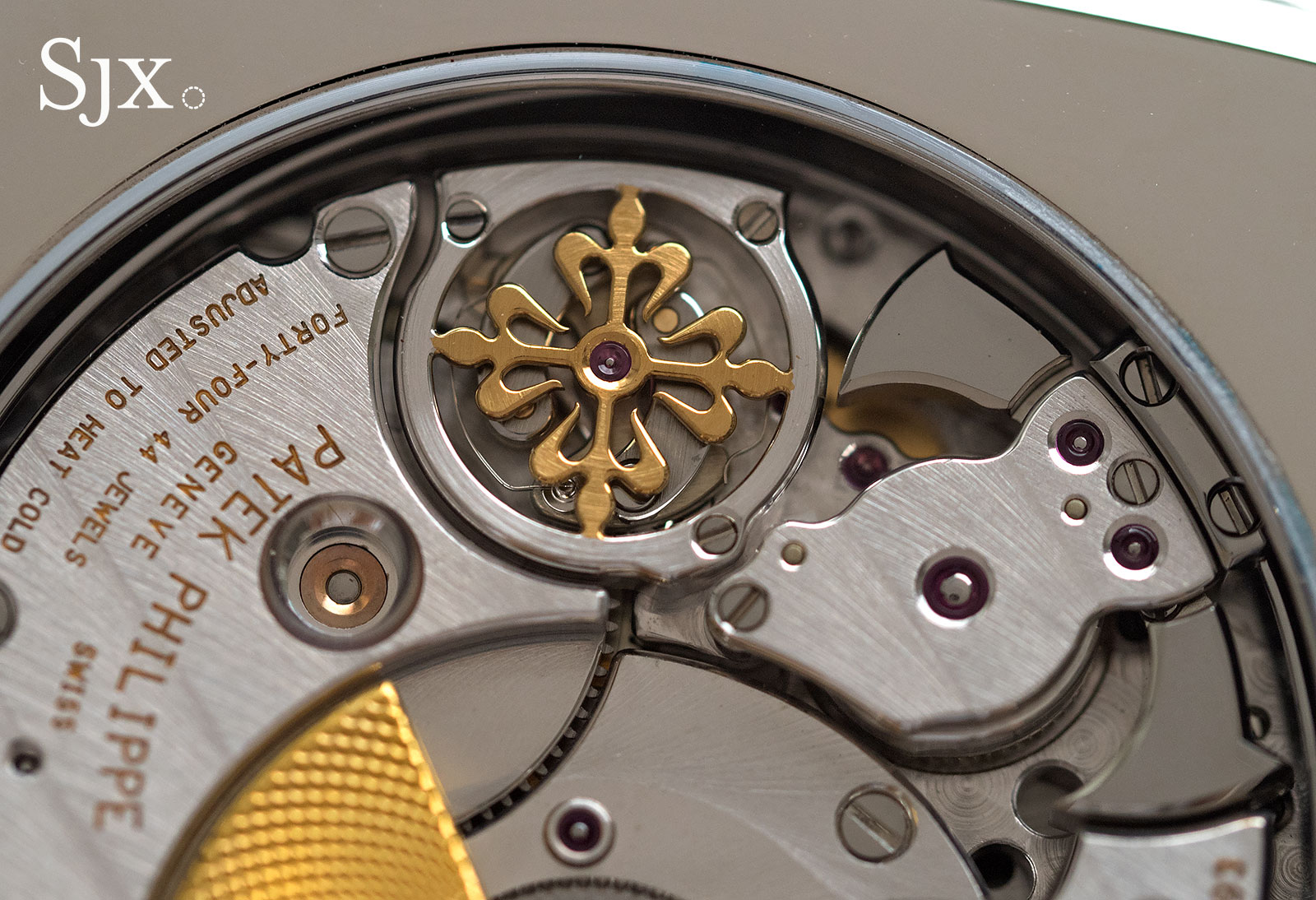 Despite its size the styling is low-key. The dial is silver with a hint of champagne, with little on it that's superfluous. This carries an estimate of HK$2.3m to HK$3.5m (US$300,000 to US$450,000).
---
Lot 2455 – Patek Philippe ref. 5971P chronograph perpetual calendar
A black dial, platinum case and diamond bezel is a combination often repeated by Patek Philippe for various complicated watches, but it has maximum impact when executed on a watch as large as the ref. 5971P.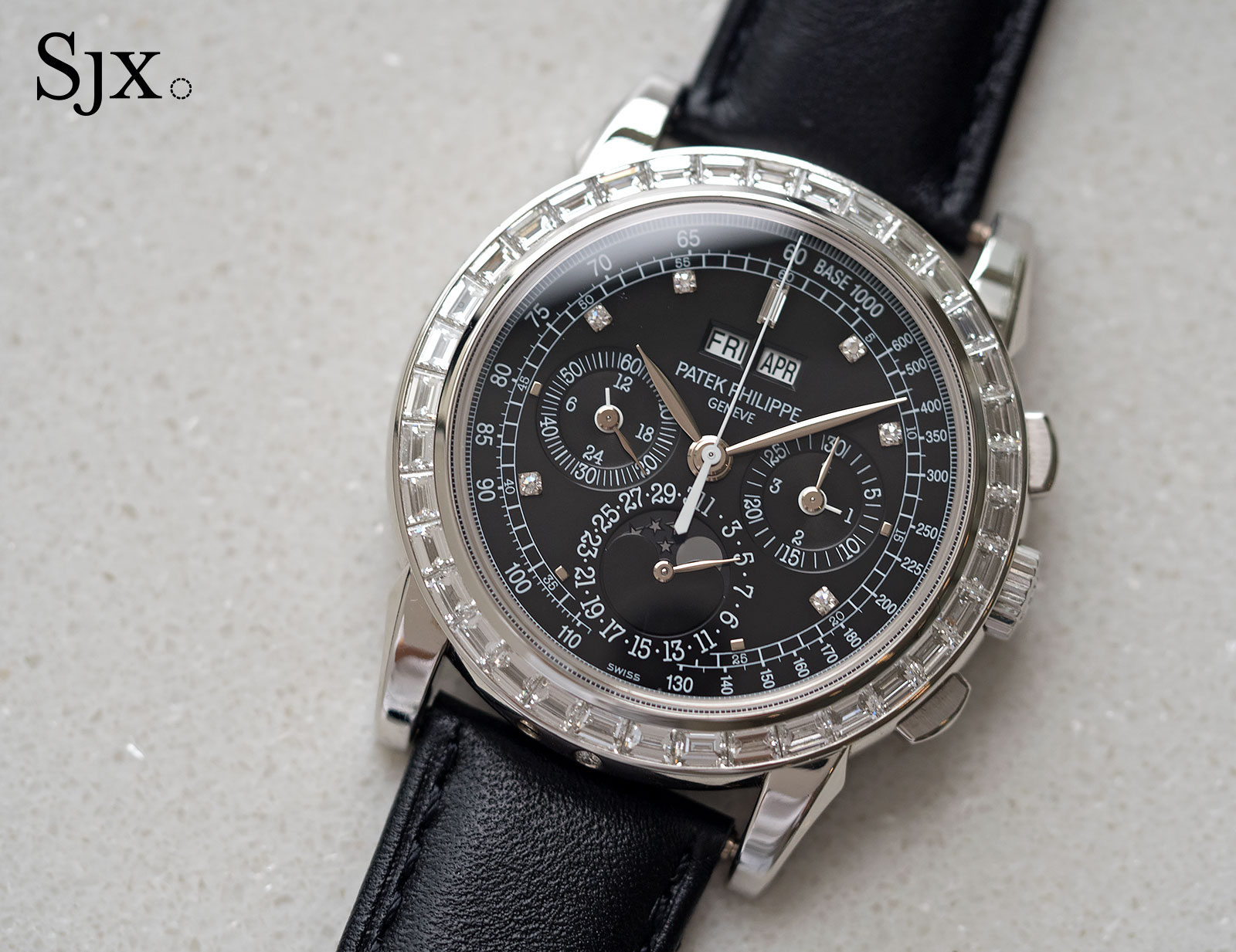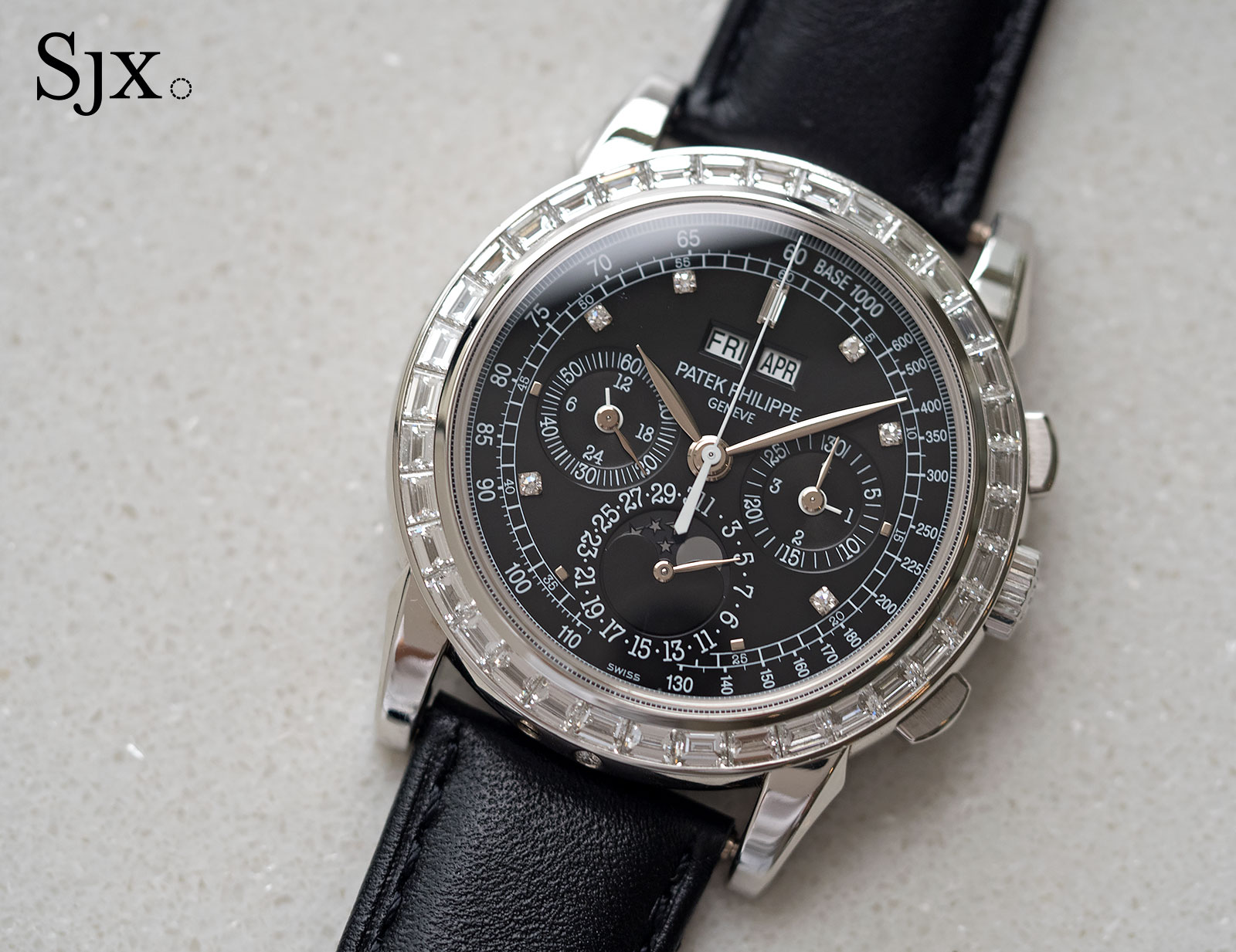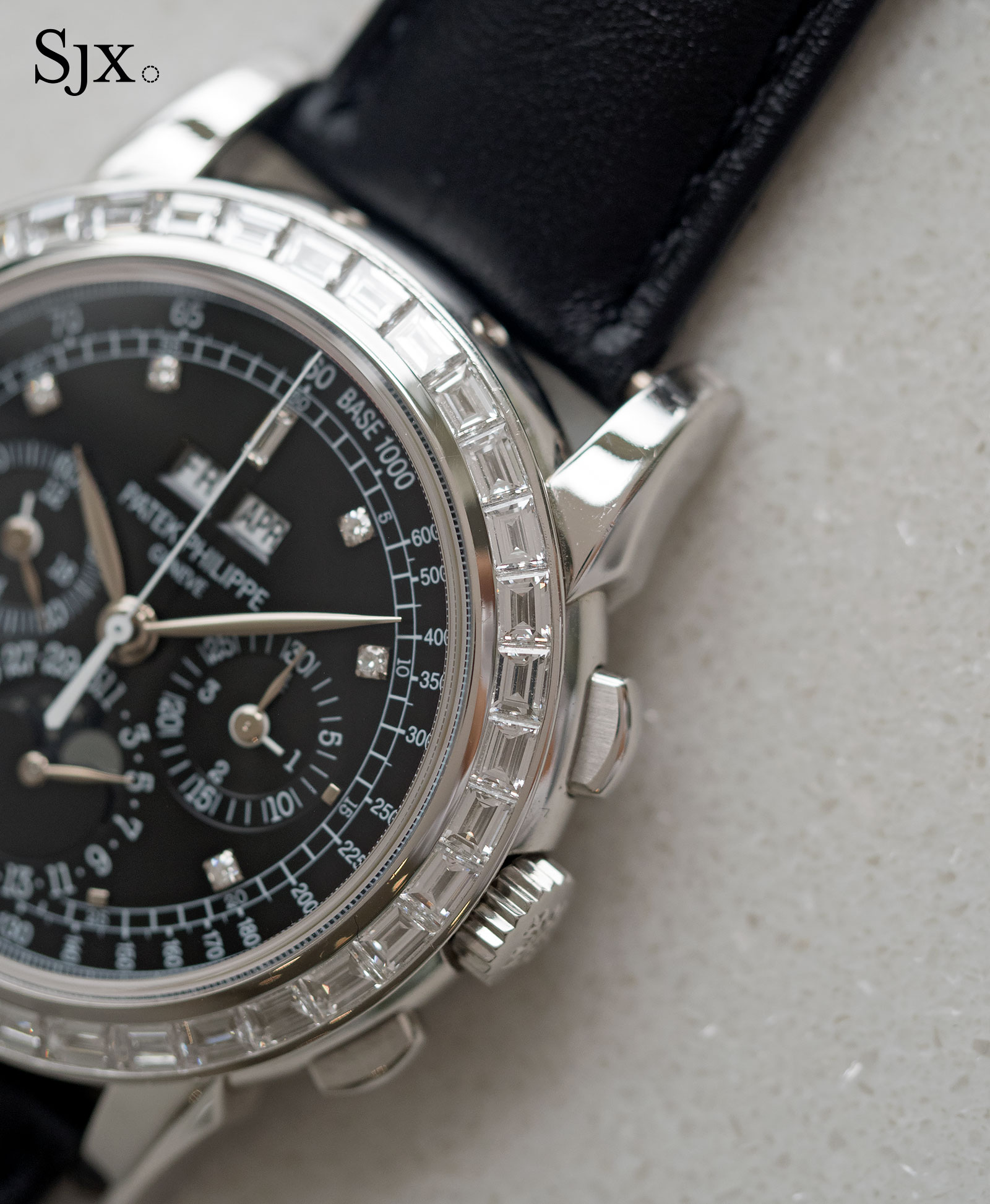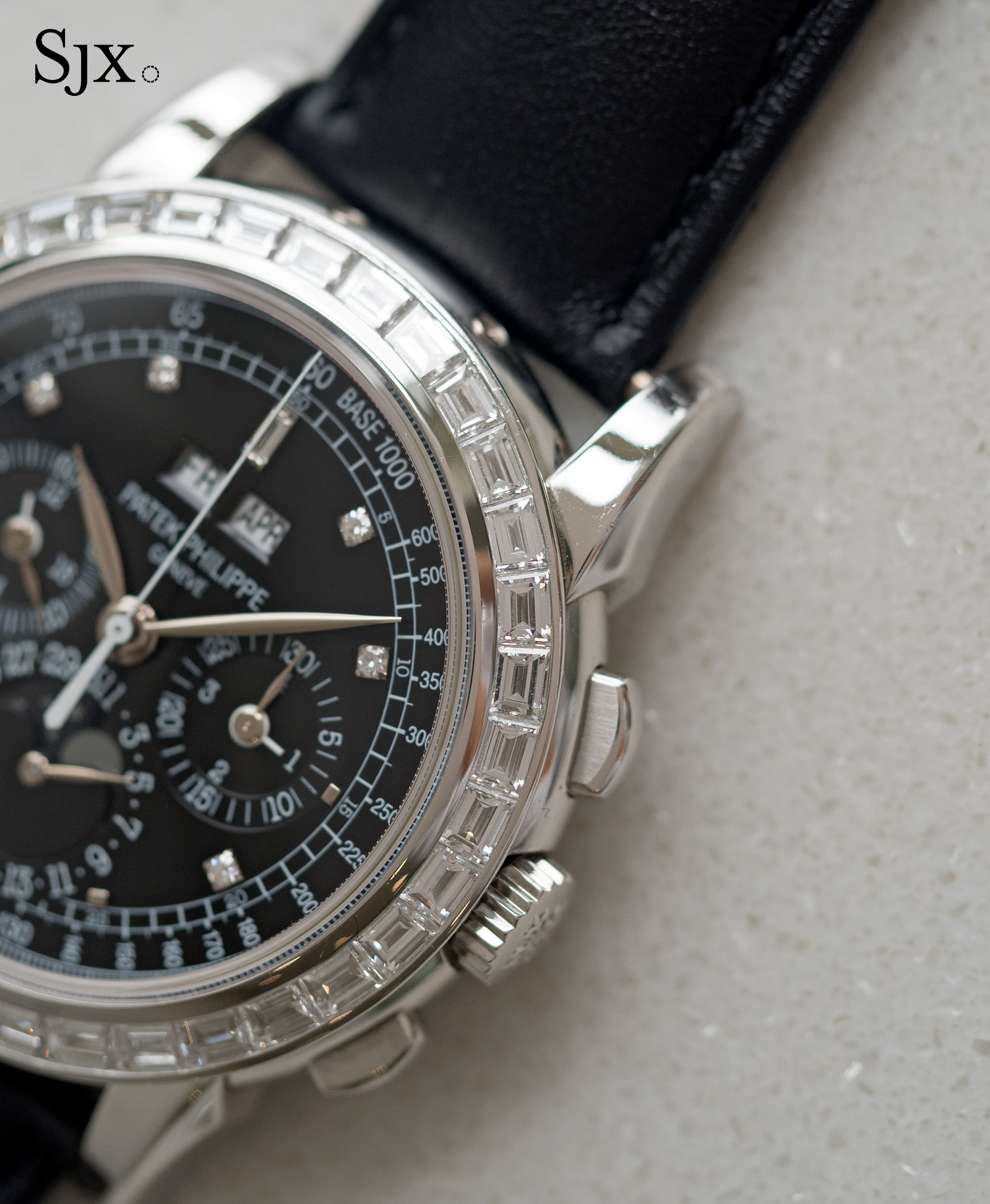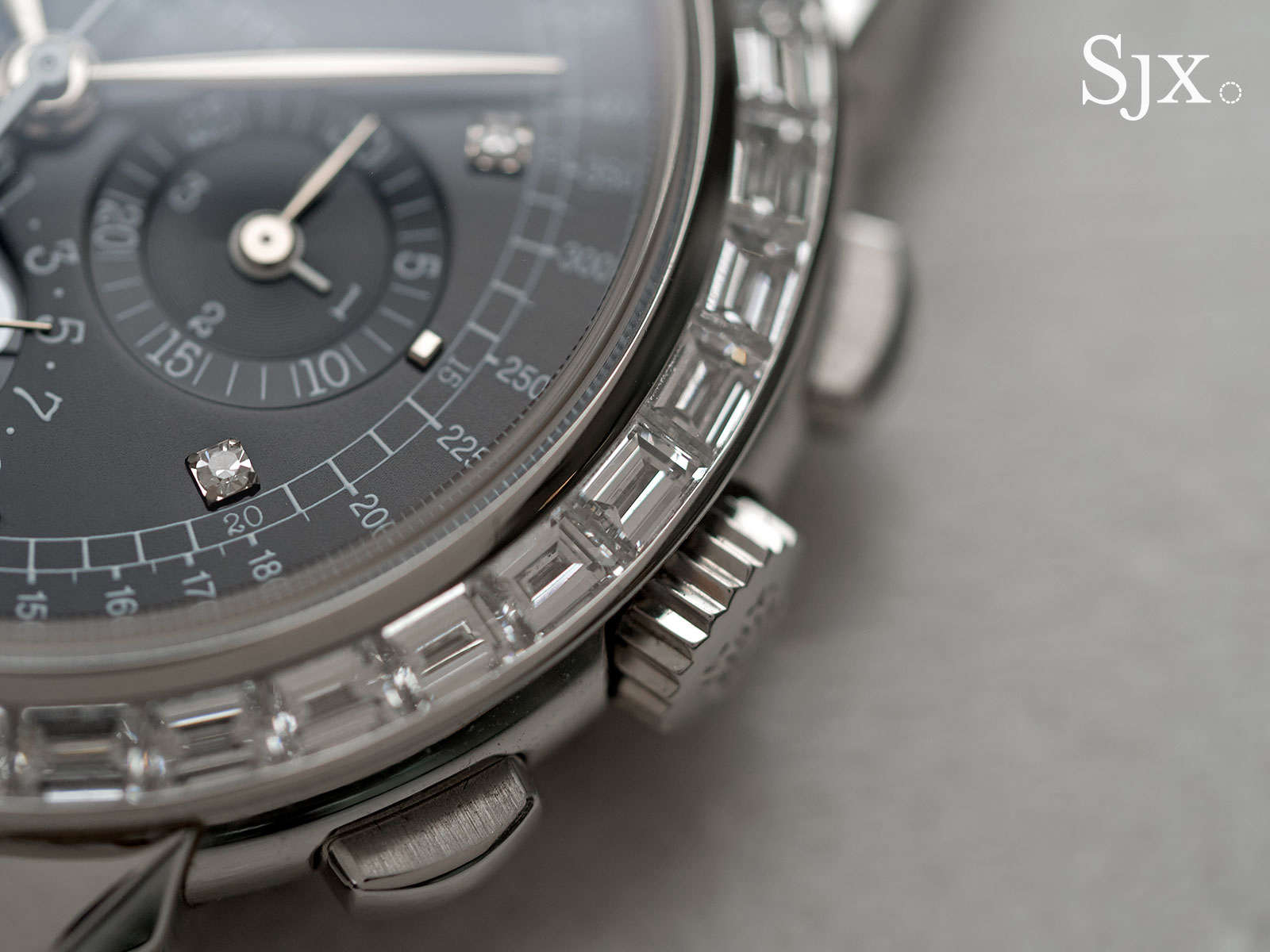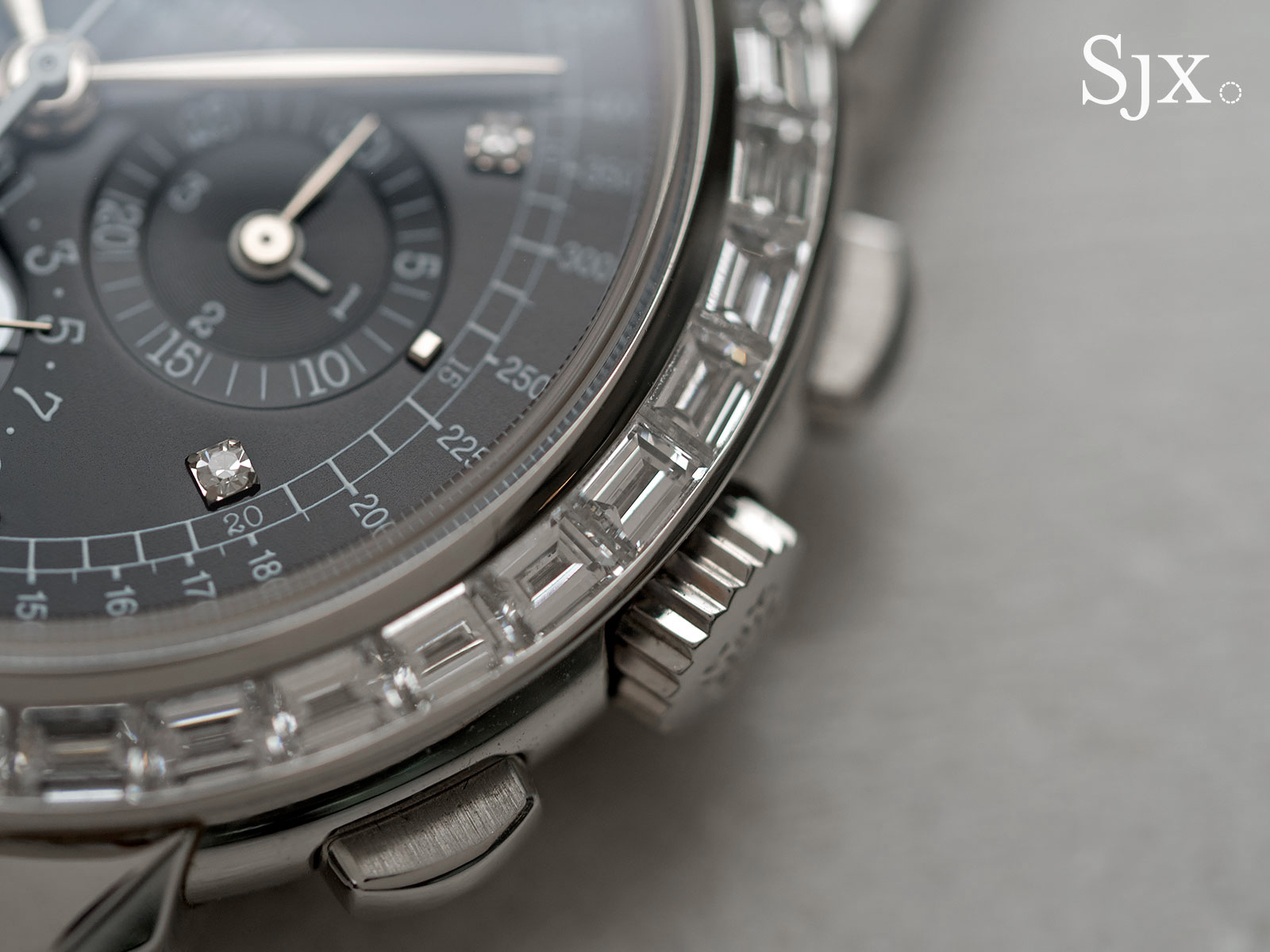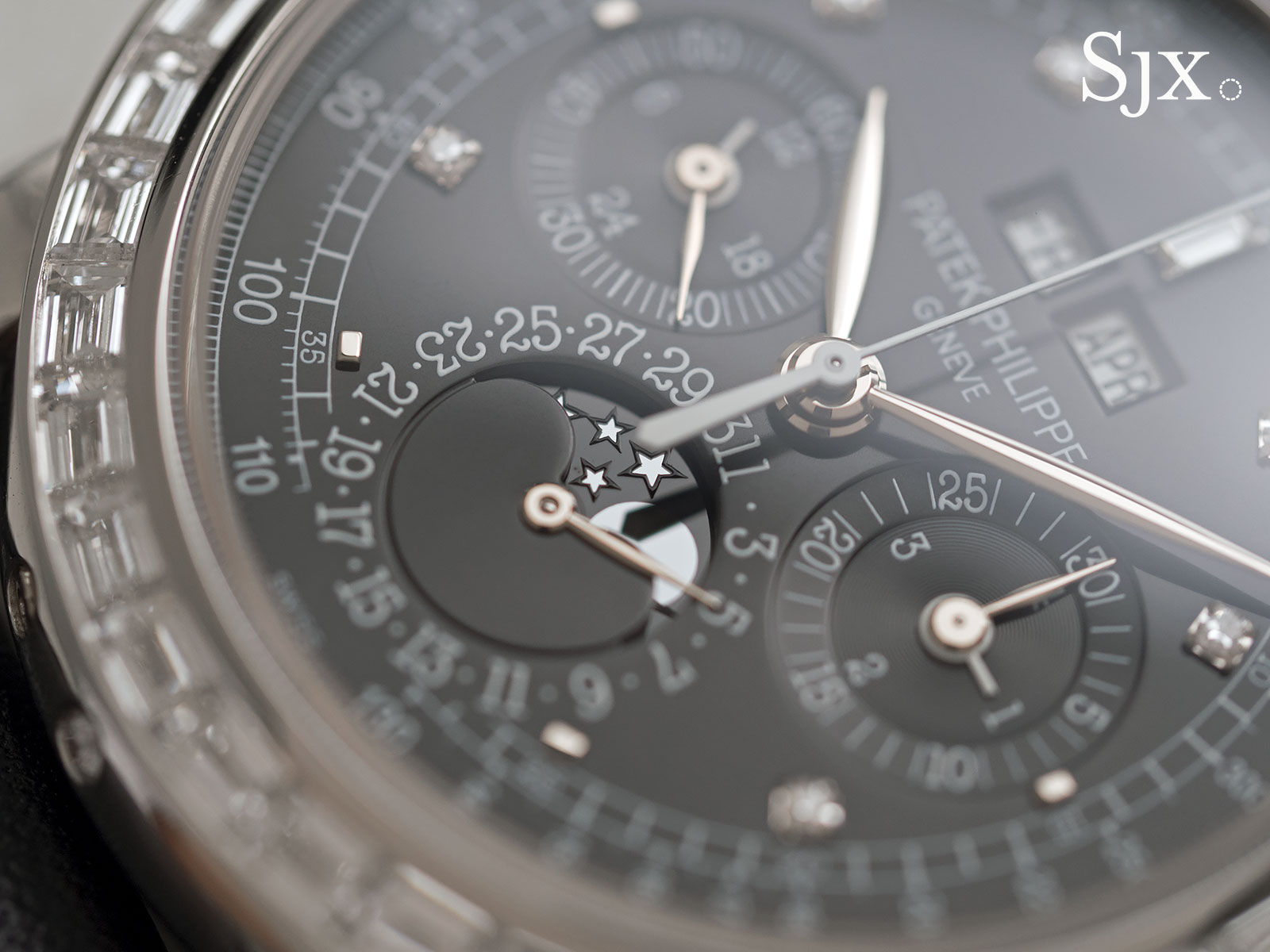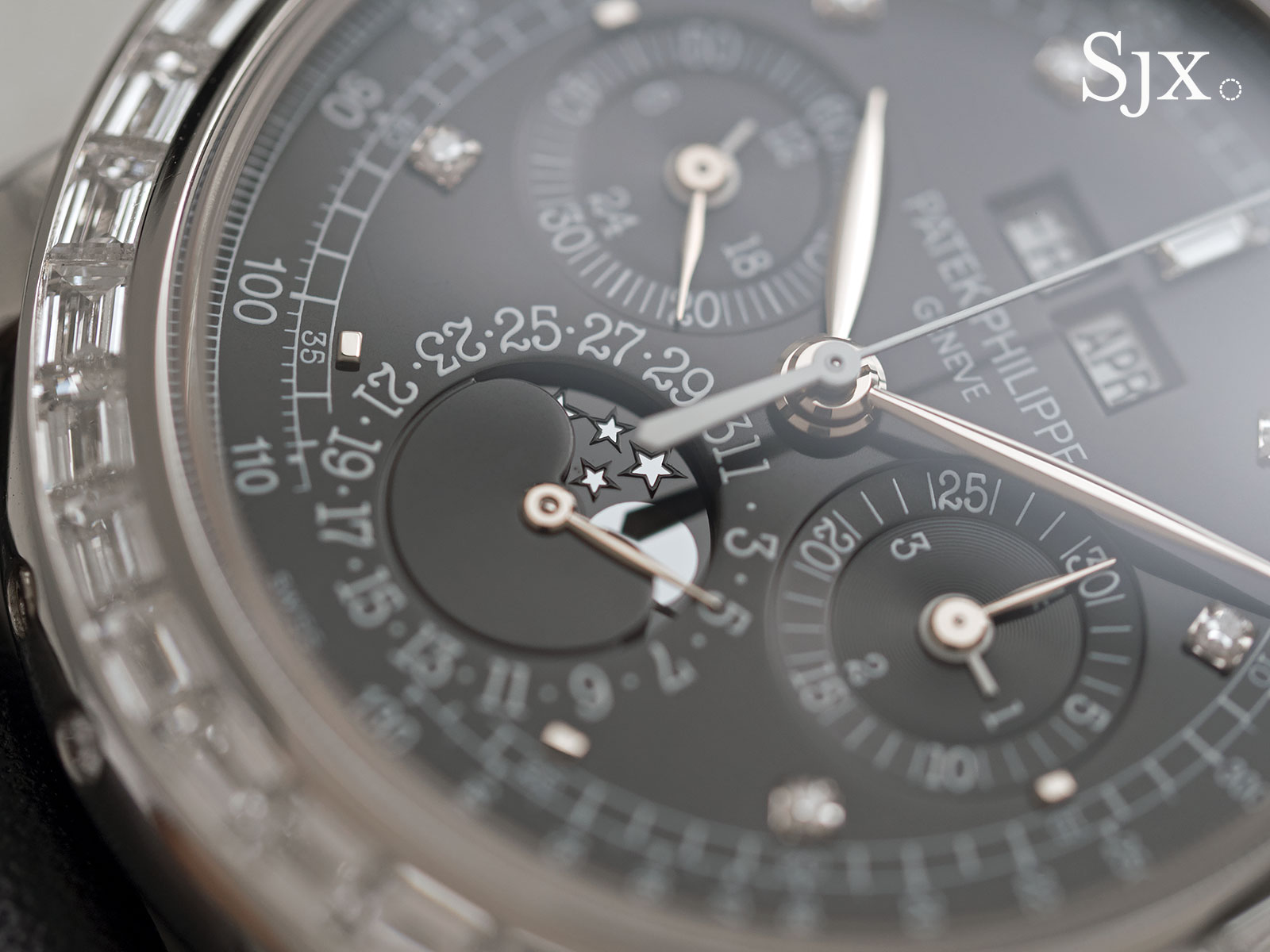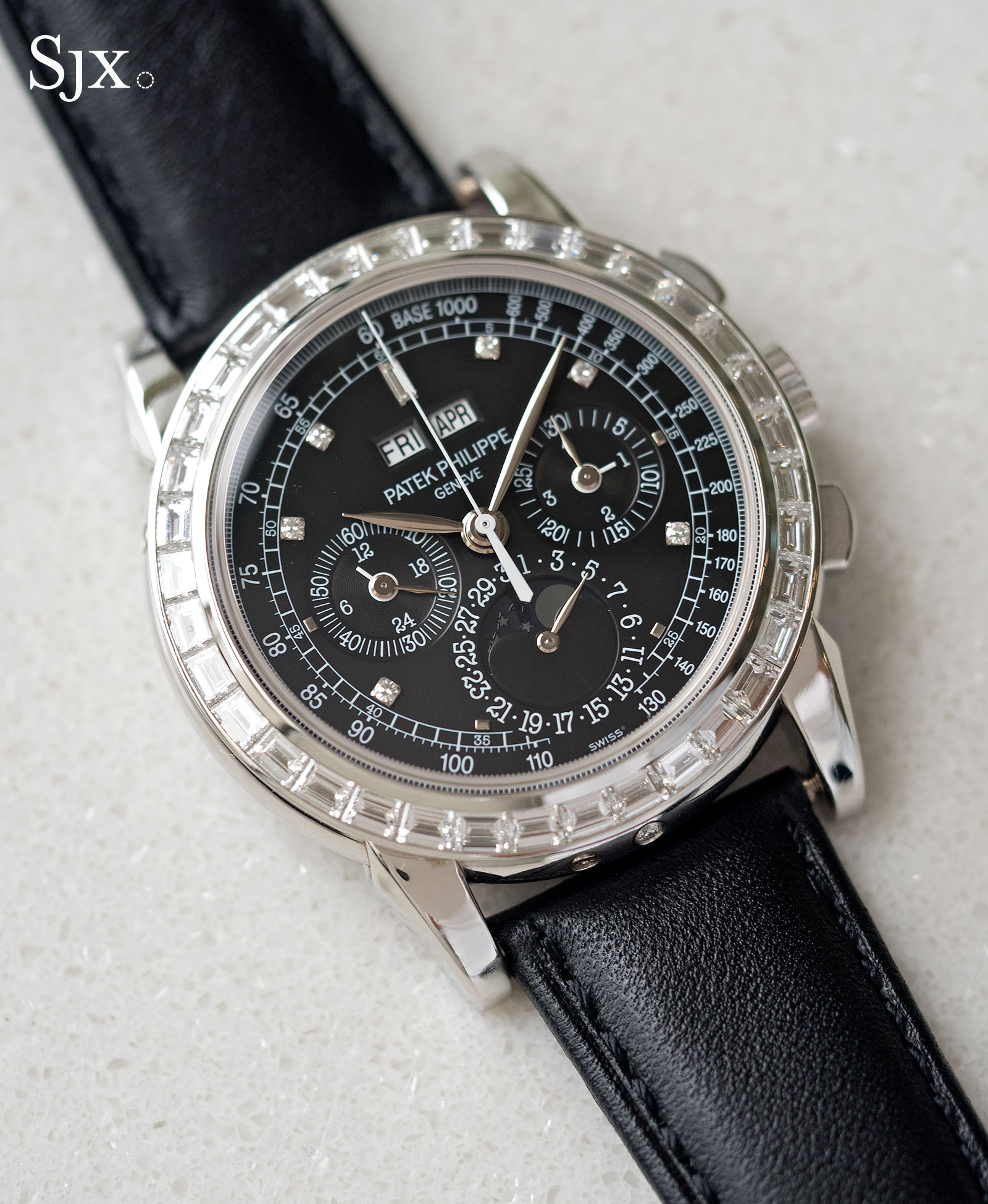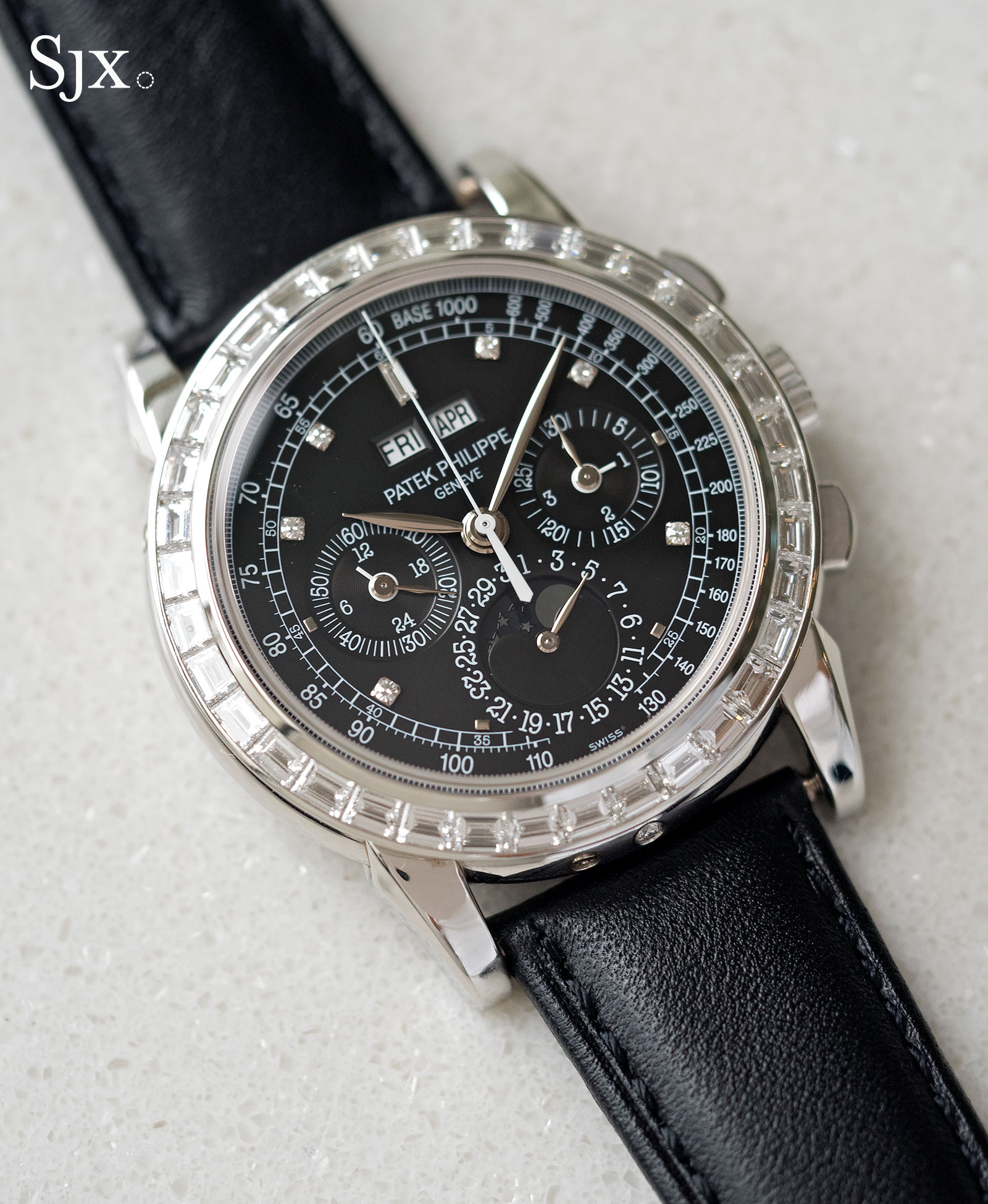 The ref. 5971P is an extravagant fantasy that's hard to pull off but tangibly impressive in person. Set with 4-carats of baguette-cut diamonds, the ref. 5971P based on the discontinued ref. 5970P, which was the last Patek Philippe chronograph perpetual calendar to use an outsourced movement, specifically the Lemania 2310. That was subsequently replaced by the in-house CH 29 that's found in the ref. 5271/11P right below.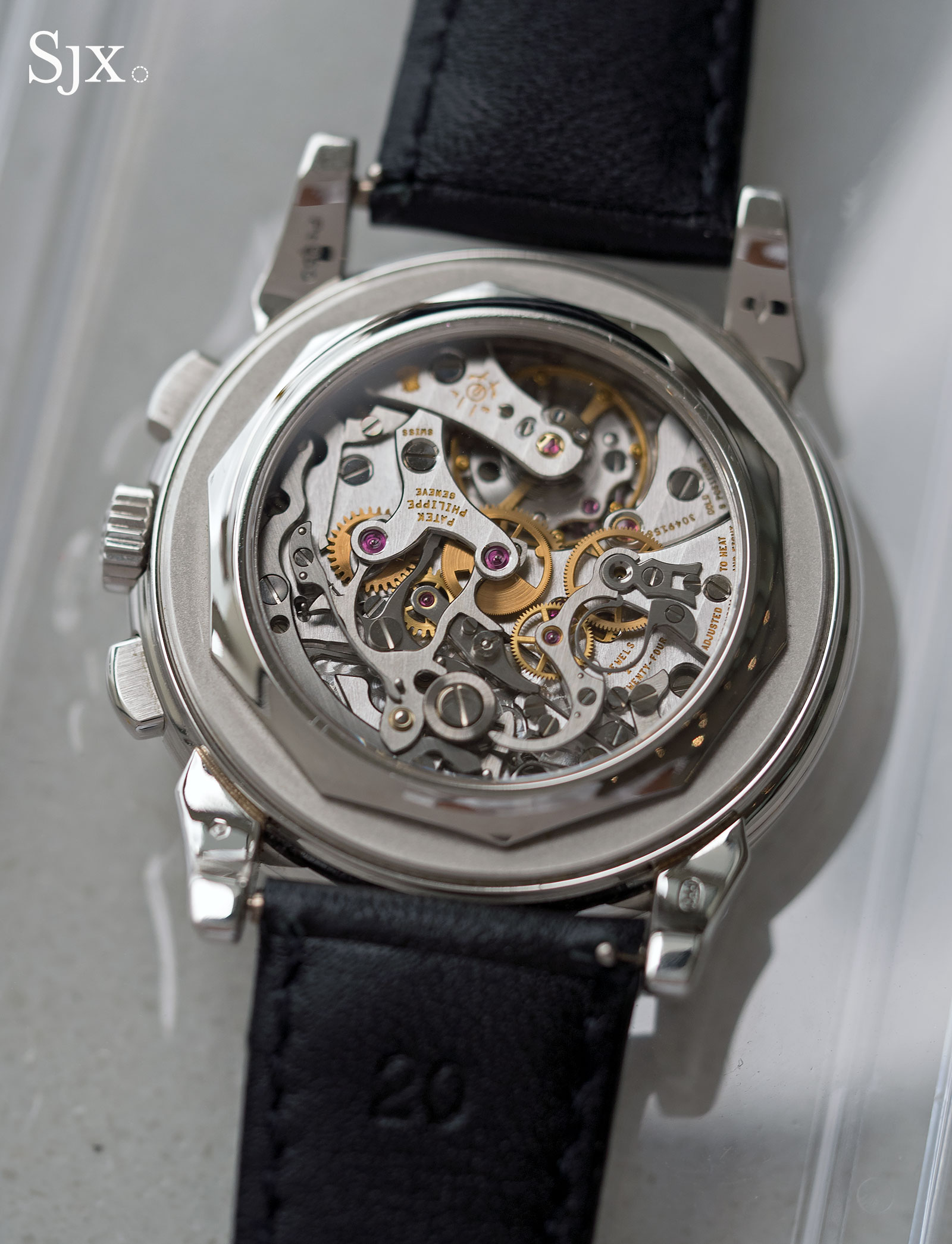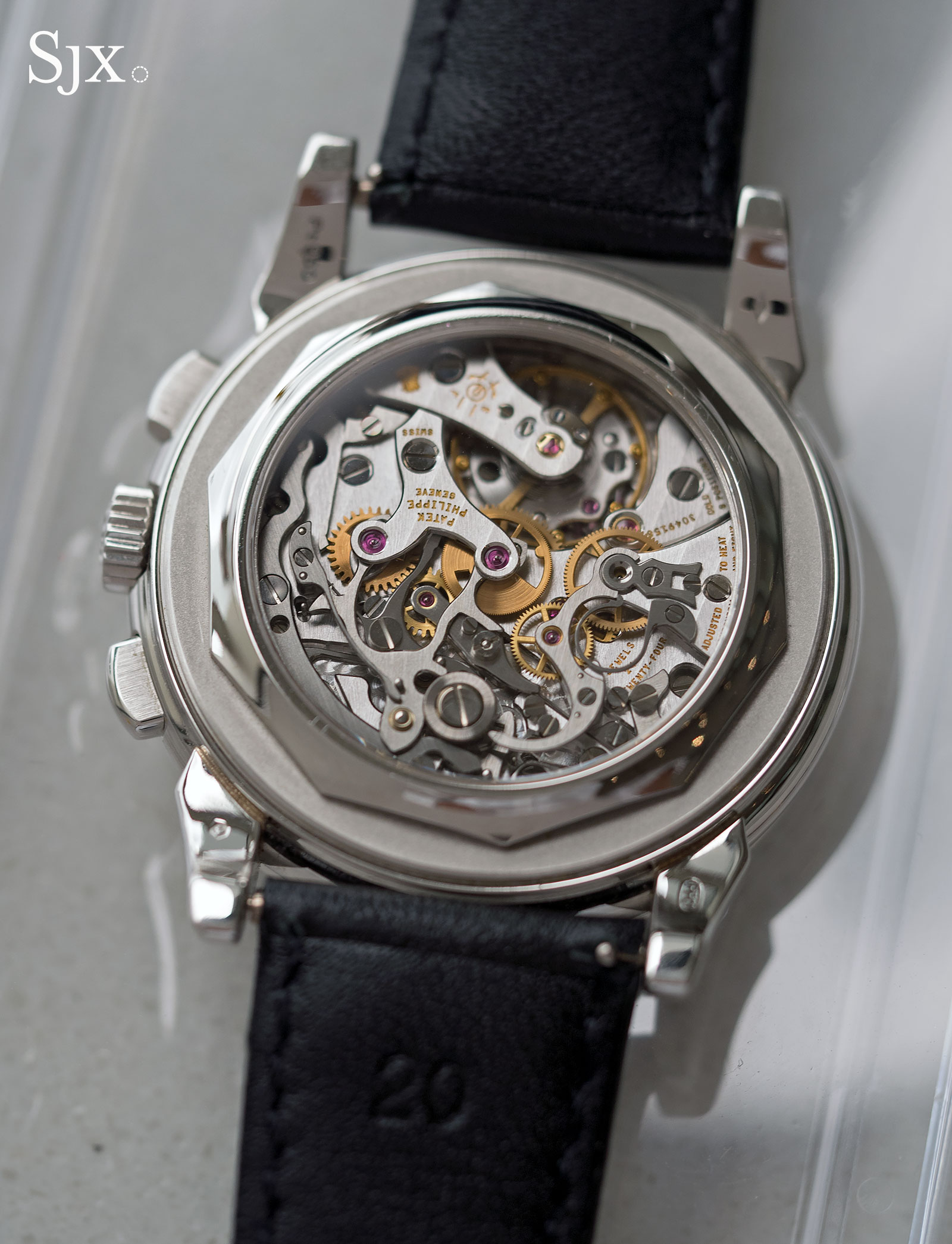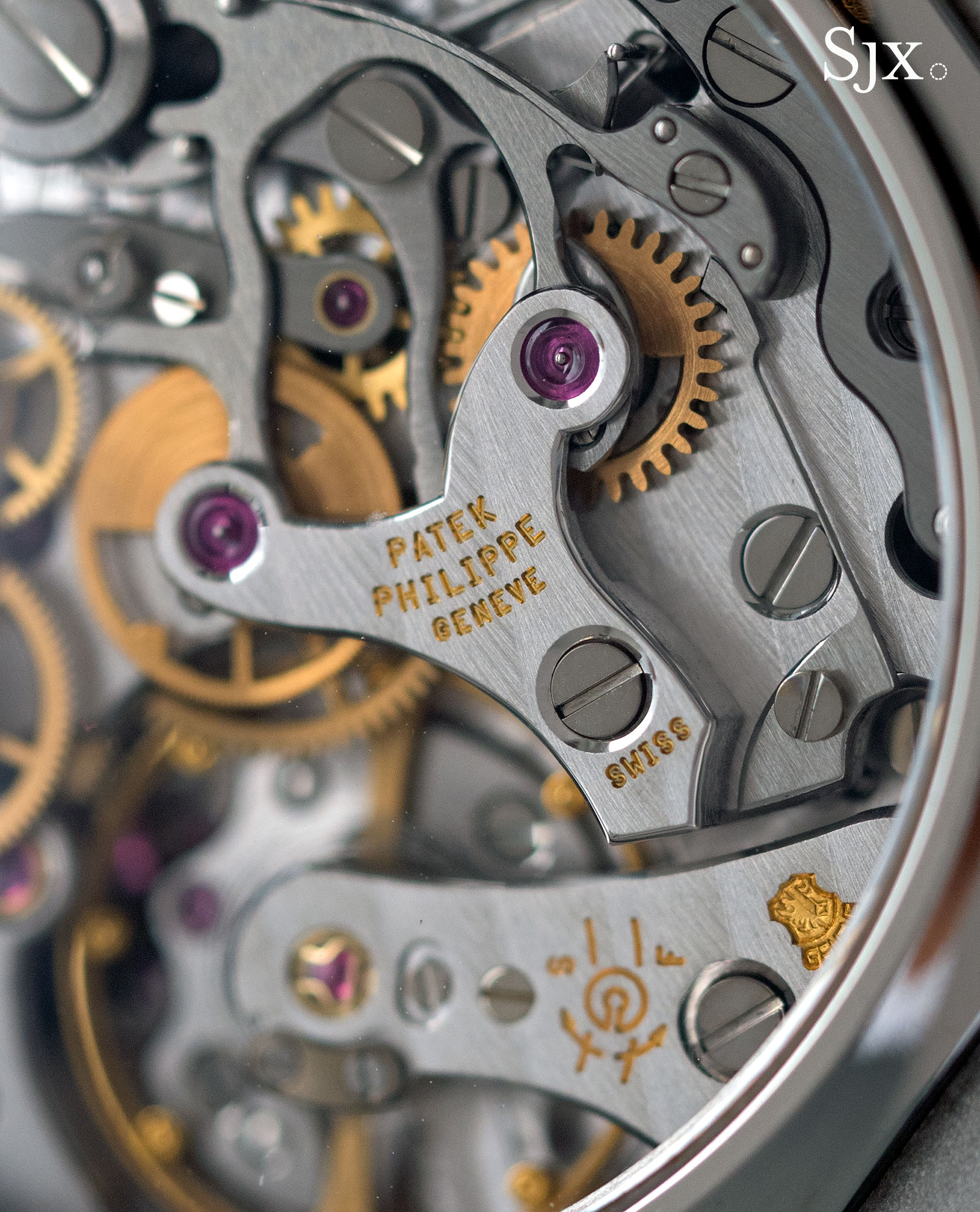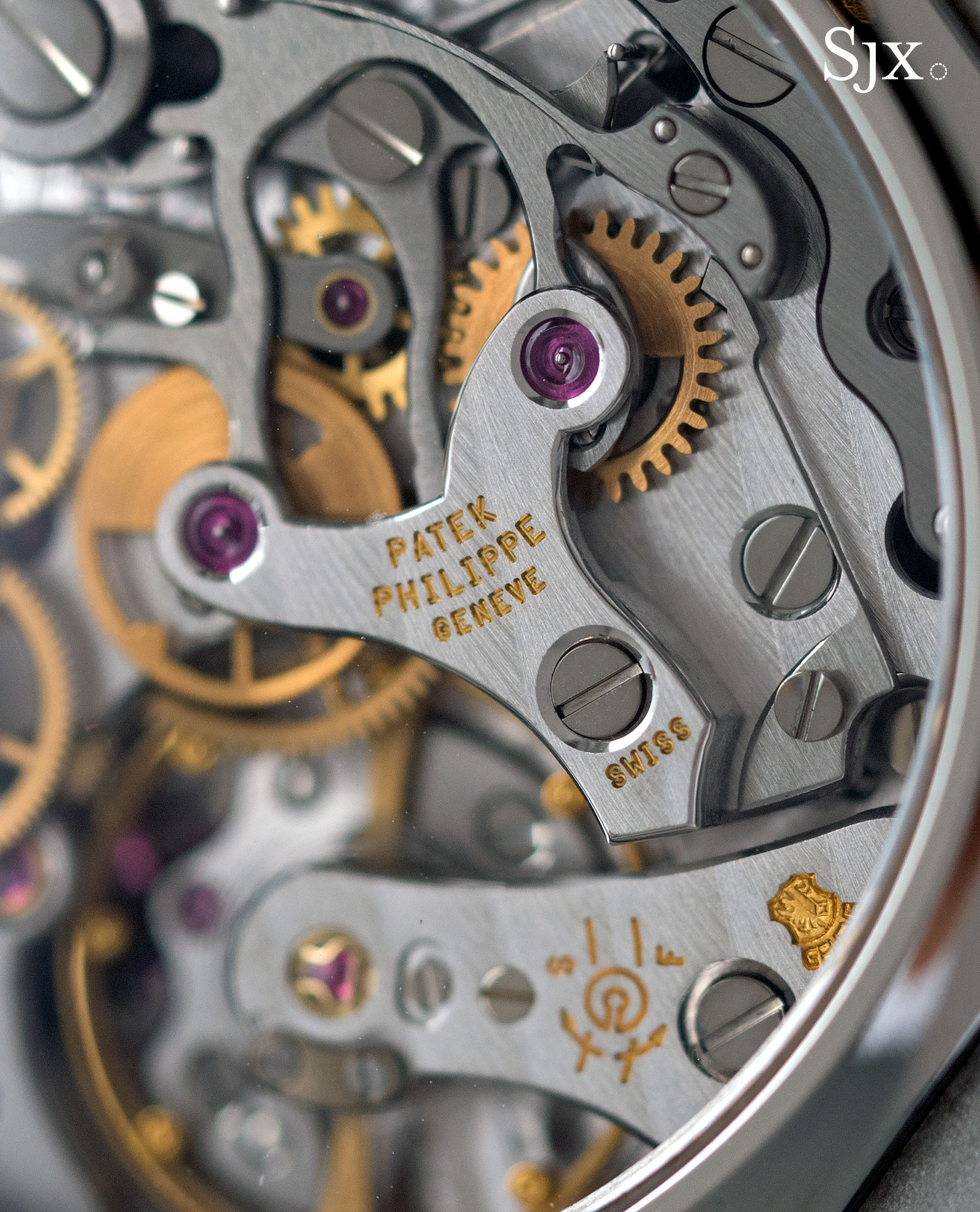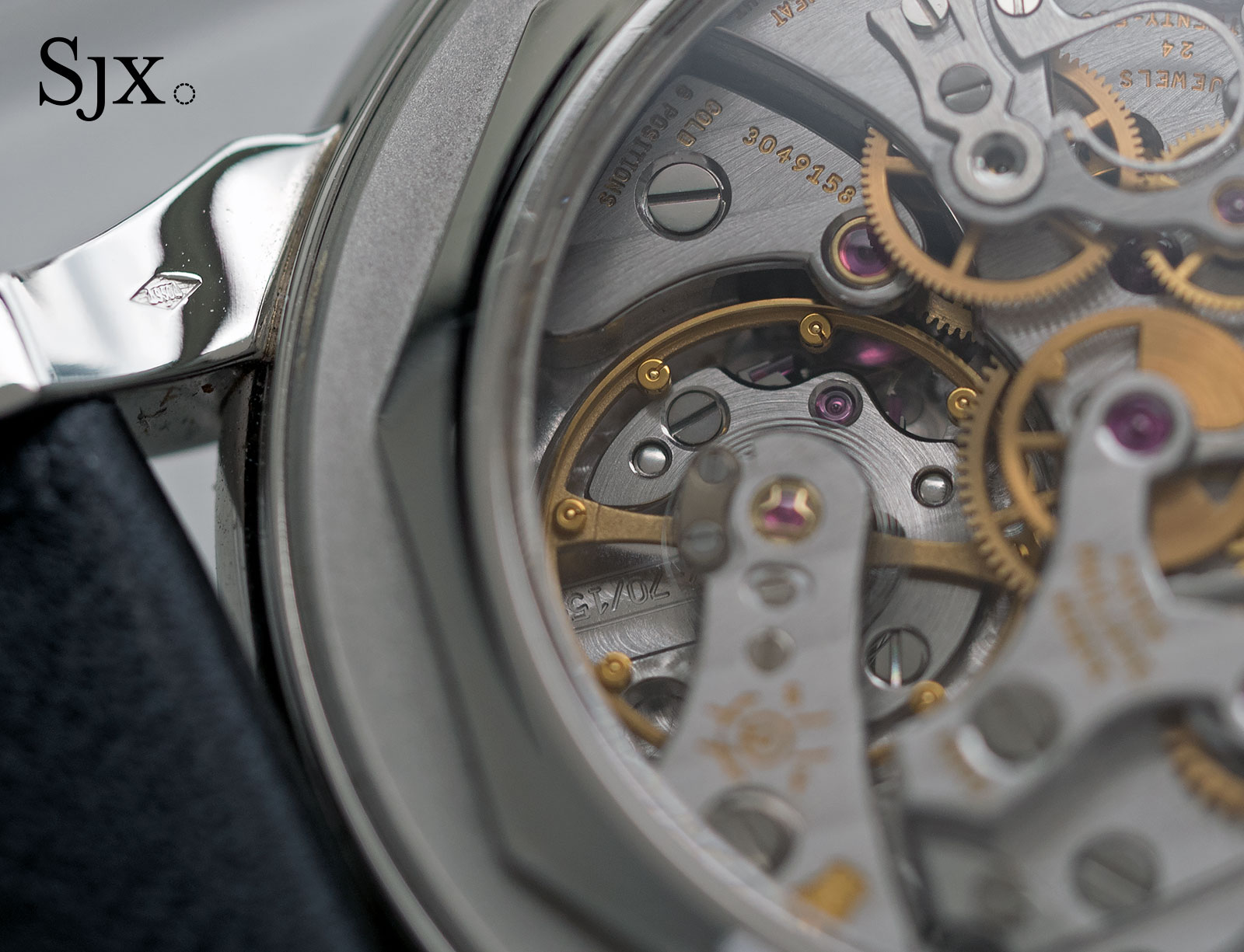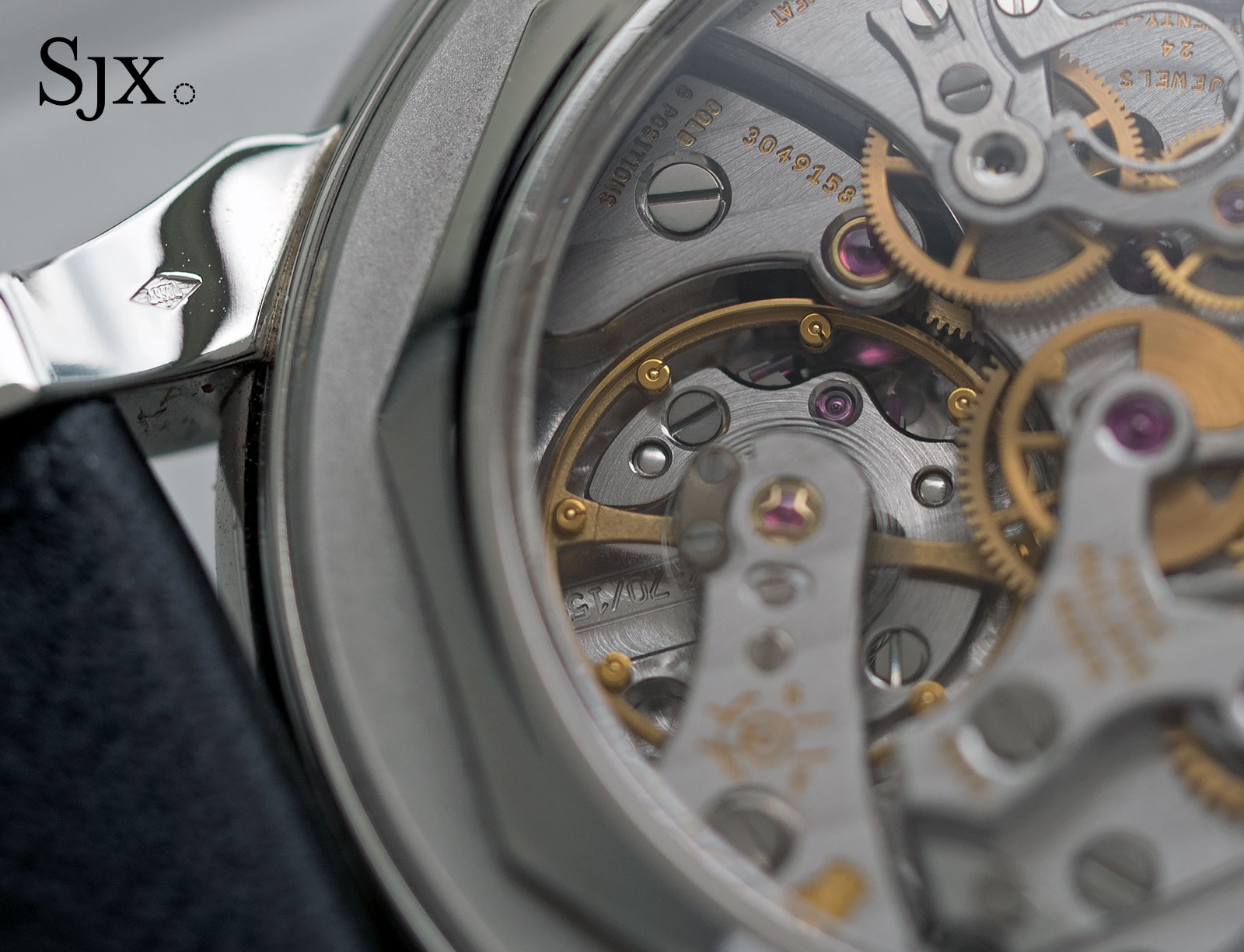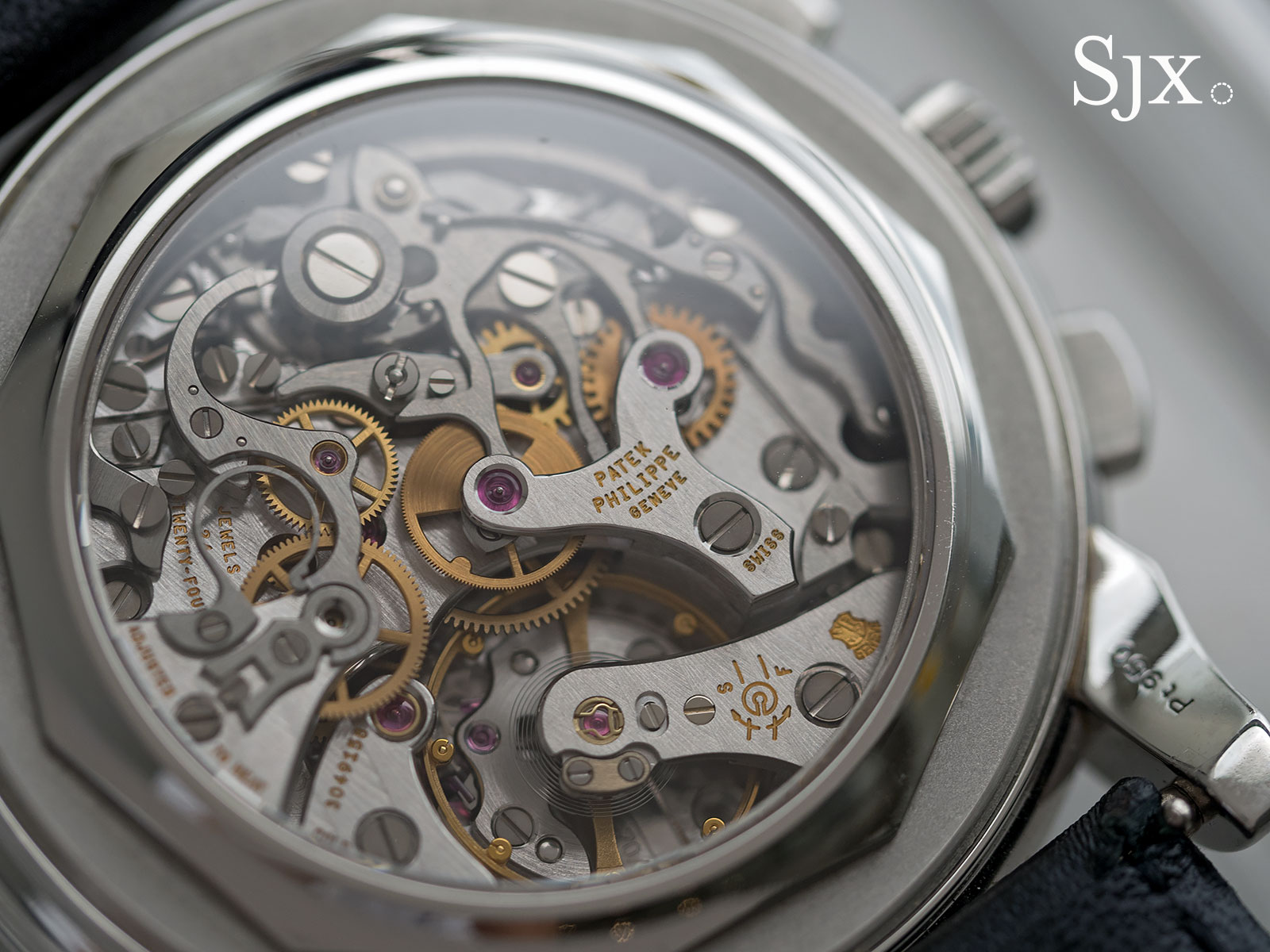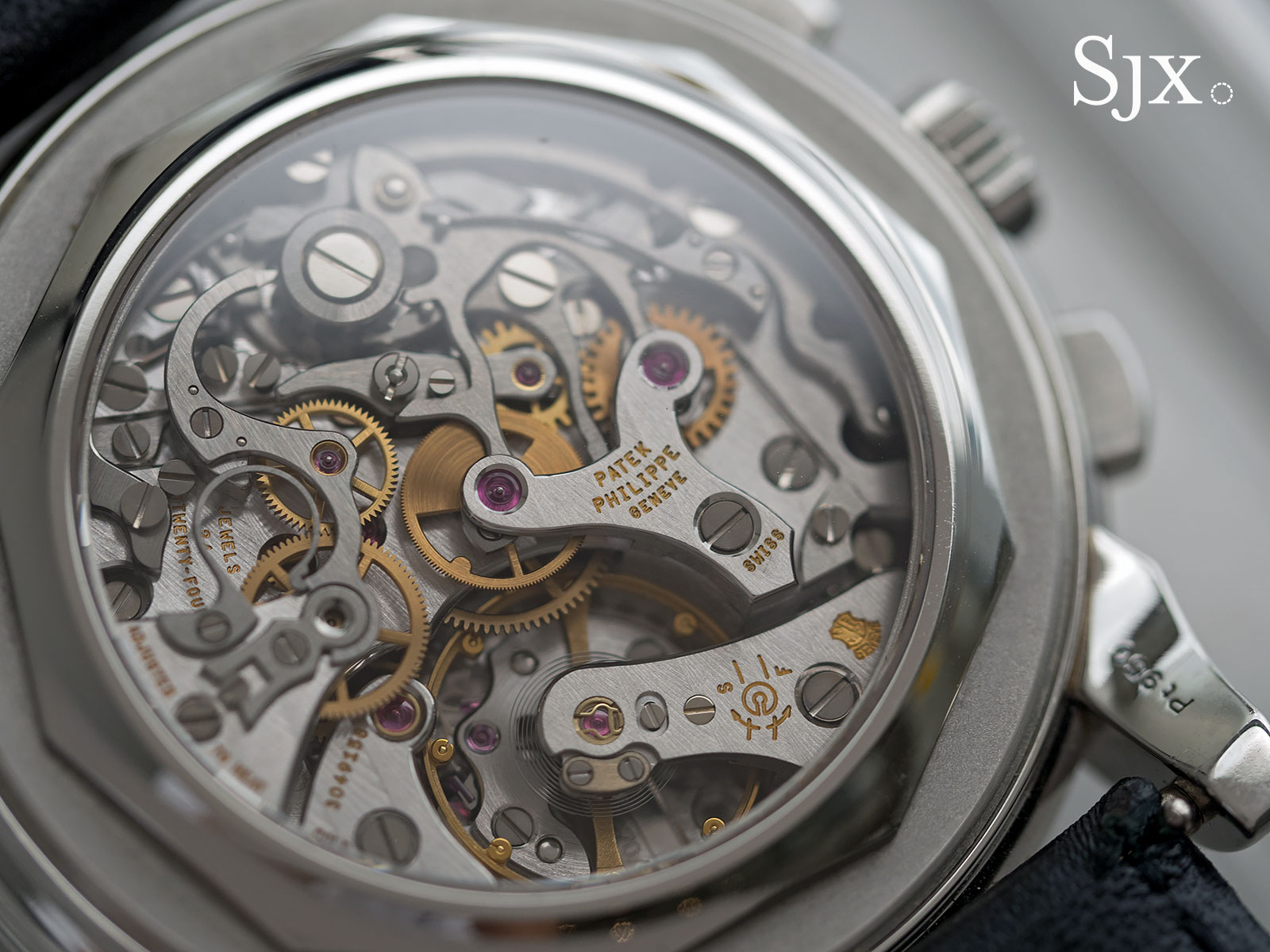 This ref. 5971P is estimated at HK$1.3m to HK$1.8m (US$170,000 to US$230,000).
---
Lot 2458 – Patek Philippe ref. 5271/11P set with baguette-cut sapphires
Set with 80 blue sapphires on the bezel and lugs, or almost 5-carats worth, the ref. 5271/11P is a special edition of the flagship Patek Philippe chronograph perpetual calendar, part of a series that included ruby- and emerald-set versions.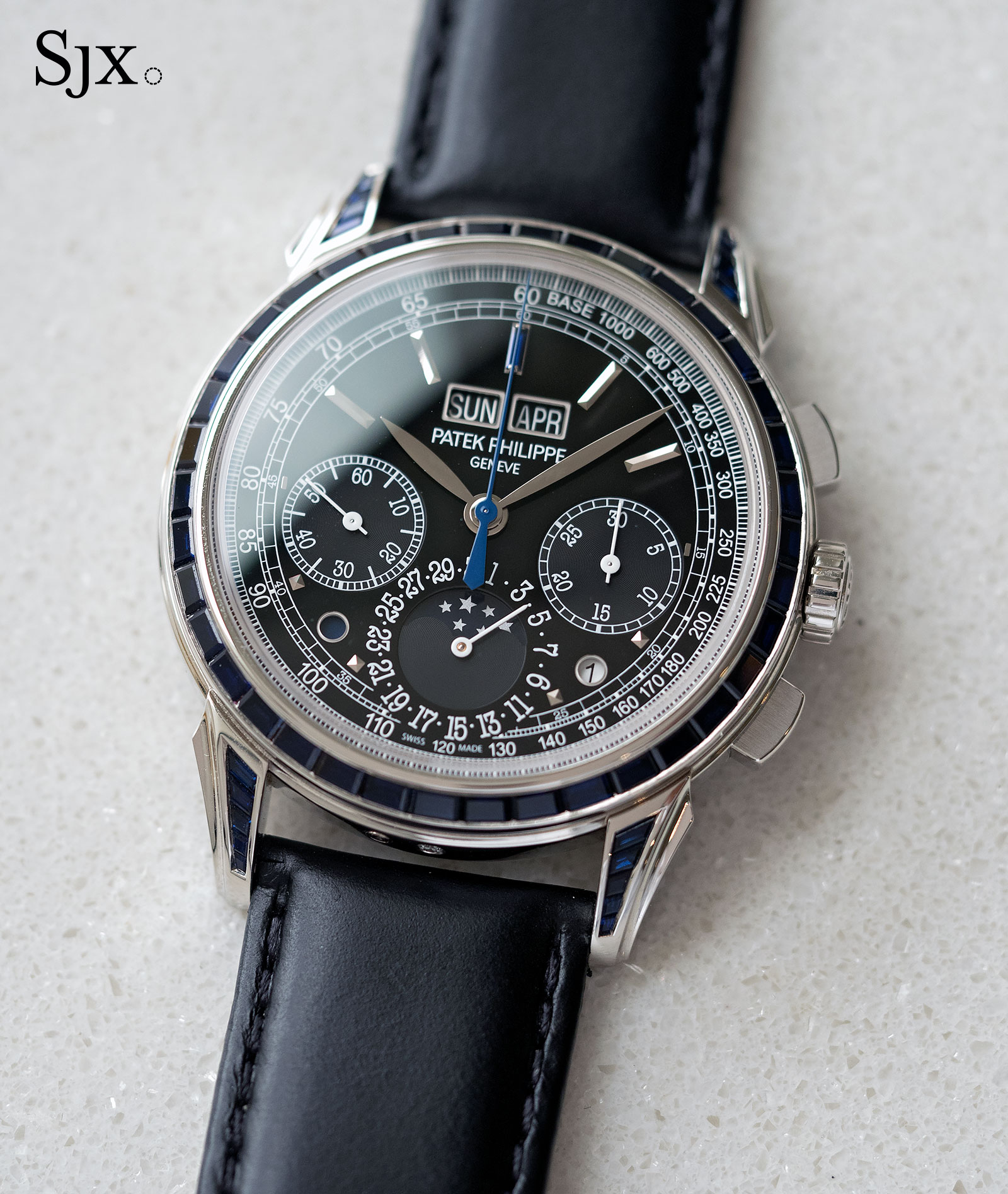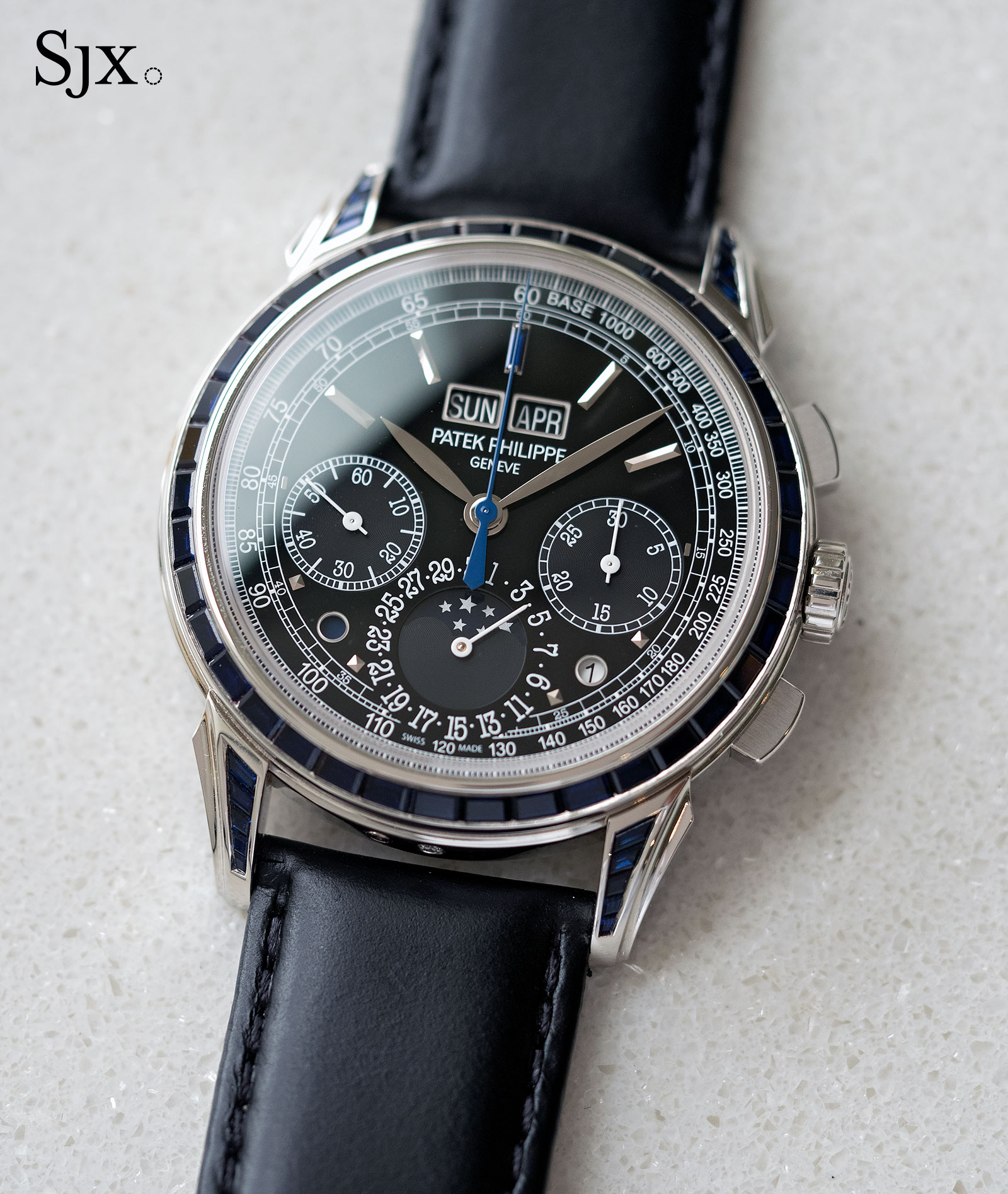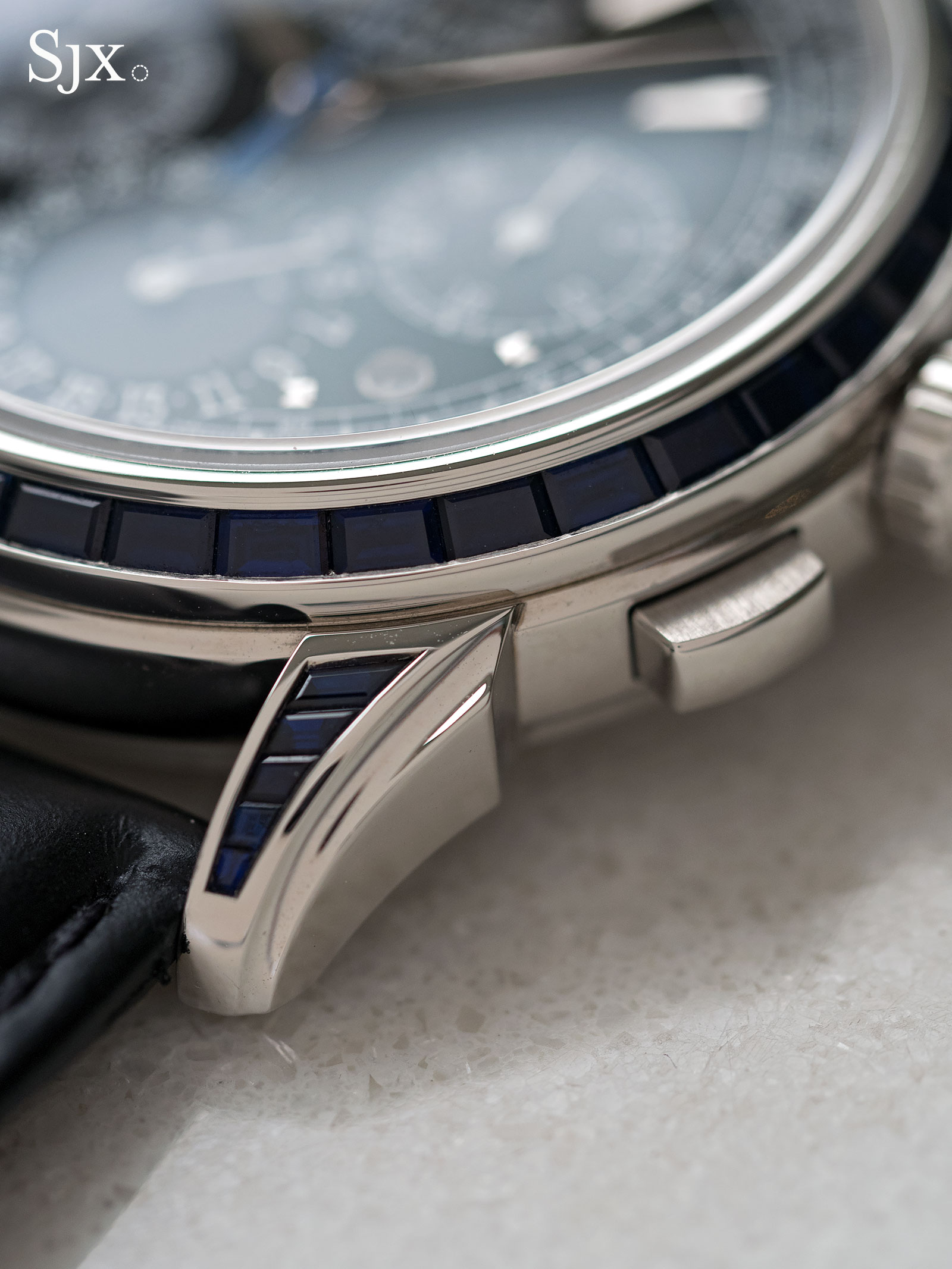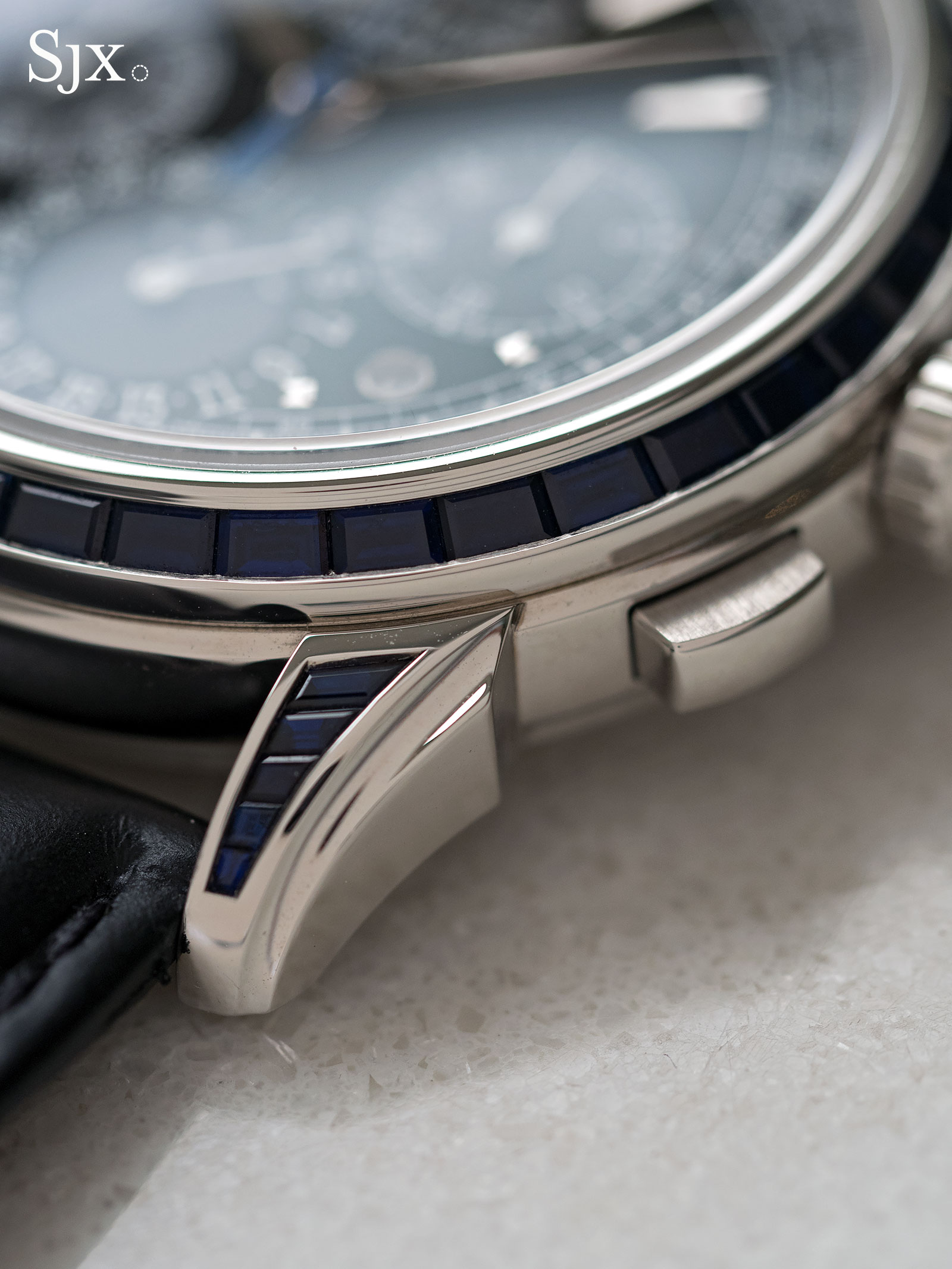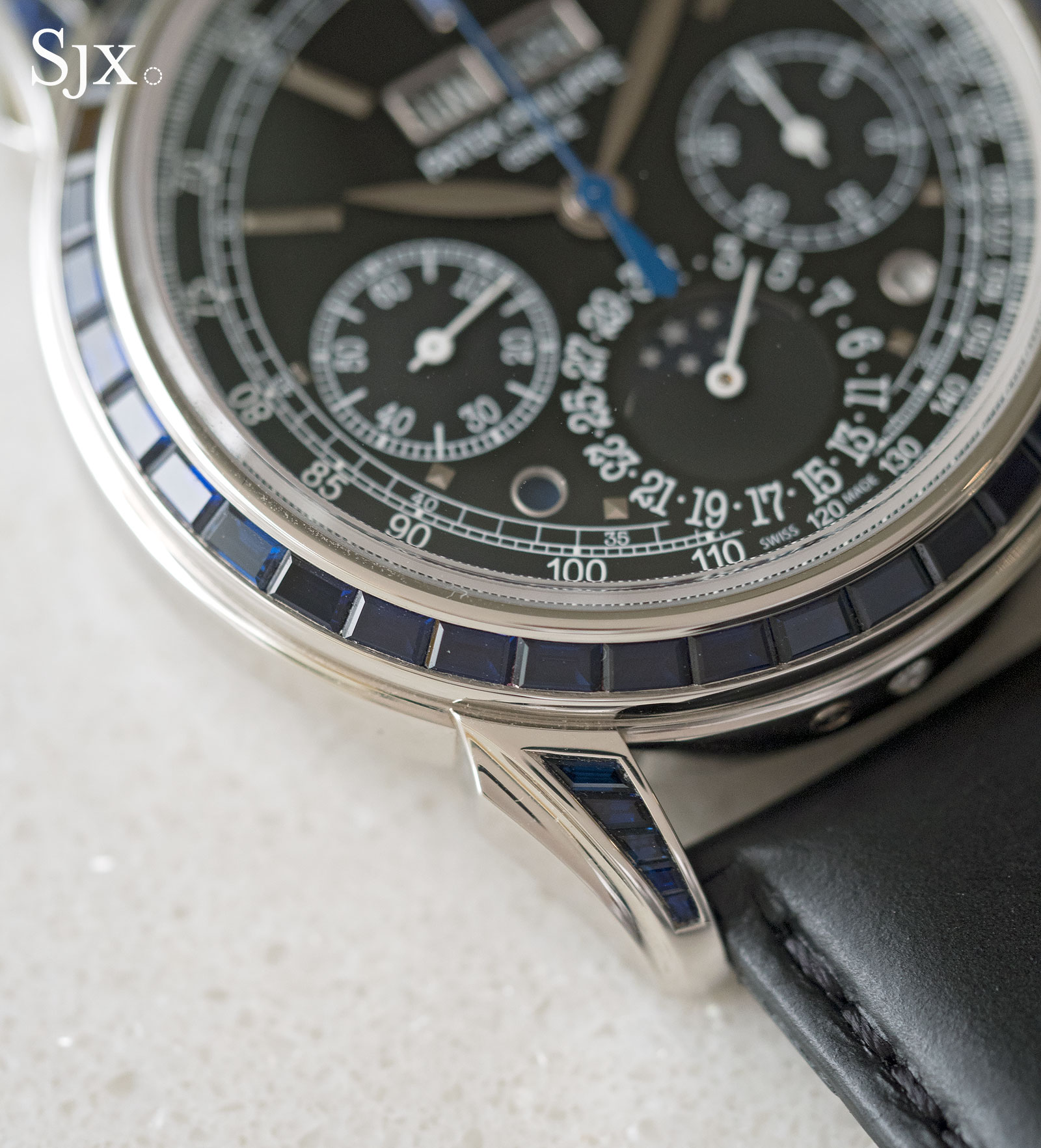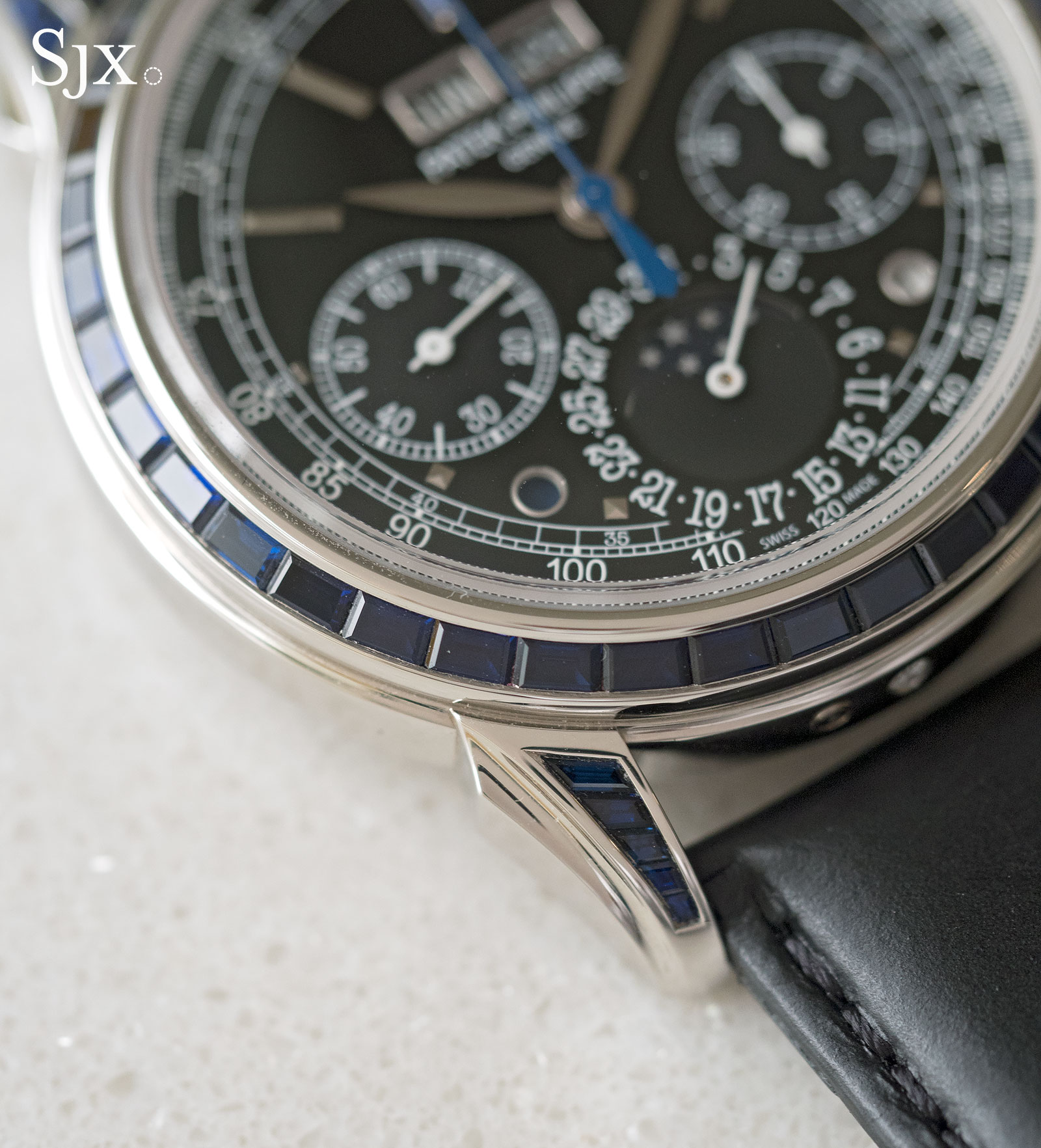 The dial is also slightly different from that of the ordinary model, having a baguette-cut sapphire marker at 12 o'clock as well as a blue central seconds hand to match the gemstones.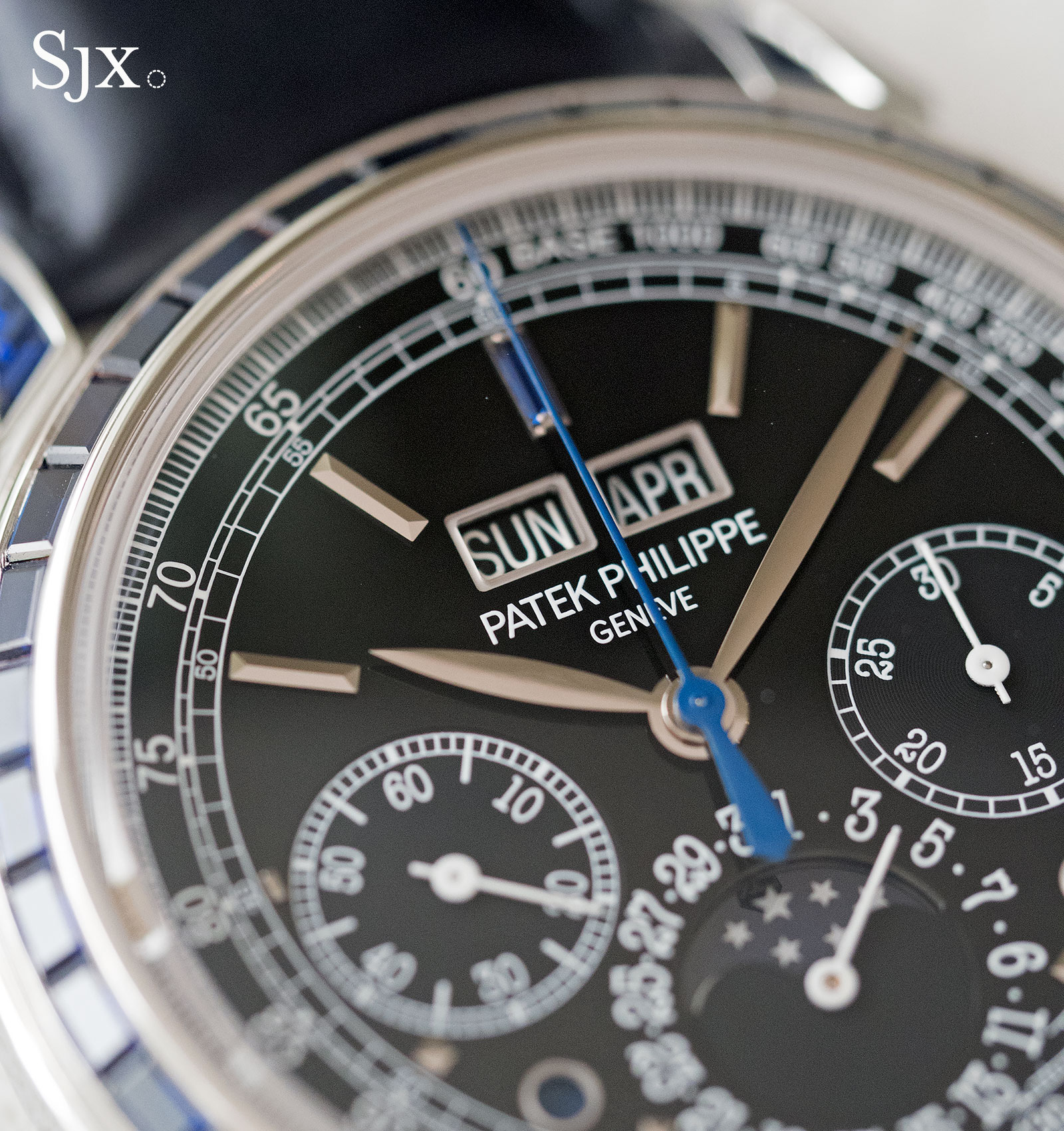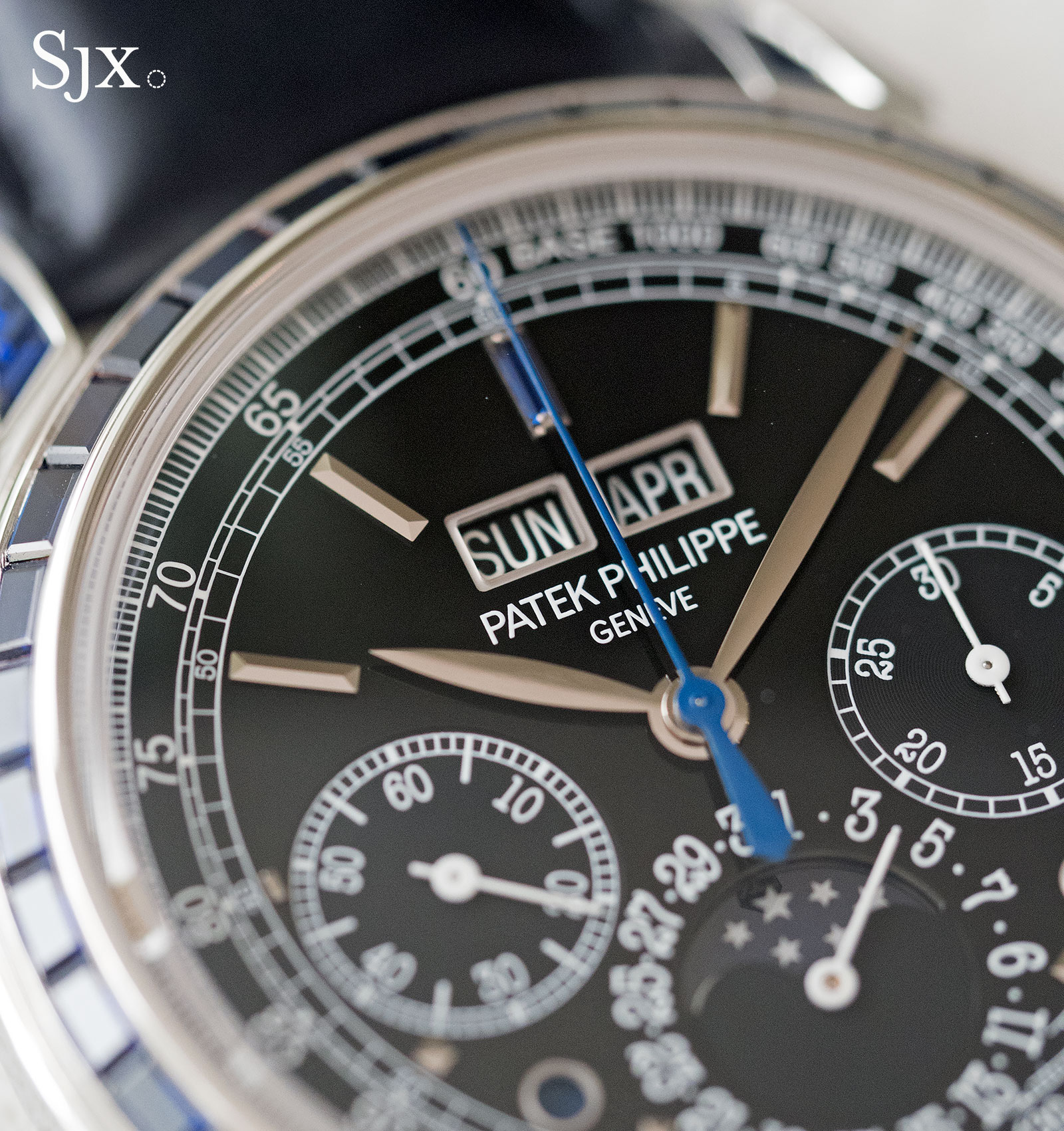 While the ref. 5271/11P is still in production, it is not casually available, being intended as a watch offered only to the watchmaker's biggest spending clients.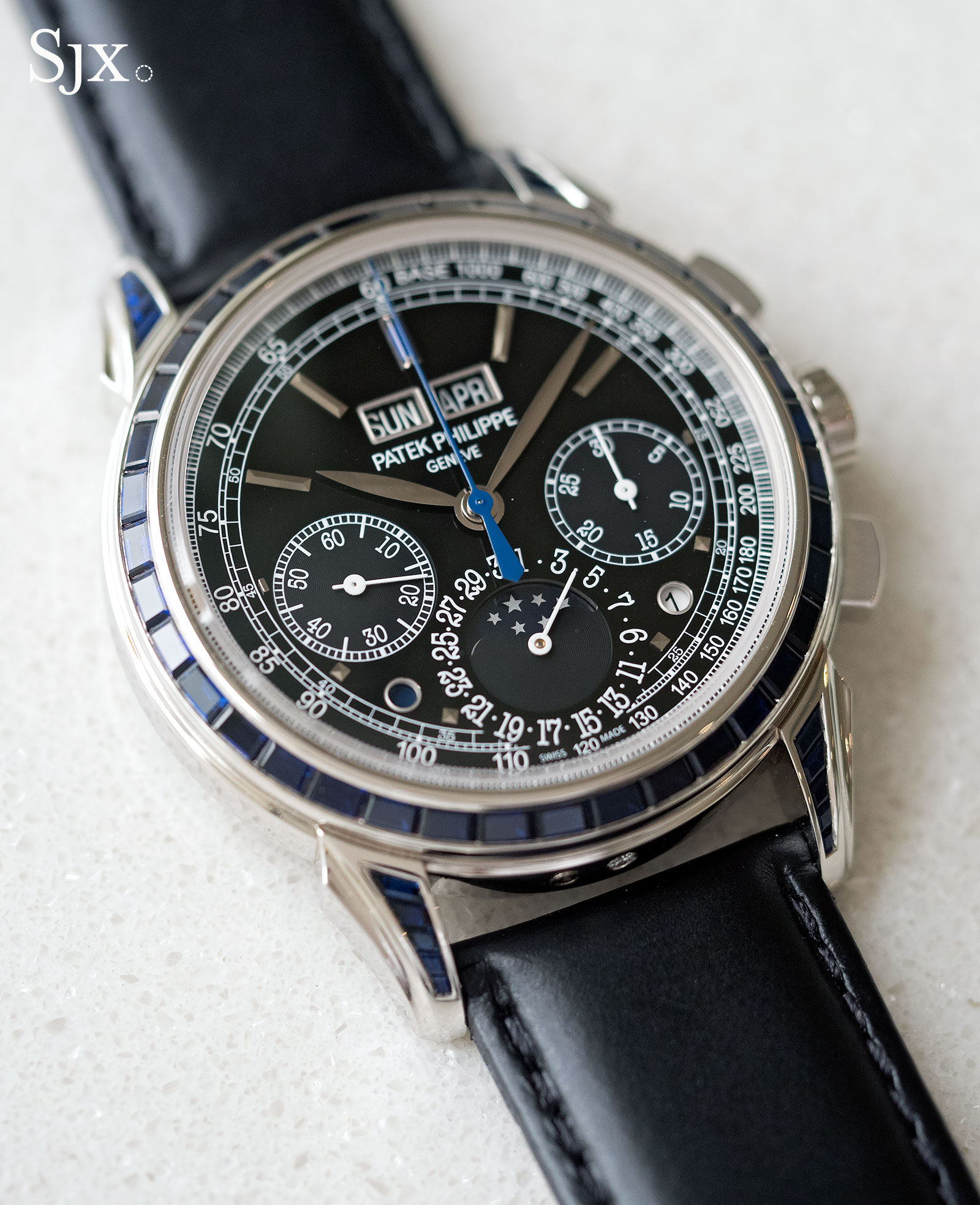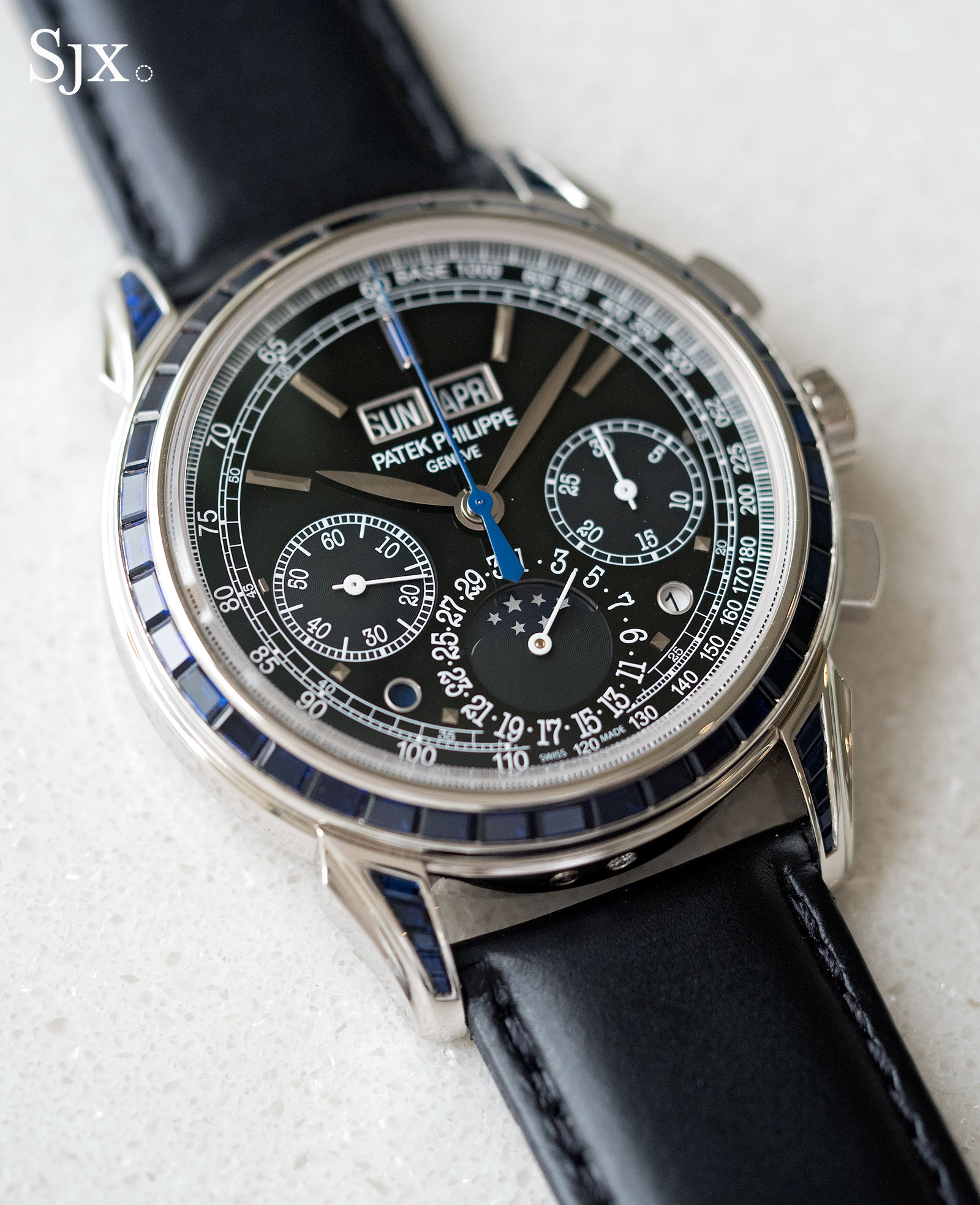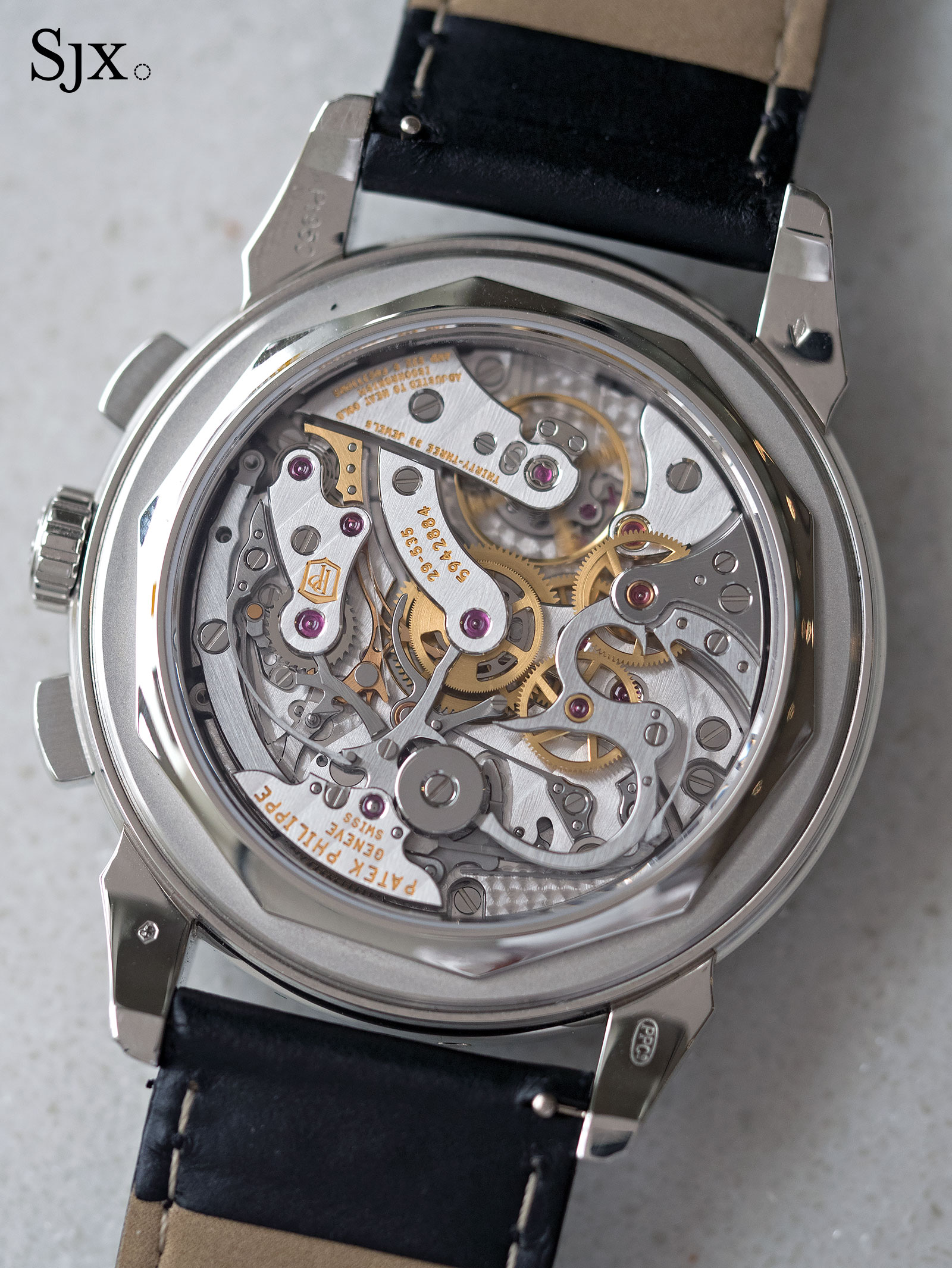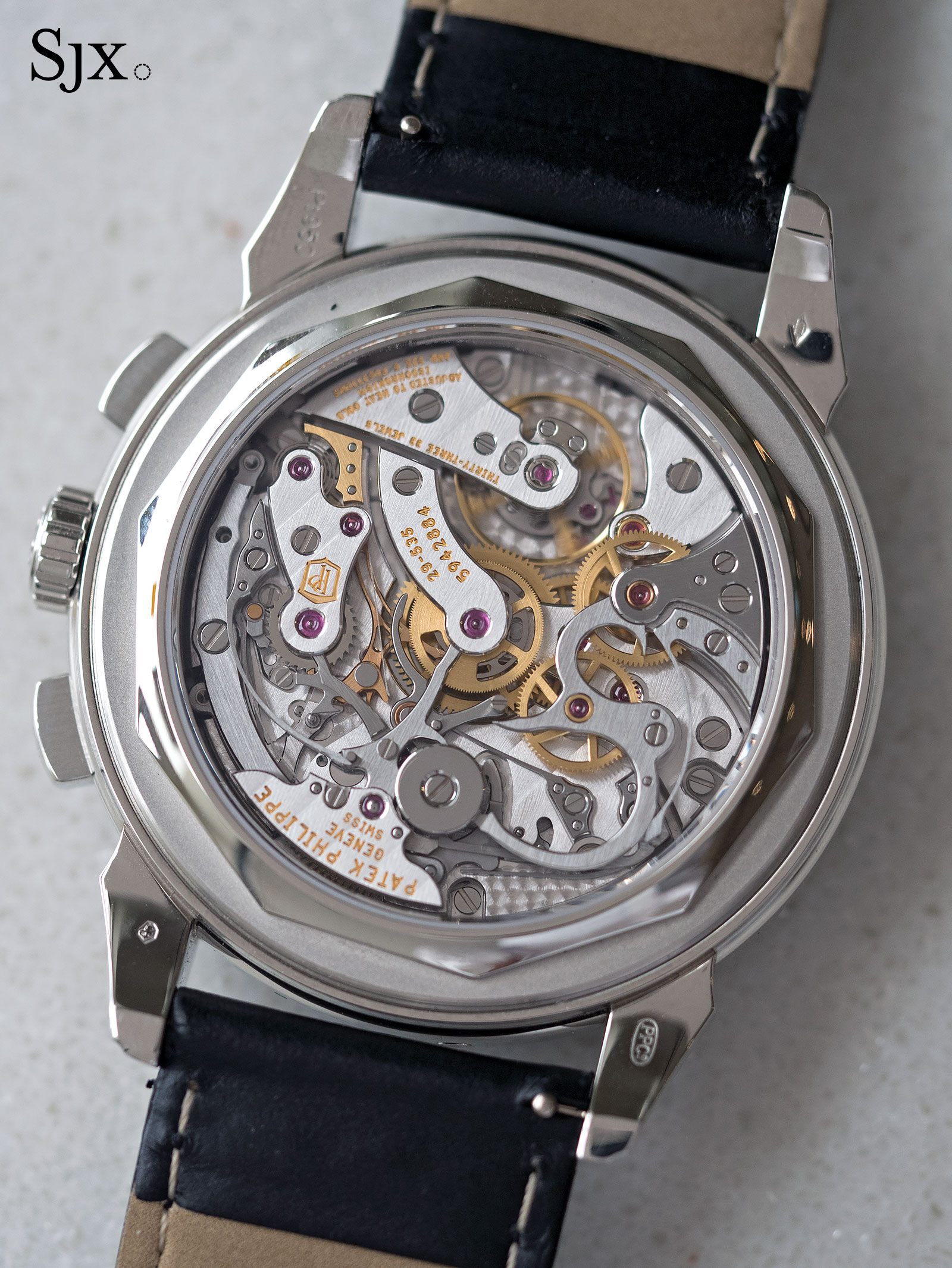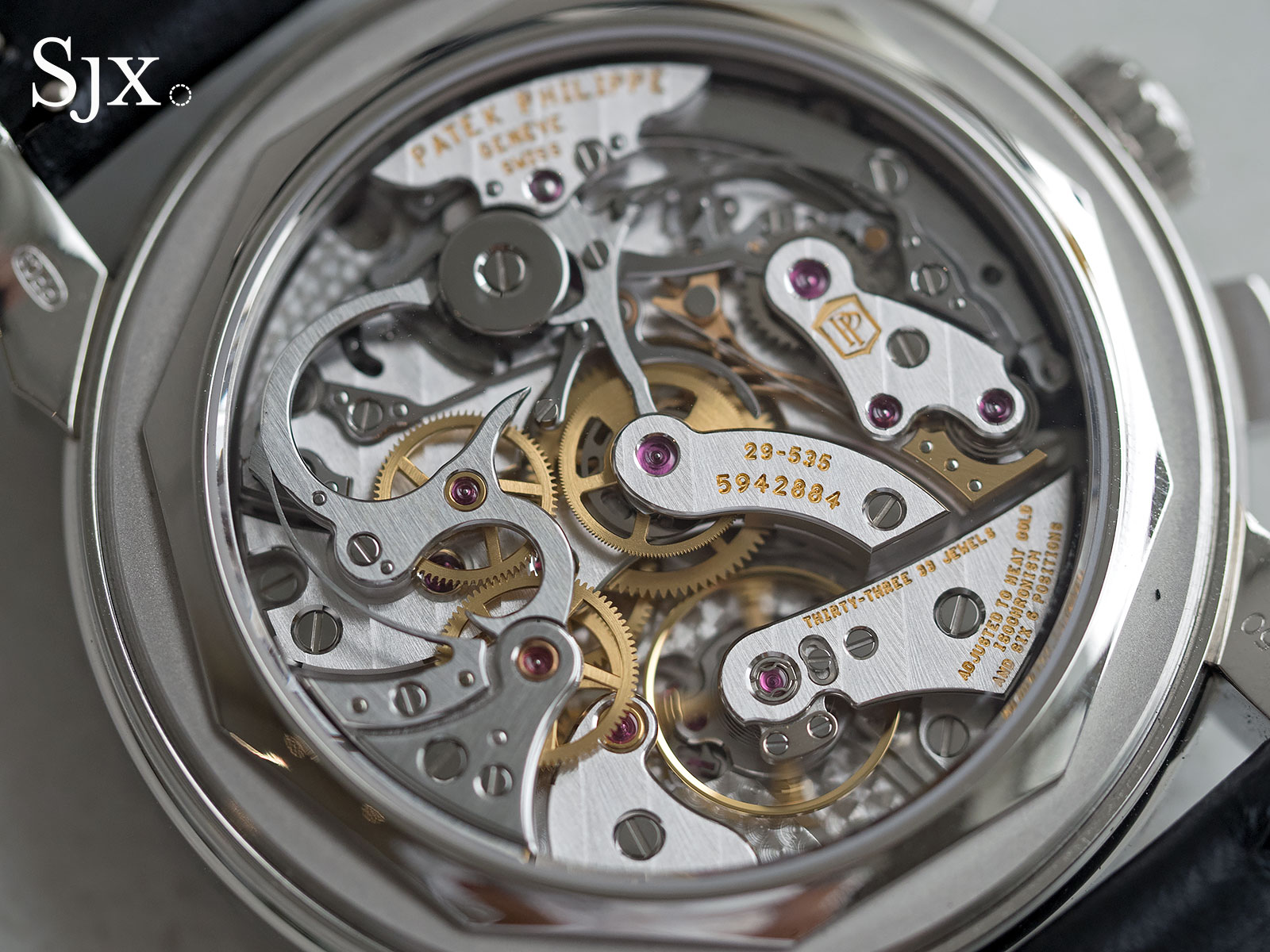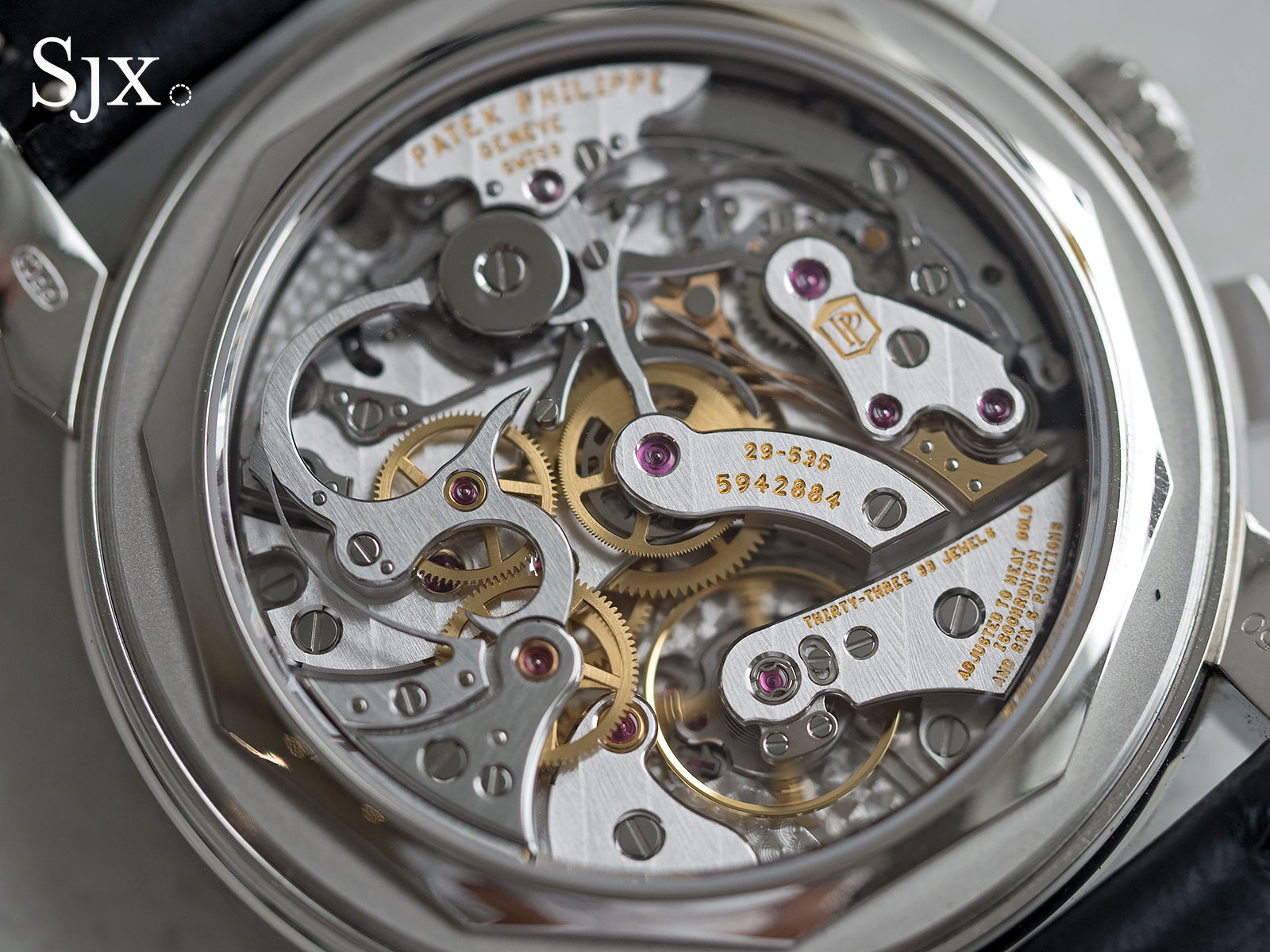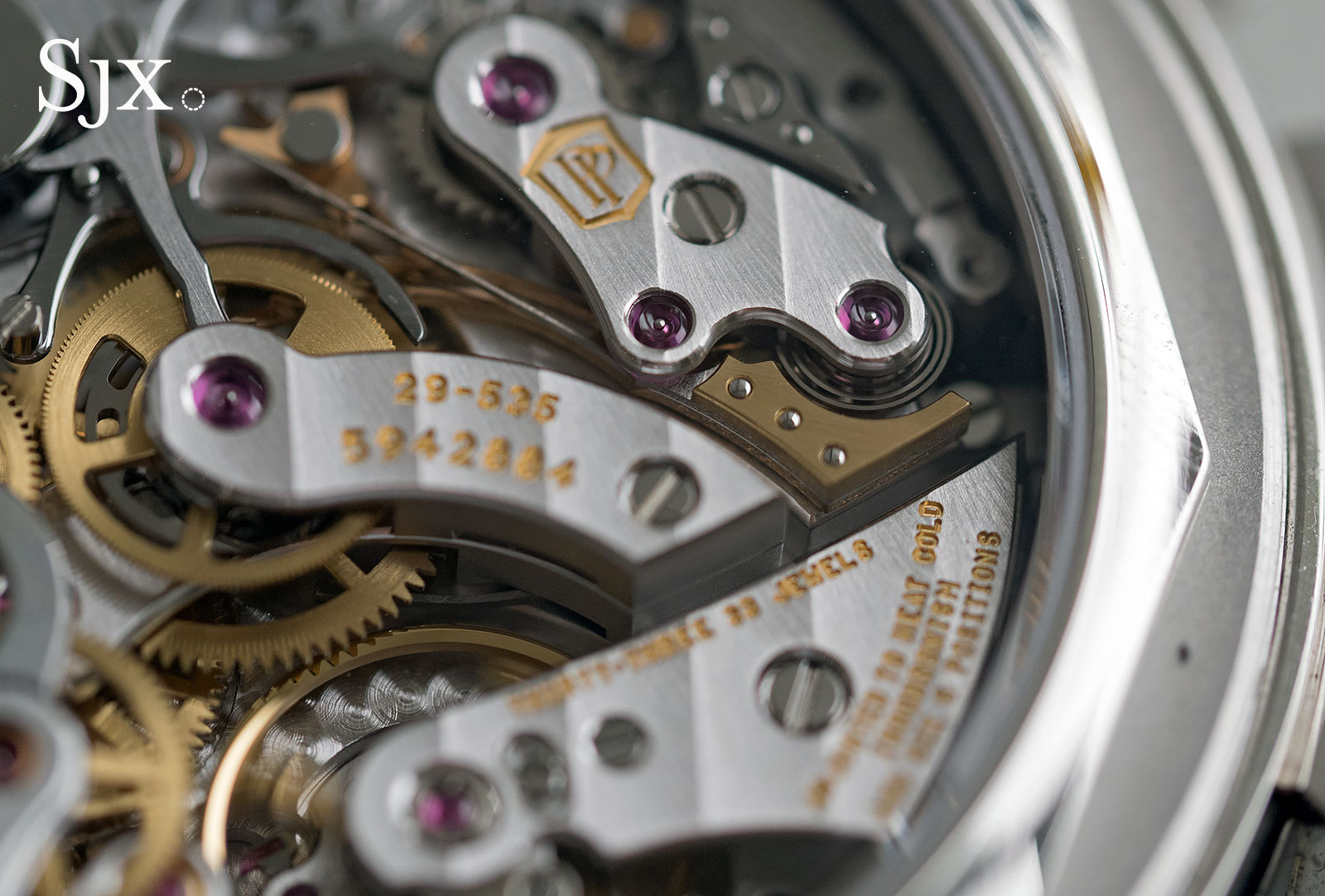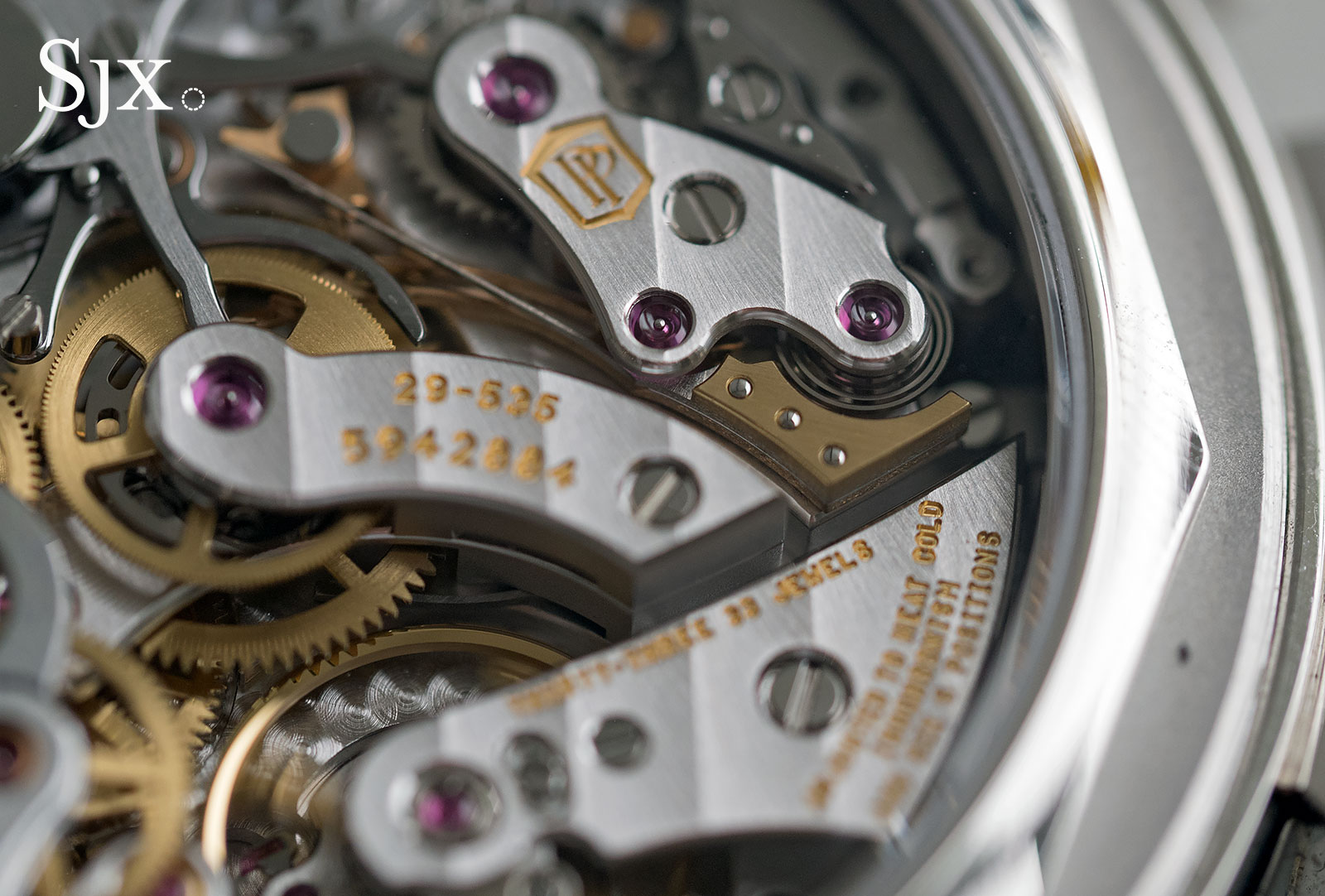 The estimate is HK$1.6m to HK$2.0m (US$210,000 to US$260,000).
---
Preview and sale information
The preview exhibition for Christie's Important Watches takes place daily from May 26 to 28, 10:30am to 6:30pm at the Hong Kong Convention and Exhibition Centre.
The auction takes place on May 29, starting at 2:00pm, at the same venue.
And the full catalogue as well as online bidding is available right here.
---
This was brought to you by Christie's.
Back to top.
---
You may also enjoy these.