The Mysterious Patek Philippe Ref. 2499 with a Vichet Case and Round Pushers
Unravelling the puzzle.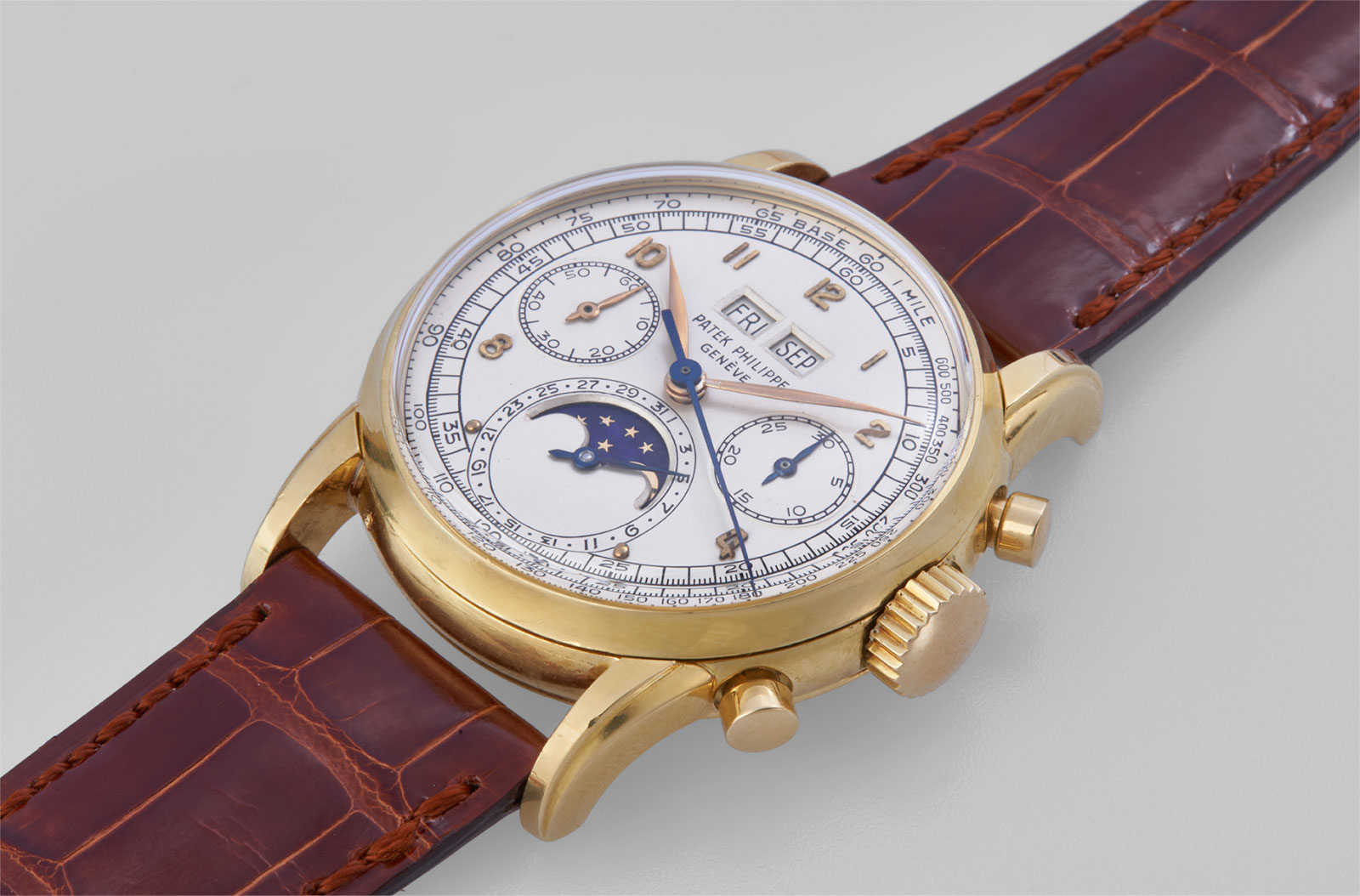 Watches that are historical curiosities often make for good stories, and sometimes record-setting prices. The Patek Philippe ref. 2499 at Phillips' upcoming New York sale, as it happens, is one such watch.
Rare and usually expensive, the ref. 2499 is not the first perpetual-calendar chronograph made by Patek Philippe – that distinction goes to the smaller ref. 1518 – but it's the most desirable, broadly speaking, because it has a largish case well suited to modern tastes. Introduced in 1950, the model is regarded to have been produced in four distinct series, each distinguished by various details like the shape of the pushers and the dial.
The first series ref. 2499 is characterised by square, or rectangular, pushers, applied Arabic numerals on the dial, which also has a tachymetre on its periphery. For approximately the first two years of its production, the ref. 2499 relied on cases made by Emile Vichet, a Geneva specialist that was the go-to case maker for Patek Philippe during the period.
Vichet and Wenger
Vichet cases feature distinctive lugs, usually described as claw-like, which are elongated and curve sharply downwards. And because Vichet cases have a flat, as opposed to domed, case back, they sit slightly elevated, on the the tips of each lug, when placed on a table. The number of 2499s with Vichet cases is tiny: around four known in pink gold, and about 10 in yellow gold.
Though Vichet went out of business in the 1960s, its memory endures. The lug style of Vichet was the inspiration for the case design of the critically acclaimed Akrivia Chronometre Contemporain.
After two years of Vichet cases, Patek Philippe turned to Ed. Wenger, another Geneva case maker run by the brothers Edouard and Andre Wenger.
Wenger cases are slightly larger at 37.5mm in diameter (compared to 36mm for the Vichet cases), and feature a domed case back, along with shorter lugs that have a gentler downward curve.
Wenger produced around 30 yellow gold 2499 cases with rectangular pushers, before the second series was introduced with round pushers that are more water-resistant, because they are easier to seal with a gasket. The firm would go on to make the cases for the 2499 until 1982 – midway through production of the fourth-series ref. 2499/100, when Patek Philippe began producing its own cases at Ateliers Réunis, its case-making subsidiary.
The odd one out
The ref. 2499 at Phillips, however, is an odd beast. It was made by Vichet – hence a flat back and "claw" lugs – but features round buttons. As a result, it was described as "possibly unique" when first catalogued by Phillips.
According to the archive extract, the watch was produced in 1951, then sold in 1955. And a bit of detective work uncovered the retailer that originally sold the watch in 1955.
A mark etched on the inside of the case back was identified by Phillips' senior consultant Aurel Bacs as belonging to Gübelin, the Swiss jeweller founded in 1854 that's still run by the Gübelin family, and still a Patek Philippe retailer. Consequently, the watch is also accompanied by a Gübelin archive extract noting its sale in 1955.
Not so odd after all
In the months since the watch was first announced by Phillips, there was much speculation as to its unusual features, even questions as to whether it was correct.
One of the most amusing anecdotes, told to me by two different industry insiders, was that the watch was not actually unique, and another Vichet-case 2499 with round buttons had surfaced decades ago at an auction in the United States.
And the amusing bit – the watch was purchased by a watch dealer who believed it had been modified in the past, so he had the case reworked to accommodate rectangular pushers, and then sold it as a conventional Vichet-case 2499.
The story, as it turned out, might well have been true. During the Phillips auction in Hong Kong, Mr Bacs and Phillips' department head in the Americas, Paul Boutros, mentioned that they had been researching the round-button Vichet case(s) and found evidence that a handful were made.
According to Mr Boutros, a client who saw the watch during its preview tour mentioned that another he knew of another, having seen it in Connoisseur, an American magazine on art, collectibles and luxury goods that ceased publication in 1992. The watch was pictured in an advertisement for Butterfield & Butterfield, once a major American auction house that was later acquired by eBay, and finally merged into Bonhams, which retired the Butterfield name.
Unfortunately for Mr Boutros, the specific issue that contained the ad was unknown, which set Mr Boutros and his team off on an hunt, which finally yielded the October 1989 issue of Connoisseur. The ad was for the November 1989 Butterfield's auction, which included lot 2759 – a Patek Philippe ref. 2499 with round pushers and movement number 868'245.
Shortly after, Mr Boutros and his colleagues came across information that a third example of such a Vichet-case 2499 might exist.
And turn up it did, in a 1983 auction at Christie's New York, where lot 66 was yet another ref. 2499 with round pushers – and movement number 868'244.
With that, Mr Boutros now had proof of three Vichet-case watches with round buttons, all having consecutive case and movement numbers. The case and movement numbers were soon after confirmed by Patek Philippe.
Case 665'011 and movement 868'244, sold at Christie's, New York, in 1983
Case 665'012 and movement 868'245, sold at Butterfield & Butterfield, San Francisco, in 1989
Case 665'013 and movement 868'246, to be sold at Phillip's, New York, in 2019
Why only a handful of such watches were produced is unknown. It might have been a trial run to see if Vichet could handle production of the new 2499 case design, according to Mr Boutros, who adds that Patek Philippe occasionally produced small runs of experimental watches, particularly in the mid 20th century, citing the ref. 3449 perpetual calendar as an example.
The Patek Philippe Ref. 2499 with a Vichet case and round pushers has an estimate of US$1.0m-2.0m, and is lot 40 in Phillips' Game Changers auction that takes place on December 12, 2019.
---
Back to top.
---
You may also enjoy these.