Interview: Benoît Mintiens, Founder of Ressence
Inside the mind of an industrial designer.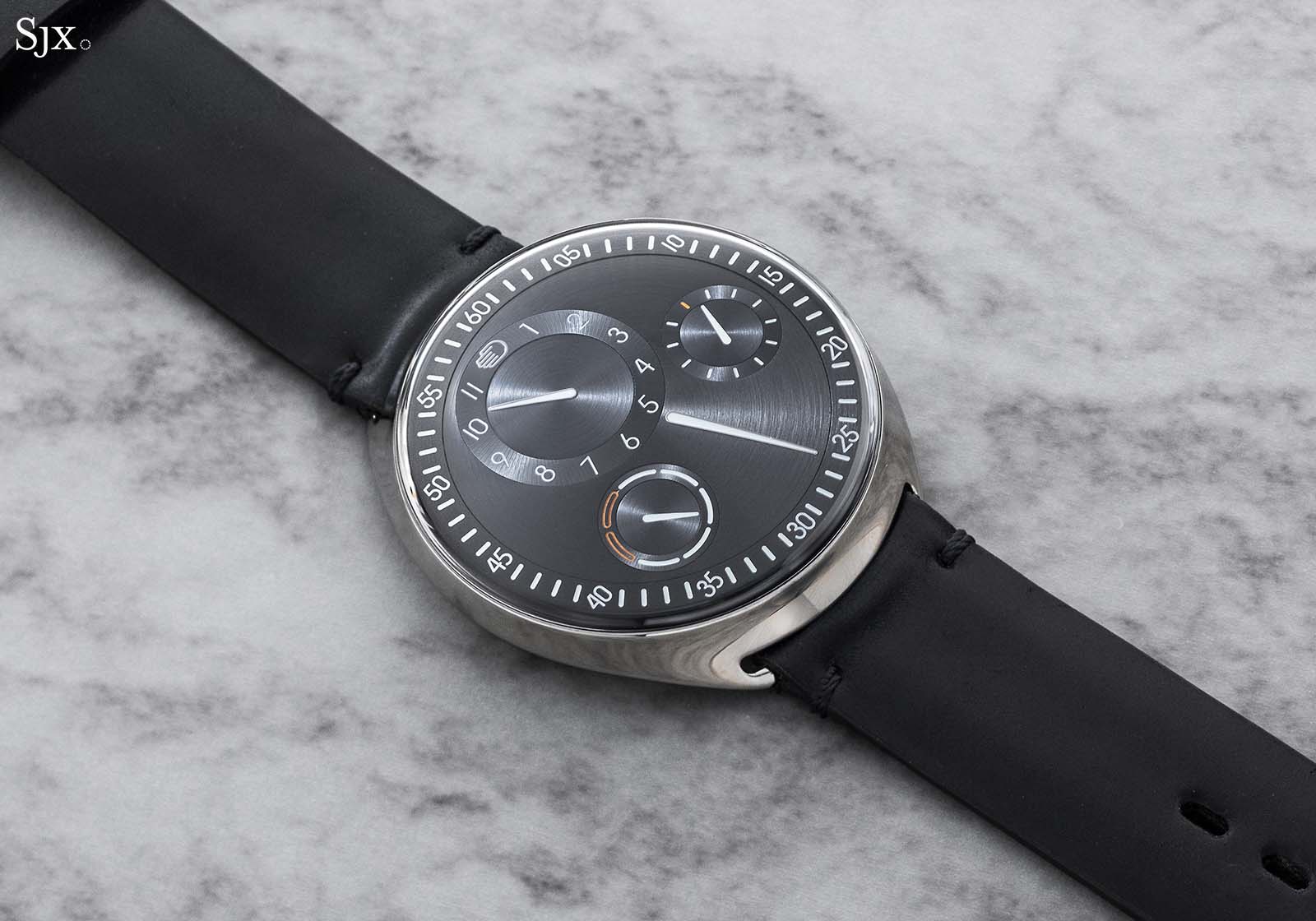 The left field of watchmaking has yielded many unusual and exotic time displays, but few have the same sense of function and purpose as Ressence. In fact, the essence of the brand is its name, which is short for the "Renaissance of the Essential".
Perhaps a key ingredient of the renaissance is the fact that its founder is not a watchmaker. Ressence was founded a decade ago by Benoît Mintiens, a Belgian industrial designer whose past work included trains, newsstands, and luggage.
From the start, the identity of Ressence was crystal clear. The brand's debut line of watches had dials that relied on a planetary gear mechanism to indicate the time (as well as a crown, which has since been removed from all its watches). Akin to a 21st century regulator-style display, it was an avant-garde way of displaying time, while still surprisingly intuitive.
Even more surprising was the longevity of the planetary time display, which has since spawned various iterations, often accompanied by novel innovations ranging from the oil-filled time display in the Type 3, to the more recent Type 2 that's a mechanical watch that can set itself thanks to an electronic module.
When Benoît visited Singapore in late 2019, I got a chance to explore his design philosophy, especially on how his background in industrial design helped inform his unique approach to watchmaking. He also delved into the subtleties of a Ressence wristwatch, and dropped a few hints about a new time display.
The interview was edited for length and clarity.
---
You were an industrial designer for most of your career. How did you get started in watch design? And what made you decide to start a watch brand?
I was an industrial designer working at a consultancy firm. I designed many products – but not watches – because in Belgium, we don't have a watch industry. But the advantage of that is that you learn to think in an economical, return-on-investment way. So, it makes you very critical and focused on achieving your goals.
I have a friend who is in the diamond business, and [many years ago] he asked me to design a watch for him with diamonds. I don't really do watches with diamonds because it's of a piece of jewellery, but I thought, okay, let's do it. Finally, we came up with a concept, but to get there, I went to Baselworld a few times. And every time I got back [from the fair], I was very disappointed by the creativity of watch brands.
I had thought watch brands are such huge companies, so they have all the money in the world to create good designs, but they just do nothing but repeat what has been done the year before. Now I know the reason why, but at the time, I didn't.
So, I was a bit frustrated. And one day I came home and thought, let's design a watch for myself. I came up with the concept, and a few years later I started the brand.
How do you think being an industrial designer from Belgium has shaped the way you design watches as compared to an industry insider?
The goal of Ressence is to improve the fundamentals of a watch, which not many brands are looking at today. The fact that I'm an industrial designer, and not a Swiss watch designer, is probably the most important differentiator.
The reason is the following: as an industrial designer, you put yourself in the skin of the owner. It is fundamental to think about who is going to wear this watch, what this person needs, how much money he has. So, you try to imagine the context in which you need to design it, whereas many watchmakers will start with the movement. And if it is at a large watch company, for instance, the marketing guy would say we need a tourbillon.
I believe a good product is a product that has been thought of from a user's point of view. I very often say, you need to approach it with the mindset that the product has to adapt to the user, and not the user to the product. Very often, and it is also the case in watchmaking, the [opposite is true].
I'll give you just one simple example – the crown of a watch. You don't like to use it, because it has not been thought of as a function that a human being needs to use; whereas for a Ressence, the crown is on the back. It is scaled to your fingers, so it is convenient and easy to hold the watch and just turn it. This is an approach a watchmaker will never have.
Why did you design the dial to be completely flat?
The reason is because your brain can read two-dimensional information, on screen or on paper, better faster than on a three-dimensional object.
Because your eyes look at it from a different perspective, your brain needs to transmute this three-dimensional information into two-dimensional information in order to understand what it is looking at. That is why it is very easy to read words on paper. You can read really fast because your two eyes see the same thing.
If the words would float above the paper, like the hands of any watch, for example, it would become extremely hard to read. You will be able to read it, but it will take you twice or thrice the amount of time.
This is also why we came up with [the Type 5] dive watch. There is no independent brand that does a dive watch. We did it, and it is the best dive watch you can have. Thanks to the oil, the dial can be read from any angle, whereas in a regular dive watch, you'd have to view it straight on in order to read the time.
And how did you arrive at such an organic form for the case?
The organic case design is a fundamental element in the watch. As I told you, the basics of our watches is to improve the user's relationship with the product – a watch is a representation of your values.
We are all in the watch business, so we are a bit biased but normal people buy a watch because they think it reflects the values they'd like to express. It's no different from clothes or shoes.
And on top of that, a watch is also something that is part of your body [but] When I look at the watch you wear, it looks like something that has been put on you. It is not part of your body because we are organic creatures.
For us, an organic shape fits better than a geometrical shape. I very often take the example of glasses. Were glasses to be as geometrical as your watch, you would look silly. And it is because it doesn't fit us. We are organic in build, and that is why Ressence watches are also organic. They are closer to you as a shape.
And more importantly, as a human being we feel more affinity with organic shapes than geometric ones. Why is that? Because geometrical shapes do not exist in nature. It is not a natural shape. The flatness of this table, the wall, all the angles – these things don't exist in nature.
A geometrical watch is also less natural; an organic shape feels more comfortable, more appealing. You have more empathy towards it.
Now that we have covered the design, can you tell us more about the planetary gear system? I understand everything is driven by the minutes?
Yes, the minutes is the leading hand.
Everything has a reason with Ressence. Usually, you know the hour you are in. We have a meeting at two o'clock, and all we need to know is whether we are on time or not. At a glance, your brain sends a request to your eyes to search for the longest hand and the angle of that hand. It doesn't ask if it is 53 or 54 minutes; all it wants to know is an angle.
That is the way we read time – we read an image. And usually, 80% of the time, you don't need to know the hours, you only search for the longest hand. And that is why the leading hand in a Ressence watch is the minutes hand.
Is the planetary time display difficult to assemble?
Once you know how to do it, I guess it is fine. But it will seem very special in the beginning.
The biggest problem for watchmakers was that the watch is three-dimensional inside; the gears are not flat. Ninety-nine percent of watches are 2.5 dimensional, meaning that they are made up of flat layers, all parallel to each other with axles that are parallel to each other.
In a Ressence watch, everything is curved, meaning all the axles are curved or inclined. So, there is no axle that is parallel to another. [Watchmakers] don't know how to deal with that; they have to position the watch differently to make sure they can assemble it.
The Type 2, however, is more exotic. In a regular watch, the dial itself is kind of part of the mechanism; it's a bridge. So, it has the main bridge, which is the dial, and you have different layers of gears, and then you have another bridge and then you have jewels in the two bridges and an axle that goes through. That's the way all our watches are built except the Type 2.
The Type 2 is the new generation where all these axles have been replaced by ball bearings, so the discs that you see are hollow inside. There is no axle, and the disc becomes the gear [and sits on the bearing]. It allows us to reduce half the thickness of the watch [while keeping the] same number of functions. So, we have a more compact [construction].
The problem with that is that we have to work with tighter tolerances for all these ball bearings to work perfectly. There is only 0.025 mm [of clearance] between the discs, so you have to be really precise. That is the way we built it.
You worked with Tony Fadell on the Type 2. How did that collaboration come about?
I contacted Tony Fadell, who is a collector of Ressence watches, when I had the idea of combining a mechanical watch with an electronic function. I thought of him because he knows everything about electronics.
He gave me very valuable advice right from the outset. He said to me, "Benoit, look, I've thought about your project, and there are three things you have to make sure you'll be able to do before you start anything".
The energy consumption. The battery capacity. And finding components that are very compact because the Type 2 has nearly 500 components inside, which is a lot for a mechanical watch.
So, I had to find components that were compact enough, didn't use too much electricity – and the components have to work together. Every component has its own voltage, and they are all in one watch, so you have to have an ecosystem where all these parts can work together without having to create electricity for each individual component.
Now that I am at the end of the project, that advice has saved me so much trouble. Because I had never done anything with electronics before, I would have started it as I would a mechanical watch, and then after six months or one year, I would discover that the battery is not working, or not powerful enough.
The product you see now is a development of nearly three years. That is very long, certainly for a company as small as ours. There are seven of us in Belgium, five watchmakers in Switzerland [who] produce all our watches.
But again, our watches are conceived to be produced in an efficient way. In the end it is an industrial product; I'm an industrial designer so I must make sure I can industrially produce my watches.
The Type 2 still takes a lot of time because they are just the first pieces and we are learning as we go along. It's a process that will take another six months to refine, [after which we can] achieve our ideal production time.
Will you continue in the direction of fusing mechanical watchmaking and electronics?
We believe it is very interesting. We will not stop producing the other watches for sure, but I believe that [combining electronics and mechanics] brings so much to the table for the end user.
And maybe [we can] learn also. There are many components we would like to design for ourselves, the microchip for example. The one we use now is a standard microchip but in future we would like to have our own microchip that integrates many functions that are now in different components. This is costly to develop but once you have it, you have a better product with less risk that something goes wrong.
Are you able to implement the e-Crown into other watches?
Yes, you can. You can even implement it in a standard watch. You can put an e-Crown in a Rolex if you want. Of course, you can't just take it and put it in. You need to adapt, but the patent we have has been conceived such that it can be used in all watches.
Some designers are better at tweaking, improvising or combining existing elements. But you seem to be genuinely good at creating. Do you think you'll ever develop a new time display?
We have been approached by the department of neuroscience at Harvard. There was a professor doing a study about the way our brain understands time; when it reads the time as well as the brain processes in between seeing the dial and arriving at an understanding.
He contacted me and told me that a Ressence dial is potentially more efficient than a standard dial, and he would like to test that. I said go ahead. He conducted a test using a regular dial and a Ressence watch with different panels and different people. [The experiment] was you see the dial, and and you write down the time. This was repeated forty times using a normal watch and a Ressence watch.
The result was nearly comparable, so it wasn't better. In fact, it was a bit disappointing. The only thing that was positive was that their readings were more precise with a Ressence dial, with the answers considered correct [being within] +/-3 minutes.
I told him I would like to know what you know, but explained in simple terms. [I wanted to know] how the brain reads and what it needs to have to understand the time in a more efficient way. He gave me eight or ten rules that you have to respect, so I did a new design based on his theory. And we conducted a new test.
With a normal watch, we had around 60% correct answers. With a Ressence, it was 53% so it wasn't as good. [With] the new concept, and we arrived at 93% precision. So, it is significantly more efficient than a traditional watch. One day I'll come up with a watch with that display because it is so much in line with what we do.
Are there plans to produce more affordable watches?
I tried it. I even went and got the prices for the components. Everything was ready to launch but we didn't because the brand is too young and the goodwill of the brand is still too low.
I'll use a bad example, but it is an easy one: when you buy a Rolex, you pay $5,000 to $10,000. You're actually paying a lot for what you get. But people are ready to do that because they want to have a Rolex. As a brand, they are the best. The more your product can command, the better you are [as a brand].
It is too early for Ressence because nobody knows the brand. So, it will take maybe 10 years before we can go lower, and let's be honest, we have to take away a lot [to get there].
The target was under US$10,000, but it can't have everything we have on our watches today. Everything has to be stripped away. It was still a very nice watch, but $10,000? It is still a lot of money, and you can have many other watches for $10,000. It is too early for the brand to do that. And right now, we generate more revenue from the high-end models than the lower-end ones.
So how are you working towards building goodwill then?
First we must make sure that we can supply enough. Our biggest challenge is to be able to have a supply chain to deliver as many pieces as I want. But it is not the case today; we have a lot of difficulty in supplying what we sell.
I have to make sure that the supply chain is completely under control before promoting the brand. This also relates to investment because building awareness and goodwill means you have to invest in communication, but it makes no sense to invest in communication if you can't supply. So, it is a chicken and egg problem, but the first thing we need to do now is make sure we can supply enough right now.
---
Back to top.
---
You may also enjoy these.