Swatch Inaugurates New Headquarters in Biel
Designed by Shigeru Ban.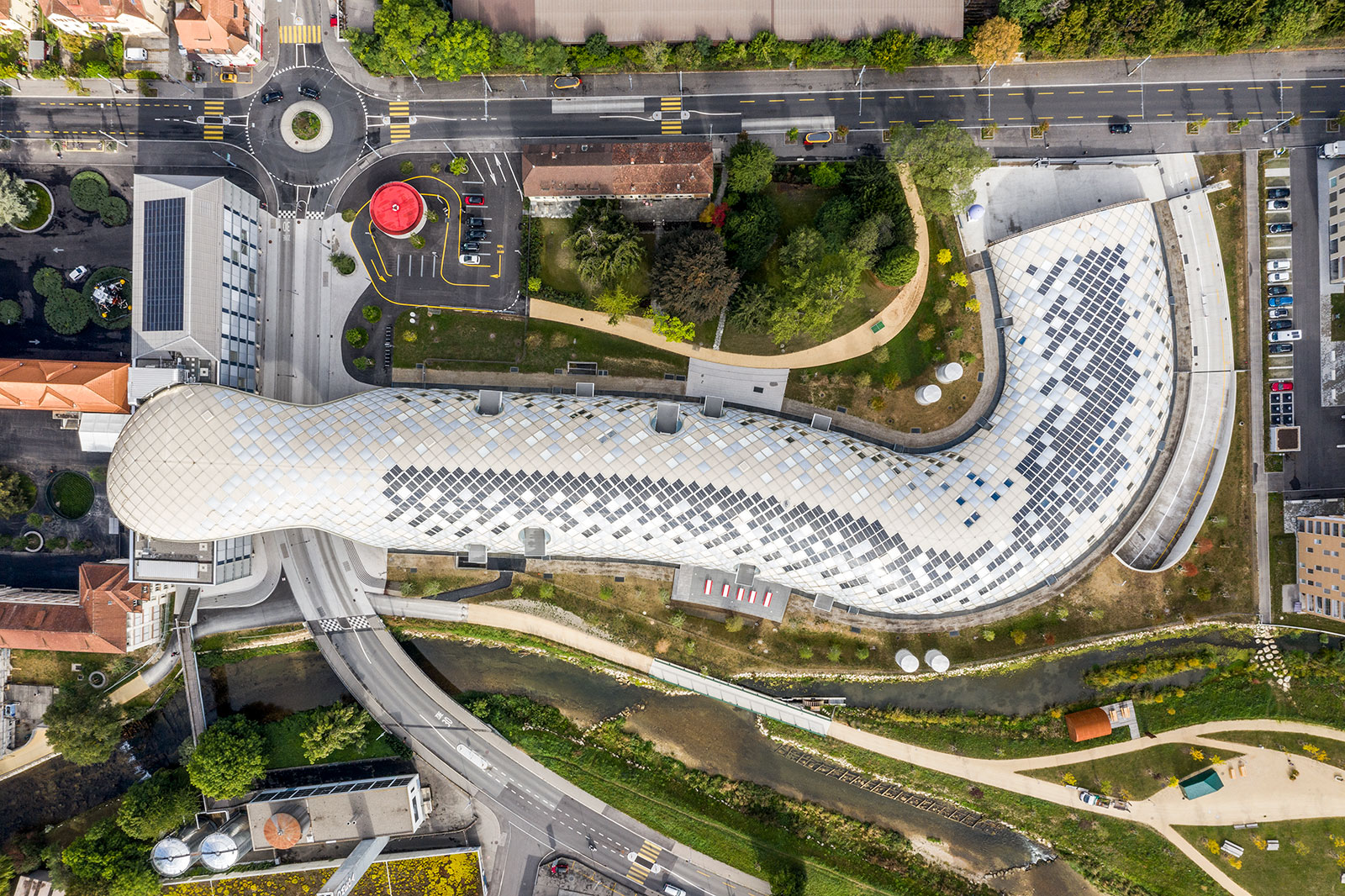 A long snaking building that stretches some 240m, the new Swatch headquarters in Biel, or Bienne in French, is the culmination of five years of work. Selling about 9.5m watches a year for about 450m Swiss francs of revenue, according to Swiss bank Vontobel, Swatch was the foundational company of its parent, the aptly named Swatch Group, which also owns Omega and Longines.
Like many of its parent company's recent projects, the Swatch building was designed by Japanese architect Shigeru Ban, the 2014 Pritzker Prize winner who is best known for his works of wood or paper, as well as his temporary structures for humanitarian aid.
Its new home is covered in a honeycomb timber grid that incorporates windows, nine balconies and solar panels. Visible from the inside is the Swatch logo, derived from the Swiss cross, incorporated into some of the grid's cells. And hidden within the structure is a network of wires and cables for telecommunications, electricity and the like.
Light, flexible and sustainable, the timber beams used for the outer structure number some 4,600, all precisely cut to fit with join with each other perfectly and arranged according to a 3D model.
All of the wood, mainly spruce, came from Swiss forests. According to Swatch, the 1,998 cubic metres of timber used for the building was replenished by new growth within two hours.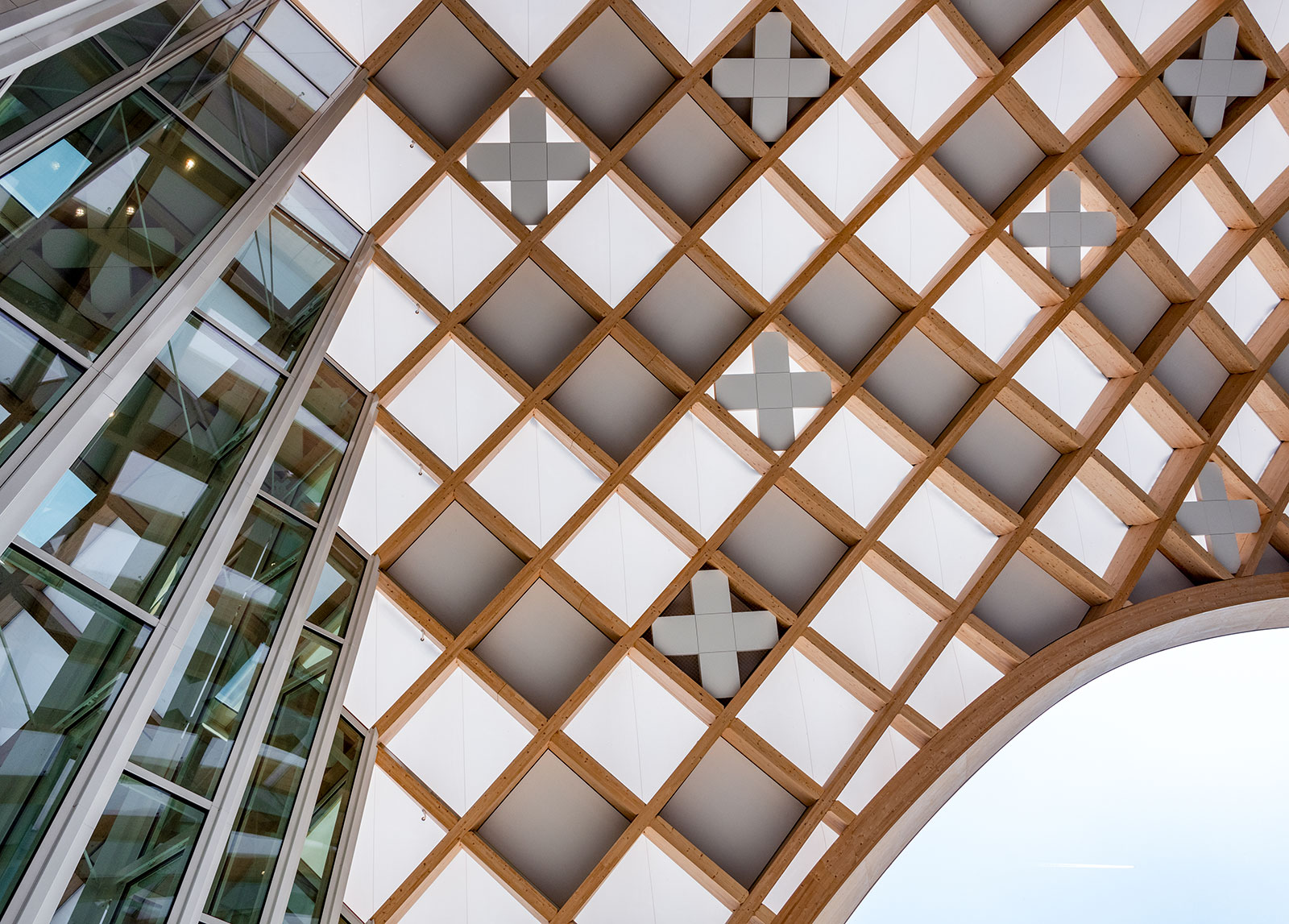 The building is five stories high, with a basement running the length of the building. It's home to Swatch International and Swatch Switzerland; the company's production facilities lie elsewhere. Their offices are spread over some 250,000 square feet, with the floor plan progressively narrowing further up the building.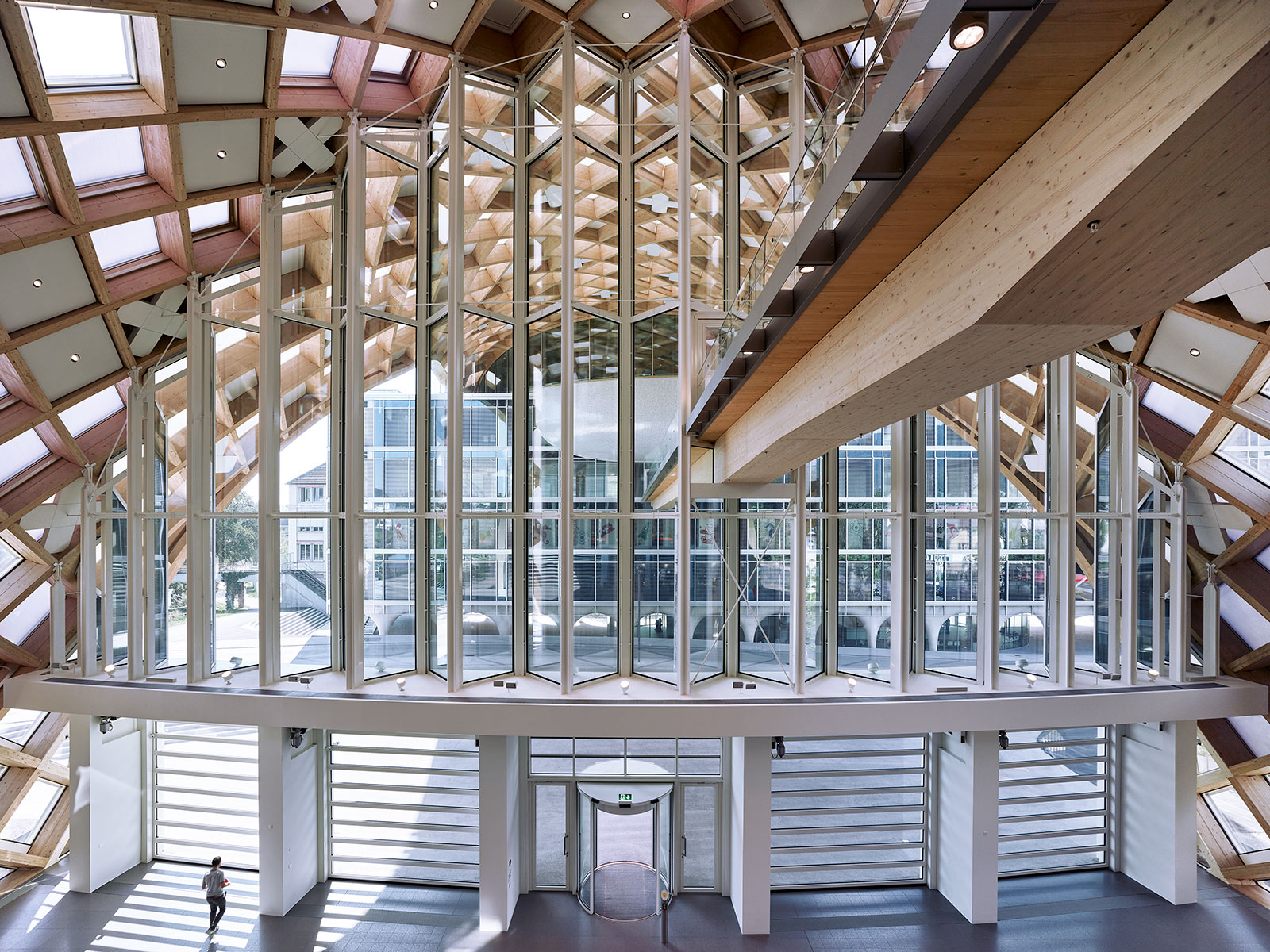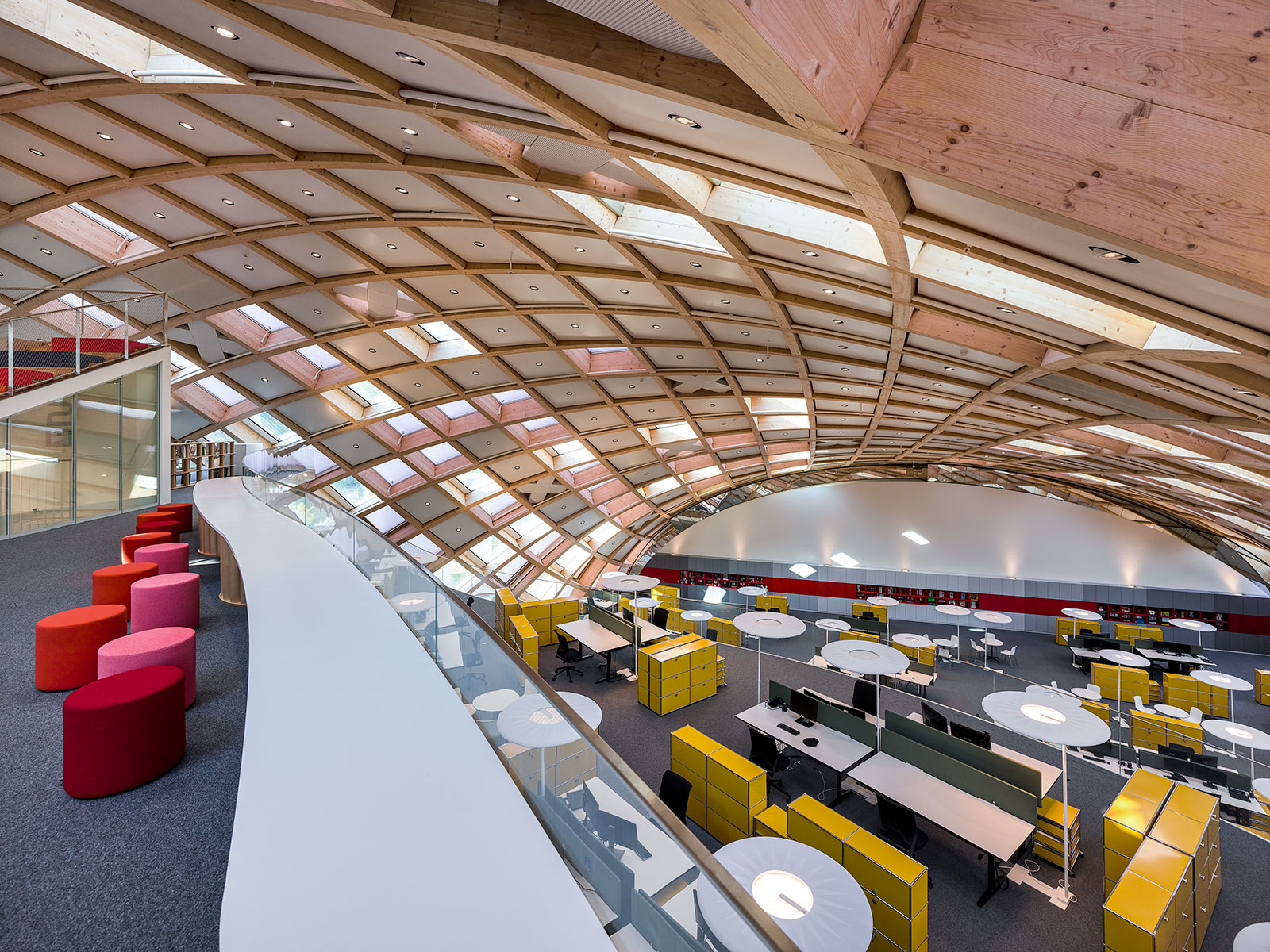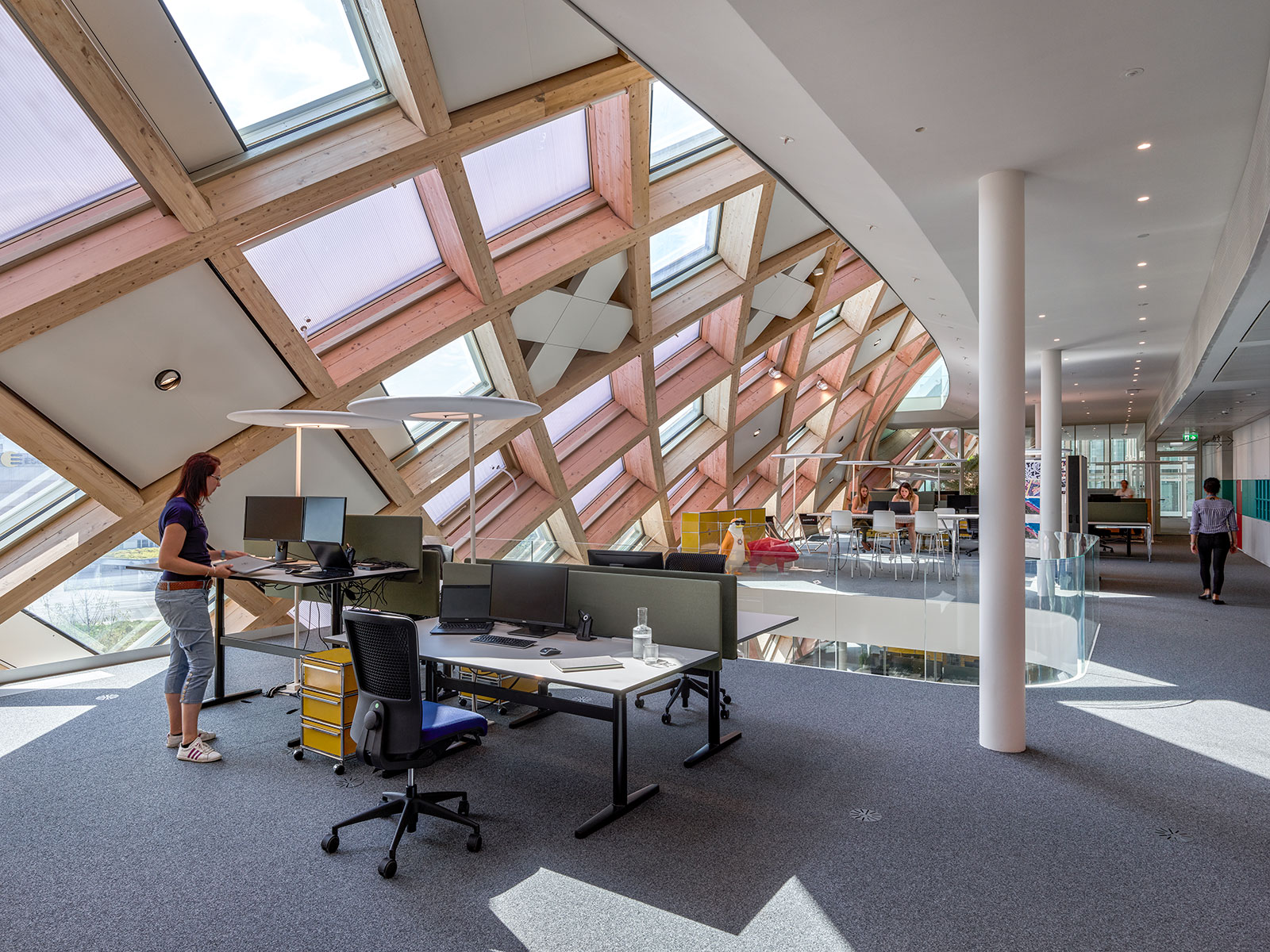 Like all new buildings in Switzerland, the Swatch headquarters is sustainable in operation. Amongst other features, it uses a groundwater pump system for heating and cooling, while relying on solar panels integrated into the honeycomb grid to generate cover its electricity needs. Much of its mechanical and electrical systems are shared with the new Omega building as well as La Cite du Temps.
La Cite du Temps
The new headquarters is connected to La Cite du Temps via an aerial bridge. Though part of the same structure and also designed by Shigeru Ban Architects, La Cite du Temps is executed in a different style. It's an oblong, glass-fronted building that is home to the Omega Museum, Planet Swatch museum, and the Nicolas G. Hayek Conference Hall.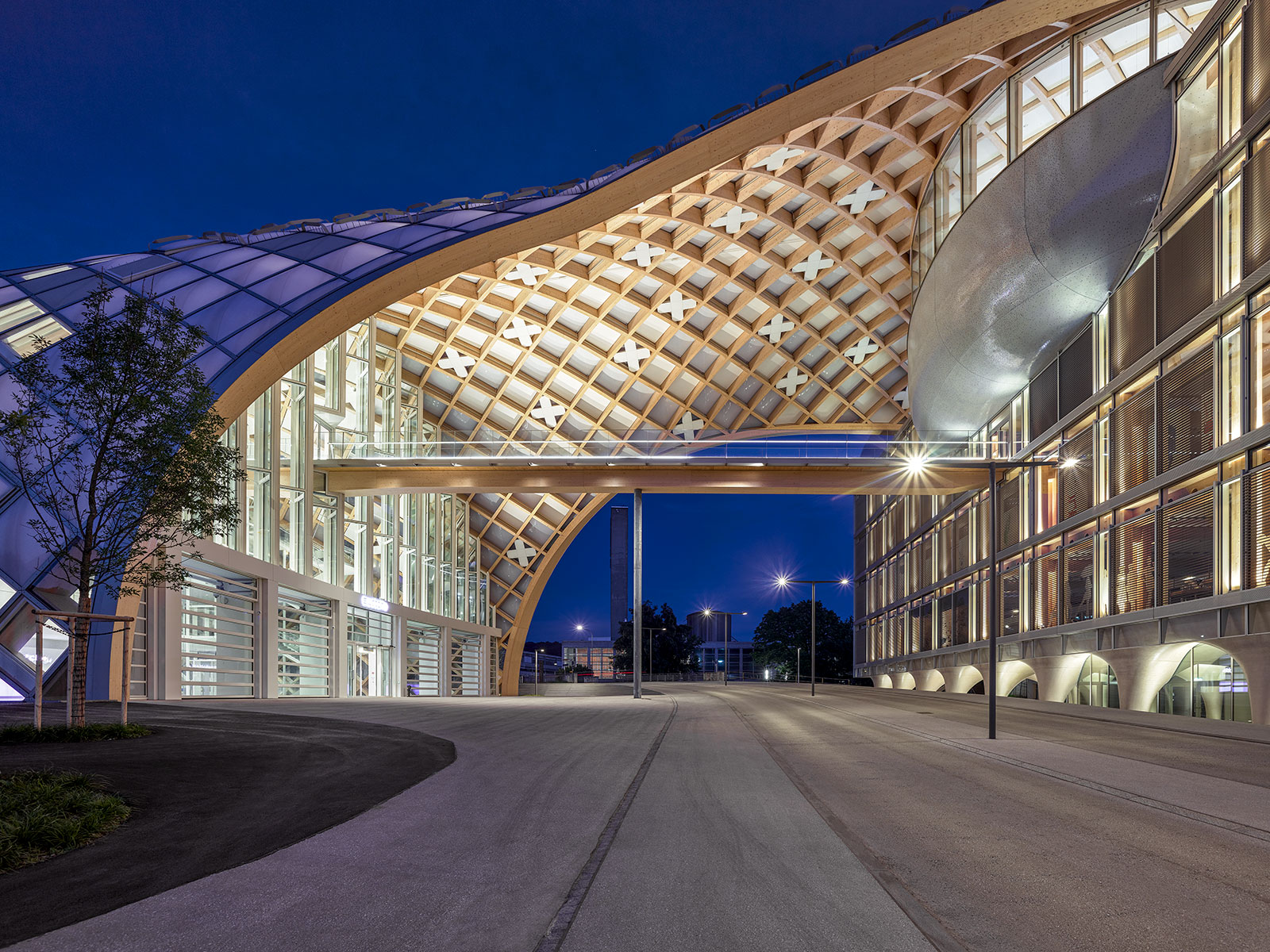 Swatch
Nicolas G. Hayek Strasse 1
2500 Biel
Switzerland
---
Back to top.
---
You may also enjoy these.