Blancpain and Swatch Team Up on the $400 Bioceramic Scuba Fifty Fathoms
Accessible, fun, and inexpensive but not quite value.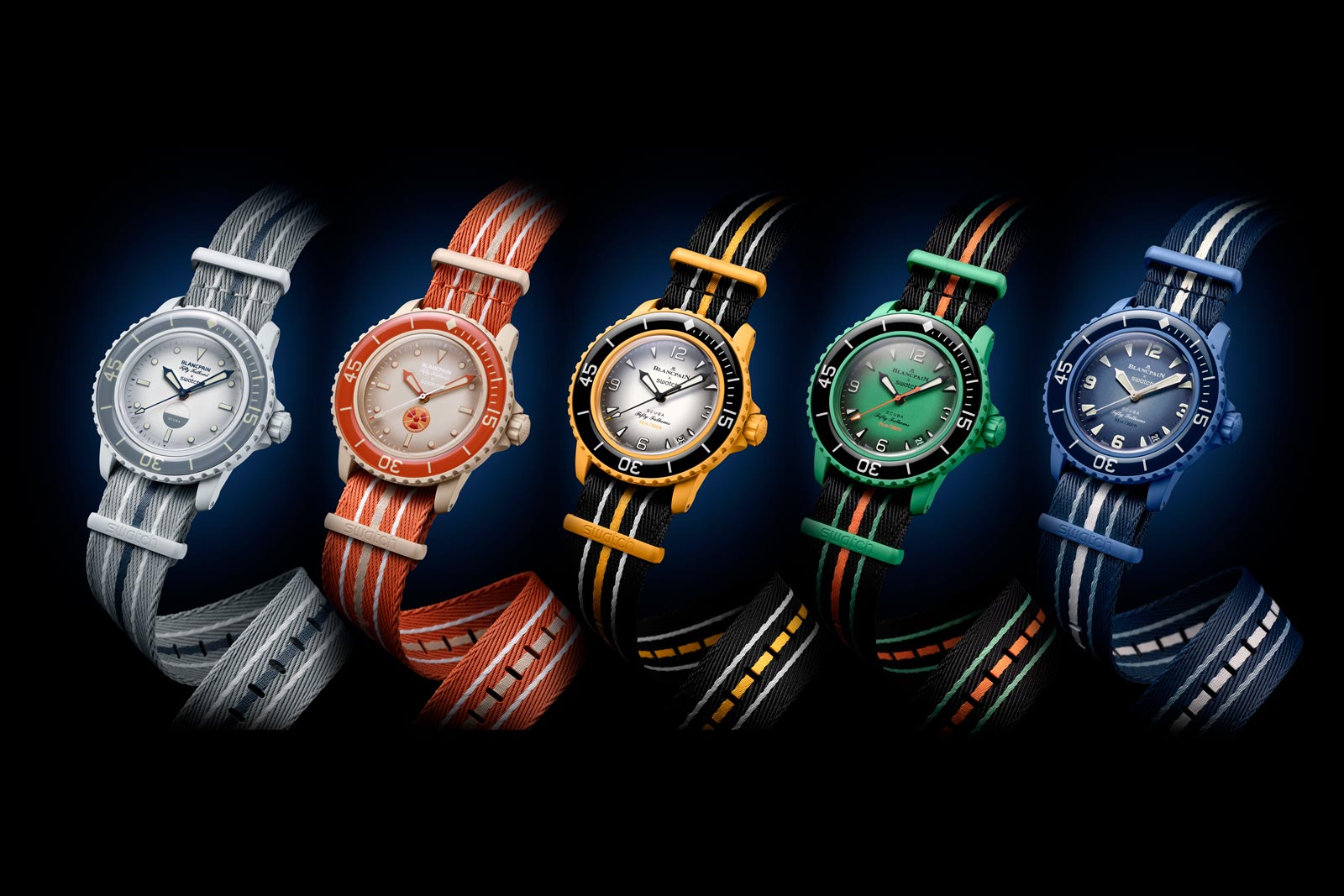 In a long expected move after the success of the MoonSwatch, Swatch with its sister brand Blancpain for another colourful wristwatch modelled on a historical timepiece. The Swatch x Blancpain Bioceramic Scuba Fifty Fathoms pays homage to Blancpain's iconic dive watch of the same name, which celebrates its 70th anniversary this year.
The Scuba Fifty Fathoms collection consists of five watches in different colours, each representing one of the five oceans of the world. Inside the plastic-ceramic composite case is a Sistem51 automatic movement, a nod to Blancpain's historical motto of "Since 1735 there has never been a quartz Blancpain watch". Priced at US$400, it will be available at select Swatch boutiques starting September 9, 2023. 
Initial thoughts
On its face, the Scuba Fifty Fathoms is a charming reinterpretation of Blancpain's signature dive watch, making a historical model more accessible. Given the niche nature of the vintage original, the Scuba Fifty Fathoms will certainly not inspire the same fanatical enthusiasm as the MoonSwatch, but it will introduces Blancpain's distinctive sports watch to a wider range of clients.
Conversely, the Scuba Fifty Fathoms might not bring much advantage to Blancpain, a brand that has lost market share in its segment of luxury mechanical watches for a variety of reasons, none of which are alleviated by this launch.
Furthermore, the new Swatch collaboration raises questions regarding sustainability. The MoonSwatch already sells a million units a year, and now the Scuba Fifty Fathoms, in the best case scenario, will sell a few hundred of thousand pieces annually. All of these are essentially composite watches that are not repairable, even though the Bioceramic composite case is recyclable. They are essentially single-use plastic objects that will have to be disposed of someday.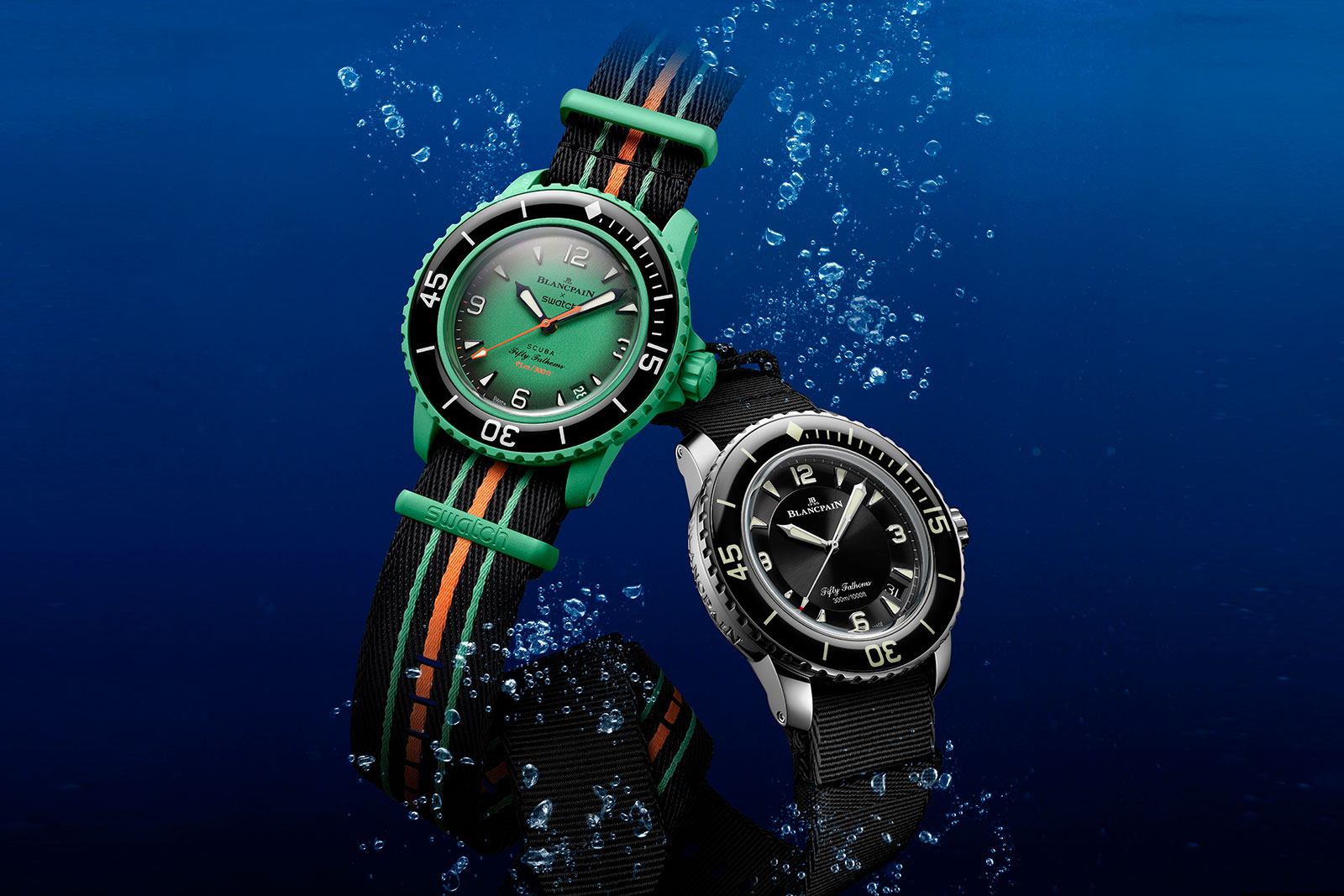 The Scuba Fifty Fathoms retails for US$400, a price that's higher than the average Swatch. Still, it's a relatively modest sum for a "Swiss made" watch with a high fun factor.
That said, that sum of money gets you a plastic-ceramic composite case with a no-frills automatic movement inside. On the other hand, the closest substitutes from Seiko have steel cases and repairable movements.
This brings us to the topic of value, where a distinction needs to be made. While the Scuba Fifty Fathoms is inexpensive and affordable, it is not good value. Neither is the MoonSwatch, although it is sometimes described as such. That's simply due to the fact that the MoonSwatch, and the Scuba Fifty Fathoms inevitably, look and feel like they cost.
In fact, both arguably feel a little cheaper than they are due to the intrinsic nature of the plastic-composite case. This contrasts with watches that are genuinely good value, like Tudor or Seiko's enamel dial offerings, which offer features or quality not typically found in their respective price segment.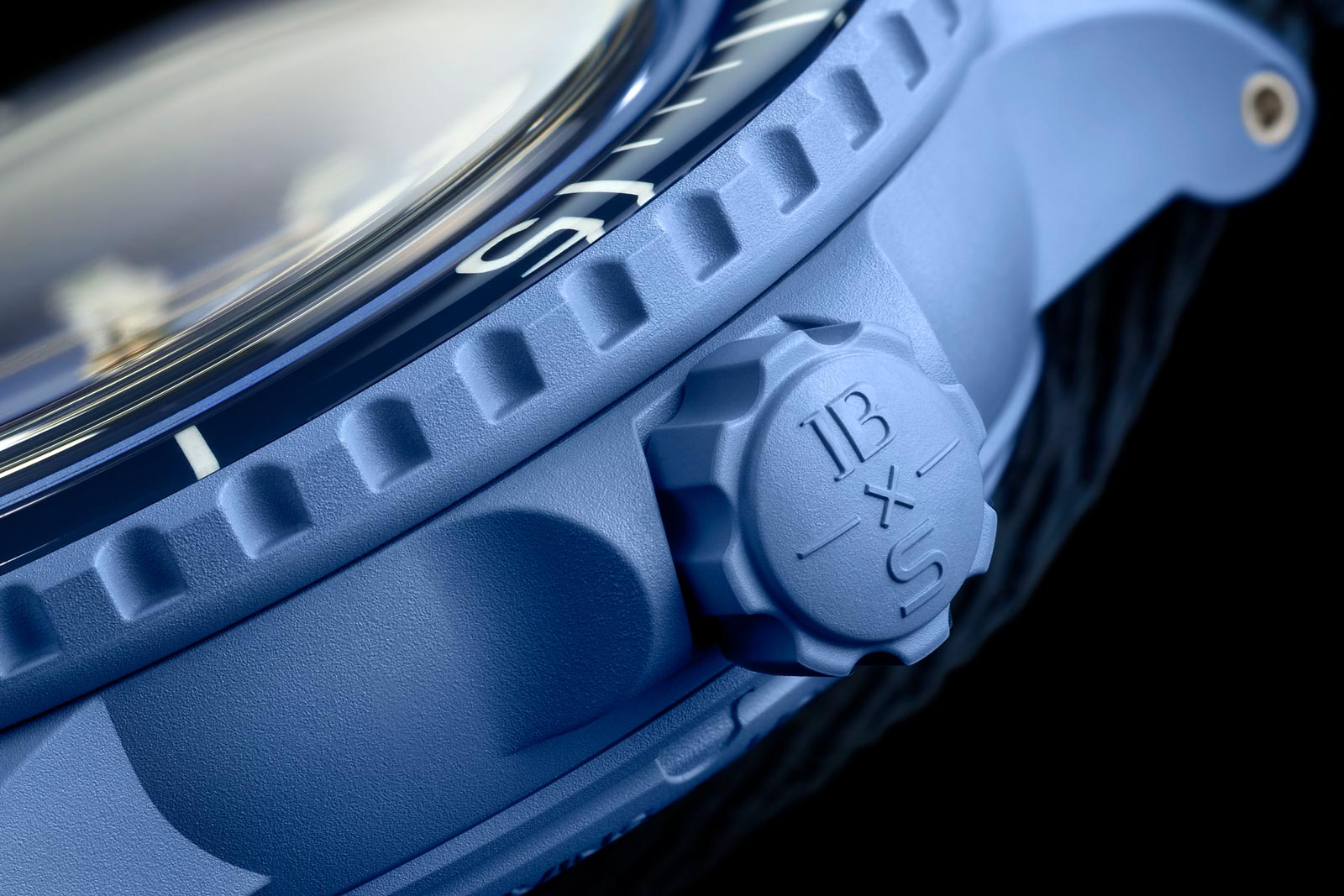 Bioceramic rated to 50 fathoms
The collaboration is a playful interpretation of the Fifty Fathoms that combines flagship sports watch from Blancpain with the Swatch Scuba dive watch. The line up consists of five models, each named after one of the oceans: Atlantic (blue), Arctic (beige), Pacific (yellow-orange), Indian (green), and Antarctic (ice white). 
Notably, Arctic and Antarctic are both modelled on vintage Fifty Fathoms models, while the other three are based on the modern-day version of the dive watch. All dials, however, have a gradient finish that darkens towards the edges when viewed in the light.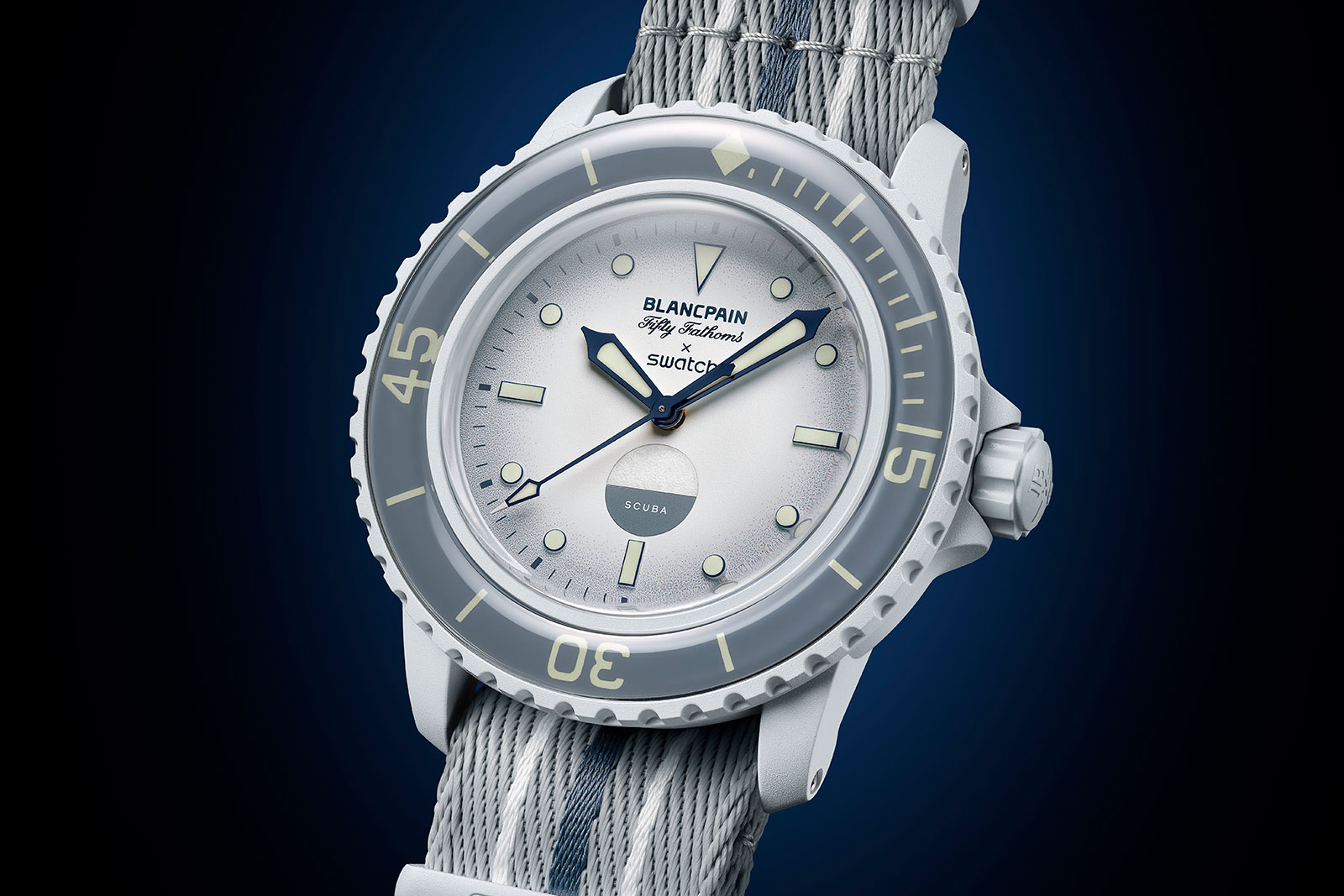 So Atlantic, Indian, and Pacific have the modern-day logos from both brands, triangular markers, and Arabic numerals at the quarters along with a date window between four and five.
In contrast, Arctic and Antarctic are vintage inspired and bear Blancpain's 1960s emblem, circular indices, and unique insignias at six that are taken from vintage Fifty Fathoms models, a "No Radiation" emblem for Arctic and a "Mil-Spec" moisture indicator for Antarctic. And they have no date window, which will please purists.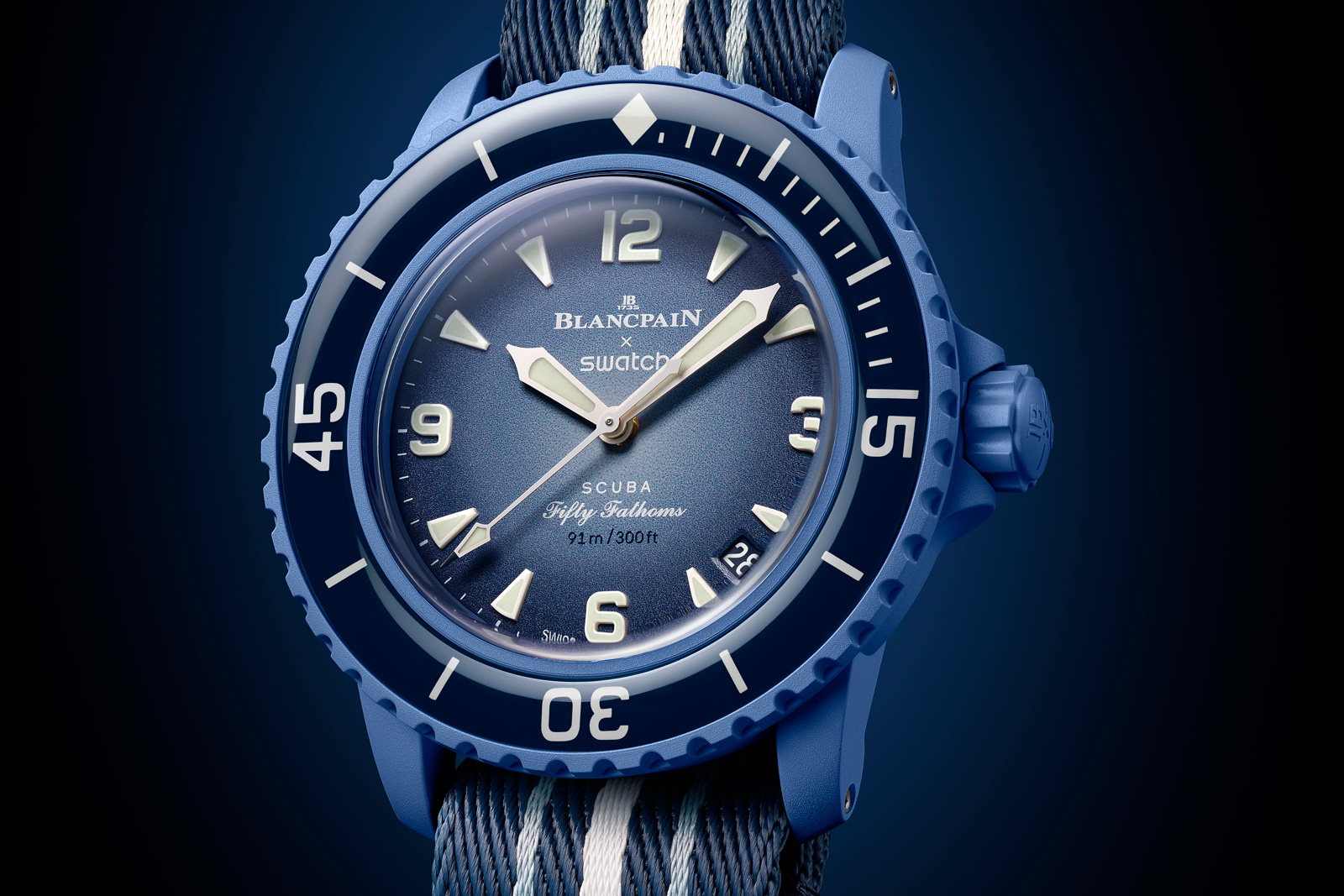 All five watches share the same case dimensions, measuring 42.3 mm in diameter and 14.4 mm high, making it slightly smaller than the actual Fifty Fathoms. Notably, the case has a water resistance rating of 91 m, which is equal to 50 fathoms or 300 ft.
Like the MoonSwatch, the case is Bioceramic, a plastic-ceramic composite. It's patterned after the standard Fifty Fathoms case and reproduces the chunky lugs to the engraved logo on the case flank that is a Blancpain trademark, but here replaced by "SWATCH". And the bezel is unidirectional with a luminous scale under a clear Bioceramic insert that mimics the sapphire-covered bezel of the actual Fifty Fathoms.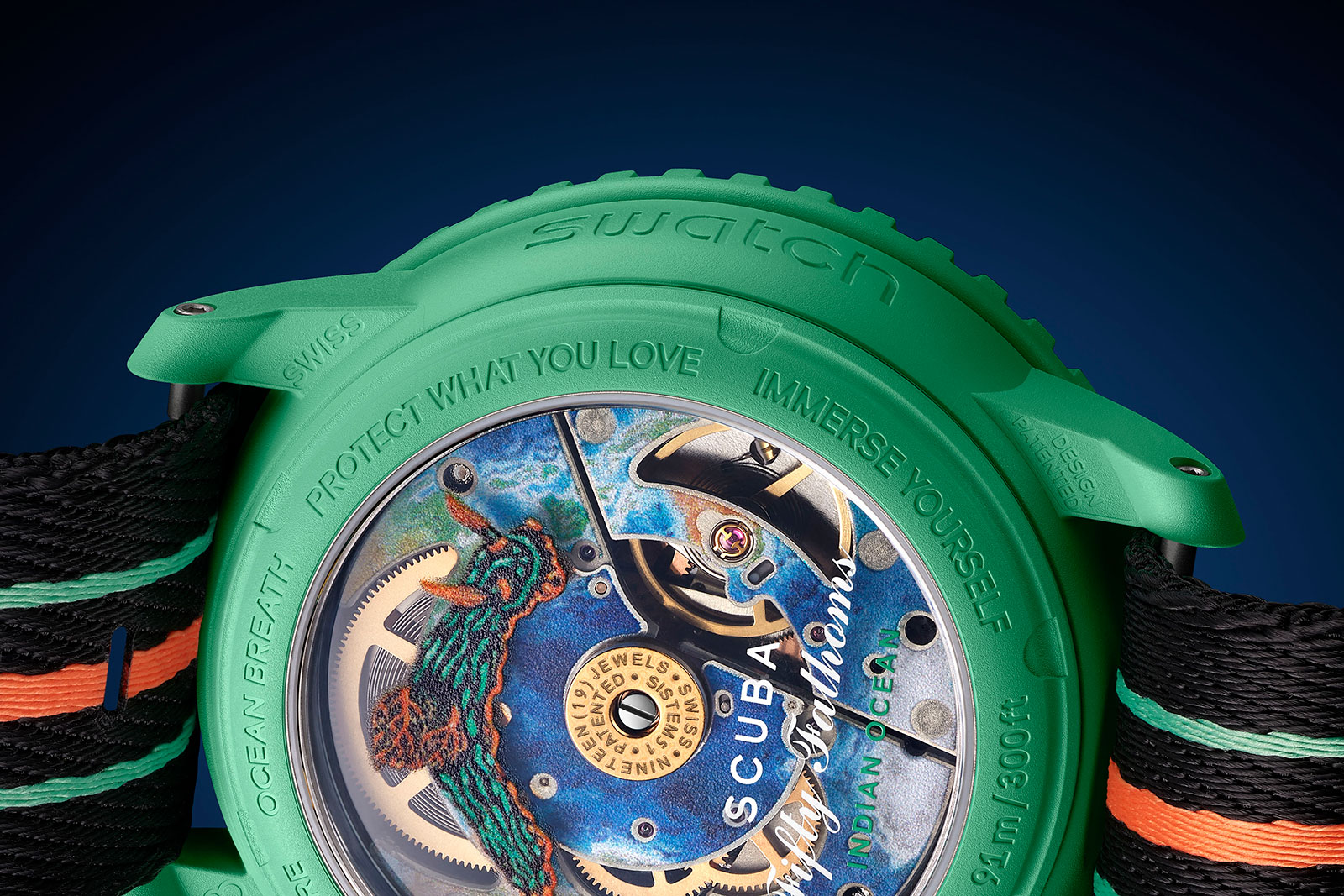 The Scuba Fifty Fathoms is equipped with Swatch's in-house automatic movement, the Sistem51 (though variants are used by other Swatch group brands like Tissot in its PRX). It gets the name from the  51 components that make up the movement, nearly all of which are assembled by machine and mostly secured by a single screw. The movement features a Nivachron hairspring and offers a healthy 90-hour power reserve.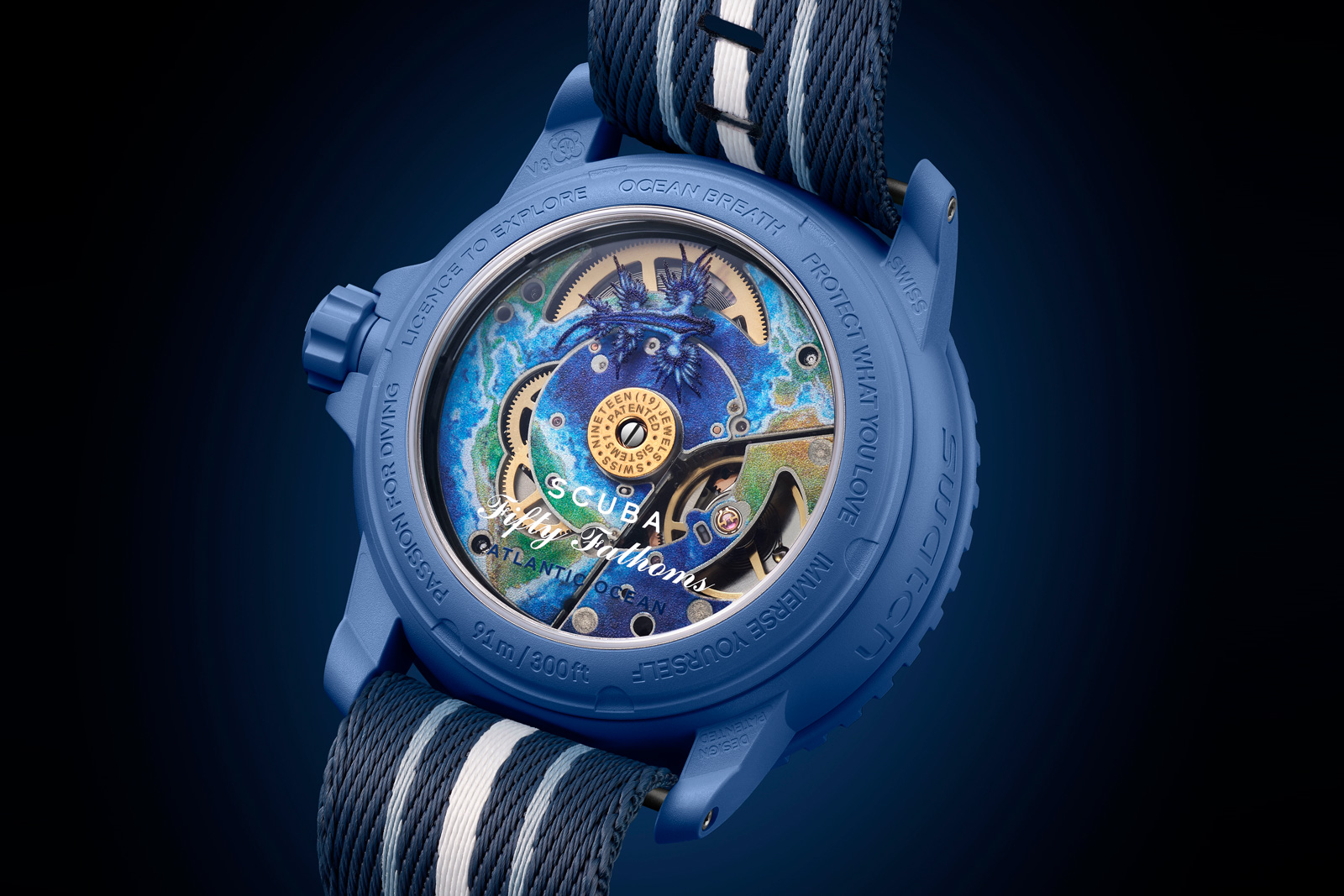 The bridges of the movement are printed with a depiction of the ocean the model is named after, while the clear plastic rotor bears a digital colour print representing of a nudibranch, a type of sea slug native to the respective ocean that adorns the movement's rotor.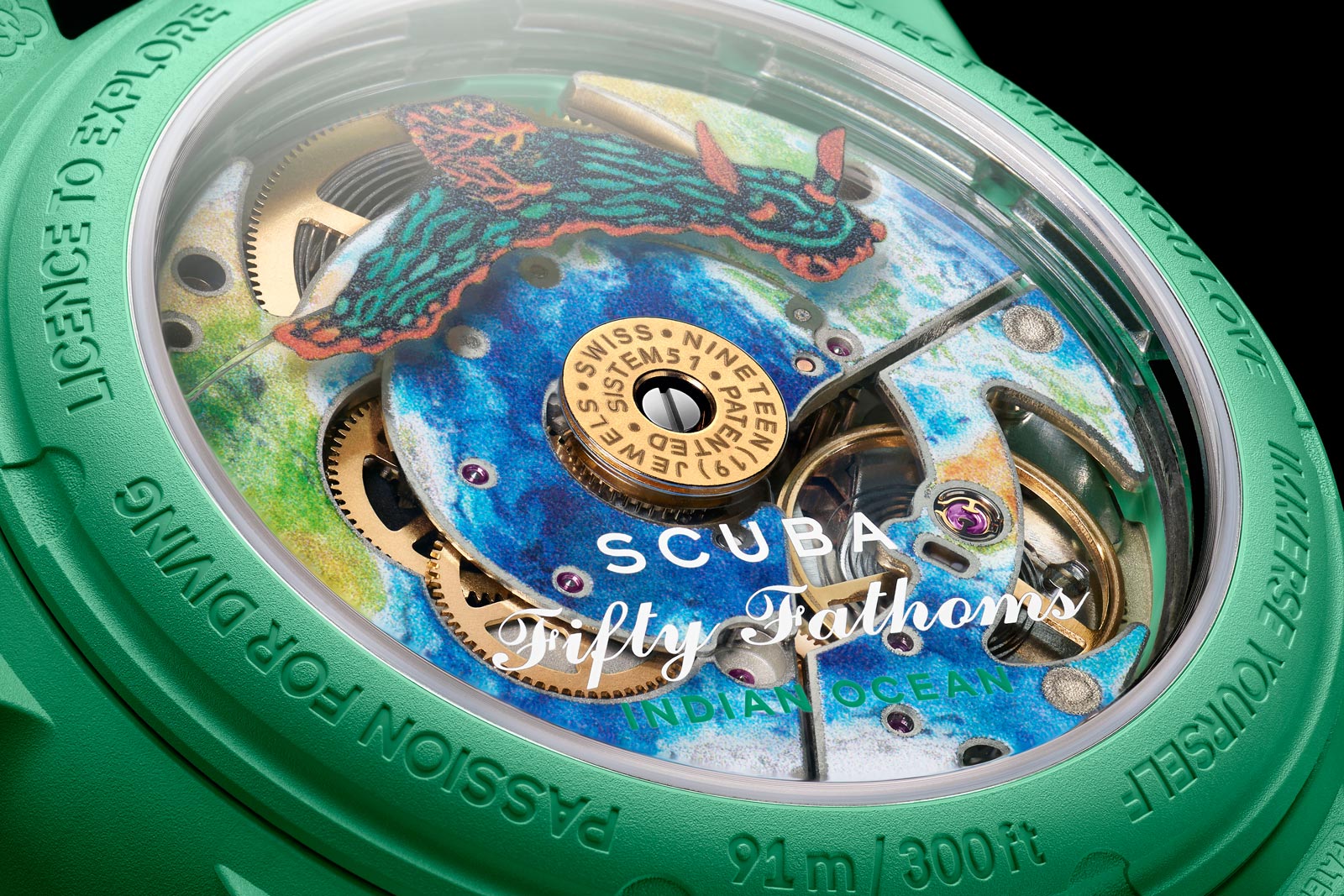 ---
Key facts and price
Blancpain x Swatch Bioceramic Scuba Fifty Fathoms
Ref. SO35A100 (blue, Atlantic Ocean)
Ref. SO35P100 (yellow-orange, Pacific Ocean)
Ref. SO35I100 (green, Indian Ocean)
Ref. SO35N100 (beige, Arctic Ocean)
Ref. SO35S100 (ice white, Antarctic Ocean)
Diameter: 42.3 mm
Height: 14.4 mm
Material: Bioceramic
Crystal: Biosourced glass with anti-scratch coating
Water resistance: 91 m
Movement: Sistem51
Functions: Hours, minutes, seconds and date (except for the Arctic Ocean and Antarctic Ocean models)
Winding: Automatic
Frequency: 21,600 beats per hour (3 Hz)
Power reserve: 90 hours
Strap: NATO strap
Limited edition: No, but each person is only allowed to buy one watch per day
Availability: At select Swatch boutiques starting on September 9, 2023
Price: US$400; or 565 Singapore dollars
For more information, visit Swatch.com.
---
Back to top.
---
You may also enjoy these.