Barbier-Mueller Returns with the Mosaïque II
A Chronomètre Souverain panelled in semiprecious stone.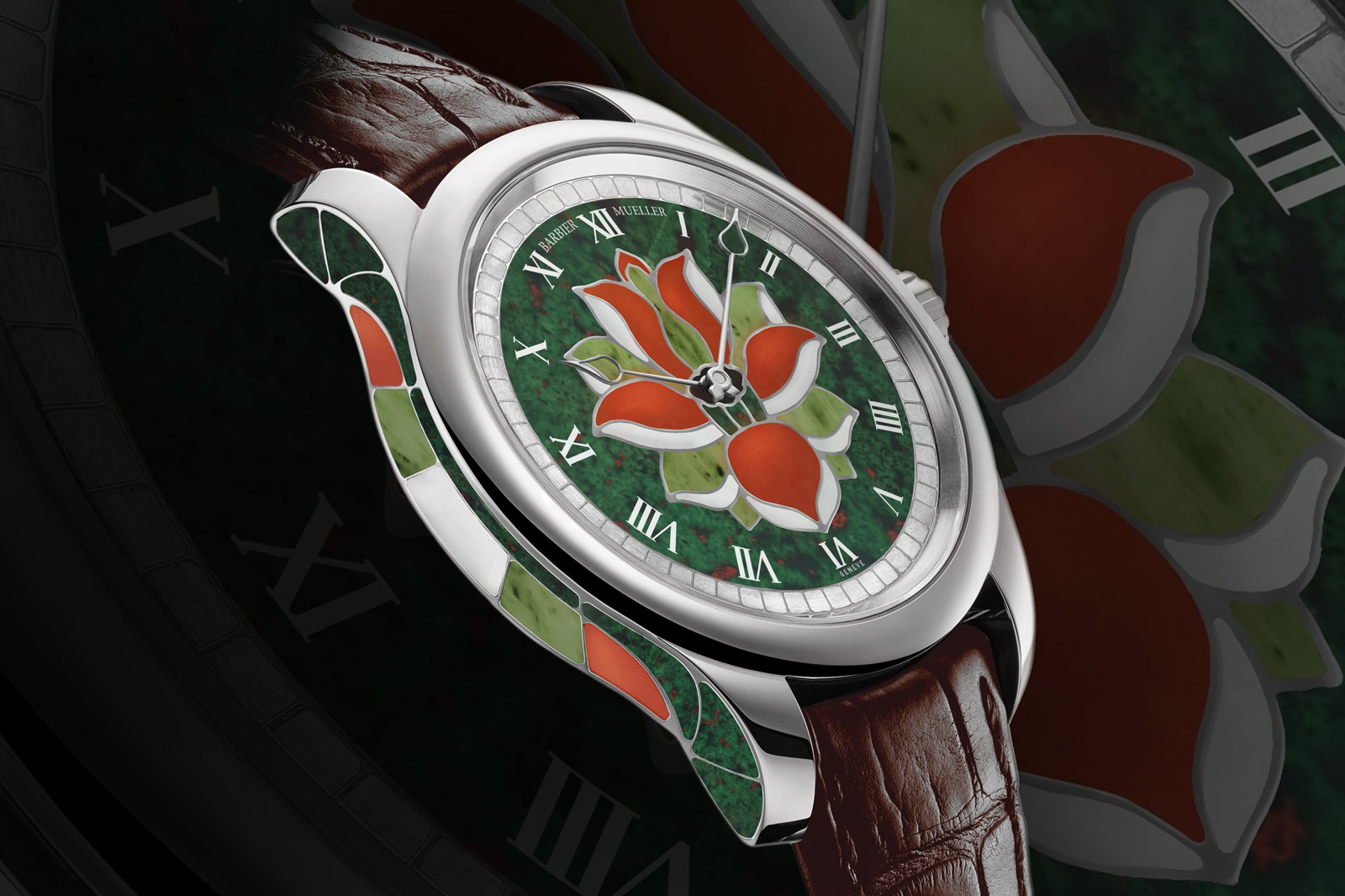 In 2017, the original Barbier-Mueller Mosaïque made its first public appearance at Only Watch. The collaborative efforts of longtime friends Stéphane Barbier-Mueller and François-Paul Journe, one being the preeminent independent watchmaker and the other a member of one of a Swiss real estate dynasty, this was an unexpected and rather pleasant surprise. Now, the pair have returned with the Mosaïque II, follow up to their initial offering, sticking to the same principles as before, but with the eye of watch designer Eric Giroud. 
Initial thoughts
Those who are fans of the original will be pleased to see all of the main traits have been carried over to this latest version. The stone work on the dial, case and hinged caseback is all there, and the two hander runs on the F.P. Journe Chronomètre Souverain movement – in fact, it is essentially an elaborately inlaid Chronomètre Souverain. If anything, they have elevated their previous efforts by incorporating more types of semi-precious stones in order to execute Mr. Giroud's design.
While Mr Giroud's eye has given the Mosaïque II a different feel from its predecessor, the new watch still reflects Mr Barbier-Mueller's interest in arts and culture, which was the basis for the original Mosaïque. Besides being a shareholder in F.P. Journe, Mr Barbier-Mueller is also a member of the family that established the Barbier-Mueller Museum in Geneva that's famous for its world-class collection of tribal art.
The fact that this watch has been released is a pleasant enough surprise, but having the additional expertise of Eric Giroud on board adds another element to this incredibly intriguing watch. It will certainly be one that many are drawn to as we approach the auction in November and will certainly be receiving plenty more attention with an estimate of CHF165,000-275,000 sure to be surpassed. 
The return of the hinge 
After the initial release at Only Watch in 2017, the first Mosaïque saw a short run of just 10 pieces. Naturally, with the explosion in the F.P. Journe market, whenever they would appear for sale, it would cause a stir, sometimes dividing opinion, but always appreciated for their craftsmanship and rarity. 
Now we are being offered a new version of this collaborative effort with a 41 mm platinum case covered in a plethora of semi-precious stones including, white jade, blood jasper, nephrite jade, carnelian and opal. These have been arranged through champlevé to depict a lotus on the dial and hinged caseback.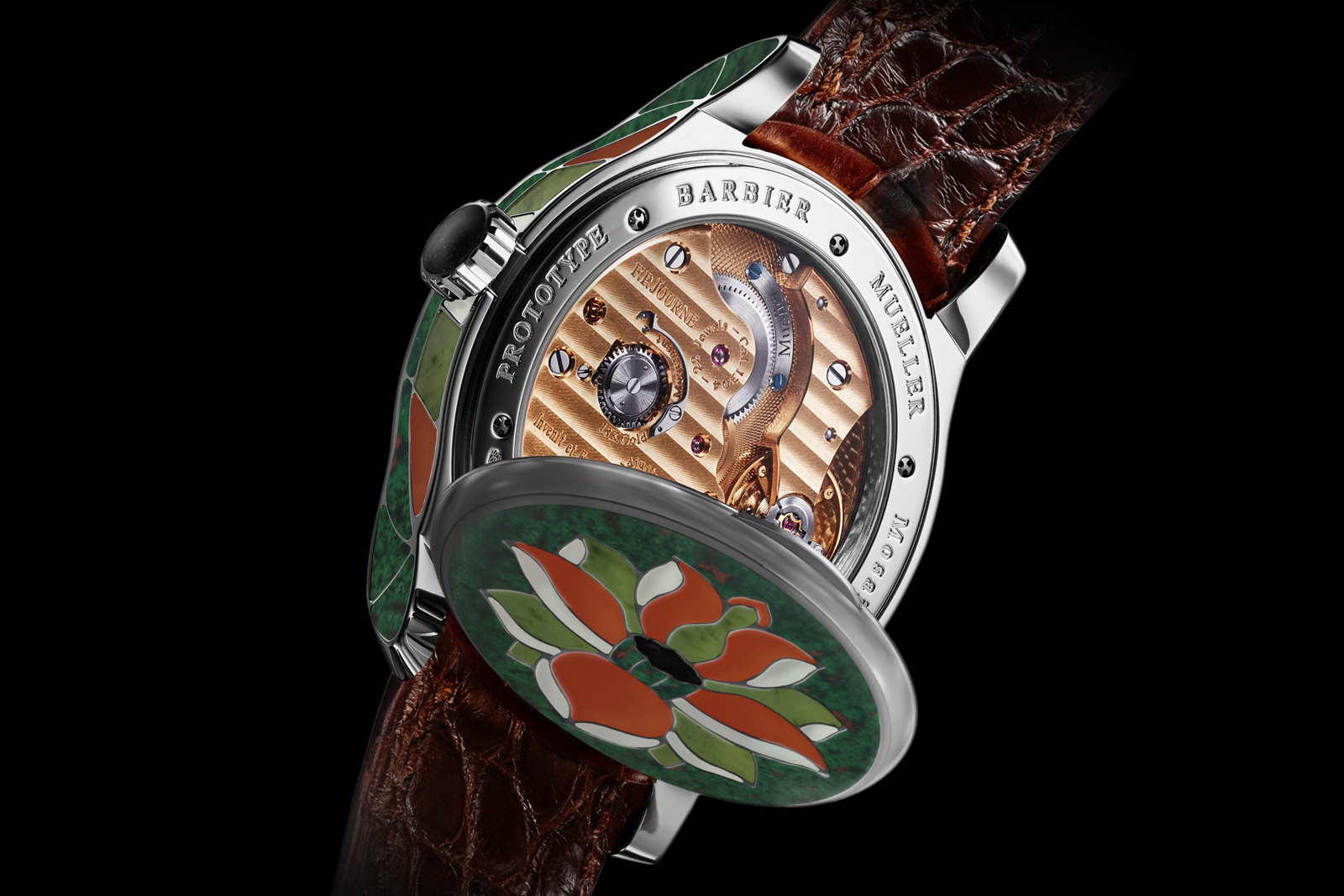 The dial and case were produced by Les Cadraniers de Genève and Les Boîtiers de Genève, the case and dial makers controlled by F.P. Journe. The champlevé technique was employed to work the stones into place in a satisfying and cohesive way on the case and dial.
Each of these stones needs to be handled in a different way, given their individual properties, and so ensuring that they not only all fit into the design, but they come together to form one seamless image is all the more impressive. 
When the case back is opened up the F.P. Journe cal. 1304 in rose gold is revealed. This is the movement that can currently be found running the Chronomètre Souverain family, but with the small seconds and power reserve removed. The twin-barrels are wound manually and offer 56 hours of power reserve, this is also the only place you will find the F.P. Journe signature, as was the case on the first model. 
Whether this watch will be made into a short run like the original is yet to be announced. Given the originality and passion that is behind this piece, it is easy to imagine there being a willing market waiting for them if they do. 
Conducted by Christie's, Only Watch 2023 takes place on November 5, 2023 at Palexpo in Geneva.
---
Key facts and price
Barbier-Mueller Mosaïque II
Diameter: 41 mm
Height: 10.85 mm
Material: Platinum
Crystal: Sapphire
Water resistance: TBC
Movement: Cal. 1304
Functions: Hours, minutes
Winding: Manual
Frequency: 21,600 vph (3Hz)
Power reserve: 56 hours
Strap: Leather, clasp with 'Sphynx' engraved on pin 
Limited edition: Piece unique
Availability: To be sold at Only Watch on November 5, 2023
Estimate: CHF150,000-250,000 
For more information, visit Onlywatch.com.
---
Back to top.
---
You may also enjoy these.