Hautlence Returns with the Linear Series 1
With a TV screen and exposed mechanics.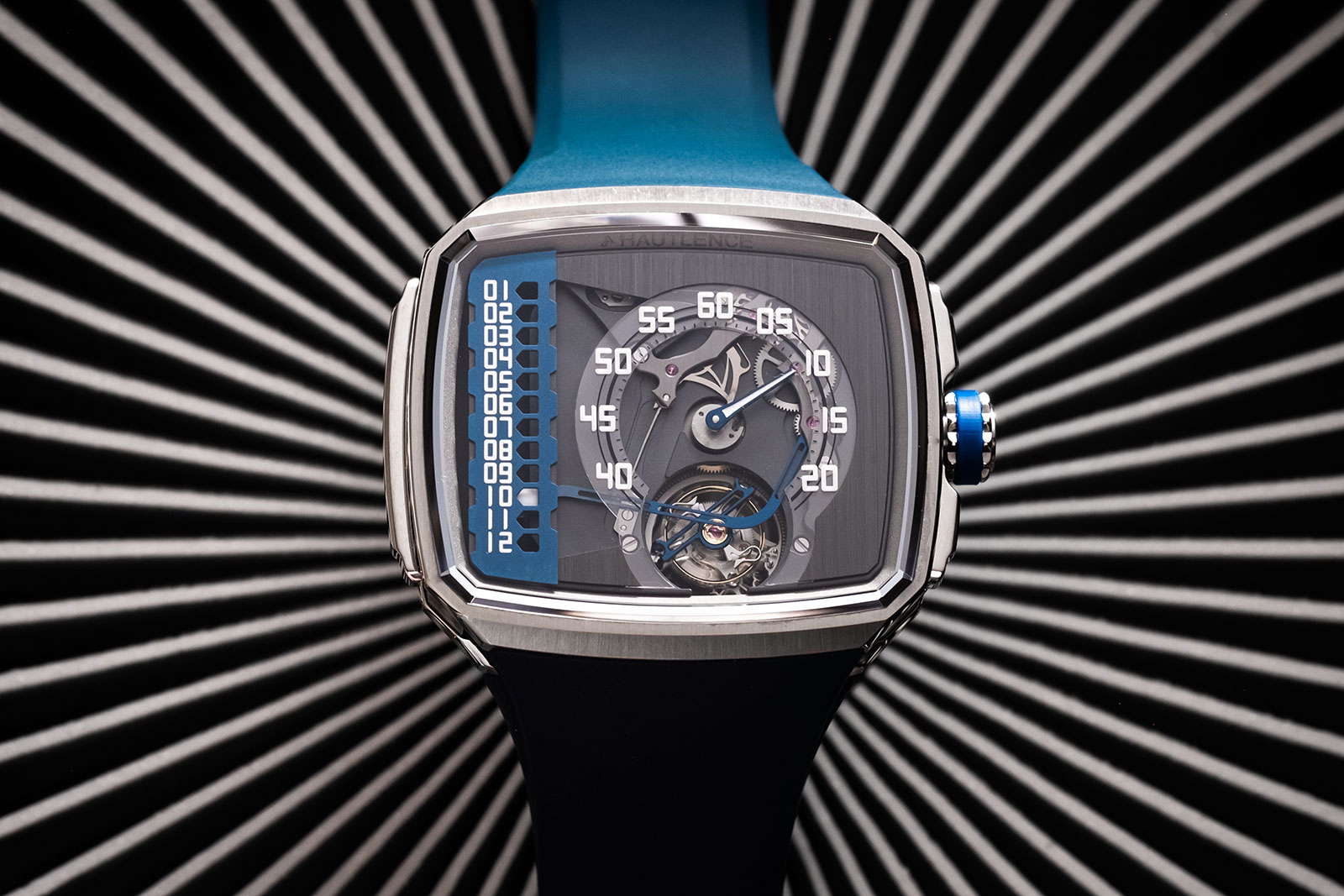 The sister company of H. Moser & Cie., Hautlence is a maker of highly contemporary watches that's been on ice for several years as its owners completed Moser's resurrection. Now Hautlence is making a comeback with a trio of watches led by the Linear Series 1.
Adopting the TV-shaped case that's historically the brand's signature – but now matched with an integrated rubber strap – the Linear Series 1 features a retrograde hours on a straight-line scale along with a flying tourbillon at six o'clock.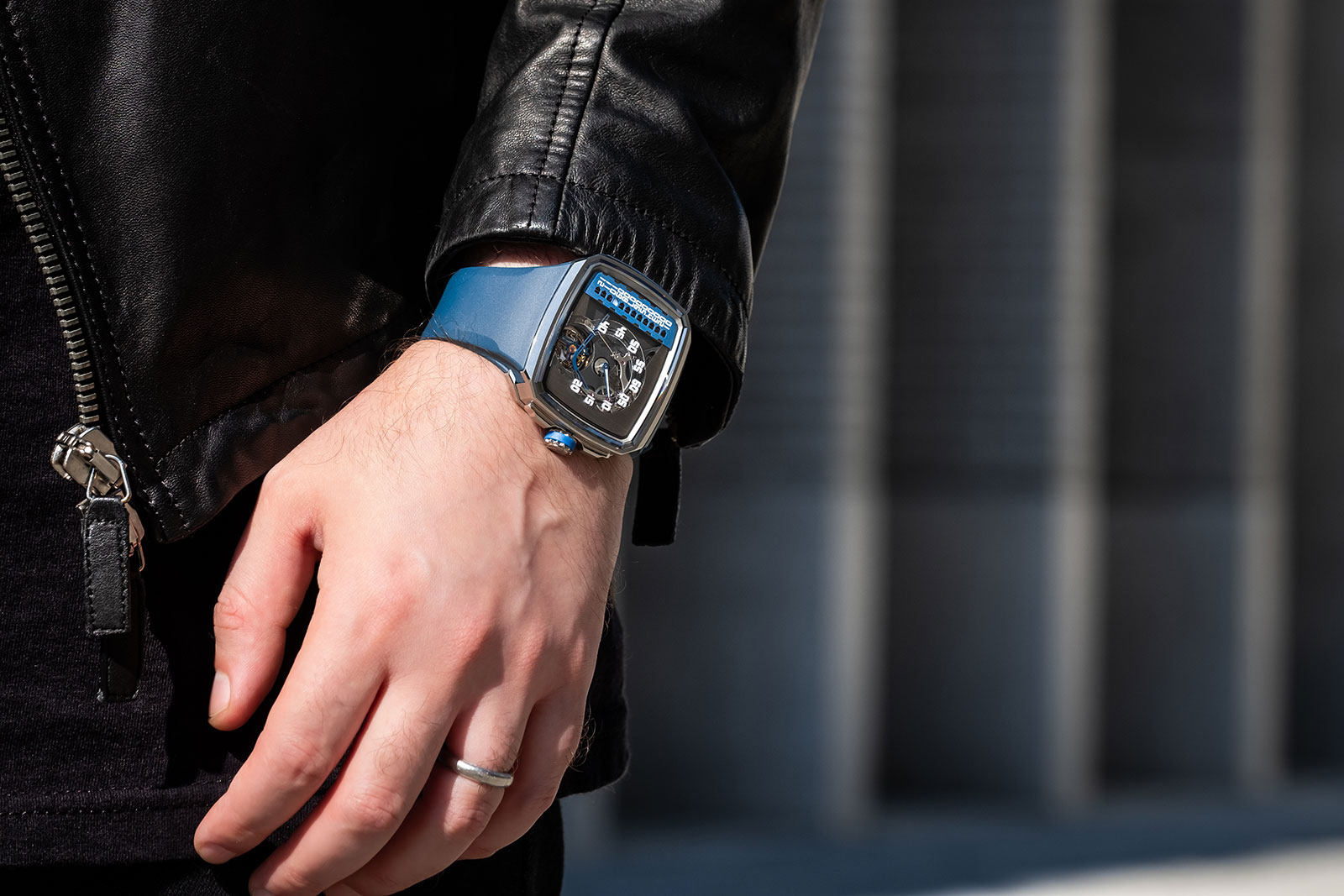 Initial thoughts
Hautlence was founded in 2004 and found success during the subsequent boom in the luxury watch industry. Its fortunes faded together with that era of good times, so it is perhaps fitting that the brand is now being revived in the midst of another boom.
The Linear Series 1 smartly returns to the TV-screen case that defined the brand since its inception. When combined with the open dial it is distinctive at a distance and recognisable as a Hautlence.
Naturally the case design has been tweaked for today's tastes, so it gets an integrated rubber strap. The sporty stance of the new look is appealing, although the integrated strap and folding clasp means it won't fit perfectly on all wrists.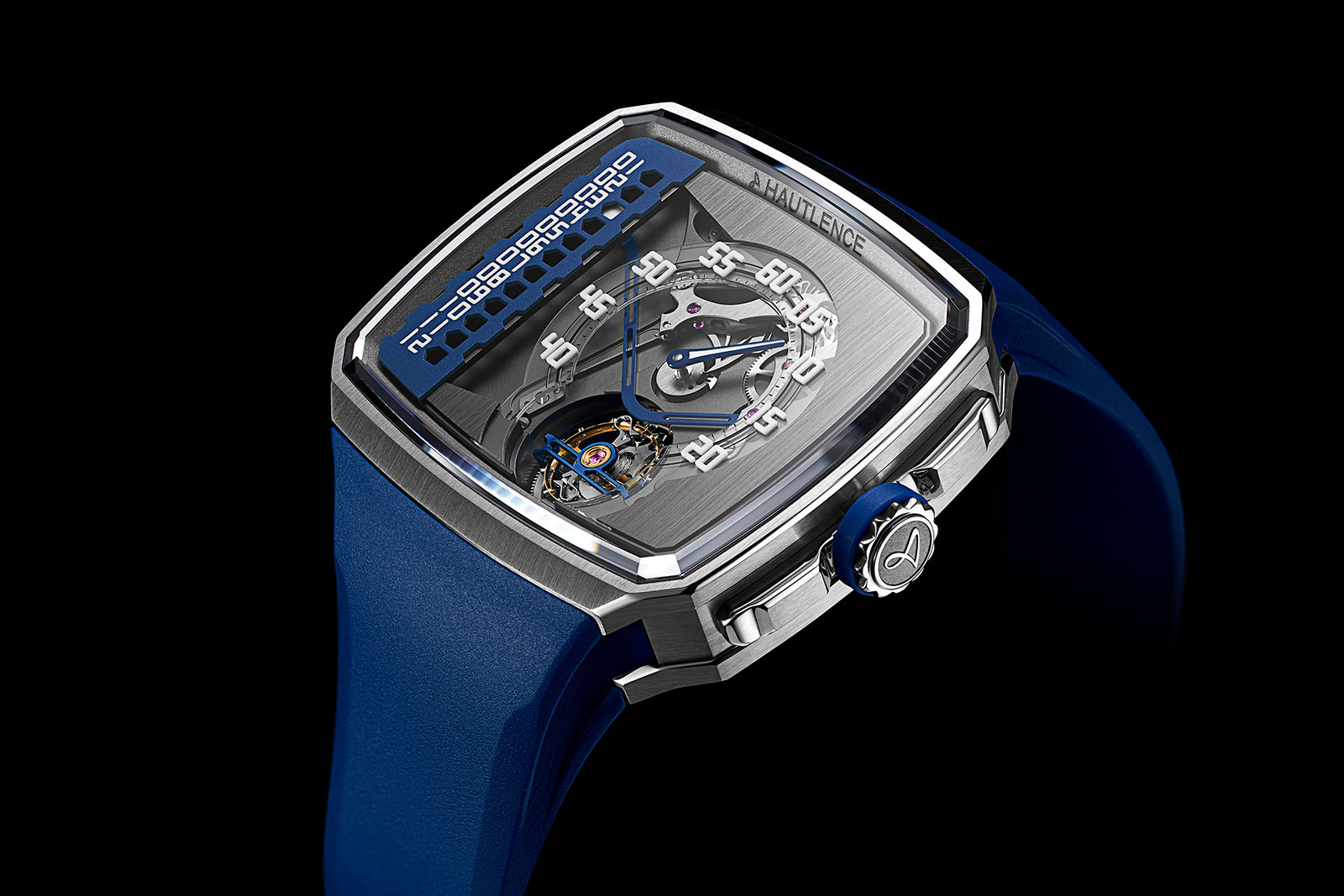 Mechanically the Linear Series 1 is the result of a Moser base movement and an Agenhor module (that was originally developed for RJ-Romain Jerome), so it has solid technical credentials.
Besides a retrograde hours, the movement also have a flying tourbillon with double hairsprings, which means its CHF59,000 retail price is reasonable. It's one of the handful of watches with an in-house tourbillon movement and an unconventional time display at this price point.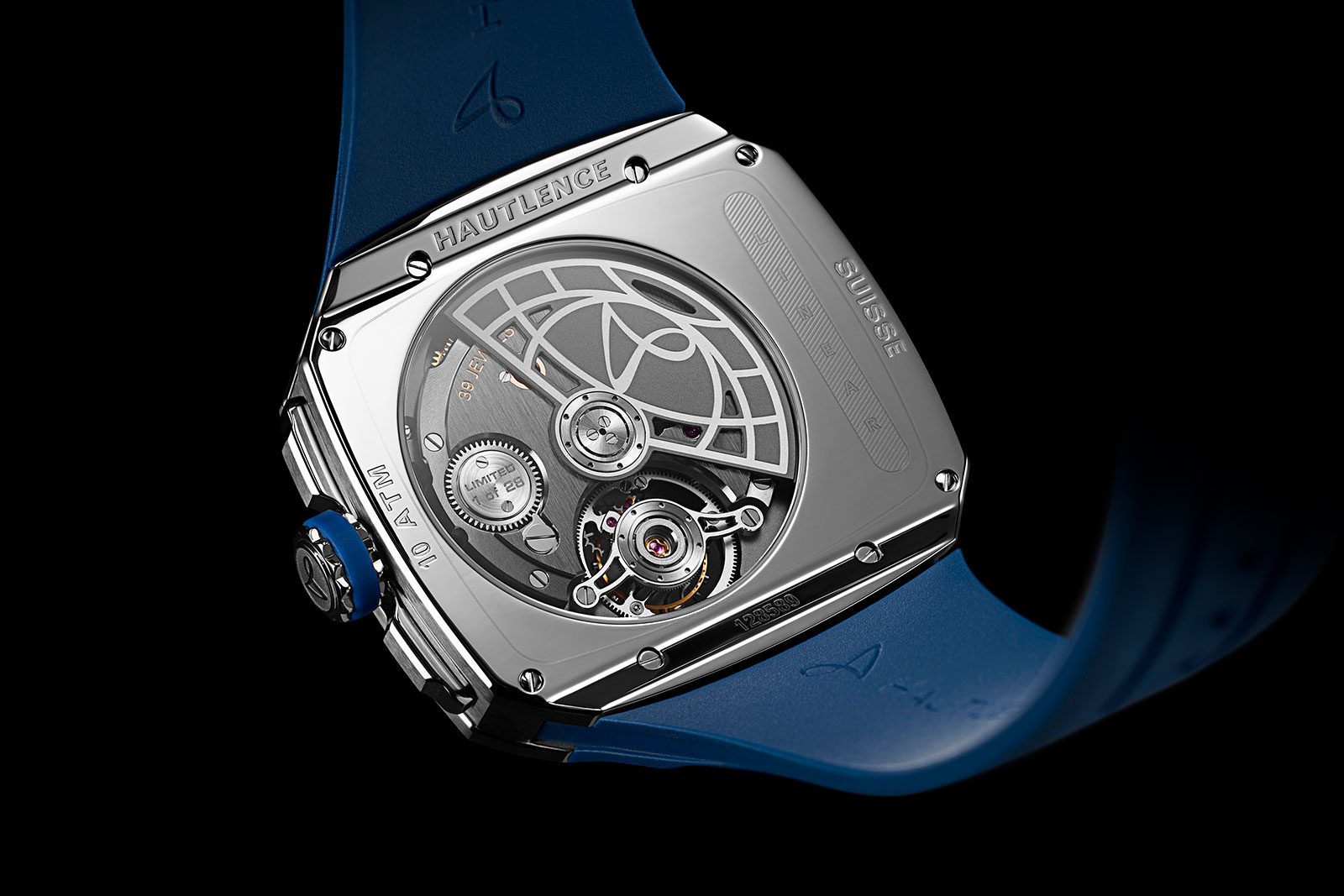 Mechanics on screen
The Linear Series 1 has the TV-screen case that was synonymous with Hautlence before, but now made larger and bolder. Measuring 50.8 mm in diameter, the case is made up of tighter, sweeping lines. And it has flared sides as well as an integrated strap, giving it a sporty feel.
Other visual elements from the original Hautlence watches have been retained, including the exposed levers of the retrograde display as well as a the double-digit Arabic numerals scales for the time.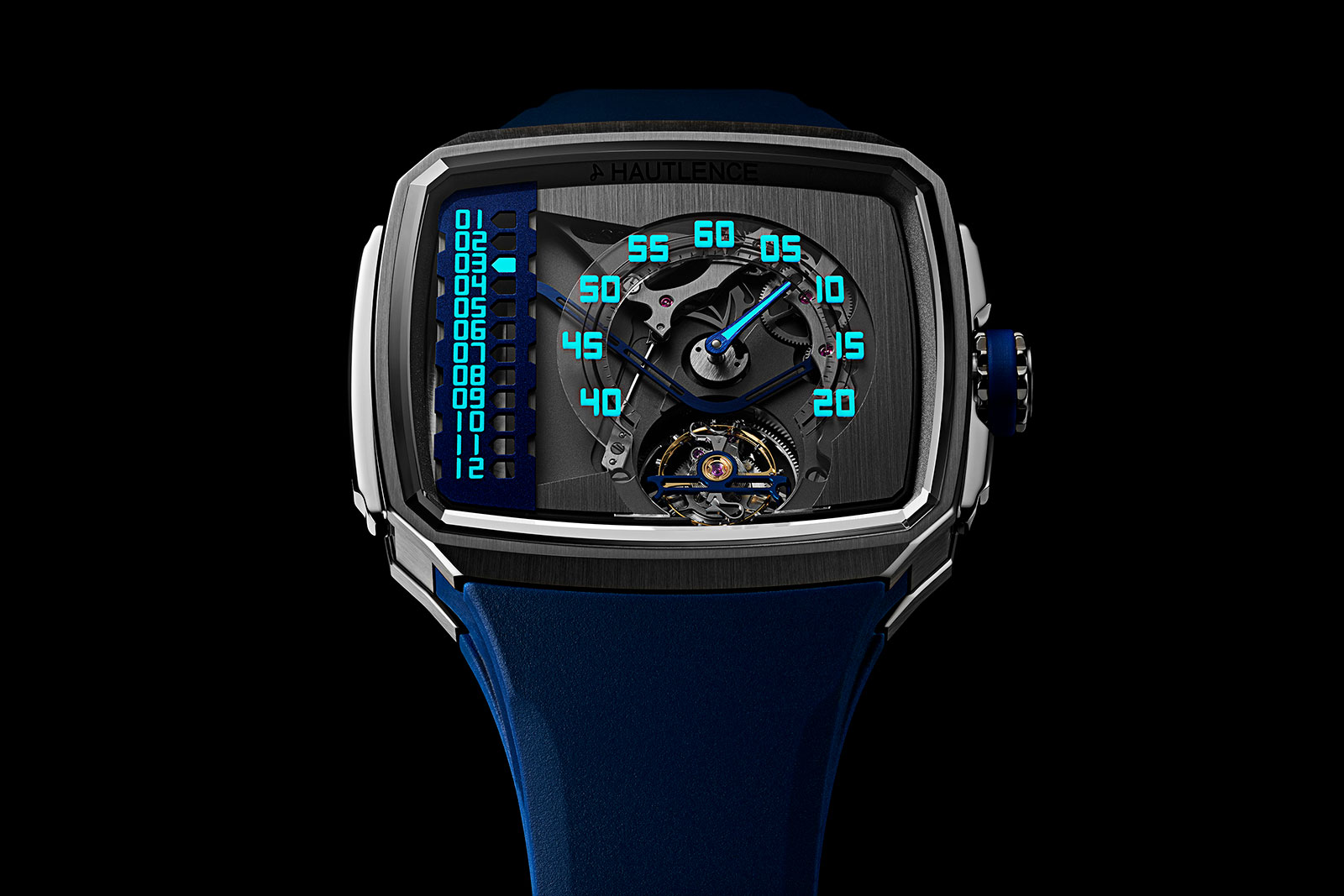 Unsurprisingly, the mechanics within borrow from its sister company Moser. The automatic D50 movement is essentially the HMC 804 made by Moser and found in its Endeavour Tourbillon amongst others. Here it's been given a dark grey finish and a rotor bearing the Hautlence emblem.
As a result, the tourbillon at six is recognisably identical to the one found in Moser's tourbillon, but here fitted with a straight, blued bridge that echoes the case design. It has the same double stud carriers for the hairsprings since the balance wheel is connected to double hairsprings.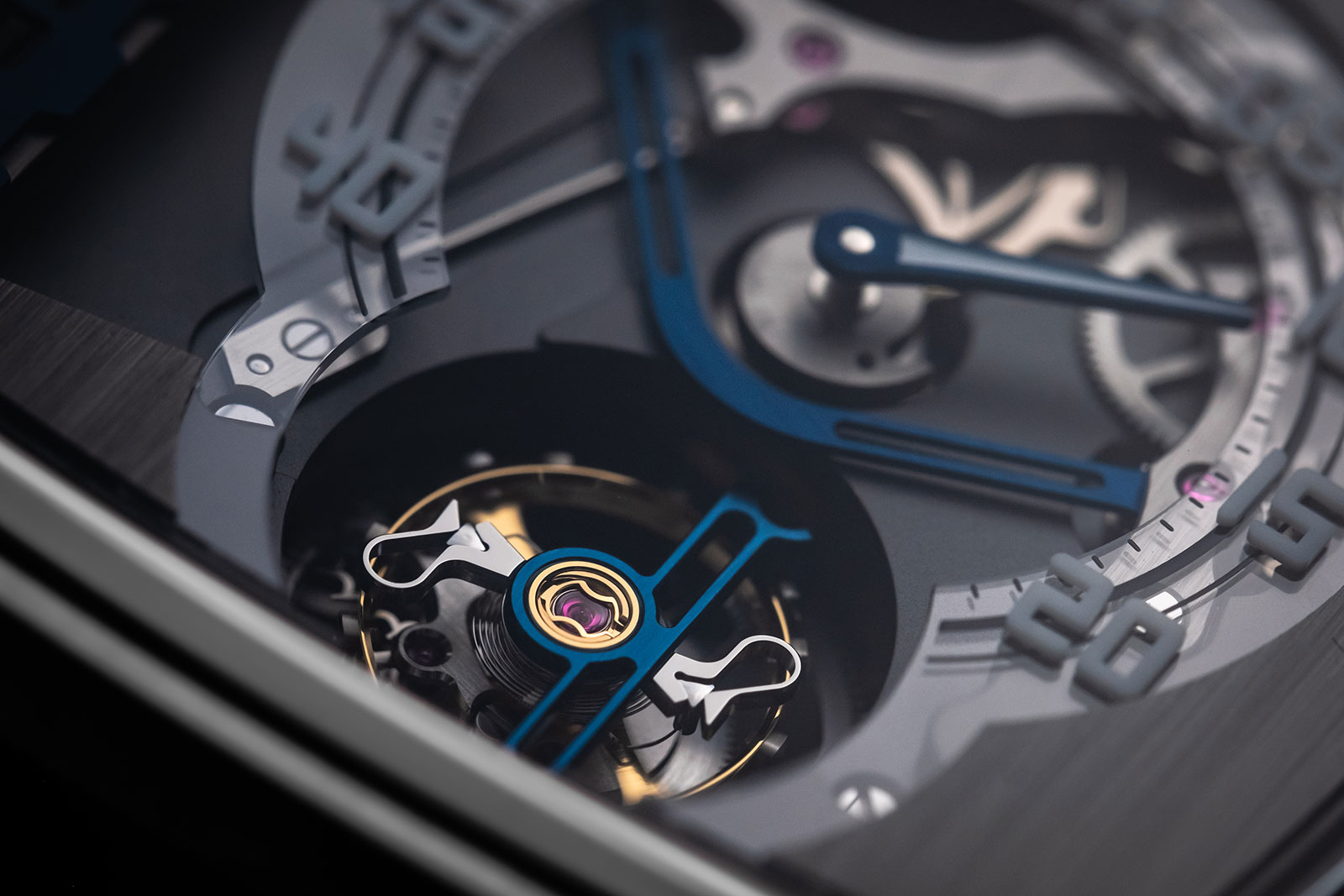 The Moser base calibre is paired with a display module made by Agenhor that has a conventional minute display matched with a retrograde hours driven by a long, V-shaped arm in blued steel visible on the dial.
The construction of the retrograde hours is a nod to the first model Hautlence introduced, the HL01, which had a retrograde minutes driven by a similar long lever. Despite its similarity to the HL01 movement, the Agenhor module is actually recycled – the module was originally developed for now-defunct RJ-Romain Jerome.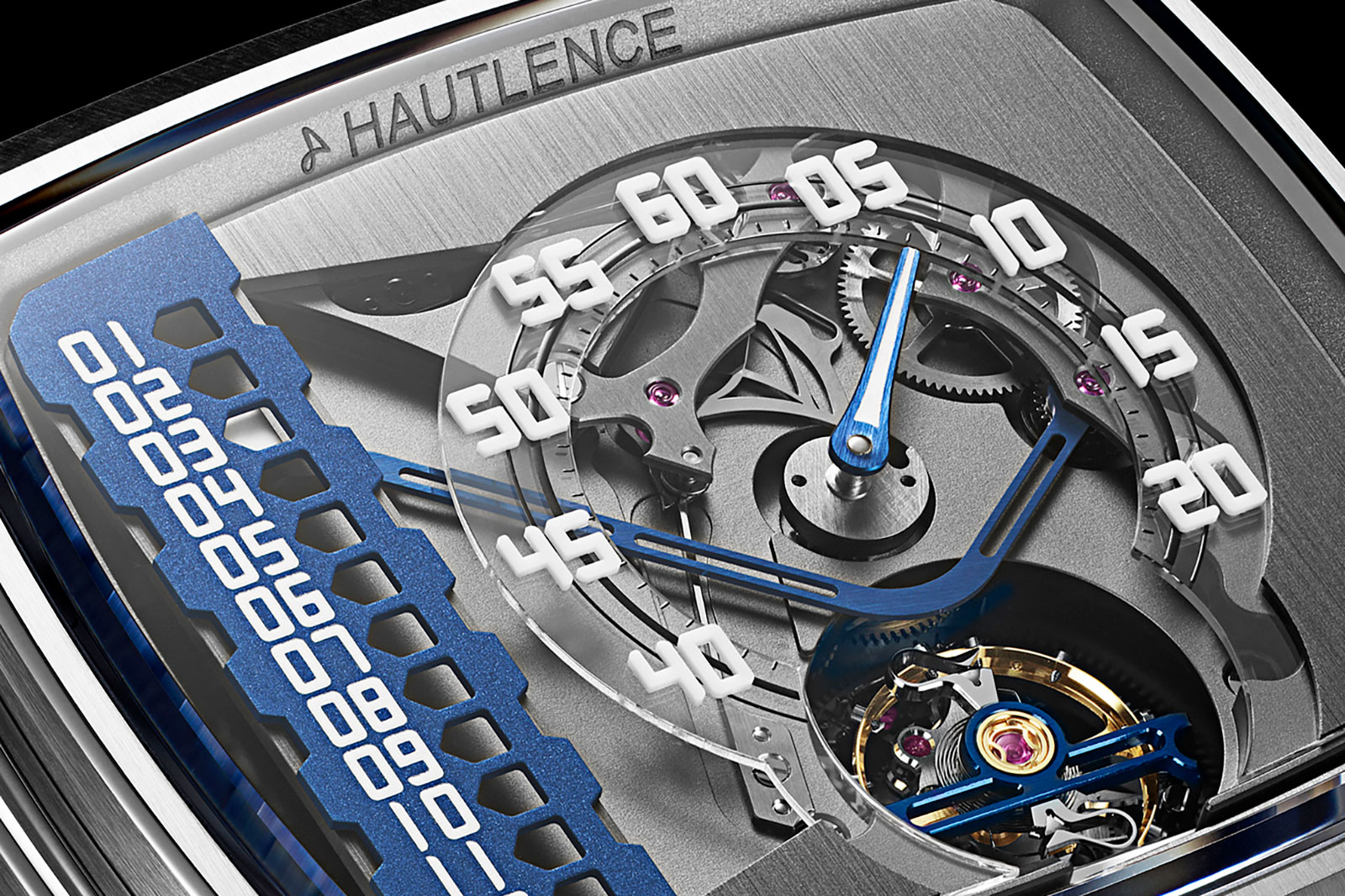 ---
Key Facts and Price
Hautlence Linear Series 1
Ref. AD50-ST00
Diameter: 43 mm by 50.8 mm
Height: 11.9 mm
Material: Stainless steel
Crystal: Sapphire
Water resistance: 100 m
Movement: D50
Functions: Retrograde hours, minutes, and flying tourbillon
Winding: Automatic
Frequency: 21,600 beats per hour (3 Hz)
Power reserve: 72 hours
Strap: Rubber with folding clasp
Limited edition: 28 pieces
Availability: At Hautlence retailers retailers
Price: CHF59,000
For more, visit Hautlence.com.
---
Back to top.
---
You may also enjoy these.