In-Depth: Parmigiani Revives a Louis-Elisée Piguet Grande Sonnerie
La Rose Carrée.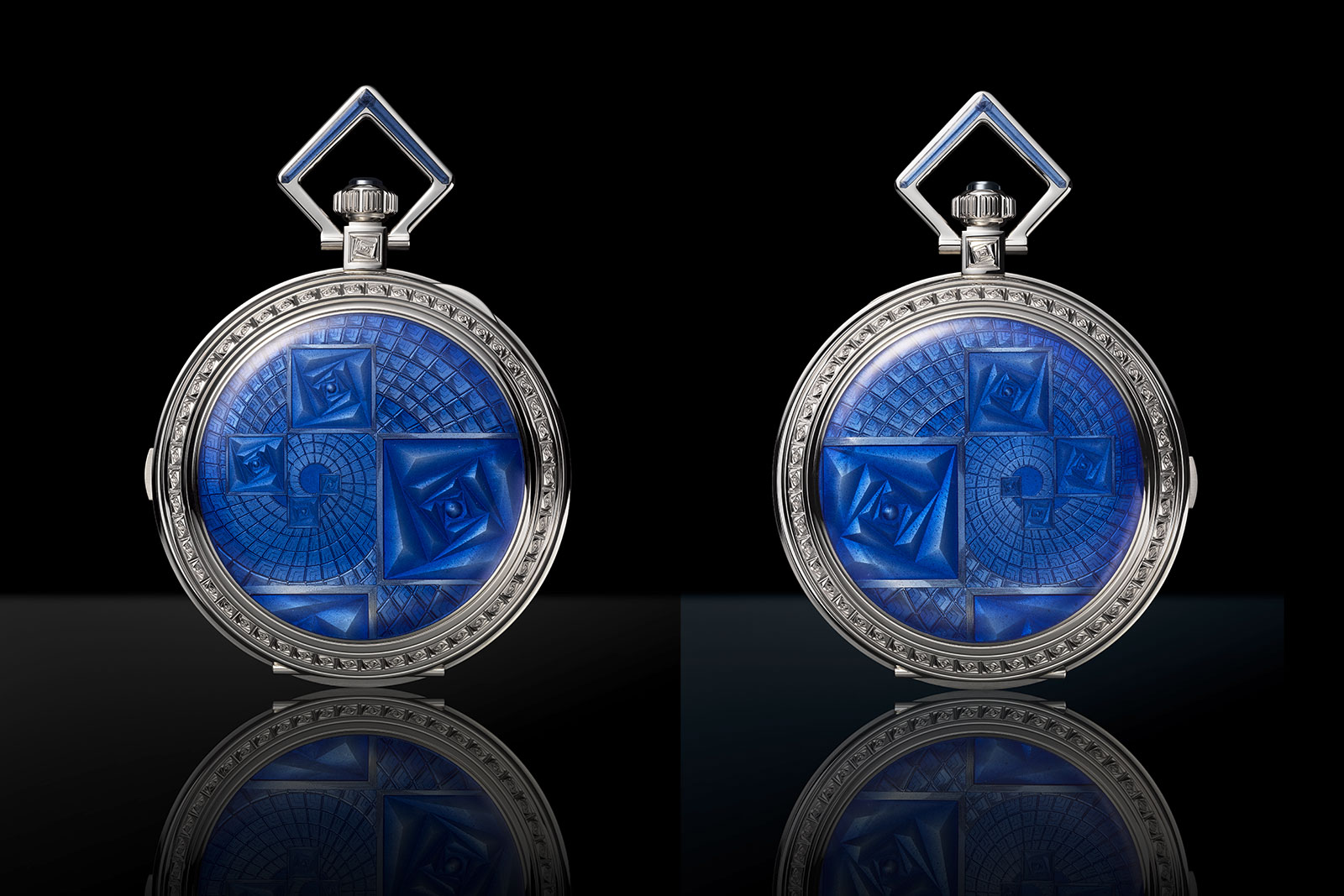 A grand old name in highly complicated movements, Louis-Elisée Piguet was active in the second half of the 19th century and most famous for his grande sonnerie and perpetual calendar calibres. Amongst his clients for ebauches, or movement blanks, were famous names like Patek Philippe and Vacheron Constantin – and his work was perhaps an inspiration for Philippe Dufour in the 20th century.
A prime example of one such ebauche – featuring a grande sonnerie and minute repeater no less – was acquired by Michel Parmigiani in the late 1990s. A watchmaker and restorer extraordinaire, Mr Parmigiani and his daughter, Anne-Laure, recently led a project to finish and enhance the movement, resulting in La Rose Carrée, a spectacular pocket watch to mark his namesake brand's 25th anniversary.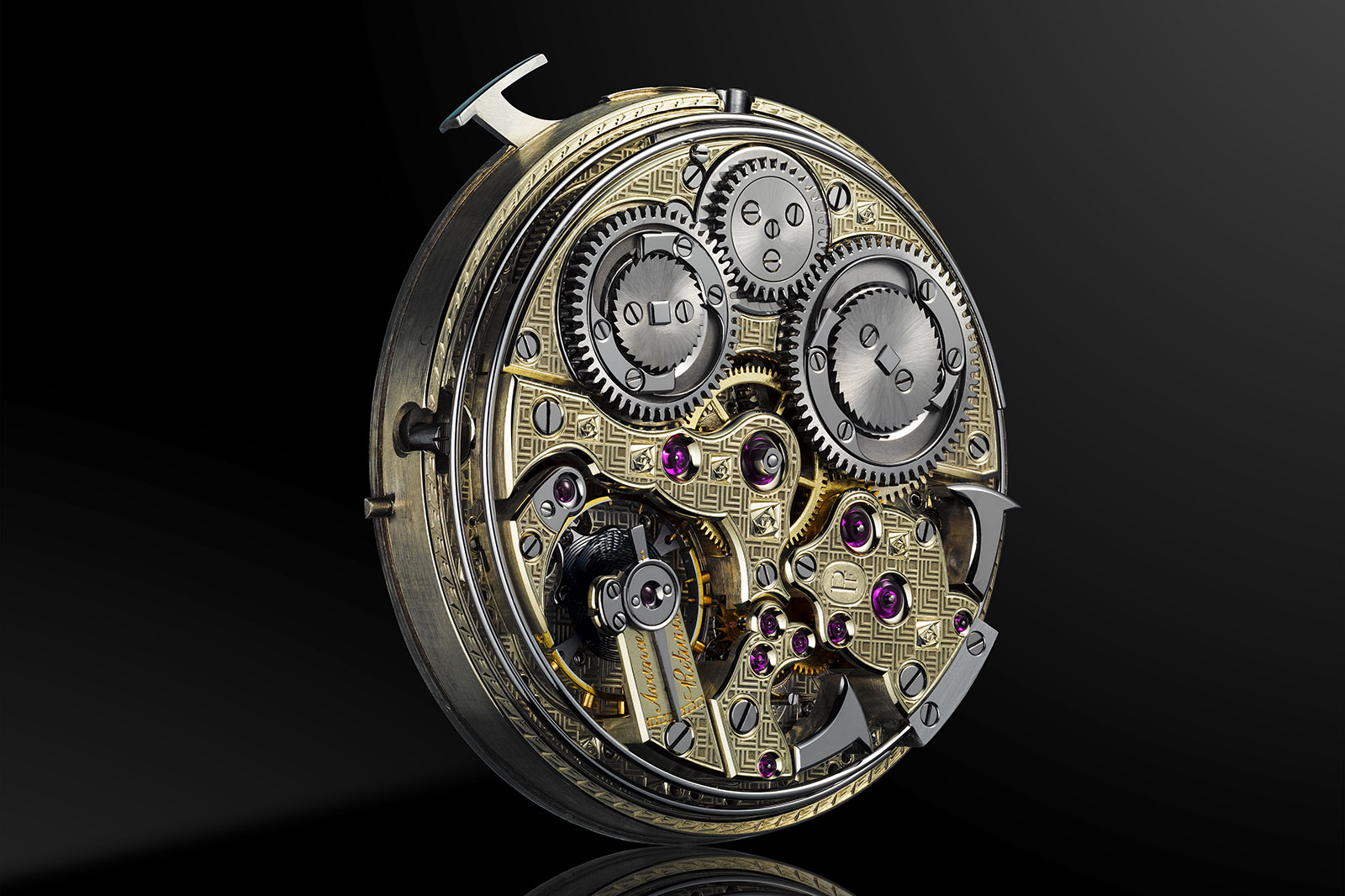 Initial thoughts
Like the recent Vacheron Constantin Tribute to Johannes Vermeer pocket watch, La Rose Carrée is a masterpiece catered to a narrow audience. There are few collectors of pocket watches nowadays, at least relative to wristwatches, especially pocket watches with seven figure price tags.
But inaccessible as it may be,  La Rose Carrée is certainly worthy of admiration. The quality of craft and decoration is par excellence – an all-star team of artisans was recruited to complete it – and the ebauche was a masterpiece even unfinished.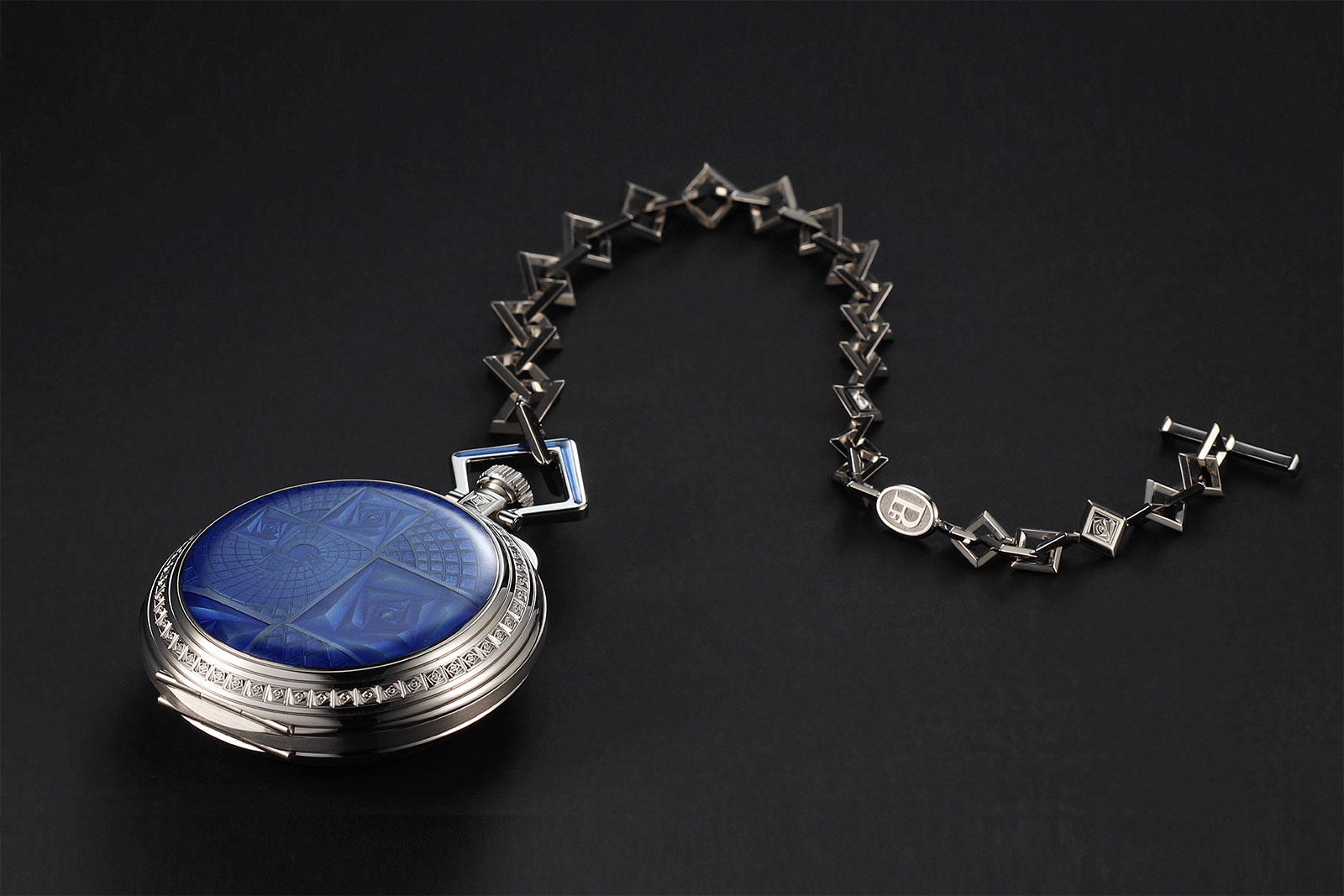 Stylistically, La Rose Carrée is also unusual in being more contemporary than the average grand complication pocket watch. The geometric forms of the spiralling, square rose motif has an Art Deco flavour, as does the case design with its square  bow. This modernity is appealing because it makes the watch current, rather than being a replica of a 19th century pocket watch.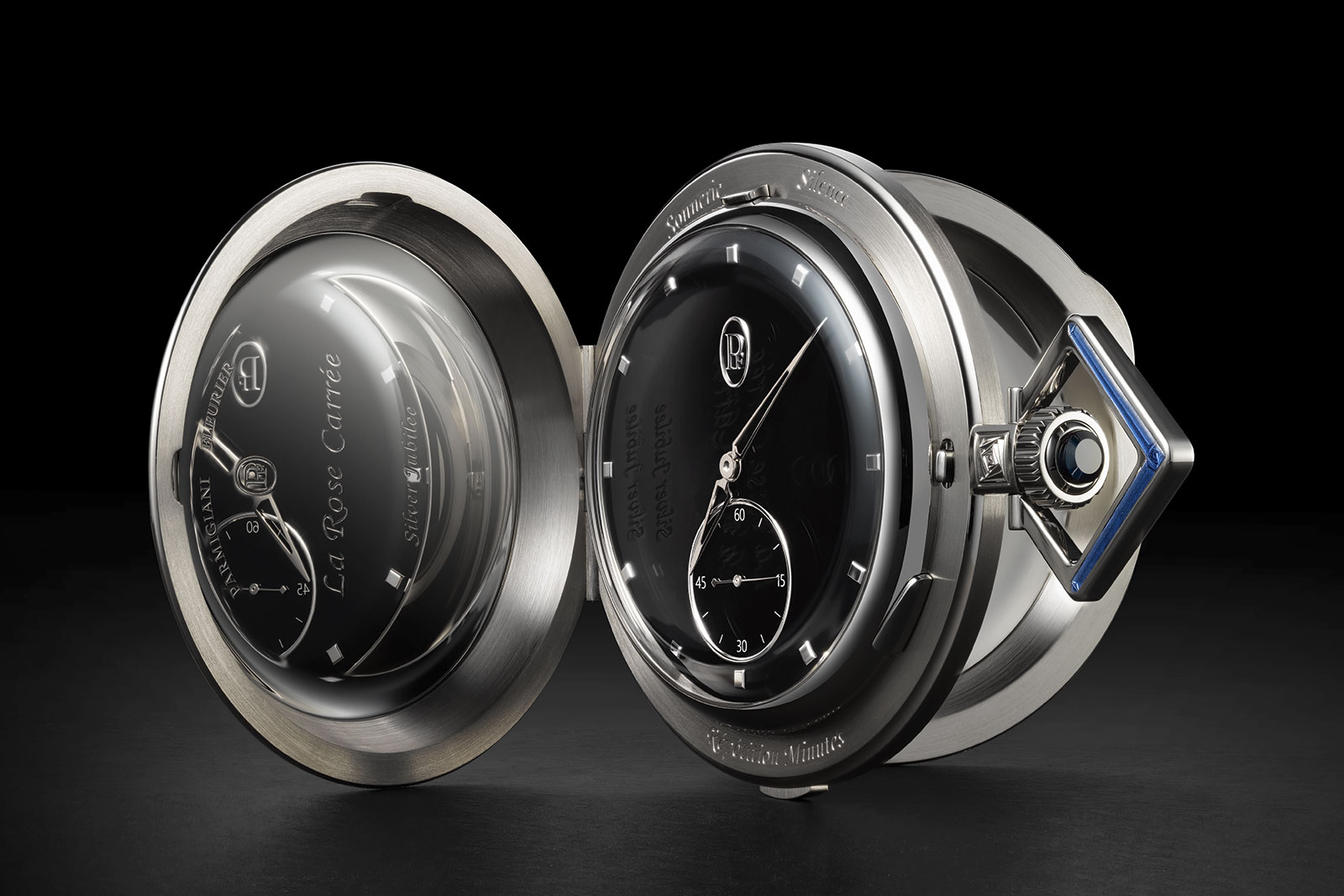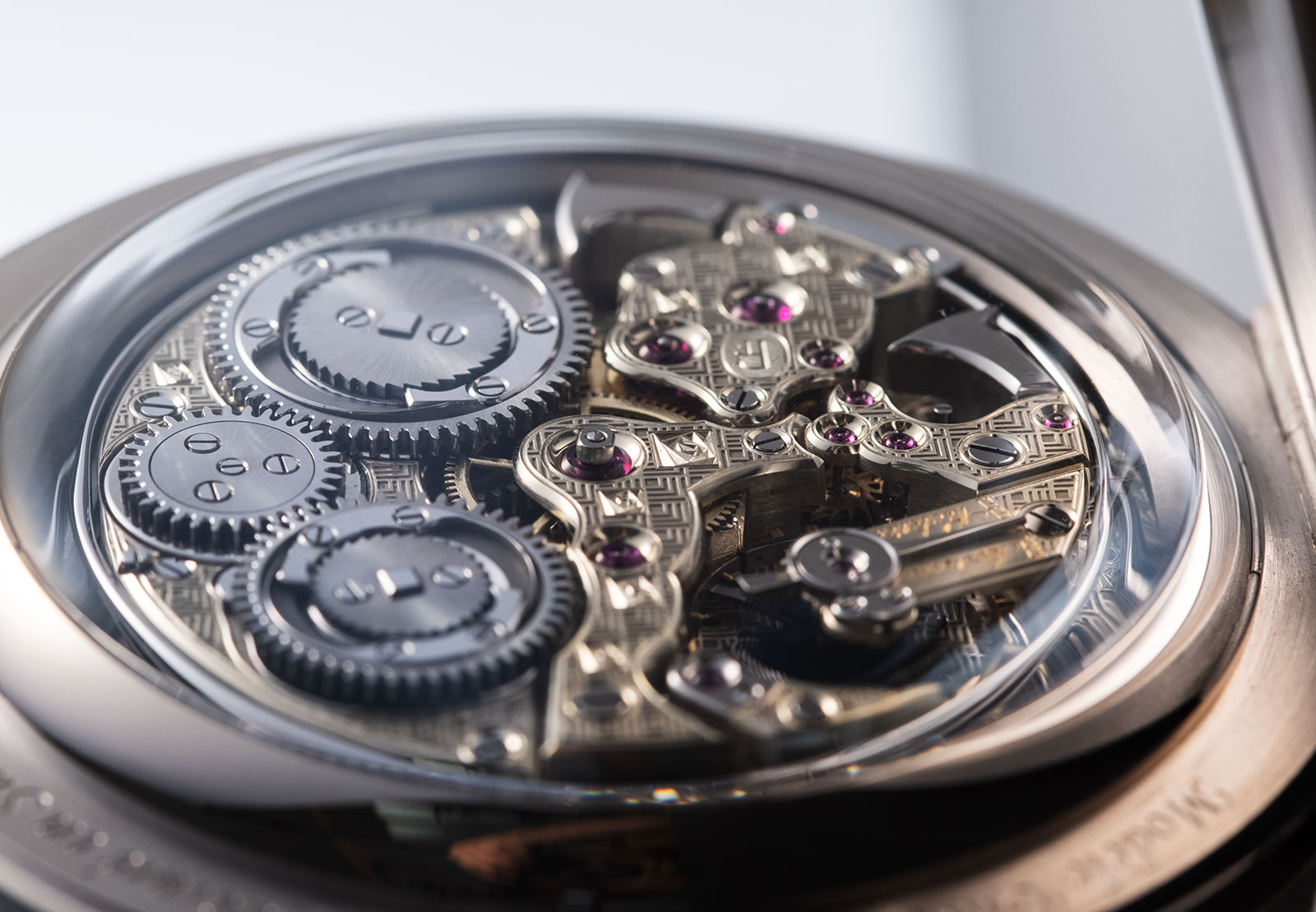 Still, its appeal comes with a caveat. Since highly complicated in-house movements are now commonplace, the use of vintage ebauche, even if it is one of the best ever, isn't as much of a feat as a new calibre. Several brands have managed it, including Patek Philippe just earlier this year with the ref. 6301P.
That said, considering Mr Parmigiani's status as one of the most accomplished restorers of vintage timepieces – he was arguably the best of his generation – La Rose Carrée makes sense as a tribute to the man and his craft.
Louis-Elisée Piguet
Numbered "5802" on the base plate under the dial, the movement was one of five in this style according to Parmigiani. It is a two-gong grande and petite sonnerie with minute repeater dating to between 1898 and 1904.
Going by the "before" photos, the movement was almost complete and entirely intact, which partly explains the remarkable pace at which the watch was completed, taking just 12 months from start to finish.
The movement was restored by a pair of watchmakers from Parmigiani's restoration workshop, Francis Rossignol and Christie Girel. That entailed disassembly, cleaning, decoration, adjustment, and fabricating new components where necessary.
The decoration is comprehensive and lavish. Originally plain, the German silver bridges are engraved with a geometric square motif that echoes the square rose pattern on the front. While that is the most obvious element of the decoration, everything else has evidently been attended to.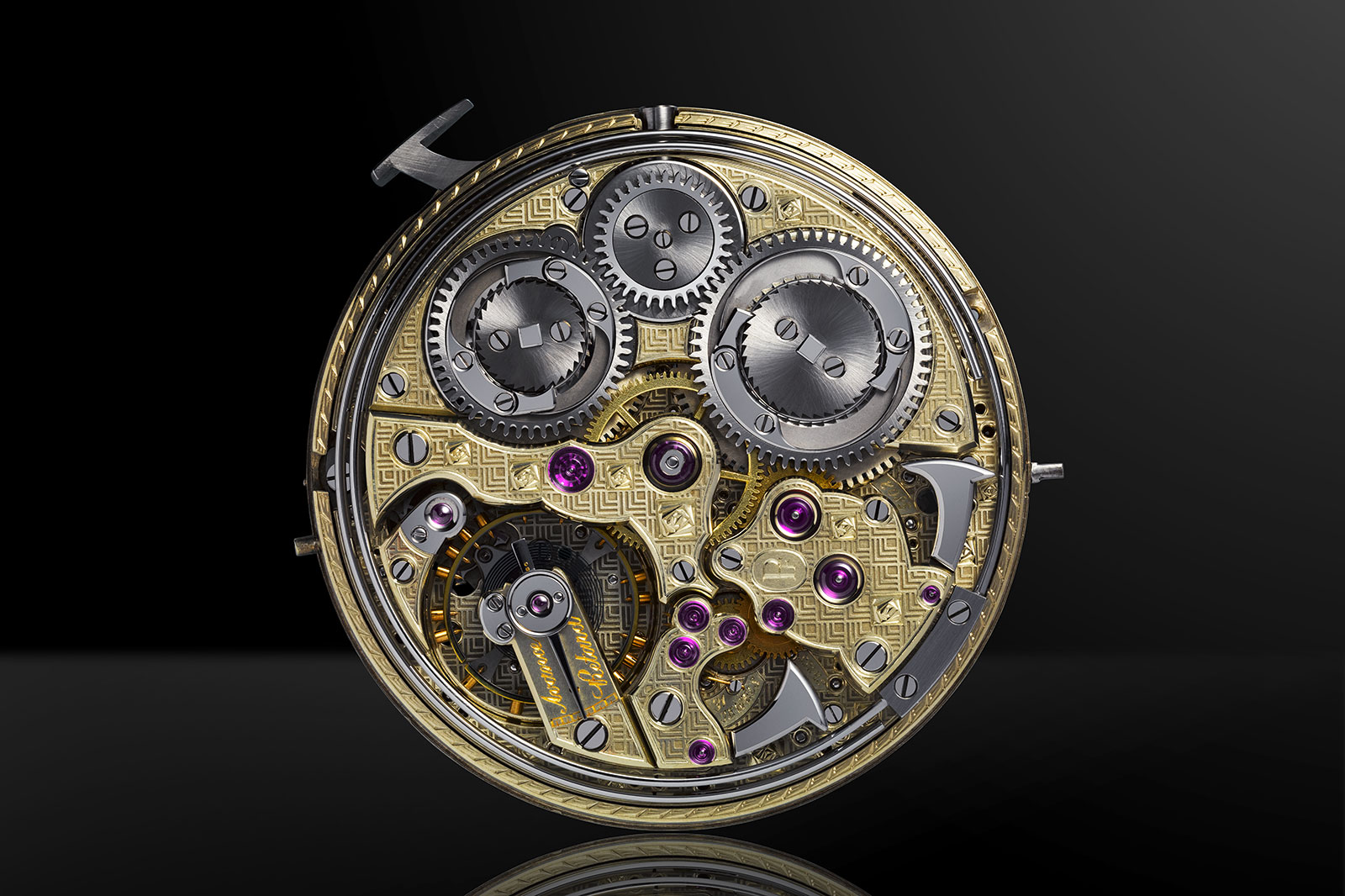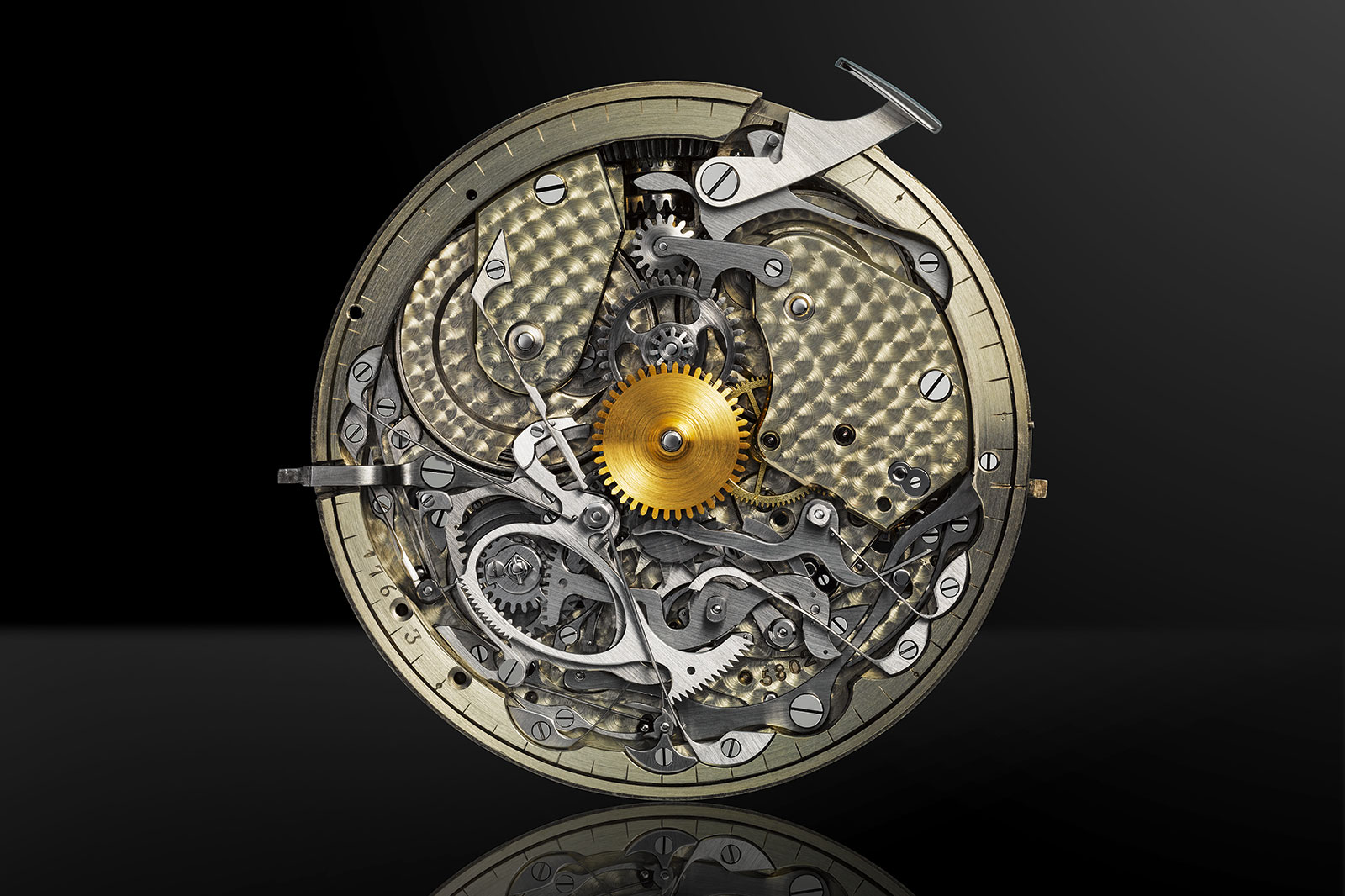 The barrel winding wheels now sport a radial, solar graining that complements the black-polished winding clicks. And the bridges under the dial are now covered in a neatly-spaced perlage.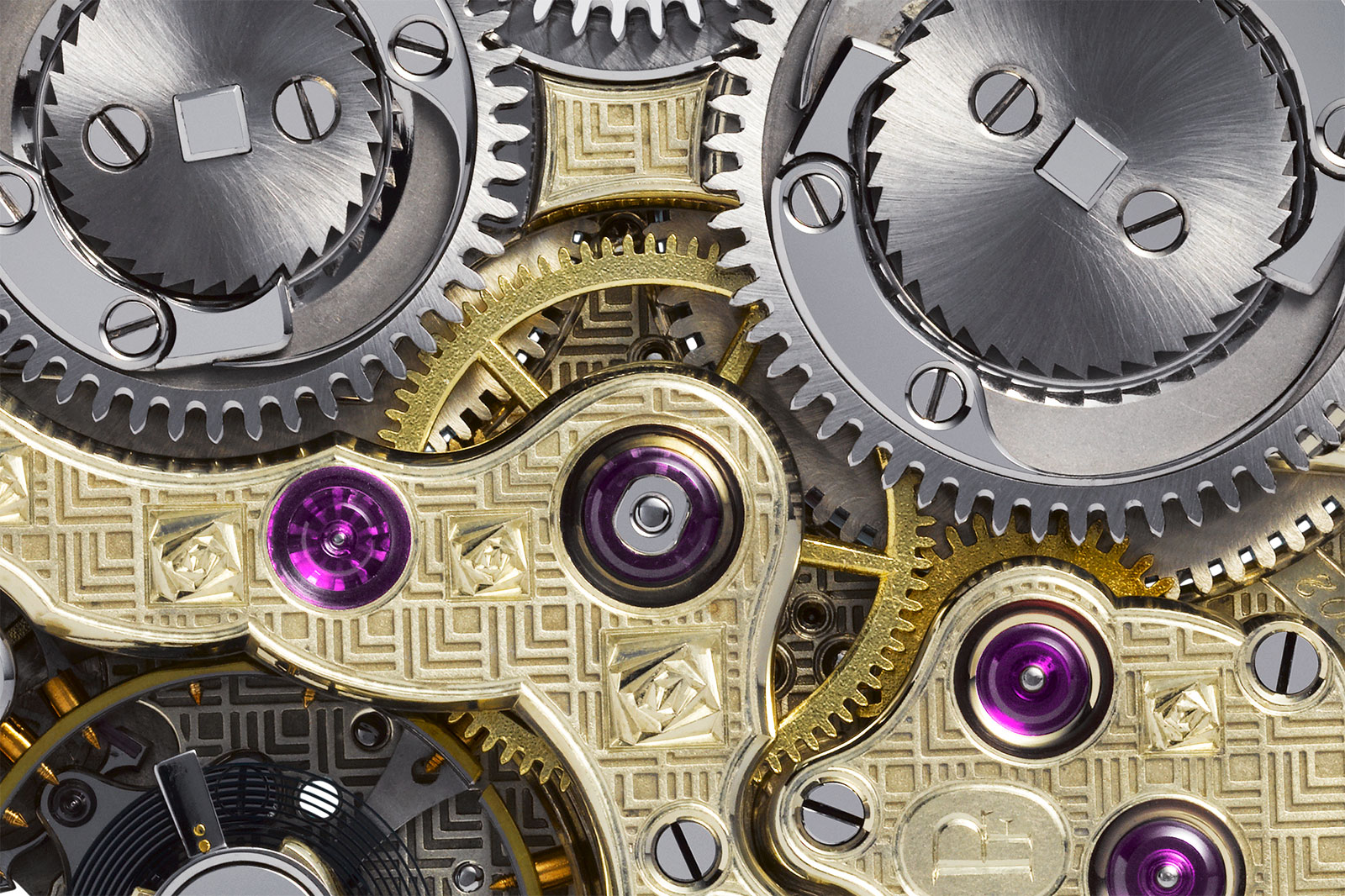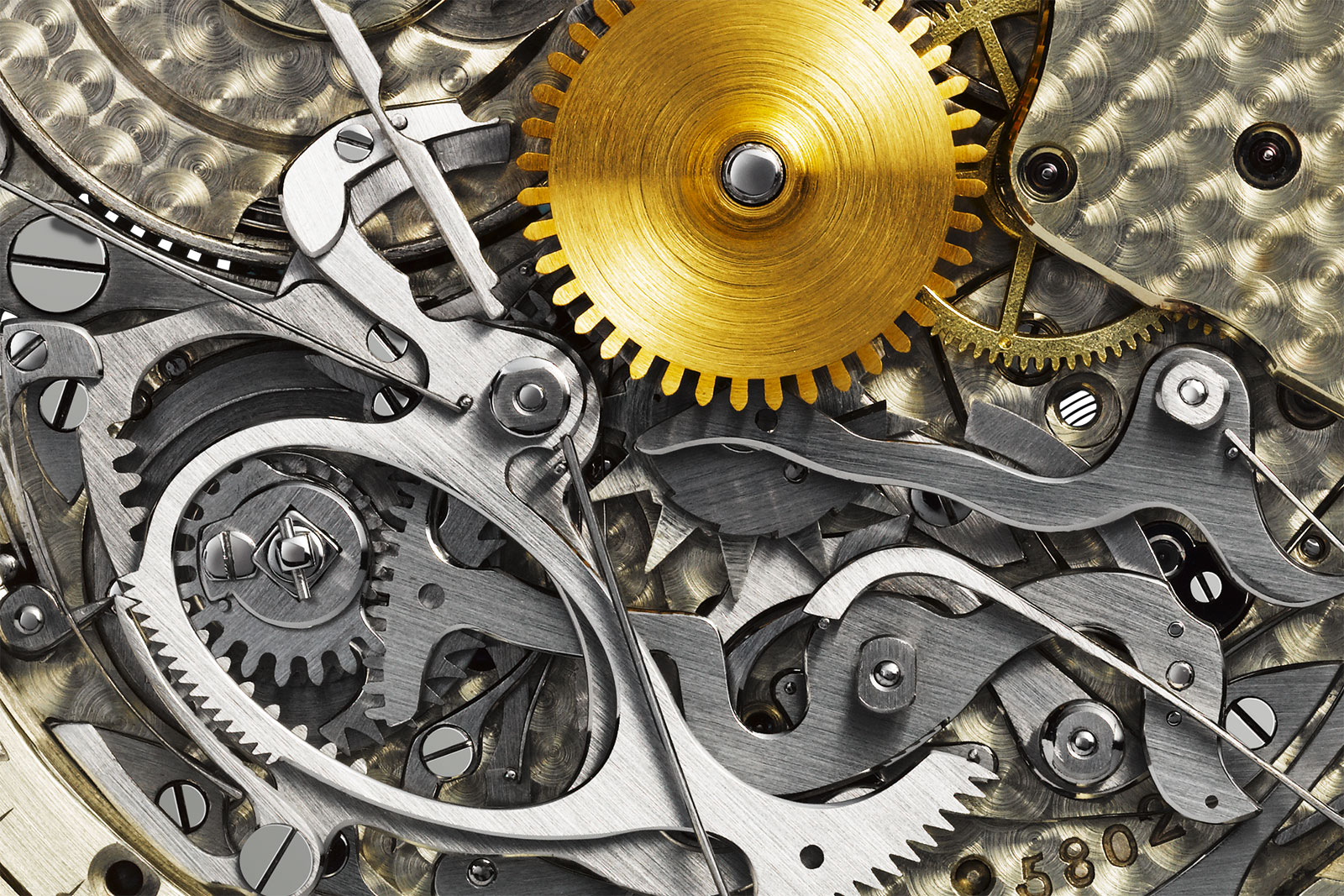 And naturally all of the components that could be bevelled were. While the ebauche clearly shows some bevelling, it was accentuated and completed by Bernard Muller.
One element, however, stands out. All the wheels in the movement appear to retain their original finish from the 19th century, a simple, frosting matched with chamfered spokes and inner edges.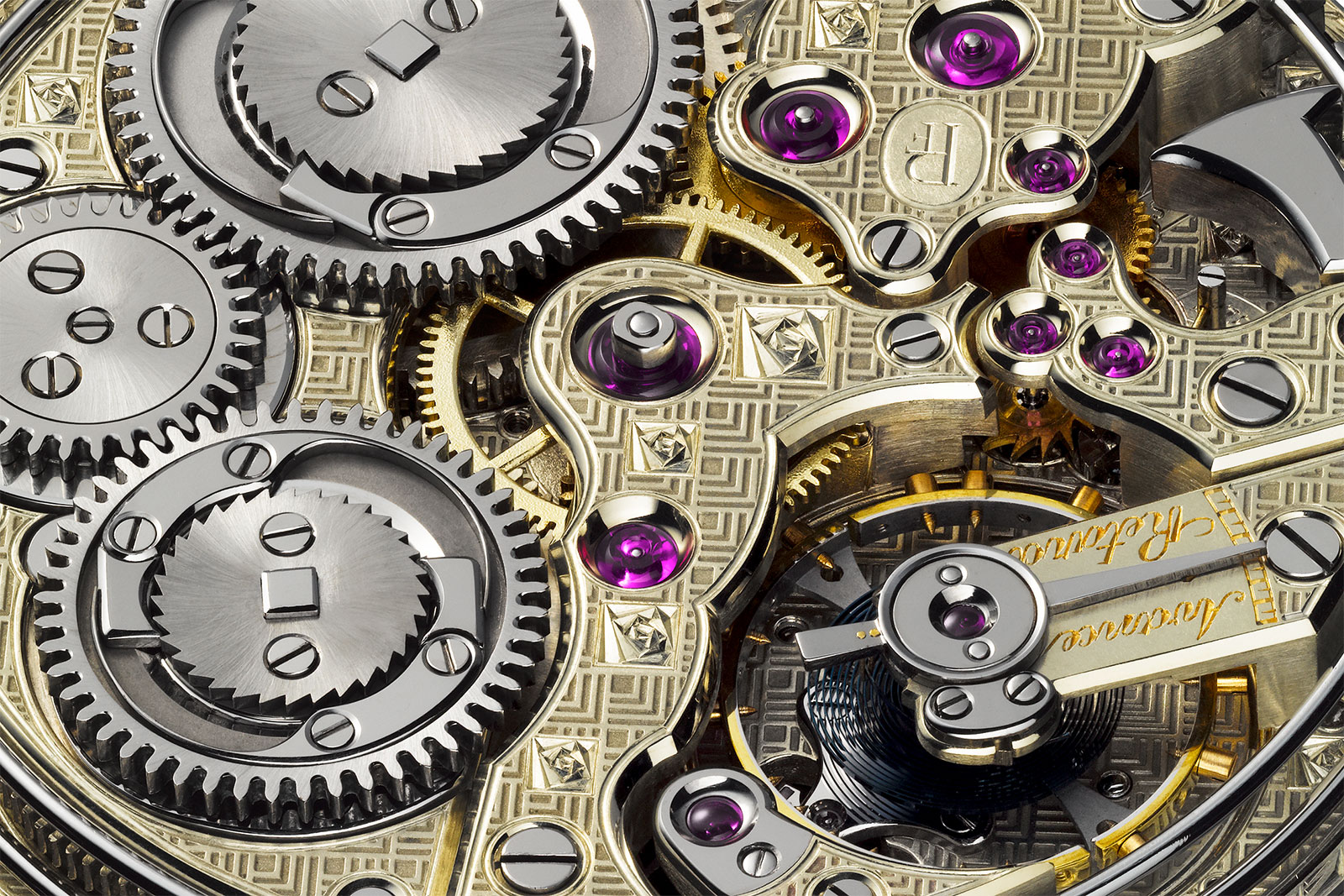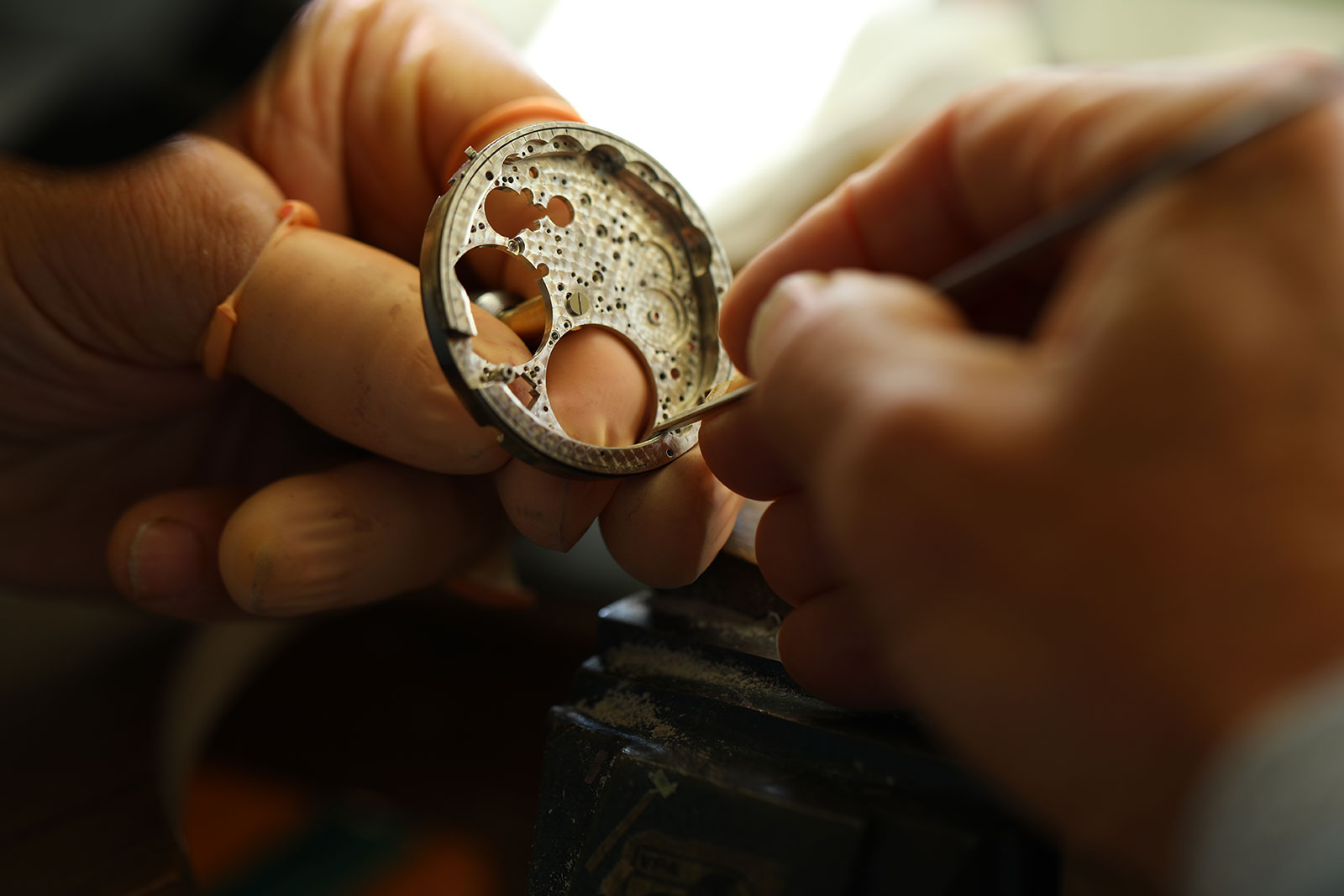 Artisanal decoration
The massive white gold case as made by Les Artisans Boîtier, Parmigiani's sister company (both are owned by the Sandoz Family Foundation, which was endowed with a fortune originating in drugmaker Novartis).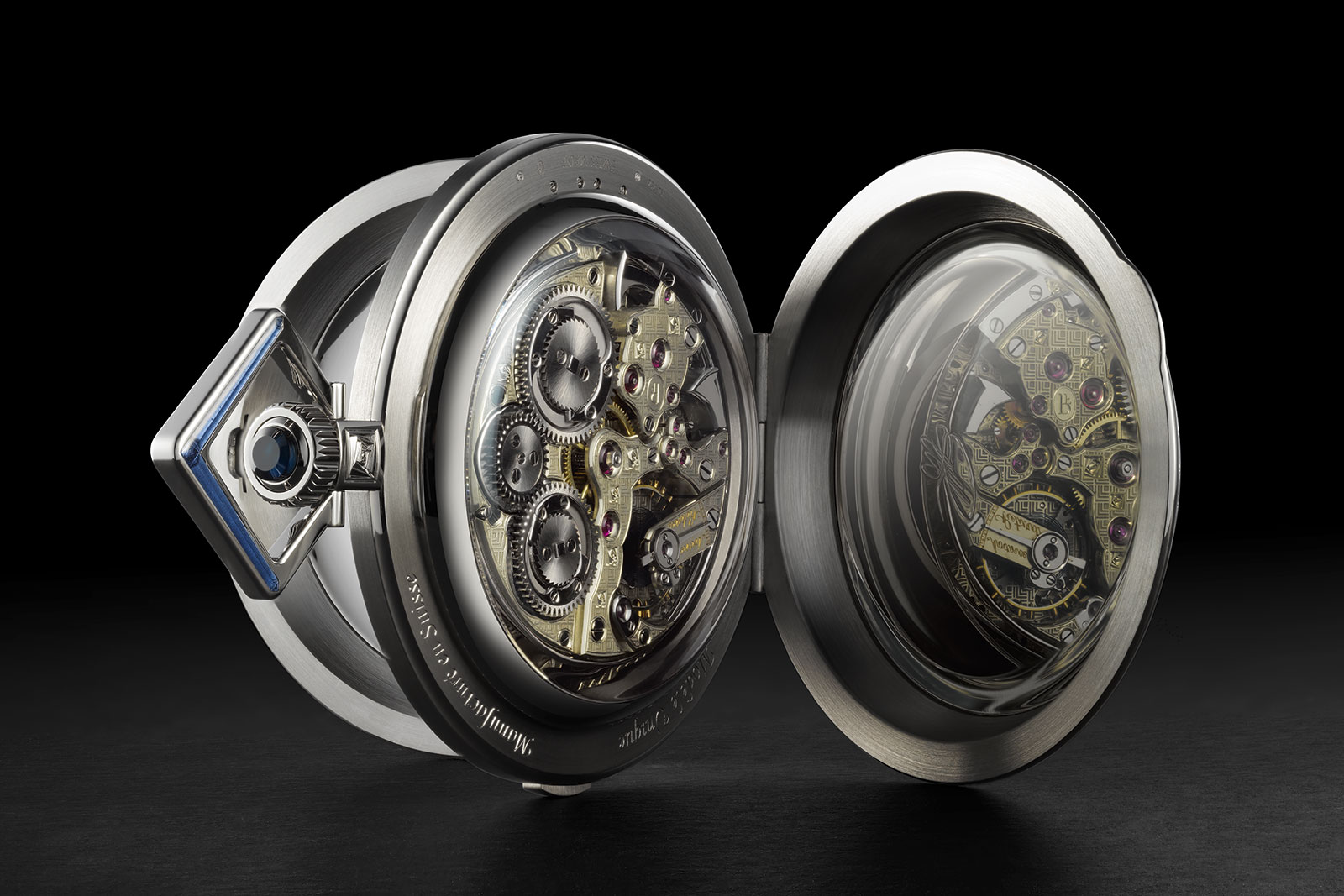 Measuring 64 mm in diameter, the case is a double hunter, meaning it has hinged lids on both the front and back. Both lids are engraved with Rose Carrée, which translates as "square rose".
It is made up of stylised, square roses arrange in a descending spiral, a pattern inspired by the golden spiral, a derivative of the golden ratio. Specifically, the golden spiral grows by a factor of the golden ratio, or about 1.618, every quarter turn.
The engraving was done by Eddy Jaquet, well known for his work with independent watchmakers like Voutilainen and MB&F. Mr Jaquet also did the engraving on the movement bridges.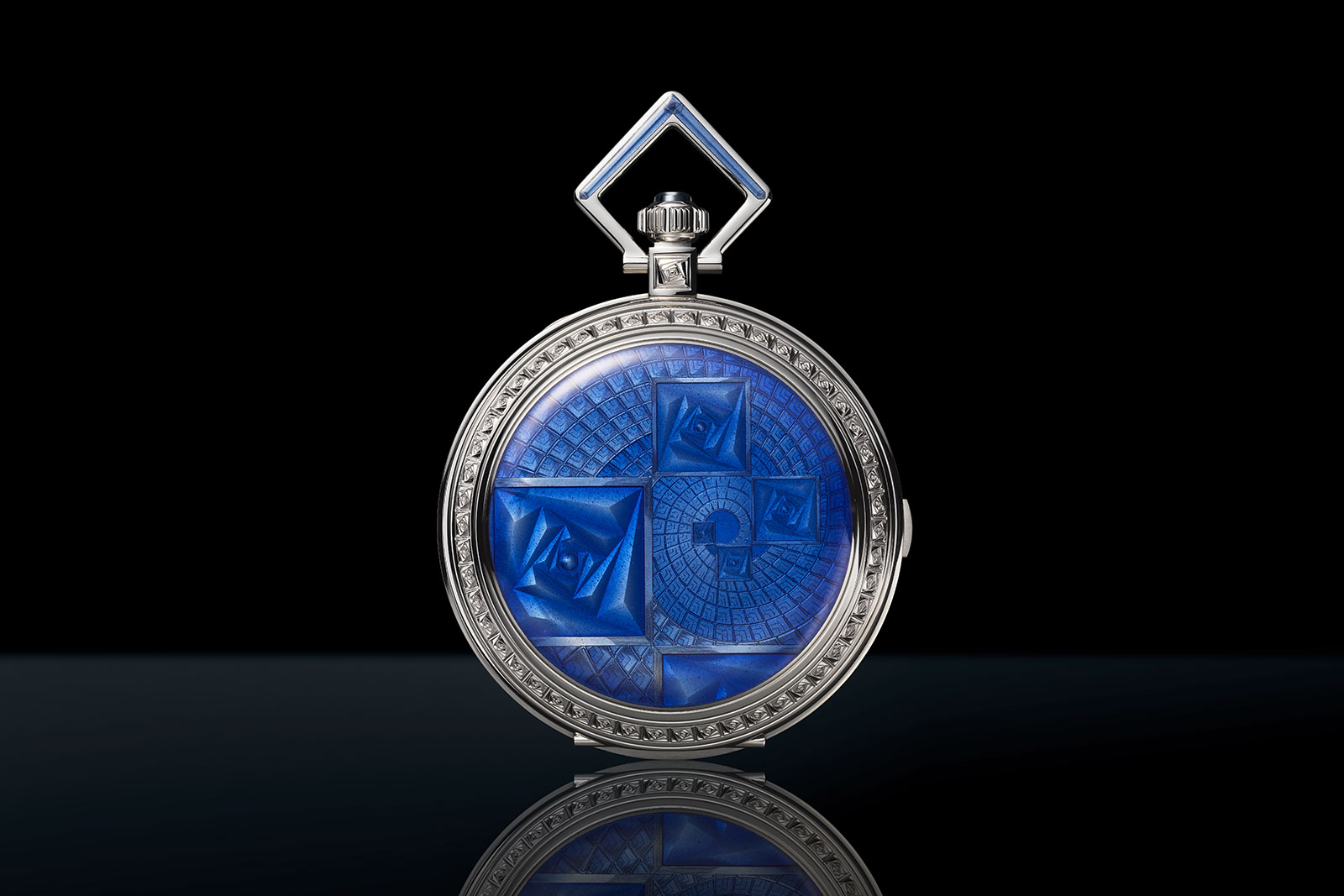 It's a fairly literal description of the pattern that comprises a spiralling, repeating square rose. The motif on each lid is a mirror image of the other, creating a pleasing sense of symmetry on each side of the case. Notably, the square pattern covers not just the faces of both lids, but also their edges, the bow, and of course the movement.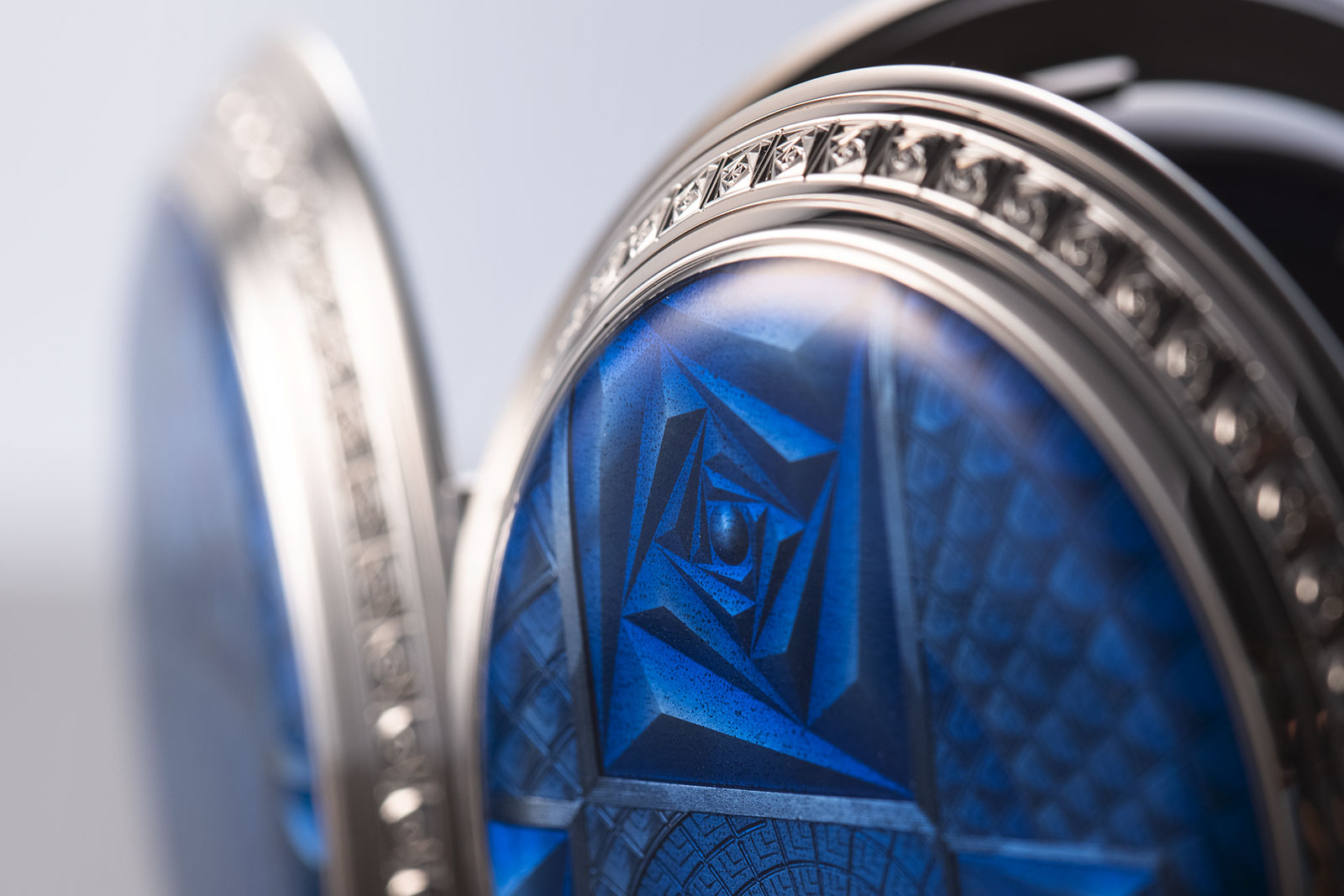 Over the engraving on both lids – and also on the narrow bow – is translucent blue enamel. The enamelled components are stark opposite of each other: the lids are exceptionally large, far wider than the typical enamelled watch dial, while the bow is narrow with an even narrower channel of enamel running along its length.
Chosen to evoke a blue rose, the enamel was done by Vanessa Lecci, who like Mr Jaquet is an independent artisan. Her work can be found in watches by Cartier, Vacheron Constantin, and Andersen Geneve.
Her work starts with grinding the chunks of enamel (which are essentially pieces of coloured glass) into a fine powder that is then mixed with oil and water to form a paste.
Using a tiny brush and microscope, she then paints a layer of paste into the lid, which is then put in an oven to fire the enamel, melting the glass to form a hard, glossy surface. The process is repeated until there are three to four layers of enamel.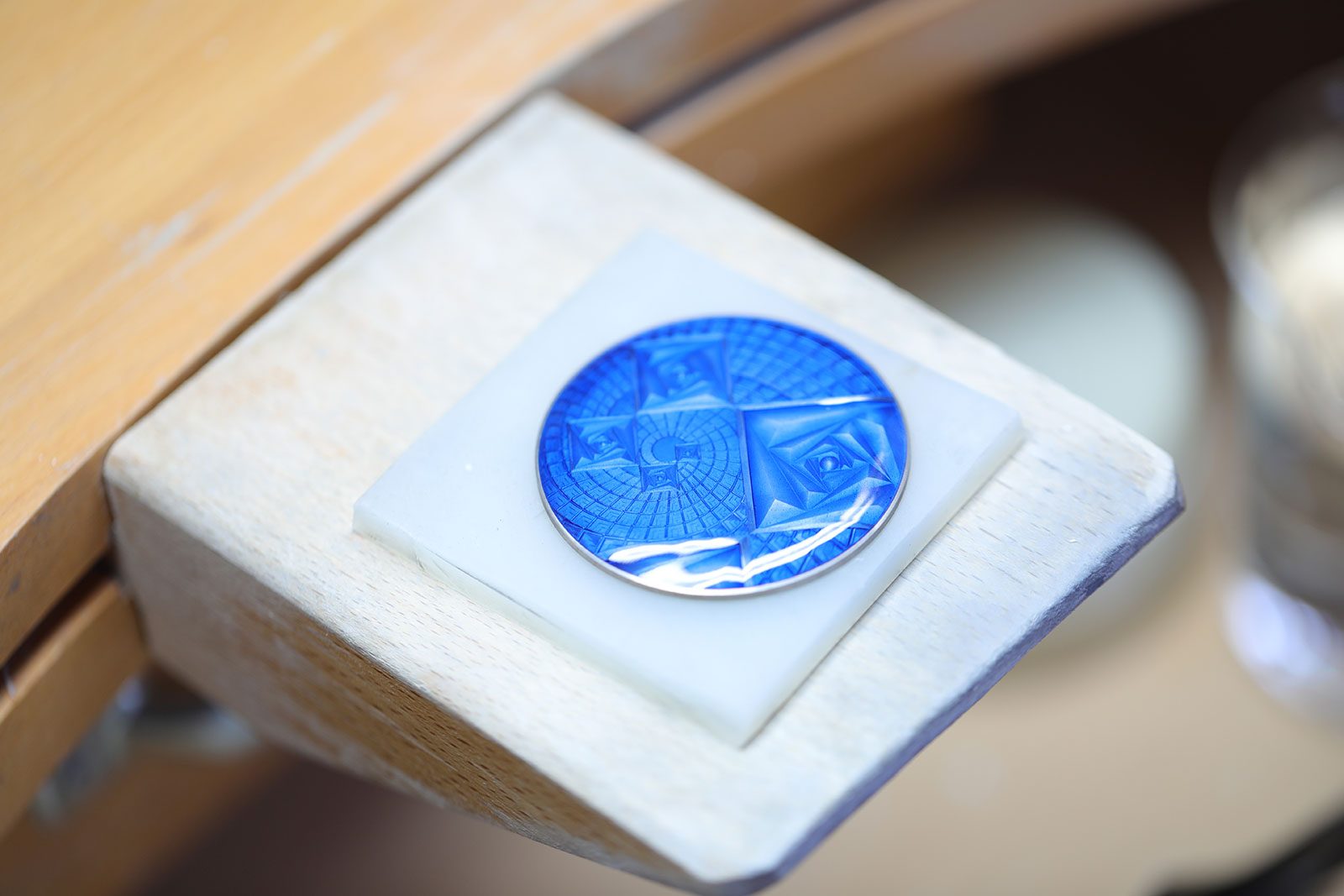 And the final element of the watch continues the square rose motif in a suitably artisanal manner.
In white gold like the case, the chain is made up of square links, each facetted and polished. It was produced by Laurent Jolliet, "Switzerland's last traditional chain maker" according to Parmgiani. Admittedly, the chain is more of a visual compliment than a practical accessory – the watch is too heavy for any pocket.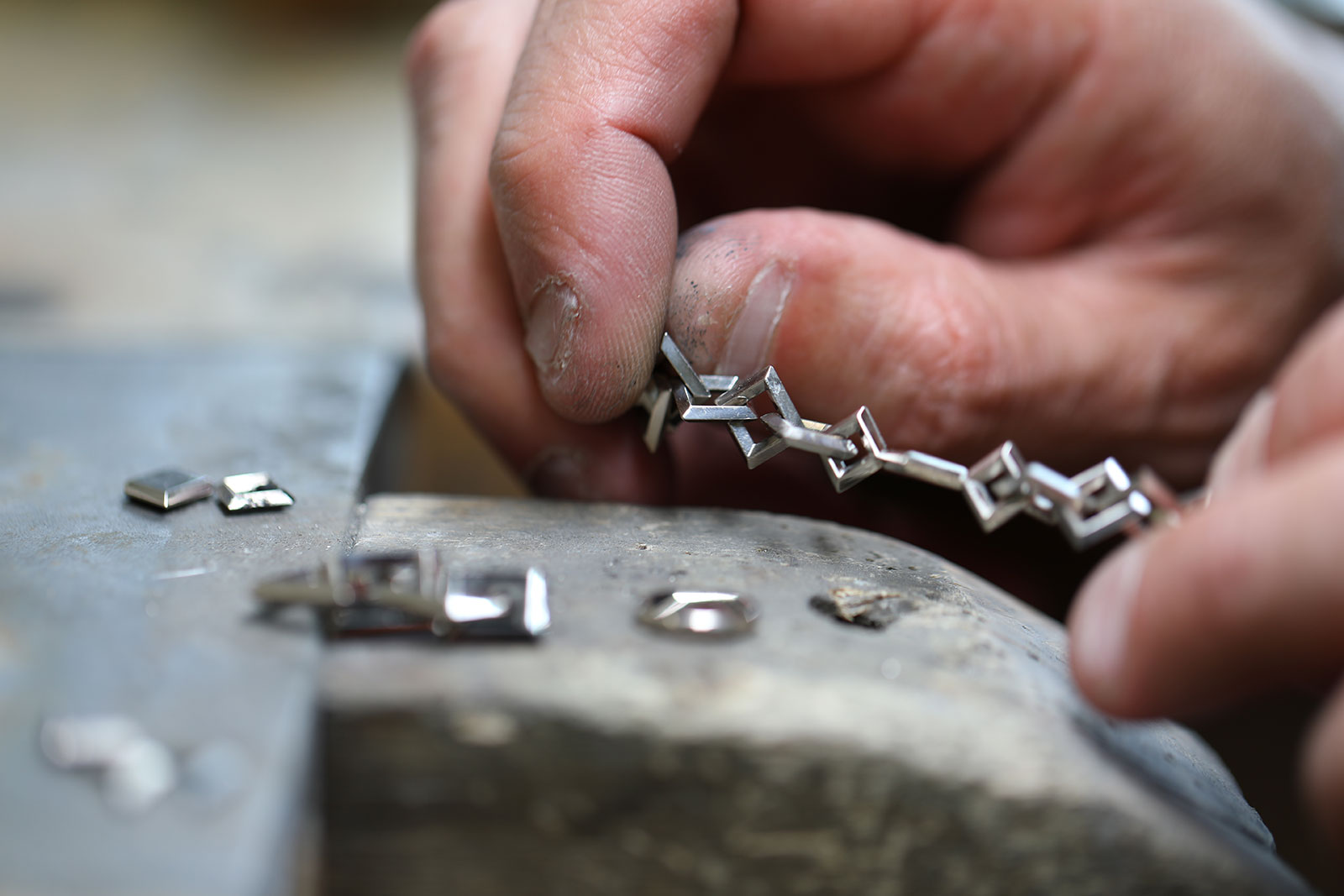 ---
Key Facts and Price
Parmigiani La Rose Carrée
Diameter: 64 mm
Thickness: 20 mm
Material: 18k white gold
Crystal: Sapphire
Water resistance: None
Dial: Black onyx with 18k gold appliqués and hands
Movement: PF992 (Louis-Elisée Piguet ébauche)
Functions: Hours, minutes, seconds, grande sonnerie, and minute repeater
Winding: Hand wind
Frequency: 18,000 beats per hour (2.5 Hz)
Power reserve: 36 hours
Chain: 18k white gold
Limited edition: Unique piece
Availability: From Parmigiani or its authorised retailers
Price: Unavailable
For more, visit Parmigiani.com.
---
Back to top.
---
You may also enjoy these.