Patek Philippe Introduces the Minute Repeater Perpetual Calendar Ref. 5374G
In serene blue enamel.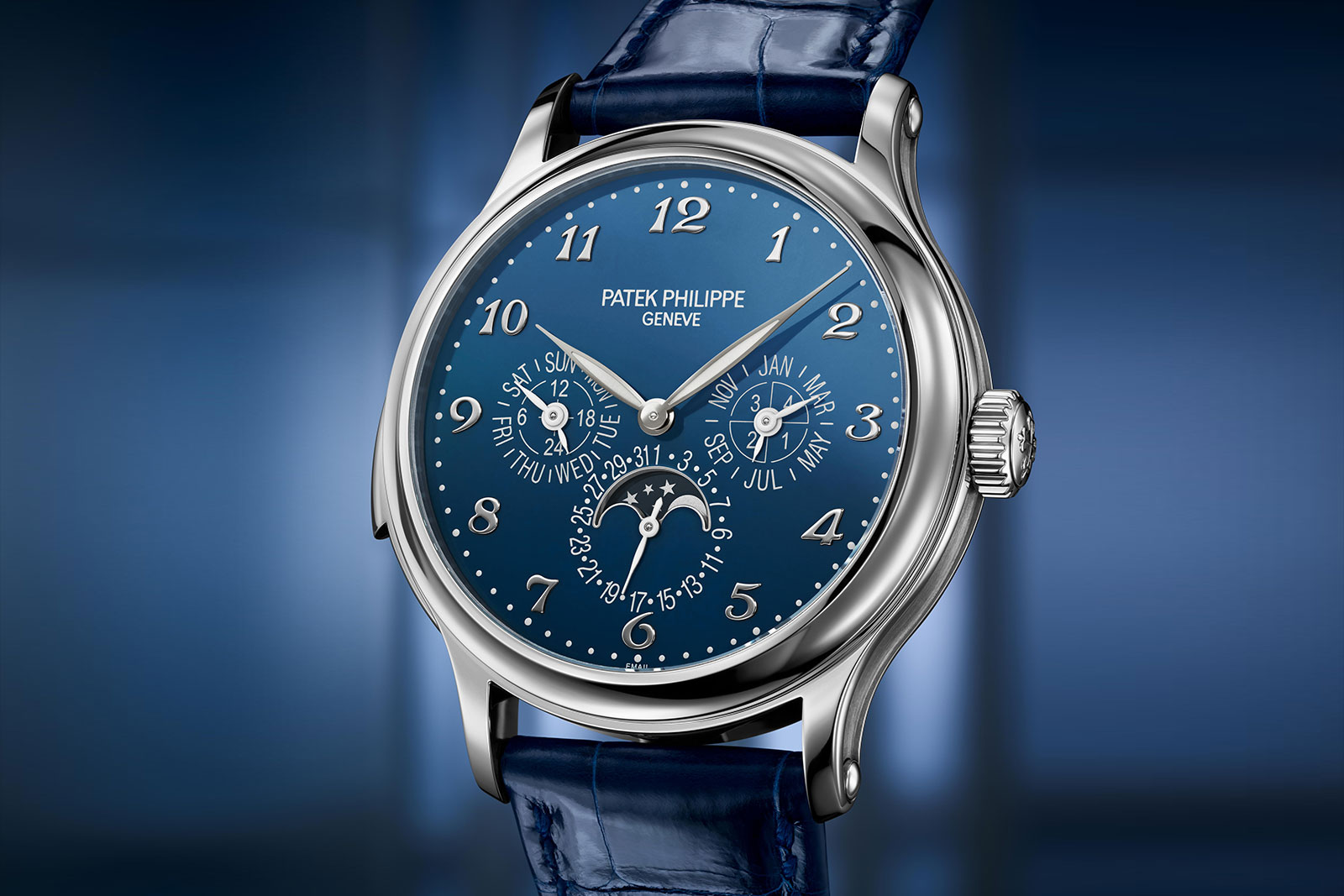 Patek Philippe keeps up the pace with the fourth instalment of new releases for the year, which were just announced at its annual Rare Handcrafts Exhibition in Geneva. While most of the watches at the exhibition are one-offs bestowed with colourful, artisanal decoration, the line up includes an ensemble of repeating watches, led by the flamboyant Sky Moon Tourbillon in pink gold and brown.
Simpler, at least relatively speaking, is the Minute Repeater Perpetual Calendar Ref. 5374G that packs a pair of high-end complications fronted by a blue, grand feu enamel dial.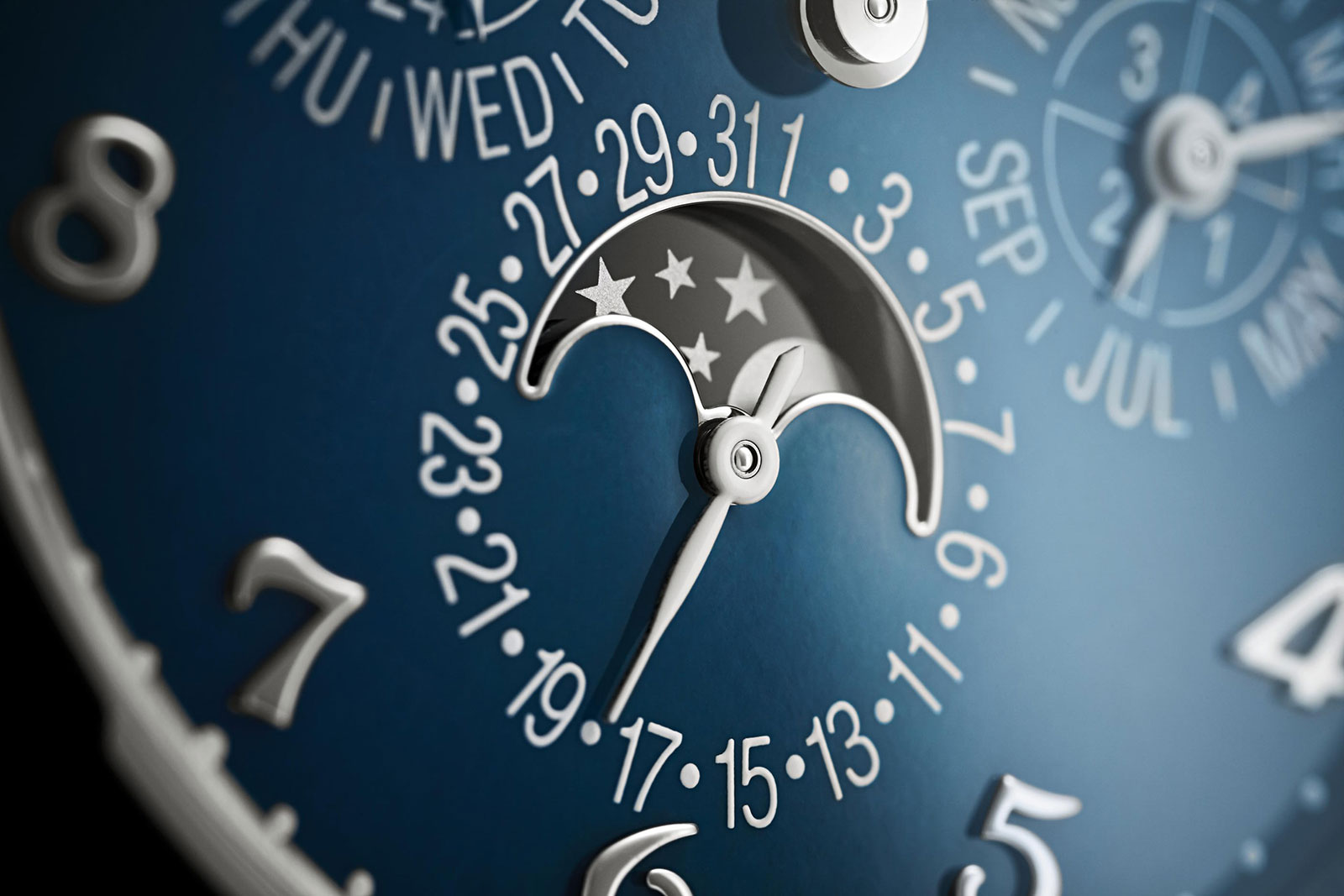 Initial thoughts
Today's launches stand in stark contrast to the brand's hottest watches of the moment – the sports watches that are arguably its most recognisable products now – that were its opening act for the year.
Patek Philippe launched a slew of exquisite, highly decorated timepieces today, affirming its twin strengths – haute horlogerie and metiers d'art. The generous array of Rare Handcrafts, along with the fact that several are chiming watches, is a reminder that Patek Philippe is more than a faddish, integrated-bracelet sports watch.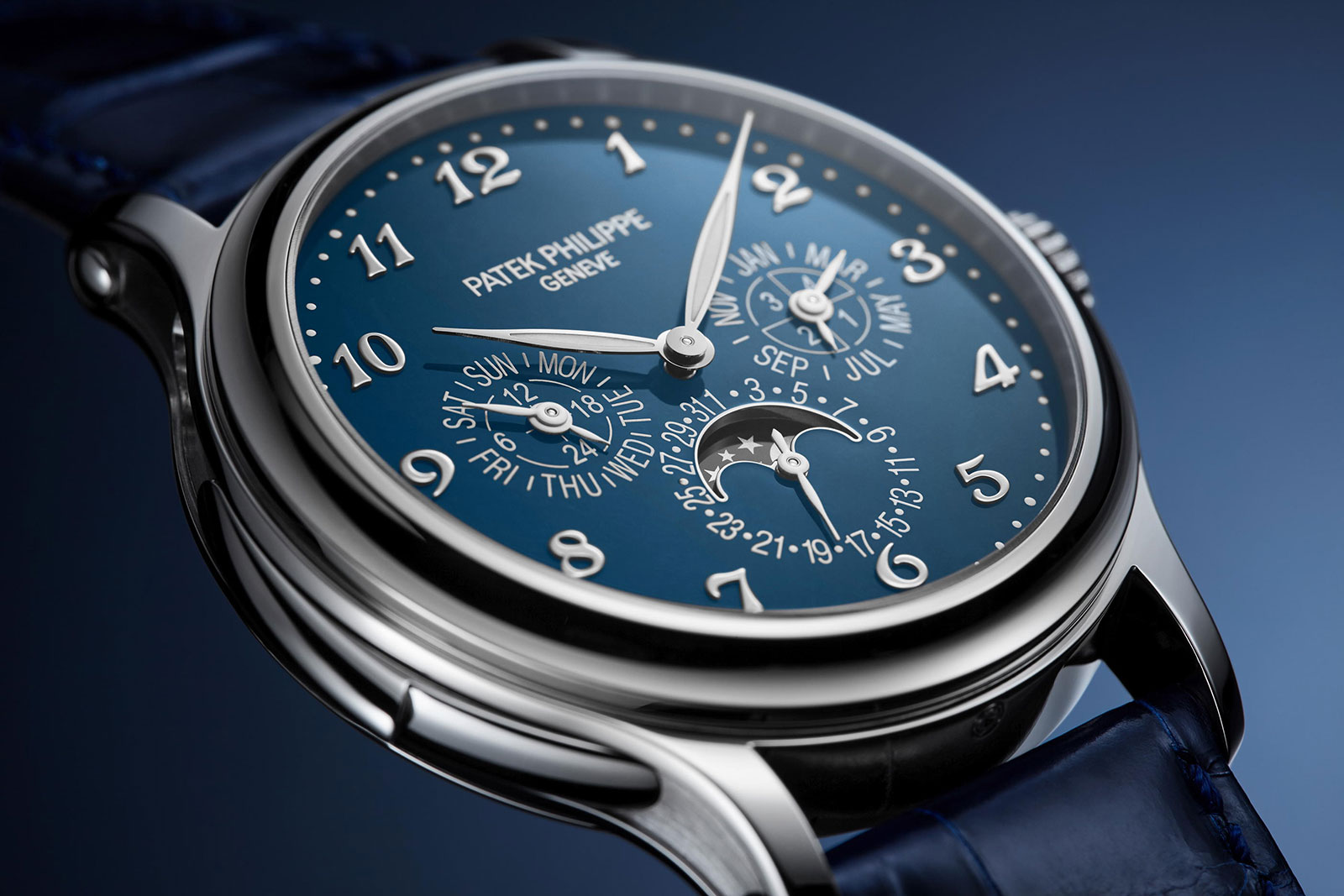 That said, the ref. 5374 is not entirely new (neither is the flagship Sky Moon Tourbillon ref. 6002R). In fact, the only truly new reference amongst the Rare Handcrafts complications is the Ladies Minute Repeater ref. 7040/250G.
The ref. 5374 was first introduced in 2016 with a platinum case and black enamel dial – a formal, classical package. Now it gets a livelier, blue enamel dial, as well as a white gold case that might appear a bit warmer than platinum (depending if it is rhodium plated).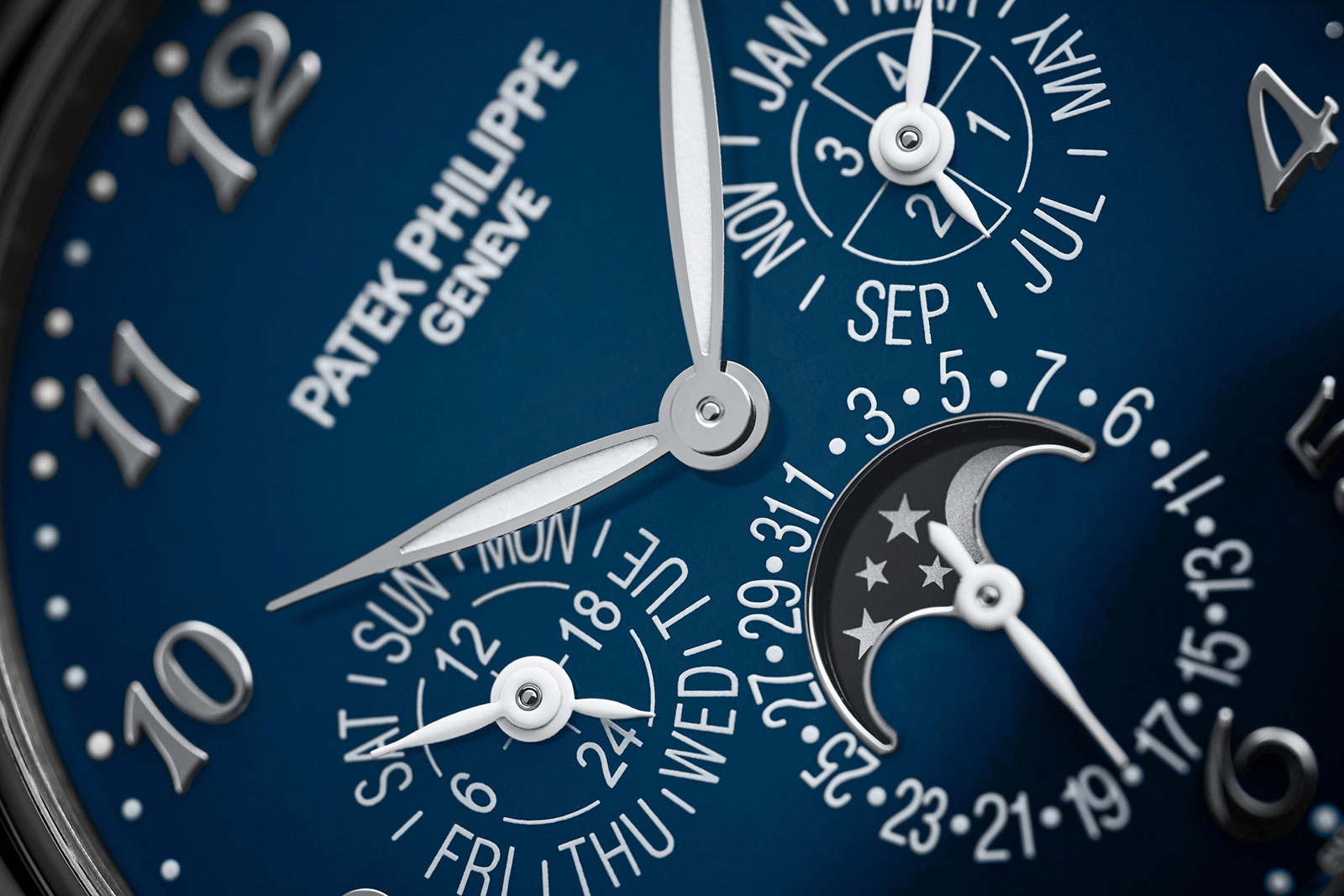 Still, the facelift is well done, despite being simple. And it makes sense from a commercial perspective. The transition from a black to blue dial – a process also applied to the split-seconds chronograph ref. 5370P – is no doubt meant to cater for the tastes of a younger clientele, who might otherwise stick to sports watches with blue dials.
One aspect that does not quite appeal to me is the size of the dial, which is a consequence of the largish 42 mm case. The size leaves the counters of the calendar close to the centre, hinting at the disparity in size between the case and movement, which becomes obvious when the watch is turned over.
Taking a broader, historical perspective, the new ref. 5374G will probably be a watch that captures today's watch collecting climate, in terms of style with the blue dial, Breguet numerals, largish case, but also the fervent demand – there will surely be a waiting list for this watch.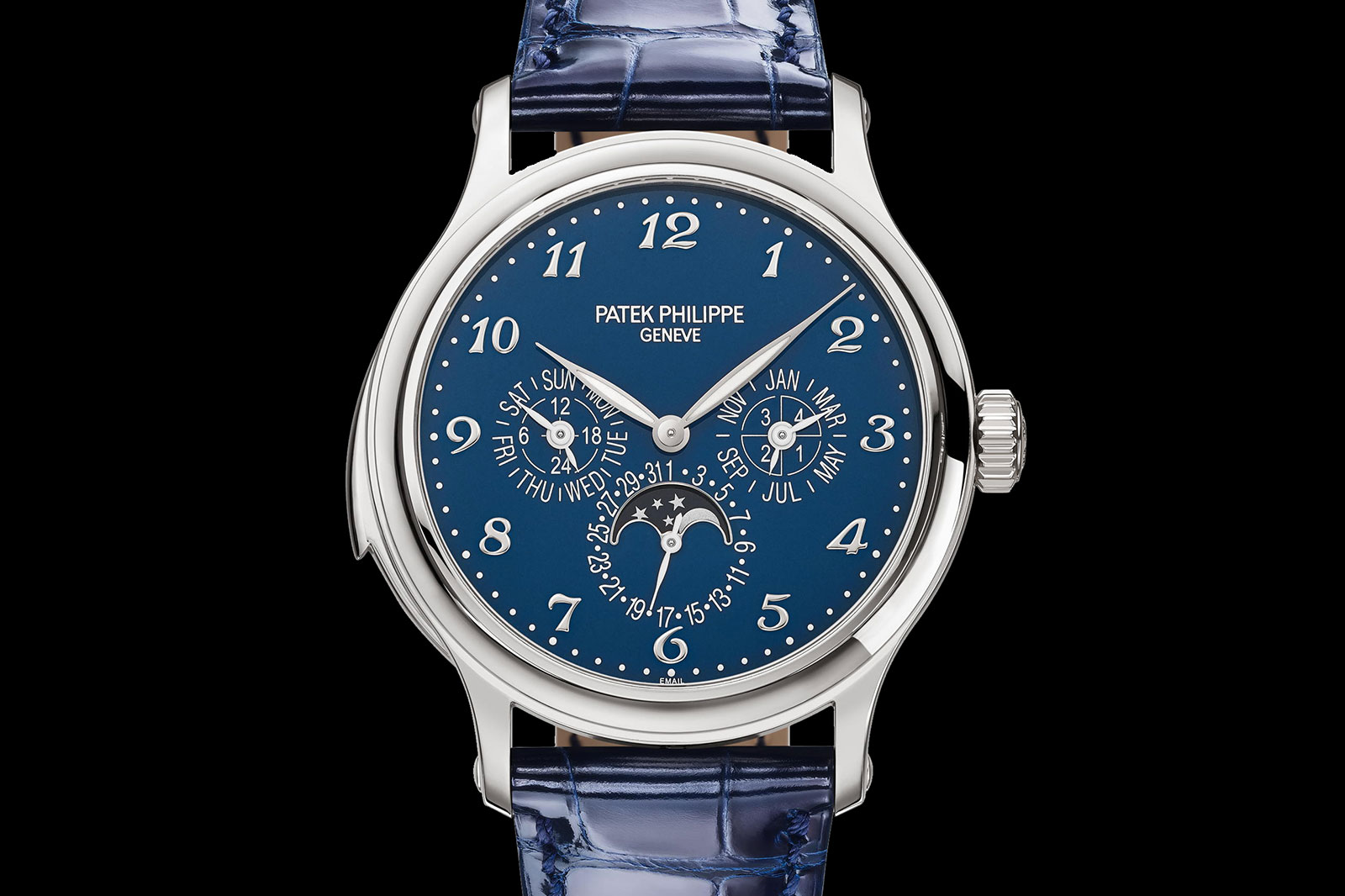 A minute in perpetuity
Except for the blue enamel, most other elements of the ref. 5374G are strictly classical and typical old-school Patek Philippe. The dial, for instance, has two elements that traditionalists will appreciate – Breguet numerals and leaf hands – though the luminescent paint on the hands will probably be frowned upon.
The case is also designed in a traditional manner. The bezel has concave profile that reflects light and shadow to appear less bulky than a conventional domed or sloped bezel. And the case flank is made up of a long, lengthwise recess framed by a raised lip, with a gold stud at the tip of each lug.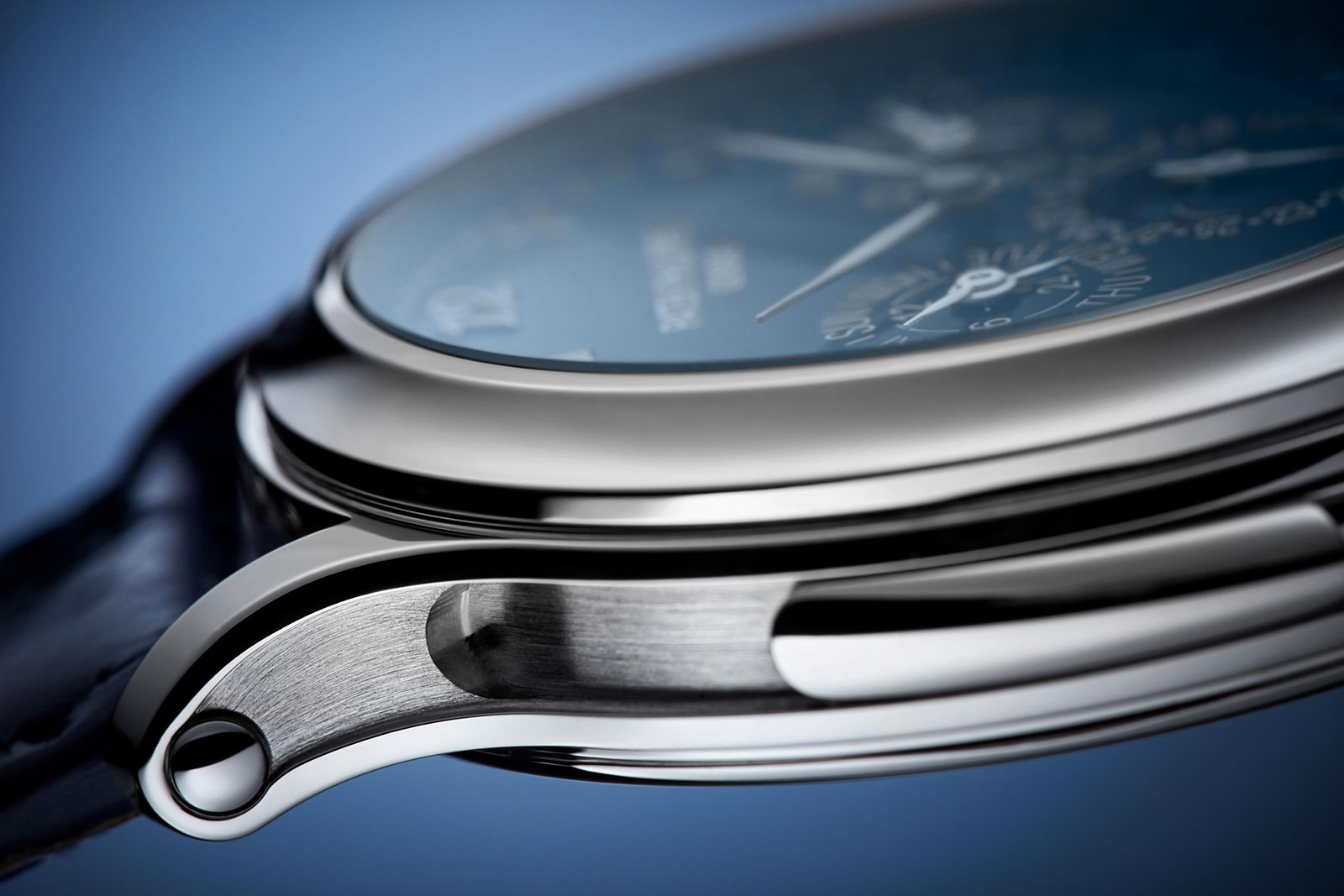 The cal. R 27 Q inside is, in some ways, Patek Philippe's premier minute repeating movement because of the double-length gongs, and the fact that it's an automatic.
Known as cathedral gongs, the gongs circle the movement twice, producing louder, longer chimes than conventional gongs that are just about the same length as circumference of the movement.
---
Key facts and price
Patek Philippe Minute Repeater Perpetual Calendar
Ref. Ref. 5374G-001
Diameter: 42 mm
Height: 12.2 mm
Material: 18k white gold
Crystal: Sapphire
Water resistance: Humidity and dust resistant; not water resistant
Movement: Cal. R 27 Q
Functions: Hours, minutes, perpetual calendar, and minute repeater
Frequency: 21,600 beats per hour (3 Hz)
Winding: Automatic
Power reserve: 38-48 hours
Strap: Alligator with folding clasp
Availability: At both retailers and boutiques
Price: On request
For more, visit Patek.com.
---
Back to top.
---
You may also enjoy these.

Long awaited and in 18k white gold. (With pricing inside.)

A revamp of its classic chronograph.