Year in Review: The Best of Independent Watchmaking 2020
The best, and the affordable best.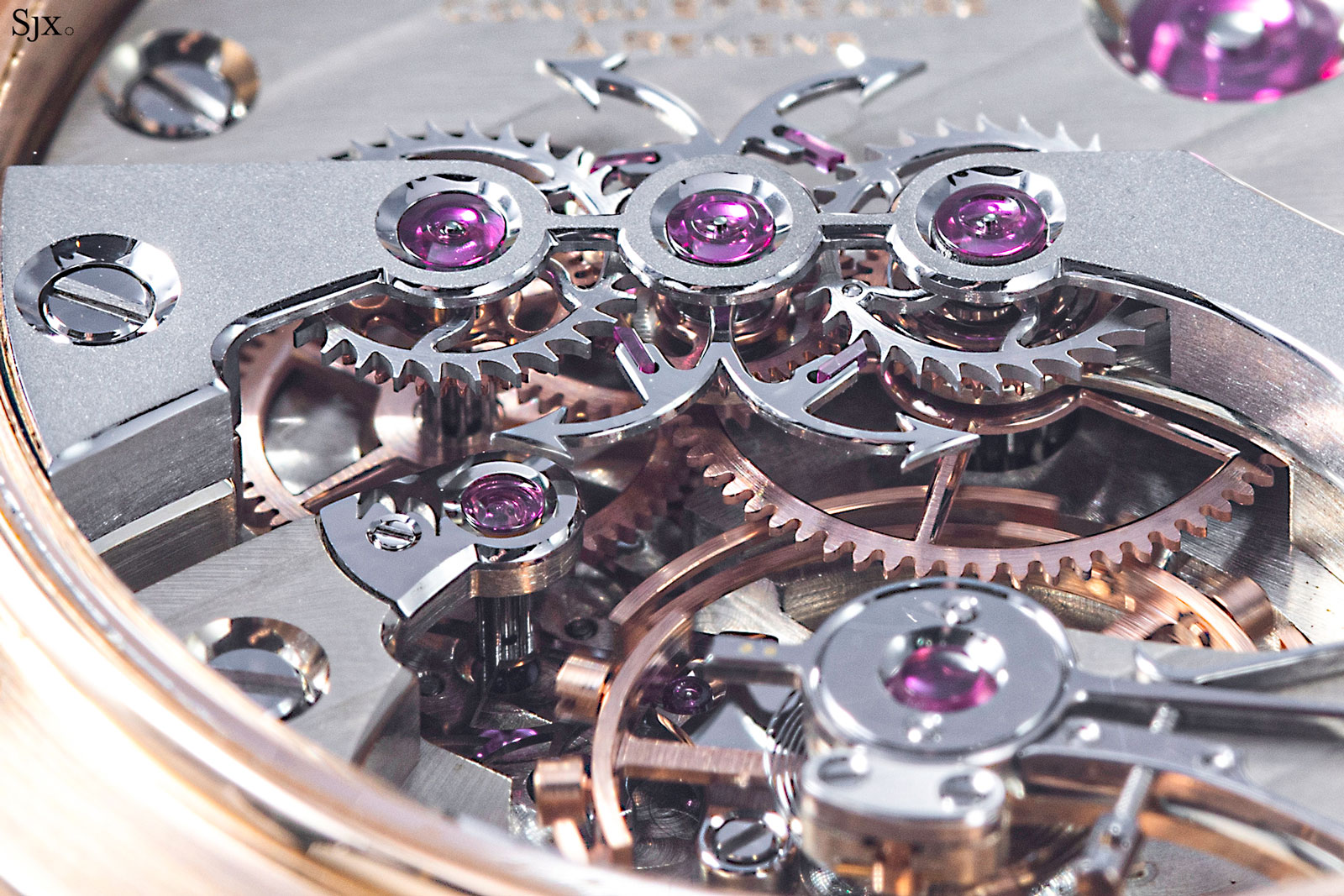 Twenty-twenty was a surprisingly good year in independent watchmaking – despite everything – with a fair number of compelling creations by watchmakers of all stripes. From Bernard Lederer at the top to Stefan Sarpaneva at the other end of the price spectrum, the watchmakers showed that the world of independent horology continued to turn in an abnormal year. Here's a roundup of the best of 2020, led by the impressive and expensive, but also including the eminently affordable.
In terms of pure technical achievement, Bernhard Lederer's Central Impulse Chronometer is hard to top. Building on the work of George Daniels and Abraham Louis Breguet, Mr Lederer constructed a movement equipped with a double natural escapements, each with its own remontoir and powered by its own going train.
While the design of the watch doesn't do justice to the mechanics, the movement is outstanding. In fact, the only other watch in 2020 comparable to the Central Impulse Chronometer was surprisingly from an establishment brand, or more specifically a subsidiary of a big name, the FB 2RE by Ferdinand Berthoud, which has Chopard as its parent comment.
Also conceived with chronometry in mind, the new Chronomètre à Résonance movement is very much a new and improved version of the original, which has become the hallmark watch of F.P. Journe. Now featuring a remontoir d'egalite for each going train – which means constant power to the balances operating in resonance – the new Résonance also has better ergonomics, with the crown for winding and setting now at two o'clock.
And next is a trio that are similar – all are essentially time-only watches – but each with its own novel twist. The debut watch of two young watchmakers, the Petermann Bédat 1967 has an elaborately constructed deadbeat-seconds mechanism powered by a secondary escapement. Though the movement aesthetic is obviously classical – the deadbeat seconds is modelled on a 1940s invention – the dial of the 1967 smartly incorporates vintage elements on a modern design.
Likewise, the Marco Lang Zweigesicht-1 is the first watch of a new brand, but one established by a well known watchmaker. Best known as the founder of Lang & Heyne, Marco Lang is now once again a one-man show. His first creation is a two-faced watch that can be worn on either side thanks to removable lugs.
The movement side of the watch reveals the symmetrically-laid out movement that's finished by hand in the manner expected of Mr Lang. And it also incorporates an intriguing shock indicator of Mr Lang's own invention that is composed of finely-wrought and hand-finished components that is probably more beautiful than useful.
And the third watch is the Christian Lass 30CP. A watchmaker at the Patek Philippe Museum for several years before striking out on his own, Mr Lass is now back home in Denmark making watches under his own name. The 30CP is modelled on fine gentlemen's wristwatches of the 1940s, with a design and finish to match.
Though classical in every aspect, the 30CP has an unusual addition to the movement: a hairspring adjuster that's essentially an arm pivoting on a ruby ball, a miniaturised version of something A.-L. Breguet installed in some of his marine chronometers in the 19th century.
Something dramatically different was courtesy of Konstantin Chaykin. The Russian watchmaker unveiled the Mars Conqueror Mk 3 Fighter, a spaceship-like wristwatch that is literally extraterrestrial – it can tell the time on the Red Planet, where a Martian day, or sol, is 24 hours, 39 minutes and 35 seconds long.
The best entrant by an independent watchmaker in the crowded luxury-sports watch space, the H. Moser & Cie. Streamliner Chronograph combines an original case and bracelet design with the smartly constructed chronograph movement developed by Geneva complications Agenhor. Priced well for what it is, the Streamliner also proves it's still possible to be different in the integrated-bracelet sports watch space.
Enticingly accessible
The winner in affordable independent watchmaker is the S.U.F. Helsinki Sarpaneva x Moomin, which boasts an elaborately made dial depicted a troll from the Finnish cartoon strip Moomin.
Cut by machine but finished by hand, the dial is generously painted with several colours of Super-Luminova, giving it a brilliant nighttime appearance. Add to that Mr Sarpaneva's high-quality case made of Finnish steel alloy – S.U.F. is his brand of affordable timepieces – and the Moomin wristwatch is a unconventional timepiece that demonstrates the versatility of independent watchmaking.
Neither a brand nor a watchmaker, but very much independent, the Musée International d'Horlogerie (MIH) is one of the world's leading timepiece museums. To raise funds for restoration of its collection, the MIH unveiled the MIH Gaïa, a wristwatch was created with the help of specialists located in its hometown. Priced modestly but enhanced by good details and a smart design, the Gaïa is an uncommon combination of an original product backed by a good cause.
Though not a watchmaker strictly speaking – at least not yet – Scottish enameller Anordain recently unveiled the Model 1 Fumé. A refined version of its first wristwatch, the new Model 1 features a hand-made dial in translucent fired enamel over a hammered metal base. It's both a material and look that ordinarily costs far more, but is offered here for a notably affordable price while being high quality.
Like Anordain, Sartory Billard focuses its efforts on the dial, resulting in an affordable watch with a surprisingly elaborate dial. Each Sartory Billard SB04 has a dial that's largely made by founder Armand Billard, most often with a base of polished metal overlaid with a skeletonised and customised chapter ring for the hours.
And lastly, despite not having much by way of technical achievement, the Louis Erard Le Régulateur Vianney Halter is appealing in offering a little bit of Mr Halter's signature style for a little under US$4,000. More broadly, it's proof of how a previously staid brand has been rejuvenated with a little creativity, with credit going to Manuel Emch, the former chief executive of RJ-Romain Jerome who was recruited as a consultant two years ago.
---
Back to top.
---
You may also enjoy these.