John-Mikaël Flaux Introduces the Le Guépard Sonnerie-Automaton Clock
An hour striker on the African savannah.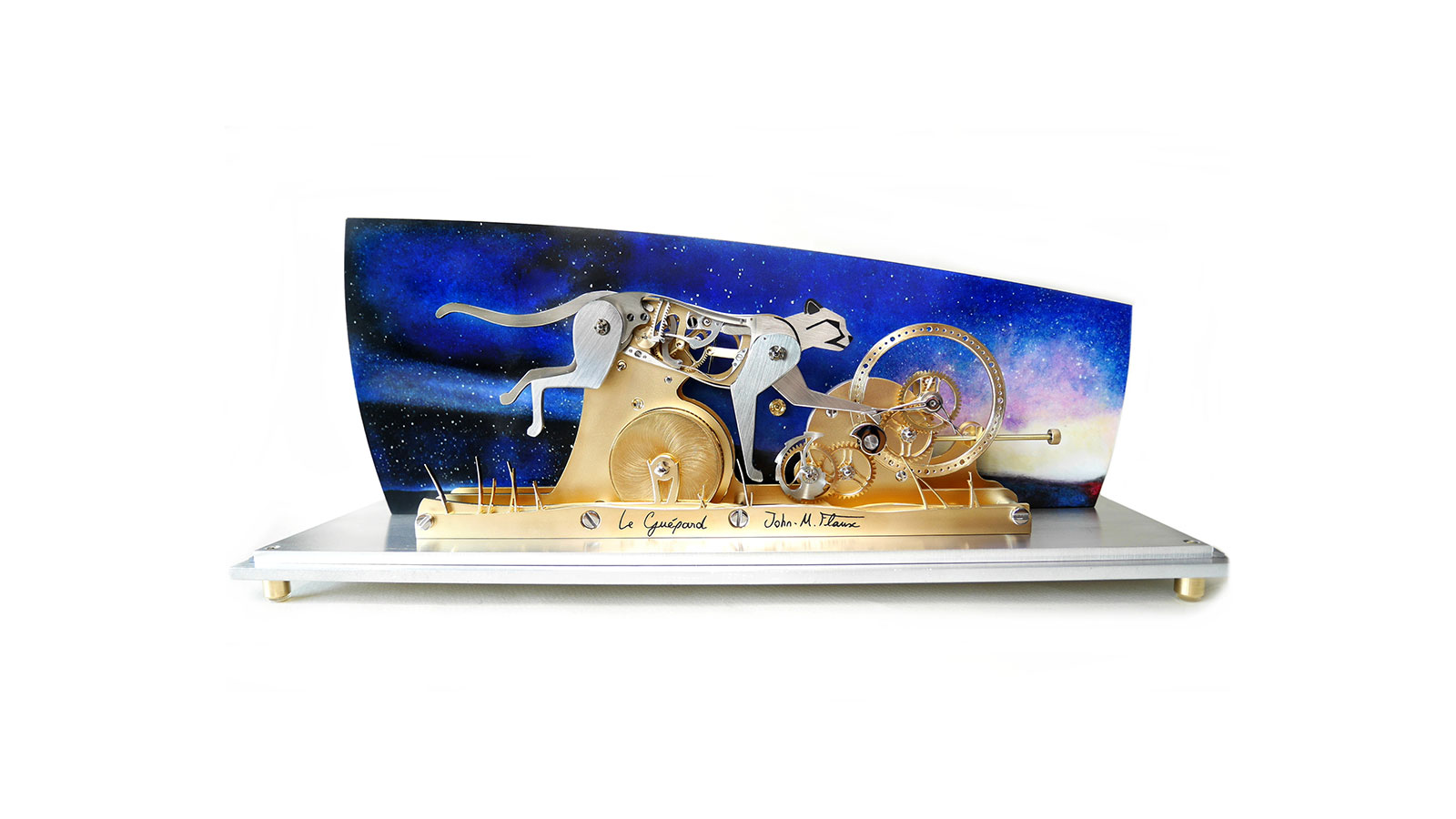 A young French horologist who specialises in automaton clocks – his most recent work was a retro-automobile that tells time – John-Mikaël Flaux has just unveiled his most elaborate work to date, Le Guépard.
Translating as "The Cheetah", Le Guépard is an elegantly-conceived, hour-striking clock with its movement forming an automaton of a big cat.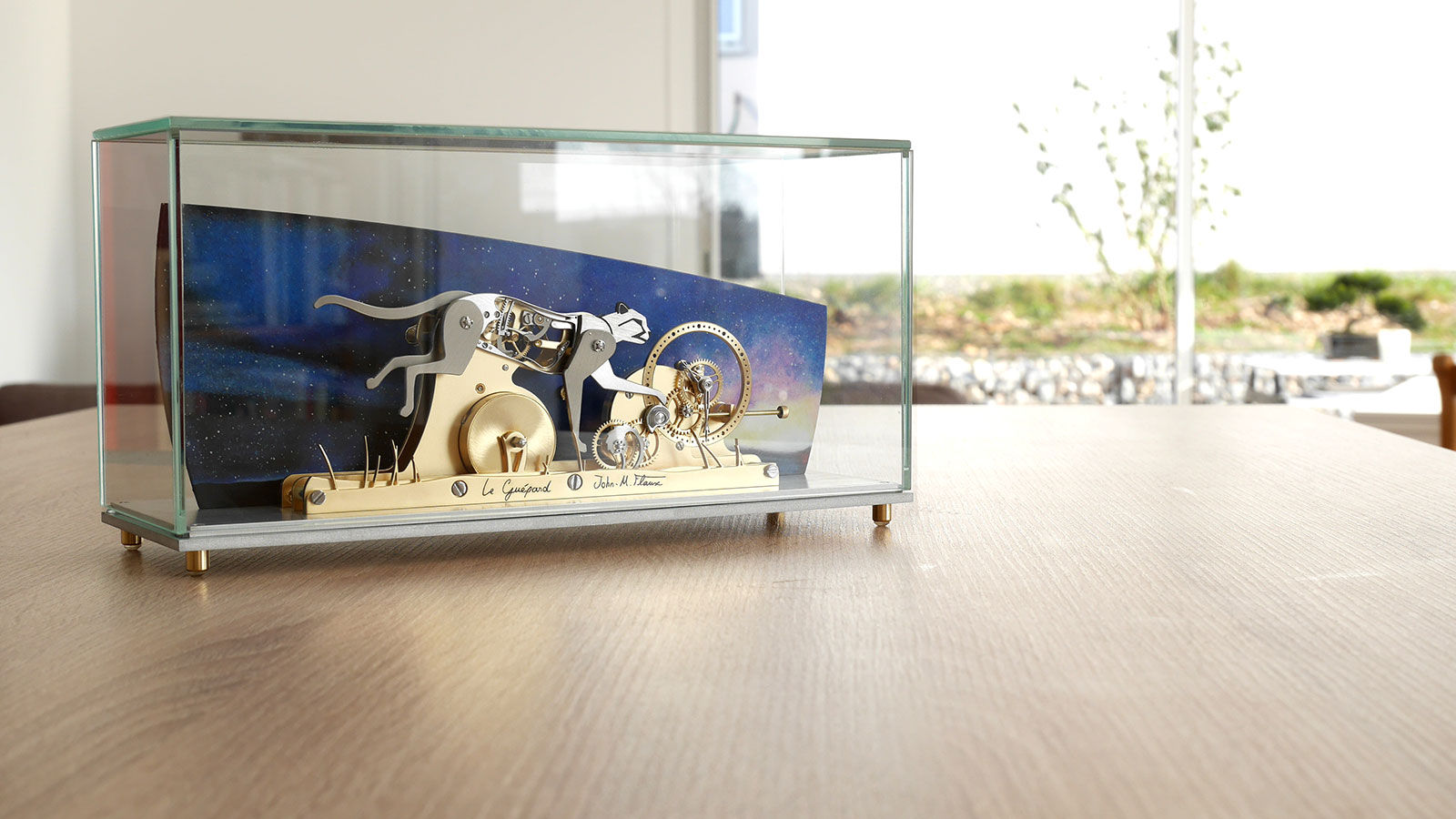 Made of brass and steel, Le Guépard tells the time on an open-worked dial on its right, but it is also a sonnerie en passant, chiming out the time as it passes. Mr Flaux, who attended the same watchmaking school as independent watchmakers Cyril Brivet-Naudot and Theo Auffret, describes Le Guépard as a "poetic take" on the hour-striking clock.
At the top of every hour, the clock chimes the number of hours via a hammer striking the large bell on its rear. Triggered by a snail cam and front paw of the cheetah, the strike work propels the limbs of the cheetah, which moves in slow motion as the rack of the strike work "counts" the number of hours being struck. The clock can also strikes the hours on demand – a feature activated by pressing on the tail of the cheetah.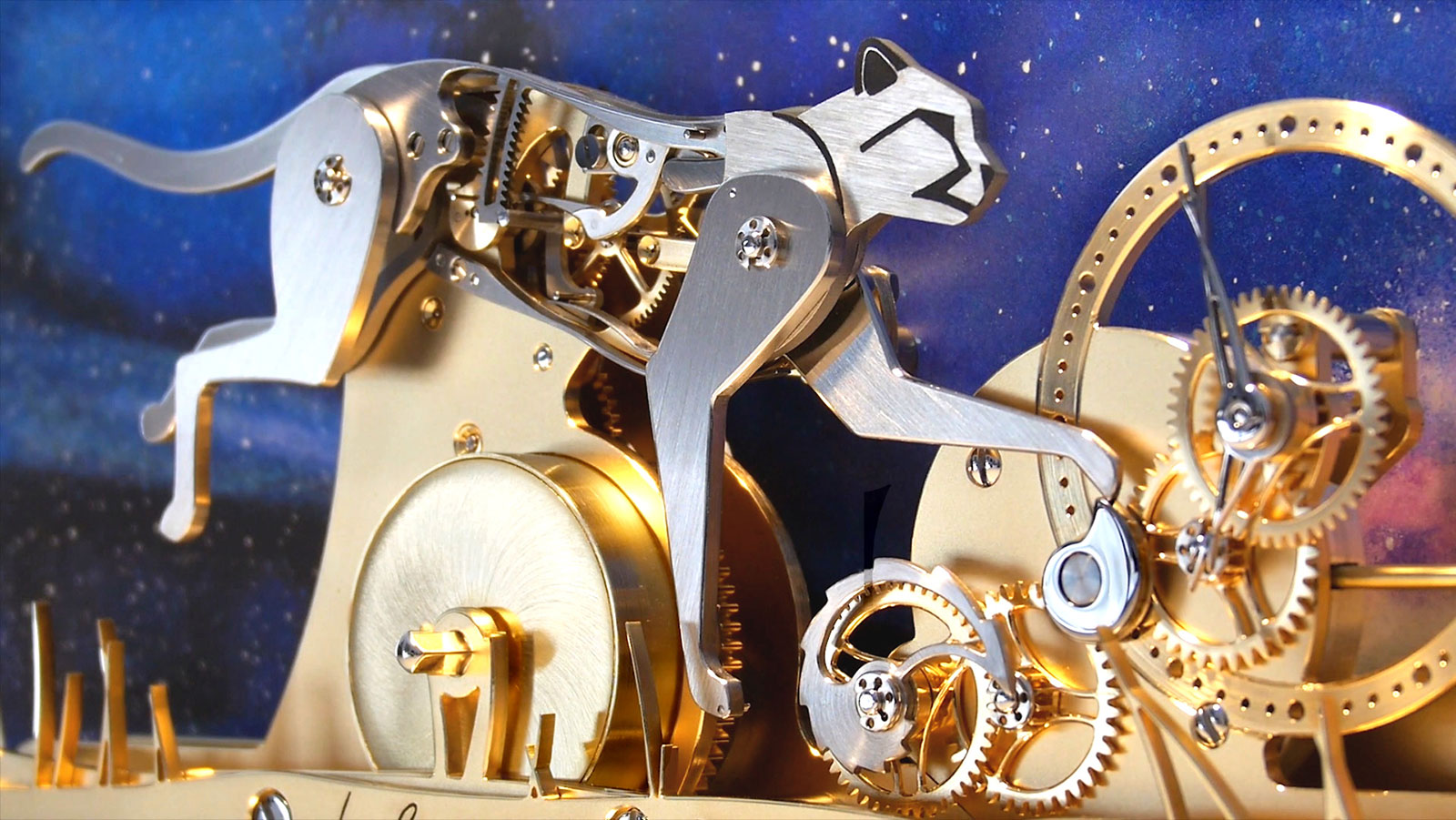 Made up of 205 parts, most of the clock is produced by Mr Flaux using traditional methods, like turning wheels on a manual lathe. The movement is mounted on a steel platform, but sits against a background of an abstract starry night on the African plains.
Executed in acrylic paint on a brass panel, the painted background is the work of Line Descombes, a miniature painter based in eastern France, not far from Switzerland, whose primary work is decorating watch dials.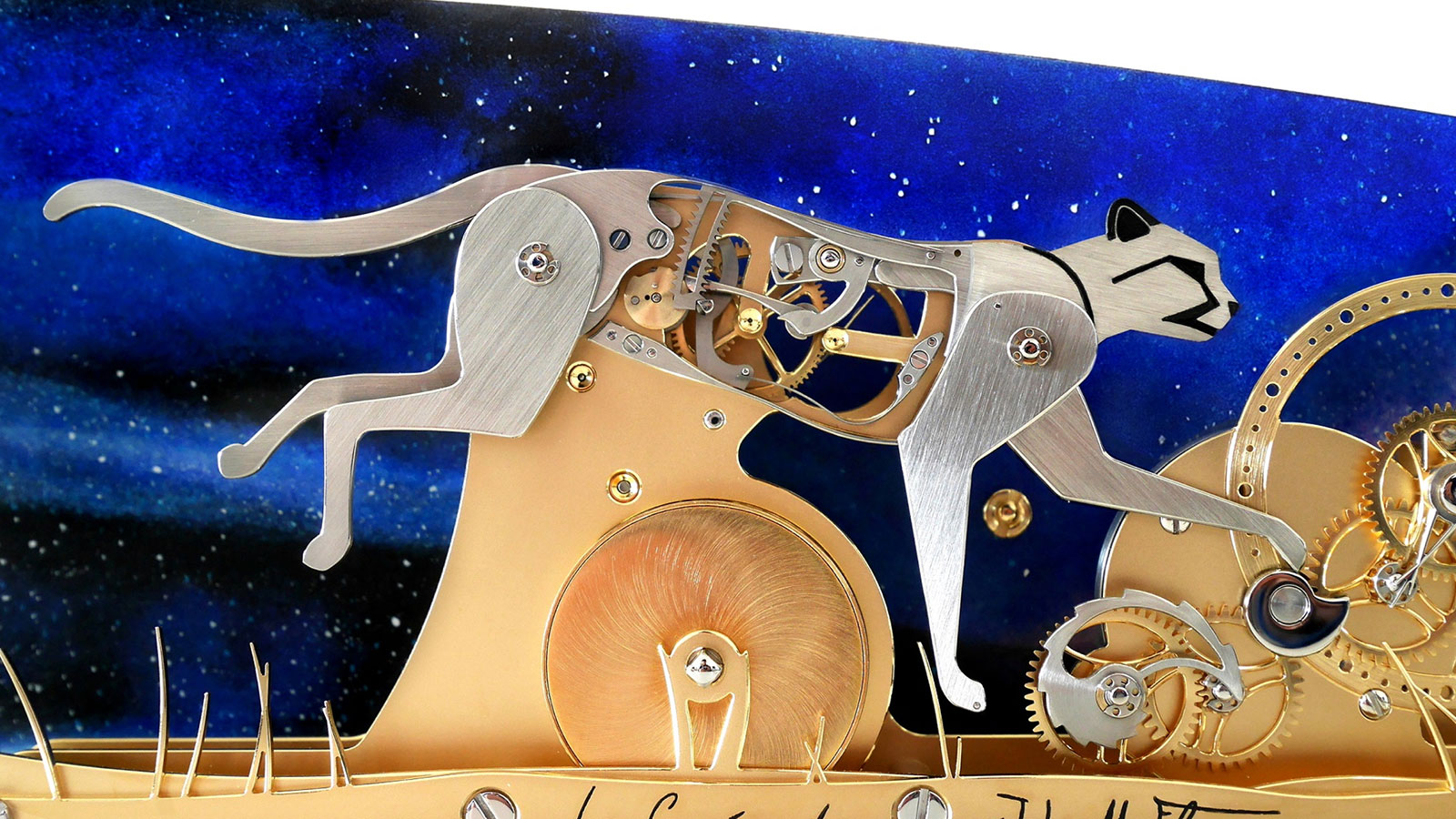 While the time display is set via a small crown, the clock has to be wound with a key. On full wind it'll run – and chime – for 45 hours.
Only five will be made, each customised to the client's wishes in terms of decoration and painting. Though Le Guépard starts at a bit under US$33,000, it is reasonably priced for an artisanal, hand-made clock with hour-striking complication.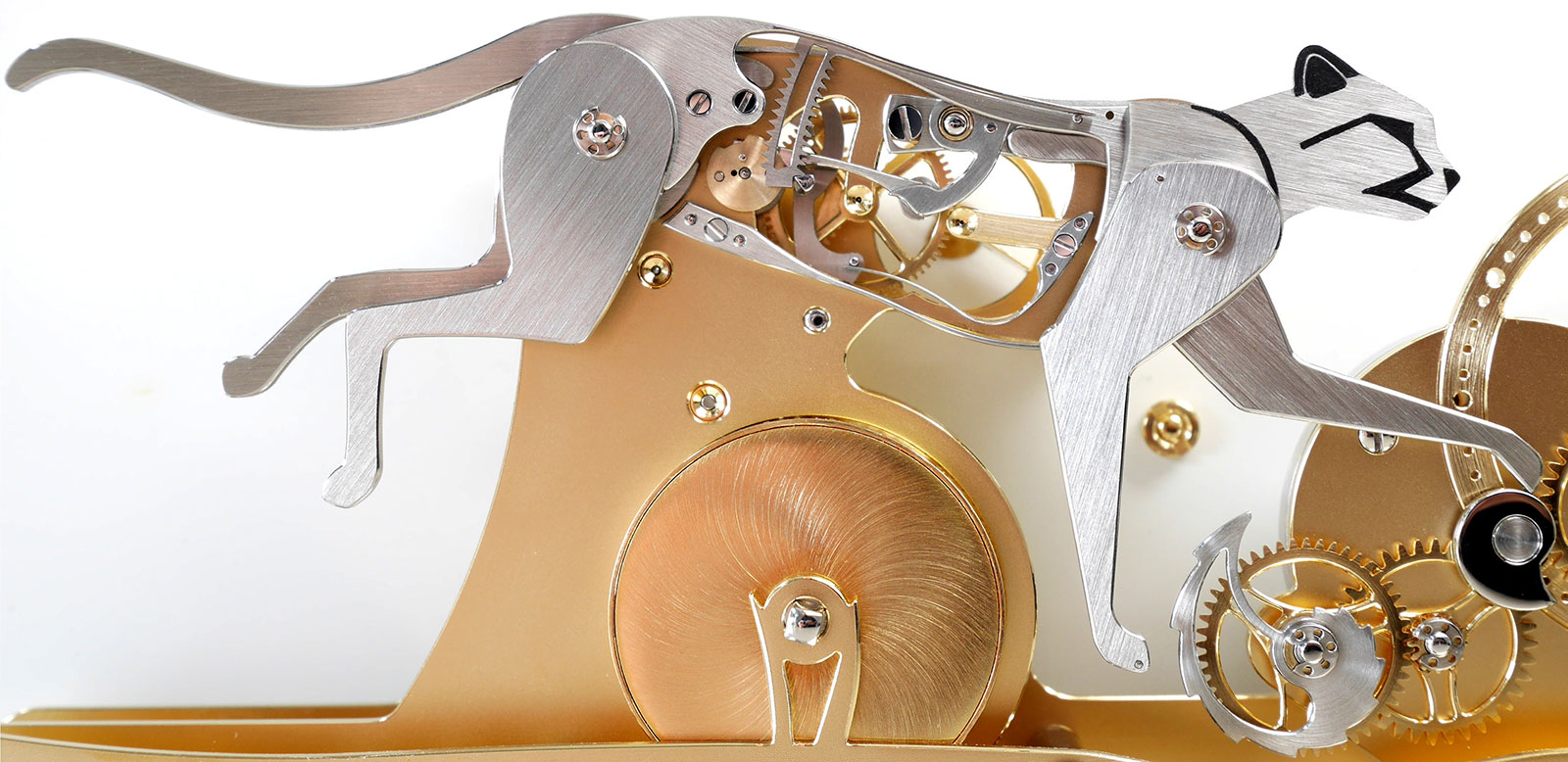 ---
Key facts and price
John-Mikaël Flaux Le Guépard
Dimensions: 30 cm by 10 cm by 10 cm
Material: Stainless steel and brass
Functions: Time and hour-striker with passing strike or strike on demand
Winding: Key-wound
Power reserve: 45 hours
Limited edition: Five pieces, each customised
Availability: Direct from John-Mikaël Flaux
Price: Starting from €30,000 before taxes, with customisation costing extra
For more, visit John-mikael-flaux.com.
---
Back to top.
---
You may also enjoy these.