John-Mikaël Flaux Unveils the Time Fury P18 Car Clock
The automobile clock that actually drives.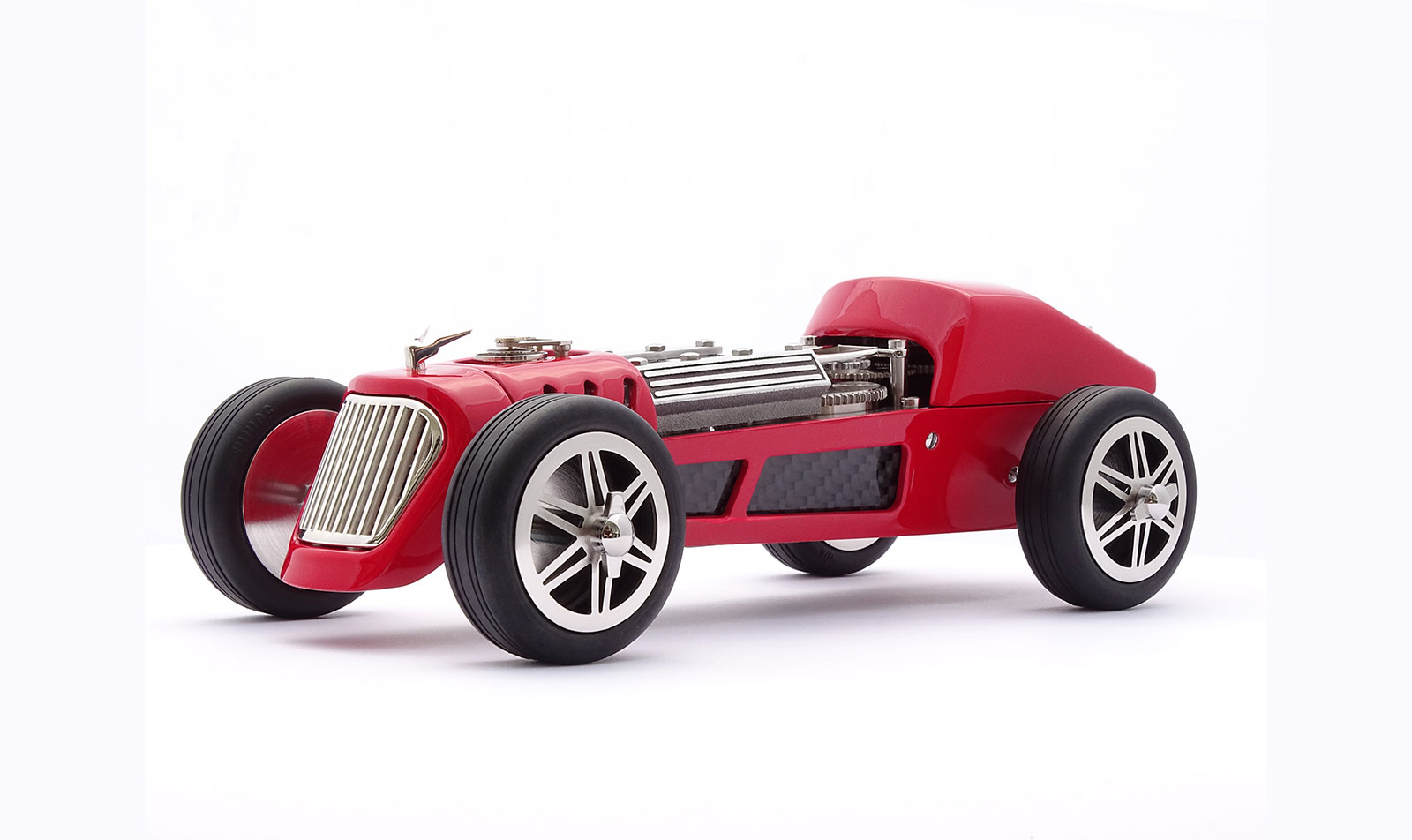 A contemporary of young French watchmakers like Cyril Brivet-Naudot and Remy Cools, John-Mikaël Flaux specialises in unusual and exotic clocks, and also automatons. He once worked for Ulysse Nardin, where he developed a large table clock in the form of a carbon fibre-hulled catamaran.
His recent creations under his own name are self-propelled, automobile-shaped clocks; 8-day tabletop timekeepers that actually move. While his first table clock, the aptly named Car Clock, was modelled on 1930s sports cars, the new Time Fury P18 takes its cues from Formula 1 cars of the 1950s.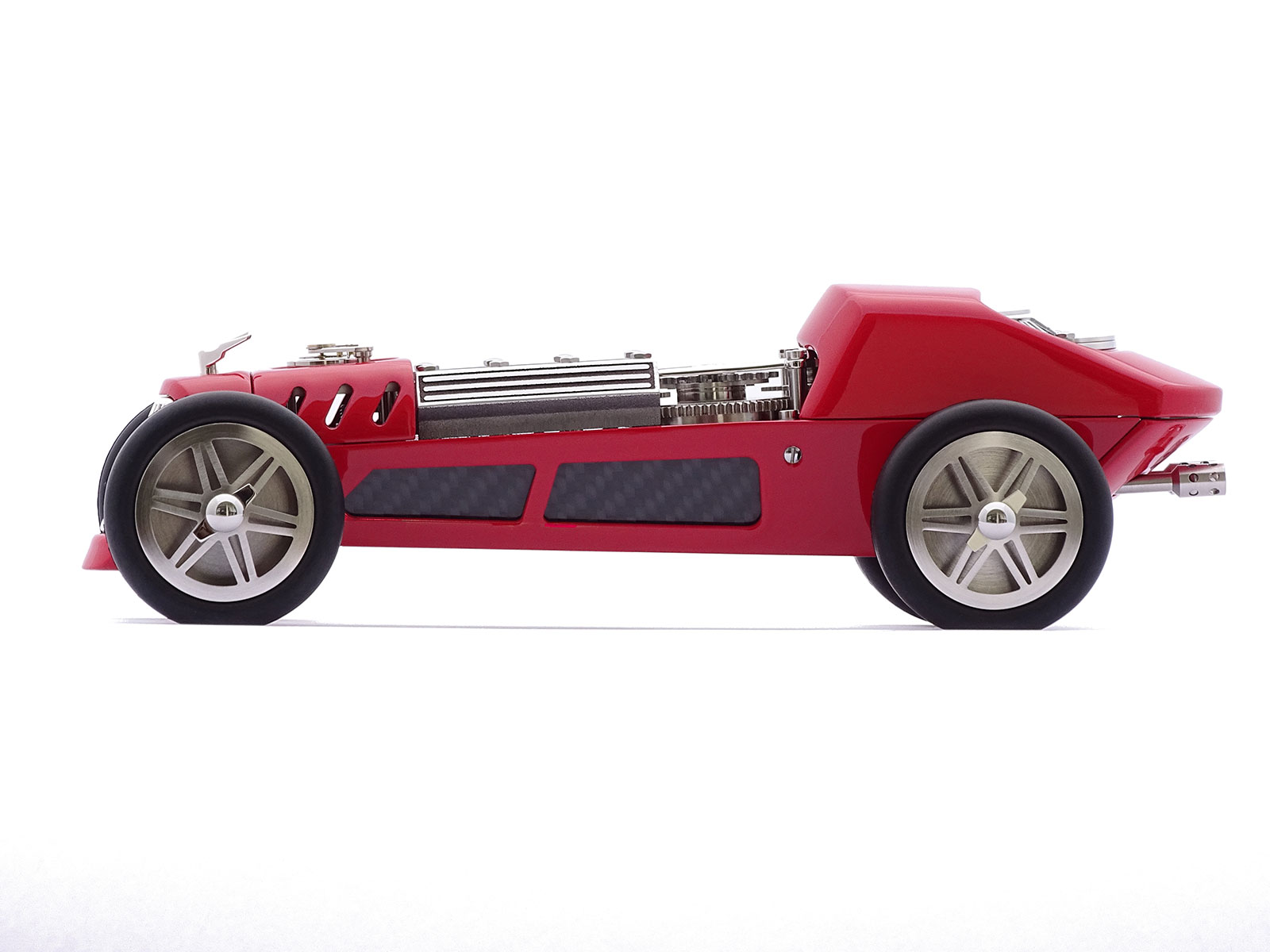 Like the earlier Car Clock, the Time Fury P18 combines both timekeeping and automotive propulsion. The clock travels at a speed of 13.2mm/h, or 31cm per day; that's 12 inches in imperial units. As a result, the position of the car on a desk gives an approximate reading of the time. But the time is also indicated conventionally with a wandering hours display on the back, with moving hour numerals pointing to the minutes.
And if one's desk isn't large enough to accommodate the motion of the clock, it is delivered with a small, transparent pedestal that raises the rear wheels slightly, keeping the clock stationary.
Like a real Formula 1 car, the Time Fury P18 is rear wheel drive, with the two back wheels slowly turning to move the car.
The time display is set via rotating the back wheels, just like the crown of a watch, while winding is accomplished with a crank inserted into the left exhaust. Fully wound, the Time Fury P18 will run for eight days.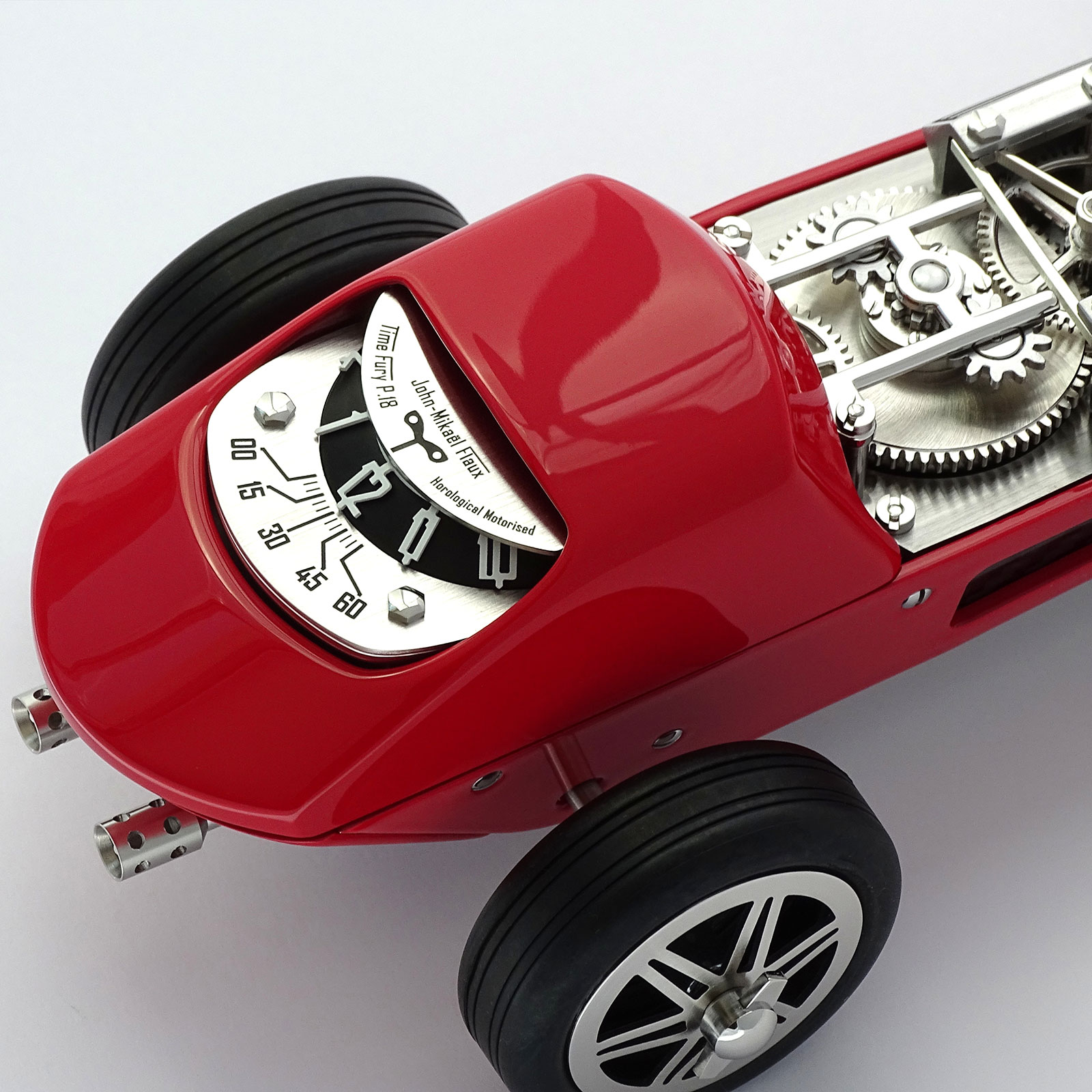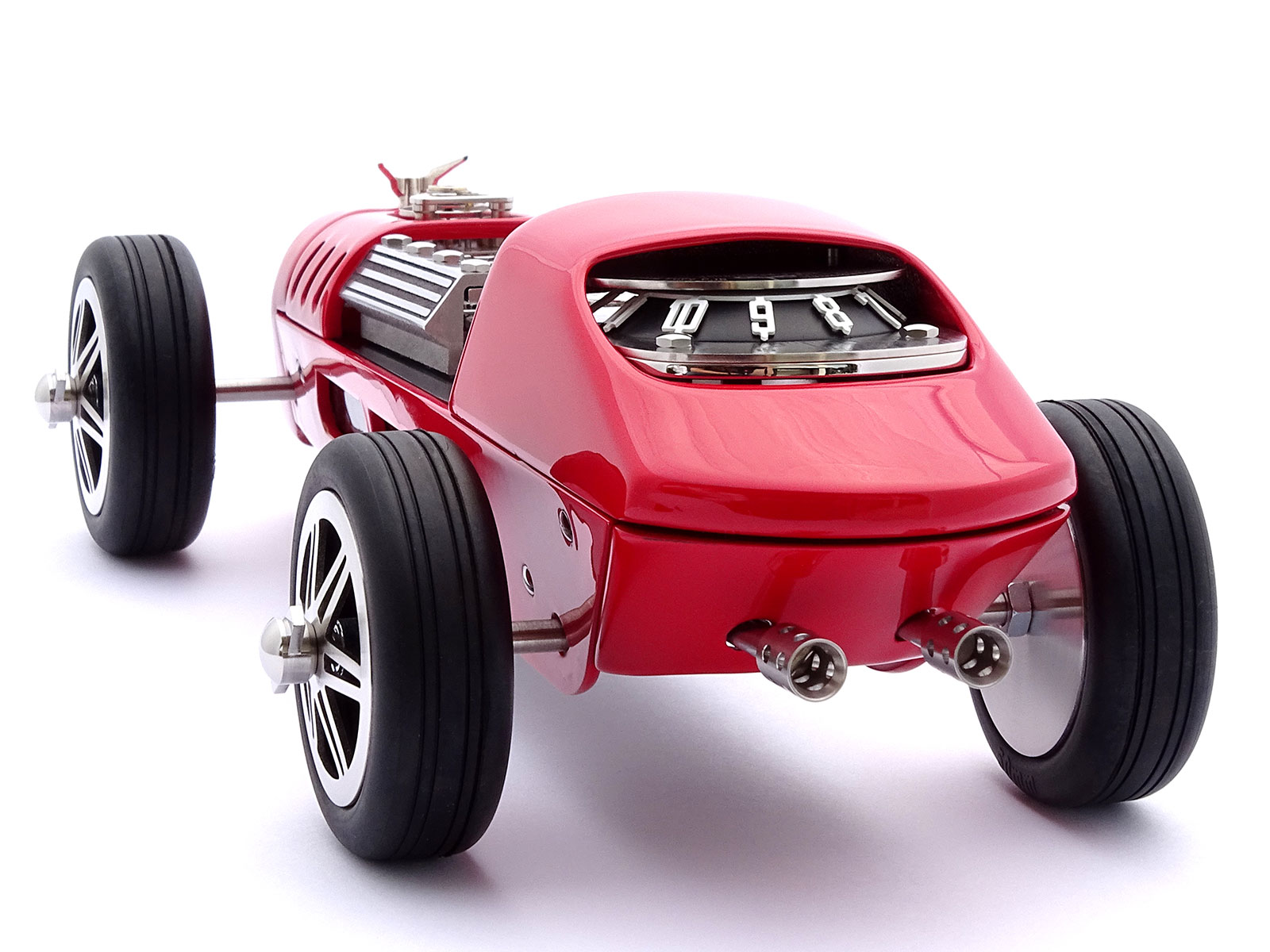 The clock movement spans the body of the car. The time display and winding mechanism are in the rear, while the large barrel sits in the centre. The wheel train is visible beneath an open-worked "engine cover", which is actually the gear train bridge, and culminates in the exposed balance wheel that sits behind the hood ornament.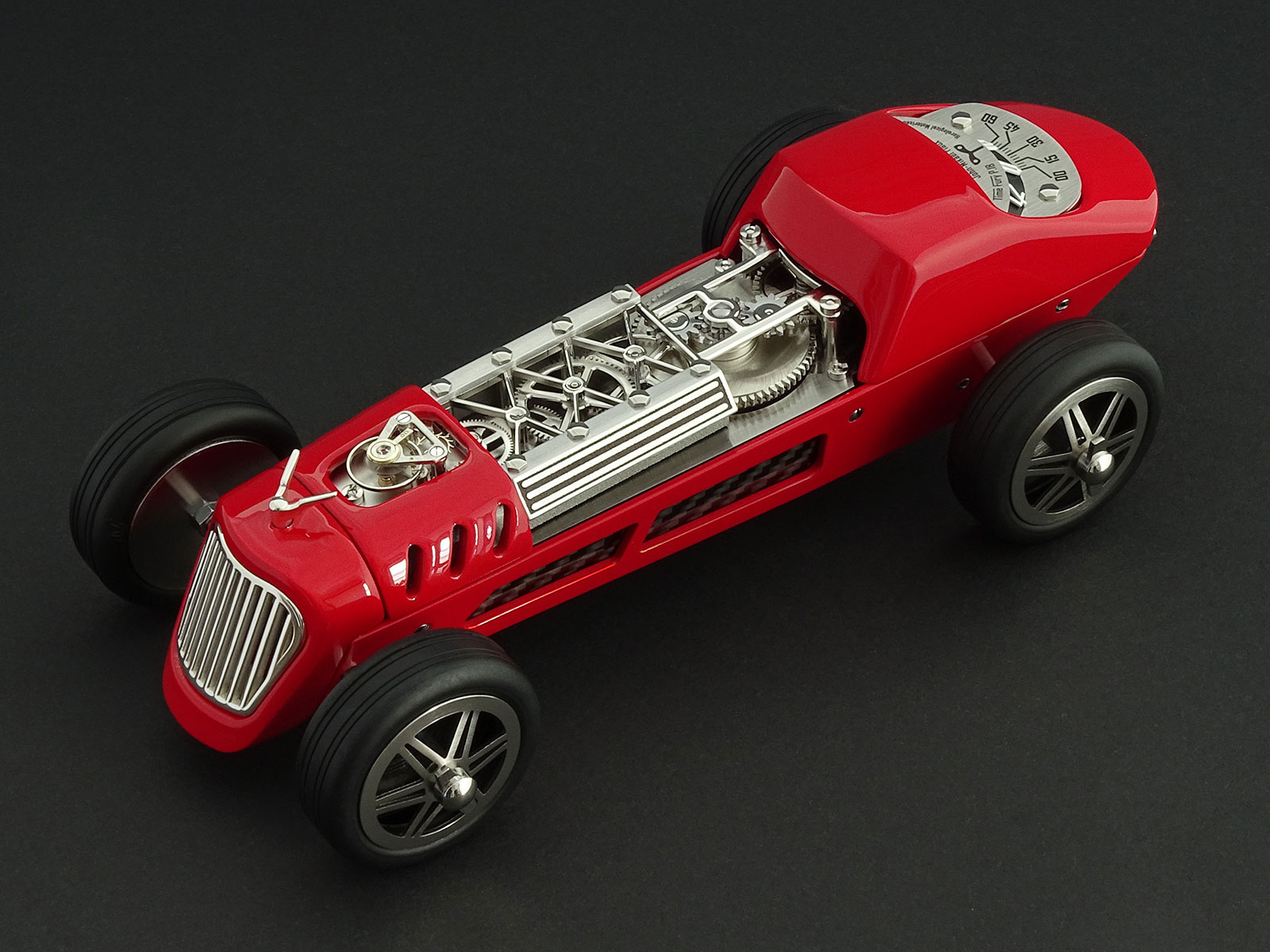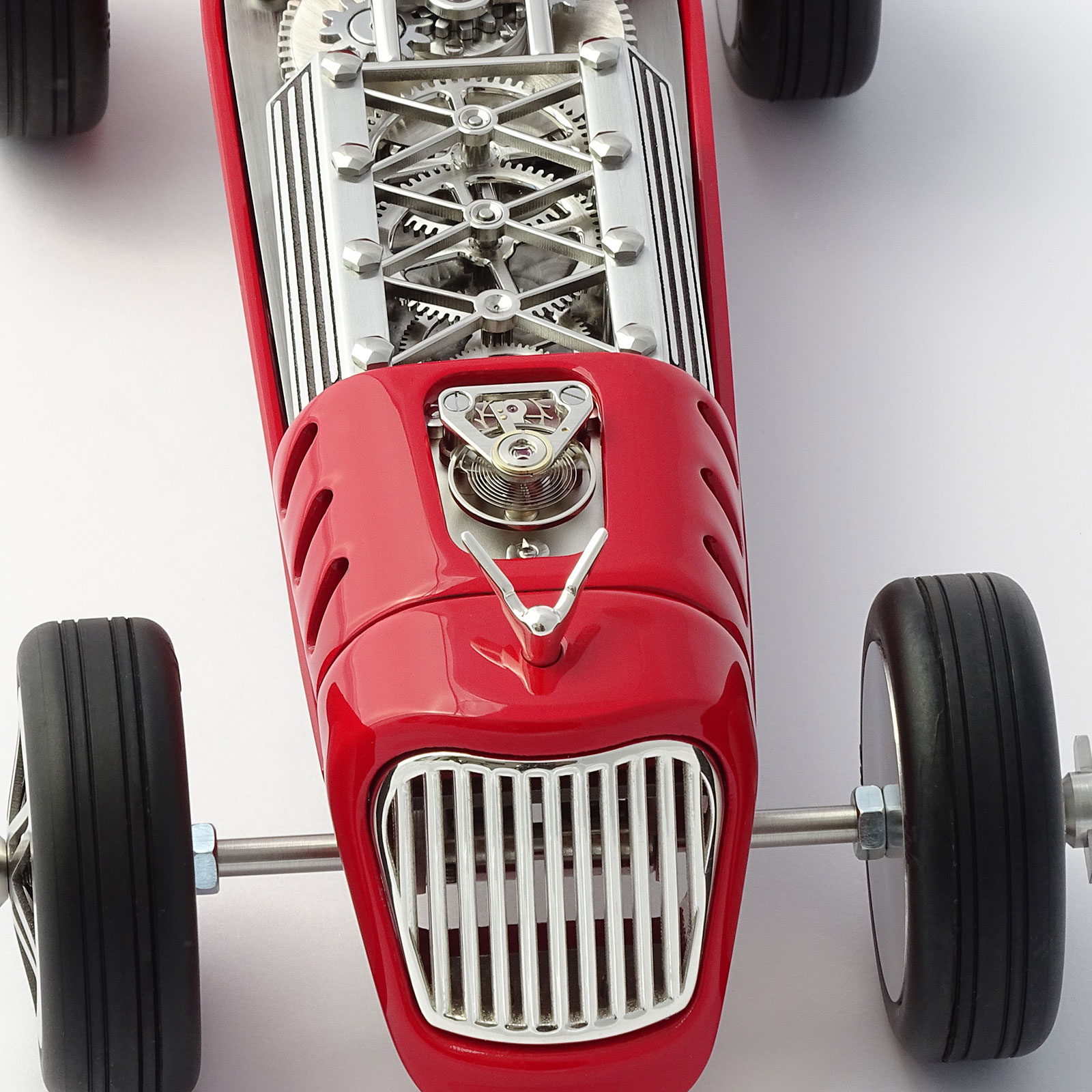 The entire clock is made up of 256 parts, with the bodywork being hand-lacquered aluminium. The plates and gears are palladium plated brass, the pinions are steel, while the radiator grille is sterling silver. And the tyres are rubber, naturally.
Key Facts
Length: 25cm
Width: 12cm
Height: 7.5cm
Material: Aluminium body
Movement: Hand-wound
Frequency: 18,000 beats per hour
Power reserve: 8 days
Price and availability
Limited to 10 pieces, the Time Fury P18 clock is priced at €14,900 before taxes, equivalent to US$16,700. It's available direct from Mr Flaux.
---
Back to top.
---
You may also enjoy these.