John-Mikaël Flaux Debuts Rearing Horse Automaton Clock
Mechanical objet d'art.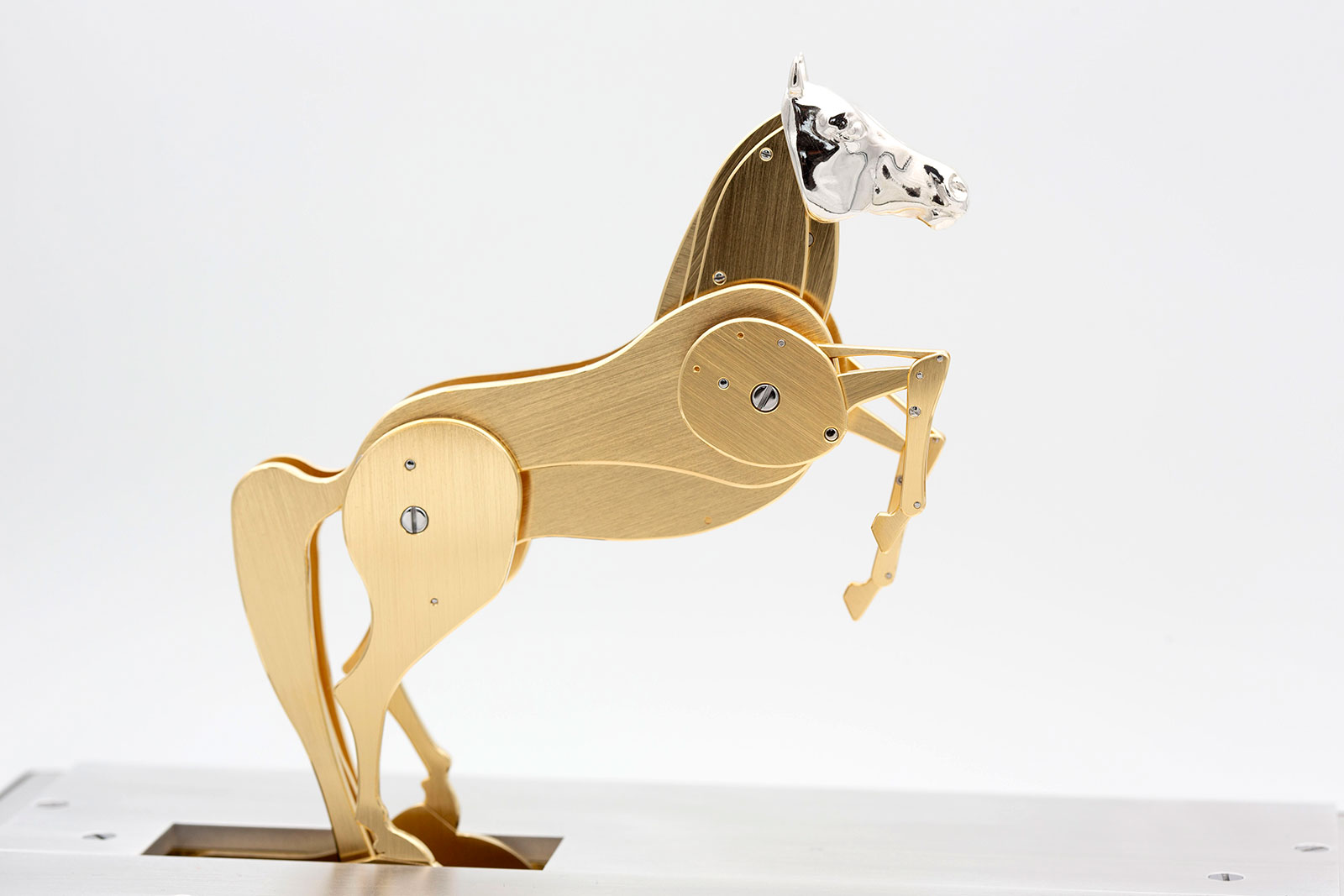 A clock and automaton maker whose timekeepers have taken the form of a running leopard and race car, John-Mikaël Flaux has just unveiled his most complex creation to date. Hand made from brass and steel, Le Cabré is a mechanical sculpture of a rearing Arabian horse with a key-wound clock in its base that doubles as a "mysterious trigger" for the automaton.
Initial thoughts
Le Cabré is very much mechanical objet d'art – handmade and hand finished, while being complex and extravagant. Automaton-clocks like this have long been part of independent watchmaking, but are typically little appreciated, largely due to their cost (and the necessity of having an office or house grand enough to install one of them).
But the craft that goes into creating one is easily understood. Le Cabré is made up of 450 parts, three-quarters hand made by the clockmaker himself, a process that requires 1,500 hours of work according to Mr Flaux.
Priced at a little over US$160,000, Le Cabré is substantially more expensive than Mr Flaux's prior creations, but it is also substantially more complex. At the same time, considerably more lavish automaton clocks that are made of precious metal and decked out in precious stones traditionally have price tags in the millions, making this relatively affordable.
Equine ballet
Standing 24 cm, or a bit under 10″, Le Cabré is made up of a horse automaton protected by a glass case, sitting on a wood base. It was conceived by Mr Flaux in collaboration with Ben & Bros, a retailer of timepieces and objets d'art based in the Swiss town of La Chaux-de-Fonds.
Telling the time and activating the automaton are one and the same. The clock in the base is ordinarily facing inwards. In order to tell the time, the clock face has to be swivelled 180 degrees to face outwards – the clock turns on a vertical axis within the base – allowing the time to be read.
This swivelling action is the "mysterious trigger" for the automaton, which then performs its dance over 30 seconds. According to Mr Flaux, he consulted several professional equestrians to perfect the motion of the rearing horse.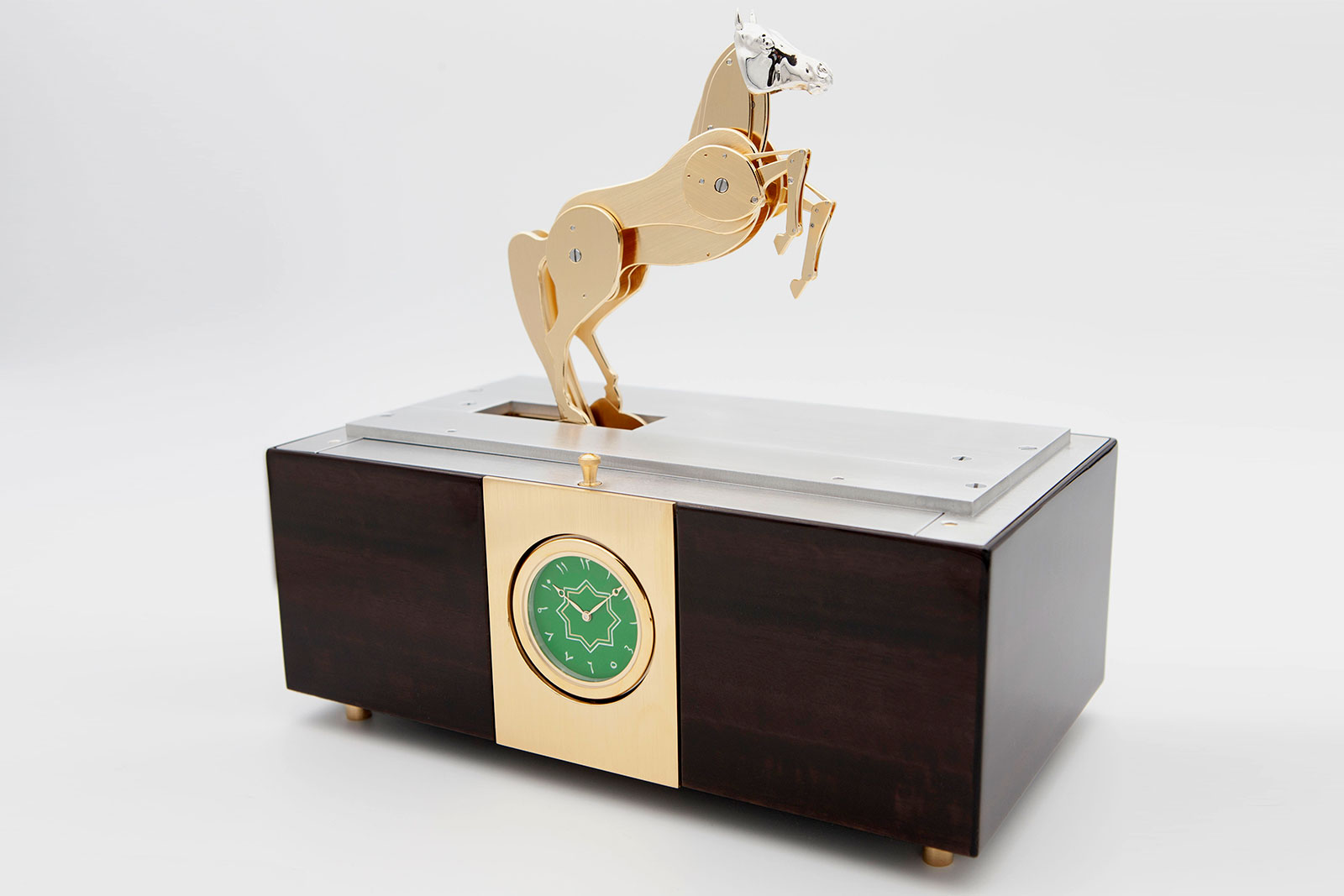 Within the base is the mechanism for the automaton, which has its own mainspring that can power the automaton for 30 activations, which is wound by a key that goes into a socket at the rear of the base.
And time is kept by a vintage pocket watch movement with an eight-day power reserve that's wound via the small crown just above the clock face.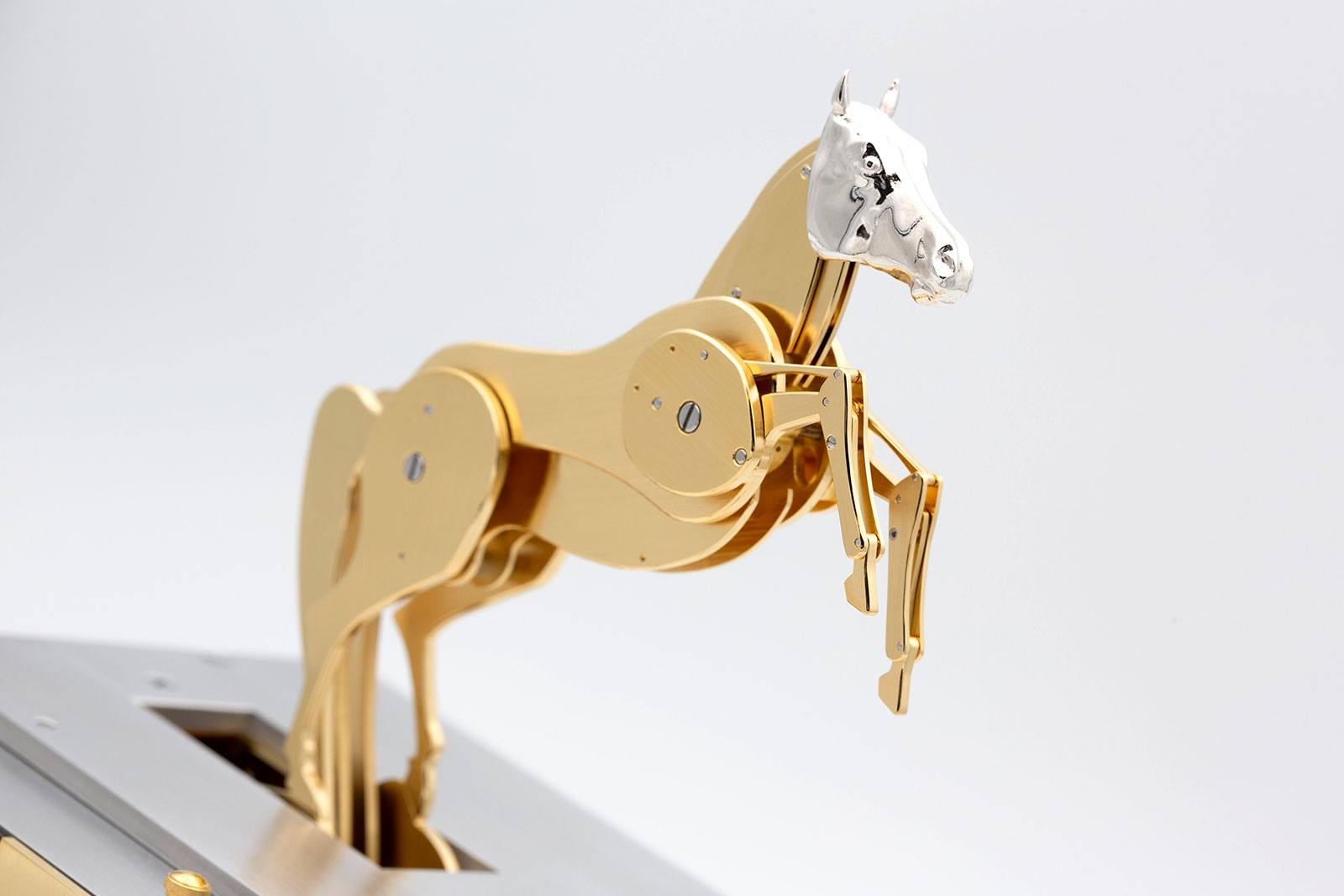 Nature in motion
Le Cabré is made entirely of traditional materials, mostly steel and brass, while the base is clad in smoked eucalyptus wood. Mr Flaux produces and finishes the metal components by hand – cutting, filing, and chamfering the old-fashioned way.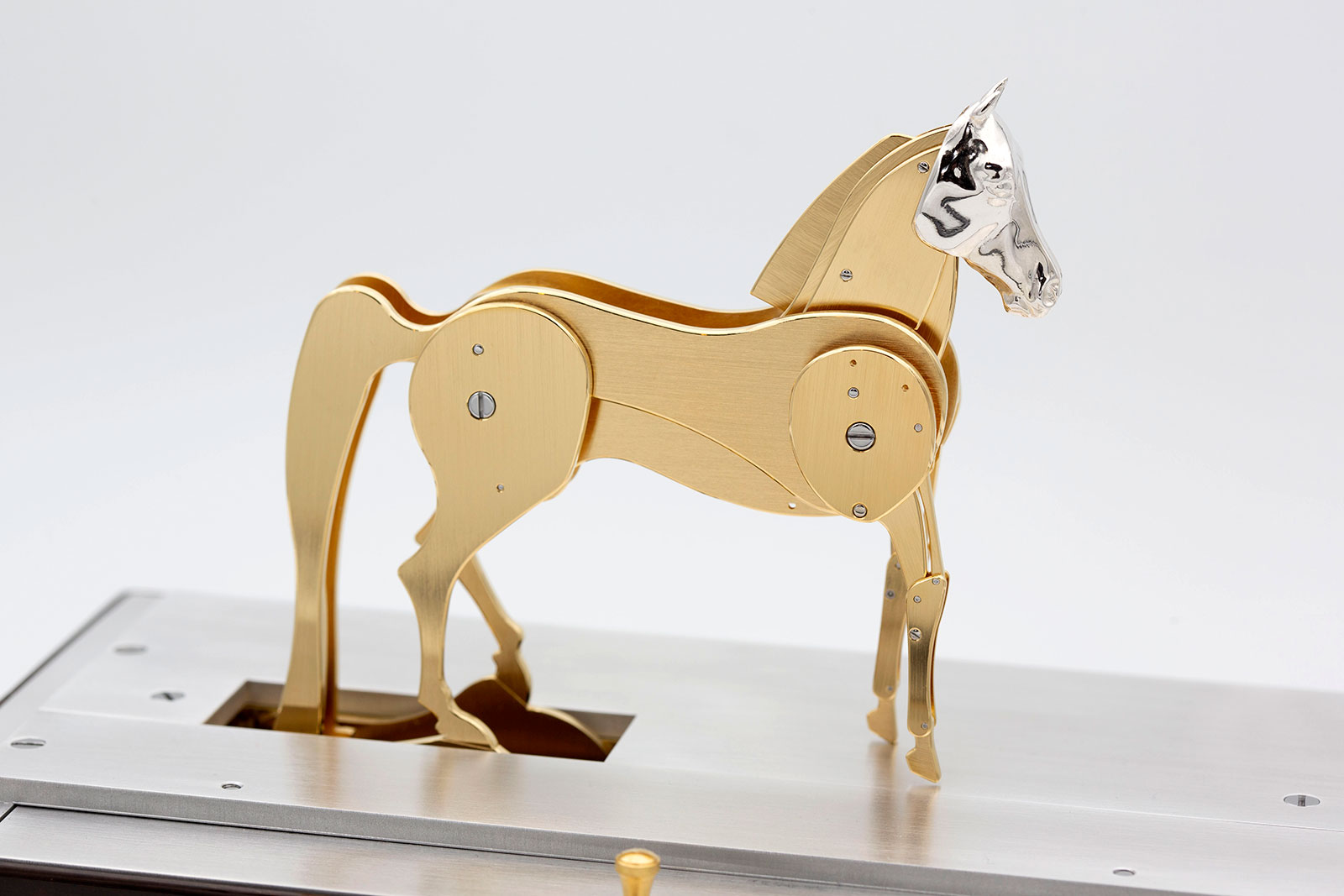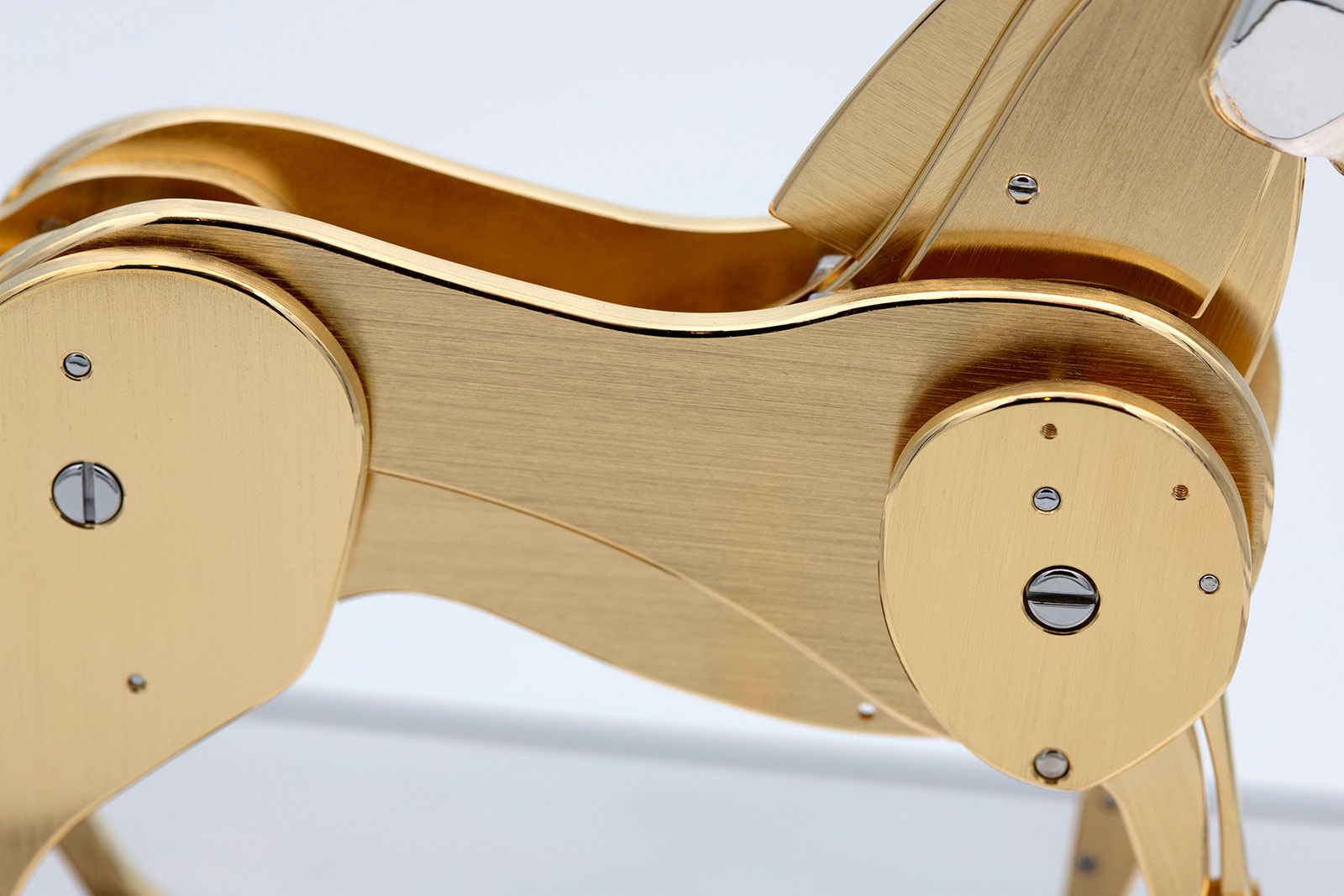 The parts of Le Cabré are like those in a high-end clock. The horse, for instance, is composed of brass parts secured by steel screws and pins. All of the brass components are straight grained with chamfered edges, while the screw heads are polished. And the head of the horse is polished, solid silver.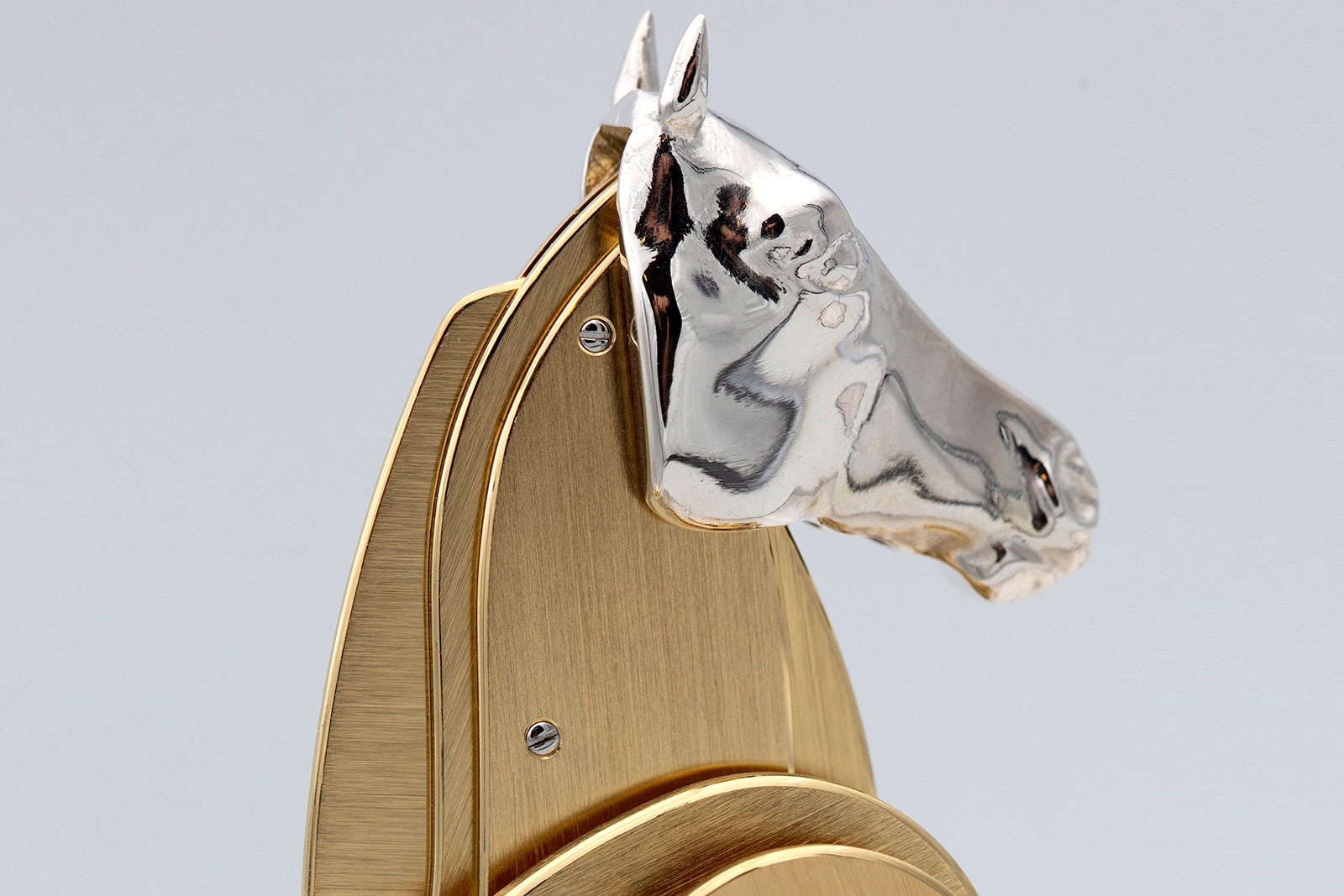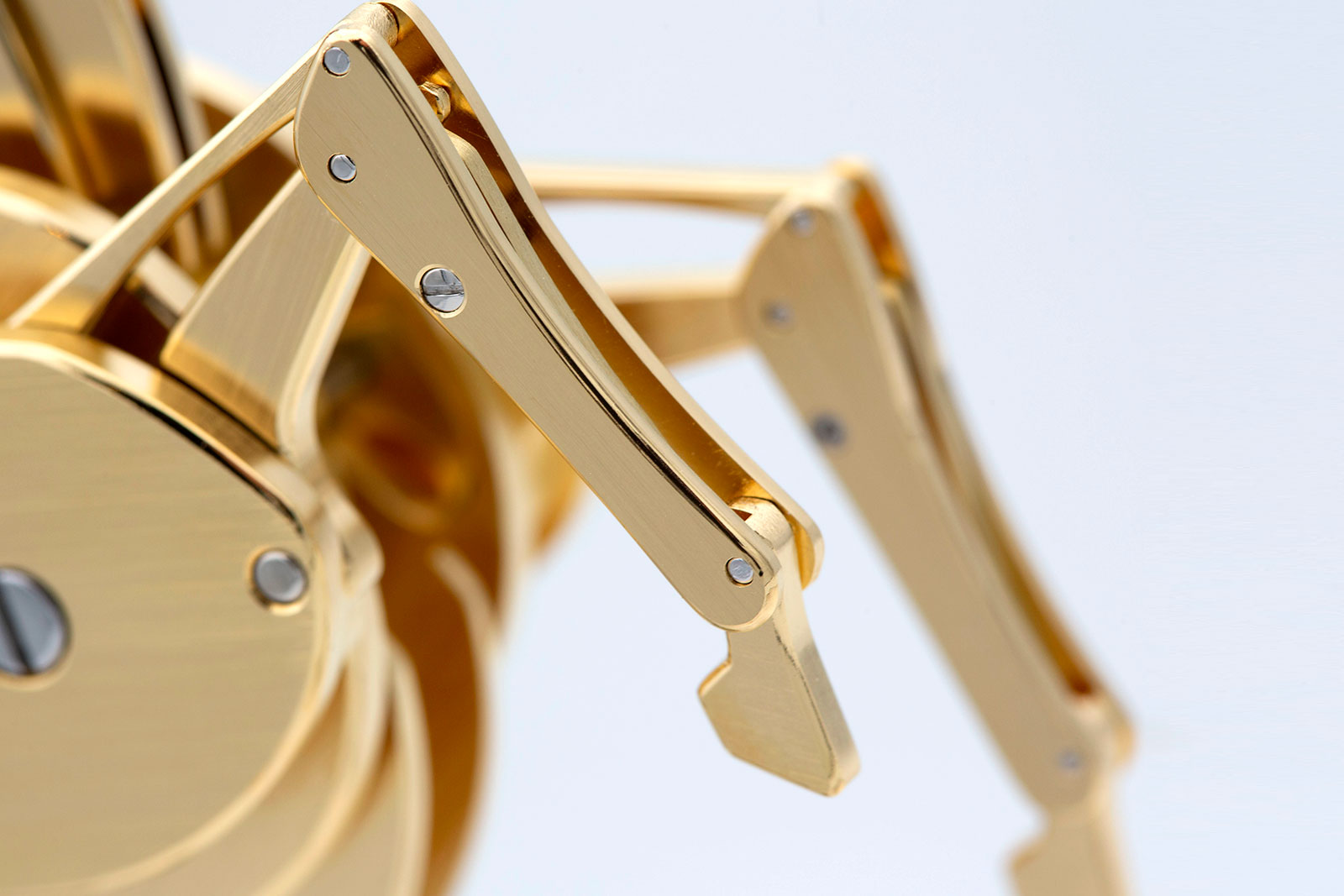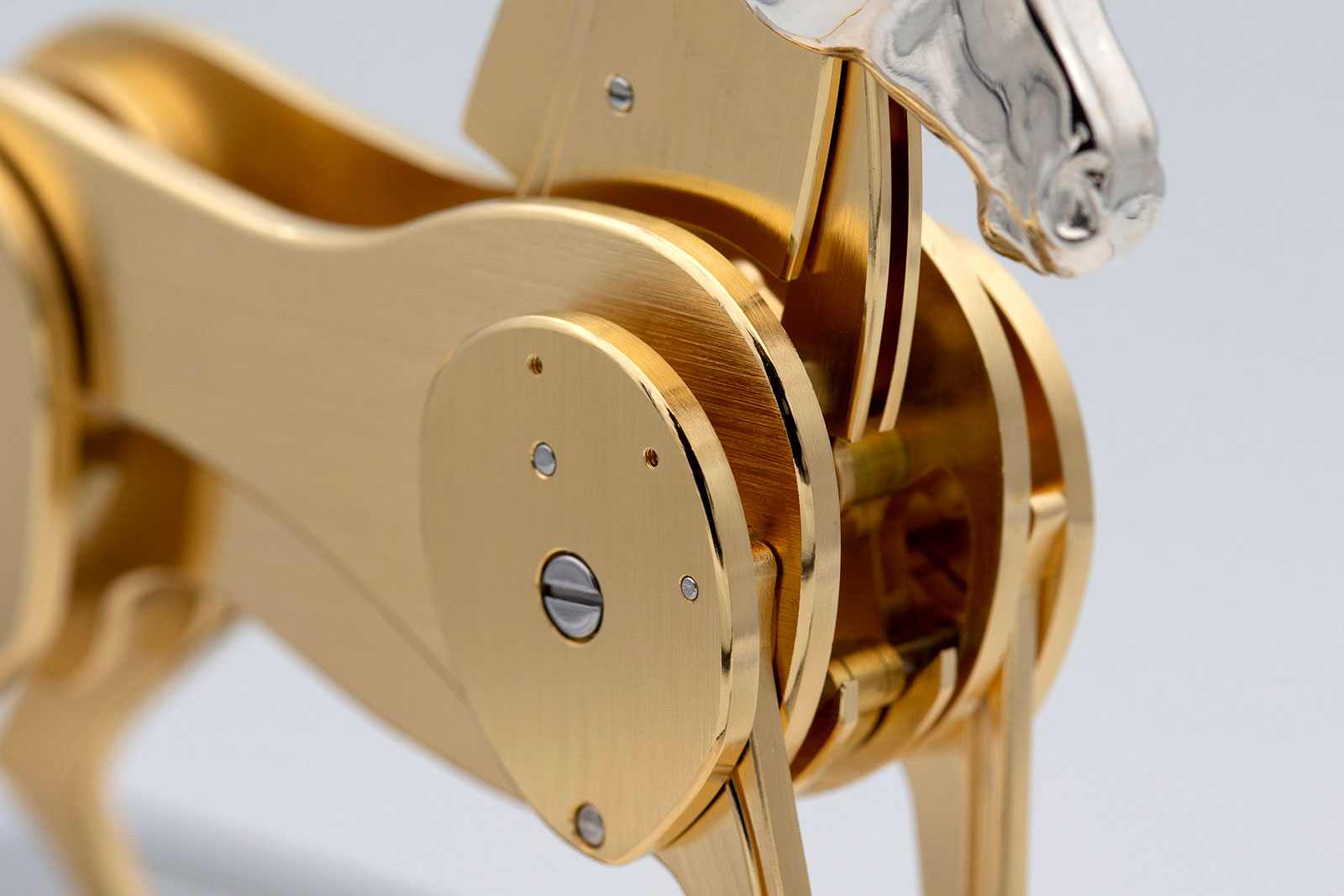 The automaton is delivered in a trunk that's constructed the traditional way: a wood frame covered in leather that's held together by hand-applied brass rivets, while the interior is lined with Alcantara.
Le Cabré is made to order, with a variety of materials and finishes available. The clock in the base can also be customised according to the client's specifications.
All photos courtesy of ManVsWatch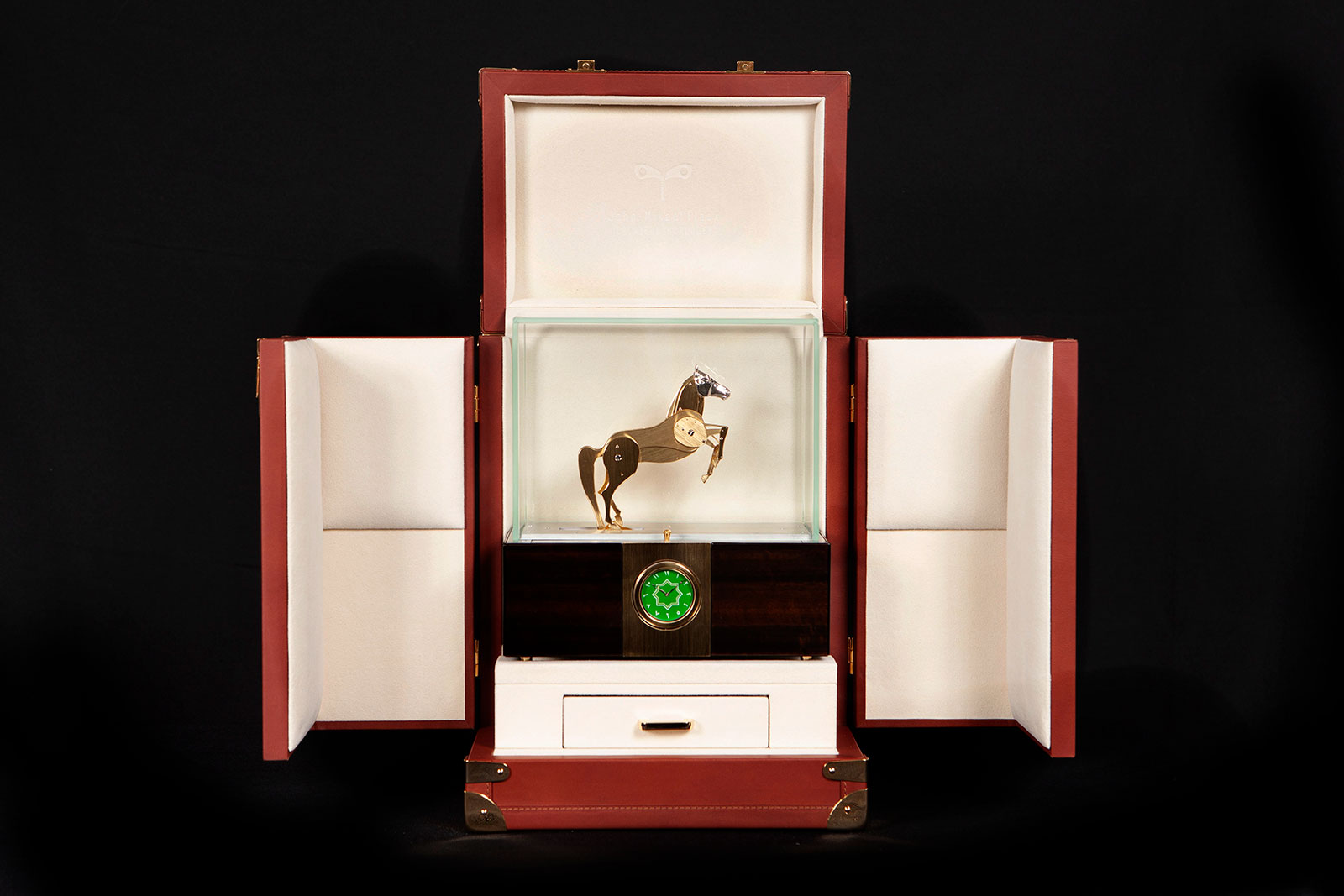 ---
Key facts and price
John-Mikaël Le Cabré
Dimensions: Base 22.4 cm by 12.4 cm, 24 cm tall
Weight: 2.5 kg
Materials: Stainless steel and brass, eucalyptus wood base
Functions: Hours and minutes, with rearing horse automaton
Winding: Key-wound
Power reserve: Eight days for the time, 15 minutes for the automaton
Limited edition: Made to order
Availability: Direct from Ben & Bros
Price: Starting from CHF150,000 before taxes
For more, visit John-mikael-flaux.com.
---
Back to top.
---
You may also enjoy these.