EDITORIAL: The Rise of Personalisation For Luxury Watches
Luxury watches are less rare than they once were, with the cumulative quantity in circulation increasing every year. With the slowdown in fine watchmaking, watch brands need to make the client feel special.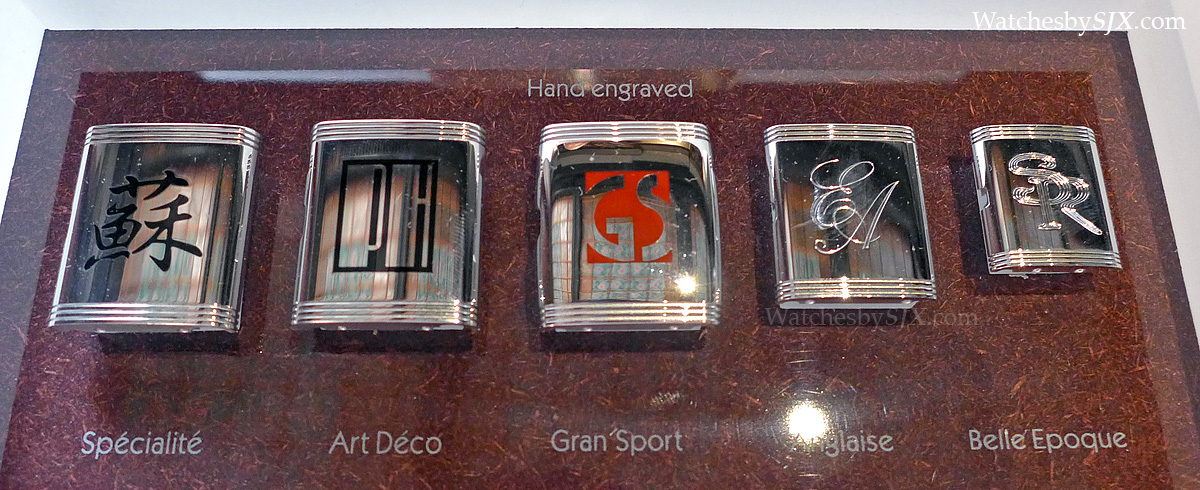 Luxury goods are supposed to be exclusive, perhaps unique, demonstrating the savoir-faire and patrimony of centuries old maisons. Critics, on the other hand, allege that is no longer the case. There is lots of evidence to back up those claims, since the biggest luxury houses like Louis Vuitton, Hermes and Chanel each do several billion dollars worth of business each year.  Though the watch industry is smaller, it is equally prolific. The three largest watchmakers in Switzerland – Rolex, Omega and Cartier – between them produce nearly two million timepieces every year. Even the preeminent name in haute horlogerie, Patek Philippe, has an annual output in the mid-five figure range. Fine watchmakers are also just as global as luxury fashion houses. Leading watch brands have outposts everywhere, even at the frontiers of global capitalism, boasting stores in Africa and Central Asia. Can luxury watches continue to be special?
Personalisation is one obvious solution. It is now common amongst leather goods brands. Bags and wallets can be be engraved, embossed or painted with initials for a modest fee, with custom motifs also available for a little bit more. For watches personalisation is still nascent. While major high horology brands offer their best clients – meaning those who spend millions – custom watches, such timepieces are extraordinarily expensive. Custom watches often emerge at auction, providing a glimpse into what those with unlimited budgets can achieve.
Vacheron Constantin's recently launched most-complicated-watch-ever is a one kilo example of a wealthy client can demand. Amongst the best known are various Patek Philippe complications fitted with unique dials or laden with precious stones. Despite their ostensible rarity such watches regularly appear at international watch auctions.  For the ordinary consumers, large watch brands strive to offer a standard product, both to enjoy economies of scale in production and to build brand equity. A consistent product and image, achieved via product and also boutiques, is necessary in order to build up a strong brand identity. That's why the average buyer has to contend with a Henry Ford-inspired philosophy of being able to have it in any colour, so long as it's the one in the catalogue.
Consequently, almost none of the established watch brands offer any sort of personalisation on a commercial scale, save for Jaeger-LeCoultre, which fortunately enjoys a ready-made canvas for initials with its swivelling Reverso watch case.  Independent watchmakers, however, need to go the extra mile to survive, which is why most offer personalisation. Small scale independents are typically open to any request. In fact, it is more unusual to find an independent that refuses custom orders. MB&F is one of the few that almost never creates one-off timepieces, for the same consistency and brand equity that big brands strive for.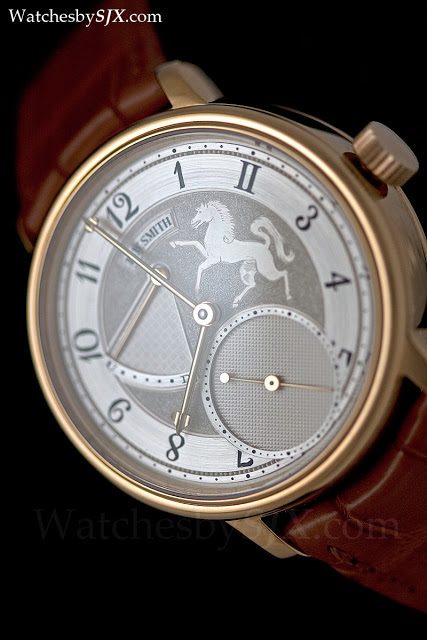 A custom Roger W. Smith Series 2 with a horse motif
Times are a changin'
The situation, however, should change, and probably will. Big watch brands will offer more personalised products, because it's what clients want. The popularity of personalised leather goods at Louis Vuitton demonstrates. Even if it is a product every other person has, a monogram still makes it special. Offering options, just like in an automobile, is the simplest form of personalisation.
Right now the only option available to a watch buyer is the colour of the watch strap. Why not the colour of the hands, hour indices and dial? But technology will like more sophisticated personalisation easier. Unlike bags and wallets which are "soft" luxury in industry parlance, watches are "hard" luxury; leather is easier to personalise than metal. The most common form of personalisation on metal is engraving; watches are usually engraved on the case back. That process is relatively costly, even when done by machine.
Advances in manufacturing technology, especially the spread of 3D printing, will make personalisation cheaper. Historically manufacturing technology has been subtractive, meaning that material is removed in order to create the component. Watch parts, both movements and cases, are mostly made in this way. Cases are often stamped from a block of metal, and then milled to give them additional detail and shape. Those processes are all subtractive and expensive, requiring costly computer-controlled machines. The material cost is also high: to create a gold watch case requires a block of gold significantly larger than the final shape.
In contrast 3D printing is additive, meaning that material is added, drop by drop, to form a part. That means less material is needed to start with, an important factor when using expensive precious metal. And 3D printing itself is affordable. Basic 3D printers which work with thermoinjected plastic are available for about a thousand dollars online; some hobbyists even manage to assemble 3D printers from off the self parts. More advanced models, which cost more, can work with metal.  It's getting progressively cheaper as the technology grows more popular and sophisticated. Technology like this opens up an enormous number of possibilities in terms of customisation for watches – a case back with initials or symbol can be easily and affordably created.
As is already happening, personalisation will start with the smaller brands, those hungry to make a mark and earn the interest of collectors. Though it might conflict with the goal of building brand identity with a consistent product, watchmakers are shrewd enough to adapt to consumers' demands. Eventually the larger brands will give in and offer clients that little bit more. Watchmaking often lags behind the luxury fashion industry, but it will catch up.
Back to top.
---
You may also enjoy these.