The MB&F HM6 "Space Pirate" Enters Its Second Generation, Now In 5N+ Red Gold And Titanium (With Price)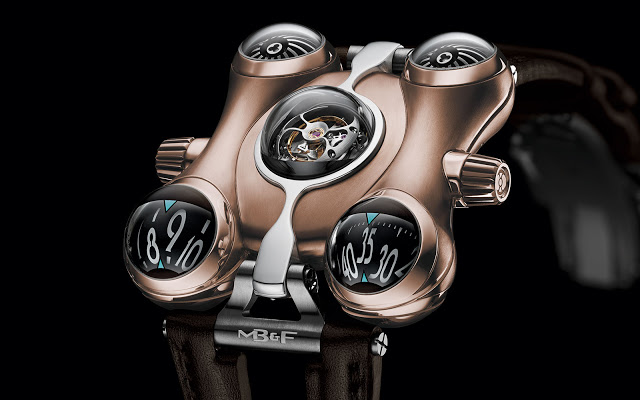 MB&F has just revealed the HM6 RT, a variant of its sixth Horological Machine made of titanium and a special, fade-resistant red gold alloy, limited to just 18 pieces.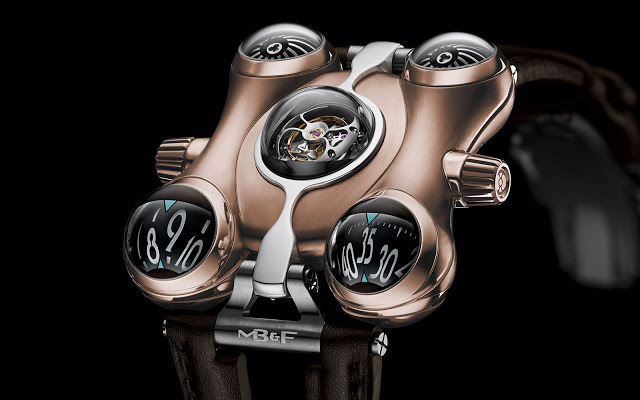 First introduced in titanium, the MB&F HM6 is now available in a more precious alloy, red gold. But not just any red gold, the HM6 RT case is 18k 5N+ red gold, an alloy with extra palladium mixed in to ensure the metal keeps its red hue permanently (ordinary red gold, sans "+", tends to fade over time), making it similar to the Rolex Everose and Omega Sedna gold alloys. Red gold is combined with titanium to create the sleekly rounded case of the HM6, a distinct departure from the more angular forms that characterised the earlier Horological Machines. Measuring 49.5mm wide and 52.3mm long, the large case is alleviated by the hinged lugs that hug the wrist. While the first generation HM6 in titanium was lightweight due to the case metal, the HM6 RT tips the scales at significantly more since gold is much denser than titanium.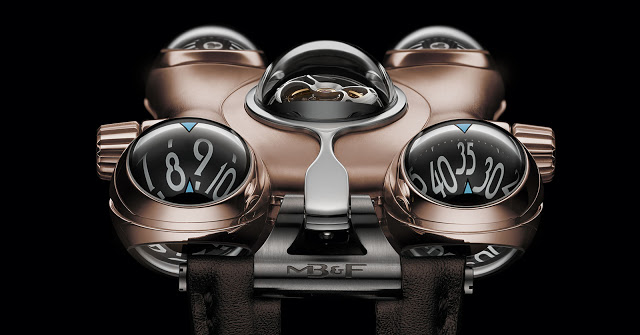 Material aside the HM6 RT is identical to the titanium version, with the movement inside developed by MB&F and David Candaux, a movement developer who's an alumus of Jaeger-LeCoultre. A total of ten sapphire crystals are required for the case. A flying tourbillon sits under the large domed crystal at the centre of the case, along with a retractable hood controlled by the crown on the left of the case.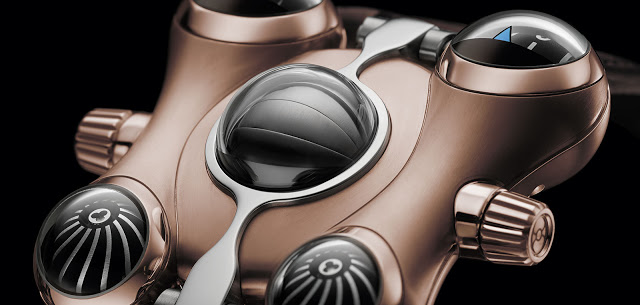 The time is displayed on aluminium spheres on the two lower corners of the case, while the two upper corners are occupied by spinning turbines. Each of these requires two crystals, for the top and underside of the case. Linked to the winding rotor, the turbines help regulate the speed of the rotor.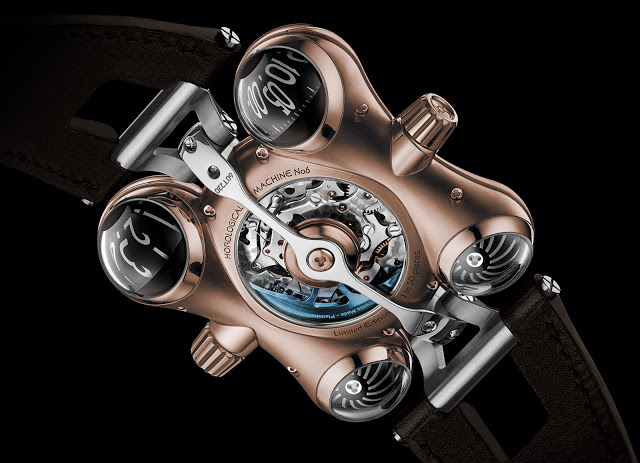 The HM6 RT is priced at SFr220,000 plus taxes. That equivalent to US$233,000.
Back to top.
---
You may also enjoy these.