Clockmaker Jacob Curtis Debuts a Hand-Made Regulator
A precision pendulum clock made the traditional way.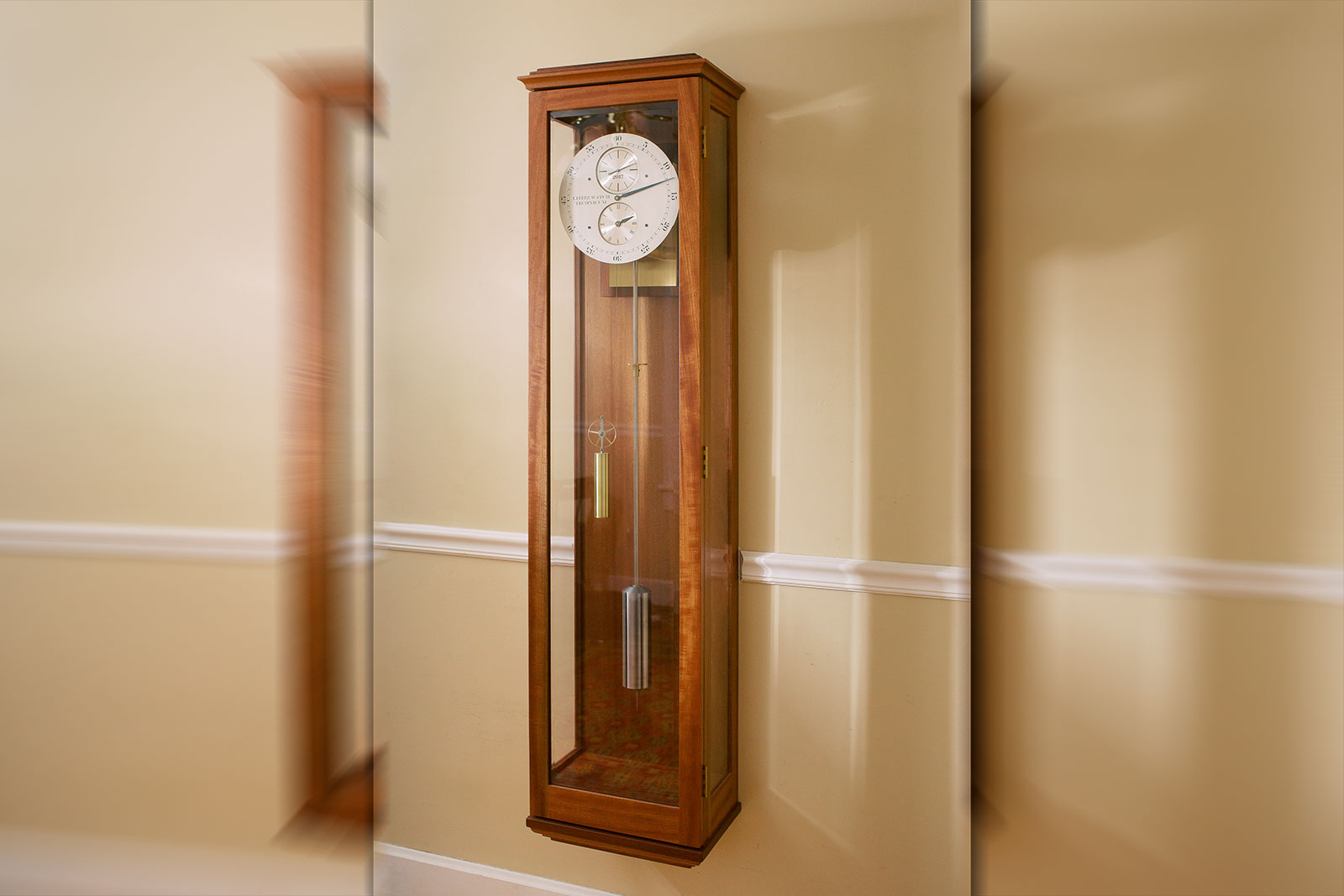 American clockmaker Jacob Curtis recently completed Regulator Clock No. 2, a precision wall clock that is eminently traditional in style, make, and materials. Based in Staunton, Virginia, the 33-year-old graduated from the Lititz Watch Technicum in 2017 and now runs his own watch and clock repair workshop.
Built as a commission from a client, Regulator Clock No. 2 is the first of a pair of clocks, with the second of the pair, No. 3, currently a work in progress. The clocks are actually descended from the school clock Mr Curtis completed during watchmaking school (pictured above), but the basis of his creations lies further back in history.
Mr Curtis took inspiration from the precision regulator clocks made in Germany during the late 19th- and early 20th centuries by firms like Strasser & Rohde and Riefler. Considered amongst the finest clocks of the genre, these regulator clocks were refined by fuss-free aesthetics and extremely high quality mechanics, characteristics that Mr Curtis sought to recreate with his own clocks.
Initial thoughts
Clocks don't have the same popular appeal as watches, so clockmaking remains a niche subject, despite the faddish popularity of watches. Established brands ranging from Chanel to Patek Philippe, but there the brand arguably matters as much as the timepiece.
On the other hand, independent clockmakers are less known but some do impressively fine work. Although I only have photos to go on, Mr Curtis' work clearly falls into the category of impressively fine. His clock reveals not just good craftsmanship but also a keen eye for details, like the elegantly shaped winding click. According to Mr Curtis, all of the mechanical components are made in-house, making it all the more impressive.
While Mr Curtis acknowledges classic German regulator clocks as his inspiration, I hope he will develop a more distinctive design over time, one that allows his clocks to be recognisable from across a room.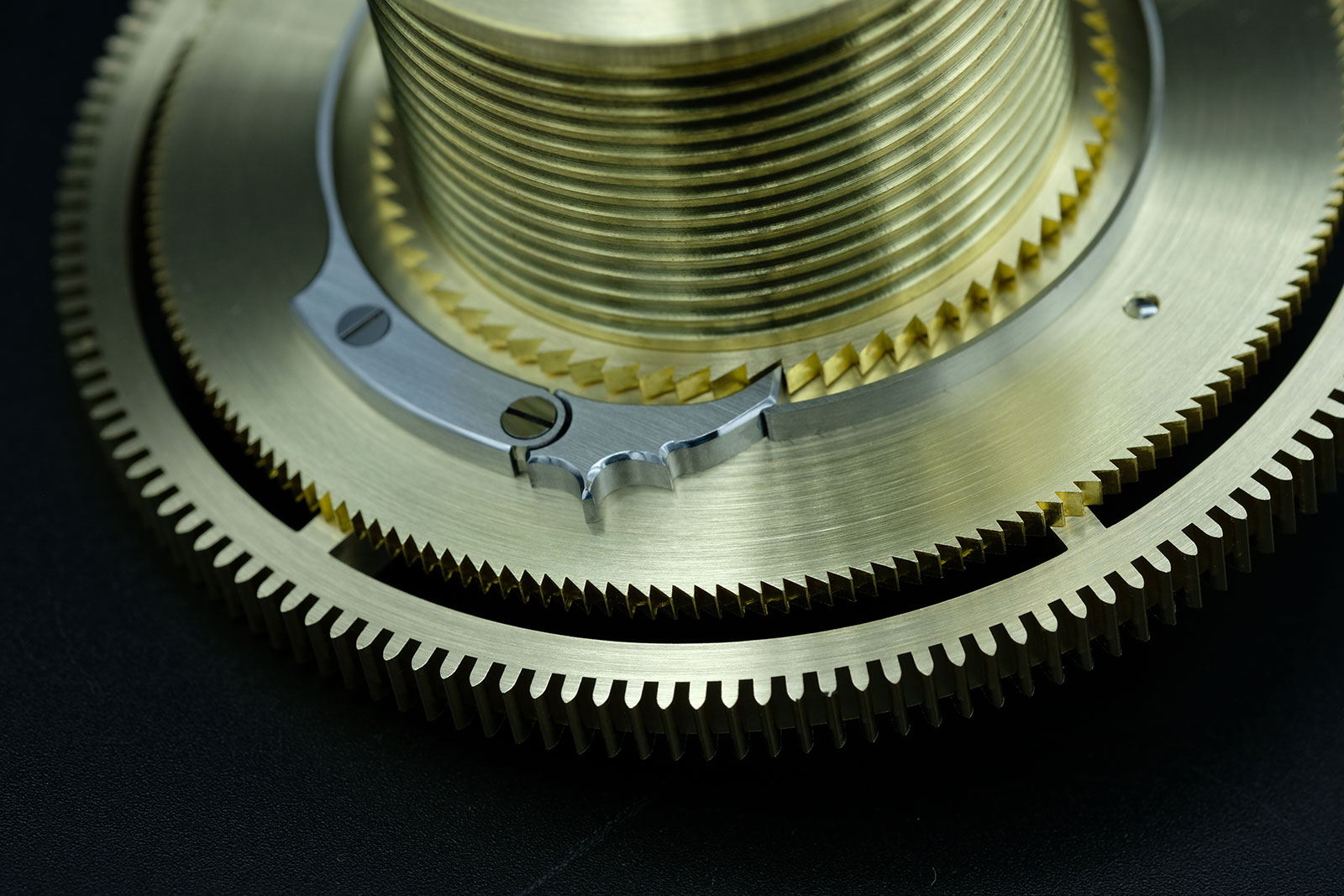 Precision regulator
So named as they provided the reference time by which to regulate other timepieces, regulator clocks typically have separate displays of the hours, minutes, and seconds. The most traditional layout has the minutes in the centre, reflecting the importance of the indication, followed by the hours at six o'clock, and the seconds at 12 o'clock.
Mr Curtis' clock naturally takes after this traditional layout and features a dial that is equally traditional in manufacture. The numerals and markings on the dial are hand engraved by Thierry Duguet, a gun engraver located in Mr Curtis' home state, and then filled with black lacquer.
Behind the dial sits the movement, which is key-wound and has a 30-day power reserve. It is constructed like a precision regulator clock from a century ago: the movement features the Graham deadbeat escapement that is typical for pendulum clocks, as well as Harrison's maintaining power that keeps the movement running while it is being wound.
The pendulum is bimetallic for barometric compensation to deal with the effects of atmospheric pressure on the pendulum. And the balance wheel is similarly bimetallic for temperature compensation.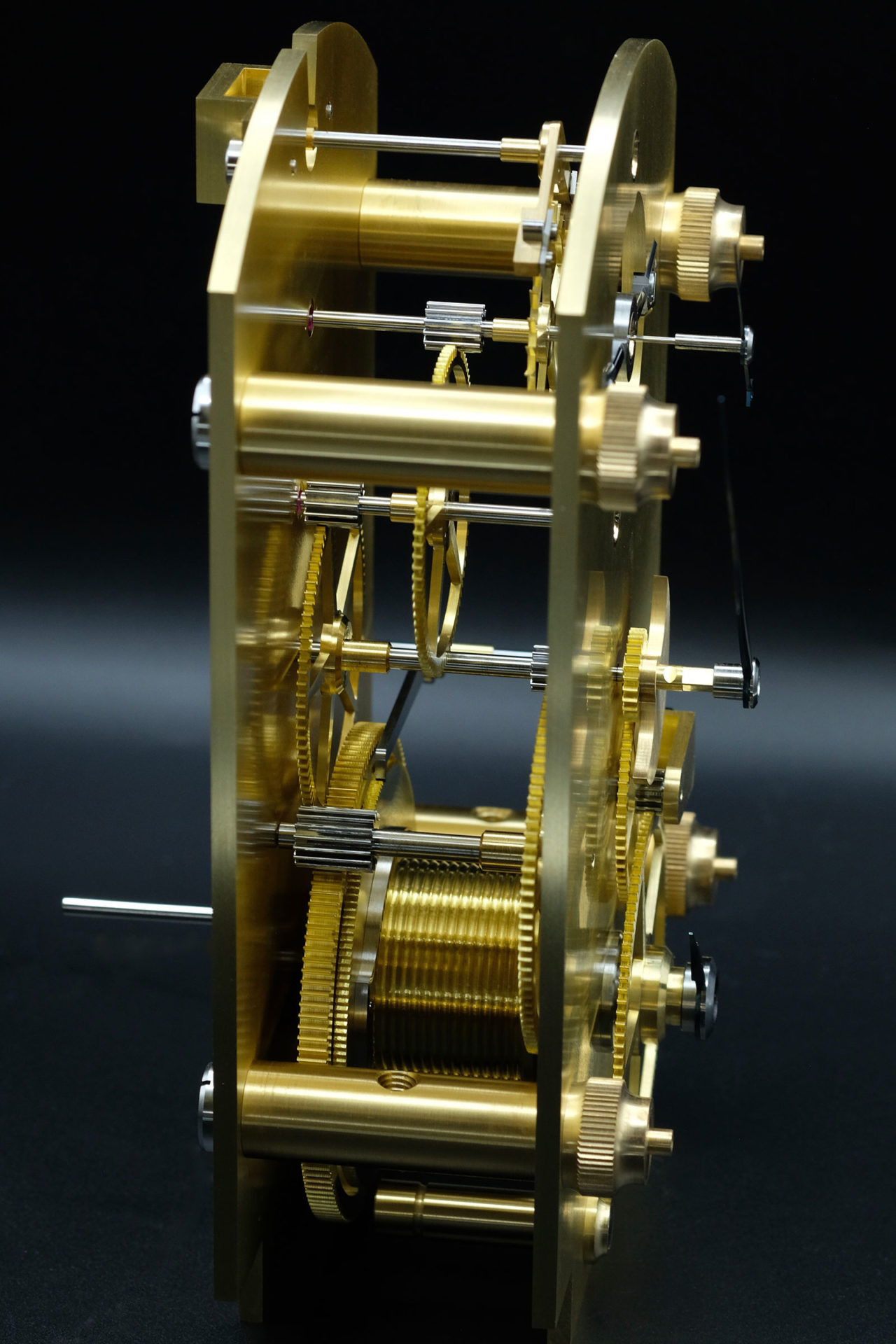 All of the movement is made by Mr Curtis, while the wood case is produced by a woodworking workshop in the same town.
The future clocks produced by Mr Curtis will follow the same template, but the client will be able to customise the dial, wood case, as well as some other decorative aspects.
---
Key facts and price
Jacob Curtis Regulator Clock
Dimensions: 140 cm by 34 cm by 20 cm
Material: Movement in brass, steel, and other traditional materials; case in wood
Movement: Developed and made by Jacob Curtis
Functions: Hours, minutes, deadbeat escapement, and Harrison's maintaining power
Winding: Key-wound
Power reserve: 30 days
Limited edition: Each clock made to order
Availability: Direct from Jacob Curtis
Price: Starting at US$49,000
For more, visit Mr Curtis on Instagram.
---
Back to top.
---
You may also enjoy these.