Hervé Schlüchter Debuts with L'Essentiel Regulator
Everything all at once.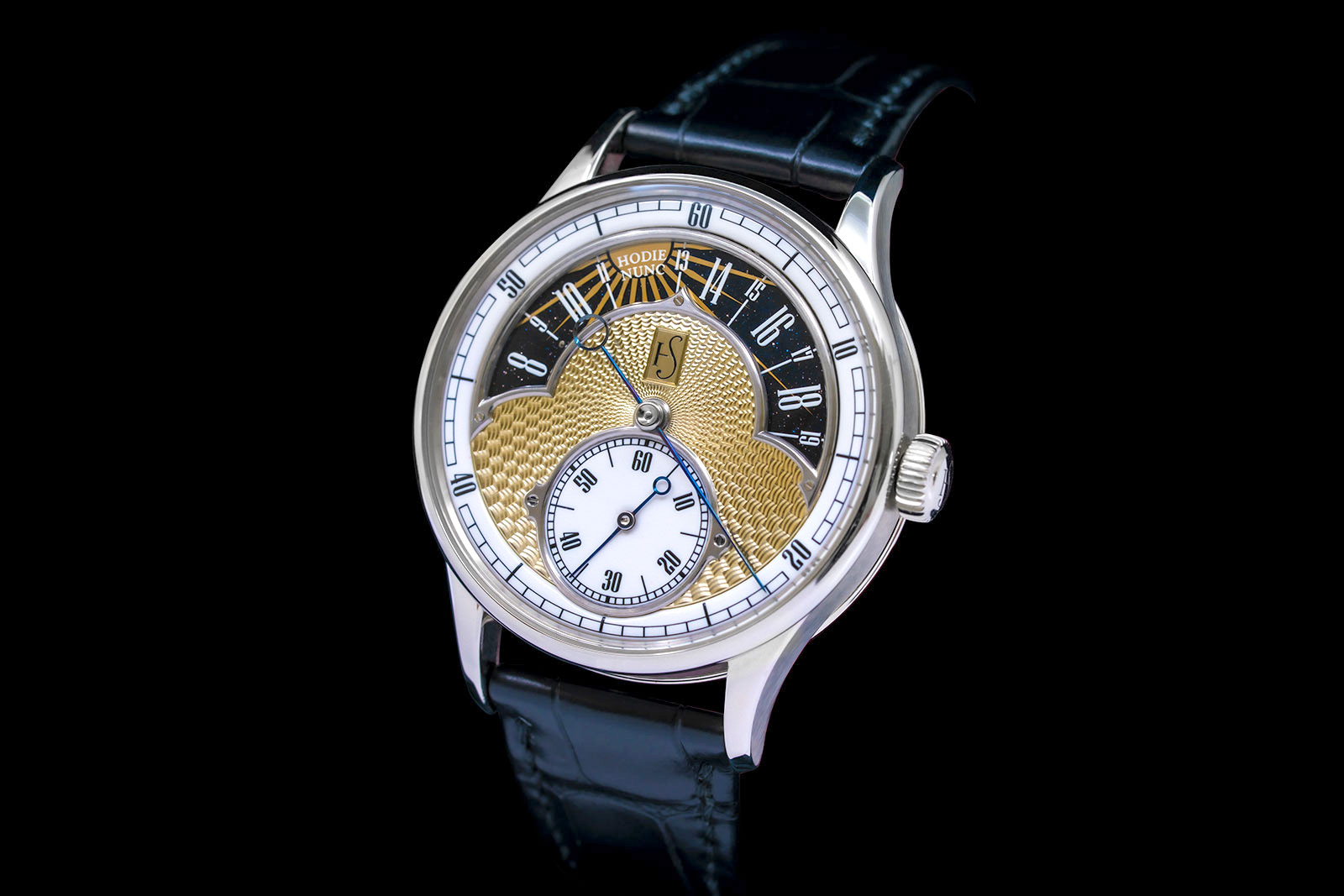 The latest watchmaker to launch a time-only watch with a finely finished movement is Hervé Schlüchter, who makes his debut with the L'Essentiel.
A watchmaker who spent most of his recent career as a movement constructor at Bovet, Mr Schlüchter's entry into the progressively more crowded segment features a regulator-style display with a day-and-night indicator and on the reverse, a hand-finished movement.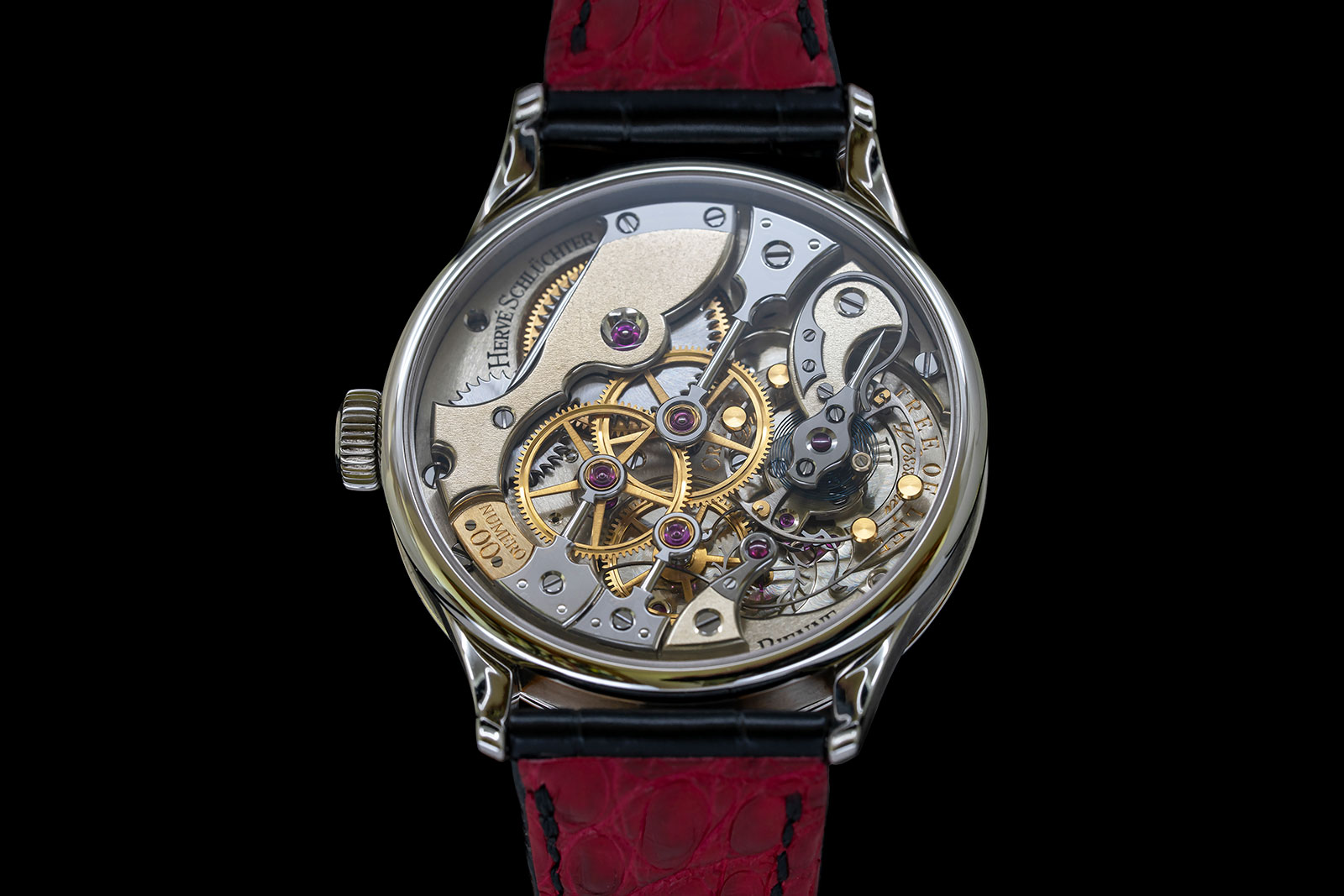 Initial thoughts
Having worked at Bovet and then spent time studying with Philippe Dufour, Mr Schlüchter has the background for a fine watch. Notably, Mr Schlüchter is an actual watchmaker, having trained as a watchmaker and repairer. As a result, the L'Essentiel is arguably purer in concept since it was developed and then produced by a watch-maker, rather than being drawn by a designer or engineer and then outsourced to specialists.
The L'Essentiel lives up to expectations in terms of decoration and construction. It has impressively high quality in most respects: the dial is engine turned by hand, and includes fired enamel, and aventurine. The movement shows off lots of black-polished steel, chamfered edges, and polished countersinks. At CHF78,000 before taxes, the L'Essentiel has a decent price-to-quality ratio.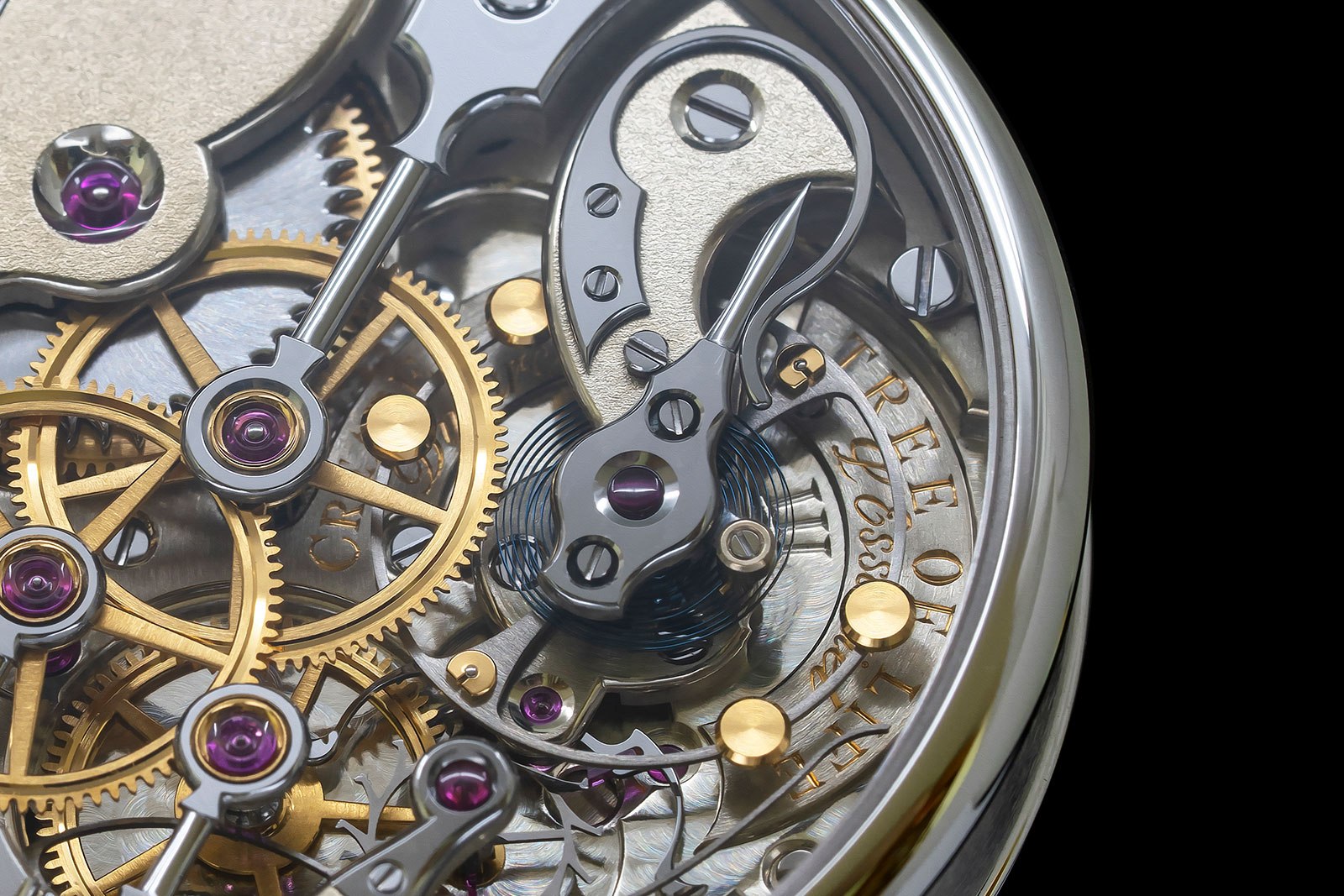 But while watch is titled "The Essential", it is ironically a lot, maybe too much, both stylistically and tangibly. As is increasingly the case with independent watchmaking, the product feels contrived because it wants to be everything that is popular and fashionable now. The aesthetic is overly fussy because the watch incorporates all the elements that new collectors will find impressive.
Having guilloché, fired enamel, aventurine glass, and a polished steel frame à la F.P. Journe gives the dial a confused look. And the movement has tubular steel bridges and wolf's teeth on the winding wheels, both elements beautiful in themselves but better suited to an expansive, open construction instead of the tight squeeze that this is.
At the same time, the launch announcement of L'Essentiel includes a reference to Philippe Dufour, from whom Mr Schlüchter learnt the finer points of movement decoration. The Dufour endorsement is arguably less crucial than it once was, given the increasingly commercial inclination of the Philippe Dufour brand, and since the L'Essentiel can stand on its own as a good quality watch.
Mr Schlüchter's debut watch certainly impresses in terms of its tangible qualities – namely the finishing and construction – but it feels too much like something that caters for the fads of today, rather than being a pure realisation of a watchmaker's vision.
A "philosophical regulator"
L'Essential has a steel case that's 39 mm wide and 10.37 mm high, dimensions that suit a time-only watch of this type. It is done well but simply, while the rest of the watch wants to be a lot more.
According to Mr Schlüchter, the inspiration for the dial comes from a clock with a regulator display made by Antide Janvier, a renowned 19th century French watchmaker. The Janvier clock is typical of timepieces of the period and has an aesthetic similar to some modern-day Ferdinand Berthoud watches, which are based on clocks of the same era. The dial of the L'Essential, on the other hand, is a mix of styles.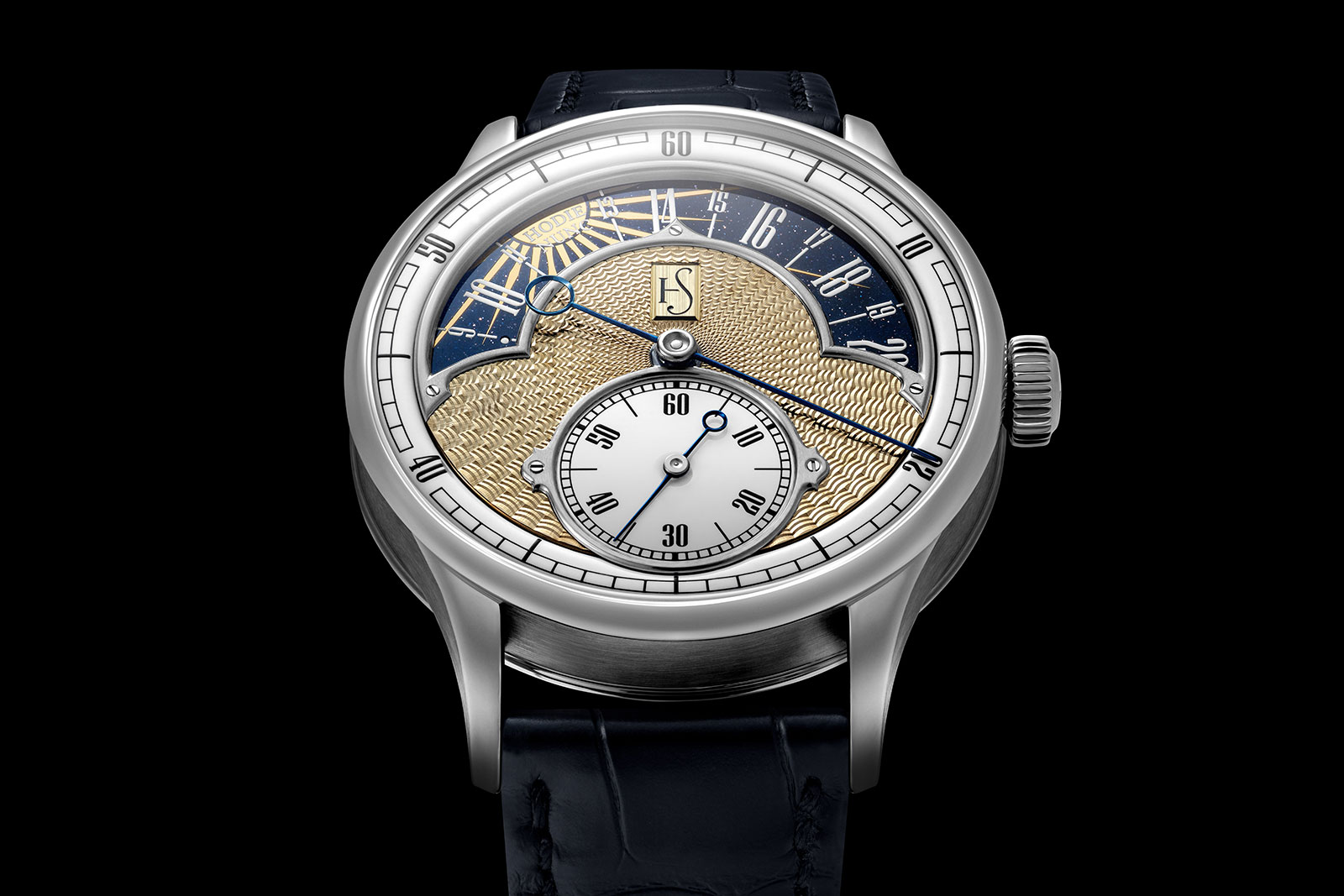 Minutes and seconds are indicated with hands, while hours are shown on a disc with a 24-hour scale that doubles up as a day and night display. While the time display is straightforward, the execution of the dial is fancy. The chapter ring for the minutes is white fired enamel, while the central portion is German silver finished with guilloche.
And then the hour disc is aventurine glass featuring metallised Sun and Moon emblems, along with Latin phrases like hodie nunc, or "today now". Surrounding the hour discs is a polished steel frame secured to the dial with screws in a manner that brings to mind F.P. Journe's designs.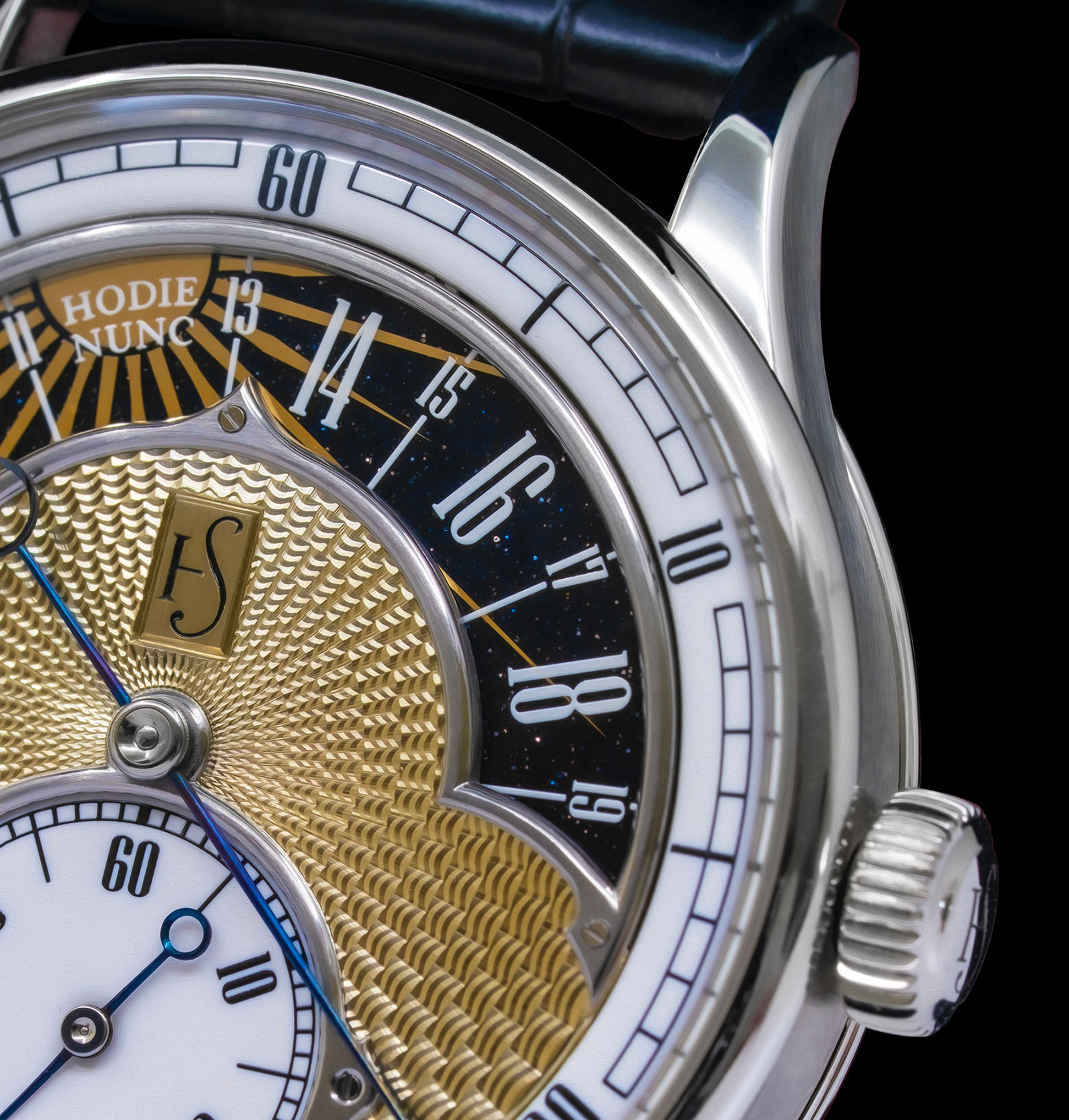 Over on the back, the view is equally busy. Although the movement is, at its heart, a simple one, it incorporates decorative elements that give it a highly complex appearance.
That is largely thanks to the style of the bridges and cocks, which are slender and reveal the gears below. The going train, in particular, is secured by tubular steel bridges of the sort that were traditionally used for a tourbillon carriage.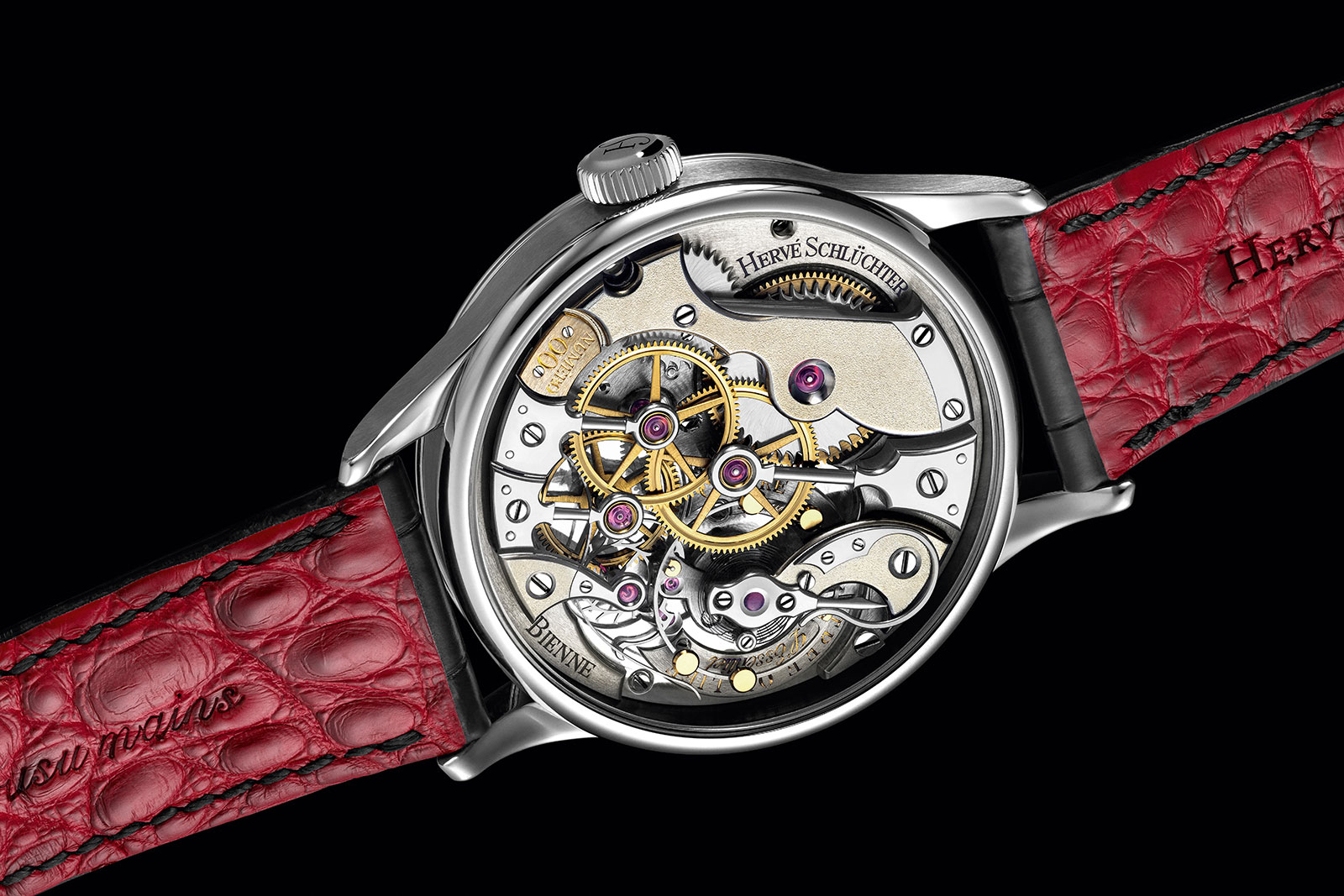 The calibre also incorporates several anachronistic features found in vintage pocket watches, namely the curved wolf's teeth on the barrel ratchet and crown wheels as well as a "moustache" lever in the escapement.
Both require more manual work to fabricate and finish, but are not especially visible due to the small size of the movement, unlike in a pocket watch.
Some elements are superfluous, like the spear-like tip of the stud holder that sits against a curved spring, resulting in something that resembles a swan's neck regulator. But because the balance wheel is free sprung – with extra-large regulating weights – it does not require a regulator index and the spear is only used to adjust beat error, making these elements window dressing of sorts.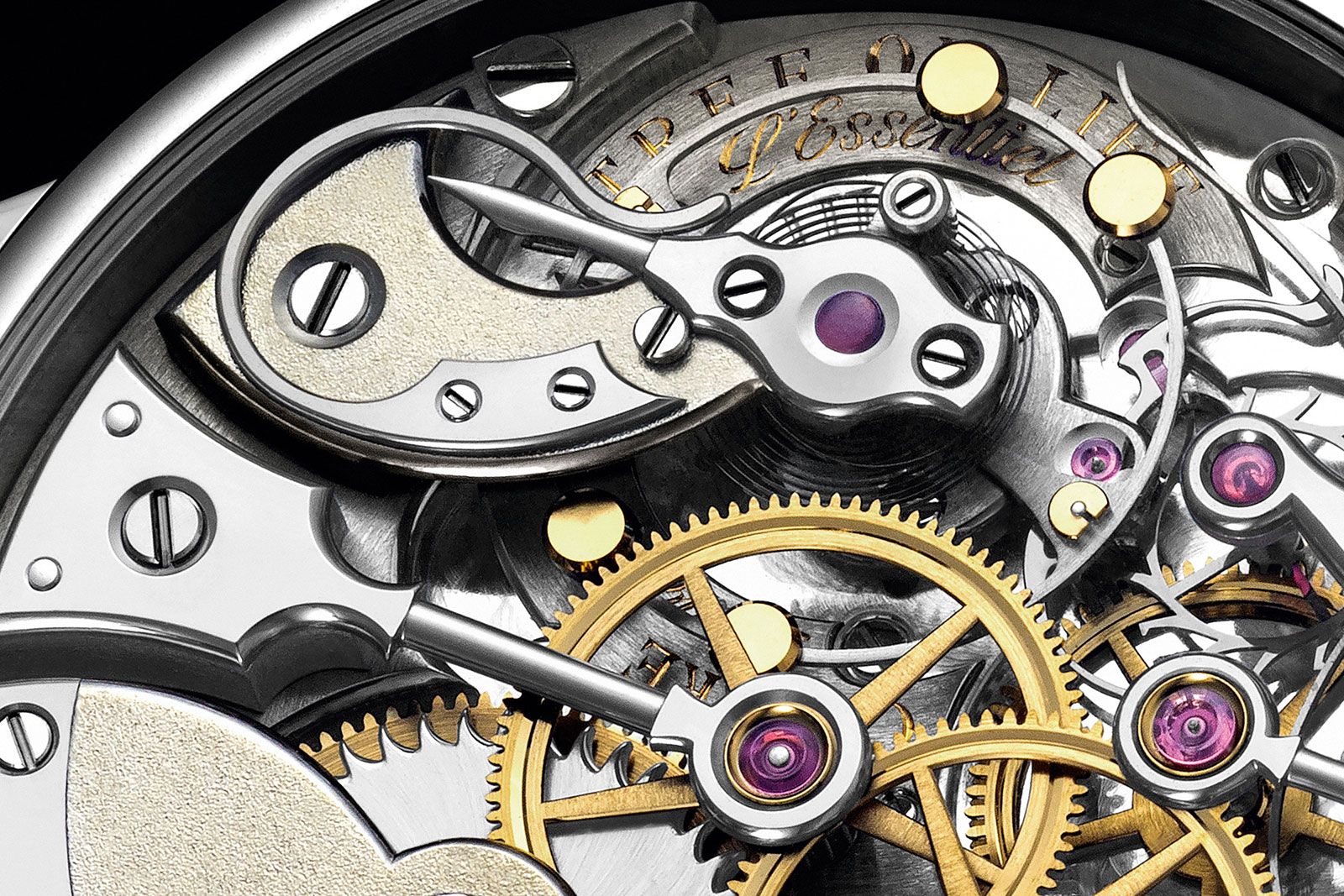 ---
Key facts and price
Hervé Schlüchter L'Essentiel
Diameter: 39 mm
Height: 10.37 mm
Material: Steel
Crystal: Sapphire
Water resistance: 30 m
Movement: HS-01
Functions: Hours on 24-hour disc, minutes, and hacking small seconds
Winding: Hand wound
Frequency: 18,000 beats per hour (2.5 Hz)
Power reserve: 60 hours
Strap: Leather strap with pin buckle
Limited edition: 25 pieces
Availability: Direct from Hervé Schlüchter
Price: CHF78,000 before taxes
For more information, visit Herve-schluchter.ch.
---
Back to top.
---
You may also enjoy these.