Highlights: Sotheby's Hong Kong Fine Watches Online
An eclectic mix led by a special-order Sky Moon Tourbillon.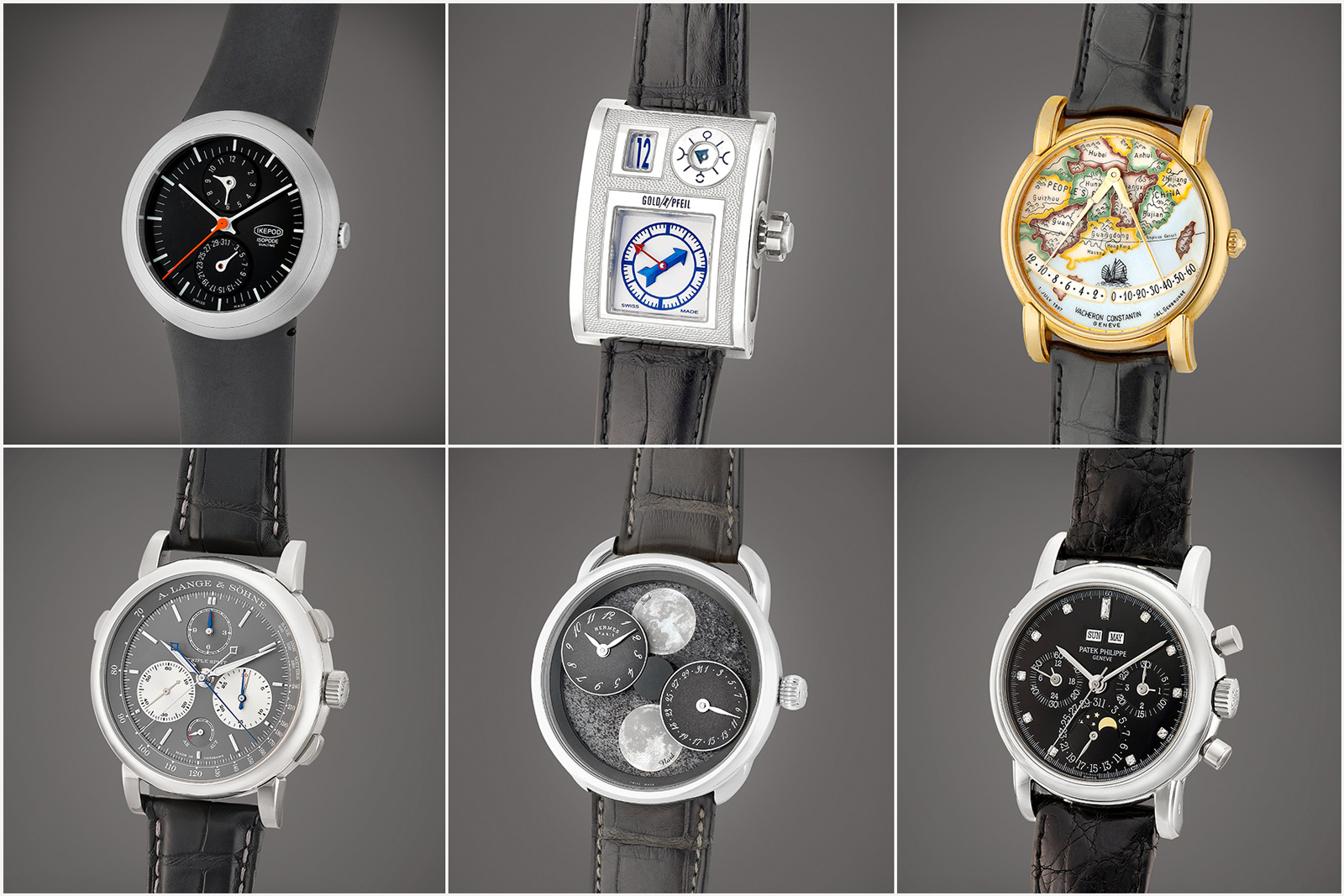 The summer tends to be a quiet period in the watch world since most of Switzerland goes on holiday. However, Sotheby's Hong Kong is staging one major event before the summer lull with an online sale running for just over a week.
Fine Watches opens on July 5th and runs until the 14th featuring 272 lots ranging from Patek Philippe complications to simple time-only Cartier. We cover highlights from the sale below – the catalogue can be seen here – but before that we look at something special.
---
Happening alongside the online auction is a sealed auction for an Patek Philippe Sky Moon Tourbillon ref. 5002P-013 with a custom-order black dial that runs online from July 13-21. The ref. 5002P once held the title of most complicated wristwatch Patek Philippe ever produced and remains a landmark in Patek Philippe watchmaking.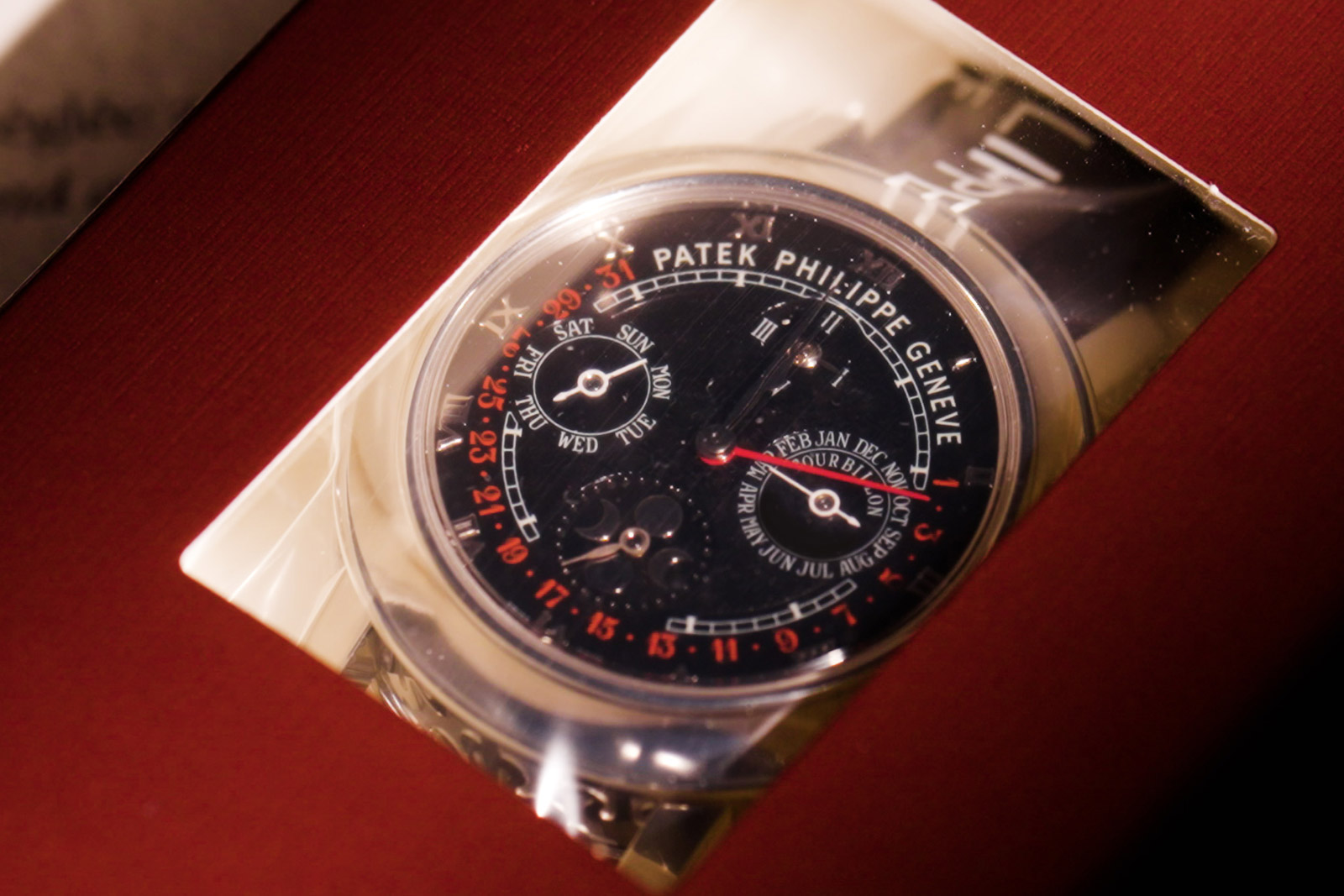 Not only is this ref. 5002P possibly unique thanks to the striking black dial, it is also double sealed – in other words brand new. Since 2017 Patek Philippe has banned its retailers from selling sealed watches and so an double-sealed example of a special-order grand complication on the secondary market is rare.
This double-dial complication offers an incredible opportunity to collectors, since the last time we saw this a sealed example of this reference at auction was back in 2018 at Antiquorum where it sold for just under US$1.2 million, and that was just single sealed.
Prices have naturally climbed since then. In fact, this example mirrors the one that recently sold at Christie's for almost US$4.1 million, which had a rose gold case and black dial with red accents, with the case metal being one of the major differentiating factors.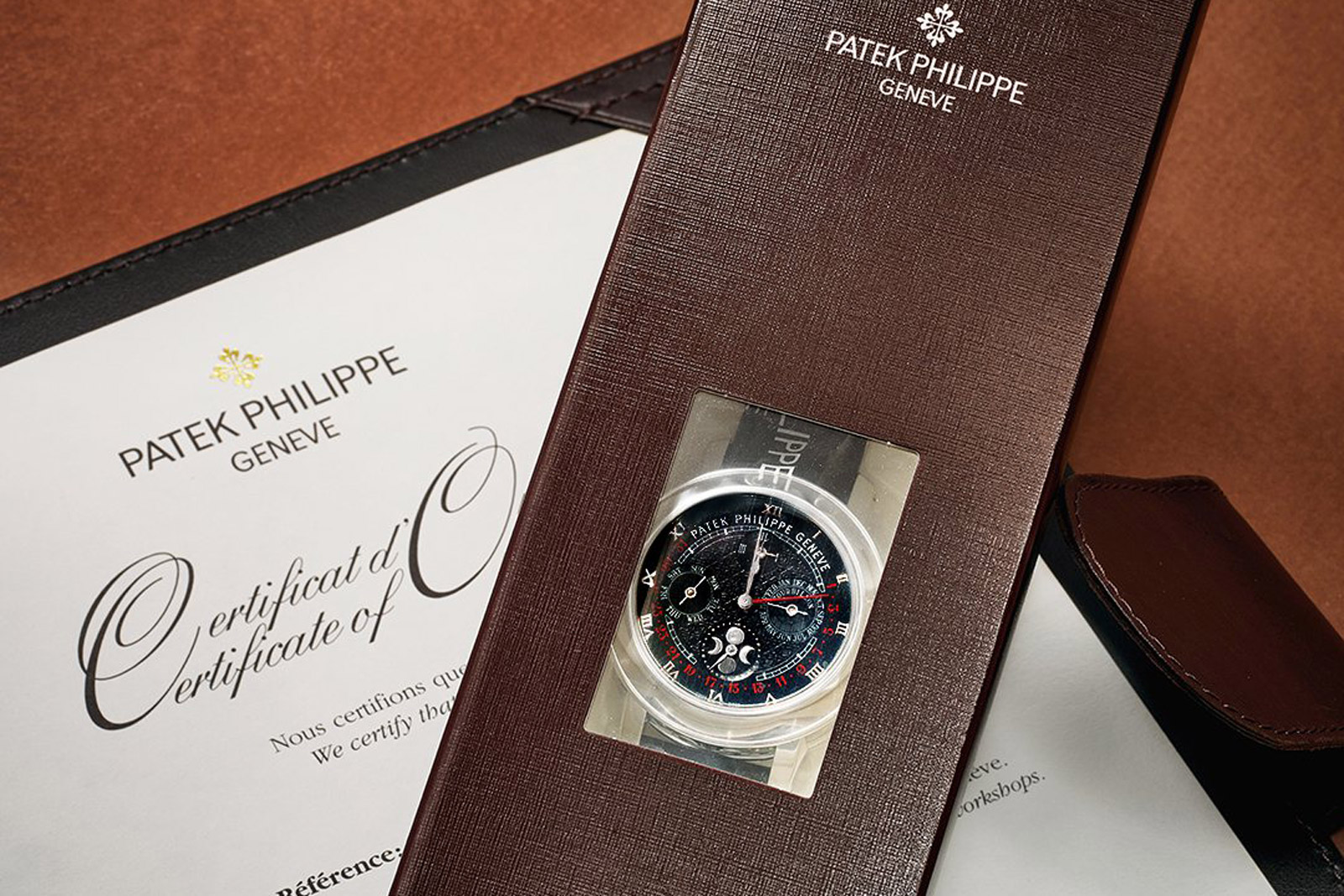 Notably, this ref. 5002P is being sold in a sealed auction – no pun intended – where the estimate, current bid, reserve, and the final selling price will not be made public. Instead, only the bidders will know where their current bid places them. There will also be no buyer's premium on this watch, so the winning bidder will pay the price they bid. For more information, visit the auction page. 
---
The appreciation for Patek Philippe complications from the 1990s has been steadily growing over the last few years and this watch is an excellent example of this period of watchmaking. The ref. 3970 is the quintessential complication combination from Patek Philippe, the perpetual calendar-chronograph.
Though the brand is possibly more famous for references such as the refs. 2499 and 1518, this more recent model offers a lot of what collectors are looking at a more affordable price.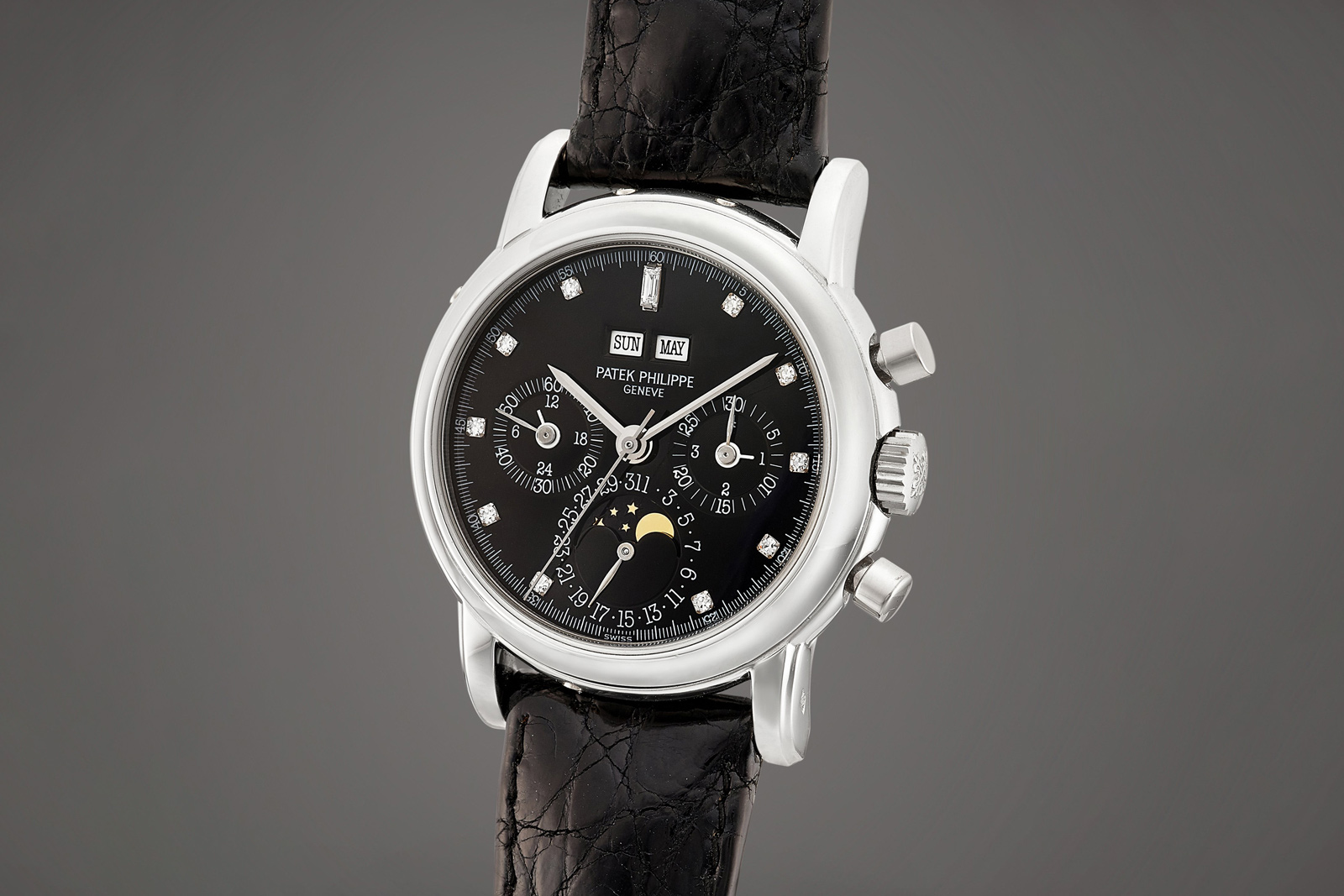 Packing all of the double complication into a comfortably sized 36 mm case, this reference can be distinguished across four definitive series; this one falls into the third series but with a less common dial in black with diamond indices that gives it an almost formal, tuxedo-ready appearance.
It is "full set", which not only includes the standard wooden box and certificate, but a stylus and a solid, screw- on case back that the owner can swap with the sapphire back that is currently on the watch.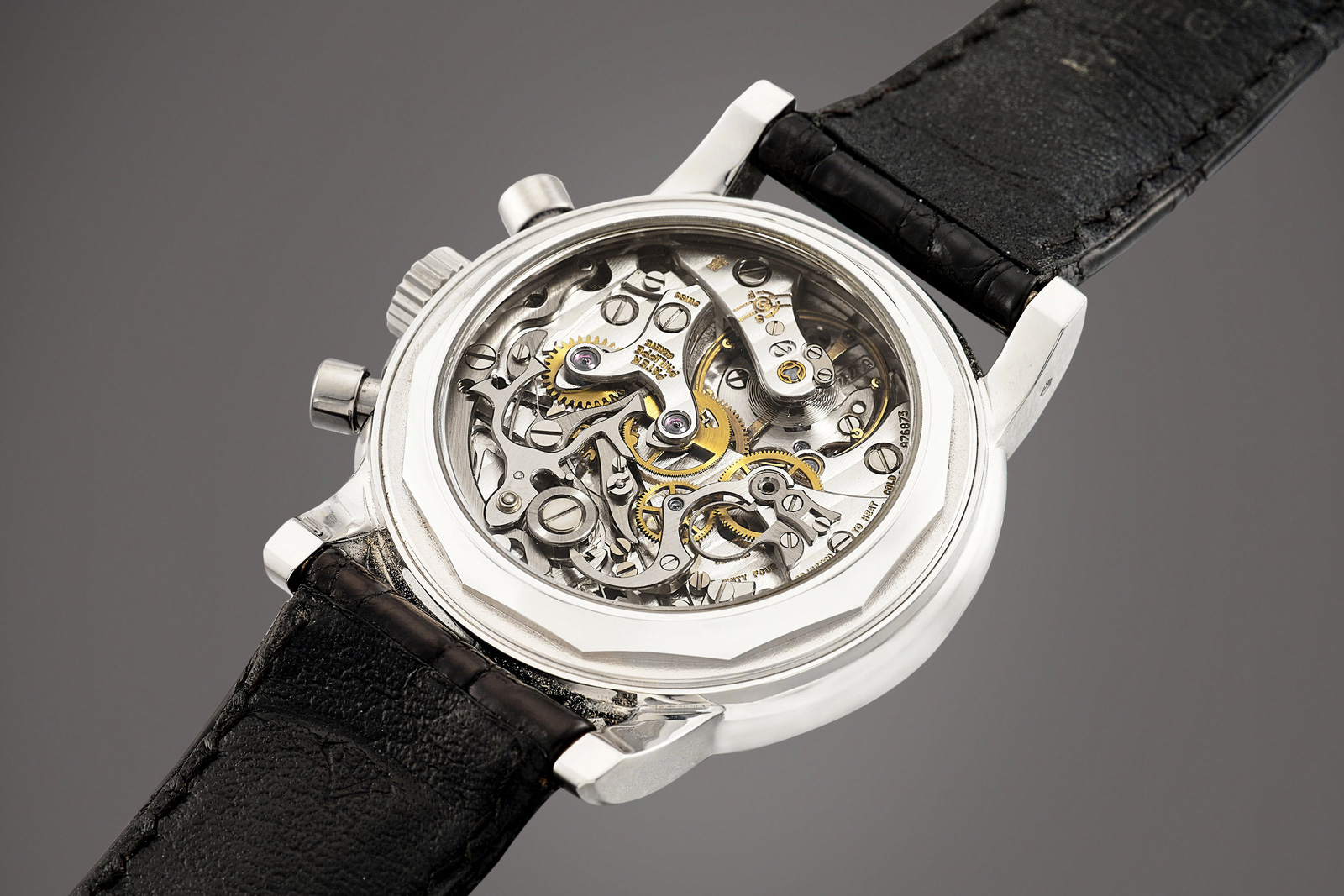 For many years the ref. 3970 was seen as the bargain version of the ref. 2499, now thanks to the research that is being carried out, appreciation has blossomed which is causing these models to creep up in value. This watch is estimated at HKD1.0-2.0 million (about US$125,000-250,000), which seems about right for this configuration and completeness. For more, visit the catalogue entry. 
---
Possibly one of the more idiosyncratic watches that still sticks to traditional methodologies, the Mercator offers a wonderful combination of a unique way of telling the time with brilliant dial work. Originally developed by the Belgian couple, Jean and Lucie Genbrugge, and named after their countryman, the famous cartographer Geradous Mercator, the dials will often depict sections of his groundbreaking map projections.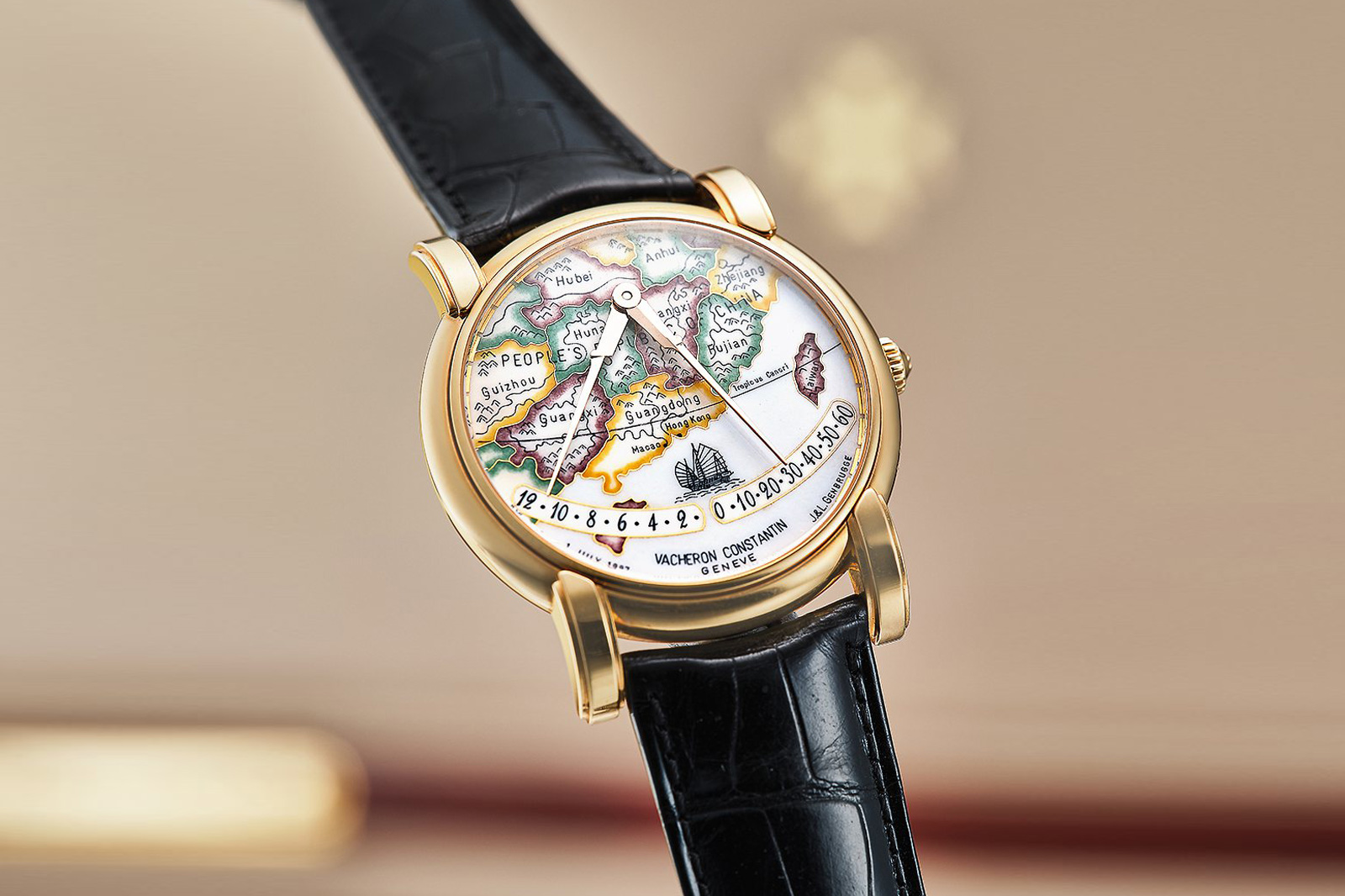 This example shows China's coastline in cloisonné enamel, with Hong Kong pinpointed as it was created to celebrate the handover of Hong Kong from the British to China in 1996. Limited to just 30 pieces for the occasion, this is number two, making this is an extremely uncommon piece that does not appear at auction often. The Mercator in general is rare: only 638 across all variants were produced over the model's 10 year production period.
This watch runs on the cal. 1120, an ultra-thin automatic calibre that has been at the heart of Vacheron Constantin production for decades now, with a double retrograde module developed by Mr. Genbrugge on top of it. It is believed that the Genbrugges developed this watch independently and then presented it to the chief executive of Vacheron Constantin at the time, Claude-Daniel Proellchs, who was so impressed with it, he allowed them to keep their name on every dail, and if you look closely at four o'clock on this model, you will see the inscription "J.& L. Genbrugge".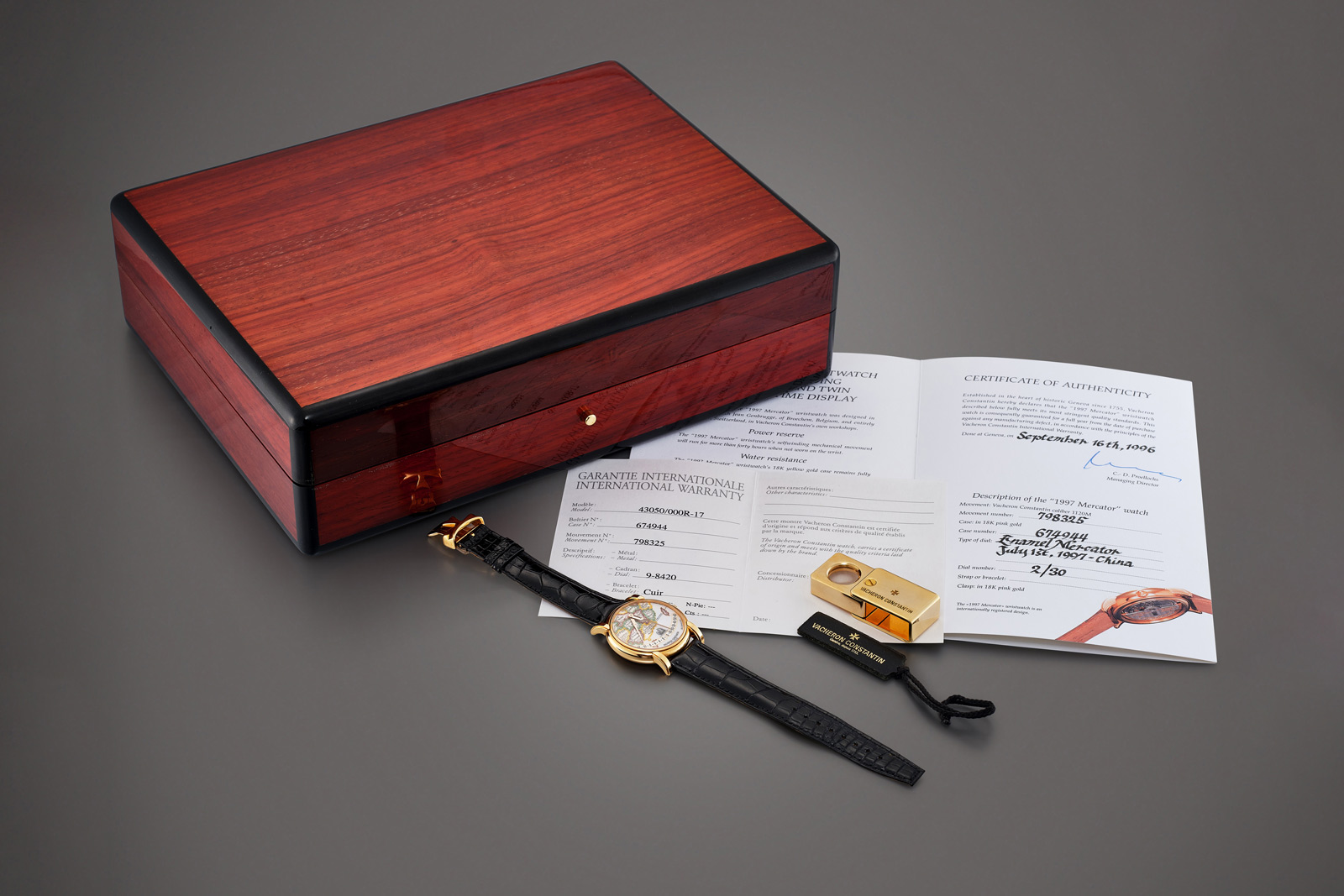 The estimate on this watch is between HKD240,000-320,000 (about US$30,000-40,000) which seems a little low when compared to sales of regular production models that have happened earlier this year which have come close to eclipsing HKD400,000. For more, visit the catalogue entry.
---
Greubel Forsey has built a name for itself as one of the boundary-pushing independent watchmakers who are unafraid to try something new. This Tourbillon 24 Second Incliné points to the heart of this, taking one of the most classical complications in horology, the tourbillon, and seeing what can be done to advance it. Pitching the tourbillon cage at a 25° angle helps the regulating organ survive the stresses of completing a full rotation in just 24 seconds.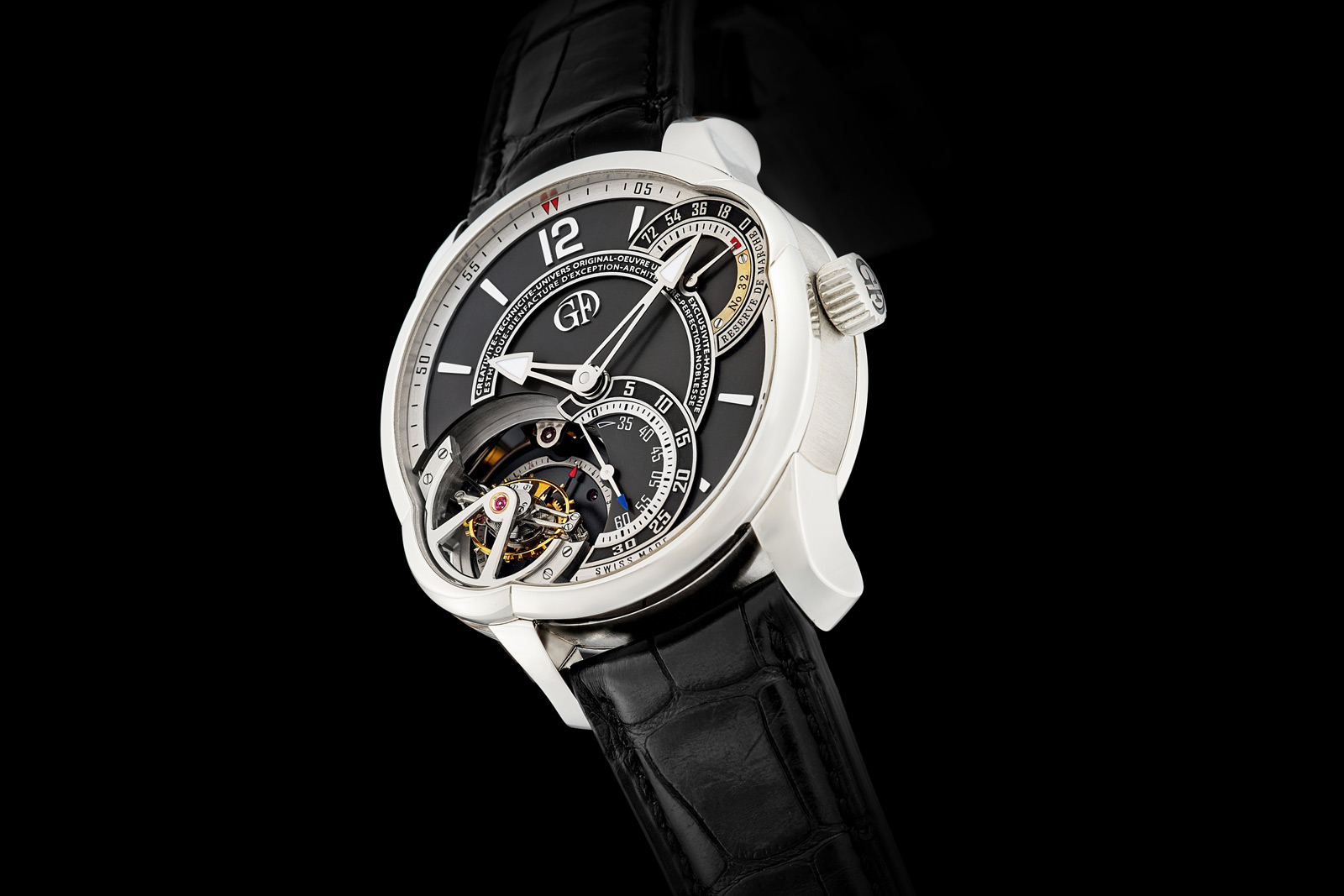 With only 144 pieces produced between 2007 and 2017 in a mixture of white and red gold, and platinum, this piece is not one you will come across very often, with this one being the 32nd ever produced. The unique case shape that has become synonymous with Greubel Forsey is a key factor of this watch, with the small sapphire window that wraps around the side of the tourbillon, allowing more light in so it can be fully enjoyed. This added light is particularly necessary given the great depth of this one component. 
While many will often concentrate on the complexity of the construction and development of this watch, it feels like the finishing that Greubel Forsey are capable of can be overlooked. Here they have deployed a classical style with graining across most of the visible surfaces of the movement, with rounded anglage and classical golden chatons atop each ruby.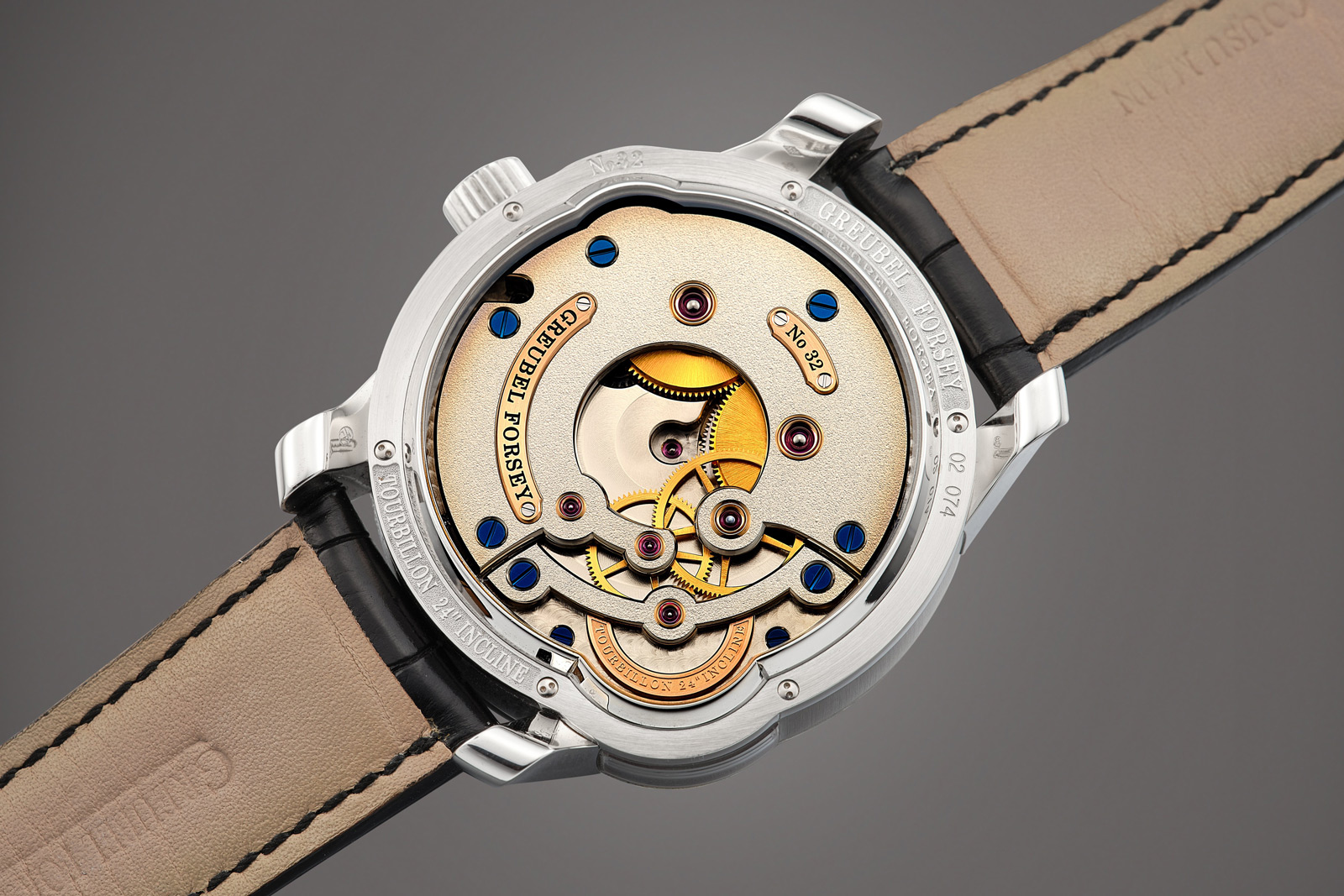 This cornerstone of the Greubel Forsey brand took on a new form last year, in the shape of the Tourbillon 24 Seconds Architecture. Placing this rapidly rotating escapement in a new look could bring more attention to these original designs, increasing the appreciation of them.
This movement of this watch shows minor oxidisation of the German silver bridges, but fortunately it is accompanied by a servicing offered by Greubel Forsey to the new owner at no cost. With an estimate between HKD900,000-1.5 million (about US$115,000-190,000) this watch seems to be fairly placed, but it wouldn't be a surprise to see it beat its high estimate. For more, visit the catalogue entry.
---
The first of two A. Lange & Söhne's we are going to look at from this auction, the Triple Split occupies a unique position in the Lange market. When it first launched in 2018, we described it as "preposterously unnecessary yet incredibly impressive" and that still seems to hold up today. It continued a long tradition that Lange held of producing complex, and architecturally beautiful chronographs that dates back to the Datograph.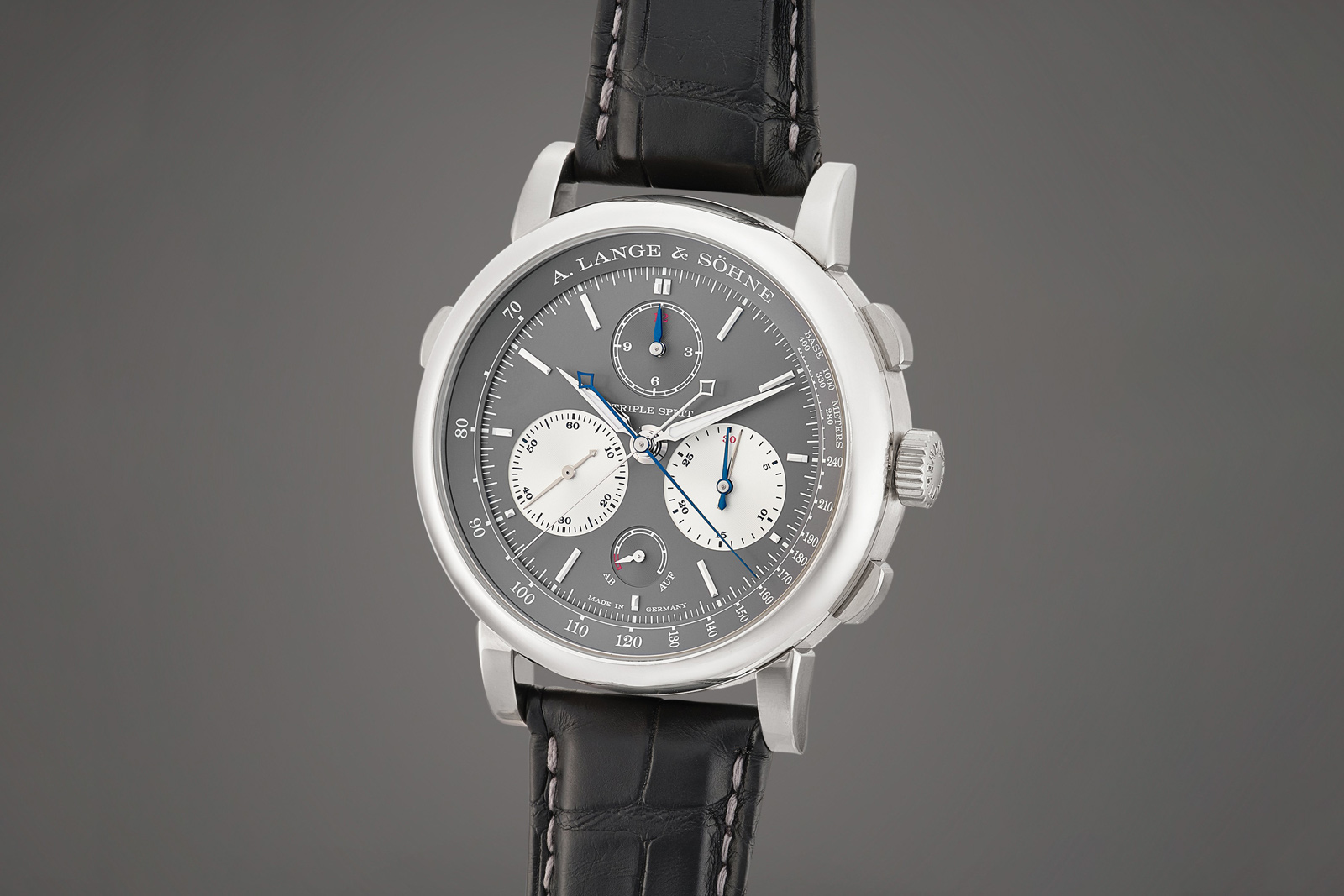 This is the first watch with the ability to record two sets of elapsed times simultaneously for over an hour, thanks to rattrapante hands for the seconds, minutes and hours. Lange had released the Double Split back in 2004, however this not only surpasses that with its functionality but also power reserve, as it can run on a full charge for 55 hours, compared to the Double Splits 38. 
Equipped with the L132.1, which is comprised of 567 parts, it is a massively intricate and delicate movement to construct. Initially, this model was only available in white gold as seen here, but it was later released in pink. This white gold example is number 33 out of the 100 produced.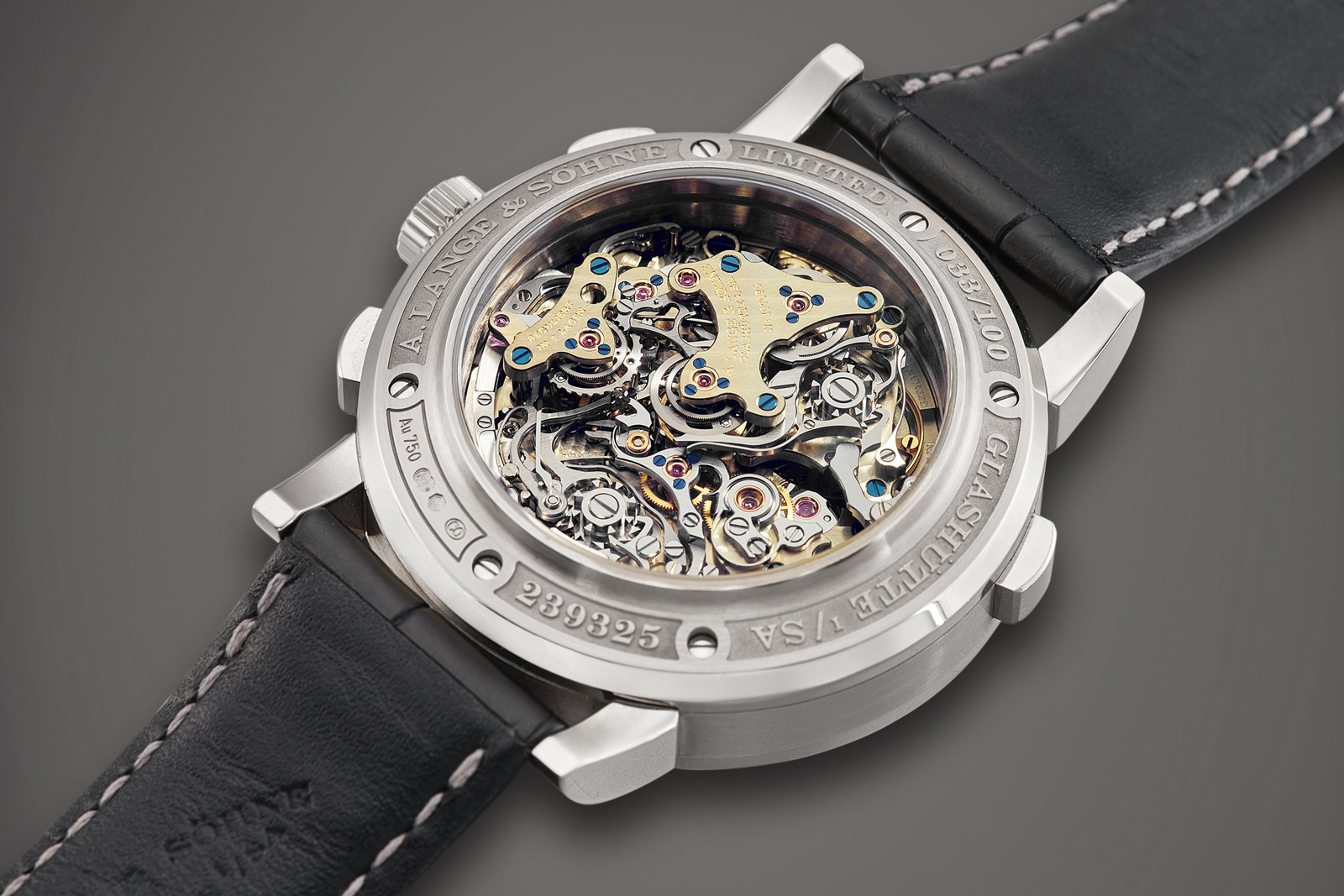 The estimate for this lot is between HKD800,000-1.6 million (about US$100,000-200,000) which would seem about right, given that this model is now reportedly sold out from the brand, it is expected for its value to steadily increase on the secondary market. For more, visit the catalogue entry. 
---
Perhaps one of the lesser known references from Lange, the Richard Lange Referenzuhr integrates a subtle, but incredibly useful complication into its typically Lange design. Moreover, it is one of the few Lange limited editions with a unique calibre that was created expressly for the watch.
The zero-reset function integrated into the cal. L033.1 allows the wearer to accurately set a reference time for something, or just set the watch with far greater accuracy. By pressing down on the pusher at two, the seconds hand is disconnected from the third wheel, snapping it to zero, all while the rest of the movement continues to tick.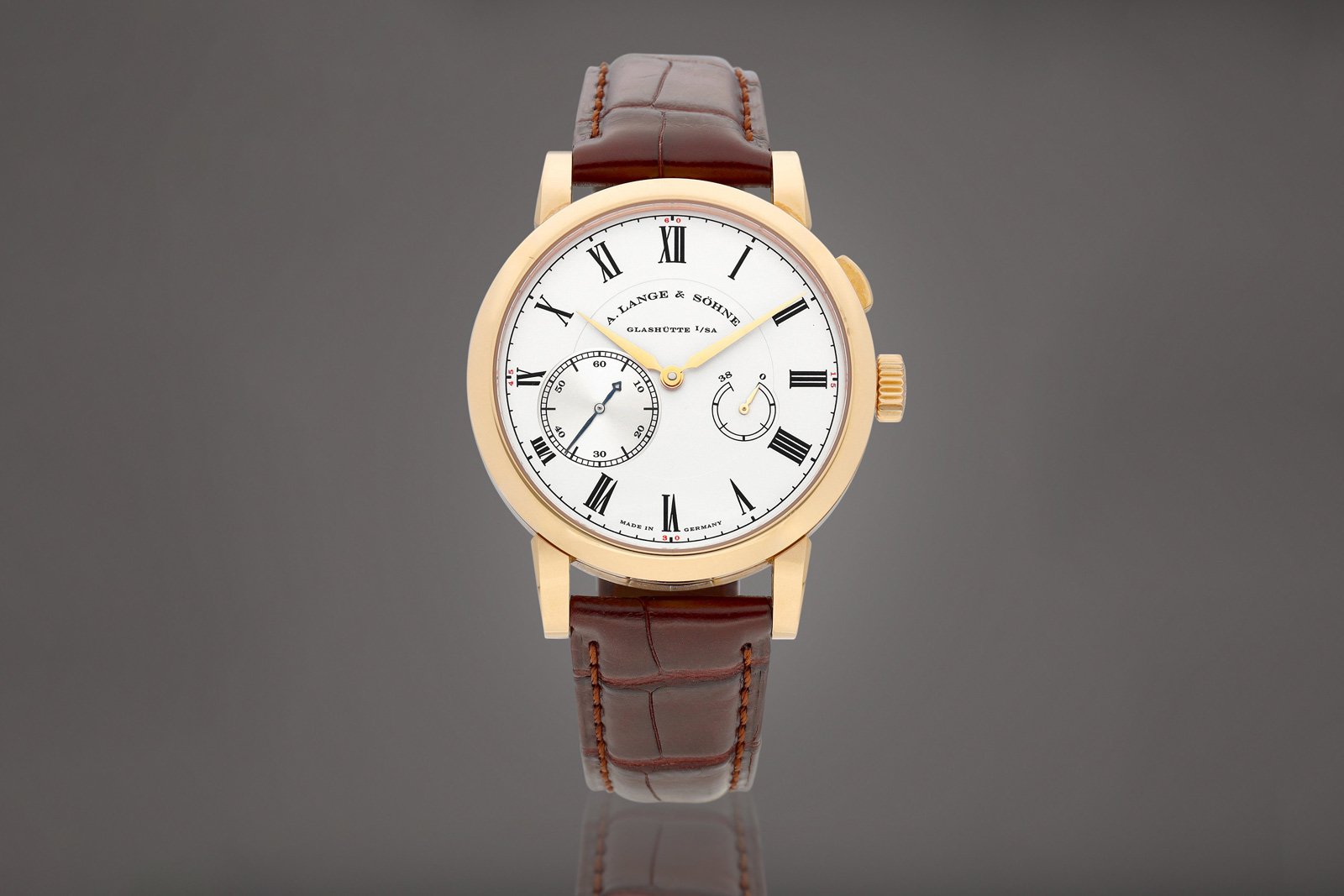 Only 125 of these pieces were produced, with just 75 of those being in pink gold like this one. As can be expected with Lange, and especially from the Richard Lange collection, the movement finishing is outstanding here. With the emblematic hand-engraved balance cock, and the Glashütte stripping covering the large three quarter plate, it is hard to find a fault with this calibre, although it does only carry a 38 hour power reserve.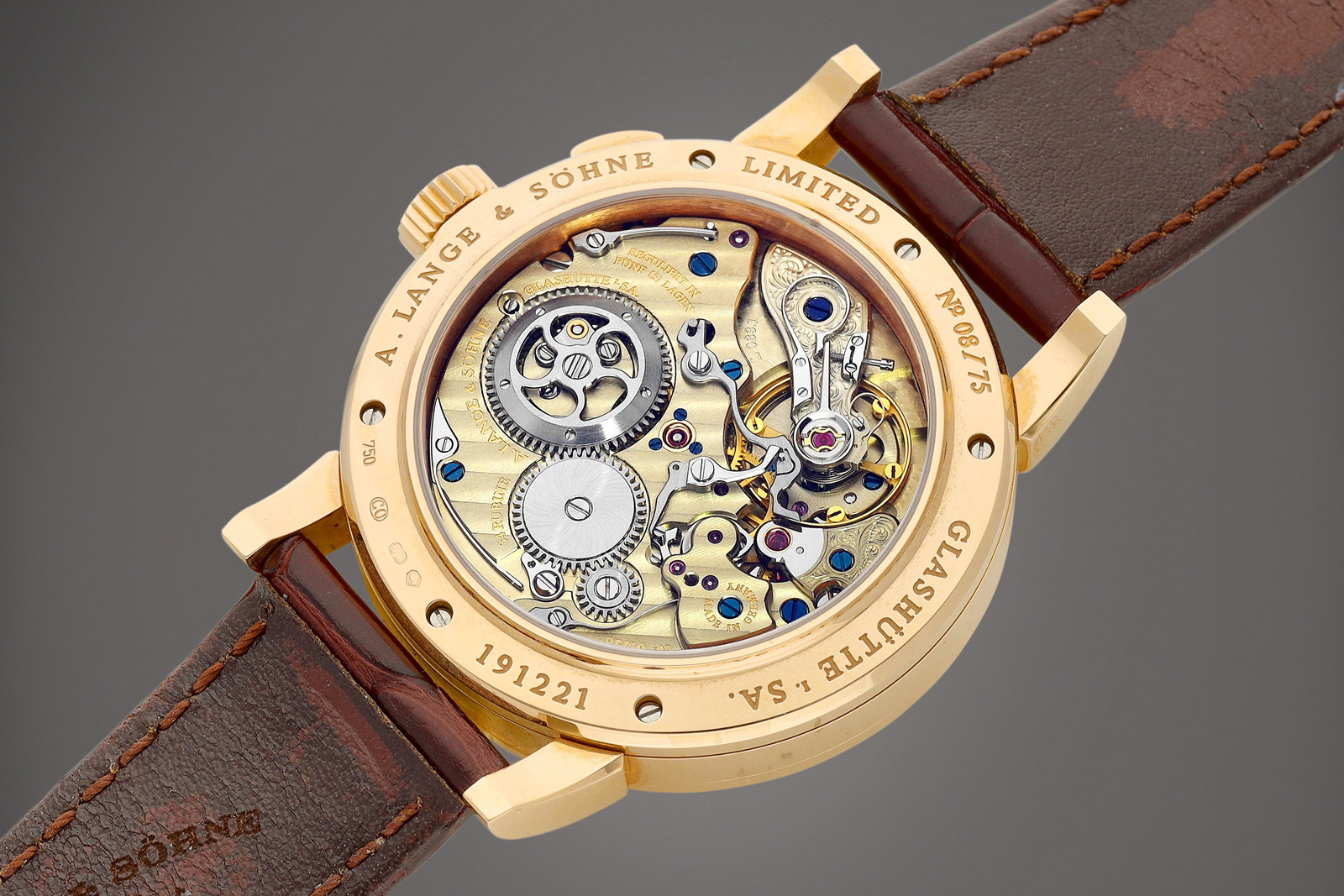 Not many of these pieces come up for auction thanks to their limited number, and with this one being numbered the lucky "8", a desirable number in Chinese culture, it presents an excellent opportunity for a dedicated Lange collector. With an estimate between HKD200,000-400,000 (about US$25,000-50,000) it could be a great value buy. For more, visit the catalogue entry. 
---
An incredibly stylish watch, the Hermès Arceau L' Heure de la Lune Etoile is a wonderfully unique take on the very old moon phase complication. With two disconnected, rotating dials, one for the minutes and hours, and the other showing the date in the stylised Hermès typeface, the watch makes the most out of the empty dial space.
These two dials are constantly moving above a granite disc with two mother-of-pearl moons, showing the moon phase from the northern and southern hemispheres simultaneously.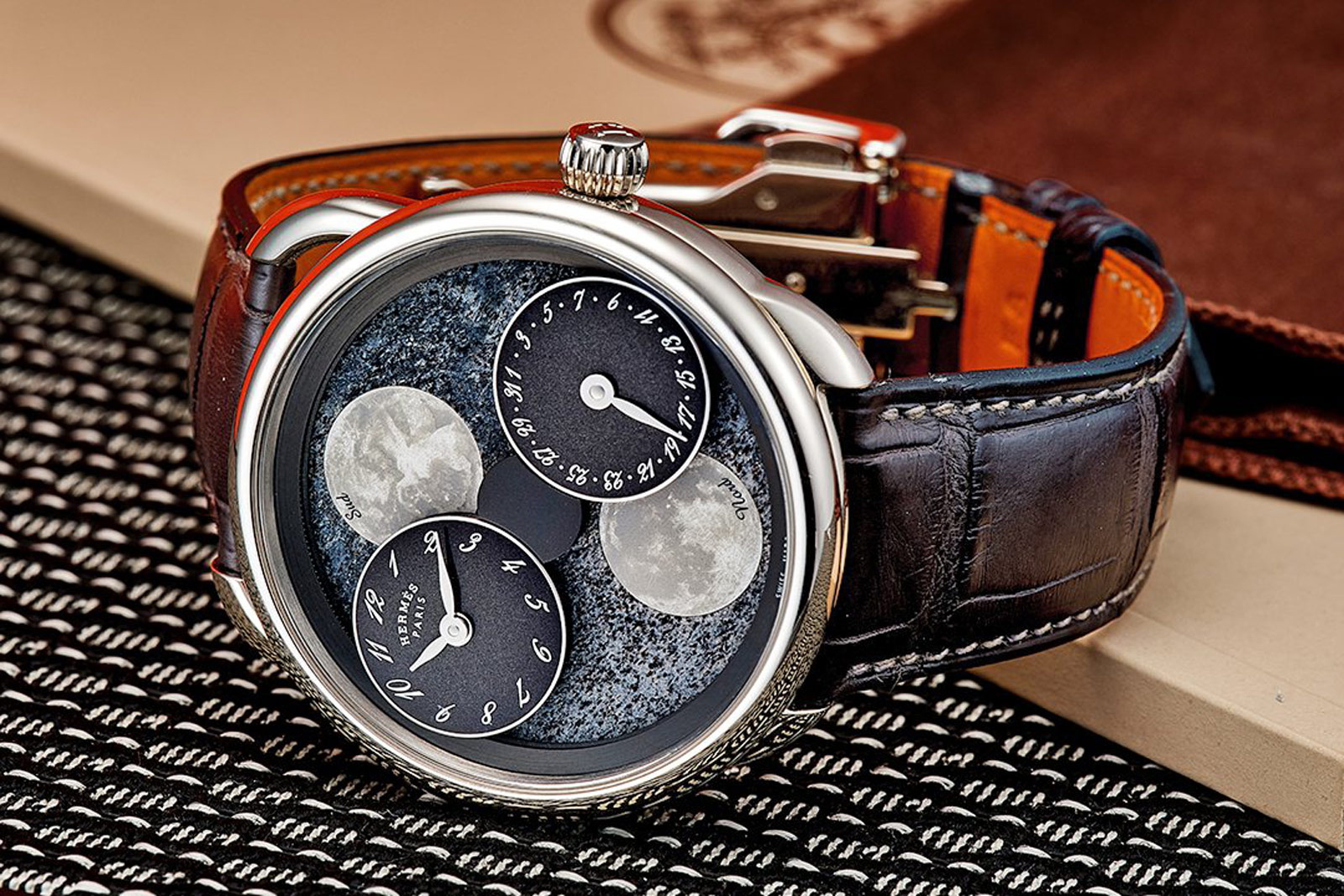 Initially introduced in 2019, this elegant, and deceptively complex watch instantly won over a lot of people, so much so that it took home the Calendar and Astronomy Watch Prize at that year's GPHG. 
The watch runs on the H1837 movement with a complex module sat on top of it that was originally developed by Chronode, the complications specialist set up by Jean-Francois Mojon. Originally available with a meteorite or aventurine dial, this granite option gives a far more muted look, and allows the semi-precious moons to take centre stage.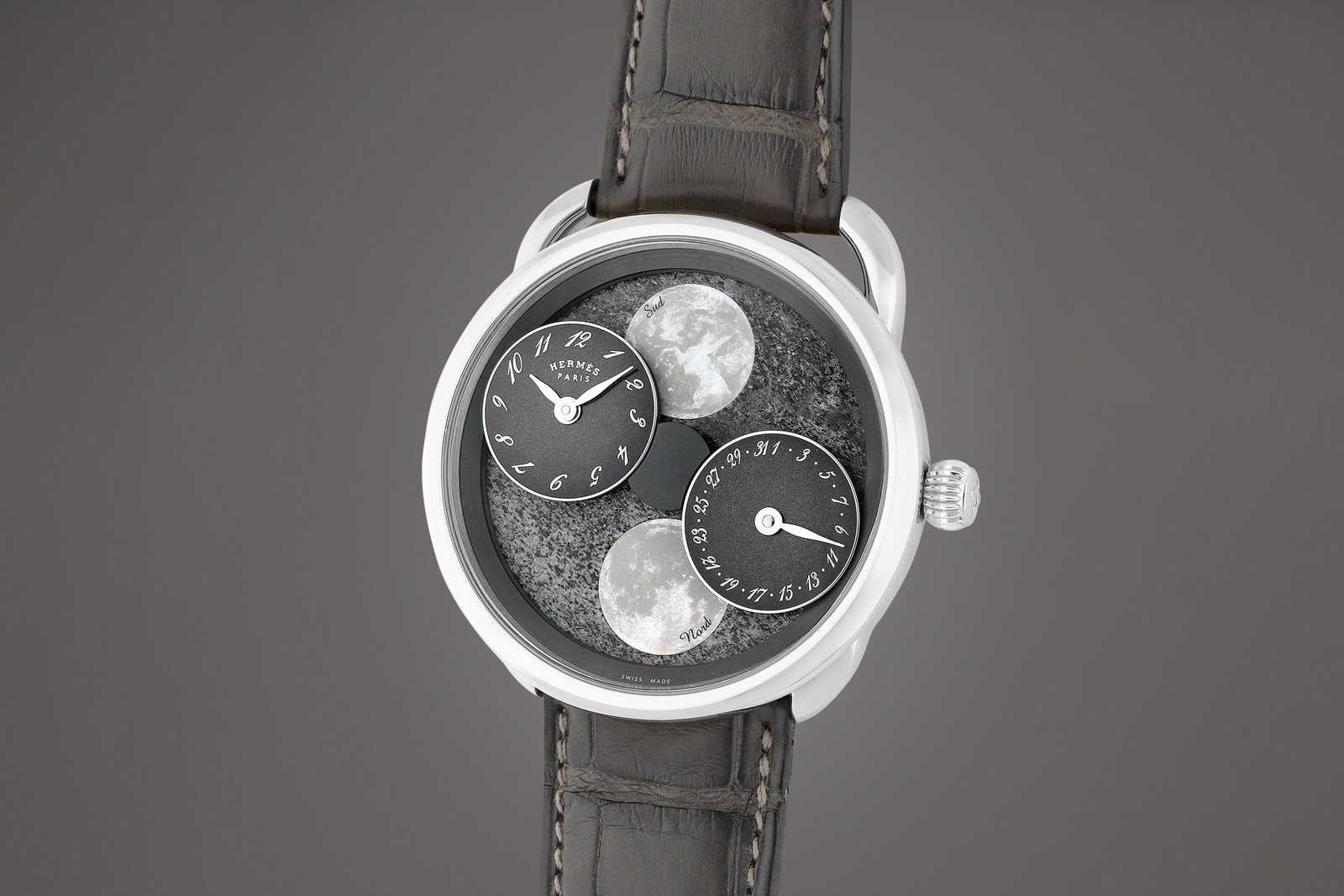 This lot has been given a rather low estimate of just HKD150,000-300,000 (about US$19,000-38,000) and it should easily eclipse those numbers, but it should still offer great value for the brilliant design and clever engineering that has gone into it. For more, visit the catalogue entry. 
---
Possibly one of the most popular reissues that Cartier has produced, the Santos has become an incredibly widespread timepiece thanks to its accessible price point and recognisable design. However, this is not a standard Santos, this Santos 100 Skeleton has a case made from palladium, a tough metal that has very similar properties to platinum.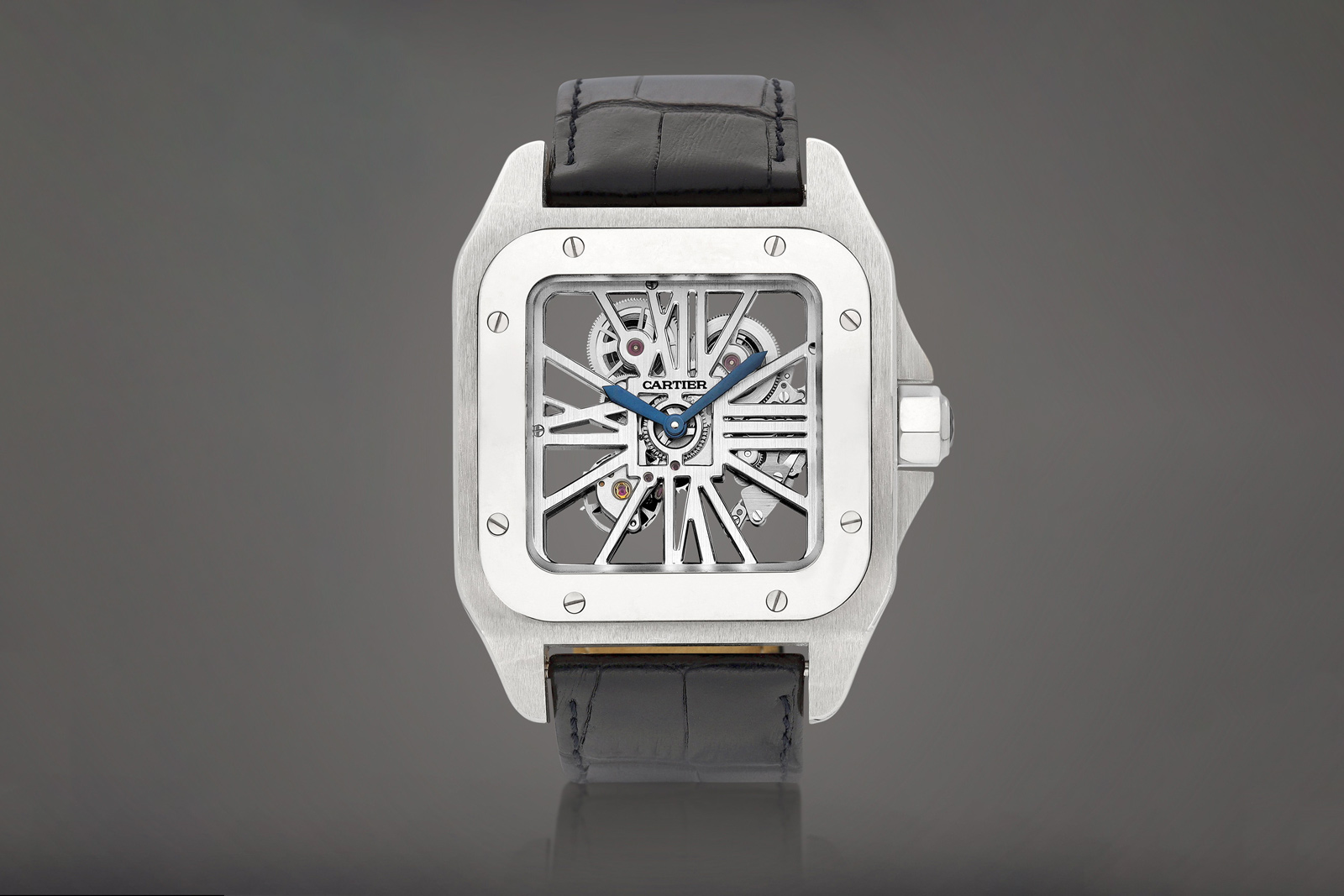 Cartier does its skeletonised dials incredibly well, the highly stylised Roman numerals that also take the place of part of the movement bridges, show a clear link to the classical dials that the brand have become known for. 
This calibre was developed by Carole Fostier-Kasapi, then the brand's Technical Director and contains twin barrels to give it an impressive 72 hours power reserve. This is not the only time that Cartier has used this movement in a palladium watch either, it can also be found in the Tank MC Skeleton from 2013.
There is nothing too ostentatious about this watch or its movement, everything is done in a restrained style that befits this model and the case metal it comes in. From the straight line finishing on the bridges to simple contrast of polished and brushed surfaces found between the case and bezel.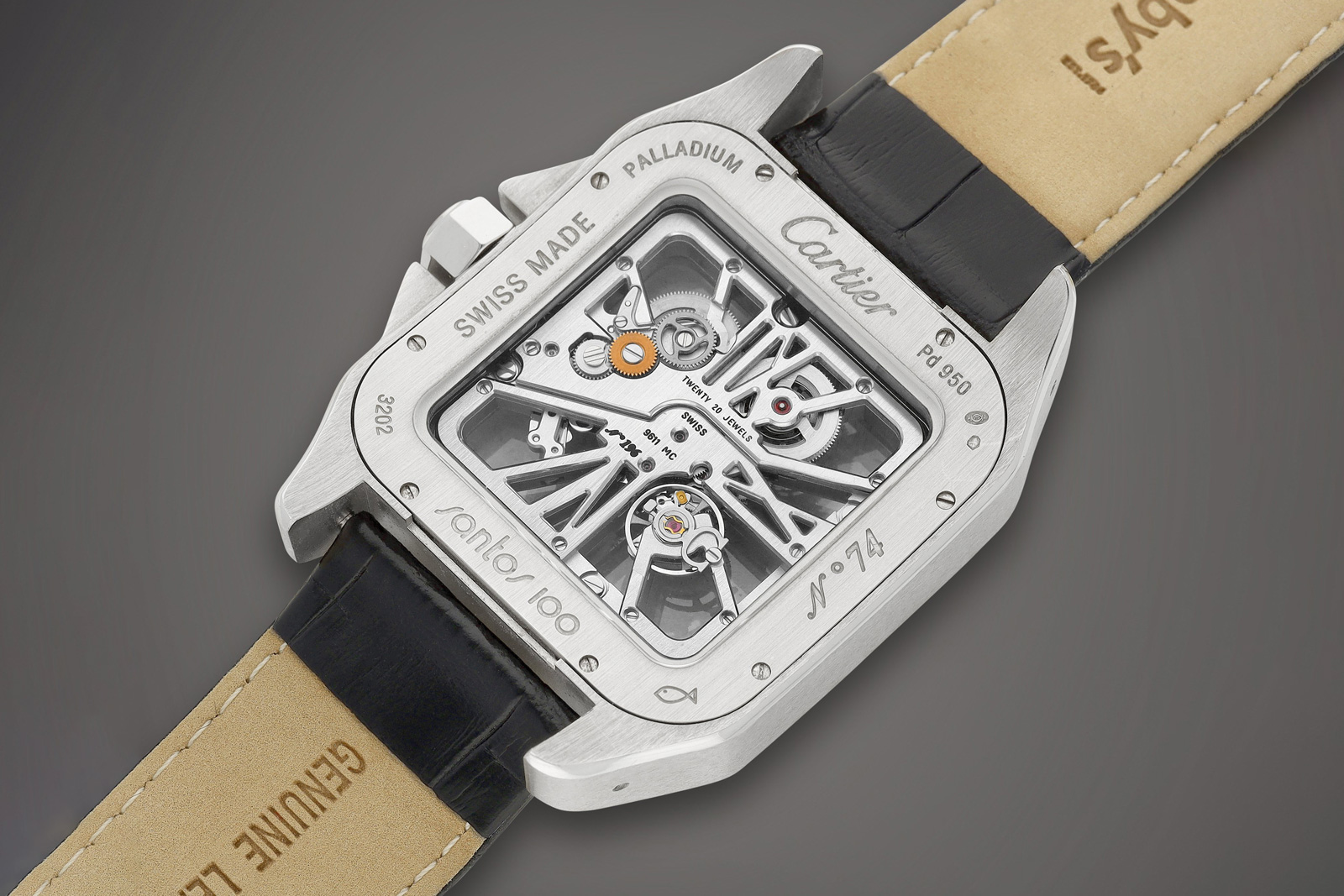 The estimate here seems to be fairly accurate given the brilliant design of this watch and its condition, at HKD120,000-180,000 (about US$15,000-23,000). And so it could offer decent value, and as it's placed in the lower end of this auction's pricing, it is unlikely to be subject to a large bidding war. For more, visit the catalogue entry. 
---
Next, we have a creation typical of the creative independent watchmaker, Vianney Halter. This piece was made with the German luxury label Goldpfeil, who asked seven members of the AHCI to create limited runs of watches for the start of the new Millennium. Here Mr. Halter drew his inspiration from vintage rangefinder cameras that can be found wrapped in Goldpfeil leather cases.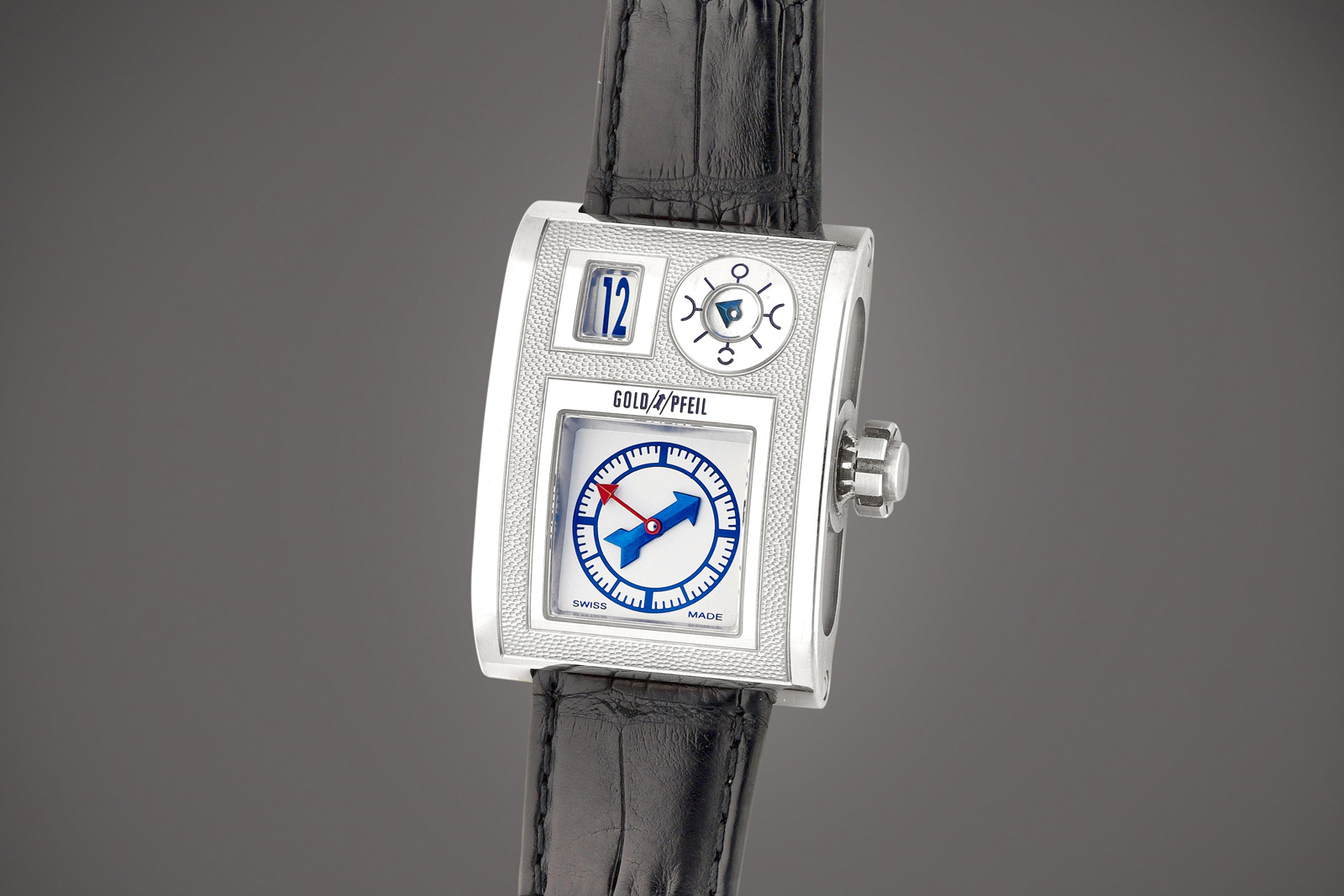 Mr. Halter is known for his unique ways of displaying the time, whether it be his Antiqua or the Harry Winston Opus V, using disconnected sub-dials and jump hours can be seen as somewhat of a signature of his and they appear here as well. Taking cues from the Goldpfeil branding with the minute hand a copy of their arrow logo, and then placing a red running seconds inside that same dial, with a jump hour and moon phase above it. 
As this is a piece created by Mr. Halter, you can expect fine finishing to also be involved in these unique designs. While the movement is sparsely done, the front of the white gold case is covered in hand hammered dimples, creating a unique texture for each watch that contrasts the polished bezel.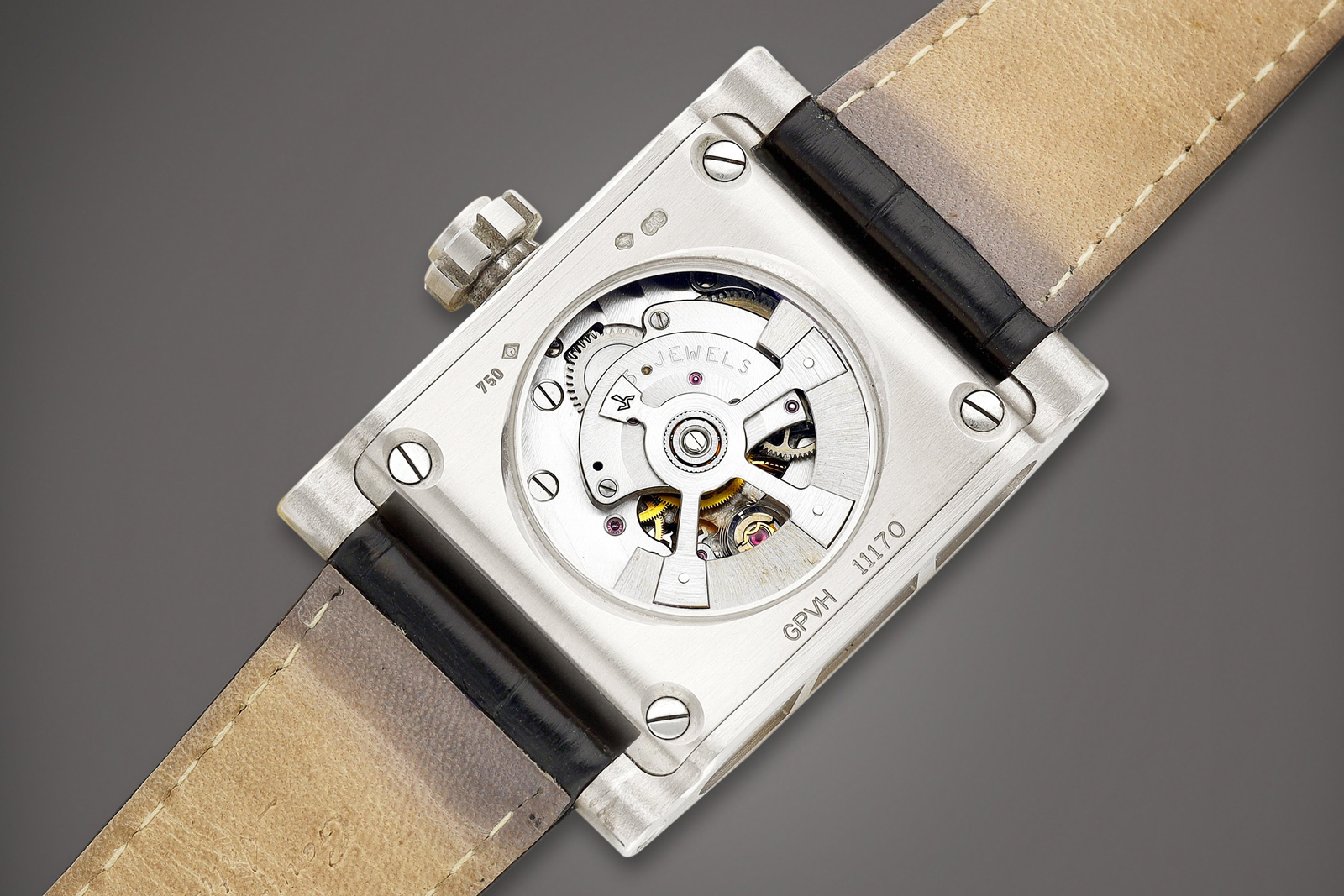 Given the sharp increase the independent market has seen recently, the estimate for this piece being placed between HKD80,000-120,000 (about US$10,000-15,000) seems a little low, especially when we consider another of these was sold just last year for HKD277,000. So if these estimates are accurate to the final price, this could represent excellent value for money. For more, visit the catalogue entry. 
---
Those who have studied the history of Patek Philippe will be aware of the importance of Gondolo & Labouriau, the Brazilian retailer which, at one point, was responsible for one third of Patek Philippe's sales worldwide. Owning a pocket watch that at one point passed through this store is owning a part of Patek Philippe's history.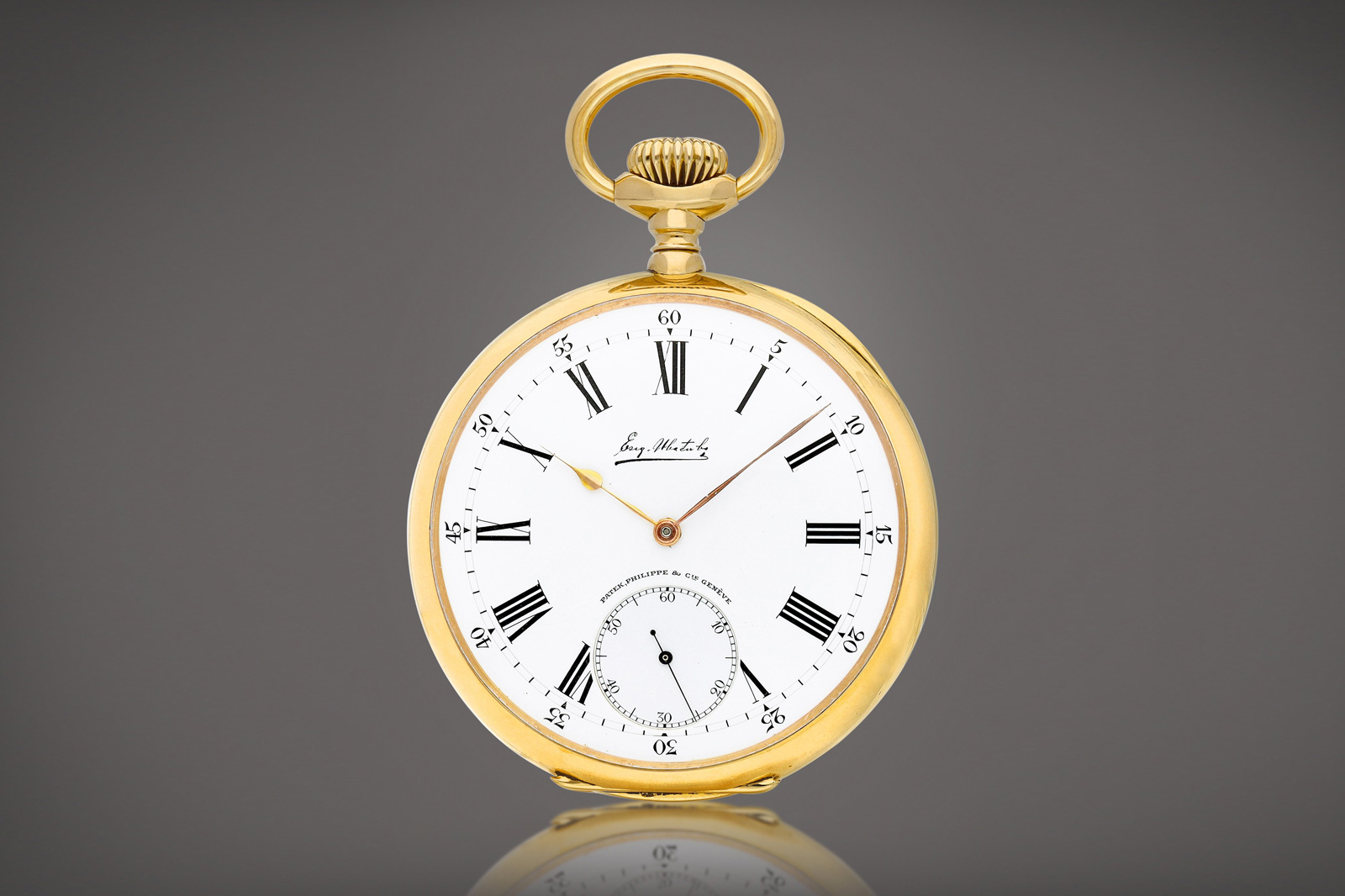 At their peak, Gondolo & Labouriau were so important it was able to request specific modifications to the watches that Patek Philippe sent to them. This led to a specific, accentuated aesthetic that came to be associated with the retailer, most notably with oversized pocket watches with a 24-hour scale, and led to the modern Gondolo collection we see today. 
This particular watch is a unique piece, albeit subtly special. The Patek Philippe brand name has been removed from its traditional position under 12 o'clock and instead replaced by the original owner's signature. The gentleman's signature is also engraved on the outer case back, while the inner back features the conventional Patek Philippe and Gondolo branding. It is exceptionally rare to have an owner's name on the dial of a Patek Philippe wrist or pocket watch, making this uniquely special.
It includes an extract from archives that dates its production to 1908, placing it pretty much in the middle of the partnership between the store and the watch brand, which lasted from 1891 to 1935.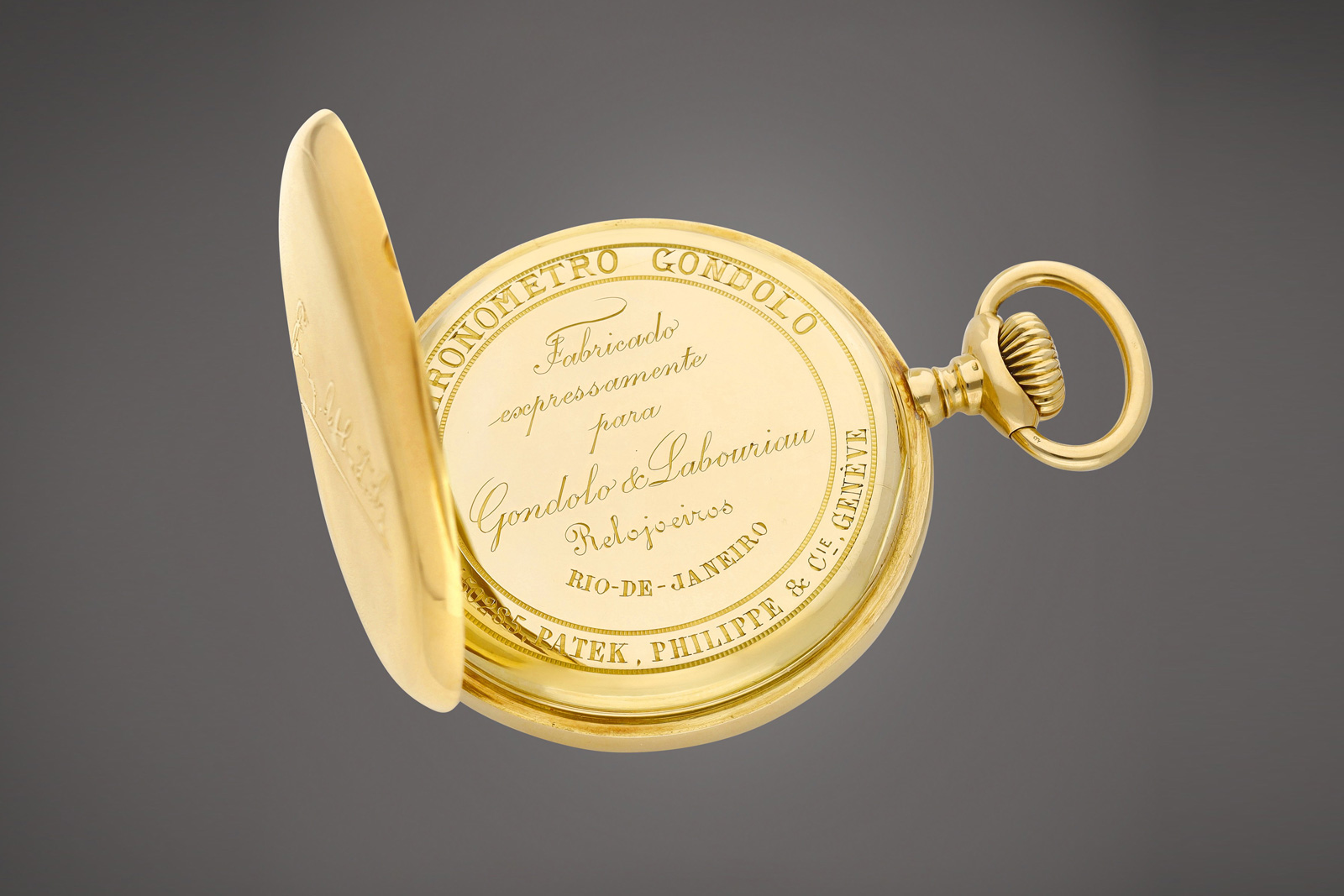 Pocket watches are always going to be at the lower end of the valuation bracket, and this one still represents great value, and as more interest appears to be coming into this specific market from younger buyers looking for something different, with strong historical ties, it could have great value with an estimate between HKD70,000-90,000 (about US$9,000-11,500). For more, visit the catalogue entry. 
---
A bit of a left field addition to our list, the Ikepod Isopode is a great entry level to unique watch design. Co-founder and designer, Marc Newson, is famous around the world for his industrial design work and this was his first foray into applying his concepts to the wrist. Of course he would later go on to aid in the design of the first Apple Watch.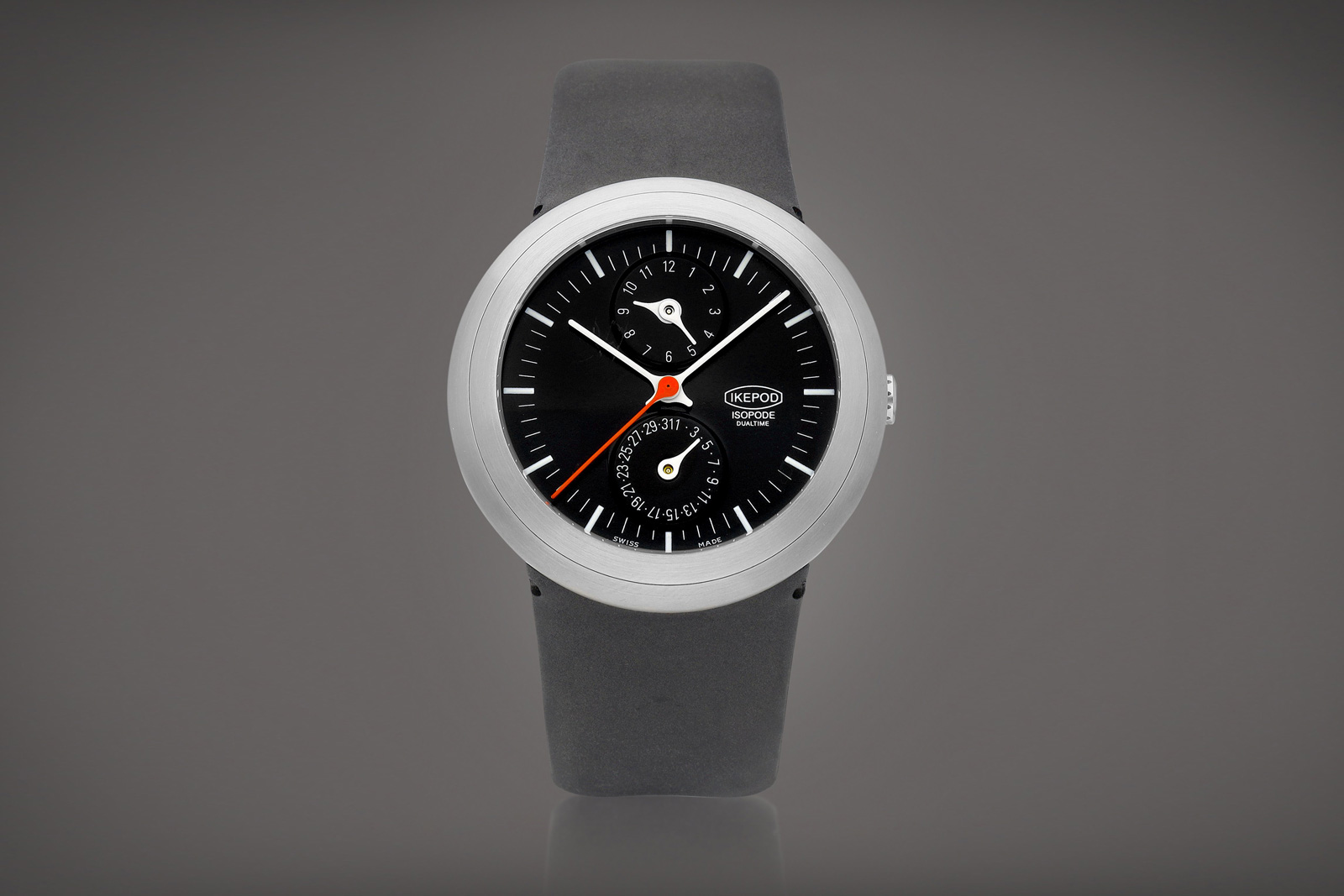 While the brand went under for a period of time they are now back and have a surging popularity, especially after high profile appearances such as Kanye West wearing a gold Ikepod on the cover of GQ magazine. 
The Isopode shows that thoughtful, and original design can be put into a watch and have it end up looking like nothing else that has come before it. The stainless steel, monocoque case takes an organic, pebble-like, form that quickly became the brand's trademark. 
The focus for this watch is the design, with the movement being an ETA 2892-A2 modified, with a second time zone displayed in a sub-dial at 12 and a date in the sub-dial at 6, balancing the face of the watch. It is certainly a value proposition and with an estimate between HKD40,000-60,000 (about US$5,000-7,500) it is extremely accessible. For more, visit the catalogue entry. 
---
Preview and auction details 
The watches can be viewed from July 6-11, 2023 at Sotheby's Hong Kong: 
5/F One Pacific Place,
88 Queensway Central
Hong Kong
With bidding opening online from July 5 and closing July 14. The full catalogue can be seen here. 
This was brought to you in collaboration with Sotheby's.  
---
Back to top.
---
You may also enjoy these.