Editorial: All the Fuss Over a "Franken" Omega Speedmaster
Victims of a well-planned deception.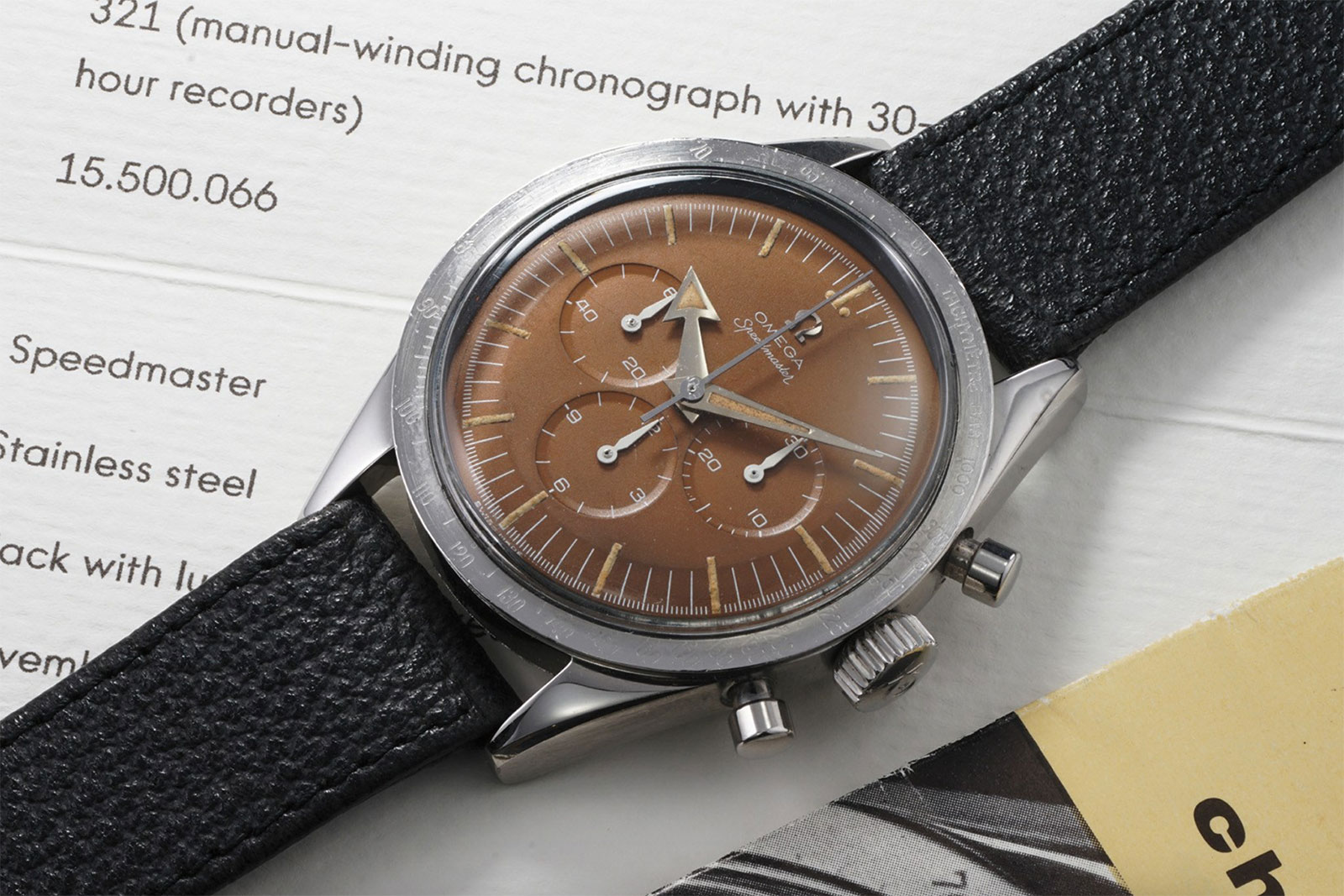 Earlier this week, leading Swiss-German newspapers Neue Zürcher Zeitung (NZZ) published a lengthy story about the possible fraud behind the record-setting sale of an Omega Speedmaster ref. 2915-1 at Phillips in 2021.
Mystifying at the time, the CHF3.12 million result was a huge number that far exceeded past records for that particular Speedmaster. As NZZ revealed in its story, the Speedmaster in question was a "Franken" watch pieced together from assorted vintage components – and some fake parts – and it was purchased by Omega itself, on the advice of its then museum head.
The allegations are that the then museum head was in cahoots with the seller of the watch. Omega has gone to the police with this, and also released a statement, noting in part, "Omega and Phillips were the joint victims of organised criminal activity involving the selling of this specific watch by auction."
Both Omega and Phillips should have done more due diligence, but it appears a few bad actors were diligent in allegedly defrauding Omega. For more on the matter, Dutch watch publication Fratello published an excellent examination of the happenings.
The alleged fraud has been covered widely in the mass media, from Bloomberg to Fortune, ironically the same publications that last year touted the success and value-appreciation of the Speedmaster.
Mountains and molehills
The reality of the matter, in my personal opinion, is that alleged fraud doesn't really matter all that much.
To start with, a "Franken" watch is neither rare or necessarily undesirable. A vintage watch sympathetically restored with correct and appropriate parts is arguably indistinguishable from one that still possesses every single component it was born with.
Second, and perhaps more crucially, this isn't even the first time an auction-related controversy has emerged over an Omega or two, or 300 of them, at auction.
In April 2007, at the same time as Baselworld, Antiquorum staged Omegamania, a thematic sale dedicated to the brand that was fully supported by Omega. The brand's chief executive at the time, Stephen Urquhart, was present at the event.
Totalling over CHF6.5 million including fees, the 300 lots included several record prices, including a platinum Constellation Grand Luxe with matching bracelet that sold for over CHF400,000 – you could have had a Patek Philippe ref. 2499 in yellow gold for less at the time.
Omega may or may not have bought several of the lots offered during Omegamania. Before the sale there were already whispers that some of the watches were not quite right, talk which continued well after the sale.
Sixteen years later, Omega has about doubled its annual sales to CHF2.5 billion, give or take, while its most sought-after vintage watches, well, remain sought after.
At the same time, for a company of Omega's scale, the CHF3.12 million it handed over to the alleged fraudsters is not material. So even though it is part of a publicly-listed group, there is no need to reveal the alleged fraud to shareholders. The company is obligated to go after the perpetrators, which it has done. Publicly listed watch brands and groups have suffered robberies where more was stolen and little fuss was made because, well, such things happen.
The "Franken" Speedmaster isn't even unique in the world of auctions and collecting. Even before Christie's sold Salvator Mundi for over US$450 million – making it the most expensive painting sold at auction – there were questions as to whether it was really painted by Leonardo da Vinci.
And then there was the "Nazi" Porsche Type 64 that failed to sell at Sotheby's in 2019. Not only did it have a history rooted in the Third Reich, it was allegedly something of a "Franken" car. If it had sold for eight figures, would it have changed anything about the classic Porsche market?
Having skin in the game
A multi-million dollar watch that might be fraudulent arguably is most relevant to someone who has bought a multi-million watch at the same venue. So I posed the question to the discerning European collector who bought the Patek Philippe ref. 2499 in pink gold just last month at Phillips for CHF3.21 million – does it affect his willingness to buy high-value watches at auction?
"You cannot blame Phillips for the crookery as they were not the owners of the watch and were most probably not aware of the games played in the background," he responded, "They relied on the Omega Museum and probably were fooled as well."
The Salvator Mundi hasn't been seen in public since it was sold, but the debate surrounding its originality continues with respectable experts and academics on both sides of the argument. The fact of matter is that controversial sales have, and will, always arise at auction – with enough regularity to create headlines but rarely enough to deter buyers who know what they are doing.
---
Back to top.
---
You may also enjoy these.