Seiko Reboots Giugiaro Design Chronograph with Astron GPS
The distinctive asymmetric wristwatch returns with GPS satellite time-sync.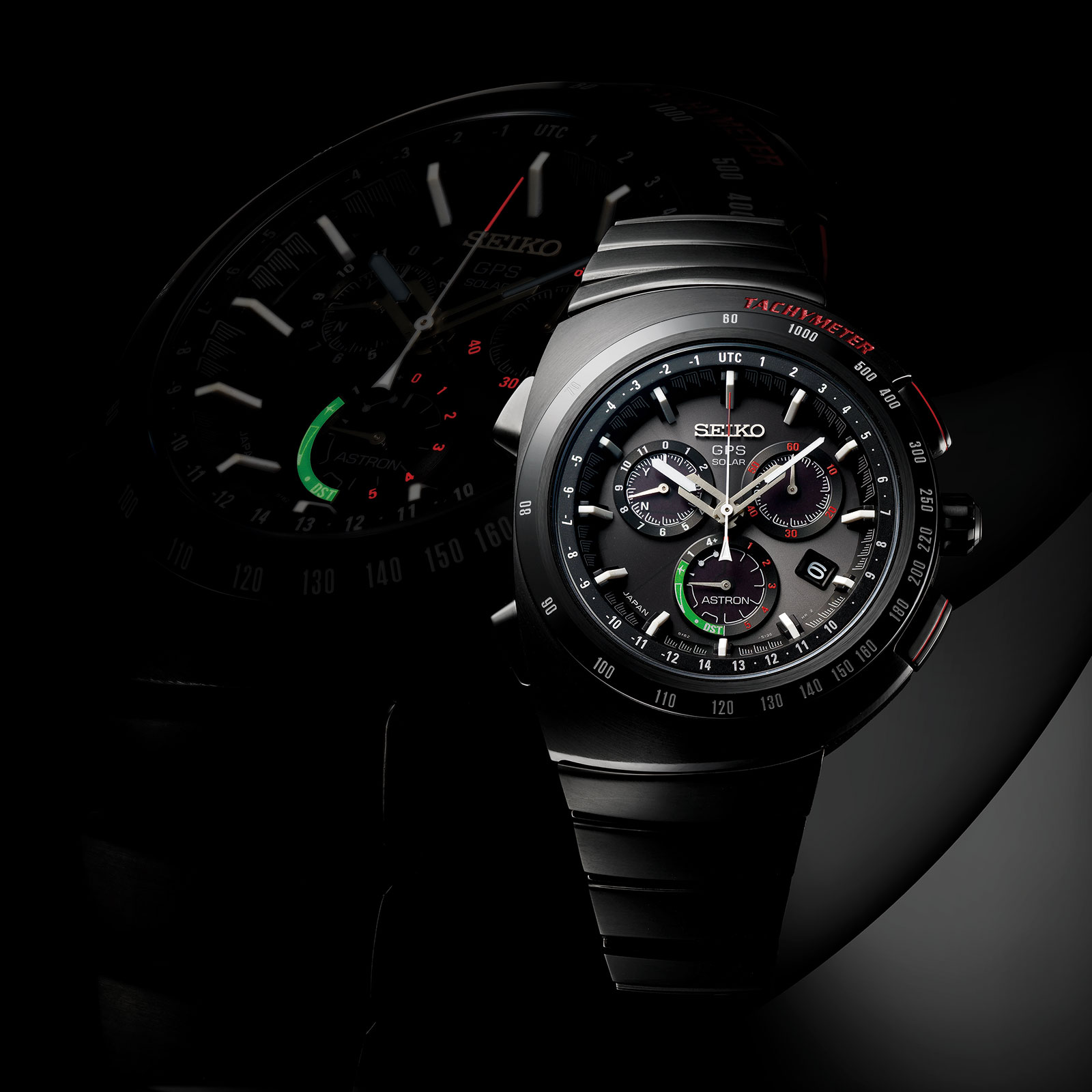 Having just announced an extravagant, 18k pink gold Astron limited edition, Seiko reveals yet another GPS wristwatch that's affordable and a lot more funky, having been designed by car design studio Italdesign Giugiaro.
Seiko introduced the world's first analogue quartz chronograph in 1983, putting it in an asymmetric case styled by Italian automobile designer Giorgetto Giugario (whose firm is now design partner of Roger Dubuis). The unusual case shape was intended to make it easier to use the chronograph buttons, even while driving.
Known as the Giugiaro Speedmaster, the watch was worn by the character Bishop in the 1986 film Aliens, bringing it fame that has lasted long after the watch was discontinued. Seiko marked the 30th anniversary of the Giugiaro Aliens watch in 2013 with a series of limited editions.
The new Astron Giugiaro Design Chronograph is modelled on the 1983 original, with an asymmetric case that protrudes on the right, while being more aggressively shaped, and a good deal more high tech.
Now a large 46.3mm in diameter, the case is black-coated titanium with a black ceramic bezel. A black dial with green and red accents – the colours of the Italian flag – serves as the solar panel for the 8X82 movement, which syncs once a day with a GPS satellite for spot-on timekeeping.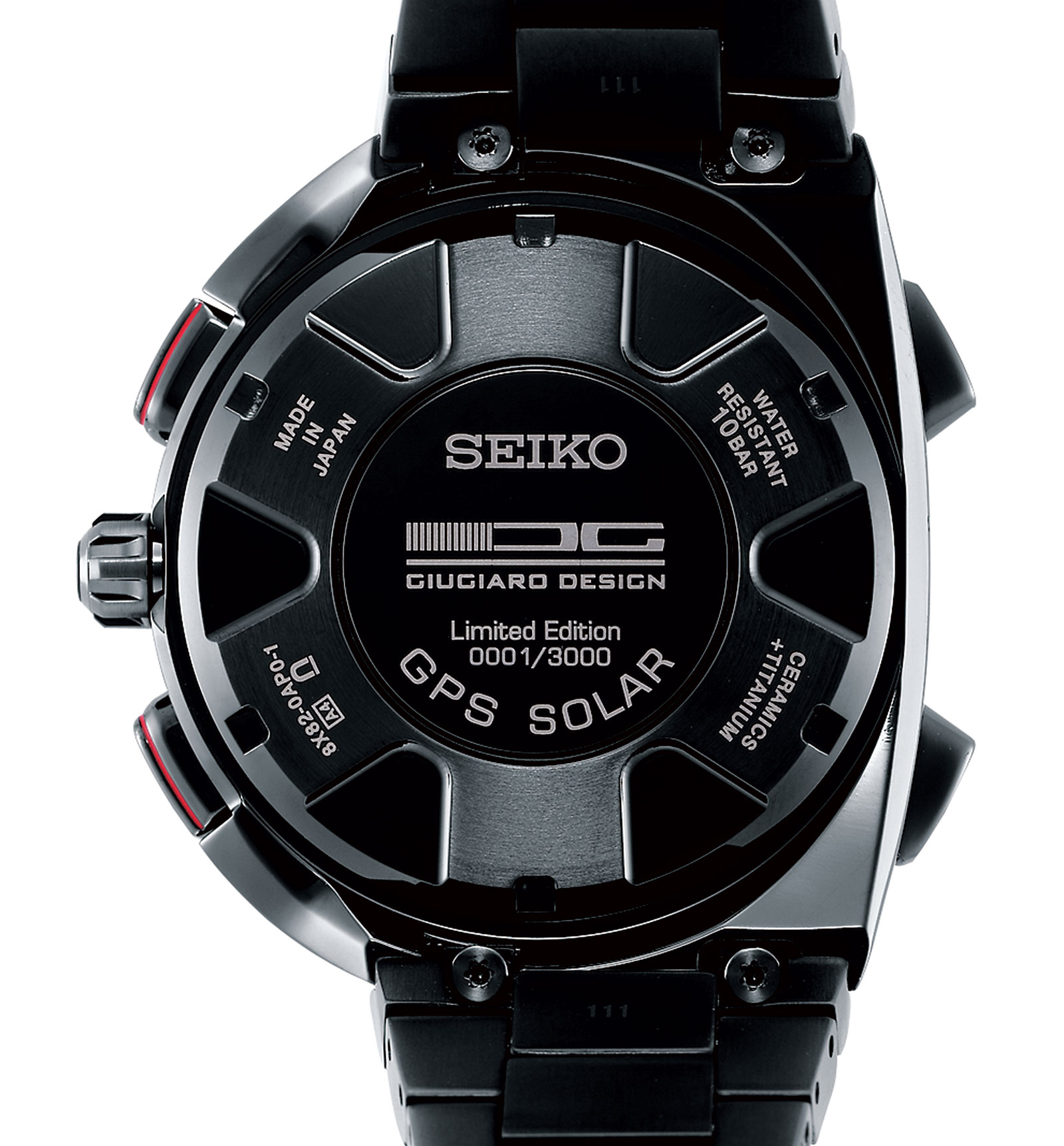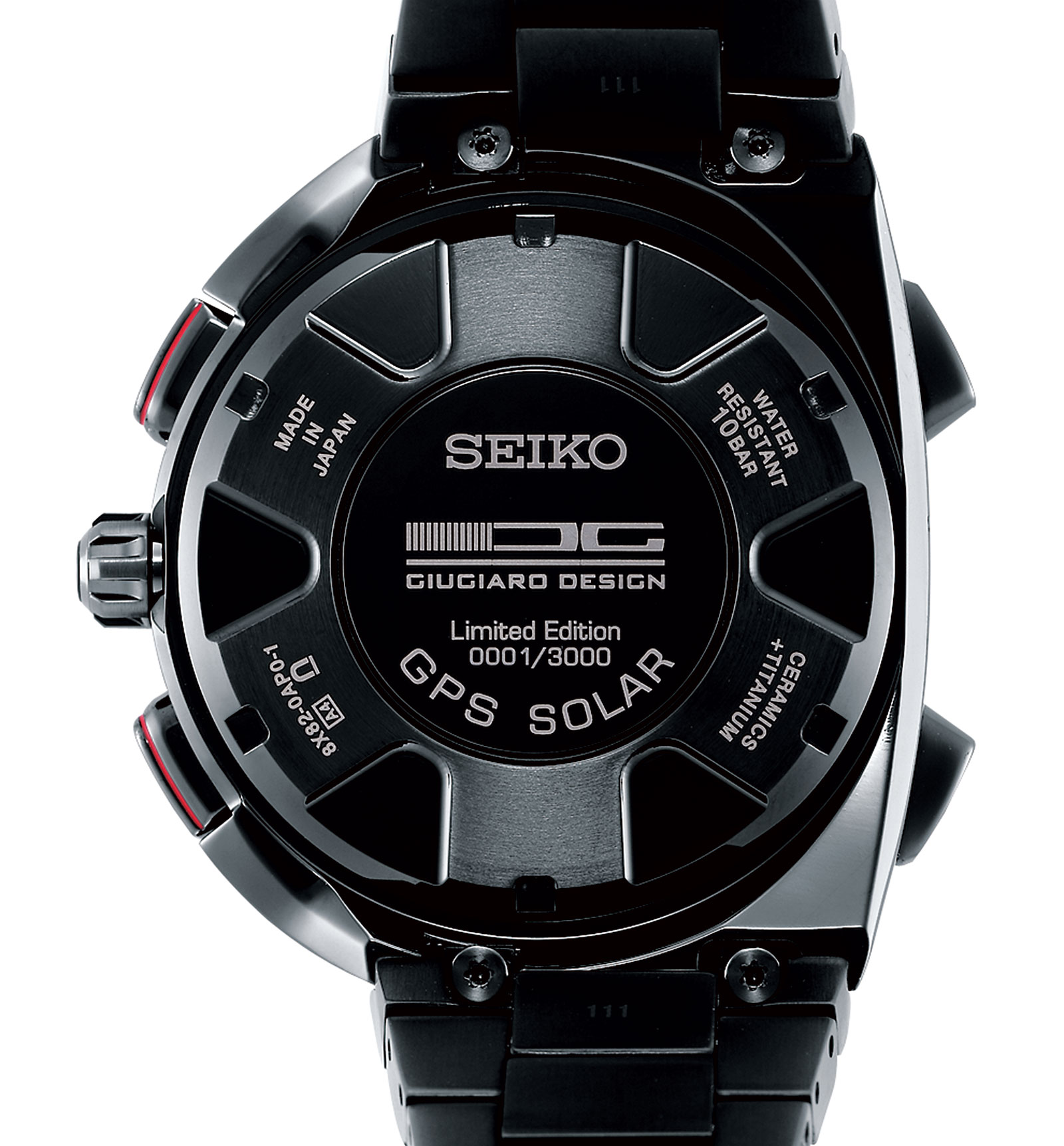 If no satellite is within range, it'll run to within 15 seconds a month. In addition, it has a chronograph, perpetual calendar, second time zone, and world time function.
While the original Giugiaro Speedmaster was a small and somewhat one-dimensional watch, the Astron Giugiaro Design has a three-dimensional dial, with raised hour markers and a sloping chapter ring.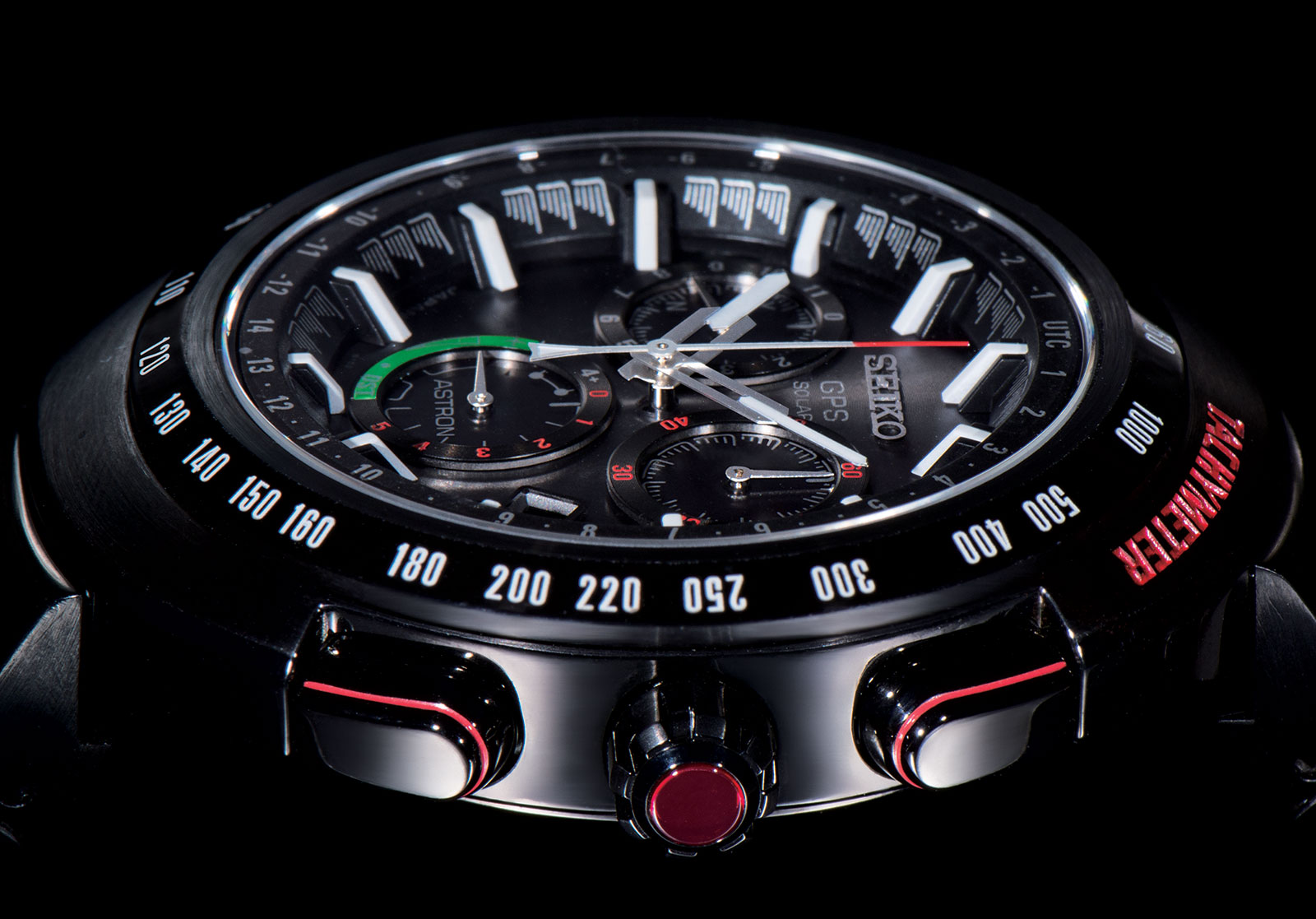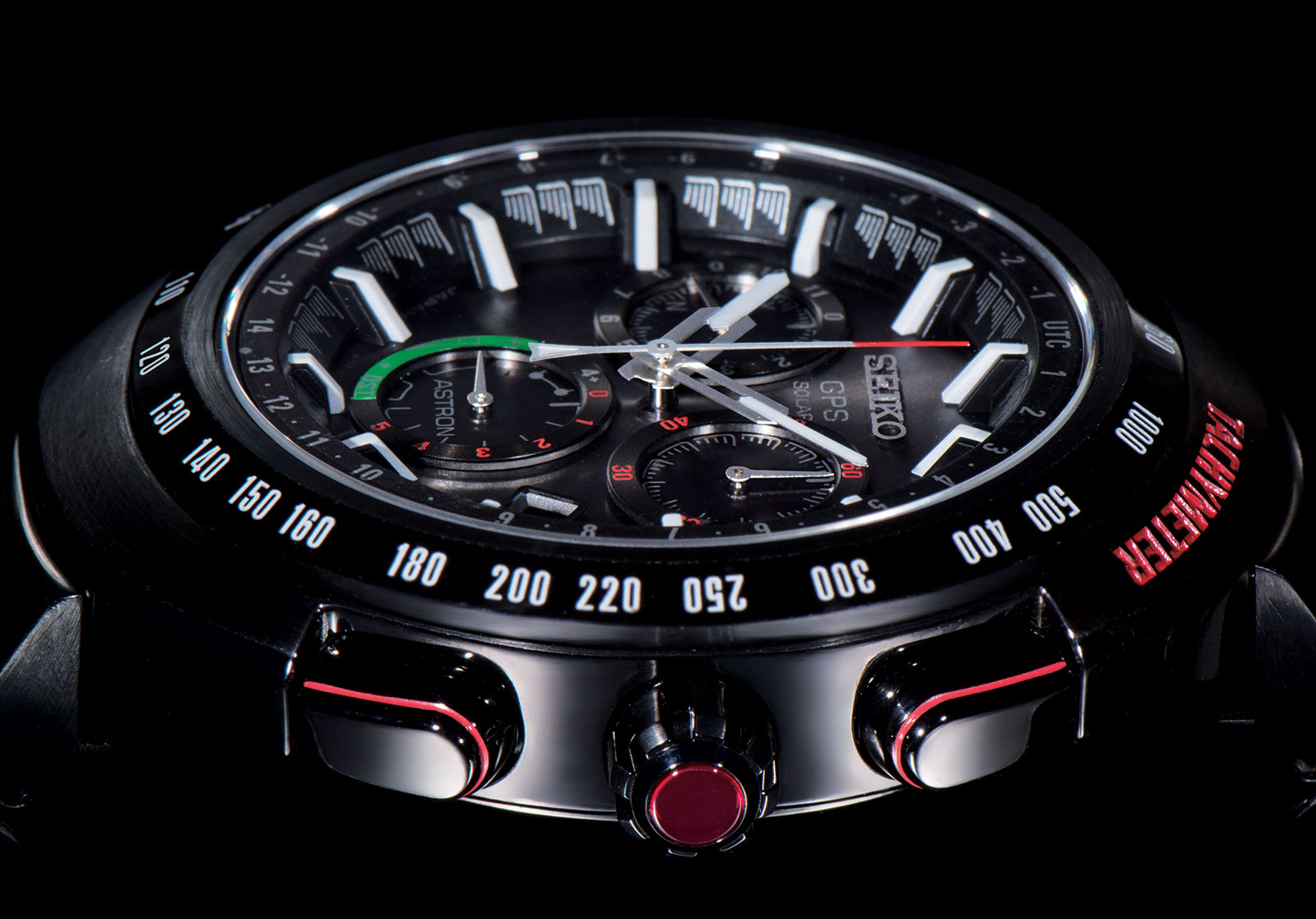 Price and availability
The Seiko Astron Giugiaro Design Limited Edition (ref. SSE121 or SBXB121) is priced at €3250 internationally and ¥324,000 in Japan. It will be available end May 2017.
---
Back to top.
---
You may also enjoy these.