Highlights: Independent Watchmaking at Christie's Hong Kong Auction
Big names and hidden gems.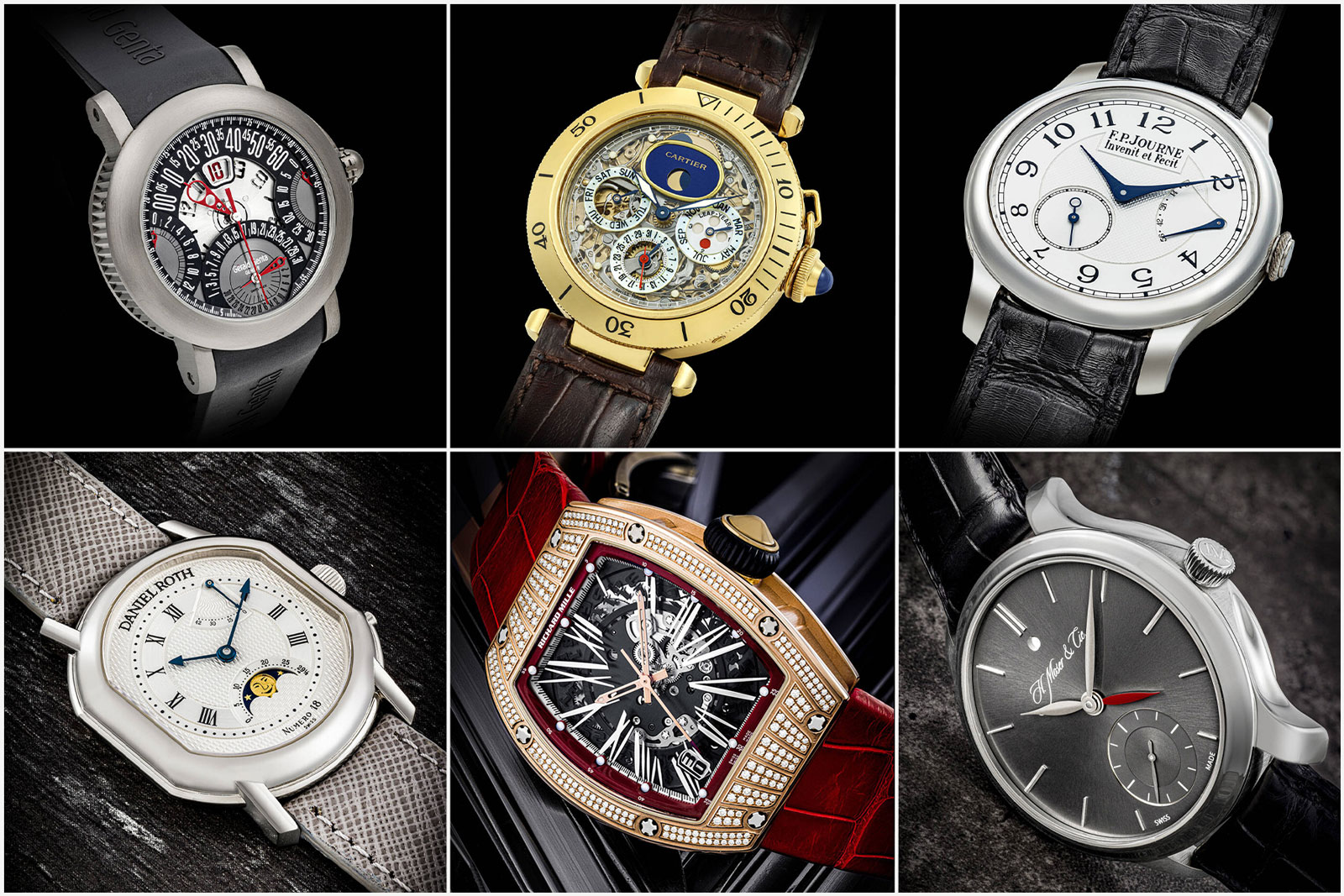 Having looked at some of the most fascinating pocket watches and clocks on offer at Christie's Important Watches auction that happens soon in Hong Kong, we now turn to attention to the genre that many collectors are now pursuing, independent watchmaking.
As expected, amongst the offerings going on the block are works from the big names like F.P. Journe, Richard Mille, and H. Moser & Cie. But beyond the usual suspects, the sale also encompasses hidden gems, like the highly complicated tourbillon perpetual calendar by Gerald Genta presented as a Cartier Pasha.
The Important Watches auction (lots 2306-2523), including watches from The Triazza Collection, begins at 1 pm on November 27 – the catalogue is available here.
It's followed by the second session (lots 2201-2282) offering watches from The Champion Collection at 7 pm – see the full catalogue here.
---
Considered one of the most successful watch designers of the 20th century – though his most influential designs were for Audemars Piguet and the Patek Philippe rather than his own – Gerald Genta was also responsible for some of the most complicated watches of the 1980s and 1990s when his namesake brand was at its peak.
In fact, the Genta brand was so proficient at making highly complex watches that Cartier tapped Gerald Genta as a movement supplier for its top-of-the-line complications in the 1990s. Having designed the modern-day Pasha de Cartier in 1985, Gerald Genta was also responsible for the movements in the most complicated Pasha models in the follow decade.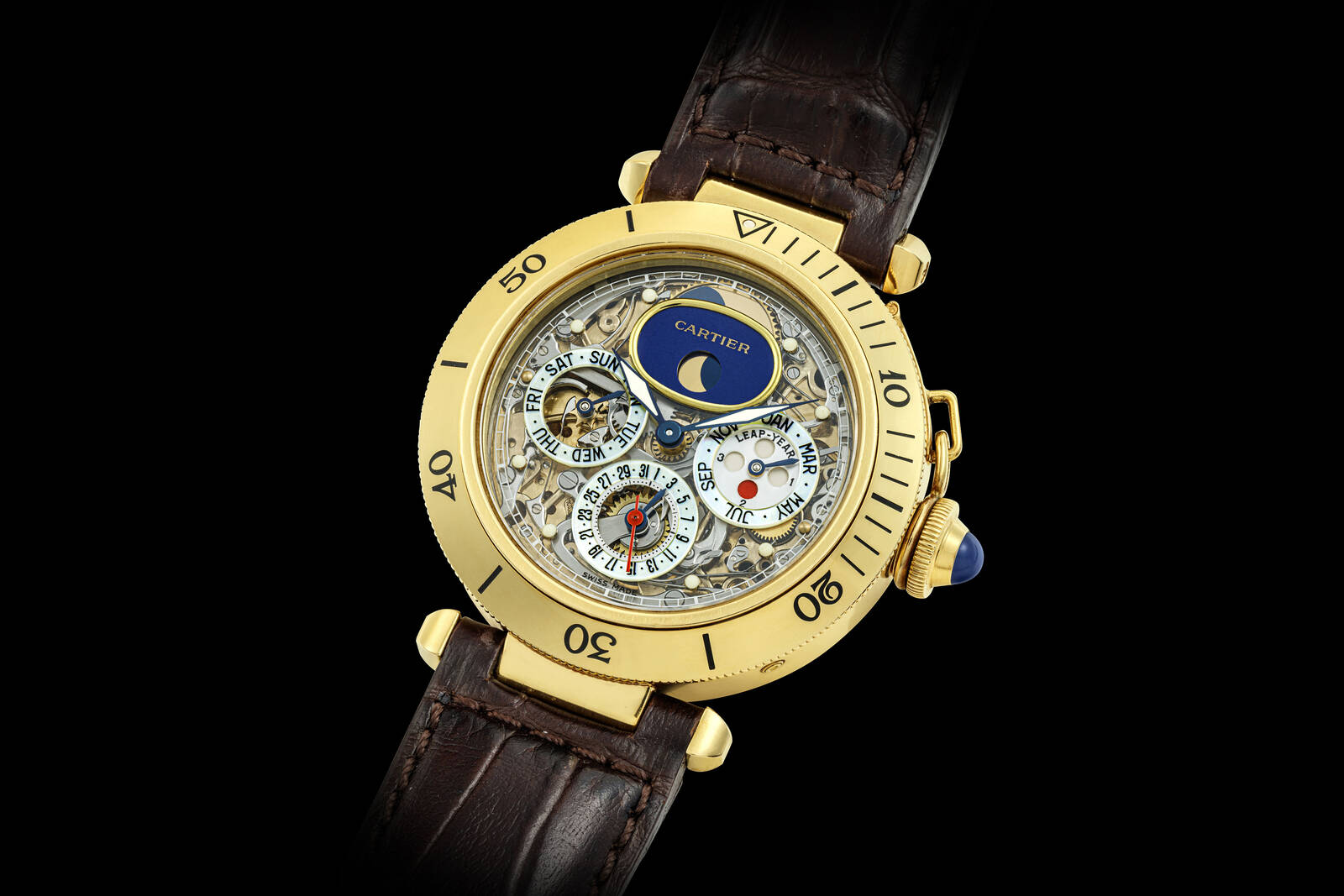 One of the fruits of the Genta-Cartier relationship was the Pasha perpetual calendar with tourbillon, a horological work of art with an open-worked that shows off the perpetual calendar mechanism. As with many of the Gerald Genta watches of the period, the Pasha has an elaborately executed dial with its sub-dials in mother-of-pearl.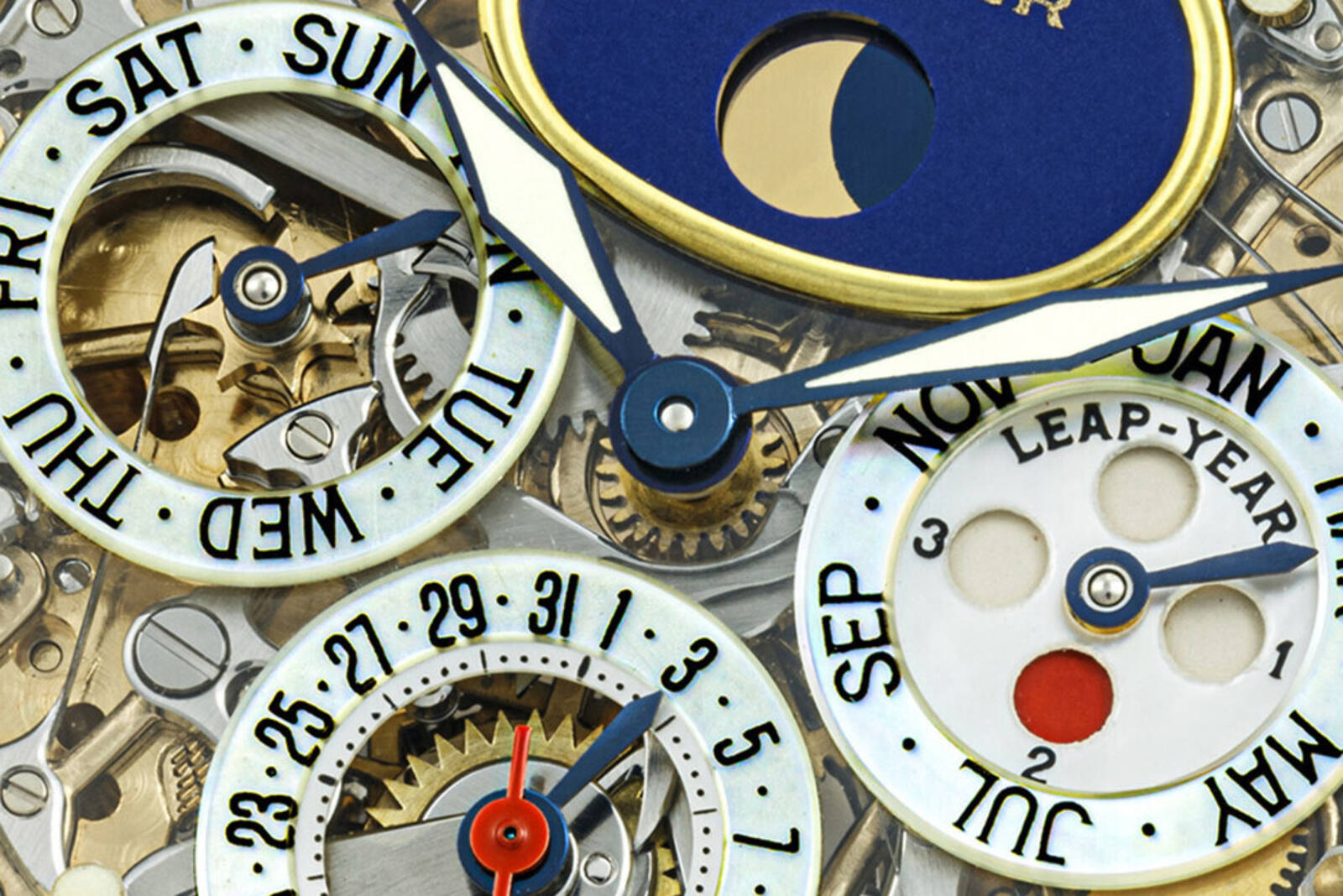 Done in the classic Pasha form with a rotating bezel and a cap over the crown, the 18k yellow gold case has a sapphire crystal back that reveals a movement that's been intricately engraved on almost every surface. The centrepiece is a one-minute tourbillon decked secured by a double "C" bridge.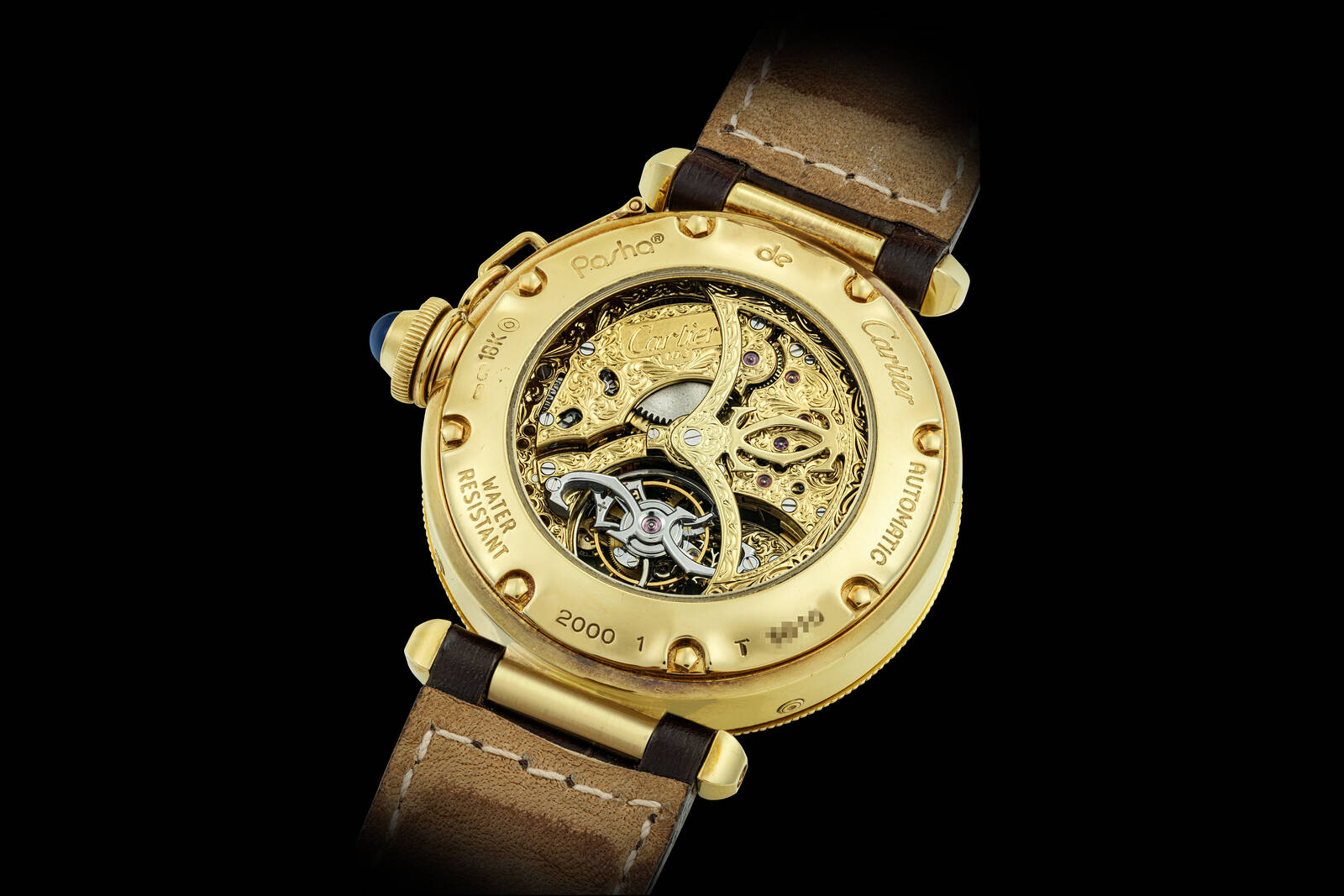 At 38 mm the watch is compact by modern standards but still an eminently wearable size, especially for something so ornate. This under-the-radar watch unsurprisingly has a modest estimate of HK$120,000-240,000, or about US$15,400-30,700. For more, visit the catalogue entry.
---
Well before character watches became a thing with luxury watchmakers, Gerald Genta had a license from The Walt Disney Company. Starting in the 1980s, Gerald Genta produced watches bearing Disney cartoon characters as the Fantasy collection, often combined with the retrograde minutes display and its sister complication, the jump hour. Because of the enduring appeal of Disney's best-loved characters, the Fantasy watches have retained a great degree of desirability even as the Genta brand has been dormant.
In 1997, Gerald Genta designed a special series of the Fantasy Retro to commemorate the handover of Hong Kong by the United Kingdom to China. Automatic with a 36 mm case, it was a limited edition of 97 pieces in steel, along with a smaller run of 19 watches in white gold.
This is one of the white gold examples. Housed in an 18k gold case, the ETA-based automatic movement drives a display that has Mickey Mouse's left arm waving the Union Jack. His left arm also doubles up as the retrograde minute hand and traces the hour across a semi-circular arm before returning to its starting point to begin all over again. In his right hand Mickey has the flags of China and Hong Kong SAR.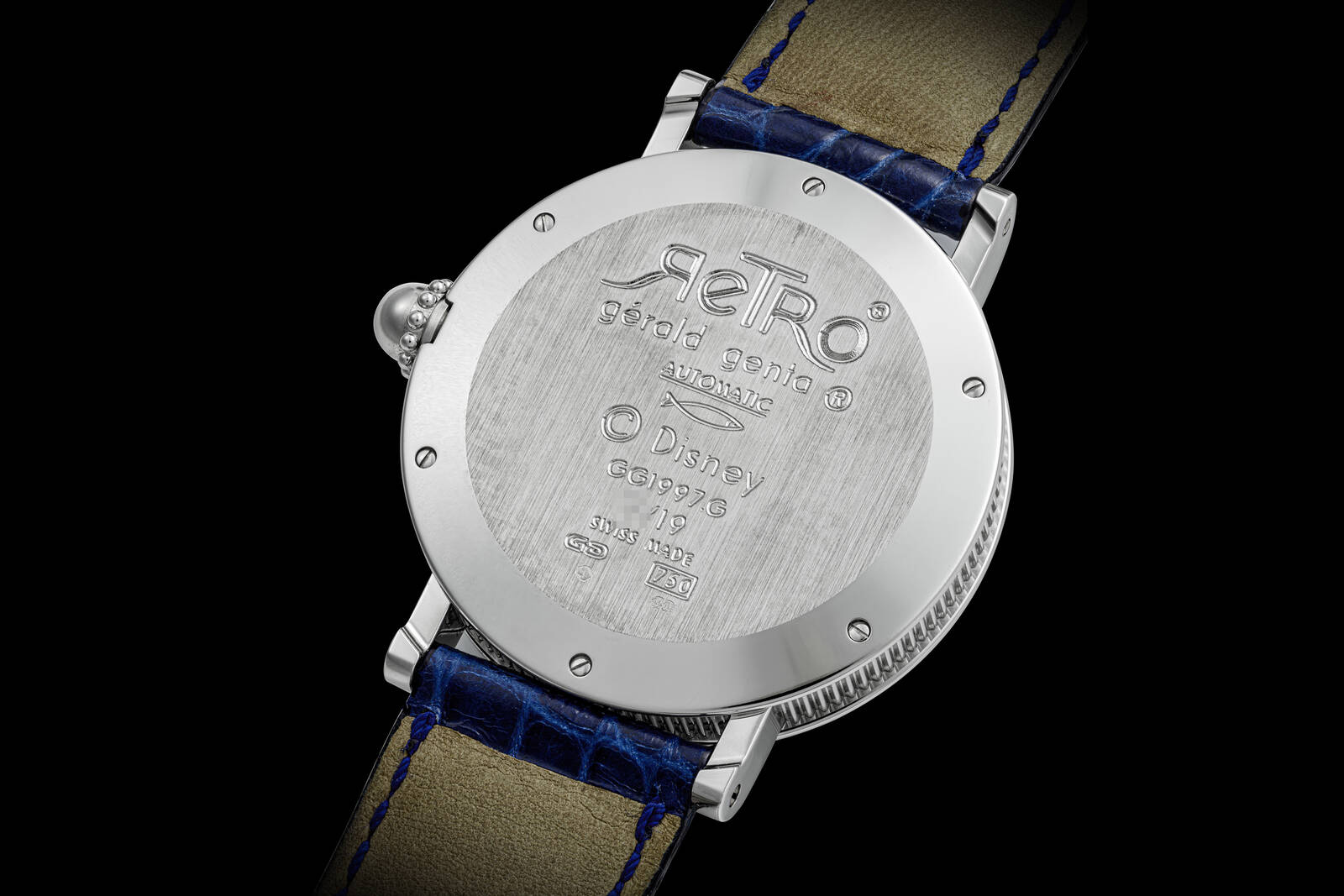 Numbered "9/19", the Gerald Genta Mickey Mouse Retro Fantasy carries an estimate of HK$50,000-100,000, or about US$6,400-12,800. 
You can find out more in the catalogue.
---
As many of our readers would remember, Bulgari sought to revitalise its watchmaking division by purchasing Gerald Genta and Daniel Roth from the Singapore watch retailer The Hour Glass in 2000, a time when the major jewellery brands were putting serious money into building up their watchmaking know-how.
This watch is a Gerald Genta under Bulgari ownership. Even though this and others like it are often overlooked because of the change in ownership, the brand was putting out interesting movements at the time. The design is an evolution of the Gerald Genta original and equipped with a surprisingly complex movement.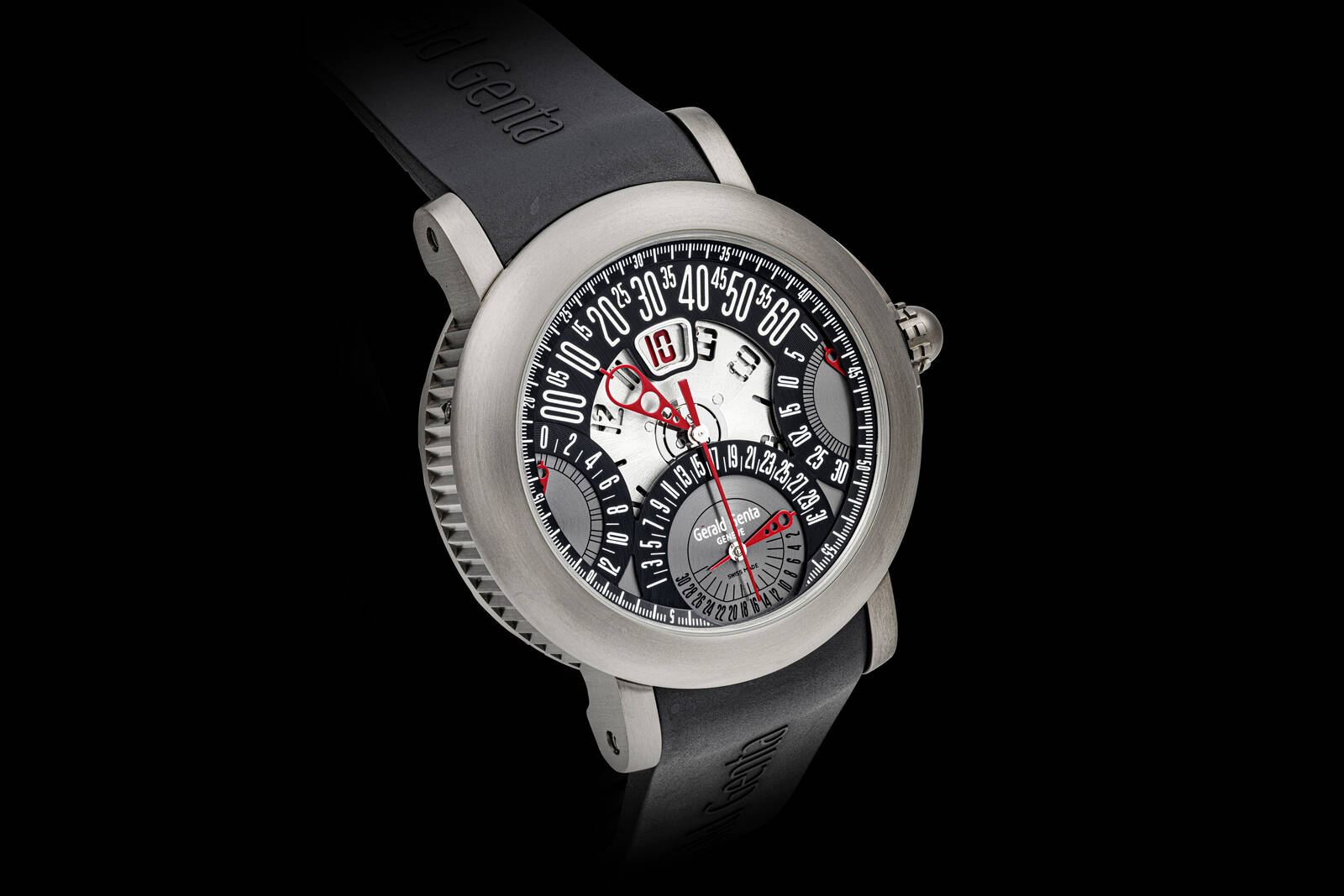 First introduced in 1996, the Arena was groundbreaking at the time for combining two complications: the jump hour and the retrograde in a single wristwatch.
The Arena Quattro Retro takes the concept even further by adding a chronograph into the mix. And it is not merely an ordinary chronograph, but one with retrograde registers for both the hours and minutes. It also features a retrograde date indicator at six o'clock, hence the Quattro Retro name.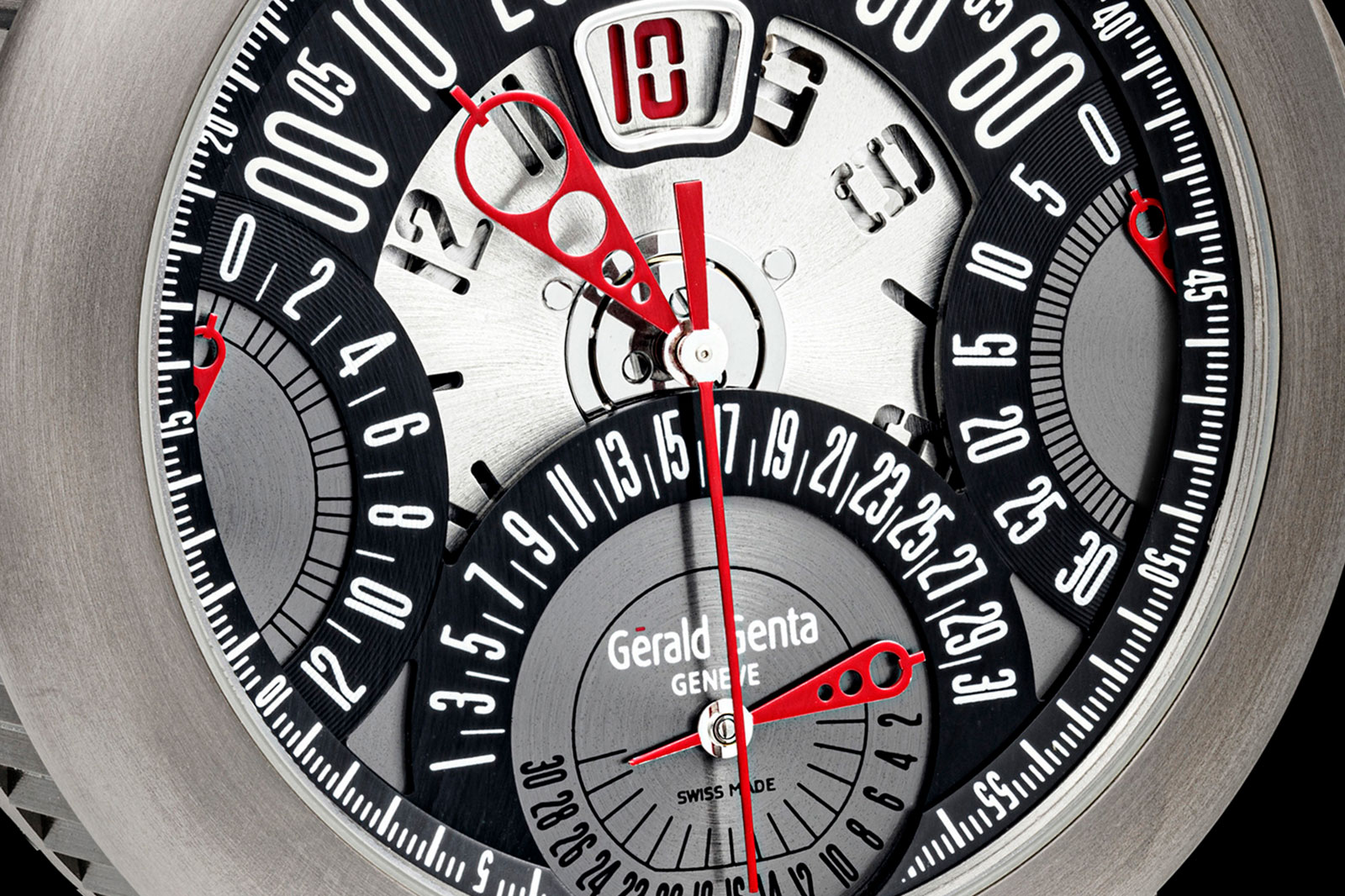 The quadruple retrograde display is driven by an in-house module built on top of a Frederic Piguet cal. 1185 movement, a slim and sophisticated movement widely used by high-end brands at the time, including Audemars Piguet and Vacheron Constantin.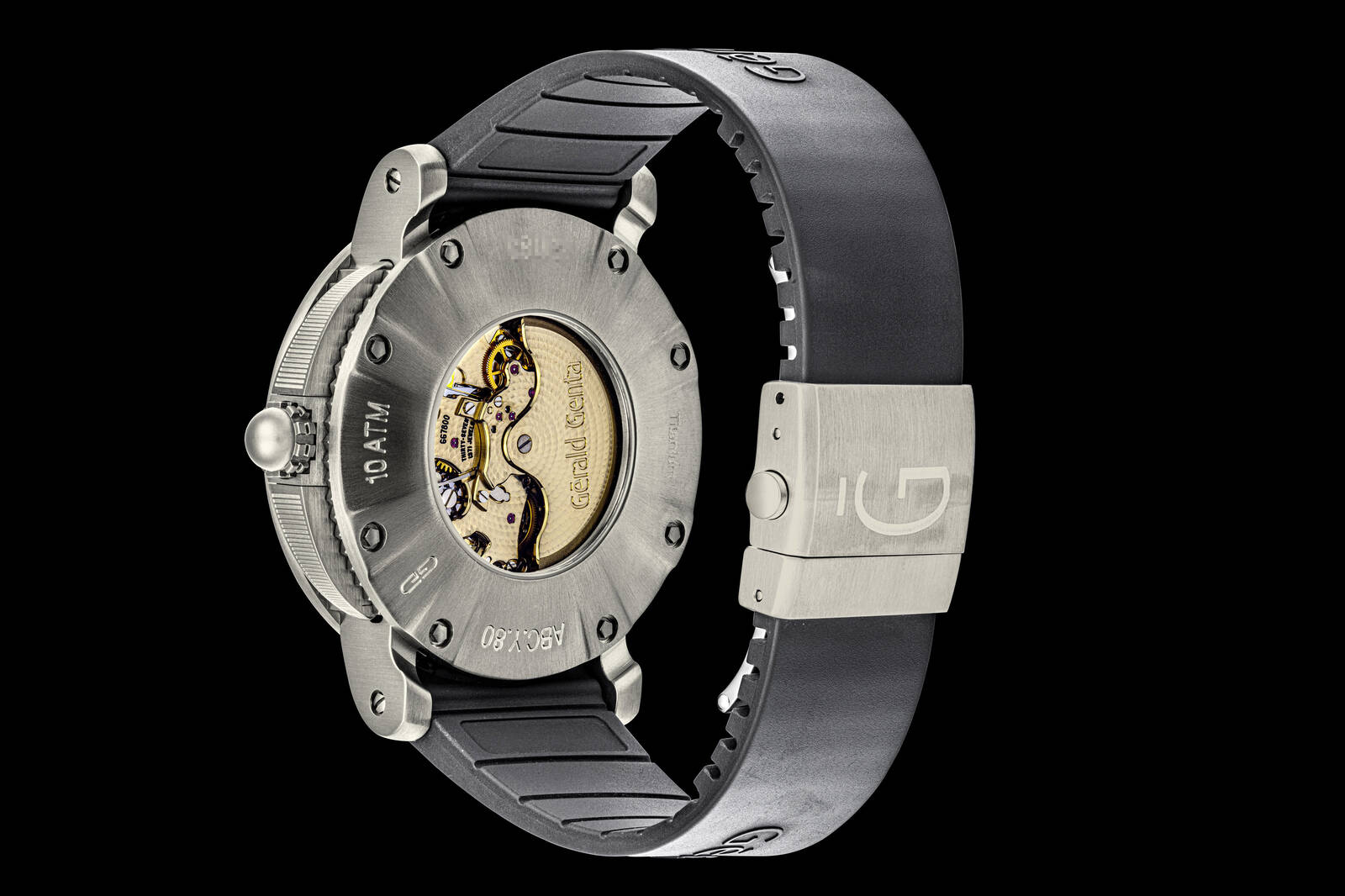 The case design retains the original Genta style but scales it up to 45 mm for a maximalist, sporty aesthetic. Because the case is titanium, it is lightweight despite the size.
The Arena Quattro Retro has an estimate of HK$80,000-160,000, or about US$10,240-20,500. More details here.
---
Ressence has been lauded for its minimalist design and clever mechanics, a direction the brand has pursued from its inception. Founded in 2010 by Belgian designer Benoît Mintiens, Ressence timepieces have an unmistakable aesthetic centred on a streamlined case and clean dial with an orbital display. Though mostly known today for its crown-less case, the brand actually got its start twelve years ago relying on conventional crowns.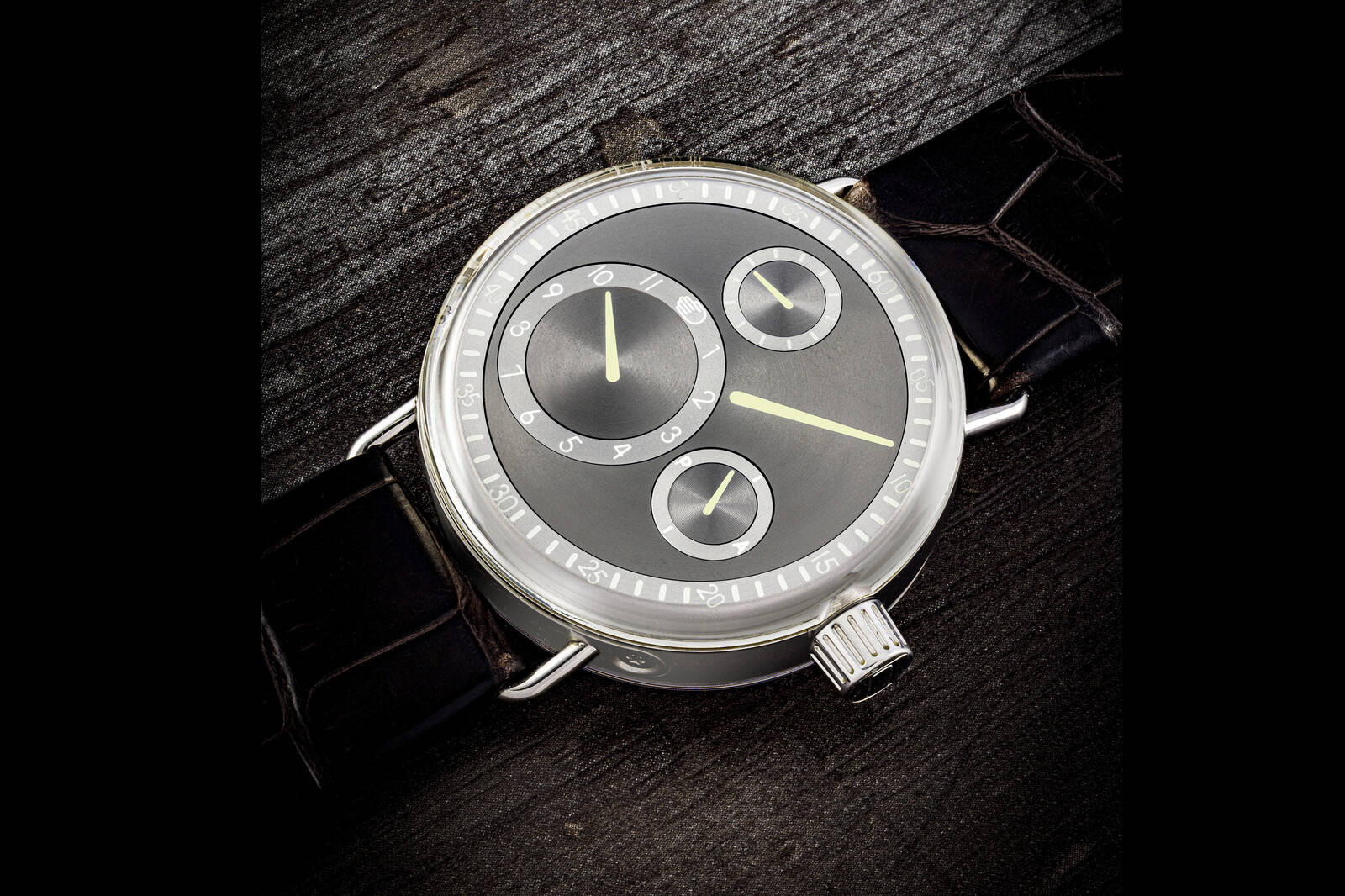 Launched in 2010, the Zero Series was the first collection of serially-produced timepieces by the nascent brand. The line-up was essentially a single model but in four different dial colours: black (Type 1001), silver (Type 1002), light titanium (Type 1003), and dark grey (Type 1004), with a total production run of just 50 pieces.
The Zero Series featured an orbital-display dial with discs that rotated in sync to tell the time, thanks to a proprietary, patented module known as the Ressence Orbital Convex System (ROCS). And while the case already had the sleek lines that now define the brand, it also had an ordinary crown at three o'clock for both winding and setting.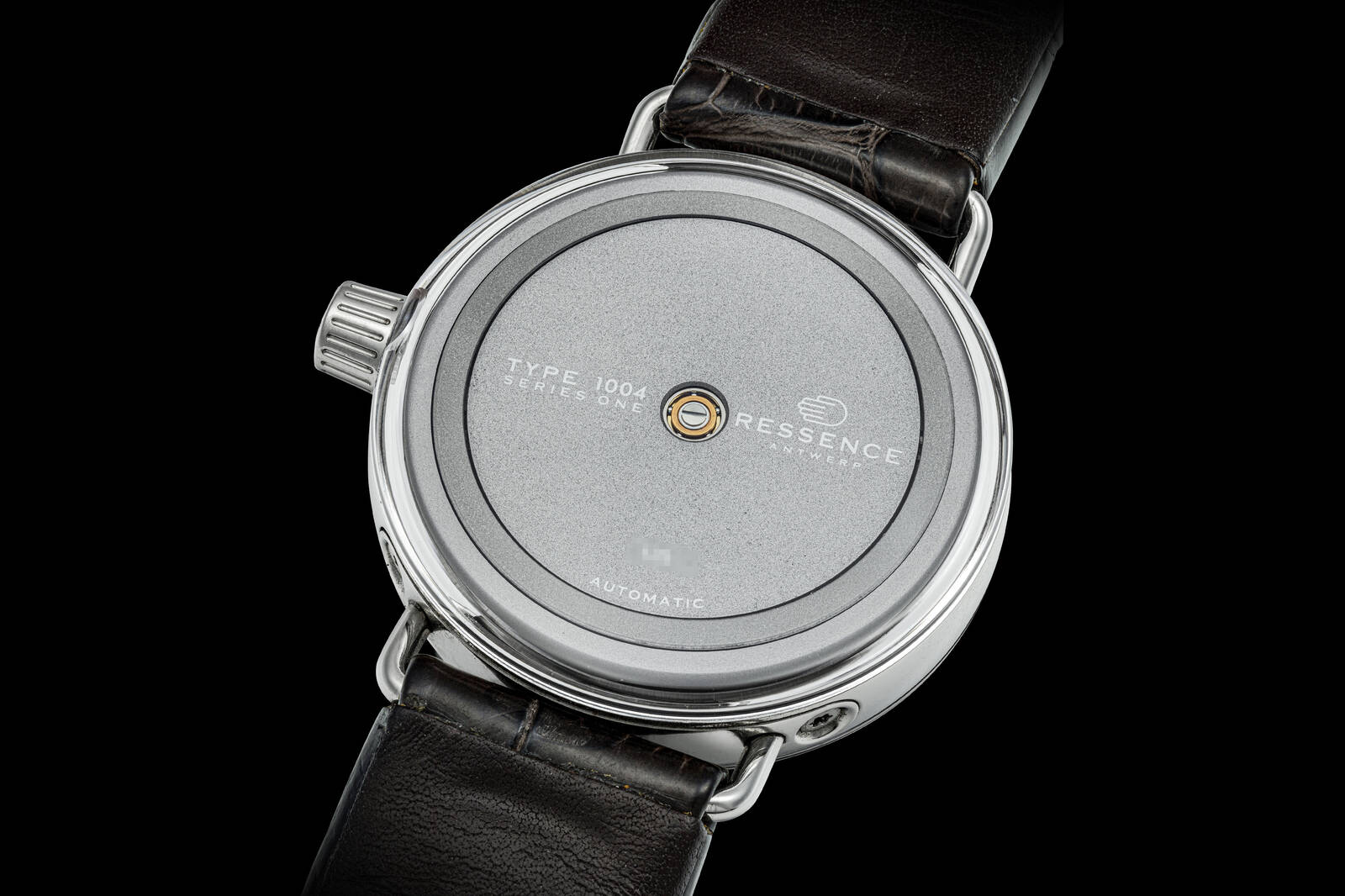 With a retail price of about €10,000 at the time, the Zero Series watches were pricey for an upstart brand but are now affordable compared to Ressence's latest products that boast substantial technical upgrades and innovation but also a much higher price.
As a result, this Type 1004 is something of a value buy for some looking for an affordable example of the inventive watchmaking of Ressence. It has an estimate of HK$90,000-180,000, or about US$11,500-20,500. For more, visit the catalogue entry.
---
Amongst the roster of high-profile independents today, H. Moser & Cie. is a favourite for its often whimsical yet also elegant watches. In recent years the brand has become increasingly known for the whimsical, from the Swiss Alp Watch to the peculiar Swiss Mad Watch with a case made partly from Swiss cheese. But the Schaffhausen-based manufacturer has always had elegant watches in its stable, many equipped with practical complications like the Nomad Dual Time.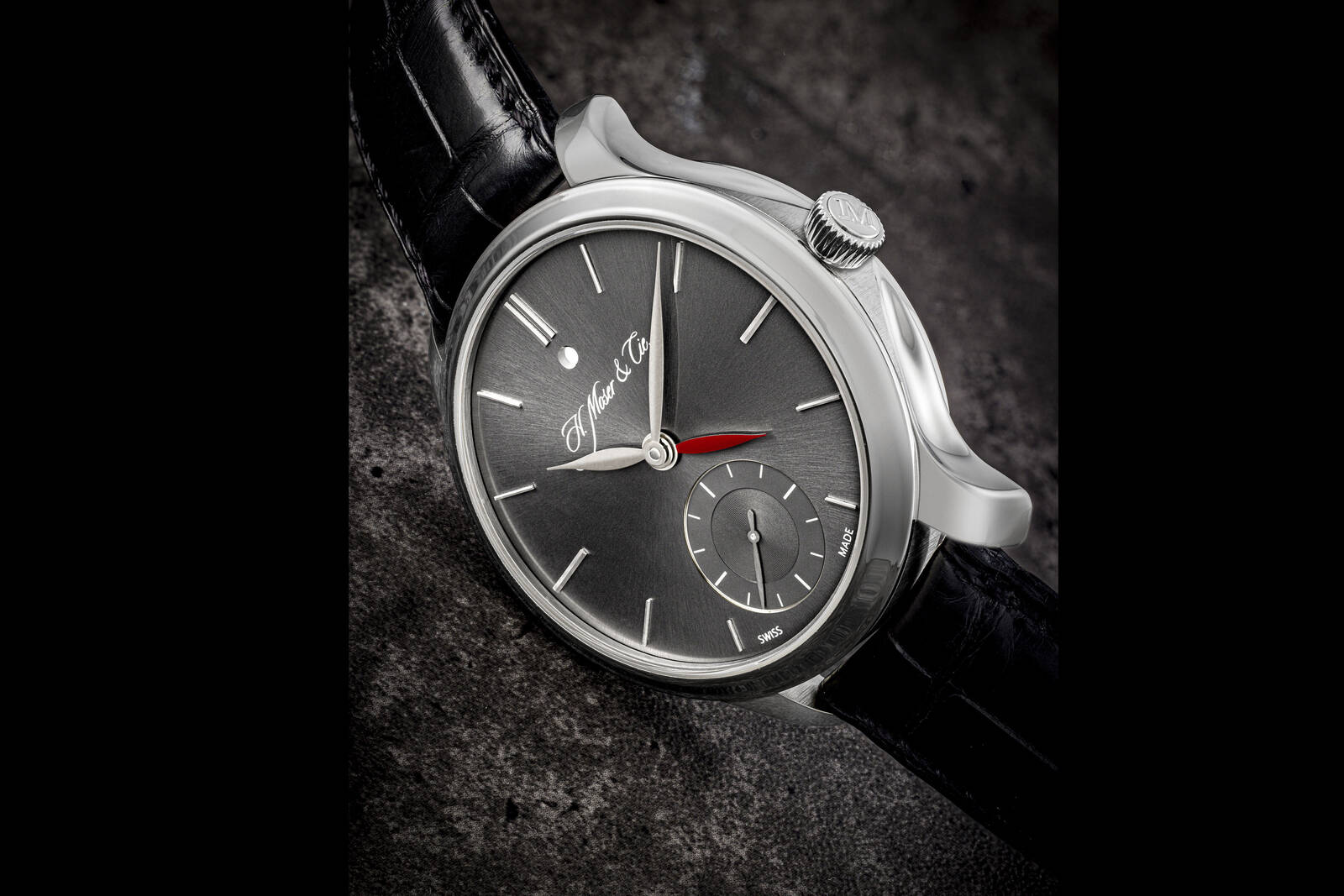 Low key but useful, the Nomad is a travel watch pared to the essentials. It has a second time-zone hand plus a discreet day and night indicator at 12 o'clock. But the second time zone hand can be hidden under the hour hand when not in use, transforming this into a three-hander that's (almost) time only.
Measuring 41 mm in diameter, it is powered by the in-house cal. HMC 346, an automatic with a bidirectional "Magic Lever" winding mechanism and a solid rose gold rotor.
Notably, this example has a platinum case, instead of the more common white gold.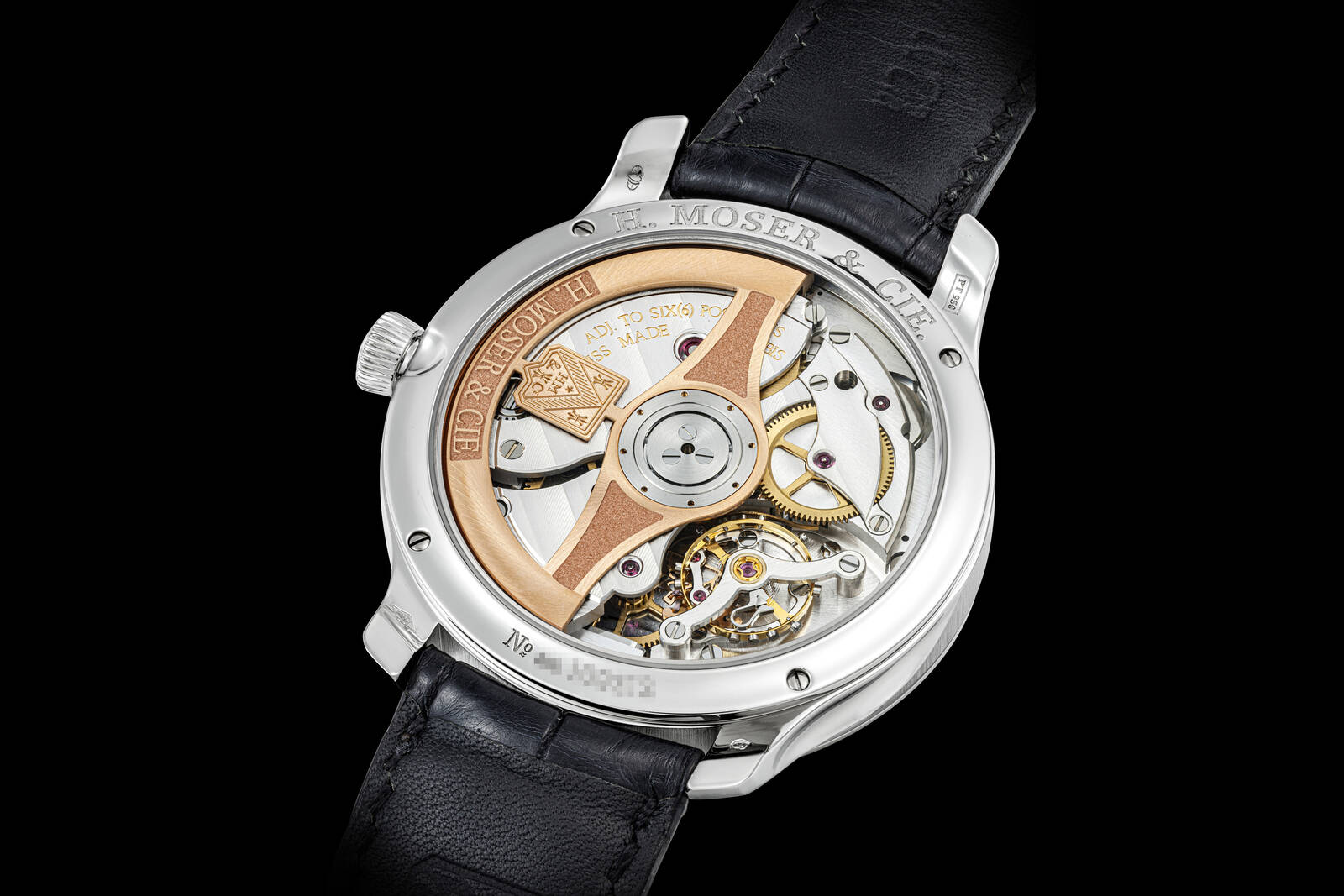 The Nomad Dual Time carries an estimate of HK$120,000-240,000, or about US$15,400-30,700, something of a bargain considering its original retail price was US$45,400.
For more, check out the catalogue.
---
Founding his namesake brand in 1989, Daniel Roth was one of the first independent watchmakers to reinterpret traditional Swiss watchmaking and establish his own distinctive style. He had honed the craft at Audemars Piguet and Jaeger-LeCoultre, but is most famous for helping resurrect the Breguet in the 1970s.
Like many independent watch brands of the time, Daniel Roth eventually left his namesake brand. His earliest creations possess the purity of a small-scale independent, explaining their renewed appeal for collectors. But some of the brand's later watches are also interesting and tend to offer better value as they are frequently overlooked in favour of earlier watches.
Made just before the brand was sold to Bulgari in 2000, the ref. 0357 was a limited series of 50 timepieces in each colour of gold to commemorate the new millennium.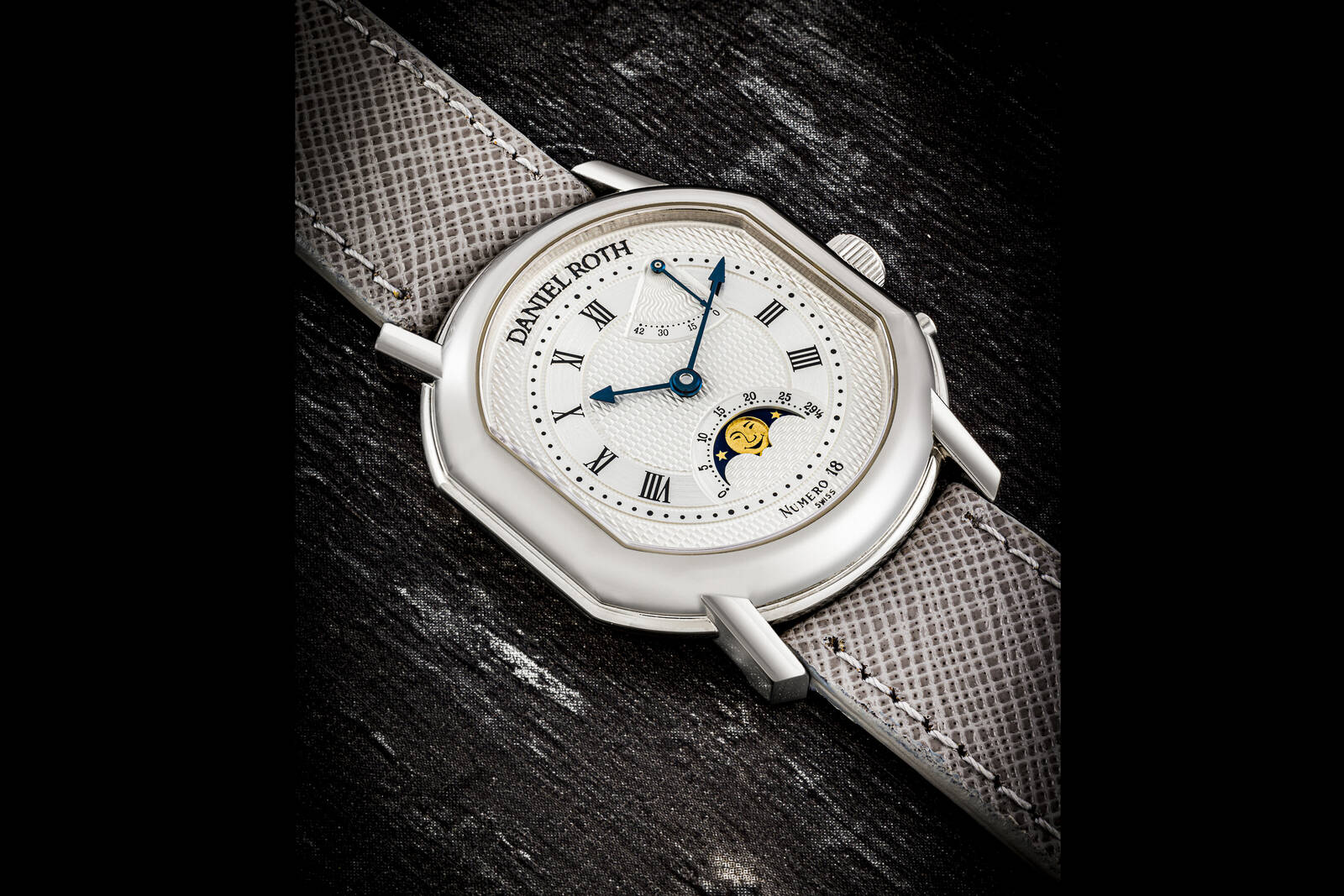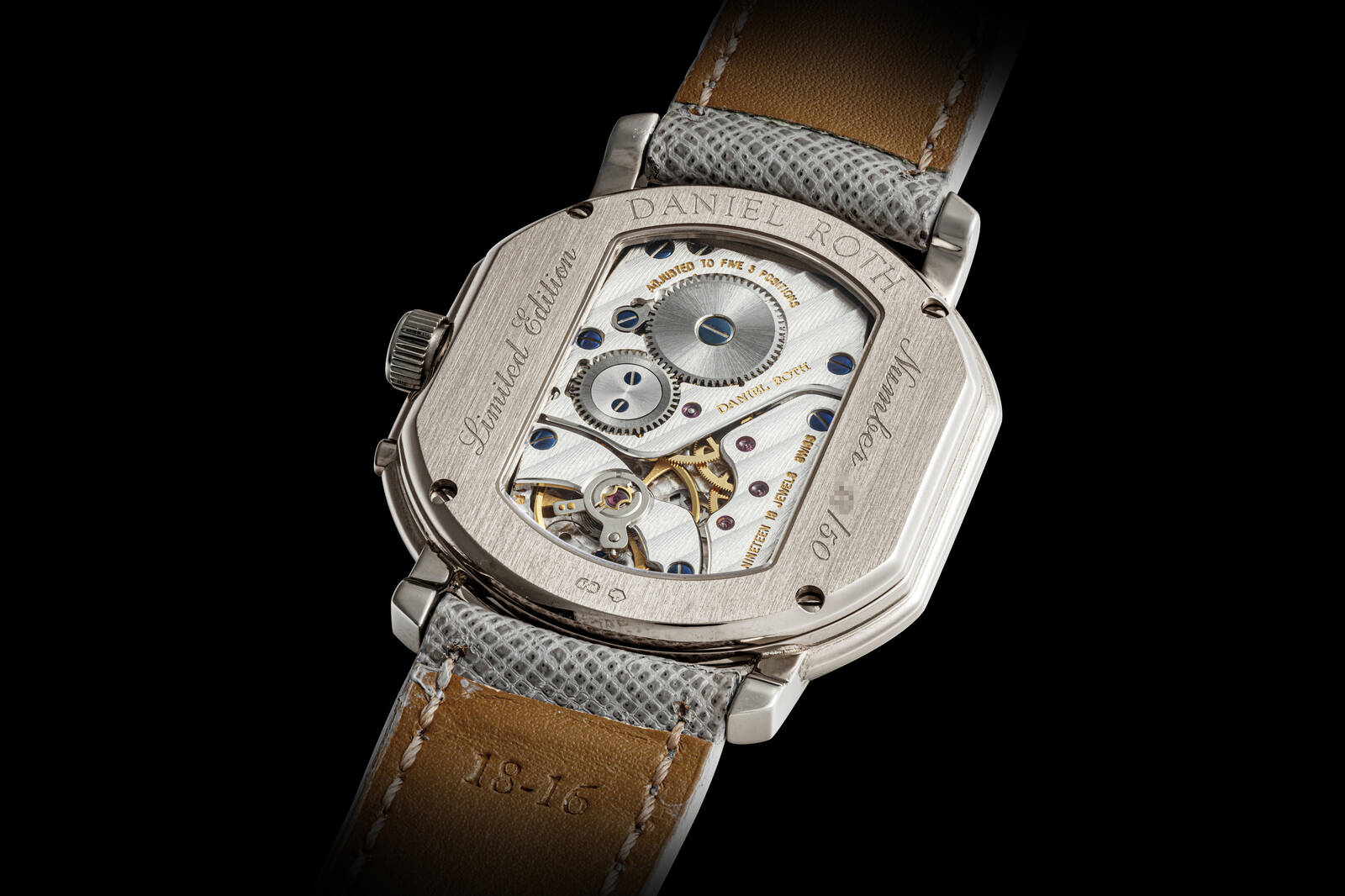 Encased in the signature double-ellipse case in white gold, this has hobnail guilloche dial with Roman numerals and blued steel sword hands. It also includes a pair of simple complications, an off-centre power reserve indicator and a moon phase, which bring to vintage classic Breguet pocket watches.
The watch is powered by the cal. DR200, an unusual form movement that echoes the shape of the case. It was produced by Jaquet, the movement maker now known as La Joux-Perret, and developed specifically for tonneau-shaped watches.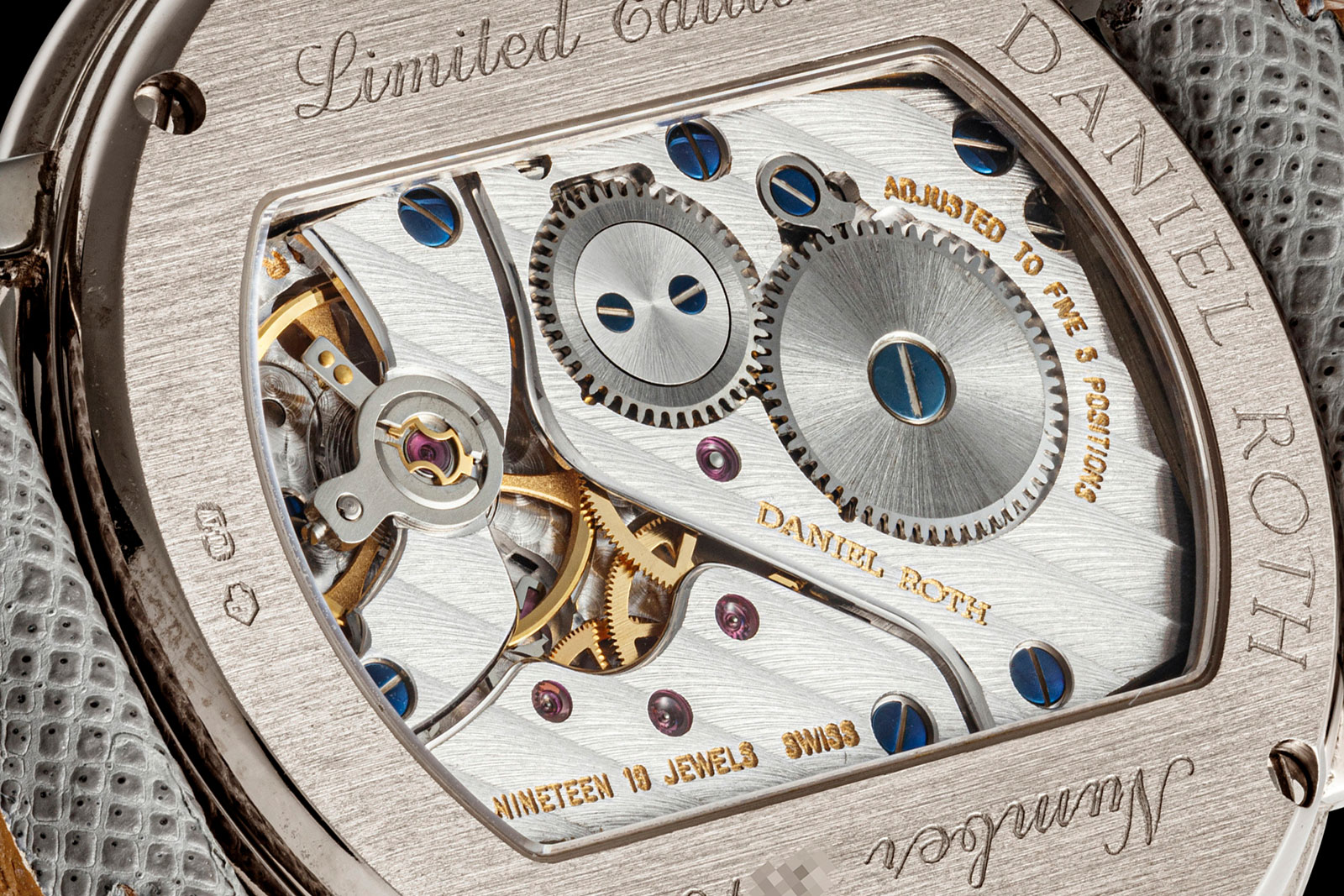 Accompanied by its box and certificate, this ref. 0357BCSL is numbered "18/50". It has an estimate of HK$100,000-200,000, or about US$12,800-25,600. For more, visit the catalogue entry.
---
Rightly regarded as one of the most influential watchmaker alive, François-Paul Journe is a technical genius whose creations have garnered both critical and commercial acclaim. Values of F.P. Journe watches have accelerated into the stratosphere in the last three years, leaving few options for someone who wants an entry-level watch from the brand. The most affordable watch (at least in a relative sense) from F.P. Journe is the simple but sophisticated Chronomètre Souverain.
First introduced in 2005, the timepiece draws inspiration from 19th-century marine chronometers with its functional aesthetic comprising a silvered dial with a power reserve indicator. But it is executed in the signature F.P. Journe fashion with Clous de Paris guilloche and blued steel hands.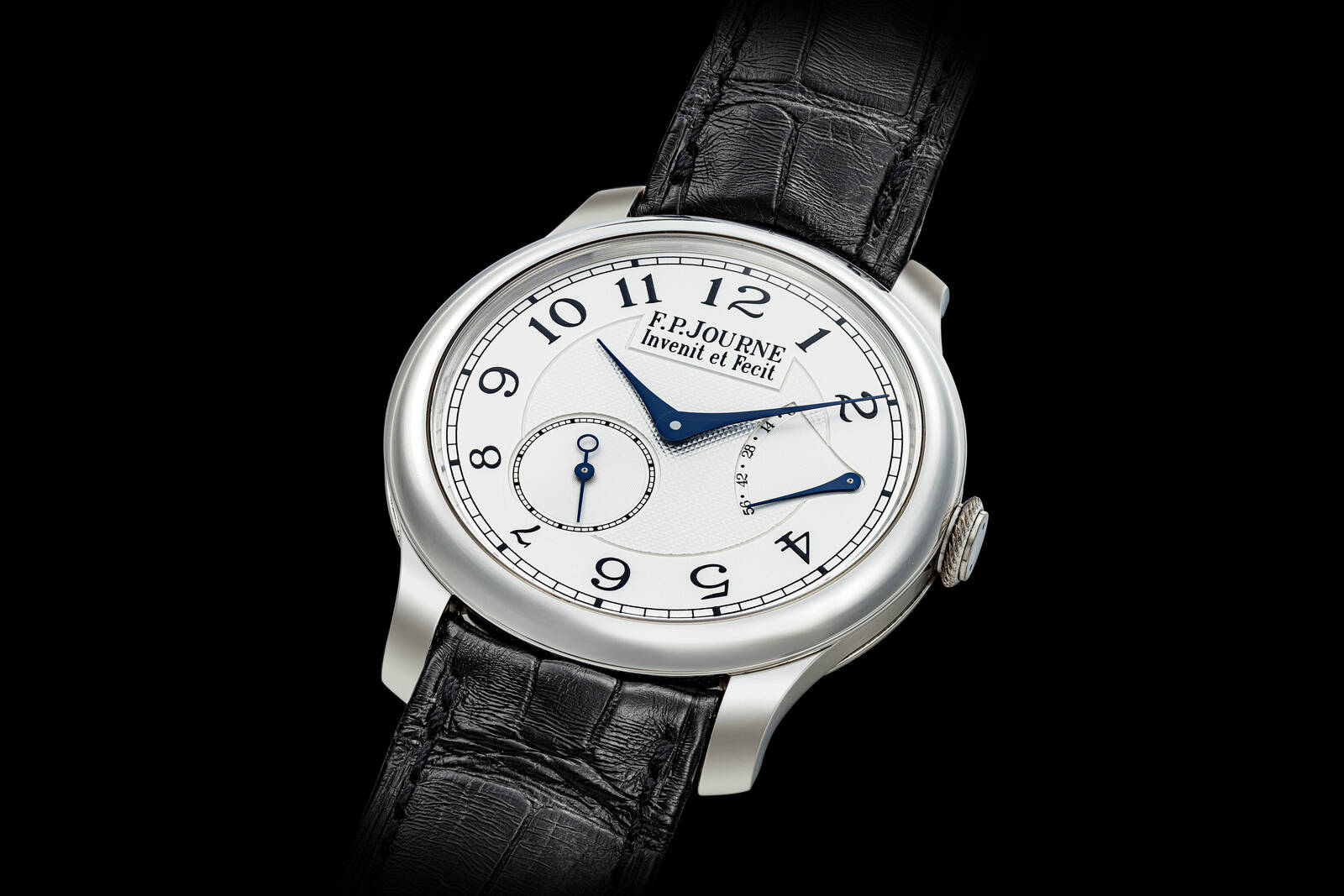 This example is arguably the quintessential variant of the Chronometre Souverain with a 40 mm platinum case and silver dial. It contains the cal. 1304, a manual-wind movement featuring a twin barrels that provide a power reserve of 55 hours, along with bridges in 18-karat red gold.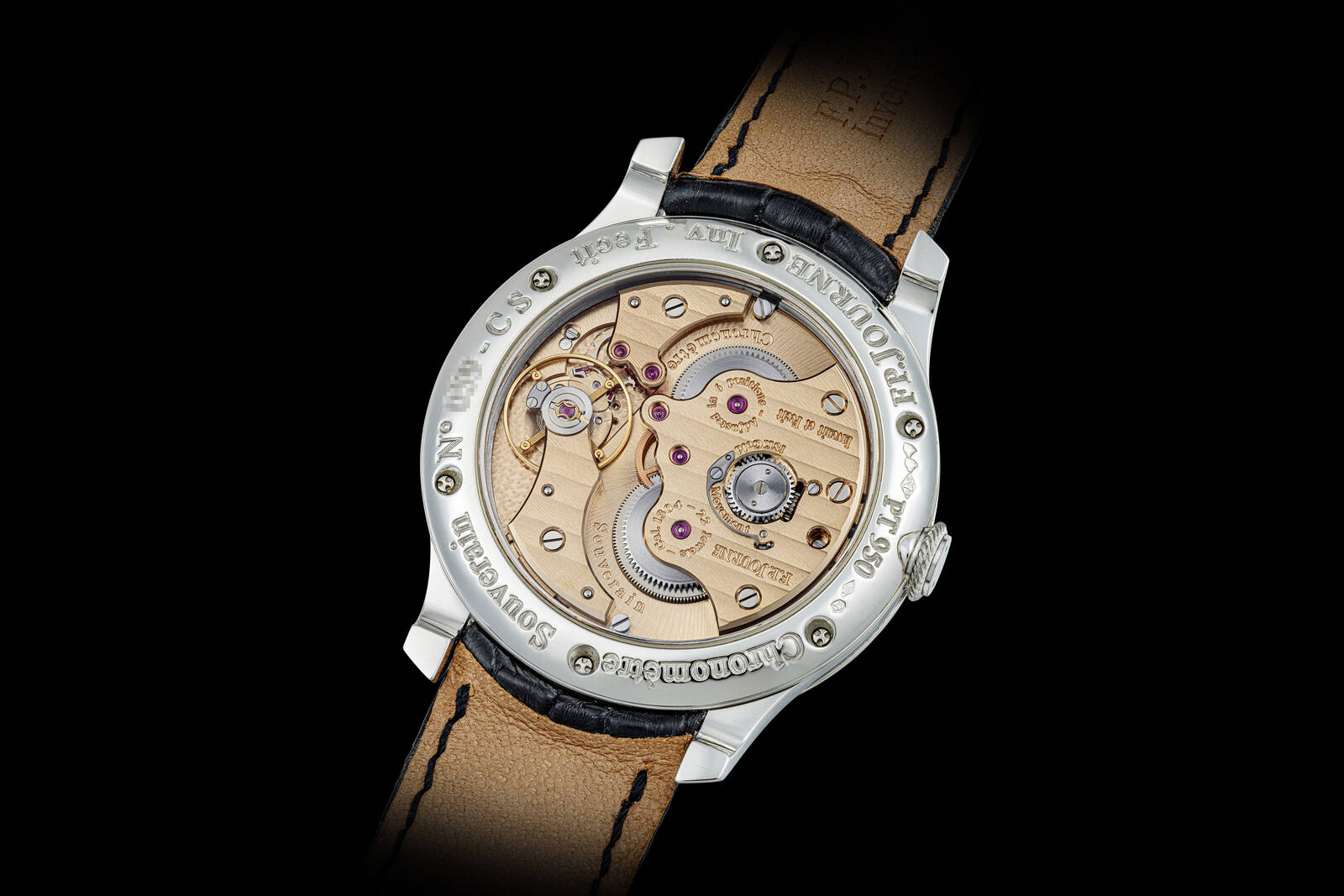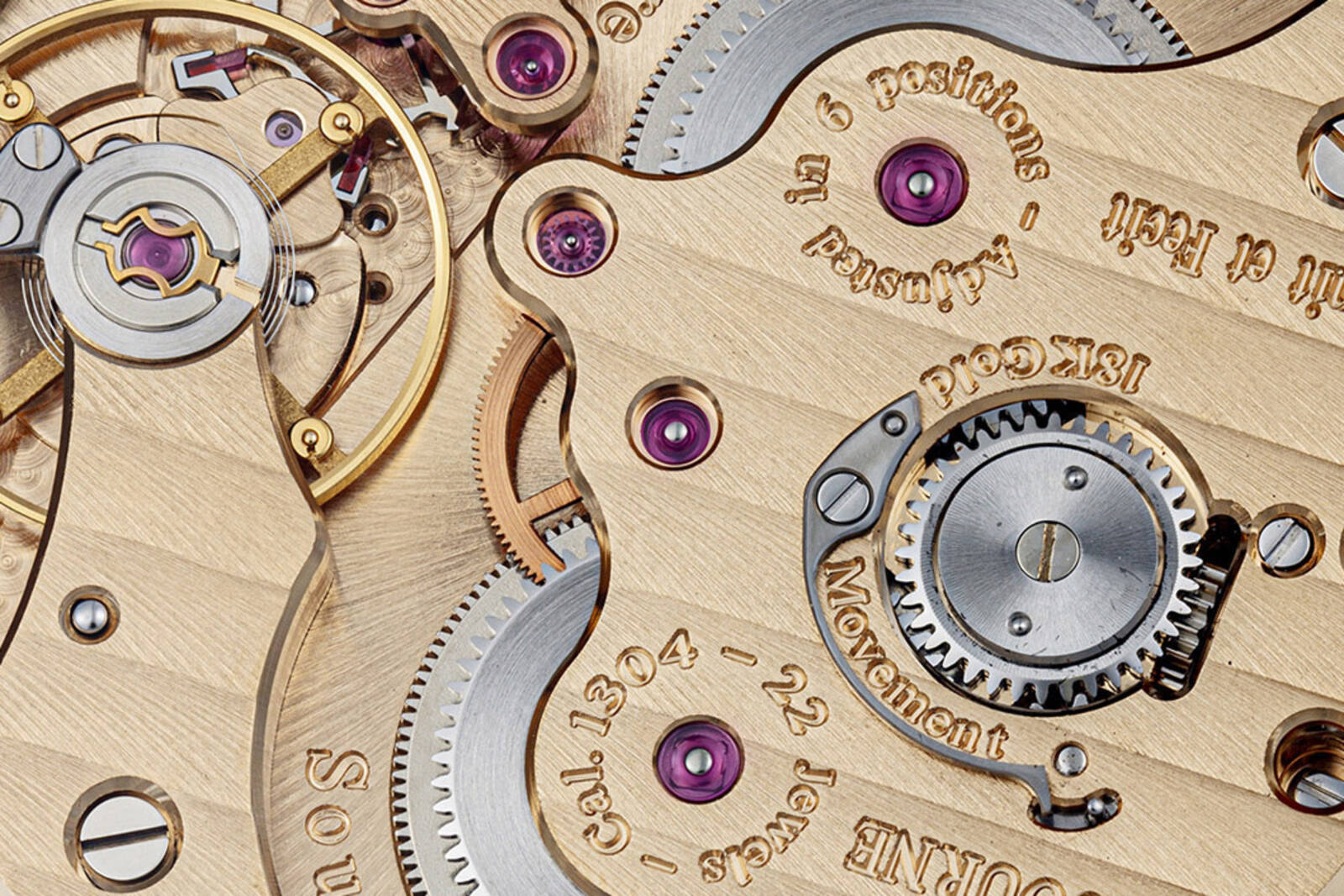 Accompanied by the original box and papers, the F.P. Journe Chronomètre Souverain has an estimate of HK$280,000-480,000, or about US$36,000-61,400.
For more, visit the catalogue entry.
---
Greubel Forsey's Quadruple Tourbillon is a remarkable feat that combines four tourbillon carriages configured to fit in a single wristwatch. First introduced in 2009, the timepiece is the most complex tourbillon made by Greubel Forsey, no slouch when it comes to the complication. The Quadruple Tourbillon was the result of four years of research and development that built on its predecessor, the Double Tourbillon 30°, and further elaborated upon in its successor, the GMT Quadruple Tourbillon.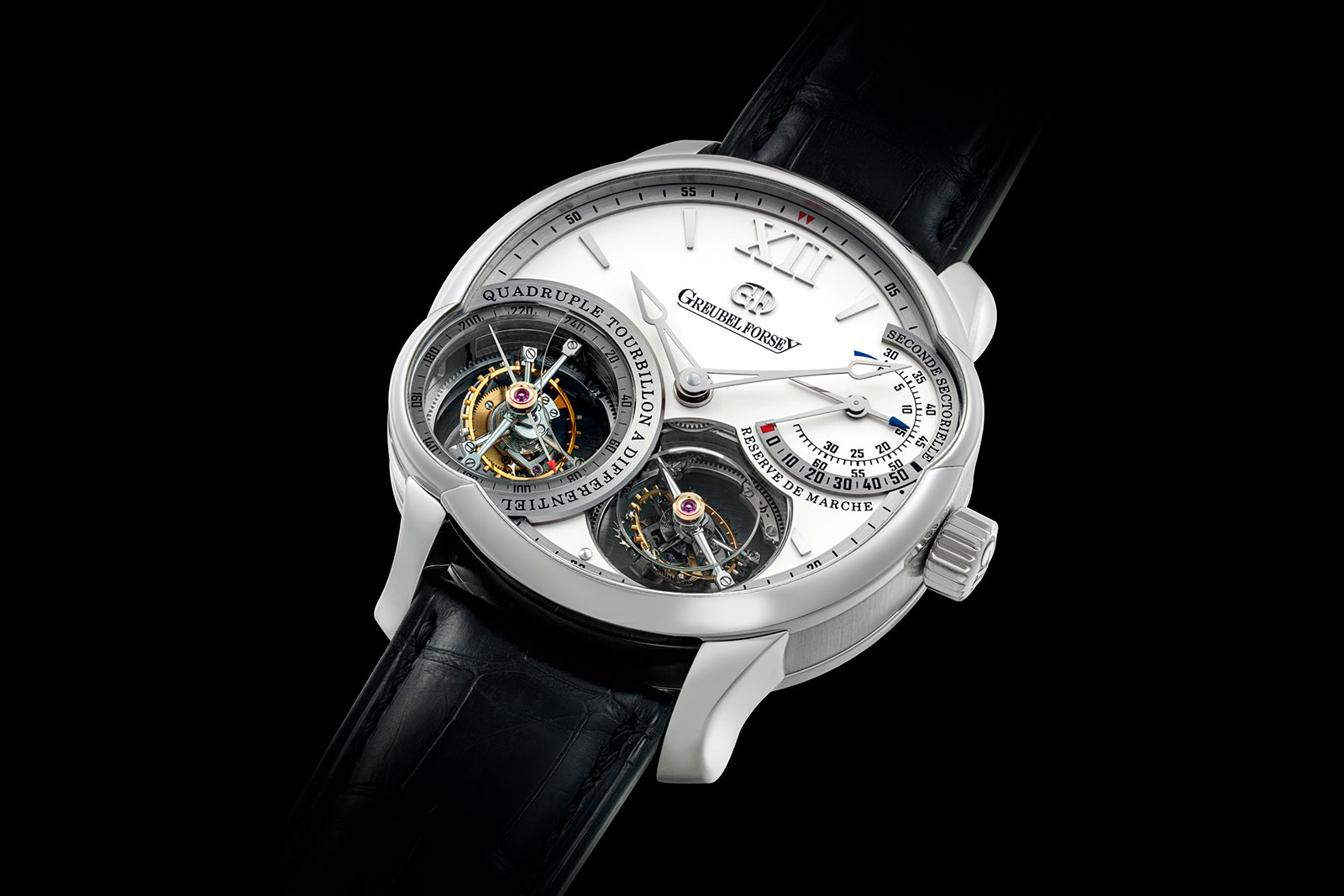 The movement has twin regulators, each a Double Tourbillon 30°, which are in turn linked by a spherical differential that improves its accuracy by 2.5 seconds per day according to the brand. Each of the regulators has an outer cage that makes one revolution every four minutes that encloses an inner one-minute cage inclined at 30° from the horizontal. Both Double Tourbillons are secured by clear sapphire bridges, allowing for an unobstructed view.
Unsurprisingly, the movement is made up of 535 parts, despite being a three hander – hours, minutes, and seconds – with almost half the number of components accounted for by the tourbillon regulators.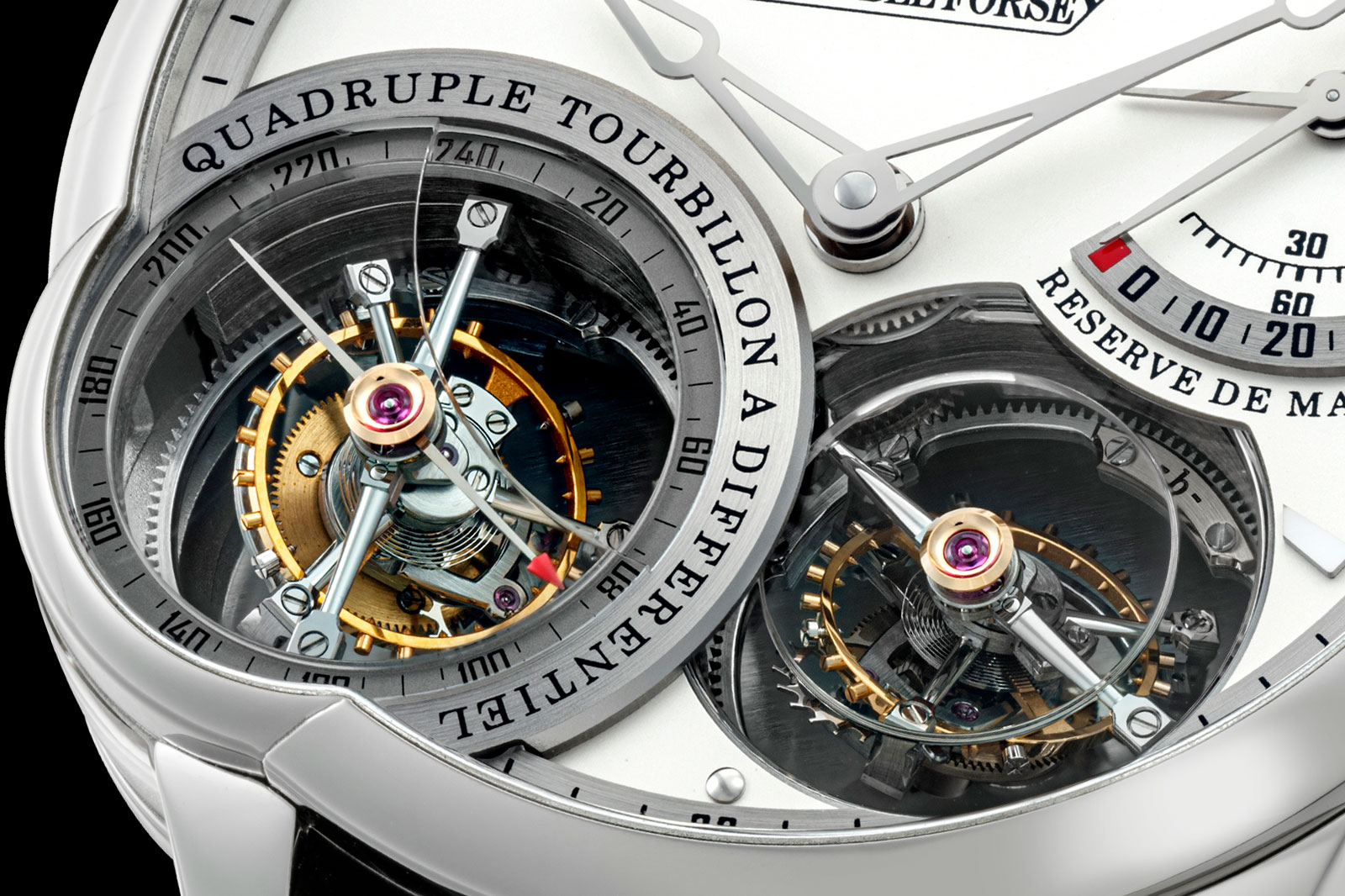 A large 45 mm in diameter and entirely platinum, the Quadruple Tourbillon certainly has a gravity to it. As is typical of Greubel Forsey approach, the watch has no half-measures; the movement is impressively finished, mostly by hand. It's done in the typical Greubel Forsey style with frosted bridges outlined by wide, rounded bevels that are perfectly mirror polished.
Notably, this particular watch has a bonus in the movement – gold plates engraved with the signatures of Robert Greubel and Stephen Forsey, each screwed onto the barrel bridge, a personal touch on what can be deemed a horological tour de force.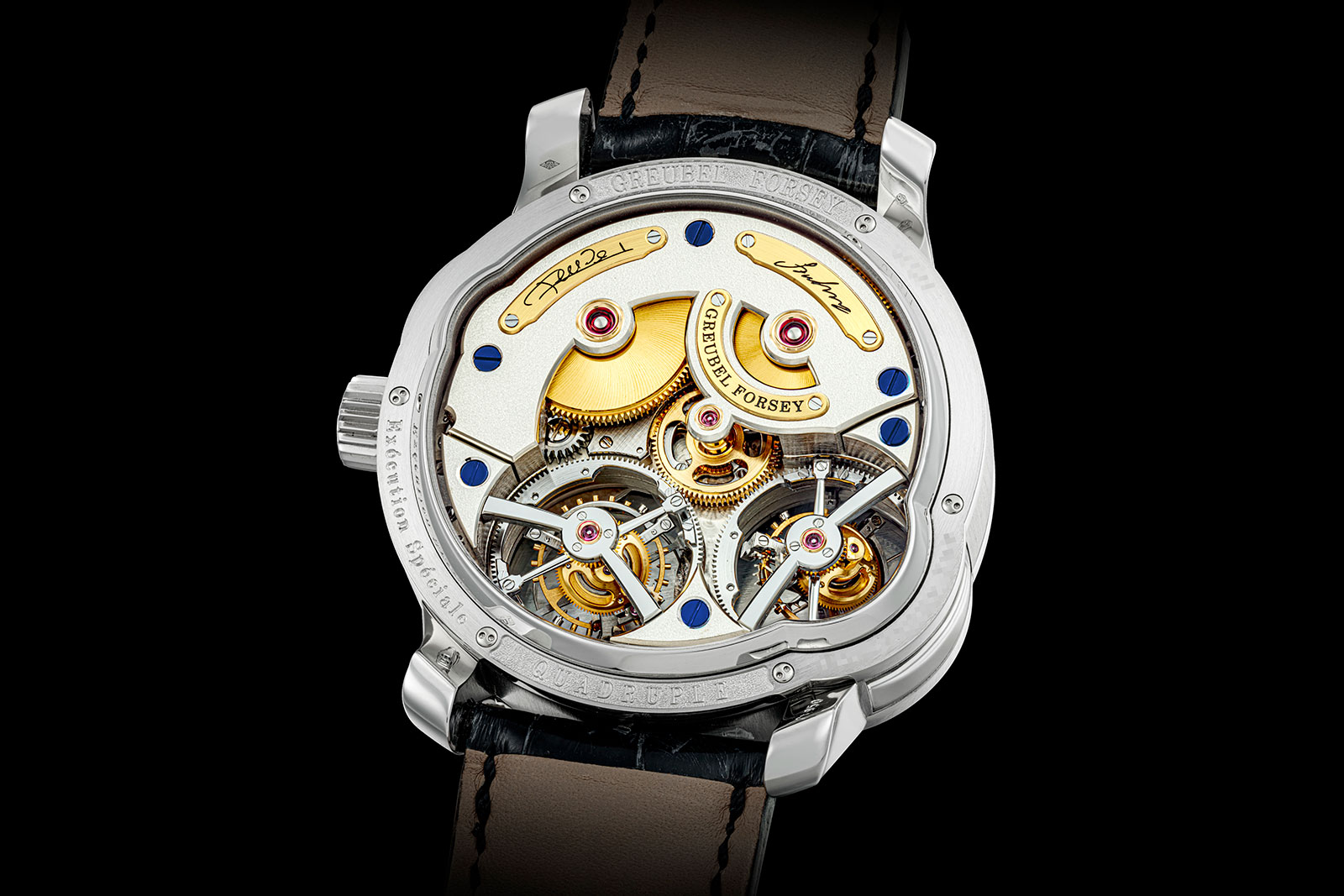 Presented in unworn condition, the Greubel Forsey Quadruple Tourbillon is accompanied by its customary packaging and papers, as well as a servicing (up to a retail value of CHF10,000) that will be offered to the new owner compliments of Greubel Forsey. It  has an estimate of HK$1.8-3.6 million, or about US$230,300-460,600. You can find out more in the catalogue.
---
Preview and auction details
All lots will be on show during the preview in Hong Kong during the run-up to the auction. Both the preview exhibition and sale will happen at the Hall 3D of the Hong Kong Convention and Exhibition Centre.
Hall 3D, Hong Kong Convention and Exhibition Centre
1 Harbour Road
Wanchai, Hong Kong
Preview
November 26, 10:30 am – 6:30 pm
November 27, 10:30 am – 12:00pm
Auction
November 27, 1:00 pm (lots 2306-2523)
November 27, 7:00 pm (lots 2201-2282)
All times and dates are local to Hong Kong (GMT+8).
The catalogues for both sessions are online – the first that includes The Triazza Collection and the second comprising watches from The Champion Collection.
---
This was brought to you in collaboration with Christie's.
Back to top.
---
You may also enjoy these.