Highlights: Independent Watchmaking at Phillips' Hong Kong Watch Auction XI
Moomin, Mickey, Francois-Paul and Laurent.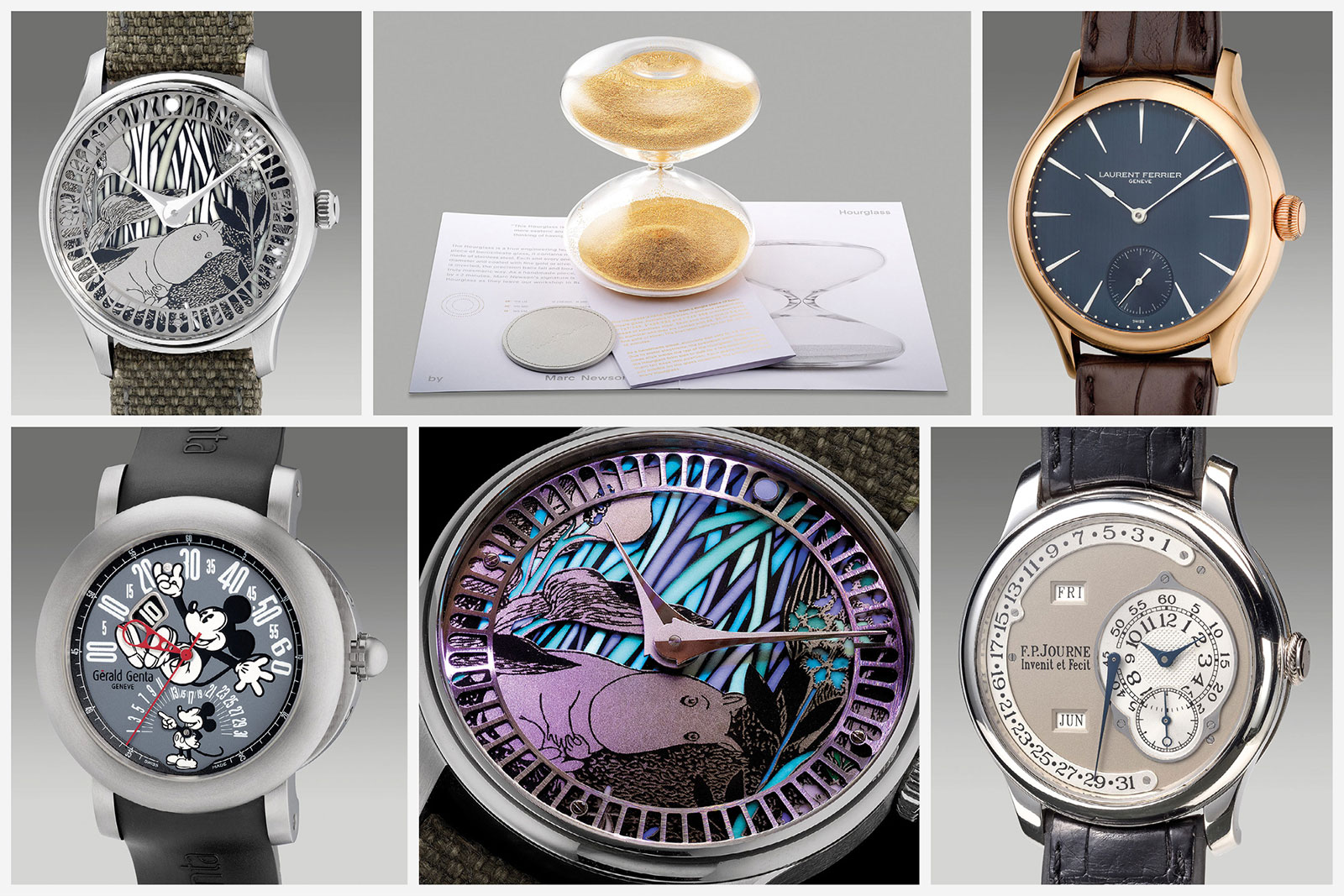 With the Geneva watch auctions having just concluded – and notching up a US$1.51 million record for a Philippe Dufour Simplicity – it's now Hong Kong's turn. Taking place at end November, The Hong Kong Watch Auction: XI includes a compact selection of independent watchmaking, most of which are notably affordable.
Here's a look at a few highlights, including the prototype of the sold-out S.U.F. Sarpaneva x Moomin that will be sold to benefit charity.
The auction happens on November 29  at the JW Marriott Hotel Hong Kong, while the catalogue and online bidding are available on Phillips.com.
---
Perhaps the quintessential timekeeper designed by Marc Newson, the Hour Glass is a timekeeper filled with nanoballs", tiny steel spheres that are coated in gold – specifically, a little under 1.25 million of them.
An industrial design known for his Lockheed Lounge and the work for brands like Qantas and Louis Vuitton, Mr Newson has long dabbled in designing watches and clocks. The Hour Glass was unveiled in 2010 by Ikepod, the watch brand cofounded by Mr Newson that later went bust.
It's a single piece of glass that's formed by hand with a blowtorch, a rigorous process that requires skill and finesse, which explains the price despite its simplicity. This Hour Glass is the smallest version in the line up, standing 15 cm high, making it a convenient object for the desk. It's a 10-minute timer; the medium and large versions are 30- and 60- minute timers respectively.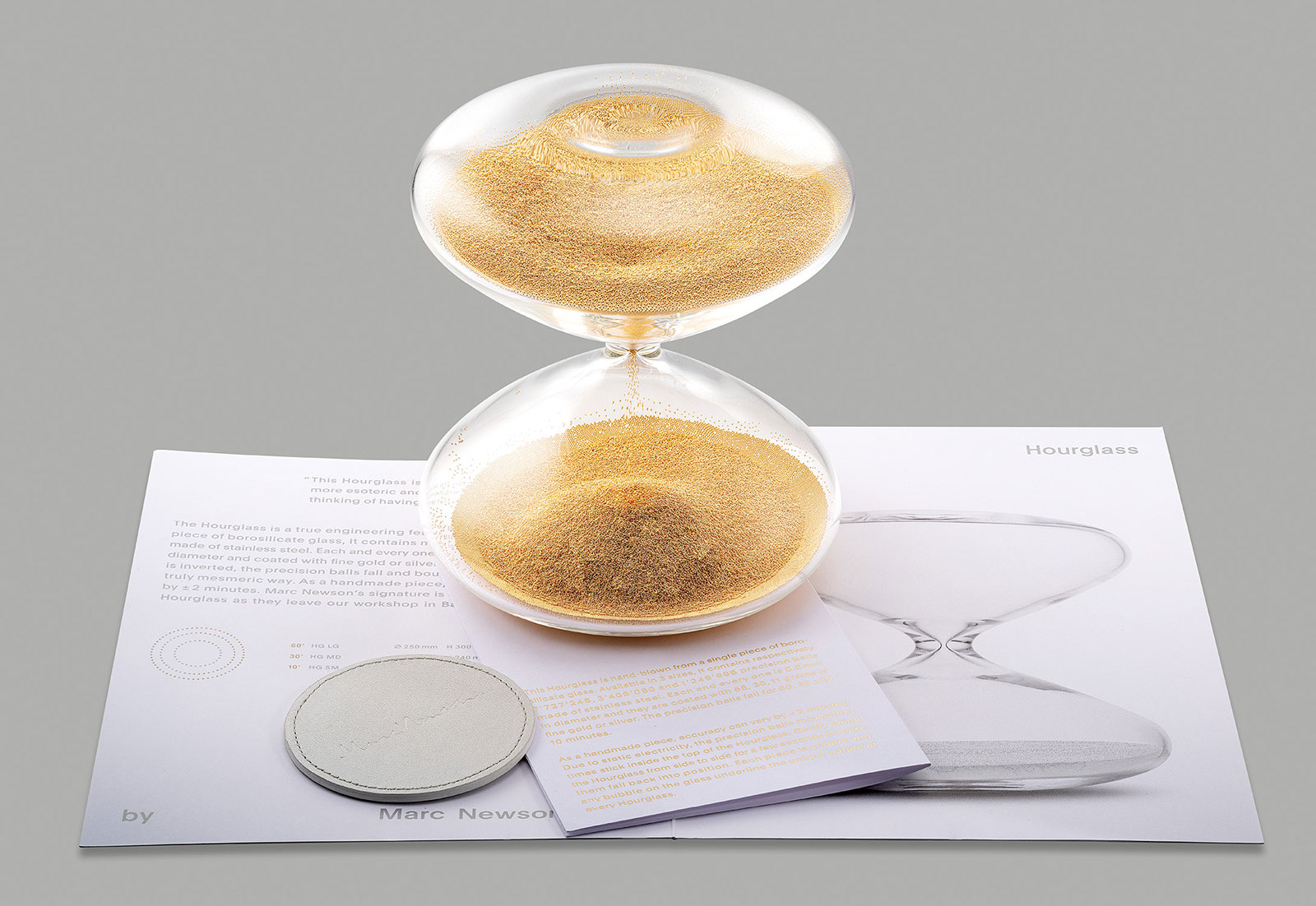 It's a newer example of the Hour Glass that's produced by HG Timepiece, the company that now owns the rights to design and produce the object. It has an estimate of HK$25,000-40,000, or US$3,200-5,100, but no reserve. Additional details here.
---
One of the most compelling watches from an independent watchmaker this year, the S.U.F. Sarpaneva x Moomin is a whimsical but artfully executed watch created to mark the 75th anniversary of the Finnish comic strip about a family of trolls. This example is the prototype that's been donated by brand founder Stepan Sarpaneva to benefit a Finnish environmental charity.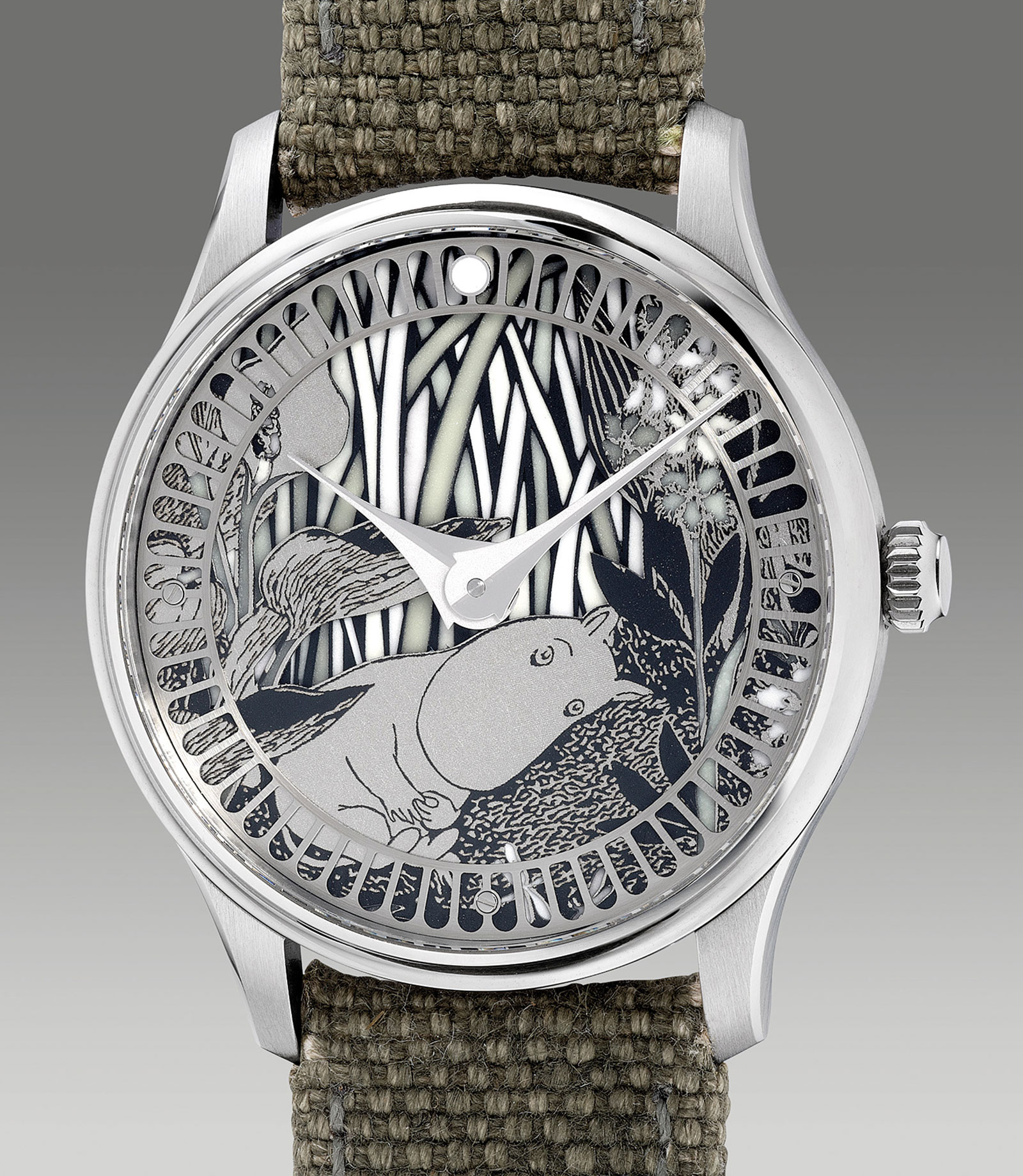 The open-worked dial is laser-etched and finished by hand, with its crucial feature being the hand-applied Super-Luminova – in eight colours – that lights up at night.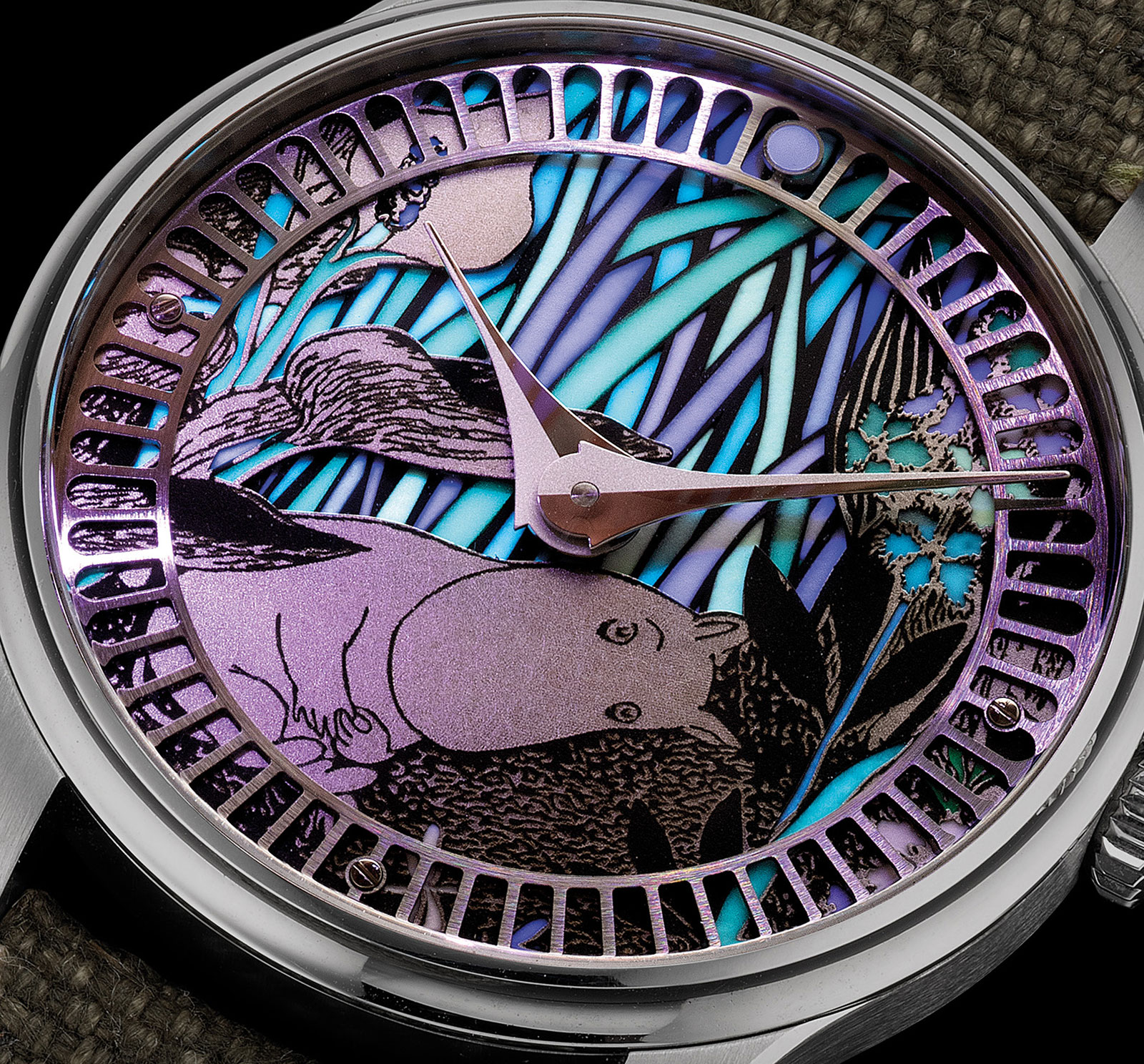 A limited edition of 75, this example is the prototype of the series. Aside from its unnumbered case back, it is also distinguished by the slight variation of the dial. The dial surface has a more granular, matte finish, which was tweaked and refined for the production run.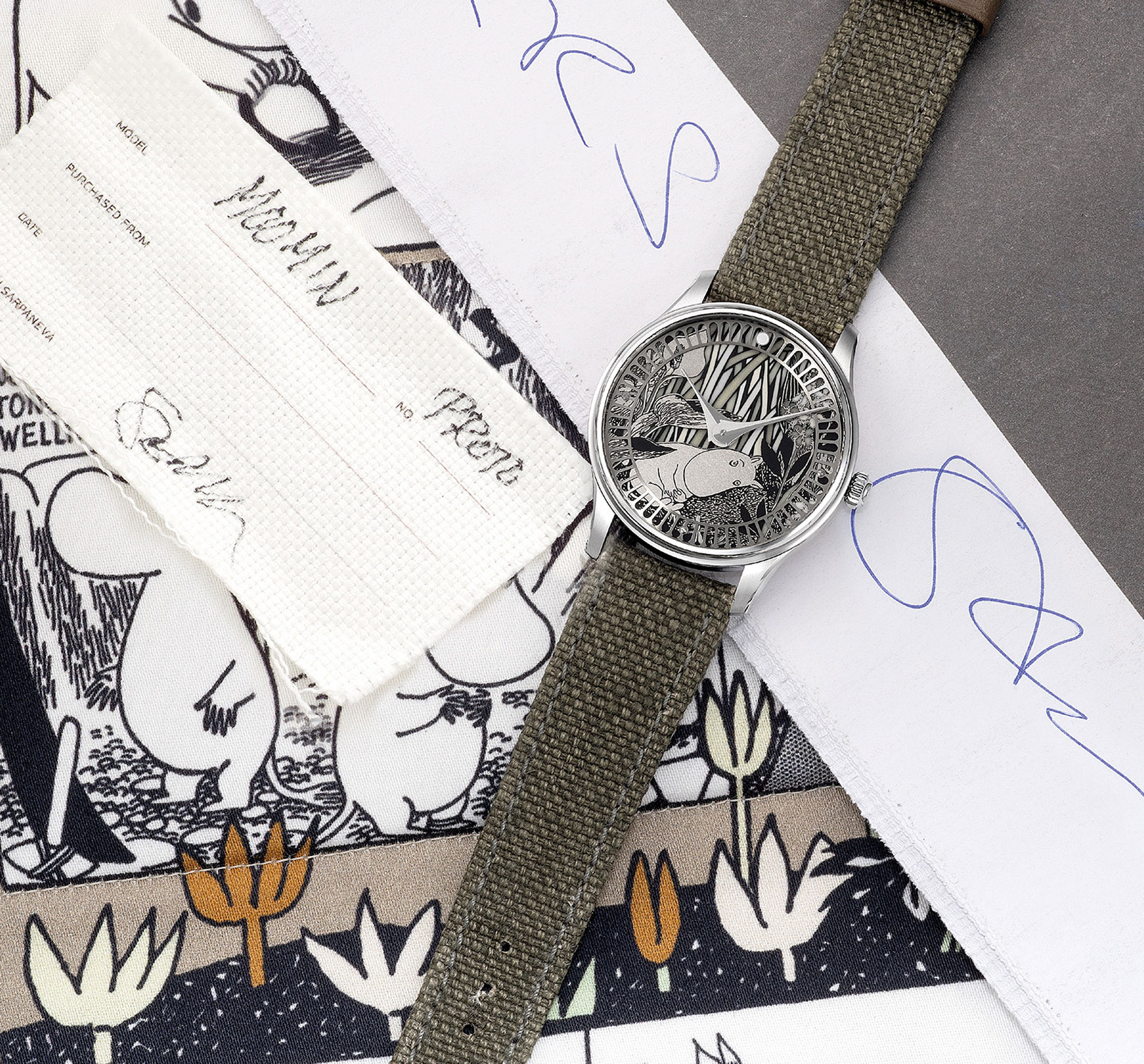 This has no reserve and an estimate of HK$30,000-62,500, or US$$3,800-8,000, against the retail price of about US$5,900. Given that the original run of 75 sold out in a day, this should easily sail past the high estimate. All proceeds from its sale will be donated to #OURSEA, an initiative set up by the John Nurminen Foundation, which aims to clean up the Baltic Sea. Additional details here.
---
In Gerald Genta's heyday as a leading independent watchmaker in the 1990s, its biggest achievements were highly complicated movements, but the brand was perhaps even more famous for its Fantasy watches. Starting in the late 1980s, Gerald Genta licensed the rights to use Disney characters on its watches, the best known being Mickey Mouse and friends but even Snow White and the Little Mermaid.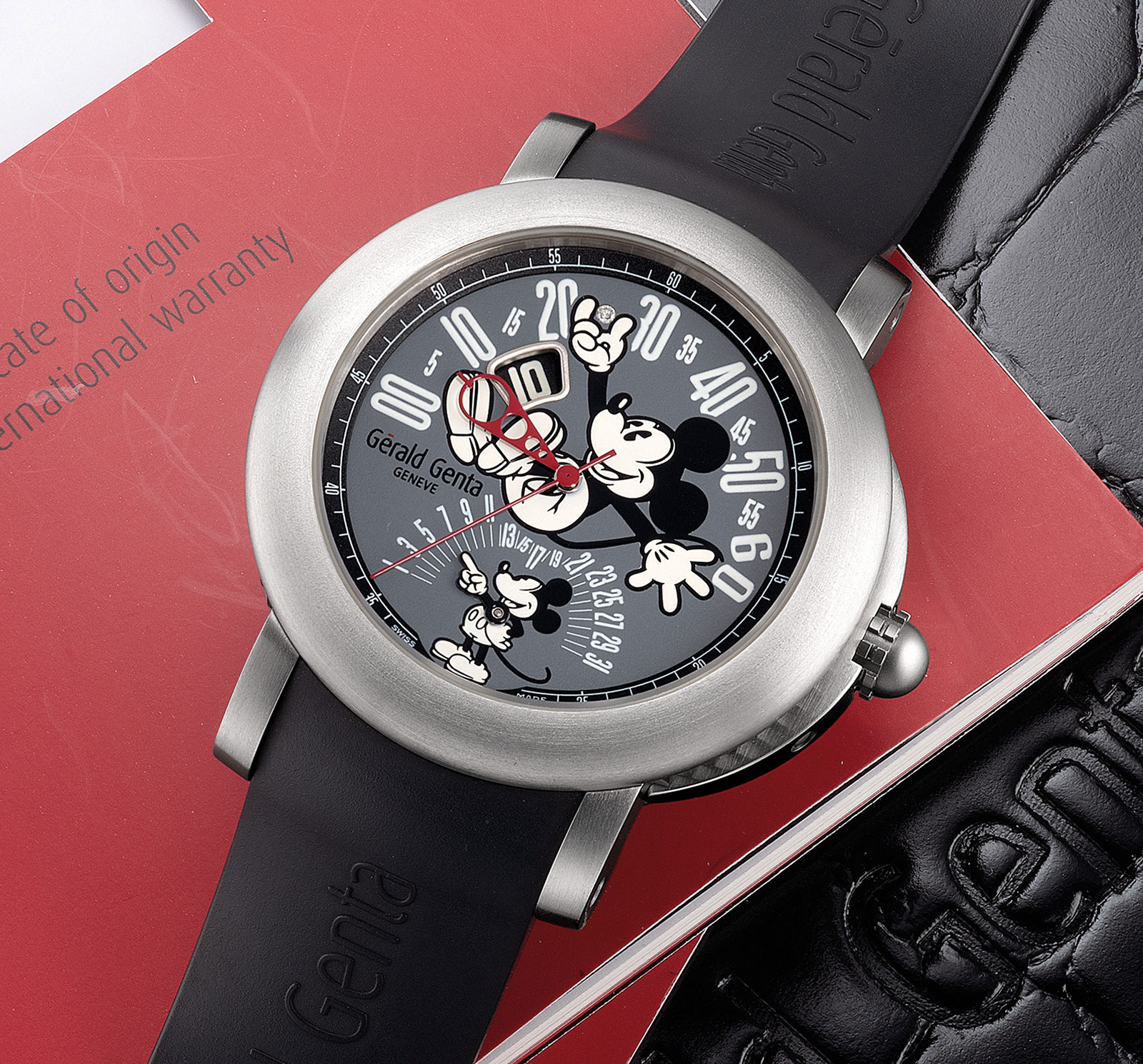 This is a later example of a Fantasy watch dating from 2008, from a limited edition of 80 made to mark the 25th anniversary of Tokyo Disneyland. As with most of the Disney watches, this has a retrograde display – two of them, in fact. While the jumping hours are indicated in a window, the minutes and date are on retrograde scales.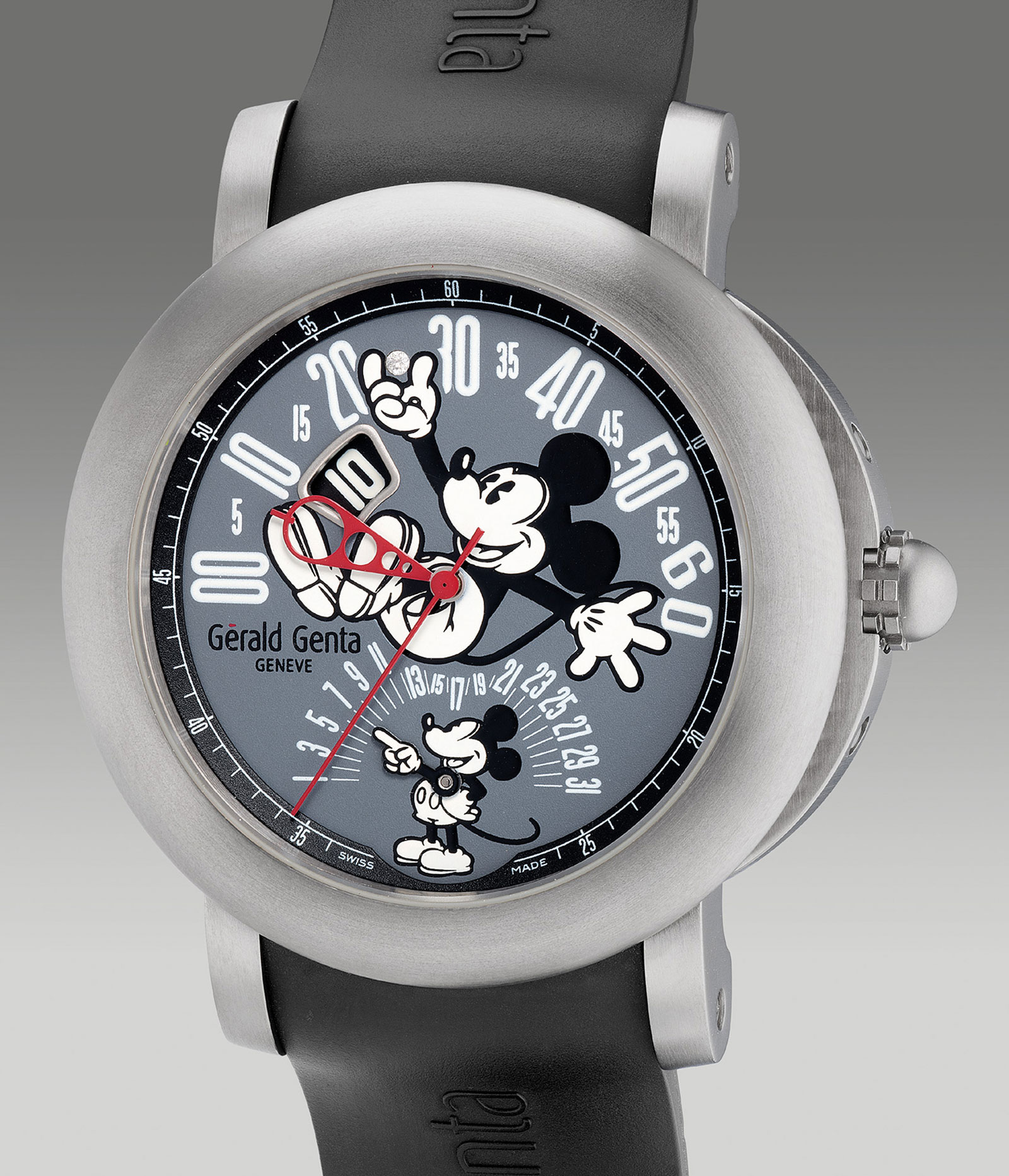 It has a large, 45 mm case in titanium that contains a Girard Perregaux base movement with Gerald Genta's own retrograde-jump hour module on top.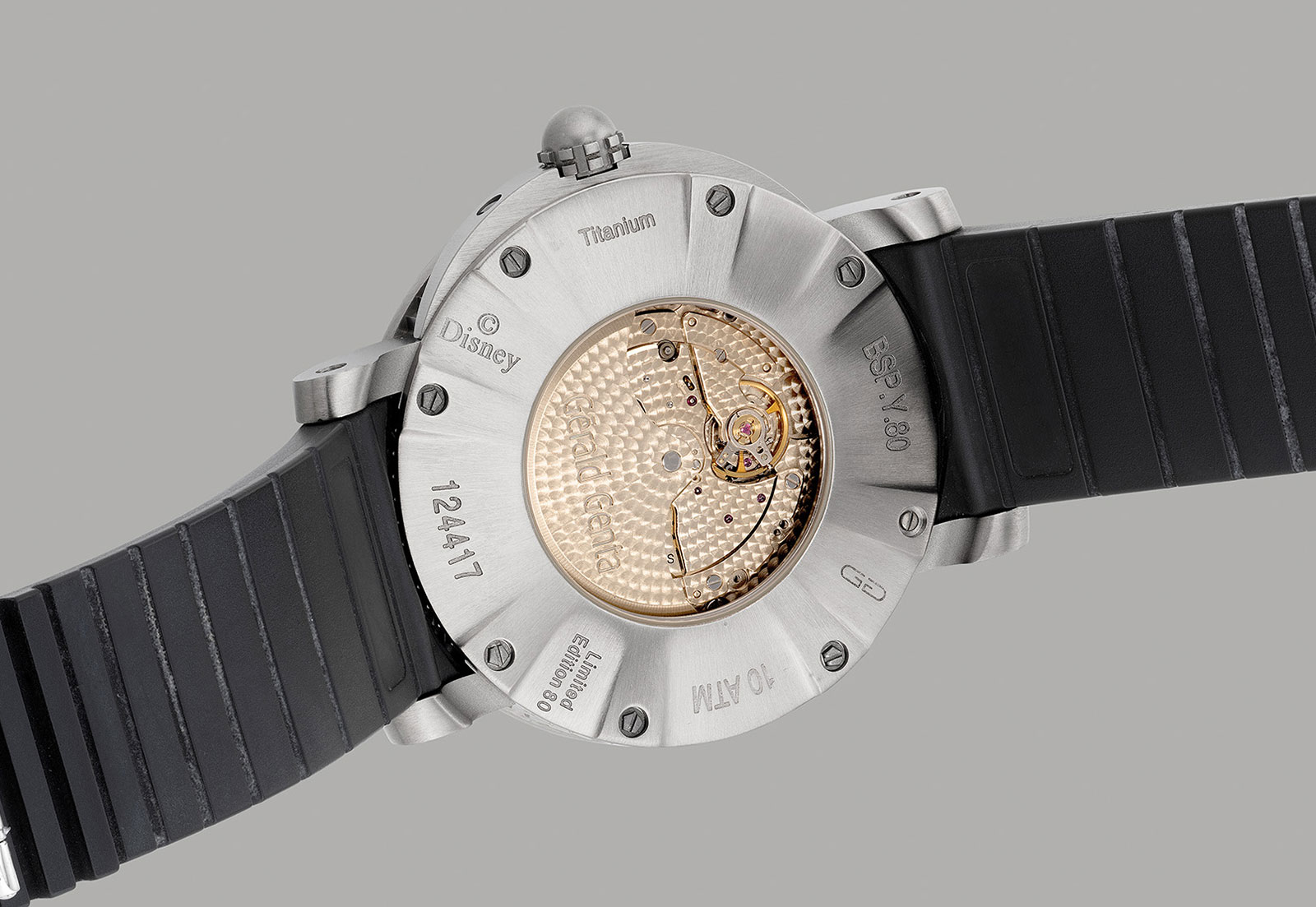 While Gerald Genta watches generally sell for very much less than their original retail price, the Disney watches remain sought after and sell for about what they originally cost. This has an estimate of HK$40,000-60,000, or US$5,100-7,700, which is a conservative estimate since the original retail price was in the region of US$12,000. Additional details here.
---
A well-regarded brand that's suffered from frequent management changes, Laurent Ferrier's watches are value buys on the secondary market, and this is a good example. The low estimate is just US$14,000, but it is equipped with one of the most notable automatic movements of the last decade.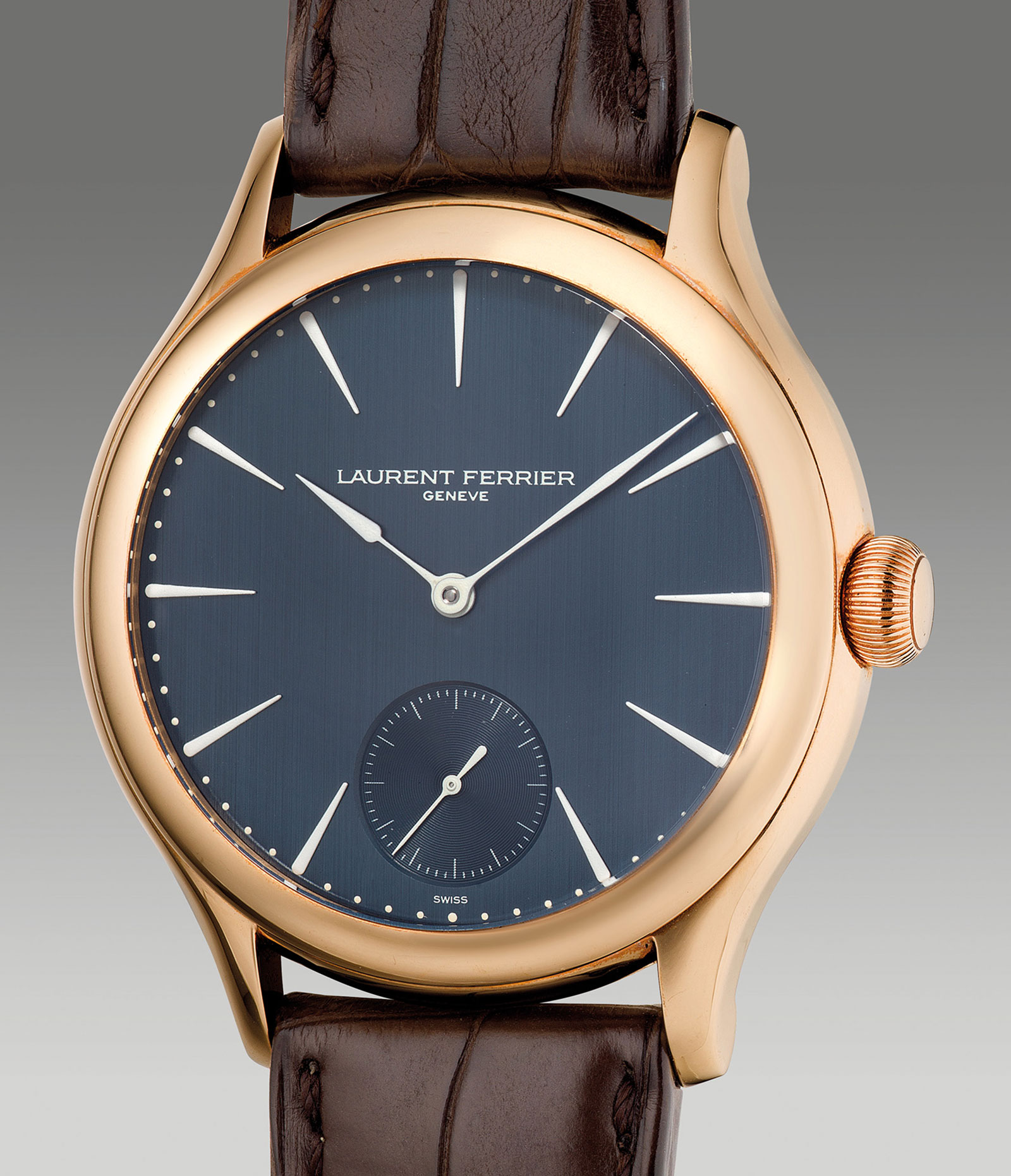 The FBN 229.01 movement features a complex but elegant construction that remains unique, while also being finely decorated and attractively laid out.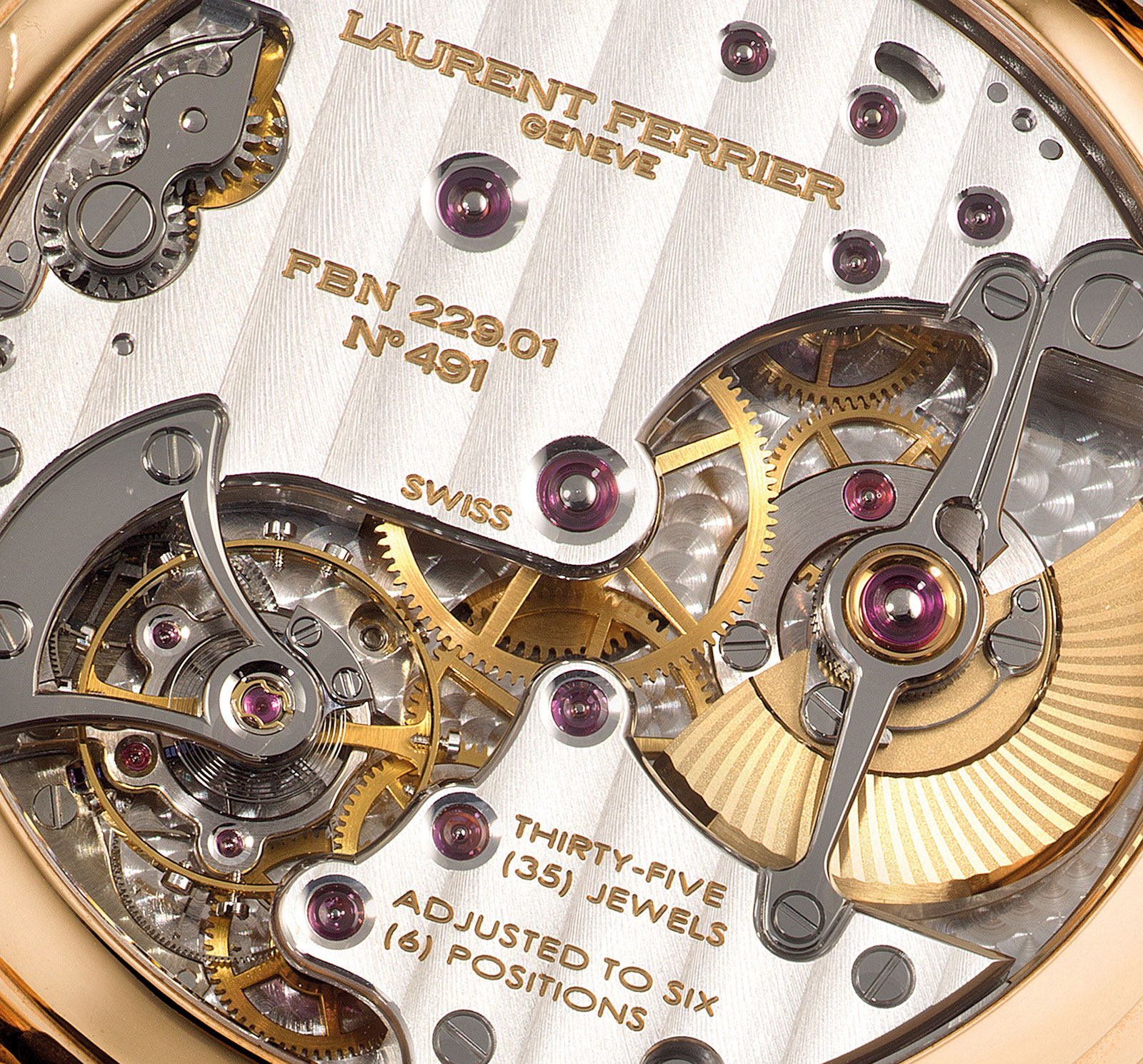 While the brand now offers a great variety of dial designs, this example is equipped with the classic dial that's the definitive look for Laurent Ferrier. It features assegai hands, named after a slender African spear, and similarly shaped baton hour markers.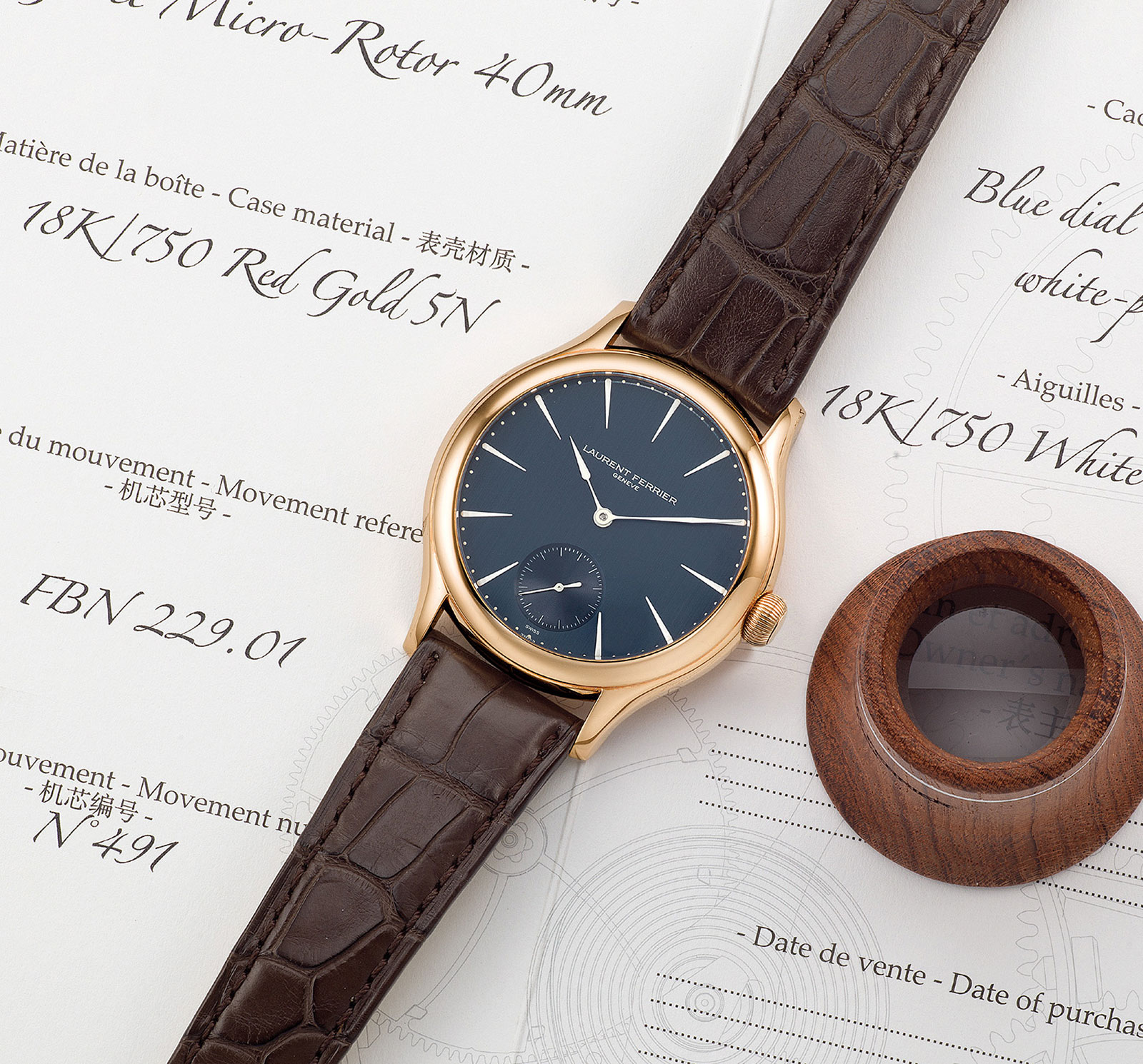 This watch includes its box and papers, and is estimated at HK$115,000-195,000, or US$14,700-25,000. Additional details here.
---
The sharp rise in popularity of F.P. Journe has meant a rapid escalation in prices, making many formerly affordable watches harder to reach. Those that do remain affordable, relatively speaking, are primarily the later complications with gold movements that aren't either a tourbillon or Resonance.
This is one such watch. It's an Octa Calendrier with a 40 mm case and a movement in red gold. Though not particularly rare, the Calendrier is part of the first generation of F.P. Journe calendar watches that have the characteristic oversized arc for the retrograde date. F.P. Journe has since done away with that in favour of a calendar shown entirely in windows, which are more legible but arguably less distinctive.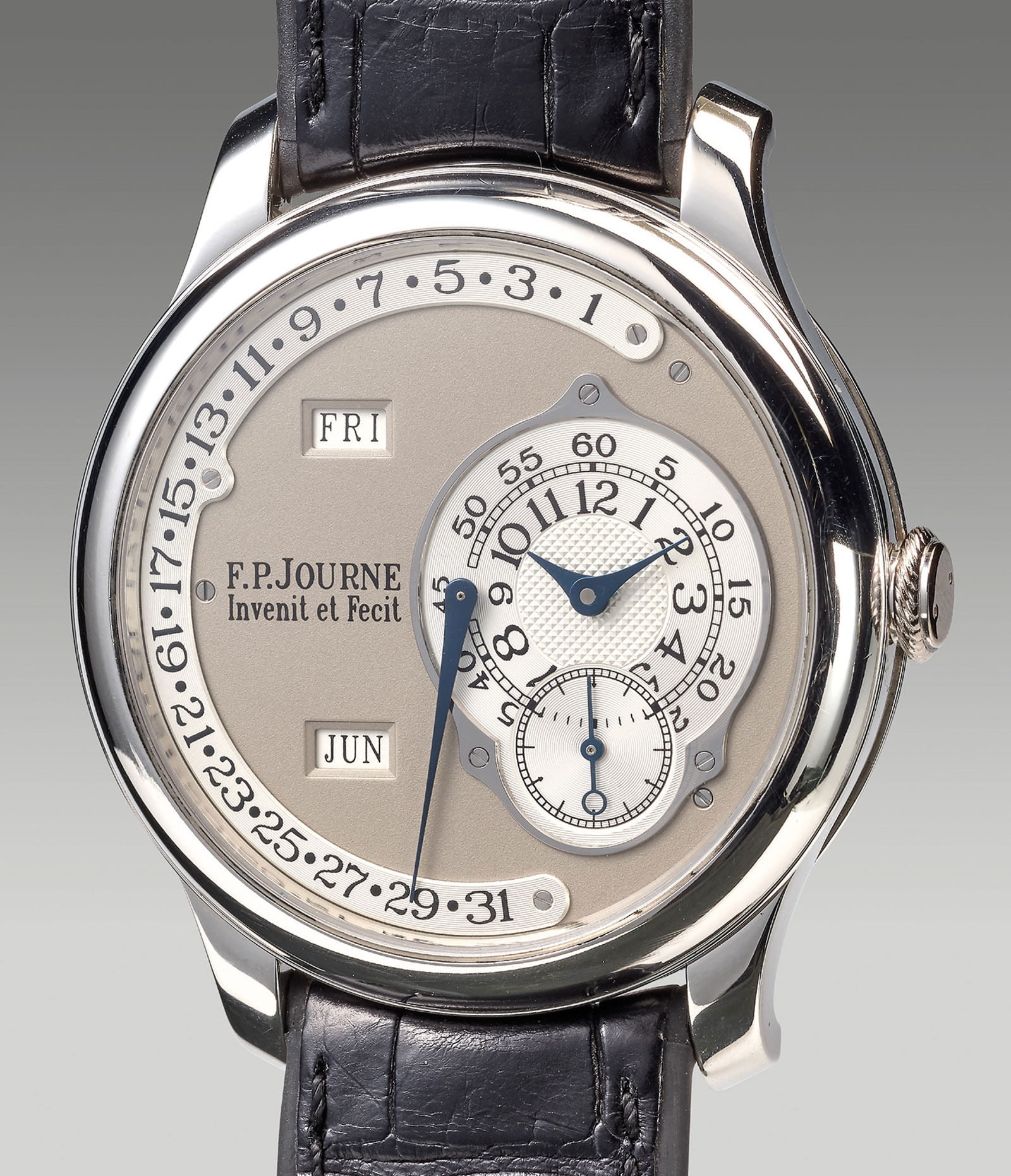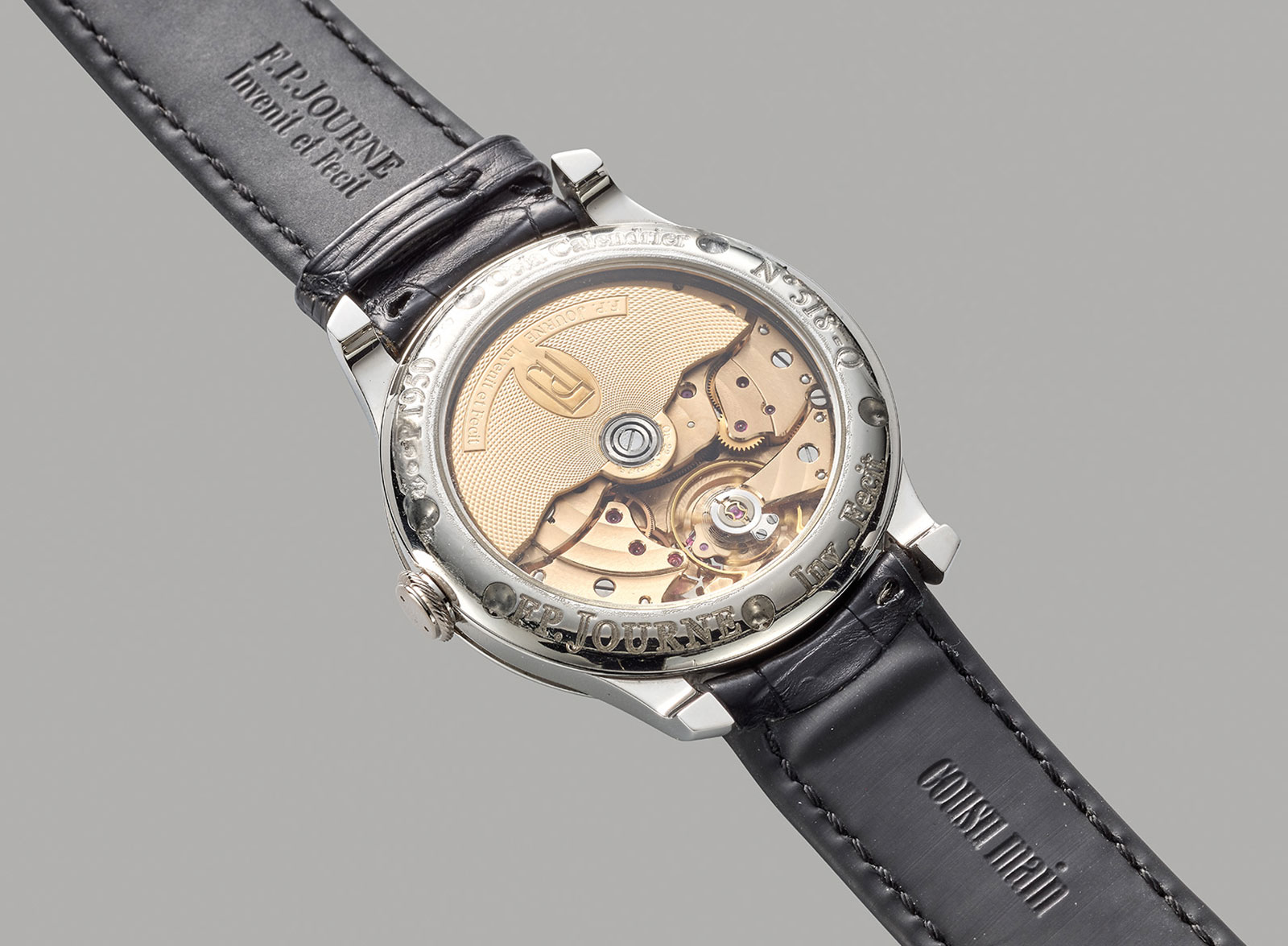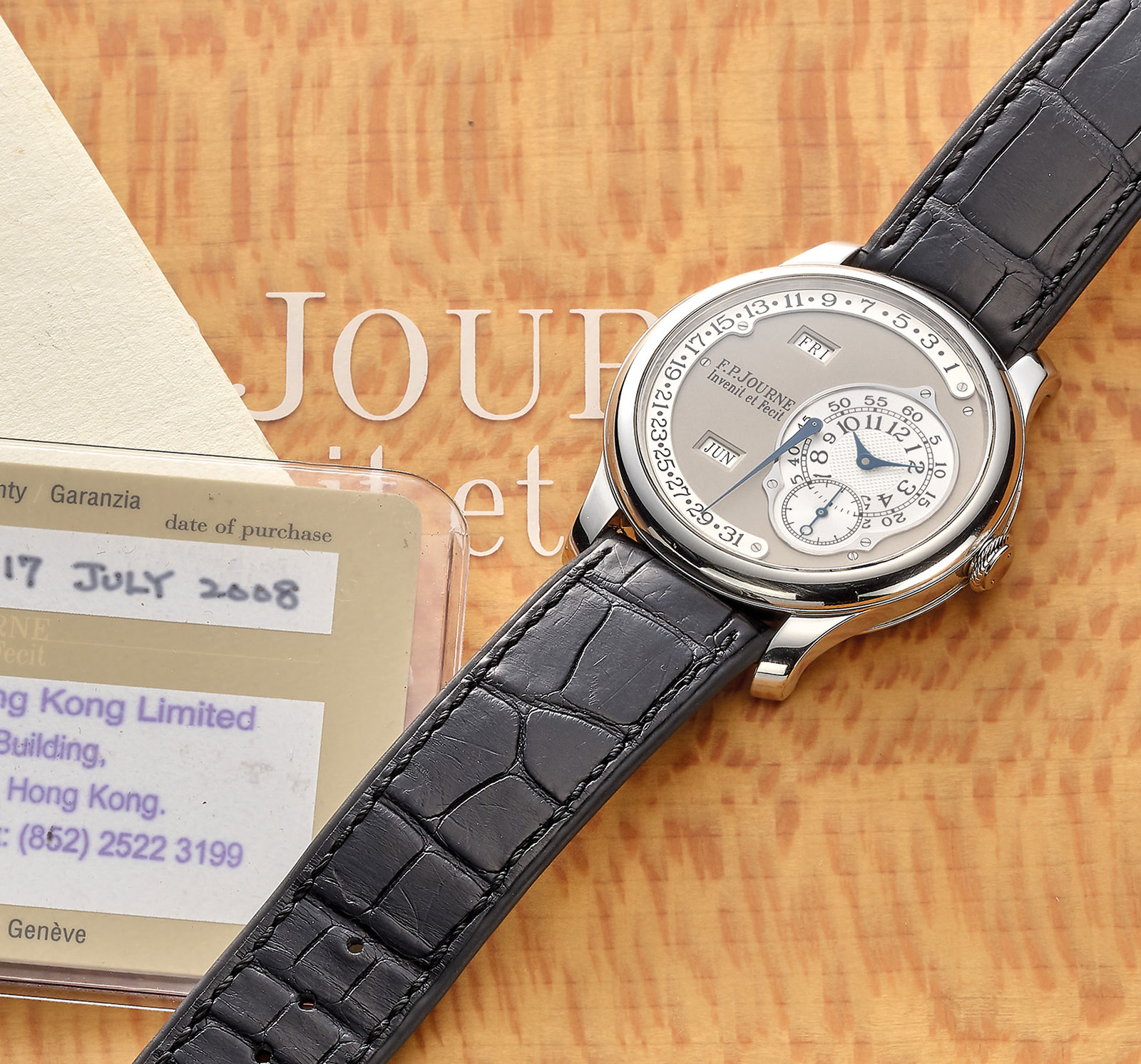 Accompanied by its box and warranty card dated 2008, this watch has an estimate of HK$195,000-390,000, or US$25,000-50,000. Additional details here.
---
One of the many sci-fi inspired clocks made by clock specialist L'Epee 1839 for MB&F, the Octopod is an eight-day clock inspired by a sea monster. The movement sits on a clear glass base plate, allowing it to seemingly float within a glass sphere that sits on eight articulated legs, allowing the clock to be positioned in a variety of ways.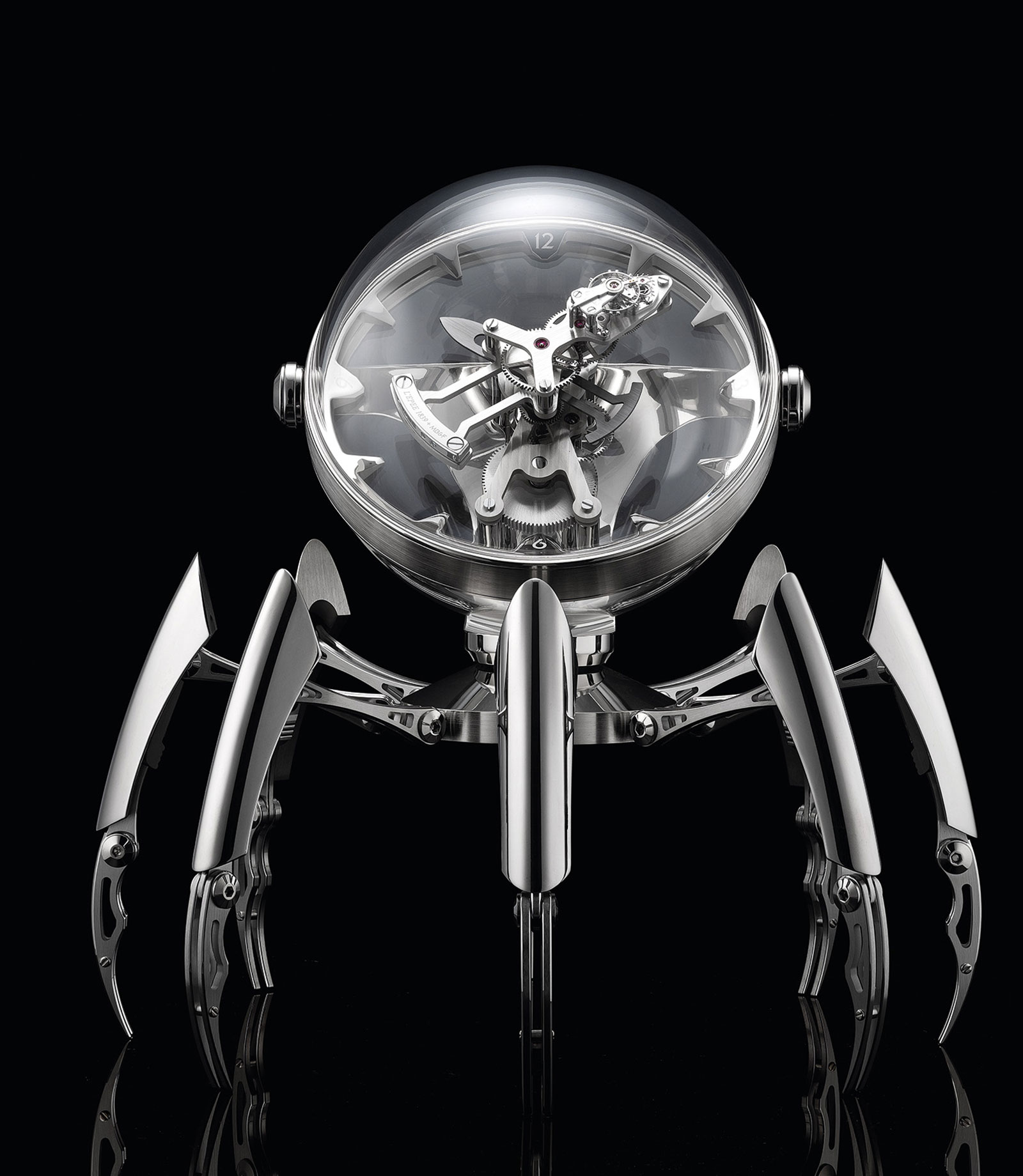 The key-wound movement has the escapement mounted on the minute hand of the clock, which means it makes one revolution an hour, much like the Ulysse Nardin Freak. Additional details here.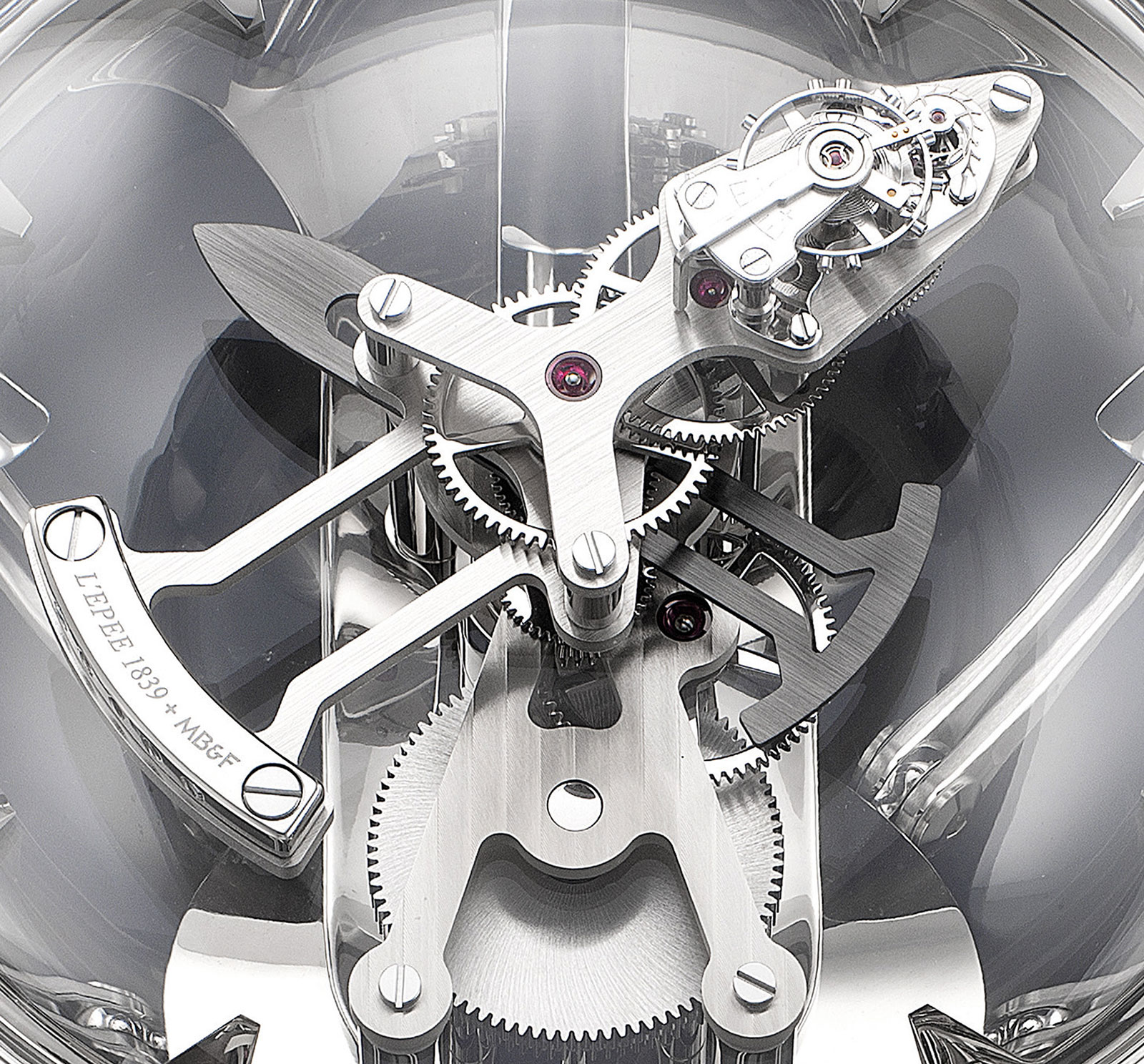 This is one of a limited edition of 50 (with another 50 each in blue or black), and has an estimate of HK$80,000-120,000, or US$10,300-15,400. Additional details here.
---
Preview and auction
The preview exhibition is open daily November 26-28, from 10:00 am-7:00 pm. And the auction takes place on November 29 in two sessions:
Session 1 (Lots 801-931) – 12:00 pm
Session 2 (Lots 932-1052) – 4:00 pm
JW Marriott Hotel Hong Kong
88 Queensway
Admiralty
Hong Kong
For the full catalogue, as well as appointments and online bidding, visit Phillips.com.
This was brought to you in partnership with Phillips Watches.
---
Back to top.
---
You may also enjoy these.