Interview: Nicholas Biebuyck, Heritage Director at TAG Heuer
Discussing the past, present, future, and the market.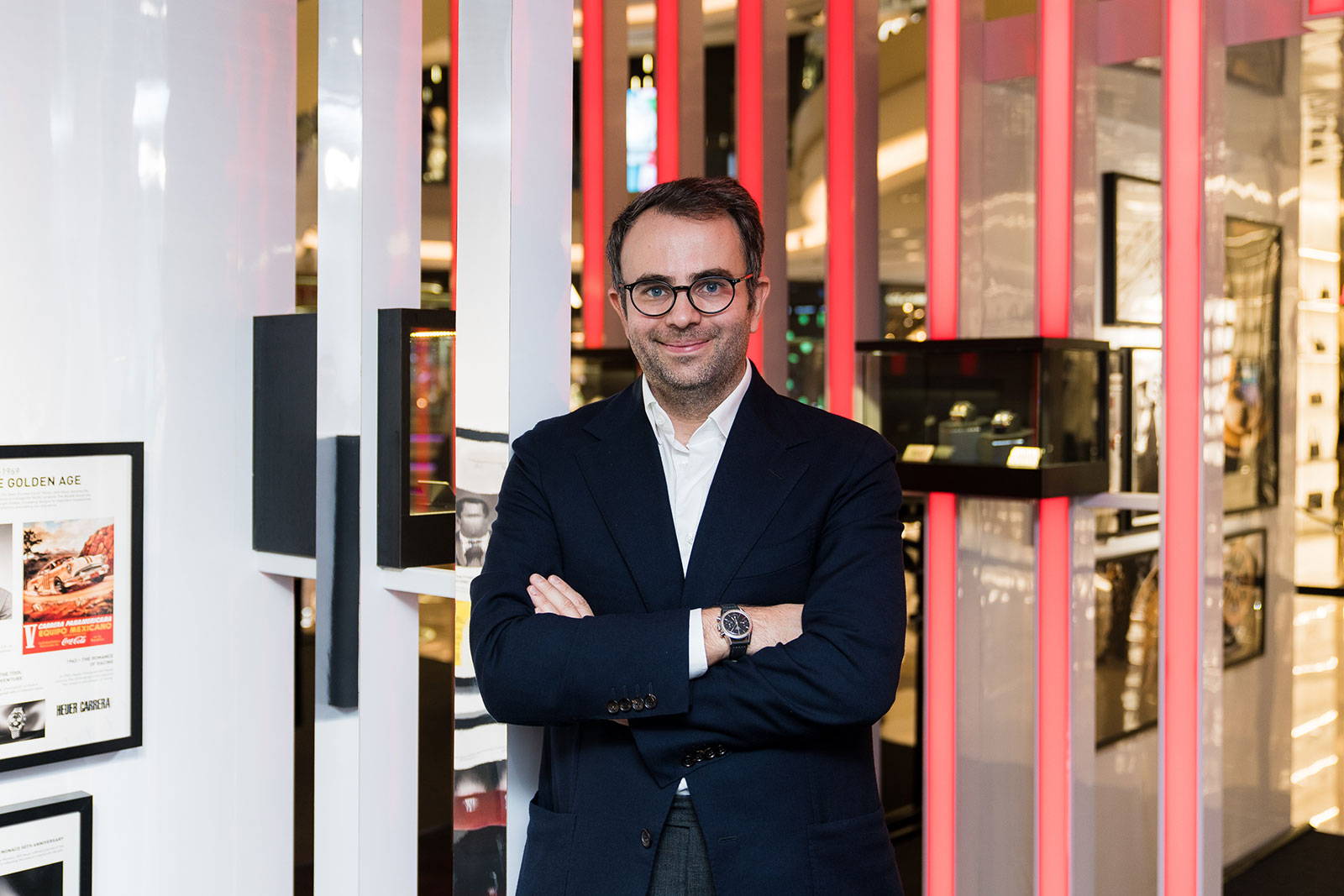 A Briton who has been the Heritage Director at TAG Heuer since March 2021, Nicholas Biebuyck is in charge of the brand's museum and archives. Like his peers at other brands, Mr Biebuyck's role goes beyond historical papers and vintage watches. He participates in product development and marketing, while being a brand ambassador, especially in bringing the brand to enthusiasts and collectors.
But Mr Biebuyck also experienced a swathe of the watch industry prior to his role at TAG Heuer. He was previously a watch specialist at Bonhams and then Christie's before joining Blackbird Watch Manual, a specialist magazine based in Hong Kong. Mr Biebuyck, who now lives in Switzerland with his family, also gained an insight into the art of managing clients with earlier stints as a "Genius" in an Apple Store and then marketing private-jet charters in Africa.
And so Mr Biebuyck was wearing several hats when he was in Singapore recently during the Formula 1 Grand Prix weekend, when TAG Heuer staged an exhibition dedicated to its history in motorsports.
We got the opportunity to quiz him on several topics, including where TAG Heuer is headed and how the brand balances its glamorous motorsports history with its avant-garde innovation. And we also gain his thoughts on the vintage Heuer market, especially after the high watermark of the Heuer thematic auction in 2017.
---
SJX: TAG Heuer's modern-day identity consists of two distinct, contrasting strands. One is avant-garde and contemporary watches like the V4 and Plasma, and the other is 1960s vintage-inspired like Monaco and Carrera. You could say they have different audience entirely – how do you reconcile this into a unified brand?
Nicholas Biebuyck (NB): I think the key to this particular topic is to look at the brand as it is today under LVMH. Before that, from 1860 to 1982, it was a family-run business. Jack was really the one who moved the business post-1958, particularly post-1962 when he took over a majority stake.
Then 1982, during the Quartz Crisis, we went through these economic challenges. We got acquired by Piaget, which restructured the business and cut it to the bone. And then under Techniques d'Avant Garde [TAG], we were effectively a marketing company that happened to make watches.
But with LVMH and Bernard Arnault, it's clear that they have great sympathy for brand's heritage and the stories it can tell. Each successive CEO then laid the foundations we have today.
In the first few years Jean-Christophe Babin [today the chief executive of Bulgari] focused on high-end watchmaking. He wanted the brand to be desirable and pushed TAG to its ultimate execution in terms of technology. Admittedly some of the watches were very much concepts, but they did help us from a brand awareness and prestige perspective.
Then we have Jean-Claude Biver, who was very much leaning into the heritage component, moving us to the middle of the pack in price, and really emphasising the storytelling.
Then we have Stephen Bianchi. He's someone who I greatly admire; he's the first CEO I've met who has great sympathy and passion for the product but also a profound understanding of how to run a business. He really cleaned up the commercial component of the business.
So now we have this great foundation for Frédéric [Arnault] to build on. He is doing a fantastic job of balancing these two factors, because we've got to thread the needle. Heritage can be a both huge asset but also a burden, so to find the middle ground is tricky but we've done a great job.
It's easy today for a brand to take a vintage watch, scan it, model it in 3D, and then press a button and out comes the one-to-one remake. It's not particularly creative and it's not particularly innovative. It's far better to take the philosophical ideals of what a product or brand represented originally and then embrace that in a contemporary sense.
Look at Carrera Plasma, it's a product that uses the bones of the classic Carrera case that goes back 1963 but in aluminium, an unusual material for watchmaking, along with a tourbillon, carbon hairspring, and lab-grown diamonds, particularly the polycrystalline diamond for the dial. It's a really powerful story that combines technology and heritage.
SJX: You mentioned TAG Heuer's use of new concepts and technology; obviously [TAG Heuer Movements Director] Carole Forestier and [LVMH Chief Innovation Officer] Edouard Mignon both play a big role here.
Their work at their previous employer was very up avant-garde in terms of materials and technology – some of it was so advanced they didn't have a chance to be rolled out. Perhaps some of their great ideas will realised at TAG Heuer. How does this really cutting-edge stuff fit into the brand?
NB: I can't stress it highly enough, but working with Carol Kasapi is one of the greatest joys of being at TAG Heuer. She is a true visionary in watchmaking. I think her legacy is not fully understood right now, because so much of it was achieved behind closed doors.
That's especially true when you look at the move towards in-house movements in her previous role. It looked so risky in the mid-2000s, especially for mid-priced brands. Everyone thought it was insane to go in-house. Today, one of the strongest attributes of [several brands Carole worked with] is in-house movements. Most people are not aware of how much Carole and Edouard contributed the decision to do that, especially her ability to industrialise movement production.
So for them to be with us is just the most incredible opportunity. I'm proud that I'm able to spend an hour week with Carole discussing watchmaking. We have these reflections every week on long-term product development and also specific projects we are working on.
Obviously I can't share too much, but you can see some of her work as reimagining what fine watchmaking means for TAG Heuer. This will not some crazy escapement innovation or a chronograph coupling device that is impossible to industrialise. We are thinking about what we stand for as a brand, where we come from, and how to make her ideas into a reliable, tangible product that is widely available.
SJX: Would it be fair to say that the Monaco Only Watch in 2021 represents where TAG Heuer is going in the future? A blend of old and new and technology and classical watchmaking. It had hand finishing in the movement, a vintage-inspired design with a modern components and materials.
NB: The Monaco Only Watch was very much a baby step in that direction – crawling before we walk, before we can run. It had to be developed in a very short time frame. We had to operate within the current Monaco collection, but we pushed it as far as we possibly could in order to tell a different story. We also wanted maximum transparency about our suppliers who played a part in the construction of the watch, like Andre Martinez who did the hand painting.
Only Watch is an incredible opportunity for us, since we have effectively unlimited creativity with a very respectable budget. Basically, it's going to CEO saying, 'We're thinking of doing this, can we have this money?' And because it's for a great cause, Frédéric is extremely supportive.
So yes, Only Watch 2021 was a little nod in that direction, but for 2023 you're going to see something that really redefines us as a fine-watchmaking brand, which will show you what our future can look like.
SJX: So now let's talk about your job of Heritage Director. TAG Heuer is a brand with a lot of history in motorsports and chronographs, and the heritage department has played a key role in getting the word out. What are your plans for the museum and heritage department?
NB: As Heritage Director there's a few key components to the job. Number one is to secure the historical material, that means around 3,000 watches, around 100,000 paper assets, or another thousand items such as racing suits and helmets. We preserve, audit, inventory, and secure them.
The next step is share all that in a physical sense, that means expanding the museum. We plan to refurbish it next year to get it ready for international exhibitions. We're looking to create a digital platform to share more of our paper archives, which are now being digitised and analysed for that.
Another component is collectors' engagement. TAG Heuer is pretty good at engaging collectors, but with other manufacturers really expanding the collector's engagement, we need to keep pace. Collectors form a small portion of clients, but they're very vocal and they're very much tastemakers. We can see how powerful they can be in steering the direction and the perception of the brand, so clearly we have to engage with them more.
Last is helping with authentic storytelling in the creation of products. I don't really have formal responsibility in that area, that's really more the work of the product team. But I can help them at the start of the process to develop an idea, send them pictures for inspiration, this kind of thing. And then when it comes to the press release I support with the historical and archival material.
SJX: What about like collector-oriented steps other brands have taken, like archive extracts, certificates? Are these on the cards as well?
NB: When it comes to extracts, the first thing to know is that we are be very open and we can say we simply do not have a paper archive listing all of our watches by case number and who they were sold to. During the 1982 Quartz Crisis, a lot of stuff went into the bin and wasn't to to be seen again. I dream that one day we find a guy who hid things in his attic, just like our siblings at Zenith did.
But at the same time old records on paper are not always gospel. You've seen as well as anyone, such records were written all in cursive. It's very easy to mistake "6" for a "0" or "7" for a "1". Or you know something was made as a special configuration for a friend of the brand in the 1950s or 1960s but was not recorded with certainty. If you work off that, then all of a sudden you've got a digitised version that isn't 100% accurate.
As a result, we approach things differently. With my background [in auction houses], I love doing large-scale data analysis on reference sets of good examples of a particular watch. I've done them previously for a variety of watches, such as Paul Newmans, fourth-series 2499s. We can do the same TAG Heuer because we have many examples in the archive, we have many known examples in the collector's community, and we have the record of watches sold at auction.
In the long term, say in 2024, 2025, I would love to be in a position to offer a certificate of authenticity. It will not say your watch is from this date and sold to this retailer, but we will say with a degree of certainty this is what we know about your watch or reference. For example, this was the case number range, this is roughly when it was born, we know that the movement, case, and dial, if they were originally in this configuration. And we provide some documentary evidence to support that.
SJX: And then there are thematic auctions supported by the brand…
NB: As for thematic auctions, you know they can be pretty tricky. We can look at past brand-led auctions to see that they can have some short-term benefits, but it's very easy as a brand to be accused of manipulating the marketplace.
I've survived long enough in the industry because I have a very clear moral compass. I have no interest in playing games in the market. When I bid on a watch for the museum, I will tell collectors. People knew I was biding on the James Garner Carrera for the museum.
If I see something in fantastic condition, I will support it to what I consider a fair market value, but if it goes beyond that to great home, I'm extremely happy since it's a win for me in either situation.
The all-black Monaco at Phillips in May was a good example. I feel that a watch like that is worth 70,000-80,000 francs. I have a number of examples, but yes, I would like another one, because the provenance was solid and the condition was great. But it went to 113,000 francs and went to someone who I know will treasure the watch – that's fantastic result for everyone.
SJX: So you have worked at auction houses, watch magazines, now you work at a brand. How does that varied career help your role in TAG Heuer?
NB: I think I've had a virtually unrepeatable career path at this point. It's no secret I never graduated from university and I have no academic qualifications, but there are no academic qualifications for this job – it's just passion. You see my connections to watchmaking with what I've done at Blackbird and Christie's.
But it was actually probably my time at the Genius Bar at Apple or working with VistaJet doing business development in West Africa where I learnt about interacting with the client. It also helps that I have a direct understanding of collectors, being a collector myself and having advised collectors. That gives me a good understanding of what people want to see from a brand.
SJX: Your time at an auction house was also when vintage Heuer reached its zenith in 2017 when you had Heuer Parade and a record price of…
NB: The Autavia 2446 for almost 140,000 francs.
SJX: Most agree that was the peak of the market. Where do you think the market is going? 
NB: I 100% agree that we had a huge spike in values in 2017 in and around the thematic auction. We know that results have trailed off since. But when truly exceptional watches come to market, they still make very comparable prices.
Phillips in December 2021 offered a first-execution Autavia 2446 – exactly the same model that performed so well at Heuer Parade – and it achieved a greater result. I was bidding on the watch and I got absolutely blown out of water. They also had very nice Seafarer that performed spectacularly well, then we had second-execution Autavia in June in New York, both did great. When truly important watches in spectacular condition come along, prices are still fantastic.
SJX: So the market has become more discerning?
NB: We can see that not specifically in the vintage world but across the wider market. You know as well as anyone contemporary watchmaking is so easy to buy and sell. You can see if it's got box and papers or if it's unpolished. Even a not-particularly-experienced junior specialist at an auction house can take in a Nautilus 5711 with an estimate of 20,000-30,000 and sell it for 150,000. There's no expertise required to do that.
All the new money that came in to the market during the recovery from COVID and the rise of the crypto – that has obviously cooled off and had an impact on the contemporary watch market. It's slowed down and a great test of the market will be the auctions in a few week's time in Geneva and New York.
I really hope that means we are going gonna lose the "hype" watch buyers. I think those buyers who stick around are different, particularly the younger guys, particularly those from Asia. They have a great understanding of the anthropological aspect of watch collecting – the human component. Who wore these watches? Who made them originally? Who were the leaders in the industry? When you look at those elements of collecting, plus the quest for quality and rarity, vintage Heuer is unbelievably well positioned.
---
---
You may also enjoy these.