Conversation: Wilhelm Schmid, CEO of A. Lange & Söhne
A successful decade and plans for the future.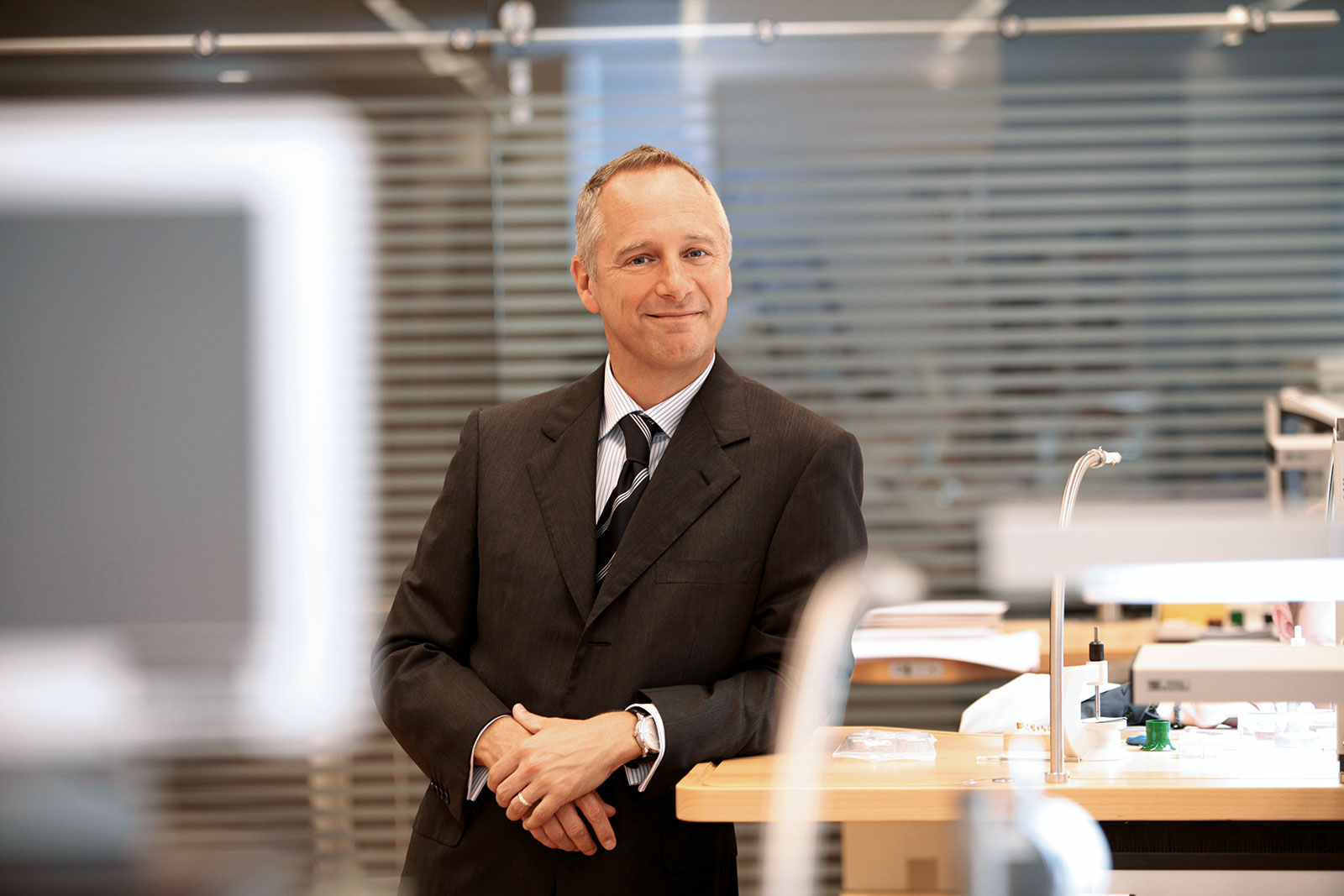 Having taken charge in A. Lange & Söhne at the end of 2010 – while the brand was still suffering from the effects of the 2007-2008 Financial Crisis – Wilhelm Schmid has now been the German watchmaker's chief executive for a bit over a decade.
He did not join Lange from within watchmaking, instead he was recruited from a German luxury brand of another sort, the carmaker BMW. But in the decade since Mr Schmid has carefully and steadily developed the brand, and in the process become one of the longest-tenured – and highly regarded – leaders in the watch industry.
From its modern-day foundation in 1994, Lange made watches of first-class quality. That, along with the ethos of the brand, has been preserved, but at the same time, Mr Schmid has deftly evolved the brand's image, in both product and communication – the Odysseus being an obvious example – bringing its peerless quality recognition amongst a broader audience.
The brand's success in recent years has translated into robust demand for its products – a good problem to have but one that Mr Schmid apologises for, as you'll find out below.
I spoke with Mr Schmid over Zoom last month, and enjoyed a wide ranging conversation that looked back on the last 10 years, as well as forward, where he notes e-commerce is now a certainty for Lange, but online exclusives are not.
The interview was edited for clarity and length.
---
SJX: How has Lange been coping with the disruptions of 2020?
Wilhelm Schmid (WS): We had to deal with a shortfall in production. It'll take a bit of time before we are back to the normal flow of production. Parts like the bracelet for the steel Odysseus comes from northern Italy, and we all know what happened in northern Italy in these months.
SJX: You are marking your 10th anniversary at Lange at a very, very strange time, but your tenure at the brand has been successful. Lange has always been respected for its high quality, but now it seems like the brand has gained wider recognition, with the secondary-market demand of the Odysseus as an example. What are your thoughts on this?
WS: I always believe in the brand history – and you know it better than most people – we only really started living again in 1994. Yes, we were founded in 1990, but then of course there were no watches for four years. And then came the 24th of October 1994 and we launched the first four watches.
It takes a long time to establish a brand, and maybe an even longer time before you see the appreciation in the secondary market. So what we see today started with Günter Blumlein and Walter Lange. I just have the pleasure and privilege to lead during a period of time when we are prospering.
But I don't think it's only what we did in the last 10 years that it's now paying dividends. It is actually the stringent and coherent story that was created by the founders, and one we managed to sustain regardless of what the market was dictating.
Now after the brand's first 26 years, the first watches are now vintage. We kept our rarity because you know that we do not produce more than five, six thousand watches a year. Even now with the Odysseus, because the movement is the same quality and just as labour intensive as the Lange 1 movement. So we clearly will not ramp up production for a single watch because we cannot – we don't have the watchmakers.
That authenticity of the brand means that people trust us, something that is a very valuable currency, something that's very difficult to gain especially with people who know watches and who are very hard to reach. And I think after working on it for 26 years, we can harvest a little bit of what we have done.
SJX: Would you say you have reached a new clientele with watches like the Odysseus?
WS: I think we did, though I'm not sure whether it's down to watches like the Odysseus. What I've realised is – I think you're a good example of that – we've reached younger clients because we were focusing more on Asia and more in America.
I believe that the average age of our customers in Europe is older than the ones in Asia, or in America – and we can see that in our statistics – even though it's the same product in Asia, America or Europe.
That said, what we do is appealing to younger people. The young person is keen to buy something high quality, rare, distinctive and sustainable. I don't think that's related to age; it may be related to funds, and we are, as you know, not inexpensive.
SJX: You mentioned Asia and the US. Swiss export figures for luxury watches indicate certain regions in the world are outperforming others. China, the US, and a few others are still doing well, even with the pandemic. Are you adjusting your strategy in terms of distribution or boutiques because of this?
WS: No, because we have a very clear strategy: our business is based on local customers. Where we can reach our local customers – that determines our distribution strategy. If there are enough local customers, then it is of interest.
That's why you don't find us in the airports [at duty-free shopping concessions]. I am fairly reluctant to go too much into tourist business because I think they come and go. And as a small player, you can hardly influence this.
We want a sustainable business, which is which for me is always local business, because you can stay close to your local clients. That's what we see at the moment during the lockdown in Germany, even with all points-of-sale closed. We don't see [the lockdown] in our numbers because our business has adjusted to this with remote sales, Zoom meetings, virtual show rooms and boutique tours, virtual launches and so on.
SJX: Zoom and launching watches online – Lange has done a great job in the last couple of years building an online presence. You have videos, social media and so on. So now that that is done, the obvious next frontier is e-commerce. Some brands have already begun doing it in China and the US, even high-end brands. What are your thoughts on e-commerce for Lange?
WS: If you'd asked me 12 months ago, let's say 15 months ago, I would have said, it will come but I don't know when. It's determined by when our clientele wants to do it, and at the time, our clientele was rather keen on coming to boutiques or wholesale partners – sitting down, talking watches, having a drink or a coffee, mingling with others. It was part of their purchasing process and what they really liked.
But of course, the pandemic has not only changed us, but it has also changed clients' behaviour. What was unthinkable 15 months ago is our reality today. You can meet a lot of customers via Zoom, and we have now call centres that can also sell watches. We use our boutiques for fulfilment because it's one thing to promise, but another thing to deliver. And we will for sure have e-commerce later on this year.
SJX: So that is officially part of the strategy, so to speak.
WS: I have always said we want to stay true to ourselves in the way we design, develop, and produce watches, because I doubt there are machines that do better polishing than my people. We still pride ourselves on that, and that's what clients appreciate and that's what they go for.
But if I want to be so true to my values in that controlled environment, I also have to acknowledge changes in the field of distribution and marketing.
Because if I stay there and say the brand today is all we do and know, and we don't change at all, then we become obsolete. To be able to afford what we do in the factory, we will have to adjust and adapt marketing and distribution.
E-commerce is going to grow because clients that would not have done it 15 months ago will do it today. I am sure there will be a huge appetite for personal interaction once we can do that again, but I also believe that people ought to appreciate the convenience of e-commerce. The future will be one where we will offer even more ways of connecting with clients than in the past.
SJX: I think then the next question will be how far off into e-commerce would Lange go? For instance, there are brands that now are regularly rolling out limited editions sold only on the internet.
WS: 'No' is a word that would imply I know what is happening the next thousand years and I don't, so what I say is valid for the time that we can imagine today, which is probably the next two to five years.
We do not do special editions for countries or cultures, so I also don't think we should do that online.
On top of that, we do not want to create competition amongst distribution channels by making different watches for different channels. Online retail is just another way to sell. It's a convenience and if clients ask for it, we have to provide, but it is like any other channel.
If you only do five, six thousand watches a year, you can make life terribly complicated if you start delivering special editions for different channels. So at the moment we are not considering online special editions.
SJX: I think if you do it once, maybe it's acceptable, but once you do it regularly, it can devalue the image of the brand as it feels a bit opportunistic.
WS: We always pride ourselves on having a good reason to create a limited edition. We make it special by applying techniques or materials that we do not have in excess.
For 175th anniversary, we did not just take normal watches and put on a different dial. We made them in Honeygold, and with dial variations that we never had before.
And to make it more difficult for the watchmakers we used a [frosted] decoration on the [three-quarter] plates that is rarely applied – for good reason, because you see every scratch and mark on [the frosted surface]. That's a good reason for a limited edition because you can't do that on a permanent basis – we wouldn't have the resources to do it.
To now have a limited edition just to move people from boutiques or wholesale partners online – I'm not sure whether that's the right approach for our clients; but I can only speak for our clients, and not for others.
SJX: The anniversary limited edition in Honeygold was a major launch that was well-received, in fact I hear most of them are sold out, despite being unveiled in a year with no events. There was no way for the client to physically see the watches. How did it work out so well?
WS: You know what was more astonishing was the Saxonia Thin with the black aventurine dial. We launched it, and 12 hours later there was a deposit behind every single one of the fifty. For sure nobody had seen them because the watches hadn't even left the factory when we launched them.
I think it goes back to the discussion we had earlier on. By now, people trust us. They know that what we show them is not pure marketing, it's pure watchmaking. And that's why they feel good putting a lot of money behind something they have not seen physically.
In normal years, we would have made an effort to show it to each and everyone. In this specific circumstance that it wasn't possible, and I think it was accepted by our clients. In fact, I've heard quite frequently from clients that they were very happy in these dark days to have a bit of joy when we launched new watches. I had a customer who said during a Zoom meeting, 'Jesus, you really made my week'.
They were pretty clear that they truly appreciated our extra effort in these difficult times to come up with novelties. And trust me, I think they were the most difficult novelties in the most difficult period of the last 10 years.
SJX: Now you have many watches that are best sellers everybody wants. How do you how to manage that success to make sure that your clients are able to get the watches they want without having to resort to the secondary market?
WS: I do apologise for this. It's not just marketing. It was just such a difficult year and these watches were strongly in demand, which didn't make our life easier.
I cannot recall a time where I had more frustrated good customers because they had to wait for watches. I really apologise to everybody who is waiting for a watch. Stay with us. We do our best, but it's not that I have them in the safe and I just release them when I want. We live from hand to mouth at the moment.
SJX: And even the older Lange watches are increasingly sought after.
WS: That, I think, is a sign of brand equity, the fact that people are keen to hunt them down. I think you mentioned the auction results earlier on; there are watches that we do not supply anymore. Believe it or not, try to get a simple Lange 1 at the moment and you will see how difficult it is to get it.
Even though these watches were in our collection for the last 26 years, we only produce these five, six thousand watches per year, and the demand is obviously stronger than this. The excess demand will go into the secondary market logically.
And on top of that, collectors always like to close gaps within their collection. And if you bought say, a Datograph Lumen about a year ago and you realized how great these Lumen watches are, then you will be keen on the Lange 1 Moon Phase Lumen or Zeitwerk Phantom.
It just shows the consistency of the brand. The Lumen series is a perfect example of we do not repeat, we just do it differently every single time.
SJX: Well, on the bright side, this is a good problem to have because it's not a problem that all brands have.
Some time ago you mentioned to me when you first joined Lange, you were the newest amongst all the brand CEOs. But now you are one of the longest tenured CEOs in the group. And the ten years has been a consistent success, even in a difficult year like last year.
So I have two questions. Generally speaking, what do you think was the secret to the success? And second, how does it feel to have been successful?
WS: The success is just due to the fact that we have a great, great, great brand with fantastic people. The brand is an organism that really thinks, lives, and works watches. There is a passion for what we do and a pride about A. Lange & Söhne within the company that's infectious and obvious to clients, journalists, and everybody else.
I am just the custodian – for 10 years now and hopefully for a bit longer. And I'm a proud member of the team. But you cannot underestimate the importance of people like Mr Blumlein and Mr Lange and what they implanted into that little company they founded.
And we also have to appreciate that Richemont gives us the freedom to do and live as who we are and what we are. That's not a given at a few international companies. To have that freedom to be who you are is a great gift.
I come to work with a smile every morning. I love watches, so for me, it's like paradise. Even on bad days – and there are days that are not that easy –I look down on my wrist and see my beautiful watch. Or when Tony first presents a watch we have been working on for a long time. These moments help take the pain away of such days. I'm not working, I'm living my dream.
SJX: For the next 10 years, where do you want to take the brand and what you want to do?
WS: I believe, the most important challenge is to understand that 90% of our people live and work in Glashütte – and 100% of our customers don't. To connect Glashütte with the world and the world with Glashütte is a challenge that every CEO running A. Lange & Söhne has to work on.
We must never give up because it's so easy to overestimate your strengths and become complacent, when you are in the little valley as the biggest, the strongest and the most successful. We all know what happens to brands that become complacent. So that's one big challenge.
The other you mentioned before; every August when I sign the contracts of the new watchmakers, toolmakers, apprentices, trainees, I realise these people are between 16 and 19 years old. We train them to do something, that's what they will do for the rest of their life to make a living.
So we better make sure we have enough young clients who may not be able to afford a mechanical watch today, but understand the beauty of a mechanical watch, and will one day spend money on one so that our people can continue to work on watches.
How we stay relevant amongst the younger generation of clients is also something that constantly drives our marketing, our thinking, and what we do, because not having a new generation of clients the one thing that can kill a brand. If you're not relevant, you will end up in trouble. If you look at what's happening in the car industry now, it gives you a flavour of what happens if you don't work at it carefully.
And I think the third is very specific to A. Lange & Söhne: a lot of our clients appreciate that they can wear a watch that nobody recognises, unless it is someone else who's as passionate about watches. To belong to that inner circle, to have that secret sign of membership, is something we have to maintain. But at the same time, we have to share that secret with the right circle of people in a world that is so loud, so omni-channel, and so hard to control, that it will for sure will be a major challenge in the next 10 years.
---
Back to top.
---
You may also enjoy these.