Interview: Wilhelm Schmid of A. Lange & Söhne on the Odysseus
Why, how, and where it's headed.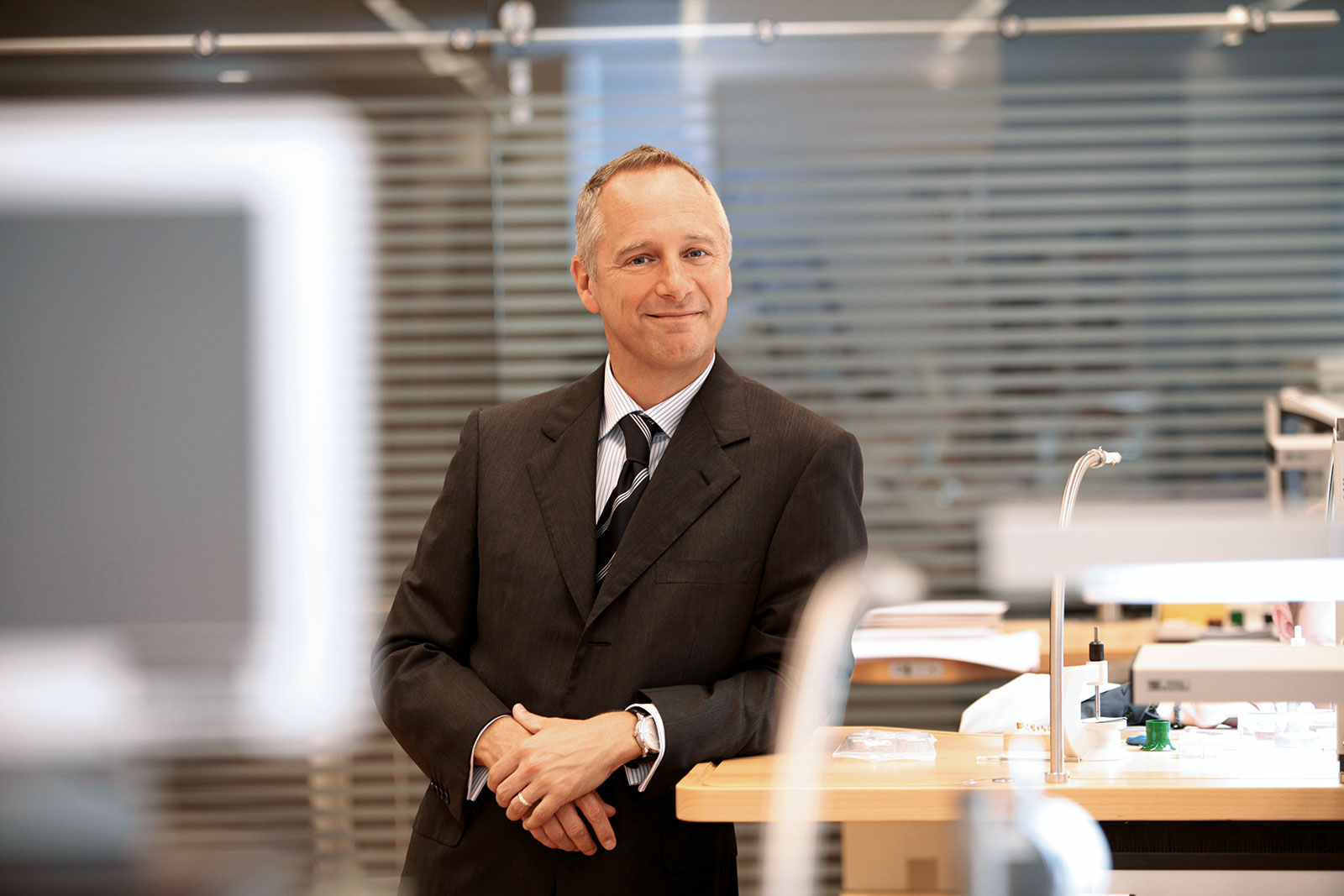 Shortly before A. Lange & Söhne launched the Odysseus Datomatic, its chief executive Wilhelm Schmid was in Singapore to officially reopen its revamped boutique. But perhaps more importantly, he was available to discuss the Odysseus, which I did.
In the articulate and frank manner that is his style, Mr Schmid outlined the rationale behind the Odysseus, how it came to be, and drops a few hints as to where it's going. Read what he had to say below.
The interview was edited for clarity and length.
---
You have established Lange's reputation for watches of high quality; quality that no one disputes. Now you're taking the next step into a different segment. What's the rationale behind this?
We have not changed our fine watchmaking, [but we had to decide:] do we answer the question that has been raised by many customers over many years?
If you do something like that, you have to be unique, you have to be different, and it has to be of some interest for the customer. We rather not provide an answer than provide the wrong answer. So it took us a long time to find the face and find the design.
And then after we created the idea, [we had to create] something which will be recognisable within this sort of design, [with] the push buttons, the day-date complications.
Then, how can we use that to create a family?
It's always easy to come up with one watch. It's often more difficult if you want to have a recognisable face that can have different iterations and complications later on. So whilst we did that, we already had to consider what comes next, and next, and next…
Like how you did your chronograph?
I would not say that it will become a chronograph, but it's like with the Lange 1. When you have that strong face, you have to understand the implications if you want add functions later on, you have to consider that in the beginning, otherwise you will not have room for it.
You said it took a long time, how long did the development take?
To be honest, I think the first ideas are as old as Mr Blümlein. Even in those days they were considering creating a family of watches that you can use when playing with your children at the playground, not so much a sports watch or a diver's watch. There was continuous work on the idea since then. And as you can see, it says 2015 on the calibre number [which is L155.1], because that's when we knew what we wanted to do.
But the family was conceived together? You referred to subsequent models earlier.
Yes. Well, I'm not saying they're ready yet. But because of the day-date complication, we needed to understand the implications for future models [in terms of layout and movements].
When Vacheron Constantin launched its line of steel watches a couple of years ago, I believe the aim was to make the line 20% of turnover, and to increase sales by that 20%, not cannibalise 20% of existing sales. Is it a similar strategy for Lange?
I very much agree on the collector's buying habits. Usually a collector doesn't buy this instead of that, he buys both if he like them. I don't think there will be cannibalization, because what we're offering [with the Odysseus] is so different to what we have today.
And I believe that our strategy is also slightly different, because this watch is €28,000, so it's not an inexpensive watch. It is not to lower our price point for sure.
For the same sort of money, you can get Saxonia Moon Phase for €2,500 euro more, or the Saxonia Outsize Date for €3,000 or €4,000 less. So it's obviously not made to conquer the lower end of the market. It is just something that our customers have been wanting for a long time.
It was presented on a steel bracelet. Are there going to be options for the strap?
Not in the beginning. You know, we had long debates and I said [to the team]: guys, one watch – focus, don't come out with a thousand alternatives. Will it be steel or a blue dial? That's it.
And taking into consideration we produce about 5,000 watches a year, I can't cater for another five styles and another thousand watches, because I don't know how we can produce them.
Will the new line be exclusively in steel or will you eventually have gold and platinum versions?
We always focus on what we launched first. And there will be the only steel in the beginning.
I like what you did with the dial and the case, but I haven't gotten used to the bracelet, although the quality is very good. I like the buttons to remove the bracelet links as well.
There are watches for the safe, and there are watches that we wear – that means a certain comfort and user friendliness. It's all done to please the customer, which is not always a given, even in this price segment, or especially in this price segment. Everything has to be likeable, practical and robust.
That's why we moved away from balance cock to balance bridge, and that's why we increased the balance frequency to 4Hz. We did that to gear up the watch for an environment different from that where you traditionally put a watch in precious metal with a leather strap.
Earlier you mentioned that the watches conceived for activity, to play with children and so on. Do you also foresee that it will grow your audience to beyond those who already love the brand?
That's a very interesting question. And I wish I knew the answer. You know we're a word-of-mouth brand because our spending on advertising is not gigantic. And as you know, the few steel watches that we produced in the past are so expensive today that they are a true collector's item, rather than something which will attract the mainstream client.
I think we will see a polarising discussion. I hope so, to be honest, because if it's just beautiful we all know that longevity of sheer beauty is not long, so the watch needs to grow on people.
It's meant to be comfortable and good looking on the wrist. I am pretty convinced that people will like it. I'm also pretty convinced that some people will not like it.
Recently, when Audemars Piguet launched the Code 11.59, there were people who didn't like it as well. How do you plan to respond to clients and fans who don't like it?
God created many different people with many different tastes. It would be a very boring world if we all would like the same or dislike the same.
If somebody would accuse us of not sticking to our values, I would disagree. Everything, to the smallest detail, is very much what we do with our existing watches.
The only thing we changed is the material. Logically, if you want to create a watch for a tougher environment, then it's quite logical not to use precious metal. All the rest is Lange. Be it the decoration, be it the assembly process – everything is as we promised, and the only new road taken is that of the material.
And if you don't like the design, we have very many other watches; we are not neglecting them. You will see that at SIHH 2020 when we launch other watches, which are more traditional.
For now, Lange's brand profile is quite clear with the events you have with classic cars like the Villa d'Este and Hampton Court. With the new watch, are there plans to extend the brand profile to sailing and sports?
Absolutely not, we don't want to change the brand. We just want to extend the scope of the brand a little bit.
There is a "casualisation" of luxury products and I cannot ignore that. As the CEO, it's also my responsibility to make sure the 50 apprentices at our watchmaking school have a job in the future.
To only stay where you are today is a very dangerous proposition, so we have to accept that there are trends in the market. And some trends are probably more than trends – they are business segments. And the time is ripe today for us to enter a new business segment, which is steel watch.
And this casualisation you refer to will be exclusively in this new line?
Yes. But one can argue a Datograph, even a Datograph Perpetual Tourbillon, is a pretty sporty watch. I wear my Zeitwerk Minute Repeater with shorts and I don't think it looks awkward. People tend to forget that we have five different product families and some of them are pretty contemporary.
And even something as classical as the Lange 1, when you apply the Lumen treatment, it becomes quite contemporary. So, there are casual watches even within our existing product portfolio, and always have been.
I also noticed that since you came on board, the brand has slowly become a bit more contemporary in look and feel, both in terms of watch design and also the brand materials like the catalogues and website. Was this intentional?
I wanted more Bauhaus and less baroque. But whatever comes from us has to have that craftsmanship approach, be it an event, boutique, book, watch, even the booklet of the watch. And we must never forget the source of our energy: we are always unusual watches and not usual watches, be it a Tourbillon Pour le Mérite or Datograph; these were unusual watches.
But I also believe that if I want to attract younger audience, younger people like you, I have to speak their language. I have to be where they will look for us, and not where I think they should look for us.
---
Back to top.
---
You may also enjoy these.